10 Cute Ideas to Personalise Your Bridal Mehendi !
BY Sakshi | 06 May, 2017 | 2317 views | 3 min read
Yep, we know! You want your bridal mehendi to be super special, something that means something to you, right? So we'll end the confusion for you right here! Here are the coolest ideas we have spotted on Real Brides who have personalised their bridal mehendi, and some of these ideas are next level awesome!
Get your wedding hashtag included!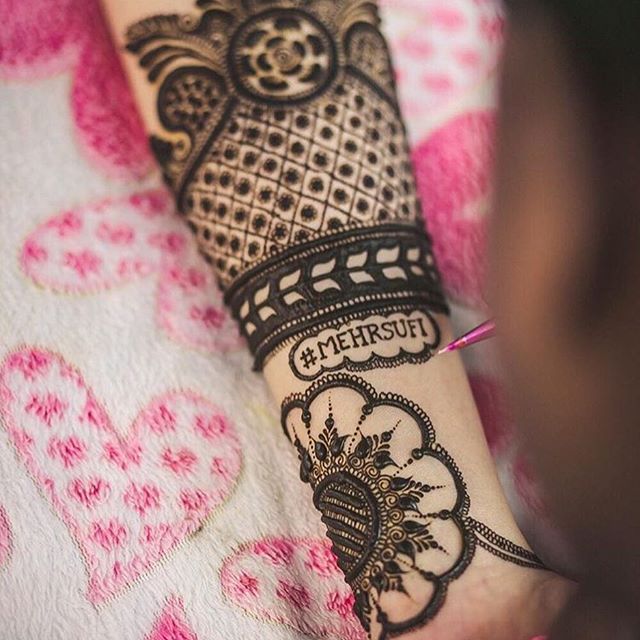 Image via Shades Photography★ 4.2
How cute and super trendy is this idea? Including the wedding hashtag in the Mehendi is such a genius move, we're wondering why brides didn't do this earlier?
Your wedding motif in your Mehendi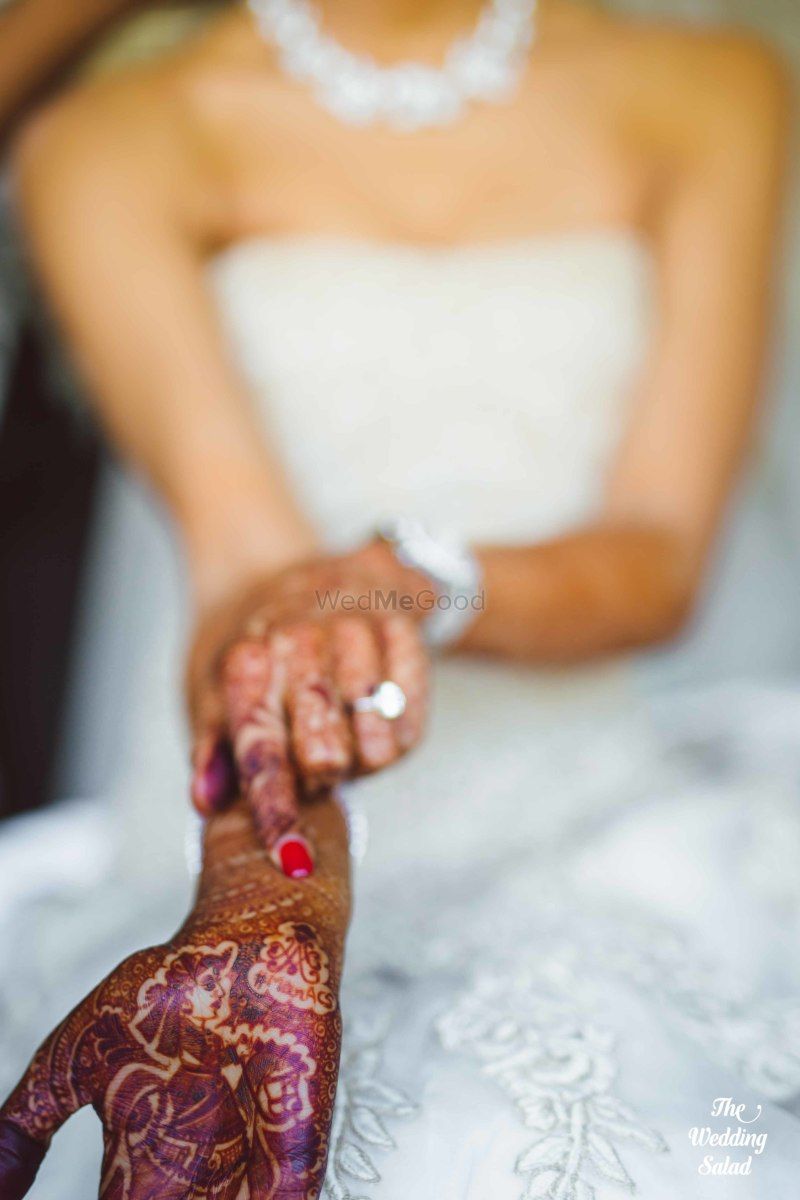 Image via The Wedding Salad★ 4.9
If you do have a wedding motif, another great idea is to include it in your bridal Mehendi, just in a little corner somewhere!
Your proposal story on your Mehendi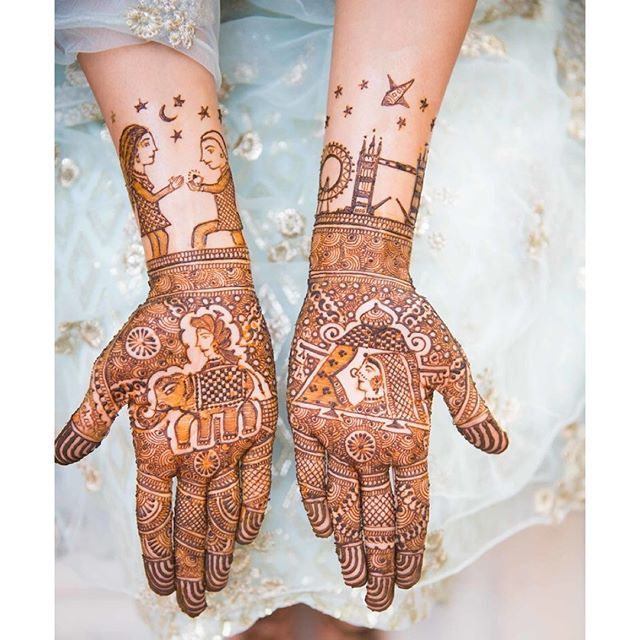 Image via The Wedding Crasher★ 4.8
See the eiffel tower there? Did you get a proposal to cherish and remember all your life which deserves to be made timeless? Then getting it on your bridal Mehendi is a great idea! It's super cute and totally trendy!
A verse or a poem dedicated to your groom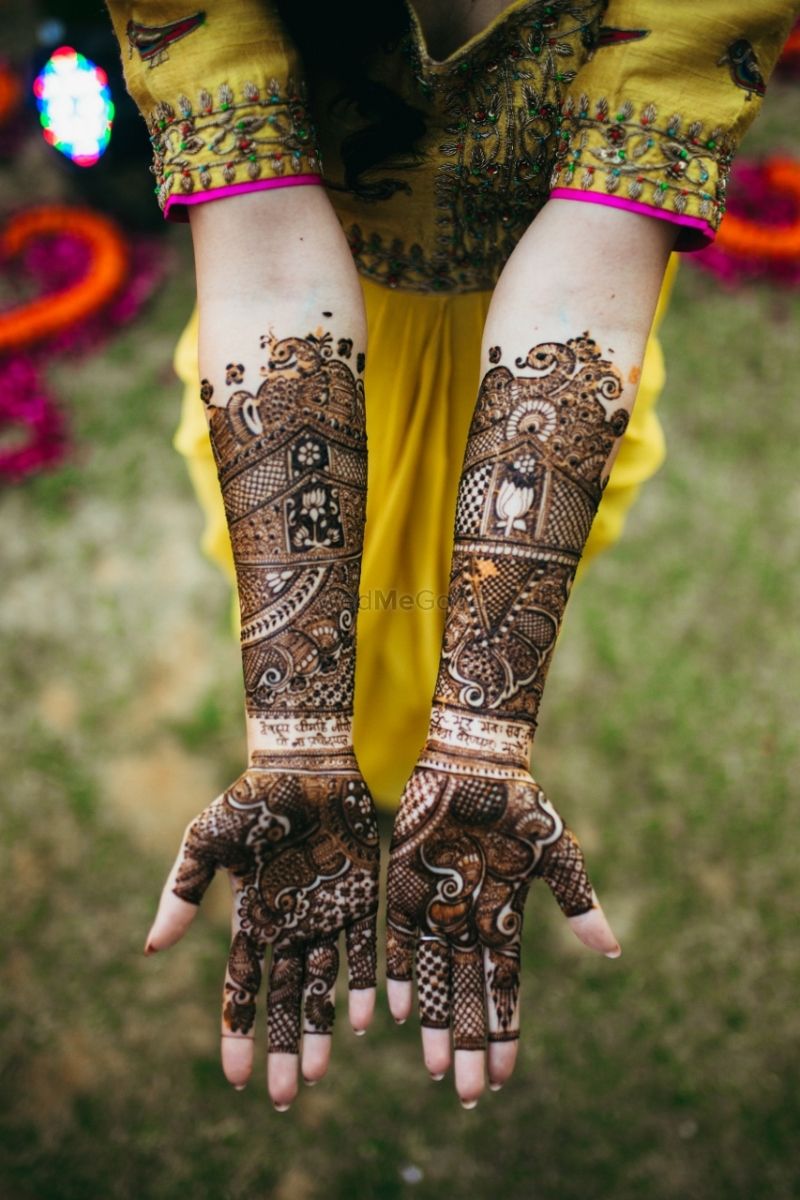 Image via Beginnings For You★ 5
We spotted a verse from a poem dedicated to the groom on the wrist of a recent bride, and it's such a cute new idea!
Your love story on your Mehendi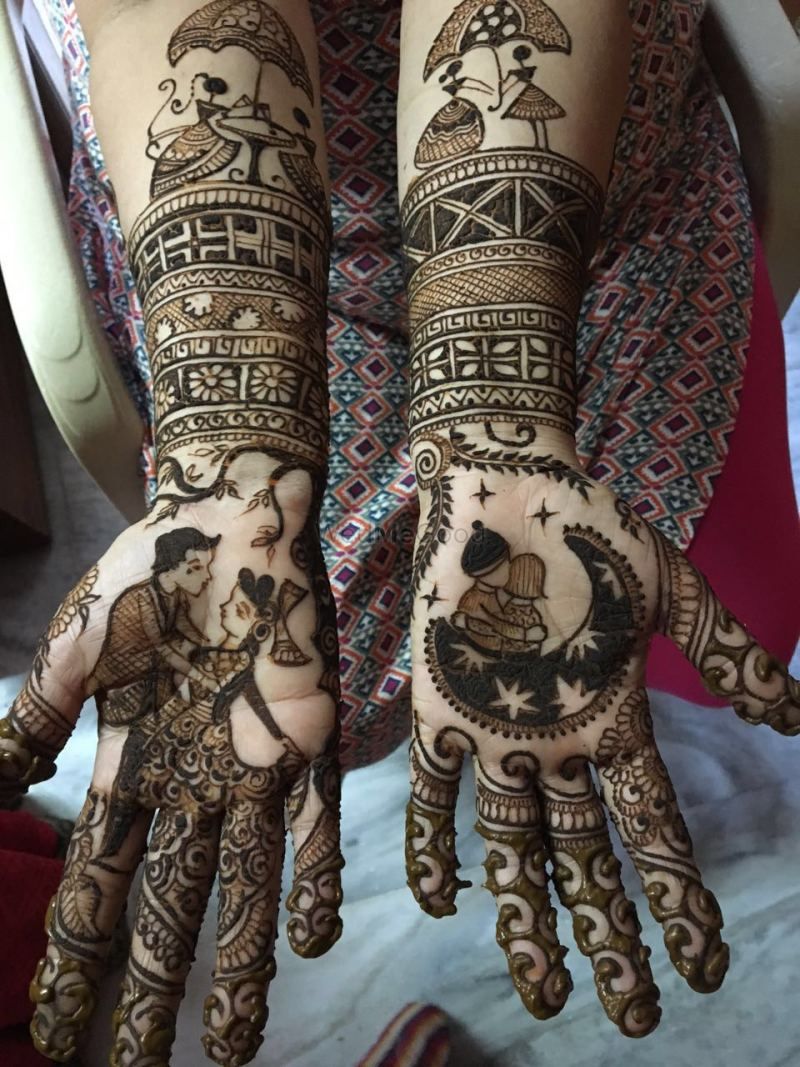 Image via Lata Mehandi★ 4.9
This is one of our fave ideas! To get the love story etched for the bridal Mehendi! It's as personal as can get, and if minimal is your thing, then give this a go!
An Object That Has A Special Significance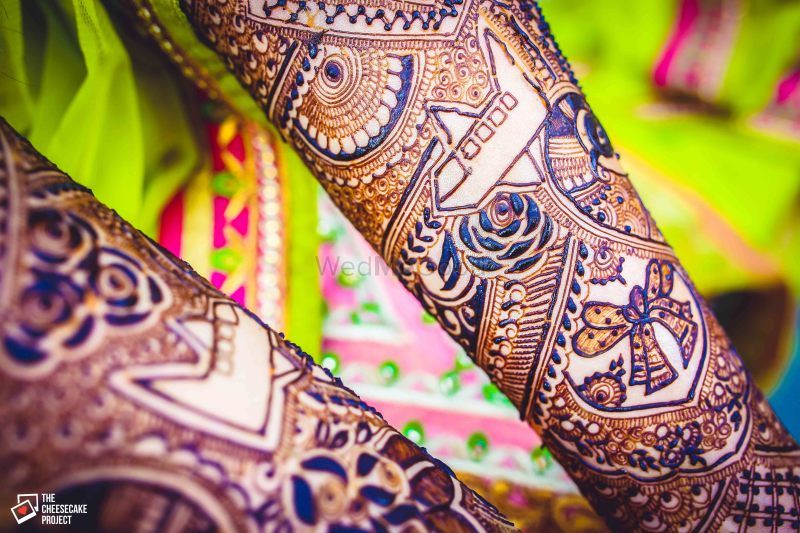 Image via The Cheesecake Project★ 4.9
One of you a pilot? Then how about you include a cute little something like the plane above in your bridal Mehendi? You can get something small and cute- like say a car or something made too!
Portraits of both of you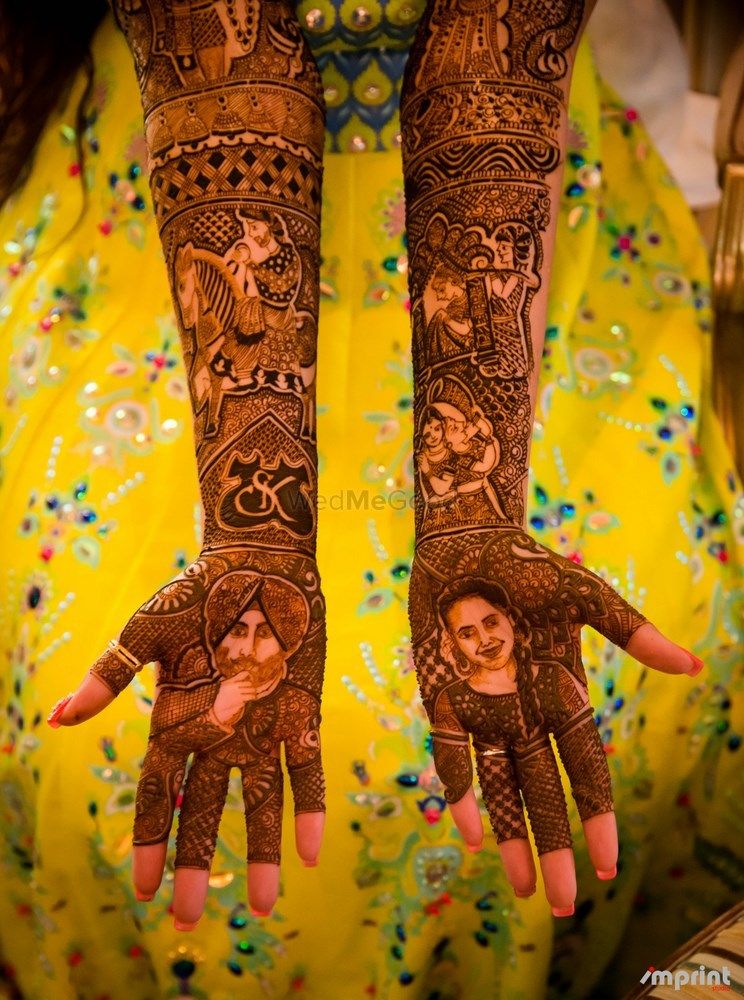 Image via Khushdeep & Sabah's Real Wedding
Another cool idea is to get portraits of the two of you etched into the bridal Mehendi- but the catch here is that it should be done well else it could look a bit odd :P
Etch your best memory together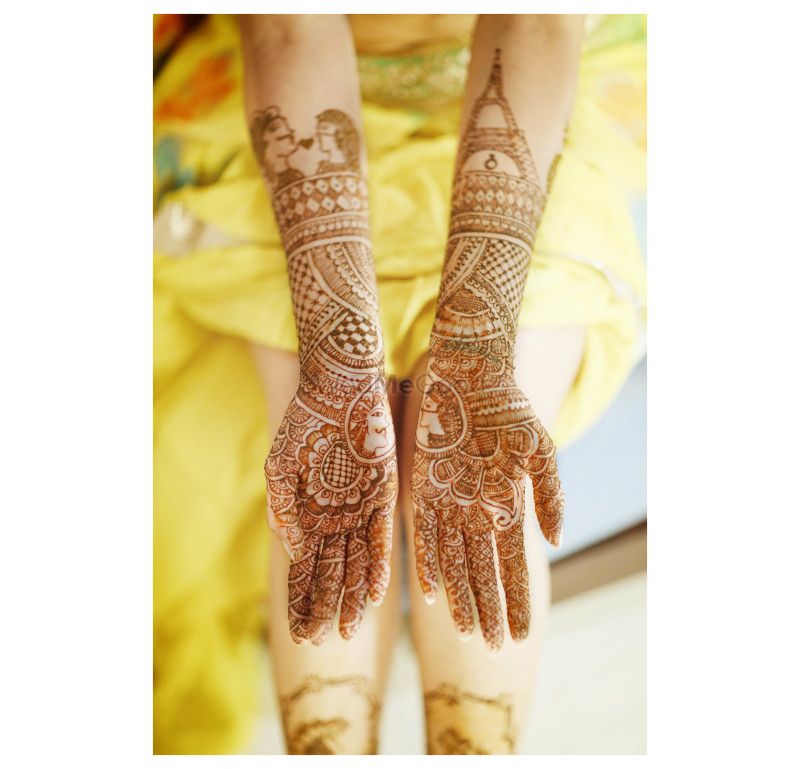 Image via Rajesh Satankar Photography★ 5
Went on the trip of a lifetime together? Well, you're gonna have many more, but you can cherish a memory of a good one forever by including it in your bridal Mehendi!
Each other's names in the Mehendi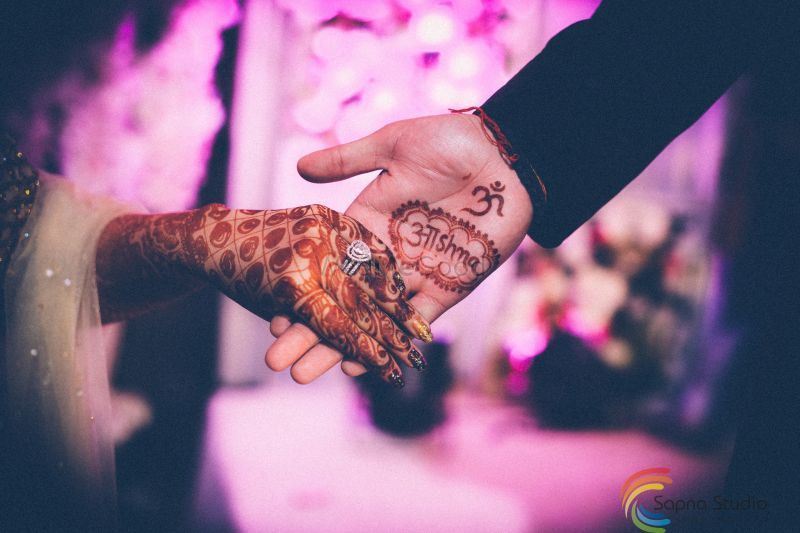 Image via Sapna Studio★ 5
How cute is this? It's not uncommon to see a groom's name on a bride's hands, but it's very cute when the groom returns the favour too!
Your fave cartoon character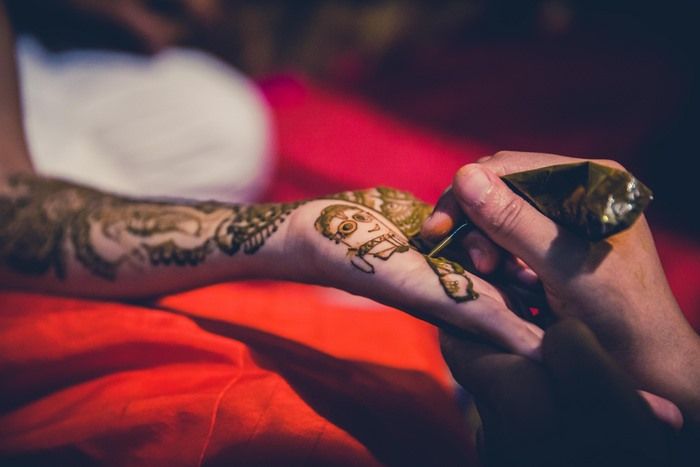 Image via Krupa's Mehendi
This bride got minions made on her bridal Mehendi, and we think it's super cute- just a little something that can personalise and make your Mehendi stand out from the rest!
Any more cool ideas you can think of?