101 Guide On Bridal Jewellery: Polki, Kundan, Meena & Jadau
BY Apoorva | 24 Oct, 2017 | 27358 views | 6 min read
Yes, we know you know your diamonds from your Swarovskis, but do you know your polki from kundan? You might look at a photo of a bridal necklace and totally be in awe, but how many of us can actually identify what work it has? So to make things crystal clear, we decided to give you a quick low down on what are the main Indian jewellery types and how different are they priced! After all, it is one of the biggest investments you make in your lifetime!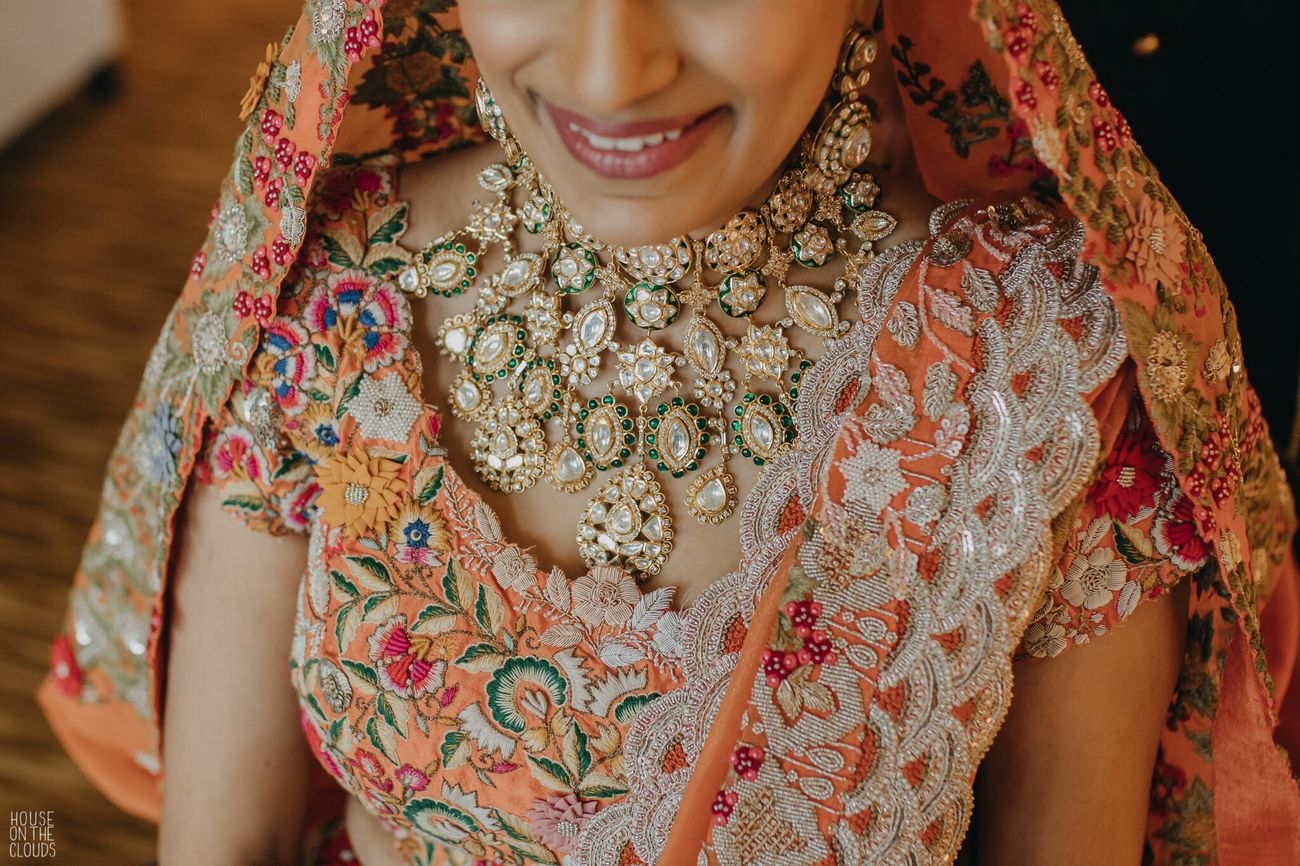 Image via Trisha & Suvraj
So let's get down to business!
What is Polki Jewellery?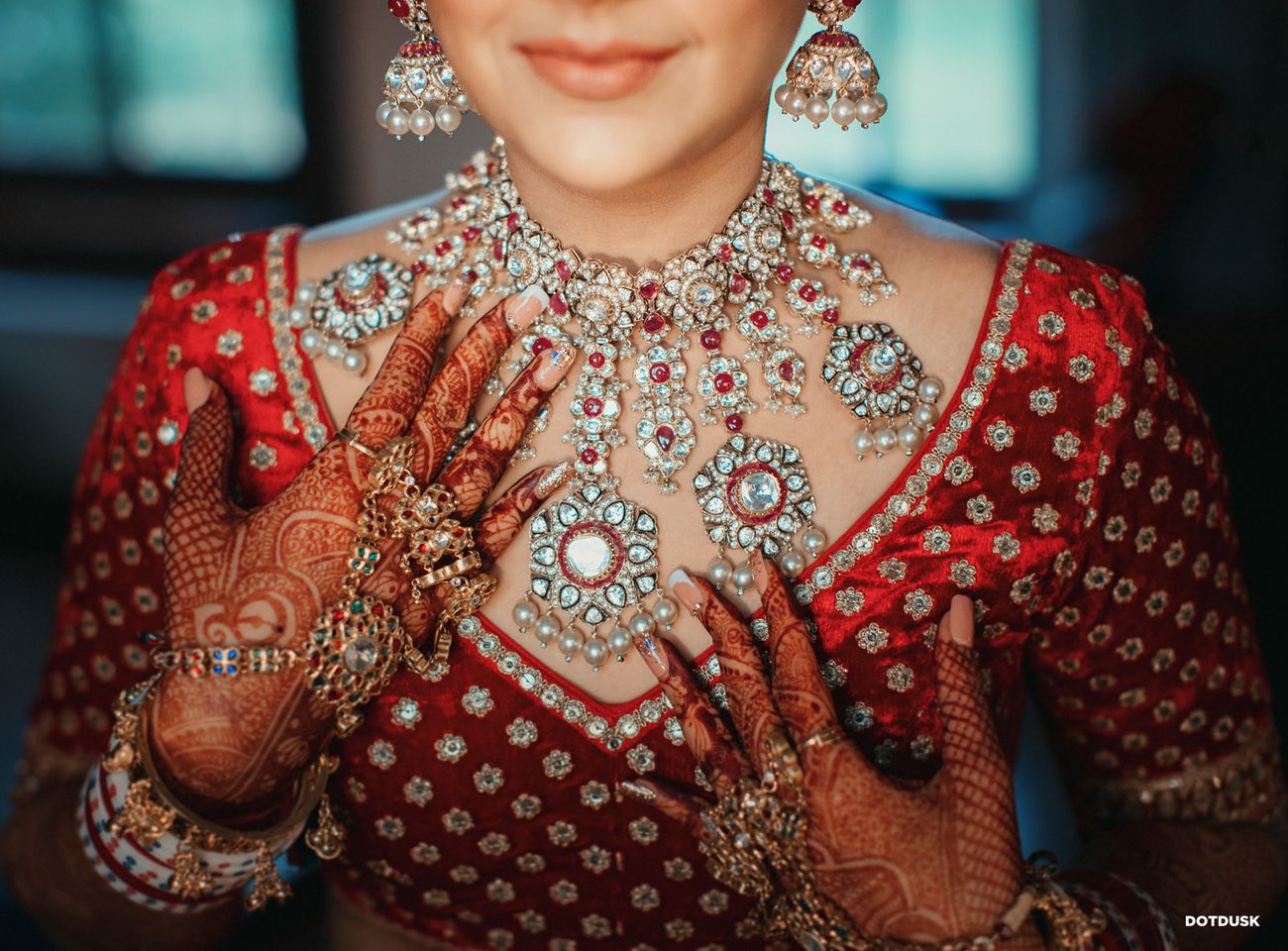 Image via Soumya & Rijul
Polki is essentially a stone. Polki jewellery is created with unfinished natural diamonds. Polki is essentially an uncut diamond that is mined from the earth in a natural way without any enhancement or lab creation.  Polki jewellery is made with a gold foil at the back that has been painted to place the diamonds in between with uncut diamonds reflecting light. Since its raw and relatively untouched, its demand is quite high in the market, making it expensive. So necklace sets start around 4 lakhs and upwards. It's also quite heavy to wear because of the weight of the uncut stones so do take that into consideration while you pick it.
WMG Tip - If you are going for heavy polki chandbalis or any earings, opt for a sahara/gold chain that'll give you some support!
What is Kundan Jewellery?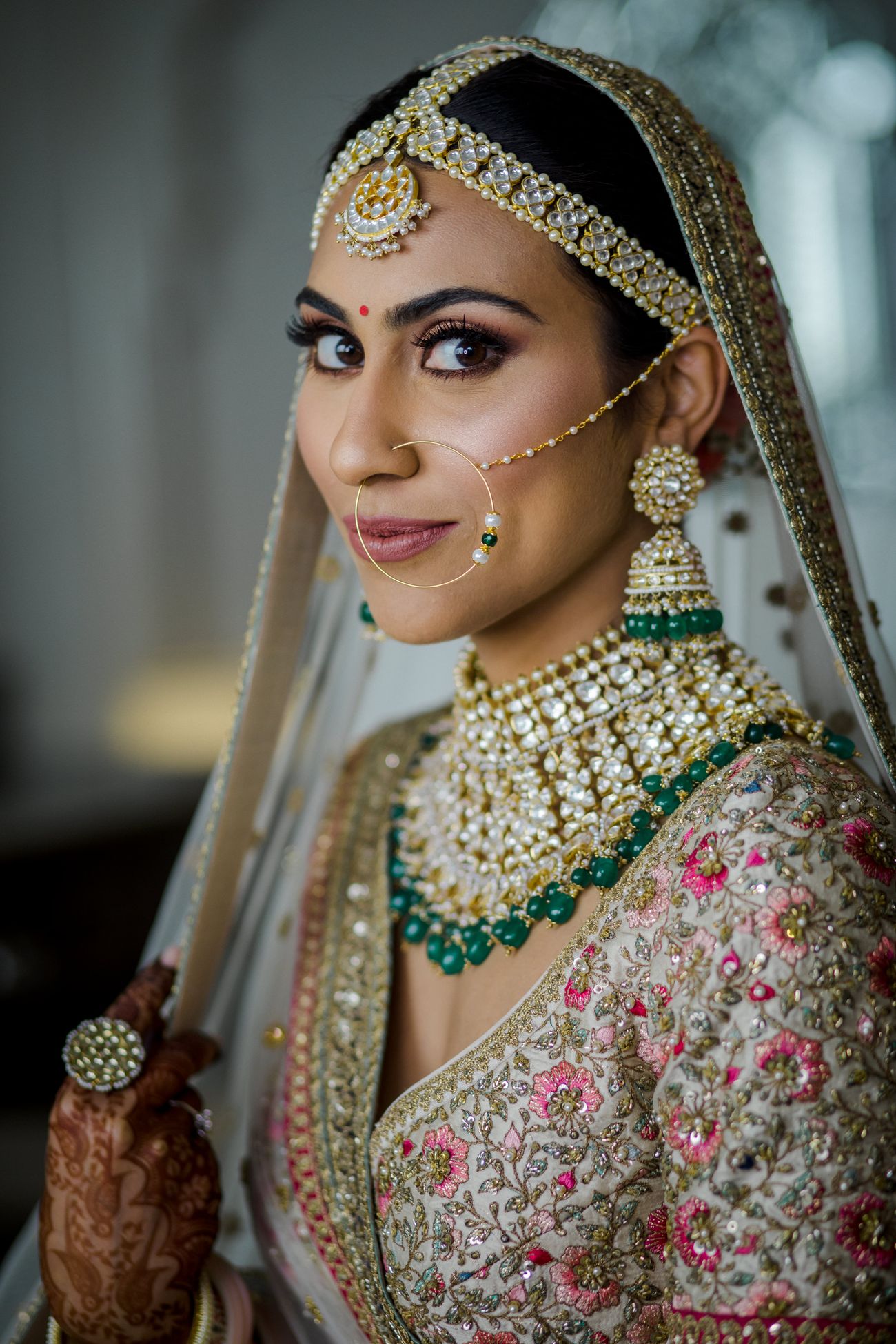 Image via Smiti & Nilesh
Kundan jewellery is extremely elaborate with layers upon layers of stone and precious metals and intricate joint work. The undersides of these pieces are enamelled. The defining features of Kundan jewellery are its precious and semi-precious polished gemstones that are set in layers upon layers of patterns. Kundan means highly refined pure gold, but these days you have artificial Kundan jewellery too, which have the same look as pure Kundan jewellery but are not set in gold.
Handmade Kundan Jewellery with real gold and gemstones can cost anywhere from Rs. 50,000 to a few lakhs. But artificial ones are in the range of Rs 1000 plus.
How is Kundan Jewellery Different from Polki?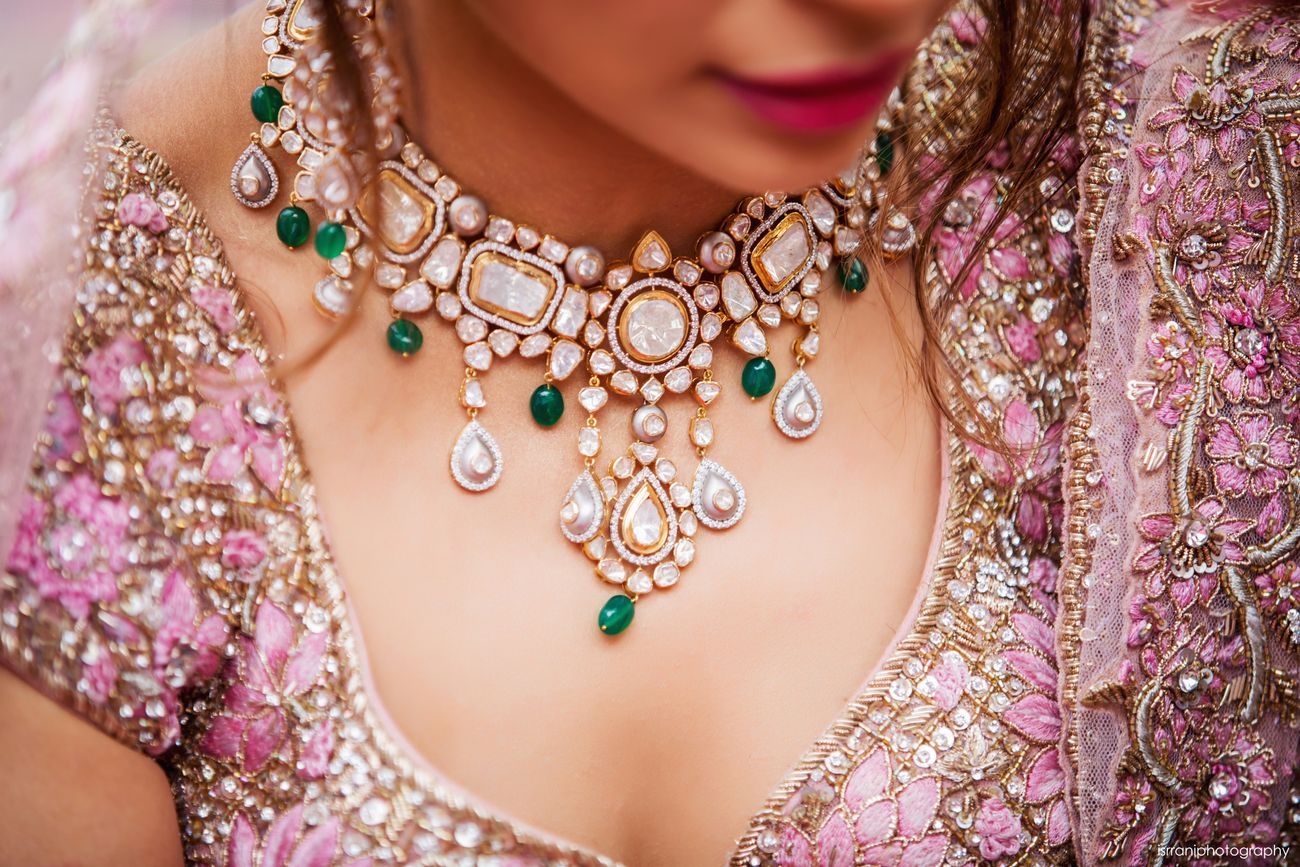 Image via Sonaakshi & Nikhil
Kundan and Polki both are stones. Kundan jewellery uses gemstones and glass in its craft while, Polki involves using uncut, raw diamonds without any processing.
Kundan is a traditional Rajasthani style of jewellery and is made of glass stone (glass polki). It's usually stones inlaid in gold which make kundan less expensive than Polki. The only difference between the look of polki and kundan is that of shine as Polki is more lustrous than kundan. Also, since it's not raw stones, it's much less heavier..
WMG Tip - If you are a budget bride and don't want to wear only imitation jewellery, you can opt for kundan jewellery in real gold. It's far more budget-friendly than polki and is real too!
What Is Jadau Jewellery?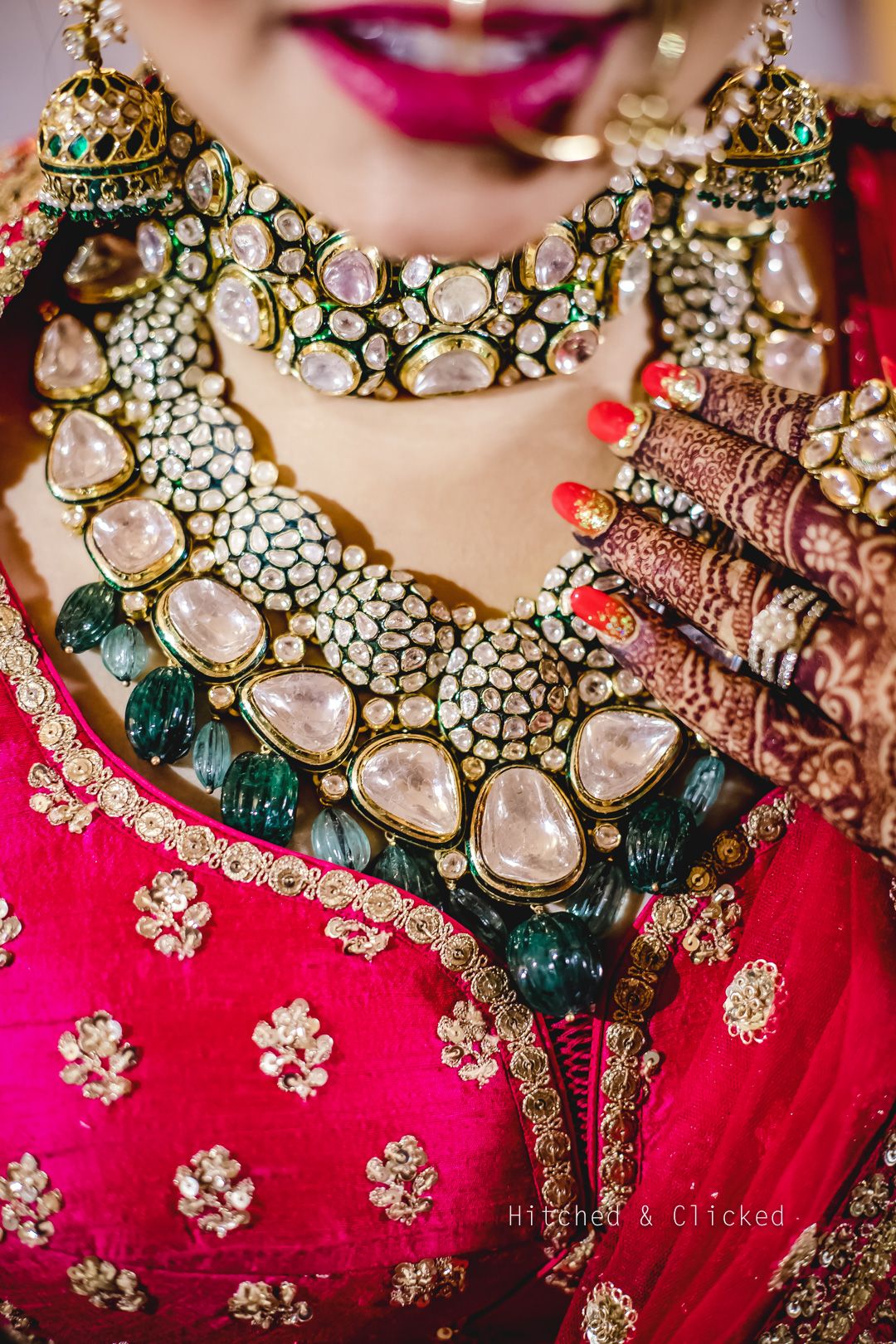 Image via Prerna & Akshay
A lot of people confuse jadau to be a type of stone or jewellery, but it is actually a traditional technique to create kundan or polki. So while Kundan and Polki are stones, Jadau is a technique used to make Kundan/Polki jewellery. 'Jad' means to be embedded and that is the technique used by artisans who craft this style of jewellery. Jadau work is complicated and involves a team of craftsmen, each of whom must know his work very well. The jewellery takes a long time to make – setting just four to five stones can take a whole day. This makes it one of the most expensive forms of jewellery. Each craftsman has a specific task. The primary design of the ornament is made by the chiterias. The engravings and the making of holes to allow for the embedding later are done by craftsmen known as the ghaarias. Like we said, this technique is about embedding stones. Gold is melted just a bit, enough to make it pliable. Once it becomes that way, the stones or crystals are set on it. Care and finesse is required to do this job precisely. Once the gold cools down, the gems or crystals adhere to it without any help.
WMG Tip – Jadau jewellery looks extremely regal so make sure that your outfit and theme match it. It's not for daily wear so make sure that the pieces you pick up are classics like earrings or kadas, which you can use forever.
What about Meenakari Jewellery?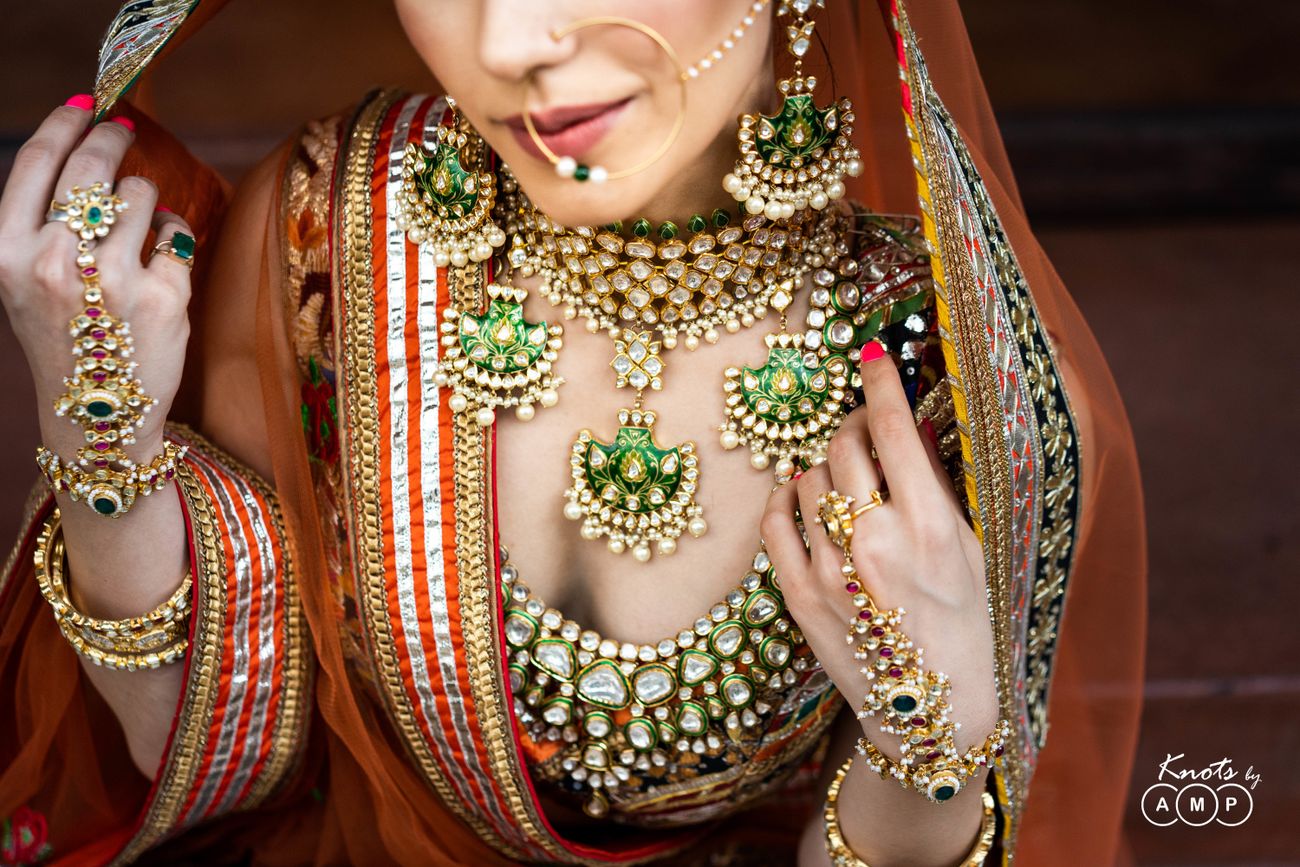 Image via KnotsbyAMP★ 4.9
Meenakari is the art of colouring and ornamenting the surface of metals by fusing over it brilliant colours that are decorated in an intricate design. When you see a lot of colour on a jewellery set, that coloured enamel is called Meenakari. You can find this at the back of your polki set too! Over the centuries, Meenakari was combined with the traditional Rajasthani kundan style of jewellery. Meenakari work is relatively budget-friendly as the gold content is low and the lac used is just enamel.
These days, you have meenakari work options in artificial jewellery too, which makes it very affordable if you're looking for budget options.
WMG Tip – If you are looking at colours in your jewellery without dropping a bomb on rubies and emeralds, Meenakari jewellery can be your new best friend!
How Different Is Temple Jewellery From All Of This?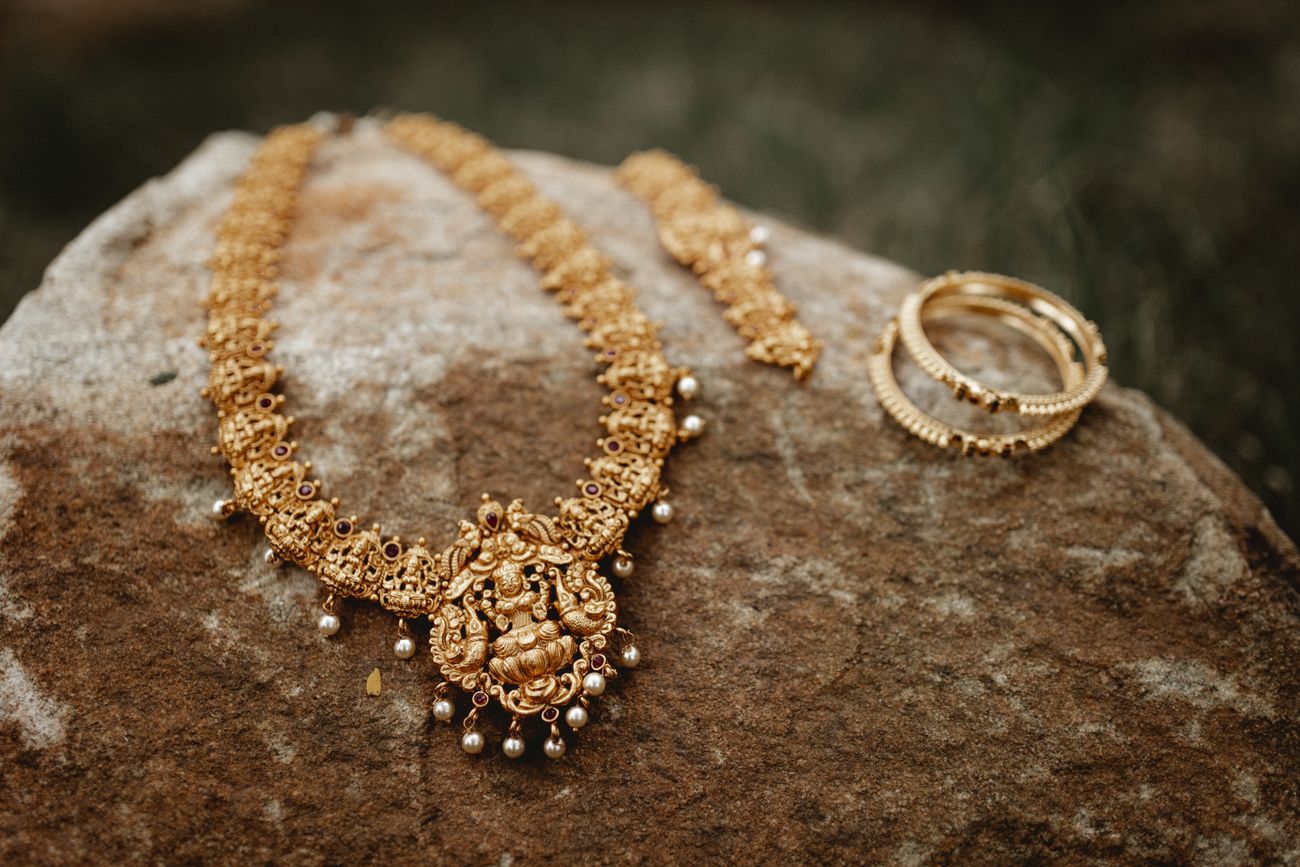 Image via Pep Weddings
Very different! Temple jewellery, like the name suggests, was the jewellery used to adorn the idols of Gods and Goddesses in the south Indian culture. They are chunky and heavy in nature, usually studded with gems or even made of plain gold. Temple jewellery usually has designs which are influenced by the south Indian culture. They were inspired by idols of god and goddesses, animals, floral shapes, birds and statuettes of royal figures. Temple jewellery has an old world charm with its rich cultural background. It is quite expensive as it's made up of pure gold and is quite chunky.
WMG Tip – Temple jewellery is quite different from polki or jadau so make sure that you team up your outfit and your look quite well before you make a purchase. Also, it's different from traditional gold jewellery too which is more yellow than temple jewellery.
Tips On Taking Care Of Your Bridal Jewellery
Keep gold jewellery in a satin or velvet-lined box with compartments to prevent the pieces from bumping each other.
Keep meenakari or jadau jewellery in plastic boxes that are airtight.
Silver jewellery should be stored in air-tight boxes as these help in reducing exposure to metals and oxygen.
Never apply makeup or perfumes after you wear your jewellery, always apply it before.
Store pieces with gemstones in separate and soft pouches that you get from your jeweller. Always ask for extra when you pick your jewellery so you can store it separately
Polki jewellery should be wrapped in butter paper or cotton so that they are in a cool, dry place without being in contact with moisture.
Here is another guide with Bridal Jewellery 101: Kundan, Polki , Jadau and how to care for them