11 Families Who Coordinated Their Outfits To Perfection For The Big Day!
BY Soha | 24 May, 2018 | 63993 views | 5 min read
Its' always a great photo-op when families come together and dress up in sync. And it's not THAT difficult guys, all it needs is a bit of co-ordination and the right colour palette. Take some inspiration from these brides who kept it fun and effortless and made their fambams look amazing on their big day! 
This Co-ordinated Family In Pastels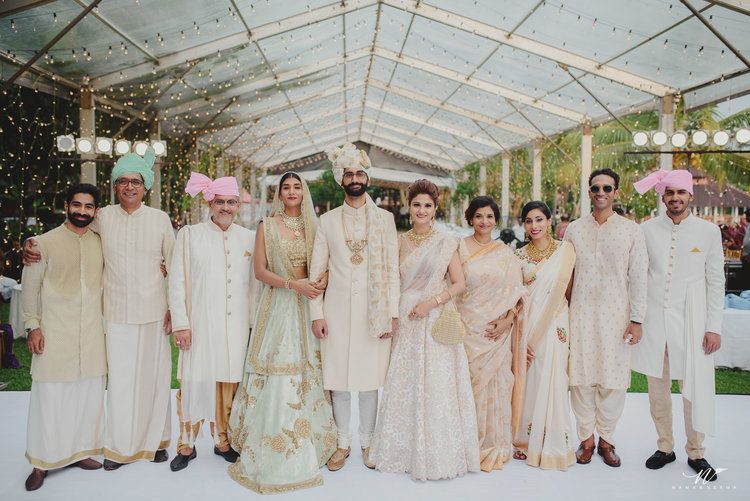 Photography by Naman Verma Photography★ 4.9
Neeraj and Maya had a dreamy destination wedding in the Kerela backwaters but that wasn't the only beautiful thing about their ceremony. The couple chose offbeat colors for their wedding- Maya was dressed in a pastel blue lehenga, perfectly complemented by Neeraj's beige sherwani. The USP of the ceremony was the entire family who coordinated in shades of pastel and came together for a picture-perfect shot!
This Bride And Her Girl Gang In Greens Of All Kinds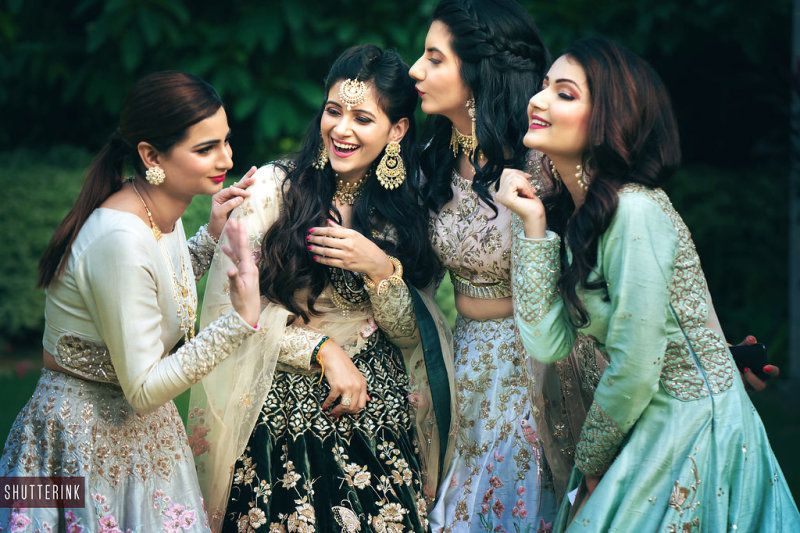 Photography by ShutterInk Photography★ 4.9
WedMeGood brought bride Arjuban and all her favourite women together- her mother and her sisters and friends, for a Pre-Wedding shoot in association with Matysa by Utkarsh Arora. The girls giggled and posed in pastel colours to compliment the depth of the bride's bottle green and ivory lehenga, together making a hard-to-ignore sight!
This Gurudwara Wedding In Hues of Peach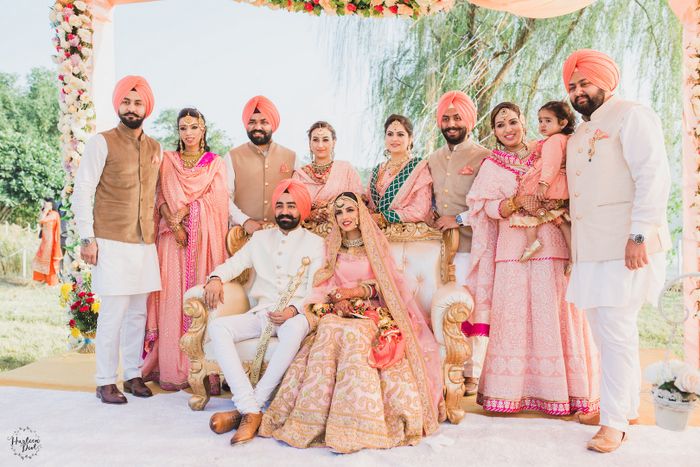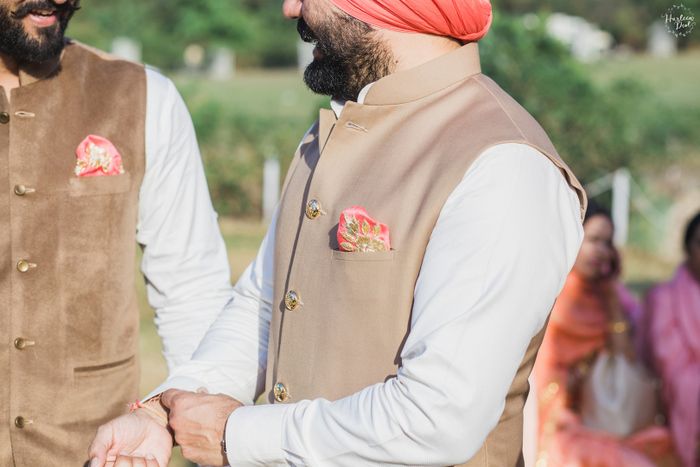 Photography by Harleen Deol Photography★ 5
Harkamal and Guneet had a picture perfect Anand Karaj. The couple got married in a riverside ceremony with the entire family dressed up in hues of peach. We love how all the men wore the same color for the turban, perfectly in sync with Guneet's peach and gold lehenga. The women too wore similar pastel shades, making the pictures sheer delight to look at! Oh and don't miss the embroidered pocket squares all the men seemed to be wearing. Isn't that totally adorbs?
This Family Who Chose Classic Colours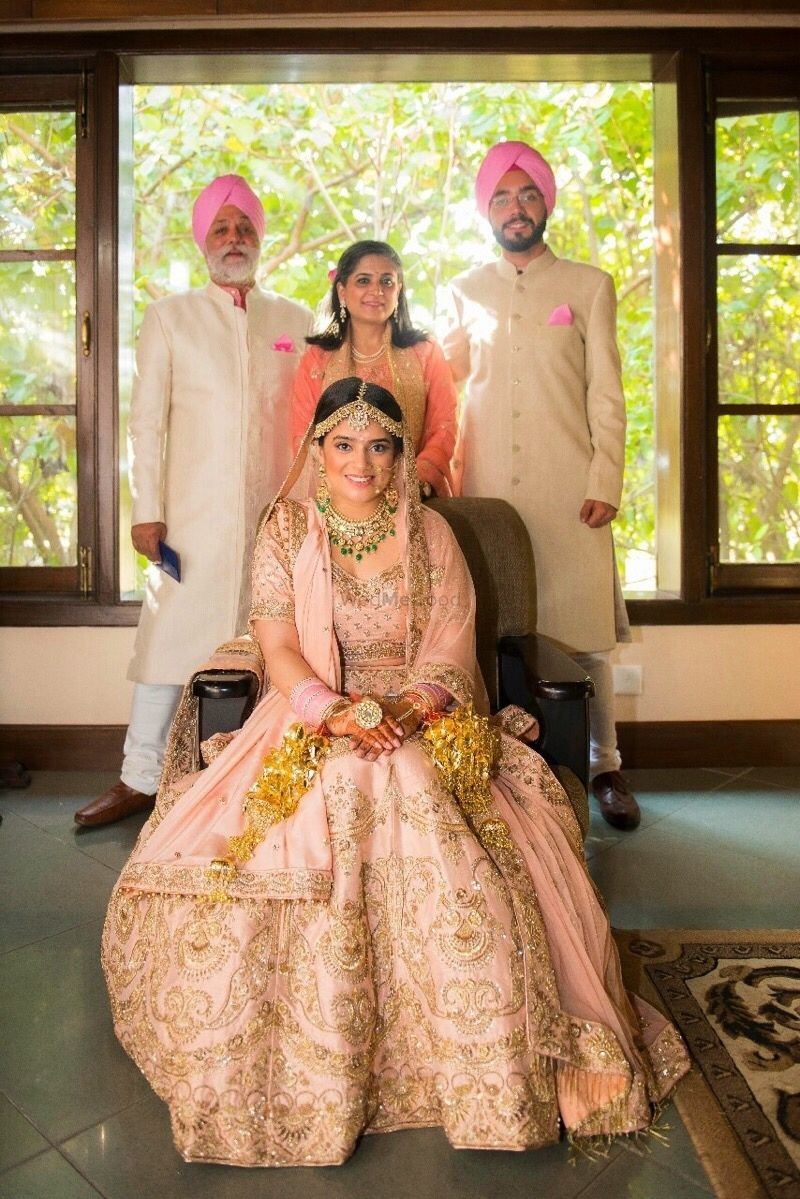 Picture via Amrita Shergill Makeup★ 5
We love how this family chose to stick with classic wedding colours- the candy pink turbans and pocket squares never fail to leave a charm. The mother-daughter duo is also perfectly coordinated in shades of peach, without stealing each other's thunder.
Simple and on point, don't you think?
This Delhi Family Who Twinned To Perfection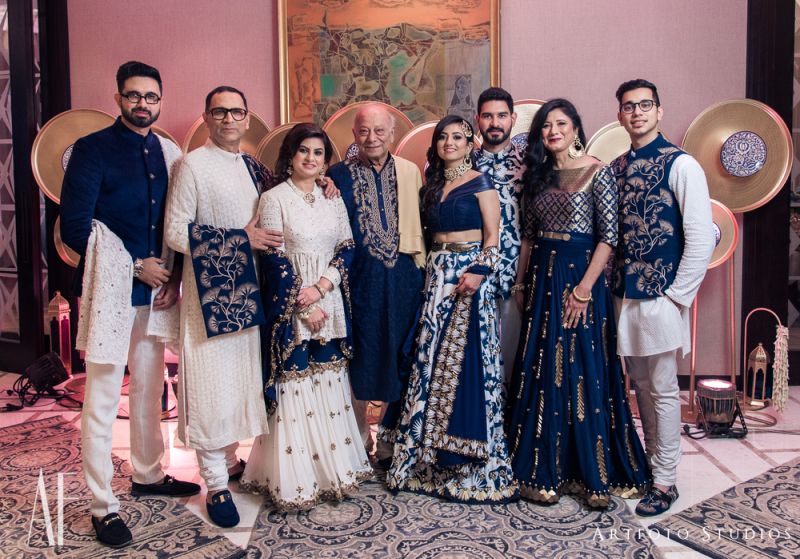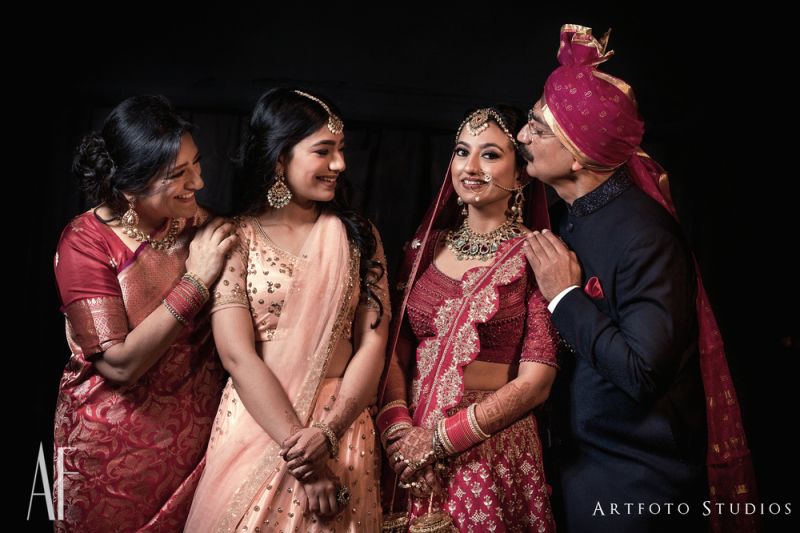 Photography by Artfoto Studios★ 5
We love when a bride and groom coordinate their wedding outfits. But do you know what we love even more? When the entire family coordinates their outfits and twin to perfection, just like what happened at Ankita and Ranjit's Delhi wedding! We're drooling over the royal blue and white cocktail outfit combination. And don't you think the men of the family totally rocked the embroidered blue jackets? And hey, how can we ignore how how both the sets of parents matched parts of their outfits to the bride and groom's deep red outfits! On fleek, what do you say?
This Bride, Groom & The Best Man In White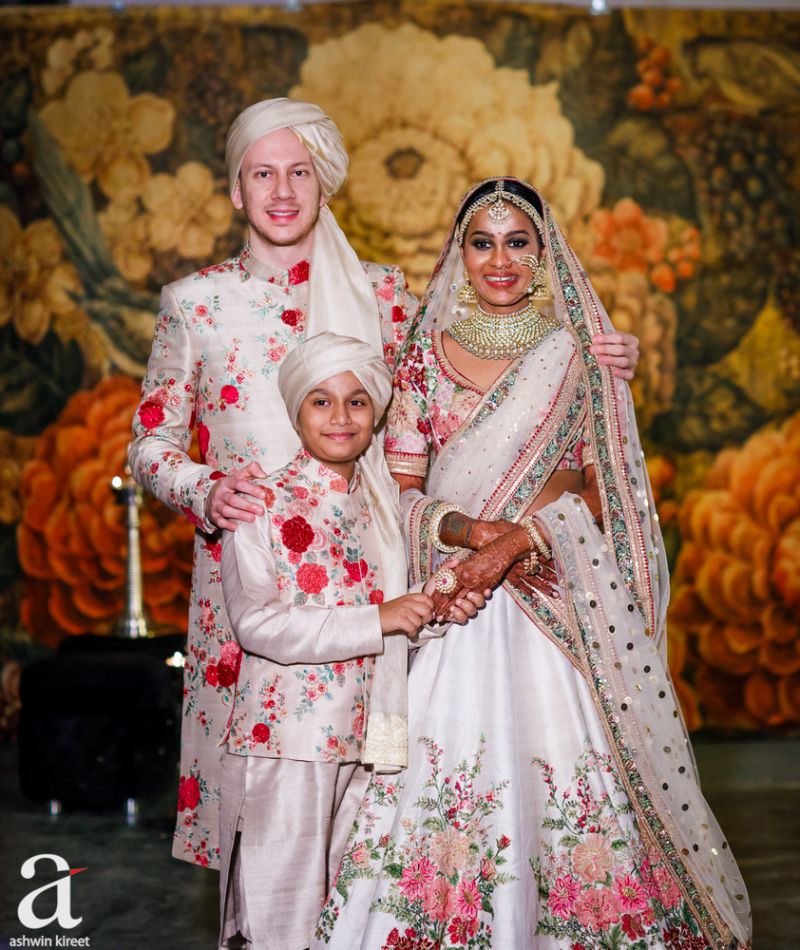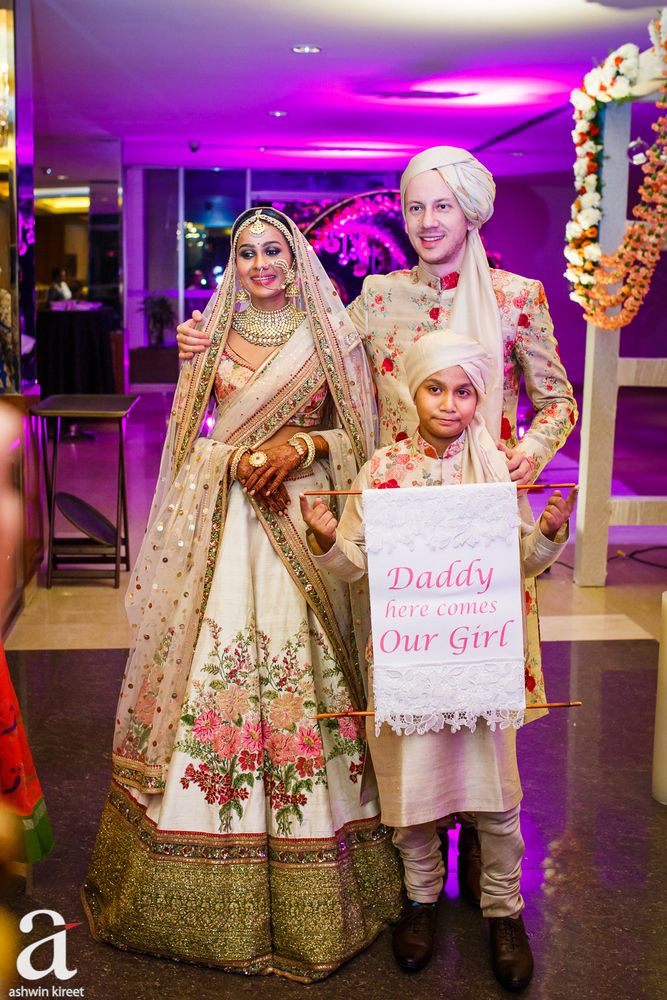 Photography by Ashwin Kireet Photography★ 5
Weddings make our hearts smile, but our smiles widen when there's a great story behind the wedding, like Archana and Paul's story. The bride and the groom chose white for their wedding outfits, but the icing on the cake was the best man's outfit, who also happened to be Archana's son! All coordinated in white, and embroidered in floral prints in shades of red and pink, looked stunning; see for yourself!
Girls In Mint At A Haldi Ceremony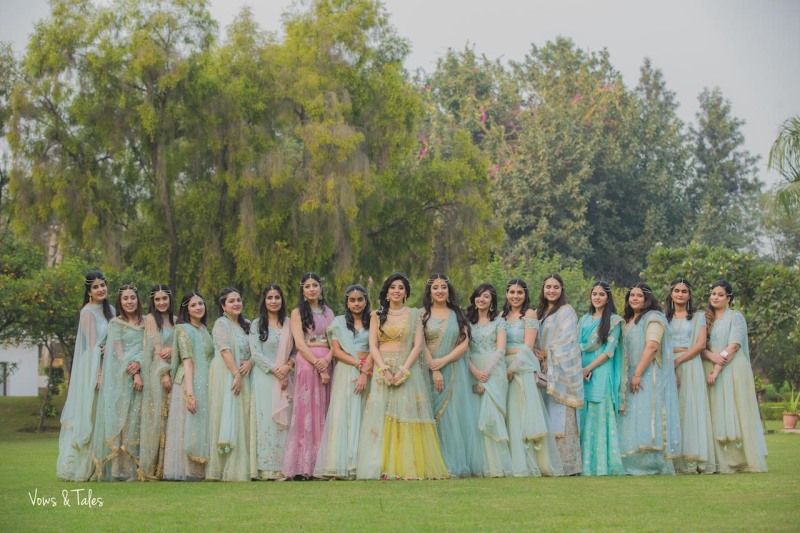 Photography by Vows & Tales★ 5
Yes, you read that right! Mint is not a colour synonymous with Haldi, which is what makes Vasundra's celebration truly unique. The bride and her tribe chose to twin at the Haldi ceremony to make it even more special. Vasundra wore a mint and lime outfit and all her bridesmaids wore outfits which incorporated mint in some form. Now isn't that some team-spirit!
This Sikh Couple in Peach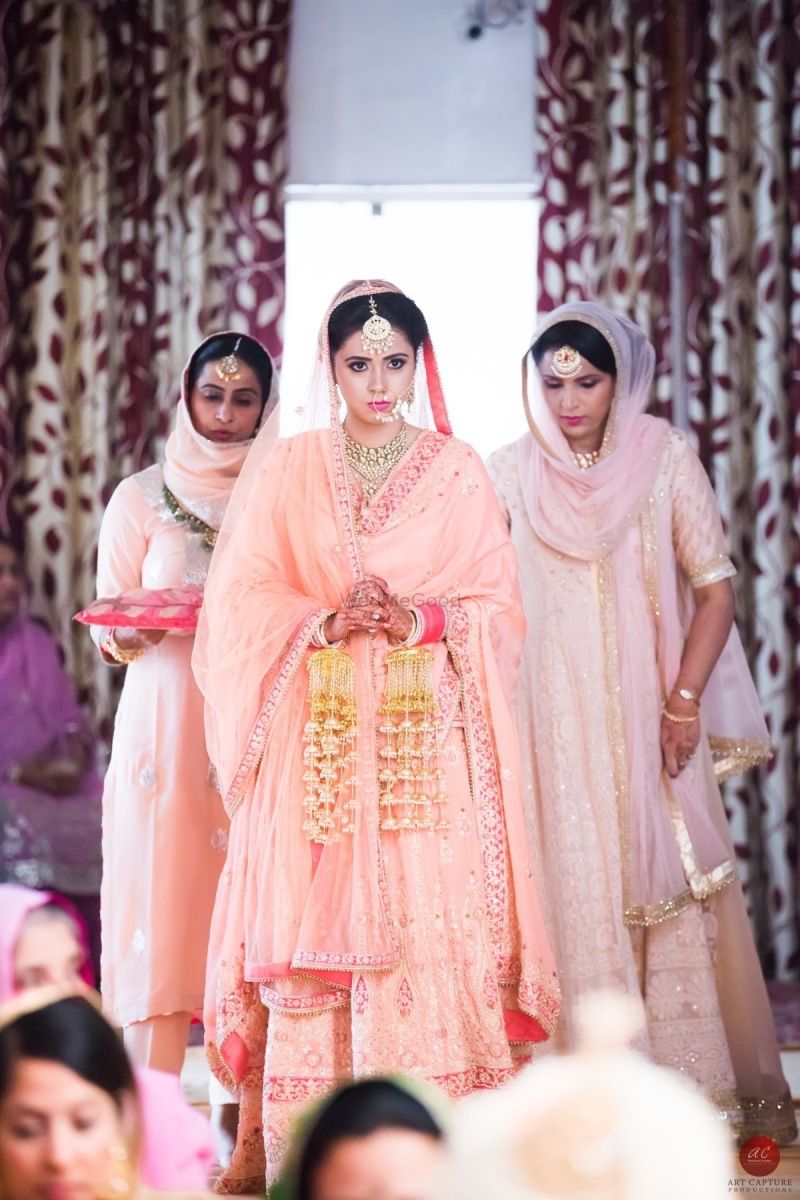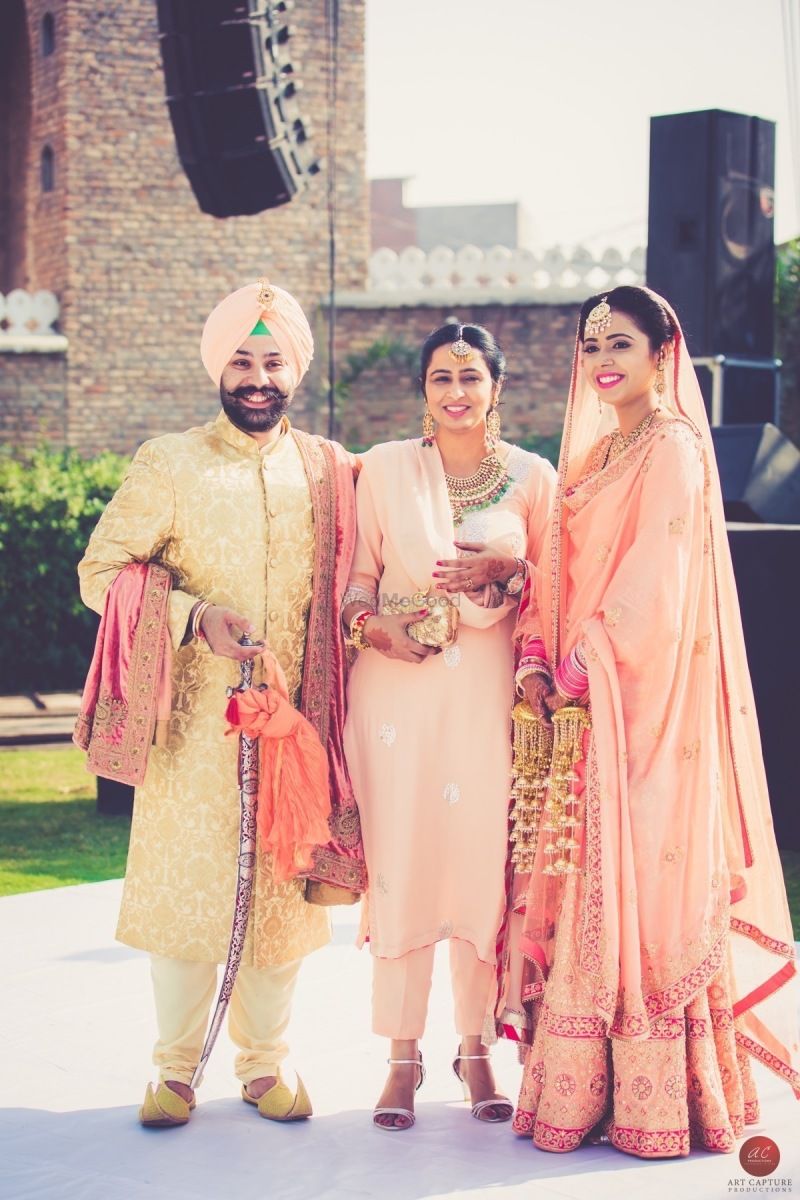 Photography by Artcapture Productions★ 4.5 Artcapture Productions★ 4.5 Artcapture Productions★ 4.5
Now here is another Sikh wedding where the women folk decide to stick to soft peach. Different tones and shades of the same colour, oh they make for a stunning sight! Also notice how the groom matched his turban to his bride's peach. Cute, right?
This Bride And Her Tribe In Contemporary Pastels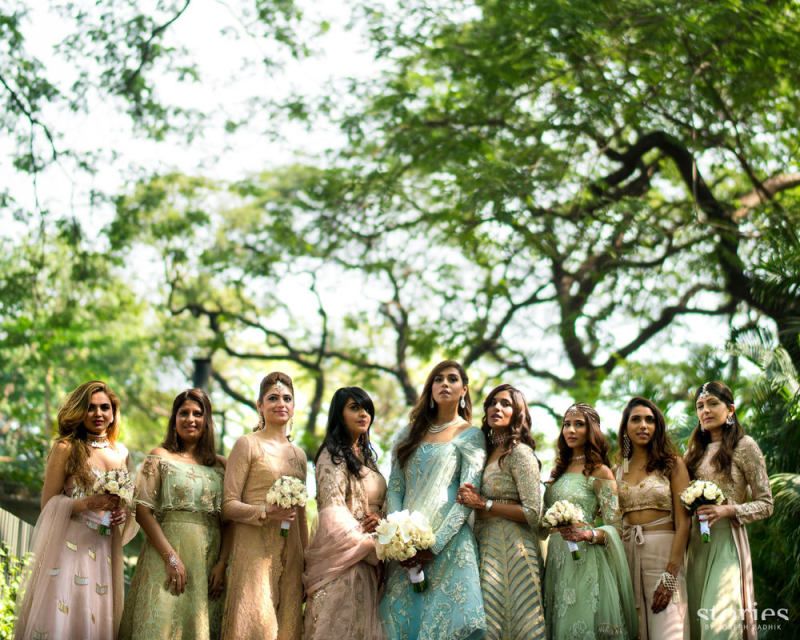 Photography by Stories By Joseph Radhik★ 4.5
Pastels never go wrong- an understated colour that totally lifts up your pictures! Isn't that evident from Mumbai bride Summiyya's pictures? She coordinated with her bridesmaids in pastel outfits and we have never been more in awe! After all, a blogger bride will never go wrong!
This Bride Who Coordinated With Her Brothers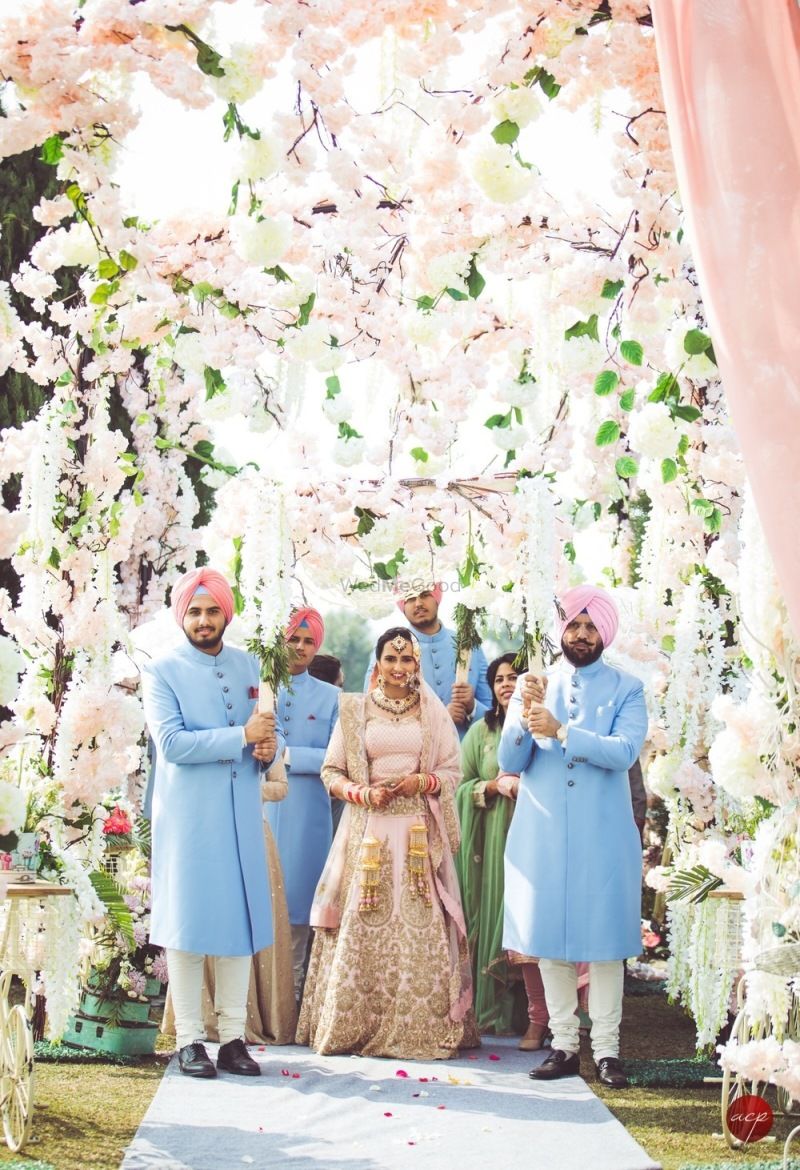 Photography by Artcapture Productions★ 4.5
We have all seen bride & groom coordinating, but here is a bride who coordinated outfit colours with her brothers! Kareena's lilac lehenga was perfectly complemented by all her brothers' Tiffany blue sherwanis and pink turbans. Looking at pictures of her bridal entry with white flowers and her brothers gives us that warm fuzzy feeling!
The Bride Who Got A Designer To Get The Squad On Point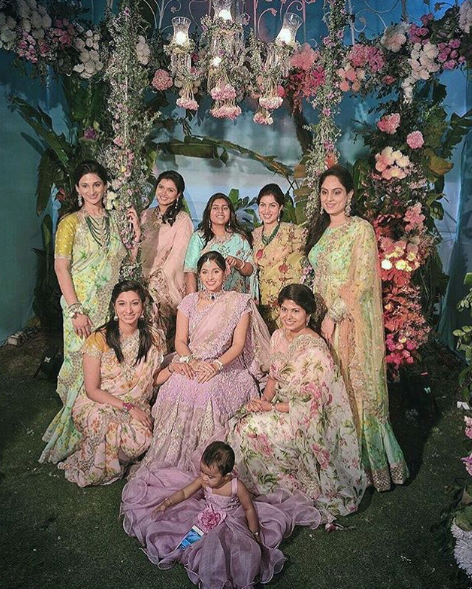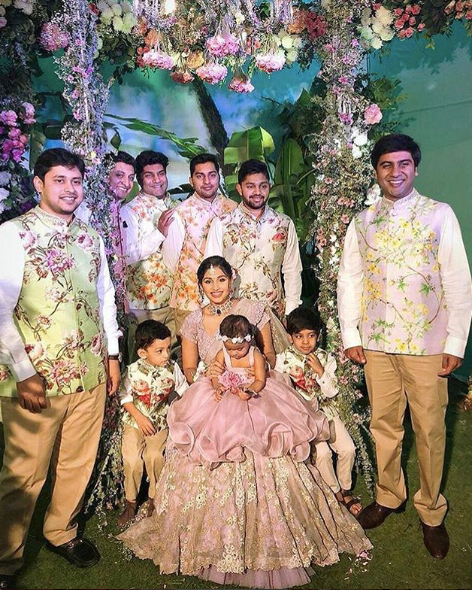 Pic viaAnushree Reddy★ 4.8
Anushree Reddy Designs were used on all the family - from men to women. It's a pretty sight and oh so delicate!!! We love.