13 Wedding DIY Décor Ideas Perfect For Lazy Couples!
BY Sakshi | 25 Aug, 2016 | 2550 views | 4 min read
Thanks to the internet and some crazy trends, these days it's become pretty easy to fit your décor within your budget if you're willing to put in a bit of an effort. After all, gone are the days when wedding décor meant fancy chandeliers and heavy embellished stuff! Nowadays you can do so much with simple stuff like mason jars and origami, which are not only simple to do but look so refreshing and kitschy! So if both of you want to DIY some of the wedding décor but have no motivation to do so, this is for you! Here are some simple DIY projects which take only a couple of hours to pull off, and look uhmazingggg! Whether you wanna DIY and spend some quality time together before the wedding or rein in your girlfriends to do, it's fun either way!
Pompom String Décor
Photo Courtesy: Chayanika and Aditya's Real Wedding
How adorable would these pompom strings look for your Mehendi decor? You could tie individual pompoms like in the photo above or just get some pompoms, big needles and wool. Attach the needle to the wool and keep pushing the pompoms one after another to make these and get ready for all the compliments! Easy right?
Hand-painted bottle vases
Photo Courtesy: Going Bananas Photography★ 5
Ironically, these bottles were painted by the bride herself! You can get some glass paints or acrylic paints and paint any kind of alcohol or even ketchup bottles! Cute right?
Fancy Mason jars
Photo Courtesy: With Love Nilma★ 5
Love mason jars? There's so much you can do with them! You can paint them or even add some glitter to make them really stand out! After they're ready, you could either put in fairy lights or flowers! Click
here
for an easy tutorial on how to make mason jars glitter!
Personalised Hangers
Photo Courtesy: www.somethingturquoise.com
You can always get them customised, but these kinds are pretty easy to make yourselves as well! Find instructions
here
.
Customised Monograms
Photo Courtesy: www.creativegreenliving.com
Monograms are pretty big these days, and they can be used in a lot of ways in the wedding decor! While painting them can be a bit painful, with the help of some thick cardboard or thermocol and washi tape, you can make your own monograms in whatever size and colour you want! Btw, washi tape is easily available in most stationary shops and even online these days in loads of colours and patterns!
Simple Photo Display
Photo Courtesy: Going Bananas Photography★ 5
So simple right? Just extend some string and hang your photos with cloth clips! You even get cute wooden clips these days which are super colourful! You can have a single layer or multiple ones with loads of your photos!
Suspended Photo Display with Flowers
Just simply making these Genda Phool flower strings and sticking photos to it is also a super easy DIY to display your photos! Bound to get a lot of attention!
Bride and Groom Room Signs
Photo Courtesy: Taarini Weddings★ 4.7
Just put some print outs together on a string like buntings and you're all set! You can make one for yours and his room too!
Hang Empty Frames
Photo Courtesy: Ankit Goel★ 5
Easy and pretty right? Perfect for a day garden wedding and super easy to pull off!
Kaleere in Decor
Photo Courtesy: Rajesh Digital★ 4.4
Kaleeras
in décor are big these days! Just get some
kaleeras
and hang or put them wherever you want- super apt and shiny for a wedding!
Make your Wedding Cake fancier!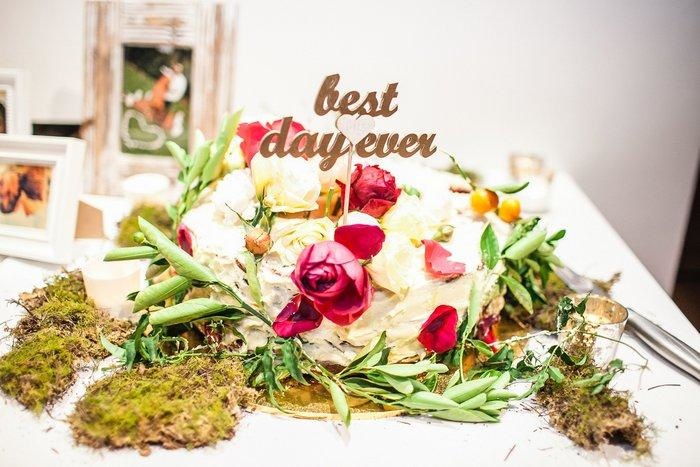 Photo Courtesy: Samantha and Heinz's Real Wedding
Spruce up your normal wedding cake to something fancy with some fresh flowers and cake toppers! Easy and gorgeous!
Easy peasy drapes!
Photo Courtesy: Anithaa Photography
When in doubt, hang drapes! They look super pretty and super chic... especially for a beach wedding like this one!
Painted Fruit
Photos Courtesy: Pinterest
Yup, painted fruit is a major trend abroad these days, and it's super easy to DIY in all kinds of colours and textures! Paint it by hand or quickly spray paint it, it's quick and painless! Find out more about it
here
.
So, ready for some DIY together?