15+ Amazing Tents That Redefine Outdoor Weddings!
BY The WMG Bride | 10 Feb, 2016 | 11993 views | 4 min read
Perhaps it's because the outdoors are romantic and inviting, perhaps you have a special spot for getting married under the stars but outdoor weddings are undoubtedly beautiful. With every 5 star and marriage hall already putting aside space for weddings in the lawns, we are left with no other option but to beautify the space with nice little tents. Show your decorator these wedding tent decorations and make sure they stay within the theme of your wedding.
1. Turkish Engraved Panels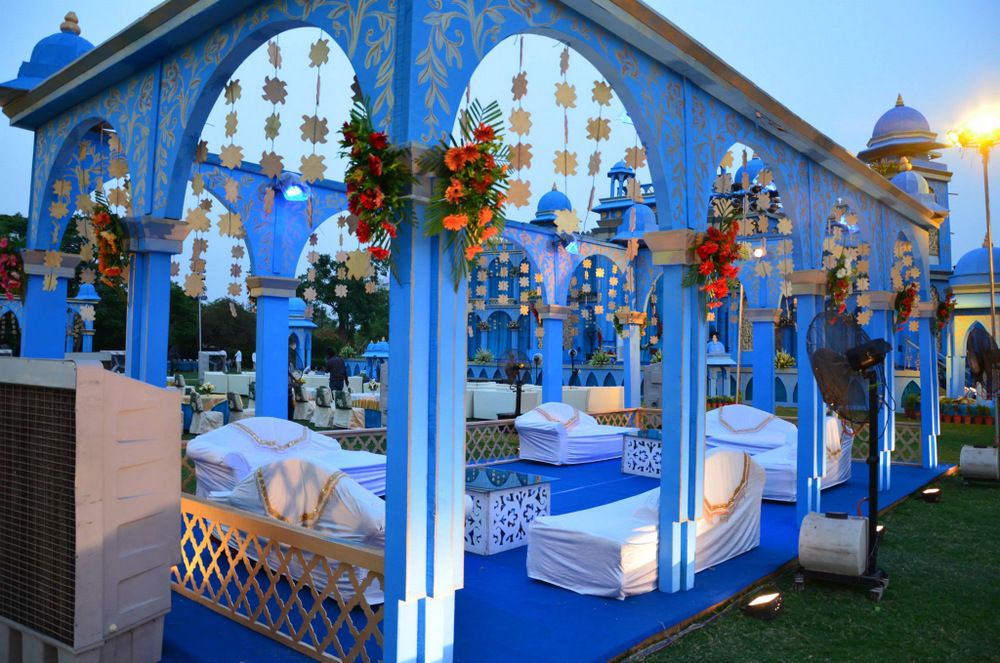 Turkish influences are totally taking over our creative boards of tent decor ideas - so if they are engraved and intricately carved, we are all into them. These little stages can have sofas and chill out zones which can really give a royal feel.
---
2. Floral Print Vintage Canopies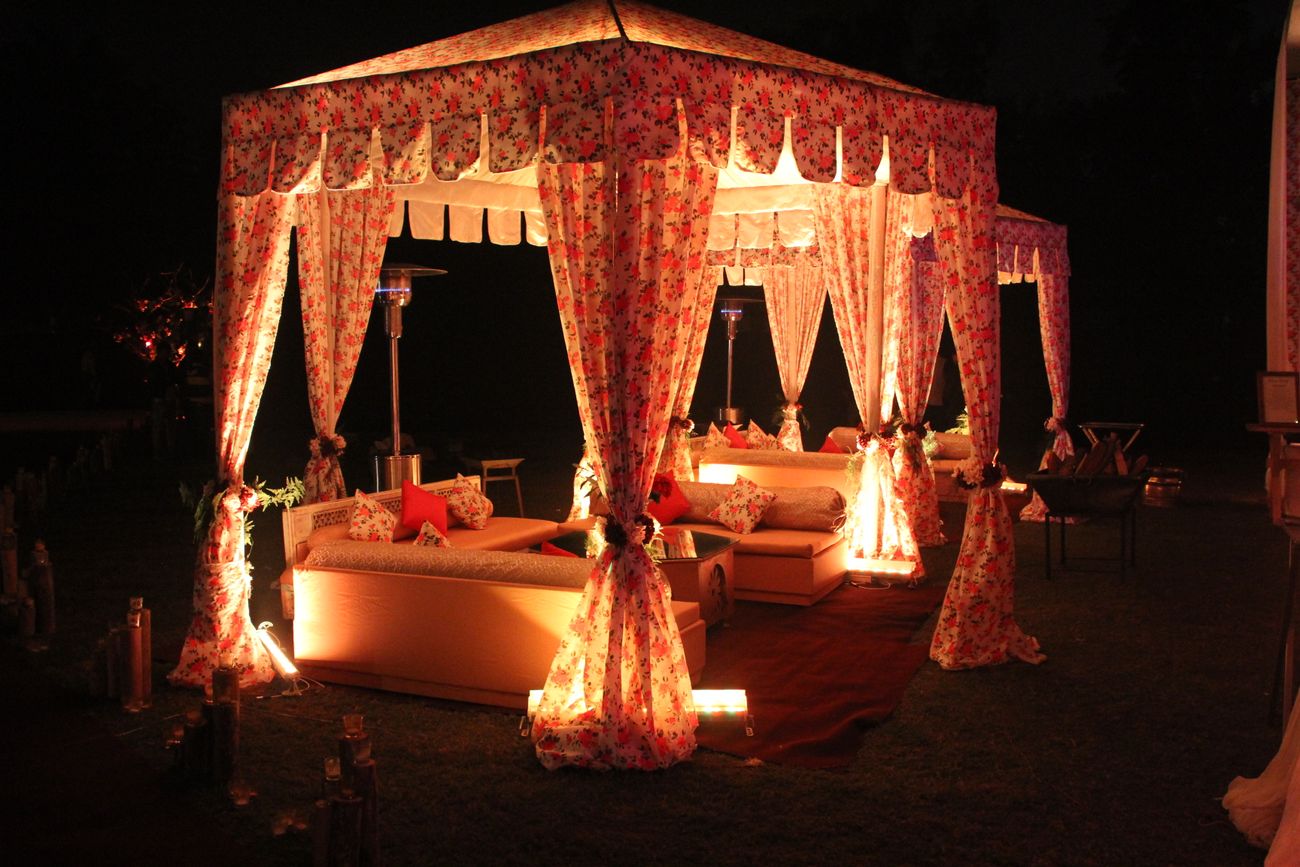 Add sheer floral prints to your wedding tent decoration and make the whole tent pop. This gives a pretty vintage feel to the whole thing. Such a delicate look!!
---
3. Block Prints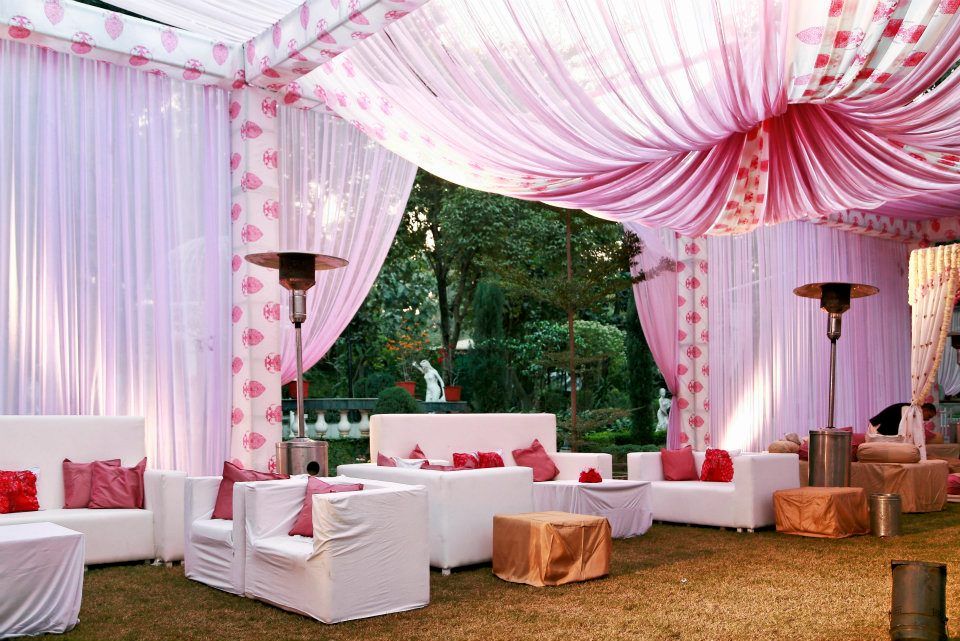 Block prints under the drape can make for a very boho wedding tent decor look. Plus, keep them spaced out and effortless to look elegant and classy. .
---
4. Mithai Pink Tenting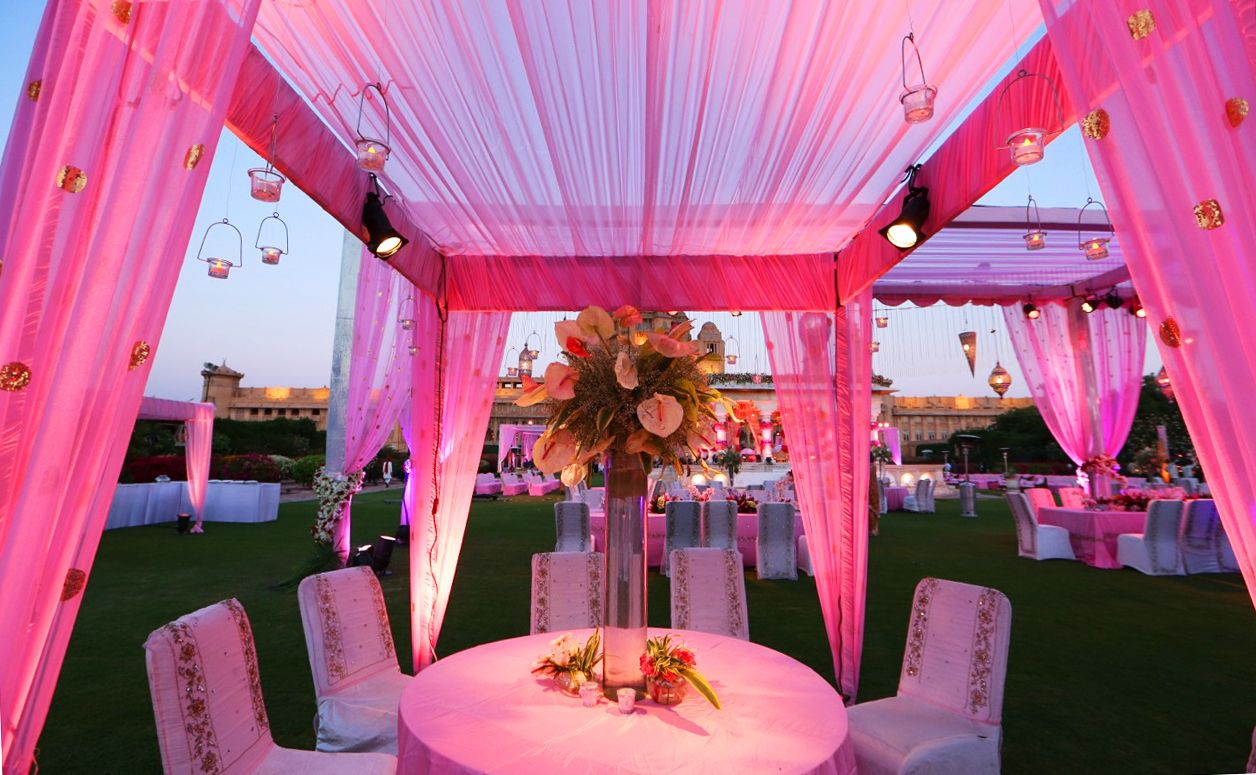 Can it ever be an Indian wedding without a bit of mithai pink? Nopes, right? So make marriage tent decoration better with nice gota borders and sweet tea lights hanging.
---
5. Rainbow Tents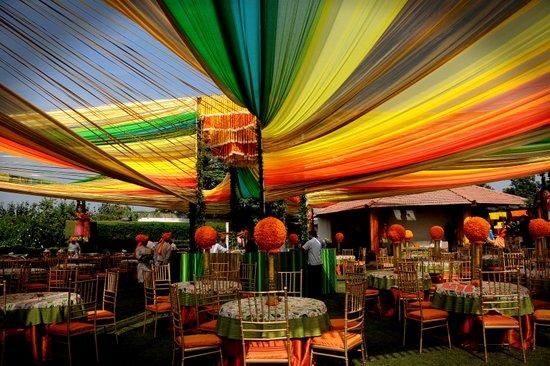 Picture Courtesy: Chapter II Events 
Multi-coloured tent decoration are always a delight - just make sure the curtains are sheer and accommodate the outdoor sky.
---
6. Metal Tents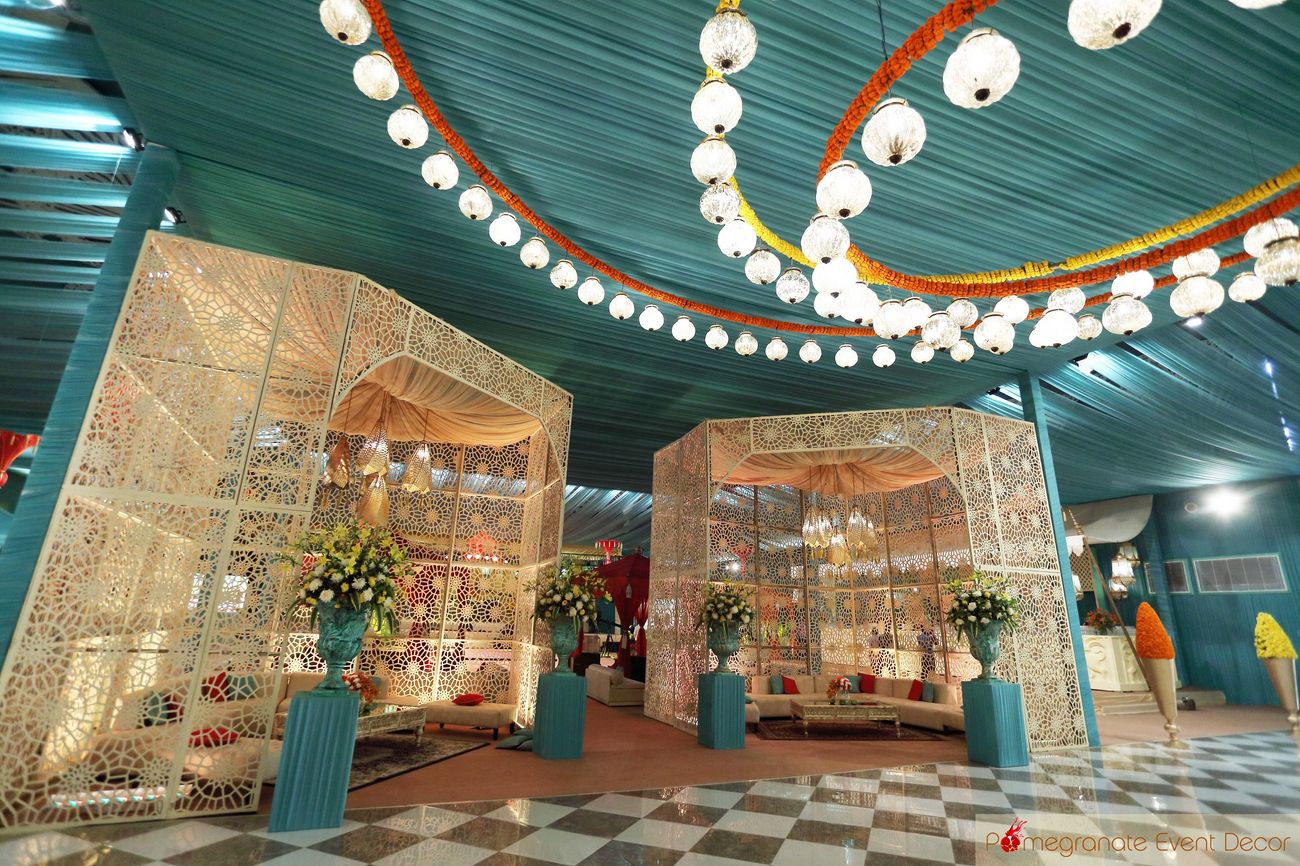 You might think they're heavy but it's all about filigree work so they are actually super cute! Almost like your own harem. These wedding tent decorations will add up so well with your aesthetics.
---
7. Dholki and Bulbs in a Retro Tent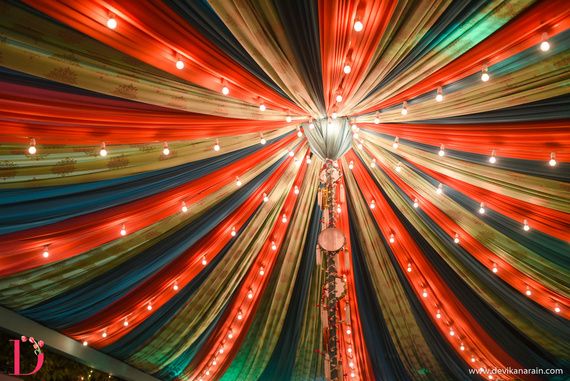 Devika Narain and Company★ 4.5
uper simple yet an amazing wedding tent decor idea. Pretty Banarasi fabrics and retro bulbs can make any tent stand out in all it's vintage goodness, so make sure you light it up well.
---
8. Umbrella Canopy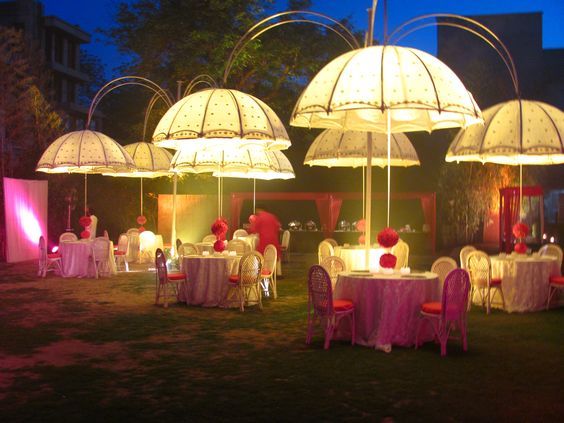 Want to try something different? This marriage decor idea is your go to! Using umbrellas as mini tents - that's so so avant garde and chic.
---
9. Middle - Eastern Magic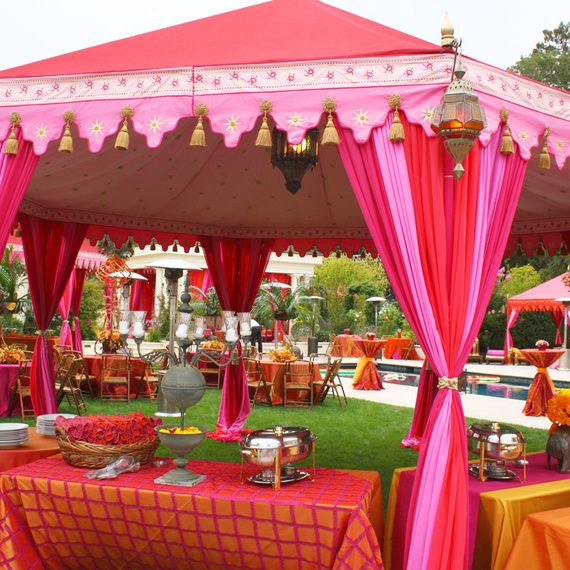 Picture Courtesy: Sara Greens 
Bright colours, lots of tassels - what's not to love! Add a few Arabian lamps and you are all set with a very dreamy wedding tent decoration.
---
10. White Bedouin Tents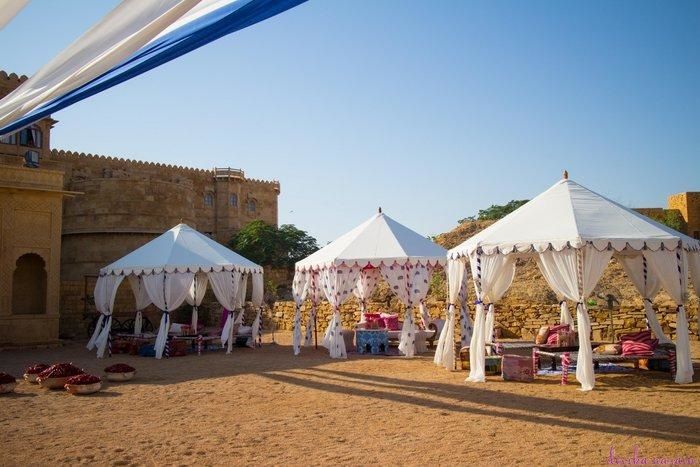 Devika Narain and Company★ 4.5
This one was for a desert wedding tent decor, but how cute are these bedouin-y tents - with nice little cots and hookahs.
---
11. Strips Of Cloth Tent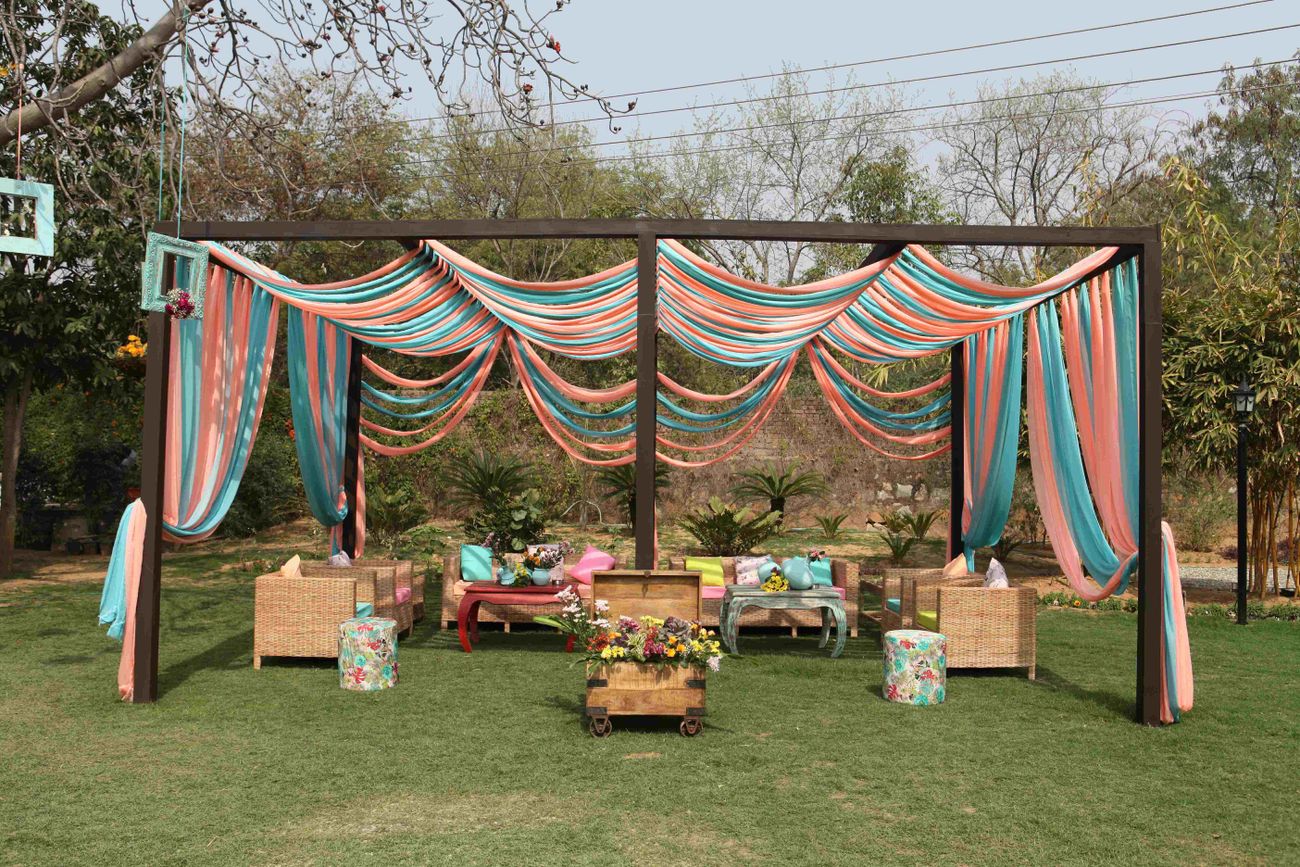 When you don't want a typical "tenty" tent for your wedding decoration try this! You don't need to cover up the whole thing, just add strips of your wedding colours and let the sunlight stream in.
---
12. Leheriya tents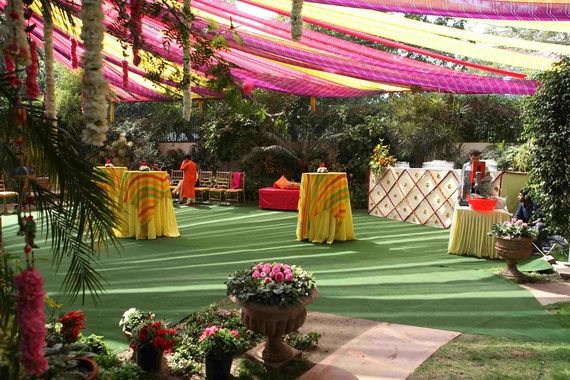 What better design than leheriya,this one is such a great tent decor idea. This one is so DIY that you will love love love it! Add your old dupattas and keep it homely.
---
13. Desert Tents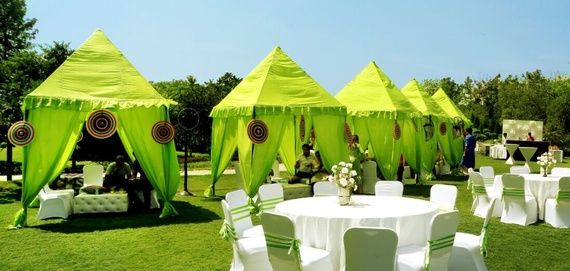 You can choose a dessert type tent decor for your wedding. Especially choosing a A neon hue is just perfect to keep the attention on the decor - and on the green lawns, this just stands out!
14. Tee-Pee Tents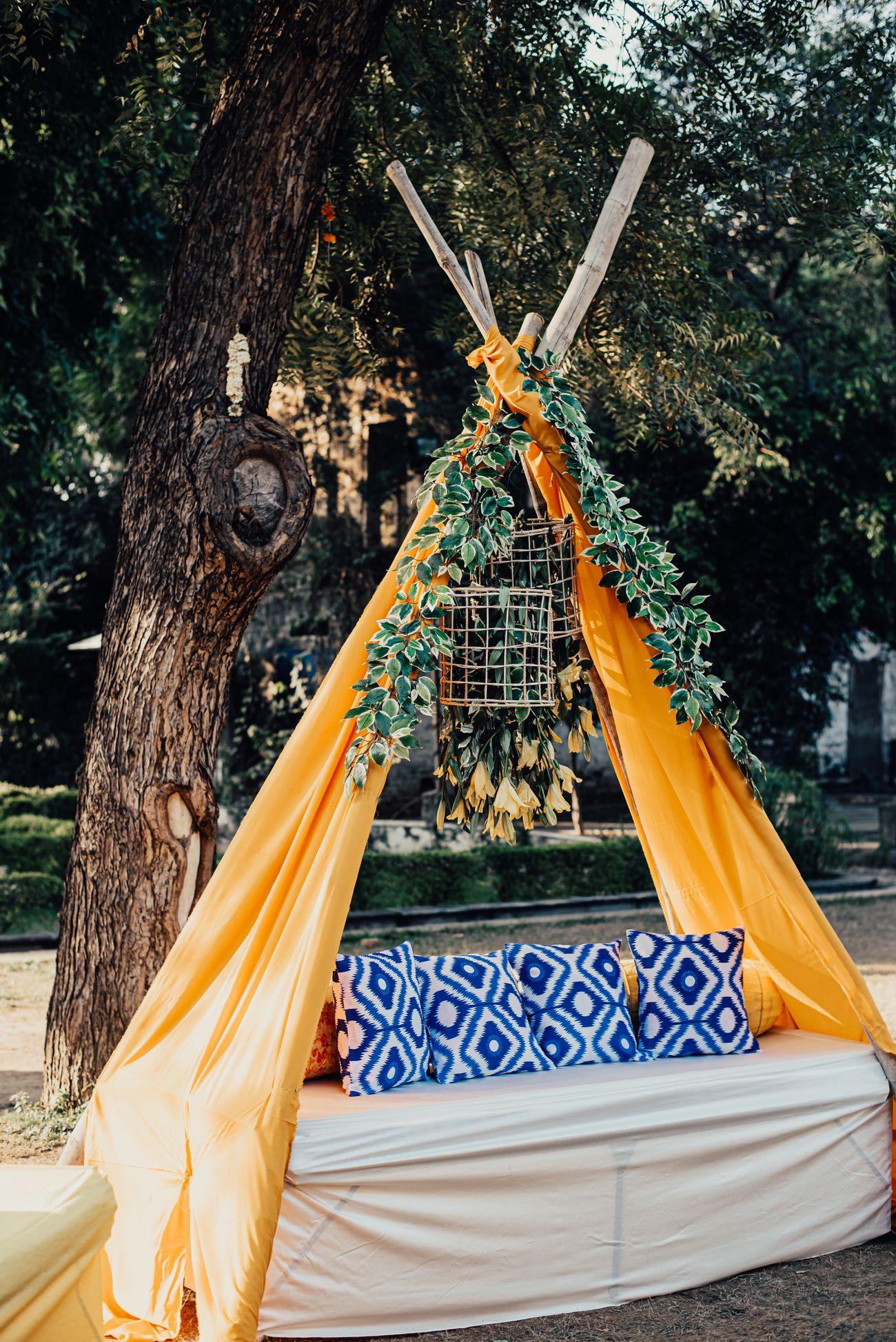 Image via: Hyacinth Events Planner★ 4.9
Definitely a showstopper! These teepees can be used for your haldi/ mehendi wedding tent decoration.
15. With Floral Chandeliers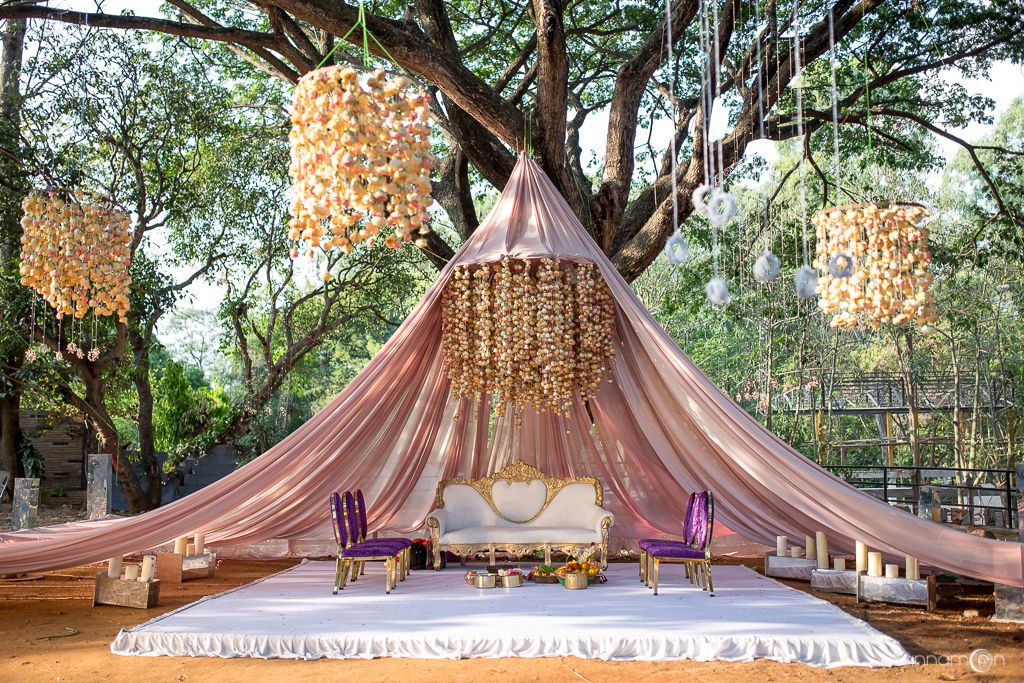 Image via: Cinnamon Pictures★ 5
Rustic colored wedding tents with floral chandeliers! Oh nothing less than fairytales!
16. Mandala Cut-out Tents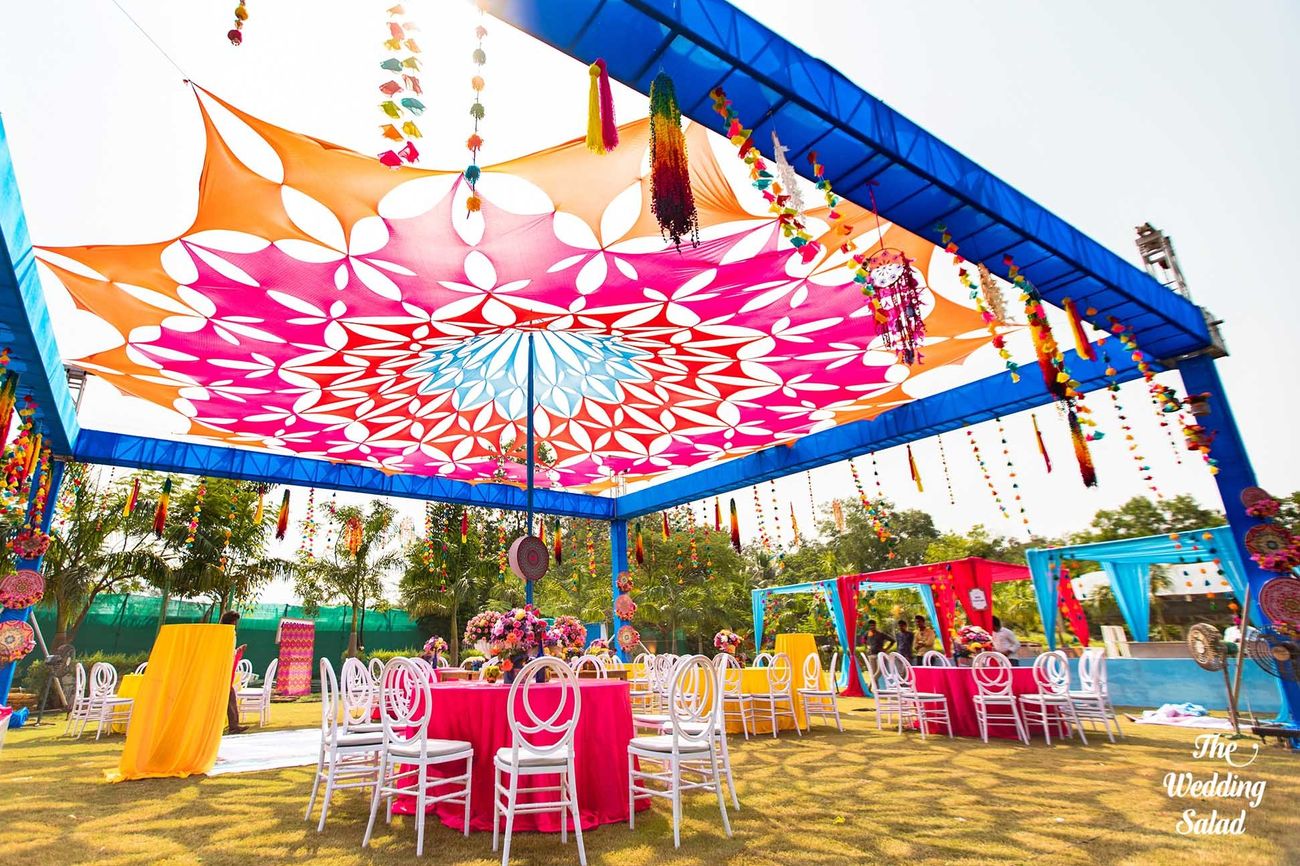 Image via: The Wedding Salad★ 4.9
Darg your wedding tent decoration idea from the above, breathtaking!
17. Carnival Tents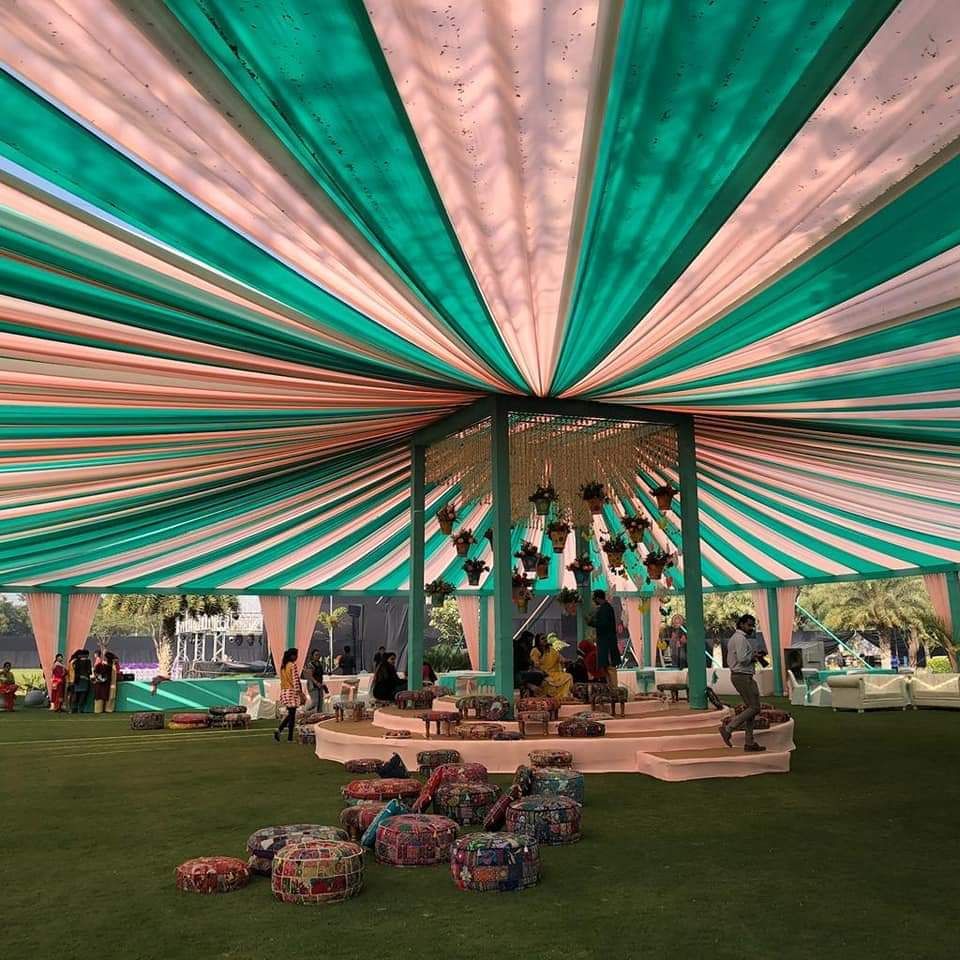 Image via: White Lily Events★ 4.9
They are huge wedding tents, just select any color palette and they will look so glamorous!
18. Fresh Floral Tents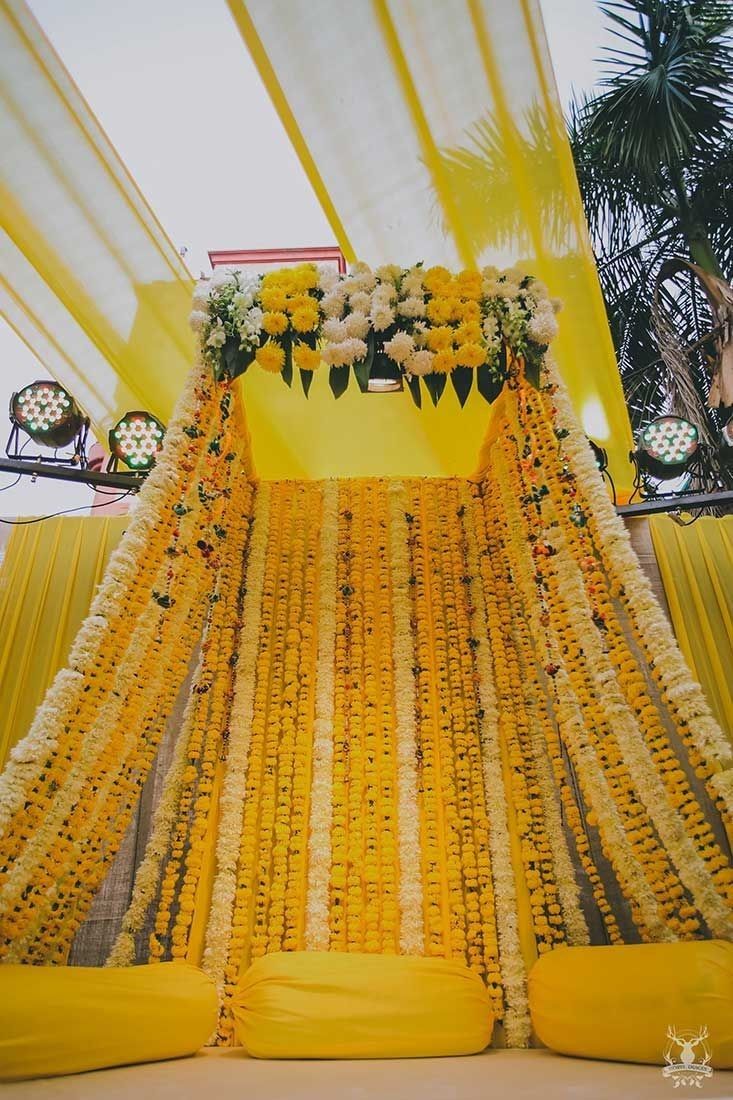 Image via: SRK Wedding & Event Planner★ 5
Tents made with fresh flowers, especially marigolds, best marriage decoration ever!
19. Fairy Light Tents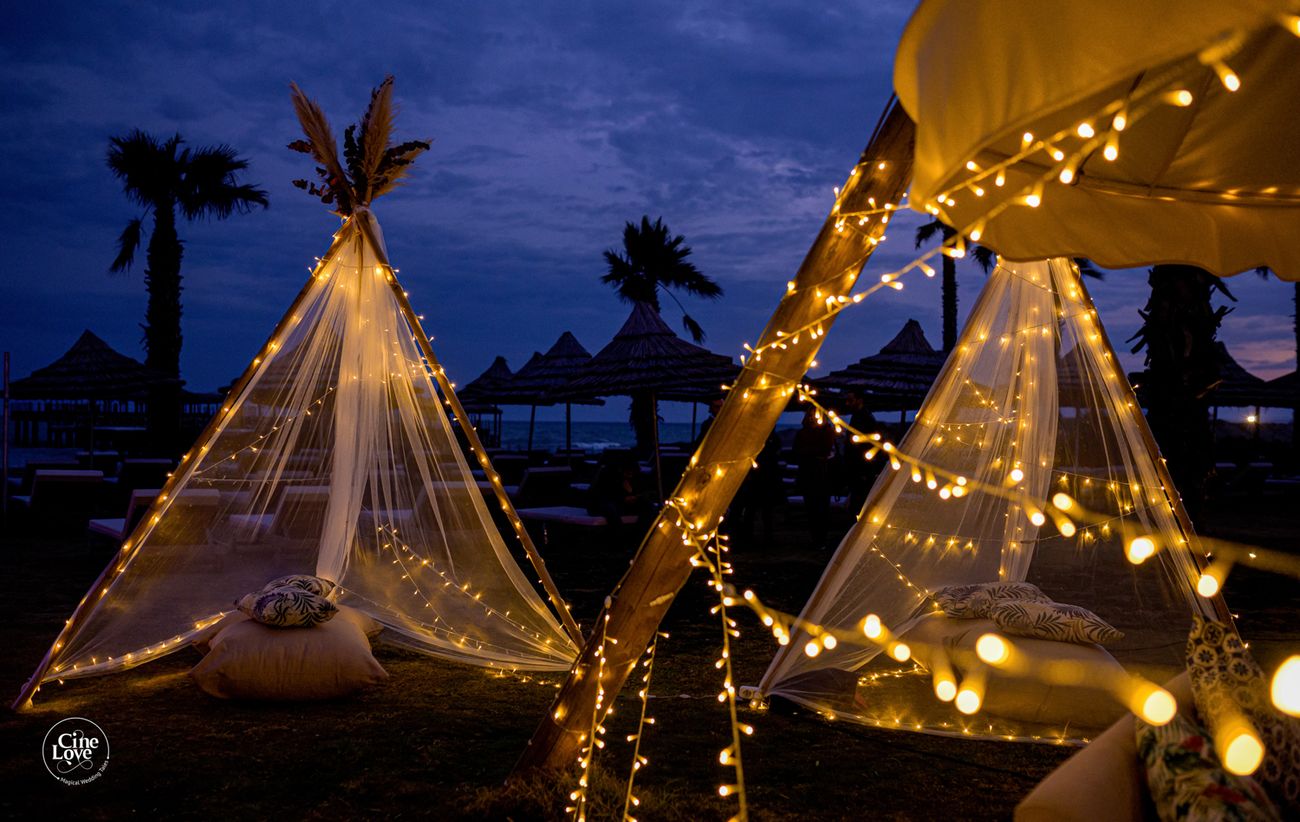 Image via: Chapter 2 Events★ 5
What are weddings without fairy lights? These fairy light tents are an wedding tent decor essential!
Never knew you could have so many options for a tent decor? Now you do with this creatively curated tent decor ideas list.