30+ Wedding Tent Decoration Ideas That We Loved!
BY The WMG Bride | 10 Jul, 2023 | 70 views | 7 min read
Tents have their own lovely charm! These versatile structures possess the unique ability to transform even the most ordinary spaces into extraordinary havens. Whether you're seeking to add a touch of glamour to a secluded corner, make a grand statement at the entrance, or provide cozy seating for the couple or guests, tent decorations hold the key to achieving your desired effect. Tent decoration is one of the key elements for any tent-style ideas. So, we decided, why not show you our favourite ones? From lux Persian-style tent decoration ideas to more relaxed ones, our list has it all. Bookmark your favourite ones today!
1. Baroque Style Tent Decoration With Gold Accents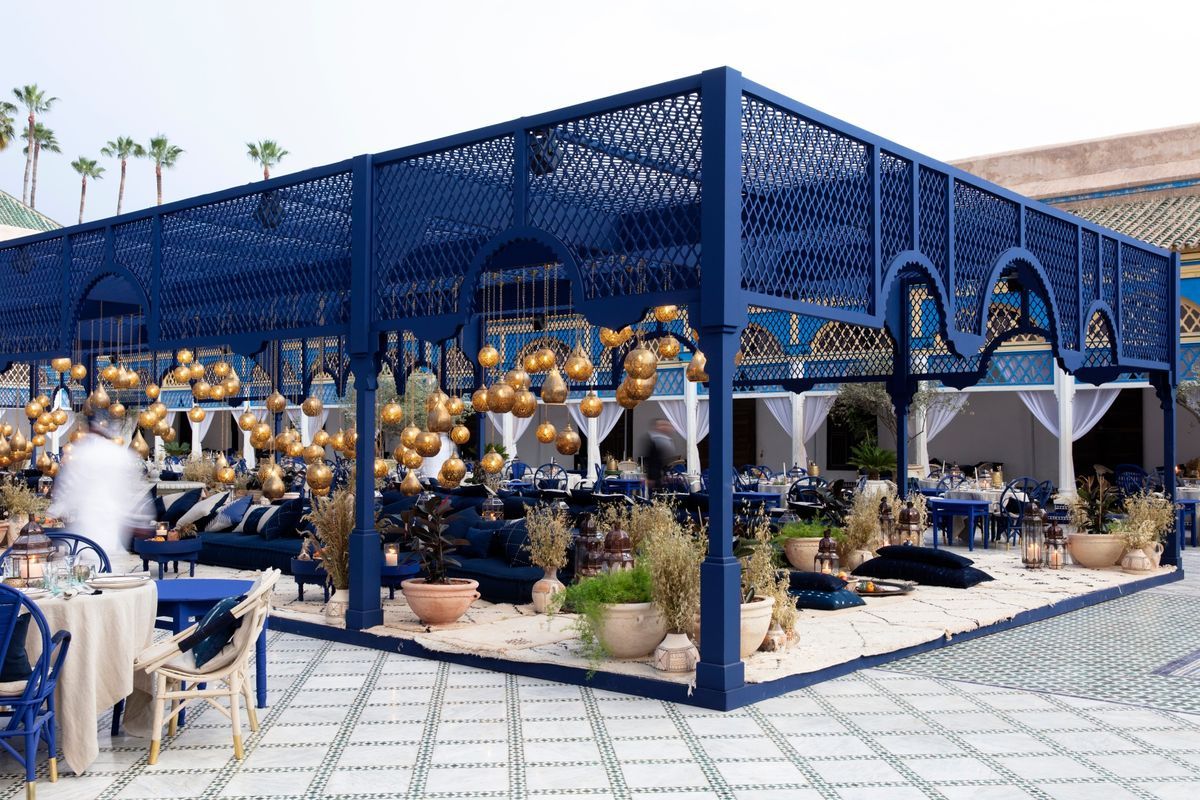 Image via Pinterest
Such a unique baroque style of tent decoration idea that we are loving for Indian weddings!
2. How Gorgeous Is This White And Gold Wedding Tent Decoration?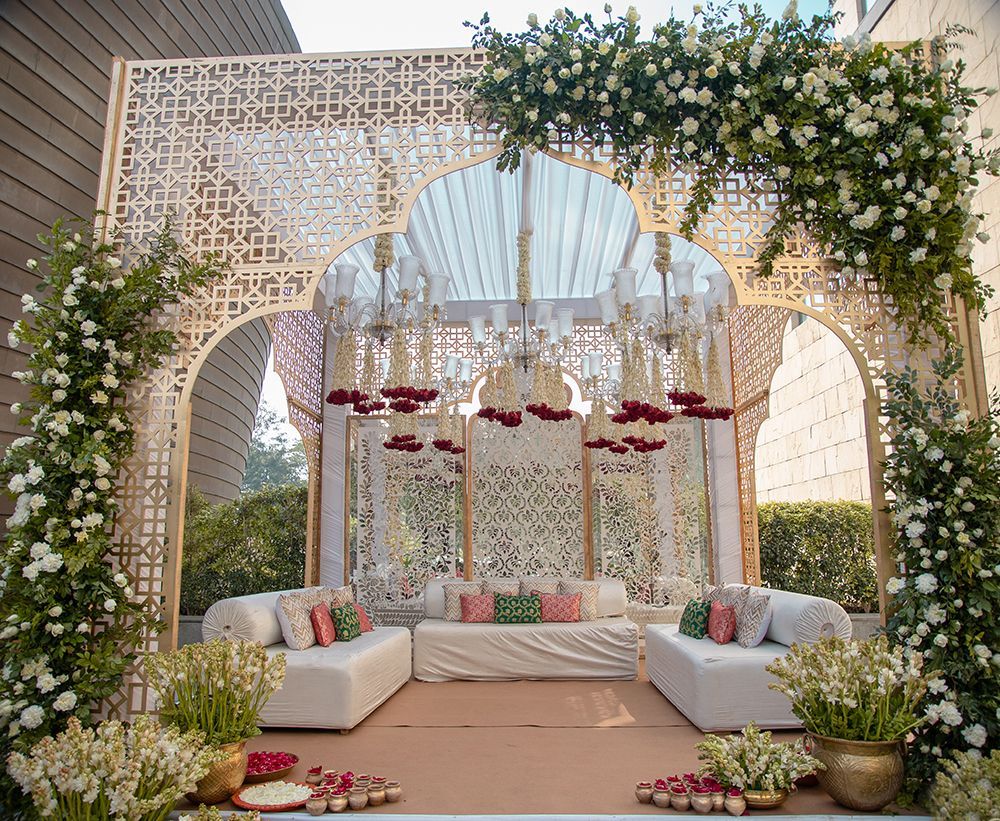 For brides who love white décor but don't want to whitewash it, this is the one to bookmark!
3. Loving This All Yellow Tent Decoration!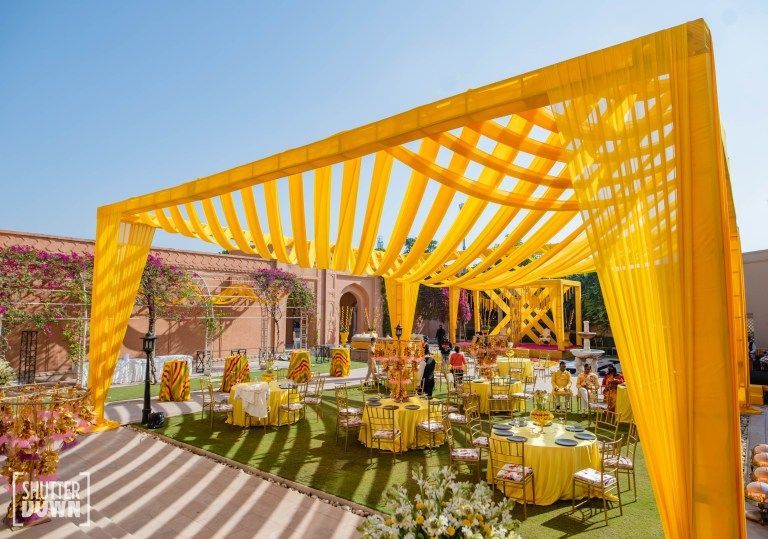 Image via Shutterdown - Lakshya Chawla★ 5
How happy and sunshiney is this tent decoration idea?
4. Beautiful And Unique Glass Tent!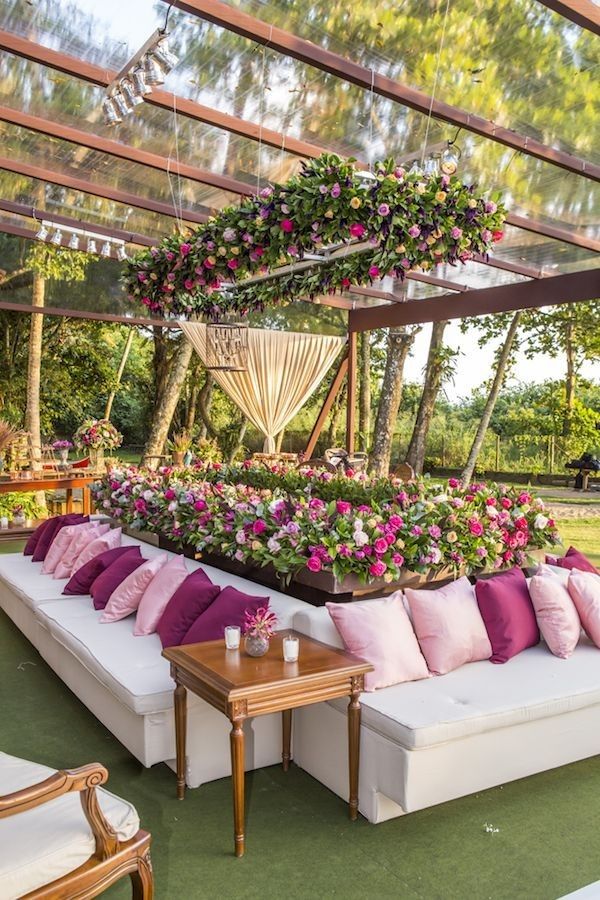 Image via Young India Events & Decor★ 5
If you are looking for out of the box tent décor ideas, this beautiful glass tent is the way to go!
5. Totally Crushing On This Blue And Yellow Floral Tent Decoration!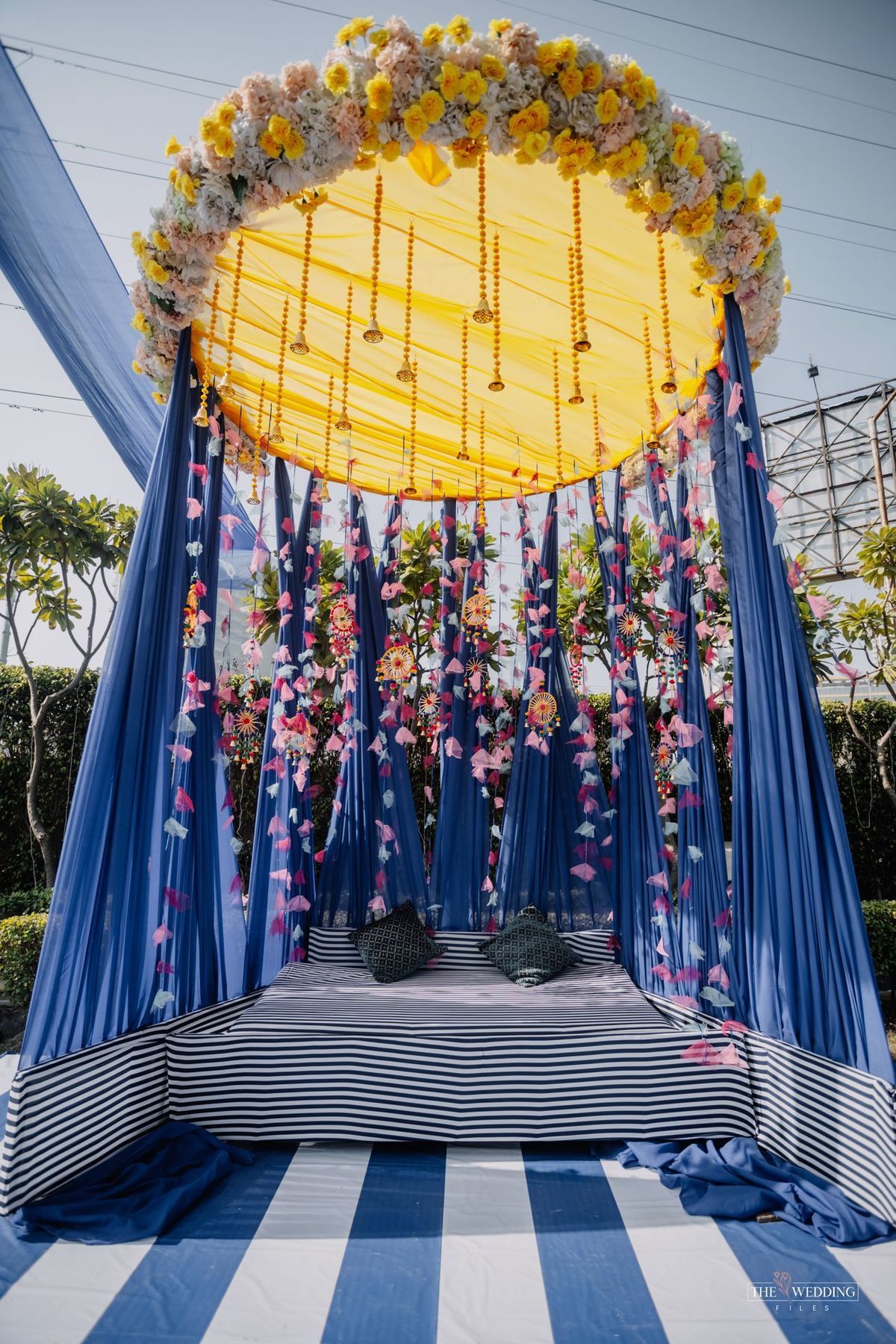 Image via Parul and Parth
This one makes for a pretty bride and groom seat as well as a lovely tent!
6. Persian Beauty!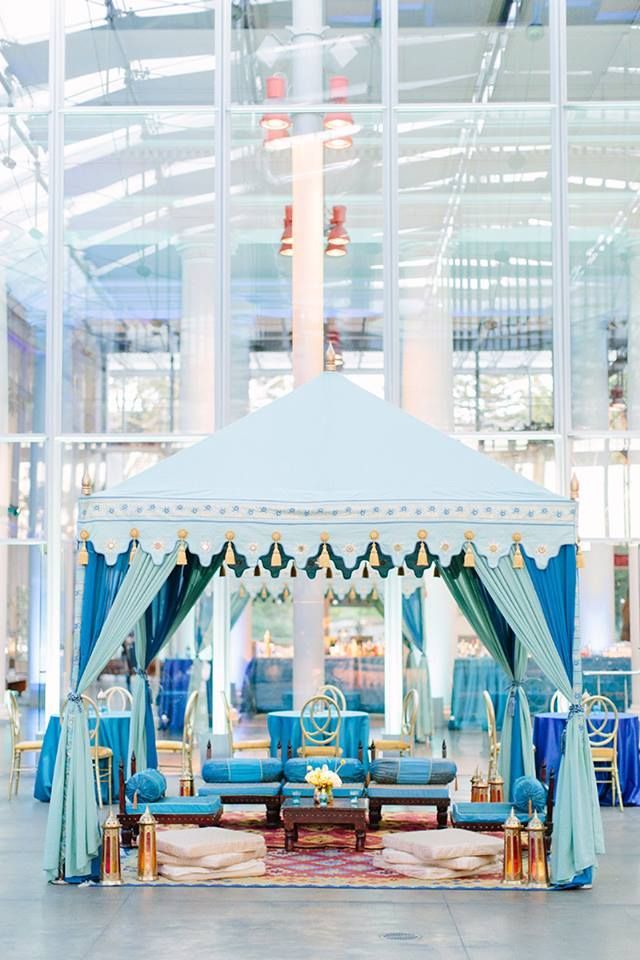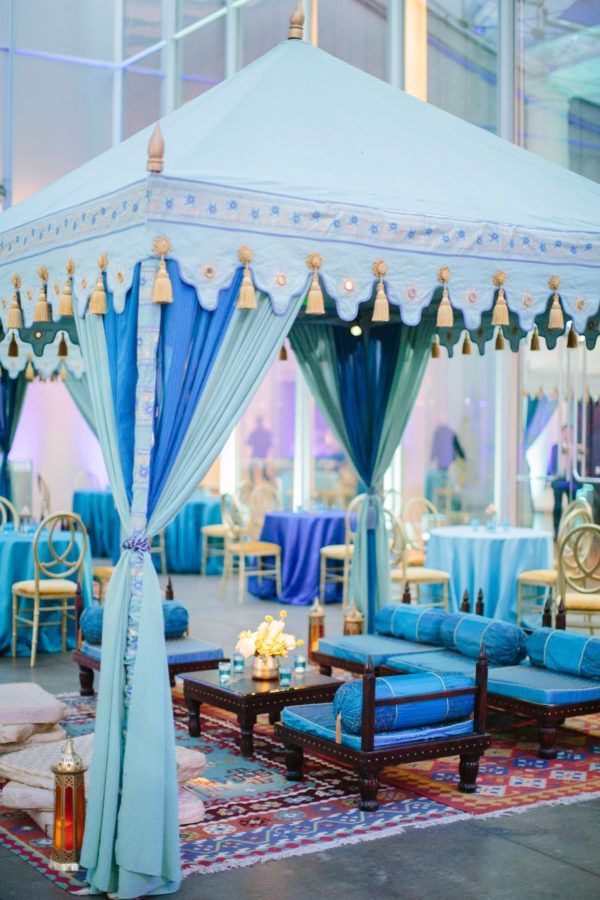 Image via Pinterest
Persian accents with tassels on this tent décor idea, stole our hearts!
7. Lovely Drape Style Peach And Turquoise Wedding Tent Decoration!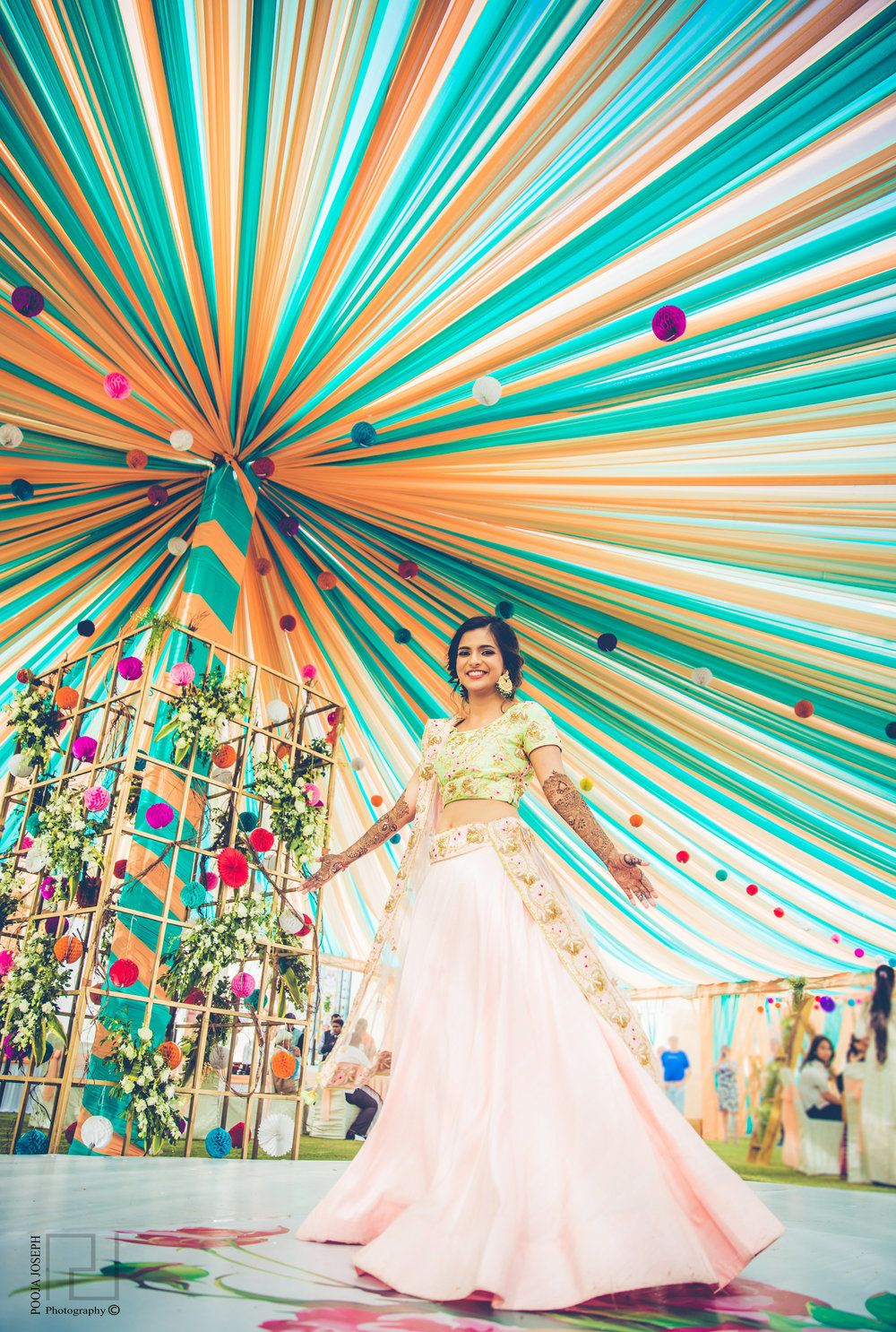 Image via Niharika and Rahul
If you love colour as much as we do, this peach and turquoise blue drape style wedding tent decoration is the one for you!
8. Quirky Printed Tent Décor With Hats!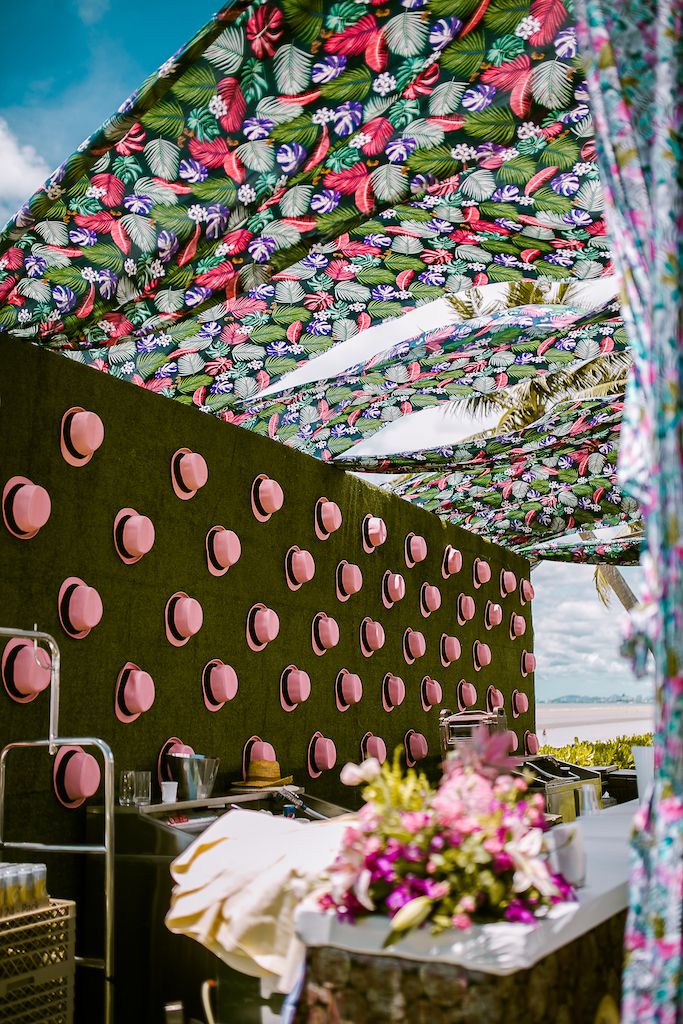 Image via Sonali and Karan
This couple made a bar with a printed tent and a backdrop with pink hats. How quirky is that?
9. Teepee Tent Decoration On The Waterfront!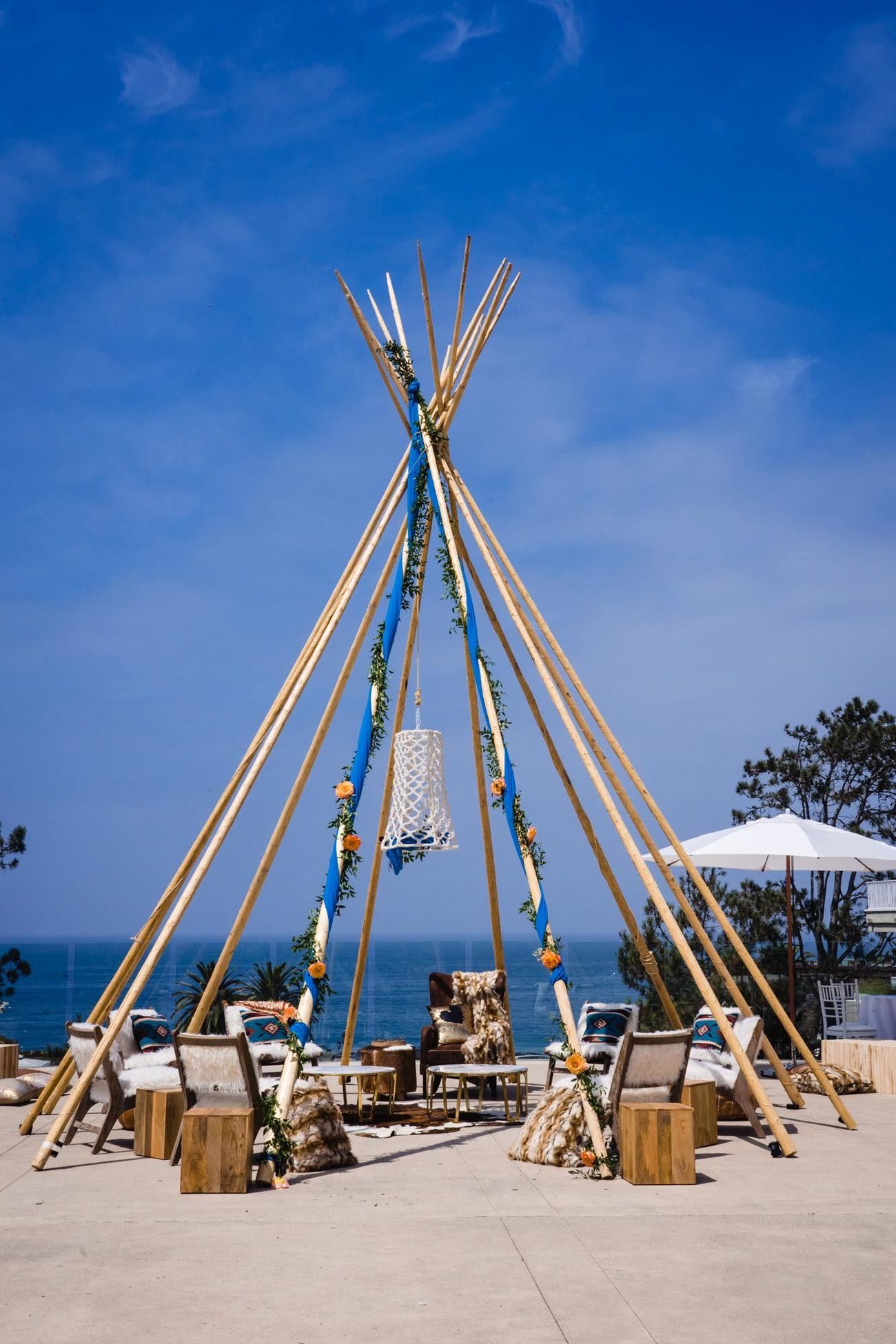 Image via Real Wedding
Loving this tent decoration idea!
10. Pink Wonder!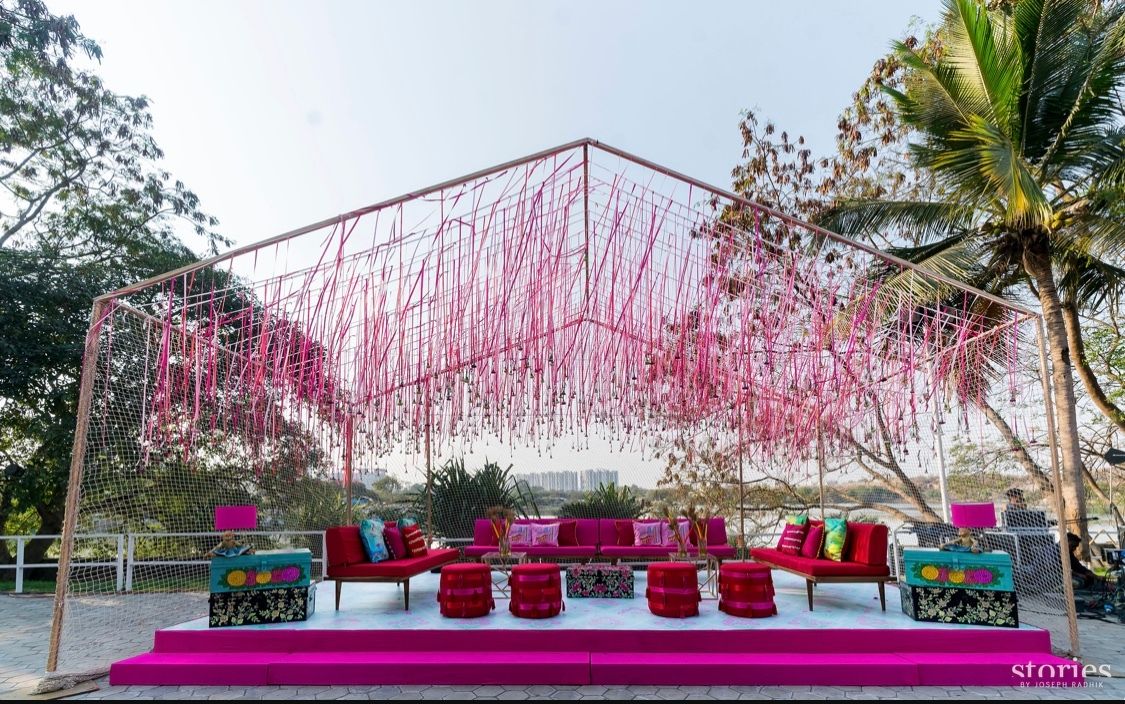 Image via Chandini and Vardhan 
How cute is this open air tent décor idea with accents of pink!
11. Perfect Indian Wedding Tent Decoration For A Haldi!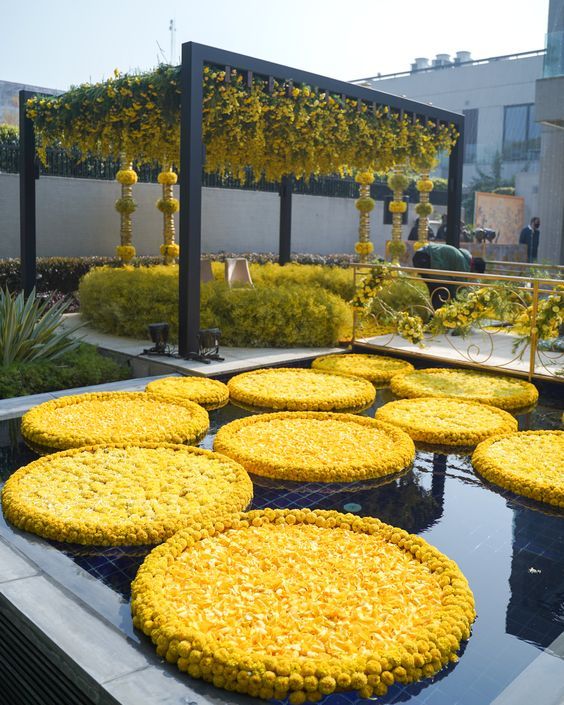 Image via Pinterest
With gorgeous yellow florals, this décor idea is one for the books!
12. Pampas & Tulle Love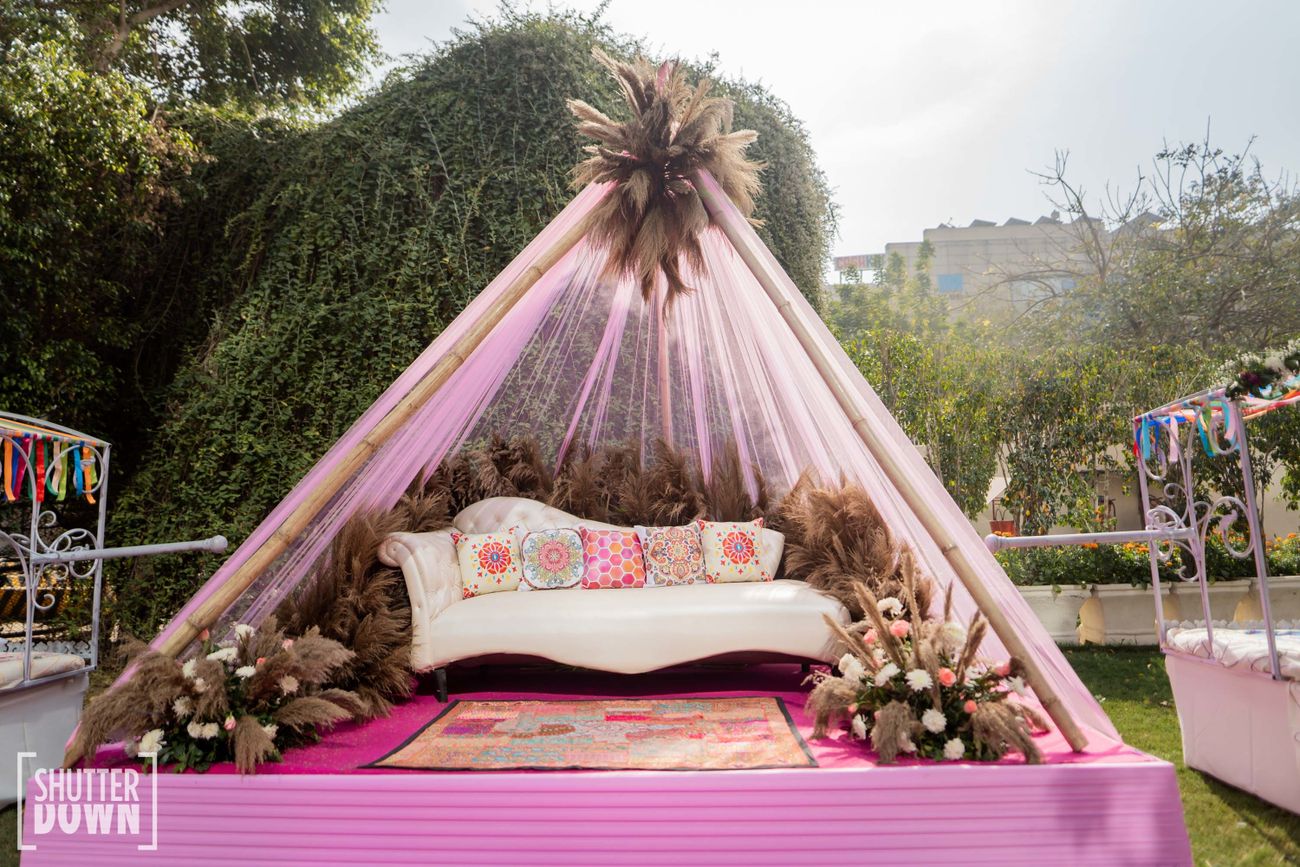 Image via Sonam and Ayush
This mini tulle and pampas wedding tent decoration is so fun and cool!
13. Perfect For A Evening Soiree With Lights And Lanterns!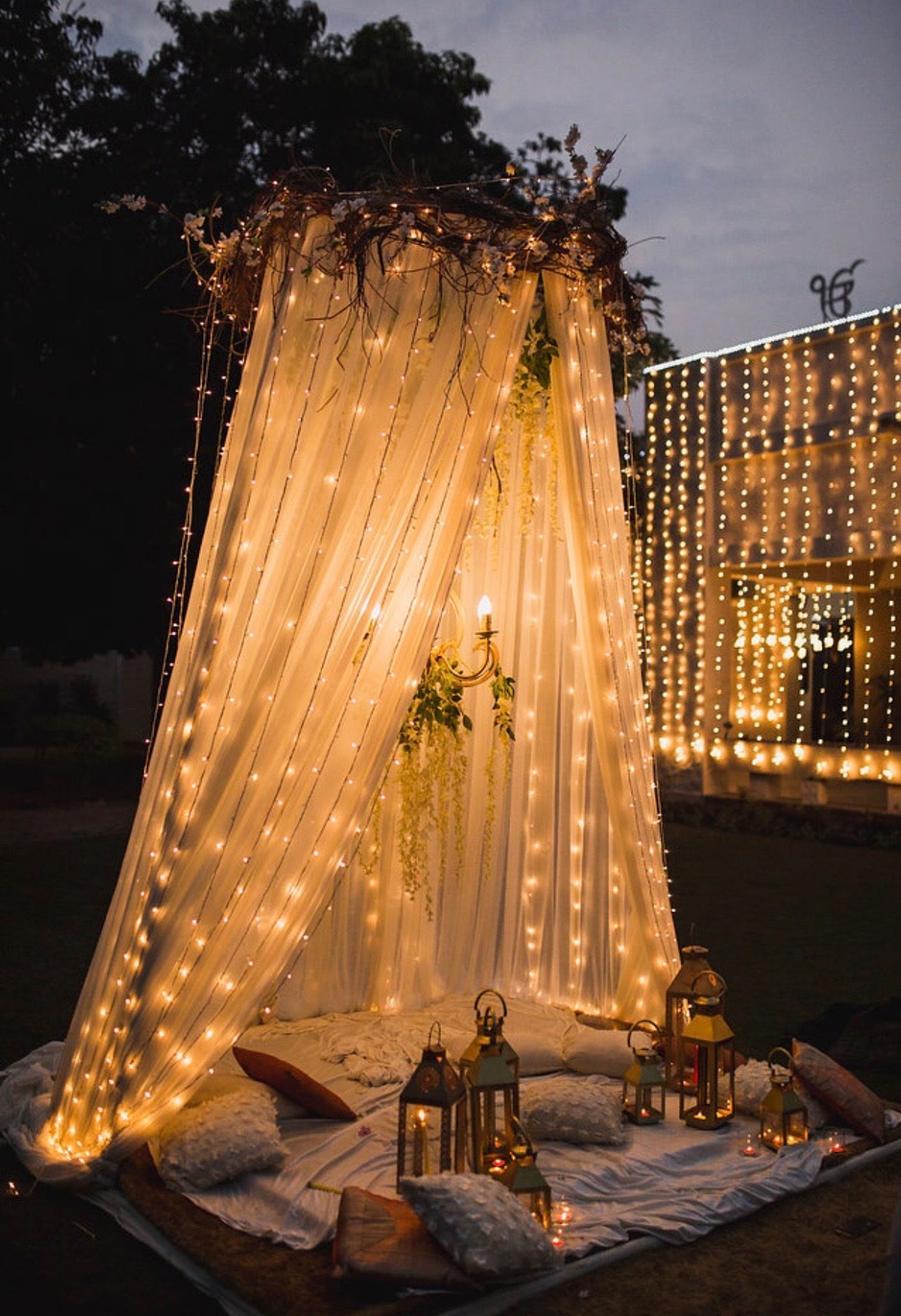 Image via Sonam and Ayush
If you are planning a casual wedding event in the evening, this drape and light style wedding tent decoration is such a great idea!
14. Rustic Bamboo Tent-Style Entrance Décor!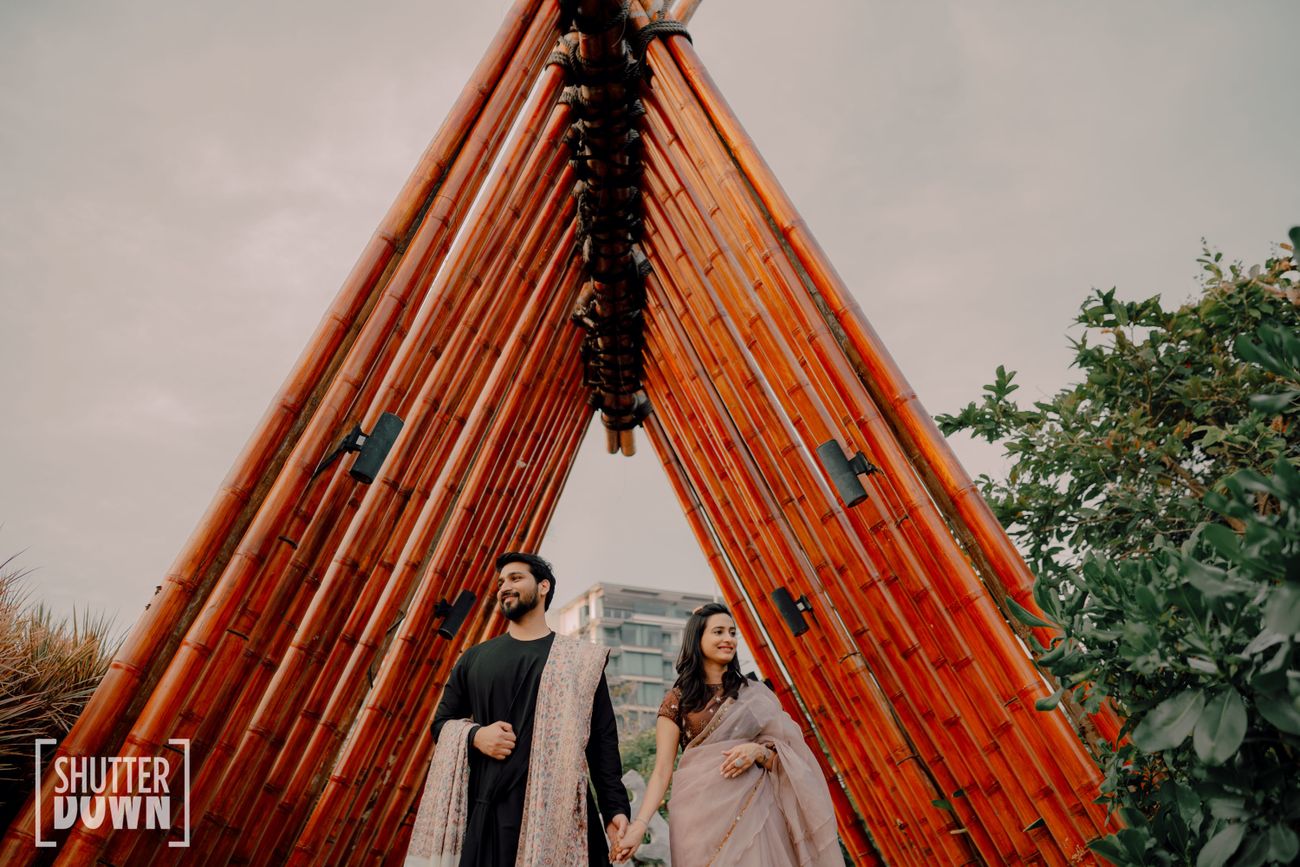 Image via Shutterdown - Lakshya Chawla★ 5
Don't want to do tent style seating? Go for an entrance décor look that will make for the most lovely entry photos!
15. Shades Of The Ocean!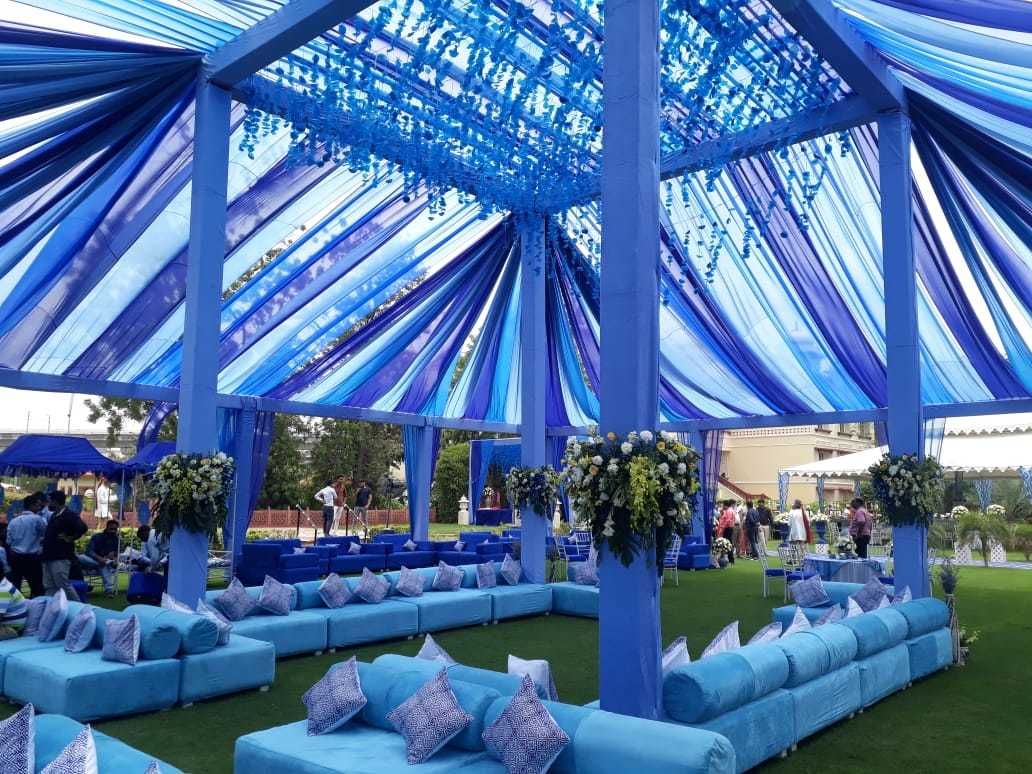 Image via Vivah Milan★ 5
Lovely blue and purple drape style tenting, for this wedding tent decoration!
16. Bougainville And Beige Magic!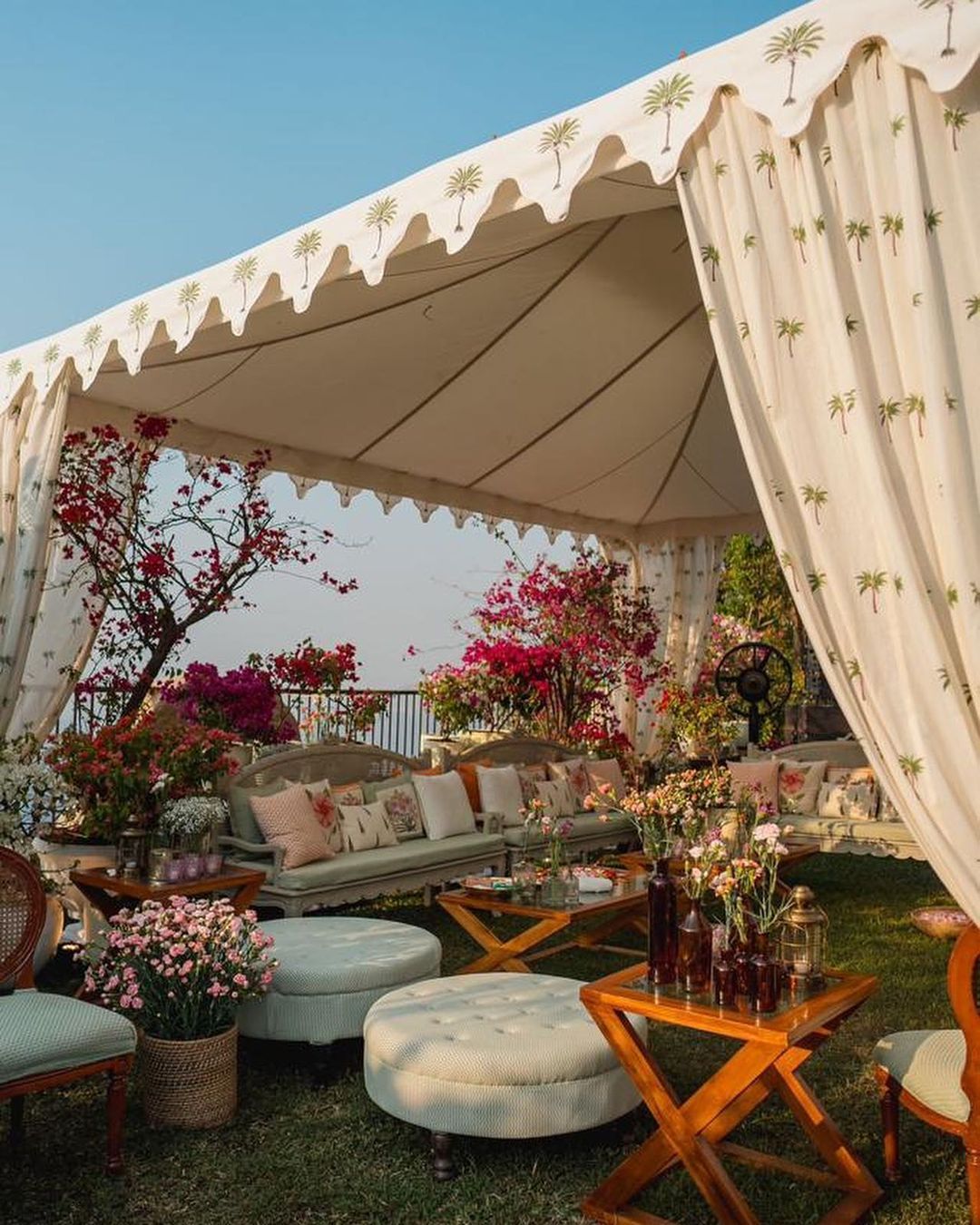 Image via Athiya and Rahul
For Athiya and Rahul's wedding, this tent decorator opted for a home style seating with tent decoration and Bougainville florals!
17. Loving These Mint Blue And Yellow Tent Décor Hues!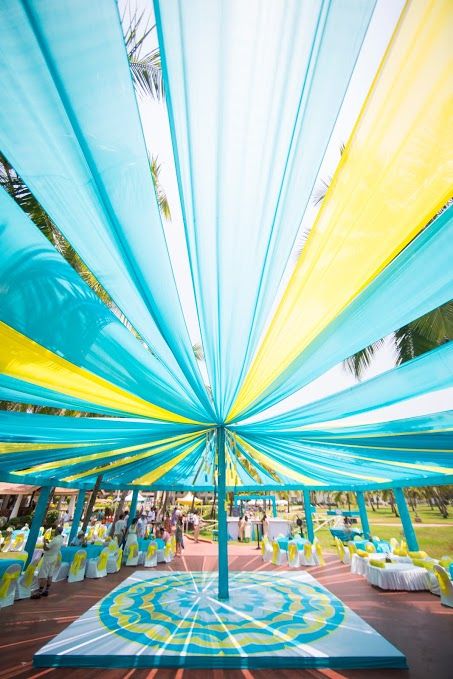 Image via Purple Tree Events Solution★ 4.9
For all you pastel lovers, these colours will make you fall in love with tents!
18. Victorian Style Tent Décor!
Image via Shanqh Luxury Event Planners and Decorators★ 4.8
Nothing like Victorian style printed drapes for a tent decoration idea for a mehendi or haldi!
19. Bold Hues Of Aubergine, Blush Pink And Parakeet Green!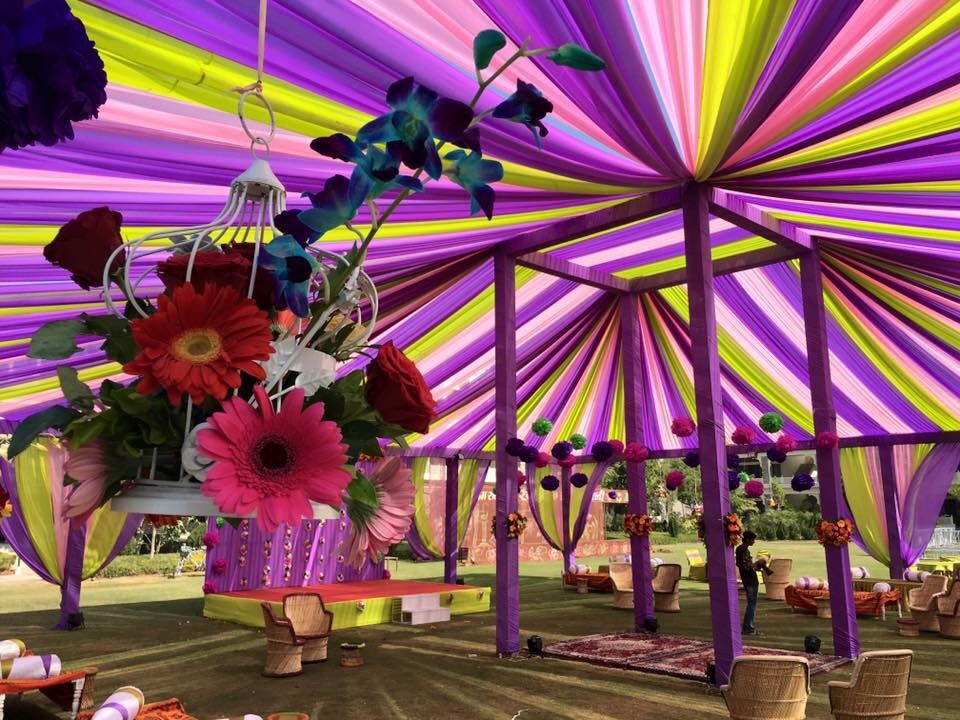 Image via Shaadi Sub Kuch
If you are looking for fun tent décor ideas in bold hues, bookmark this one now!
20. Turkish Engraved Panels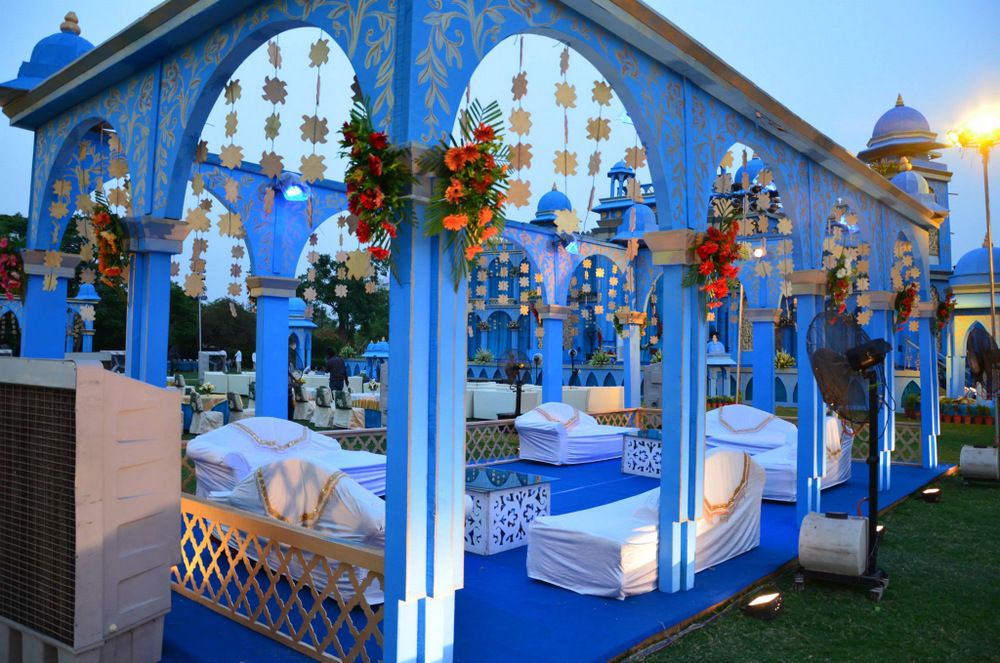 Turkish influences are totally taking over our creative boards of tent decor ideas - so if they are engraved and intricately carved, we are all into them. These little stages can have sofas and chill out zones which can really give a royal feel.
---
21. Floral Print Vintage Canopies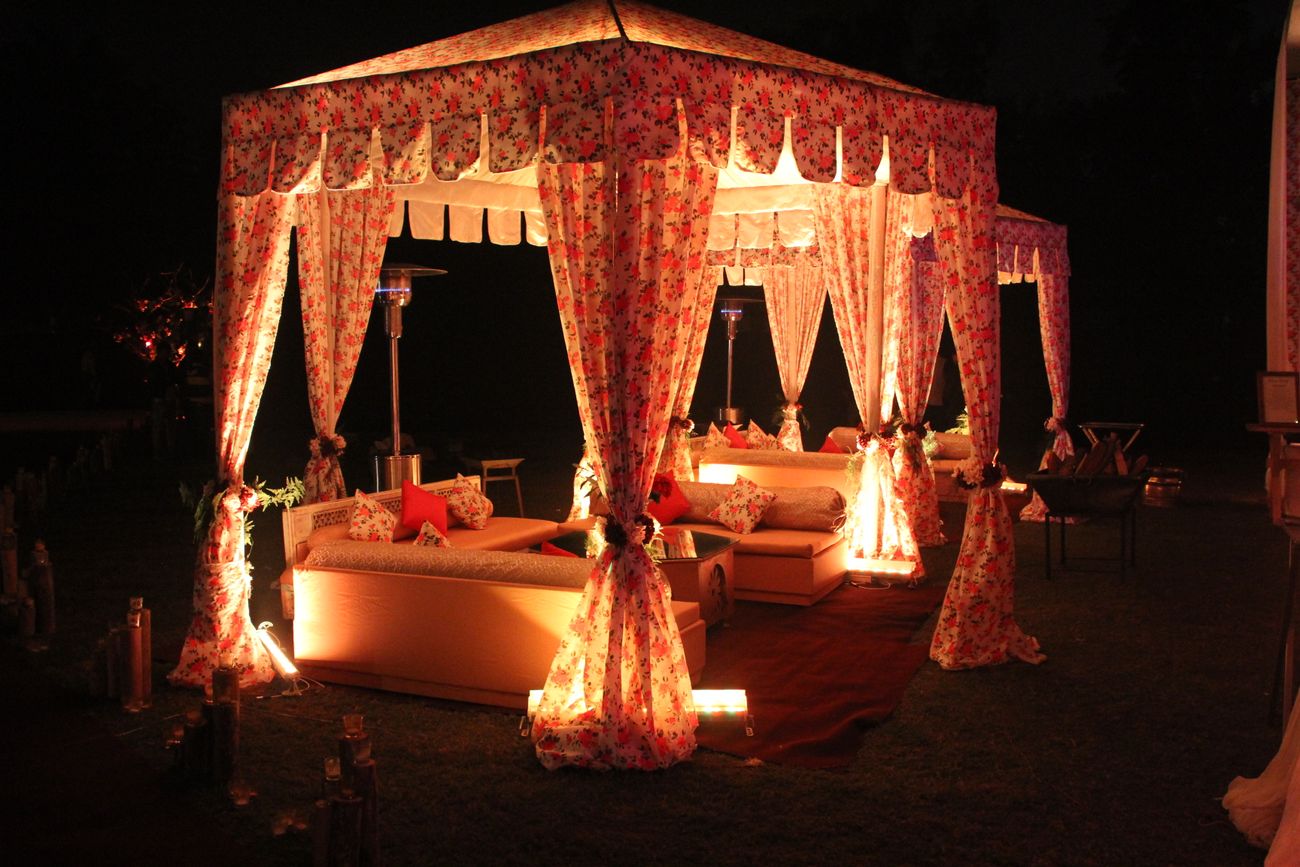 Add sheer floral prints to your wedding tent decoration and make the whole tent pop. This gives a pretty vintage feel to the whole thing. Such a delicate look!!
---
22. Block Prints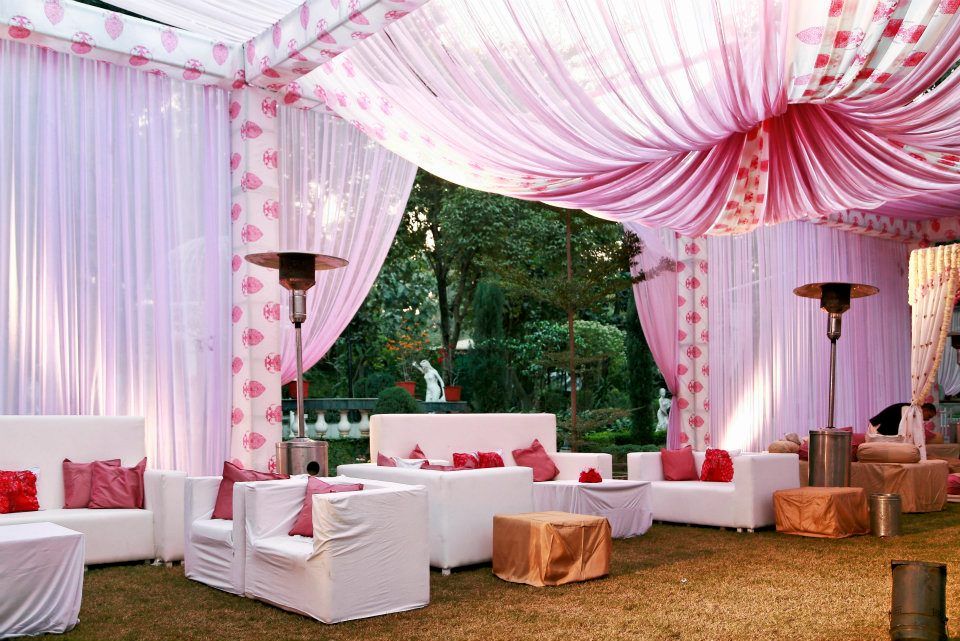 Block prints under the drape can make for a very boho wedding tent decor look. Plus, keep them spaced out and effortless to look elegant and classy. .
---
23. Mithai Pink Tenting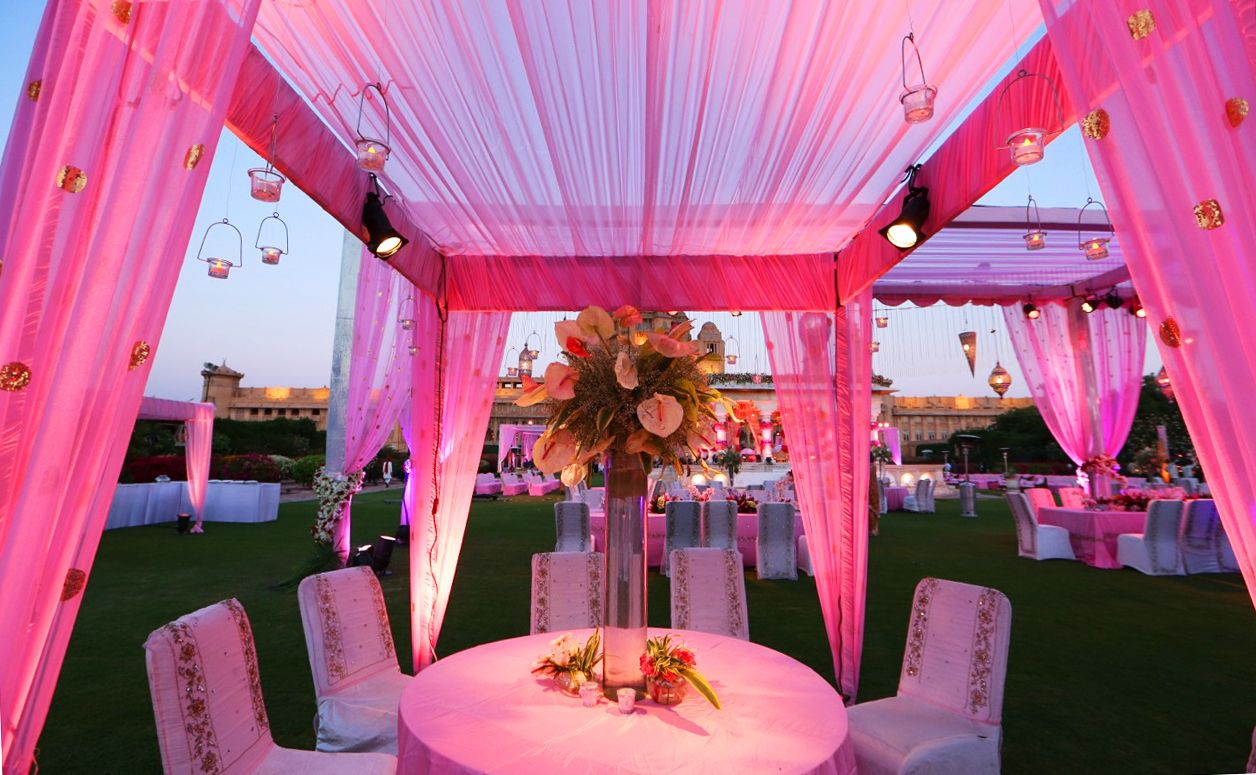 Can it ever be an Indian wedding without a bit of mithai pink? Nopes, right? So make marriage tent decoration better with nice gota borders and sweet tea lights hanging.
---
24. Rainbow Tents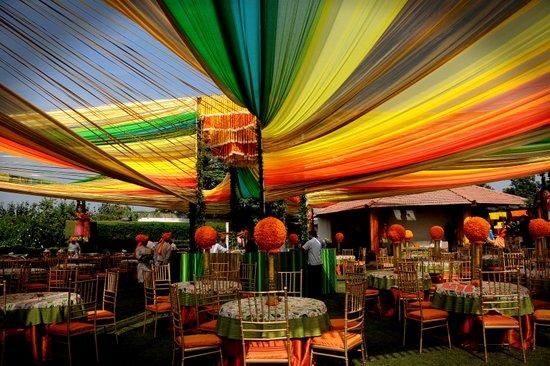 Picture Courtesy: Chapter II Events 
Multi-coloured tent decoration are always a delight - just make sure the curtains are sheer and accommodate the outdoor sky.
---
25. Metal Tents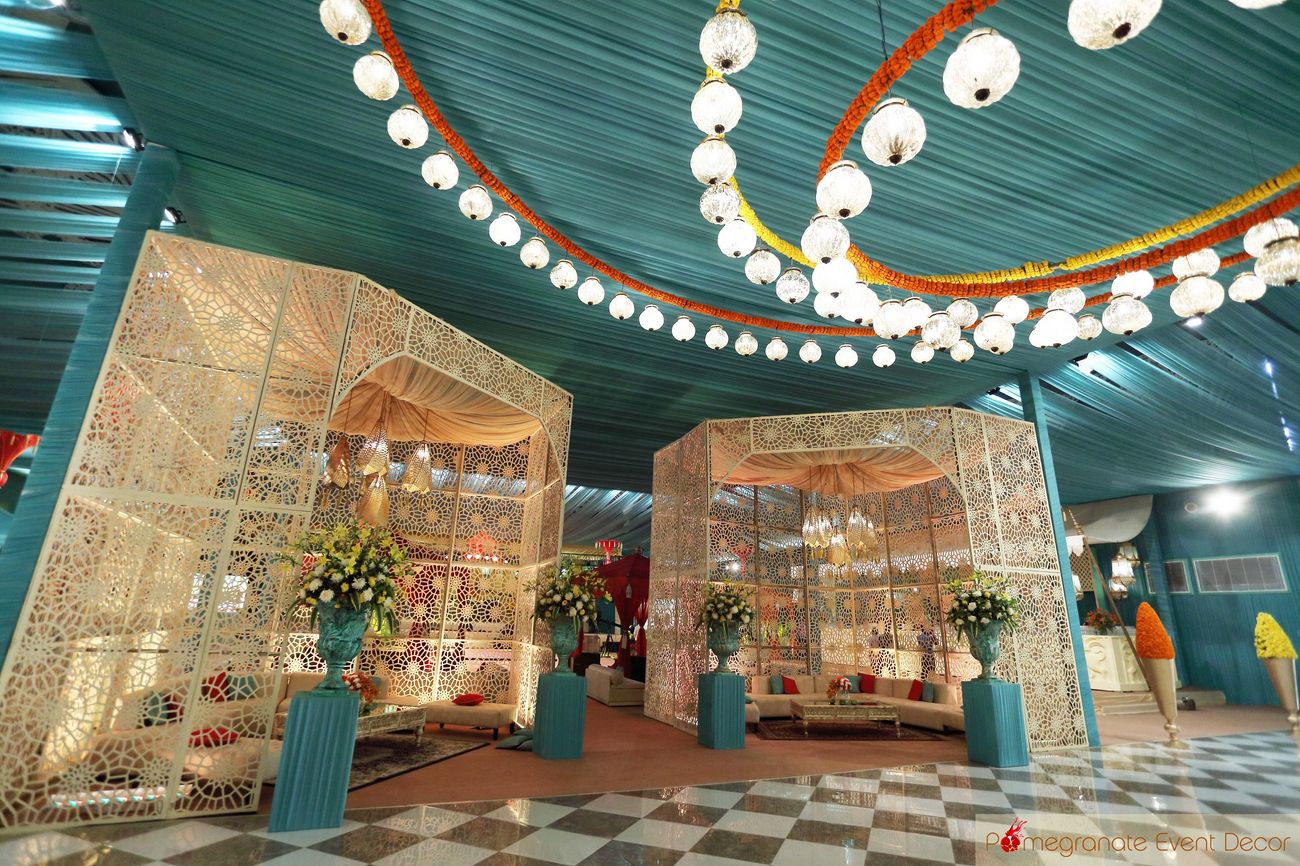 You might think they're heavy but it's all about filigree work so they are actually super cute! Almost like your own harem. These wedding tent decorations will add up so well with your aesthetics.
---
26. Dholki and Bulbs in a Retro Tent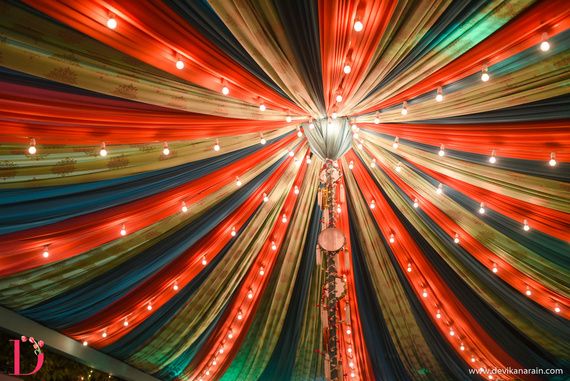 Devika Narain and Company★ 4.6
Super simple yet an amazing wedding tent decor idea. Pretty Banarasi fabrics and retro bulbs can make any tent stand out in all it's vintage goodness, so make sure you light it up well.
---
27. Umbrella Canopy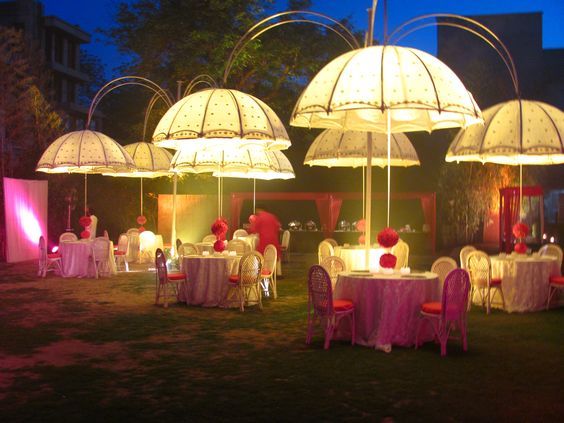 Want to try something different? This marriage decor idea is your go to! Using umbrellas as mini tents - that's so so avant garde and chic.
---
28. Middle - Eastern Magic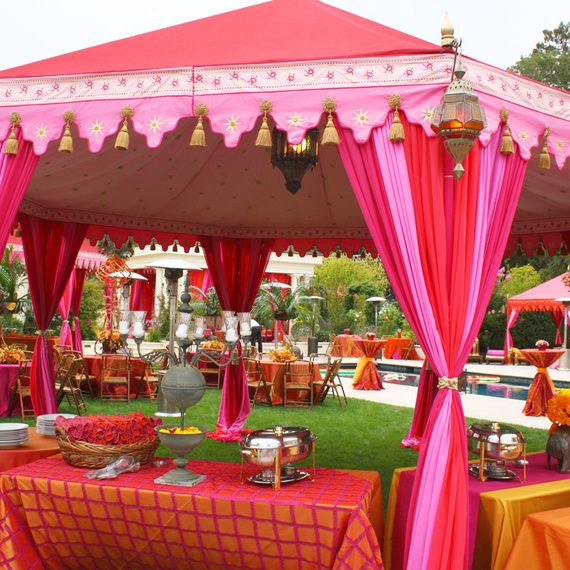 Picture Courtesy: Sara Greens 
Bright colours, lots of tassels - what's not to love! Add a few Arabian lamps and you are all set with a very dreamy wedding tent decoration.
---
29. White Bedouin Tents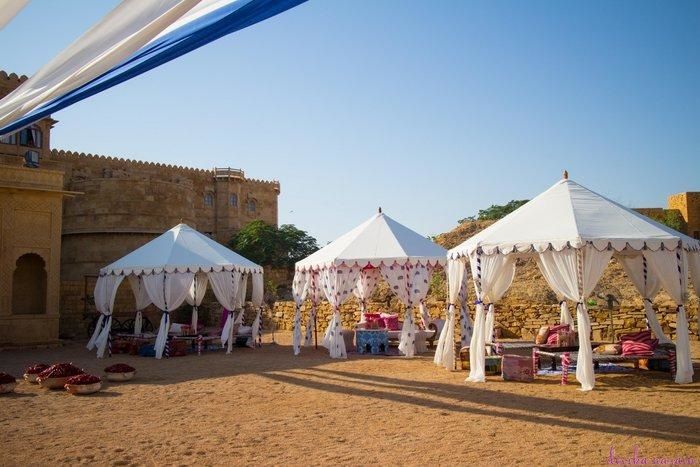 Devika Narain and Company★ 4.6
This one was for a desert wedding tent decor, but how cute are these bedouin-y tents - with nice little cots and hookahs.
---
30. Strips Of Cloth Tent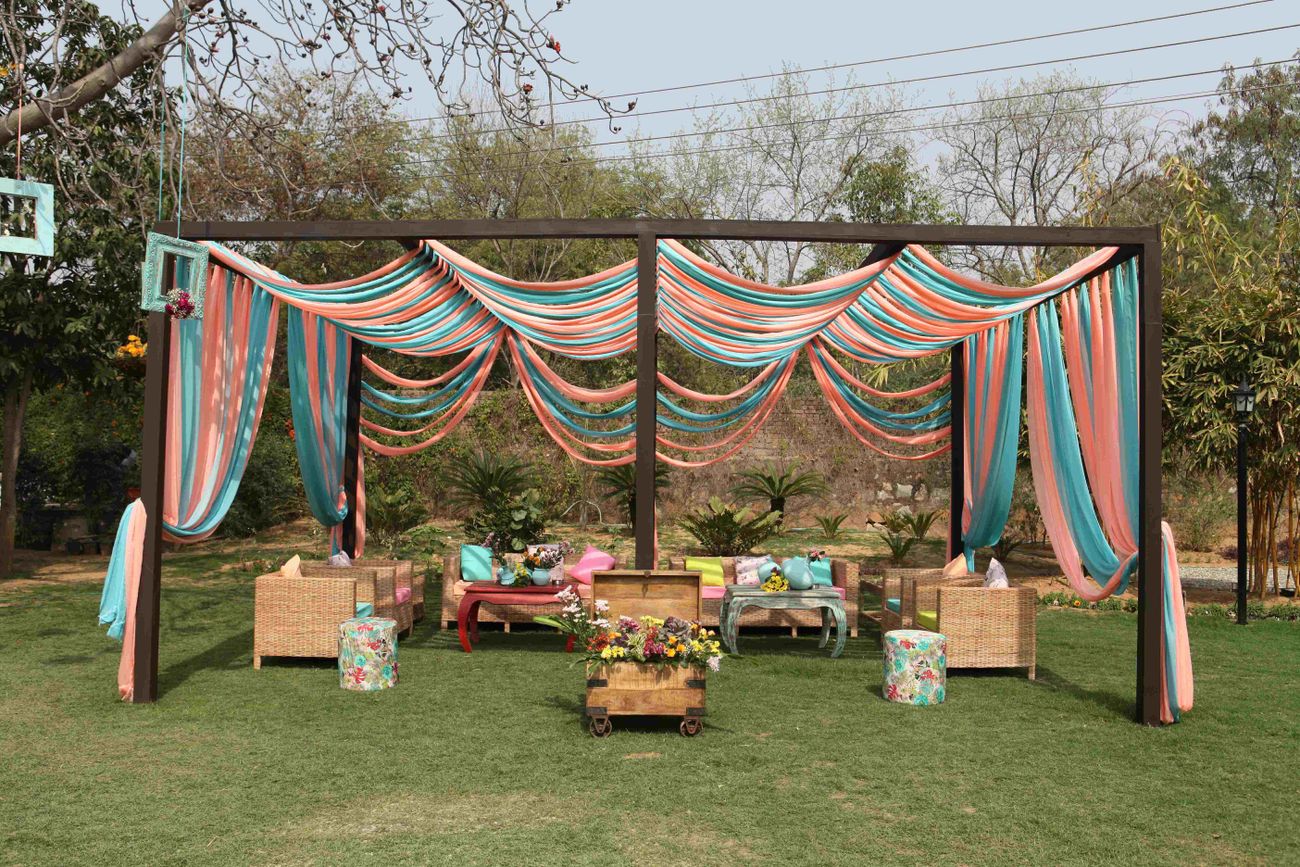 When you don't want a typical "tenty" tent for your wedding decoration try this! You don't need to cover up the whole thing, just add strips of your wedding colours and let the sunlight stream in.
---
31. Leheriya tents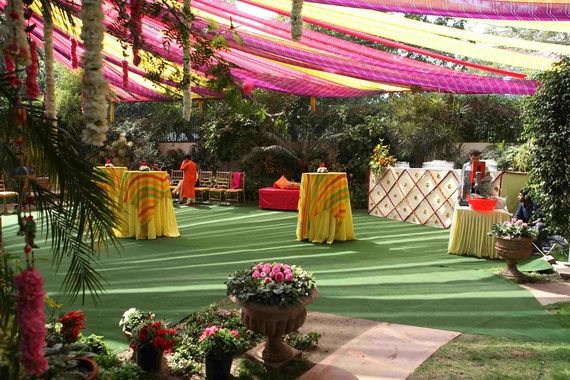 What better design than leheriya,this one is such a great tent decor idea. This one is so DIY that you will love love love it! Add your old dupattas and keep it homely.
---
32. Desert Tents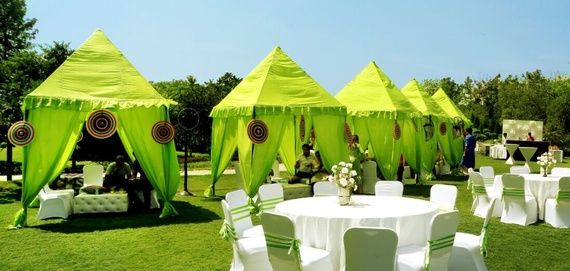 You can choose a dessert type tent decor for your wedding. Especially choosing a A neon hue is just perfect to keep the attention on the decor - and on the green lawns, this just stands out!
33. Tee-Pee Tents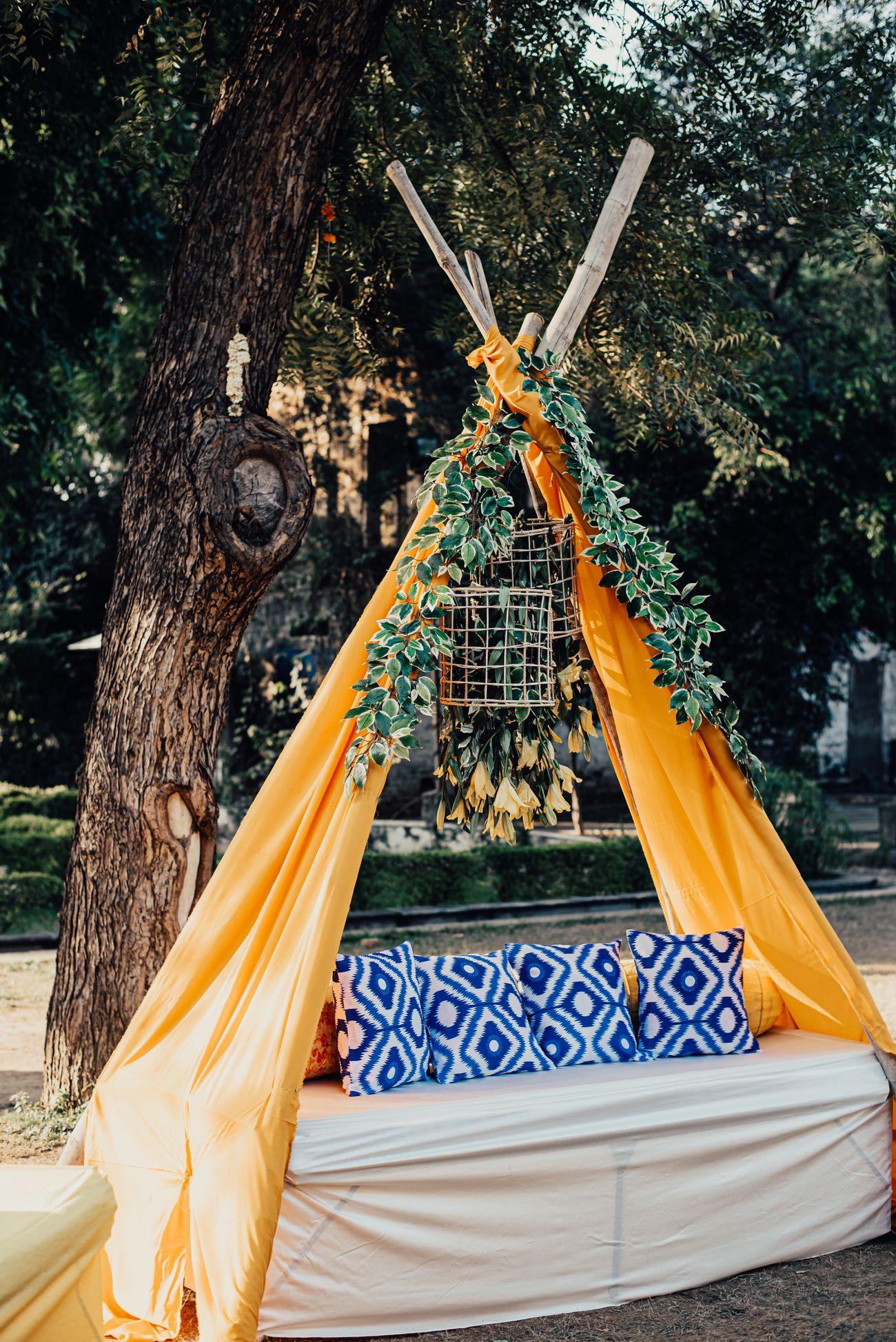 Image via: Hyacinth Events Planner★ 4.9
Definitely a showstopper! These teepees can be used for your haldi/ mehendi wedding tent decoration.
34. With Floral Chandeliers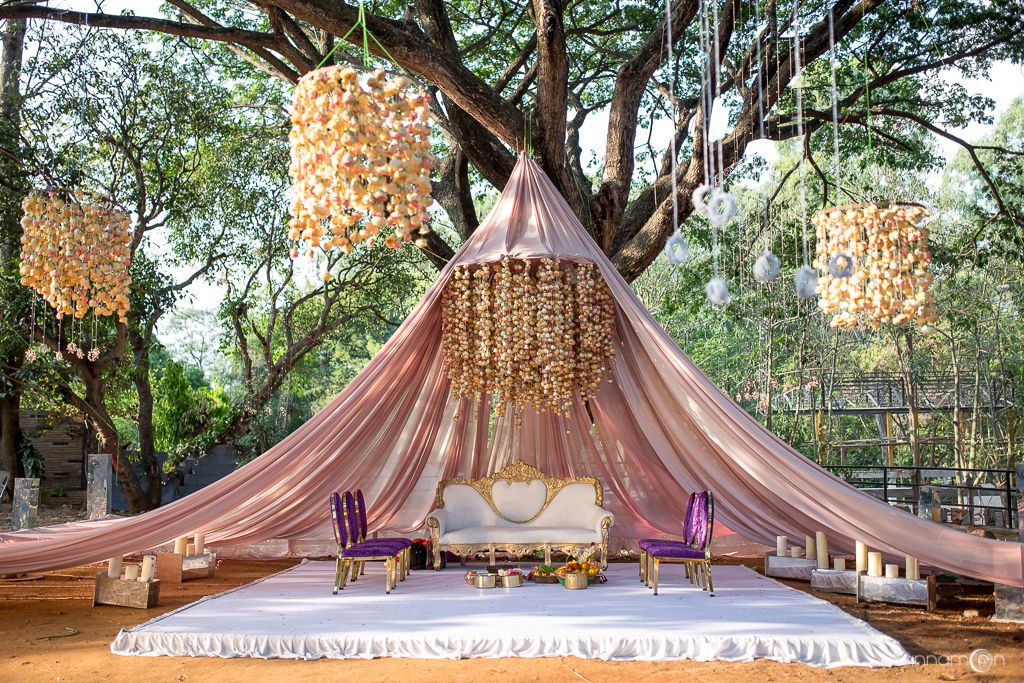 Image via: Cinnamon Pictures★ 5
Rustic colored wedding tents with floral chandeliers! Oh nothing less than fairytales!
35. Mandala Cut-out Tents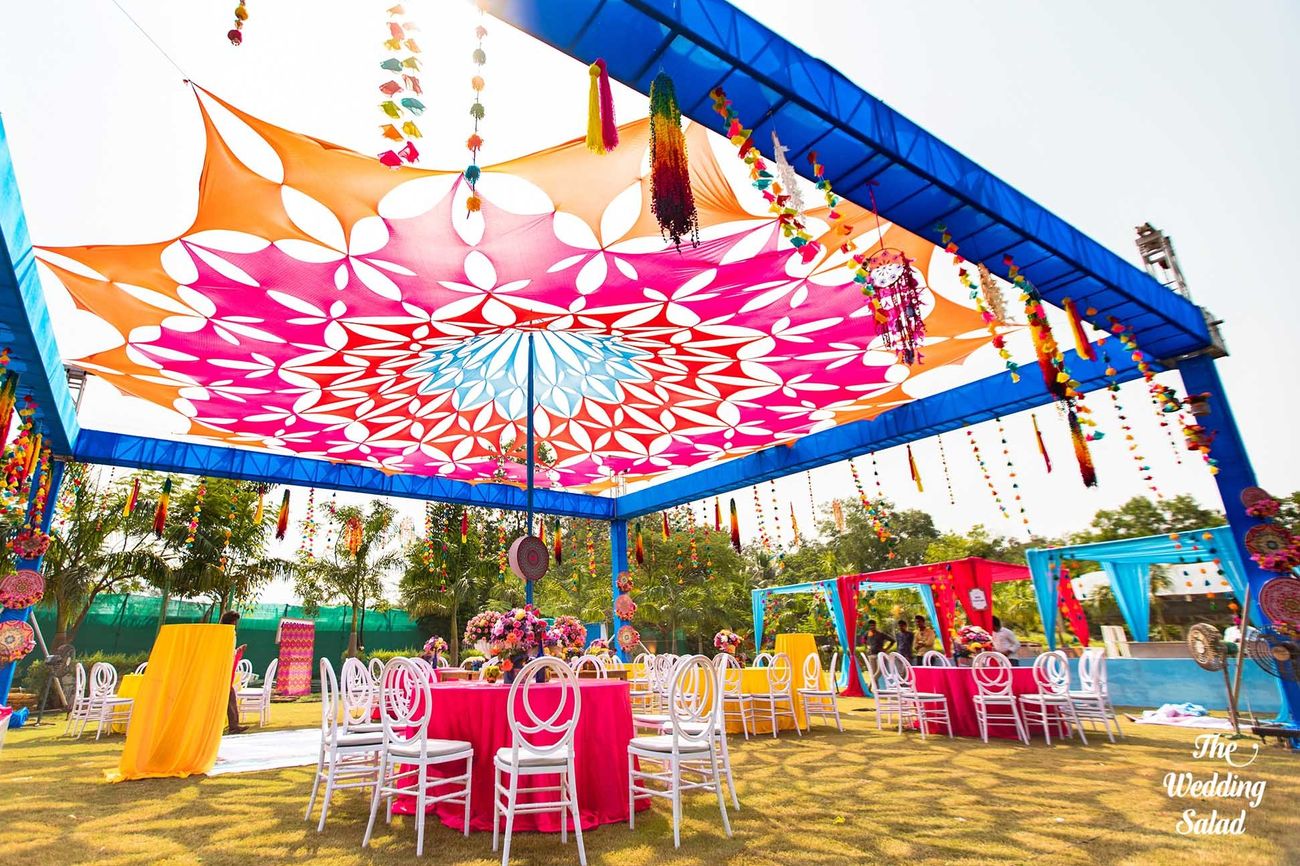 Image via: The Wedding Salad★ 4.9
Darg your wedding tent decoration idea from the above, breathtaking!
36. Carnival Tents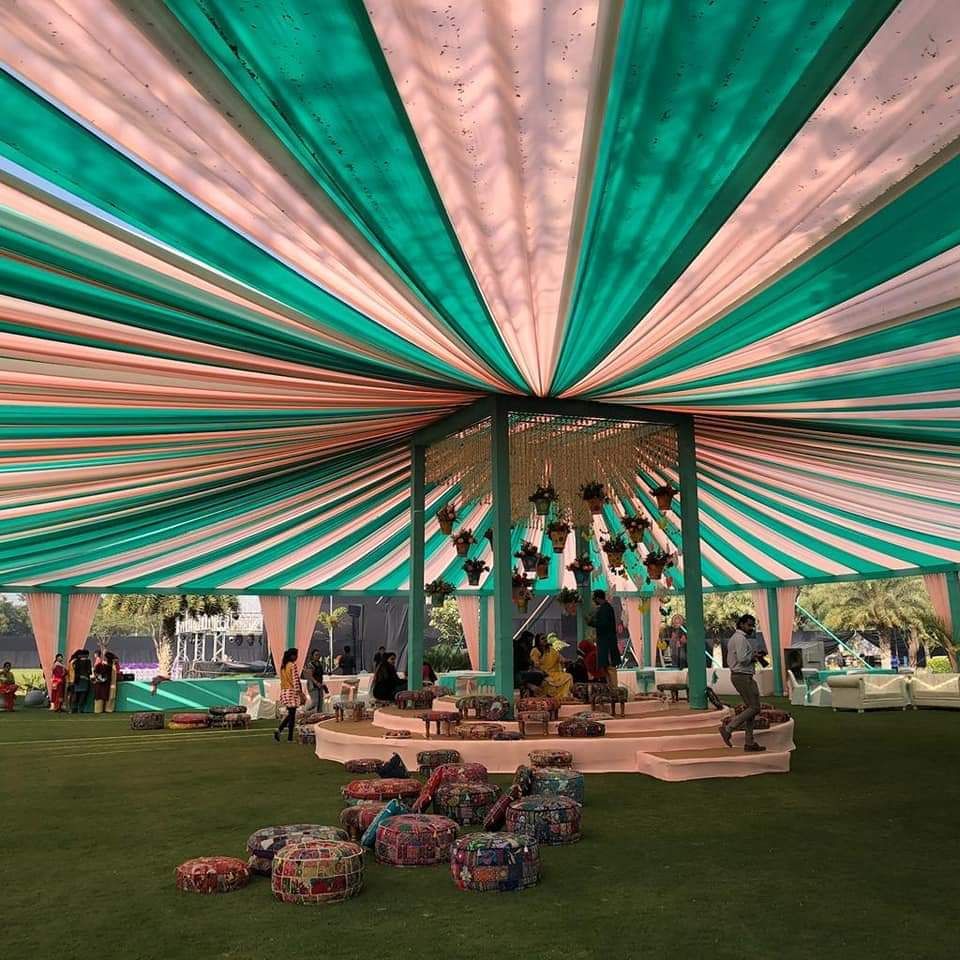 Image via: White Lily Events★ 4.8
They are huge wedding tents, just select any color palette and they will look so glamorous!
37. Fresh Floral Tents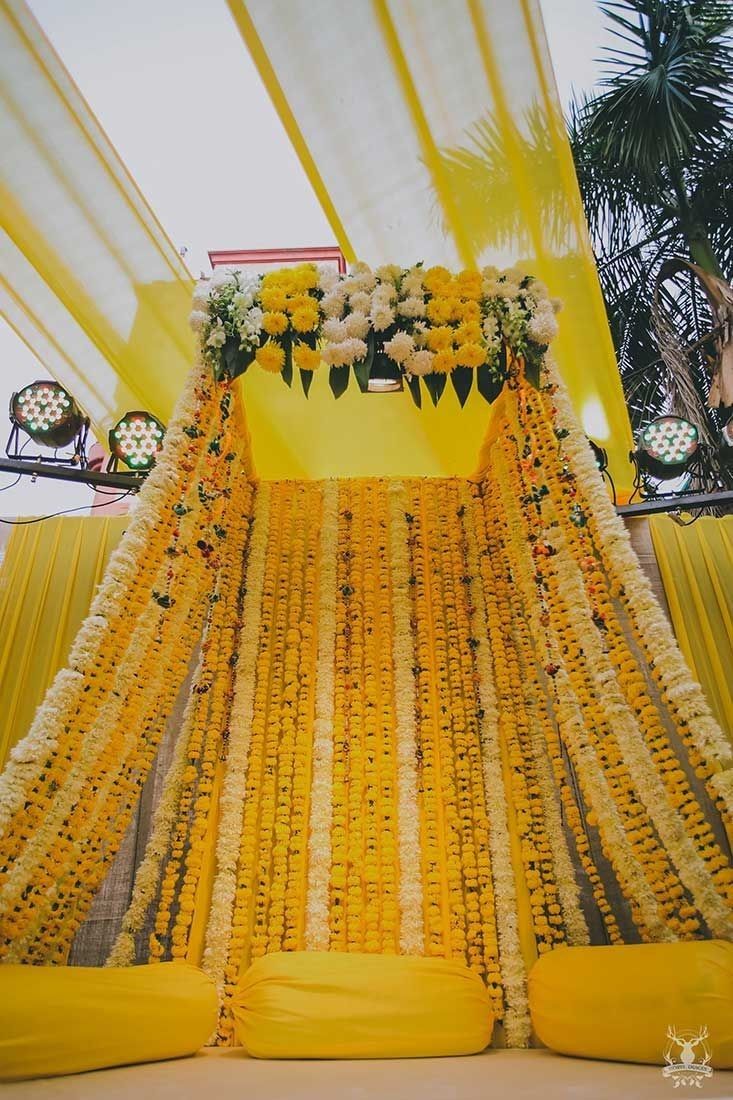 Image via: SRK Wedding & Event Planner★ 5
Tents made with fresh flowers, especially marigolds, best marriage decoration ever!
38. Fairy Light Tents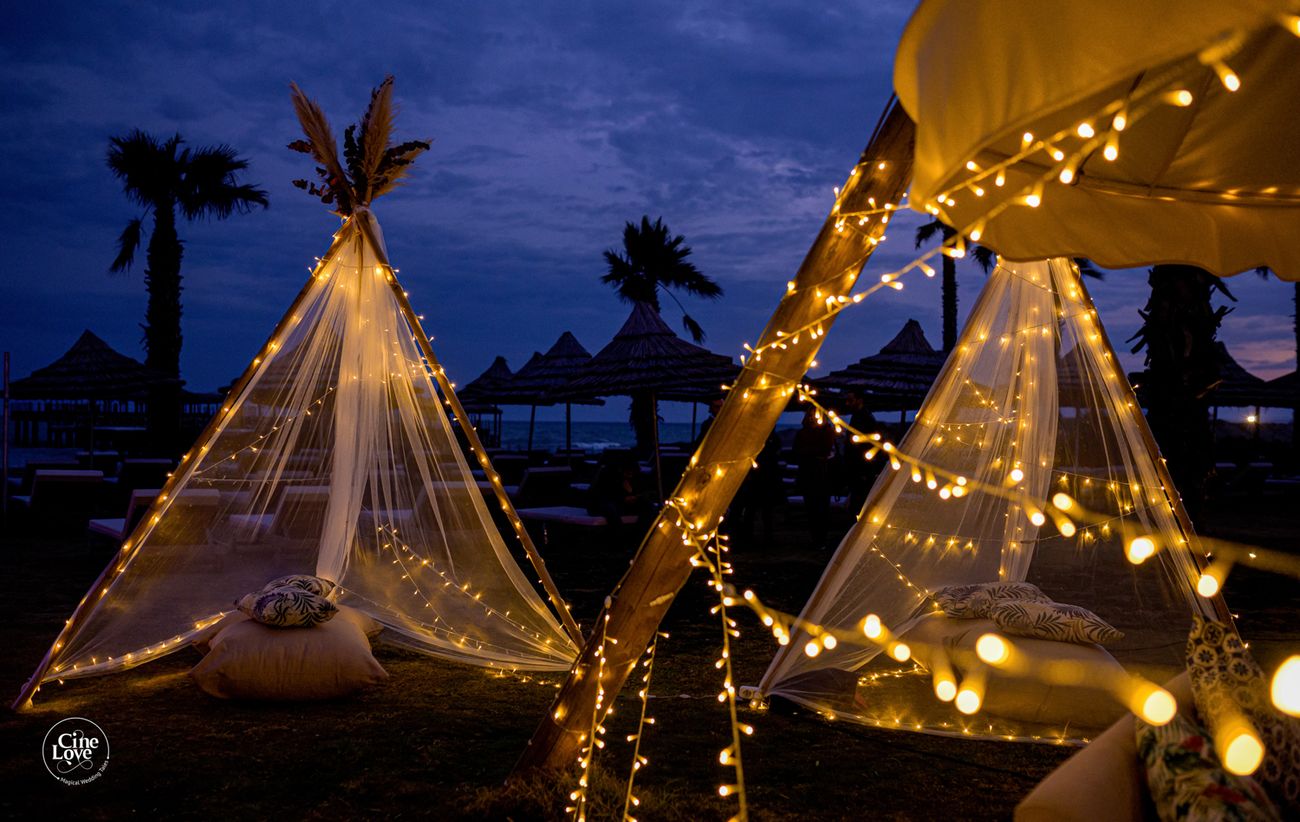 Image via: Chapter 2 Events★ 5
What are weddings without fairy lights? These fairy light tents are a wedding tent decor essential!
Never knew you could have so many options for a tent decor? Now you do with this creatively curated tent decor ideas list.
If you are looking for amazing wedding decorators across India, check out our exclusive WMG decorators that will blow your minds!