15 Uber-Cool Clutch Box Designs That Are Perfect For The Wedding Season!
BY Chandni Kumar | 05 Nov, 2018 | 3414 views | 5 min read
Are you all set for your BFFs wedding or absolutely nervous for your one? Checked everything in your bucket list but looks like there is something still missing? Hmm! So, tell us that where will you put your favorite lipsticks, roll on perfume, kajal, blush on and endless things that girls need for that last touch up? Any guess? Come on, it's CLUTCH ladies! We are not talking about old-school purses but some really stylish, pretty and ultra-cool clutches that will not only be a savior for your makeup kit but will also create a statement piece with your outfit! From quirky vehicle design clutch boxes to an intricate kalamkari art we have curated 15 beauitufl bridal clutches that are perfect to wear in your wedding celebrations, from roka to mehendi & all the way to reception party! 
Pretty Animal Motifs On Clutch Box!
In love with animals like I am? How about getting a clutch box with animal motif patterns to make it uber-cool with your outfit!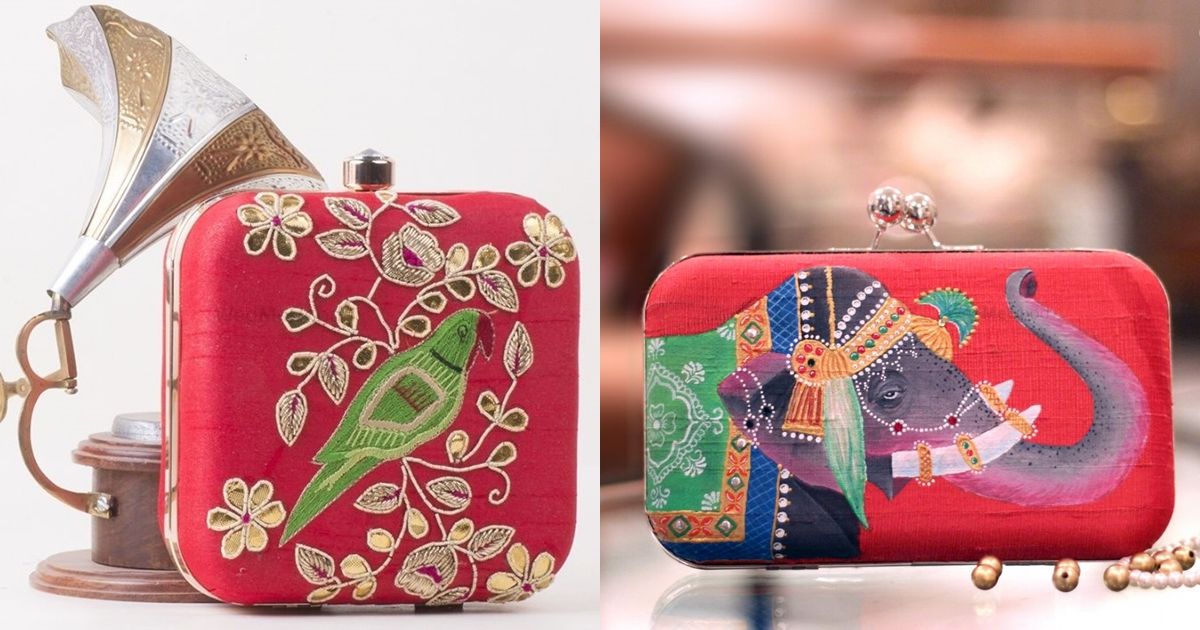 Accessories By: Accessories by Rajasree  ; Crazy Palette★ 5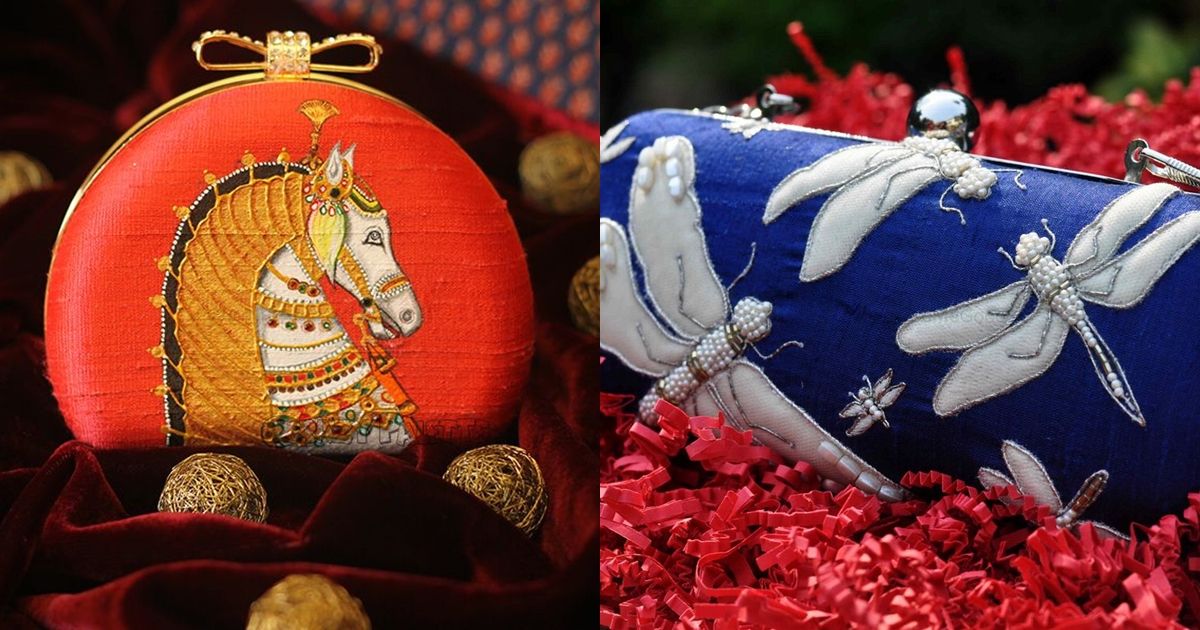 Accessories By: Crazy Palette★ 5  ; Clutch'D★ 5
Beaded Beads For Some Extra Colors!
Ah! Who doesn't love beads when it comes to bridal clutches! Just play around with colors & match it beautifully with your engagement or mehendi outfit!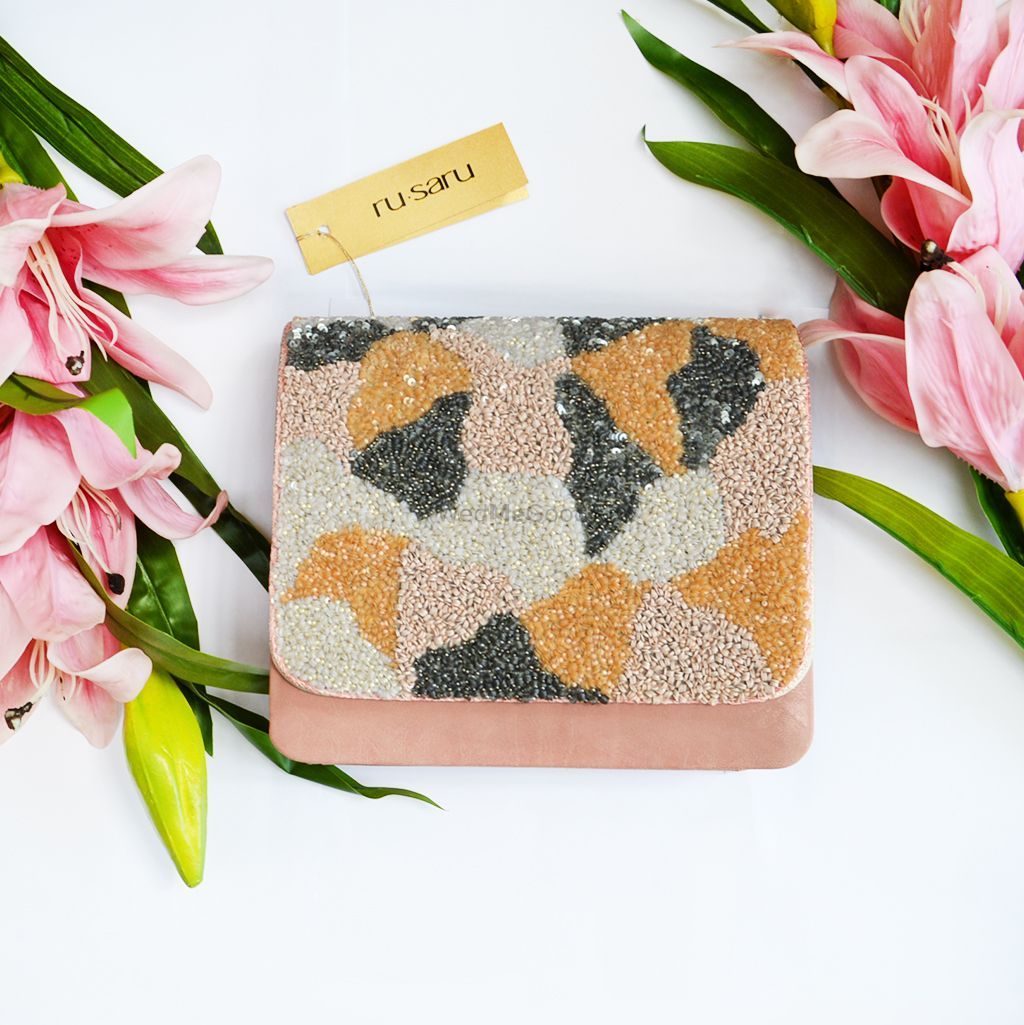 Accessories By: Rusaru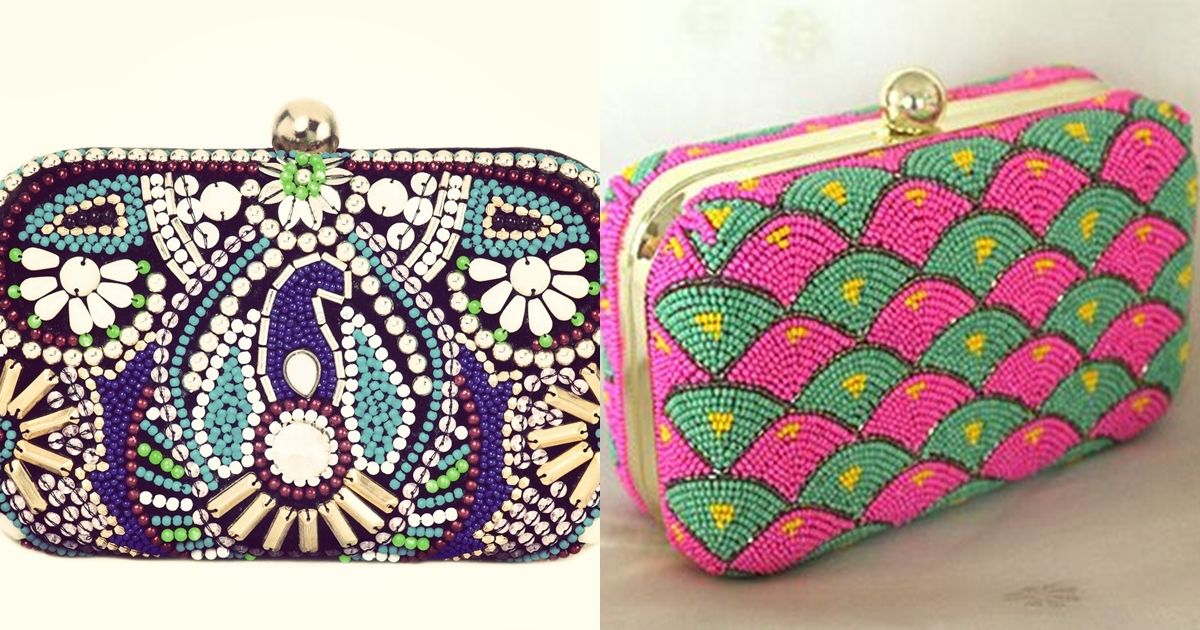 Accessories By: C'Tam★ 4.7 ; Desically Ethnic
Floral Clutch Box To Add That Elegance With Your Outfit!
Lotus to rose, all the pretty flowers we absolutely love! The floral patterns on the clutch box with gorgeous bead work, embroidery and sequencing done so beautifully, are perfect to complete your elegant look.  

Accessories By: Dipi By Ankita Thakur★ 4.9 ; Clutch'D★ 5

Accessories By: Accessories by Rajasree ; Graza

Accessories By: Arancia★ 5 ; Essdee Accessories
Inspirational Bridal Clutch Box Designs By Crazy Palette!
Want a variety of clutch boxes for your wedding celebrations? Crazy Palette has tons of traditional to quirky designs of clutches and bags for the brides-to-be that are absolutely insane!
Jeweled Bridal Bag 
Ditch wearing the bridal jewellery on your function and pick a jeweled bridal clutch bag instead!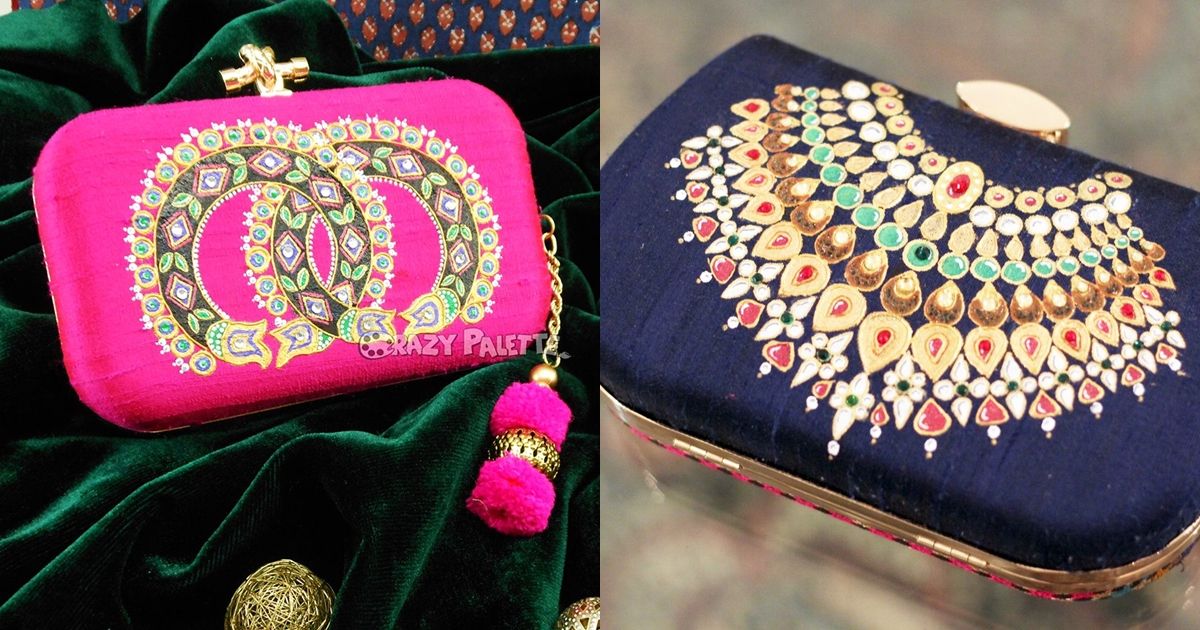 Intricate Kalamkari Art On Clutch Boxes!
Known for its hand-painted technique get kalamkari art on your bridal purse! Looks quirky & different, right?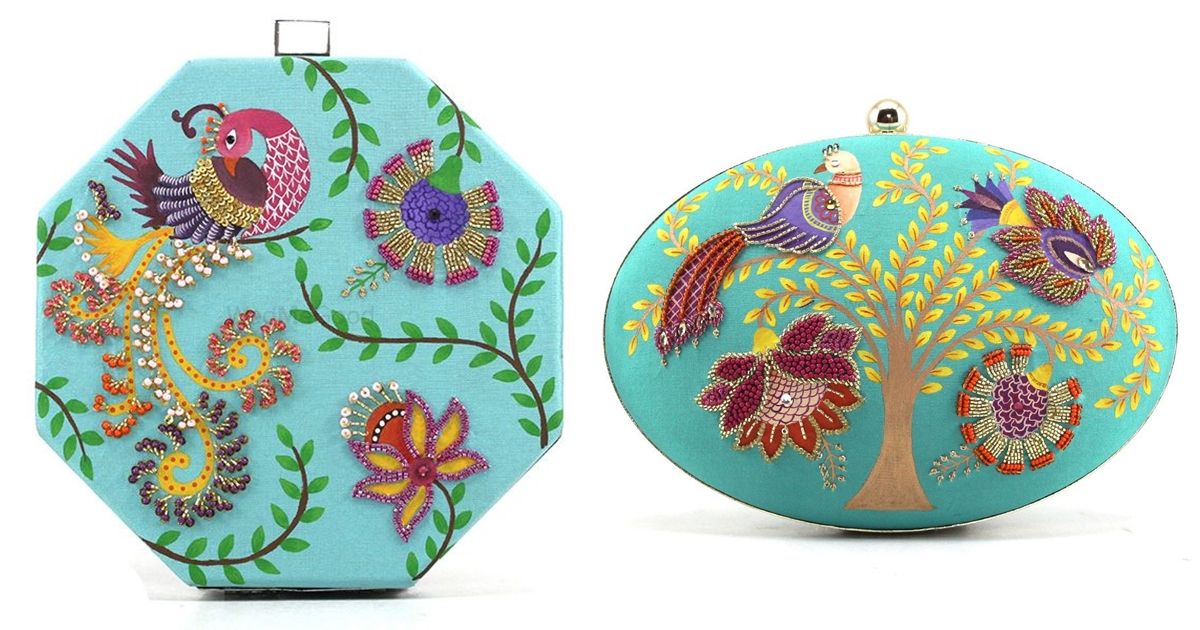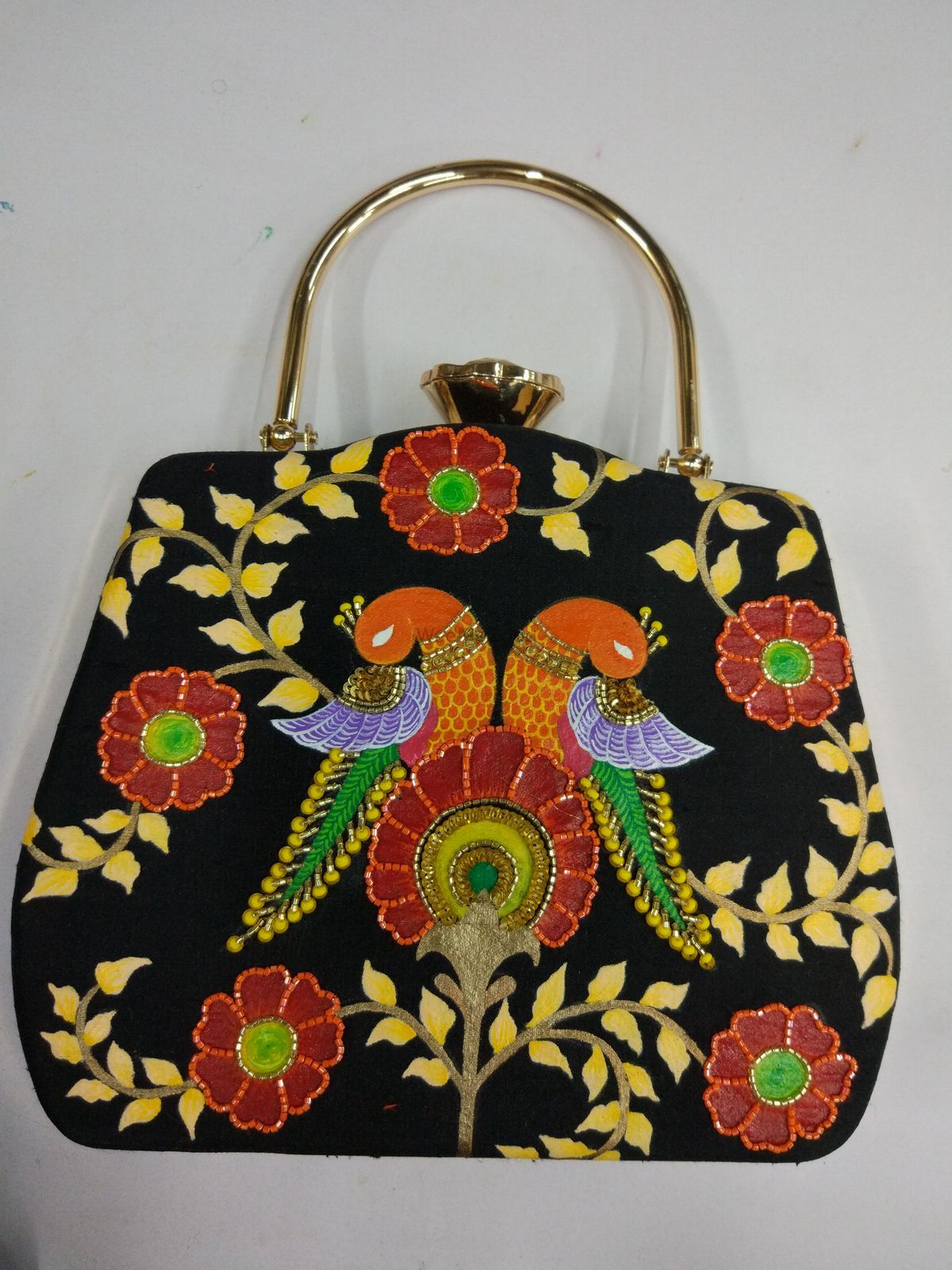 Mughal Theme Clutch Boxes For Traditional Brides!
Inspired by Mughal artwork? Let your bridal clutch box with mughal theme do the talking, then!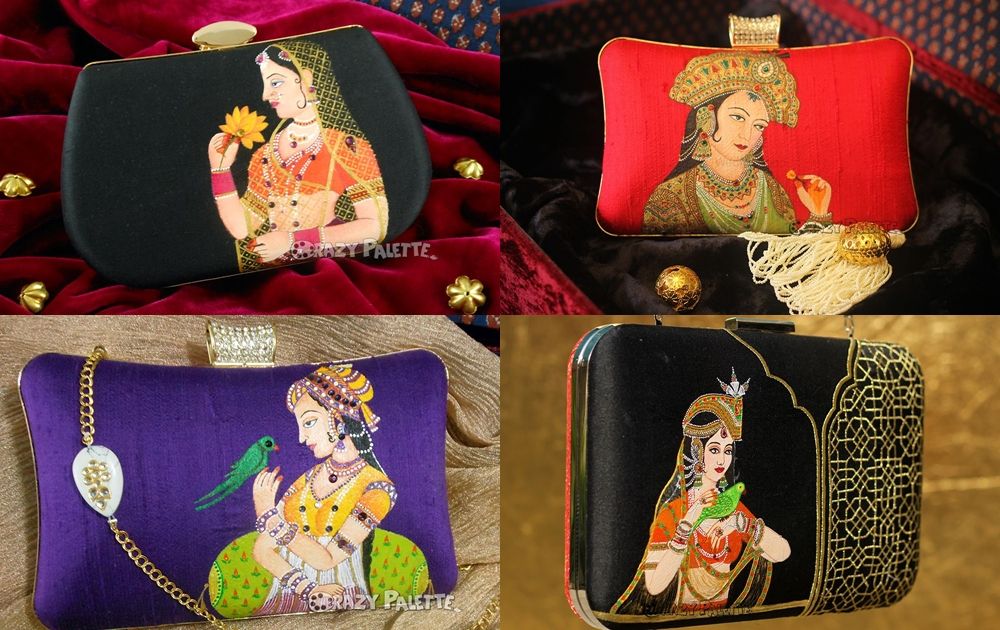 Leather Boxes To Add Some Richness With Your Outfit!
It might cost you a bit extra but who cares when you have such pretty bridal clutch boxes to carry with your mehendi outfit! P.S. You can also wear these with dhoti pants, jumpsuits & cape lehengas!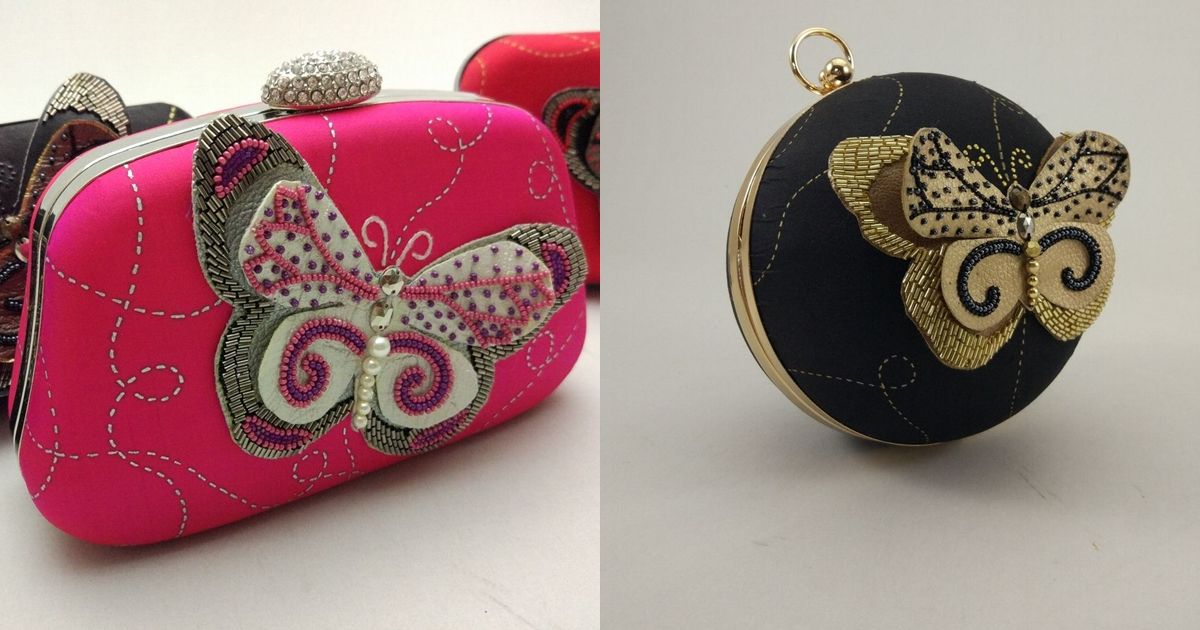 Quirky Vehicle Motifs As Clutches!
Cute & damn adorable! We found these quirky vehicle designs as bridal clutch boxes that we totally LOVED it!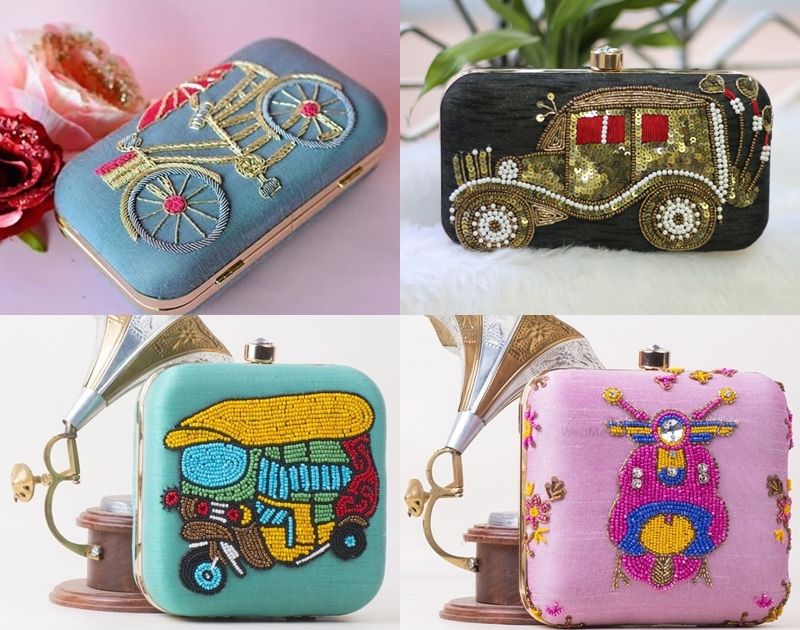 Accessories By: Accessories by Rajasree ; Black Clutch Box: Avanche★ 4.4
Pretty Embellished Stones & Gems To Your Clutches!
If you are a bride who loves stones and precious gems, then we highly recommend you to include them in your clutch box too!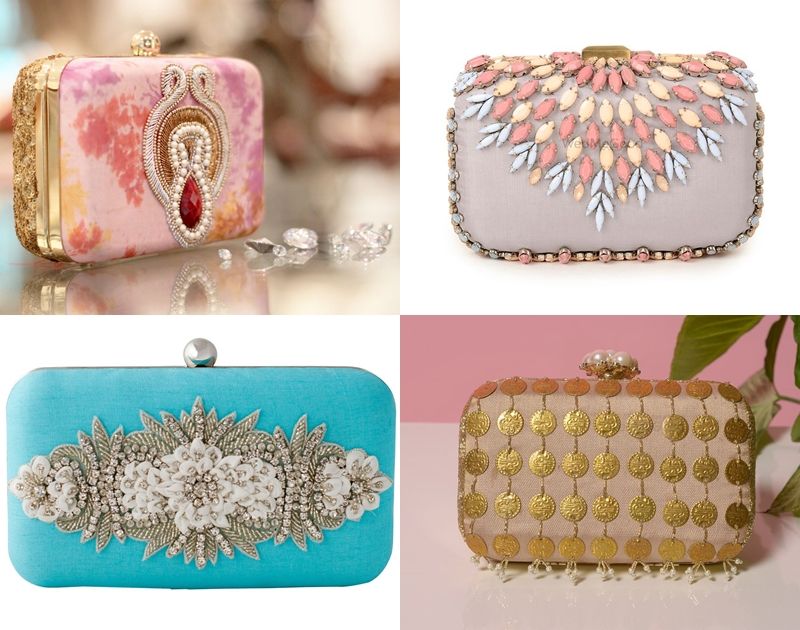 Accessory By: Crazy Palette★ 5  ; Bridal Wear: The Muslin Bag★ 4.5 ; Accessories By: Essdee Accessories ; Clutch'D★ 5
Carry A Hand Embroidered Clutch Box To Your D-day!
It's clean & very much detailed. Get a hand embroidered clutch box if you're wearing a traditional or a plain lehenga for your wedding!

Accessories By: Crazy Palette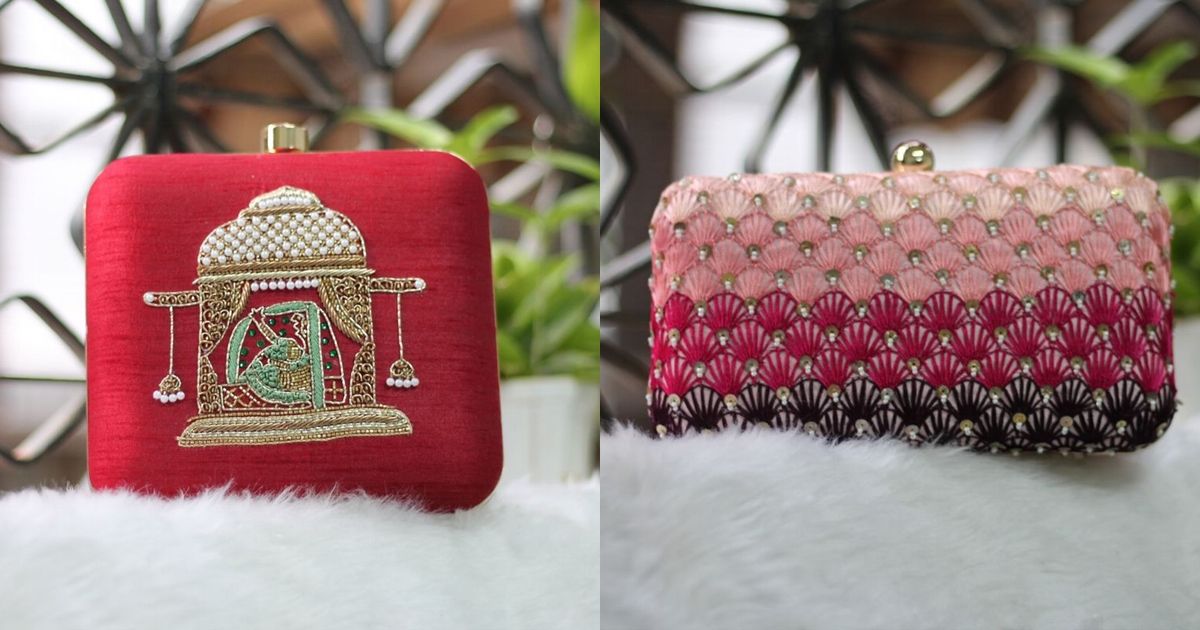 Accessories By: Avanche★ 4.4
Glitter, Beads & More...
Are you that bride who loves something hatke? Carry a clutch box with all the shimmer & glitter by C'Tam.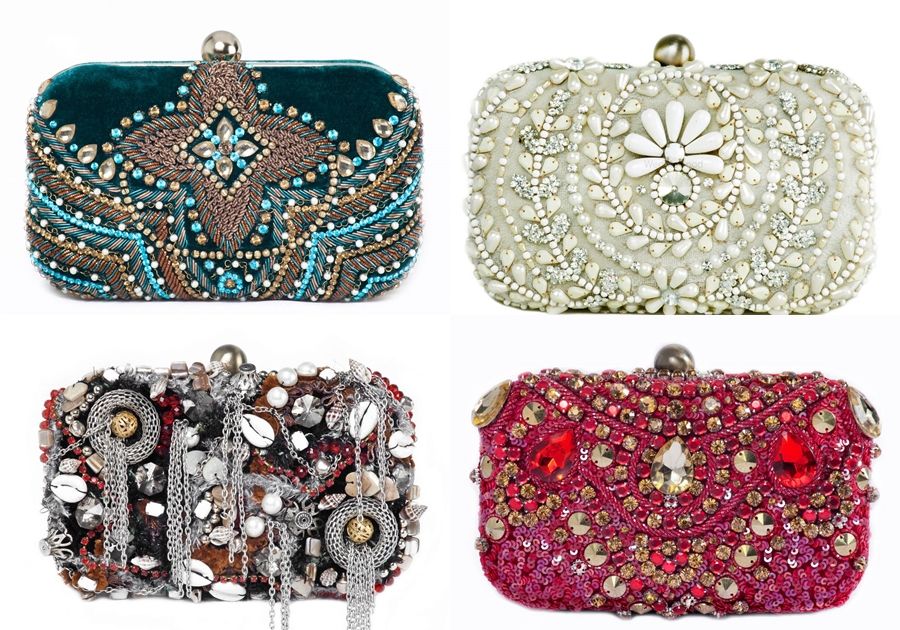 Accessories By: C'Tam★ 4.7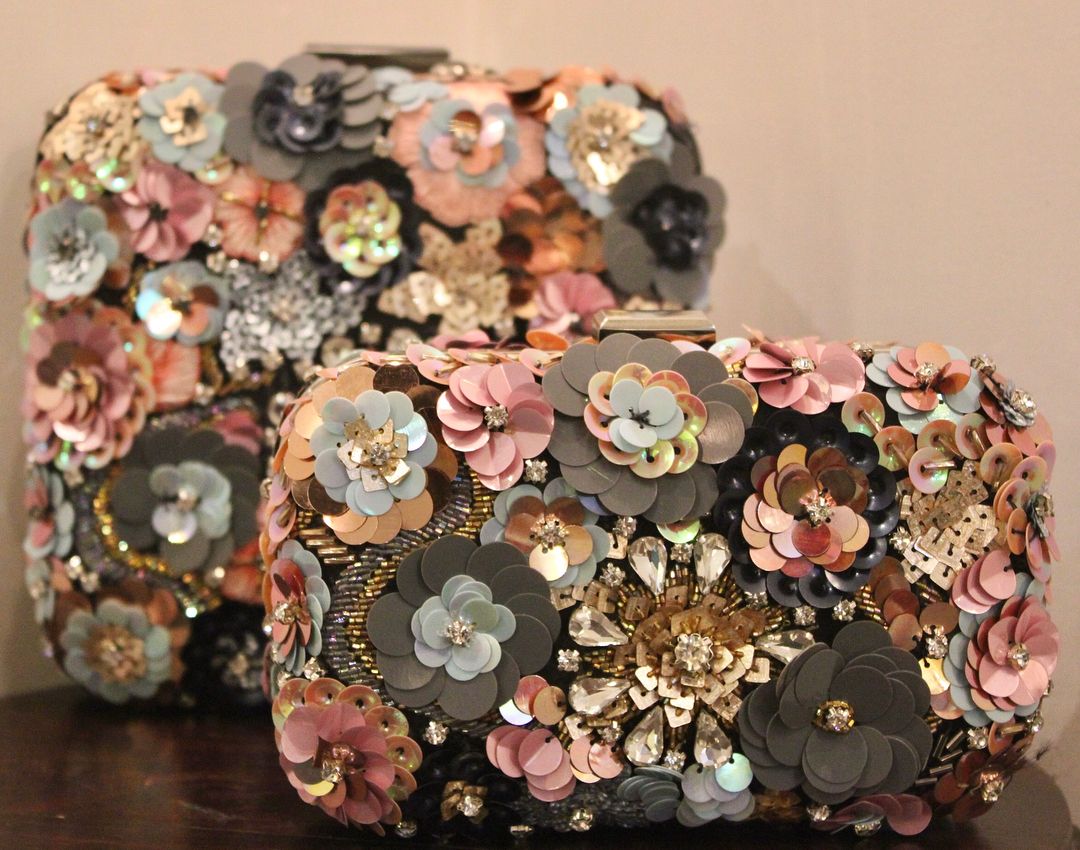 Accessories By: SSM Couture
Or, This Clutch Box With Words In It!
Be it your initials or a quote/word. Get a clutch box to add some personalised elements to your bridal purse!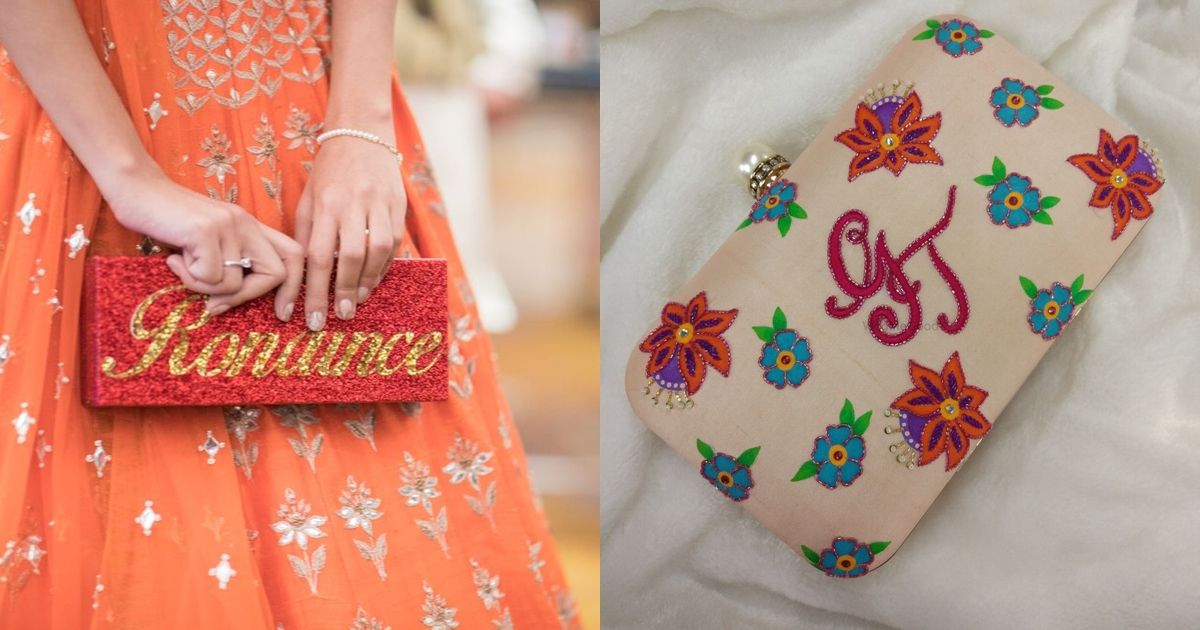 Image via: Real Wedding of Naina & Rohan  ; Crazy Palette★ 5
Get A Metallic Bridal Purse With Tassels & Pom Poms!
Want to include tassels & pom poms in your bridal purse? Get them included in your metallic gold, silver or copper brown clutches!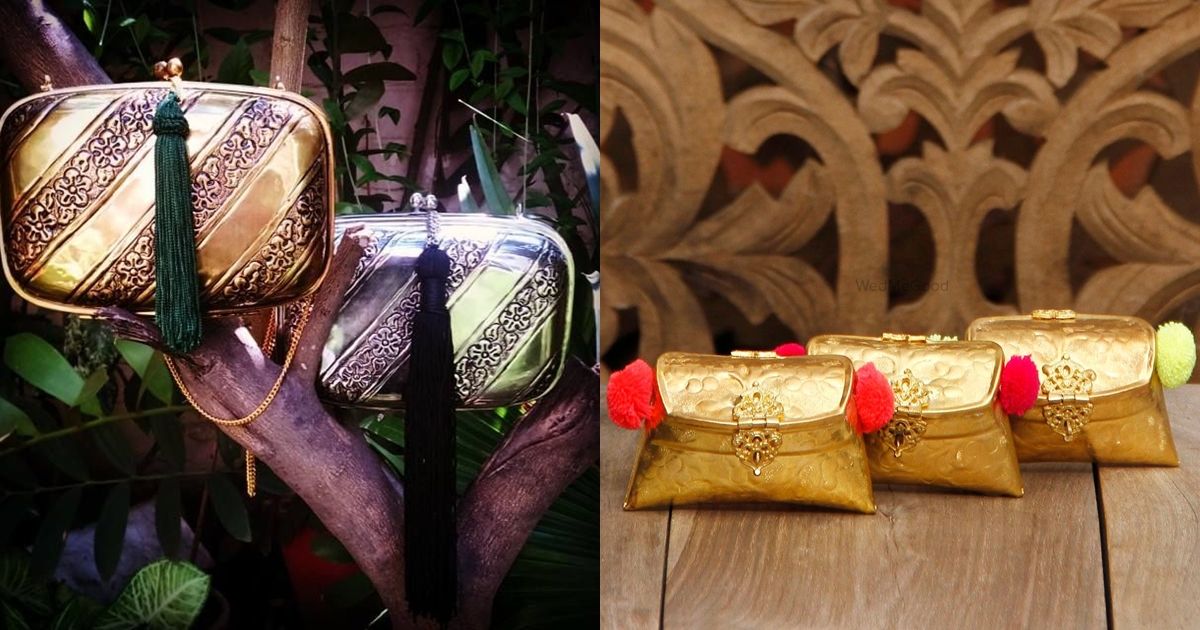 Accessories By: Boutique Jalouze★ 4
Pretty Pearl Bead Clutch With A Lehenga Or A Saree!
There is nothing in the world that can beat pearls. Looking elegant & classy get these beauties embedded in your clutch box!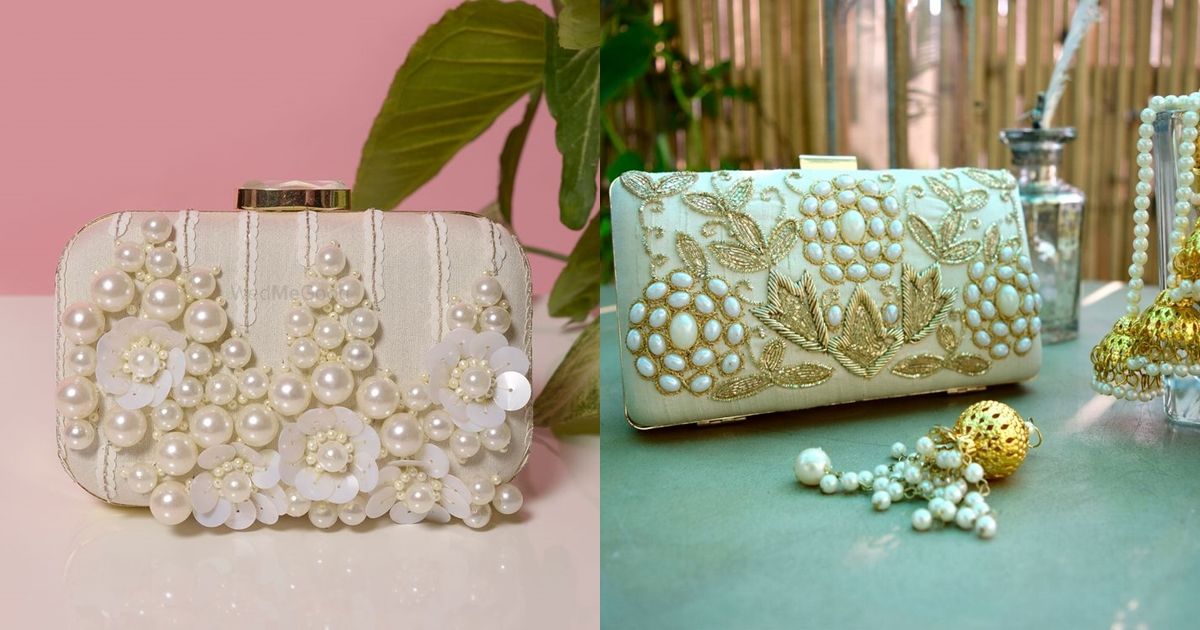 Accessories By: Clutch'D★ 5 ; Arti J.★ 5
Unique + Quirky Clutch Pins! 
How about we tell you to play around with the clutch pins? (Insane, right?) From lotus to peacocks these clutch pins are just too adorable & will look gorgeous with pastel outfits!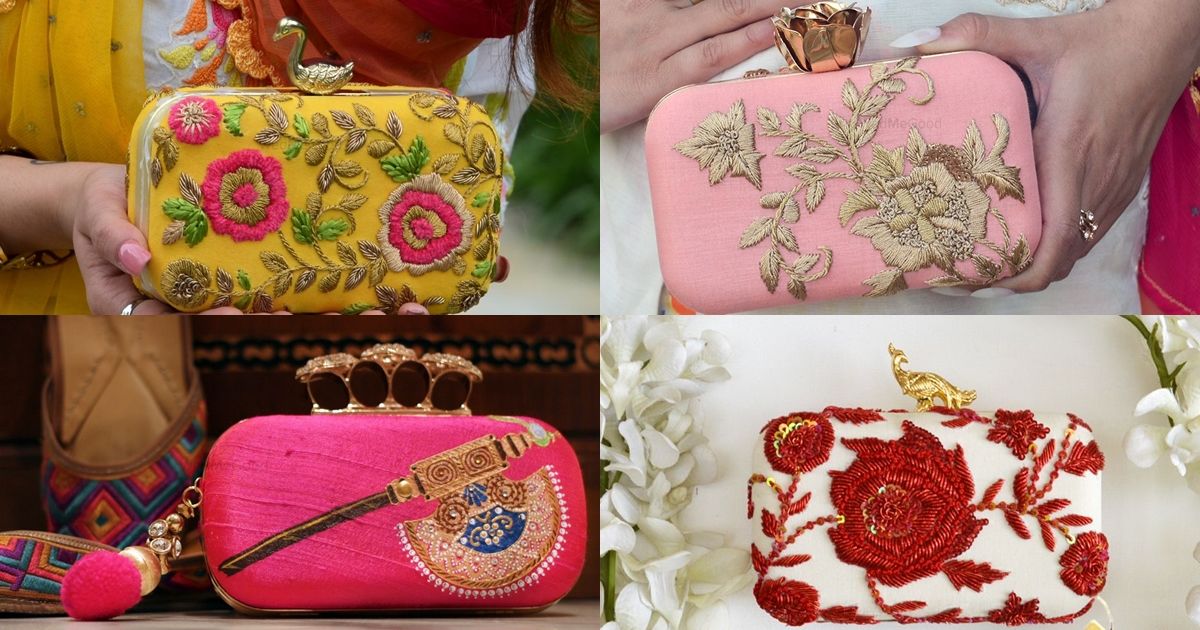 Accessories By: Rusaru
You Can Even Add Some Shimmer & Sequin To It!
And, how could we forget some shimmer & sequin? Be it sequined beads or glitter clutches, either of them are an evergreen design for a bride-to-be!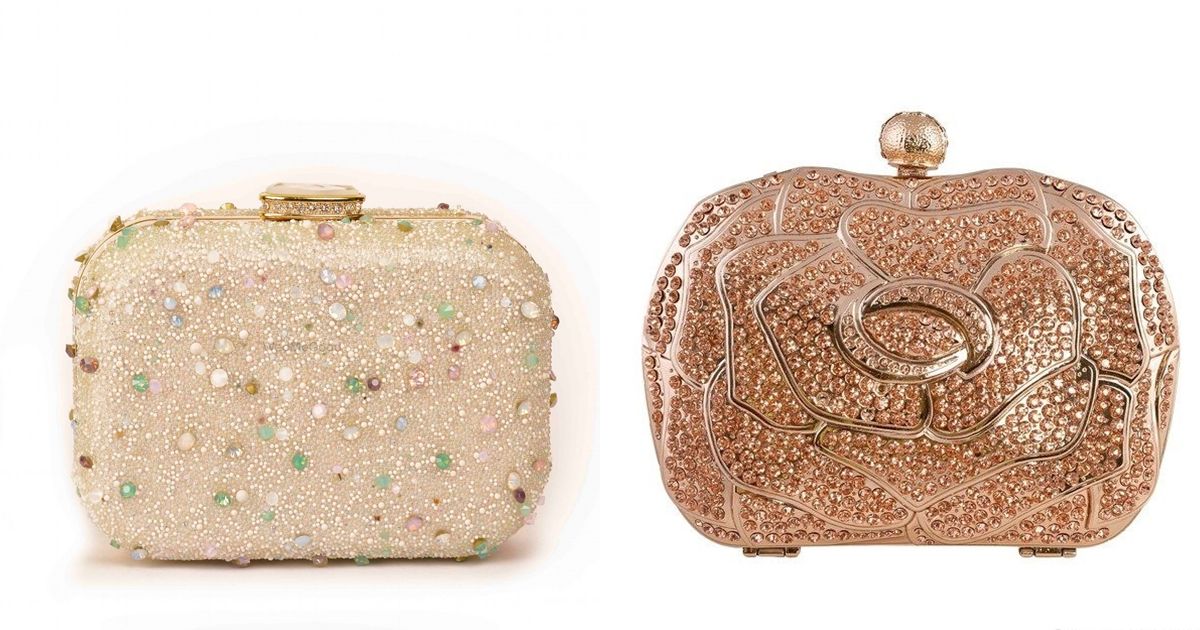 Accessories By: Beau Monde Bags and Accessories★ 5
#Trending Tassel Clutch For Your Wedding!
Yes, we can never get tired of tassels! Carry a matching tassel purse or a quirky clutch box for your sangeet, mehendi or reception party!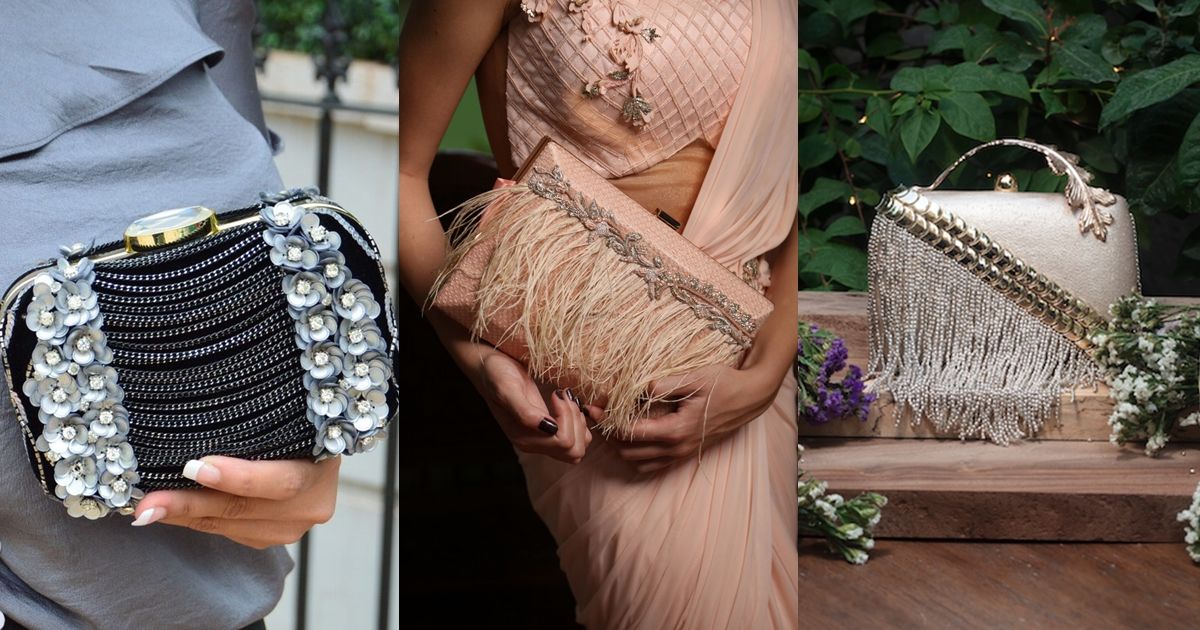 Accessories By: Rusaru ; Kamaali Couture★ 4.8 ; Clutch'D★ 5
#Unique Wooden Clutch Box That You've Never Thought Off!
Last but not the least! A wooden clutch box with printed design for the brides who want something totally out-of-the-box!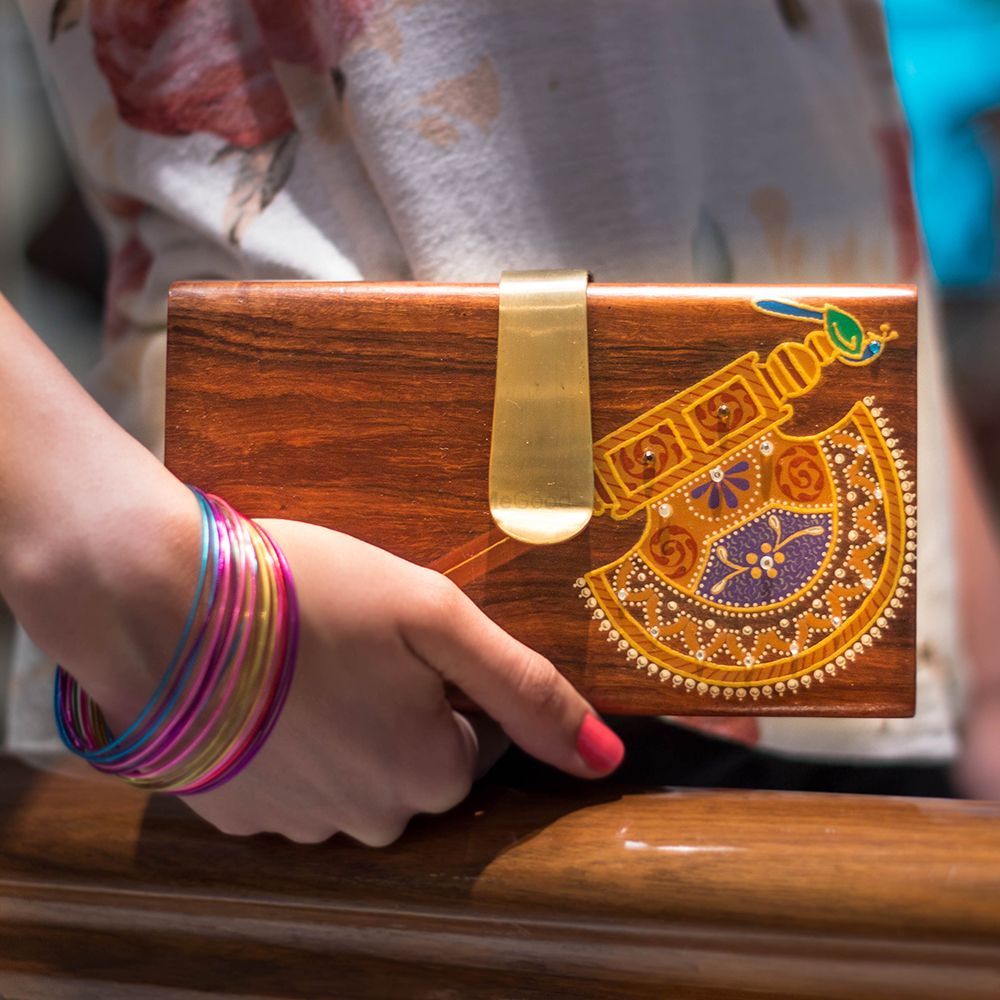 Accessories By: Crazy Palette★ 5
Aren't these bridal clutch boxes insane? Which one will you carry for your wedding function? Do tell us in the comment section below!
Also Read: #WeddingsAreComing: The Best Clutch Labels We Spotted In The Market!