2 Awesome New Mehendi Decor Ideas You Can Easily DIY!
BY Sakshi | 15 Oct, 2017 | 2111 views | 3 min read
If you don't want to spend a bomb on your Mehendi decor, then DIYing some of the stuff can really add a lot of quirk and warmth to your function, not to mention save you some big bucks as well! So here are two cool new mehendi decor elements we spotted that are easy peasy and awesome to pull off by yourself or a wee bit of help!
Idea 1: Floral centrepiece with cones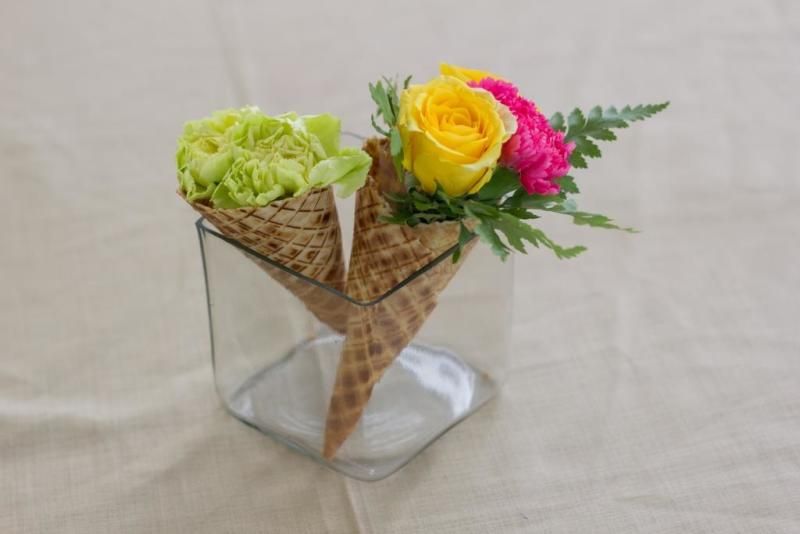 Image via Kisses By Candlelight
Yup, that is one cool trend right? Something that's gonna catch everyone's attention, And how easy is it to pull off? 
What you need
A small square transparent vase. You can get something like this from Amazon for about Rs 1000 per vase.
Cones- you can get plain or waffle cones from your local ice cream shop for about Rs 10-20 per cone. Pick two or three per setting, depending on how wide your vase is.
Flowers from your local florist or decor guy- whatever type you like- roses or carnations would be ideal.  
How to assemble it
Take the vase, place the cones in it. 
Fill the cones with the flowers- two or three per cone with some green should be good enough.
Place the cones as you like- straight or tilted... and voila! You're done!
Idea 2: Pompoms on sticks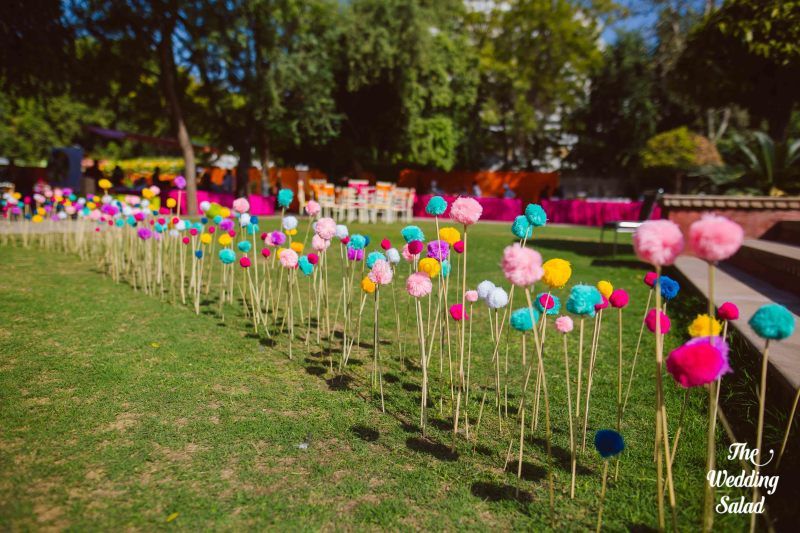 Image via Vintage Nutters
This one is great for corner decor or to mark one side of the garden! And looks so so cute and amazing! You might need a little bit of help to pull this one off though!
What you need
Long sticks- about 20 to 30 inches long. You can source them from someone around or breakdown a new stick broom like this one available on Amazon for about Rs 100 per broom. 
Giant pompom balls- these are also easy to make at home with coloured wool, or you can source them from a local sttationary store or online like these for about Rs 500, which are 6 cm in size. You can choose to keep it multi-coloured, in a combination or single coloured.
Super glue.
How to assemble it
Attach one pompom on top of every stick such that it looks like a flower with a stem.
Choose a mushy part of the garden and dig the sticks in a little bit so they stand straight.
Put a lot of them together randomly, but in a line so it appears organised... and you're done!
Easy, peasy, gorgeous right?
ALSO READ: #GetTheLook: Mehendi Decor In Under 6000 Rs!
Five New Gota Decor DIYs That Will Make Your 2017 Mehendi A Riot!