20+ Fresh & New Designs of Naths We Spotted on Real Brides!
BY Chandni Kumar | 01 Nov, 2018 | 32498 views | 6 min read
Who knew that one piece of small jewellery could play such a difference to your bridal look. Naths have been an integral part of an Indian bride since 16th century, and is making the waves in the #bridallook circles even today! You may not have a piercing but one thing that every bride (including me) wants is a big, fat & pretty nath for their wedding. Brides! You might have checked everything on your bucket list (jewellery set, lehenga, makeup artist, etc.) but this small beauty is something that can totally break or make your bridal look.
If you're a 2018 or early 2019 bride we have some really exciting and fresh designs of naths for your wedding celebrations as spotted on our real brides. From #Trending floral naths for mehendi function to huge dramatic & oversized nose rings, these 20+ new designs of nath will surely INSPIRE you in every way!
Go for: #Trending Floral Nath For Mehendi!
Be it dry floral jewellery or real flowers - floral nath is surely a legit #jewellerygoal!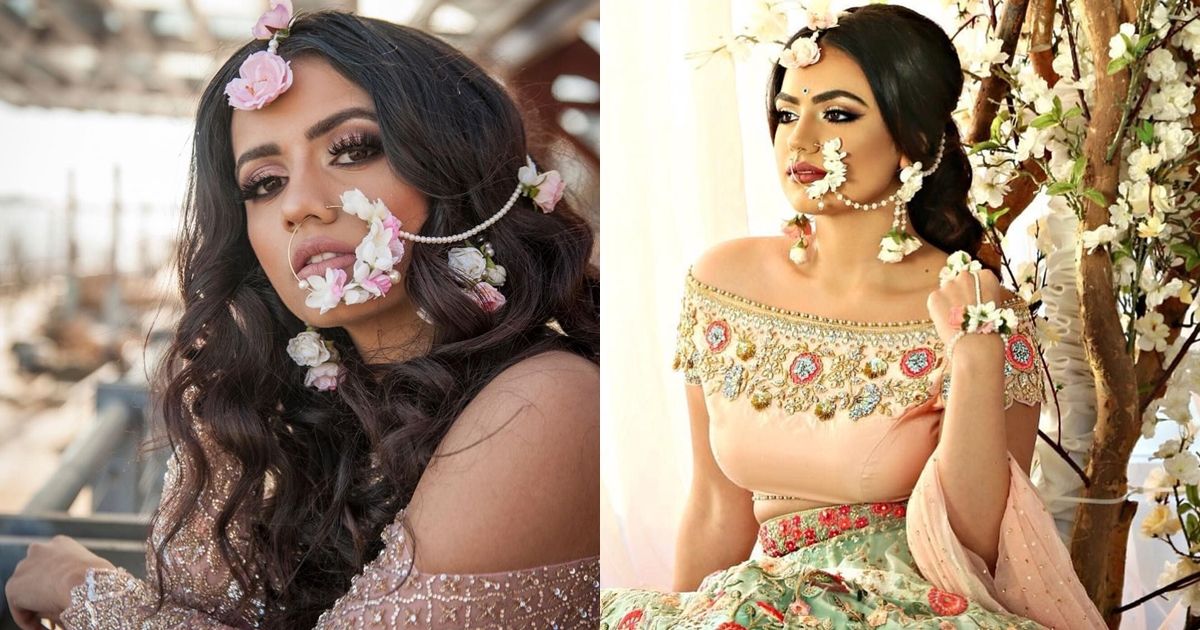 Image via: Lefleur Jewels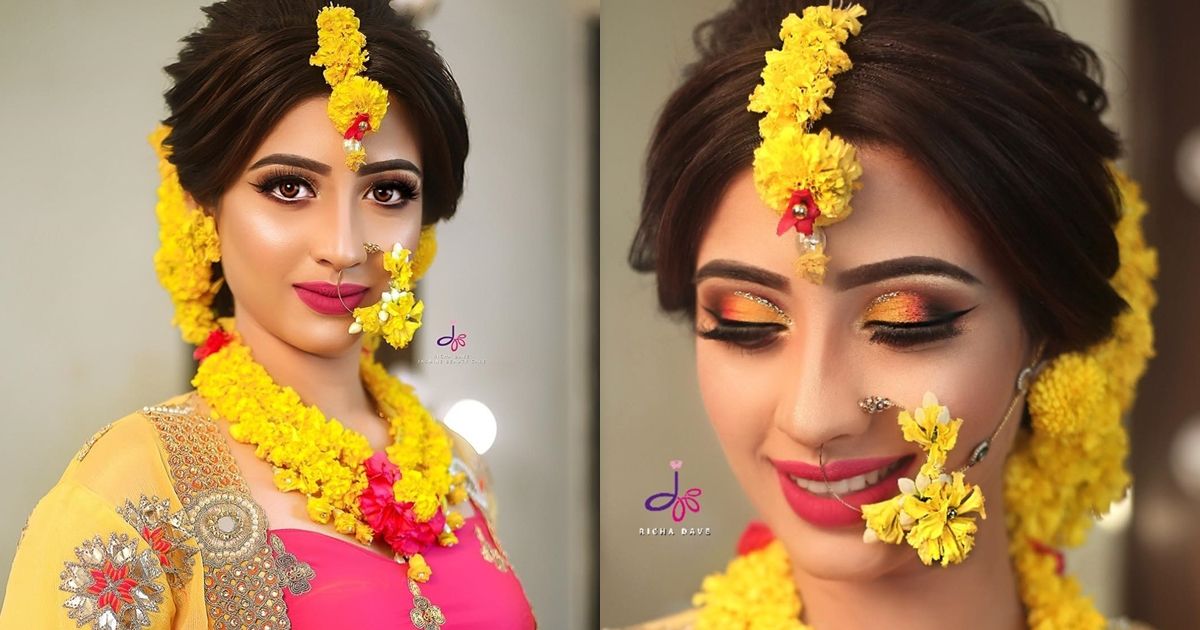 Image via: The Wed Capture ; Makeup By: Richa Dave
Go for: Simple Nose Ring With Studded Stones
A simple & delicate nose ring with studded stones and beads is perfect for the minimalist brides!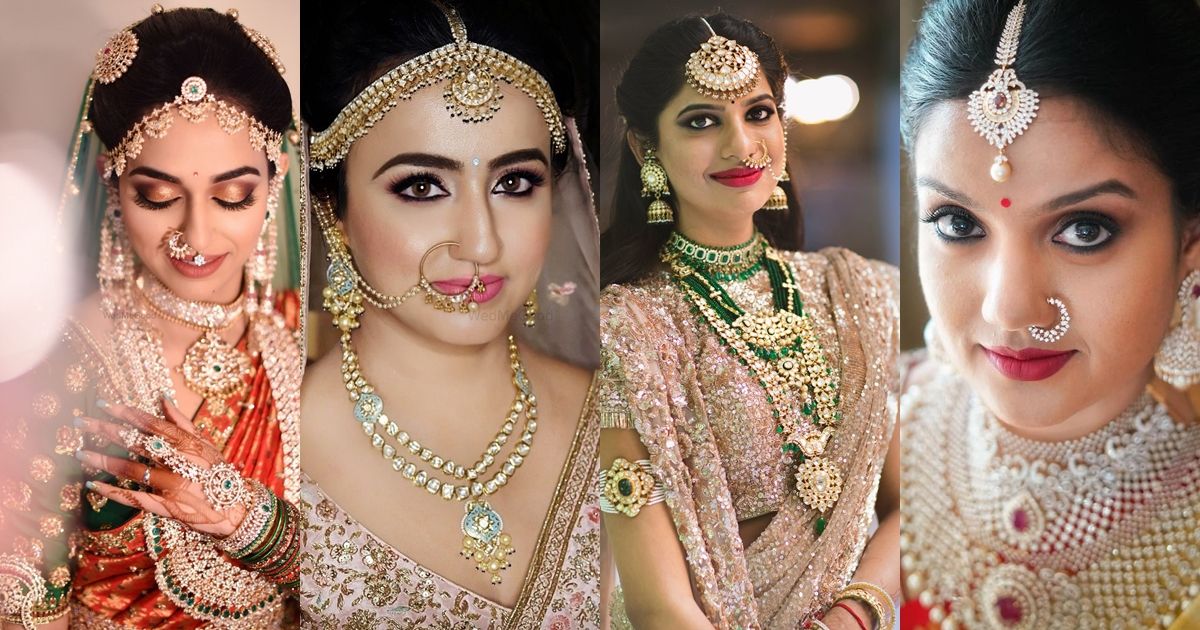 Makeup By: Makeup Artist Tamanna ; Makeup By Sunaina★ 5 ; Image via: Minchu by Sujay & Shreyanka ; Makeup By: Siro Makeup Studio
Go for: Delicate Droplet Nath For Wedding!
Not a fan of studded bridal nath? Pick an elegant nose ring with a droplet or pendant.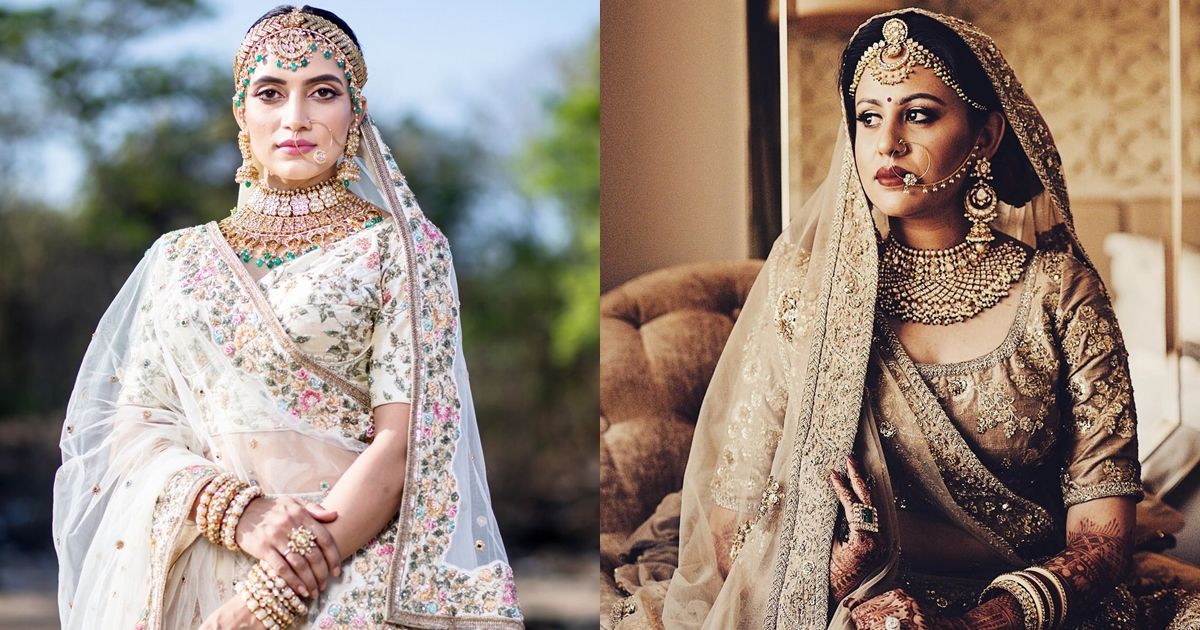 Makeup By: Makeup Missile by Preeti★ 4.9 ; Artcapture Production
Go for: Ever #Trending Cluster of Pearls!
Love pearls? Include a bunch of pearls in your bridal nath to make it look gorgeous with your bridal lehenga!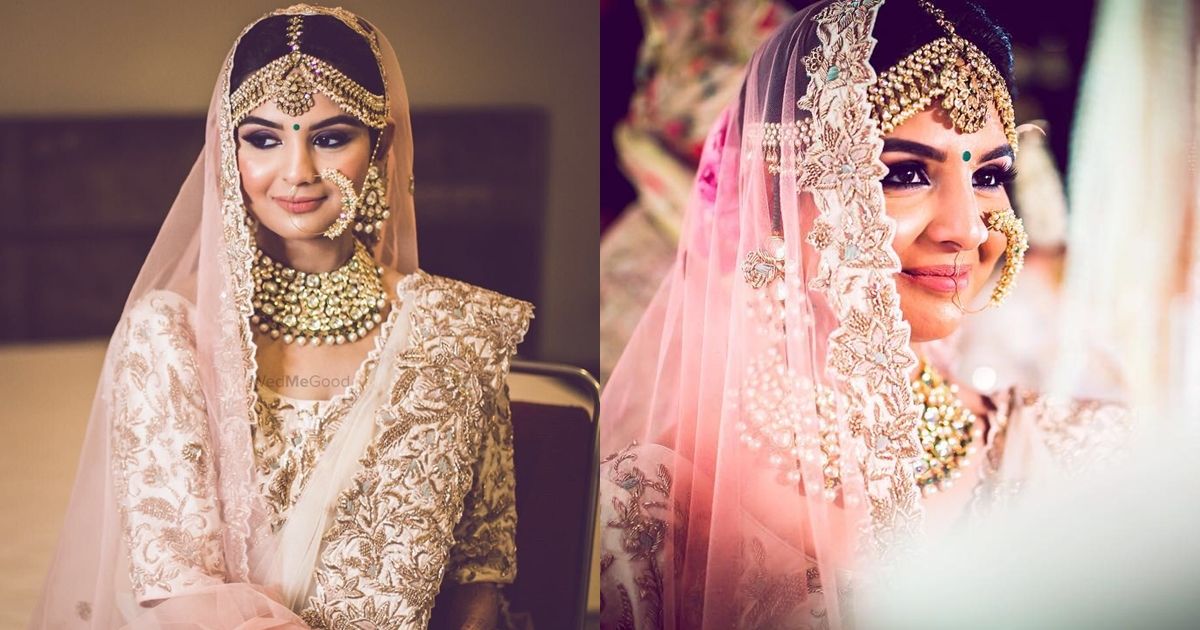 Makeup By: Aakriti Kochar Bridal Makeup★ 4.6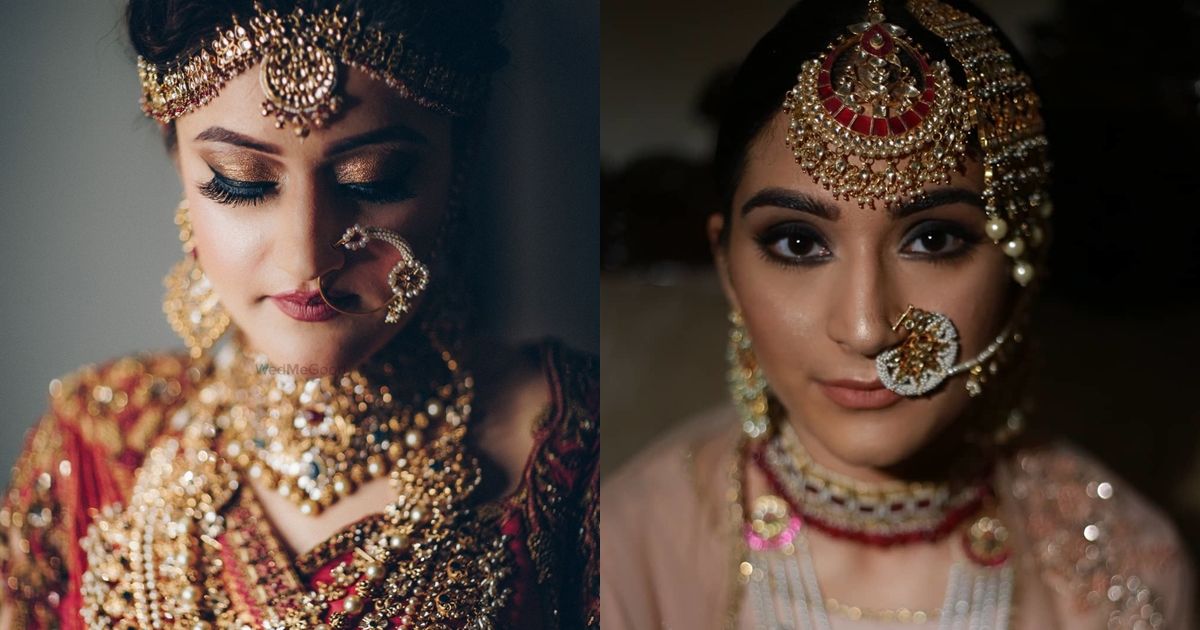 Image via: Shades Photography ; Jewellery: Manimuktaa★ 4.3
Or, These Embedded Pearl Beads!
The most popular nose ring design is this embedded or studded pearl bead nath that looks chic & stylish on the wedding day!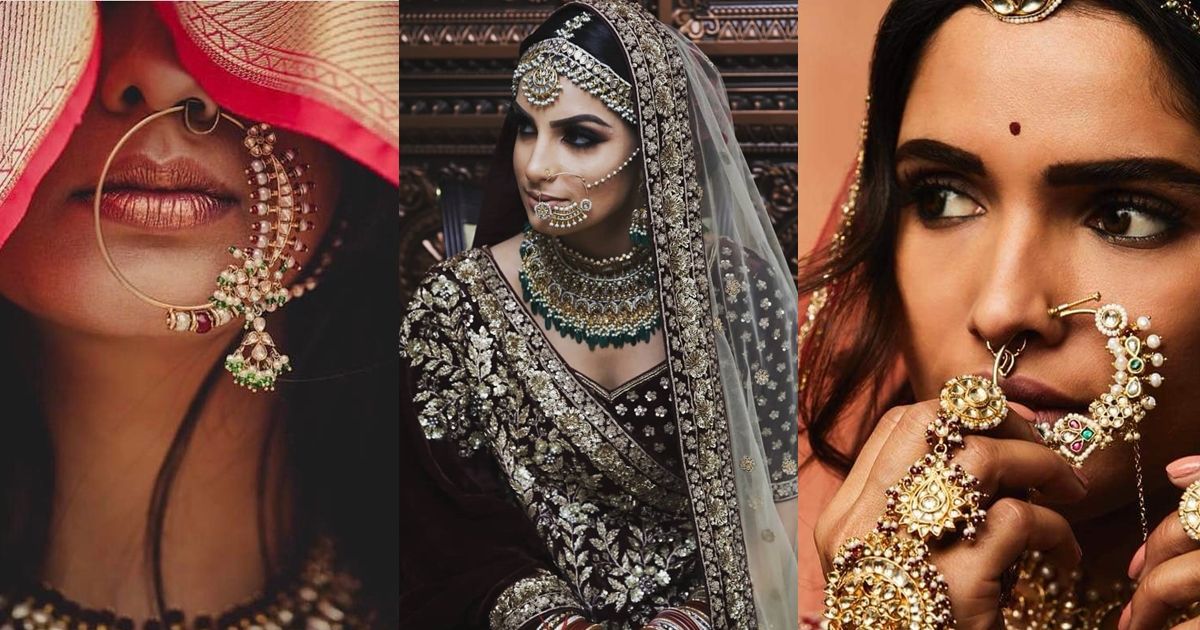 Image via: Morviimages ; Jewellery: Precious By Maira ; Artkarat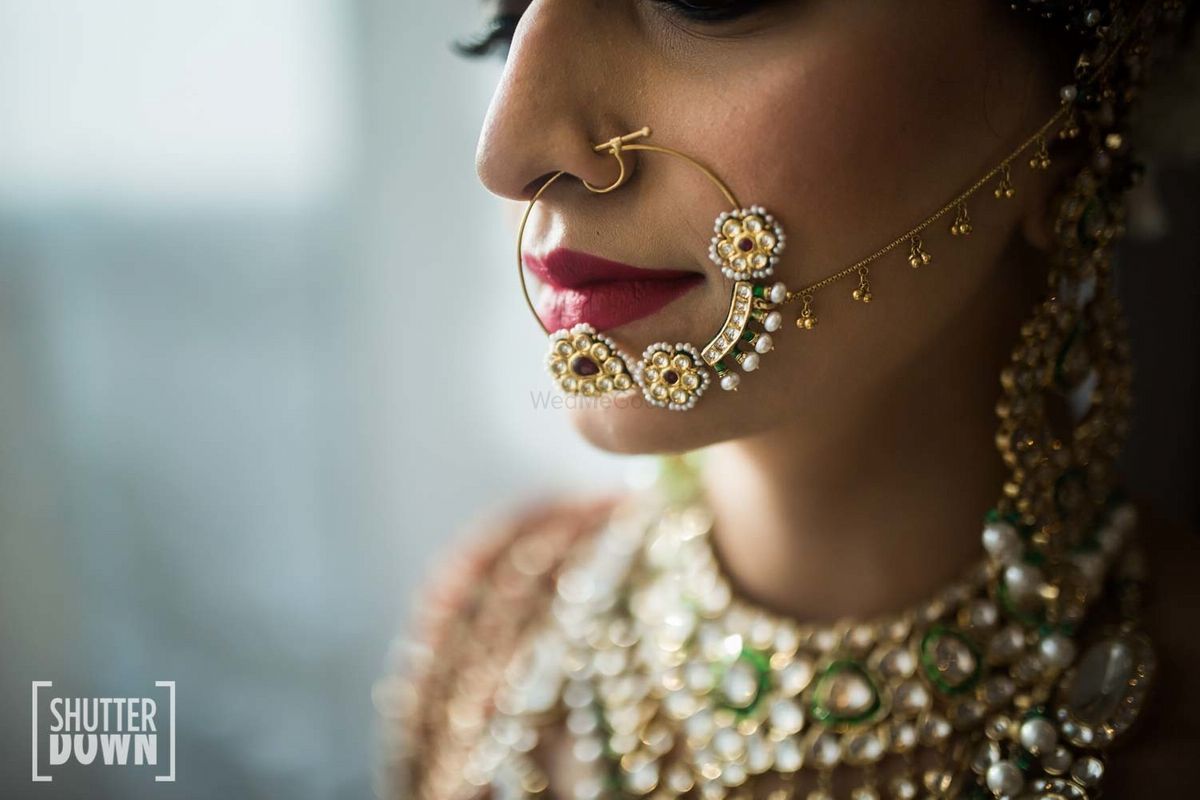 Image via: Shutterdown Photography
And, These Pearls With Other Stones & Beads
Need more options than only pearls? Pick a bridal nath with colourful beads in addition to pearls, or even one with coloured pearls. Tip Match your jewellery with your lehenga!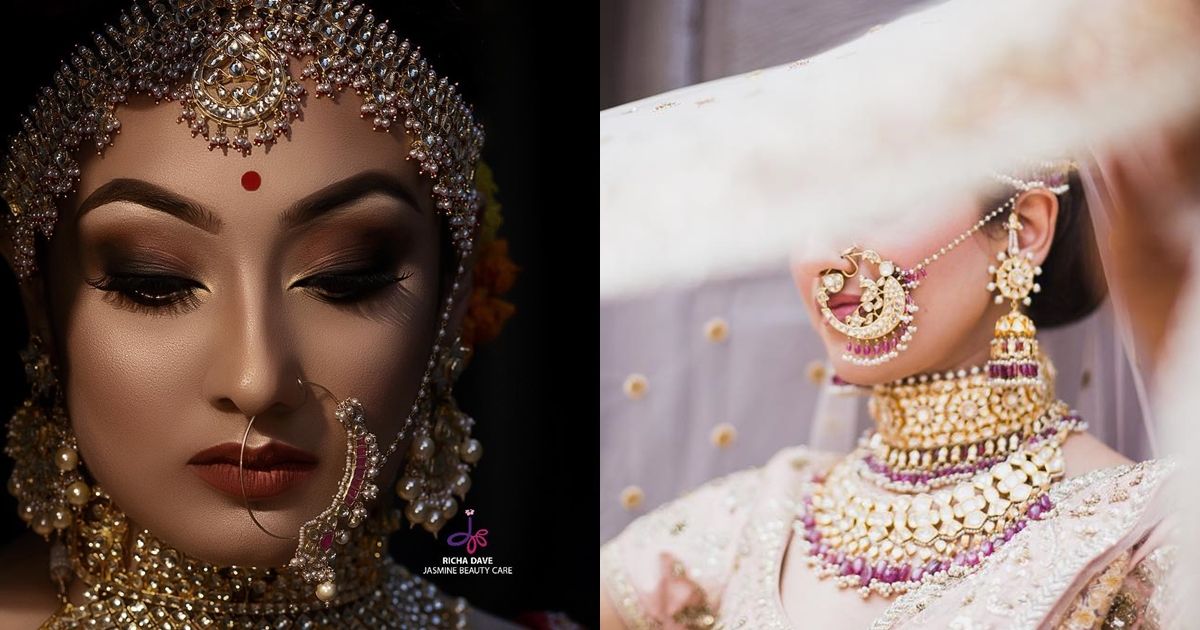 Image via: The Wed Capture ; Harleen Deol Photography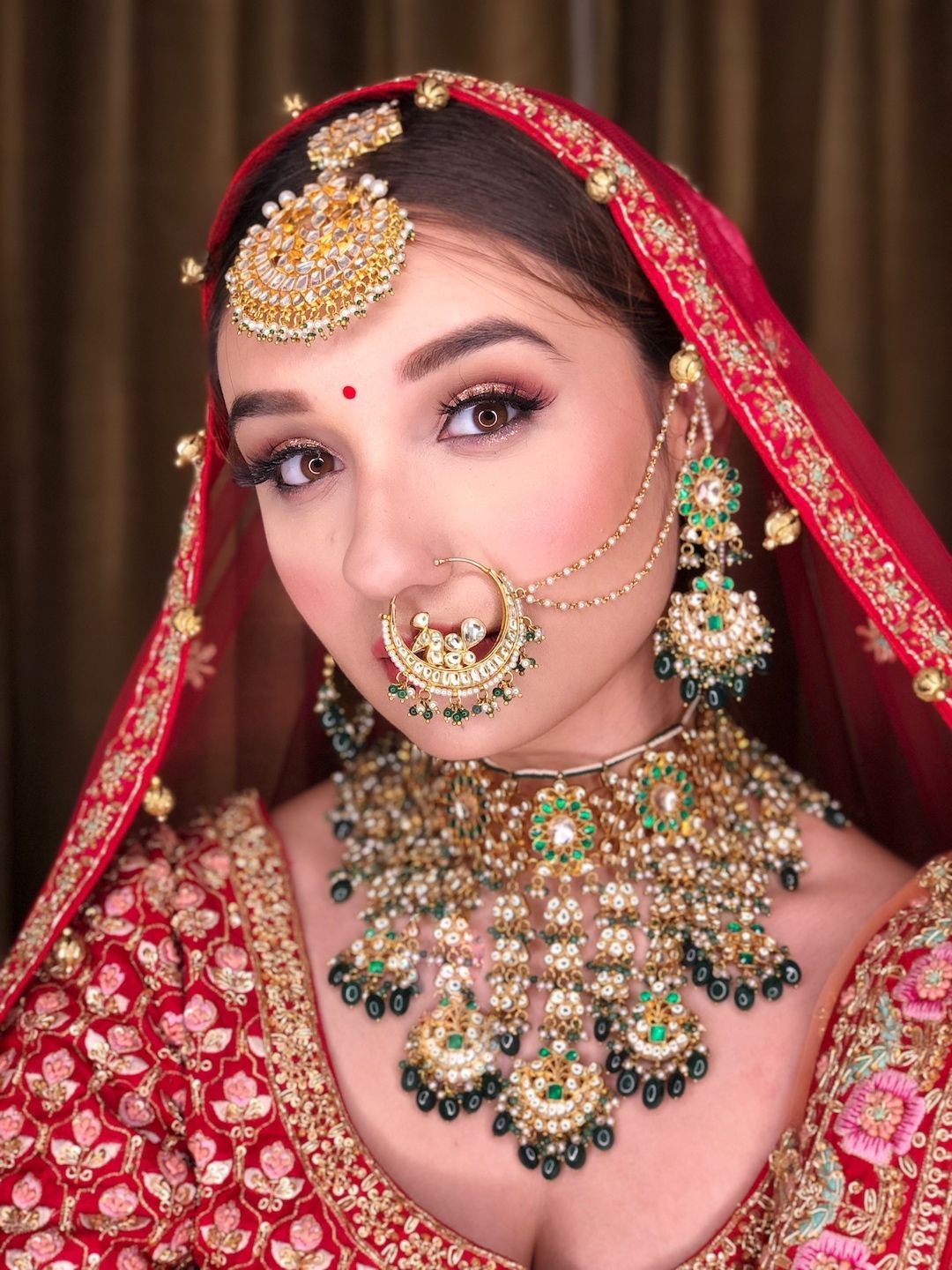 Makeup By: Preksha Gupta Makeup Artist★ 5
Go for: A Diamond Nath Ring
OMG! What is better than wearing a diamond nath with pearl beads? If you love something hatke, then this is for you!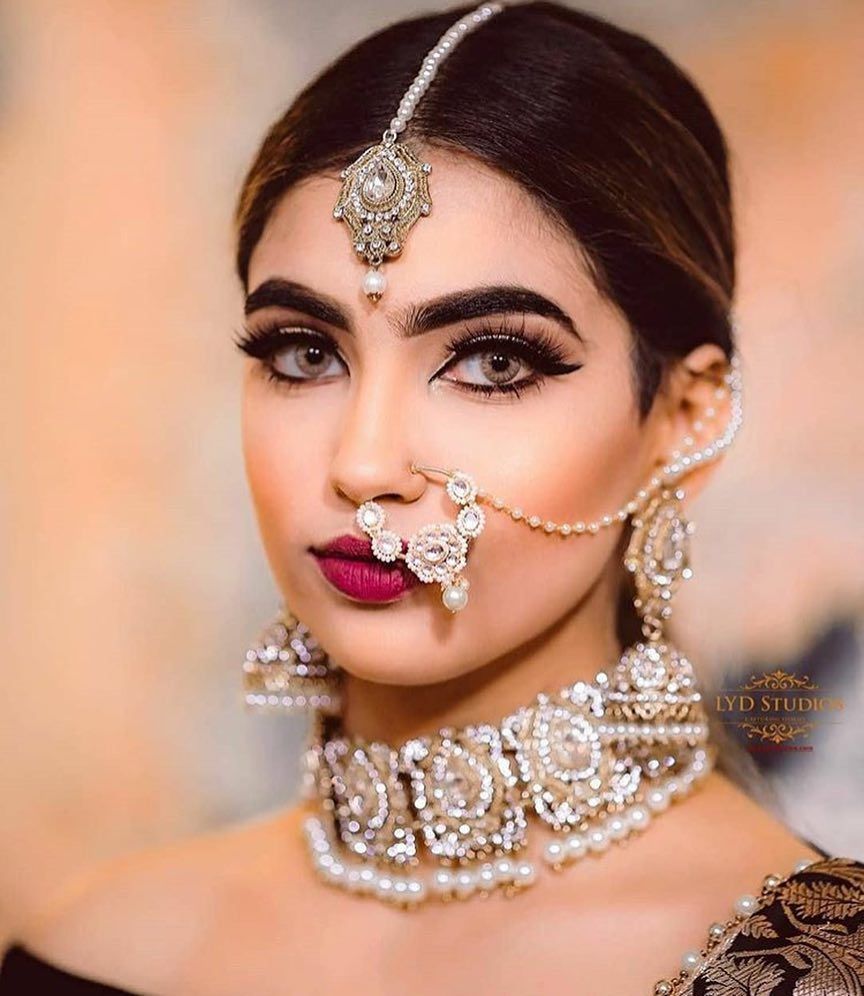 Image via: LYD Studios
Go for: Everlasting Crescent Nath For The Bride-To-Be!
Crescent nath are always a yes! Matching perfectly with the face shape crescent nath design is beautiful to pair up with your outfit!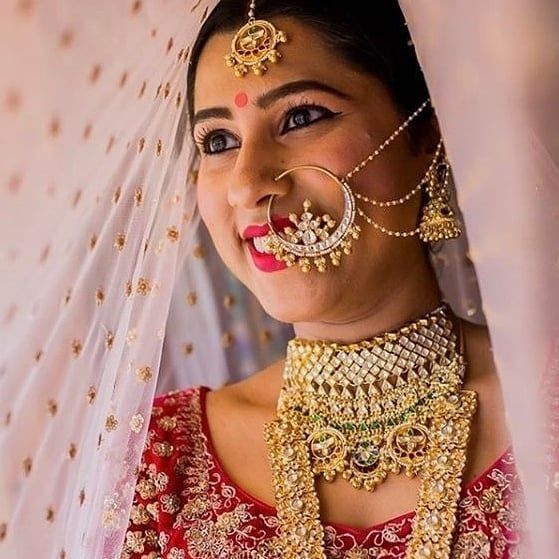 Image via: Weddings by Knotty Days★ 4.8
Go for: Crescent Nath Style With Bold Nose Pin!
Now this is something, HUGE! Love this kind of style? Pick a similar style but with a bold nose ring pin! Much dramatic, right?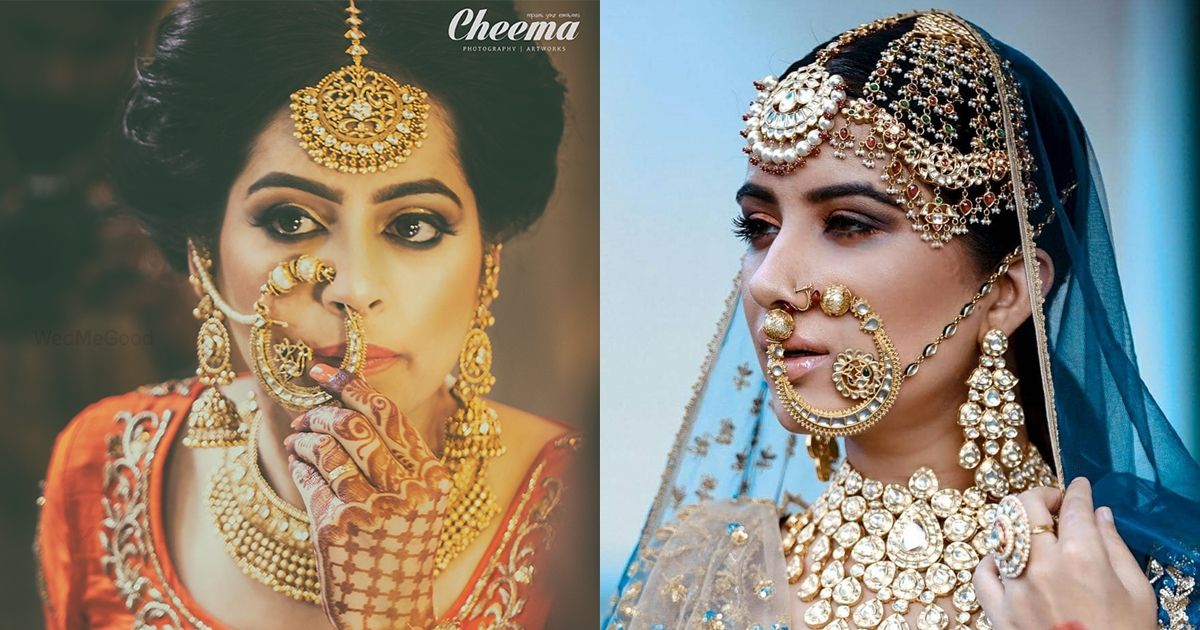 Image via: Cheema Photography ; SolTeeuk
Go for: Dramatic Nath Design With Cute Little Parrots!
Currently drooling on this, our favorite nath design! We love this unique parrot style nose ring with hanging pearls for the wedding!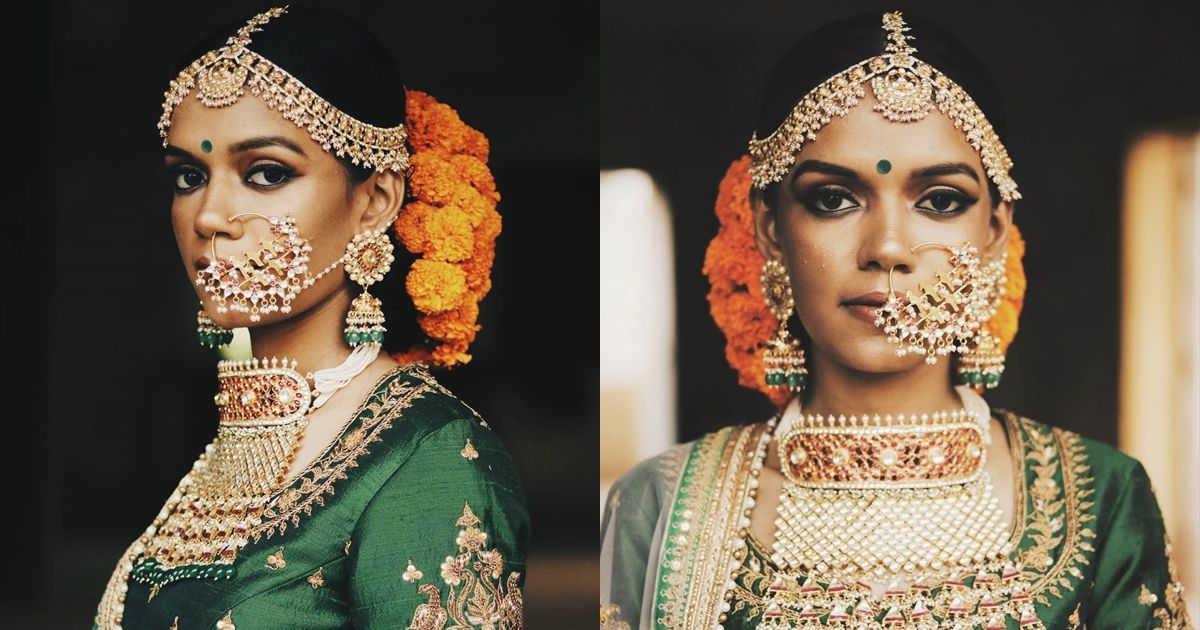 Image via: The.Classic.New
Go for: An Oversized Nath
Are you a traditional bride who loves heavy jewellery? Go for an oversized nose ring to make your bridal look glamorous!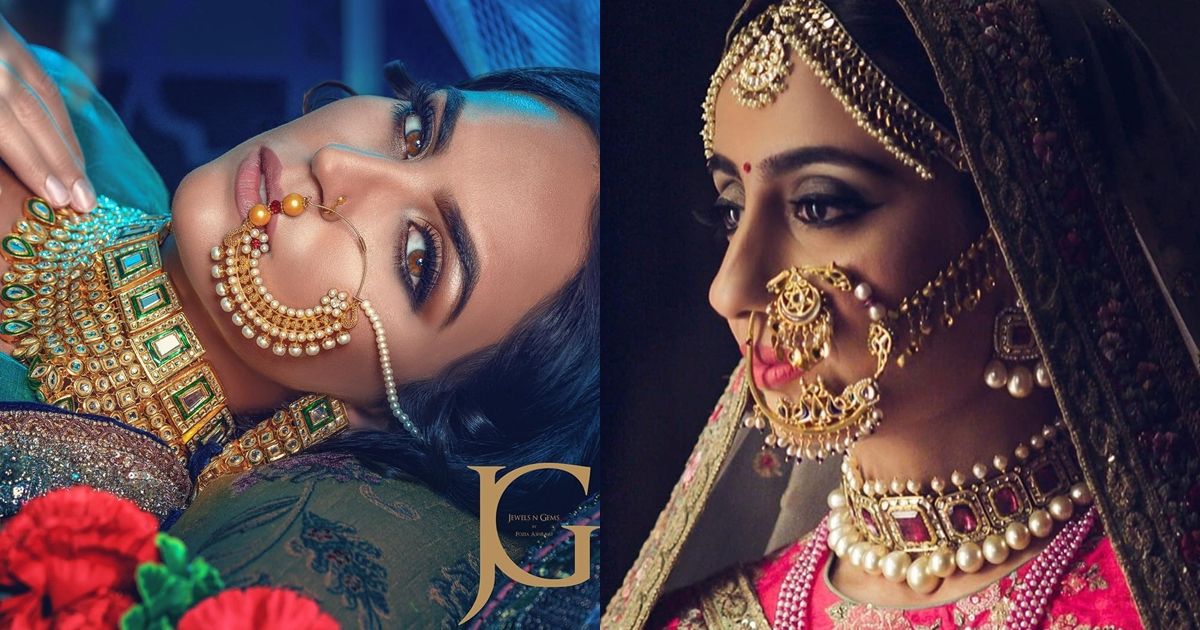 Jewellery By: JewelsnGems by Fozia Ashraaf
Go for: Inspirational Padmavaat Nath Look For The Brides!
We won't lie but Deepika Padukone from Padmaavat gave us huge #bridaljewellerygoals! Pick a royal nath design + jewellery for D-day!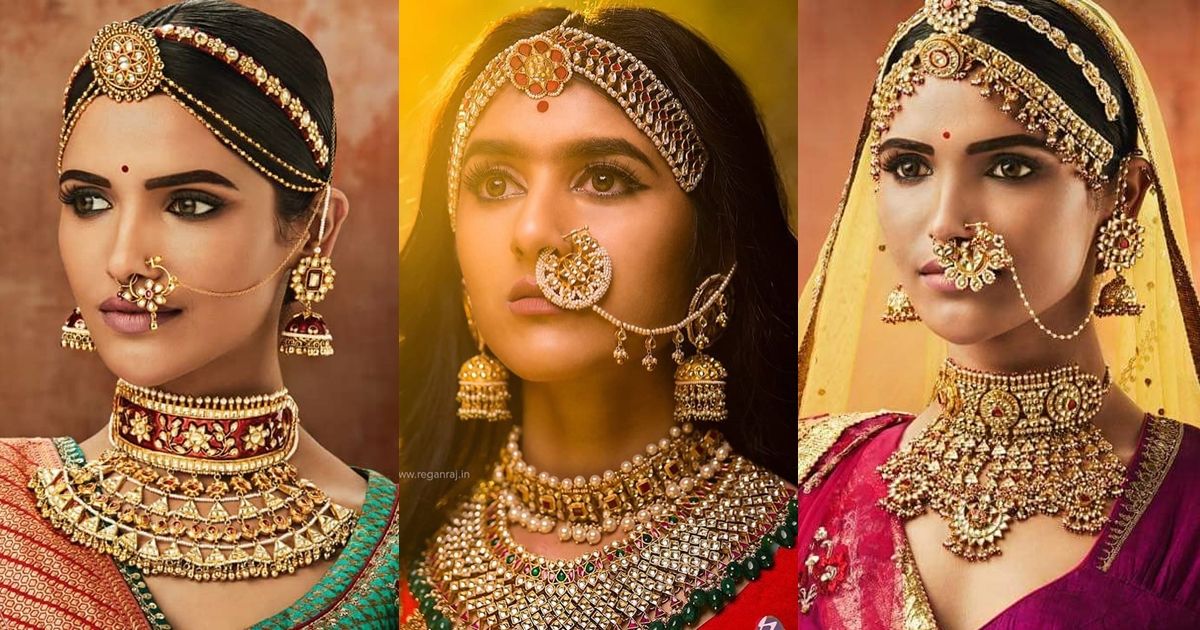 Jewellery By: Artkarat ; Image via: Reganraj ; Jewellery By: Artkarat
Go for: Nath With Multi-String Chains!
Giving a pretty and elegant look nath with multi-string chains and a studded nath makes perfect for your wedding day!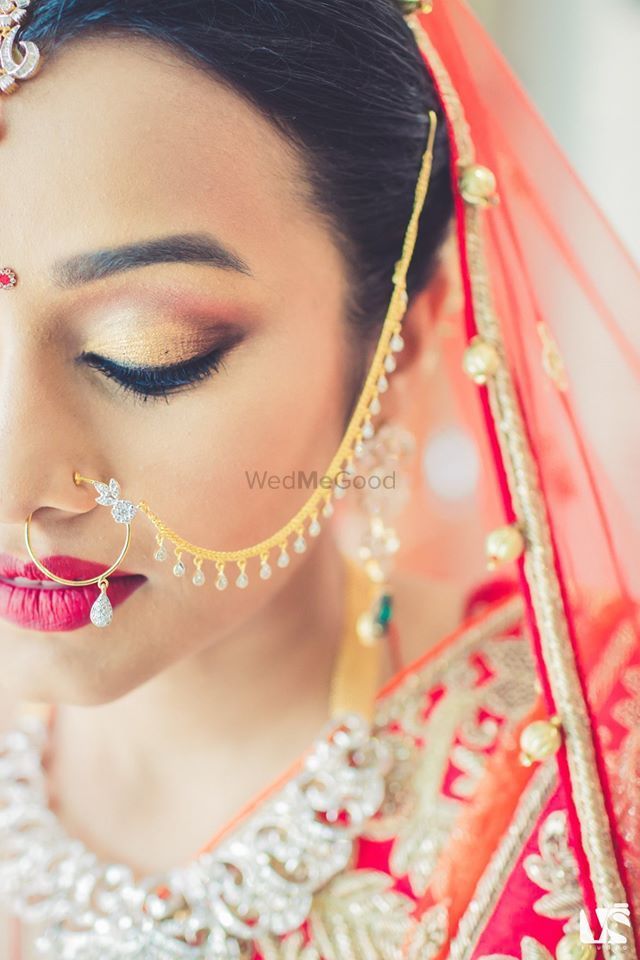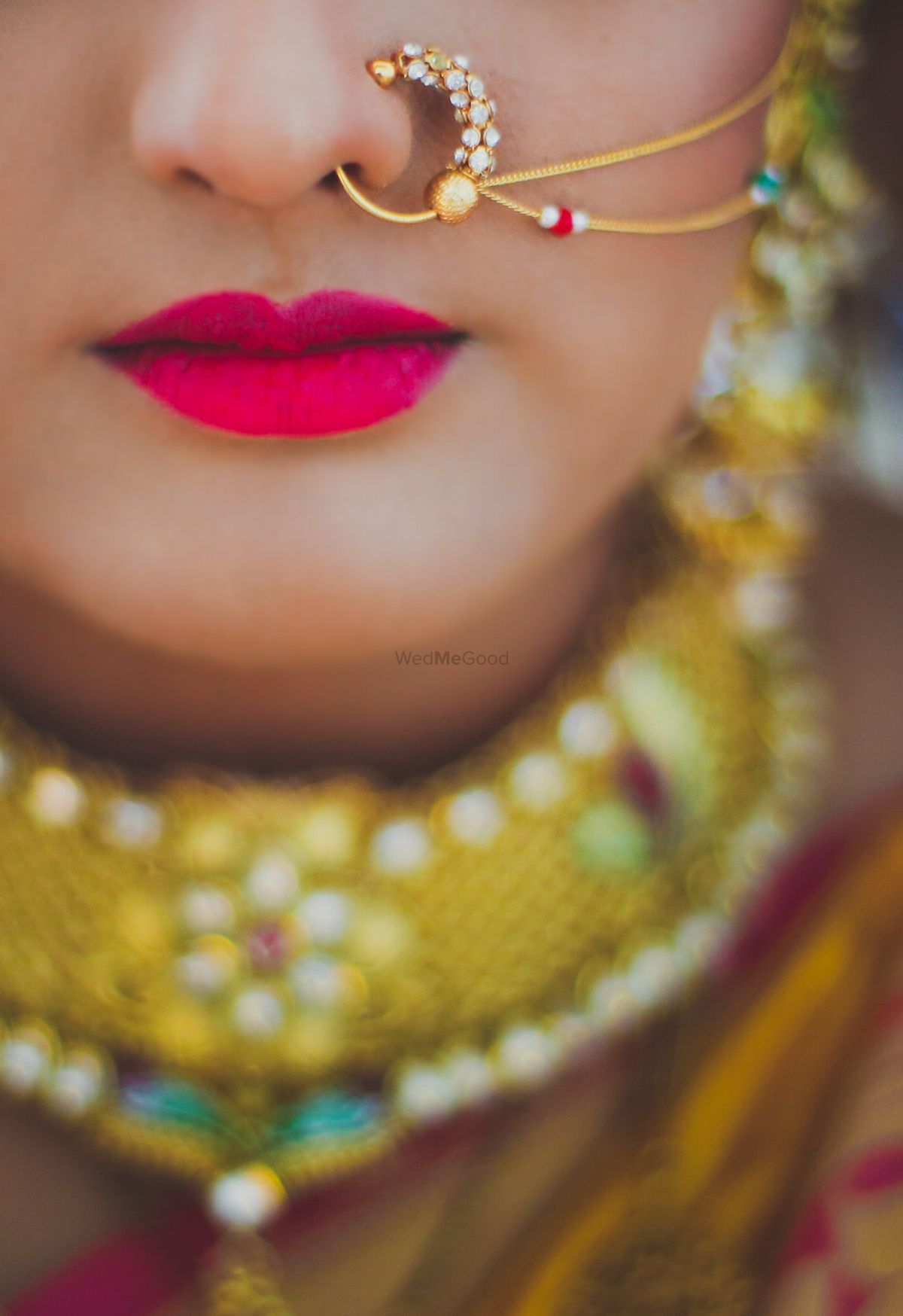 Image via: VS Studio★ 5 ; Confetti Films★ 4.6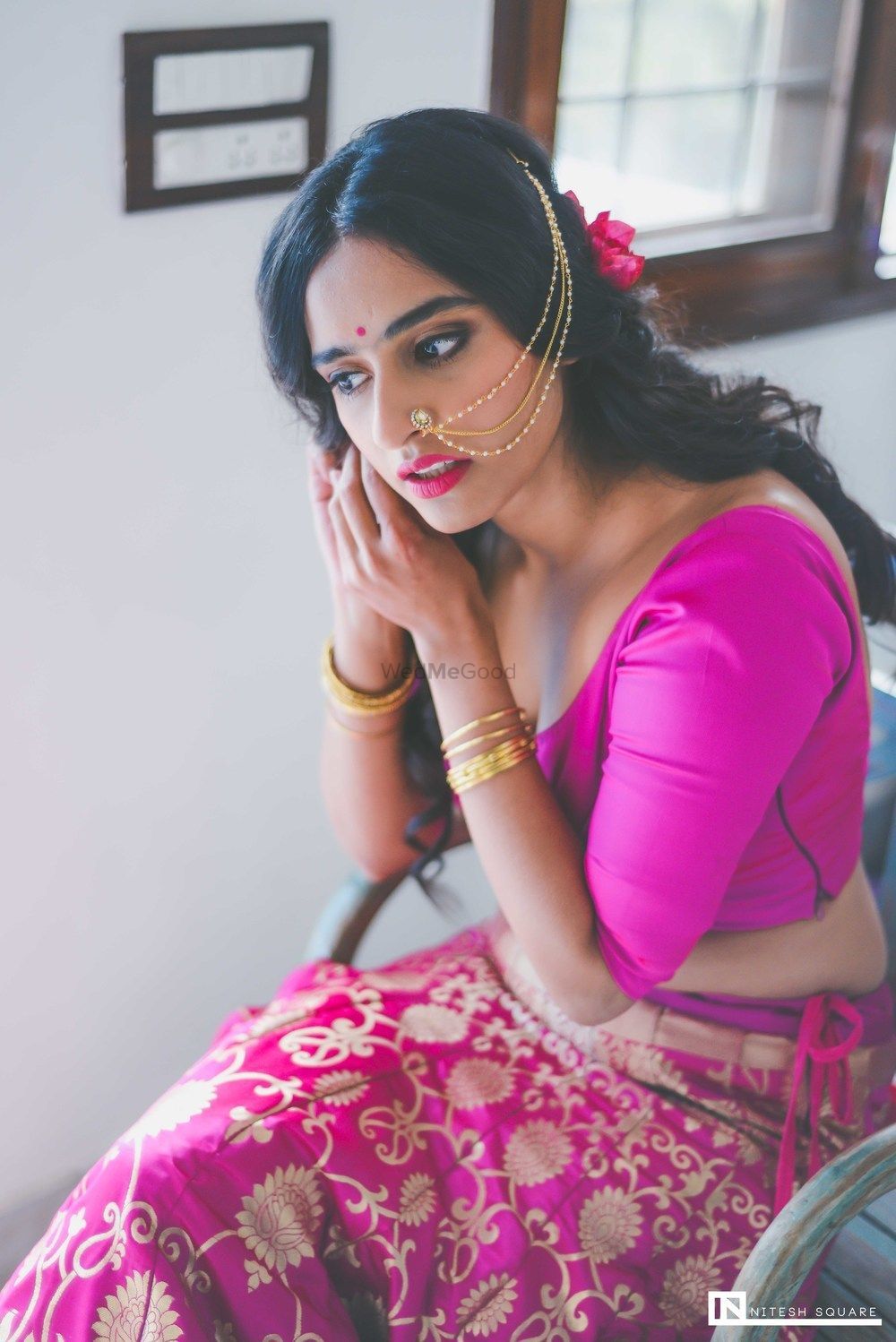 Image via: Nitesh Square Photography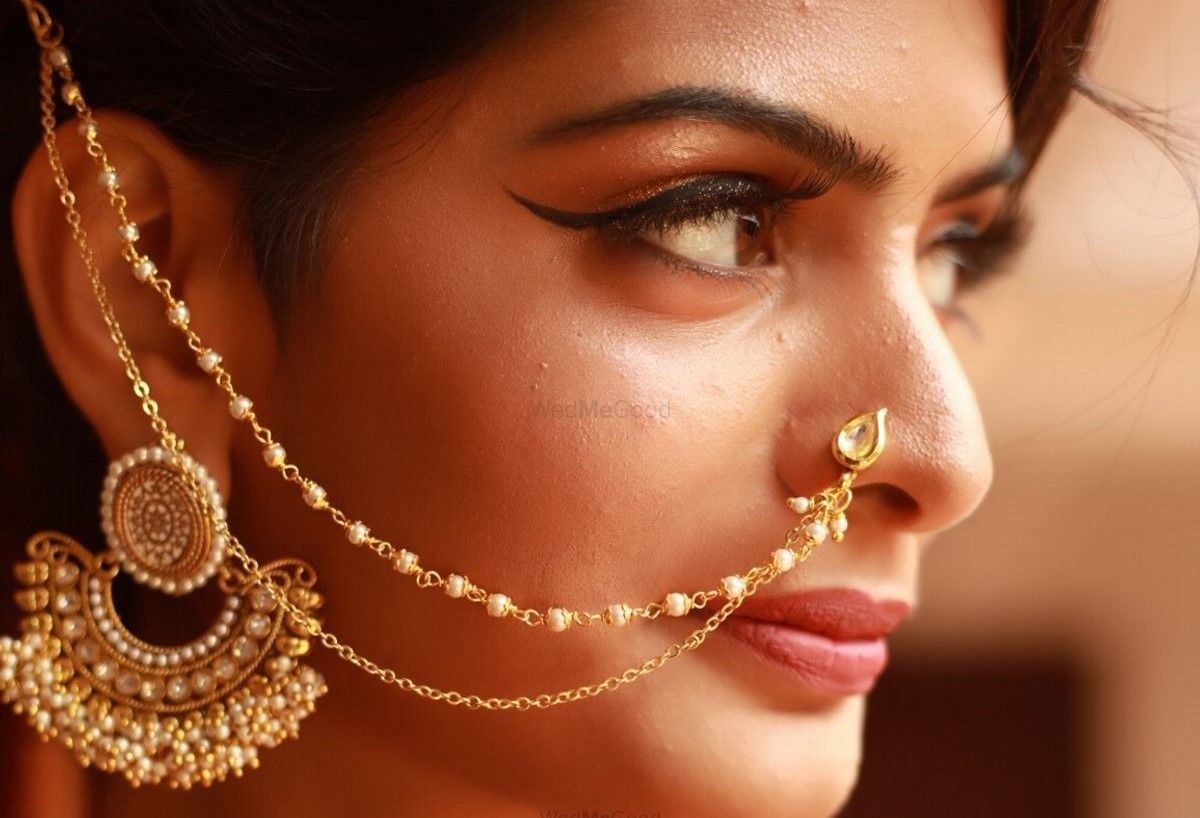 Makeup By: Makeup by Shruti Goyal★ 4.9
Go for: Gold Nath With Pearls
Gold that is ever lasting is a perfect pick for the bridal jewelery! Pair your gold nose ring with pearls and emeralds.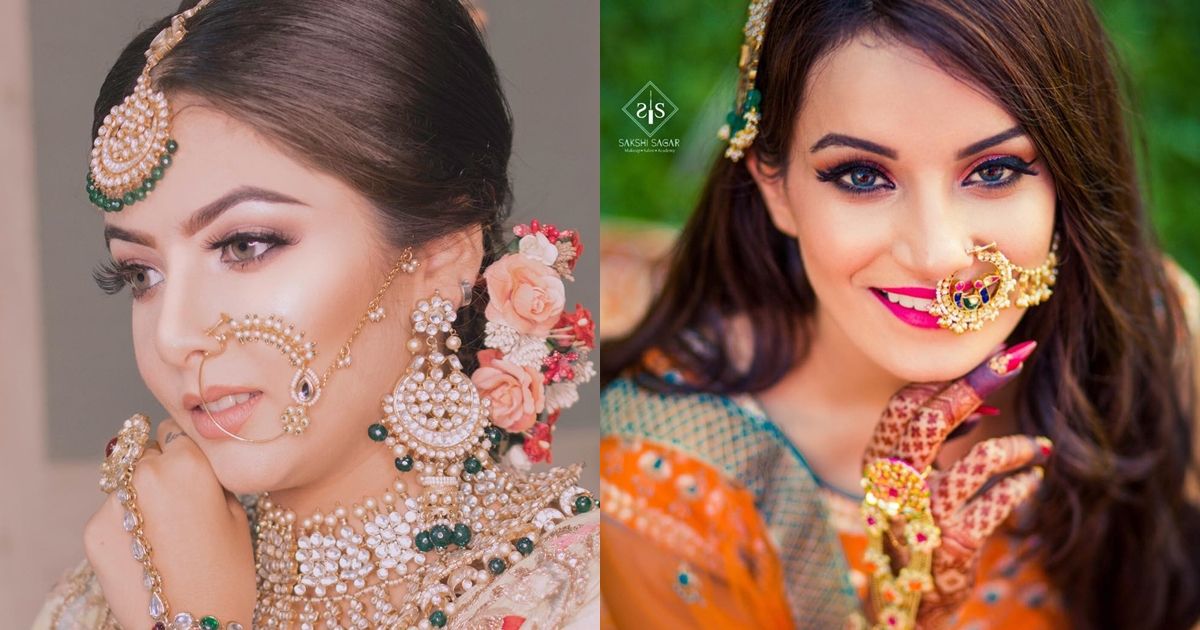 Image via: Razz Films and Photography ; Makeup By: Sakshi Sagar Studio
Go for: Oversized Rajasthani Nose Ring!
Huge, oversized and dramatic - Rajasthani naths can make anyone swoon over their traditional style!
Image via: Pooja Joseph Photography★ 5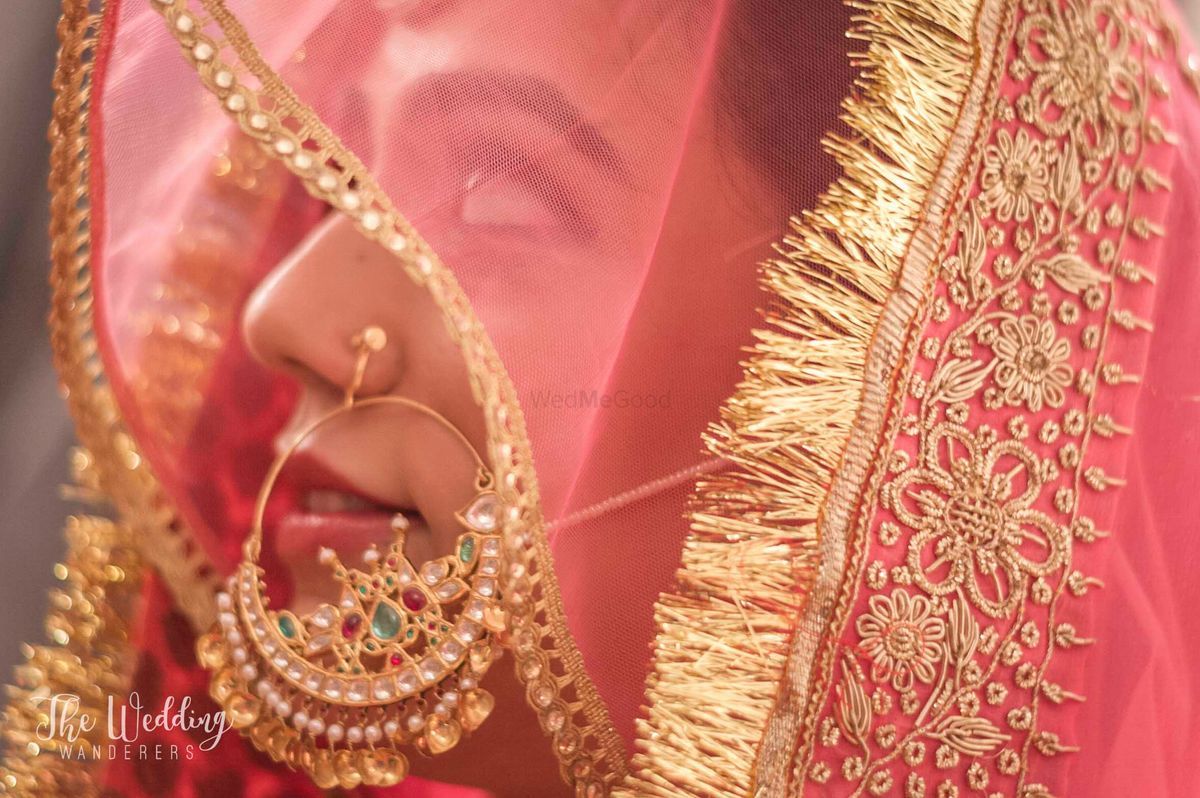 Image via: The Wedding Wanderers★ 4.8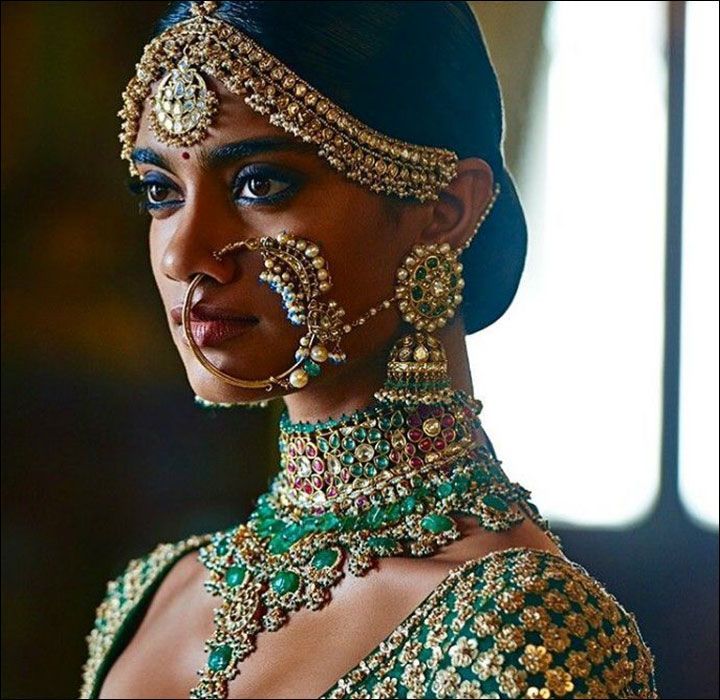 Jewellery By: G J International ★ 5
Go for: Silver Nath With Pearl Beads!
Gold, diamonds, kundan, etc. are too old-fashioned, right? How about wearing a silver bridal jewellery & pairing up with a pearl-silver nath!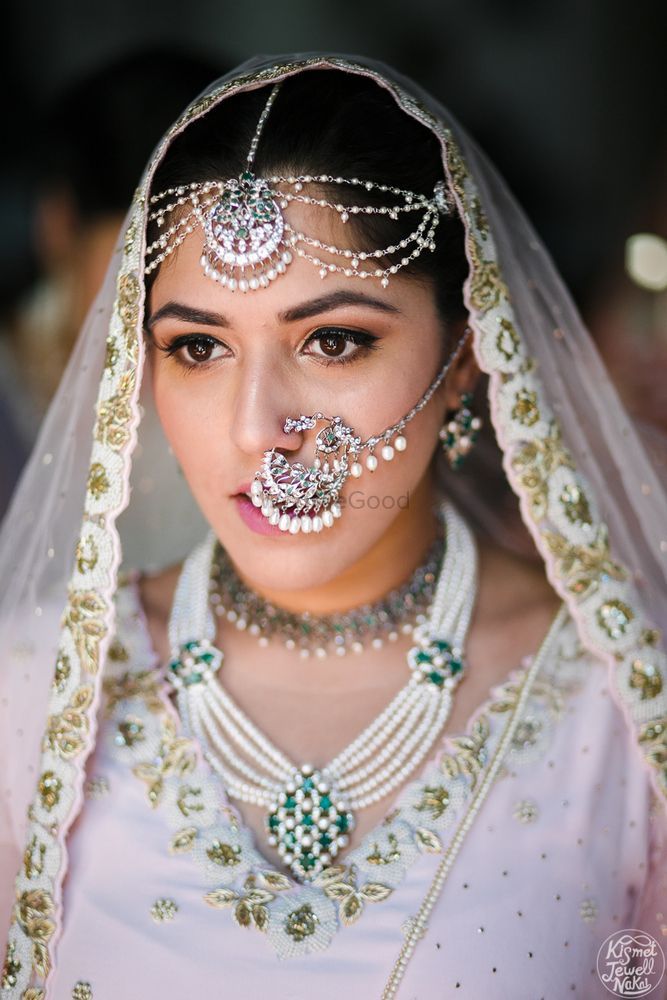 Image via: Kismet Jewell Nakai Photography
Go for: Gold Nath With Hanging Ghunghroos!
These cute beauties are perfect to include in your bridal jewellery set. If, thinking to wear a nath get a nose ring with attached ghunghroos.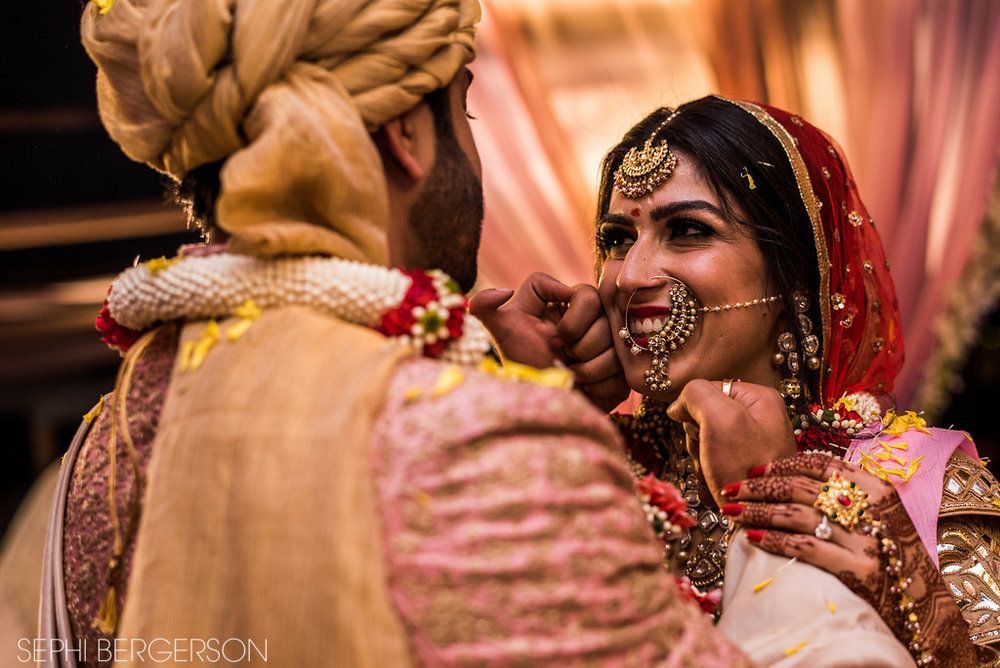 Image via: Sephi Bergerson
Go for: Hanging Pearl Strings & Beads To Create That Dramatic Look!
Pearls pearls everywhere? Psst. If you're a bride who LOVES pearls, then pick a bridal nath that has tons of strings of pearl beads!
Image via: Gautam Khullar Photography★ 4.8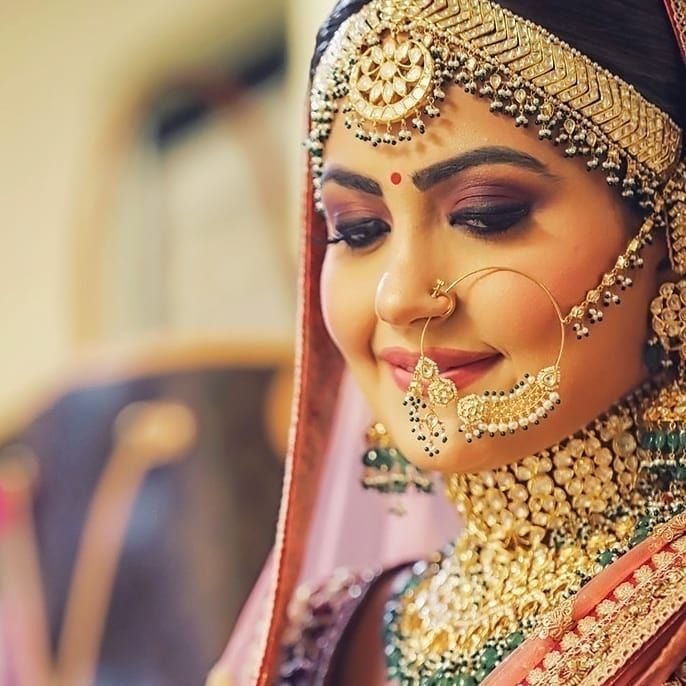 Image via: Pinterest
Go for: A Unique Inward Nath Stones Design
Who said who need to go over on your bridal jewellery? A simple inward nath with studded stones also looks pretty on a bride!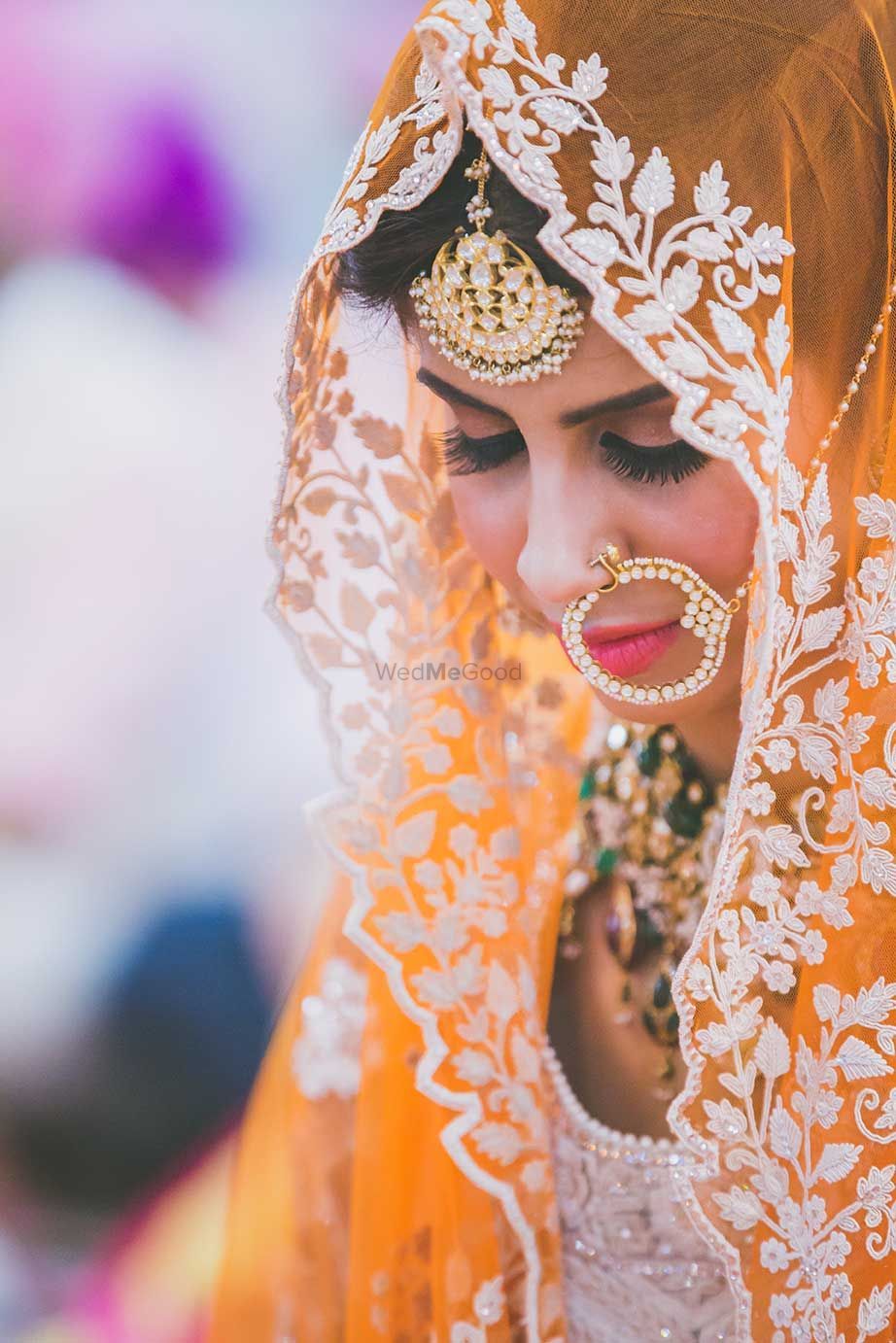 Image via: Studio Kelly Photography★ 4.6
Go for: Gold Nath for Traditional Brides!
It's true that old is gold! As we can never get bored with gold jewellery you can hand-pick a gold nath with pearls and stones for D-day!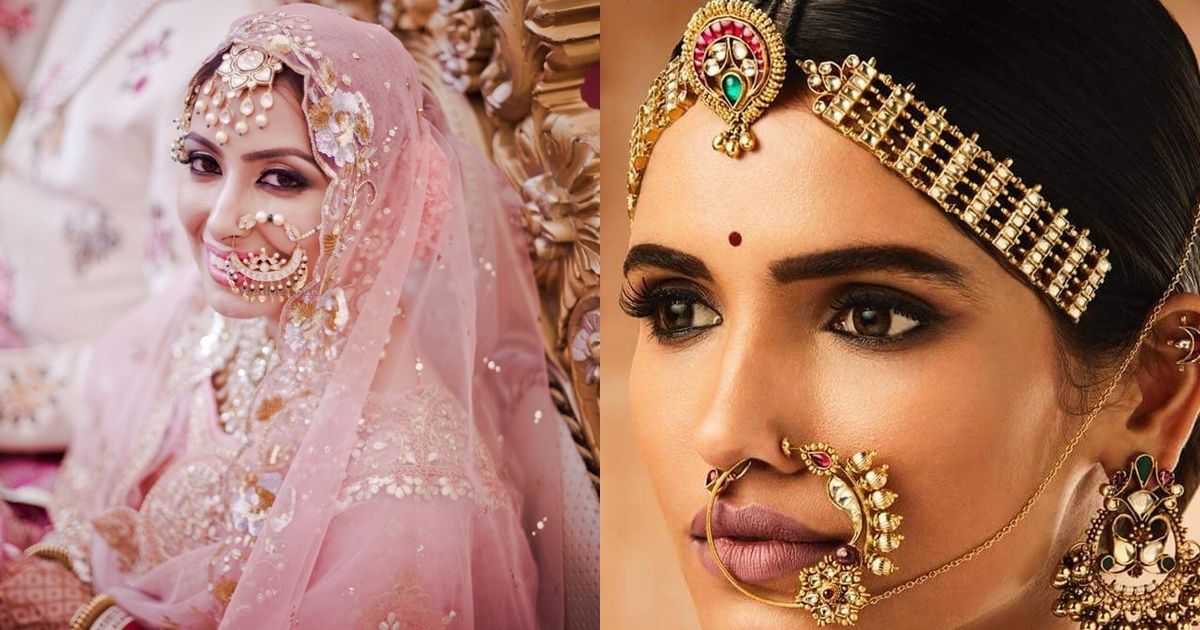 Image via: Artcapture Productions★ 4.5 , Makeup By: Makeup Artist Parulduggal★ 4.8 ; Jewellery By: Artkarat
Go for: Abstract Nath Design for The Quirky Brides!
Want something different and beautiful? Pick an abstract nath design with emeralds, pearls and kundan stones!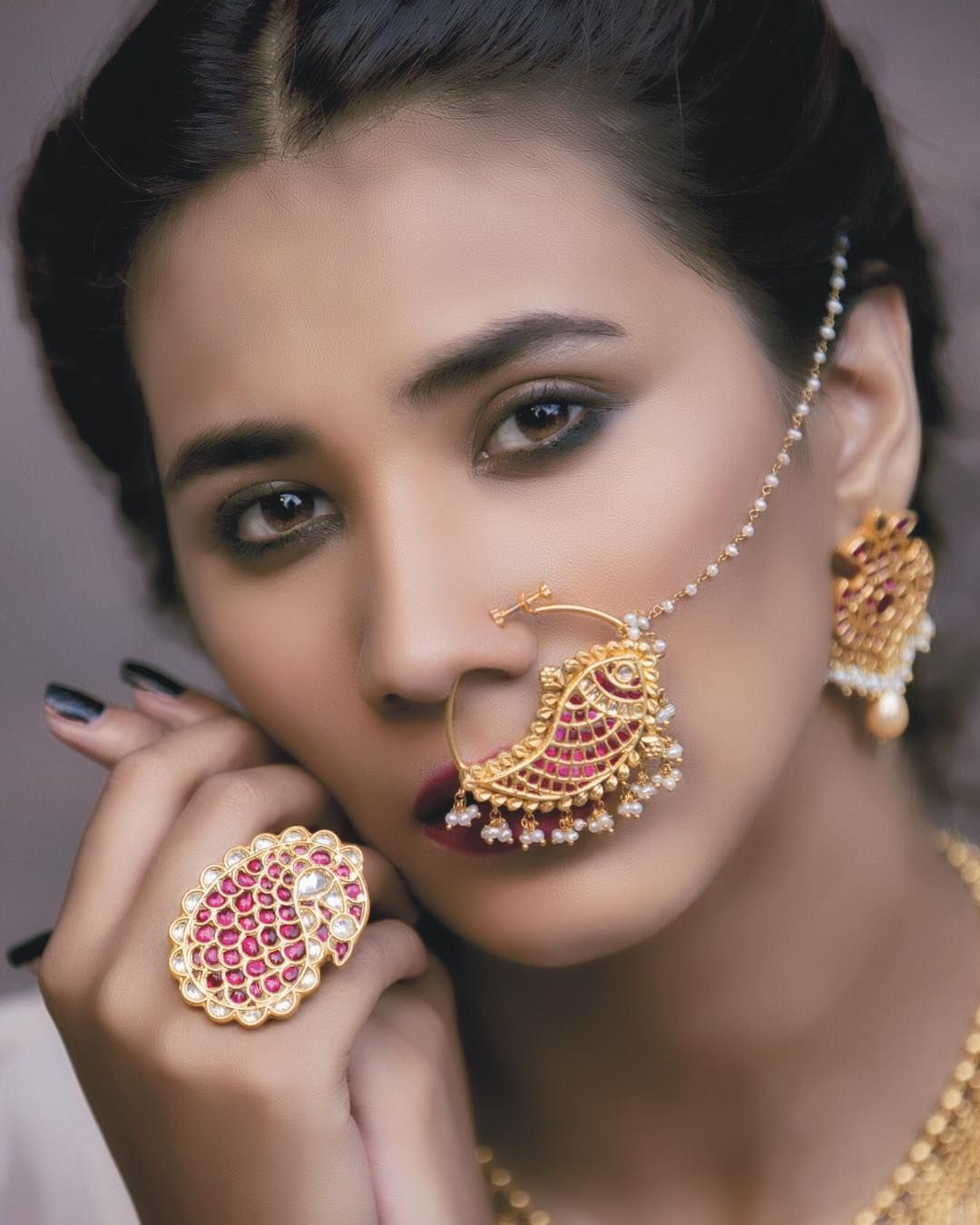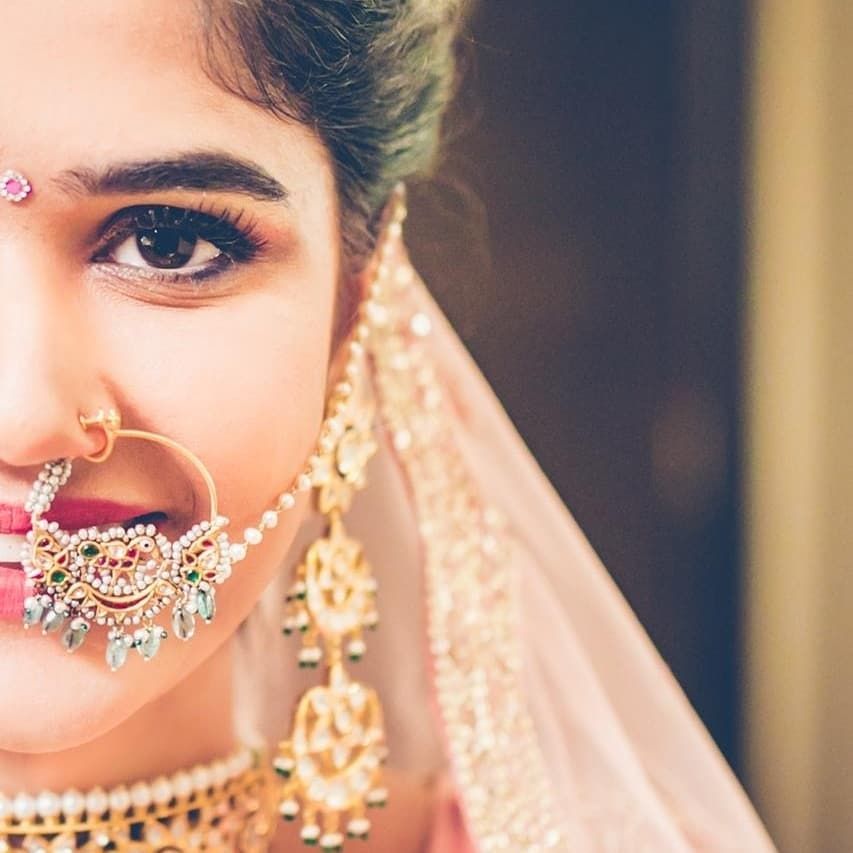 Jewellery: Raabel Statement Silver ; Makeup By: Neha Dimran
Go for: Floral Kundan & Polki Nath Designs!
When talking about bridal jewellery how could we forget kundan & polki nath stones for the wedding functions!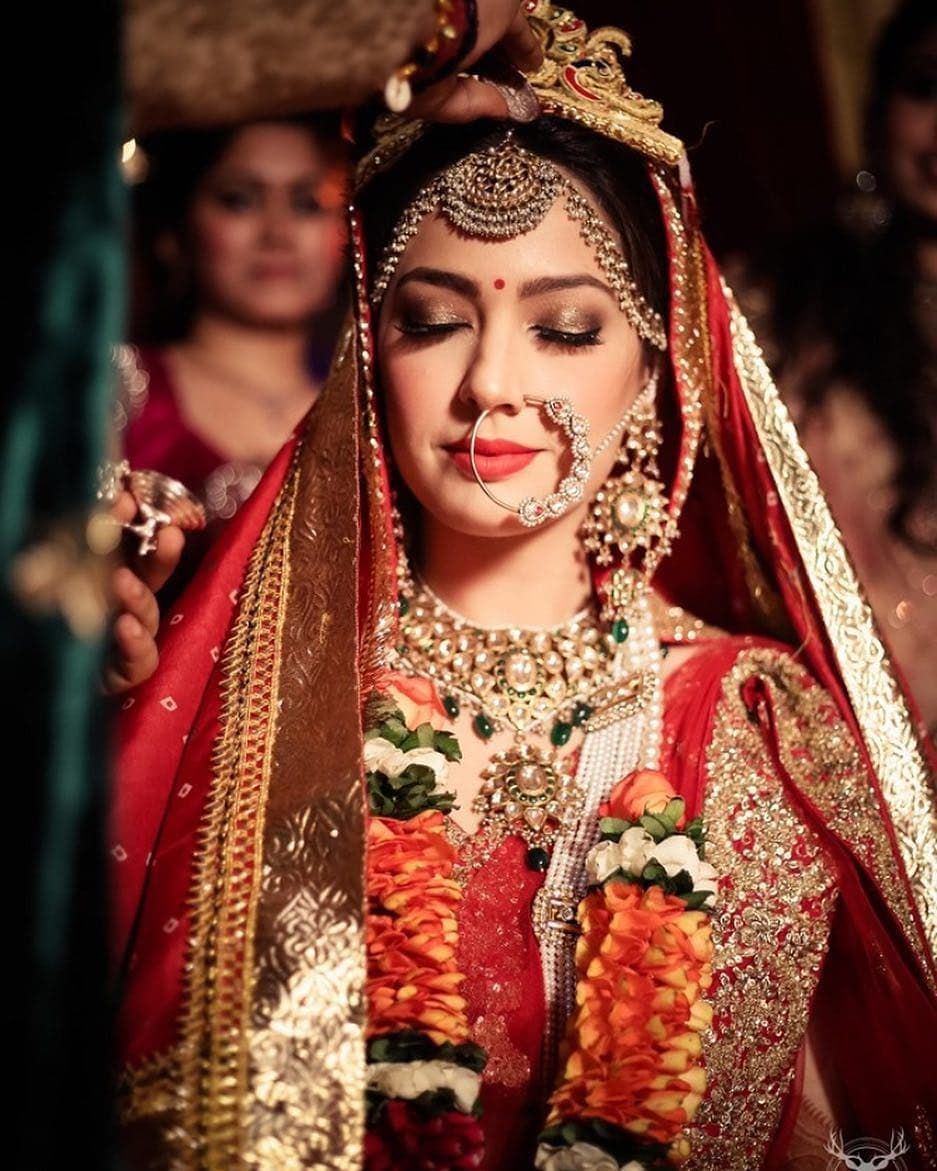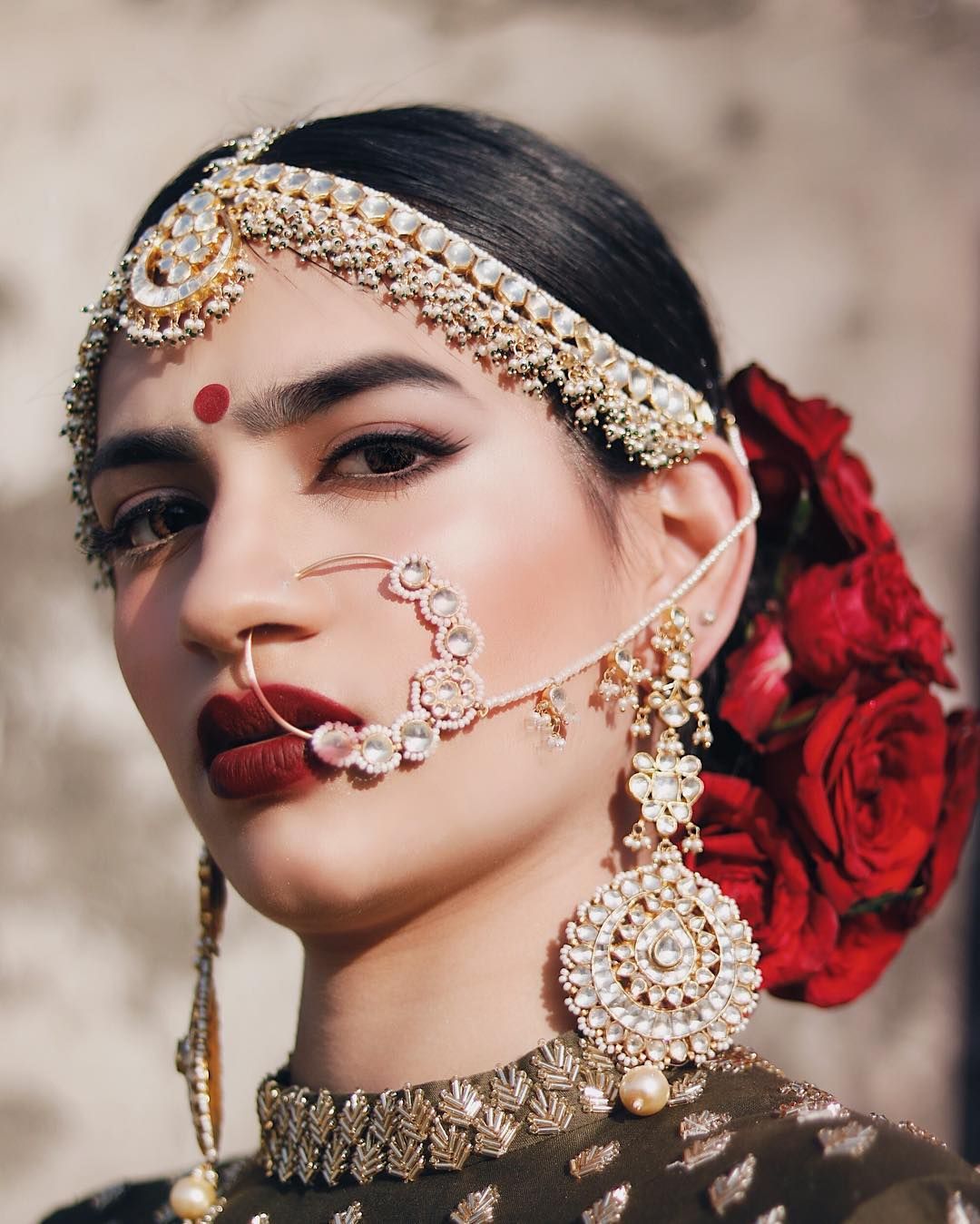 Image via: Morviimages ; The Classic New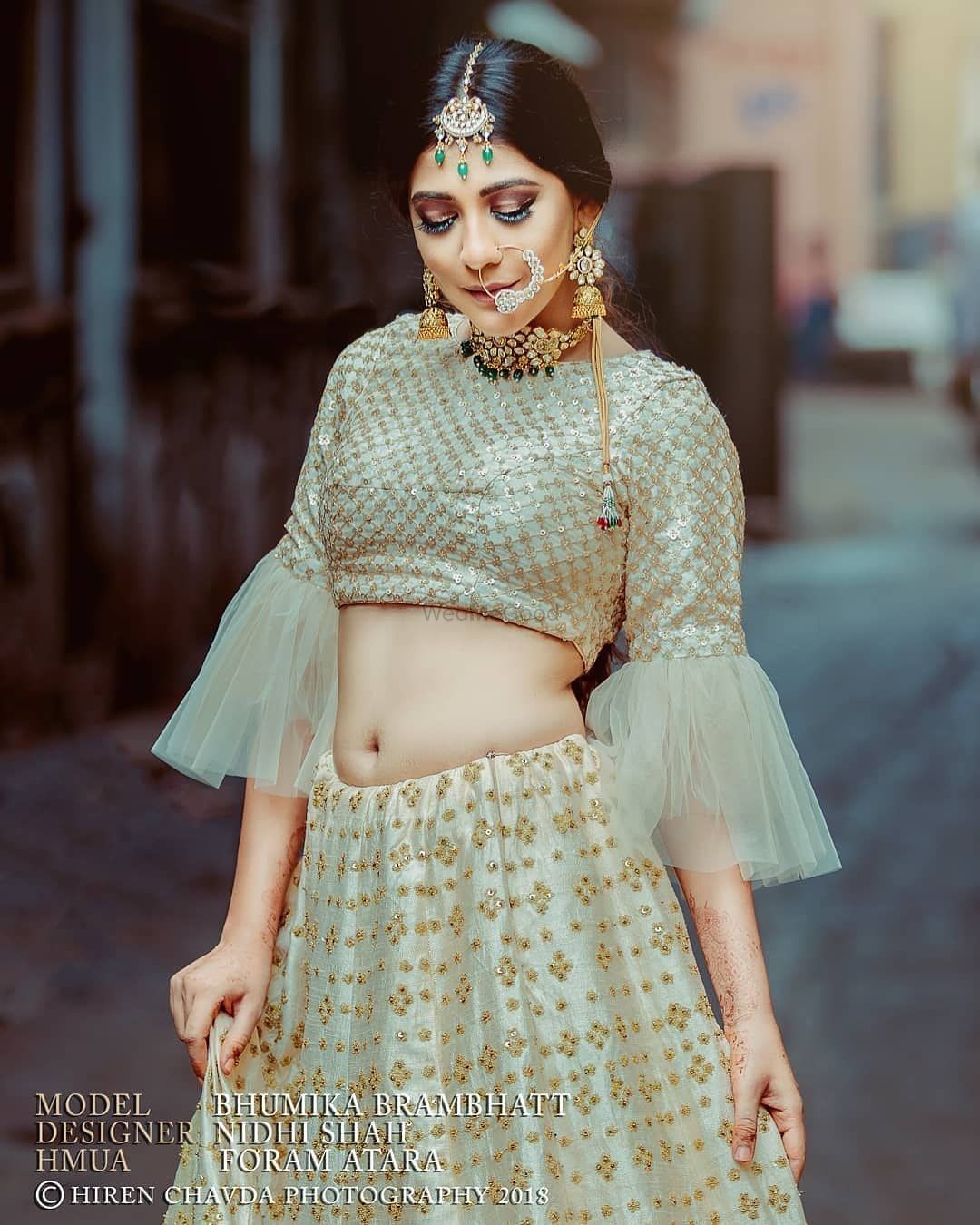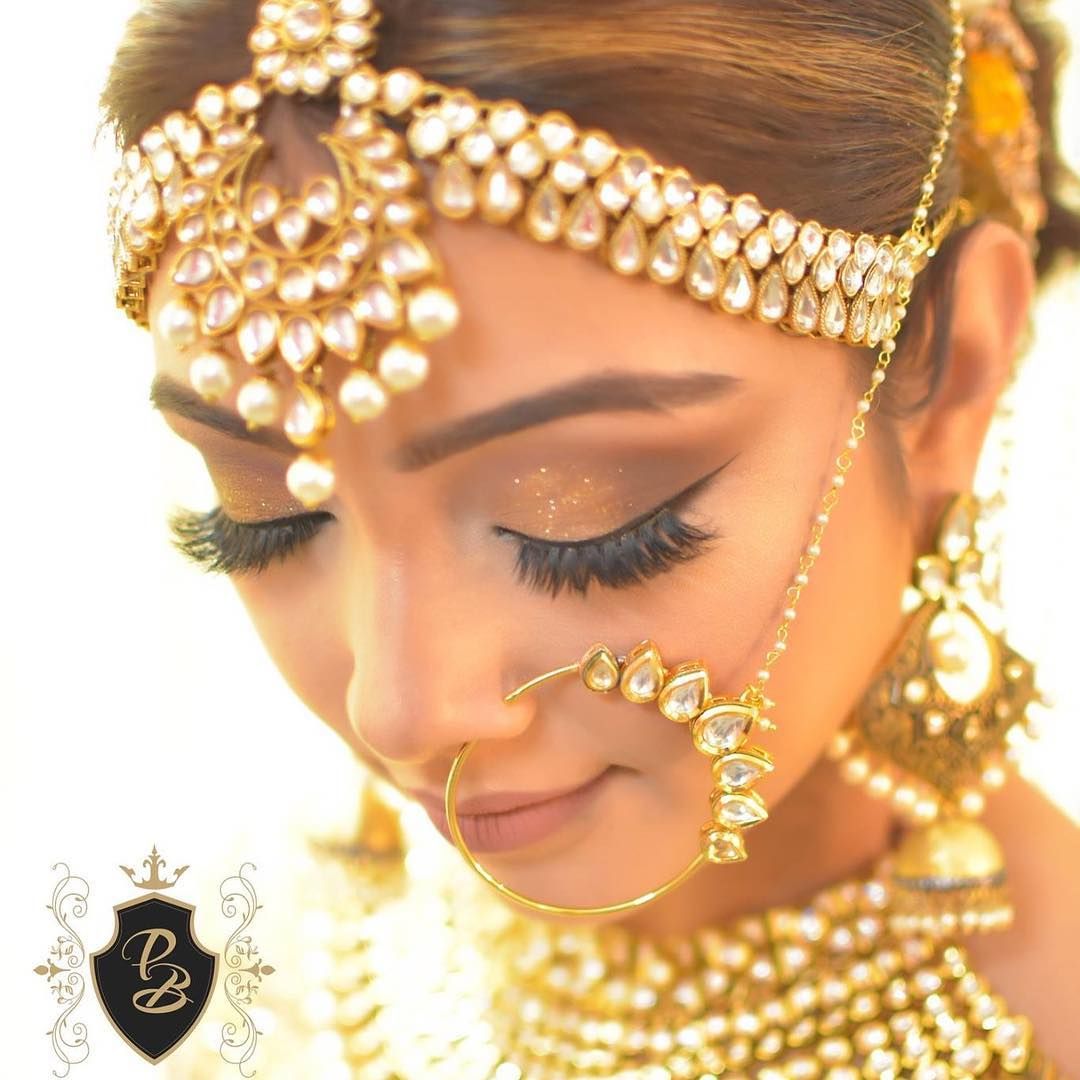 Image via: Hiren Chavda Photography ; Makeup By: Pinky Bhatia
Go for: Nath With Colorful Beads
Want to match everything at your wedding? Pick a nath with colorful beads and stones to make it everything contrasting yet quirky.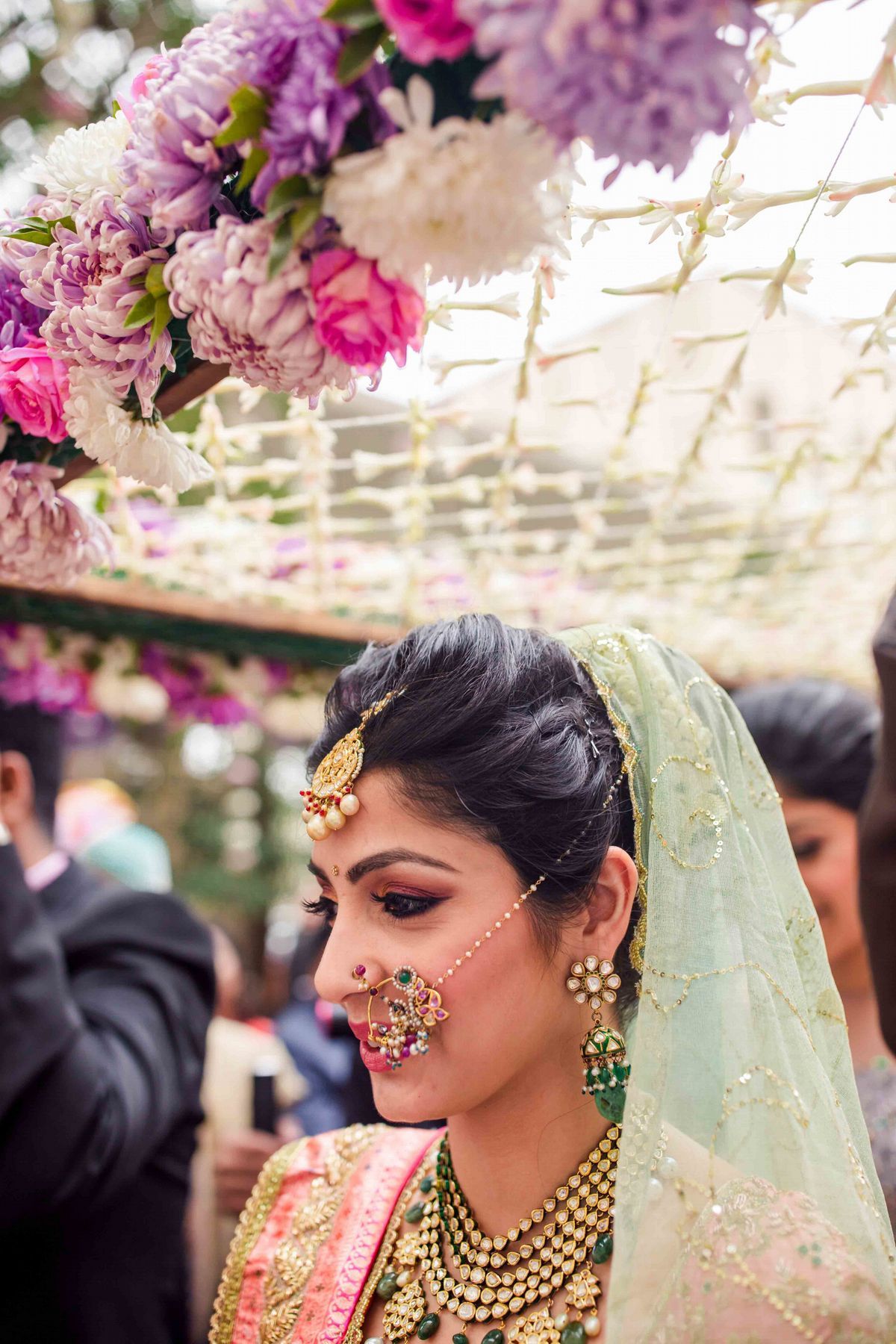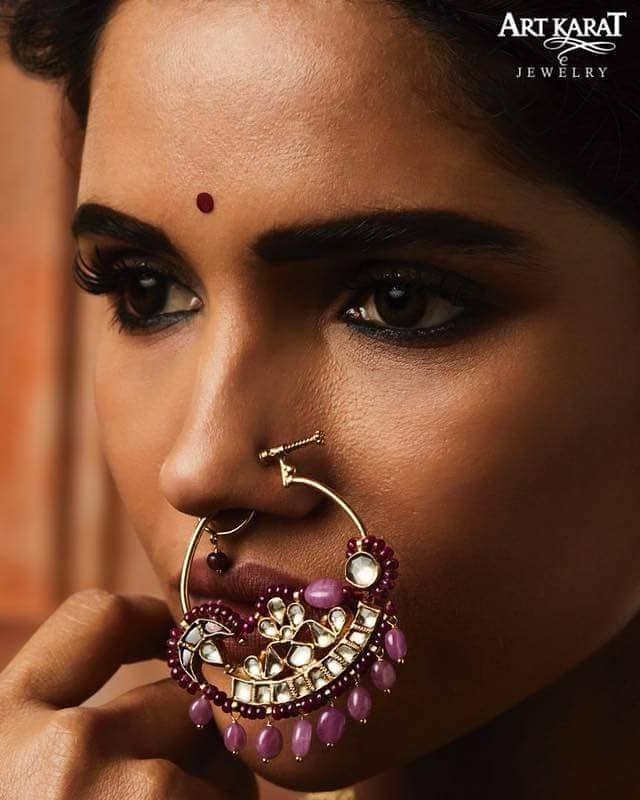 Image via: Lilac Weddings★ 4.8 ; Jewellery By: Artkarat
Go for: Ruby Nath for An #SouthIndianBride!
Because South-Indian brides knows how to surprise us with their outfits & jewellery. You too can pick full ruby nath!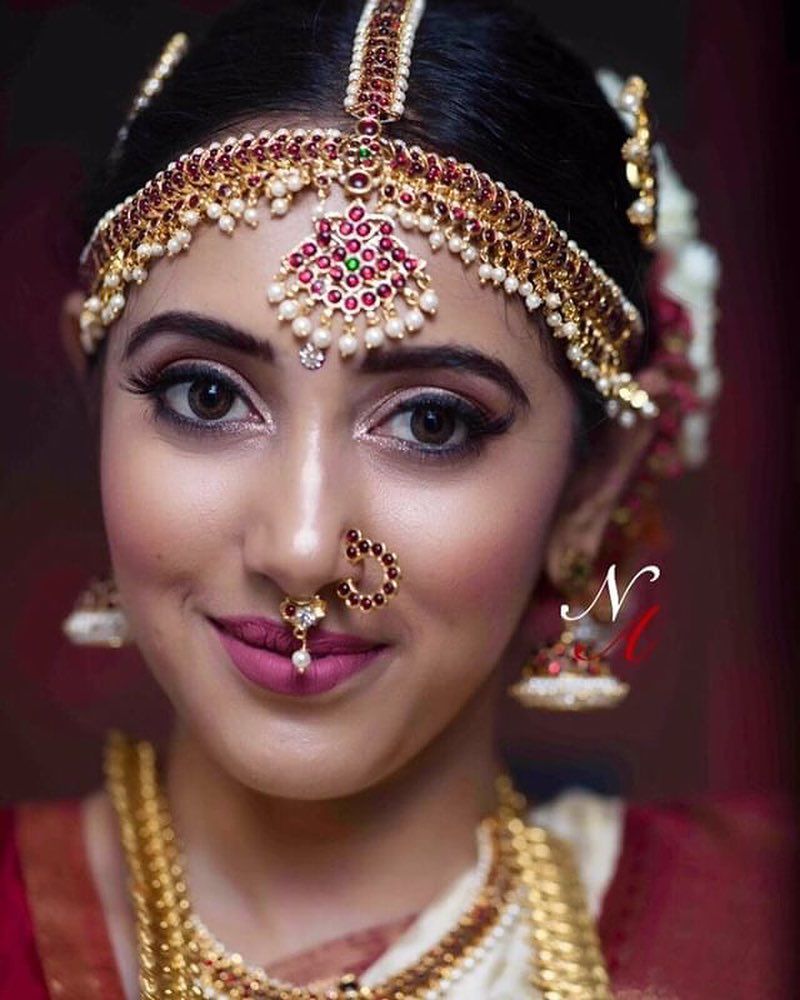 Makeup By: Brushes and Lashes
Go for: An Embellished Nath With Cluster of Pearls!
Love stones or beads? How about picking an embellished nath design with pearl beads for D-day!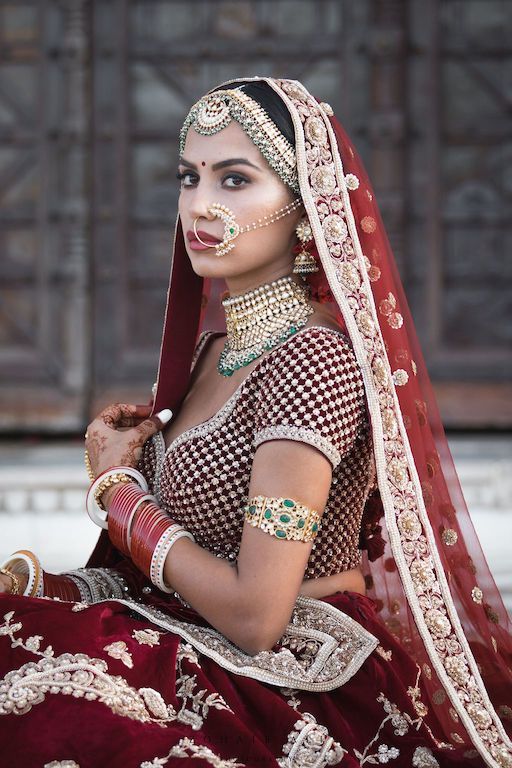 Image via: Oleg & Diipa's Real Wedding
And, Lastly For A Maharashtrian Bride!
And, how could we forget the Maharashtrian brides! A small nath with studded stones is apt for your wedding celebrations!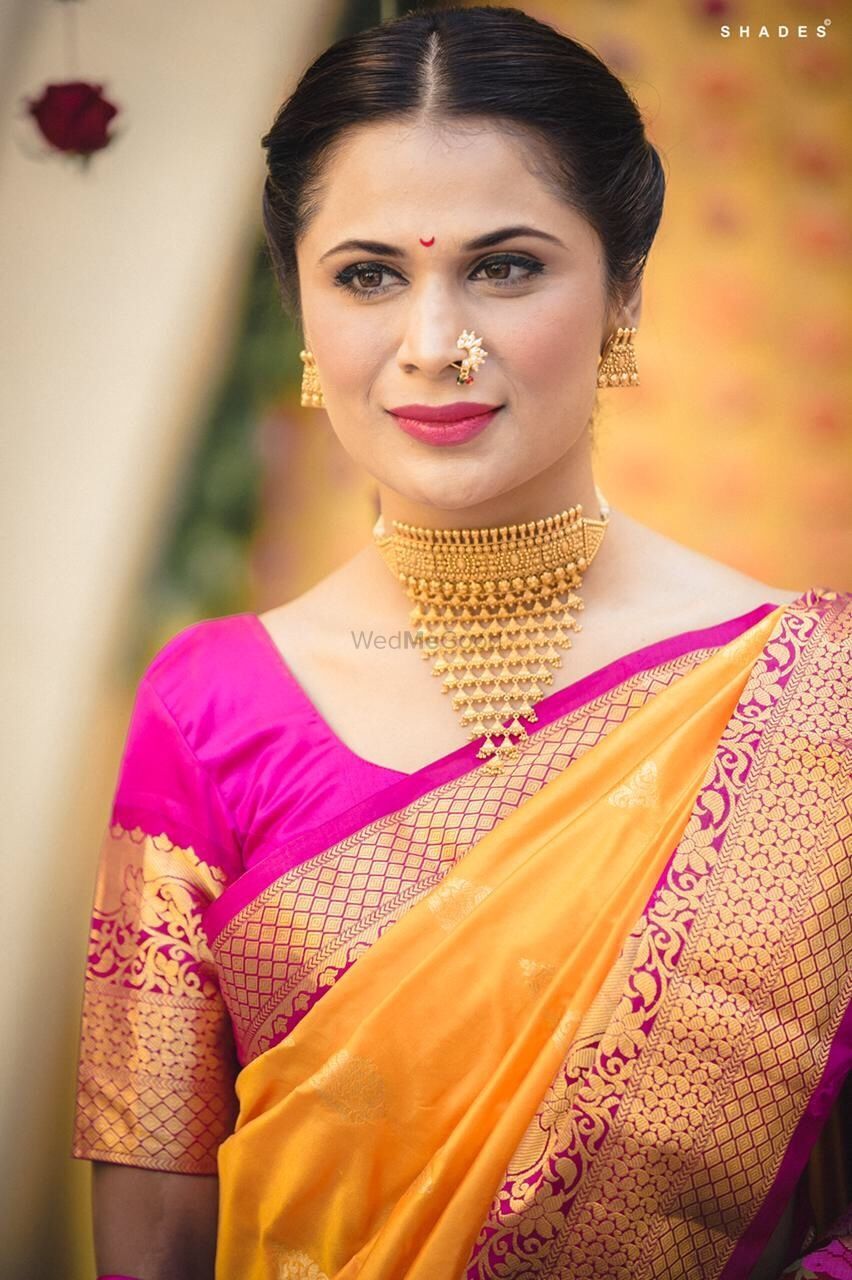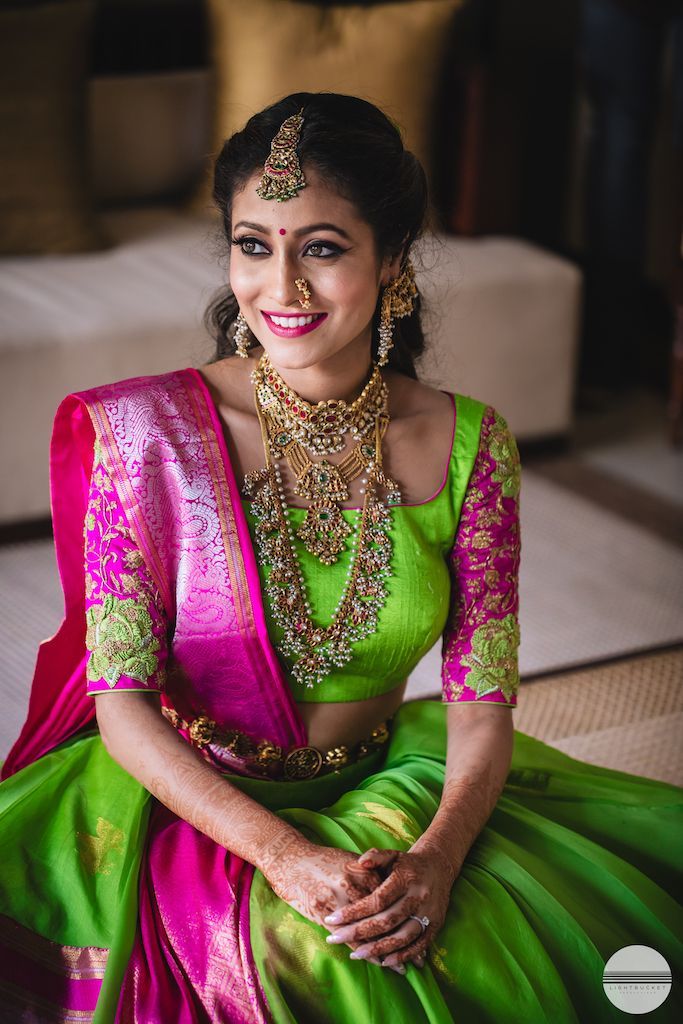 Makeup By: Makeup by Apurva★ 4.7 ; Image via: LightBucket Productions
So many beautiful options of bridal naths, right? Which one is your favorite?