35+ Couple Entry Songs For Your Reception!
BY Sakshi | 23 Jul, 2021 | 124577 views | 8 min read
Of course, your entry together as Mr and Mrs on the Reception should be with a lot of fanfare and drama, and we got just the right songs for the job! You have made all your entries on our suggested playlists-Be it the most celebrated walk of your life! There are bridal entry songs or dazzling engagement entry songs. So why settle for anything short of extraordinary for your reception entry, when we have just the best songs queued up for you!
Whether you're a romantic, fun, serious or even quirky couple, there's something here for everyone! PS. To make your hunt a tad easier, we have bifurcated the list into different categories like Punjabi blockbuster songs, only english songs, oldies and various other romantic songs. Scroll through and let the song search begin!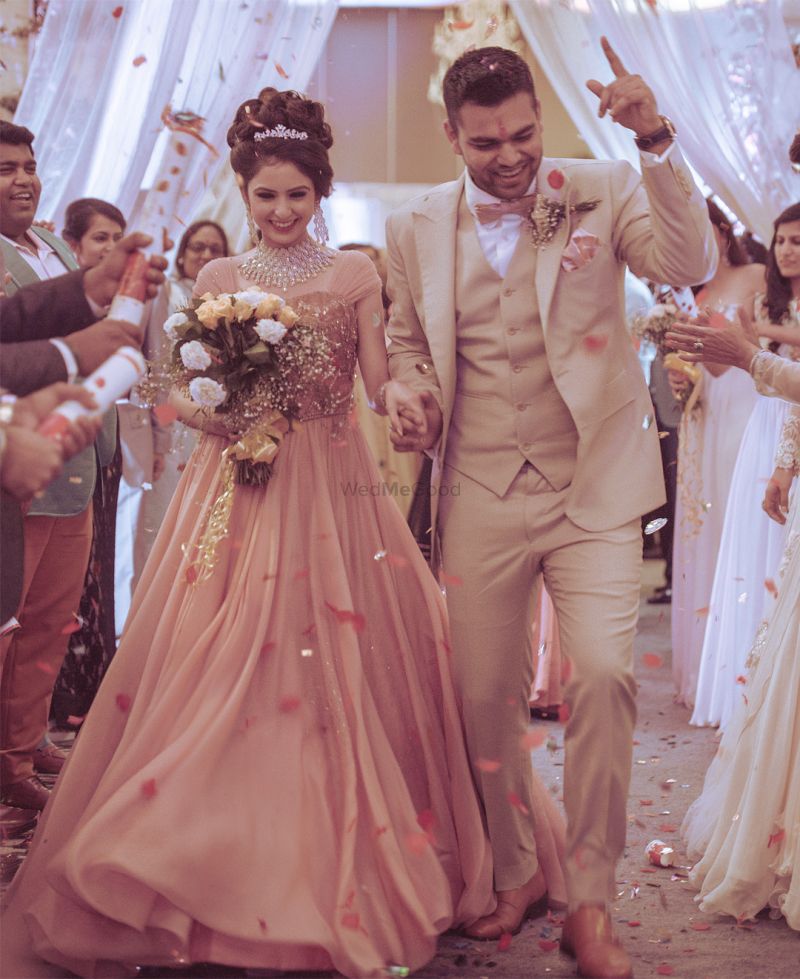 Image via Cupcake Productions★ 4.7
ROMANTIC SONGS
If you want your couple entry to be all about fun and quirky vibes, Sooraj Ki Baahon Mein can be the ultimate mood-setter for you. You can make a dancing entry and then break into a groovy performance on the stage, just how this couple did!
This song by Bruno Mars is a perfect romantic song for your couple entry on your reception.
This song from the movie Loveyatri by Atif Aslam, the music just so soothing and lyrics so beautiful, yes, you belong to your loved one and would love to celebrate it.
This one from the movie Sanam Re by the one and only Arijit Singh could be a song to enter in the hall with your better half. This song is completely romantic, beautiful and a song apt for your entry.
Sung by Armaan Malik is the one song that would make your entry super special and completely romantic. You can enter on its romantic beats and lyrics.
This track from the movie Crook by Nikhil Dsouza with lyrics so relatable and completely romantic vibes could be a piece of music to feel loved and romantic for your couple entry on your reception.
This soulful number from the movie Ok Jaanu is a song with all the perfection and everything you look for your great entry!
Agent Vinod's track has soothing music and great lyrics completely made for your love story, play it and walk in the room holding hands and start a new chapter together on your reception.
BOLLYWOOD SONGS WITH FUN BEATS
Do you bond with your bae over your mutual admiration for peppy Bollywood songs? Then this exciting title track from the movie Shaandar won't leave you disappointed.
This track from Angrezi Medium could be a perfect couple song for your reception with lyrics and peppy beats to shout out loud for your love!
This is a song best to dedicate your wife because yes, compliments are never enough! So what are you waiting? Play this song to enter the room with your better half on your reception.
This number from Baar Baar Dekho is a song great for your fun entry and a song perfect for your wedding reception party.   
This peppy track from Dil Dhadakne Do could be a song to explain your love story just too perfectly! Don't you think that reception could be a day to summarize how things were the first time you saw and met!
This is a song for your Mrs to let her know how her entry in your life has changed or girls you can too dedicate this piece to your Mr and let him know about the excitement in your heart with his entry in your life.
Another one from Shaandaar is a song apt for your couple entry and have a fun time with its beats to have a fun night with your better half. 
This happy song from Karthik Calling Karthik is that one right at the back of our heads, but it can never get out of our heads and this could be a song perfect for your couple entry.  
English Songs
Just like the title of the song, everything about this song is PERFECT for your reception entry with your partner! Don't believe us? Take cues from this duo who swore by it for their couple entry & nailed it.
This one by Bruno Mars is a romantic song perfect to dedicate your person and just make way your hall as a romantic couple on your reception.
This beauty by Lauv is a song perfectly describing how beautifully your other half completes you and you just like yourself better with them. Well, that's the truth so why not pick up this song?
This happy track by Justin Timberlake, because you can't stop the feeling of excitement, happiness and what not to start a new life with the love of your life on your reception!
A classic by Black Eyed Peas could be that one couple entry song for the reception as you know that your night's going to be a good night!
A gorgeous track by David Guetta feat. Usher is one song to feel all the chills of the beginning of your new life!
This ballad by John Legend is that one romantic song that could be perfect for all the times. Another song perfectly crafted for your reception entry.
#24 The Trip
(web series) title song
This has really soothing beats, music, rhythm with a mix of EDM could be the one song to enter with your other half. The entry becomes great because it has everything you need in a song.
OLD IS GOLD
Take a ride down the memory lane with this soulful track from Om Shanti Om that never gets old. If you're an oldie at heart, save this gold song for your reception couple entry.
This one from the movie Brahmachari (1968) is a song you would love to enter. Yes, everyone has got the news about your love story so why not enter on a song with lyrics so apt! Your parents would be happy too!
A remake of the old song from the movie Ajnabee could be a song as you can easily feel close to. A song speaking your love story out loud, what else do you need?
This classic from the movie Jo Jeeta Wahi Sikandar could be that one song to revive your school time memory, your college romance.
This one from the movie Saathiya is something from your childhood or probably your teen and is one song we all listened to.
This pretty track from Jhankaar Beats could be a song you can enter with your better half.
From the movie Aisha, this has a piece of music with peppy beats and could be a song you can enter dancing in the hall with your partner.
PUNJABI SONGS
#32 Balle Balle + Hauli Hauli + Main Tera Boyfriend (Medley)
This energy-packed mashup of killer punjabi songs wil have your reception entry and first dance sorted.
Sweet but catchy, this song is guaranteed to get you humming along while you make a sparkling entry on your reception.
It's a very soothing punjabi number sung by Garry Sandhu. The lyrics are on point
Sung by Pav Dharia is a great peppy Punjabi song, with lyrics just too right and you can absolutely relate to each and every line of the song!
This one by Jasmine Sandlas Feat. Garry Sandhu is a song with beats not to miss and you wish to enter in the room in the most rocking way!
A fun Punjabi song, an apt song to describe your car love story if you have any! *Wink!*
This one by Jugraj Sandhu is a song to enter and just make some moves for your hubby. The lyrics are just too fine.
This track by Meet Bros ft. Jaz Dhami and Yo Yo Honey Singh from Ki & Ka as we said that reception has to be fun and celebrating and this song is that one happy and fun song to enter and learn some actions to imitate about how high your wife ends up wearing heels!
Well, we guess, you just found a big list of some awesome reception couple entry songs. Go ahead and just show your friends the love for each other and steal all the limelight, cause that's what your day is all about.
ALSO READ:
30+ Most Awesome Groom Entry Songs Ever!
12 Best Indian Bridal Entry Songs For Your Wedding
Find vendors in your budget for all your wedding needs, Download the WedMeGood app now.