30+ Unique Blouse Designs For South Indian Brides!
BY Apoorva | 03 Nov, 2017 | 38794 views | 7 min read
We all know that blouses matter! Especially when it comes to South Indian brides where Kanjeevarams and silk sarees rule the wedding day. So why not pick the best from the lot? Dive in and get inspired!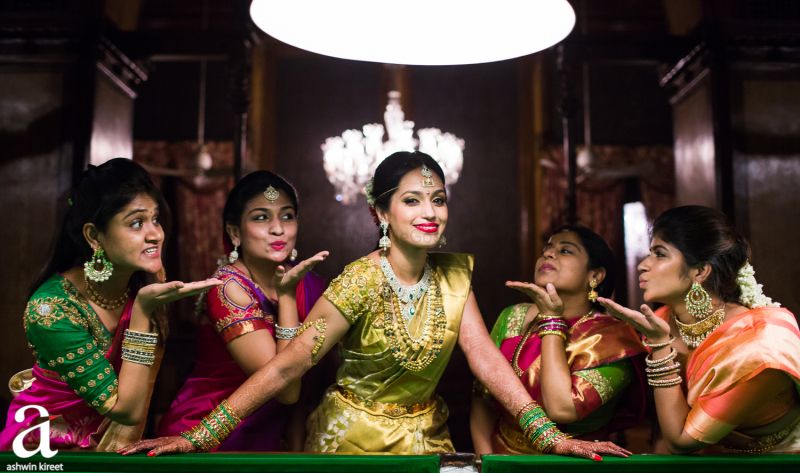 Image via Ashwin Kireet Photography
Half-Sleeve With Big Border Blouse Design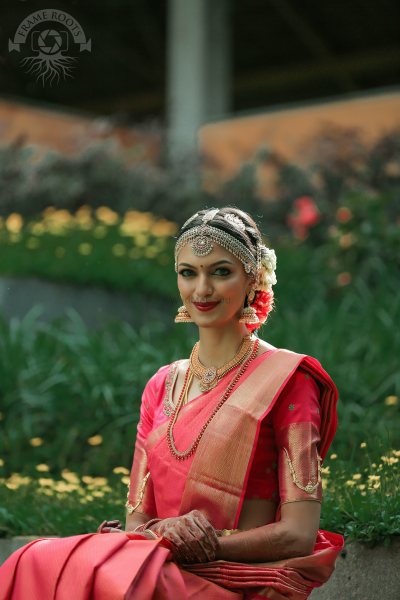 Image via Frame Roots
Simple designs have a grace of their own- like this one. Nothing to fancy or OTT, you can simply attach a bigger border to your blouse and see how it transforms your outfits instantly!
Zardosi Blouse Design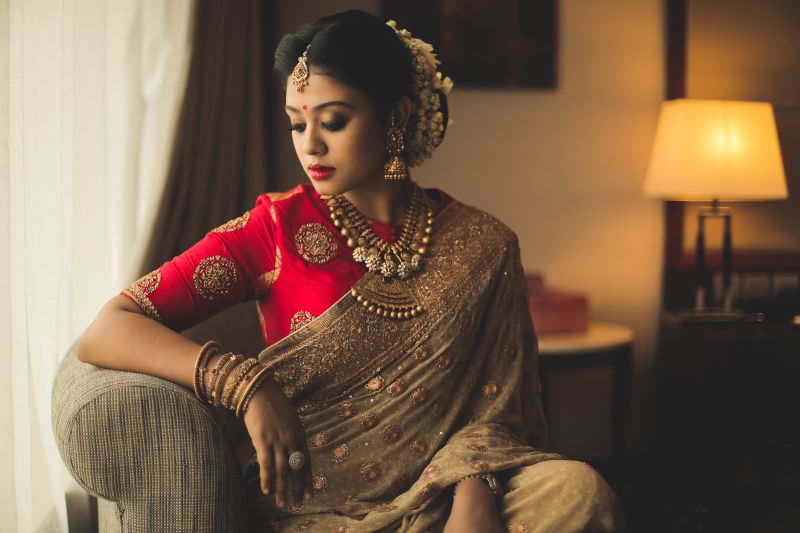 Image via Reminiscence Photography
If getting a zardozi blouse, we recommend choosing a contrasting color to lift your outfit and make it pop! Simple designs work best if your saree is heavily embellished.
Bird Motifs Blouse Design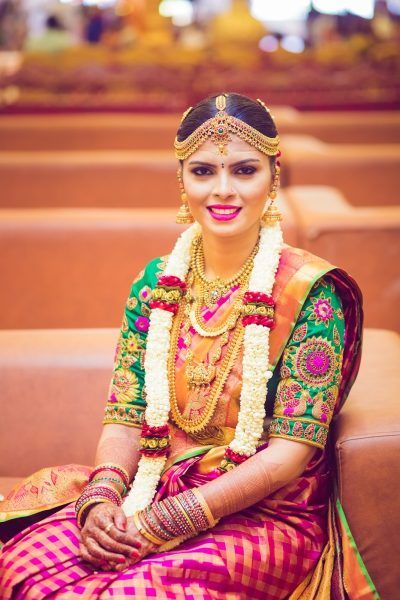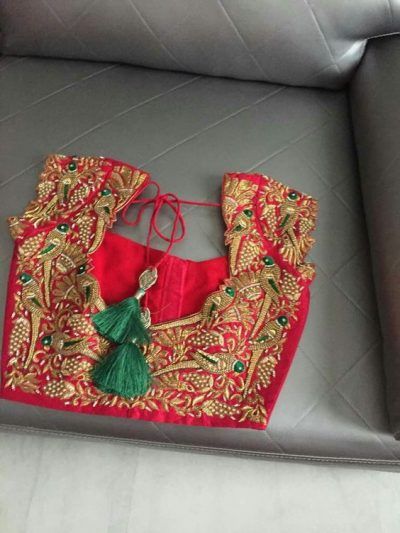 Image via Blended by Anu Raja & Pinterest
Now this is something new and super trendy! a unique element in your blouse design instantly becomes the center of attraction and will get you the attention it deserves!
Sheer Backs Blouse Design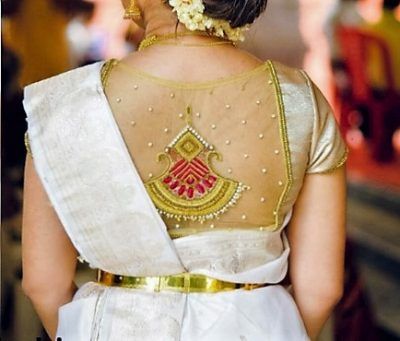 Image via SouthIndia Fashion
Brides in the north have been wearing blouses with sheer backs since forever so why not? It's not only trendy- you can get gorgeous patchworks stitched to them to add an element of quirk!
Zardosi on Silk Blouse Design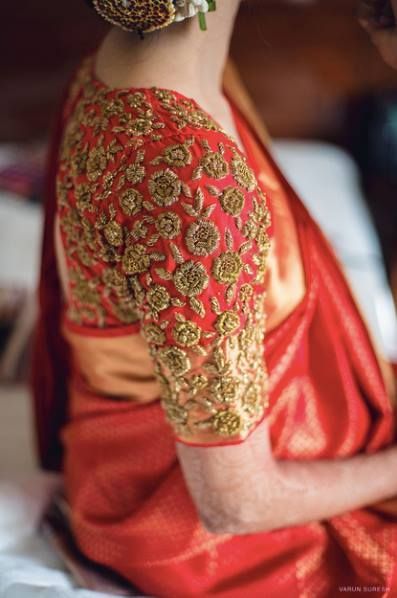 We are huge fans of attention to details and absolutely loved the detailing on this one! A simple kanjeevaram can be instantly lifted with a zardozi blouse design crafted intricately!
God Motifs On The Back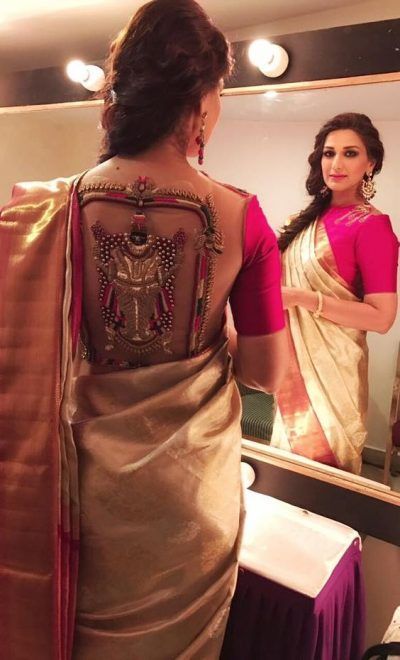 Now who would have thought? 10 points for creativity! Truly a never-seen-before design; god motifs can definitely become the star of your outfit. You can customize it as per your style, making it as minimalist or elaborate as you like.
Full Sleeves South Indian Blouse Design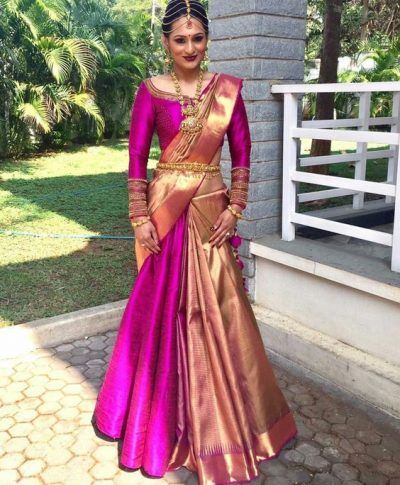 Full sleeves blouses are coming back in trend and how! They not only add drama but also look graceful when made in the right design.
Bright Contrast South Indian Blouse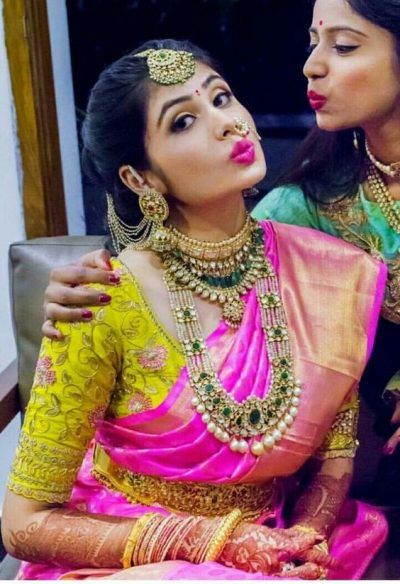 Thinking of an instant way to uplift your outfit and make it pop? Wear a blouse in a contrasting color! This technique works both ways- if you are wearing a dull-colored saree, add a bright-colored blouse to instantly uplift it. Or vice versa to mellow down a very bright saree.
Gold On Blouse Sleeves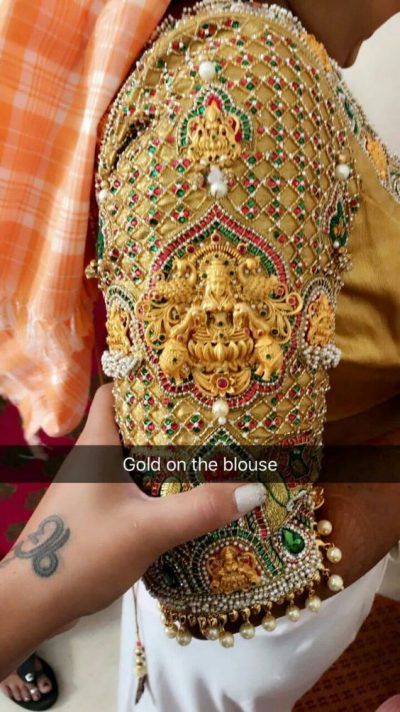 Wanting to do something different and stand out from the rest? You can get gold embellishments for your blouse. A little god motif, or some intricate karigari- choose from a wide variety of options to make your mark.
Backless Blouse Design On Kanjeevarams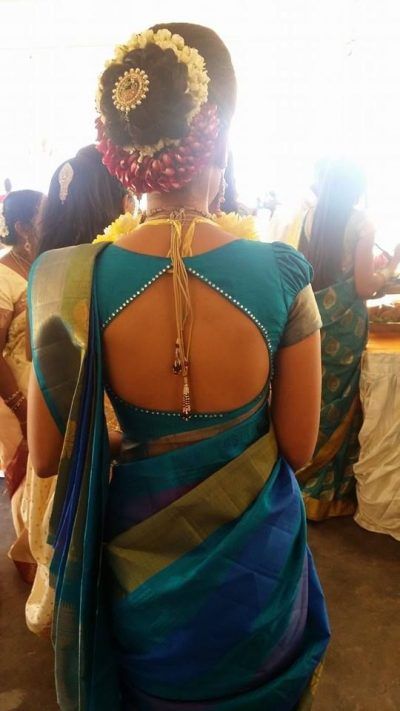 Backless blouses can instantly amp up your outfit and you can pair the same with your kanjeevarams. You can choose from a multitude of designs and shapes- circles, drop, triangle, etc as per your choice and convenience.
Blouse Design with Innovative Tie-Ups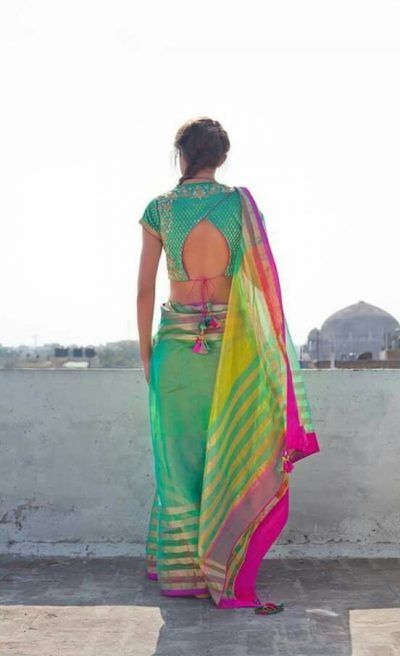 Image via Pinterest
There is nothing more attractive than a colorful dori or interesting tie-up on your blouse to accentuate your back! You can improvise on the tie ups by adding tassels, ghongroos, feathers, or pom poms to add more color and drama!
Half - Cape South Indian Blouse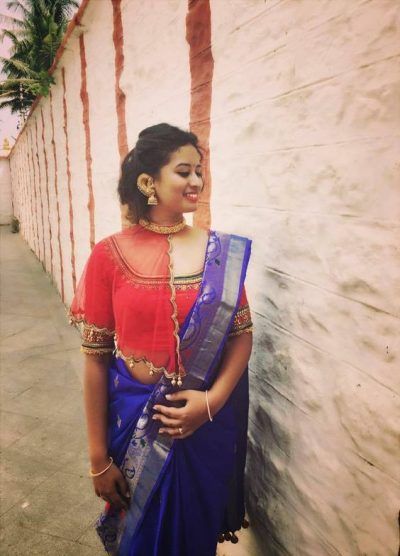 We have seen brides and their bridesmaids experiment with capes in their outfits. You can take it a notch higher by pairing your saree with a half cape blouse. Its quirky, it's trendy, and it's super unique.
Corset Blouse Design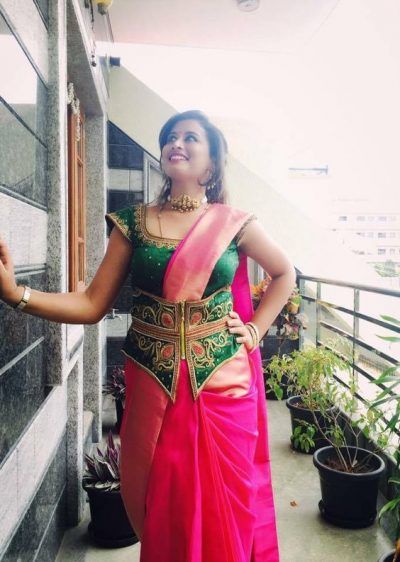 Corset blouses are usually longer in length than regular blouses, and hardly worn by a lot of people- which means, if you pair one with your saree, you are definitely going to stand out from the crowd! Experiment with your blouse by playing with colors, patterns, and designs like embroidery, gota work, or even sequins.
Fun Latkans Blouse Design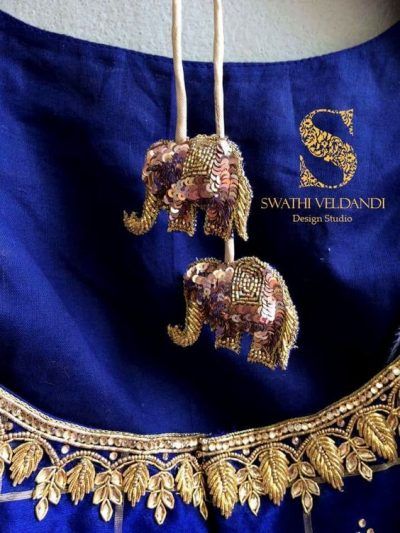 Image via Swati Veldandi
Cute shapes like kites, elephants, or stars, or add pom poms to your blouse- brides these days are going all out with their latkans and so should you!
Cut-Outs South Indian Blouse Design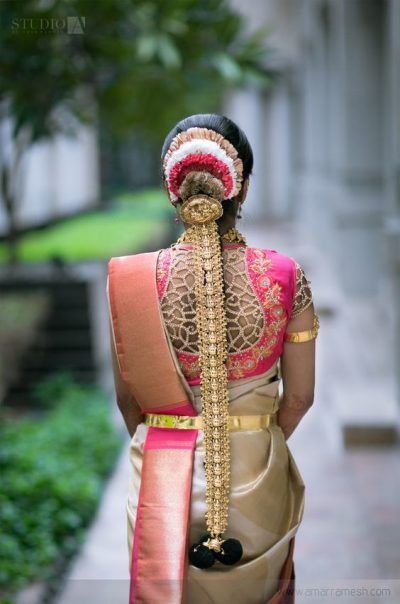 Get interesting cutouts and jali work on your blouse. You can add sequins and studs to accentuate your look!
Beadwork South Indian Blouse Design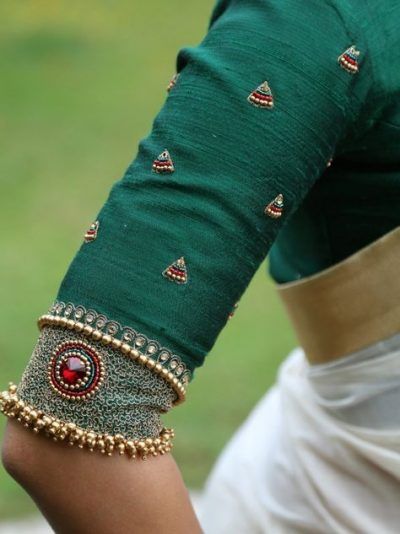 Beads, big or small, always add color and pop to your outfits! Blouse designs with interesting bead work is a quick and easy way to bring attention to your blouse. The more detailed the work is, the more stunning it will look.
Blouse Design with Symmetrical Work On Sleeves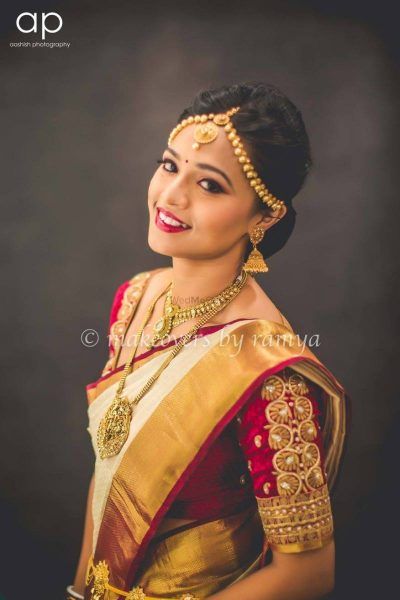 Image via Makeovers by Ramya
When you experiment shapes and sizes, it creates an interesting combination and instantly gathers attention. You can play with the same when experimenting with blouse designs.
Puff Sleeves South Indian Blouse Design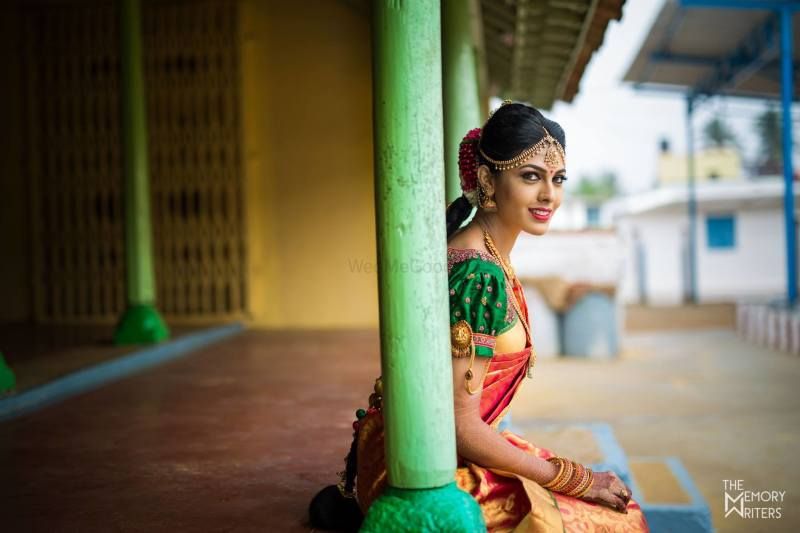 Image via The Memory Writers
Another south indian blouse design from the older times, puffed sleeves create a fairytale-like effect! If you wish to add a royal touch to your look, you know what to do!
Blouse design Dual Tones In Same Colour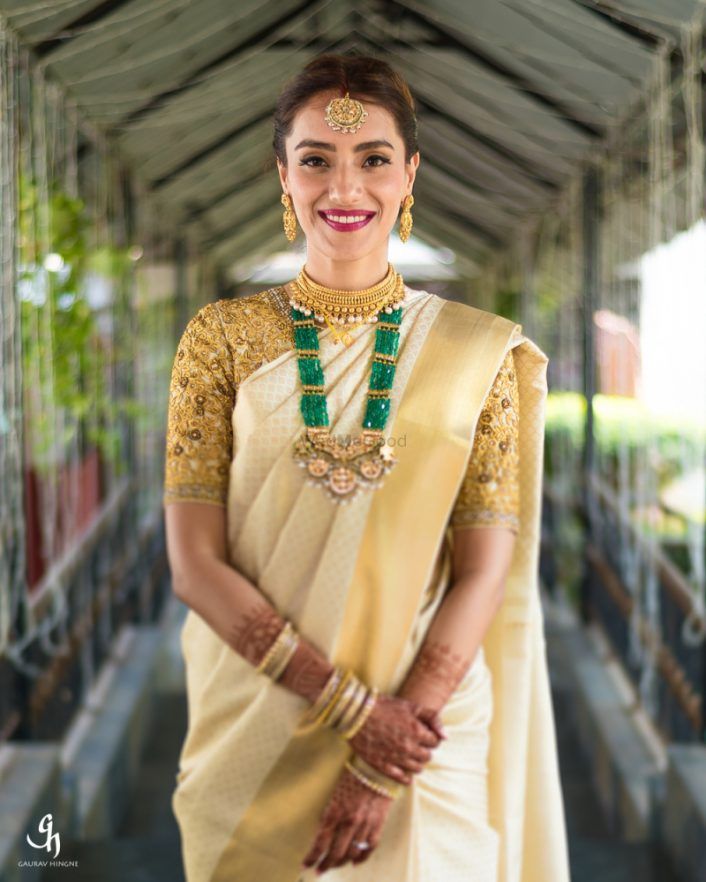 Image via Trushna+Sharath's Real Wedding 
Gold on gold is a classic combination! Go for dual tones in the same color for your bridal blouse and accentuate your look with a statement jewellery in a contrasting tone!
Fun Sleeveless Blouse With Keyhole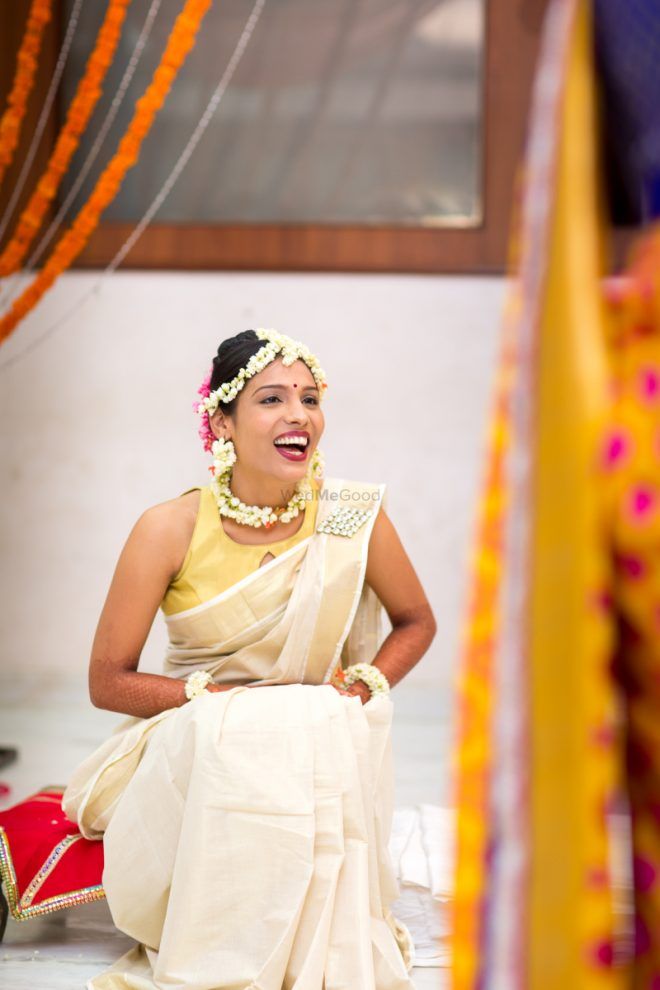 Image via Z Photo & Films
We haven't seen a lot of south Indian bride's experiment with sleeveless blouses. Which means you will be among the few who do! Ace it with confidence, and look at the magic you create!
South Indian Blouse Design with Double Border Sleeves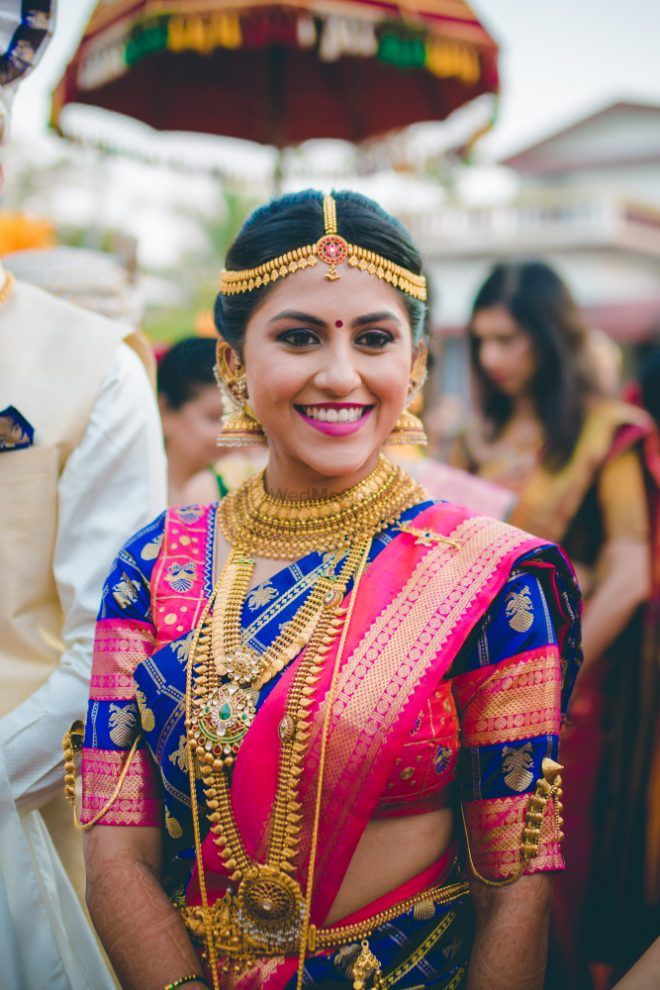 Image via LightBucket Productions
We know a single border, thin or broad, looks absolutely gorgeous. Now imagine the effect it would create if you double the border? Interesting, right?
Full Sleeves South Indian Blouse With Coin Work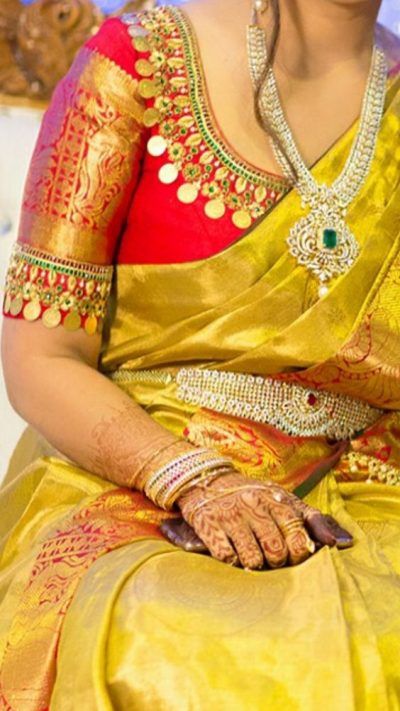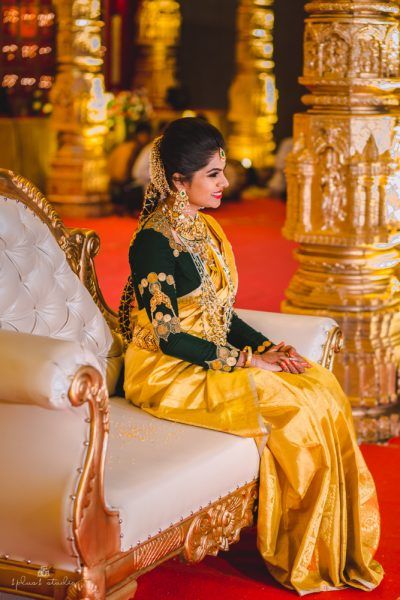 Image via 1plus1 Studio
We are lately seeing a lot of brides experiment with coin work on their blouse designs. The concept is not only new and trending, but soon catching up with more and more brides going for the trend! Get some design stitched only along the sleeves or on the neckline, or you can get coin work done all over your blouse.
High Neck Blouse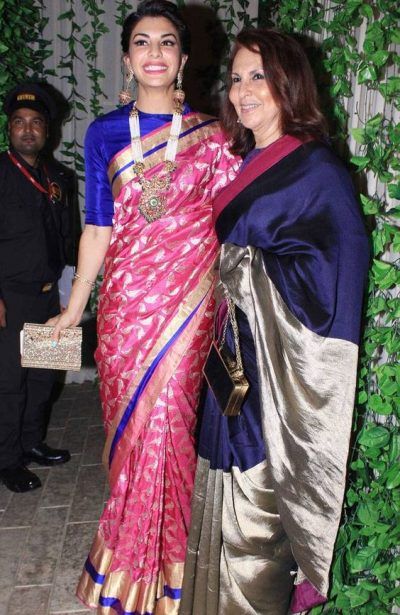 High neck blouses will give you a crisp look, if that is what you are aiming to achieve!
Boat Neck Blouse with Full Sleeves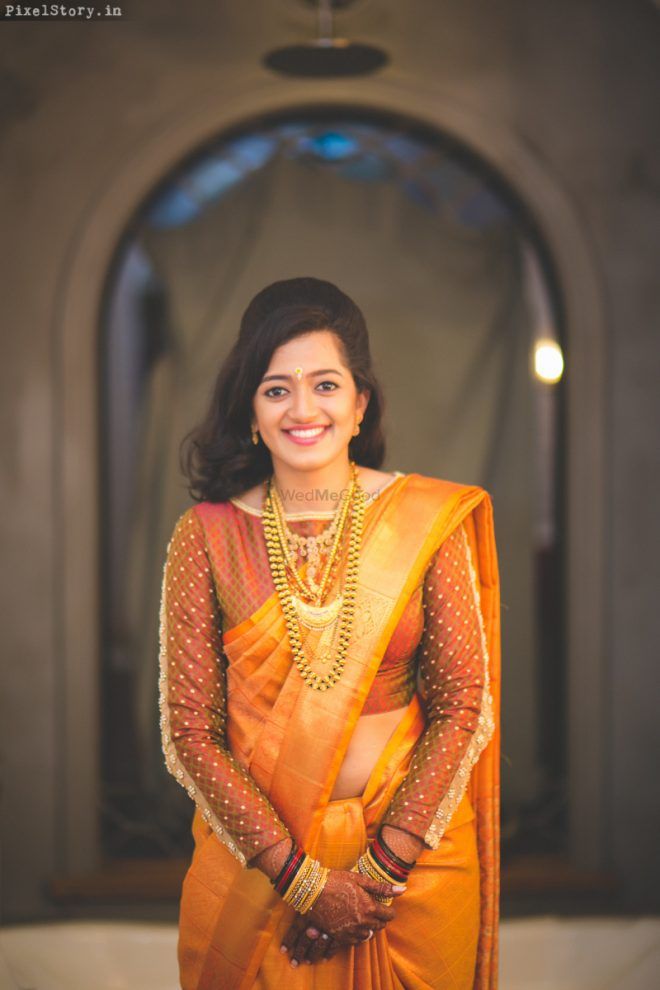 Image via Pixelstory.in
Boat neck blouse designs have been around for a long while. Pair them with full sleeves, and what you have is a timeless blouse design!
Cap Sleeves Blouse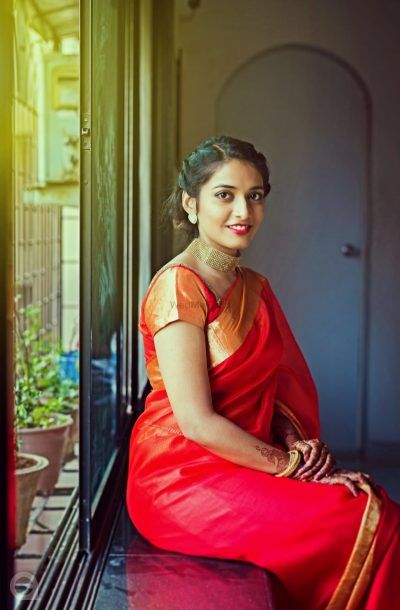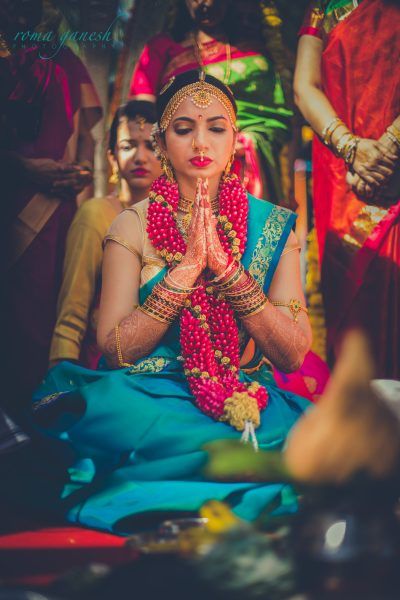 Image via AnshuVini Photography & Roma Ganesh Photography
Confused regarding the size of your sleeves? Don't want something too long and not comfortable with cut sleeves? Go for capped sleeves- it's something in between and will keep you comfortable while you flaunt your toned arms!
Checks cut-out Pattern Blouse Design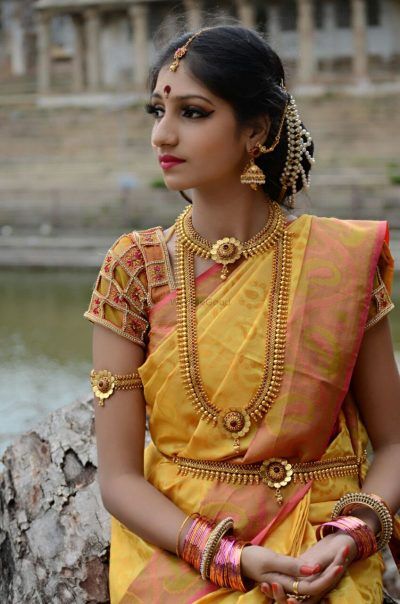 Image via Colours Make Up
If you do not wish to experiment with the back of your blouse, you can just get patterns and designs on your blouse sleeves like this bride did with checked cut-out patterns on hers.
Patchwork South Indian Blouse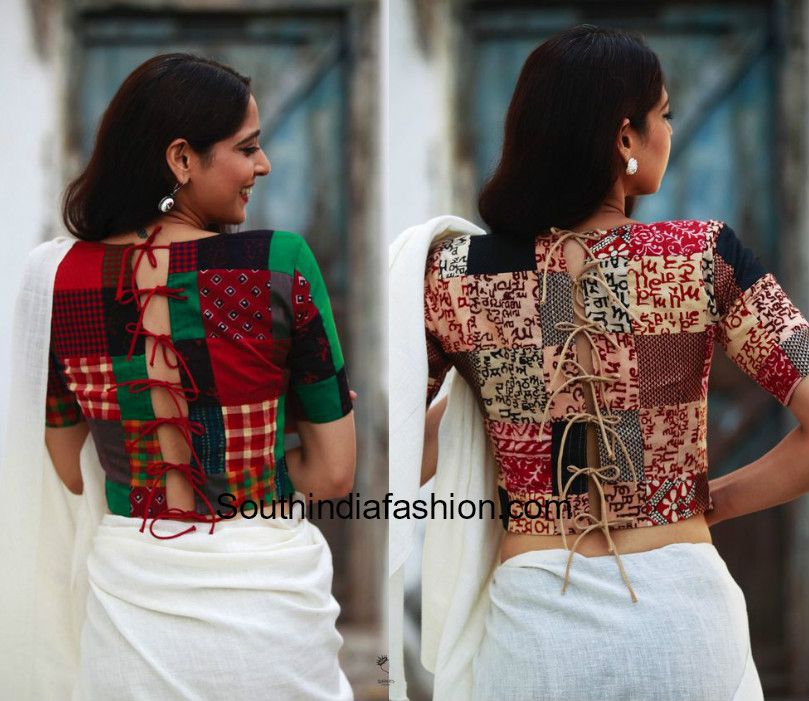 Image via SouthIndia Fashion
A fun and easy way to add quirk to your outfit! If you are a bride, or wearing a patchwork blouse for one of your wedding festivities, you can experiment the same with brocade, if at all.
Cold Shoulder South Indian Blouse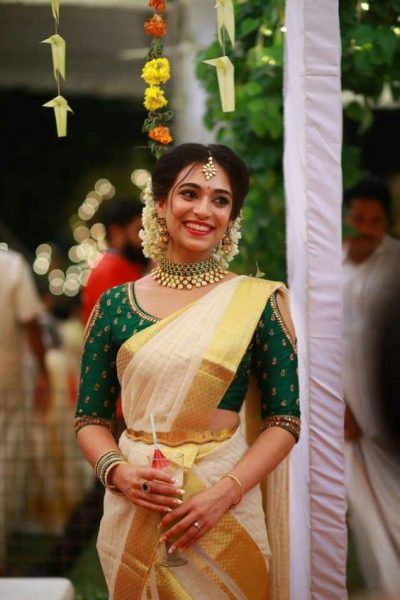 Talk about staying in trend! Cold shoulder dresses and blouses are the hottest trend of the season and you must stock atleast one blouse with the pattern in your wardrobe!
Off Shoulder Blouse Design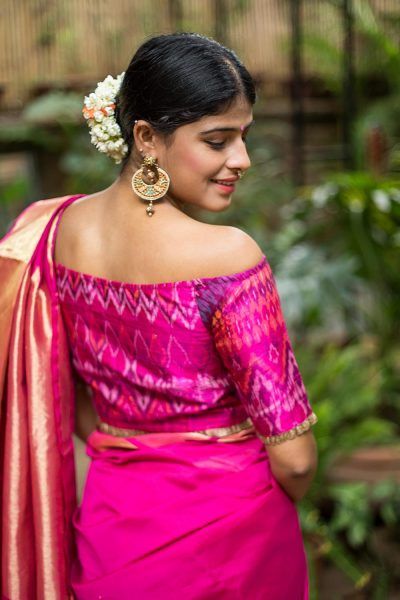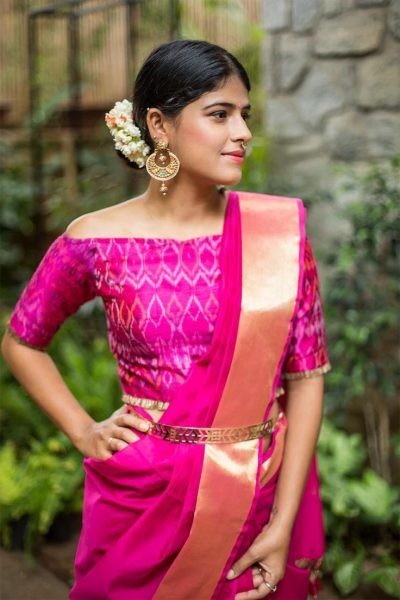 Image via Pinterest
These blouses are your best bet if you want to add some drama to your wedding, with a hint of modernity! Very chic, we say!
Jacket Style Blouse Design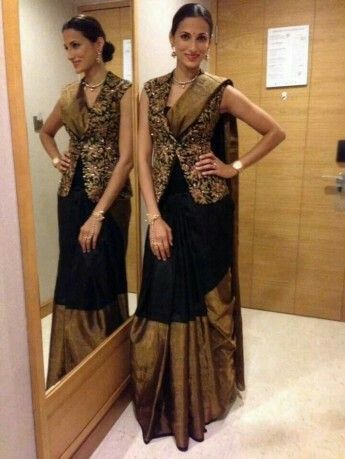 Jackets give out a very crisp and smart look. While it may not be a perfect match for a wedding day look, jackets blouses look stunning when worn for functions like sangeet or reception!
Lotus Motif Cut Out Blouse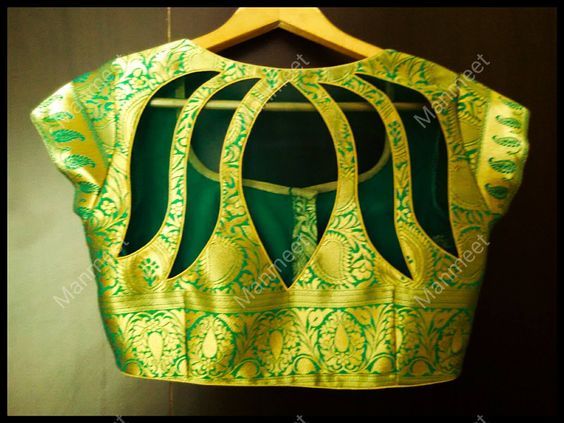 Image via Pinterest
Wanting to flaunt your back but not sure if you can carry a backless blouse? You can get interesting shapes and motifs like this lotus motif cut out in the blouse to create a statement.
Mandarin Collar Style Blouse Design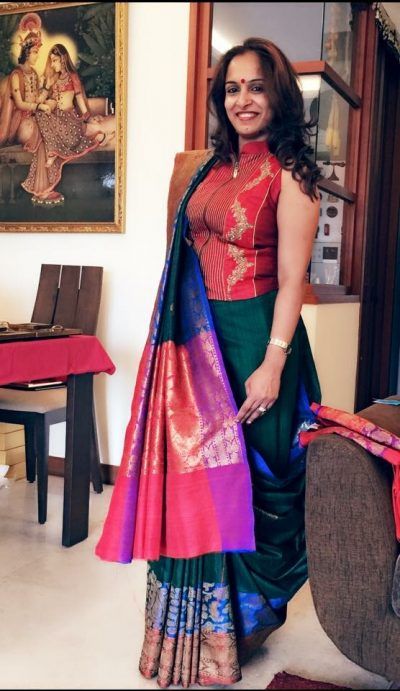 Inspired by our Chinese counterparts, this short folded collar stands up and is ideally seen on jackets and shirts. Experiment with one on your blouse- you can also attach a hook in the center or fasten it with a small button.
Jewellery on Blouses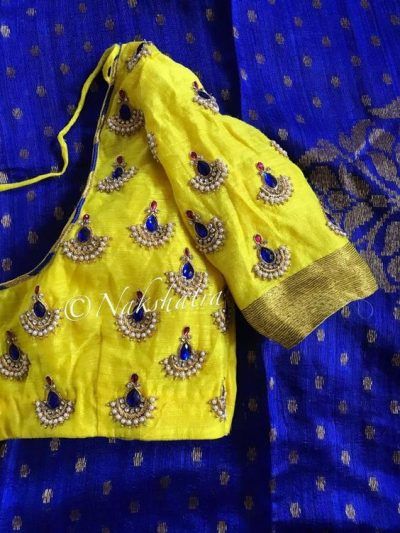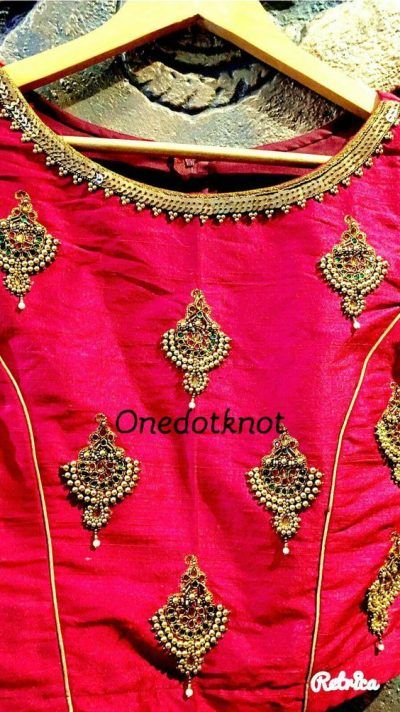 This was one trend that broke the internet in 2018. Ranging from elaborate patches with beads and ghoongroos to tiny danglers, choose a style that matches your personality.
South Indian Blouse design with Chain details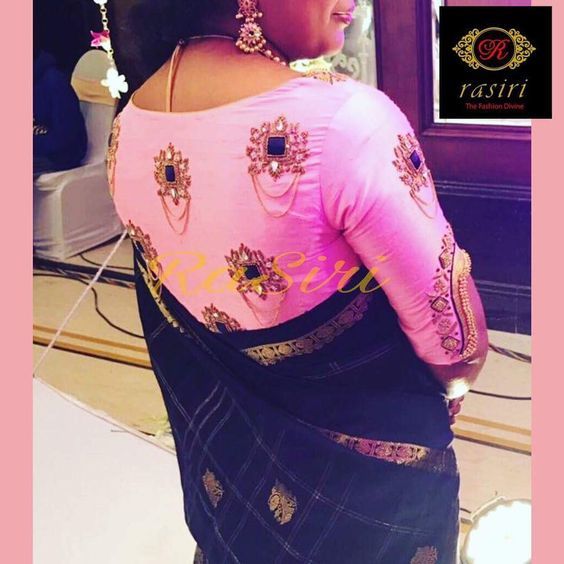 There are a variety of embellishments that you can add to your outfits ranging from studs to chain to accentuate your style quotient.
Which one is your favourite? Tell us.