5 Classic Jewellery Pieces every bride should own!
BY The WMG Bride | 12 Jan, 2015 | 1943 views | 4 min read
One things for sure - while jewellery may evolve over time, there is nothing like a piece of bling to put a spring in  a bride to be's step . These pieces below are versatile and timeless, so you can be sure you'll always look chic. The key thing to keep in mind while investing in a classic piece is to make sure it goes with a fair number of your outfits and your personal style. Whether your wardrobe is filled with traditional silks or modern georgettes and chiffons, there's something for everyone!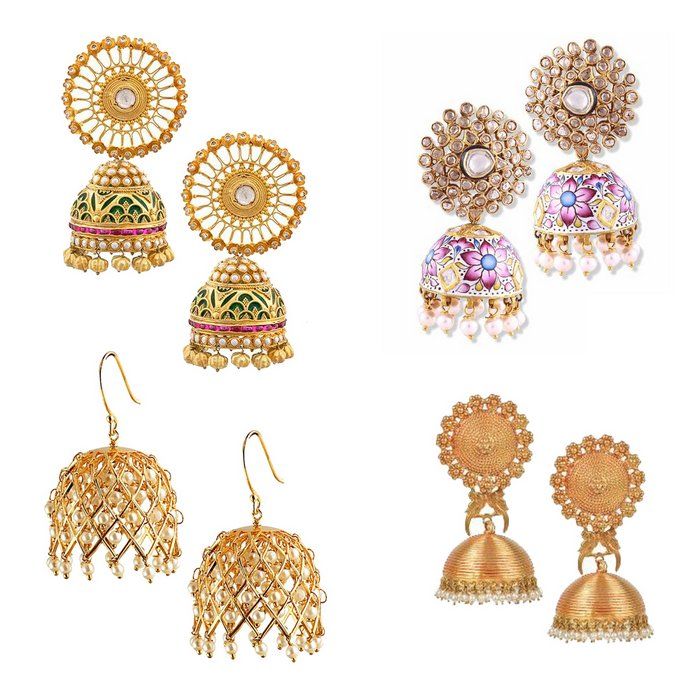 Jhumkas above by Amrapali
Jhumkas
Whether you are heading out to a dinner wearing an anarkali, or attending your friends mehendi- A pretty pair of dangling jhumkas goes with just about everything! Plus, you can get them with literally any embellishment of your choice – pearls, kundan, diamante, pure gold, you name it!
WMG Loves: Antique gold temple jewellery jhumkas, as well as Jhumkas with enamel / lac on them (top row second photo)
Where to buy: The most beautiful ones will be in store specialising in antique gold jewellery. Think Kishandas & Co, Tribhovan Das etc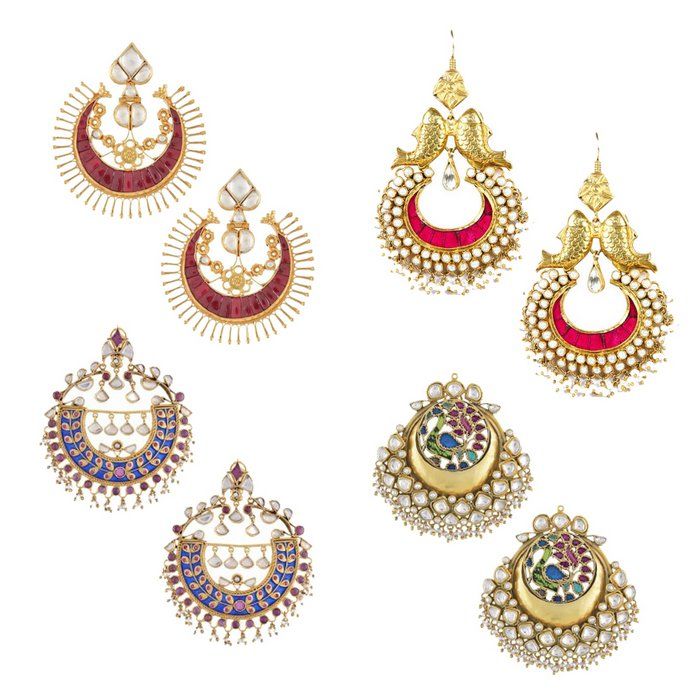 Designs above by Amrapali
Chandbalis
If there had to be an 'earring of the year' awards- chandbalis are probably the first thing that pop into your head! You can find a mind-boggling variety of these, so it's easy to get carried away and panic! We recommend that you stick to investing in them in either a neutral colour or with red/pink or green embellishments, as these colours go with almost all Indian wear! Another thing to keep in mind is to buy these with a different embellishment than your lovely jhumkas – so if you're jhumkas are pearl, get these in kundan and so on. This way, you can have a little of everything!
WMG loves: Large kundan chaand balis with pearls.
Where to buy : Artificials ones available at Pal Dzigns are great, otherwise local hyderabad jewellers have the best ones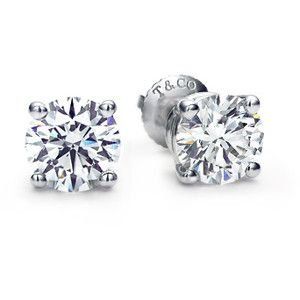 Solitaires
Now, do we really need to say anything about these? Solitaires exude a classic vibe like nothing else! If you can't afford a couple of big rocks, zircon & diamante are great (cheaper) alternatives! You may want to read this Solitaire buying guide  before purchasing your set.
WMG loves: Round solitaires as well as small heart shaped solitaires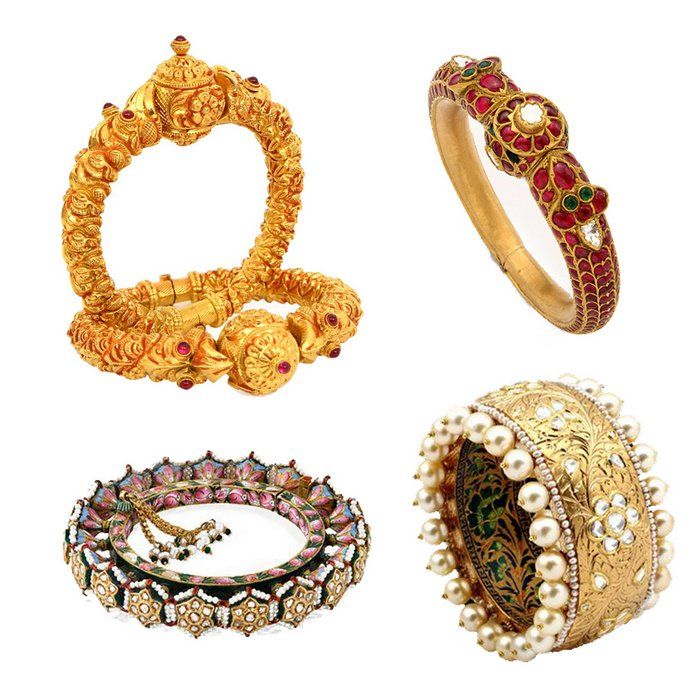 Chunky Gold Kada or cuff.
When you're keeping everything else minimal, a chunky bangle or kada can elevate your look and keep you from looking "under-dressed" at a festive event. Also, once you have on one of these, it really eliminates the need for rings, matching bangles and the works! Make sure you get a pair of these that can go with all of your outfits – edgily cut kundan ones or pure gold ones are what we'll bet on!
Whhere to buy: Do not scrimp on kadas and buy the most beautiful ones you can afford. They are timeless and bangles in general have the highest resale value of gold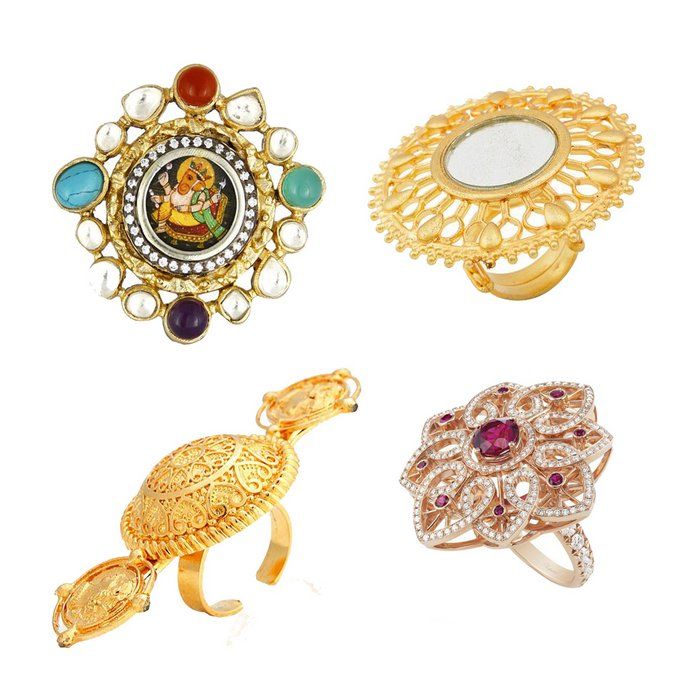 Cocktail Rings
You might think a cocktail ring is a bit of a waste, but  believe us it will be the ONE thing you will use the most of. Don't feel like carrying the weight of a gazillion bangles or one huge kada (okay, we made you buy that, guilty as charged) all evening? Say hello to the saver of bare hands – the cocktail ring! Cocktail rings are basically oversized rings and again, available everywhere! Buy something classic or go fashion-forward with something edgy yet traditional (a la the gold cocktail ring on the bottom left)
Where to buy: Get artificial ones for these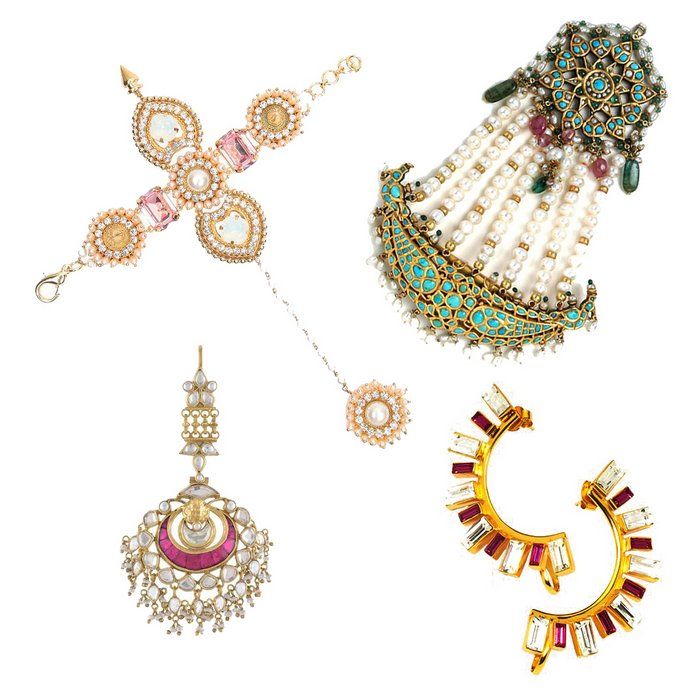 From left: Haathphool by Outhouse,  Jhoomer by Amrapali ,Maang Tikka and Ear cuffs by Amrapali
The new age accessories : Haathphool, Ear cuffs and more !
If you're feeling daring and implusive, channel that into buying one of these! These are by no means must-haves but are instant conversation starters and well-worth every penny you'll spend on them! You can go as simple or as ornate as you want with these.
Where to buy these: Outhouse, Amrapali
 Contributed by Suraksha