6 New Hues We Spotted On Sabyasachi Brides!
BY Latha Sunadh | 21 Jun, 2018 | 3290 views | 4 min read
Once in a while, we find brides who really question design, style and take the path that's less travelled and that to us, says only one thing - gumption. This amazing statement was made in the context of brides trying new colours and ideas on their wedding day - and yes, they're wearing a Sabyasachi that's super unusual and really different. Look at it this way, you want to be a bride who is unique and off-beat, you need to challenge traditional ideas and the me-too designs that designers churn out. As for Sabyasachi, he's the master craftsman, he knows how to make a great lehenga but you need to bring in your style, your taste and your individuality. For starters, we found 5 new hues Sabyasachi brides are wearing so you can really see how new and refreshing they are!
The deep blue velvet lehenga on two brides
The Purple Beauty On This South-Indian Bride
The Teal-Blue Beauty We Can't Seem To Take Our Eyes Off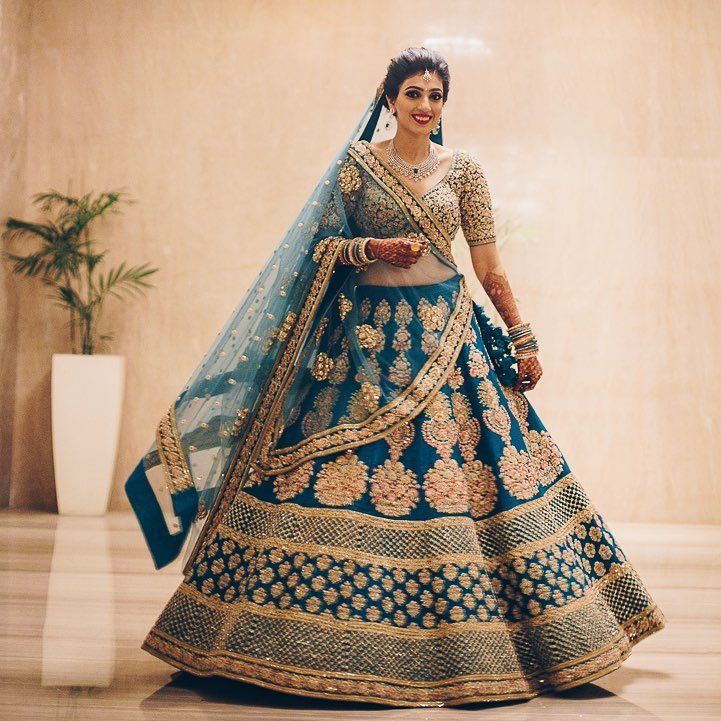 This Fuchsia Chevron Lehenga That's So Unlike A Sabyasachi 

The Lilac-Grey Beauty That's So Pretty & Minimal
This Red-Orange Patchwork Lehenga That's Stunning
We are in love with these new hues - what about you?