Fun New Ways To Personalise Your Wedding Decor!
BY The WMG Bride | 24 Mar, 2023 | 8462 views | 5 min read
Wedding décor is one of the first things you notice when you walk into a wedding. Florals, drapes, the colours – everything is so gorgeous. But what makes your wedding décor different from the same old décor that you see at almost all weddings? Personalization! Trust us, wedding personalised decor ideas can totally change the game. From including your photos to your life story, everything can be included in personalized wedding decor ideas. And what's more? We rounded up our favourite personalised wedding decorations that you can take inspiration from!
This wedding that had so many cute little personalised ideas!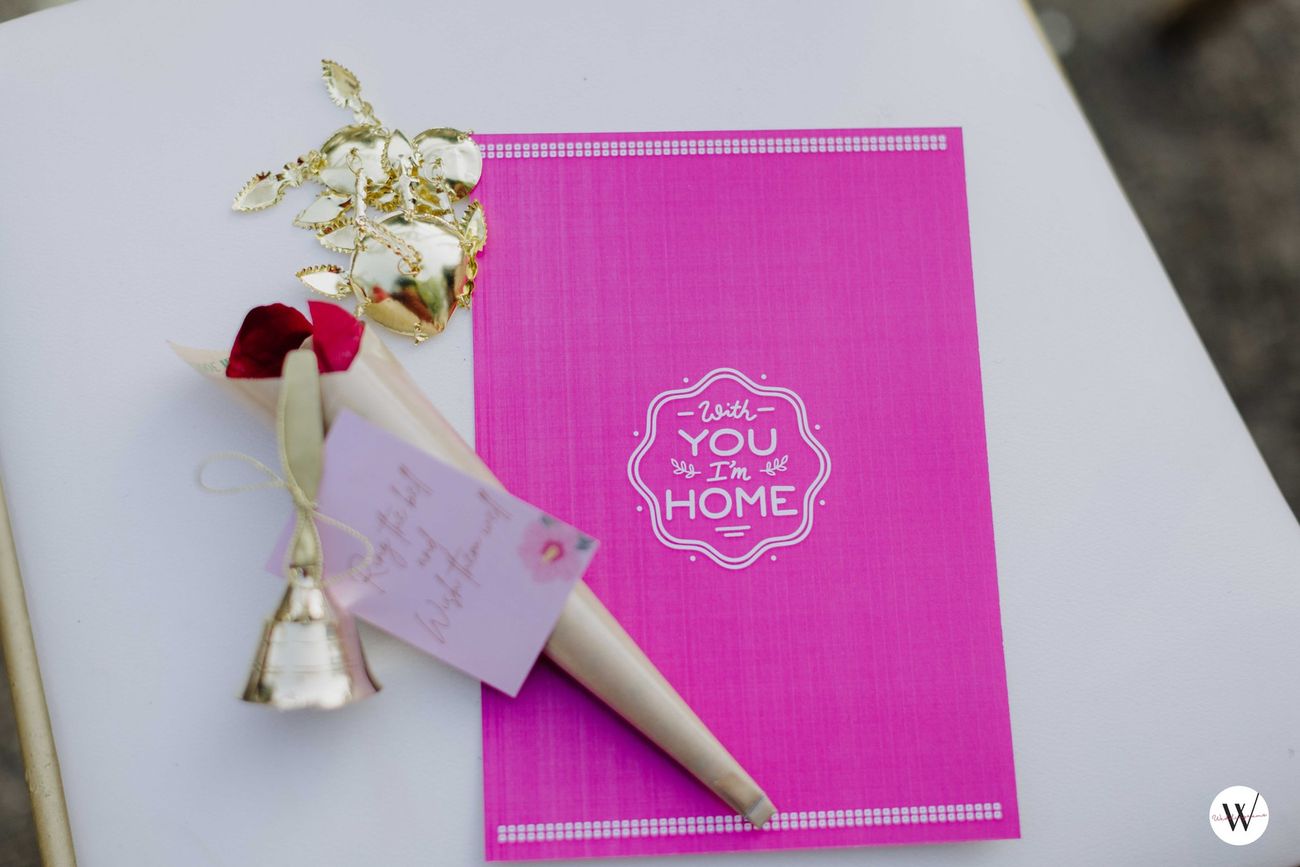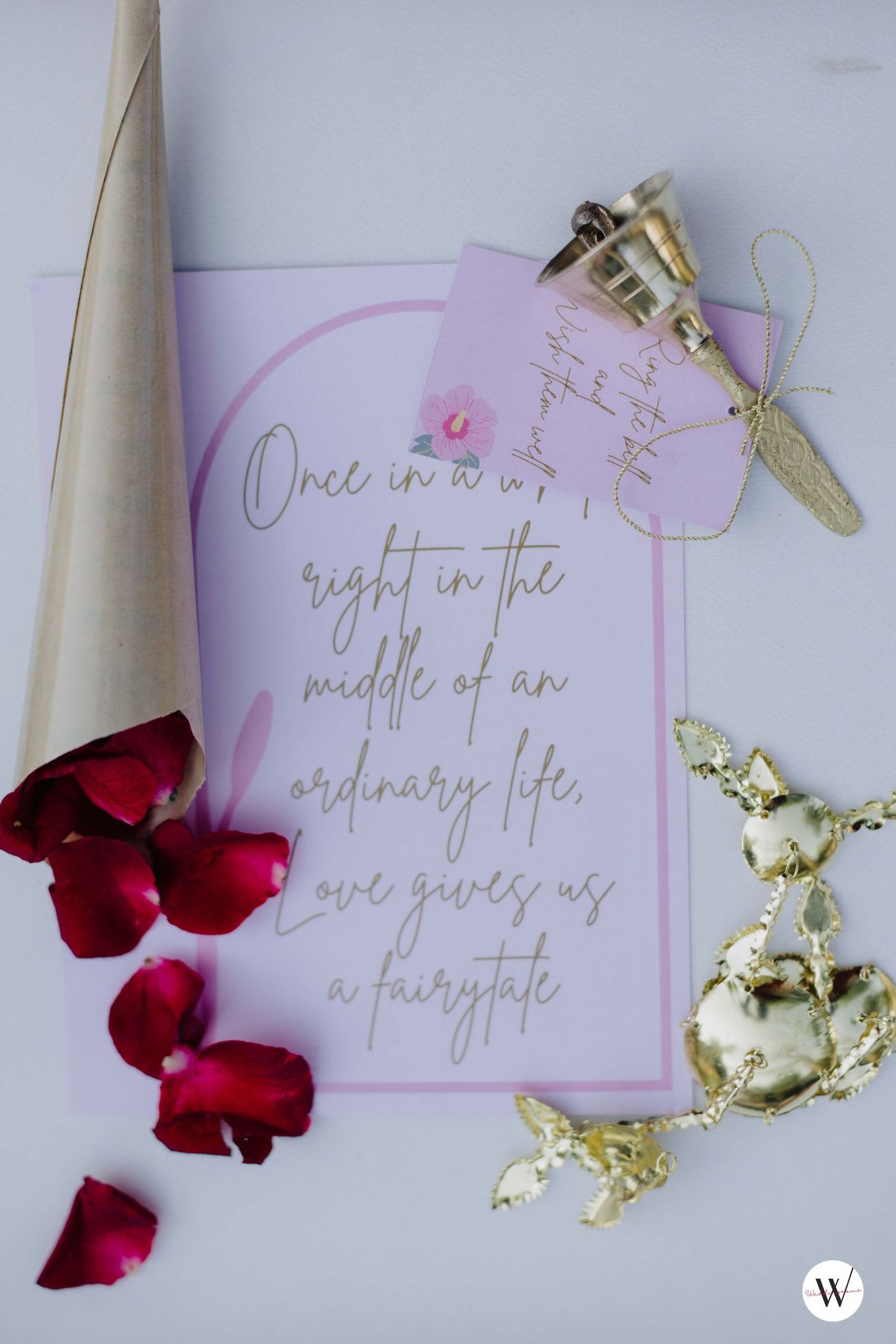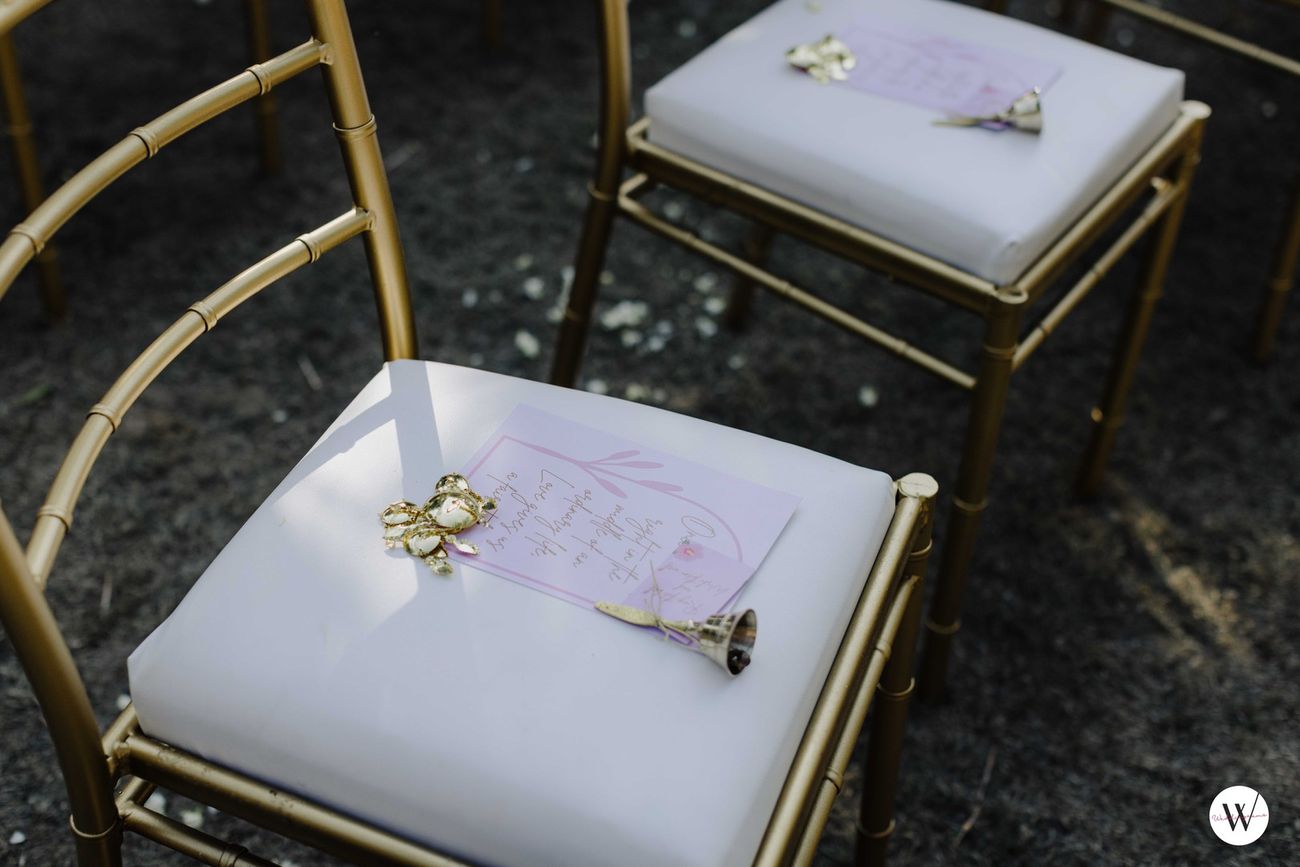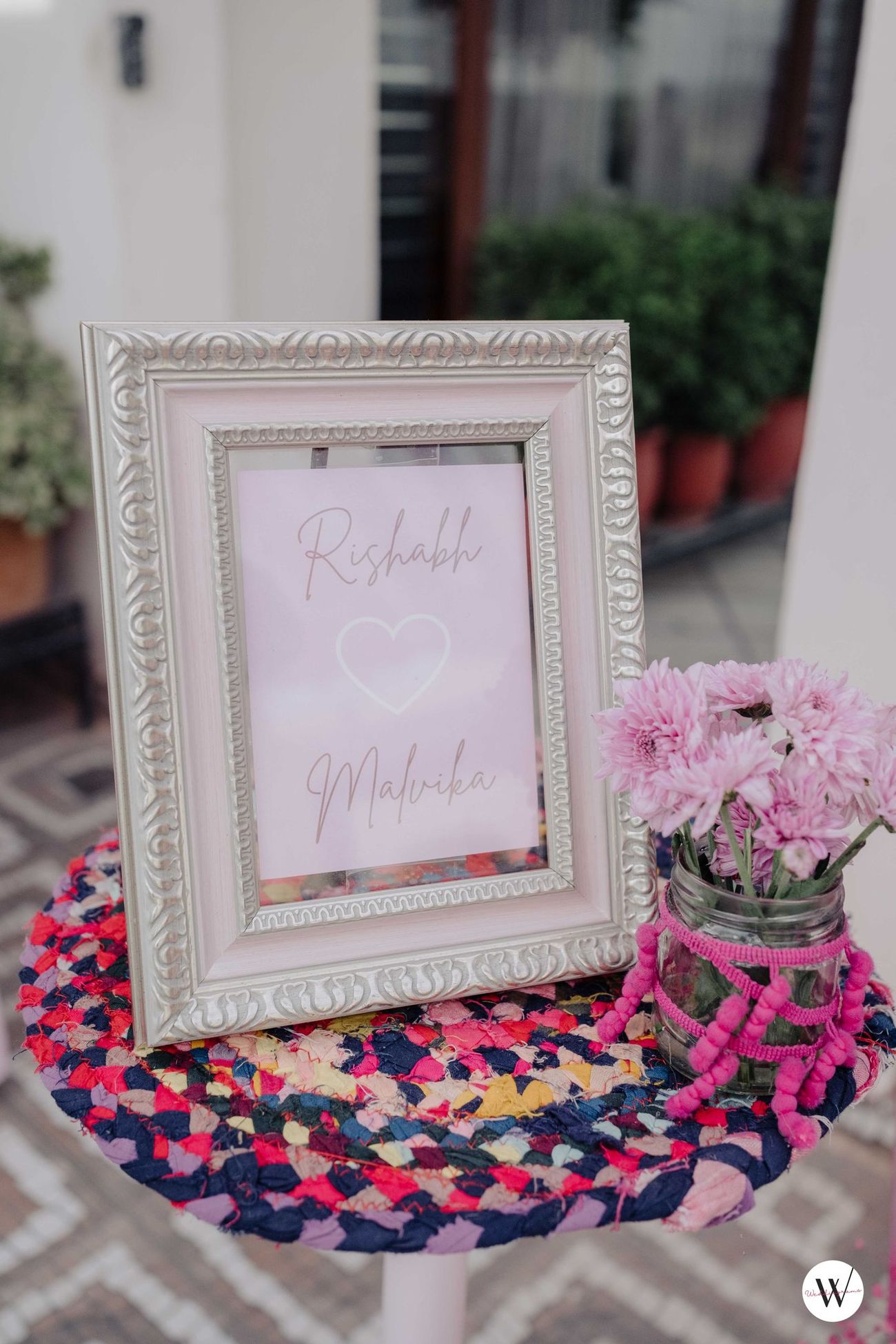 Image via Malvika and Rishabh
Such cute little ideas! A lovely home wedding with these sweet ideas, most of which can be DIYed as well.
Mandap Love!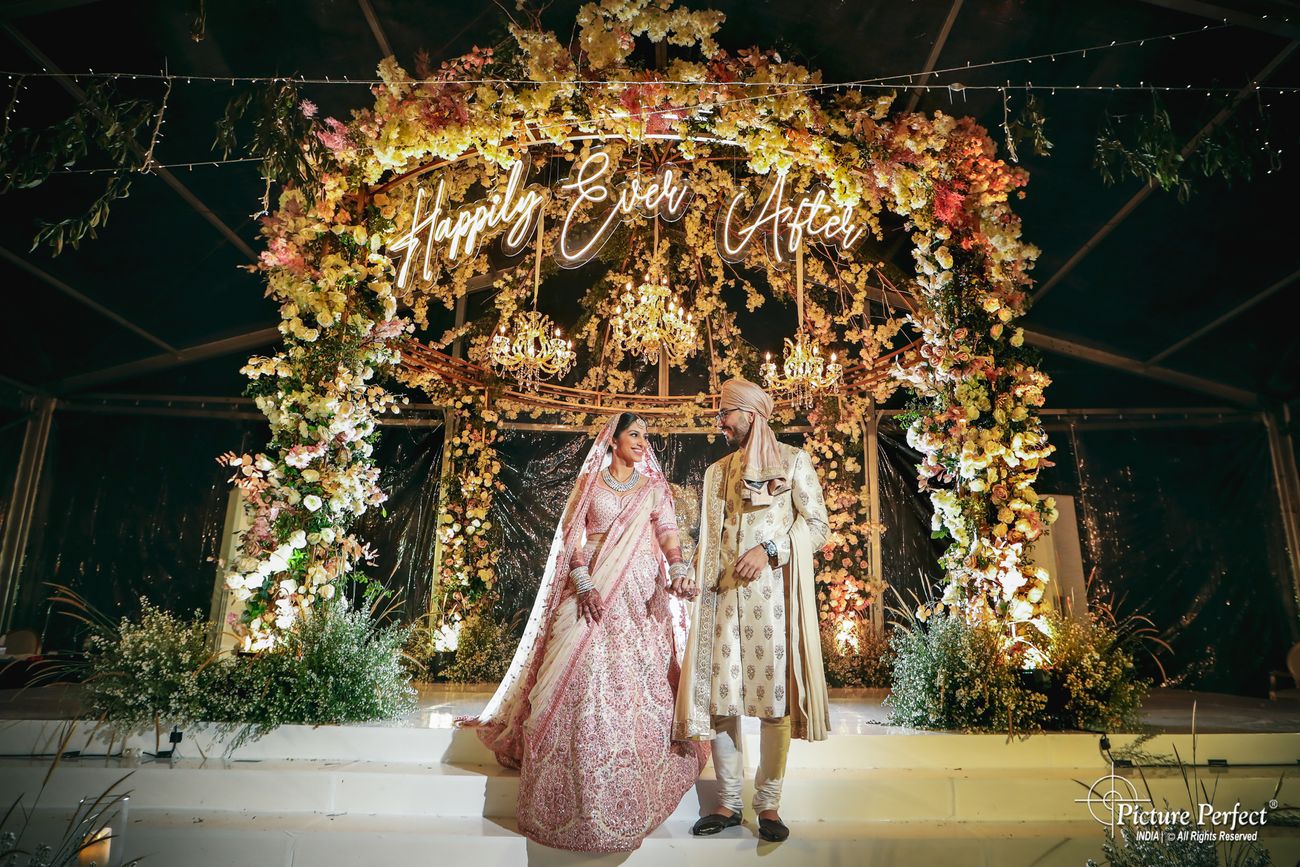 Image via Shilpa & Avinash
Your mandap is the crux of your wedding décor and how fun would it be to personalise that? We loved how they added a fun touch of a personlised quote to the mandap, giving it a completely unique look.
Can't get more personalised than this!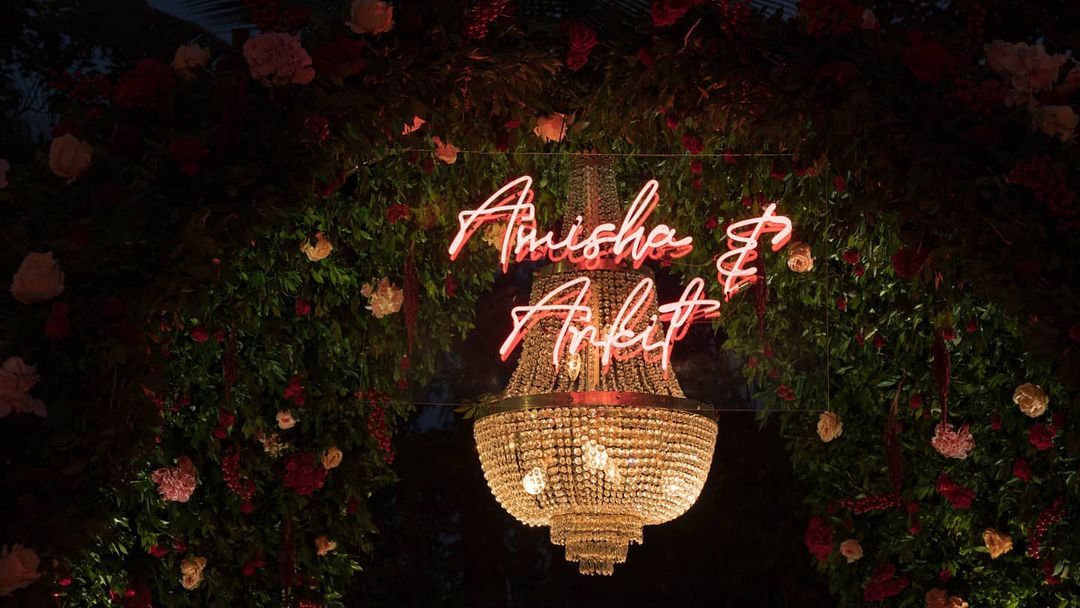 Image via Aash Studio ★ 5
LED signs are trending right now, and this is a great way to personalise your wedding decor. Can be used for any event!
This adorable idea!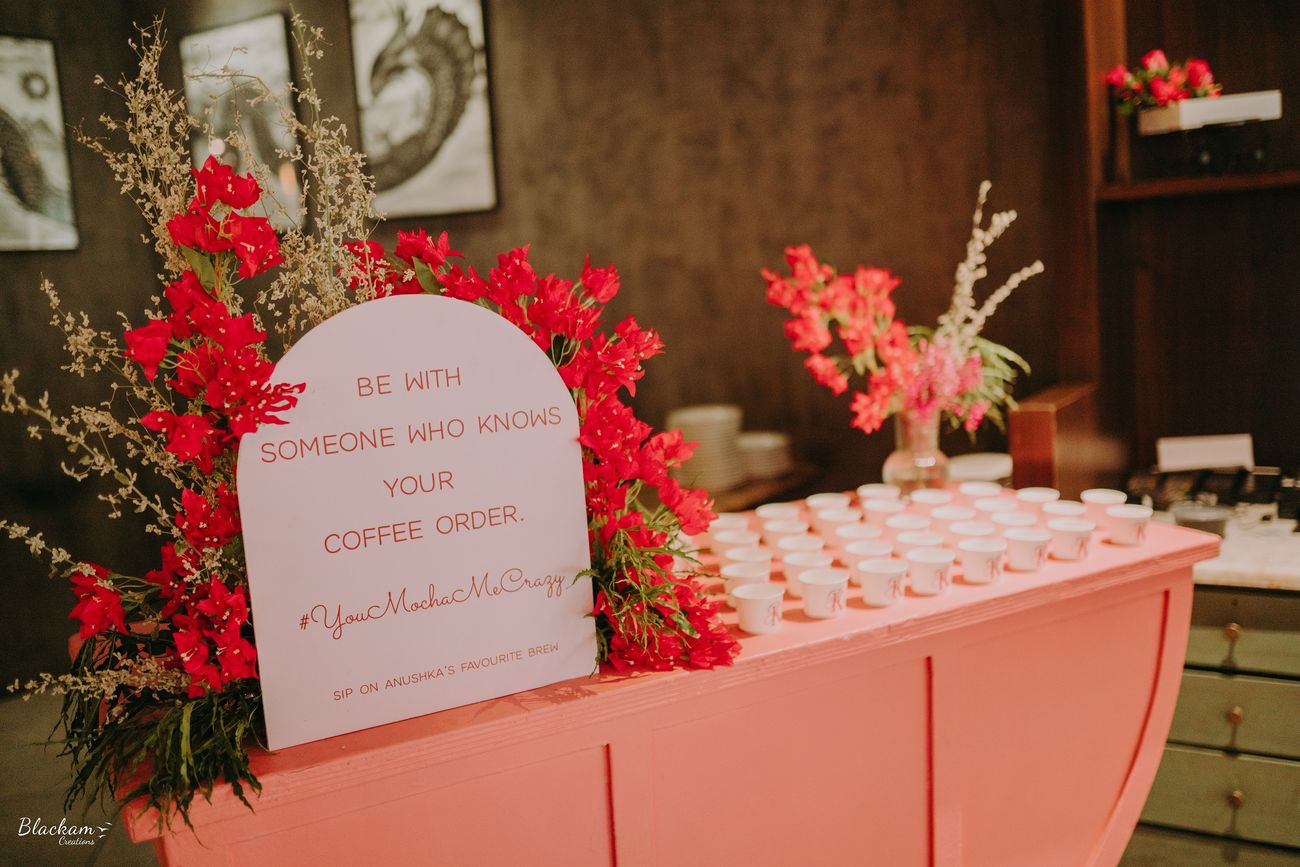 Image via Anushka and Karan
How cute is this idea? And check out that adorable hashtag and those personalised cups!
Jazz Up Your Bar Décor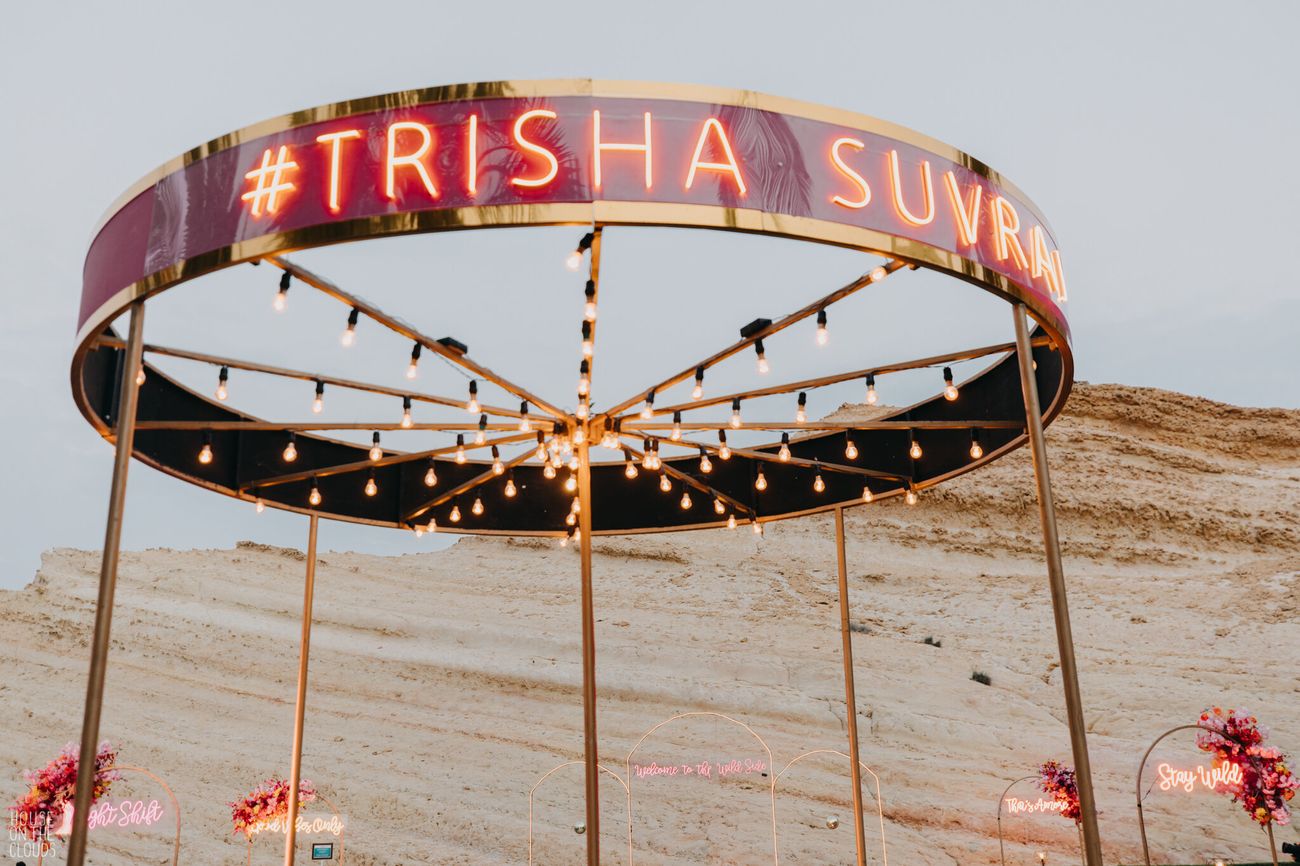 Image via Trisha & Suvraj
Planning a fun cocktail party and want to add a personalised touch that goes beyond personalised cocktails? Why not have a crazy personalised bar? We are loving this personalised bar idea for your wedding or any pre-wedding set-up!
Meme Boards!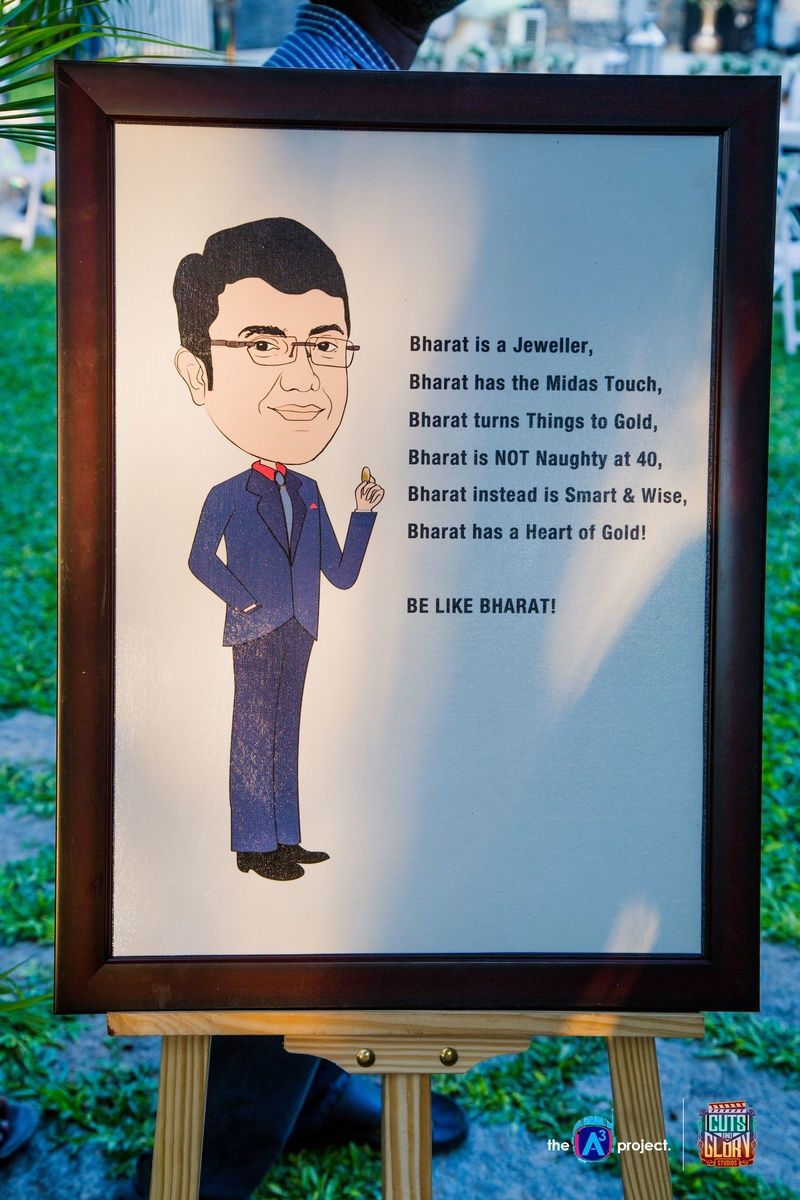 Image via The A-Cube Project★ 4.8
Meme boards are a great way to personalise your wedding décor as well as create a fun way of your guests having a laugh. You can also pick small standees of fun facts about you two as a couple to add a little personalisation!
Personalised Vow Backdrops!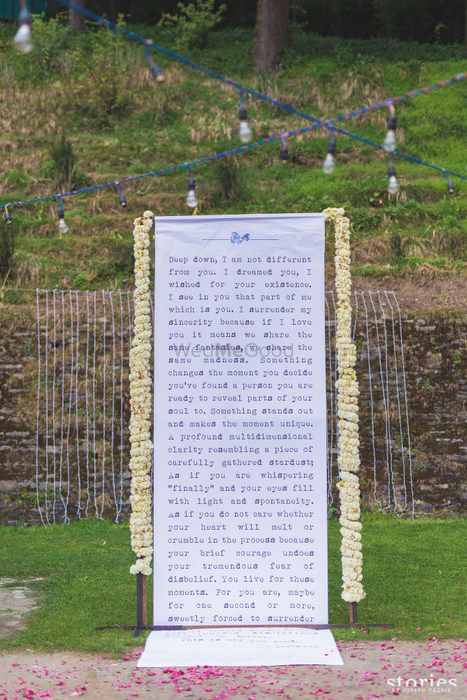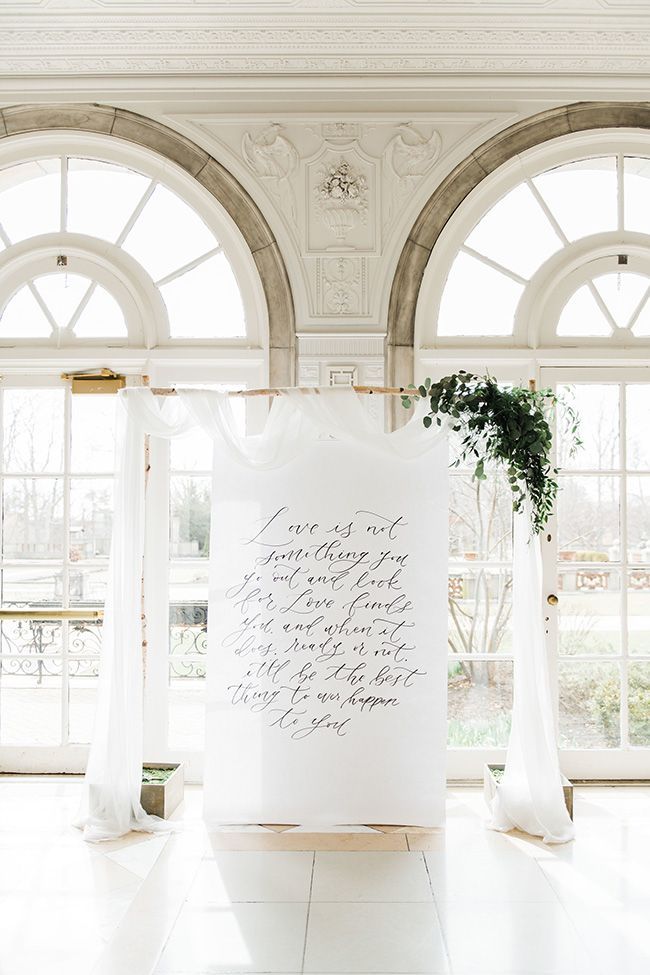 Image via Pinterest
This is a perfect way to jazz up your wedding backdrop if you are looking to avoid florals plus personalise it. You can write your own vows, have your love story printed or pick up any write-up from your favourite books and have that on your backdrop!
Fun and Personalised Coasters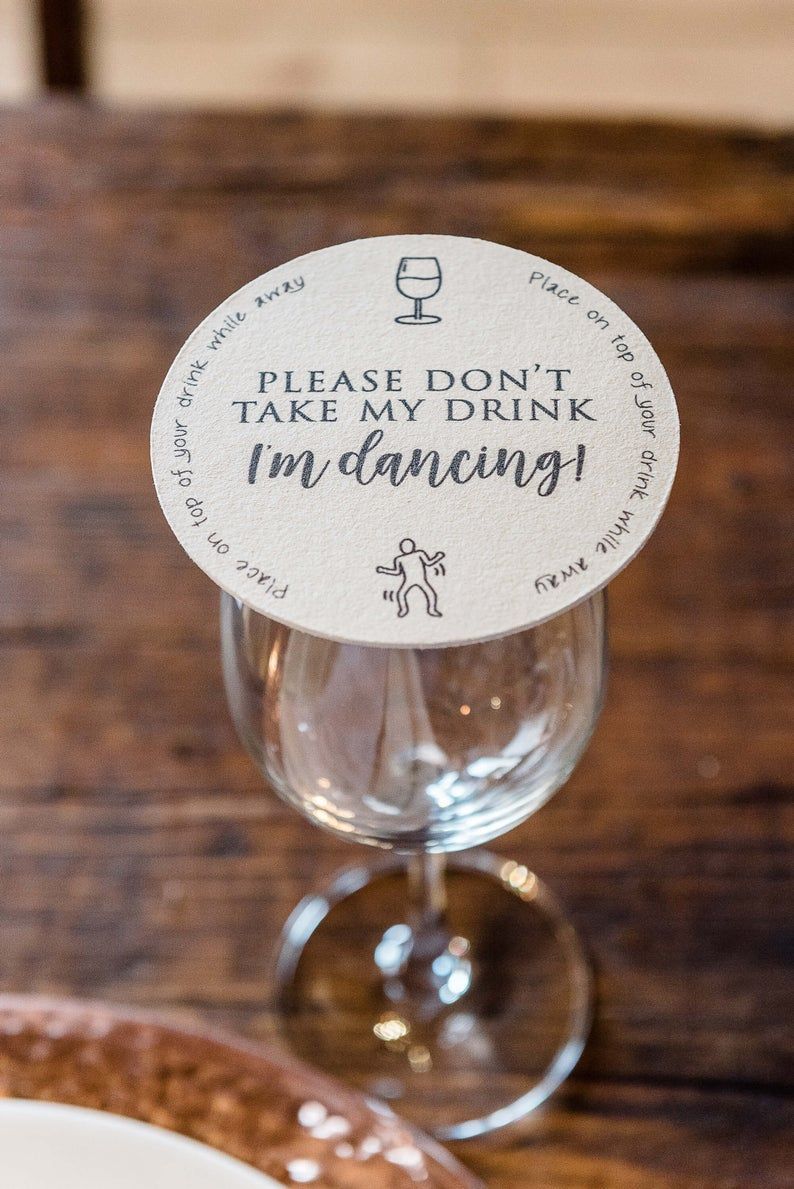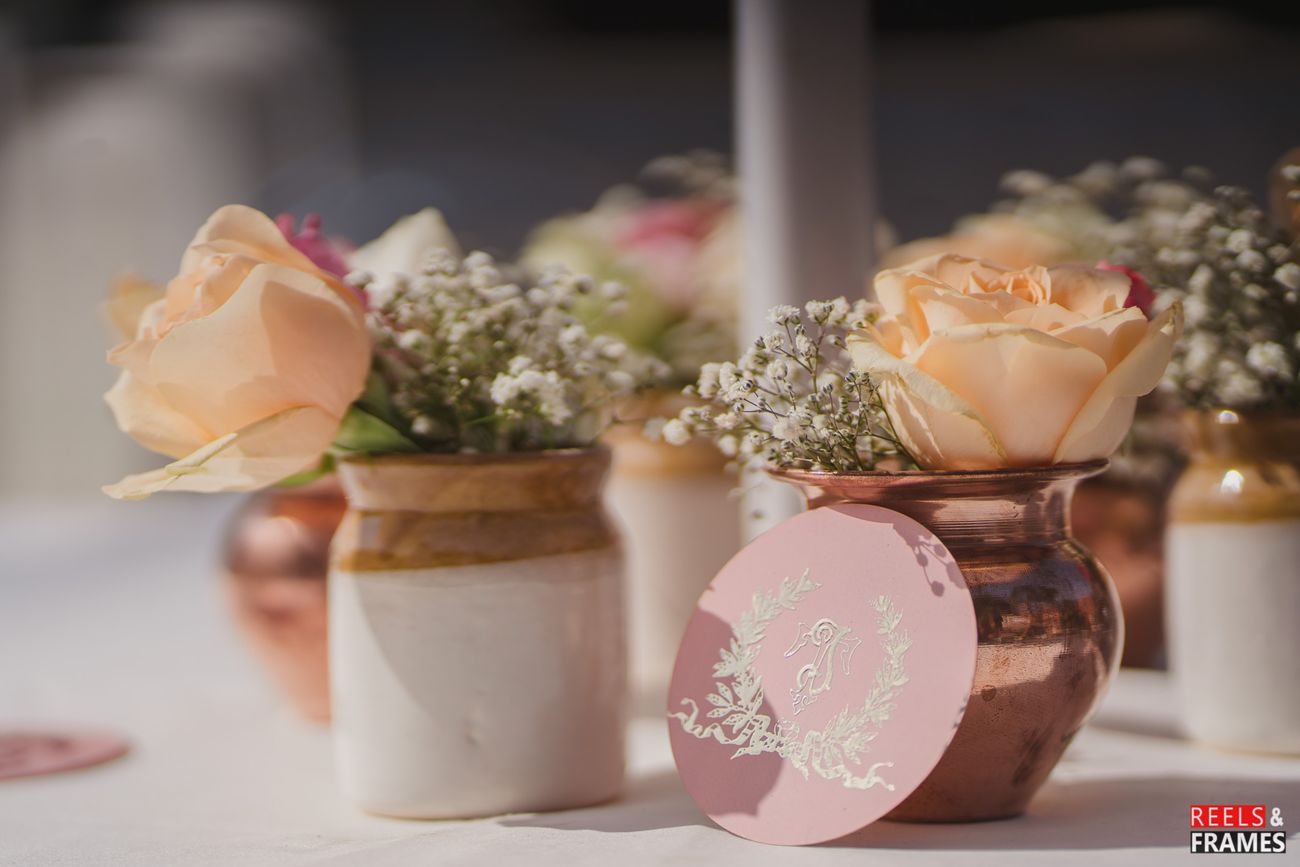 Image via Pinterest and Tanushka and Jaskaran
Nothing like a personalised coaster to get a party started! These will be on each table, they are cost-effective and a great way to add some fun one-liners on them.
Loving These Personalised Table Runners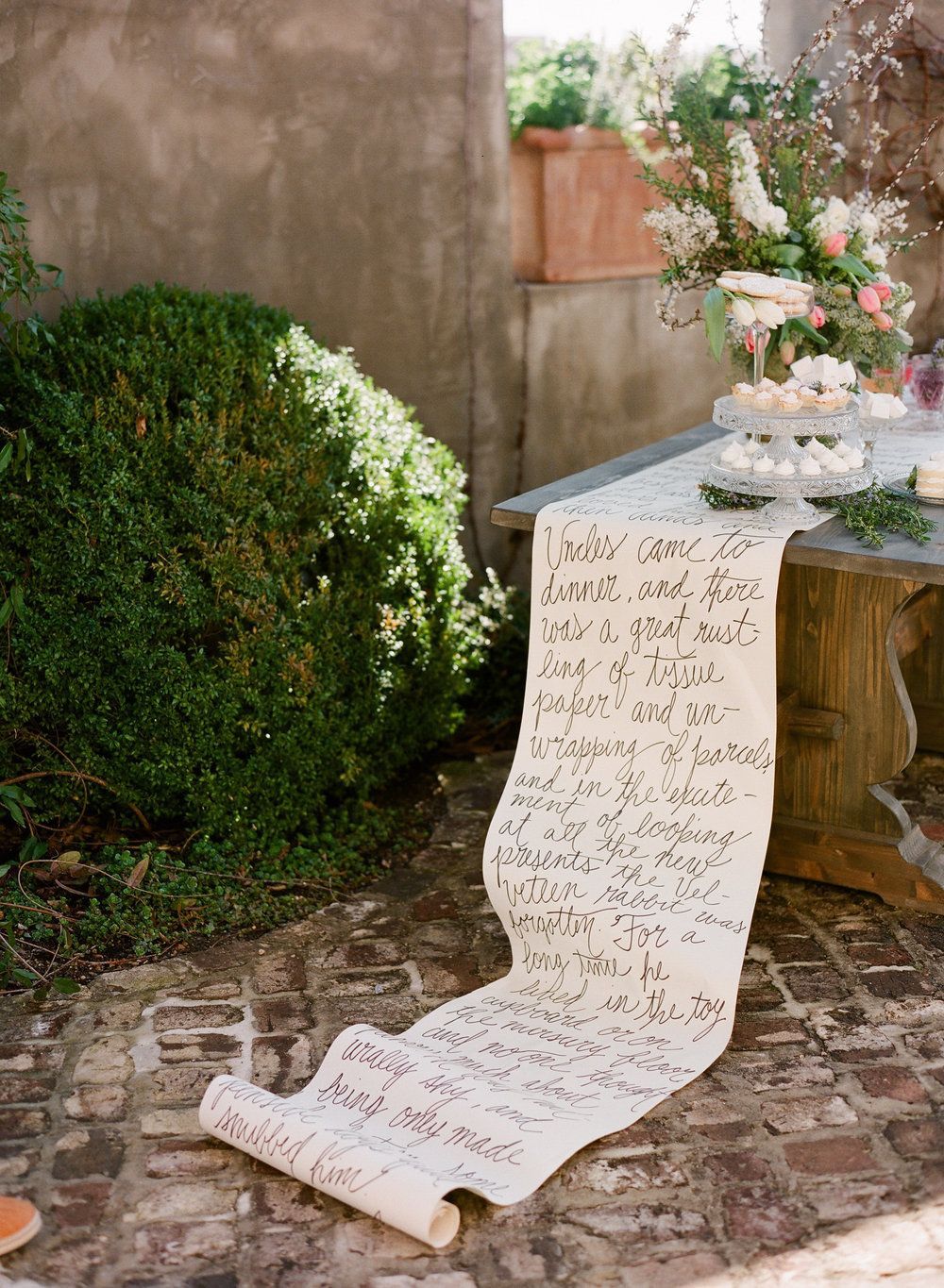 Image via Pinterest
Take your table décor to the next level with these personalised table runners. If you are feeling very creative you can even have personalised messages for your guests to give them that special warm feeling!
Monogrammed Neon Signs!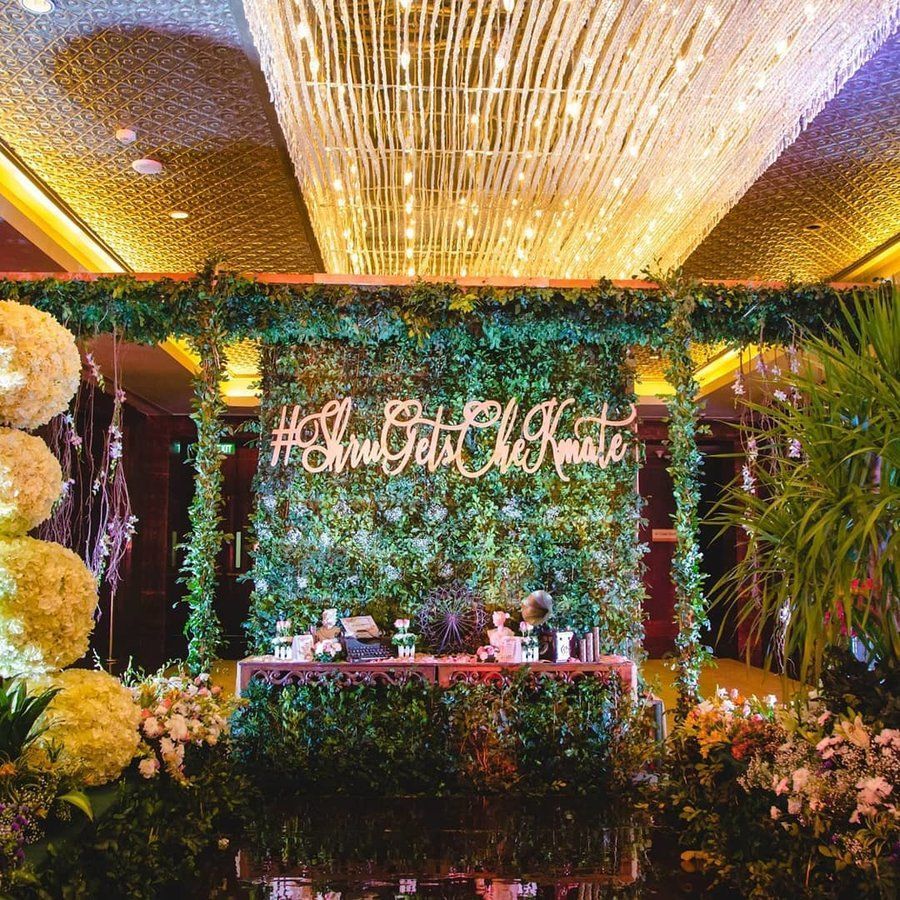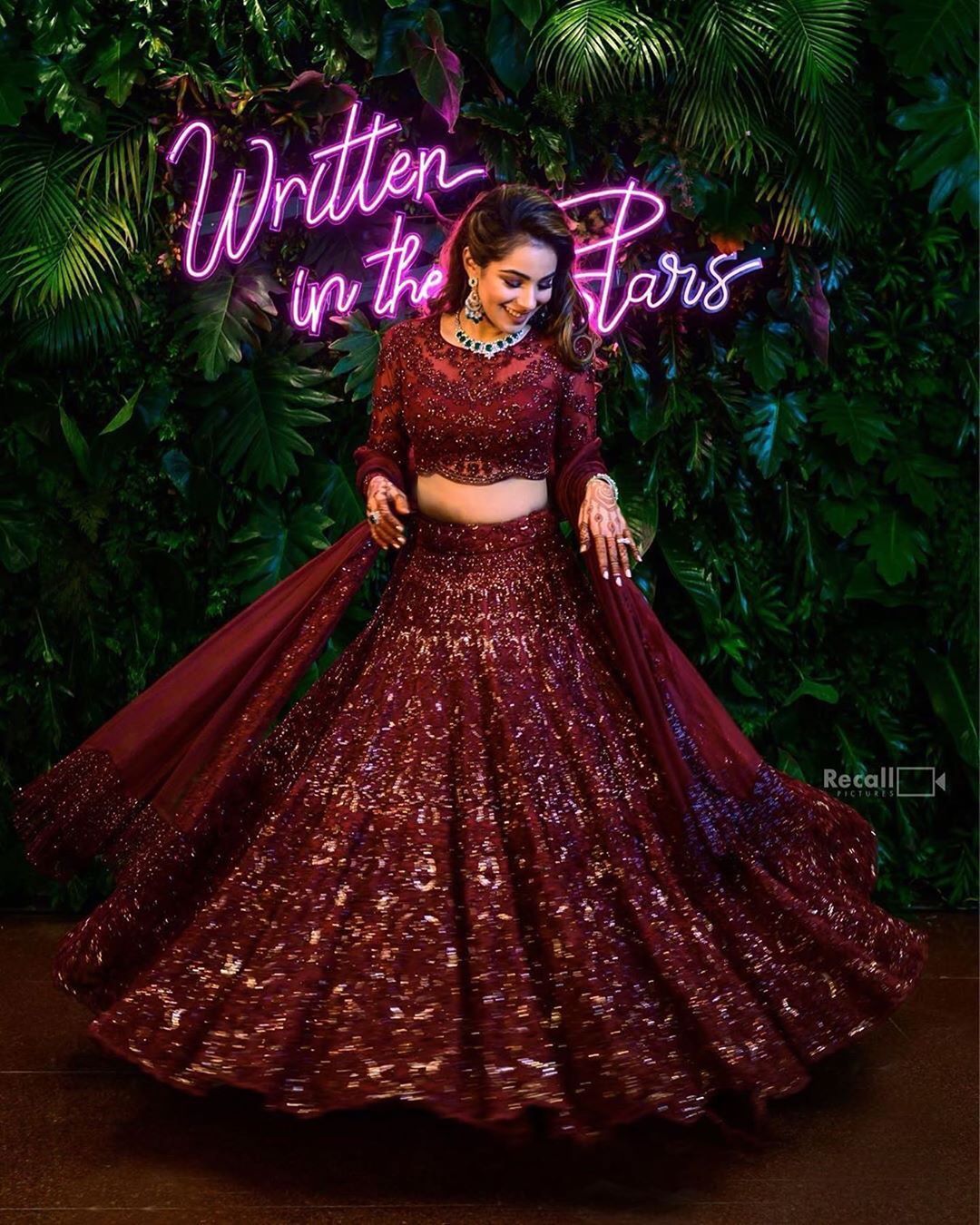 Image via Recall Pictures★ 3.5
Neon signs make for a creative entry décor idea, a photo booth or even your stage backdrop, you can take your pick and it works. Its easy to install and looks like a million bucks!
Personalised Place Names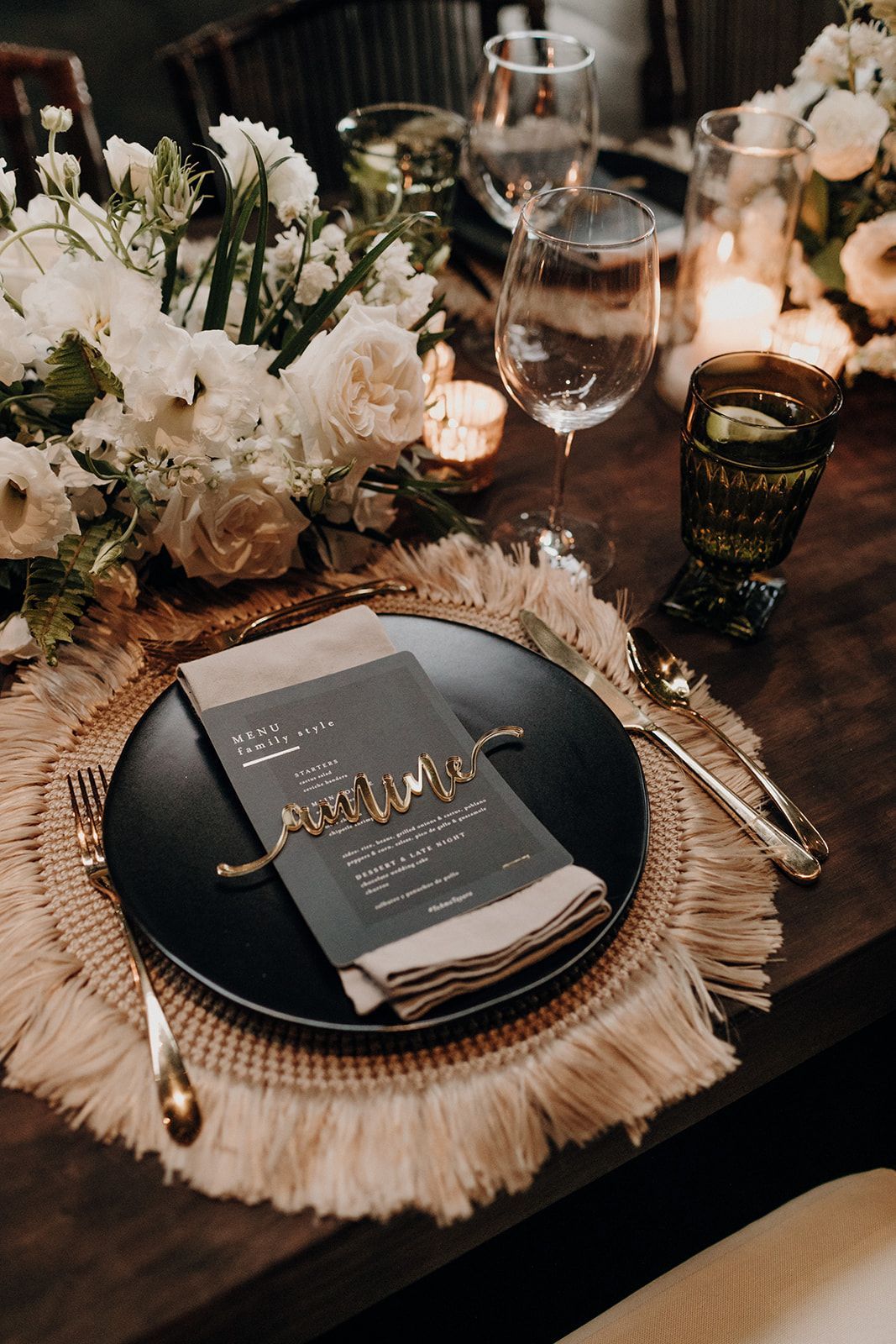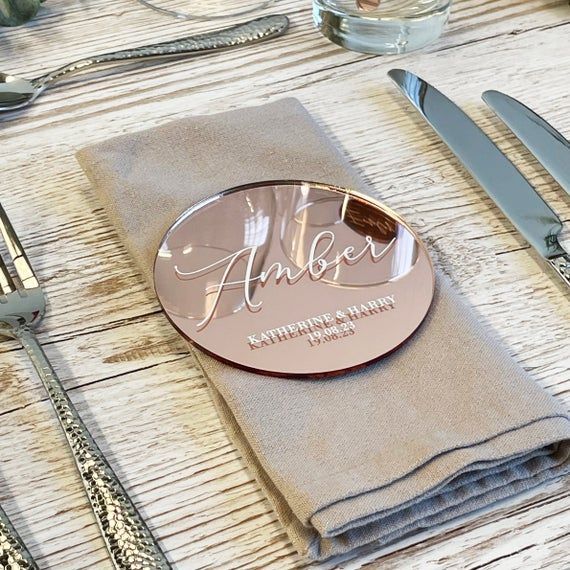 Image via Pinterest
These are so cute! Your guests will love the, everyone will know where they are seated plus they do your job for that personalised touch. Quick WMG Tip – do this for intimate weddings or for a guest list around 200 only, where you can have individual table plans.
Eat Them Personalised Cookies!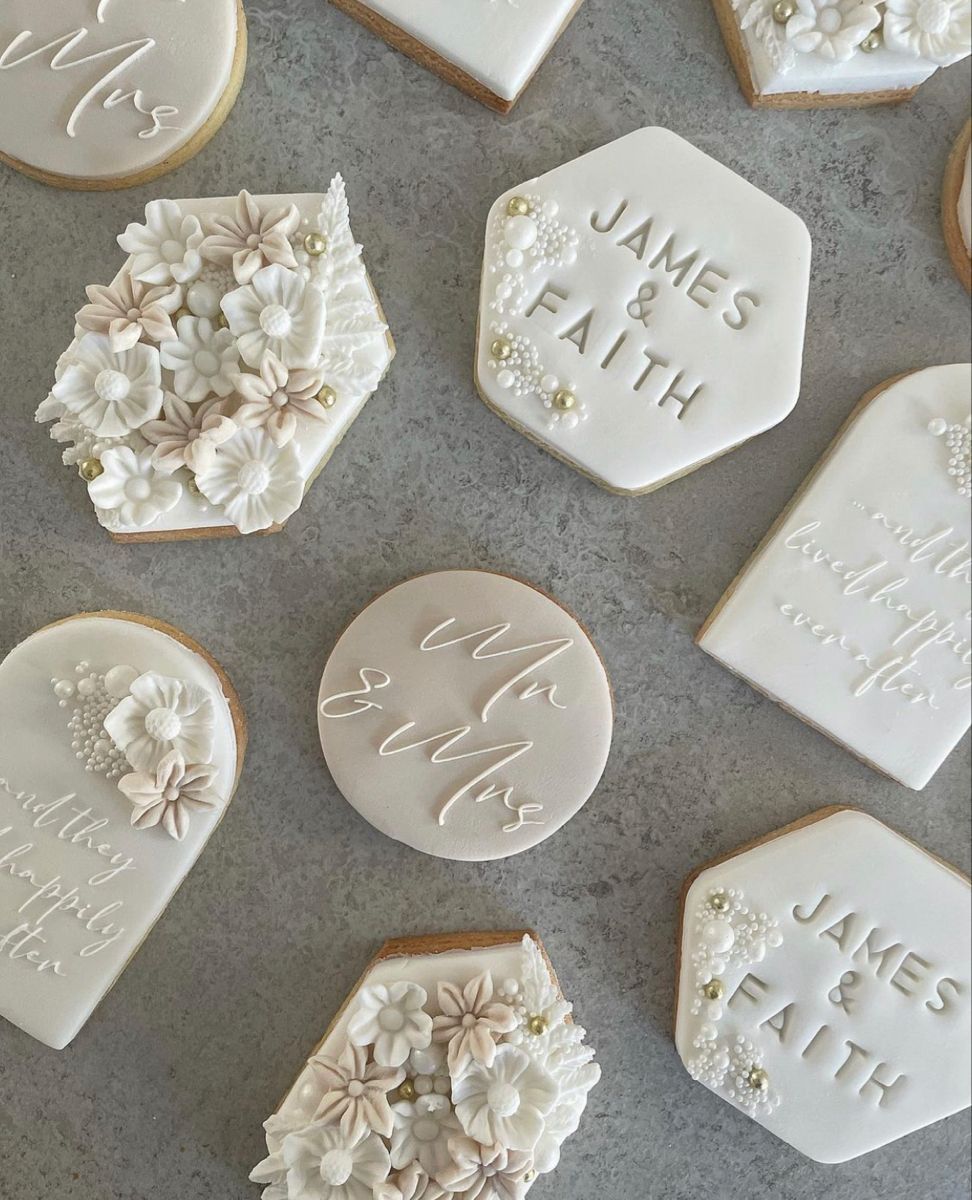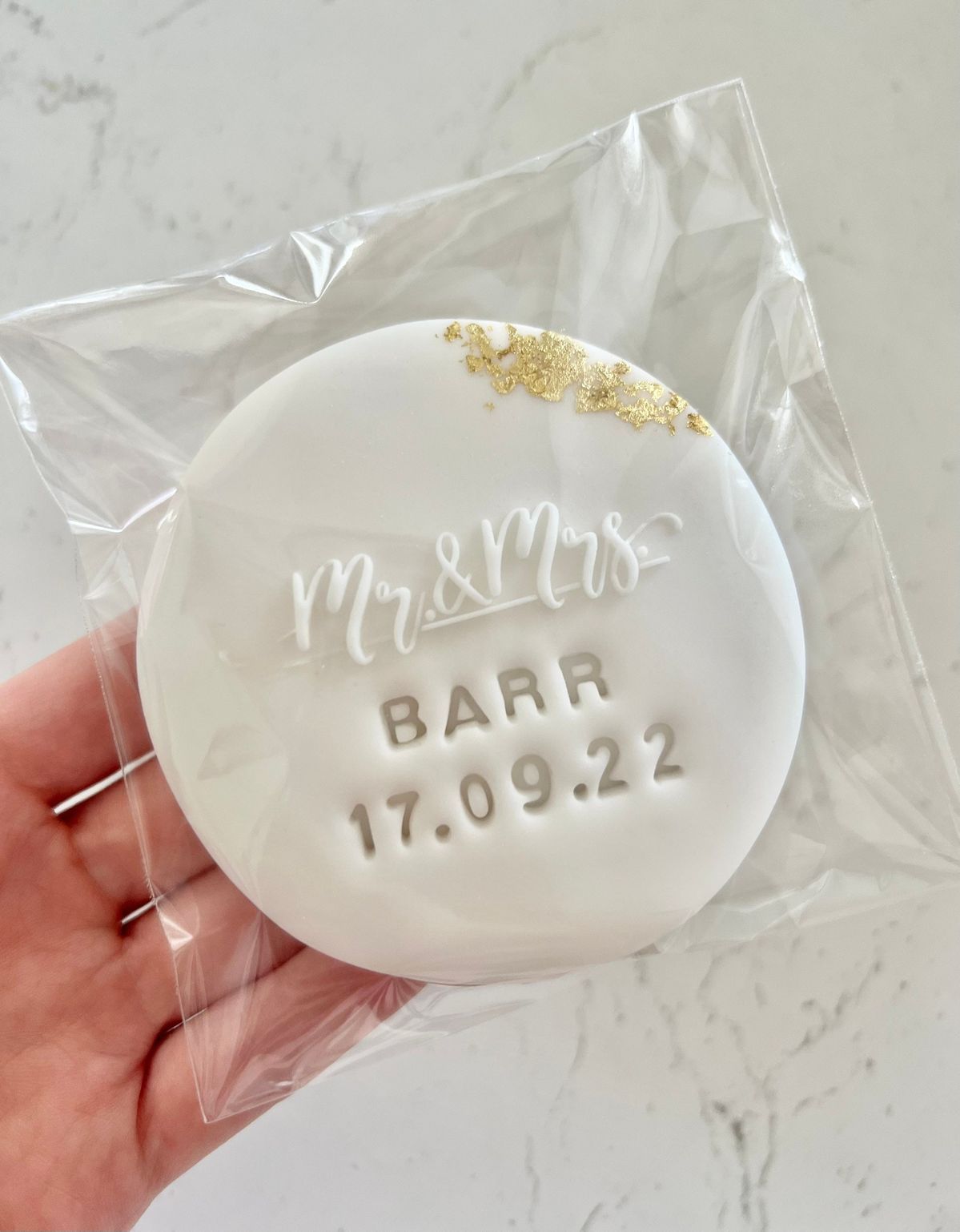 Image via Pinterest
Food is a great way to personalise your wedding décor because food is always on display! You can pick these cute cookies as favors or for your dessert bar and we promise you
Say It With Centrepieces!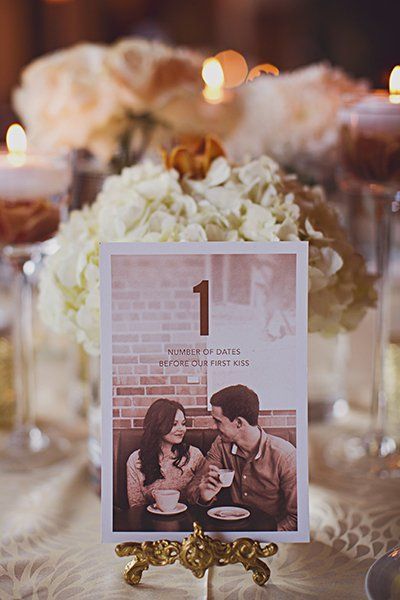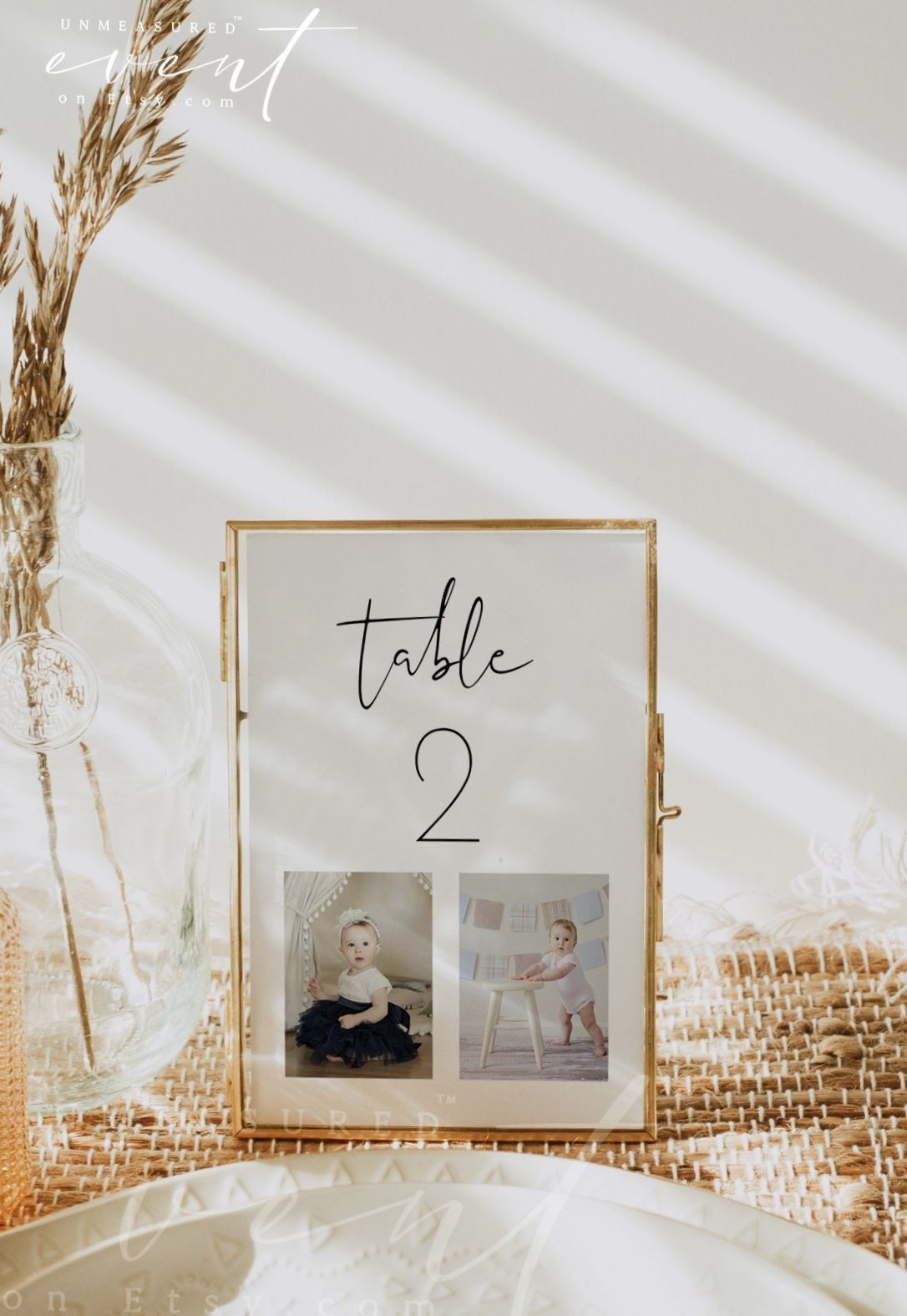 Images via Pinterest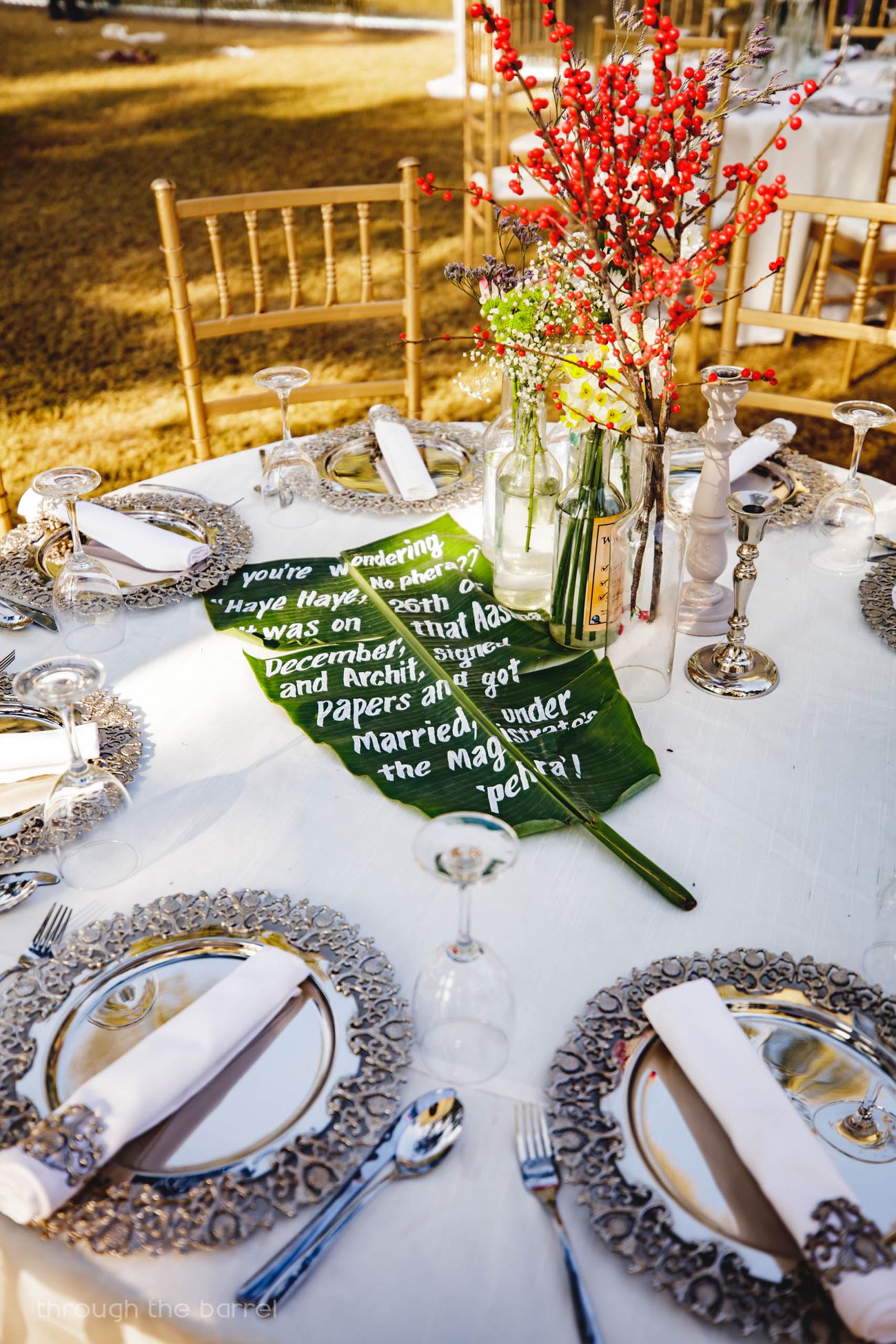 Image via Aashna and Archit
Nothing like a fun personalised table centrepiece with some fun couple trivia written on it! You can also use childhood pictures to add a dose of nostalgia, especially for your old grandmas and aunts who have seen you grow up. Or a cute note from the couple works too!
Say It With The Paper Napkins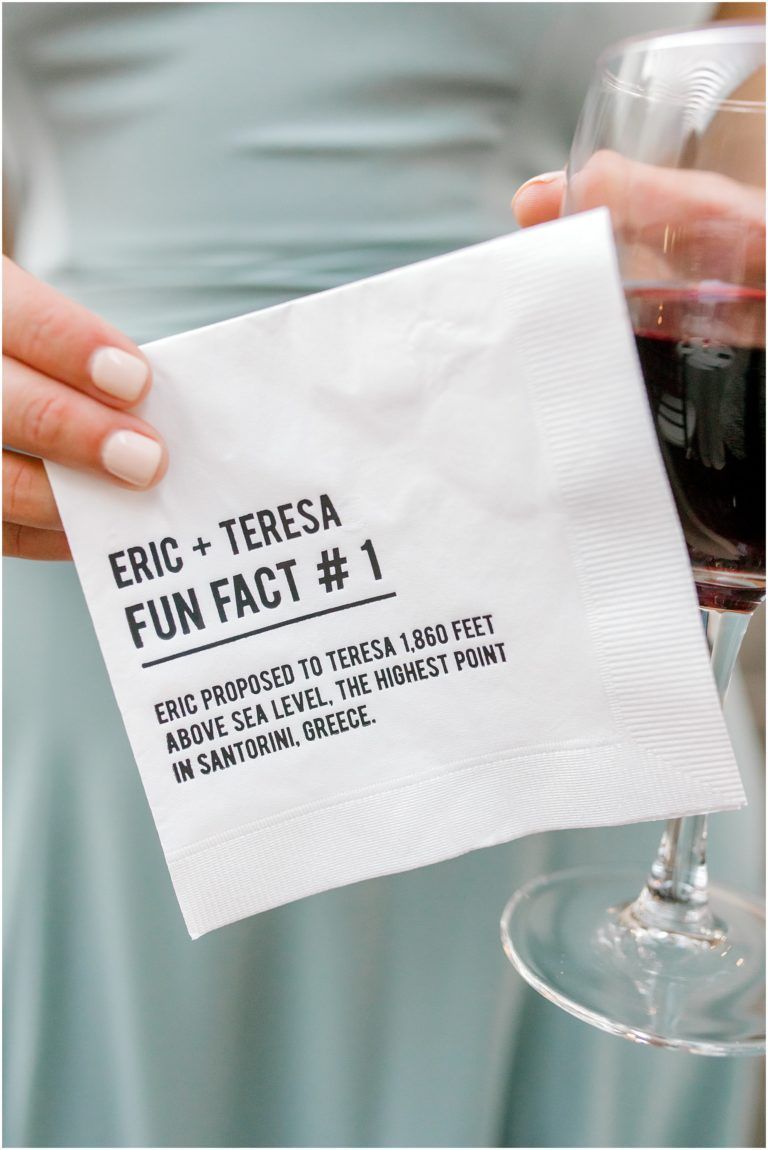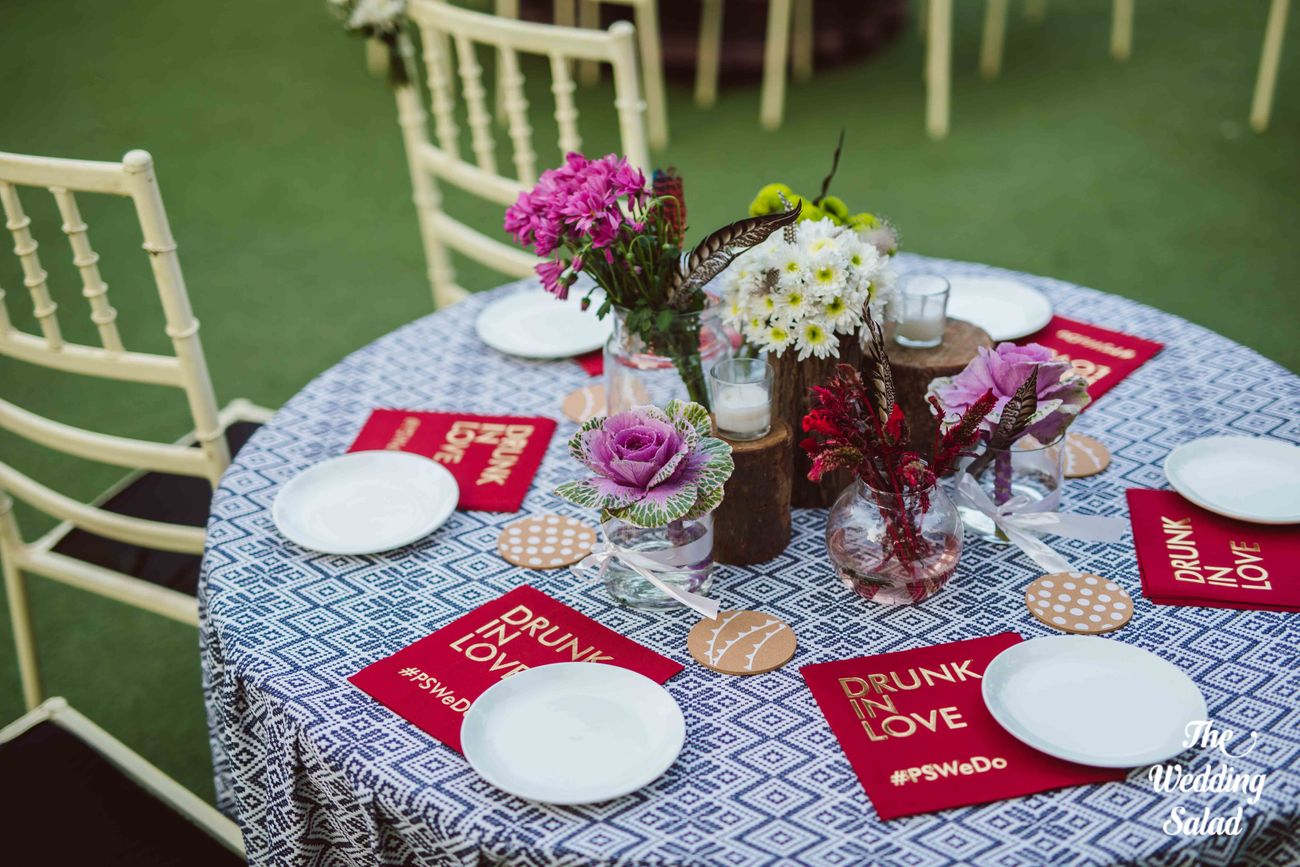 Image via Vintage Nutters★ 5
Let's all admit the fact that Indian weddings are all about food! People forget everything except the great food at any wedding. So one of the best wedding personalised decor ideas is to add a touch of personalisation on the paper napkins your guests will use.
Say It With A Ring Holder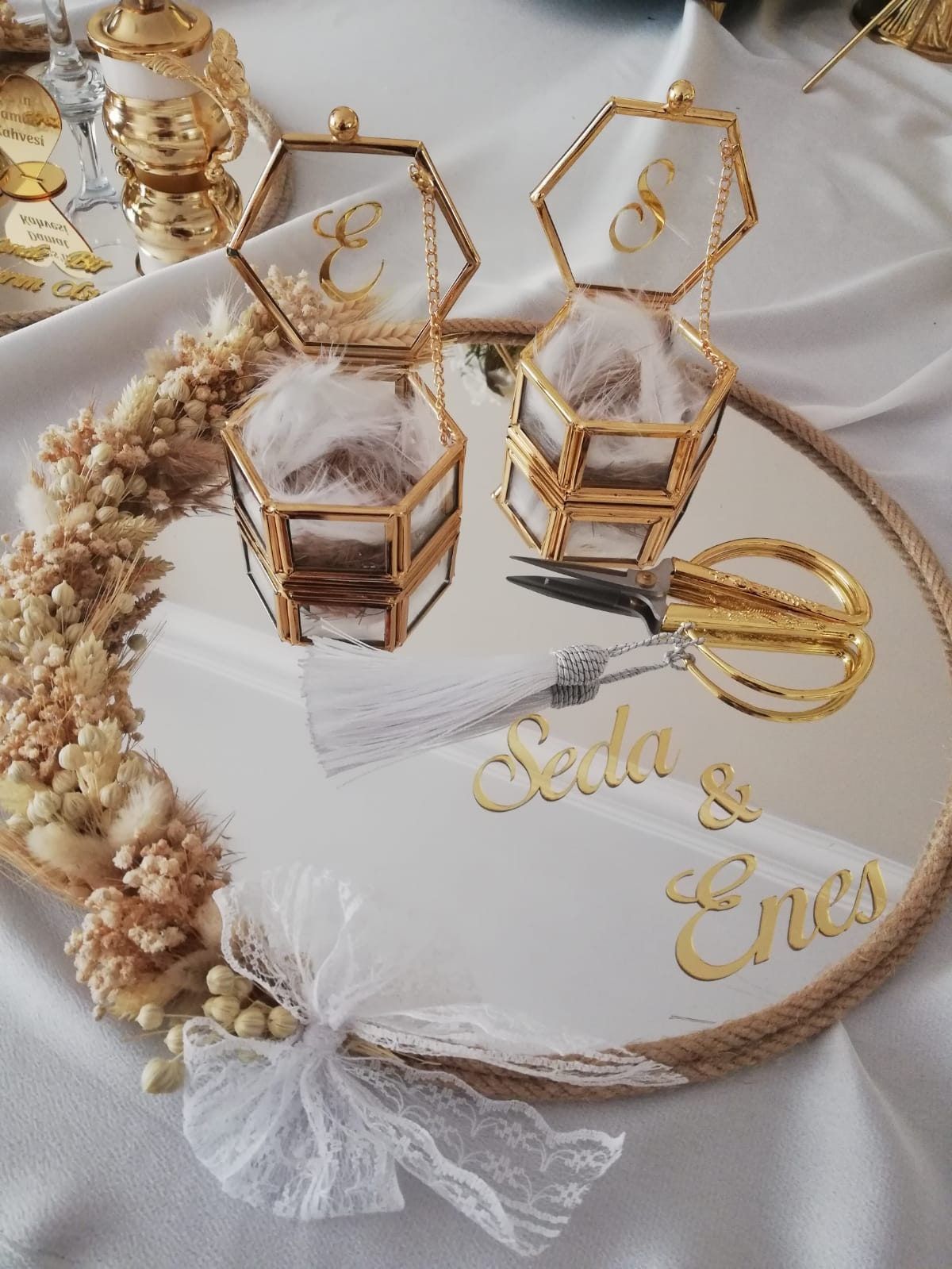 Image via Pinterest
You don't have to restrict personalised wedding ideas to the big décor items only. Think of details like the ring holder for the ring exchange. Personalise it with your couple names to add a touch of love!
Say It With Signages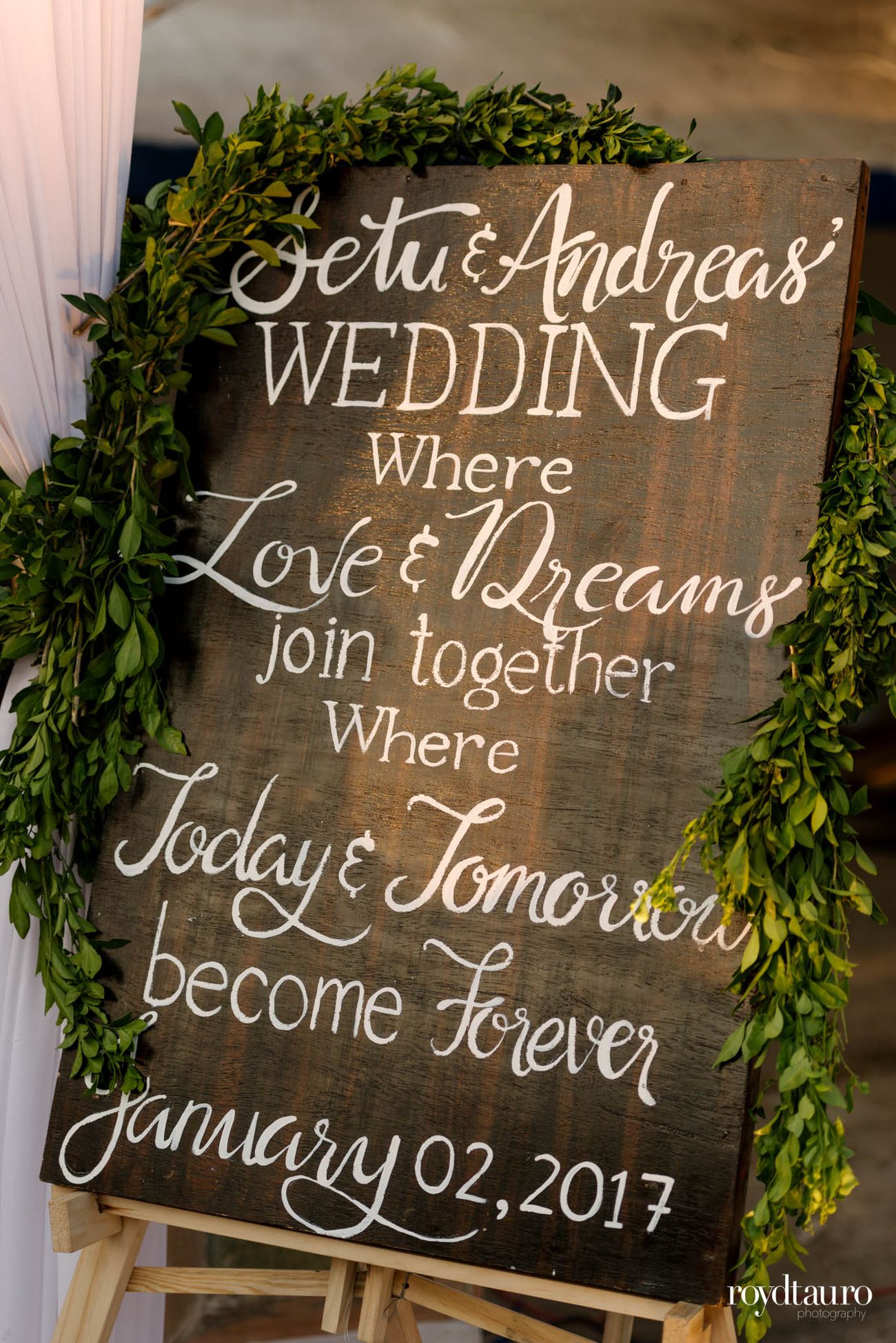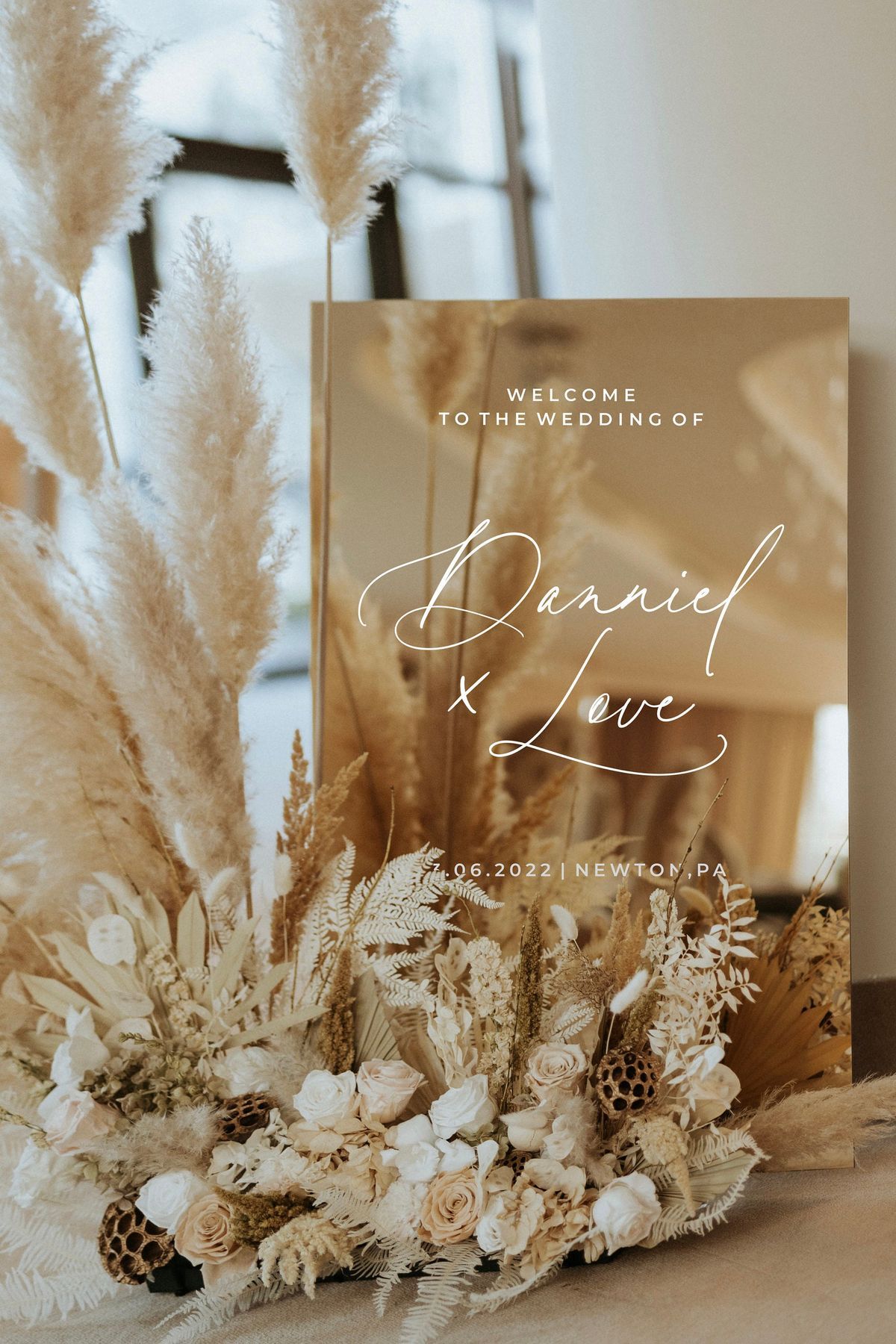 Whether it's welcome signage or a simple placard on a table, fun signage makes for lovely personalized wedding decor ideas!
Say It With Personalised Cocktail Names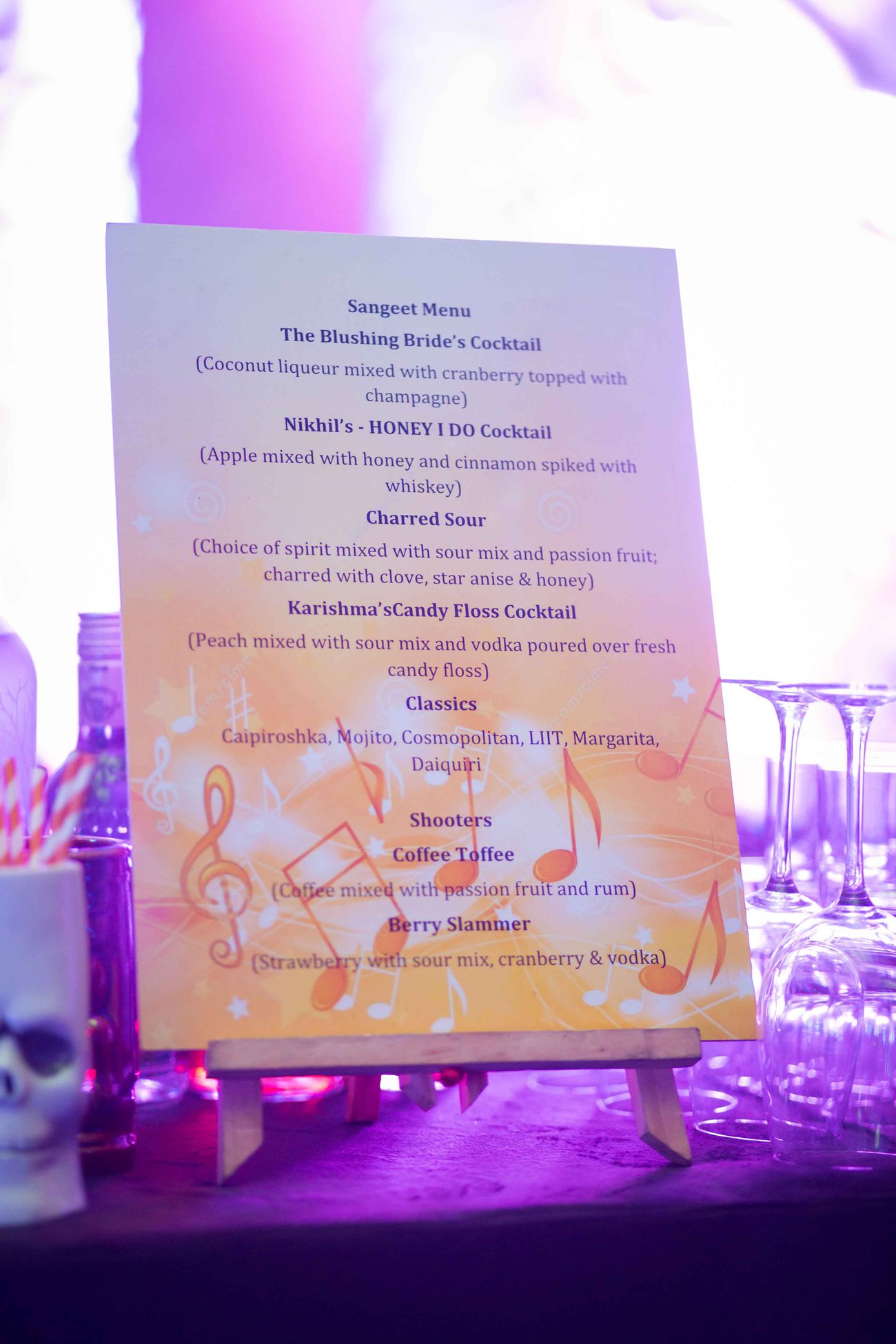 Image via The Wedding Crasher★ 4.8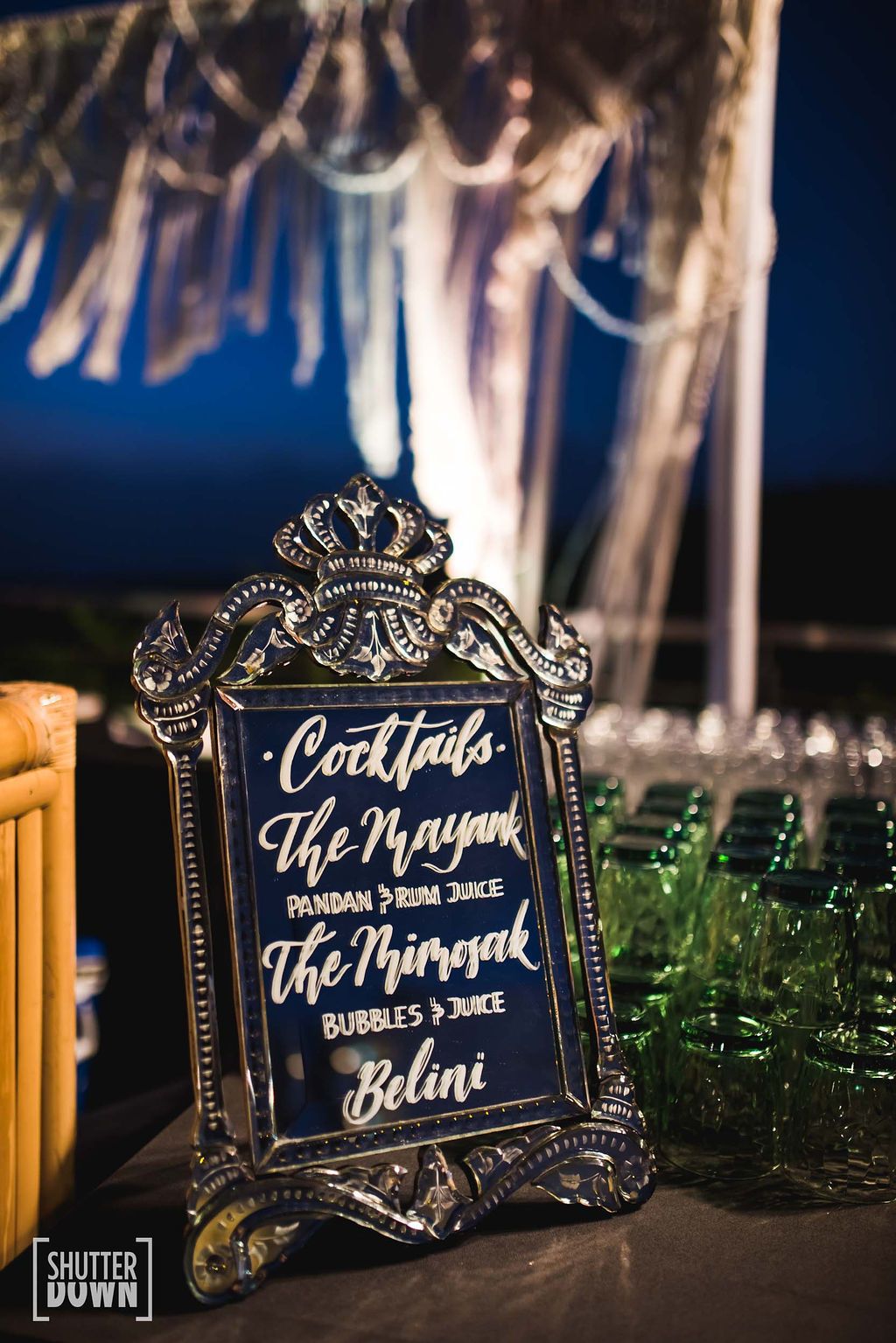 Image via Shutterdown - Lakshya Chawla★ 4.9
How fun is this idea? You can create personalised cocktail names after you and your partner at your sangeet and cocktail night. This makes for a pocket-friendly and cheap personalised wedding decorations idea as all you need to be is creative!
Say It With A Personalised Dance Floor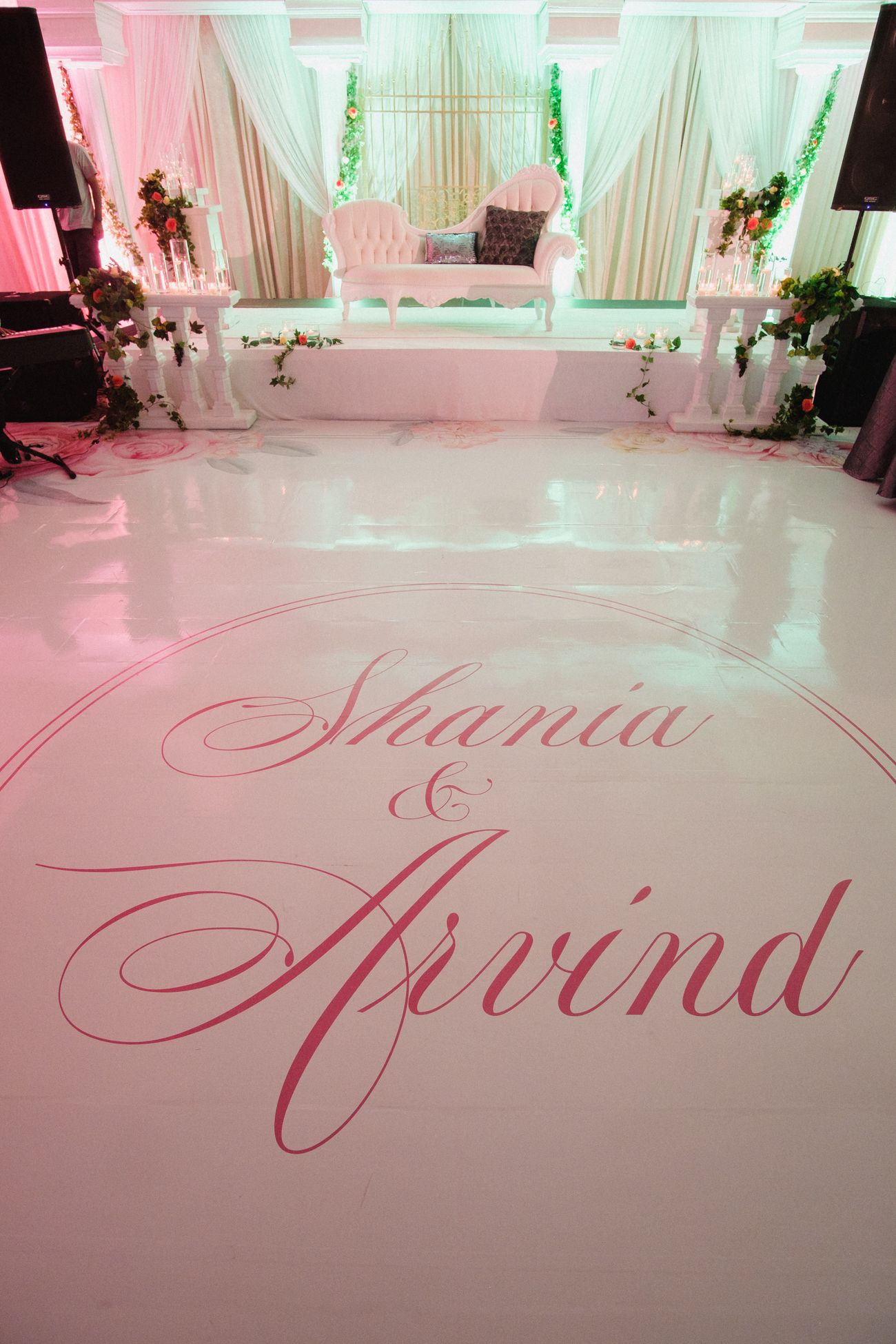 Image via Shania and Arvind
Dance the night away on your own personalised dance floor for your sangeet night!
Say It With A Photobooth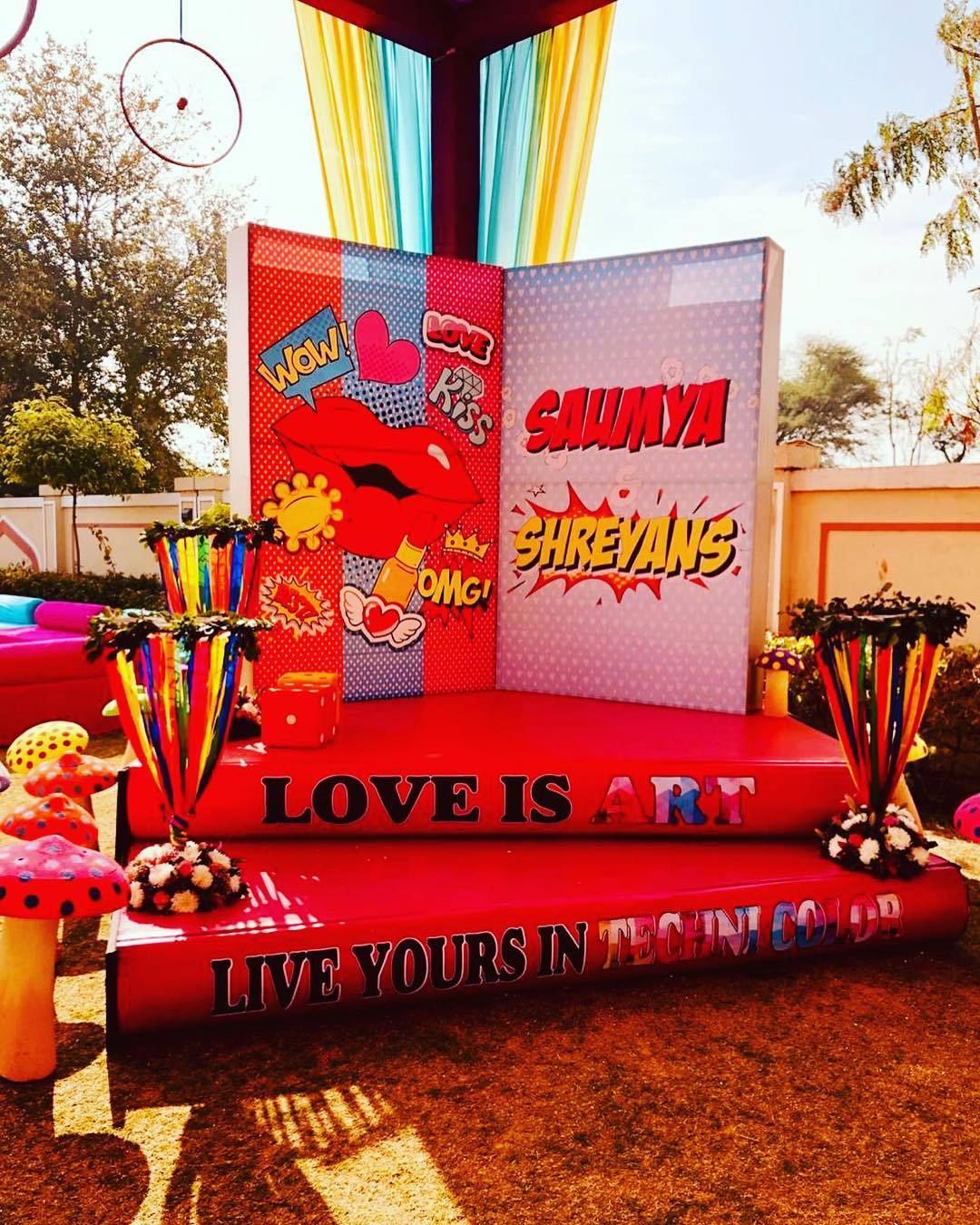 Image via Aarambh Events & Wedding Planner★ 4.3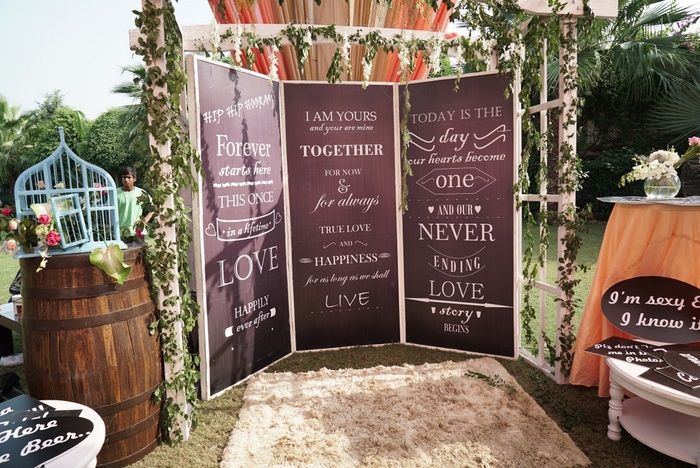 Image via Neharika and Ritik
We are loving this fun photo booth as personalised wedding ideas. Not only does it make for a fun décor element but you will also have it in all of your wedding photos!
Say It With A Wedding Hashtag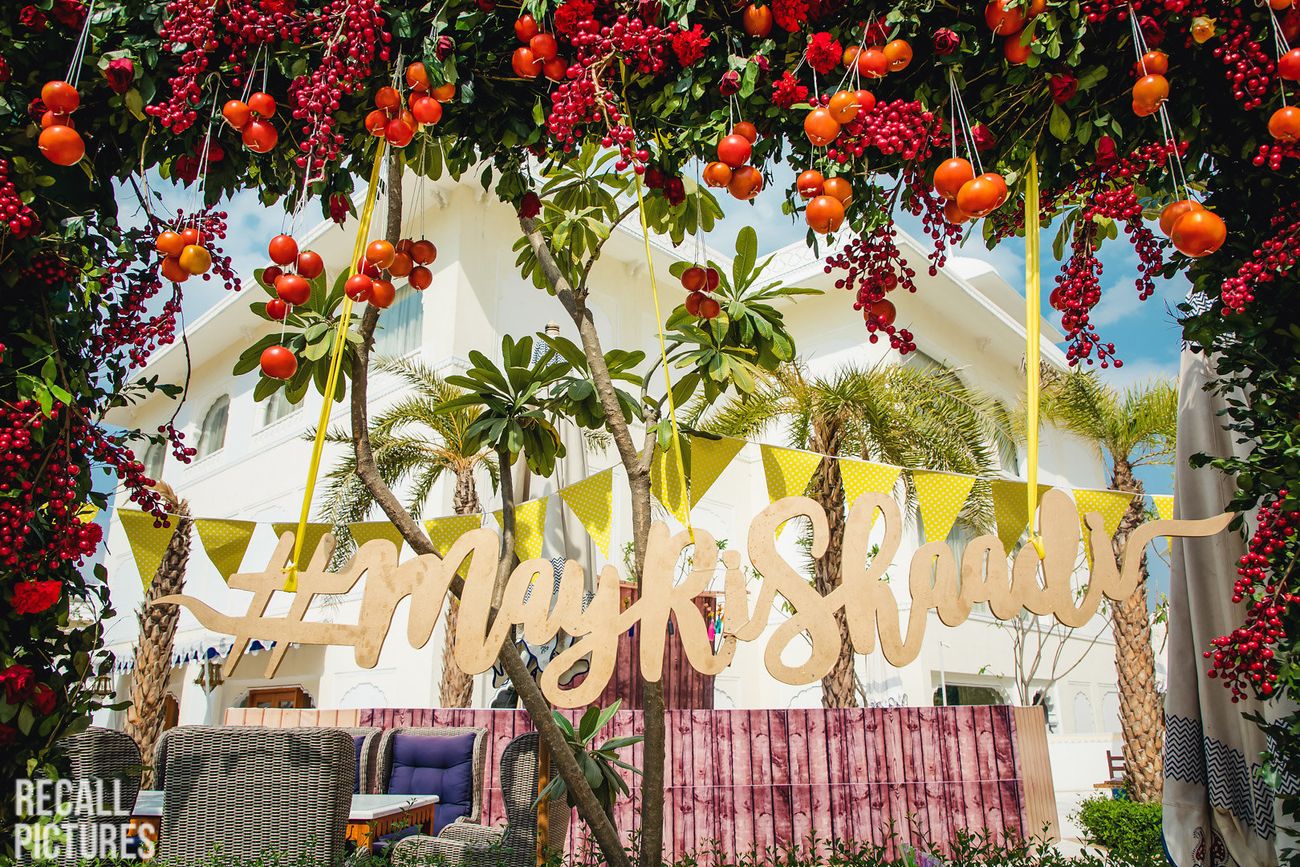 Image via Mayuri and Ritesh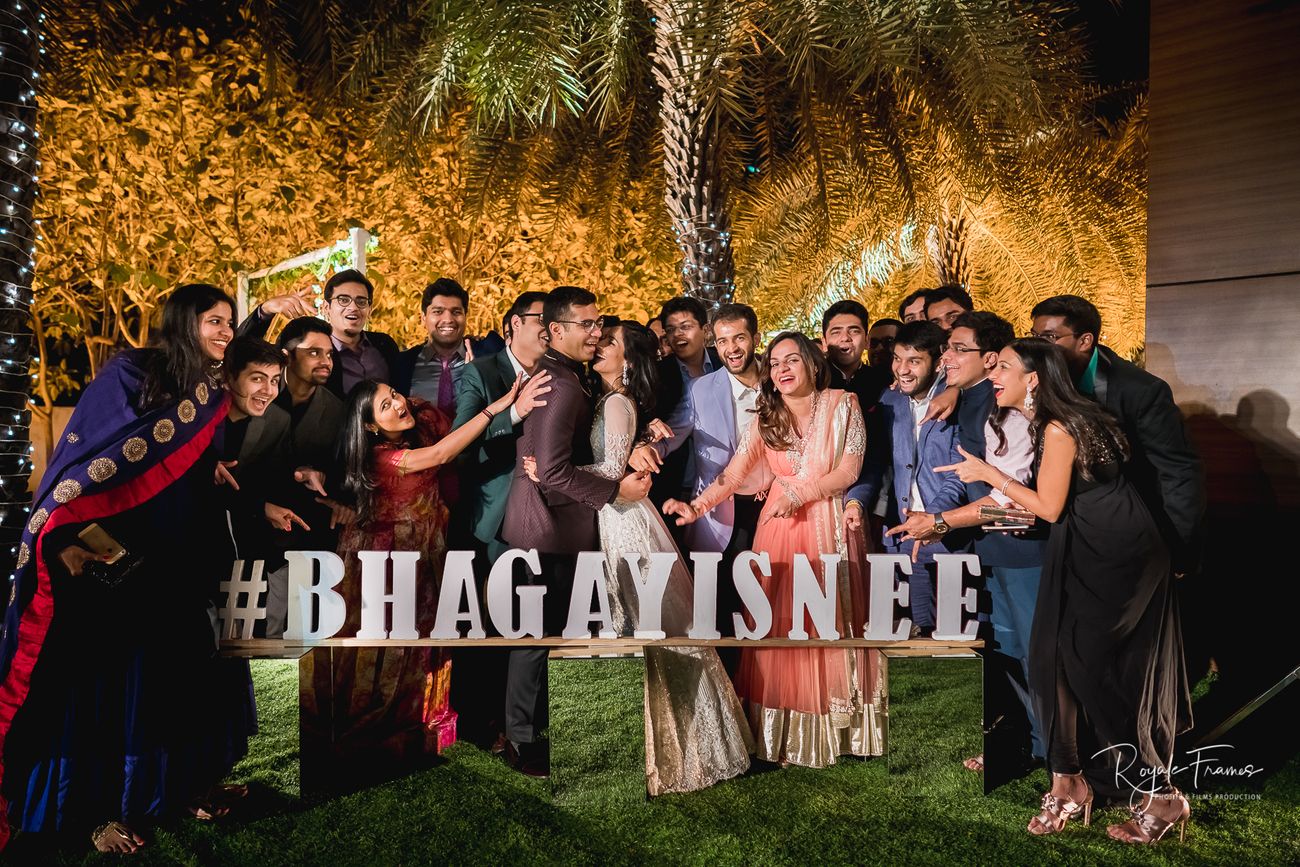 Image via Royale Frames★ 4.4
A creative and personalized wedding decor idea is a life-size wedding hashtag. Can be your backdrop for a dance or even as a welcome board to your event!
Say It With Photographs!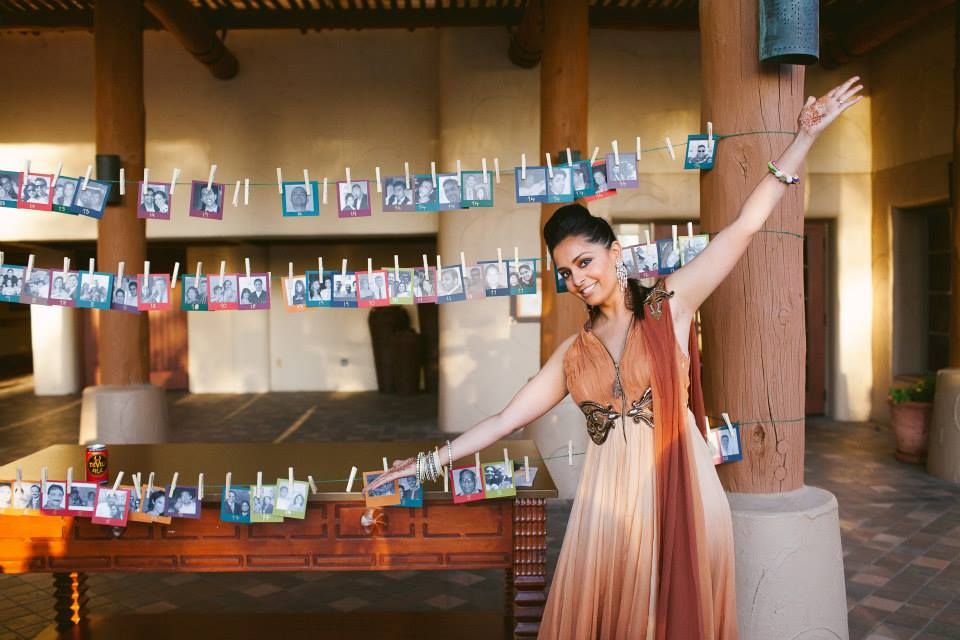 Image via Rupali and Nirav
Pictures are a good old way to share with your loved ones your joyous moments! A collage of your pictures as a table runner or pictures hung on strings can serve as table numbers or wishing tree items
For all things wedding décor, you can browse through our amazing WMG Gallery For Wedding Décor inspiration. And if you still haven't hired your wedding decorator, look no further than this list of amazing wedding decorators.