A Bangalore- Delhi Wedding with a 'Two States' Story : Kanaka & Sameer
BY The WMG Bride | 28 Mar, 2014 | 3800 views | 5 min read
Who is excited to see 'Two states' ?? *Raises hand high in the air*. While there is about a month to go for its release, we have our very own Two states story here on Wed Me Good.  Meet Kanaka and Sameer,  she is a Tam Bram from Delhi, and he is a Punjabi boy living in Barcelona. She wore Choora with her Kanjeevaram, he mixed up his suits with a lungi and had a wedding that was a melting pot of North Indian & South Indian cultures. Enjoy.
Meet Kanaka & Sameer
They met two years ago through a common friend when he was in Delhi for a wedding, and hit it off immediately.  Kanaka  recounts "We chatted with each other all the time, and he convinced me to come to Barcelona for my masters. That wasn't difficult for him anyway, because who wouldn't want to go to Barcelona. Also, since he might read this too, I loved being with him as well. The following year that I spent in Spain was by far the best time of my life. Every day was insanely fun, and I realized how much fun I had hanging out with Sameer. Throughout the year we travelled around Europe, ate amazing food, tried (and failed) learning Spanish together, and just had an overall beautiful experience. But the fact I appreciated the most was the level of compatibility I shared with Sameer. We were ALWAYS on the same page and didn't have a single argument. Even the mundane chores were just so much fun to do when he was around. I think that is what made me so sure about spending the rest of my life with him. Also, he can fix my laptop" .  (Haha..You found a keeper Kanaka!)"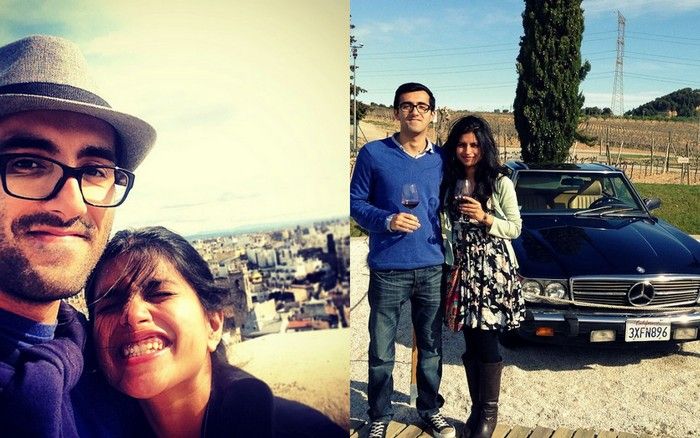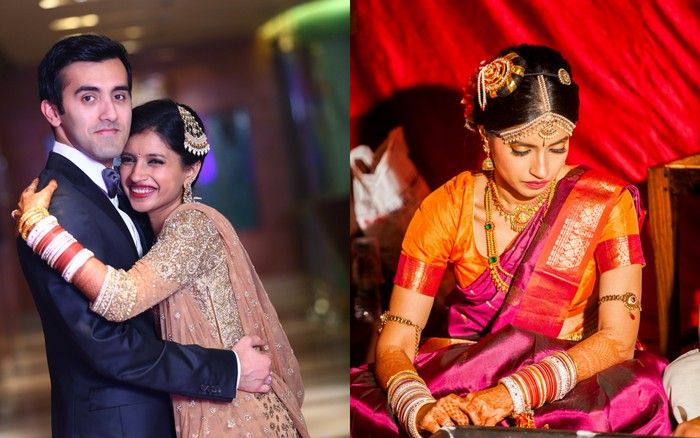 Okay, so Tam Bram Wedding or Punjabi Feras? How did you organise this shebang?
Well, there was a lot of discussion about whether it should be Punjabi or a Tamil affair or if we should just have both the weddings. We eventually decided on an Iyengar-style wedding, with touches of Punjabi masala sprinkled over it! This worked out perfectly for everyone, including myself as I had always dreamt of wearing a 9-yard Saree!
For the Punjabi element, Sameer and his family hosted Sangeet and cocktail celebrations in Delhi. We then had a Mehendi (which is not usually a part of the Iyengar-wedding) in Bangalore. Other smaller, but significant rituals included a Chooda and Kaleeray for the bride, and the Sehra-Bandi for the groom, on the morning of the Iyengar-wedding. My sisters and friends tried to steal Sameer's shoes, a very North Indian ritual, but thankfully, he managed to get his footwear back without seriously damaging his bank account.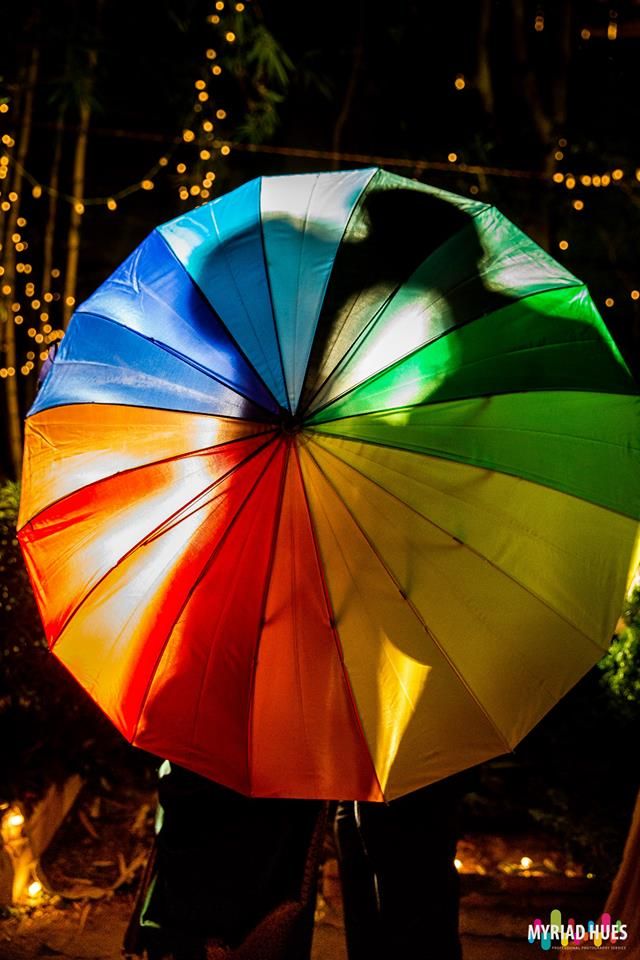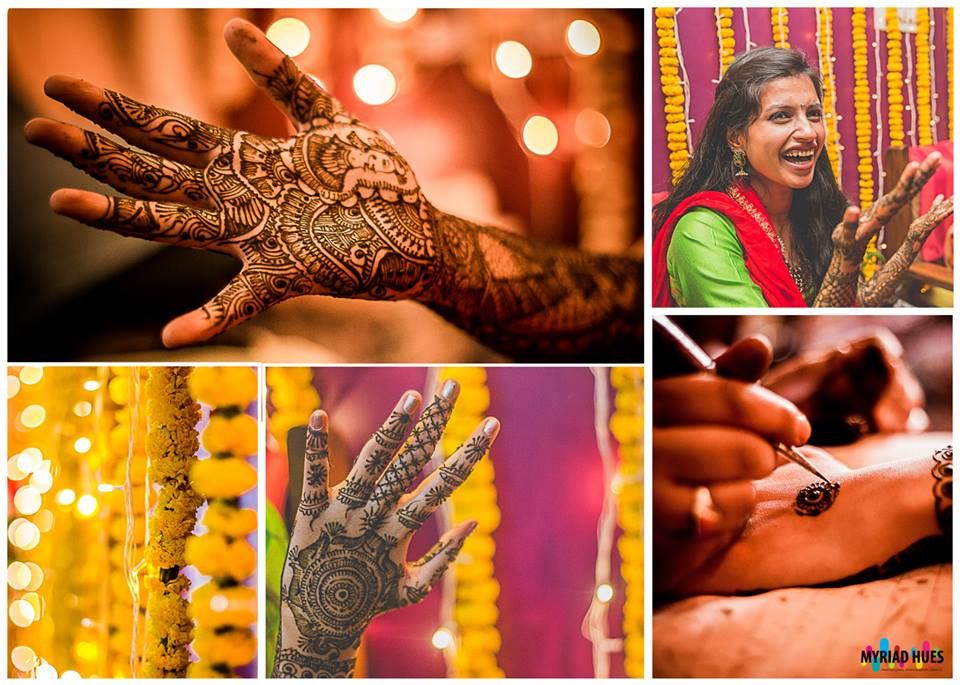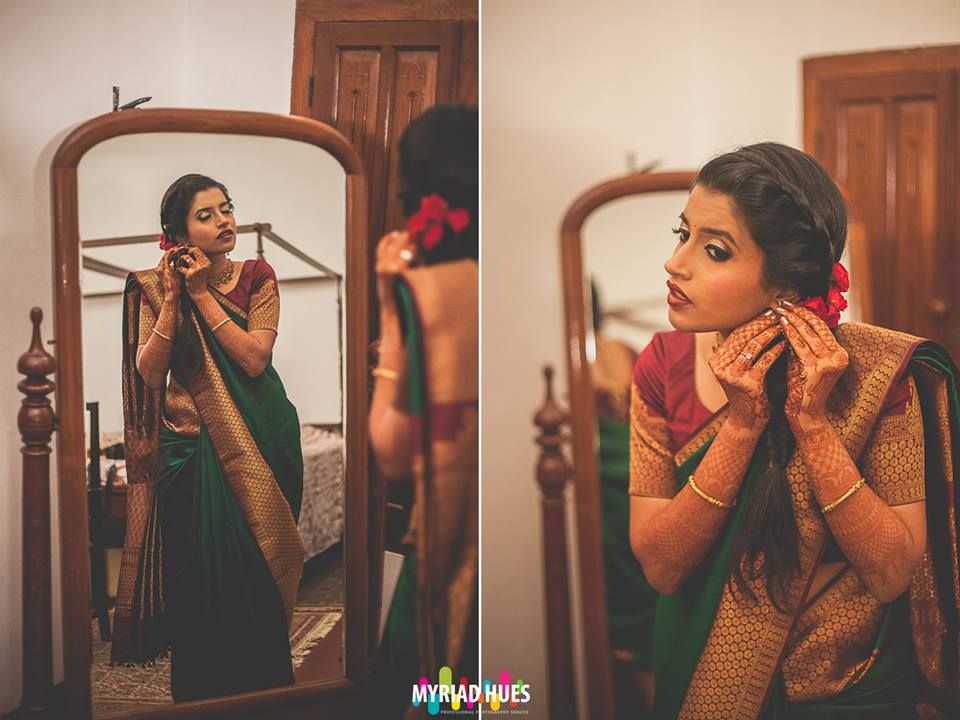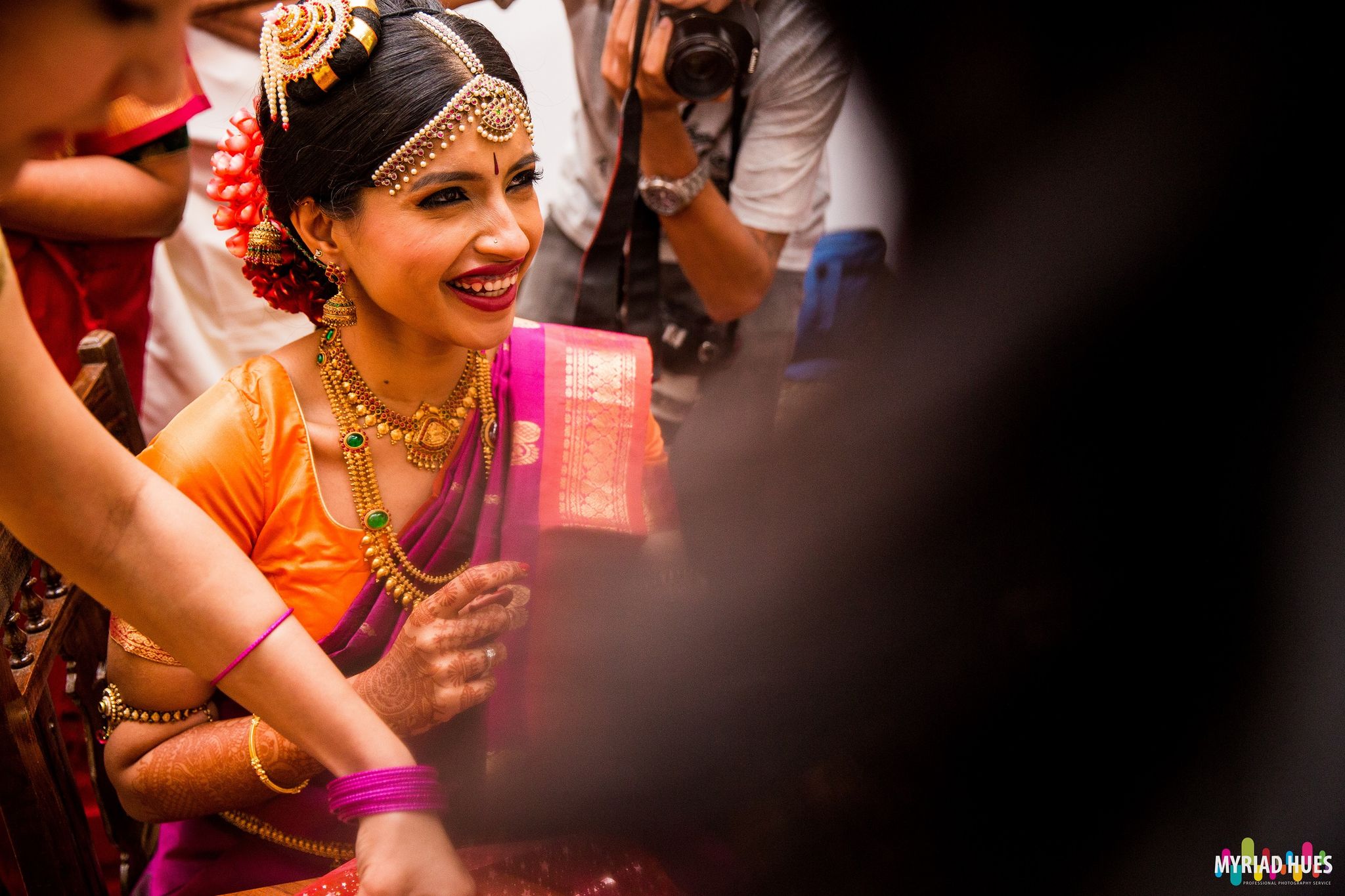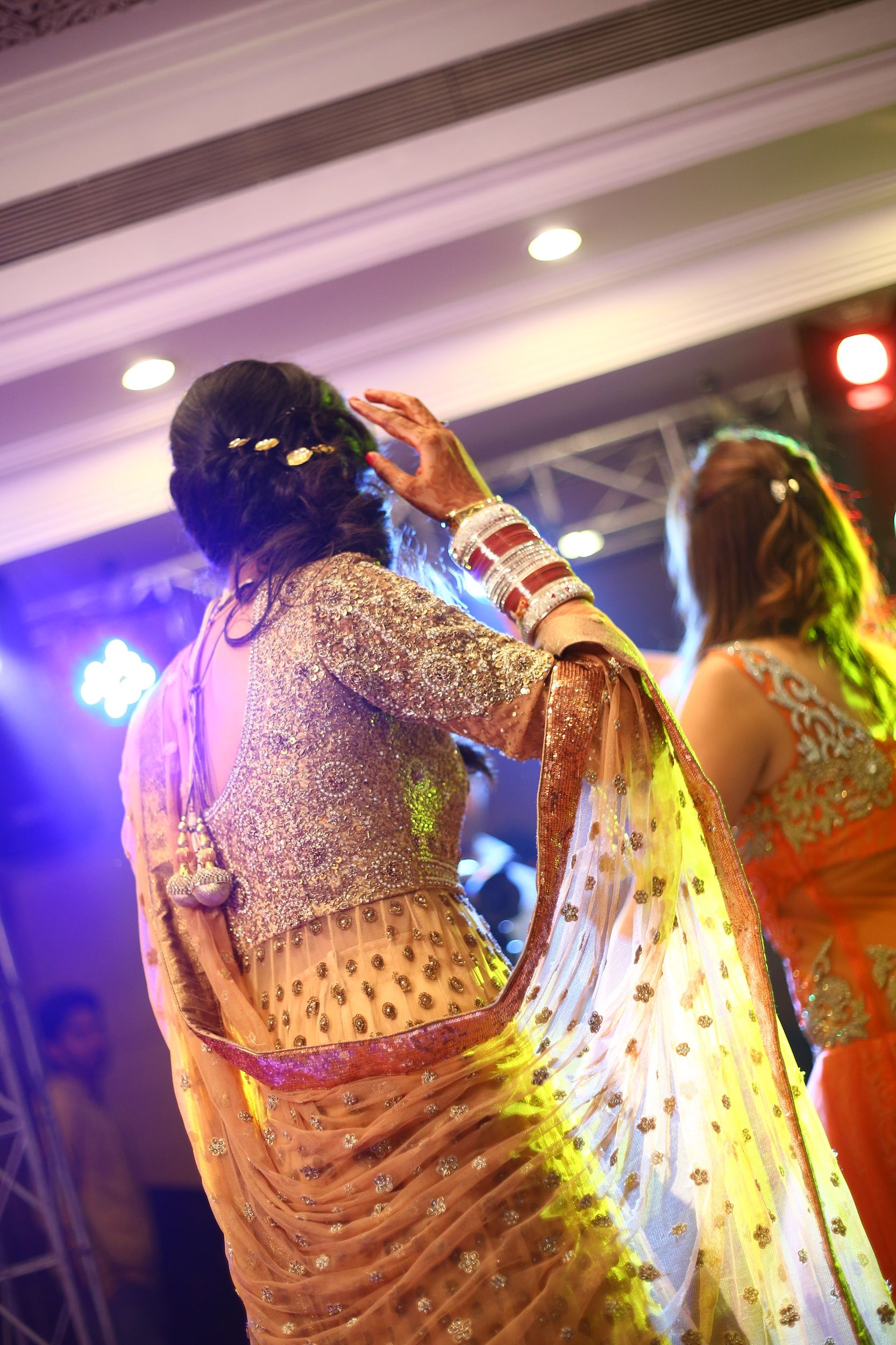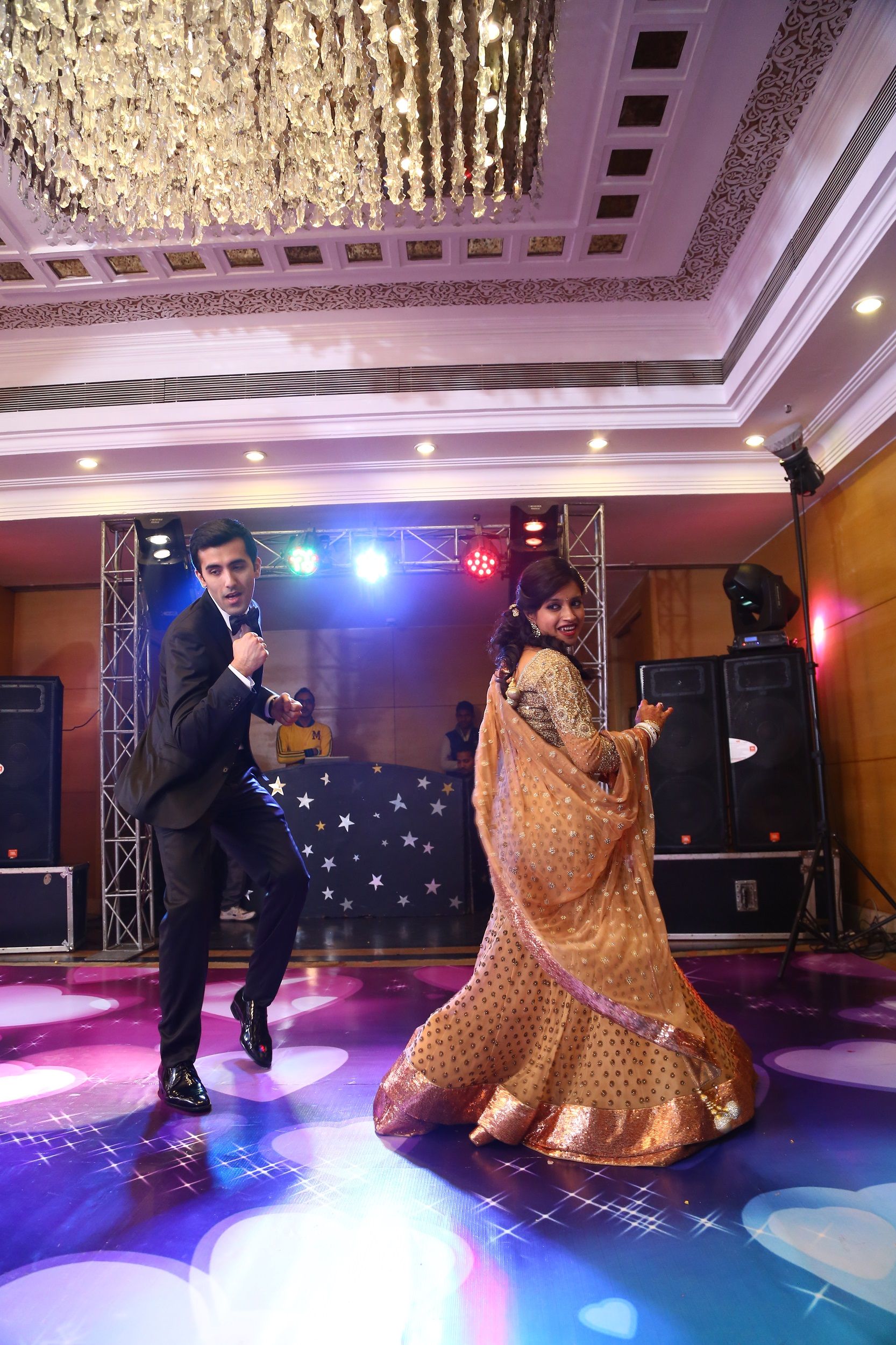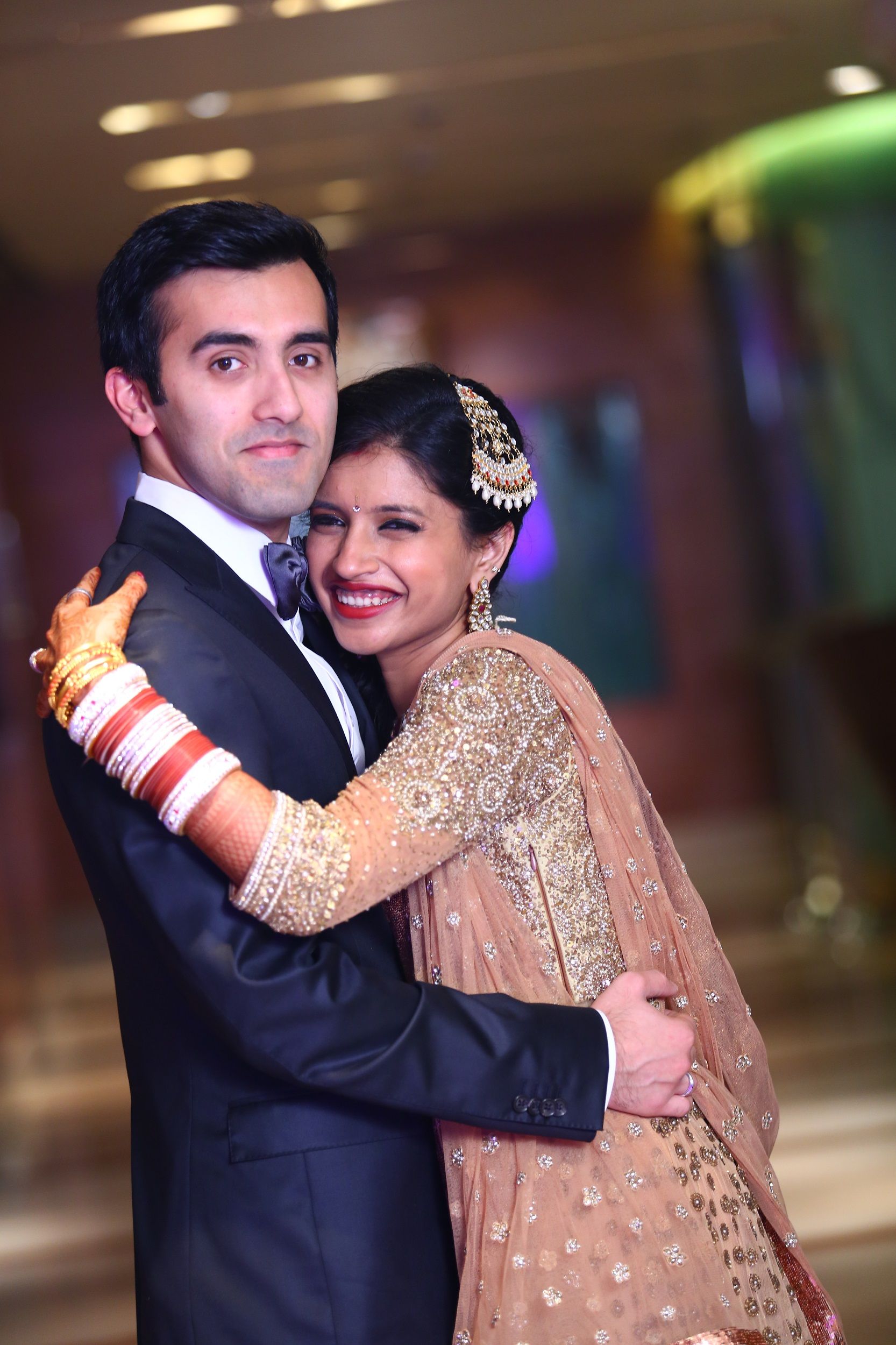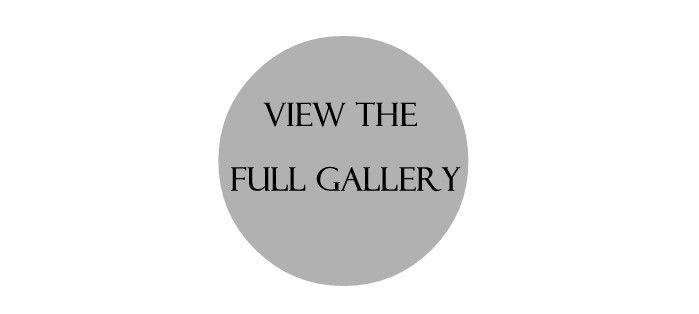 Tell us a bit about your wedding shopping process
Mehendi and Iyengar-wedding: For the two events, my outfits were simple and traditional. I shopped for my trousseau in Bangalore and stumbled upon a store called "Tamanna", which turned out to be a one-stop destination for my Mehendi suit; a scarlet Red and Green patiala suit and sari blouses.
South Indian Reception & Wedding: For this reception (please note that in the South, the reception precedes the wedding), I wore a classic Kanjeevaram in Green and Red with a vintage Gold-pallu. This sari was love at first sight!  The Iyengar-wedding was a very southern-traditional affair. I wore my mother's Kanjeevaram Fuchsia & Orange saree with the added Punjabi tadka of chooda and kaleeray. The follow-up ensemble for the Kanyadaan was a Yellow and Maroon 9-yard saree from Nalli's.
The Punjabi Reception: Finding outfits upto this point was pretty simple. The challenge was finding an ensemble befitting the Punjabi affair! The Delhi reception was planned a glamorous evening and I was extremely nervous as I was having no luck finding the outfit to fit these celebrations. The below-average designer lehengas I had seen in Bangalore were definitely not my cup of tea! Luckily, at this point I stumbled upon the design team at IFE & DEEPAK, and had a chance to browse through their design Lookbooks. Once I had a chance to see the rustic vintage outlook of their work and the extent of detailing in their embroideries, my mind was made up!
However IFE is a designer house that operates from their work-studio in Kolkata and offer consultations via online and phone exchanges.  After hours of discussions and persuasion, I finally managed to convince them, and IFE  helped me put together a design ensemble taking into consideration all my choices and preferences.  When the outfit was complete and I received the finished images, it was more GORGEOUS than I had imagined! I don't think I have received so many compliments in my entire life as I did on my reception.
Vendor details:  | Makeup: Lekha & Meghana in Bangalore | Photographer :Myriad Hues Bangalore, Prem Studio in Delhi |  Brides Outfits: IFE Deepak shekhar (beige lehenga), Tammanna World for Mehendi, Orange and Pink Saree- Brides moms|
Get your personal wedding planner at your fingetips. Download the WedMeGood App Today !!