A Beautiful Mumbai Wedding With A Bride In Dazzling Outfits
BY Aakanksha | 20 Jun, 2019 | 10776 views | 5 min read
How do you pick a favourite when each and every outfit you come across is equally gorgeous? You don't! Just as we couldn't when it came to Snehi's excellent outfits. When we featured her engagement, we knew that her wedding will be an equally, if not more, spectacular affair. From the ruffled dupatta with a lime green lehenga she wore on her haldi, to the golden gown she donned for her sangeet and the uber stylish pants and cape she wore for her mehendi, Snehi ensured that she not only looked beautiful but absolutely different than any other bride we've come across. Even her bridal lehenga was unique yet traditional. However, when she posed with her super adorable dog in her bridal portraits, we fell a little more in love. Recall Pictures★ 5 captured this super pretty wedding in a picture-perfect manner and you just have to see all this gorgeousness for yourself!
Meet Snehi & Bhagya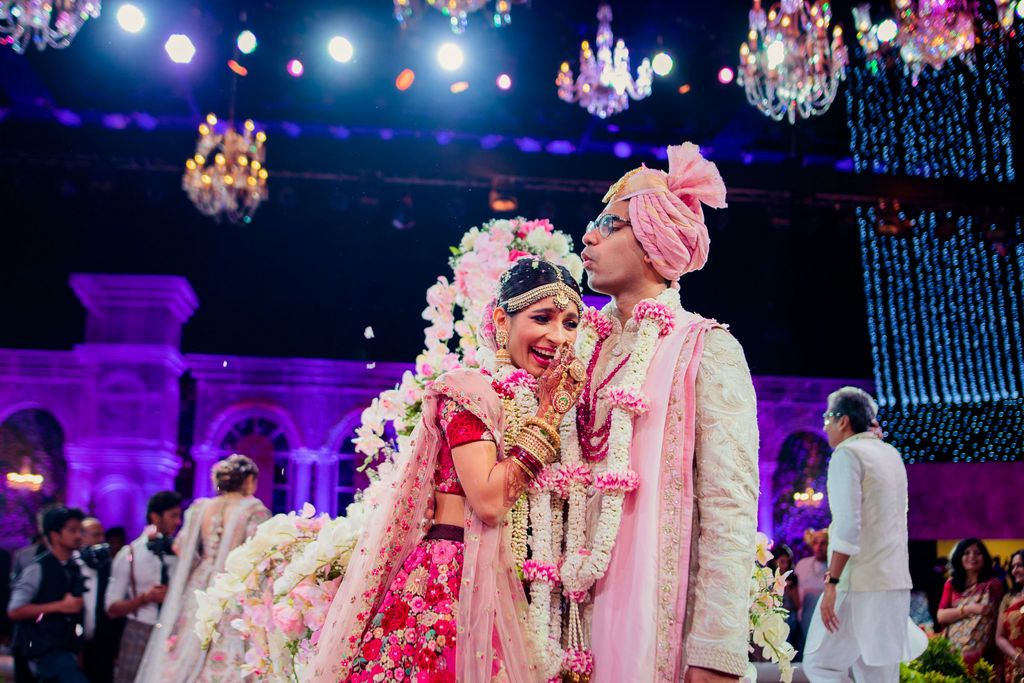 The Haldi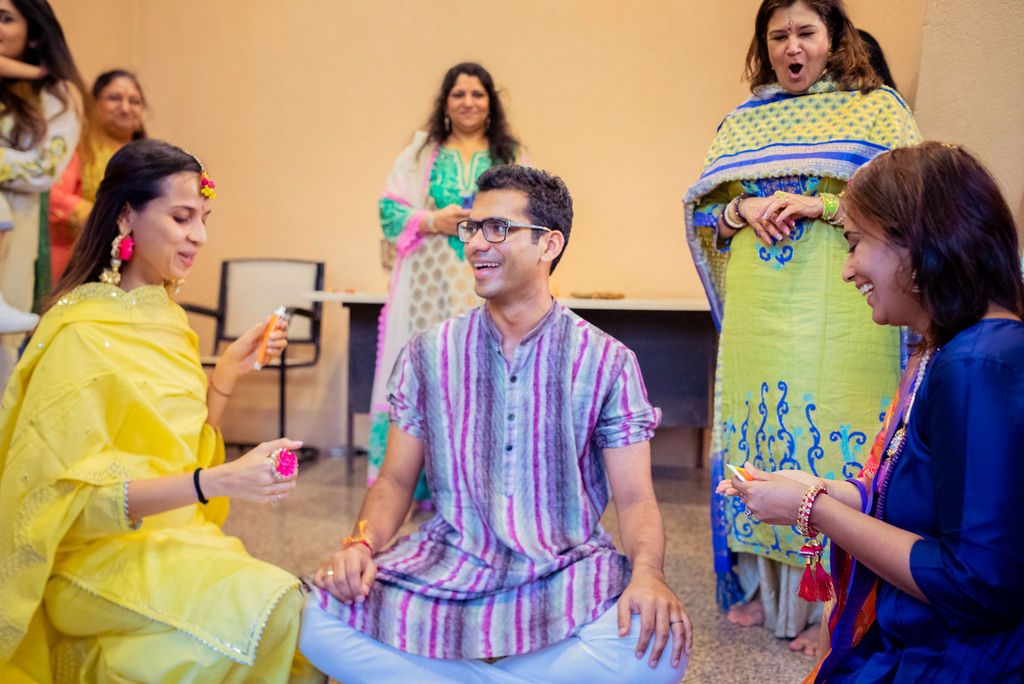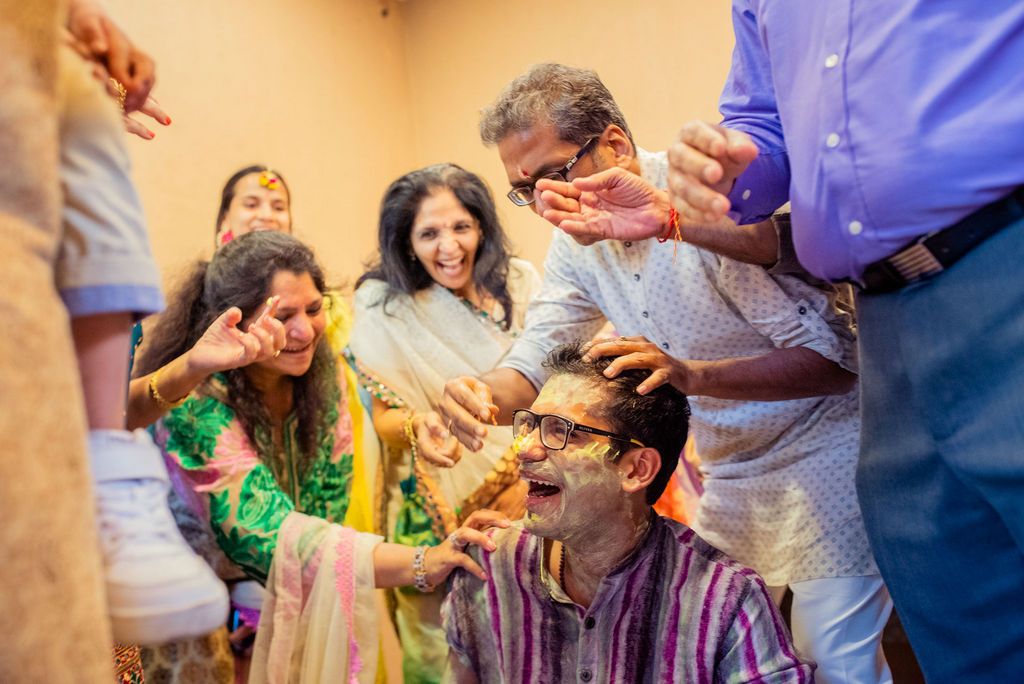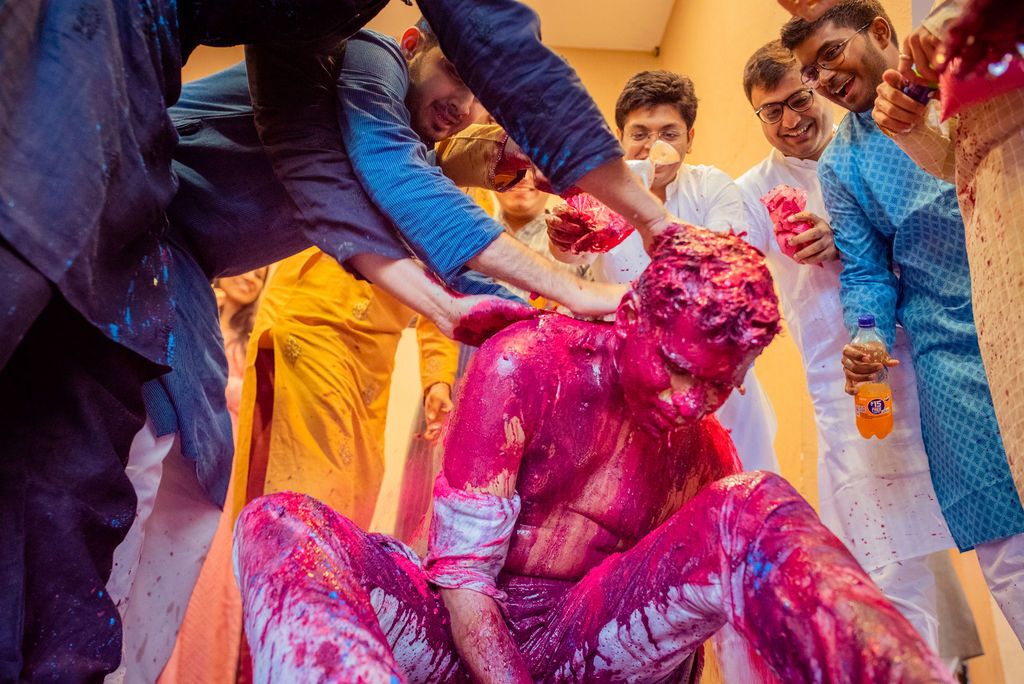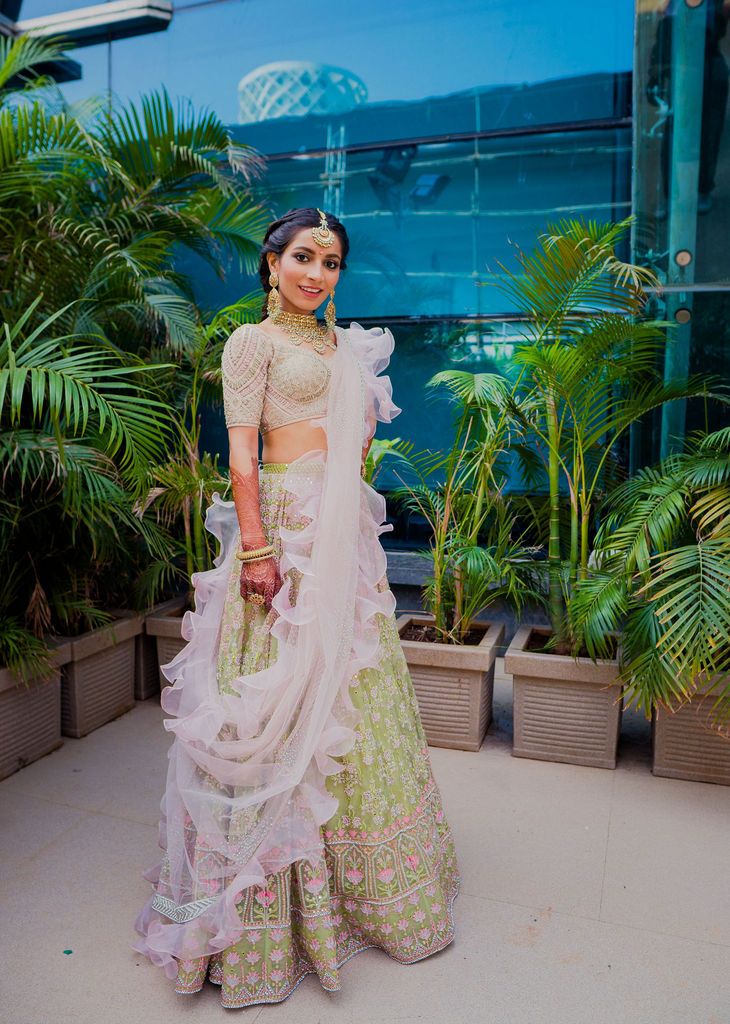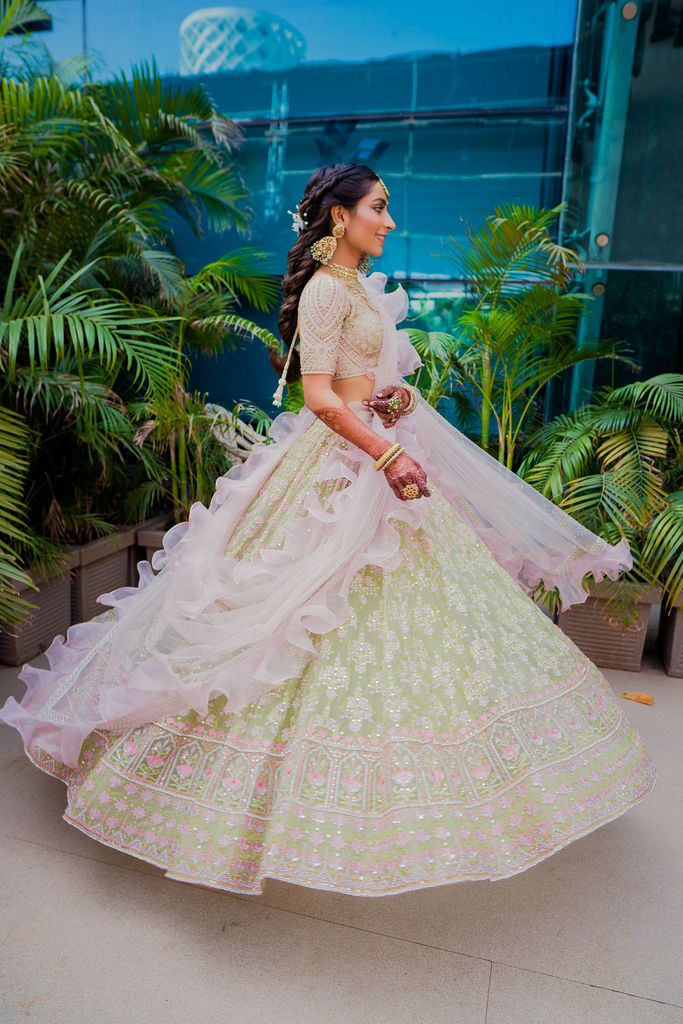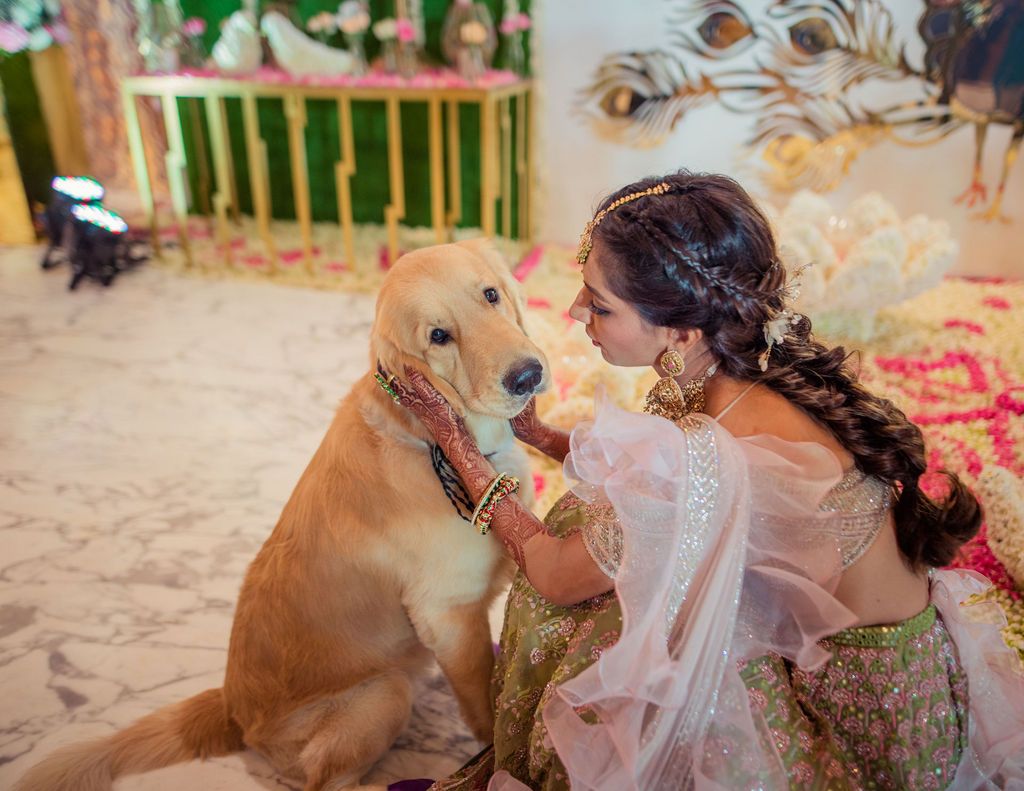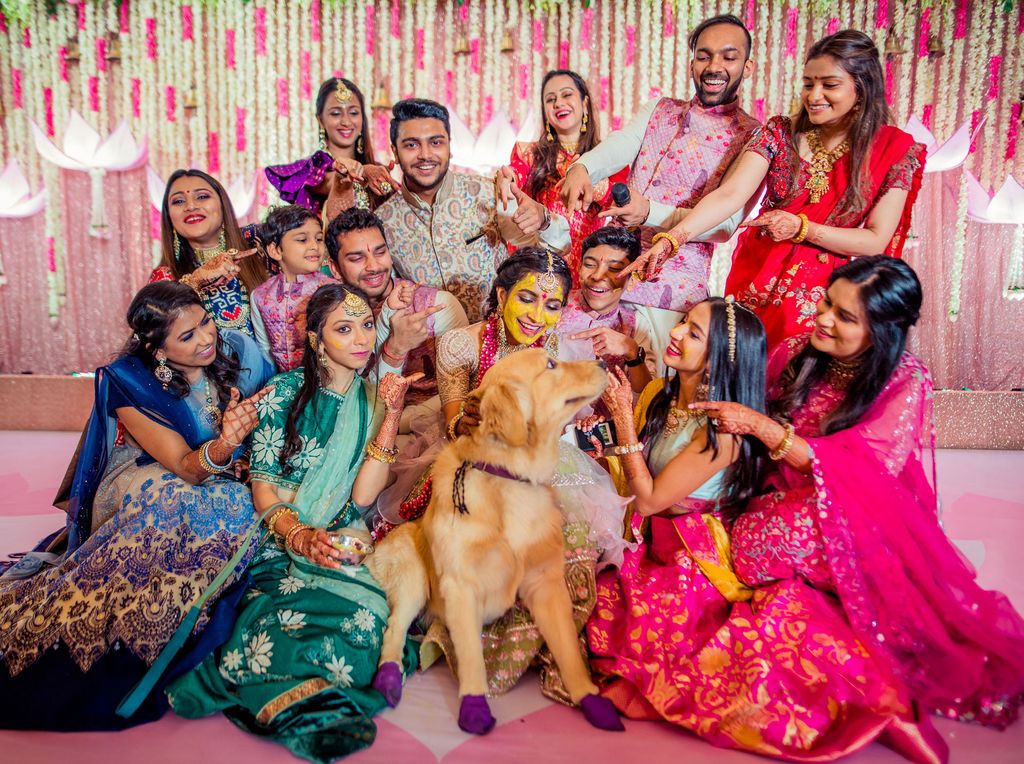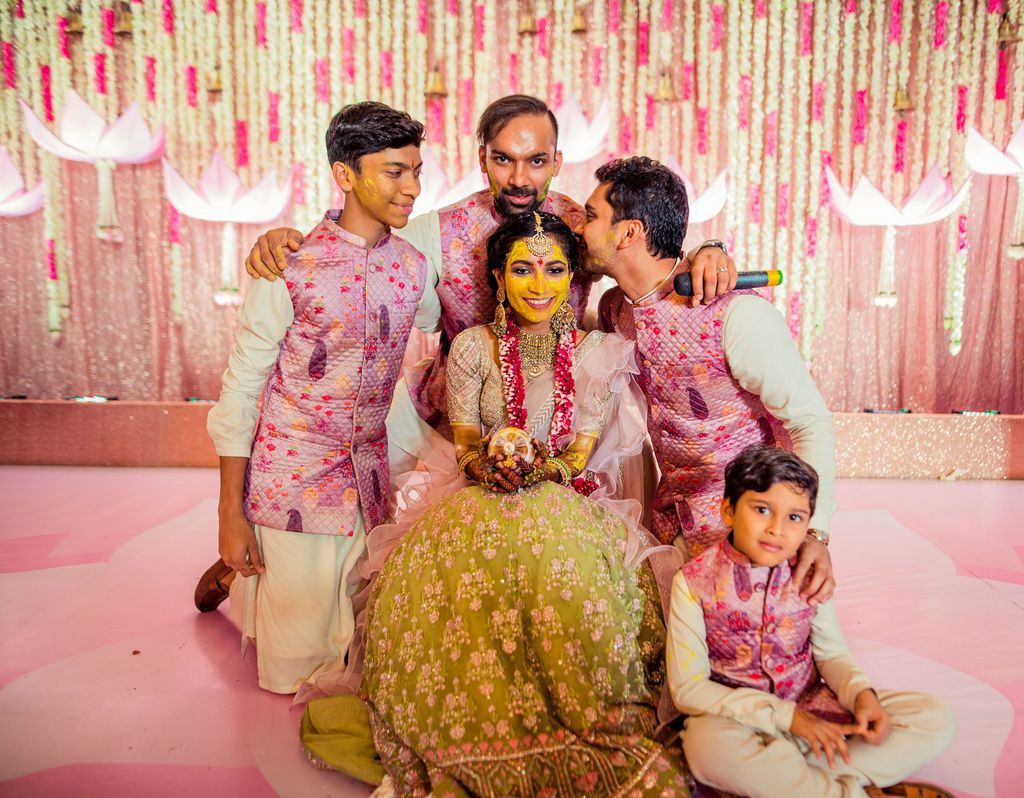 The Mehendi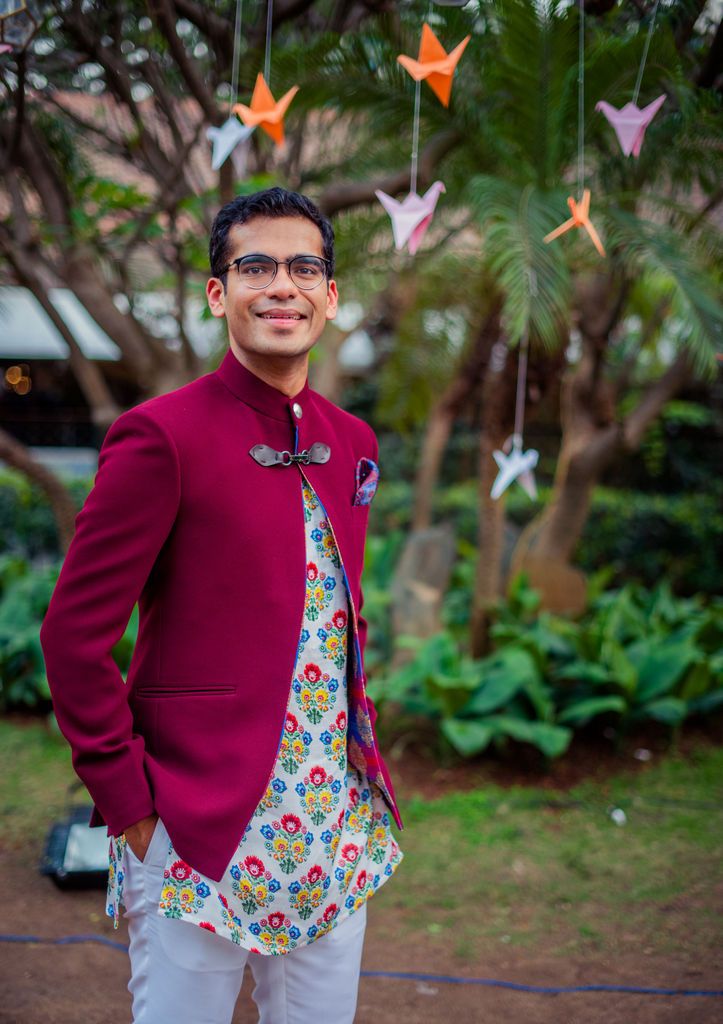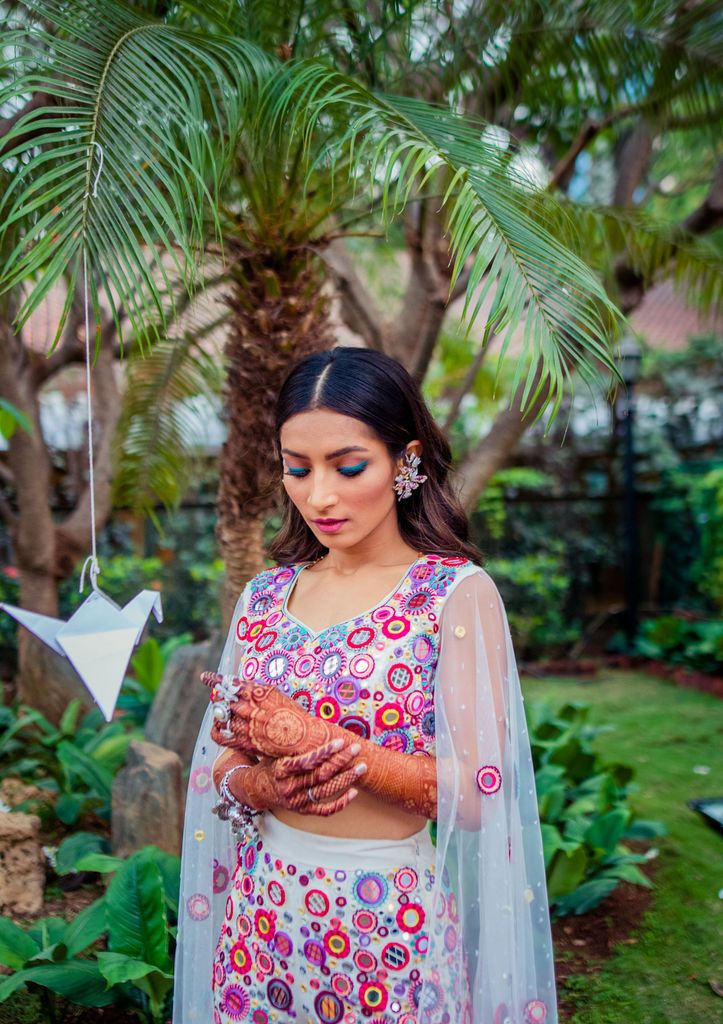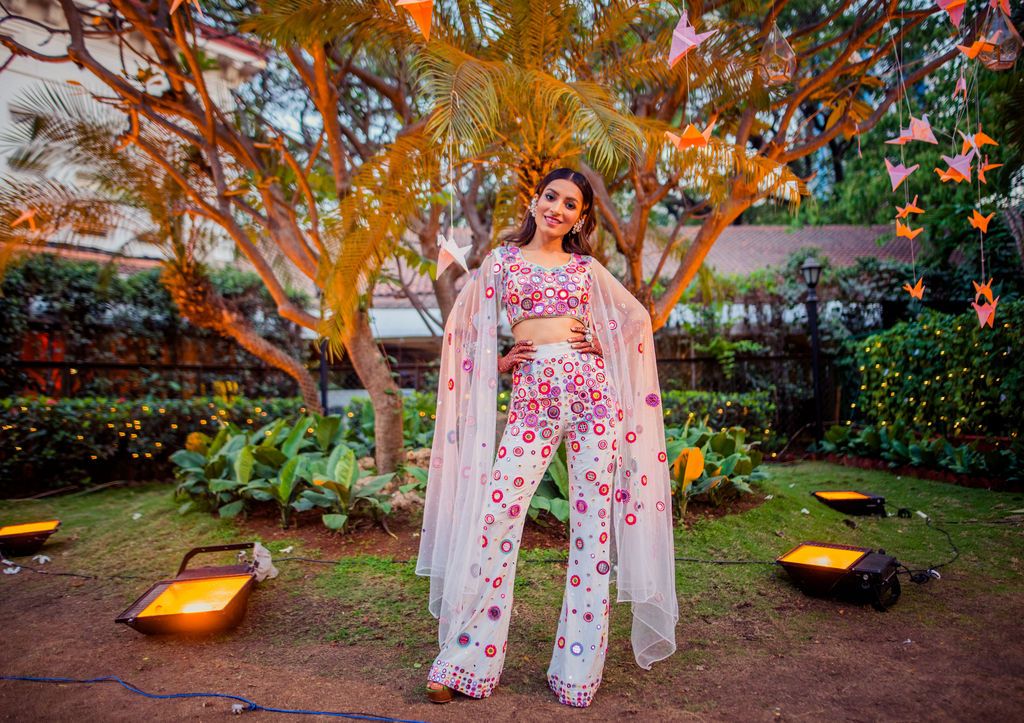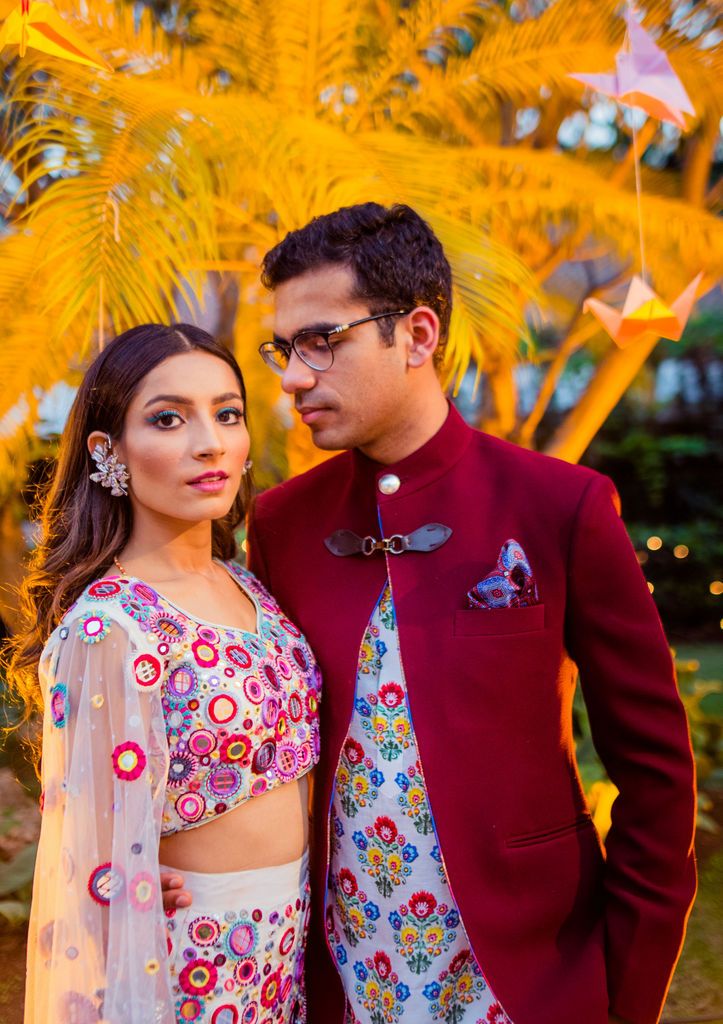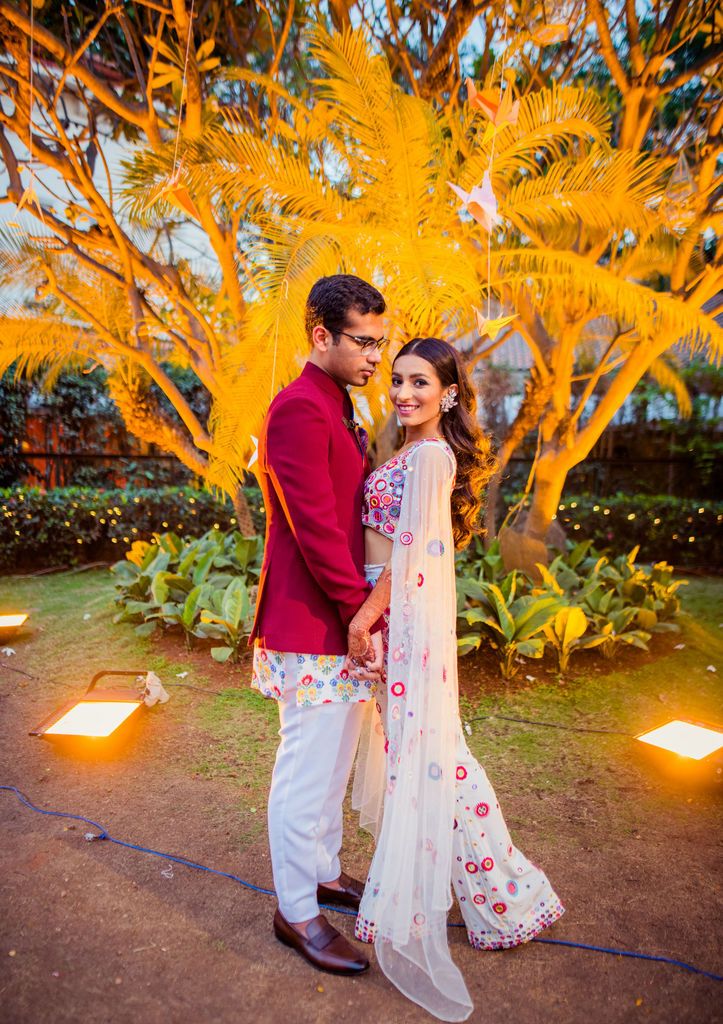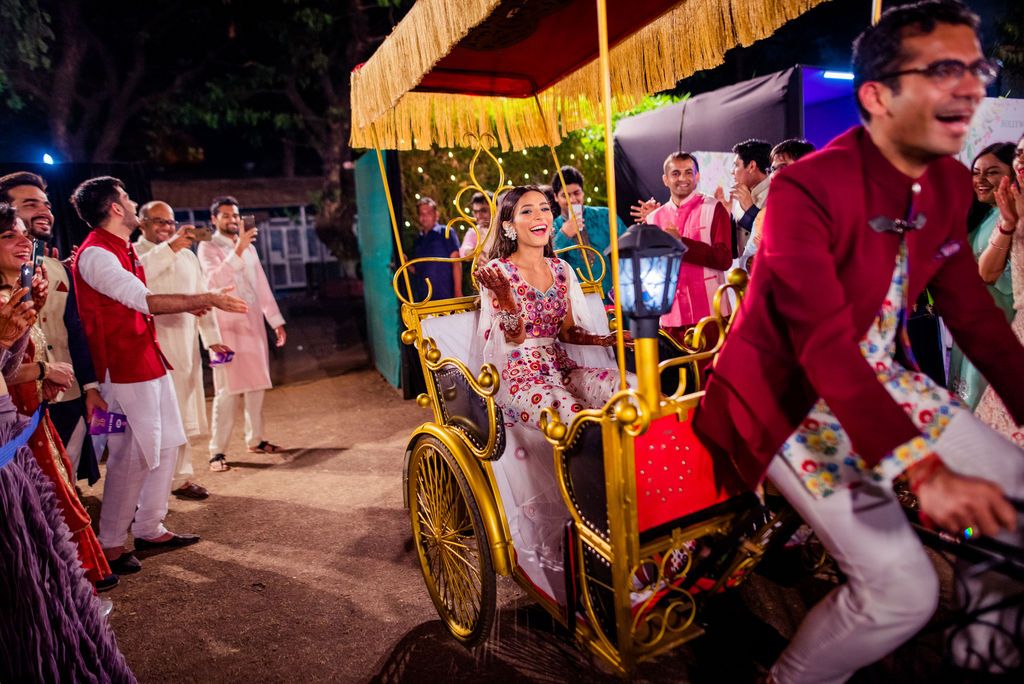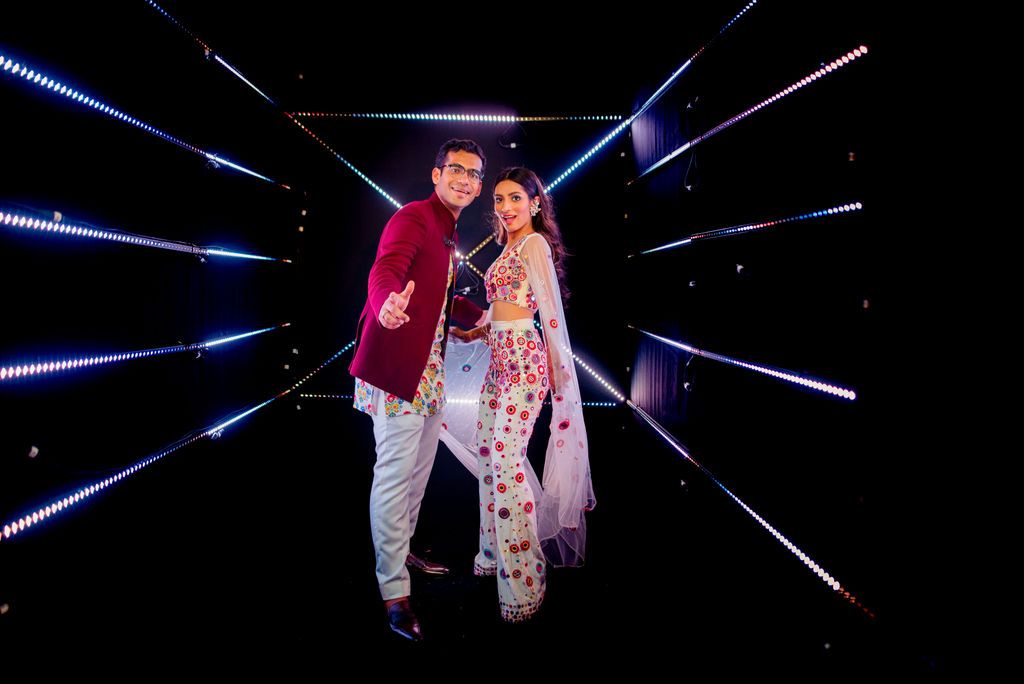 The Sangeet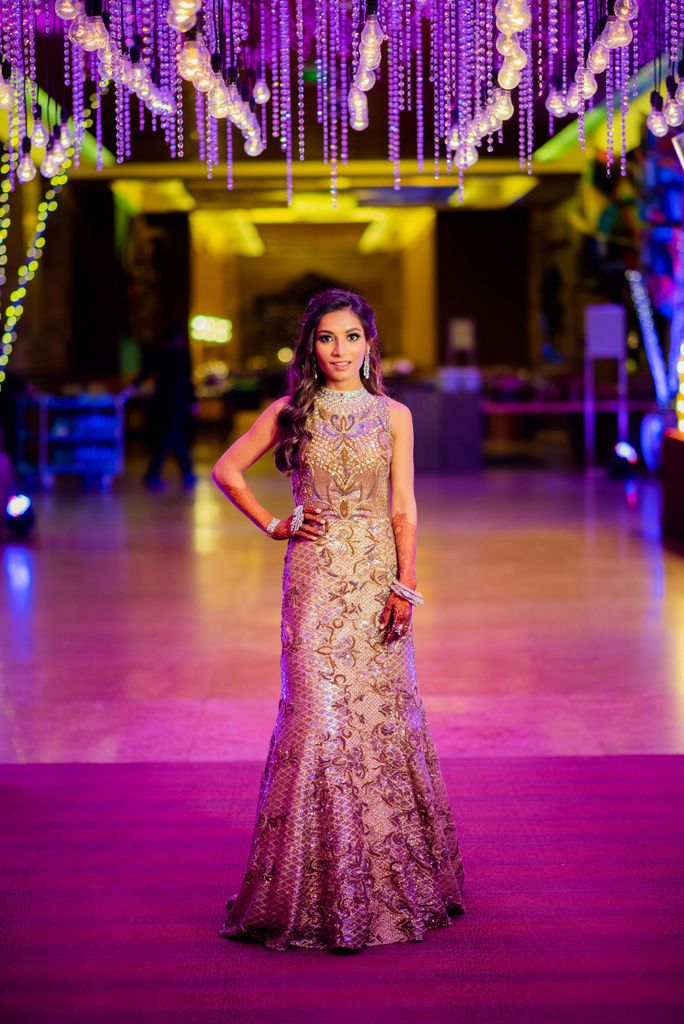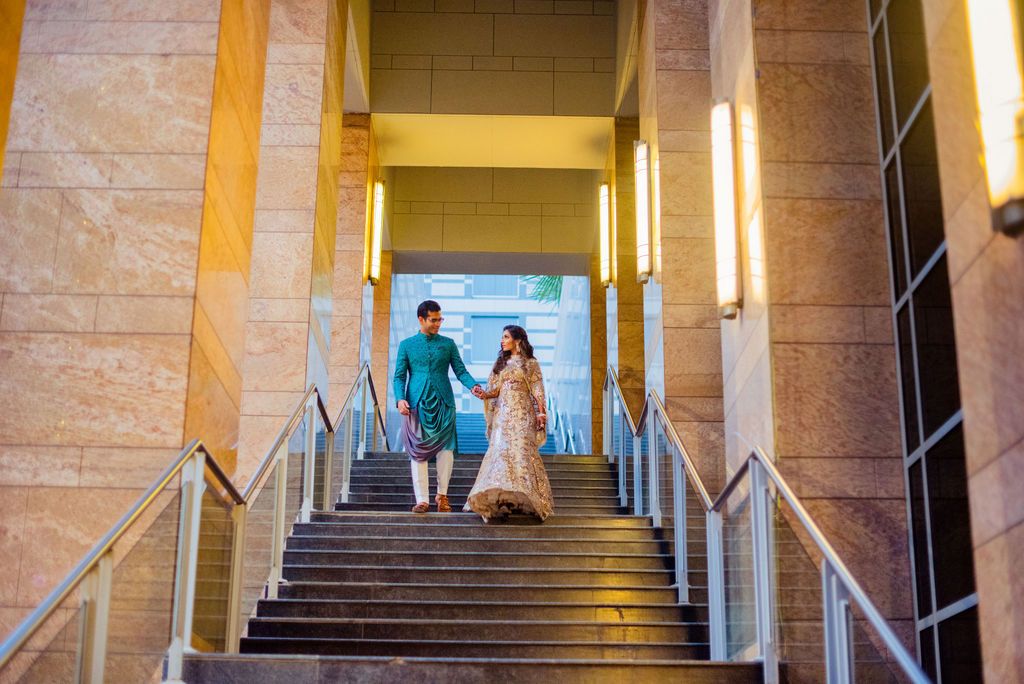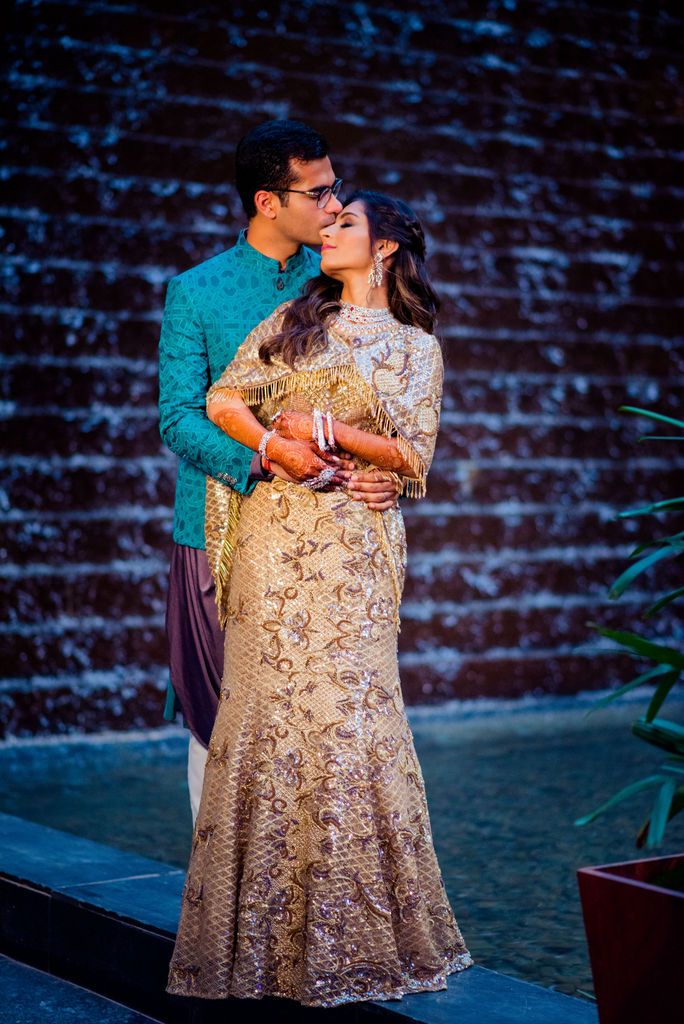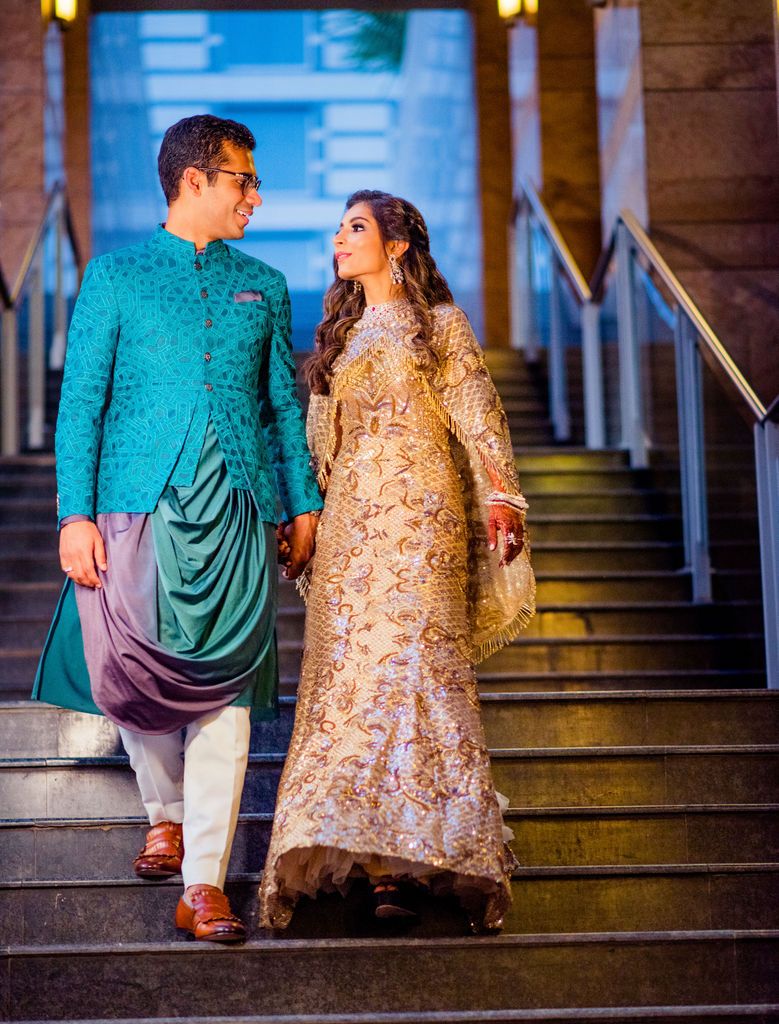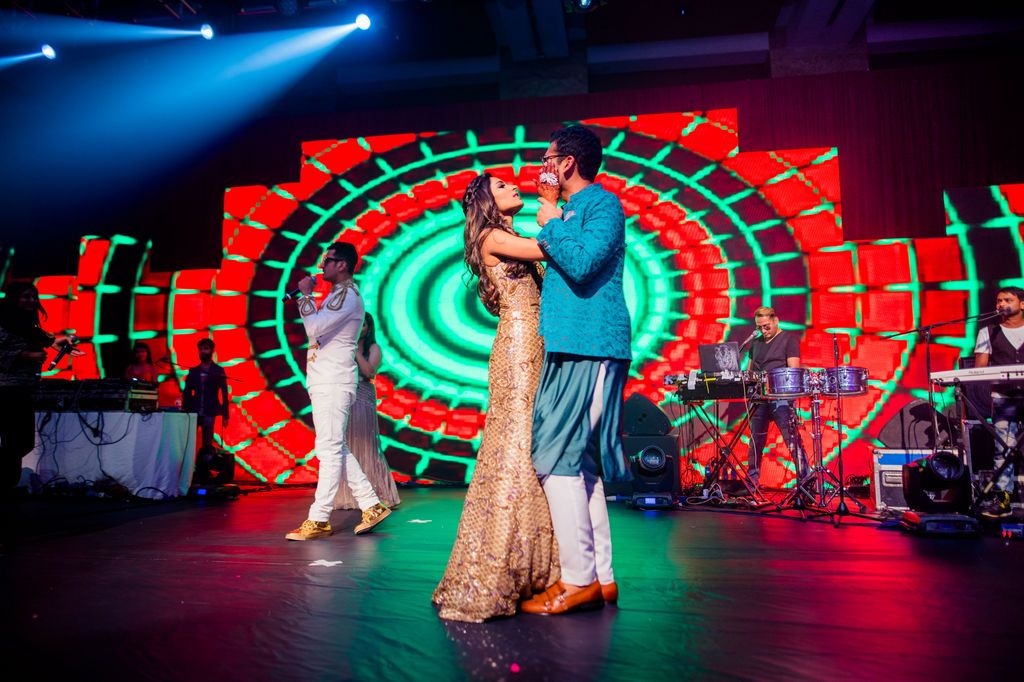 The Wedding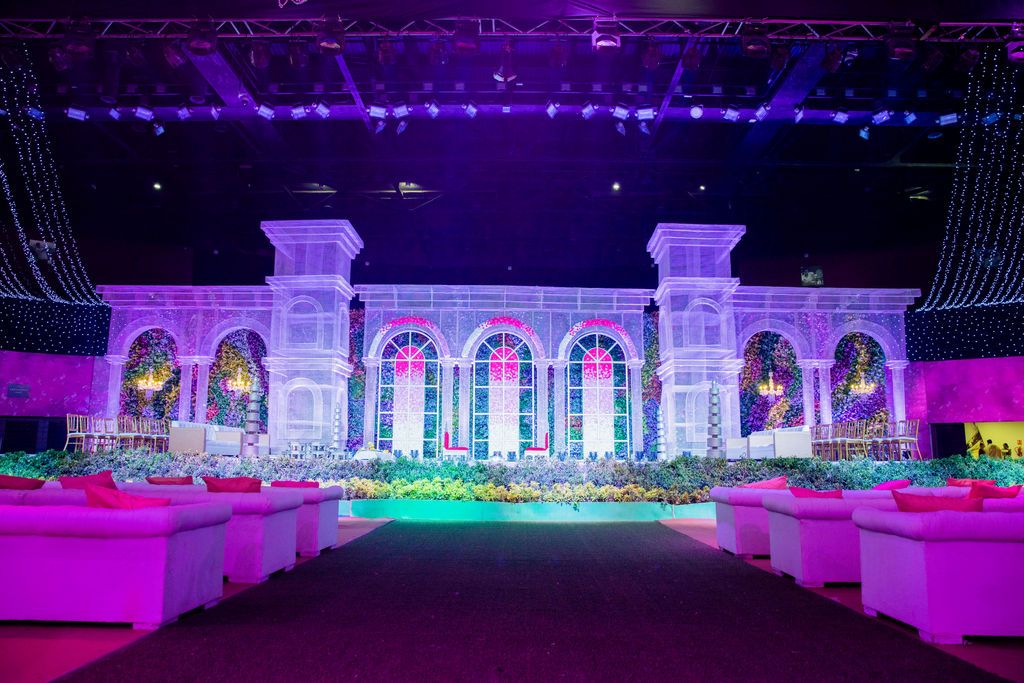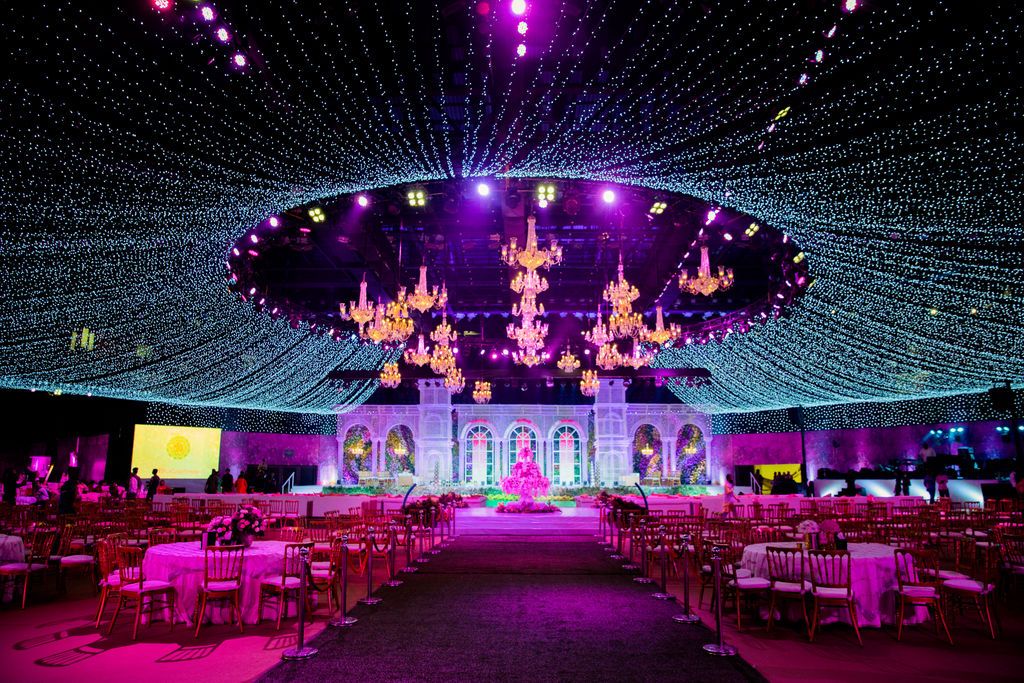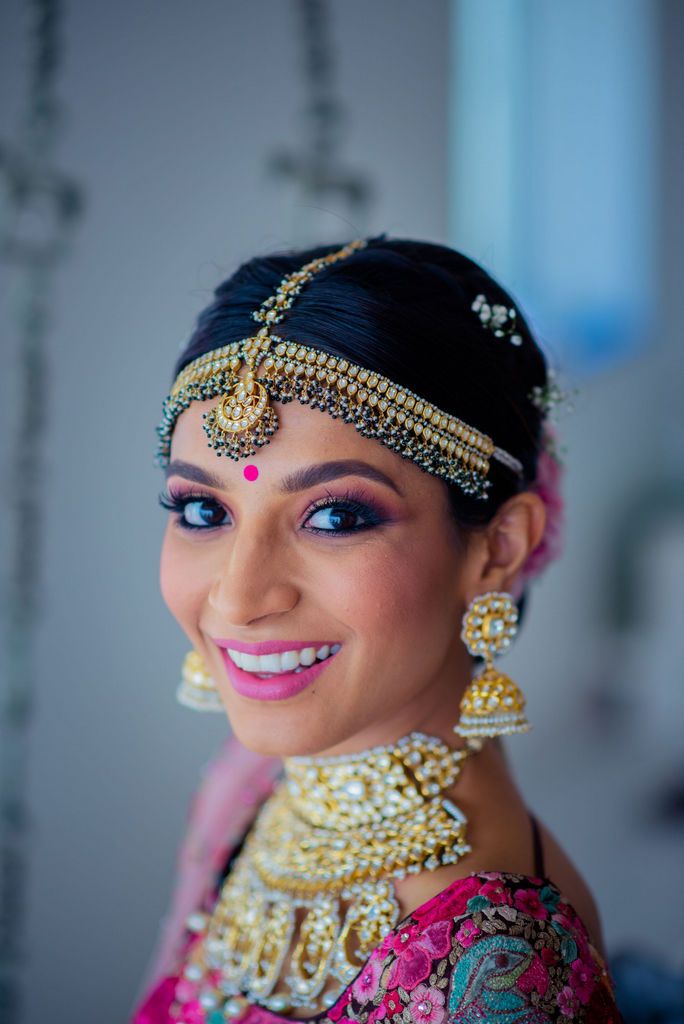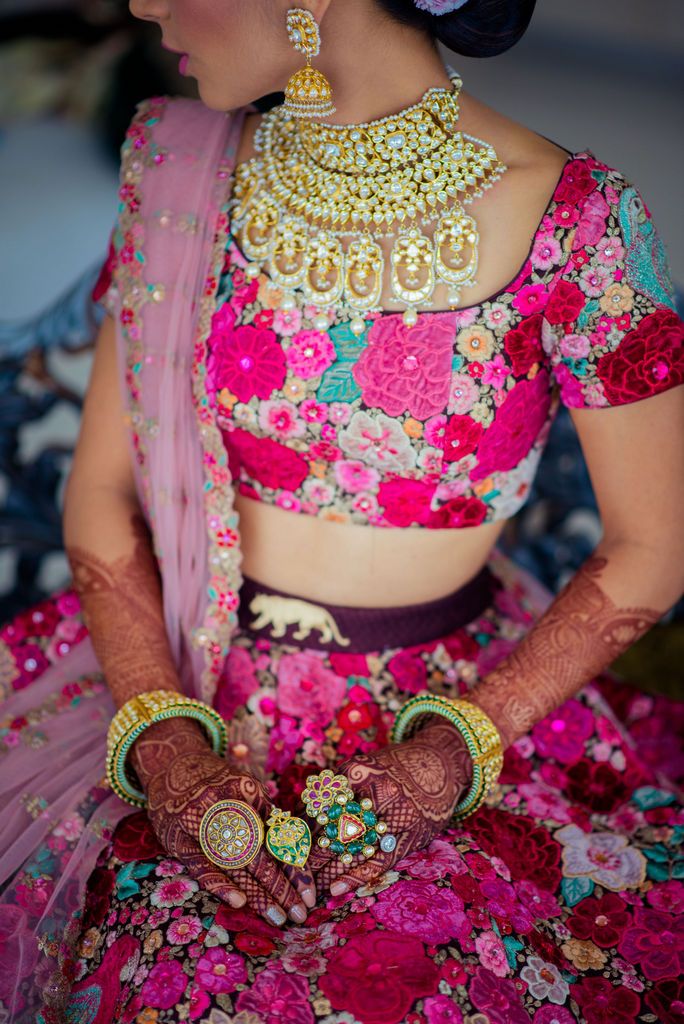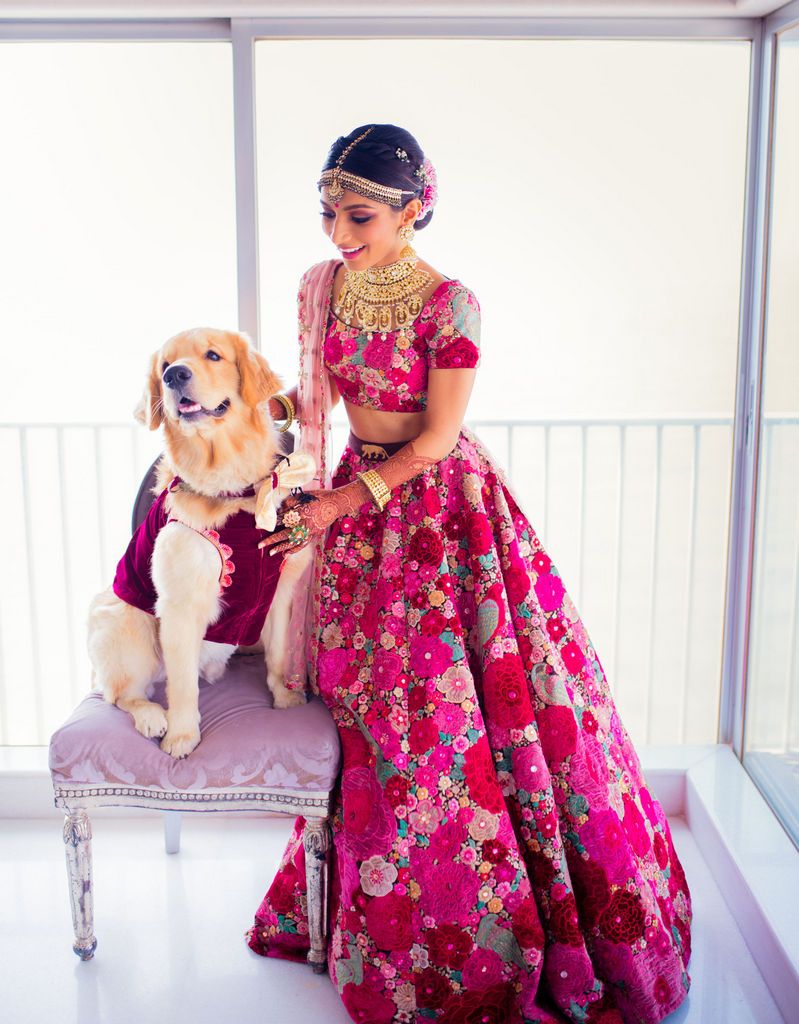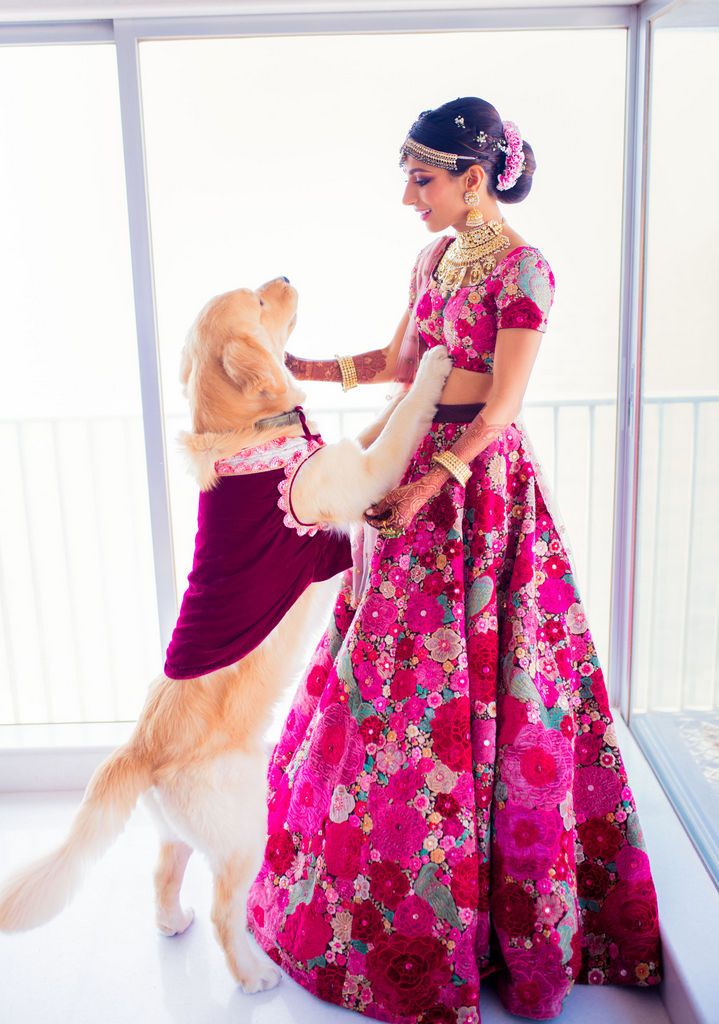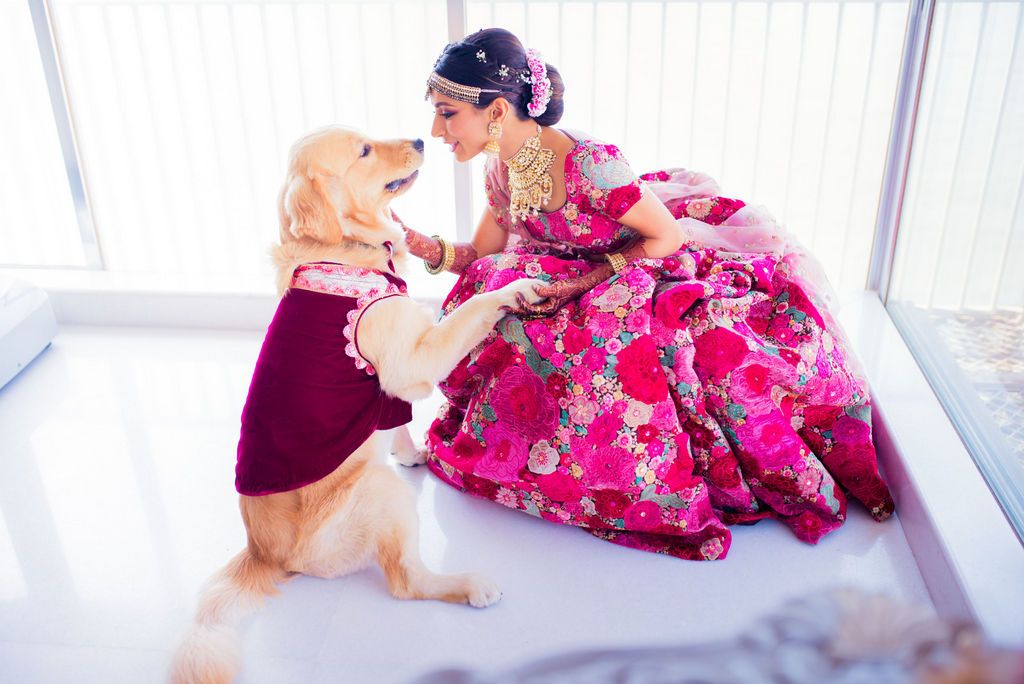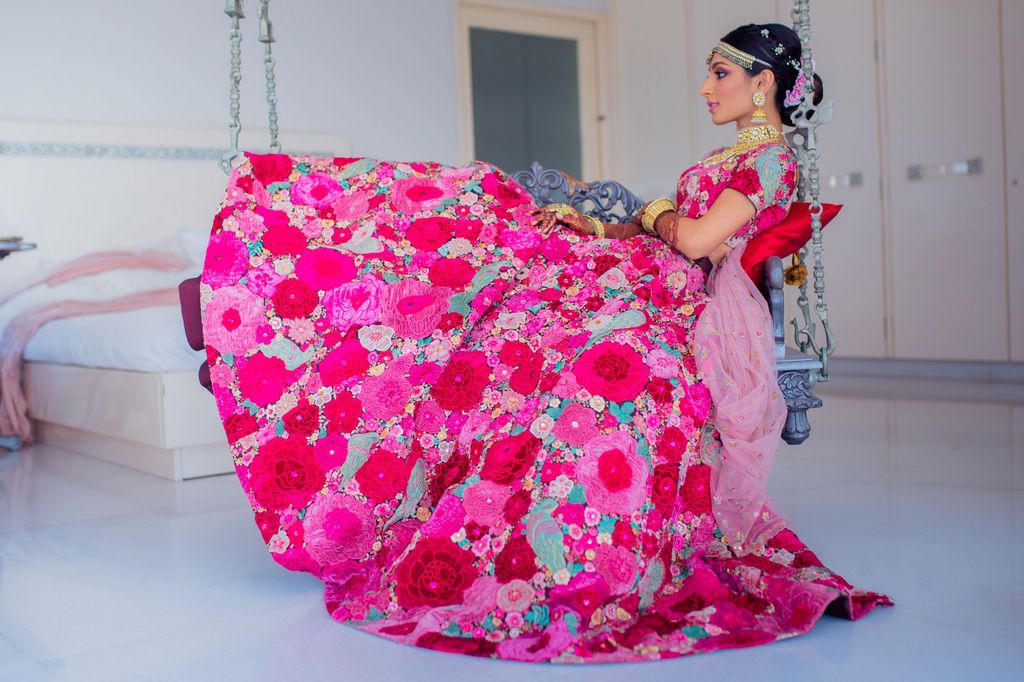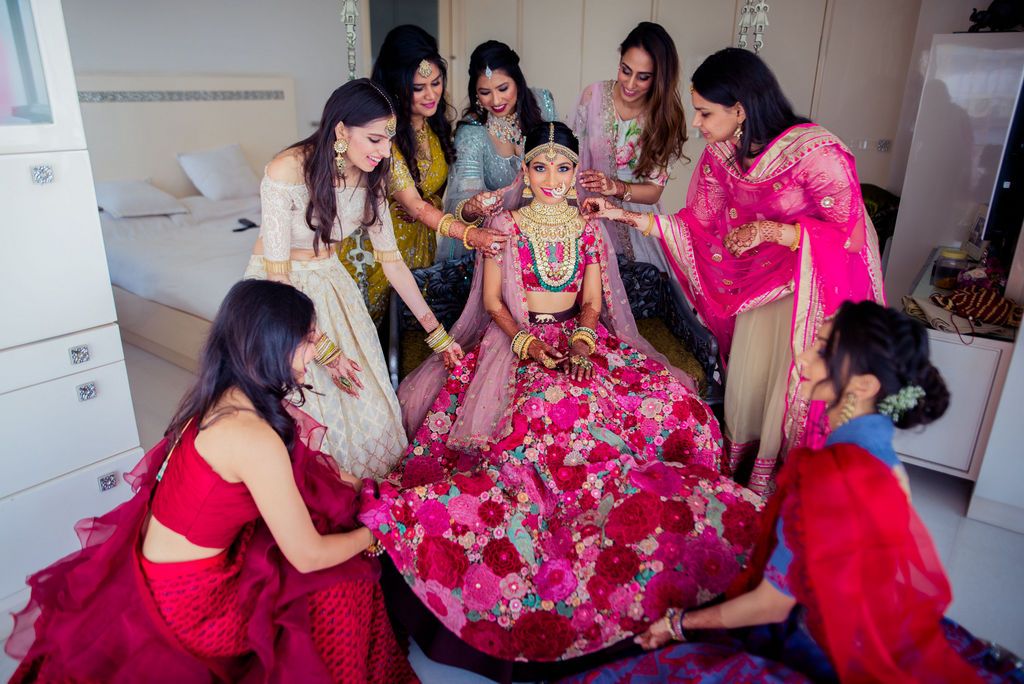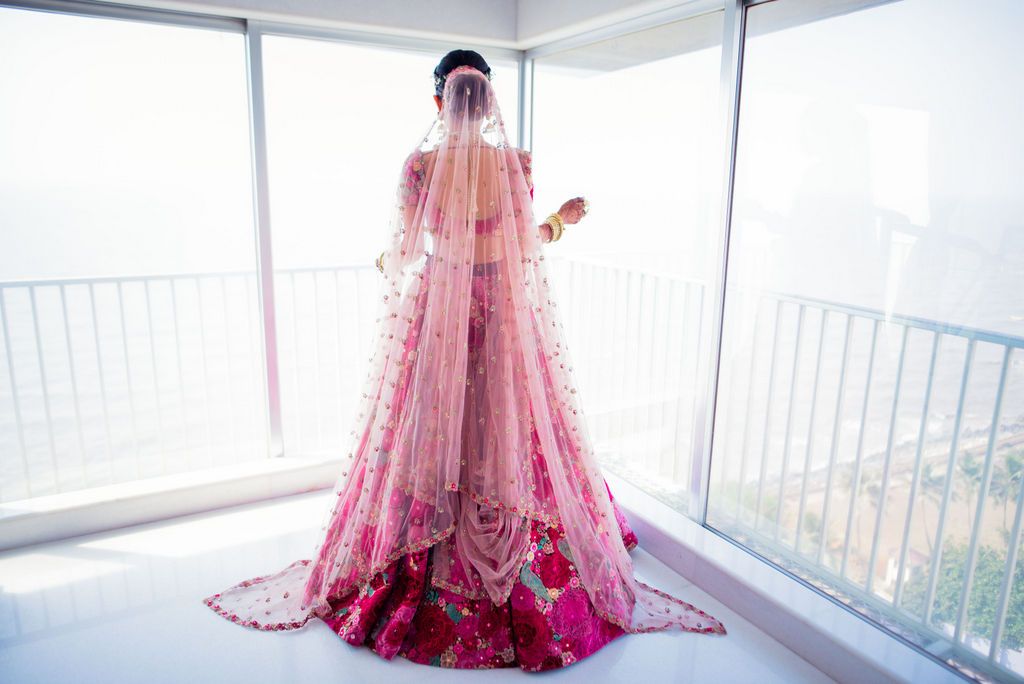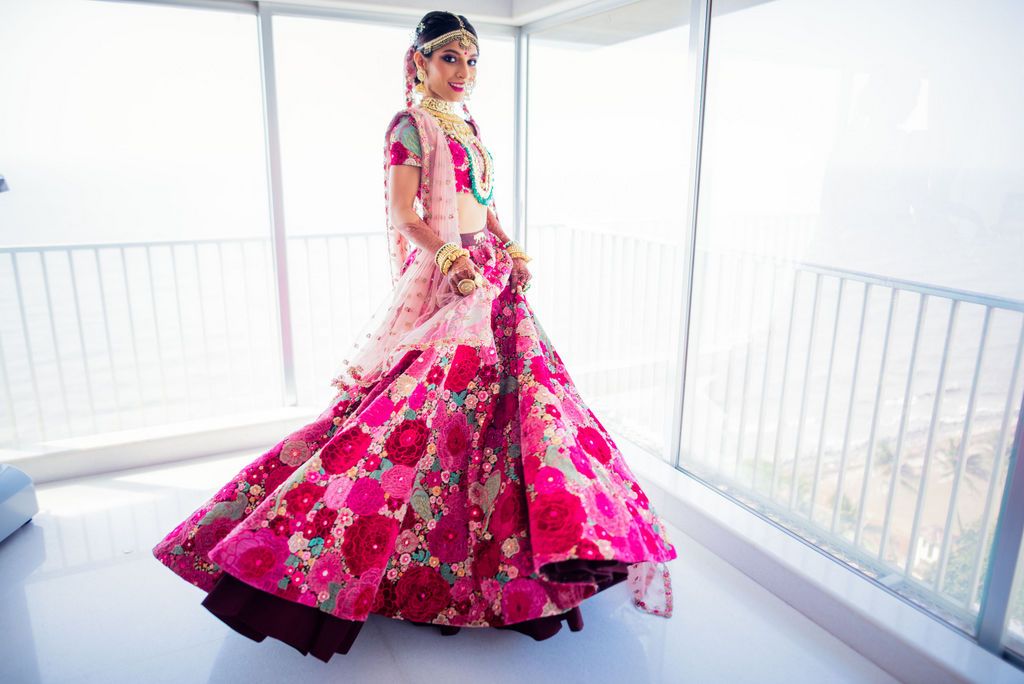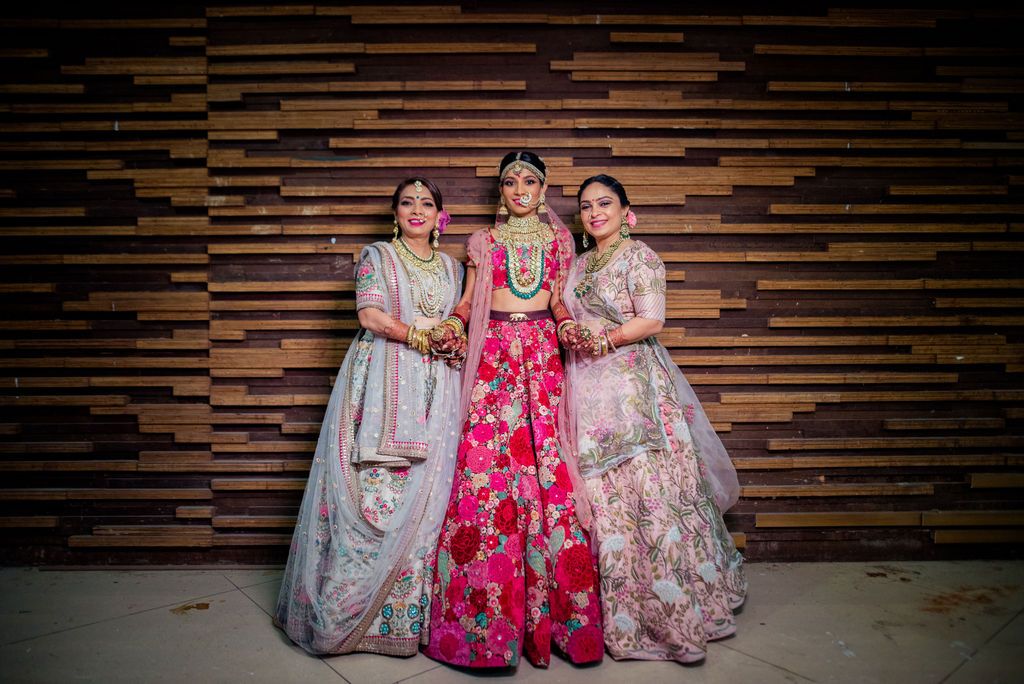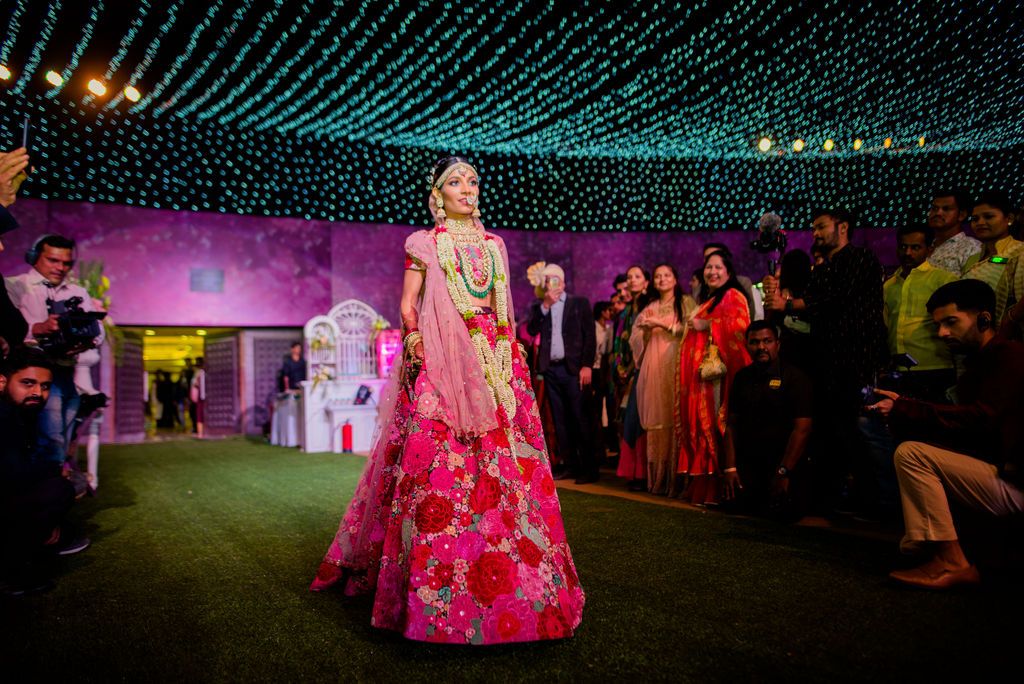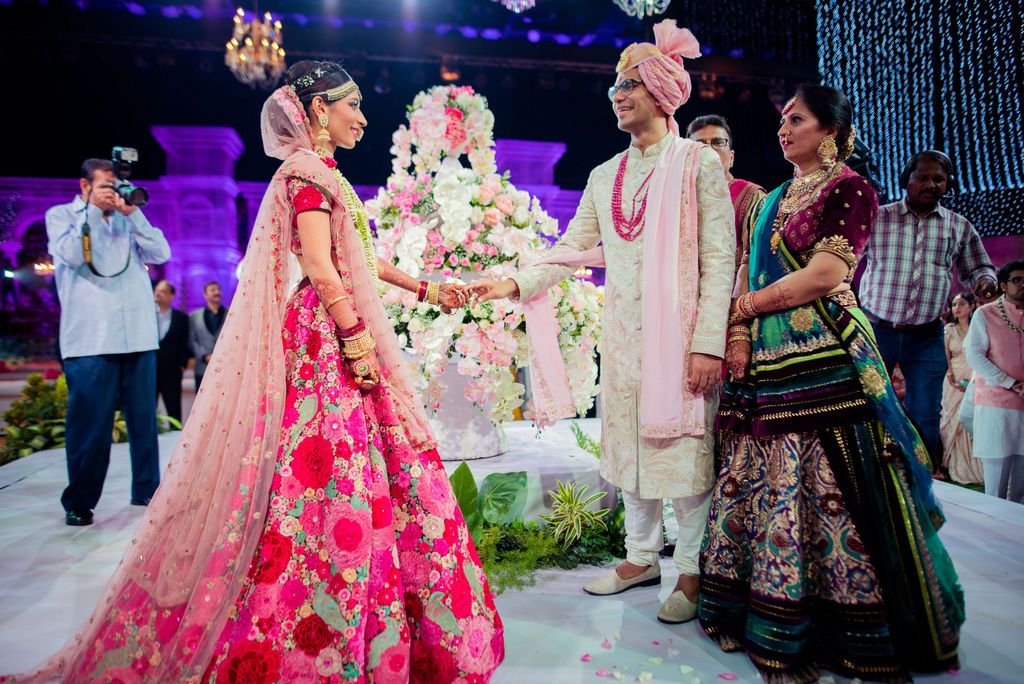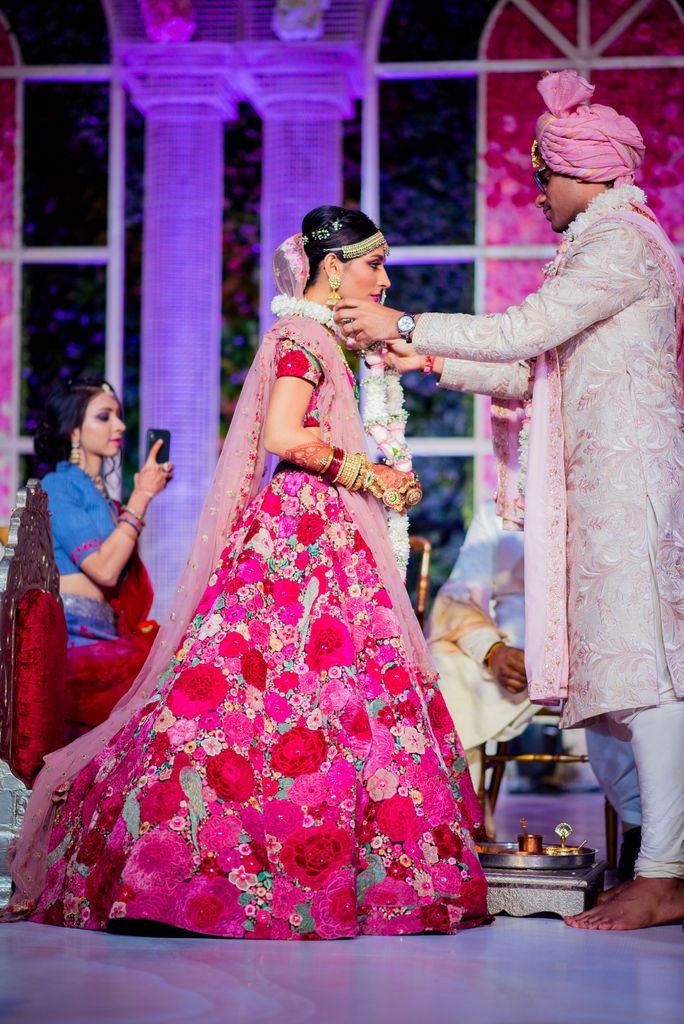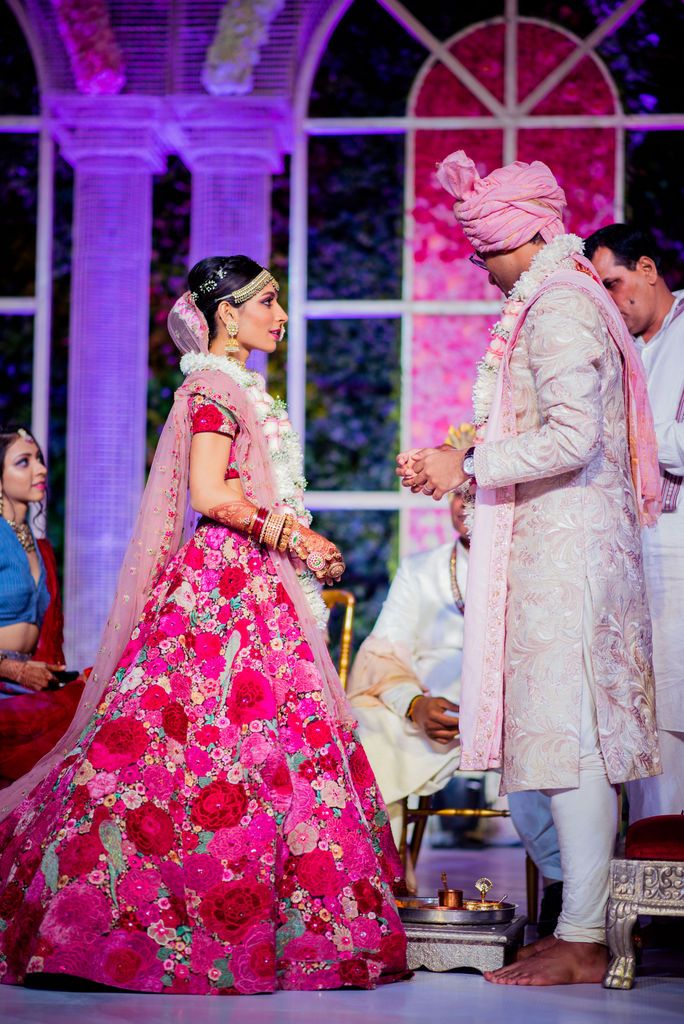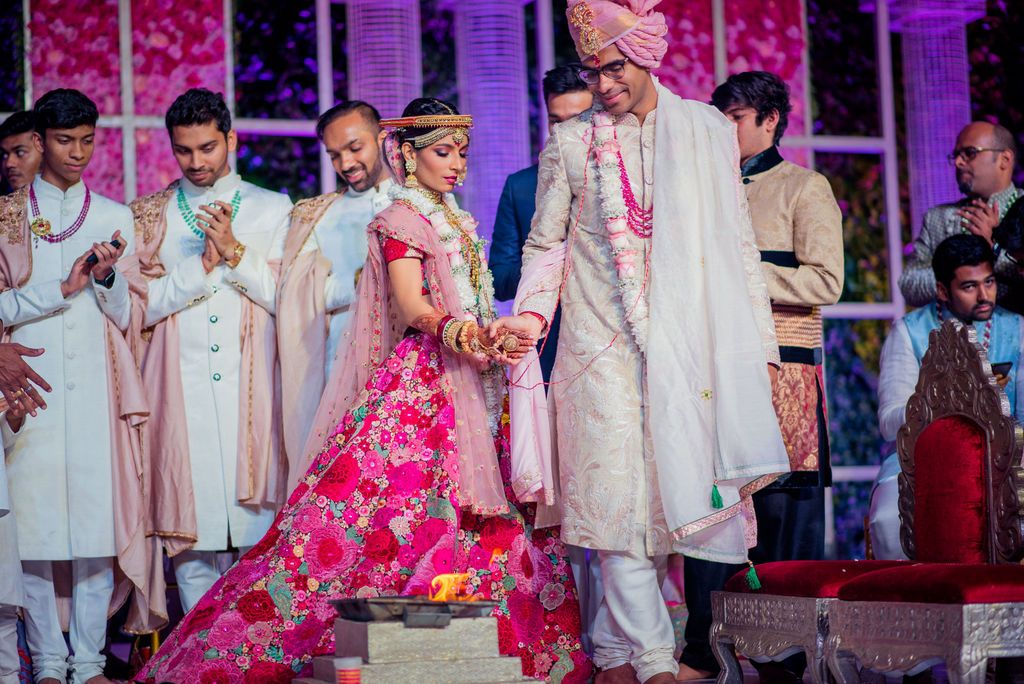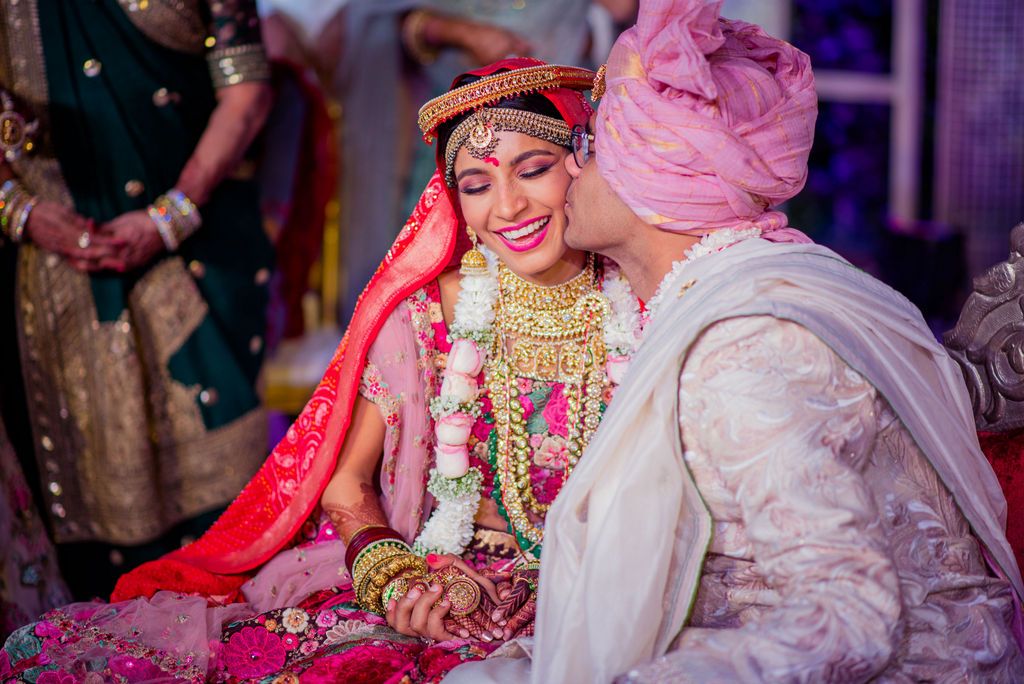 From The Bride:
The wedding was super chill and Bhagya was completely hands on with everything - unlike grooms in general. It was actually super focused around our families because even the venue decor was majorly handled by us. As for style - Bhagya is all about being simple but classy. Nothing too over the top - comfort over anything. As for me, I honestly didn't want to be a Sabyasachi bride. I hate wearing the same thing everyone wears - I just prefer being different. But I eventually ended up wearing a Sabyasachi outfit, but it was definitely different from the usual. If I had a portrait shoot done many wouldn't know its a Sabya outfit. I loved that it was so cute and colourful and completely unconventional from the usual bridal outfits. For our cocktail Bhagya and I knew we wanted to wear sneakers no matter what - especially me because I'm a fitness trainer. Believe it or not, I was the most under-dressed person at my own cocktail. We wore matching bomber jackets that had different things written on our back reflecting our personality (you can see the photos). Wearing shorts to your cocktail is most definitely the best decision!
Vendor Reviews:
All my makeup artists were extra ordinary. Recinda & Ronella (Cocktail & Sundown Mehendi) Pakkhi (Sangeet) Sangeeta (Sangeet) Tejas & Ritika (Mala) Pallavi Symons & Sangeeta (Wedding), all did a superb job and I loved each and every look they helped me achieve at my functions.
Hyatt :
Decorator : National
They were really really good. The enterance of the venue was lit up dainty lights and bulbs that literally stole the show. The place looked wonderful and even our entry was so well done.
Caterer : Hyatt
The food was exceptional. The Hyatt team were actually really sweet because we two food tastings and they adjusted the food taste around us. As always, the variety to food was huge which is such a plus point.
DOME :
Decorator : Samani.
Man i'm pretty sure they killed it with the decor. My aunt helped with all the designs but if you see the photos you can tell - the center of dome was so well lit up. it was like a sky full of stars. the entrance was beautifully done and everything was so simple but so well done. it was one of the best wedding decors people had ever seen at dome.
NSCI :
Decorator: Samani
The decoration it was all around the peacock theme and the colours were similar to my outfit. And again - it was nothing short of perfect. It had such a cute delicate look to it and even thought the place is small it had such a grand feeling to it. Samani and my aunt did complete justice to it.
Wedding
Caterer : Jyoti
I'm pretty sure everyone feasted! choosing jyoti was an absolute no brainer. we've had then for most of your family weddings and they've never failed us. we had a "fitness" counter where there were all healthy things. okay i mean the brides a fitness trainer so it HAD to be there haha. one of the items we had were protein shake shots - and they were OVER!!!
Vendors: Venue: Escobar (Cocktail), NSCI (Mala), Grand Hyatt (Sangeet), Dome (Wedding); Makeup Artists: Recinda Martis Bridal Makeup★ 4.7 & Ronella Santhamayor (Cocktail & Sundown Mehendi) Pakhi Pahuja★ 4.2 & Sangeeta (Sangeet), Tejas Shah ★ 5 & Ritika (Mala) Pallavi Symons & Sangeeta (Wedding); Photographer:Recall Pictures★ 5 ; Bridal Outfits: Cocktail - Jacket from Agrima Batra (bride & groom), Sangeet & Mehendi - Dimple Armin, Wedding - Sabyasachi Mukherjee★ 4.9 , Mala - Falguni Shane Peacock ★ 4.9 ; Mehendi Artist: Veena Nagda★ 3.5 ; Groom's Outfits: Wedding - SShantanu Nikhil Groom wear★ 4.9 , Sangeet & Reception - Govinda Mehta★ 5