A Bohemian-Themed Day Wedding With A Bride In A Gorgeous Wedding Lehenga
BY Aakanksha | 15 Oct, 2019 | 17683 views | 7 min read
Picturesque natural backdrop? Check! Gorgeous outfits? Check! Colourful decor? Check, check, check! This boho themed wedding had everything we could have hoped to see in a celebration held in the midlands of South Africa. Arahna & Yuval, being creators and designers themselves, made sure that their wedding had unique elements, yet things that their guests enjoyed. Arahna's outfits were beautiful, from the fuschia pink she wore on her Sangeet to the gorgeously beautiful wedding lehenga she opted for her wedding. Also, we can't go on without mentioning the amazing manarkali that Yuval rocked on the wedding day as well. Elana Schilz Weddings & Kapture Studios By Yuvi K shot this stunning wedding in a breathtaking manner and we bet you'll be pinning these images for future references and inspiration! 
Meet Arahna & Yuval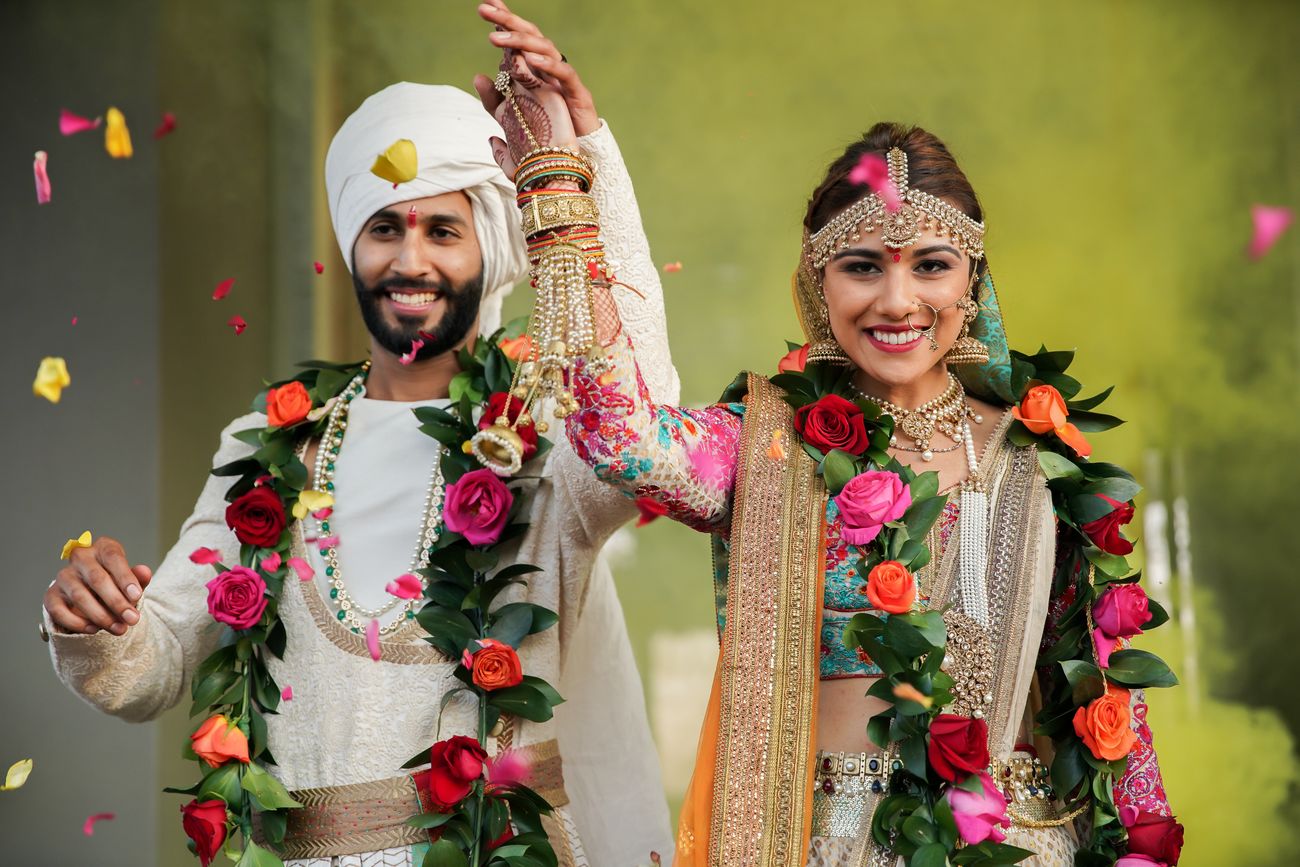 The Wedding Invites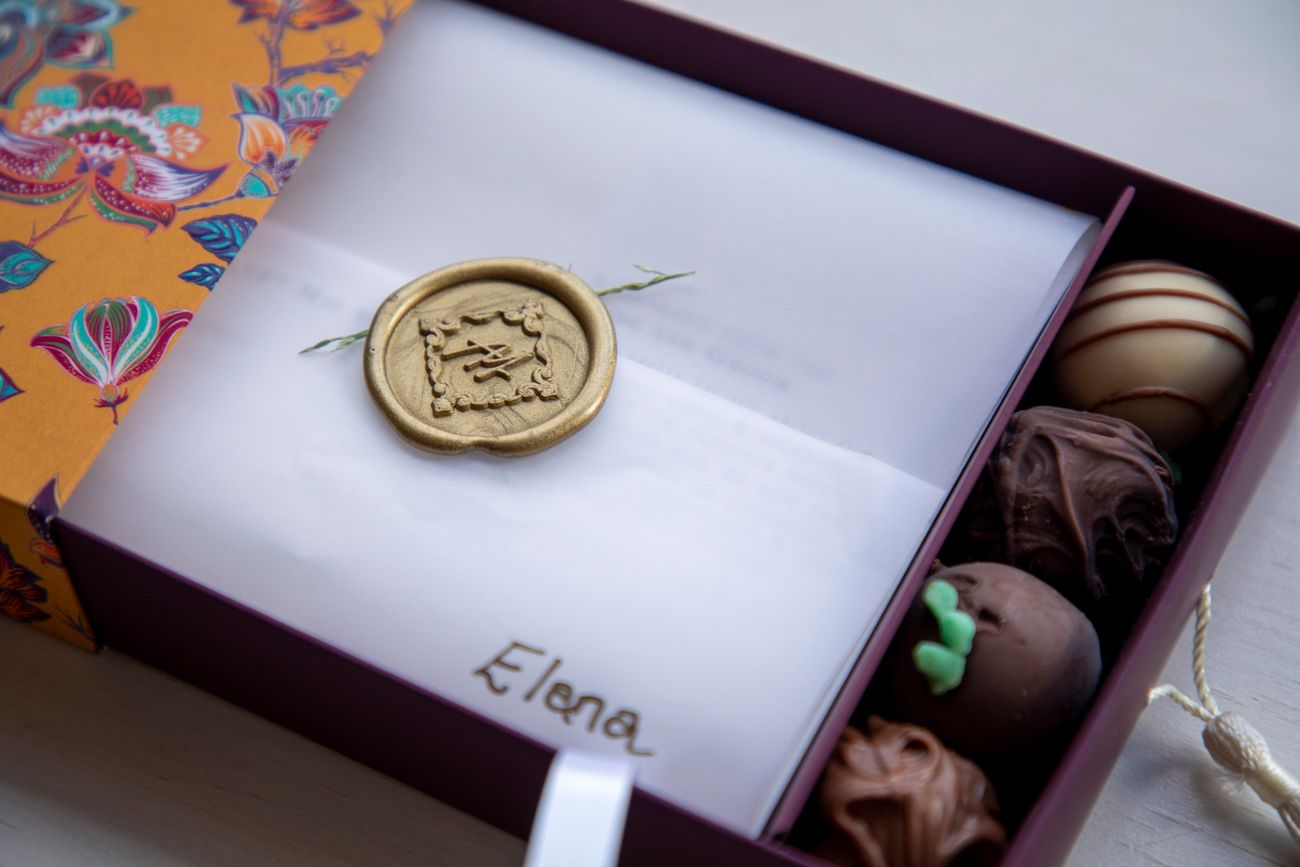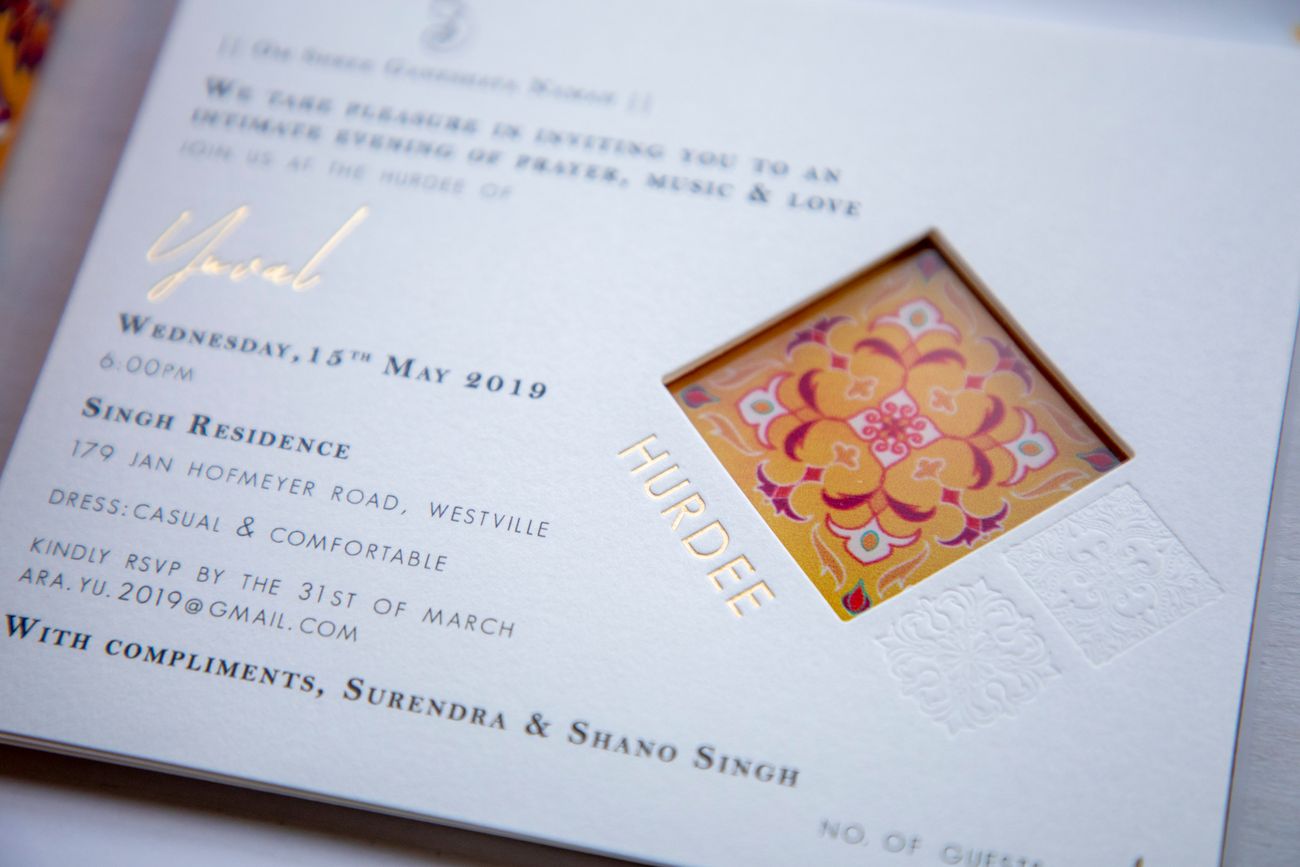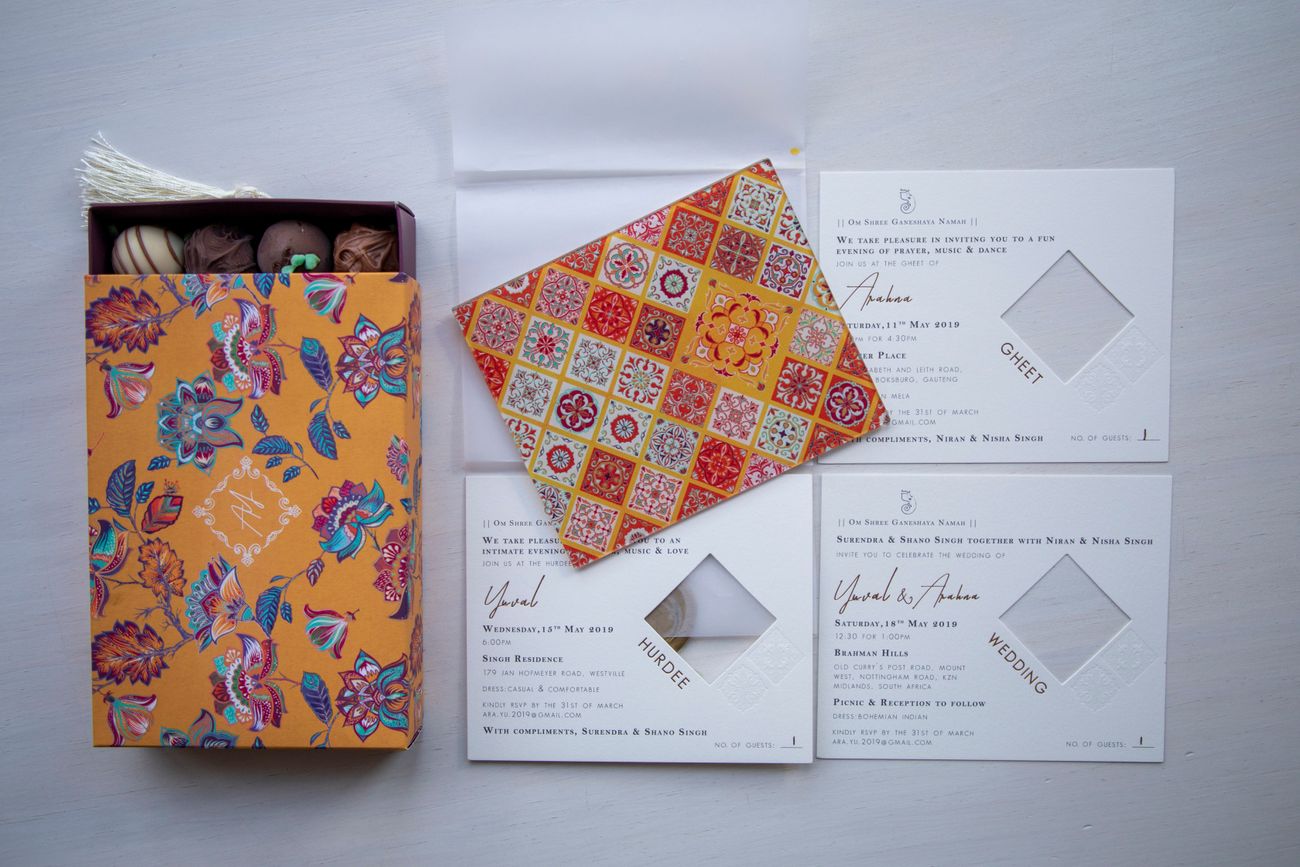 The Haldi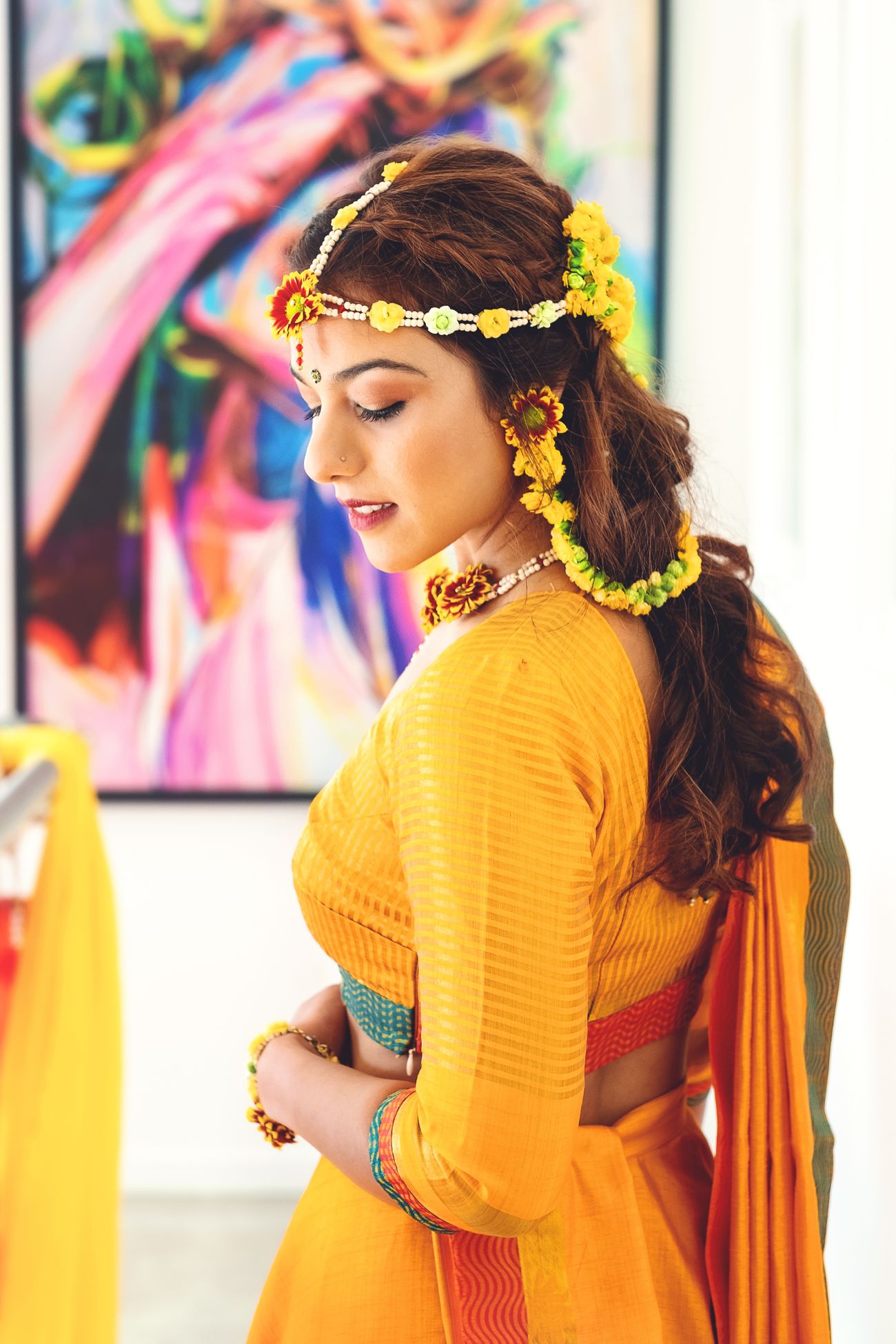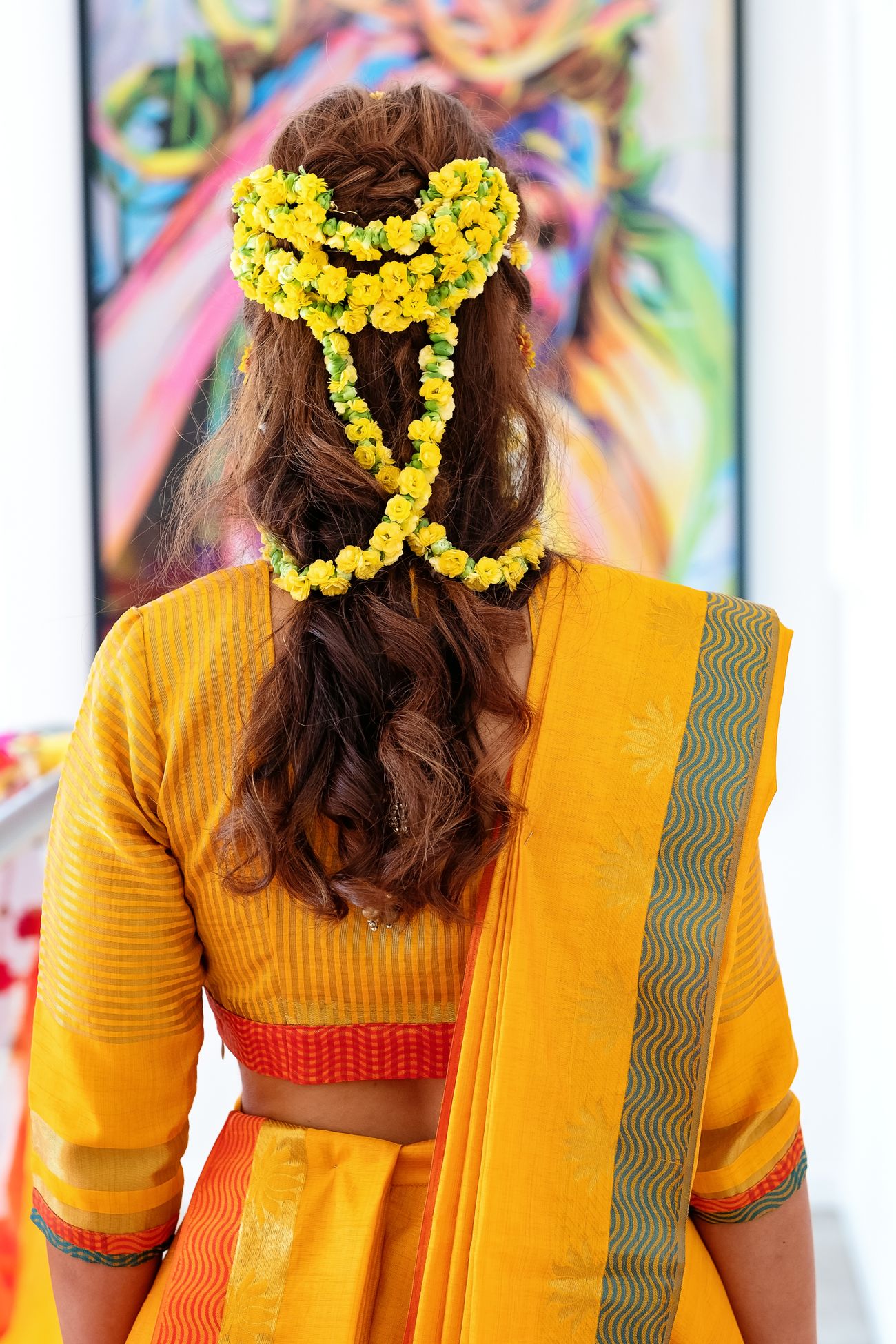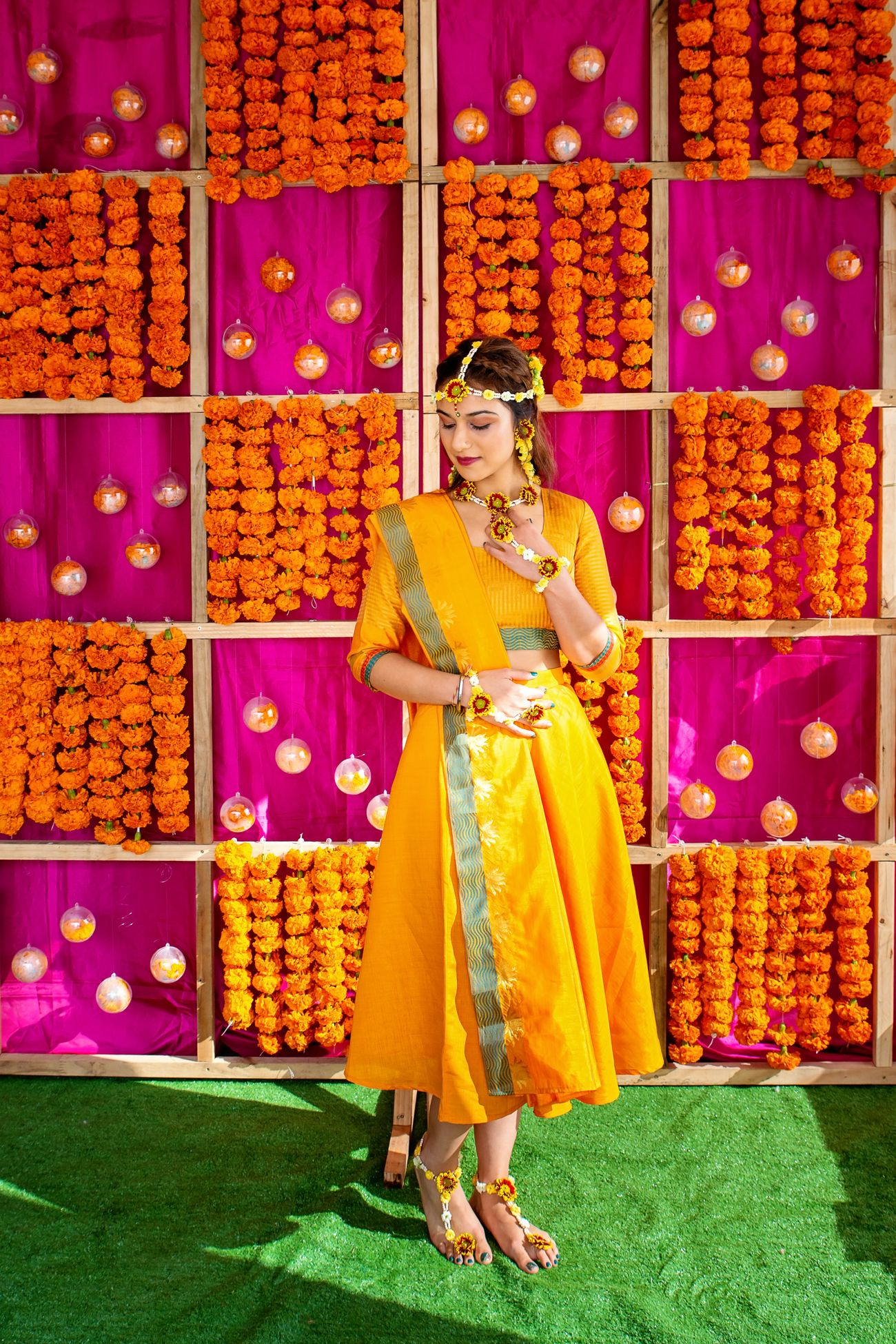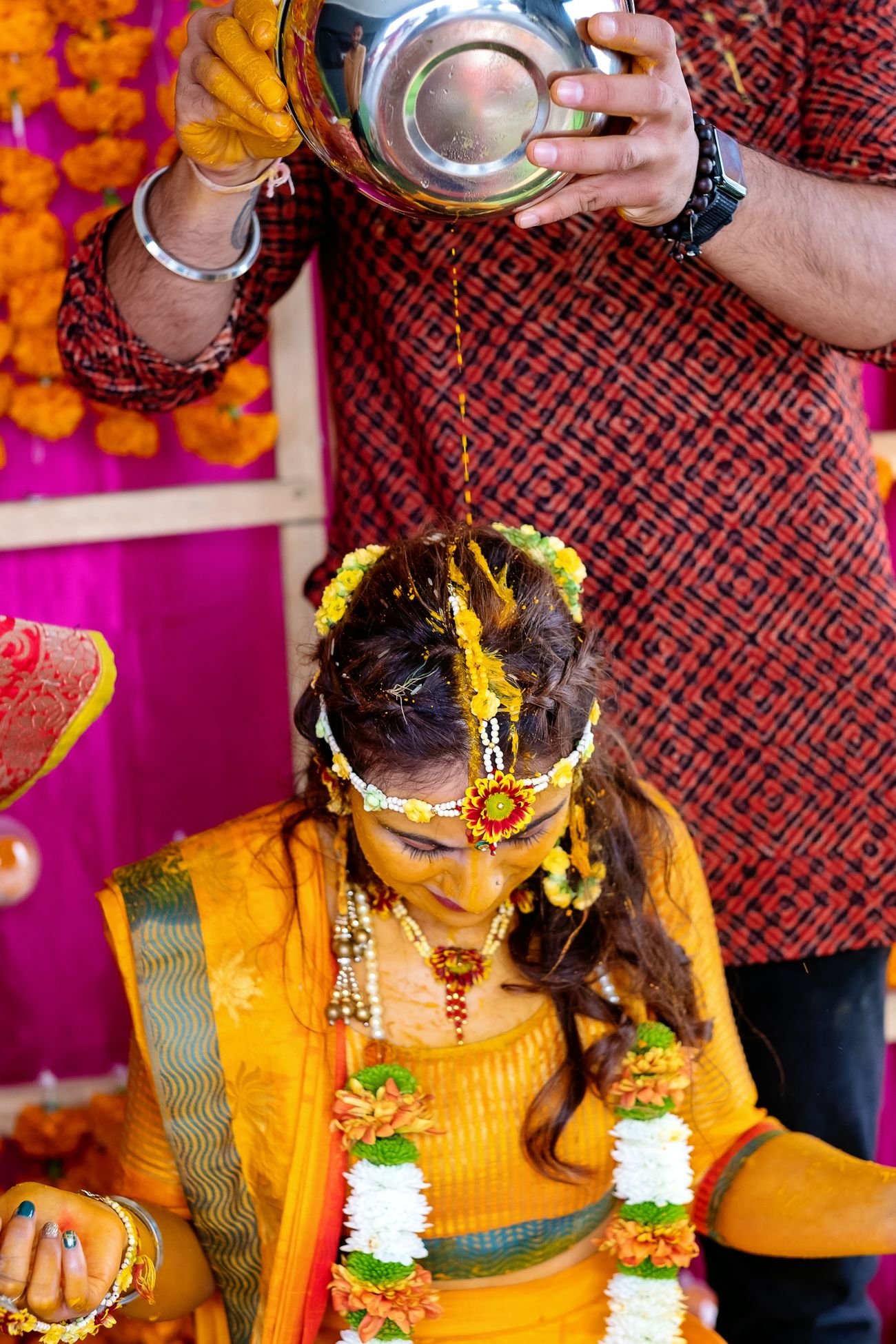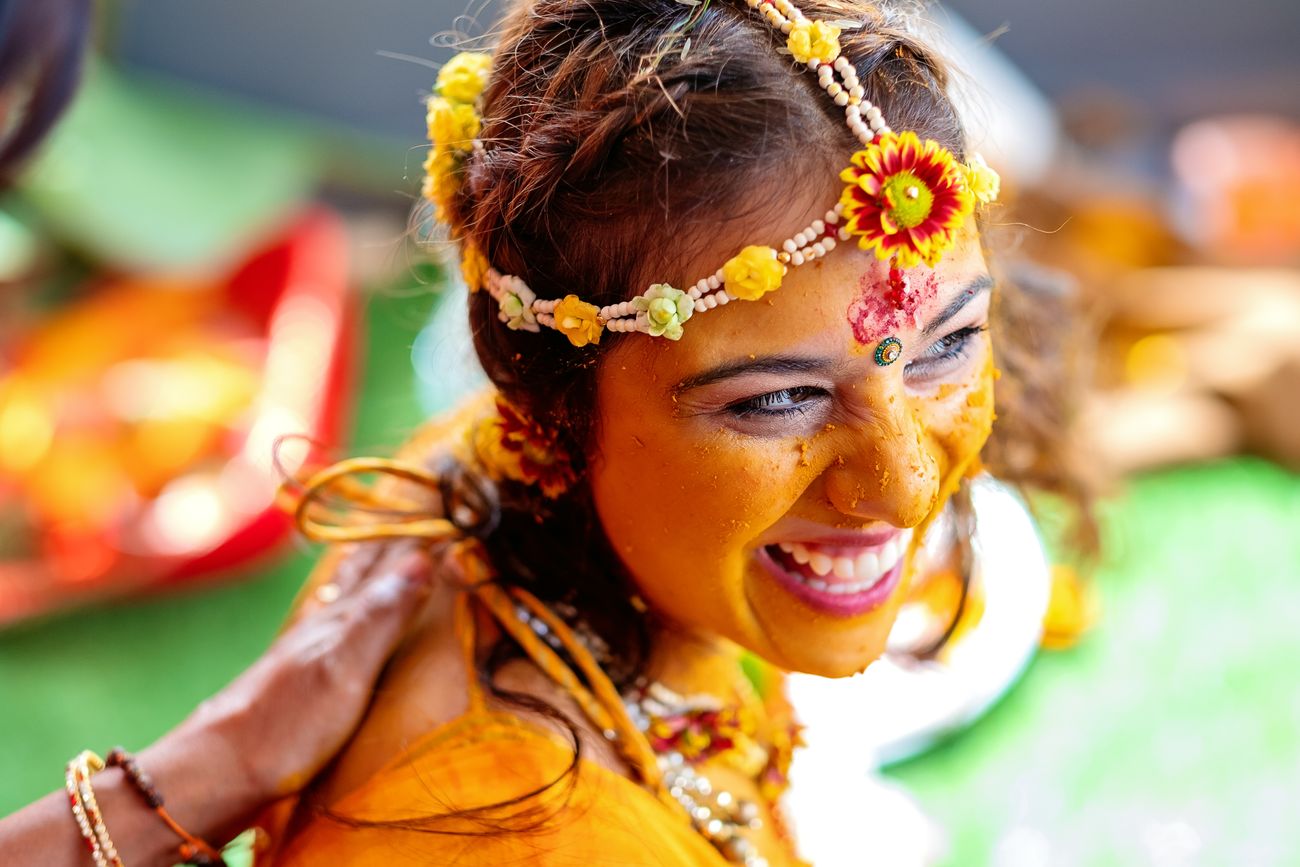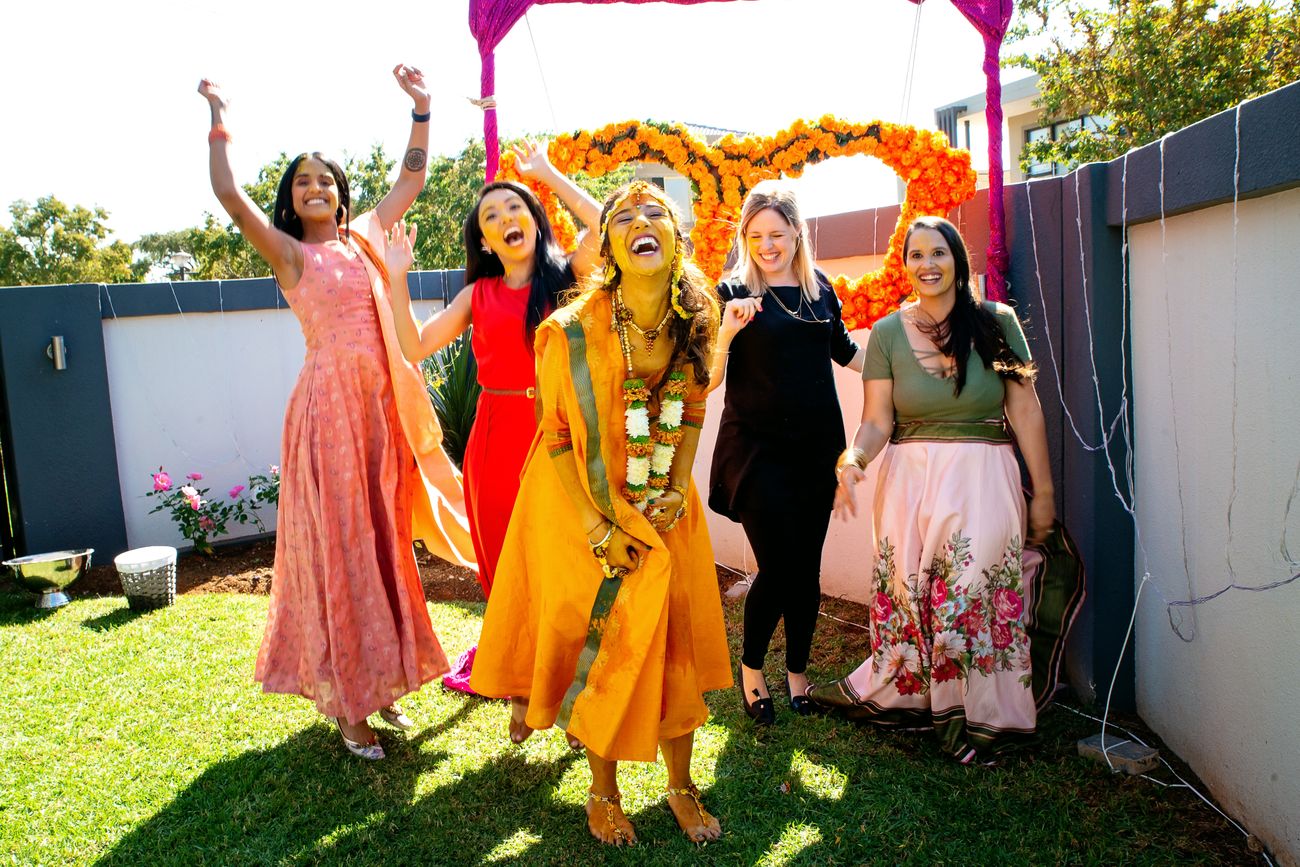 The Sangeet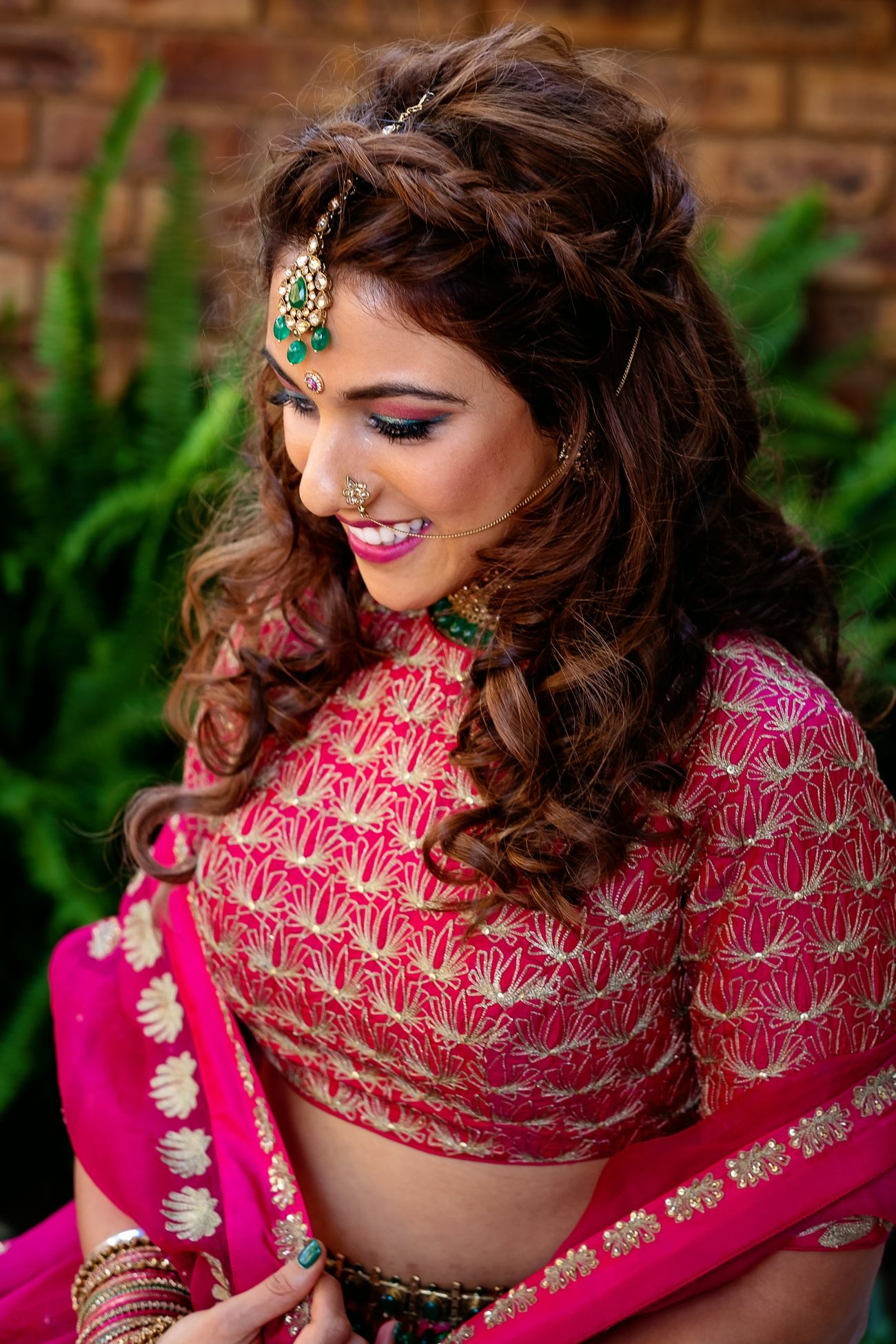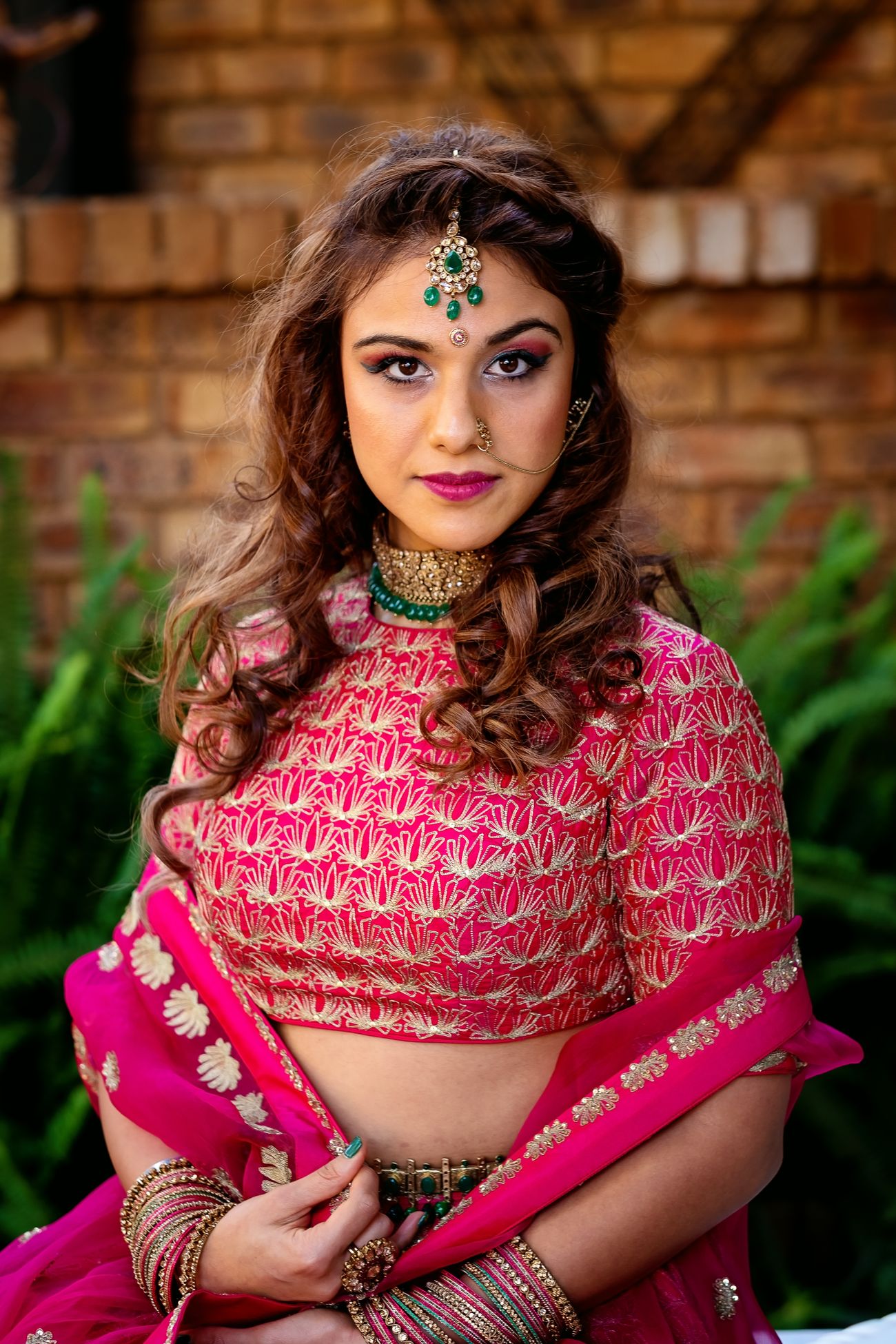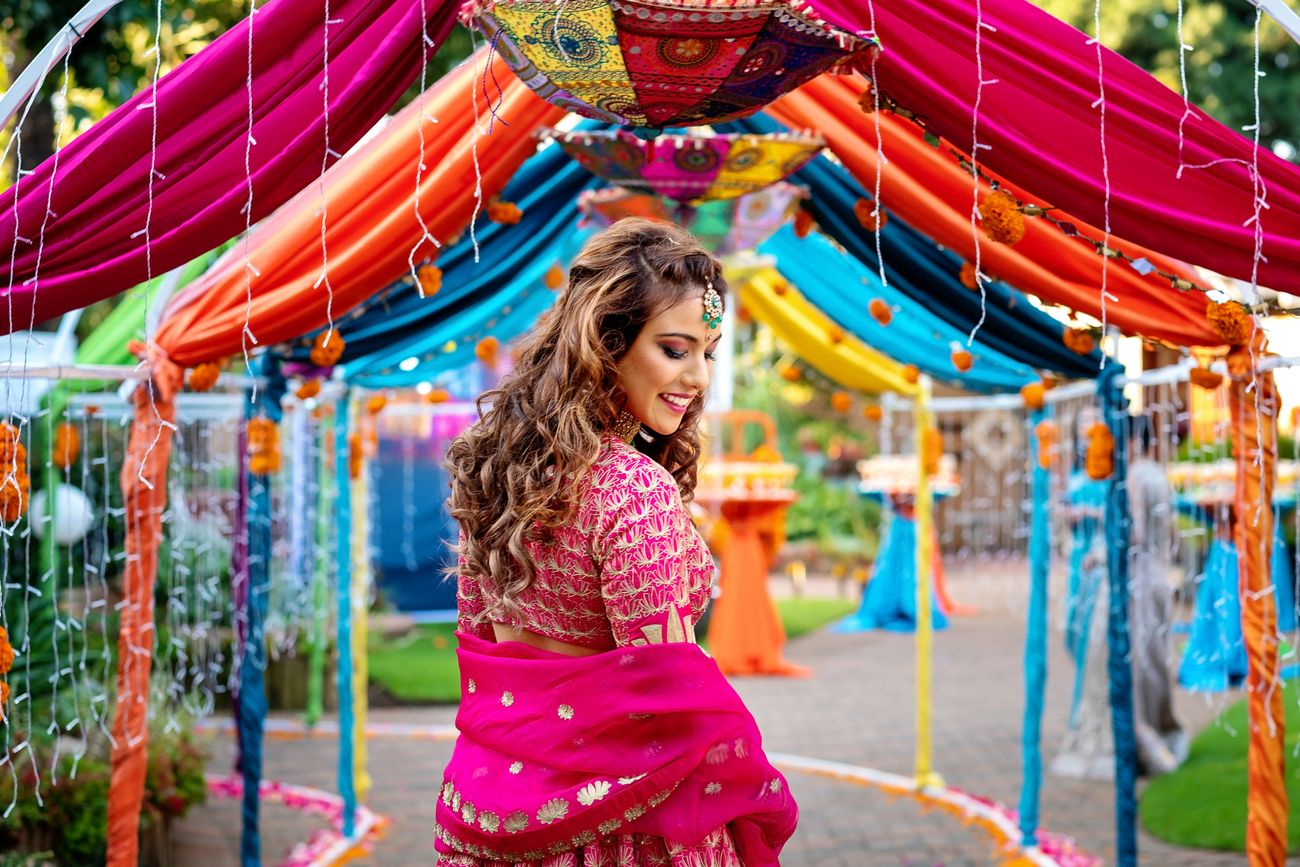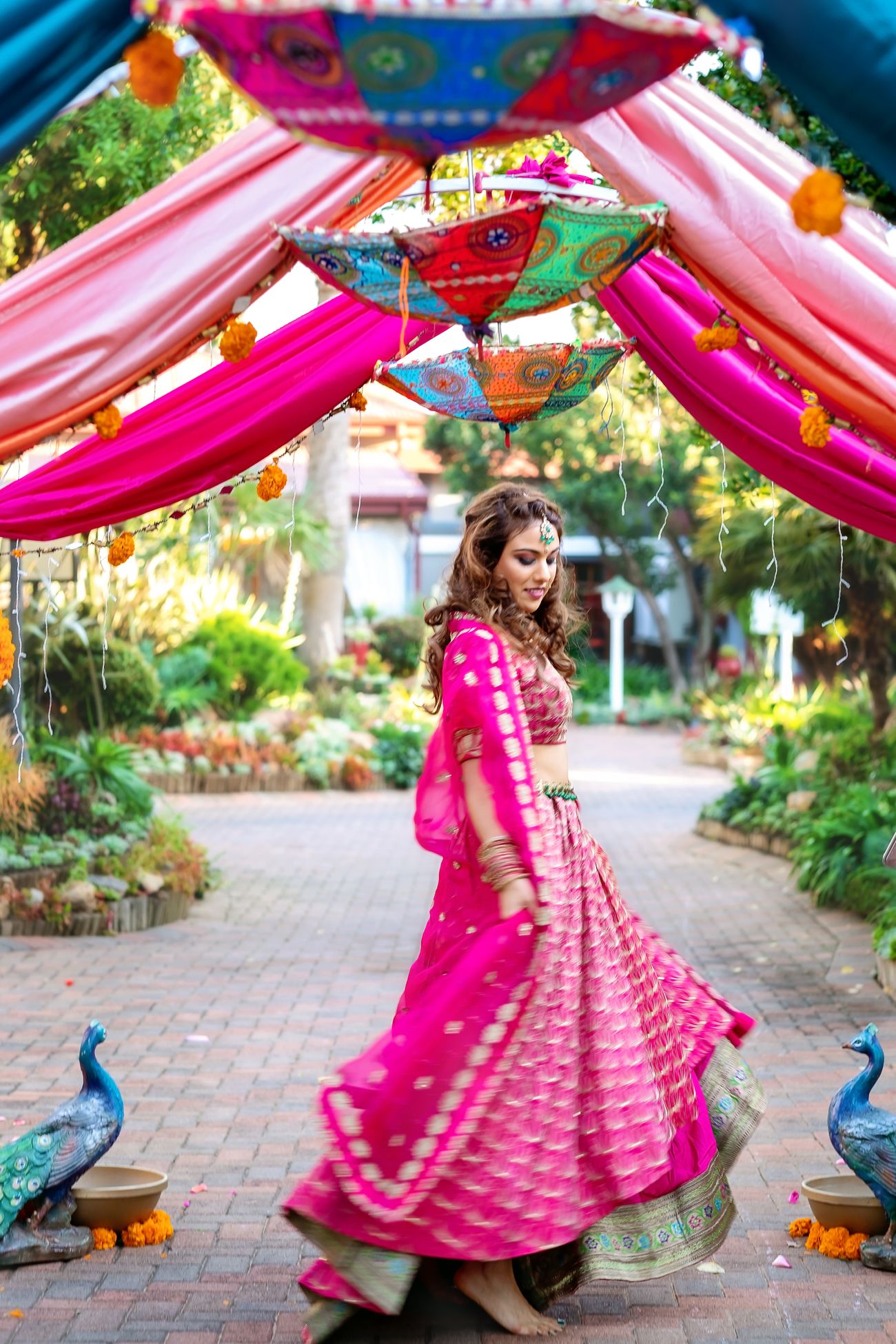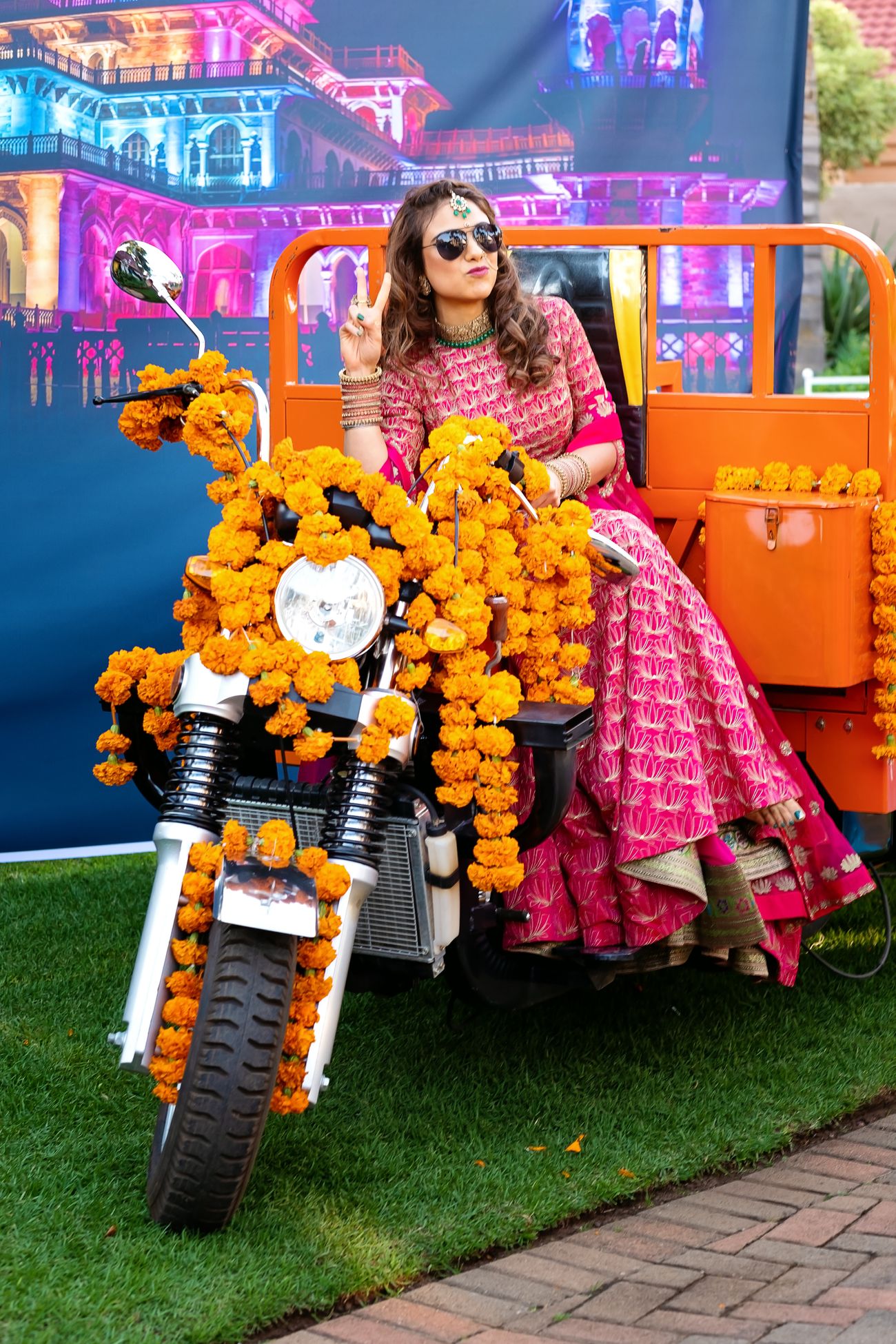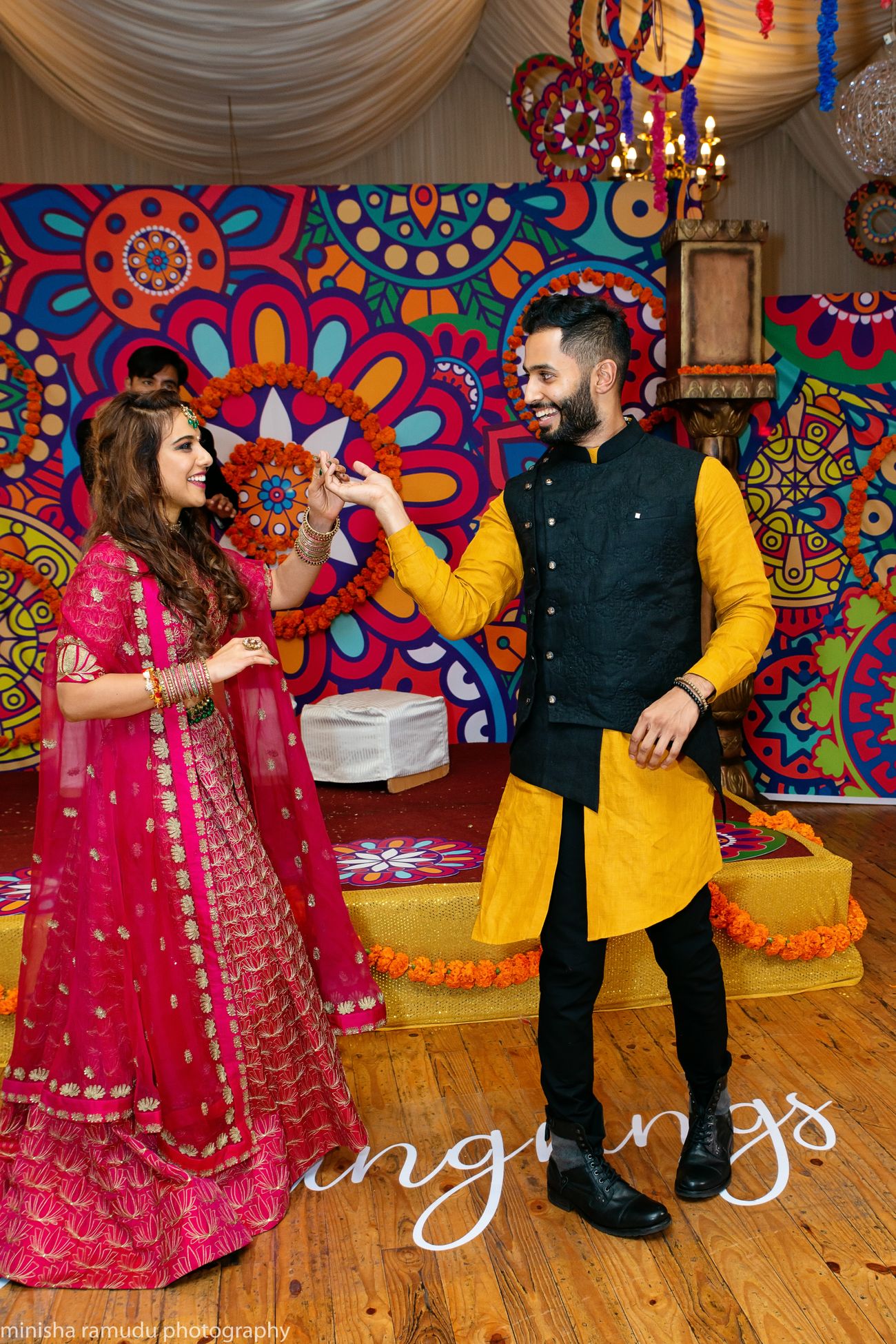 The Jamboree (Night Before The Wedding)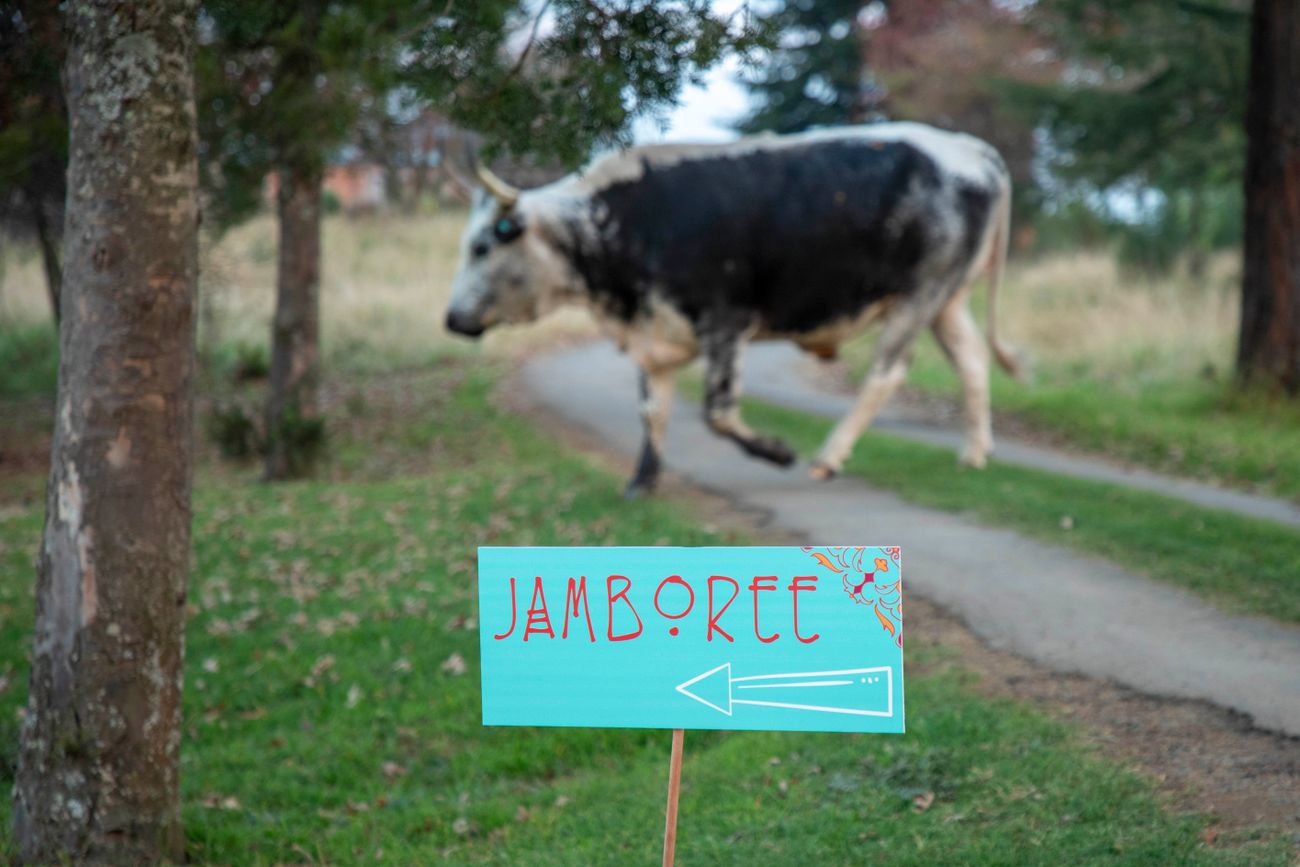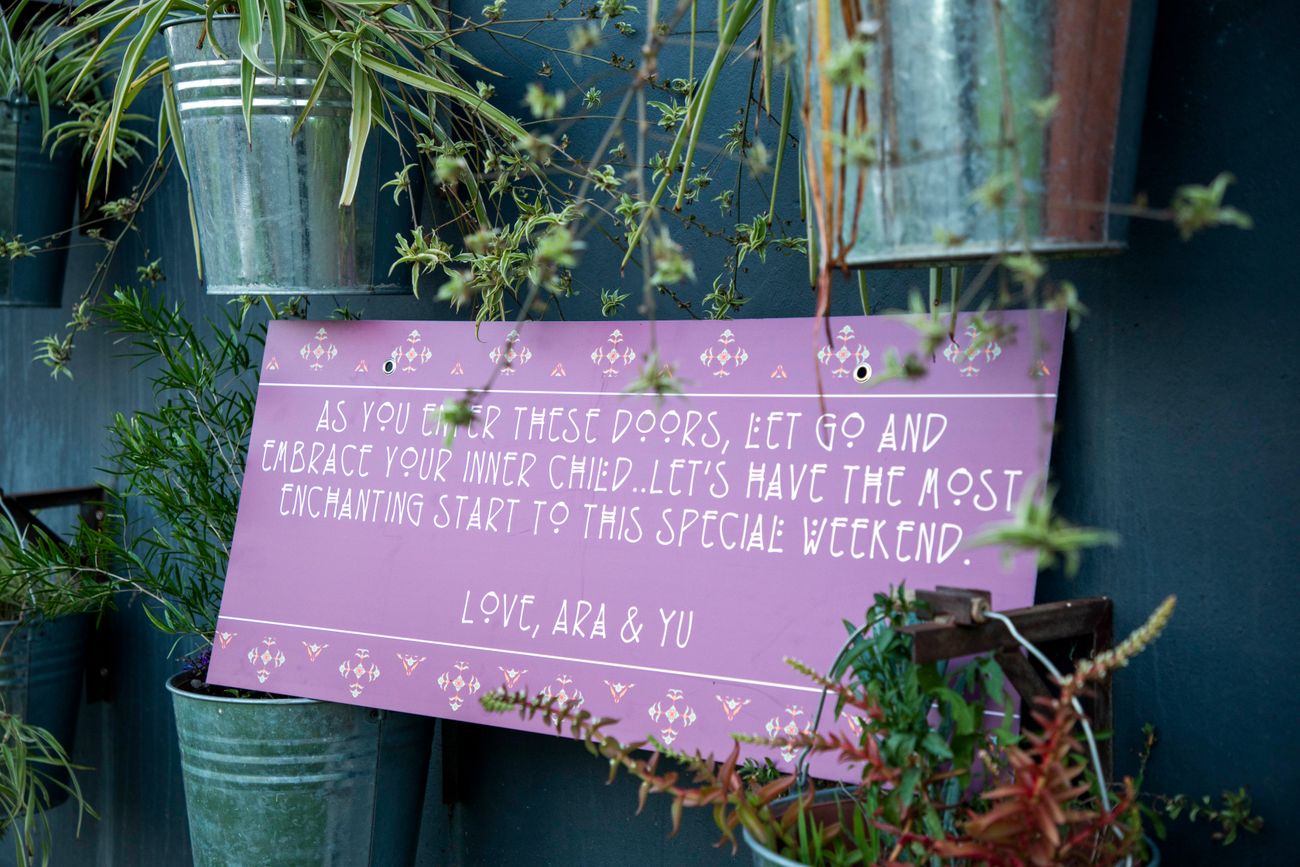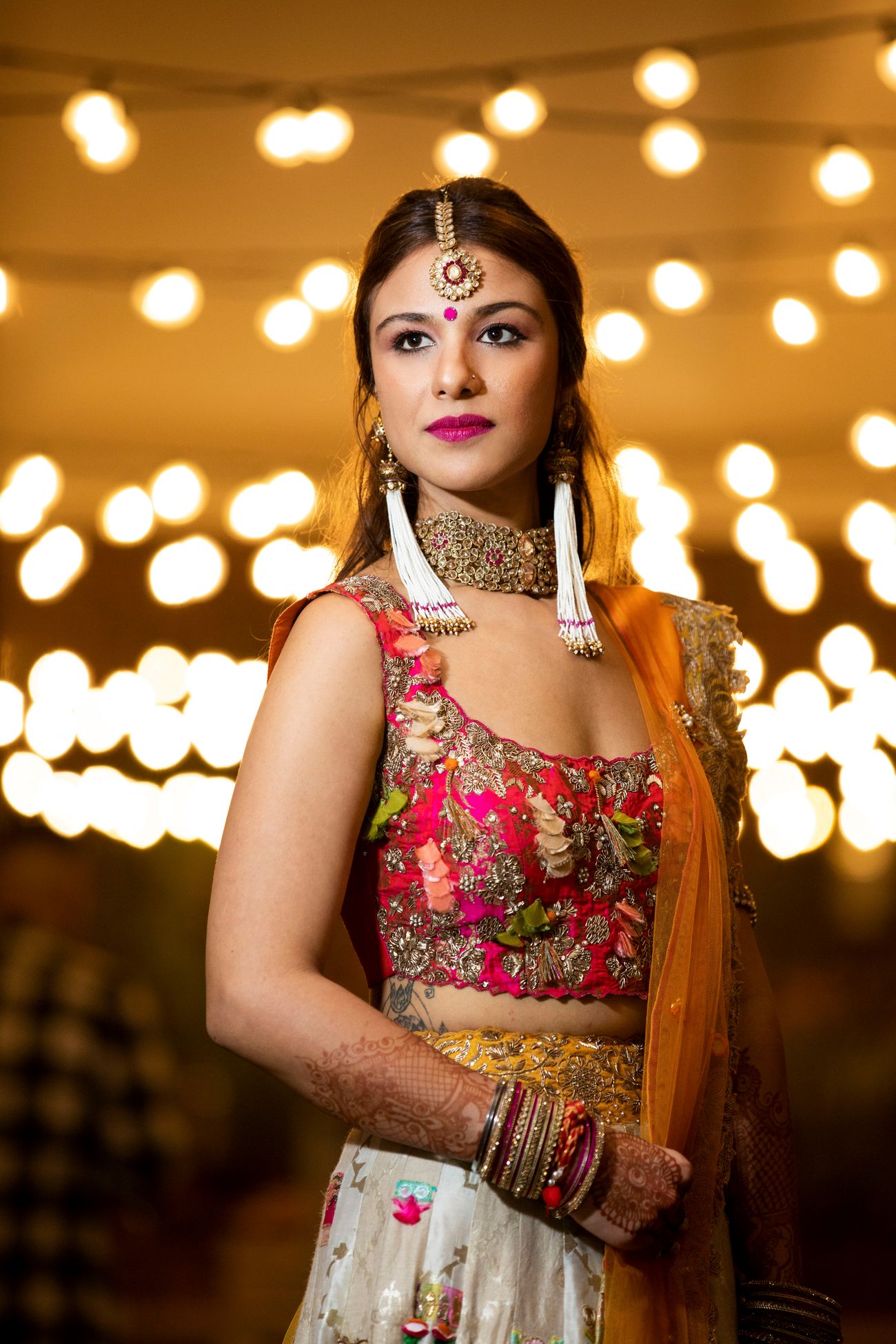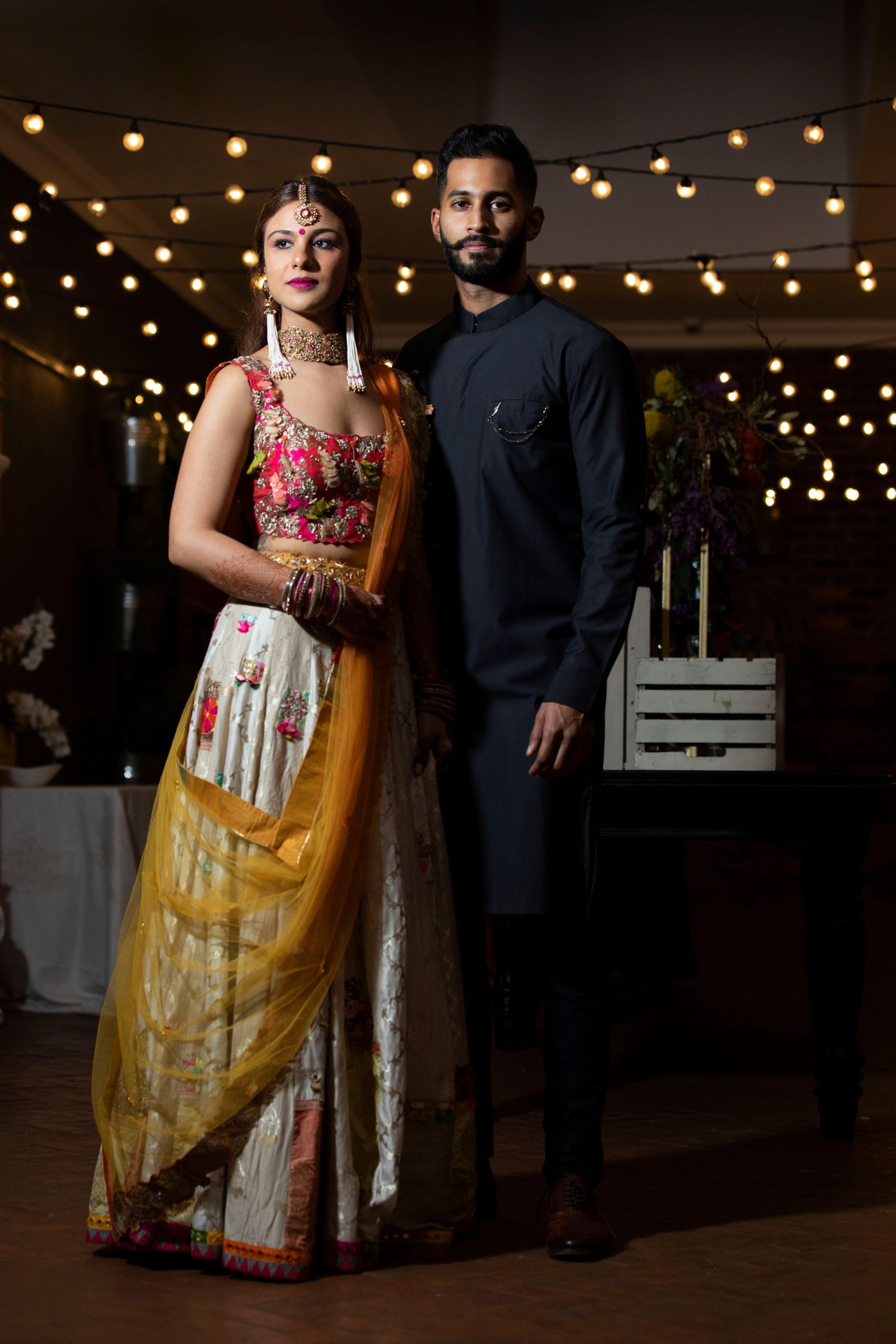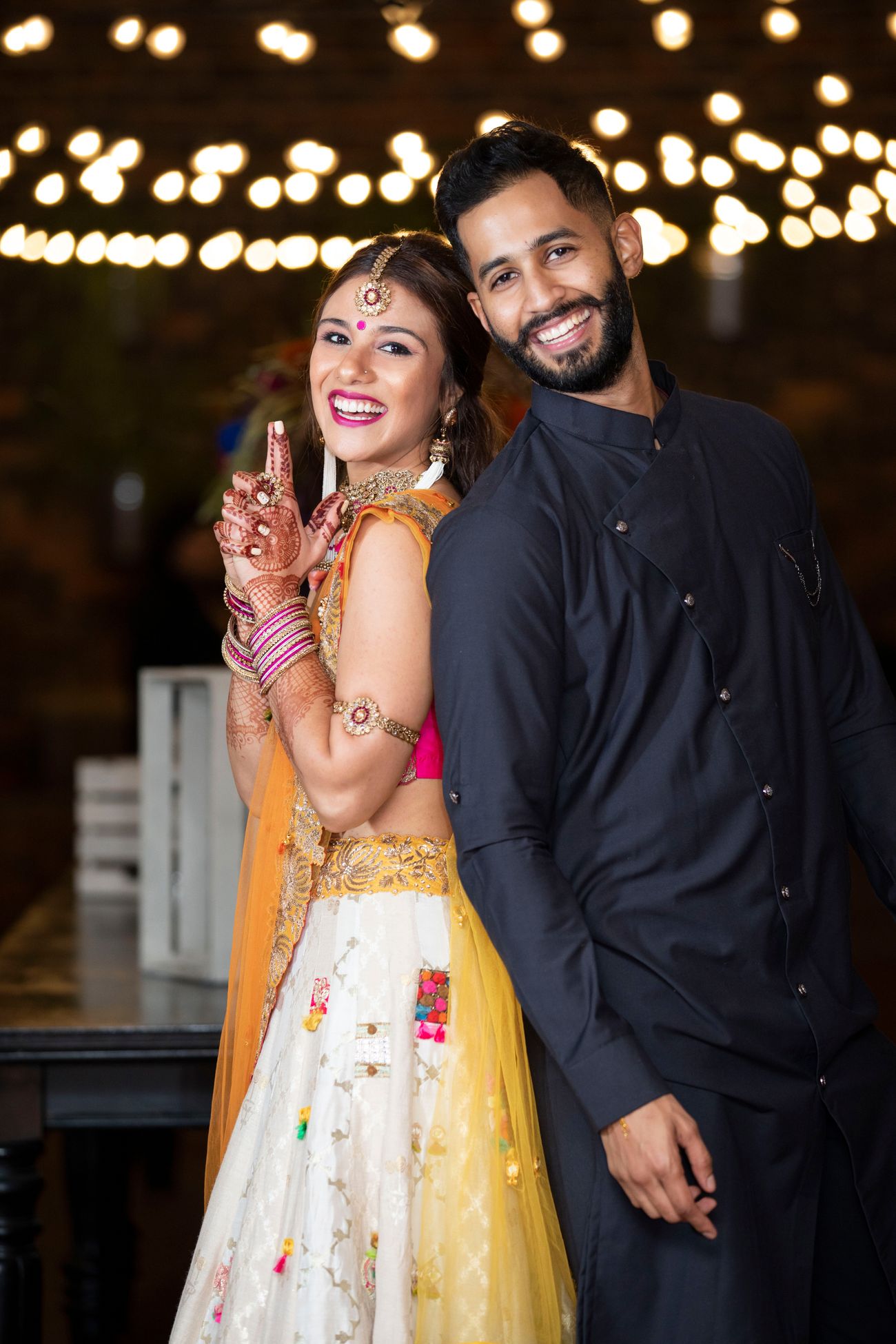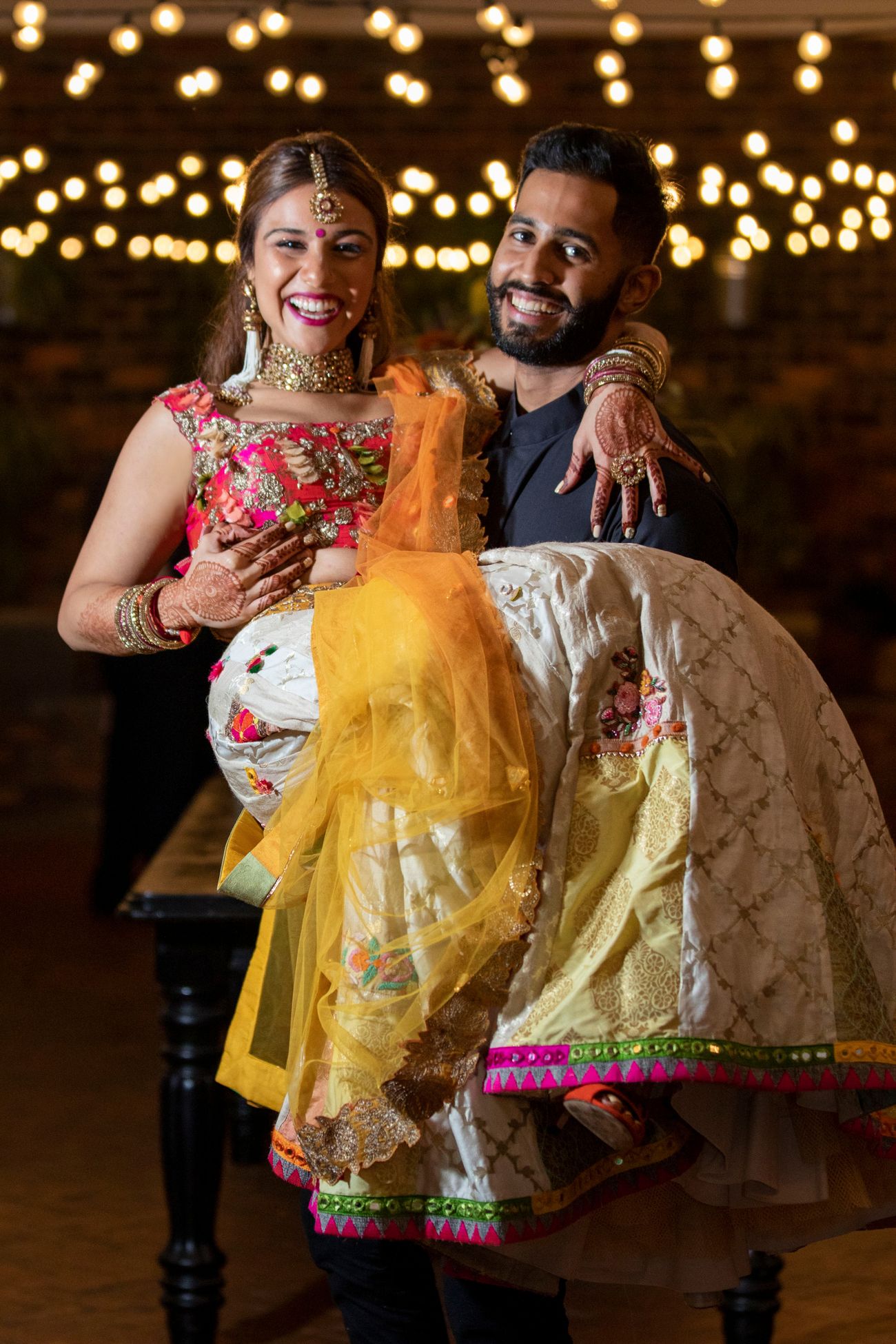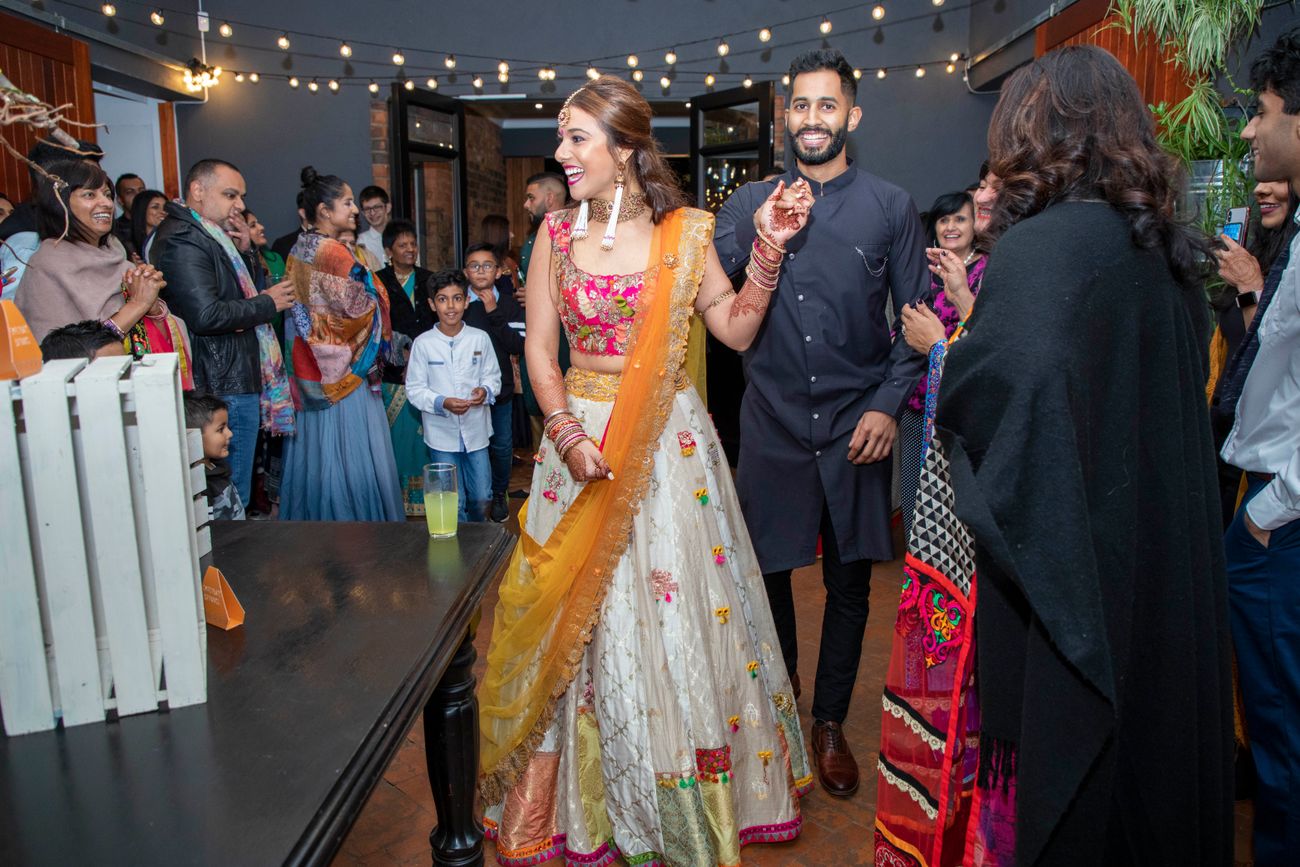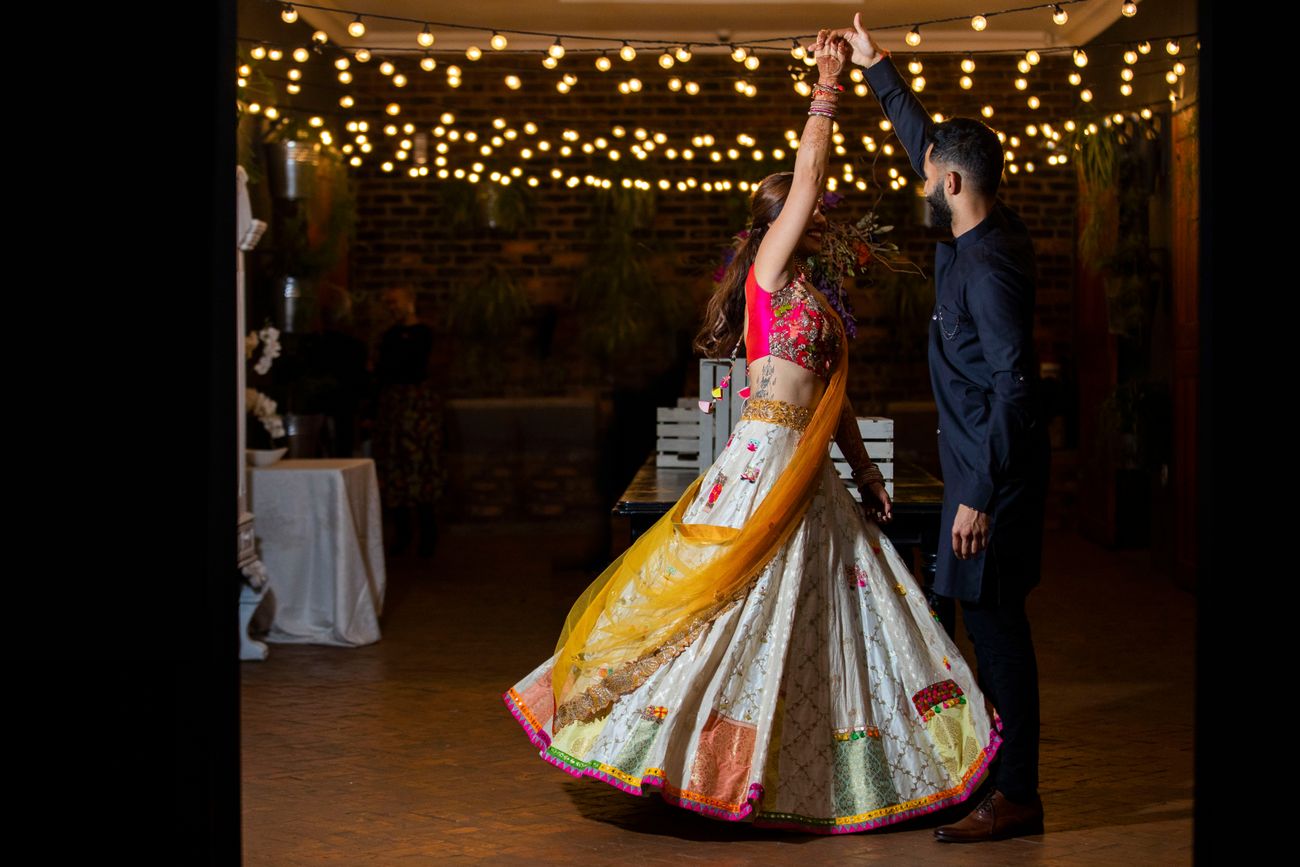 The Wedding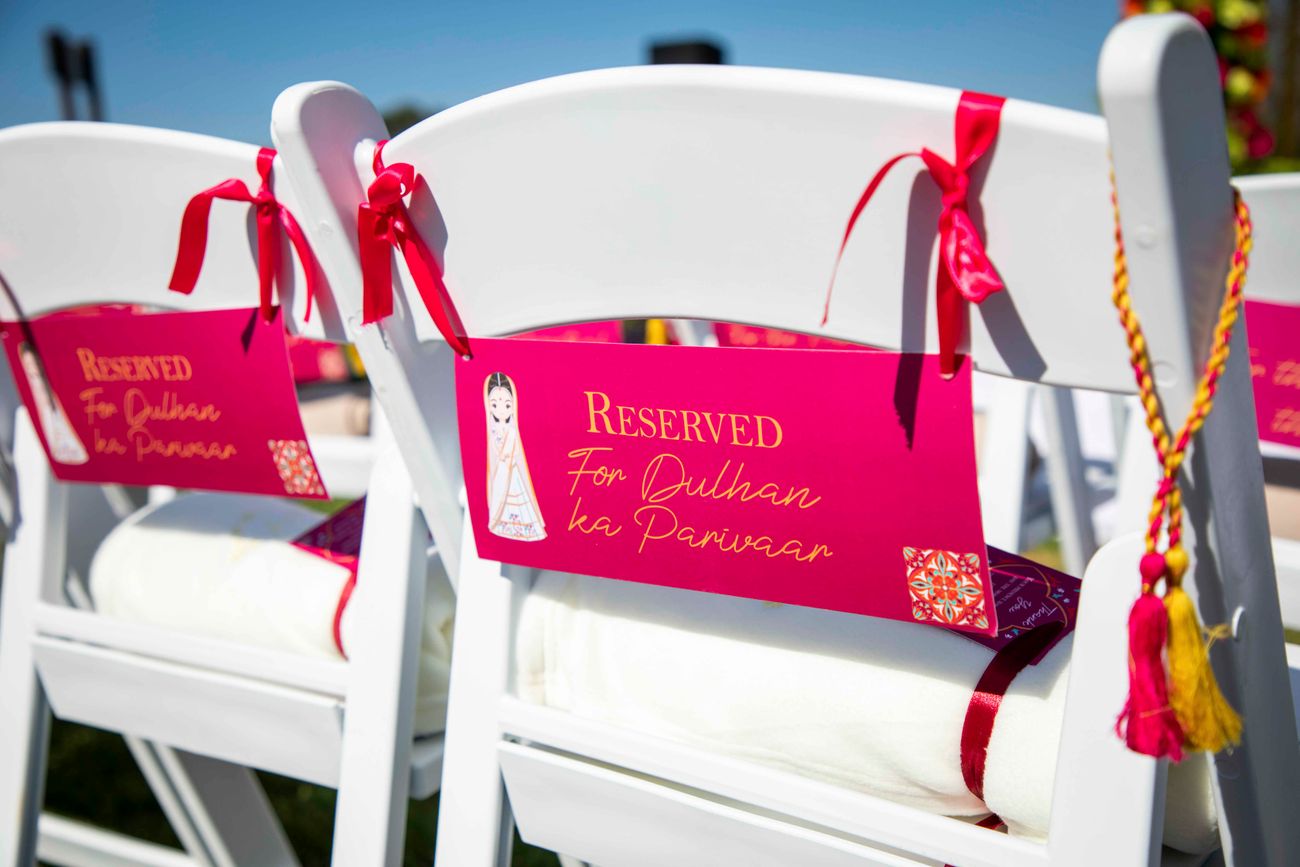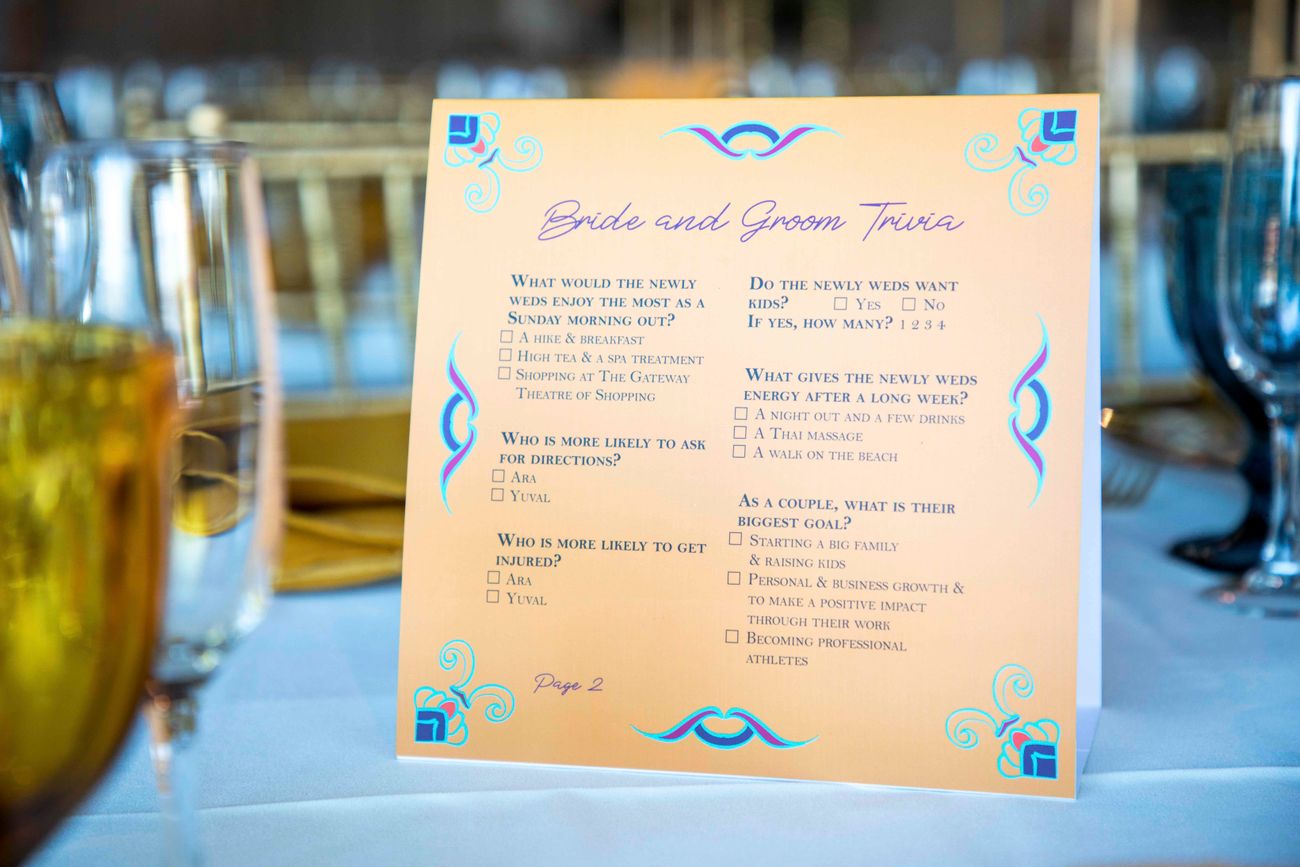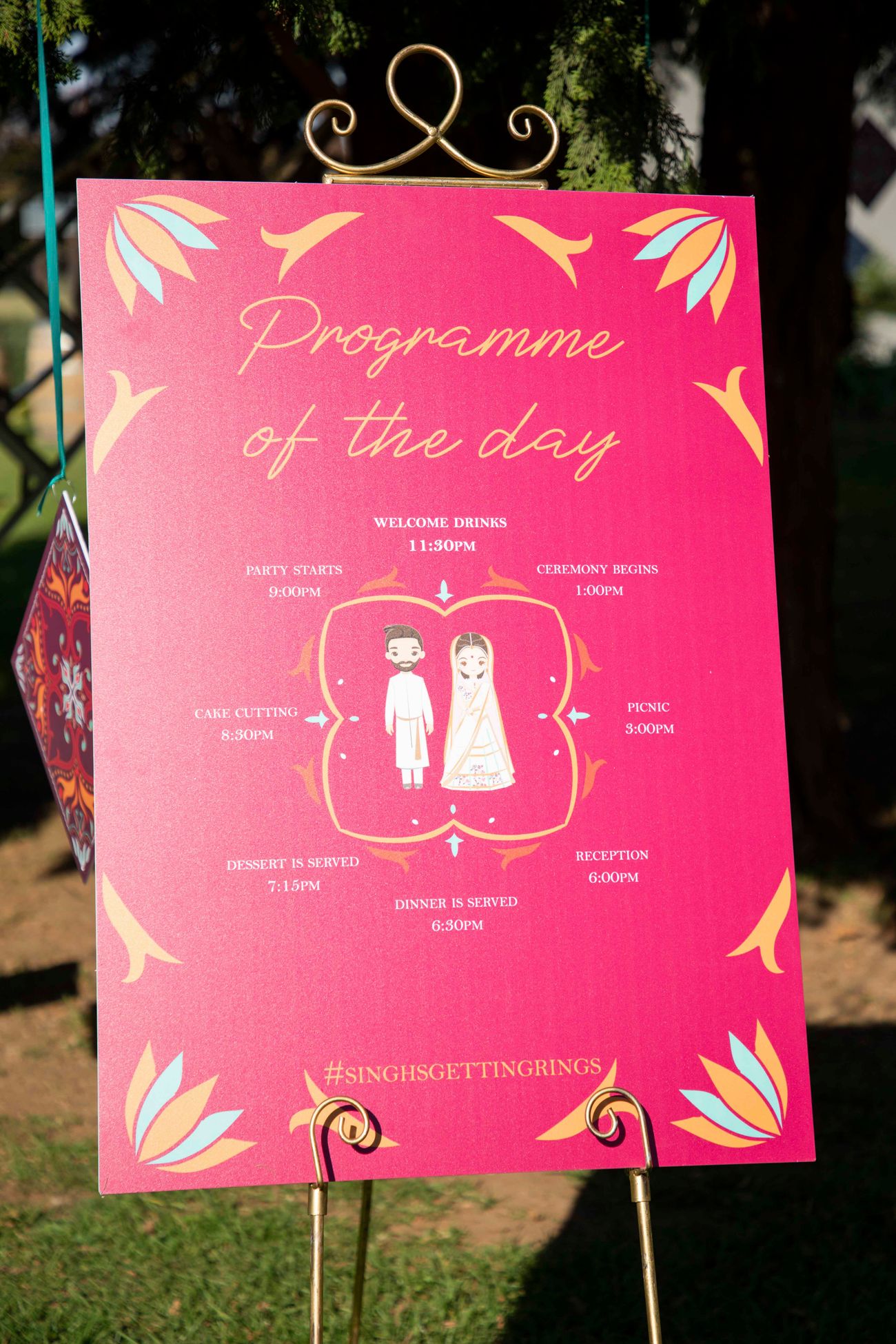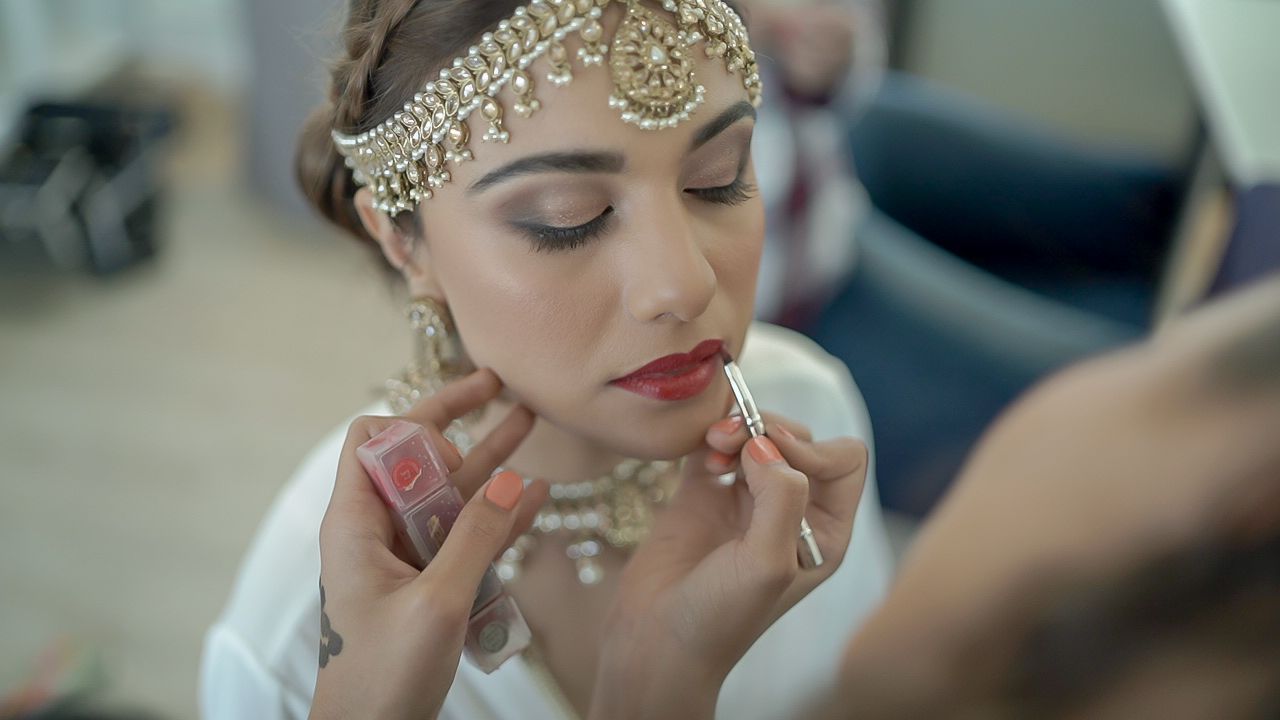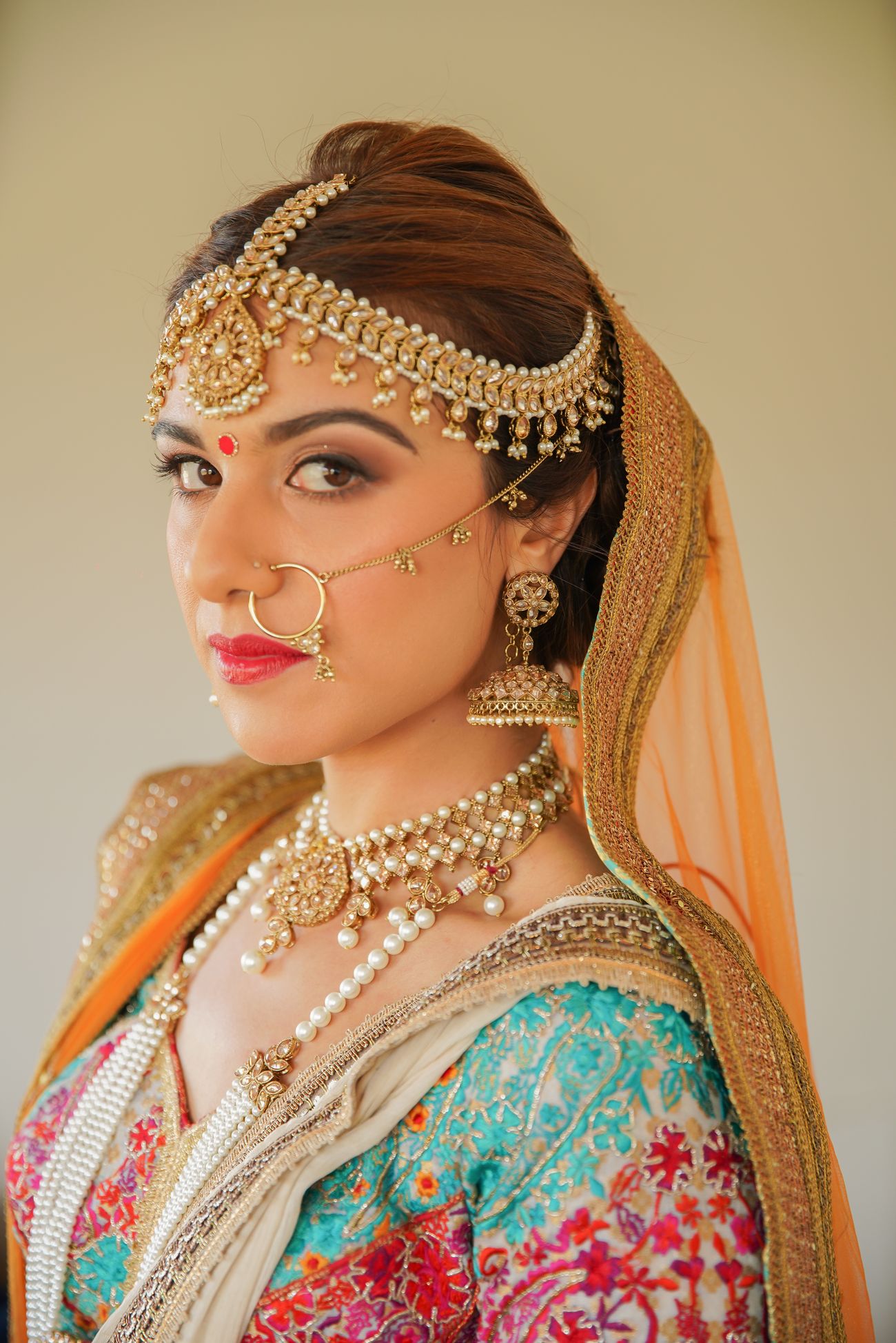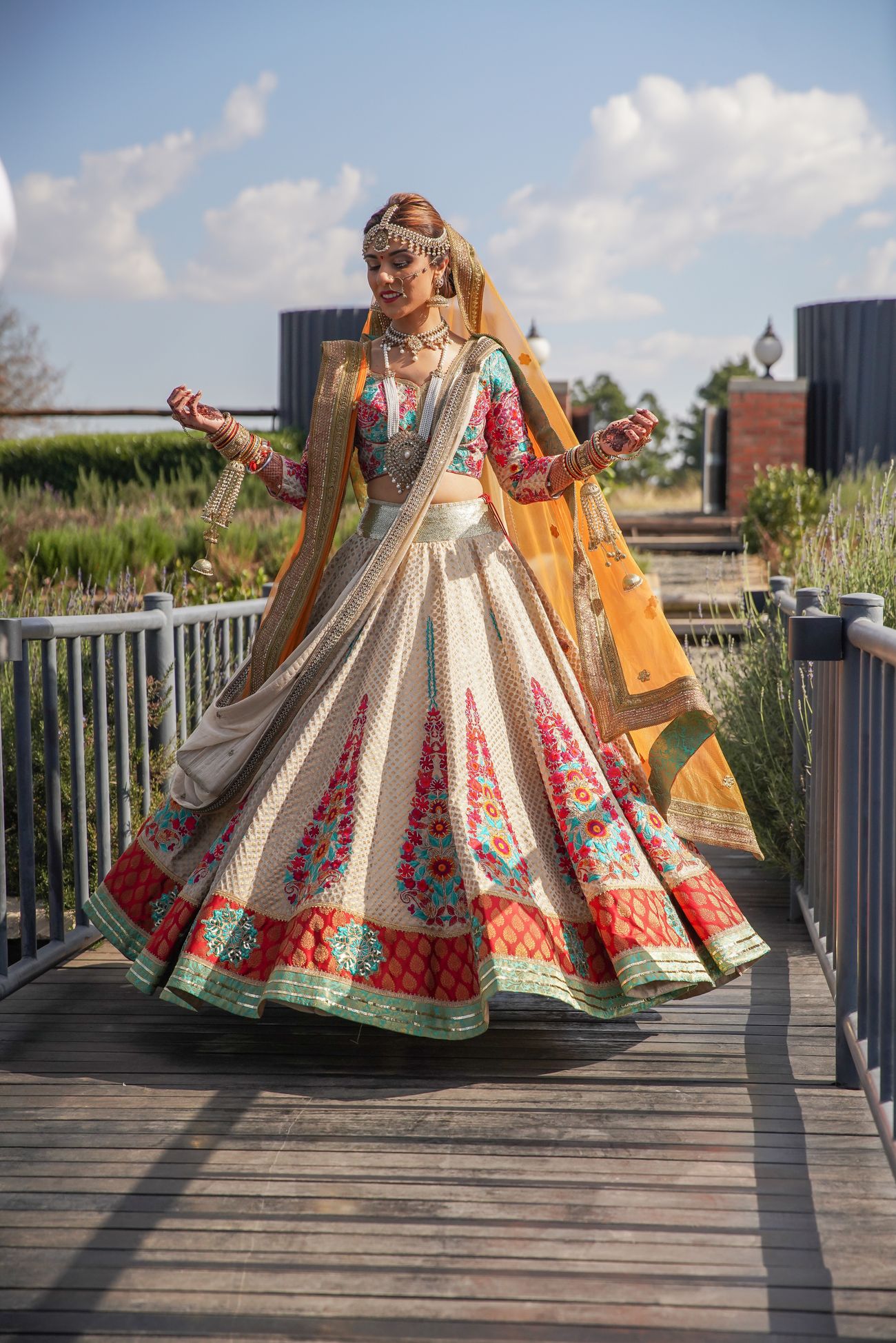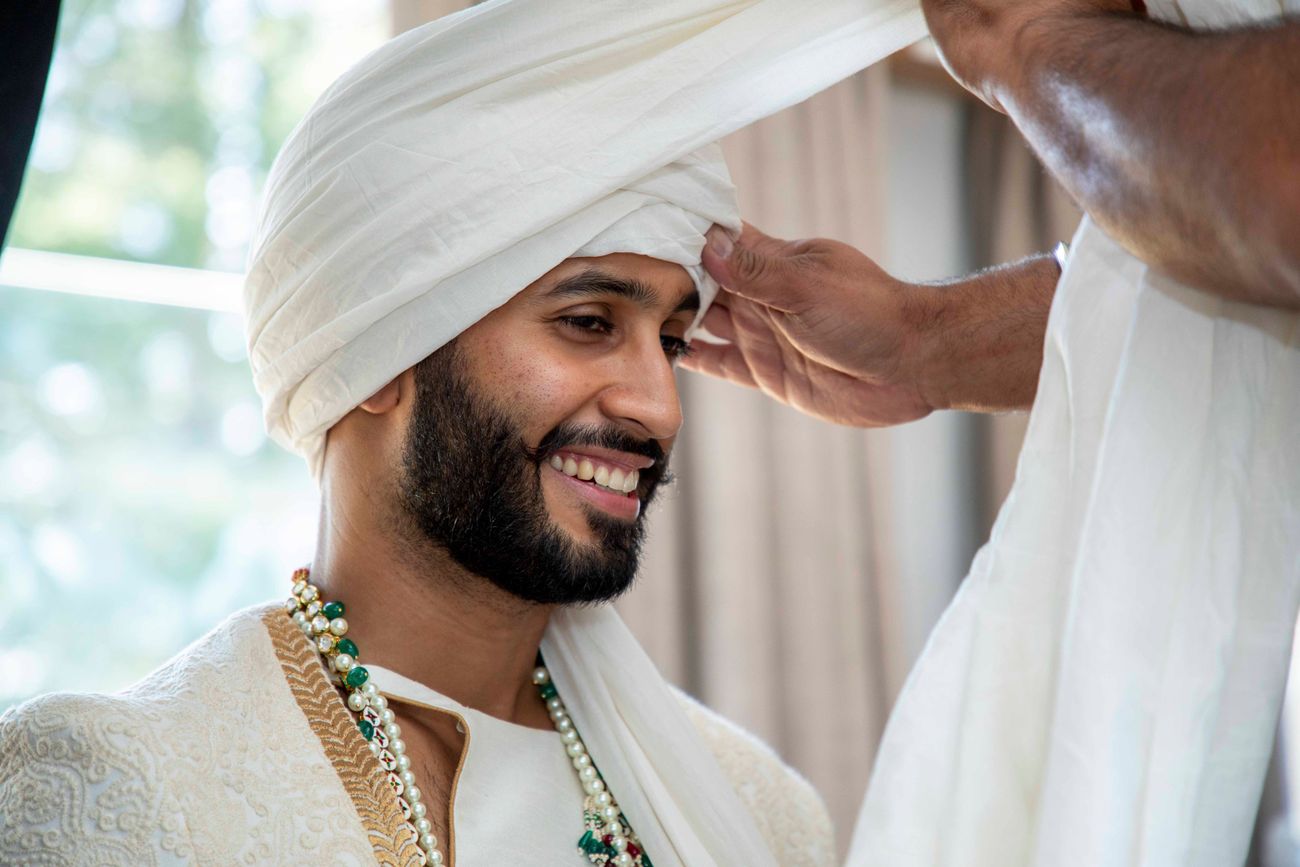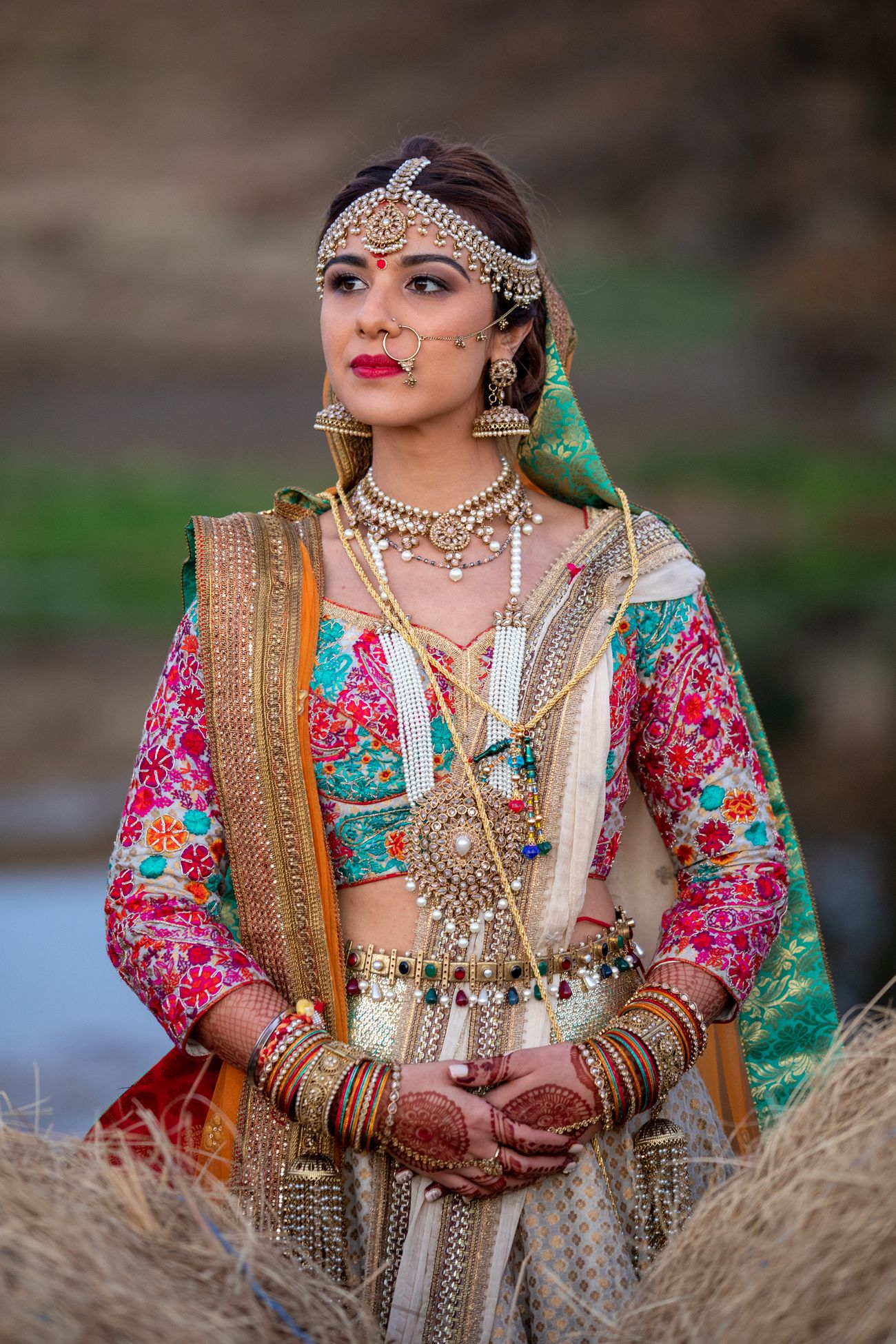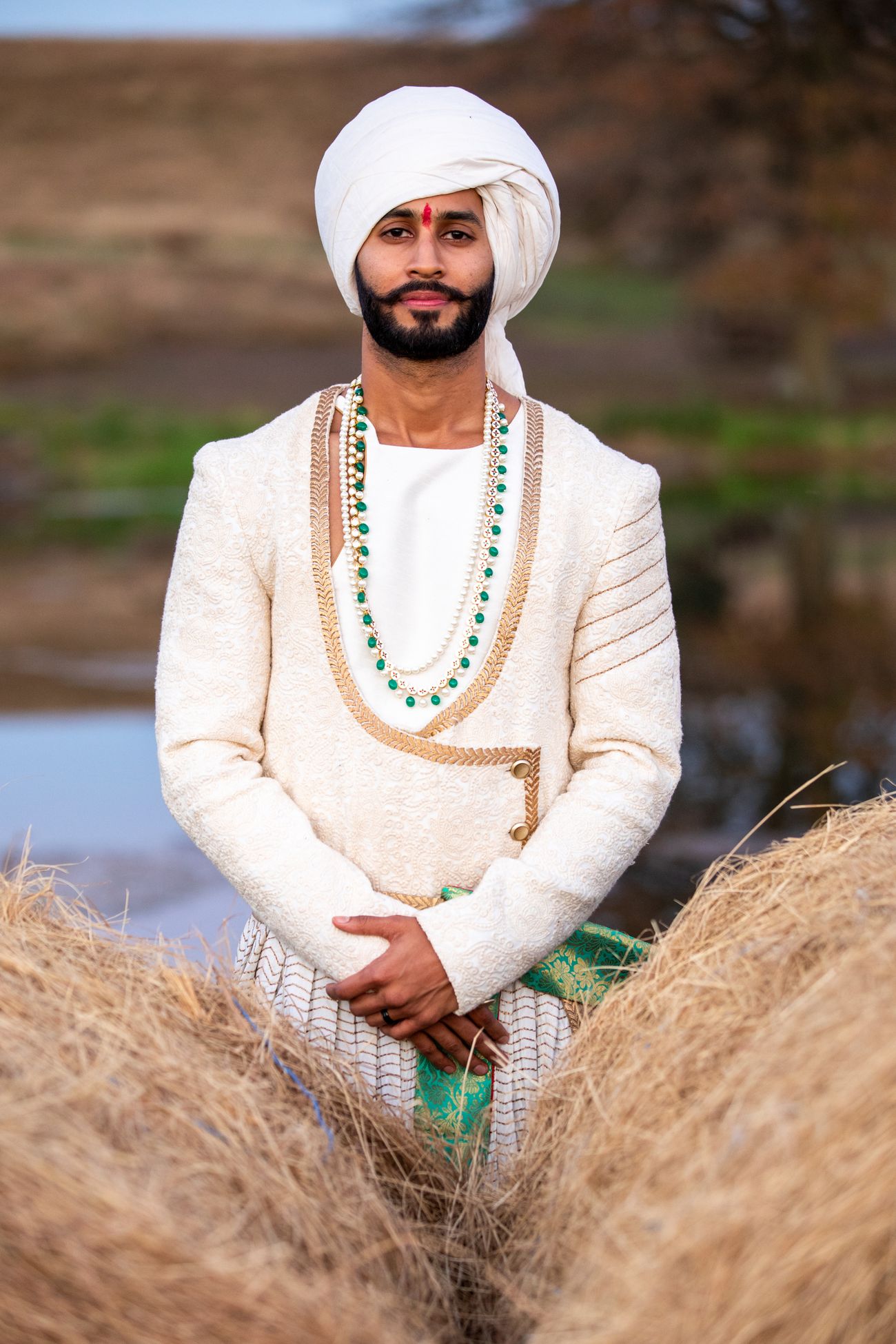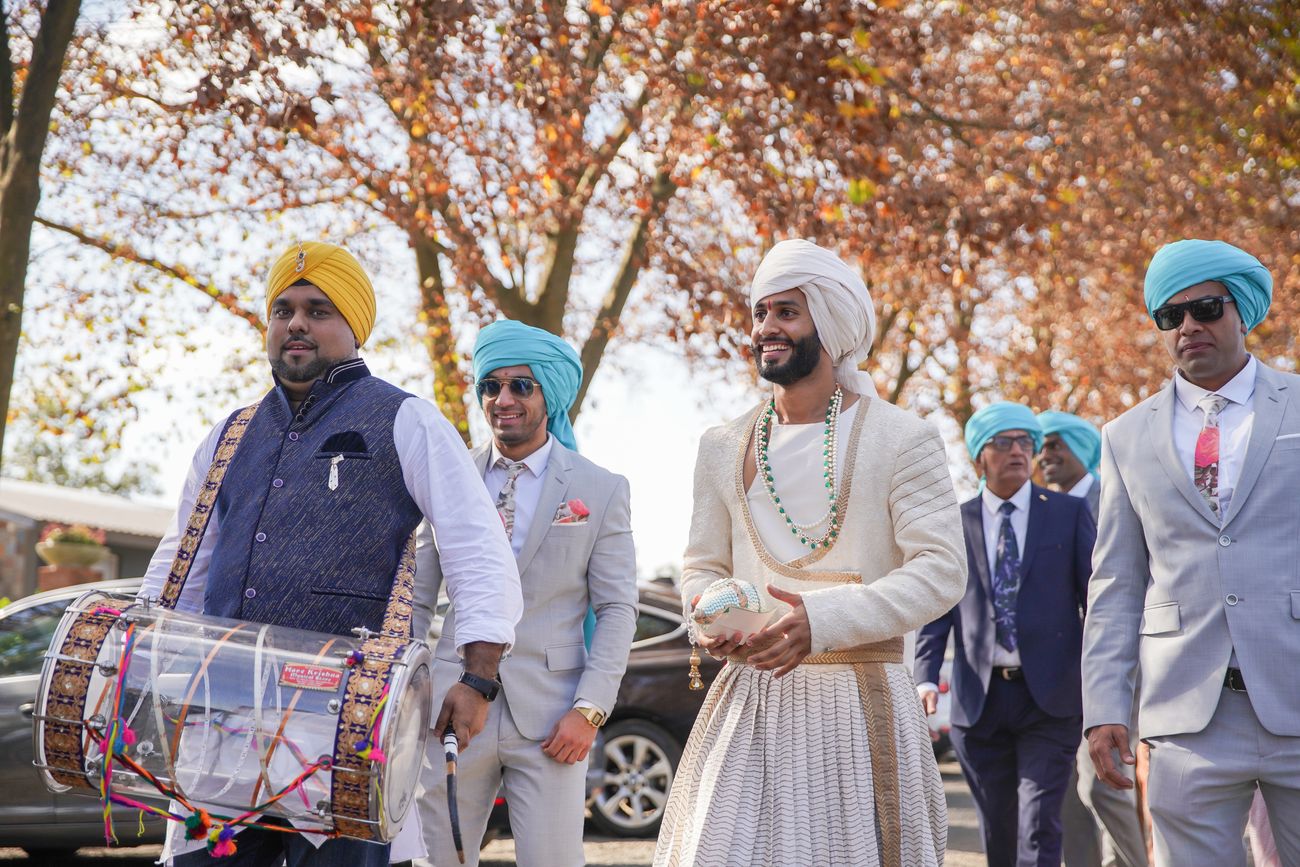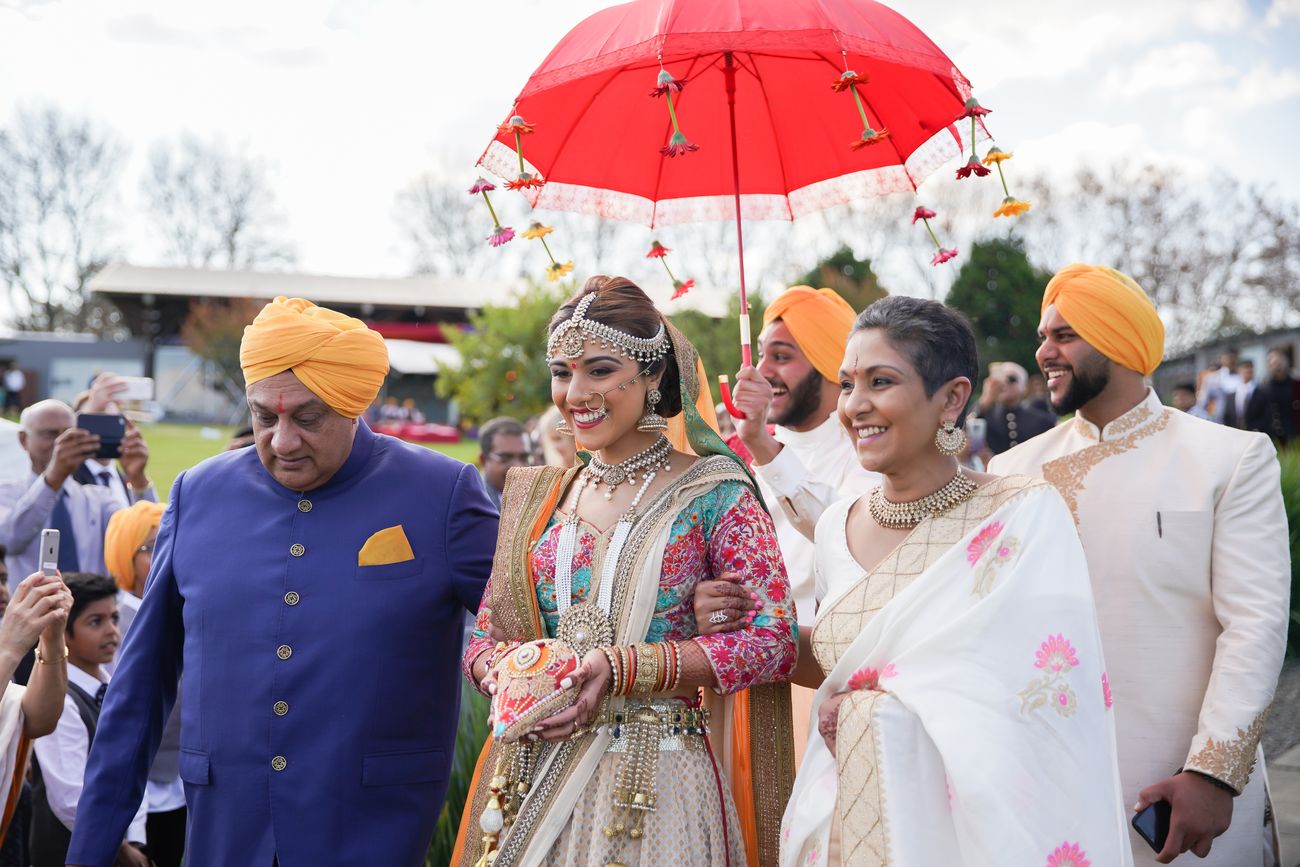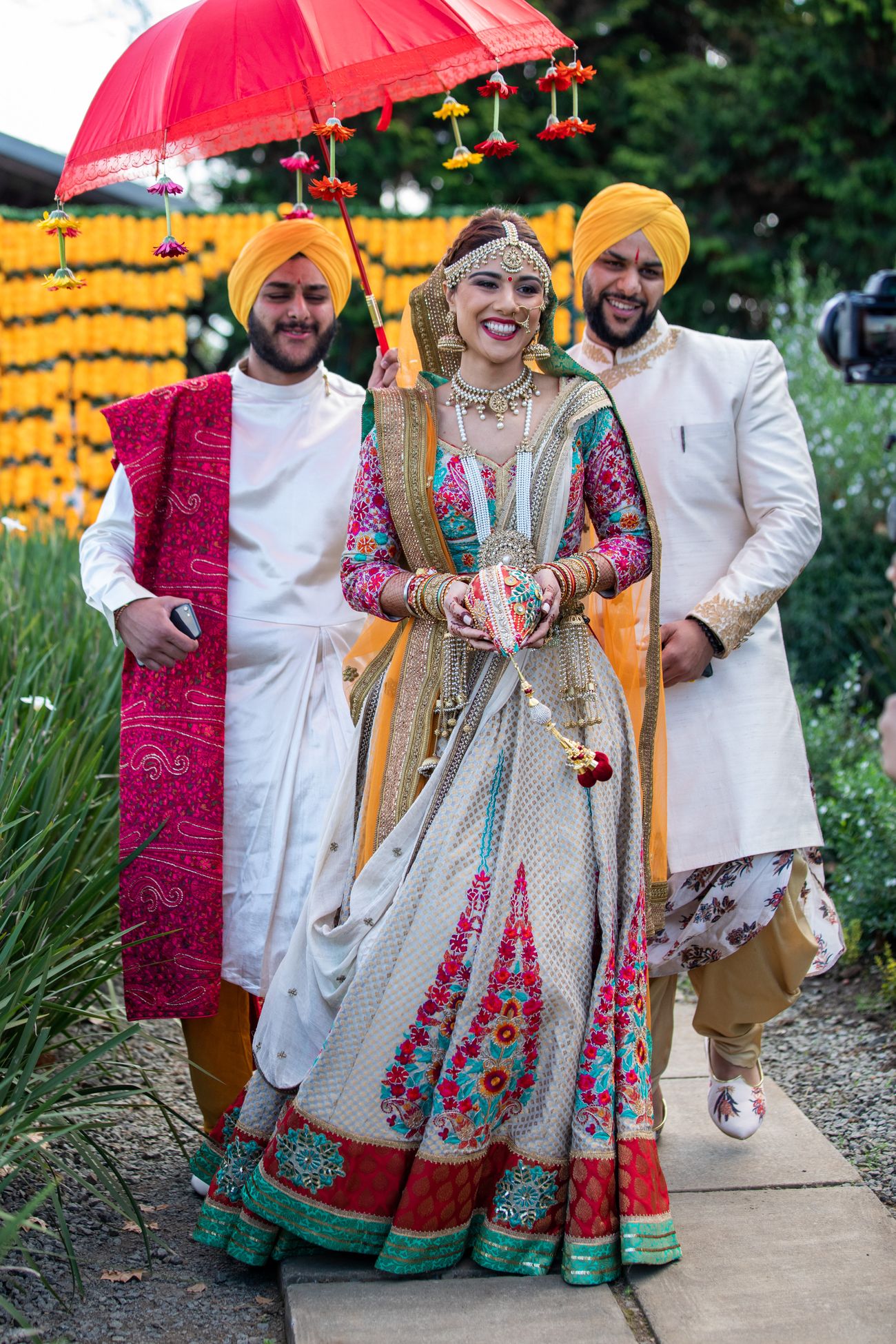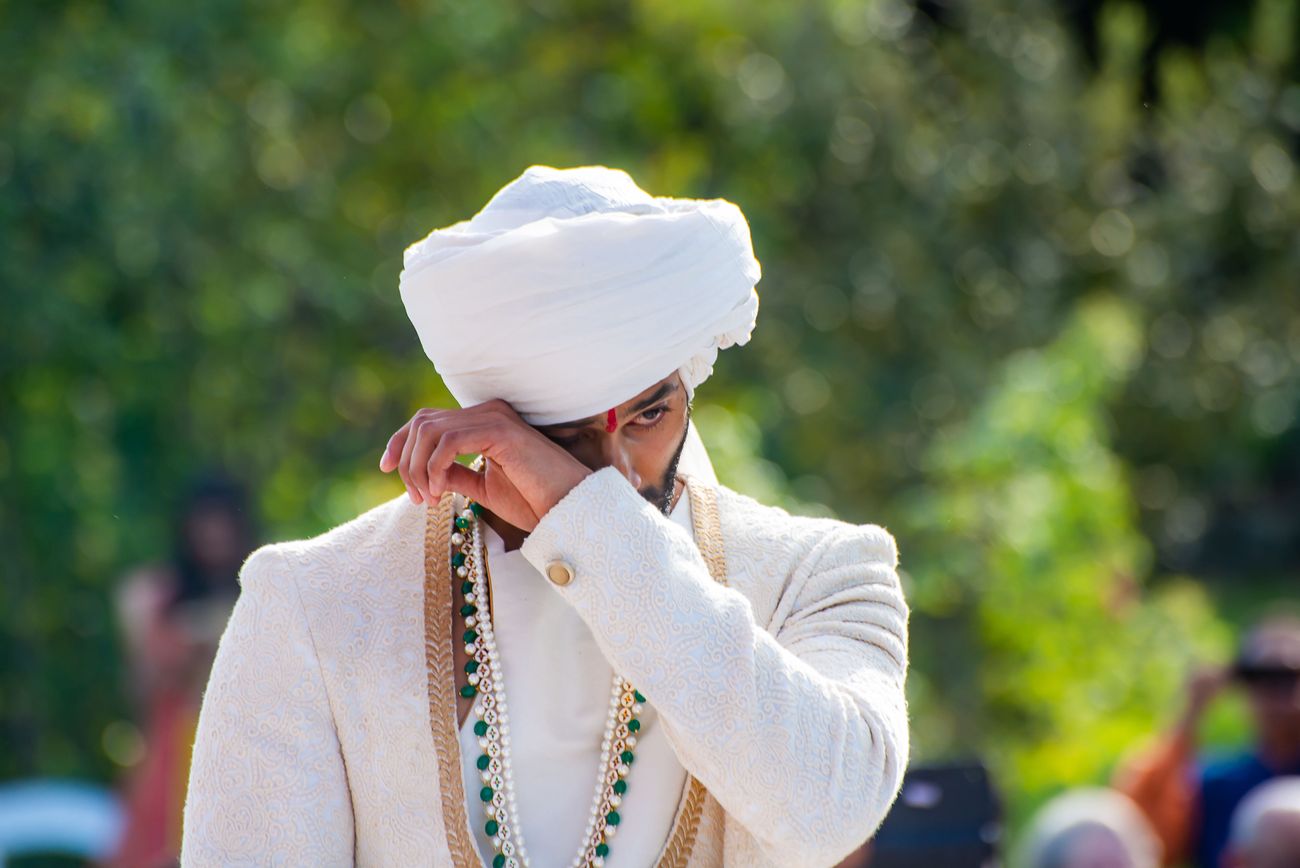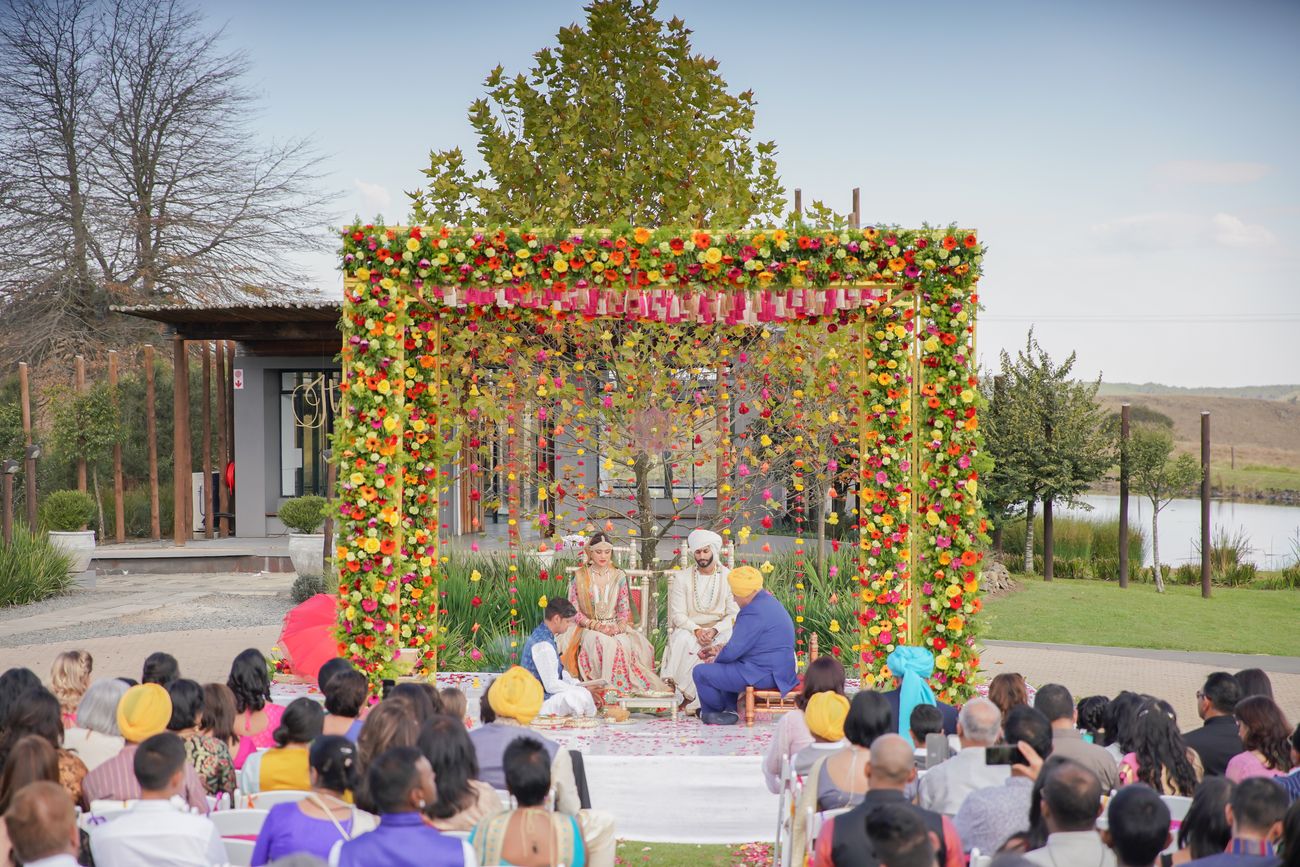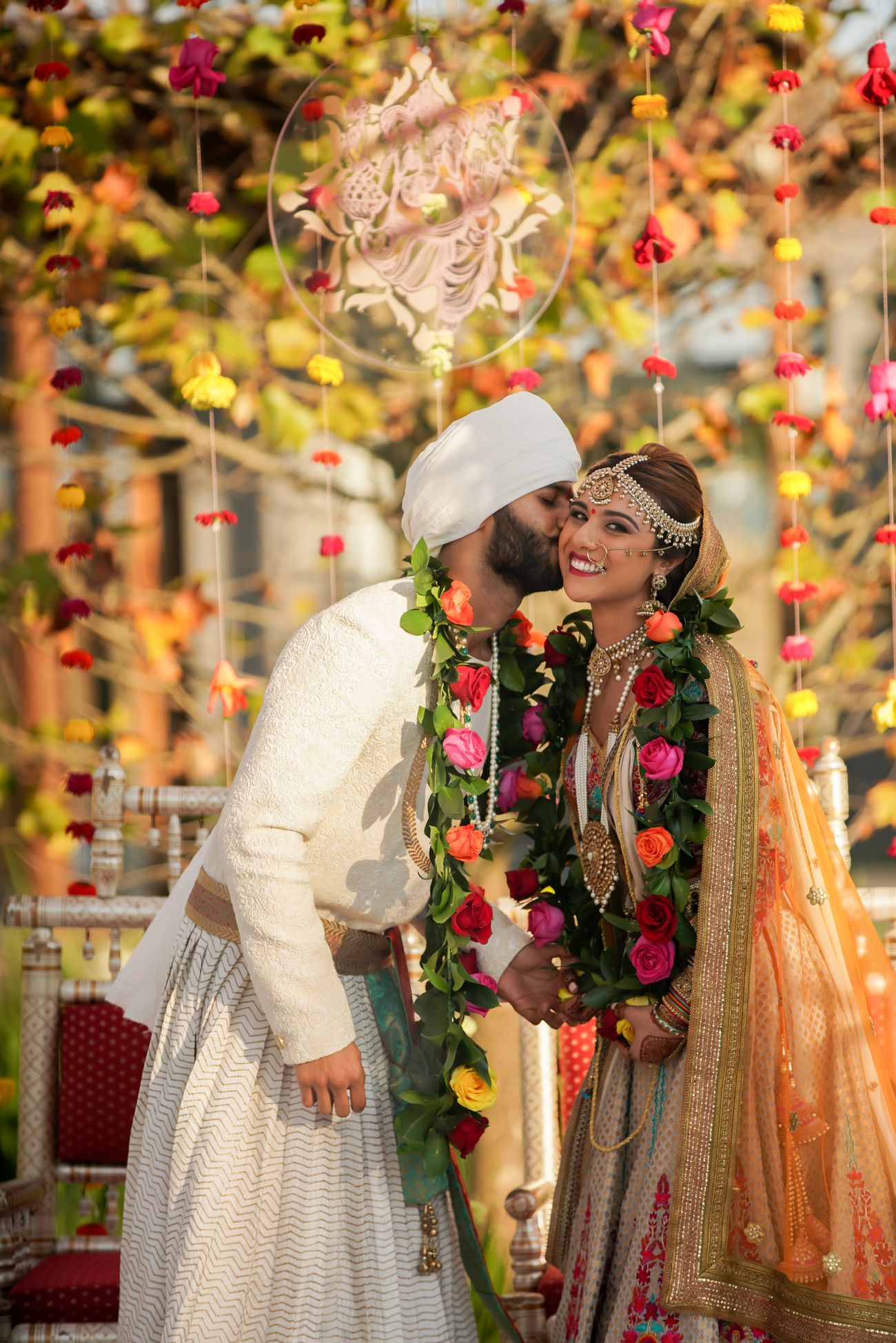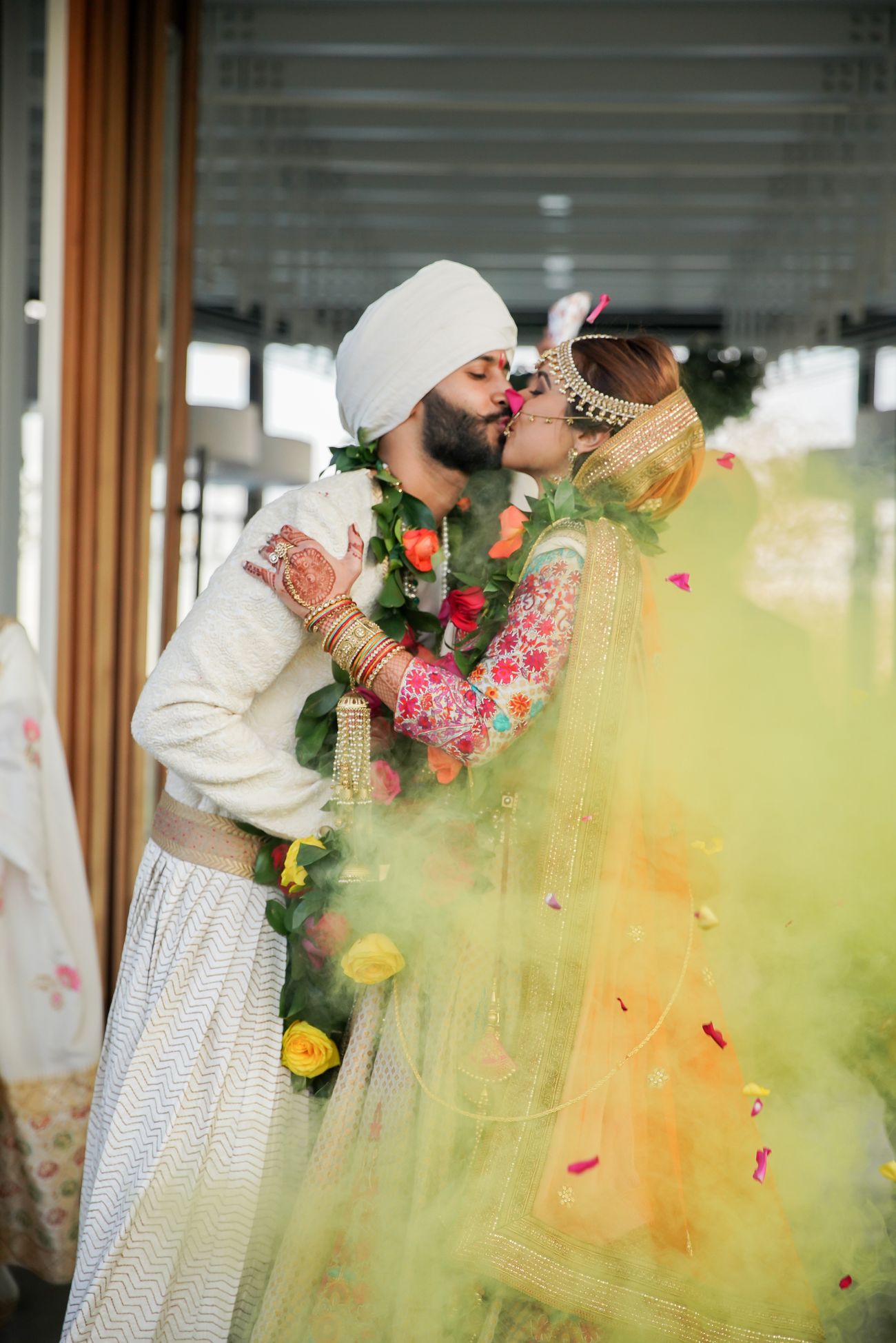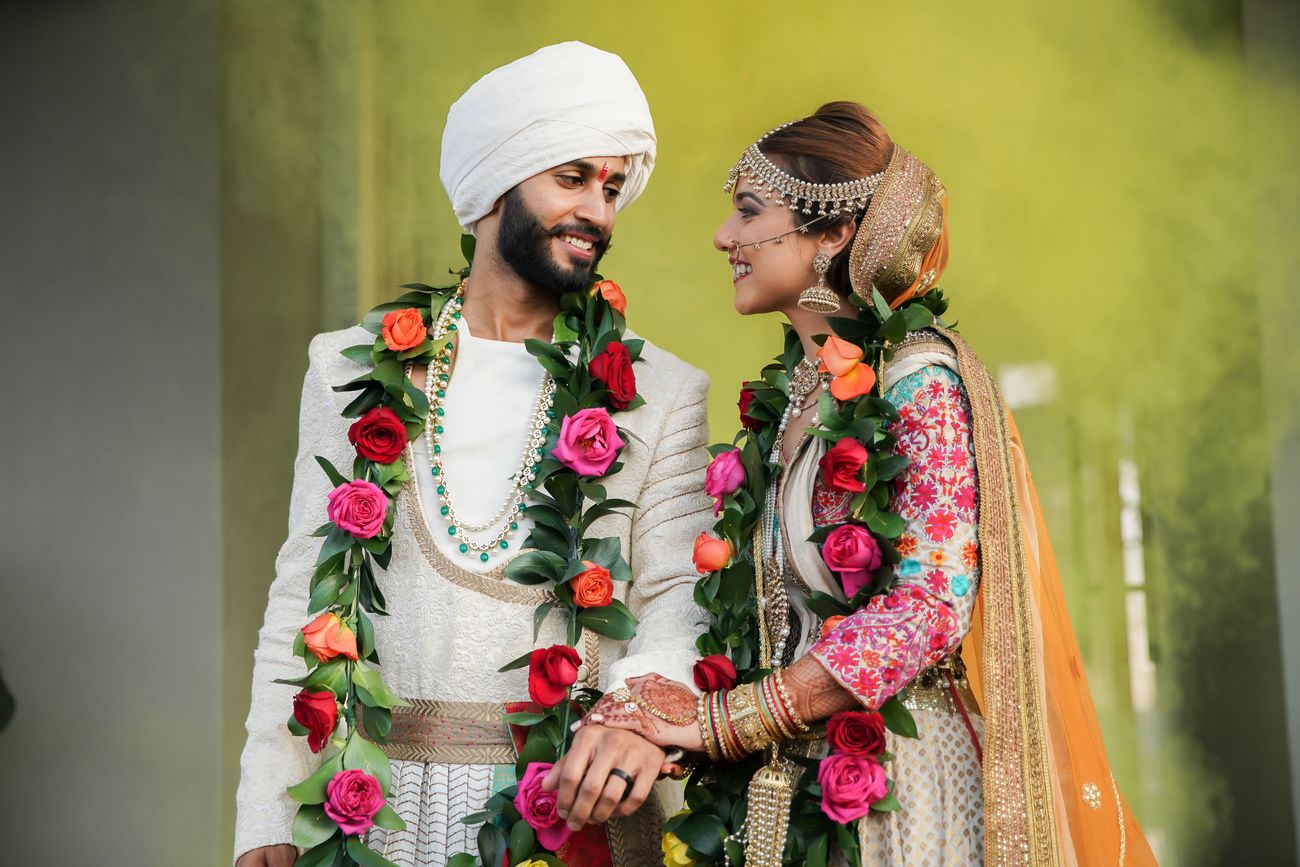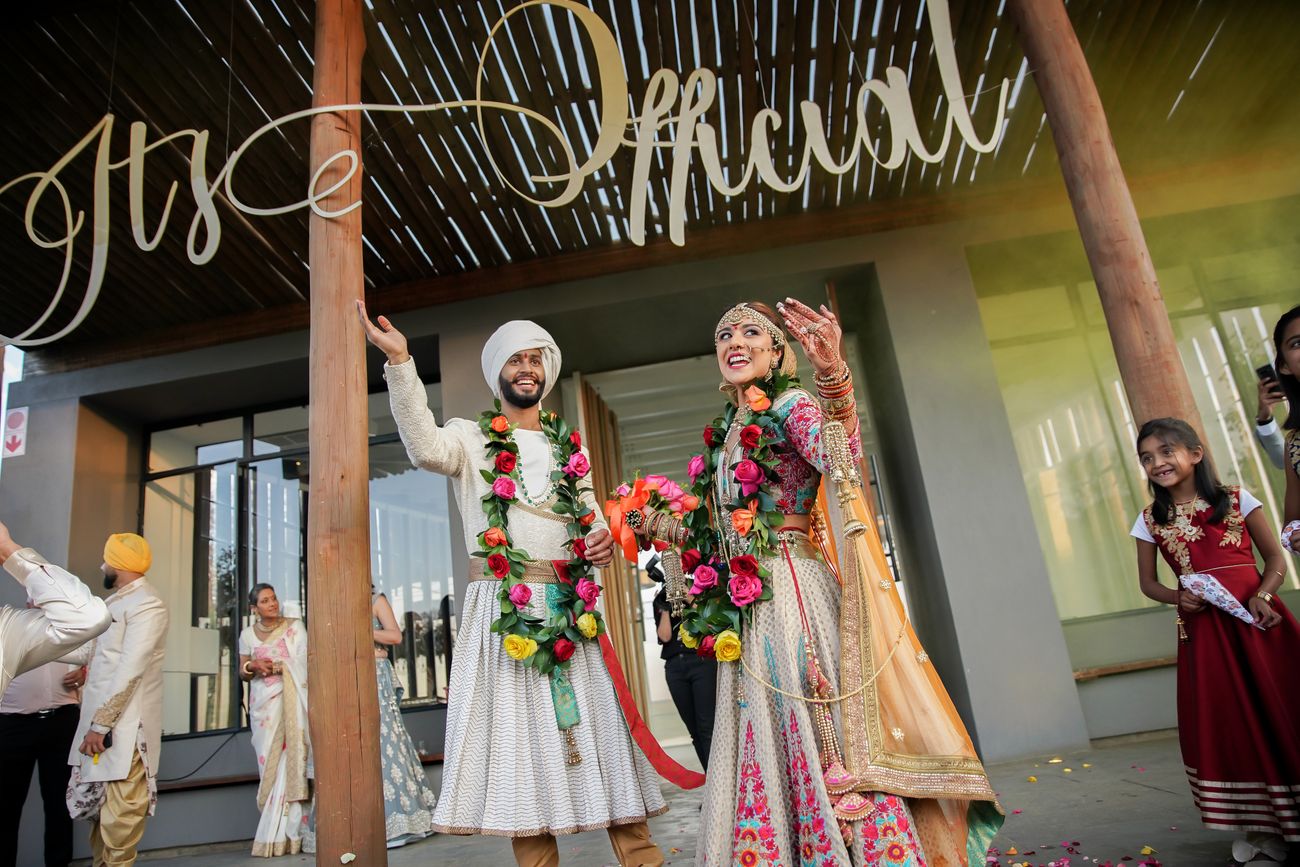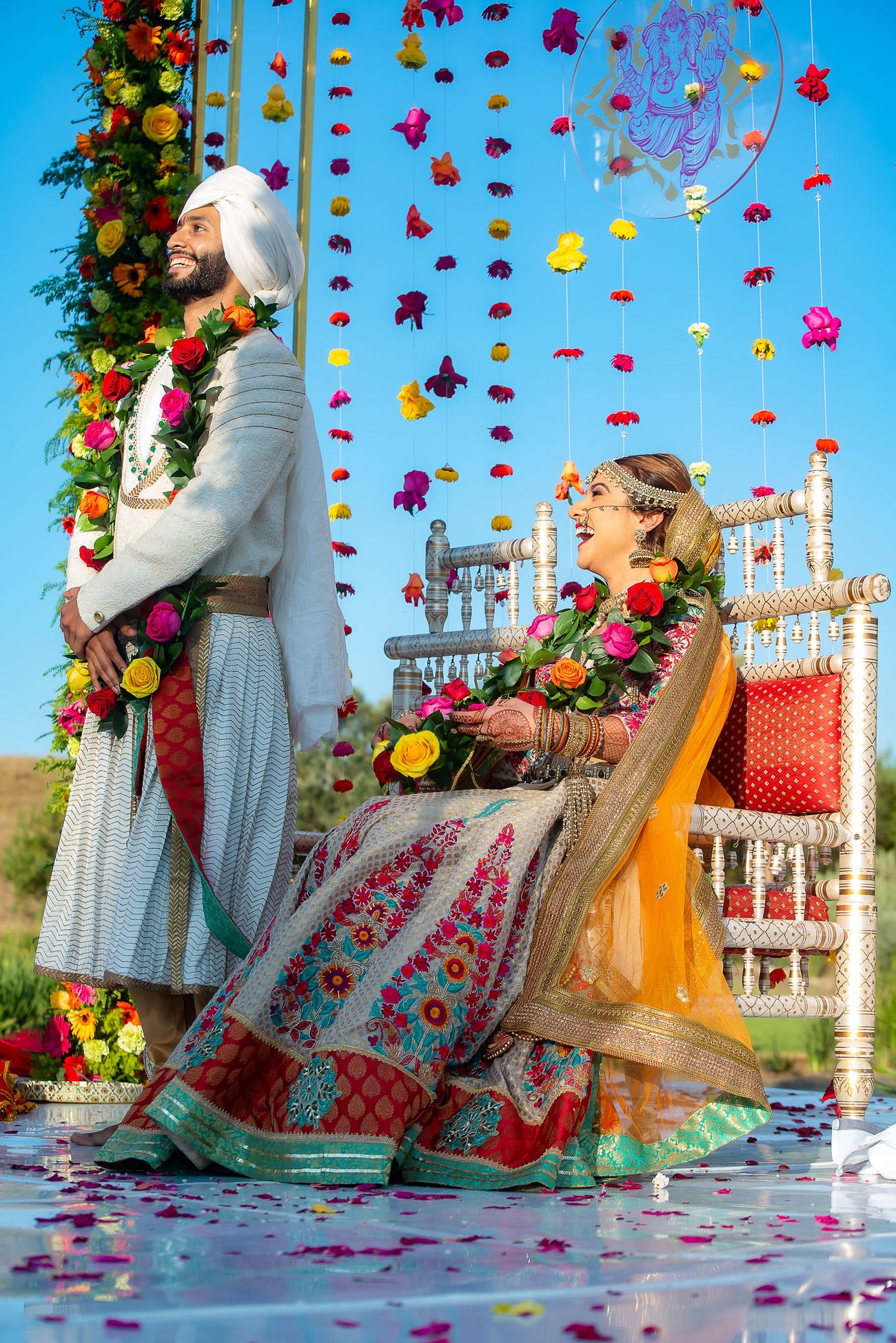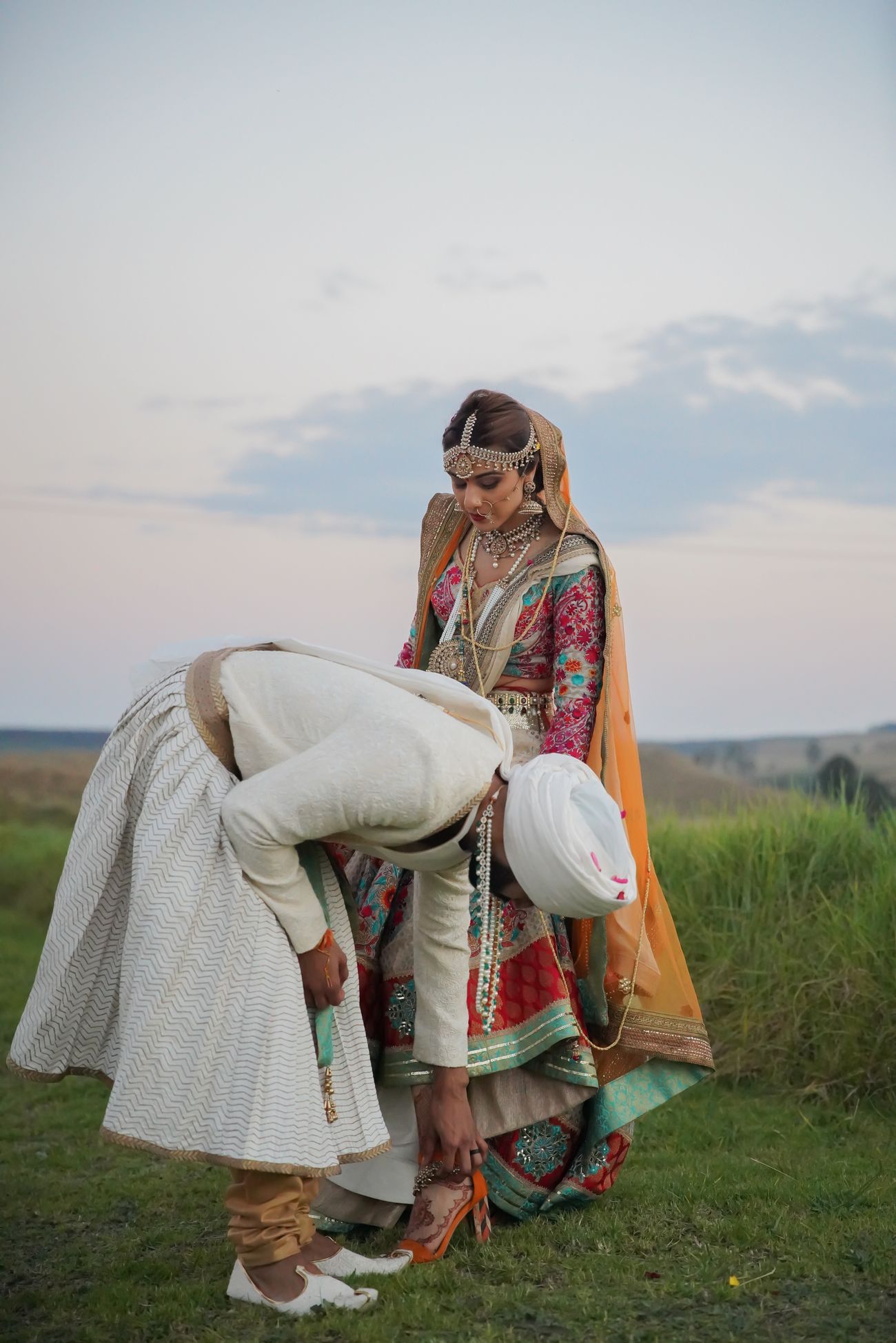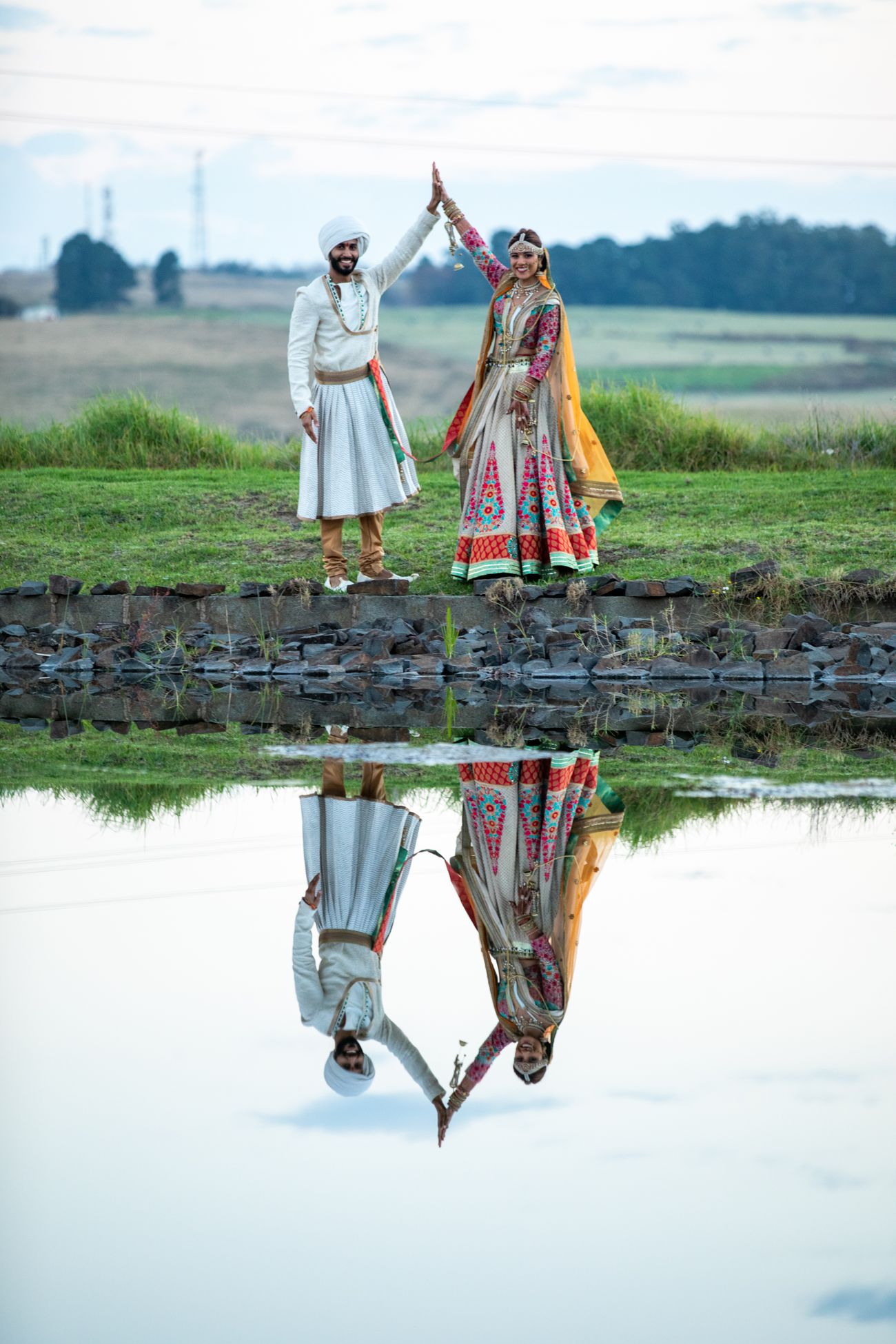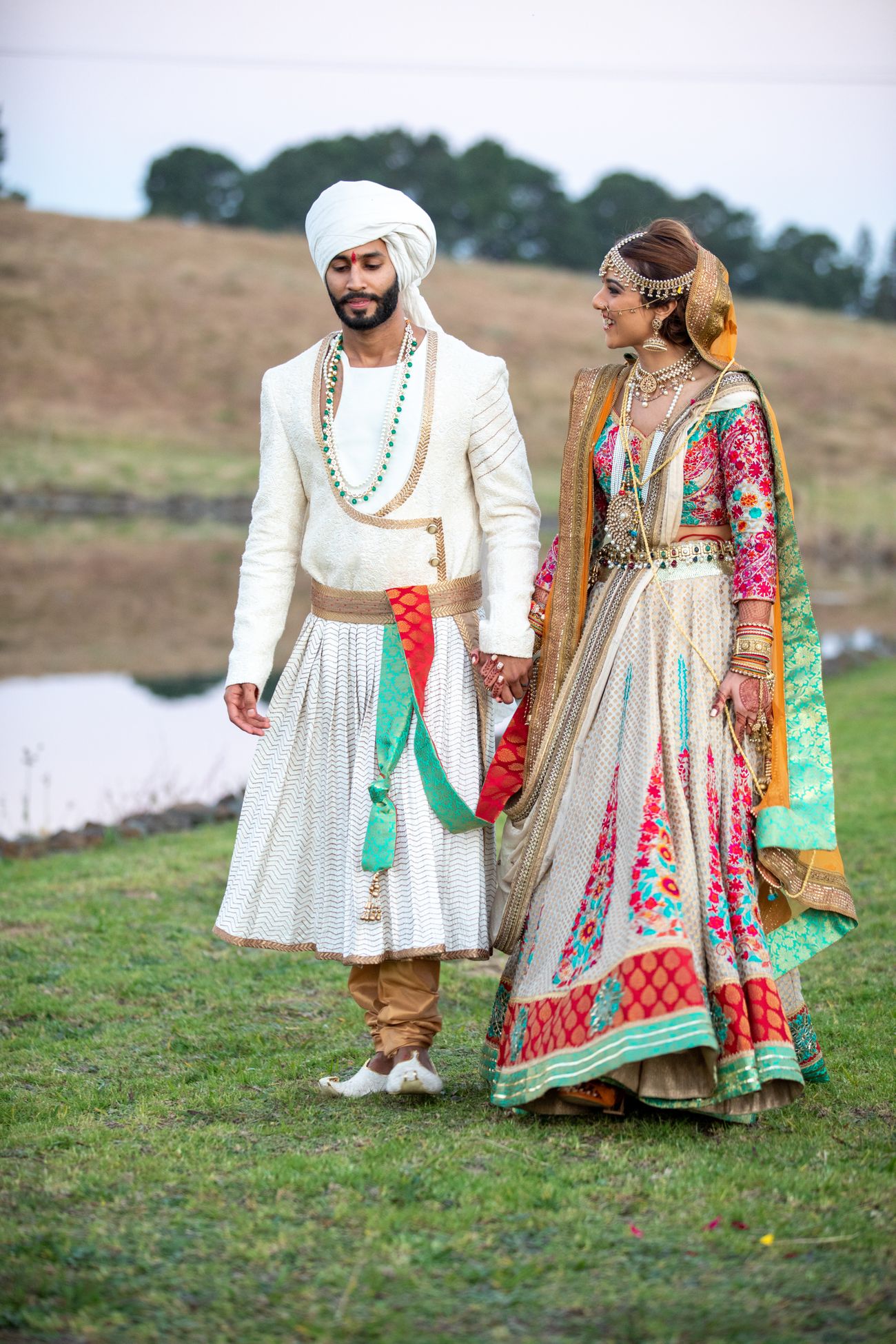 From The Bride: 
Owning a creative company in the design and wedding industry, called ISHK, we naturally infused our love for pattern work & culture throughout our themed events. We wanted to do things a little differently, to celebrate who we are. Our special day was fusion, where Bohemian design mingled with traditional Eastern & Western culture. 
We planned it all together, the Hurdhee, Sangheet, Mendhi, Jamboree (pre-wedding get together), Wedding Ceremony & Reception, & had a great time doing it! We designed all of our own wedding stationery, props & backdrops. Artwork from the wedding invitation was expanded into all of the other stationery. Together with our designers in India, we also created our bespoke wedding outfits, inspired by our theme.
We started with a clean, minimal yet quirky Hurdhee (Haldi). The decor highlighted marigolds, with giant props as well as backdrops made of marigolds. In the evening was Gheet (Sangeet), and it was as spectacular and colourful as it gets. A massive mela themed backdrop, printed decor hangers and a Rajasthani street with custom made food & desert carts were just a few elements that made the Sangeet totally magical. We then had an intimate mehendi with literally just the closest of family and friends. After that we had a Jamboree, right before our wedding day. The decor was a subtle homage to the natural backdrops and it had a completely bohemian vibe to it. There were open fire pits, food was barbecued over fires and there was a lot of dancing and just having fun! The wedding was another gorgeous affair with live music and outdoorsy vibe. The ceremony was spiritually uplifting and we were surrounded by the love and positive vibes of our loved ones all around us! 
Any wedding planning tips or advice for couples getting married?
Unleash your creativity. This is one day you get to throw a party for everyone and express yourself. Don't follow any rules. Break them all & allow your personality to shine through to create an original experience. Don't limit yourself to flowers and big decor pieces. There is so much you can do with wedding stationery & event props to convey your personality.
They are also affordable and original! Be on the same page with your vendors at least 3 months before the wedding in terms of exactly what you want & your budget. Do a digital Save The Date & RSVP & then you will only print invites for those attending, saving money! When things go wrong on the day, don't worry about it. Remember, your guests don't know what is going to happen next! Also, imperfection is everything. Just have fun and soak in all the happiness!
Vendor Reviews: 
Kapture International - Photographer & Videographer: The owner of Kapture is Yuveer Karunchand. He is a friend of ours and we've had some special times together, and even toured parts of India together. Working with Yuvi is always amazing. We can be totally ourselves and he encourages natural content. We loved his calm approach, embracing our different personalities and working with us to create such original & beautiful imagery. His video blew our minds though! The unorthodox & contemporary video style perfectly suited the unusual wedding setting. The selection of music for each scene was perfect in re-creating the emotive & special moments
Elana Schilz Weddings - Photography:  Elana is also a dear friend of ours. We have worked with her on many ISHK photoshoots. We love both chilling with Elana and working with her. She has a fresh soul, a bubbly personality and hilarious jokes.  She made taking photos of us such a pleasure and we could also be our good old selves with her, while she captured organic moments. What really impressed us about Elana was both the quality of the images & the sheer number of special, natural, moments that she managed to capture. She is really a force behind the camera!
Eastern Elegance - Decor: Aunty Jay is the owner of Eastern Elegance & she is one of Yuval's best friend's moms. She was so much fun to work with and wedding decor meetings were nothing short of fun picnics, with her tea and treats. Her quirky style, willingness to break barriers and do extra-ordinary things was really welcomed. She pulled off the decor with such finesse and we were very impressed by her work!
Durban Dance Salsa: Ben was simply awesome to work with. He taught us the sexiest Bachata dance to one of our favorite old songs: KC & Jojo - All my life. His attention to dance detail, passion and interest in us, made it a fantastic experience. He wanted us to be the best we could be and have fun at the same time! The dance was such a fun addition to the evening!
Accentuate Hair & Make Up: A powerful & super friendly team who knew exactly what they were doing. A breath of fresh air. They came in and sorted everyone out effortlessly. We truly recommend them to any bride squad!
DJ Kezo:  DJ Kezo is a JHB based DJ with a natural flair for getting crowds moving! He has been the family DJ of Arahna's for many a good party!
It was so much fun planning playlists and themes with Shaun (DJ Kezo), giving each event a different sound. Shaun had the crowds going crazy on every night, and all the parties were very successful thanks to him!
Punditji Mahendra Bhoola: Punditji is an Uncle & friend of Arahna.
He did all of the ceremonies from the Gheet to the Hurdhee & Wedding.
Having a personal relationship made it so special as we felt his love and warmth throughout the prayers. We were so relaxed amongst all the festivities and hype as his calm nature allowed us to be in the moment and listen to the most important part of the day - the promises you make to each other!