A Cross Cultural Mumbai Wedding thats oodles of fun !
BY The WMG Bride | 23 Mar, 2014 | 2035 views | 4 min read
Let us just admit something first up. We have a girl crush on this bride - not just because she looked stunning at her wedding (love the hair) but there is this vivaciousness that Ashima Suri Photography seems to have captured in her lens ! From the fun, christian white wedding to the Arya Samaj  hindu brunch wedding , this Mumbai affair seems to be full of love, life and laughter. Wedding detail we love: The "Happily Ever After Starts Here" sign and the jewelled hairband , and the coral flowers and the.. ok lets stop!
Meet Shruti & Gavryl
They met 4 years ago on his birthday through common friends. It  was karaoke night. Shruti says "I started singing and he was hooked.. (ha!..i'm an awful singer). 4 months later we were seeing each other and I was banned from singing "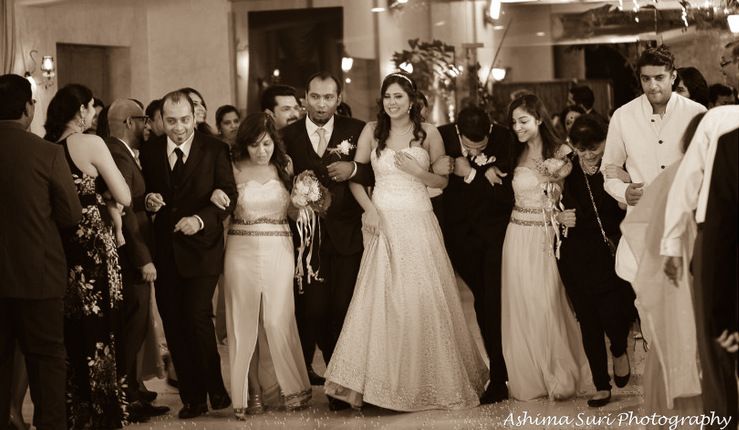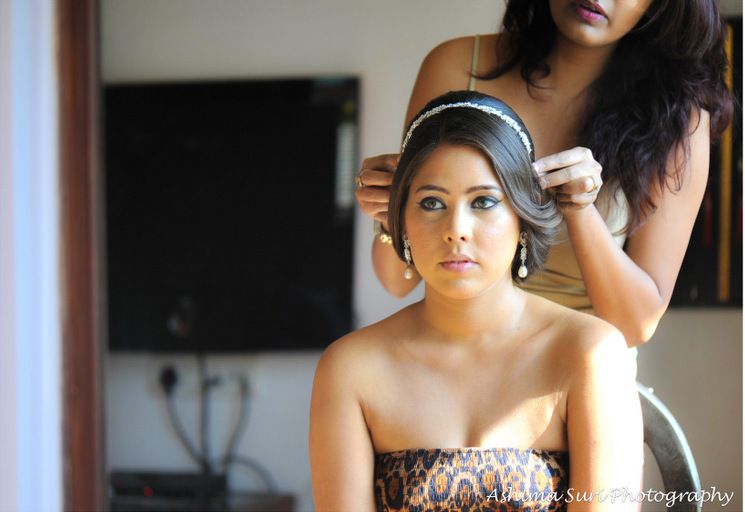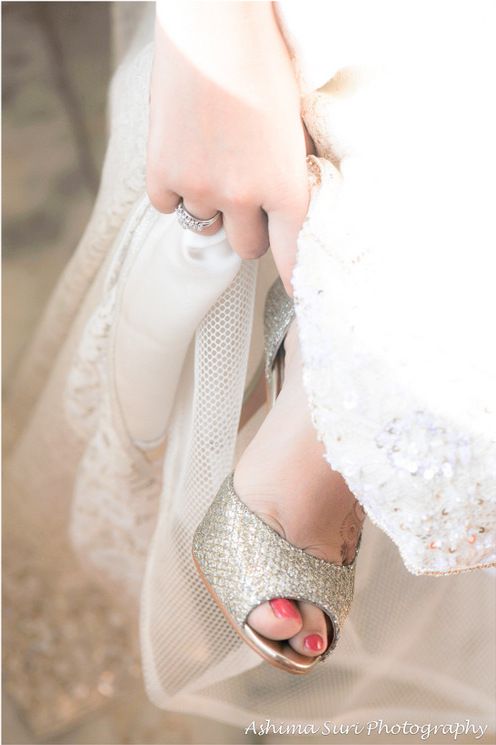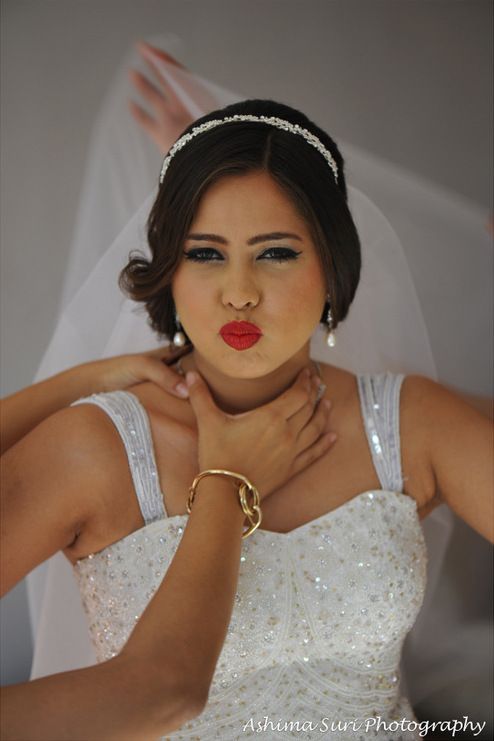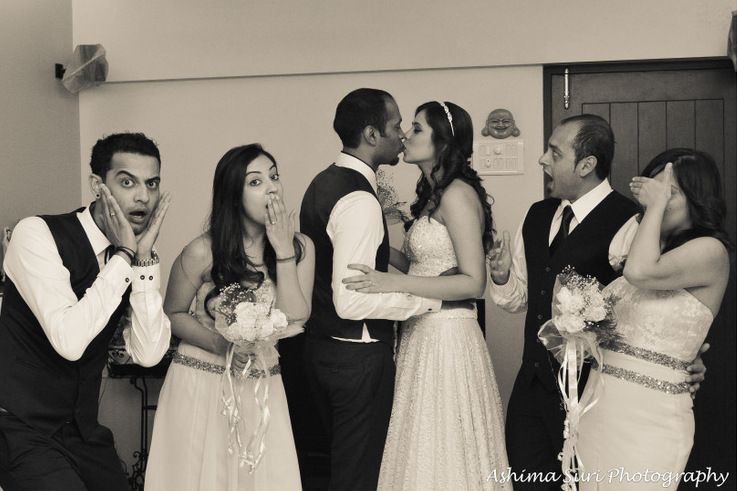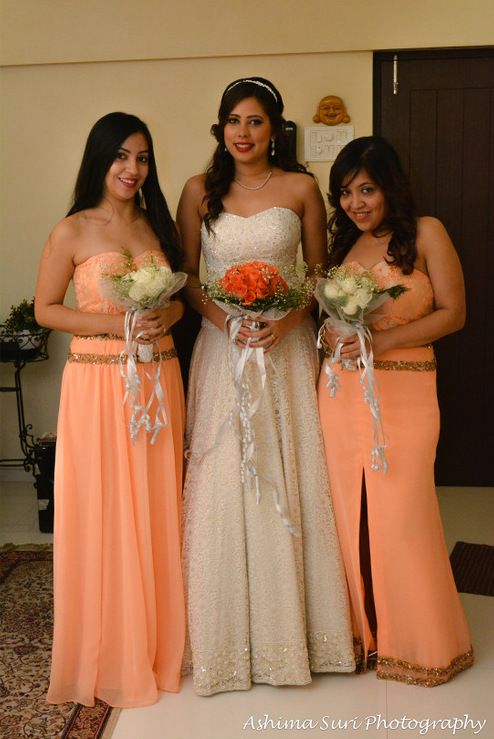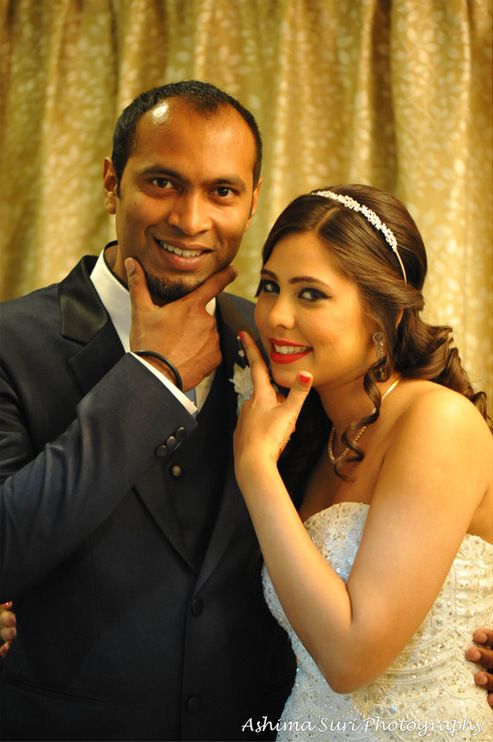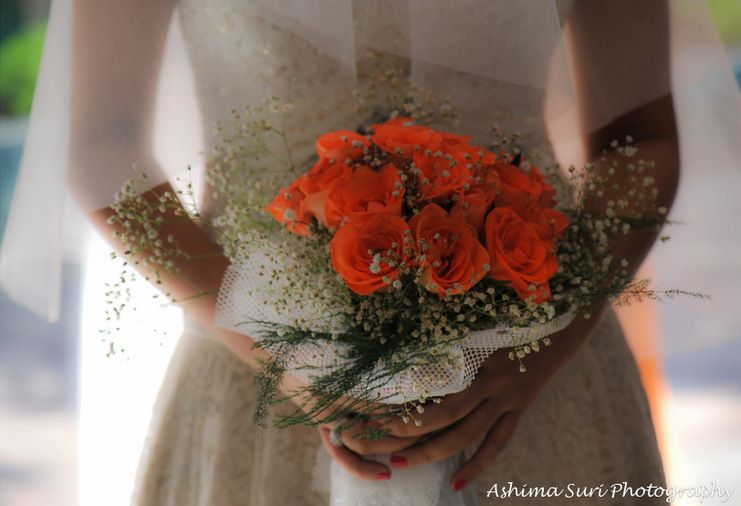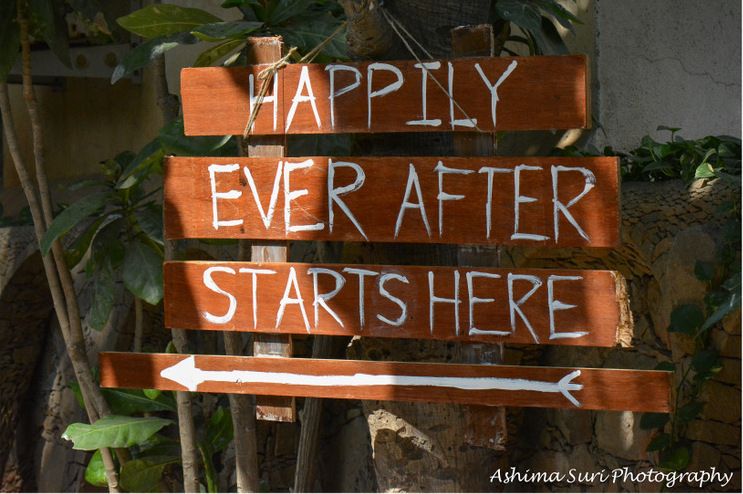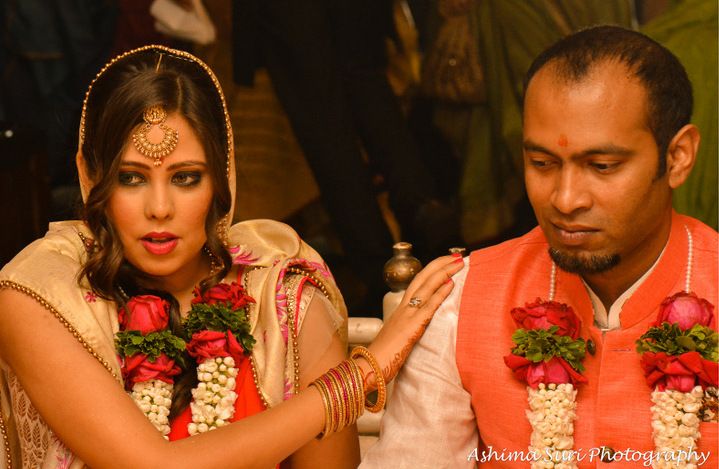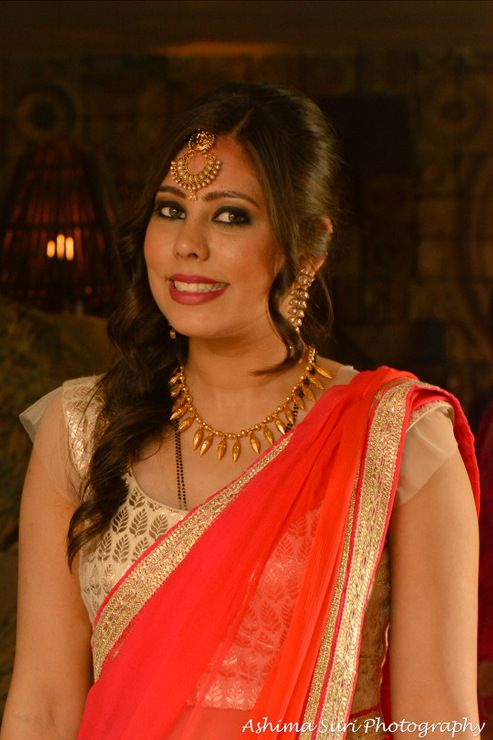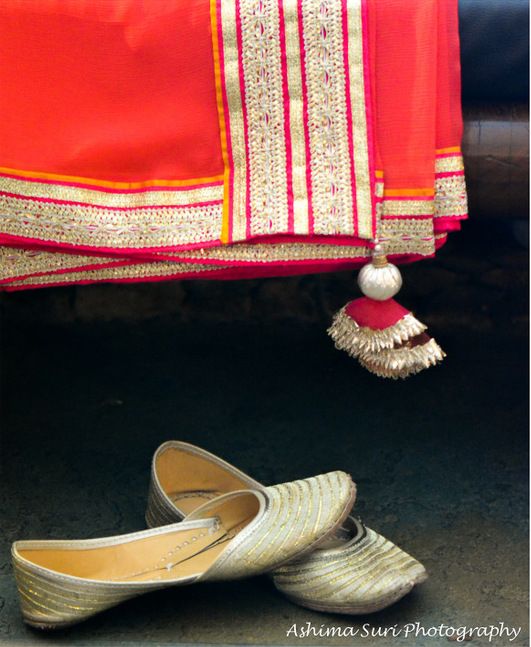 So you are Hindu, he is christian -  what was the wedding planning process like with two cultures to juggle?
He's a catholic and I'm a hindu. We were both very clear that we wanted a small intimate wedding. So we ended up with a 3 day affair that started with a  small mehndi function on the same day as my dad's 60th birthday so it was a double celebration. Followed by aarya samaji brunch wedding at kino cottage with lots of drinking and dancing. Finally the church wedding and reception. I was completely involved in the wedding preparations..it was my baby through out!  The 3 days were a blast, we had only close family and friends from all over the world who came for the wedding.
Tell us about your outfits. You look stunning by the way!
I was very clear I didn't want to look like a x'mas tree and I wanted to wear the outfits again. For the sari i told my designer that it should be very light and should flow because i really wanted to dance at the wedding. She's done my clothes for a while now, and she gave me exactly what i wanted - no trials required. I wore a simple pink chiffon saree which was perfect for all my favourite retro bollywood songs. For the gown, i wanted it to be a fusion between a lehnga and a typical gown. I saw a sabyasachi dress and was hugely impressed by it, showed it to Jewellyn and he just took it to another level. He understood exactly what i wanted and made a beautiful flowing gown for me. Again here i was very clear that I want to wear the gown again and I want to be able to dance. Both objectives were achieved. Jewellyn did a fabulous job.
Any particular wedding professionals who did a fab job?
Ashima was brilliant. I didn't even know when she was clicking, she was always out of the way and not flashing the camera in my face. I didn't have to bother following up with her even once, she was always there on time. She had done her research beforehand and gave us some funny poses with best men and bridesmaids.
Ridhima Sharma did my makeup and hair. Since i was planning and managing the whole wedding, i really didnt give much time to my make up and hair. I just completely left it up to her and she did such a brilliant job. The only thing i said to her was I don't want to look like i have a cake on my face. She was excellent and very organic in her work, which I love.
Jewellyn Alwares my dress designer is an absolute gem. He was recommended to me by someone and after the first time i met him, I knew he was going to design my dress. He just got exactly what I wanted..a fusion. He sketched the dress out and it was stunning, he helped pick out the fabric, calmed me down and promised that the dress would be a hit and it was. Brilliant designer and I'm going to keep going back to him for all my dresses.
Any last words for brides to be?
I think the most important thing is for the Bride and Groom to have fun at the wedding. If they are having a blast, everyone else will too. Secondly, some thing or the other WILL go wrong and it's okay. Just leave it!
Just have fun, your getting married to the one you love..Cheers!!
[handbook]
[vendors]
Vendor details:
Venues: Kinos Cottage Mumbai | Makeup:
Ridhima Sharma
| Photographer : Ashima Suri
|
 Brides Outfits:

Jewellyn Alvares for Gown(
9819744046 -
jewellyn.alvares@yahoo.co.in
) 
,

Neena Khanna for Saree (No contact details available as of now) 
| Grooms Outfits: Kala Niketan, Mehul Srimanker | Jewellery: Tanishq