A Dreamy Beachfront Wedding With Fusion Vibes  
BY Garvita | 21 Apr, 2021 | 1096 views | 5 min read
This couple's story made us giggle a little because they tried really hard to convince their parents for a mid-size wedding (pre-covid, of course) but alas, they failed! However they fulfilled their dreams of exchanging vows at a beachfront mandap, and it looked beyond enchanting. 
Pooja's bridal outfit was a blend of both their traditions, Gujarati & Malyali, and it beautifully signified the union of the two cultures. GPS Photography Lounge encapsulated every moment to perfection and indeed, did a marvelous job! Scroll down to witness this bride draped in an Ivory & Red Kanjeevaram teamed up with a gharcholu!    
Meet Pooja & Jay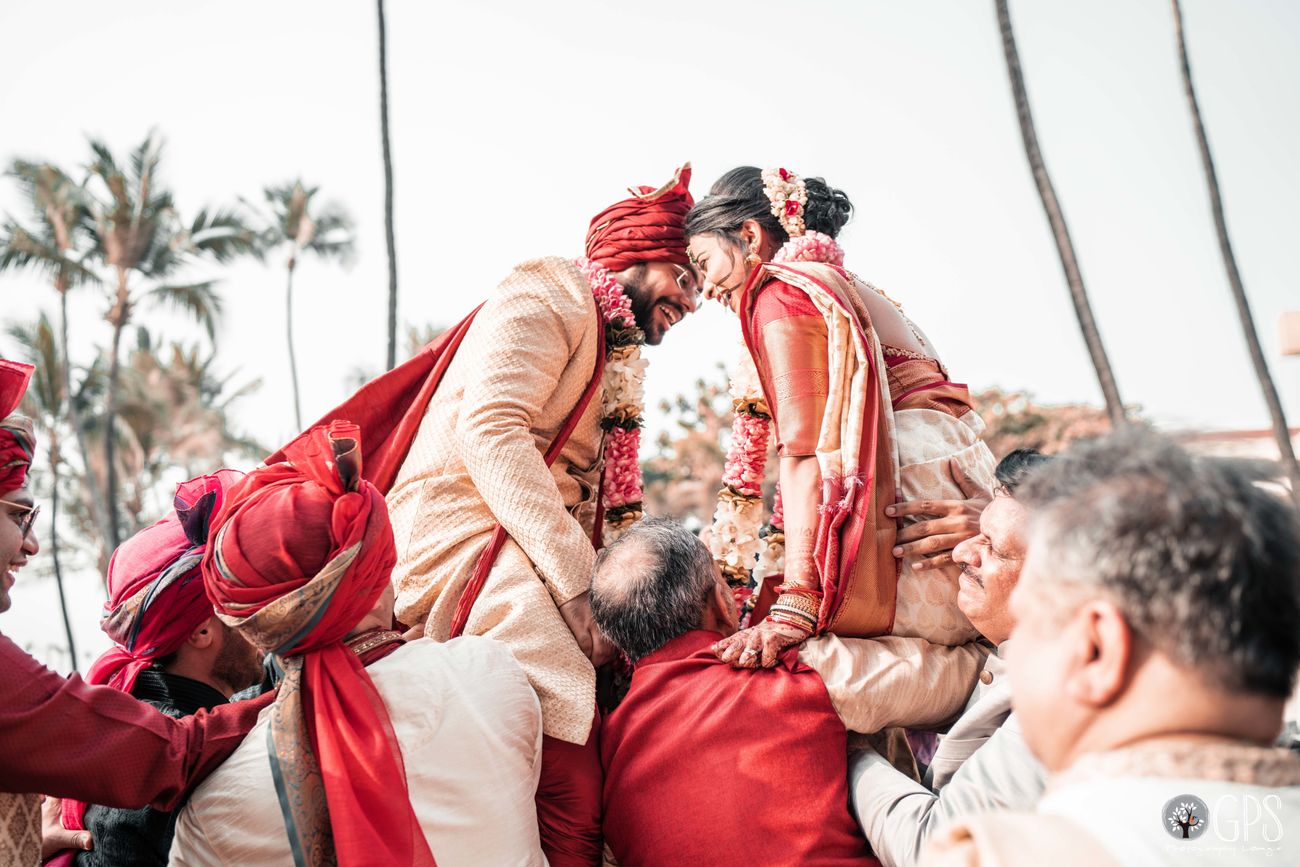 "Jay and I met 10 years ago in CET Maths classes in Mumbai. After 3 years of friendship, we decided to take our relationship to the next step and began dating.On our 3rd anniversary, we decided to spend an extended weekend in Goa. On the eve of our anniversary, sharp at 12 am 1st August 2016, he surprised me by proposing to me with my favorite song, 'don't wanna close my eyes' by Aerosmith playing in the background. I had to say YES! Fast forward to 2018 when both the families met and wholeheartedly accepted our relationship. A date was set and the journey to a happily ever after was to commence!" - shares Pooja.
Wedding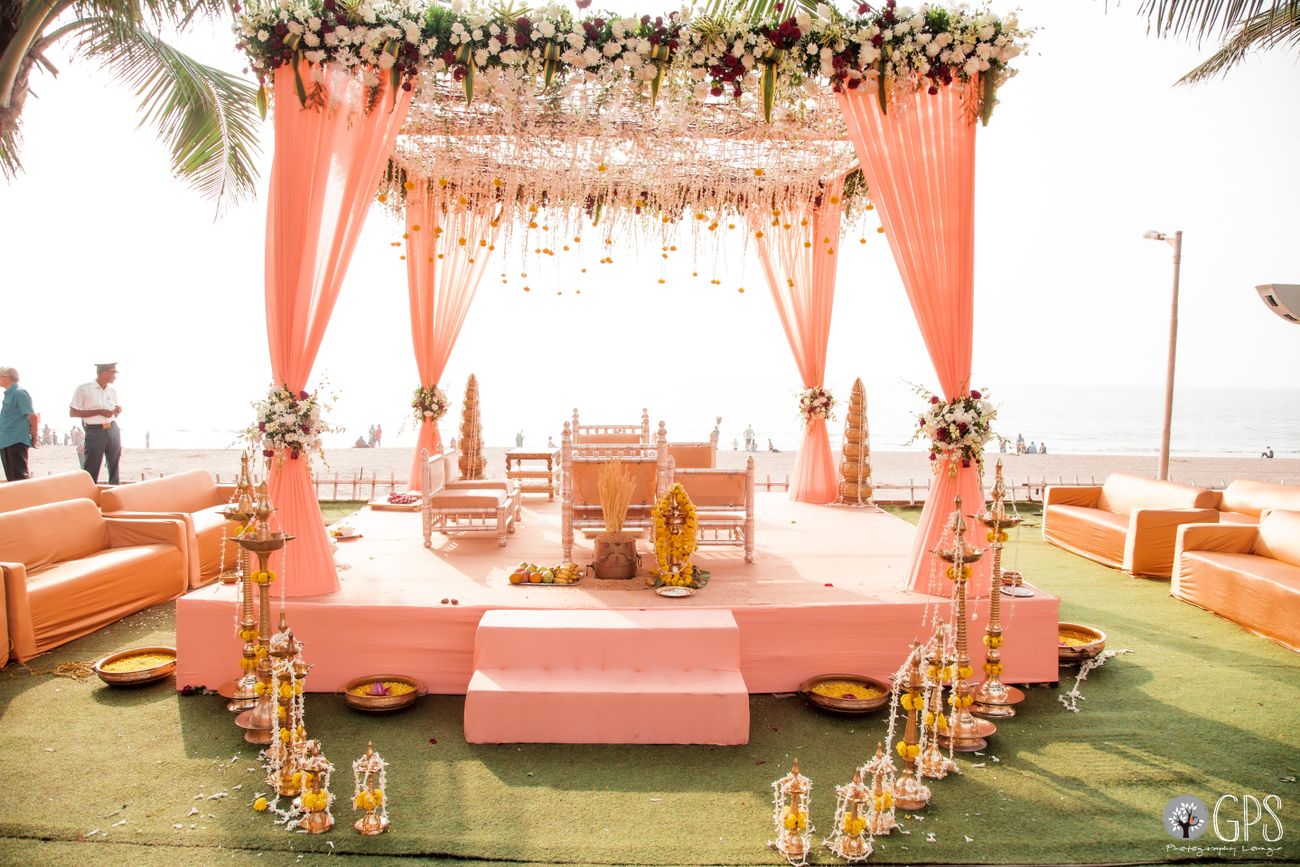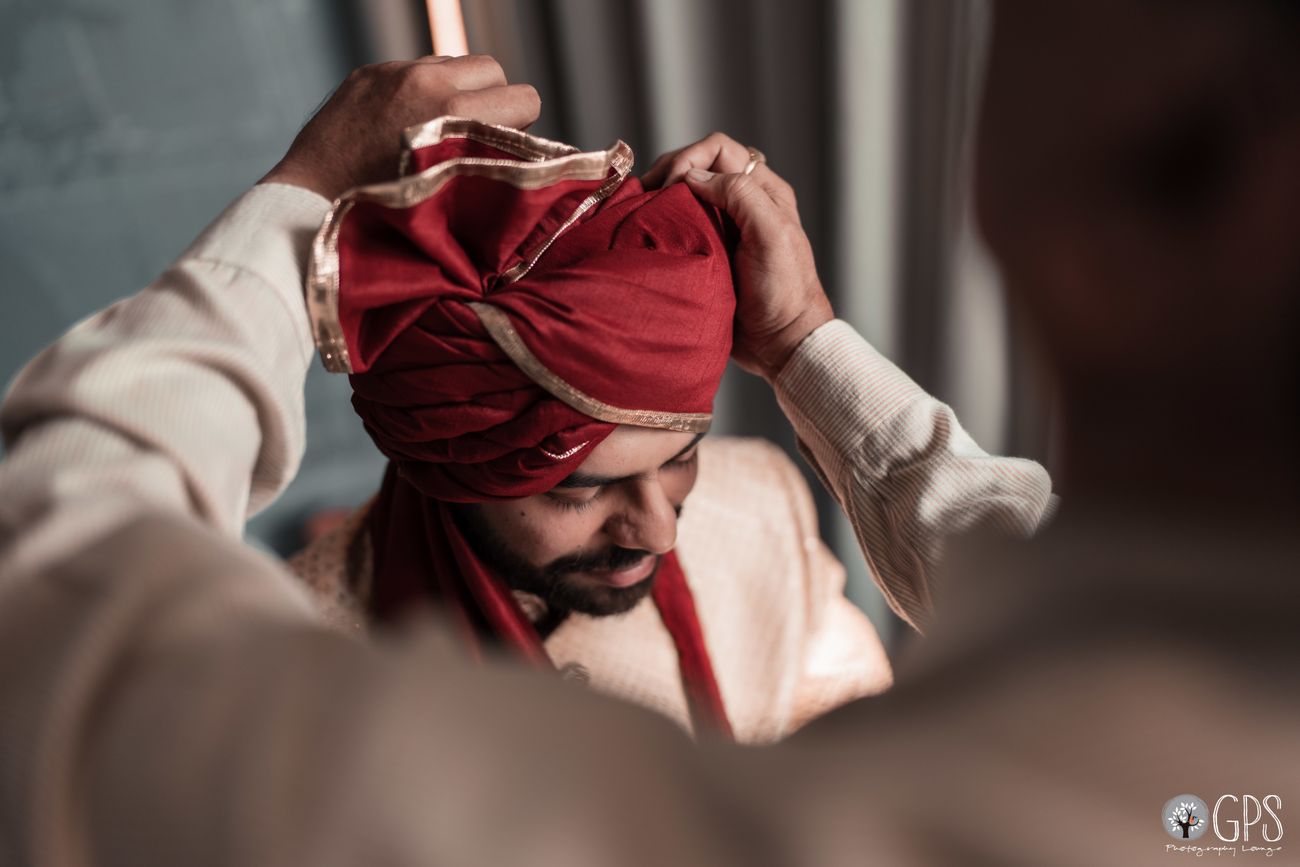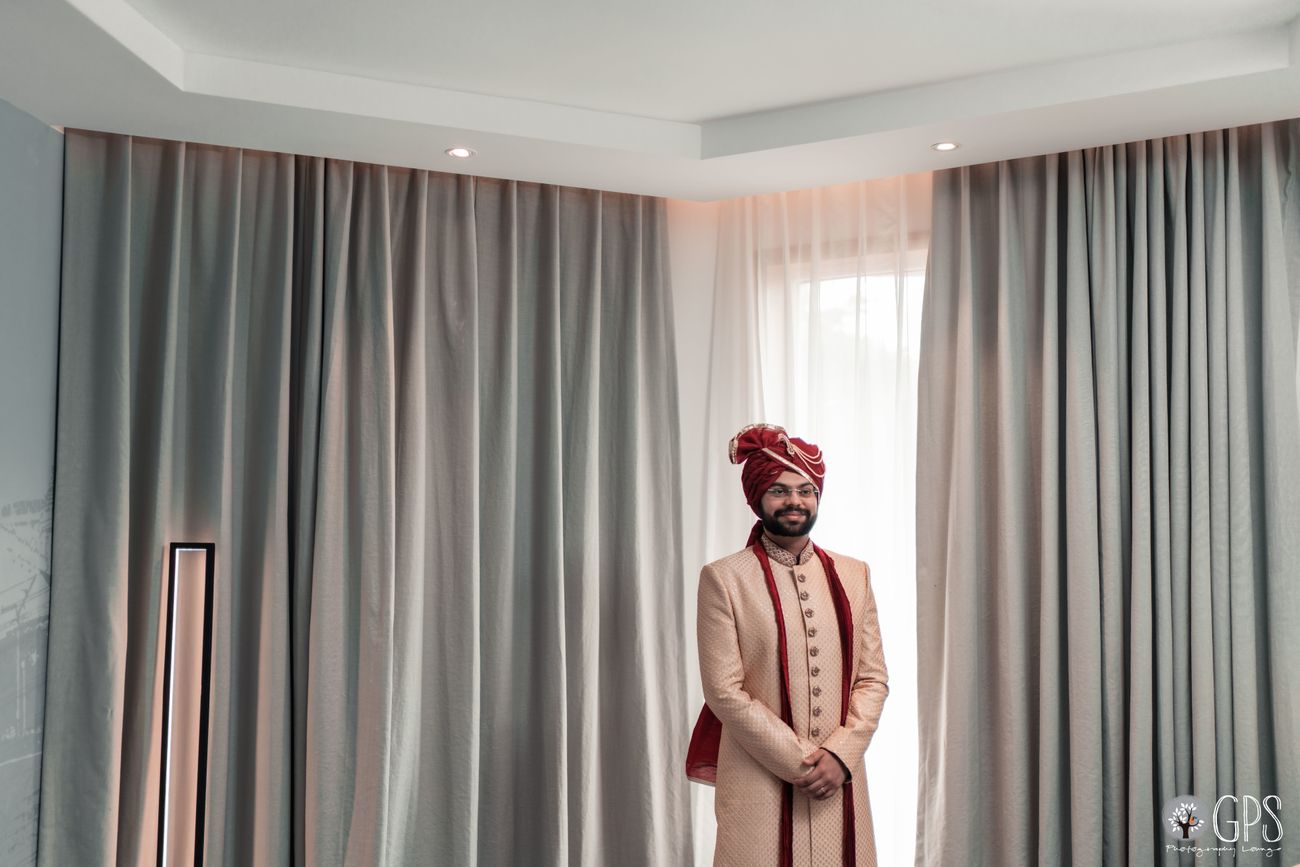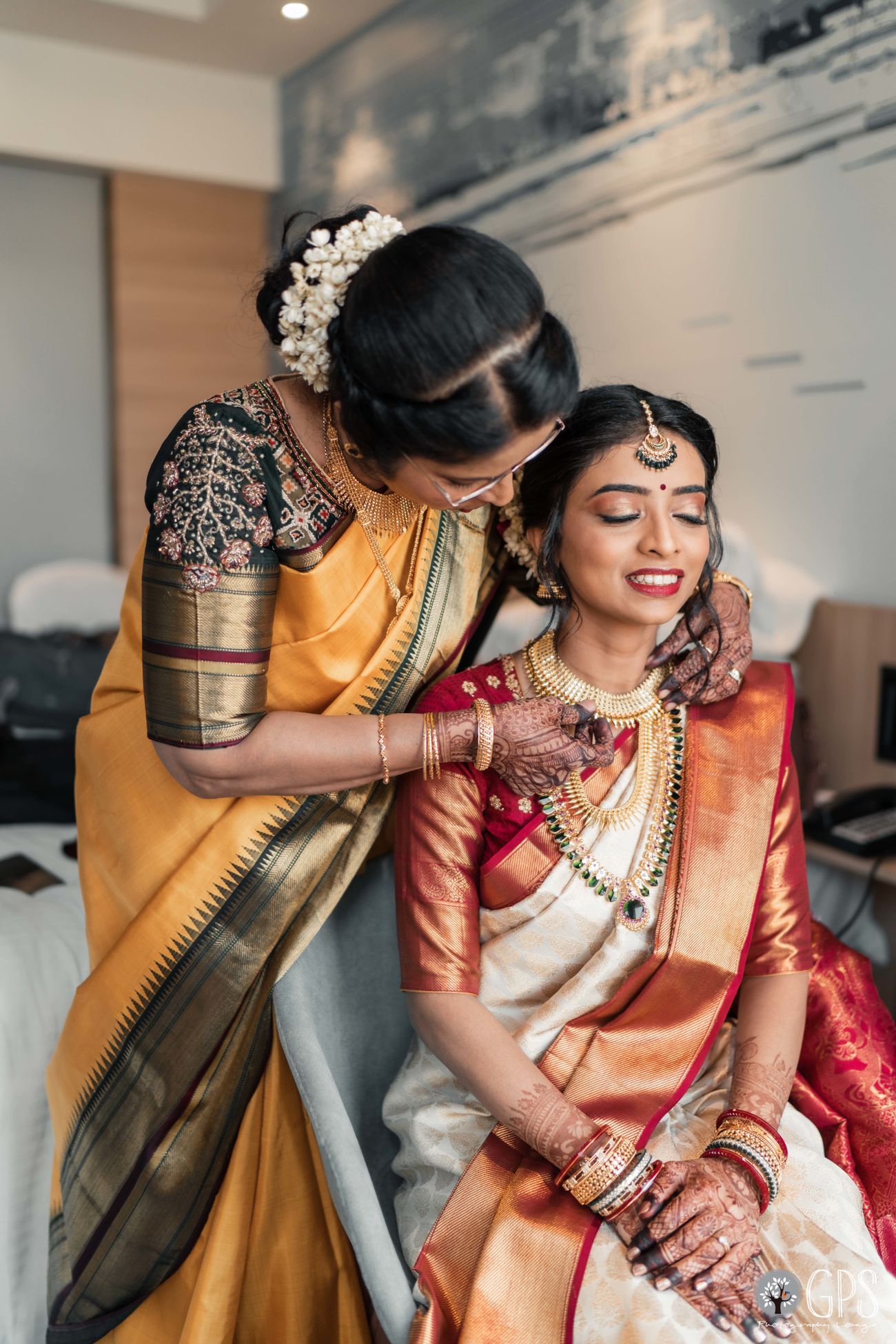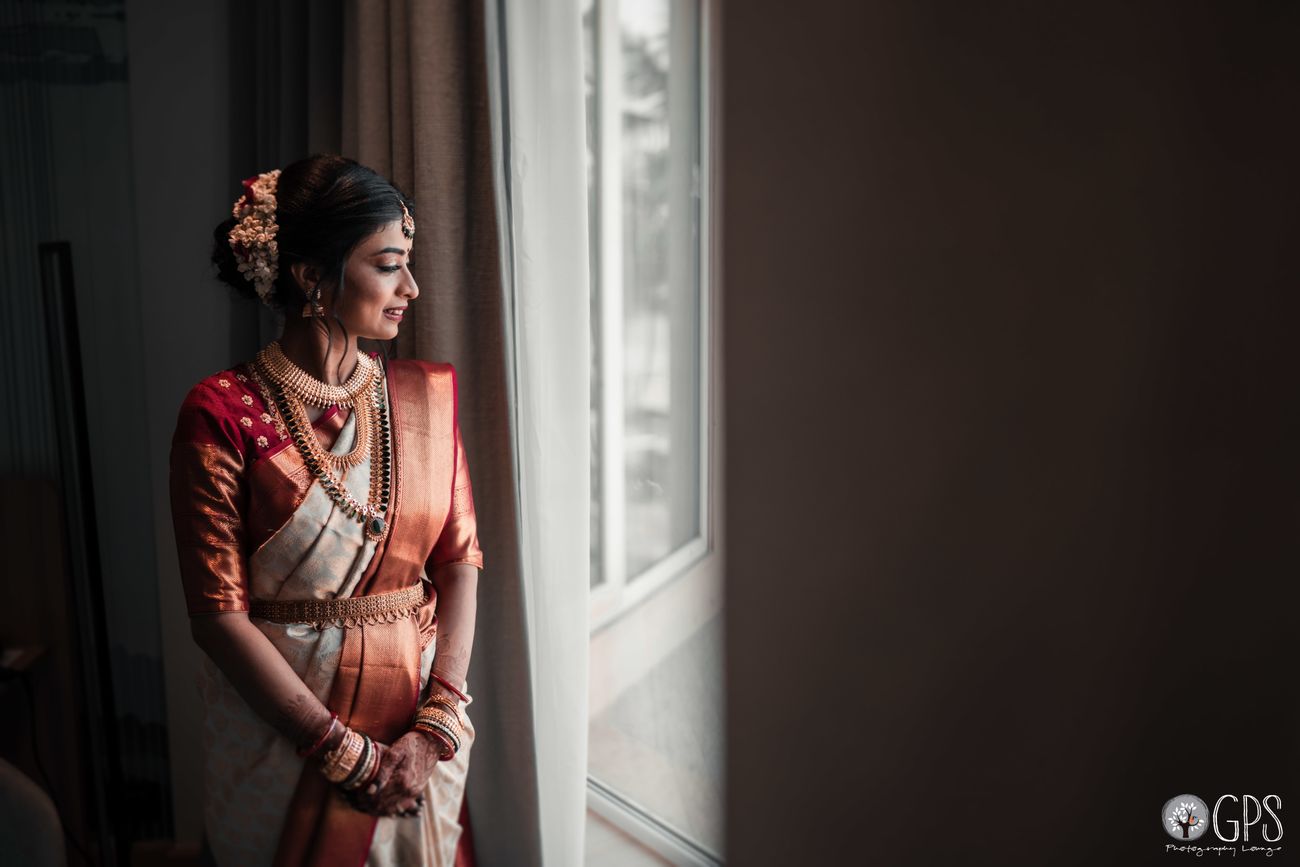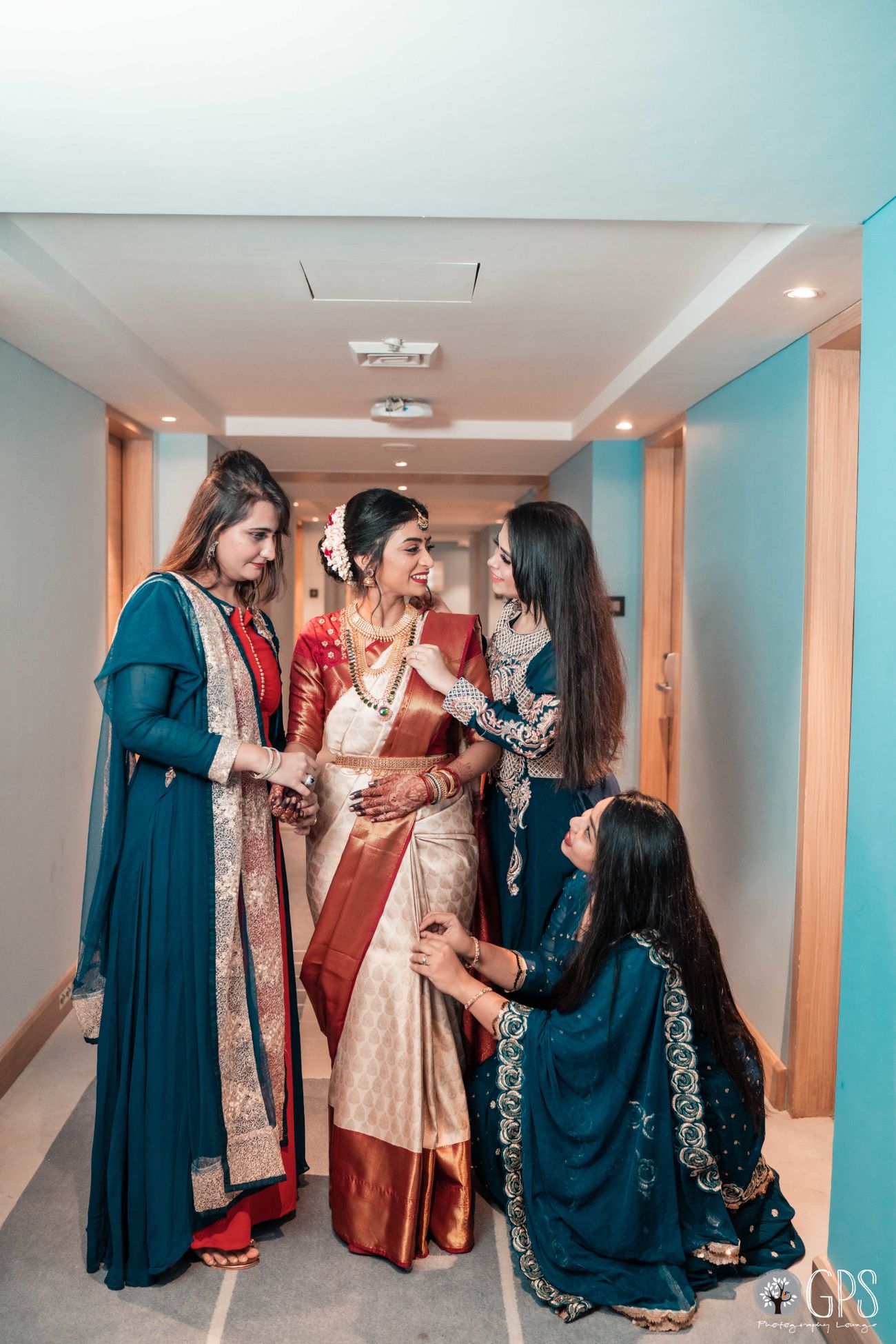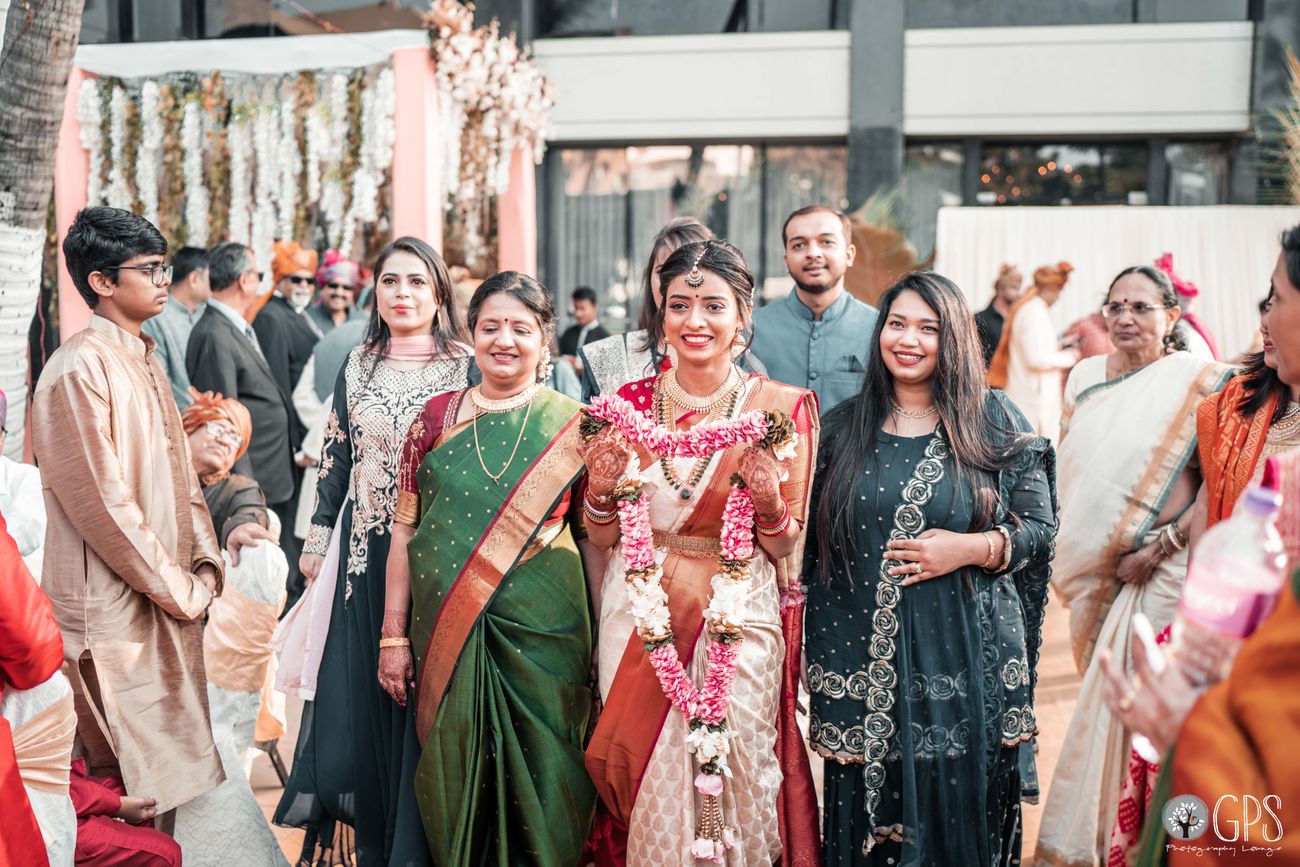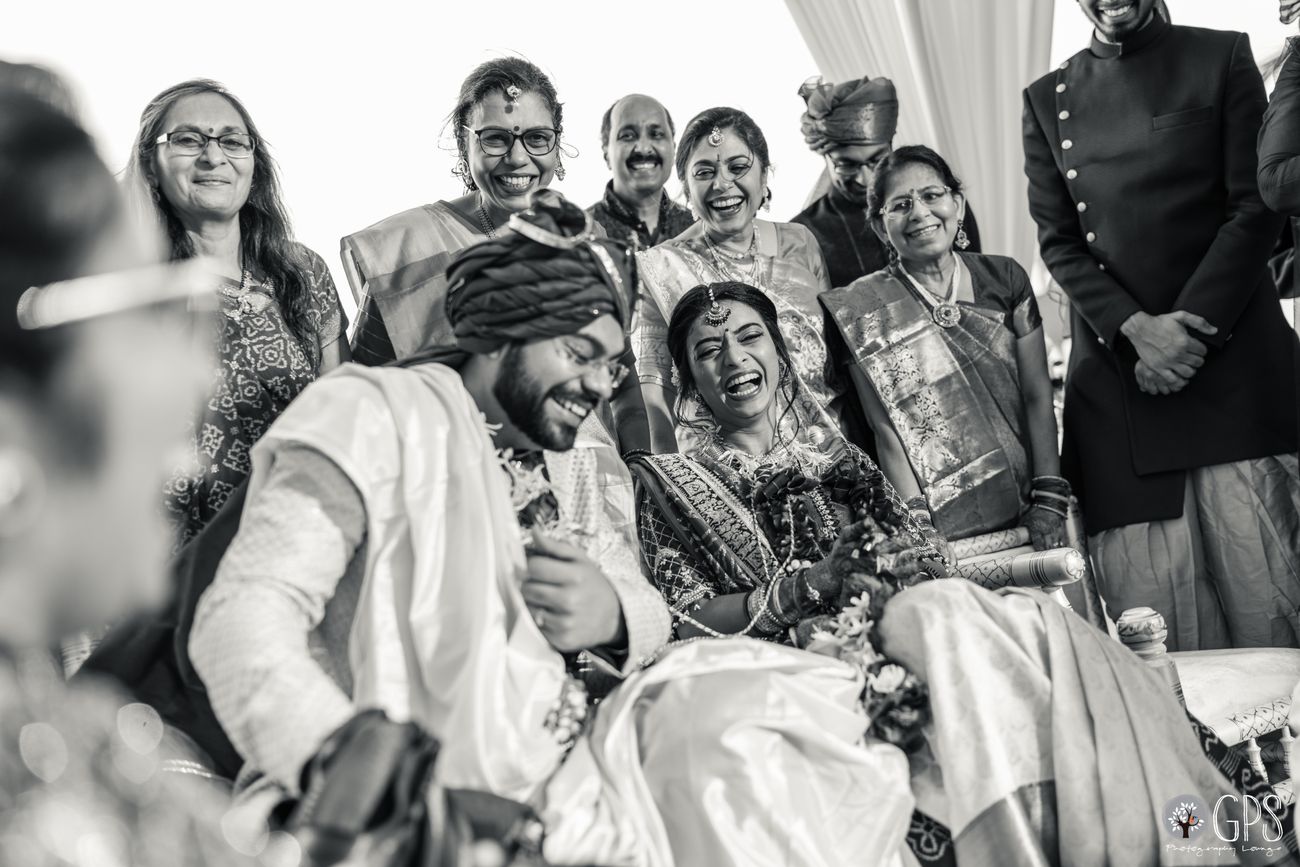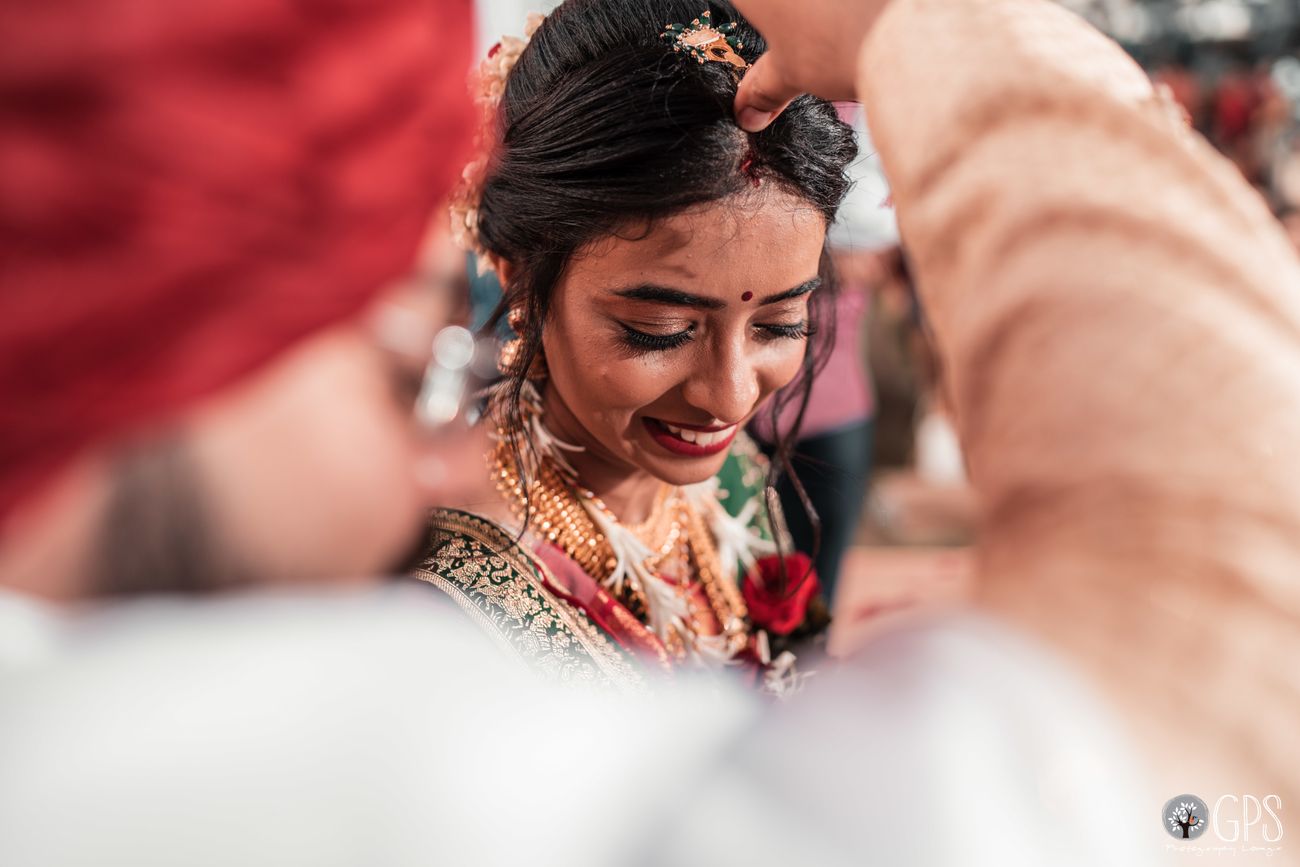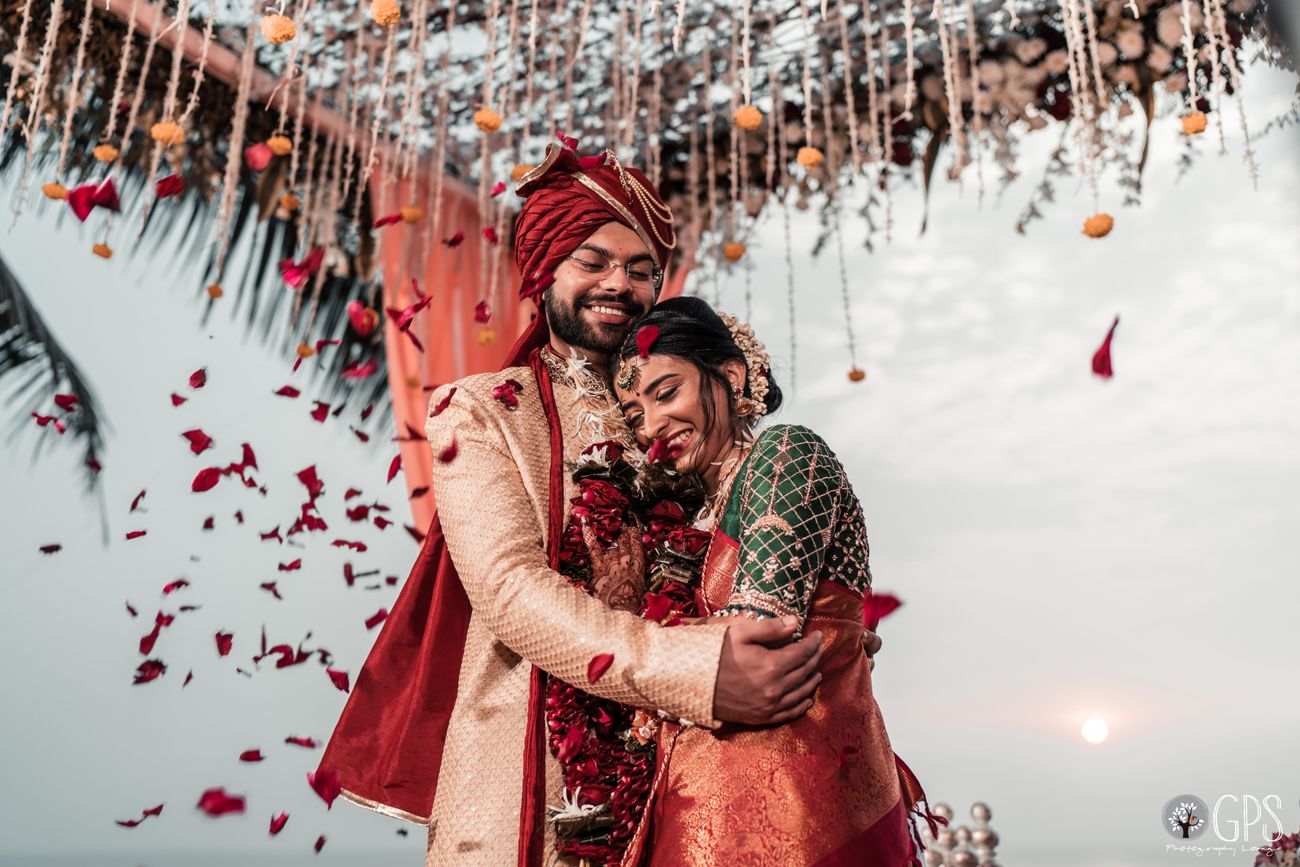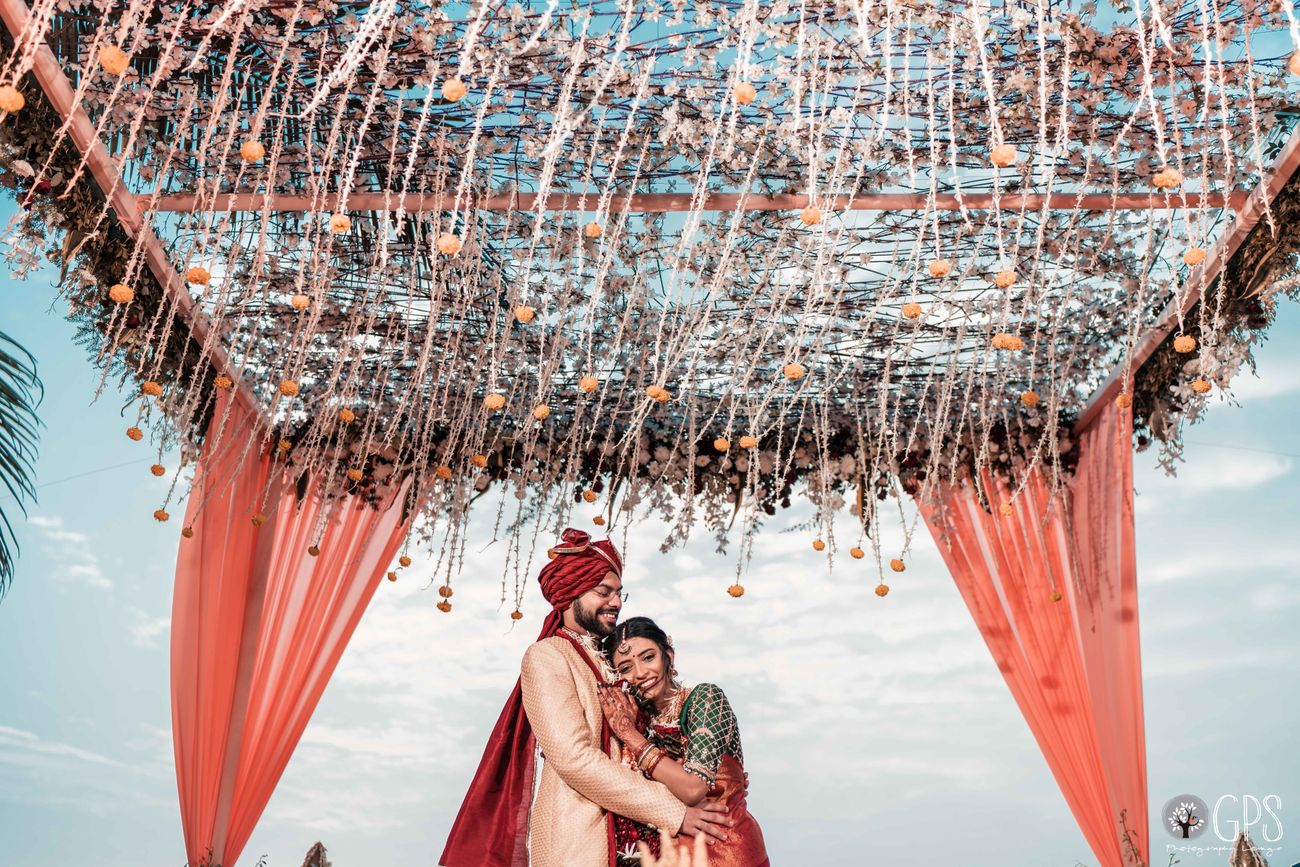 From The Bride 
Jay and I typically are reserved and laid back by nature. We enjoy good food and spend most of our time with our intimate group of friends. Ours was the first wedding in our respective families and the only wedding for my family. Thus they wanted to go all out with it! We ended up with a counter-offer of 700 guests to our initial offer of 300. And that's how it turned into a BIG FAT FUSION WEDDING! 
The wedding being the first on both sides of the families and coupled with the fact that it was to be Fusion Wedding warranted a personal touch. It was planned without the help of any wedding planners. All events and functions were organised and planned by me and Jay, along with our family and friends via various service providers.
Vendor Reviews 
I love beaches. I have always dreamed of a beachside wedding with those perfect golden sunsets. Soon we started looking for the perfect venue. We were able to finalise Novotel Juhu for our special day. The poolside location was perfect for our fusion wedding! Novotel, well known for their food, catered the event beautifully with a menu that tempting enough to the gujjus and the mallus.
For Makeup, I wanted to keep it nice and simple. I was introduced to Khushnuma Master by my photographer and it was a match made in heaven! Makeup by Khushnuma understood my style and wonderfully navigated around it to create my dream look. Every look was finalized carefully bearing in mind my comfort level as well as the sensitive nature of my skin. She ensured every look was different and magnificent! She introduced me to Farida who did a stellar job on my saree draping and my hair. I was so pleased with the work that I onboarded them for my mother as well for all the events. They made us look our best!
Gayatri was the photographer at my best friend's wedding. I saw her work and the way she handled my friend with the wedding jitters and decided that she had to be the one to cover my wedding. GPS Photography Lounge was a part of our journey right from our engagement till our wedding. Gayatri had a key role to play in various stages right from helping me find my MUA to helping me decide the color palette for my decor! We mutually decided the theme of our pre-wedding shoot and Team GPS nailed it!!! As the wedding date arrived Gayatri extended her help in designing a wedding guide so that our relatives don't feel lost in this Mallu Gujju Fusion Wedding. She helped me shortlist my favorite pics to replicate while simultaneously assembling a team of our closest friends to help with the perfect shots for our big day! The pictures clicked by team GPS are beyond beautiful! Without her help and inputs, we would've never been able to pull off this wedding with the sheer elegance and grandeur evident in the pictures.
Decor for the D Day was put together by National Decorators. The use of colors, the flower selection was PERFECT with peach white, and green themes running through the wedding venue. It was a challenging one for the team given the specific requirements that needed to be met for my Gujju- Mallu fusion wedding, but the team did a flawless job with the execution. A big shout out to Bharat and the team for understanding the nuances of both cultures!!! This was followed by a switch to classic white and pale pinks for the reception decor. Knowing my aesthetic sense, I wouldn't have been able to pull this off without their help.
Vendors: Venue - Novotel Juhu ; Bridal Makeup - Makeup by Khushnuma ;  Wedding Photography - GPS Photography Lounge ; Wedding Decor - National Decorators ; Bridal Wear - Nalli Silks (Dakshina), Kalki Fashion (Sangeet), Angadi Galleria (Wedding), Neeru's (Reception) ; Groom Wear - Dawood Khan Tailors (Sangeet, Wedding), Raymond (Reception) ; Wedding Invitations - Milap Cards, Gemini Card Products ; Wedding Choreographers - Vishrut Doshi, Jahnvi Doshi