A Fairytale Mauritius Wedding With The Prettiest Pastel Lehengas
BY Swagata Dam | 20 May, 2022 | 1779 views | 8 min read
This couple had an epic five-day long wedding extravaganza in the stunning backdrop of Mauritius. With beach parties, Mauritian dance, '90s Bollywood madness, Indian street food, champagne, cake and a lot more amidst the nuptial ceremonies and rituals, the much-in-love duo made the most out of their celebratory week. Both of them picked some really great outfits for all the events and looked like they had walked straight out of the pages of a super aesthetic bridal magazine. While the bride dazzled in various light-hued and pastel numbers, her groom complemented each of her looks by opting for similar colours and prints. 
Meet Yasheela & Varoon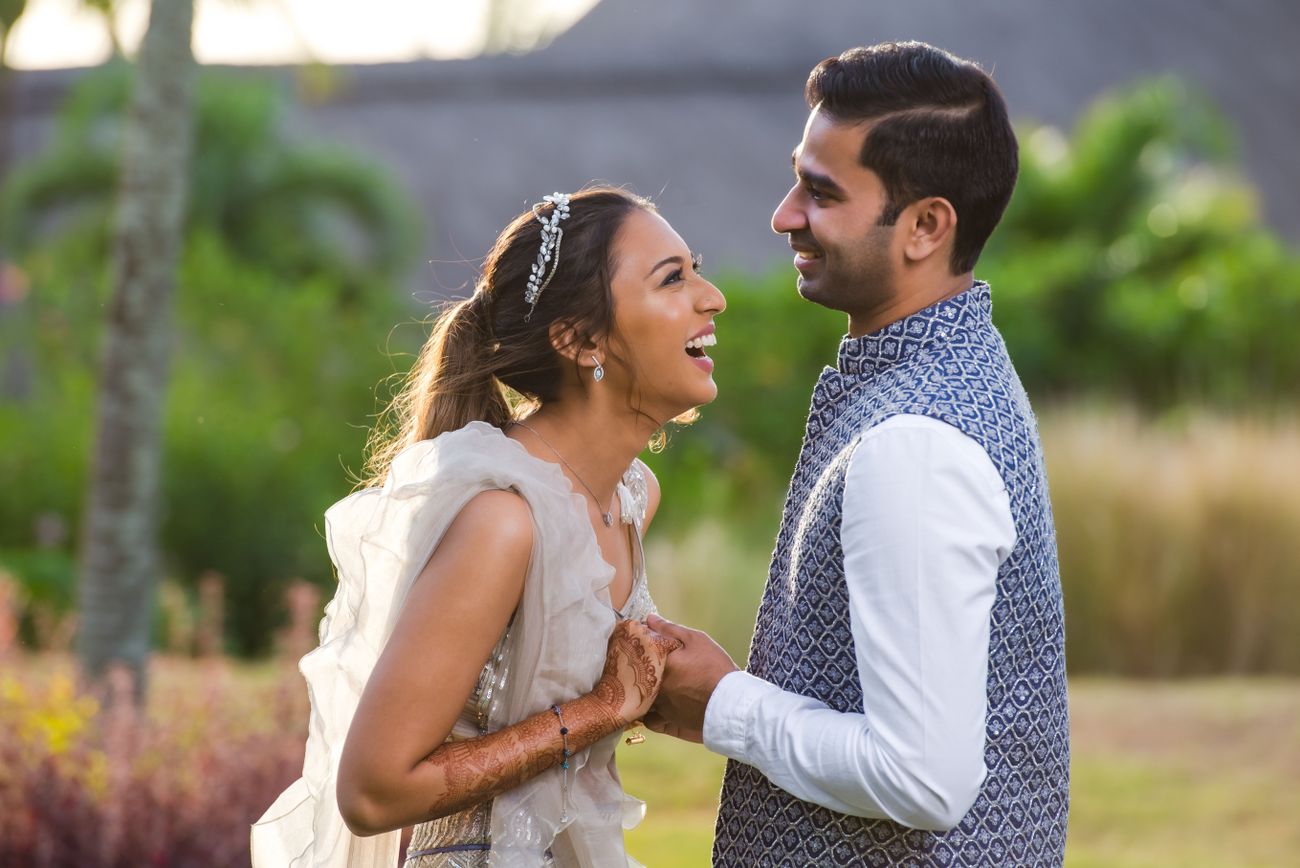 "We first met in London, at the cinema in February 2015. We had gone with some mutual friends to watch the Bollywood movie, Roy. Sadly, the movie was a flop at the box-office, but our friendship became an instant hit. Over the next couple of years, we got to know each other better and we started dating officially in 2017.  Moving in together and getting married were natural next steps in our relationship. Being locked down with each other during the pandemic gave us the added certainty about tying the knot," shares the bride. 
Sangeet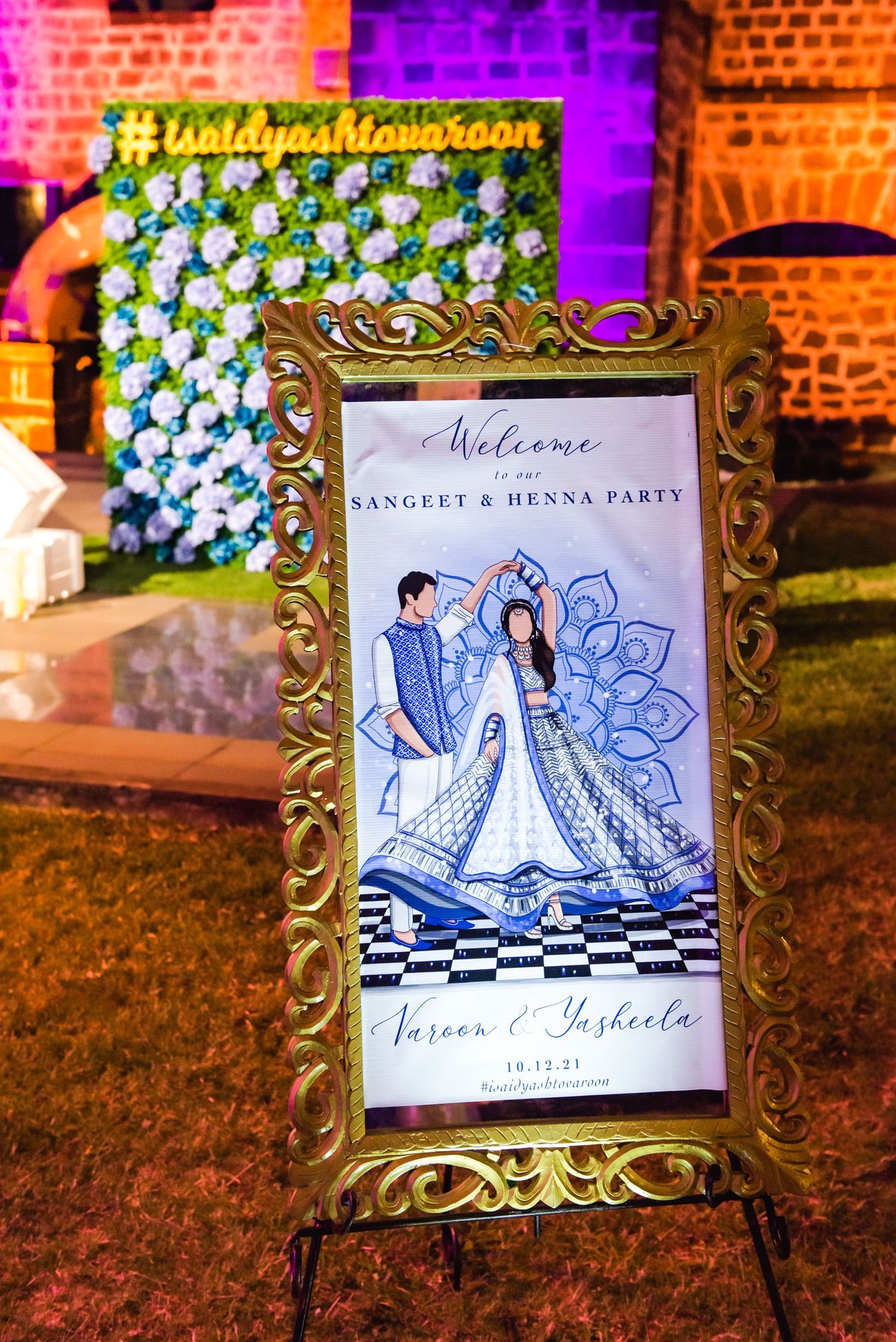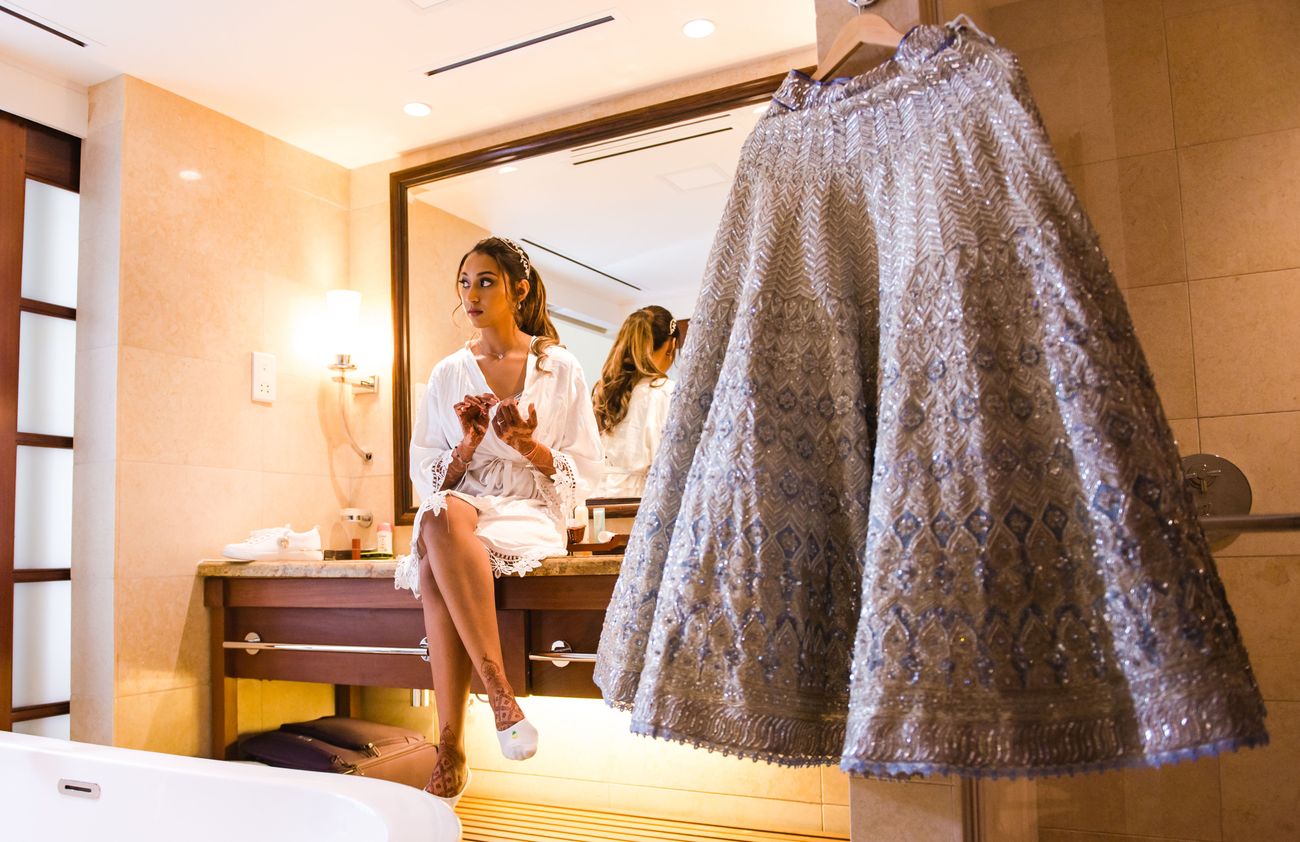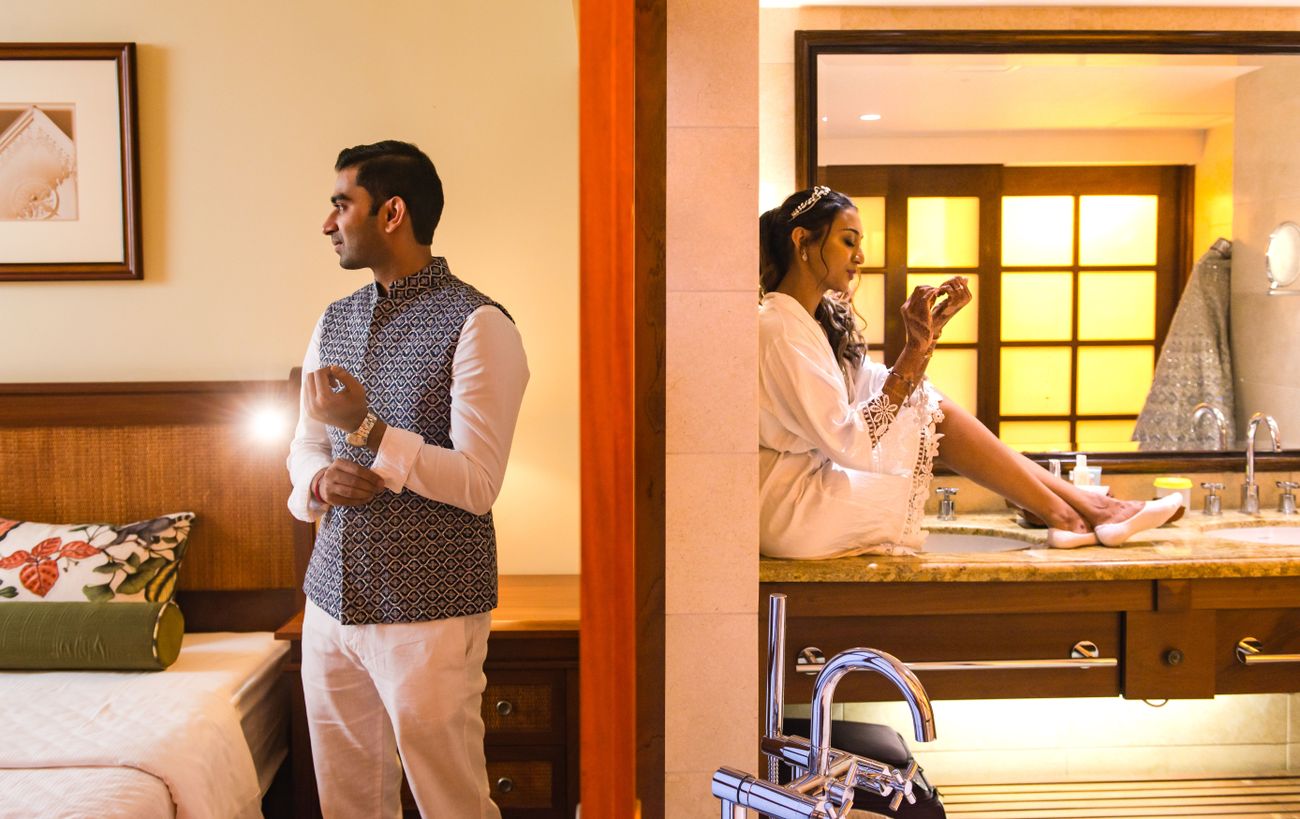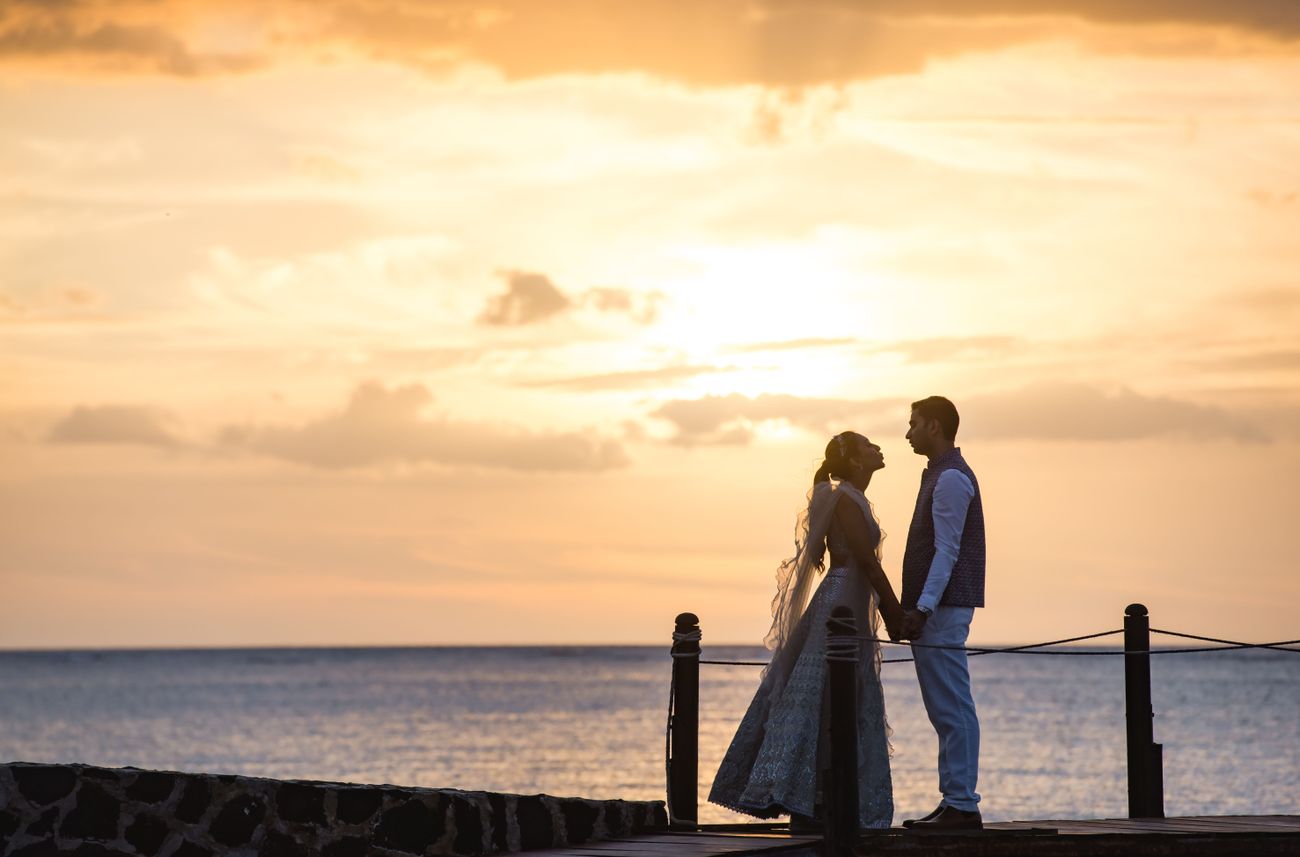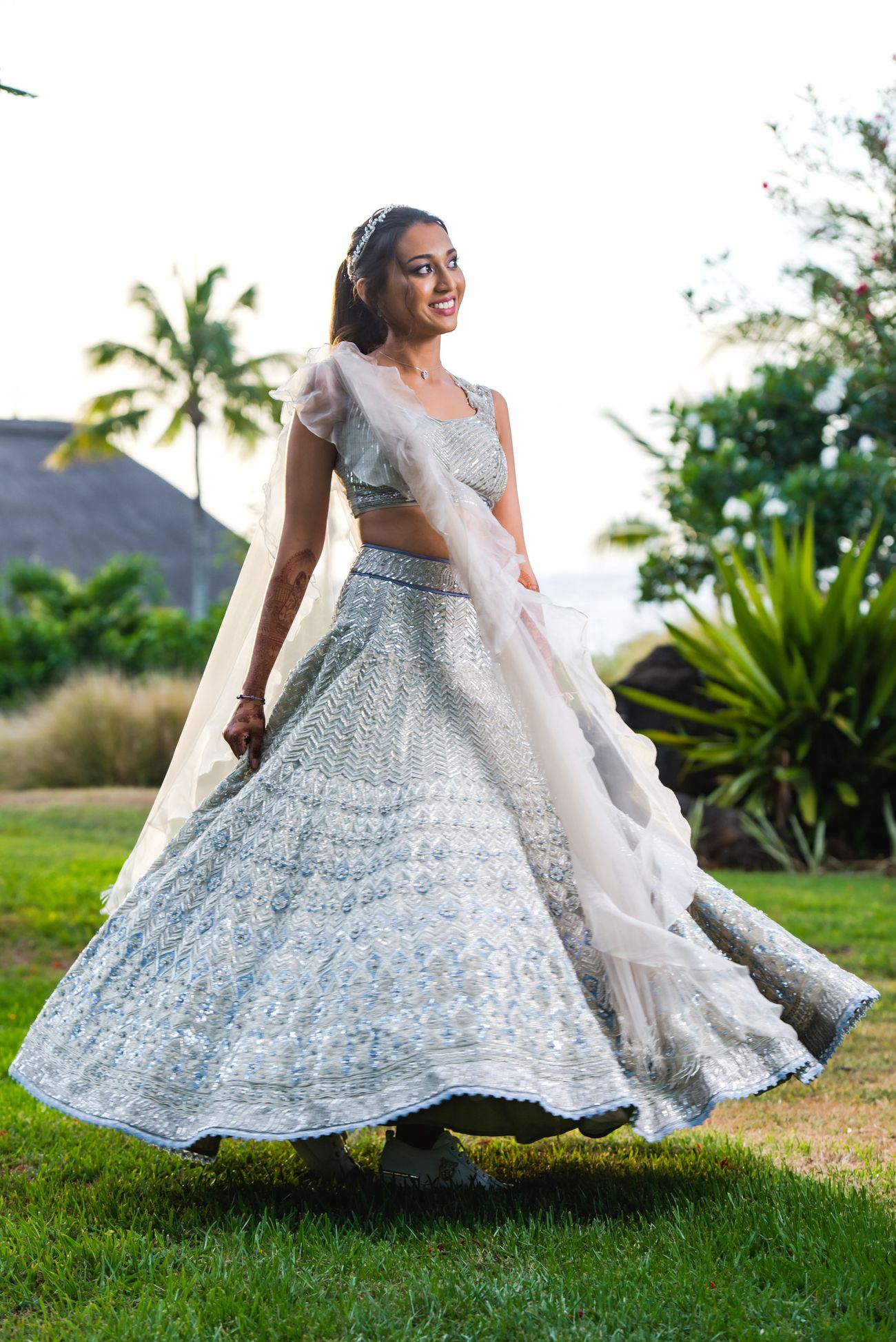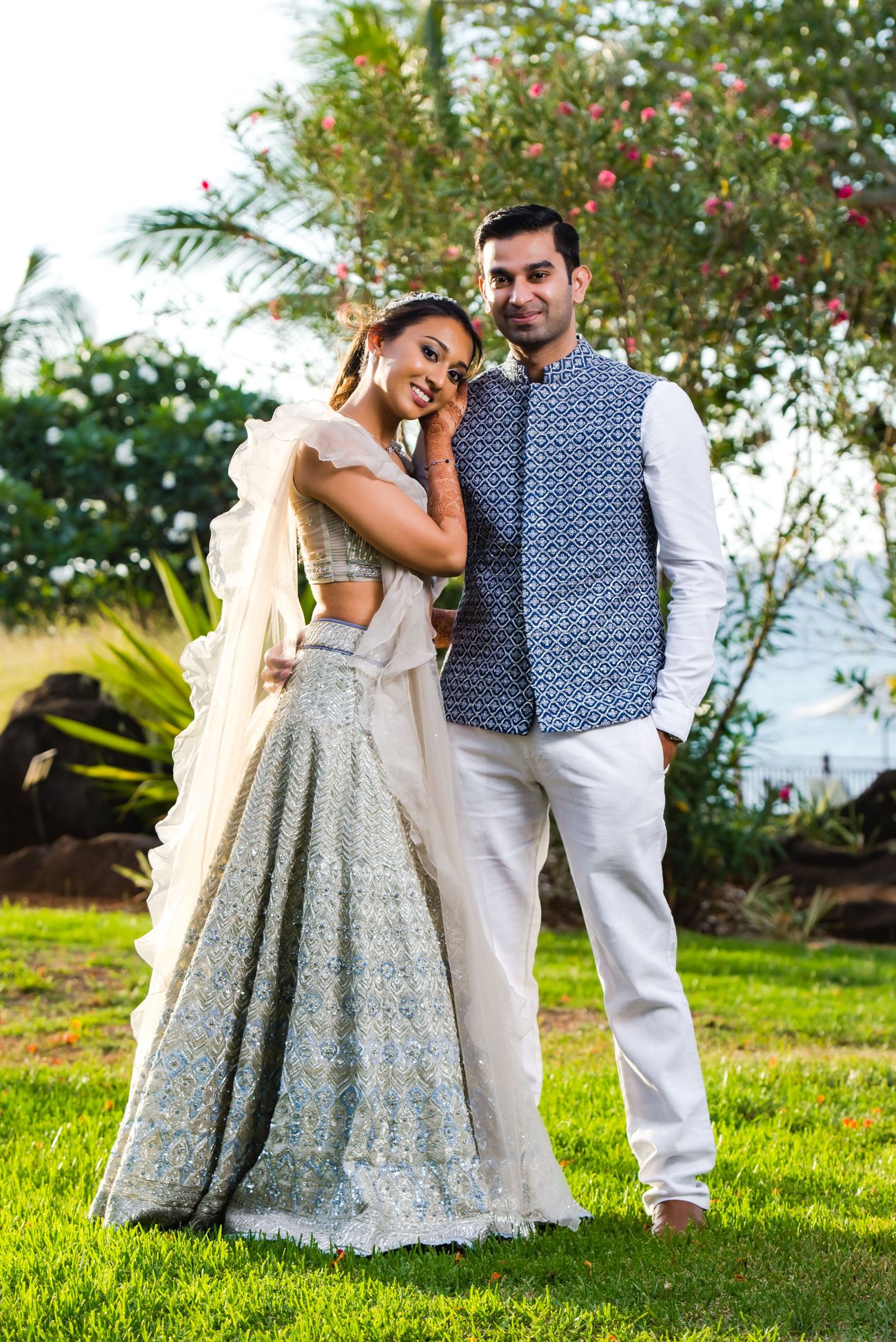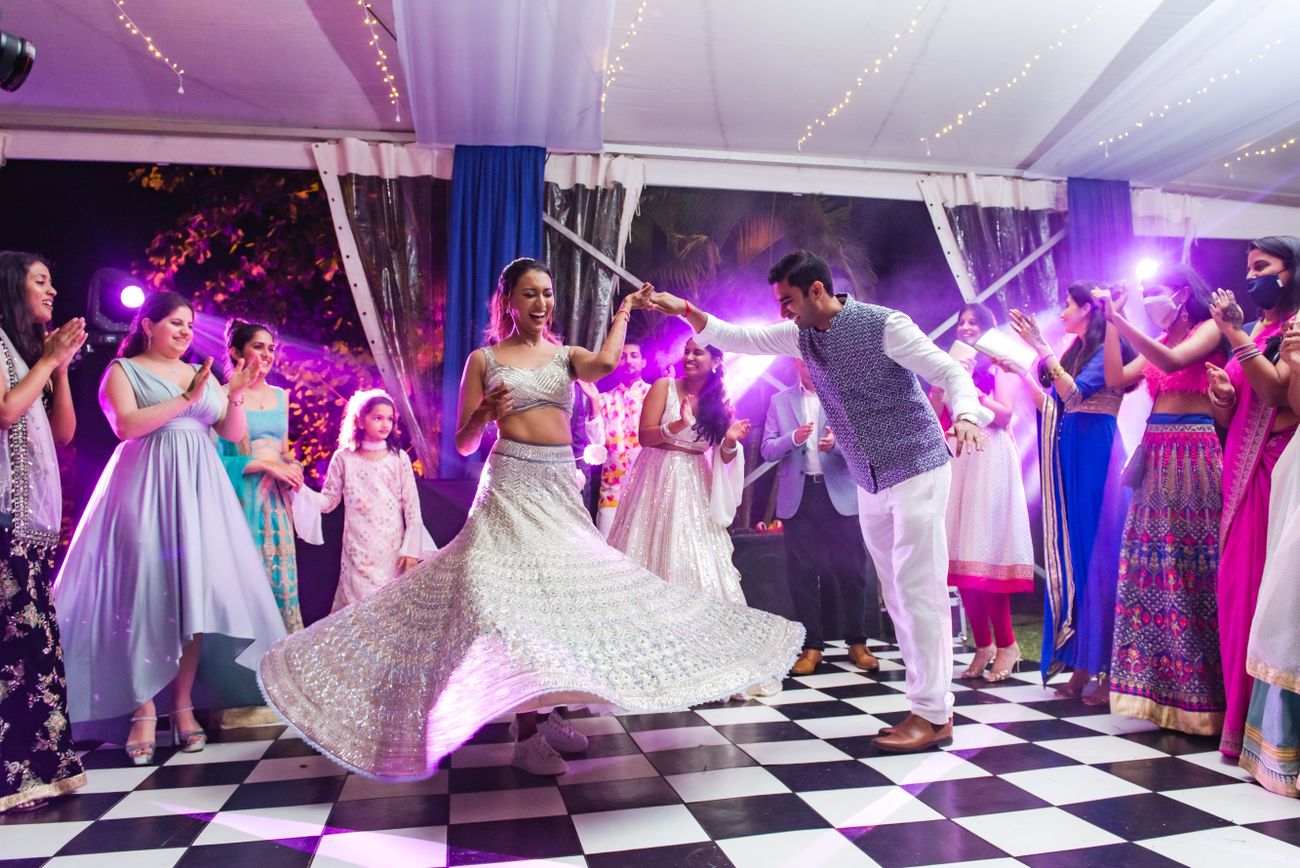 "We kicked off Day 1 of our 5-day wedding with a Bollywood-themed Sangeet and Henna Party. We wanted to start strong with an energetic and fun event. We had a cosy mehndi corner for our guests but I had already gotten mine done the day which left me free to interact with people, dance and dig into the delicious Indian street food from the traditional carts. We also had professional Bollywood dancers who provided entertainment during the night. The event included the increasingly popular 'Mr and Mrs Shoe Game', the mandatory couples' dance performance on our favourite 90s Bollywood songs and concluding with a late-night boozy dance party. I wore a beautiful glam silver and aegean blue lehenga from Jade by Monica and Karishma. The team at Jade by ML also provided Varoon with a matching navy-blue waistcoat to complement my outfit. Both the Jade outfits were sourced to us via Nikaza Asian Couture in London," she reveals. 
Wedding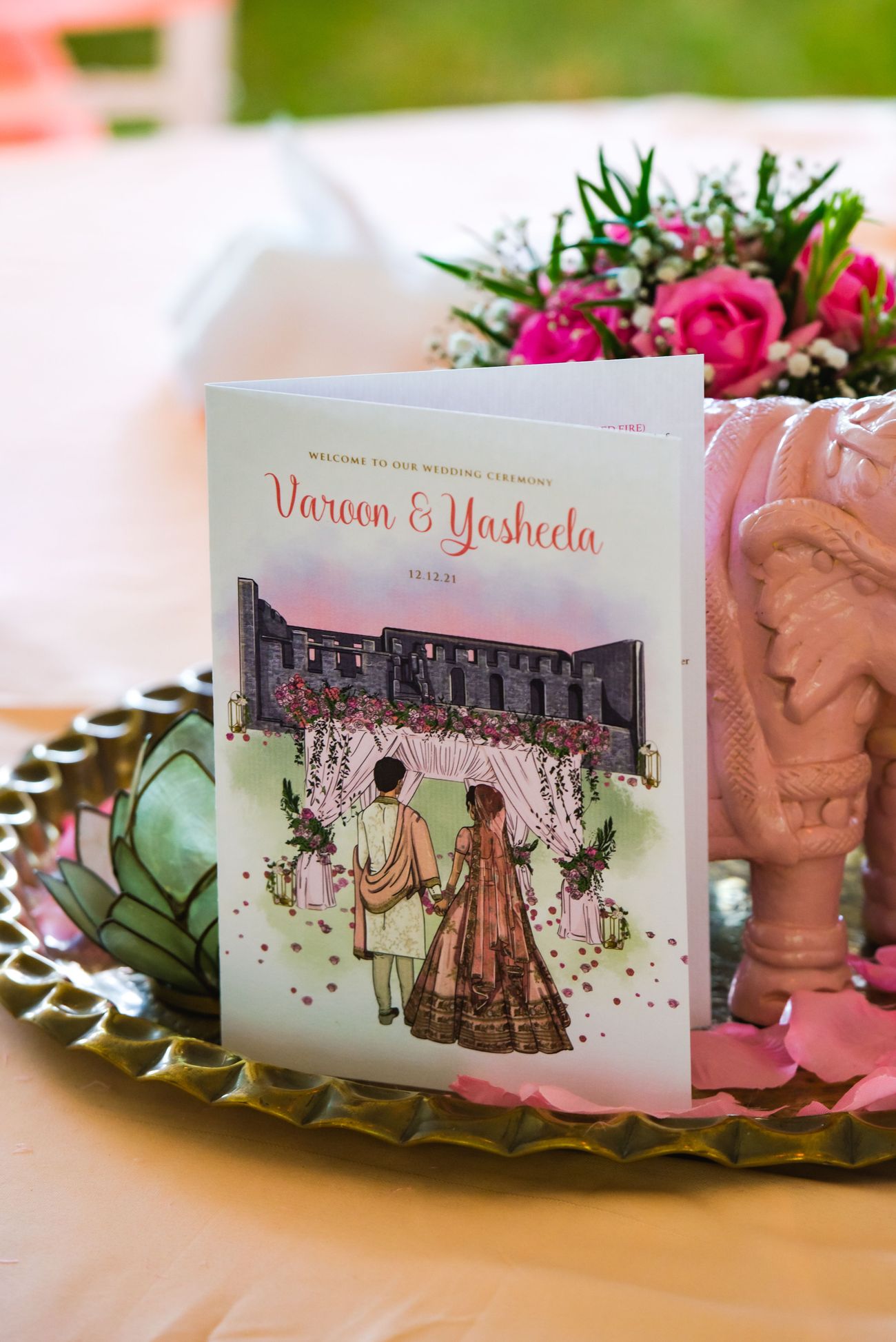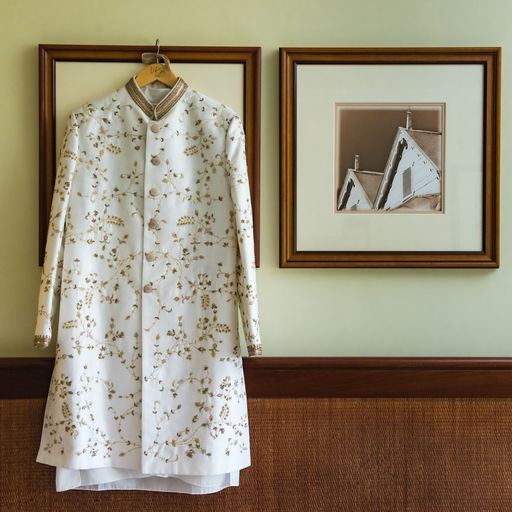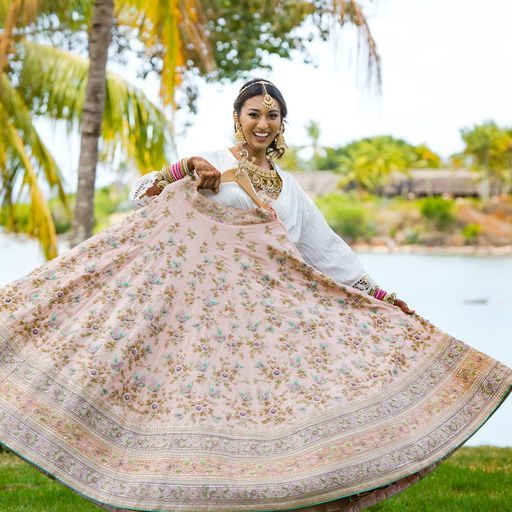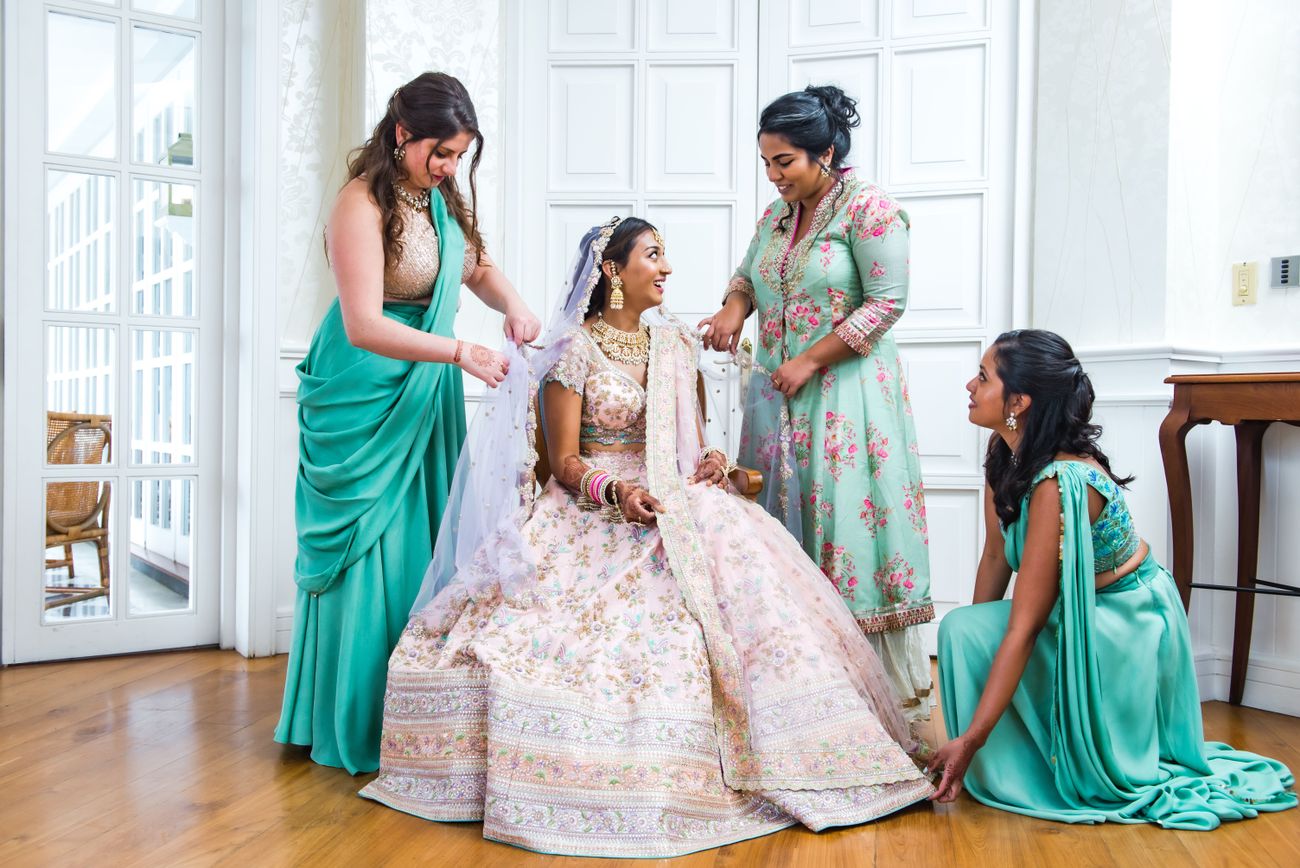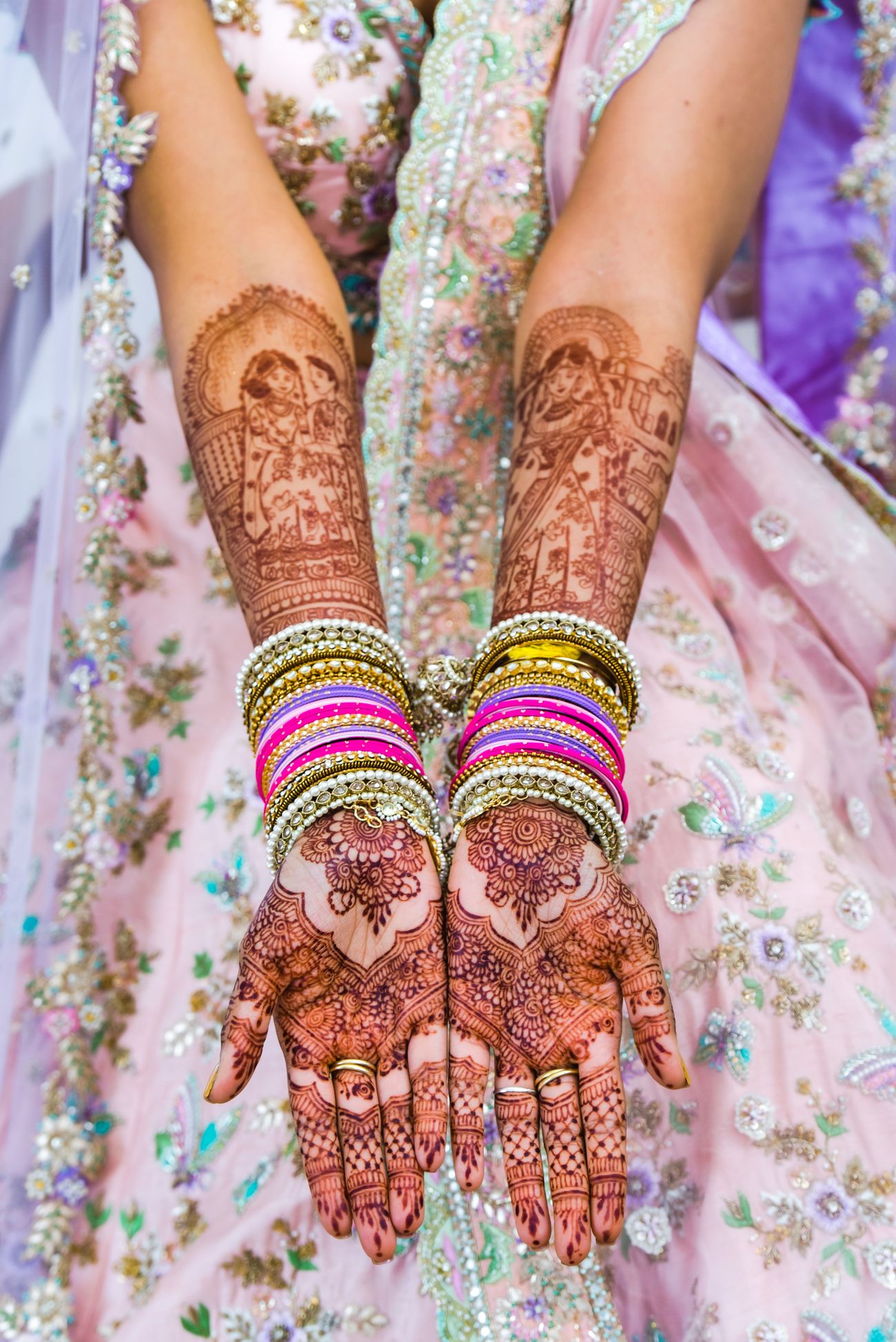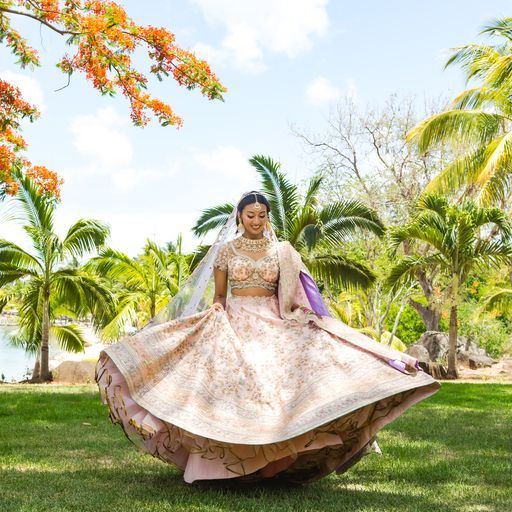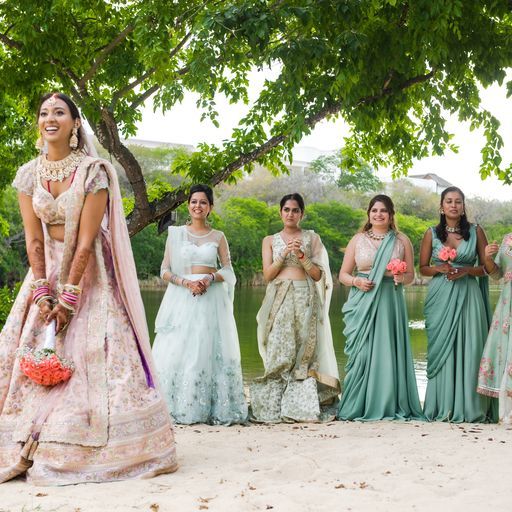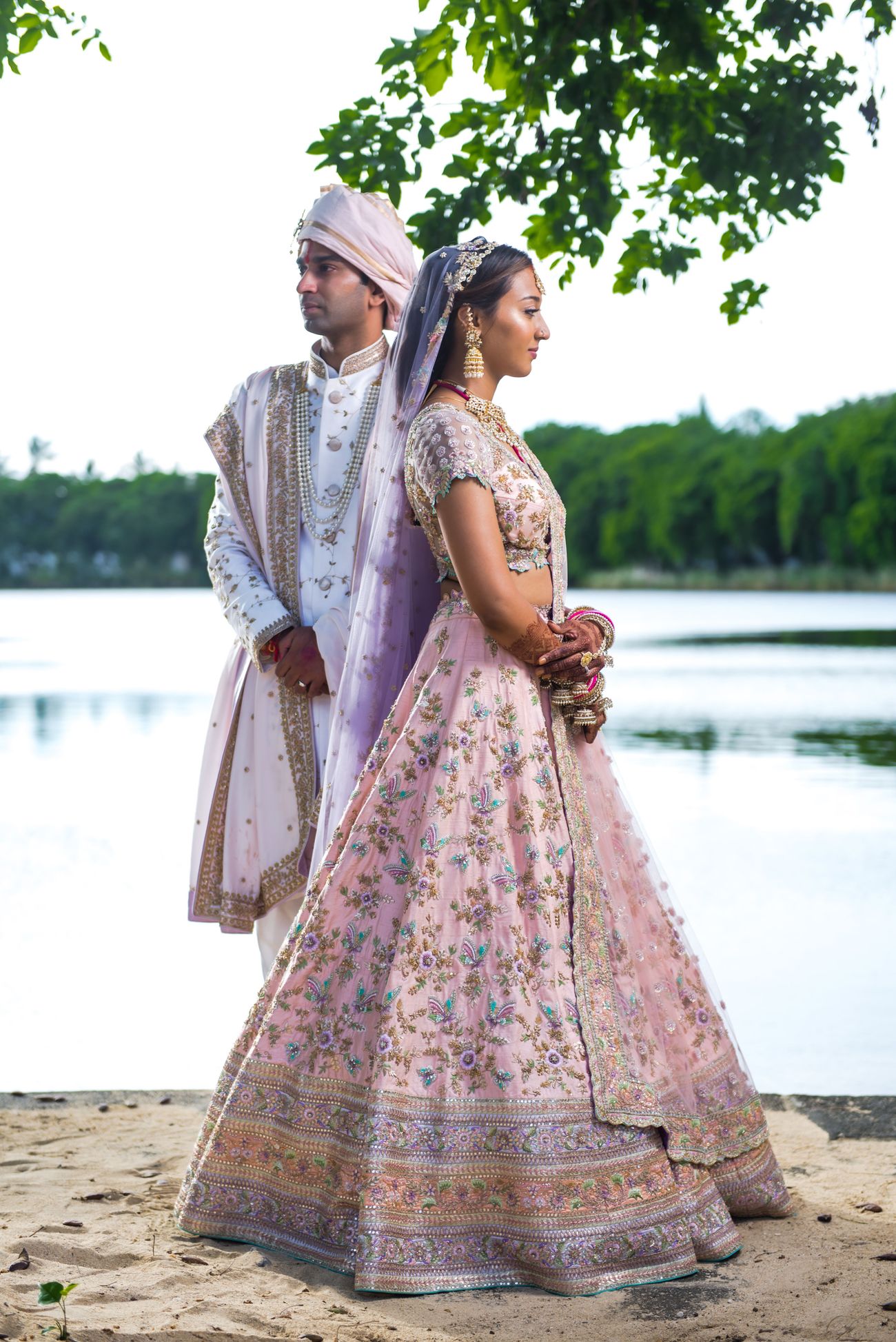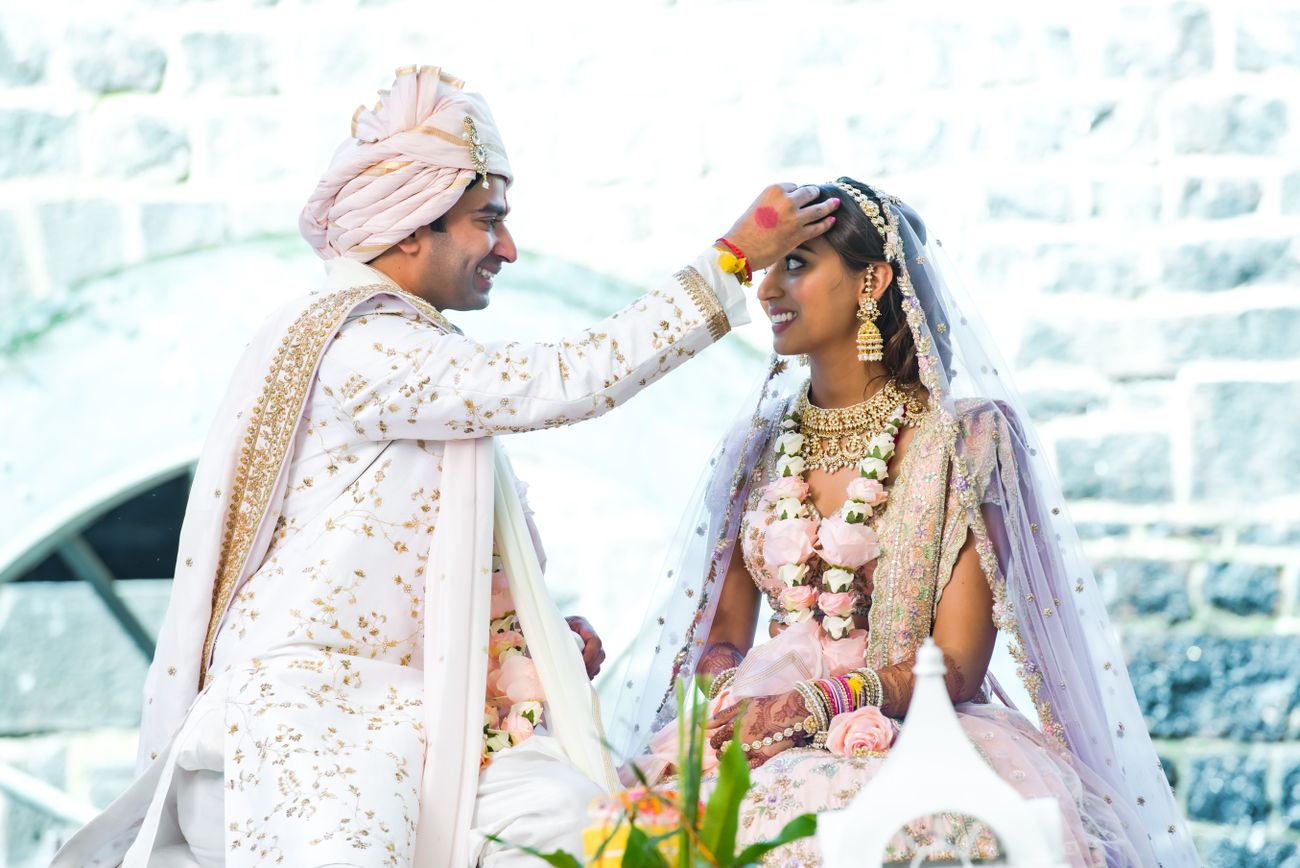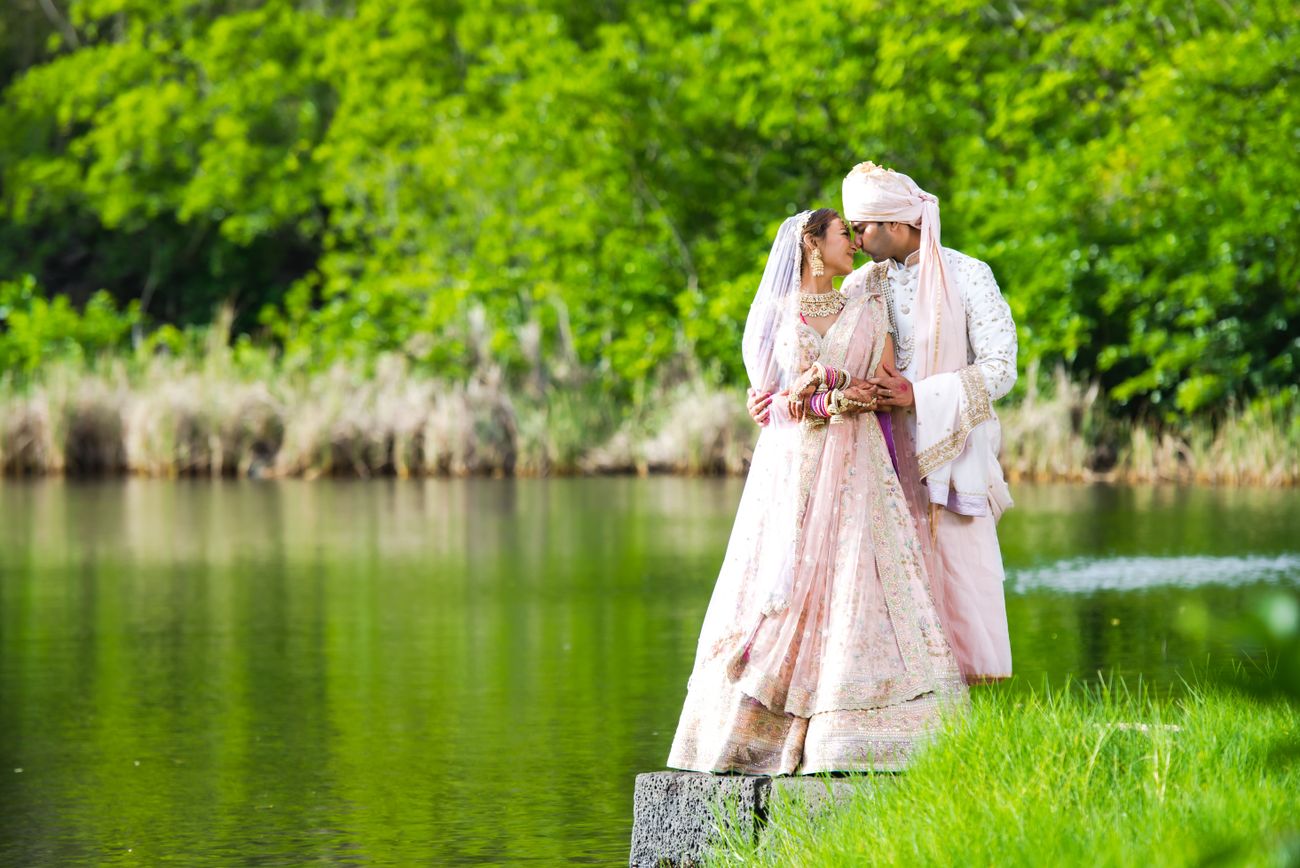 "This was the main event on which we had both our civil ceremony and traditional Hindu wedding. The baraat's arrival was fun-filled with Dhol players providing the necessary noise to mark the groom's arrival. We had our civil wedding on the mandap where we signed the registry papers following which the pandits proceeded with the Hindu rituals. After the ceremonies, a Mauritian Afternoon Tea was served to our guests. It was a peaceful and spiritual day time ceremony. We wanted to stick to only one event on the wedding day in order to fully soak everything in on a day where emotions were running high. For the wedding outfit, I was initially extremely indecisive about what I wanted to wear. We went to several multi designer stores in London multiple times but I simply could not fall in love with any of the outfits I saw. It was probably because I had seen them on other brides before. Deep down, I knew I wanted something unique and tailor-made just for me. Finally, Ekta Solanki made it happen," gushes Yasheela. 
Sunset Beach Reception

"For our final event, we hosted, as a married couple, a Sunset Beach reception with our friends, most of whom had braced the pandemic and travel restrictions to celebrate with us. This reception came more with a youngster's vibe and was probably one of the events we were looking forward to the most as we both wanted a sunset beach reception ever since we started planning. To kickstart the event, we had a sundowner cocktail during sunset at the Retreat Bar of the Westin Turtle Bay. This was followed by a first dance and a cosy buffet dinner at the beach restaurant. The evening was  marked by speeches from Varoon, my parents and my bridesmaids who called Varoon out for his outrageously mixed signals during the early stages of our relationship. We had a Sega (Mauritian traditional dance) performance and Fire Spitters after dinner and finally rounded off our wedding celebrations… champagne in hand… by dancing barefoot… on the beautiful turtle bay beach… under the stars… surrounded by the people who mattered to us," she recollects. 
From The Bride:
12.12.21 was the big day where we said 'I do'. In terms of wedding logistics, Varoon and I were on the same wavelength. We chose the Maritim Resort and Spa in the north of the island for most of our ceremonies as the resort offers several different locations and the Westin Turtle Bay for our Sunset reception as it has a stunning restaurant on the beach. He loves chasing sunsets and I adore the beach, so this felt like a natural marriage between the two. We wanted an intimate but classy wedding and somewhere we were able to make the pandemic work to our advantage as the restriction in the number of guests meant that we were only able to have our closest friends and families with us. We had to use two separate locations at the resort to live stream and separate  guests in order to abide by the restriction on numbers at social gatherings. We ensured that we were able to move around to mingle with our guests. I wanted them to be fully present on every occasion and feel that they were part of our special days.
About WedMeGood: 
I found the Virtual designers demos on the WMG to be really helpful in browsing different styles  that were currently trending in the fashion industry and also in making me aware of what I wanted in my outfits. It gave me a proper insight into the process so that when I went shopping in the multi designer shops in London I knew already what I was looking for. Reading about the real weddings from the WMG app was really useful in knowing the Do's and Dont's, and gave me serious inspiration for decorations.
Vendor Reviews:
Wedding Décor: Impact Production Group
Varoon and I had set ideas on how we wanted each event to be and my mom facilitated the coordination with the decorators as we were abroad. The execution by Impact was simply out of this world. They really know how to cater for high end weddings.
Bridal Outfit & Groom Wear (Wedding): Ekta Solanki
London-Delhi based designer, Ekta Solanki, fully designed our outfits from scratch. I sent her my inspiration pictures from Pinterest, and she drew out the lehenga on paper for me and following this, we tweaked the initial sketch to design my dream outfit. From the initial colour swatch to the final embroidery swatches, her service was out of this world. She constantly kept me updated with pictures and videos of the Karigars working on my lehenga. She was open to my suggestions whilst giving me advice based on her experience. I absolutely loved our one-to-one interactions and was impressed as to how down to earth she was. Finally, I had the most beautiful, intricate and unique wedding lehenga which I wanted. The lilac head dupatta, the intricate butterfly details on the raw silk skirt (Yes, we actually did it before Alia Bhatt ;)) and the most stunning blouse were everything I dreamt of. I wanted something different from the usual ones I had seen all over social media and she made my dream come true. She also designed Varoon' s sherwani and took inspiration from his favourite cricketer Virat Kohli's wedding sherwani. Ekta subtly matched Varoon's shawl to my outfit and I really liked how elusive the coordination was rather than it being too matchy-matchy.
Bridal Reception Outfit: Yuvna Kim
Yuvna is a UK based designer who also happens to be my cousin. She designed my beach reception dress. I adored how light the material was and I was able to dance all night long on the beach despite the hot Mauritian weather.
Bridal Hair: Shaheen and Kati
Highly recommended and absolutely loved how they made me look. 
Vendors: Venue: Wedding - Ruins of Balaclava at Maritim Resort and Spa, Sunset Beach Reception - Westin Turtle Bay Resort and Spa; Bridal Makeup: Valerie Lee Makeup (Sangeet & Wedding); Kati Makeup (Sunset Reception); Bridal Hair: Shaheen and Kati; Photography: Doorgesh Mungur ★ 5 ; Videography: Hysteria Productions; Wedding Invites & Welcome Board: Raw Invites UK; Other Welcome Boards: Chichi Illustrations and A&K Art London; Entertainment: Vee Vibe Events and Krumania Dance Company Mauritius; Choreographers: YSDC Wedding Choreography★ 4.3 , Bollywood Co (London), Bespoke Company/Bhavini Khatri (London); Bridal Mehendi: Keshini N Mehendi; Guest Mehendi: Pro Henna Connection