A Glam Jaipur Wedding With The Bride In Colourful Outfits
BY Aakanksha | 20 Aug, 2019 | 5392 views | 6 min read
A phoolon ki holi, a soulful sufi night, a jazzy sangeet and a dreamy wedding, this was one celebration that had it all. Add to that glam outfits, with a touch of quirk to them, and we couldn't help but swoon. Aakanksha wore gorgeous outfits, and their wedding had the most amazing decor as well. Enjay Events and Entertainment★ 5 was the force behind all this planning and they did a stellar job! Photography wasWeddingNama★ 5 was also absolutely on point. So have a look for yourself at this amazing wedding. 
Meet Aakanksha & Sarthak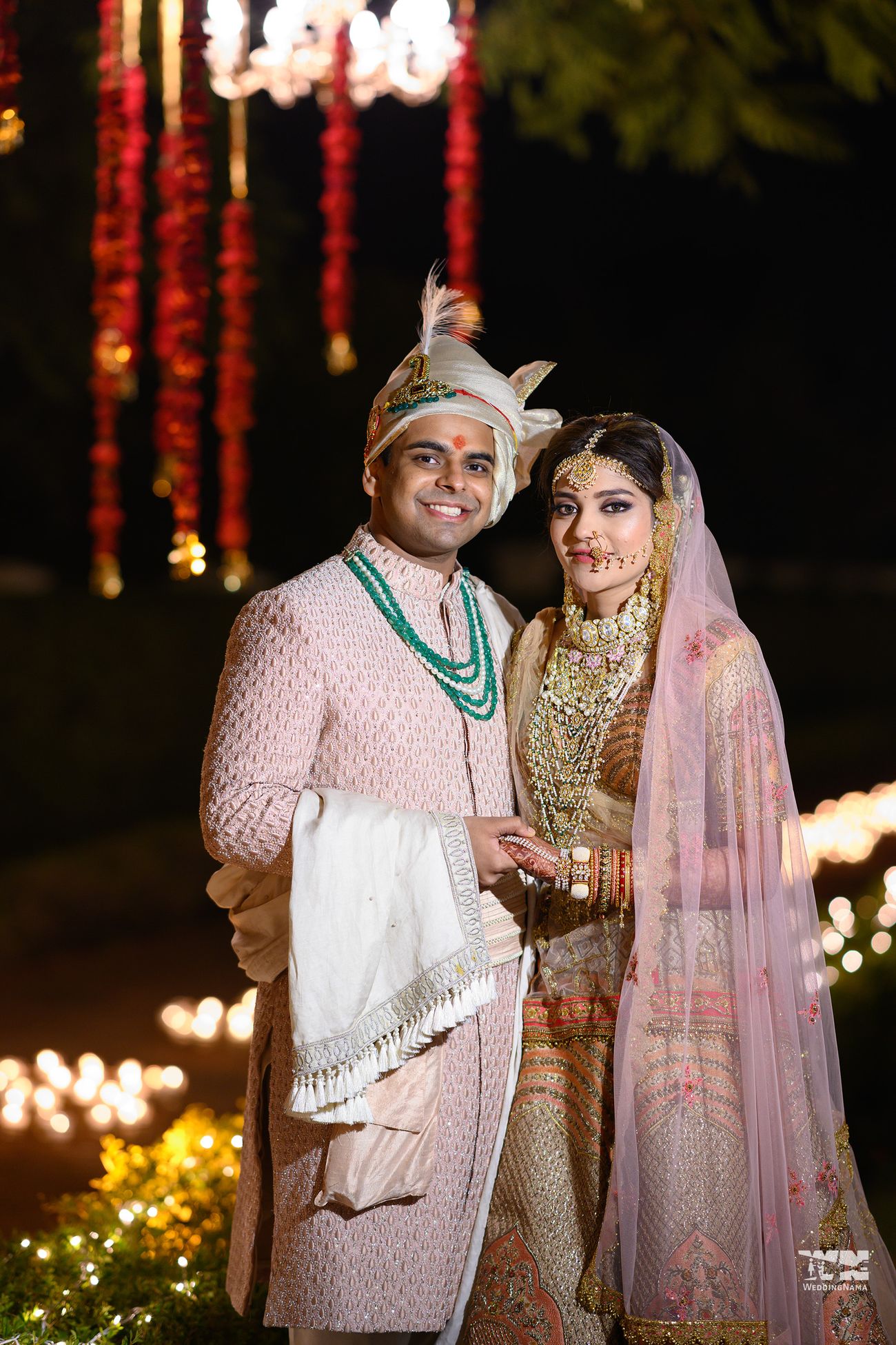 The Haldi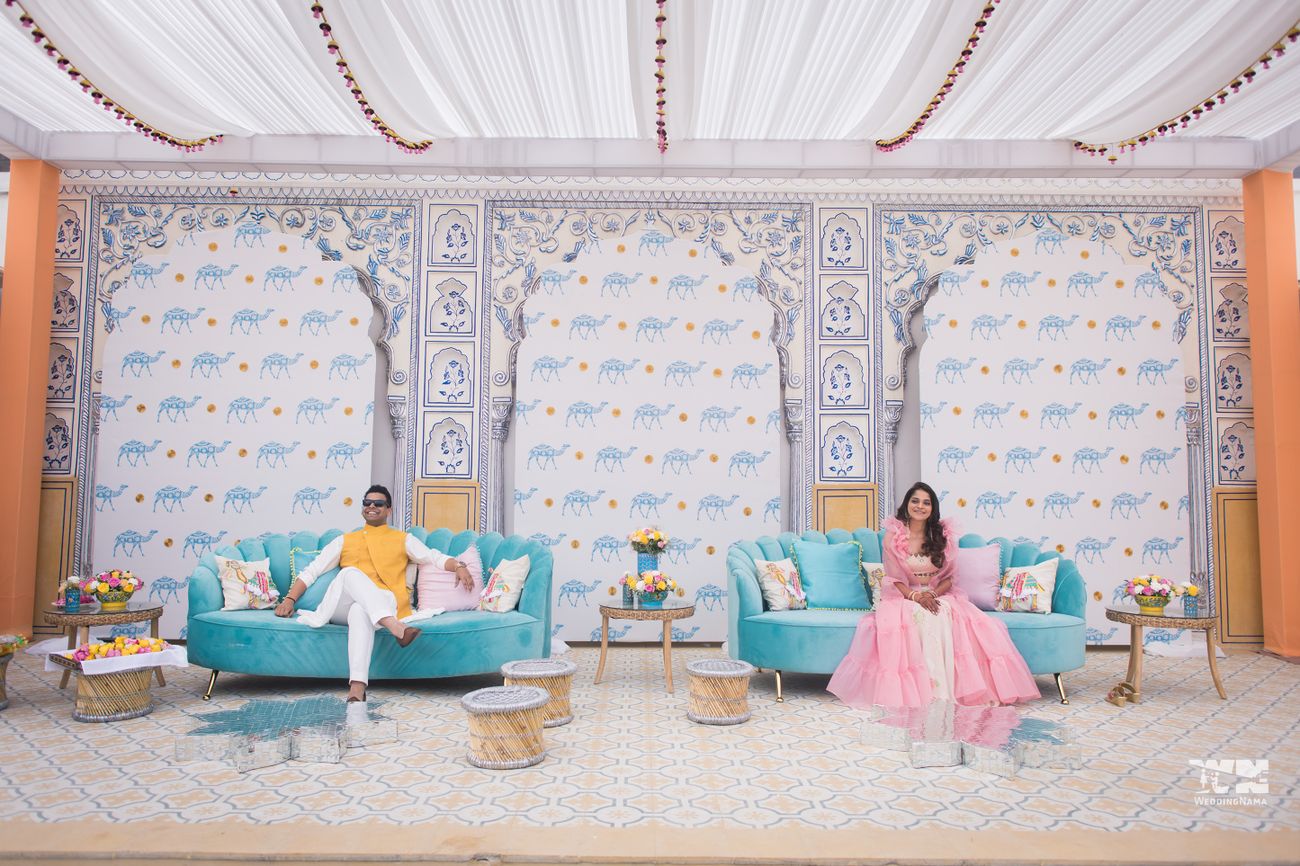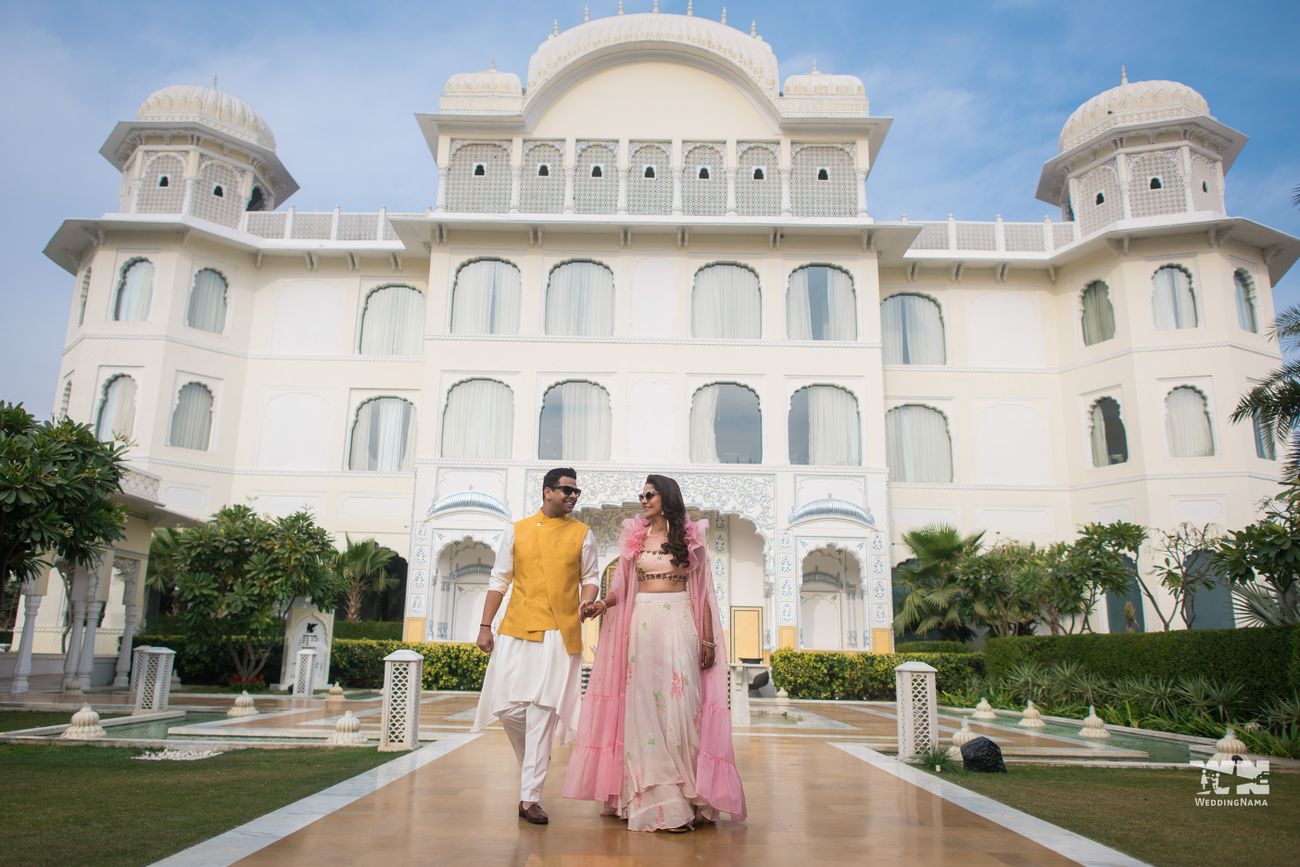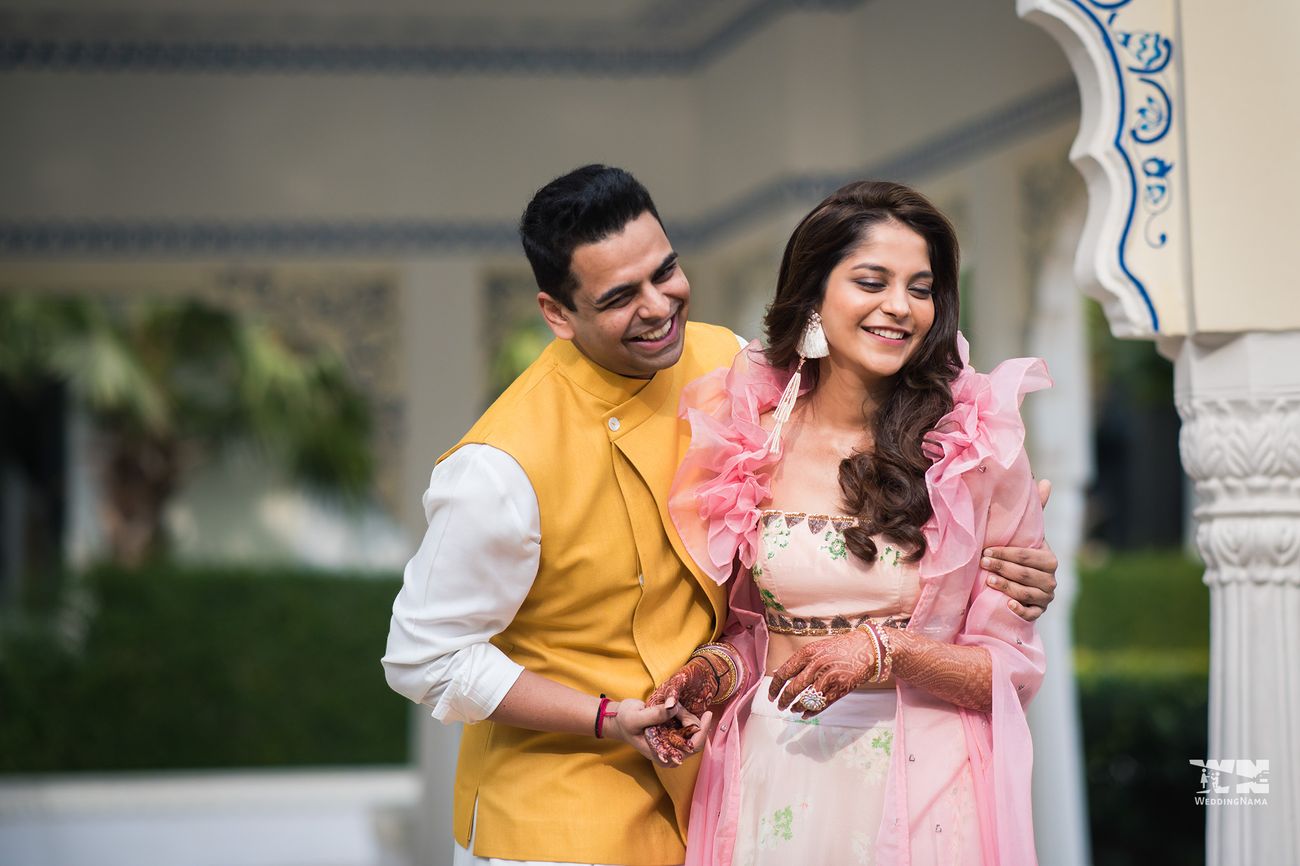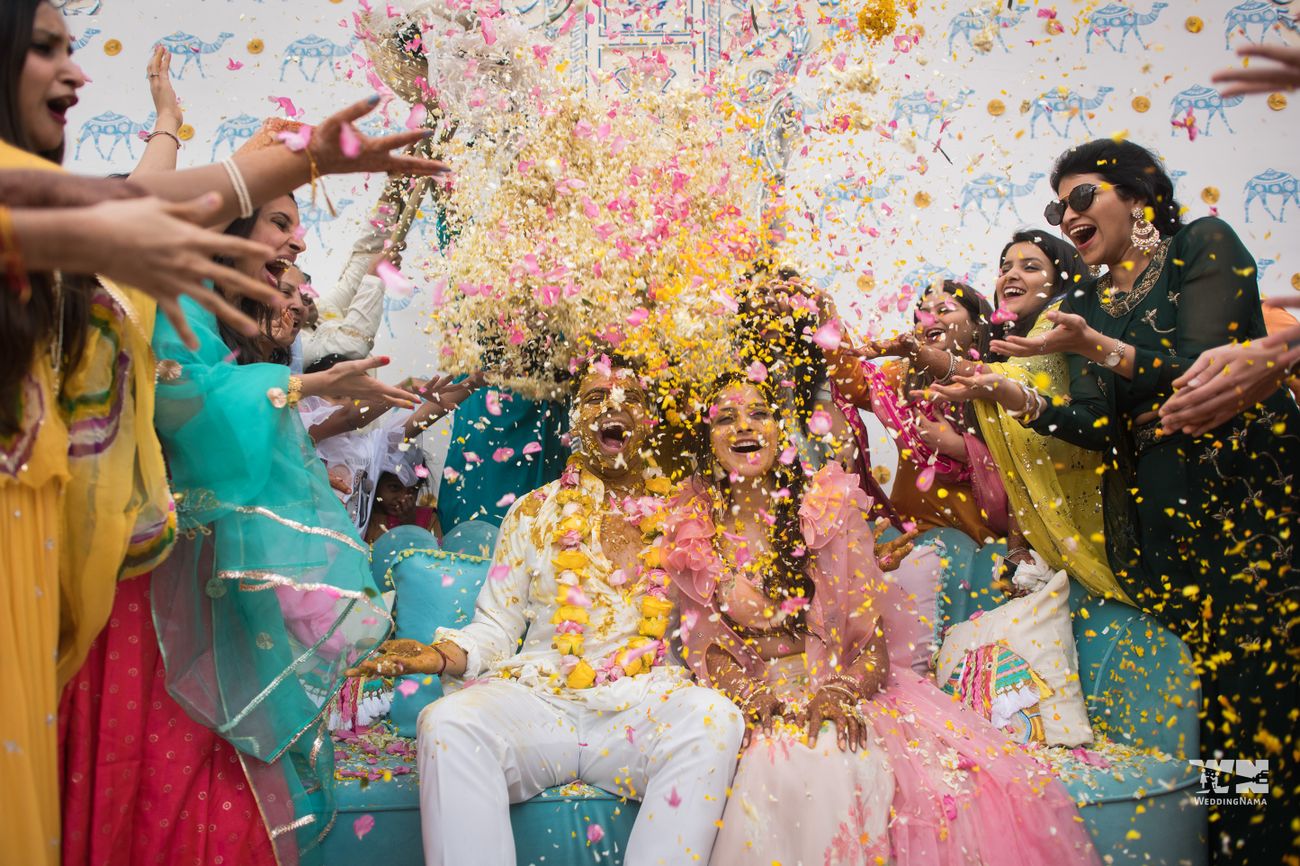 The Mehendi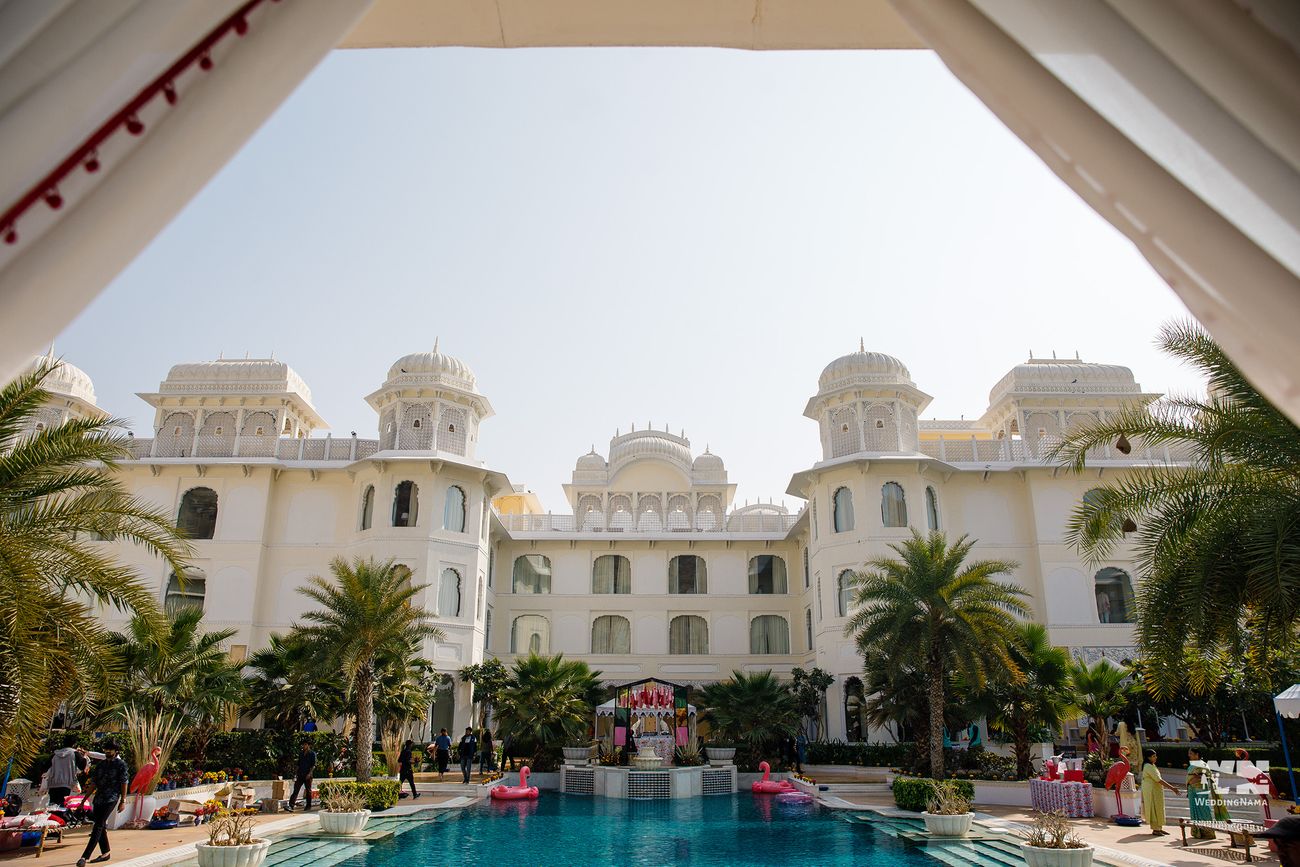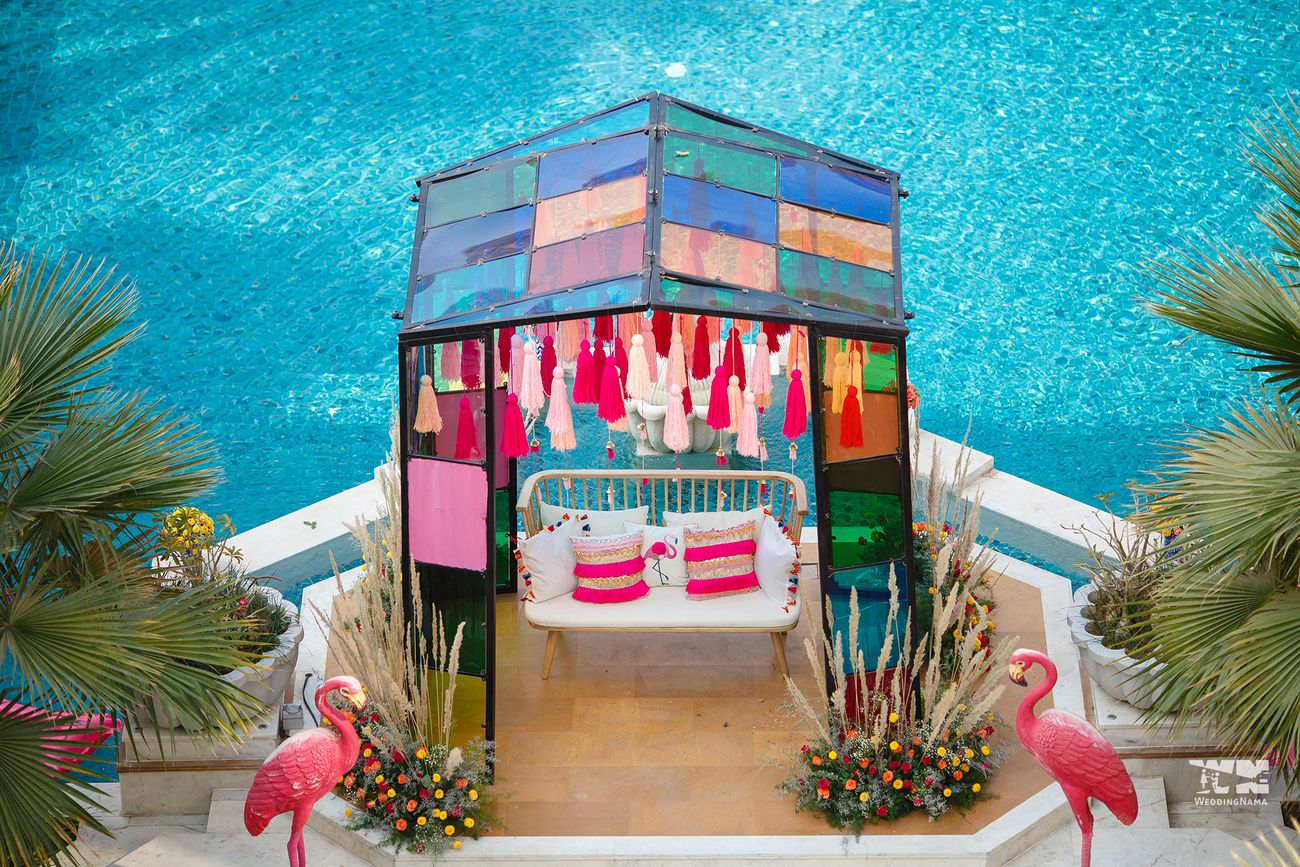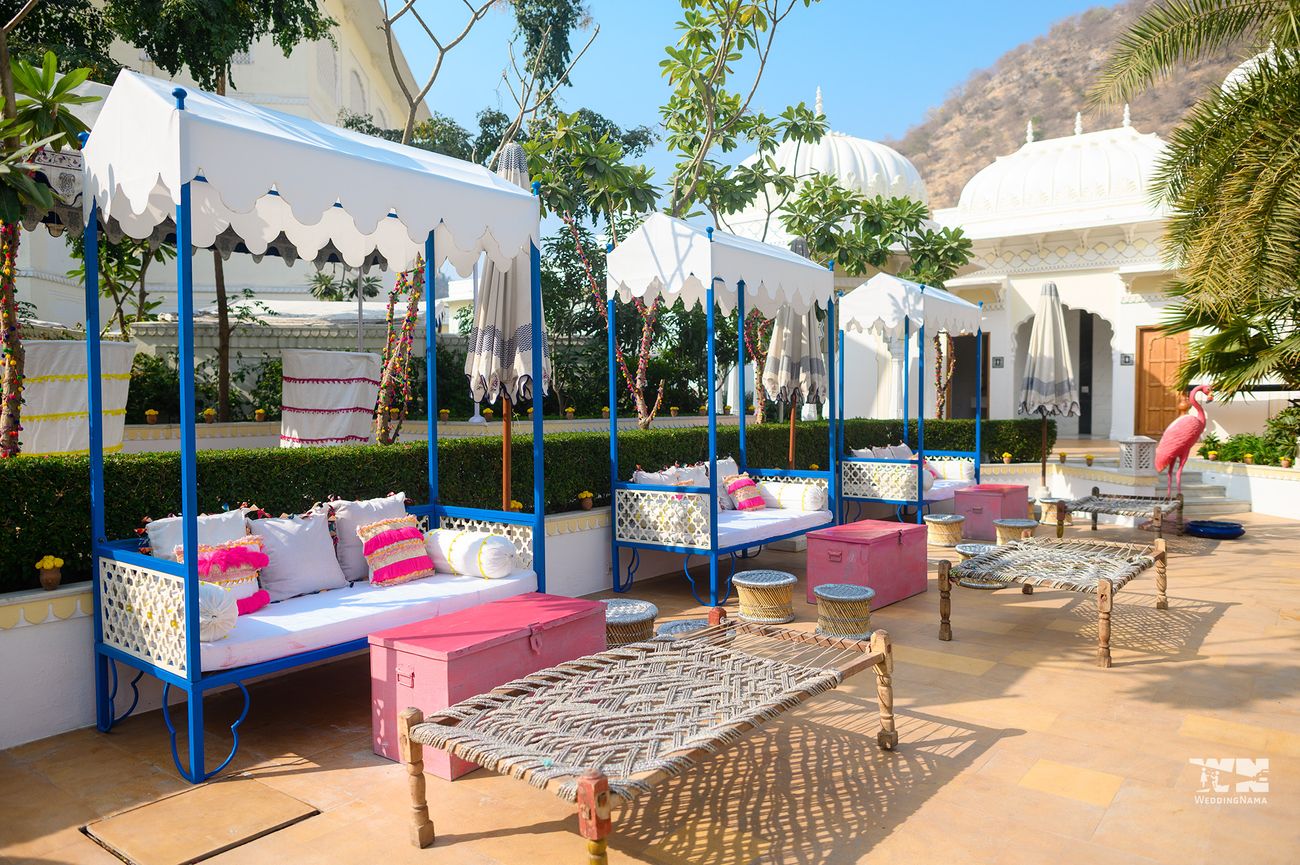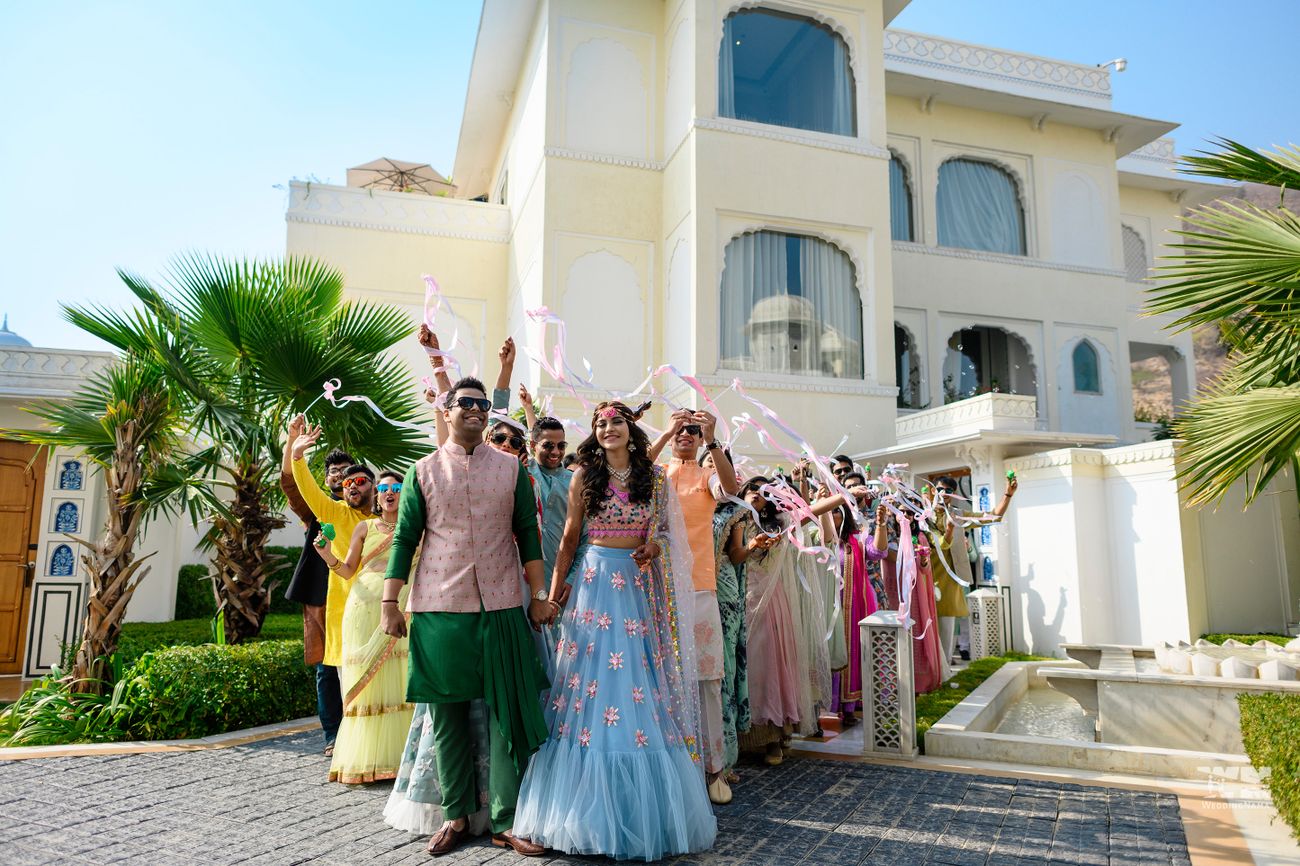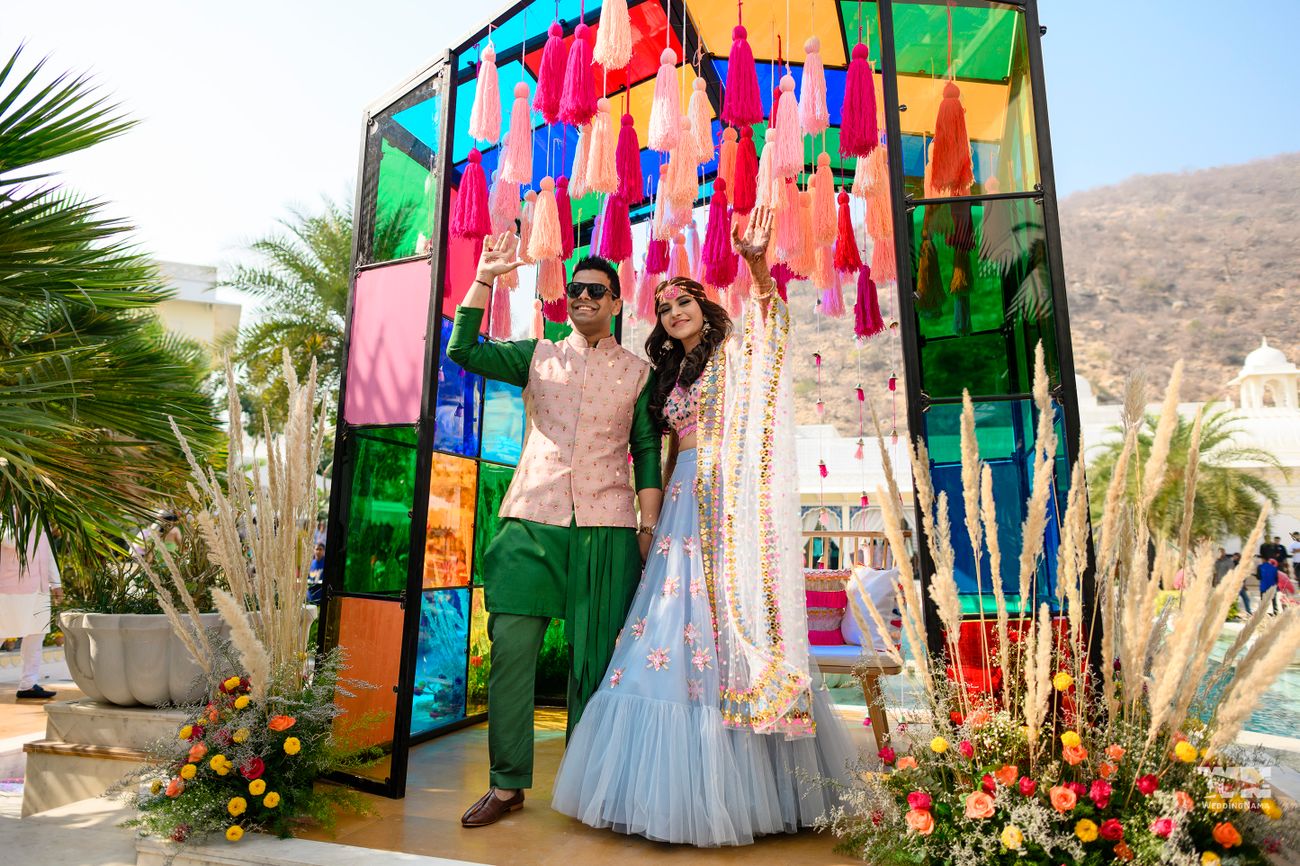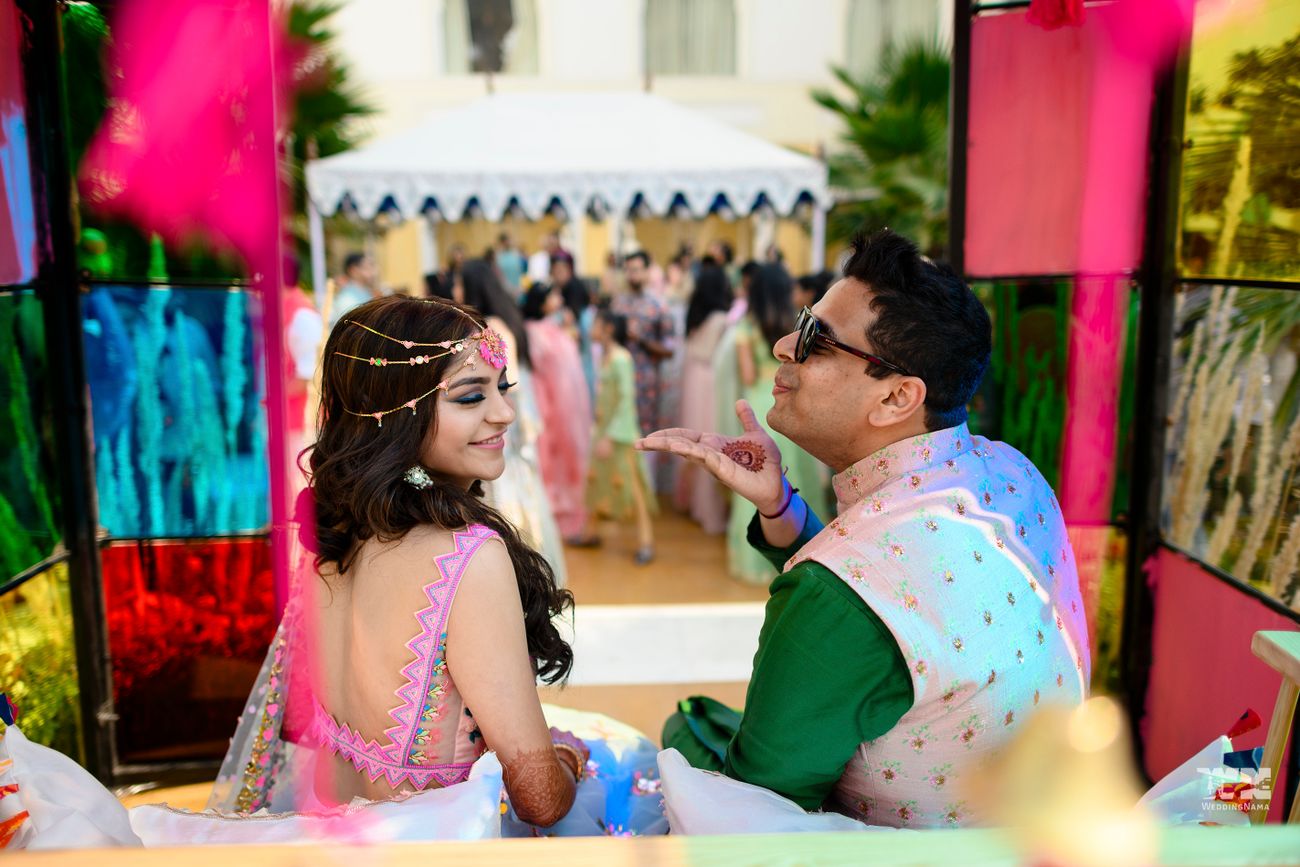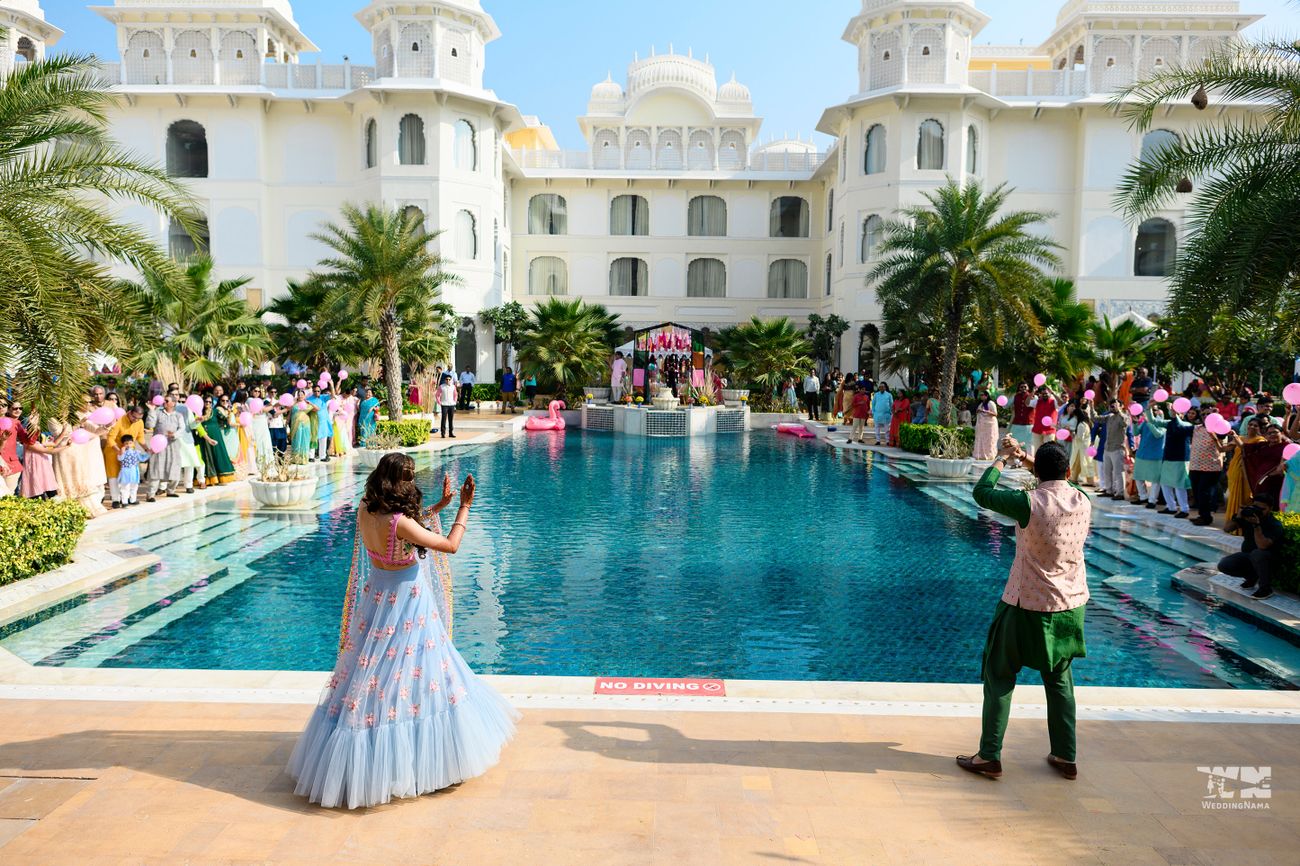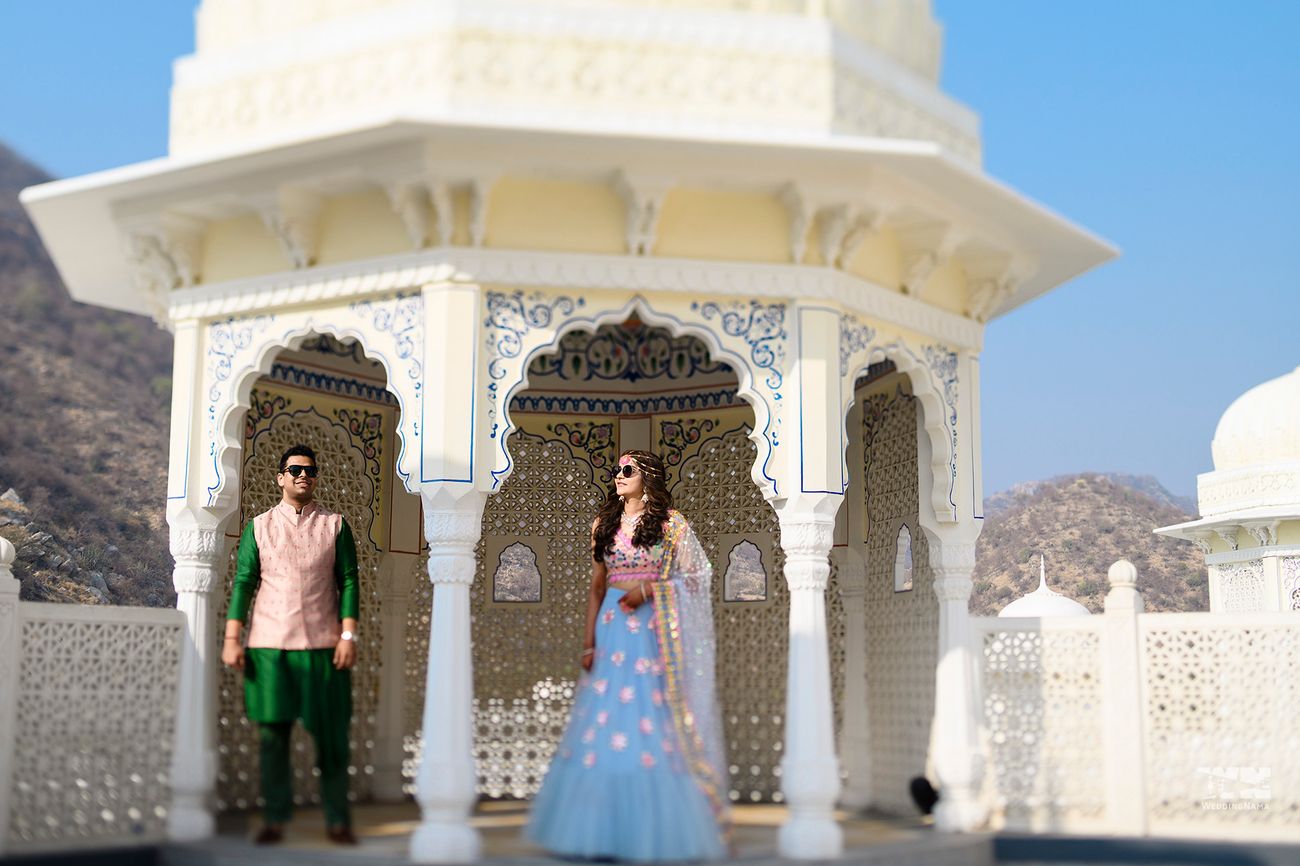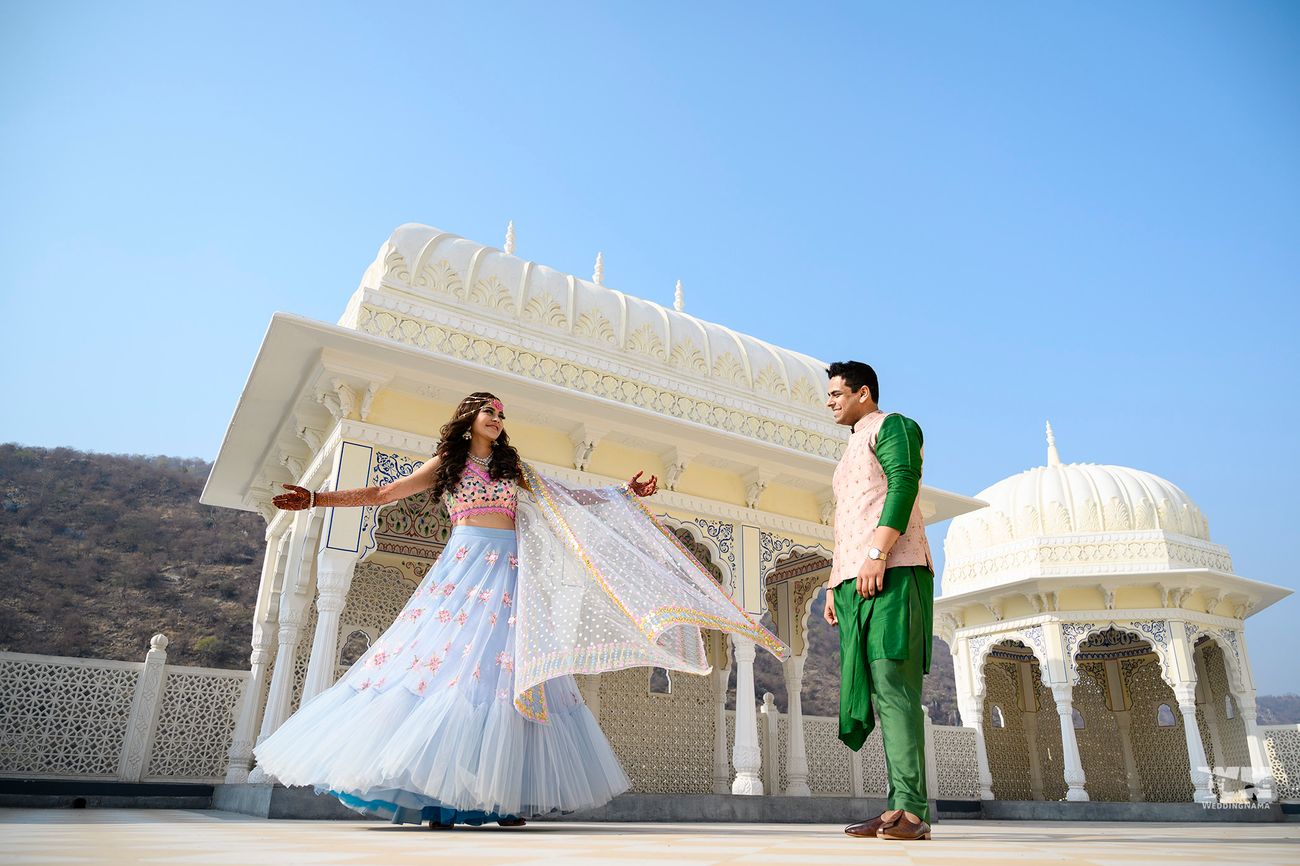 The Sangeet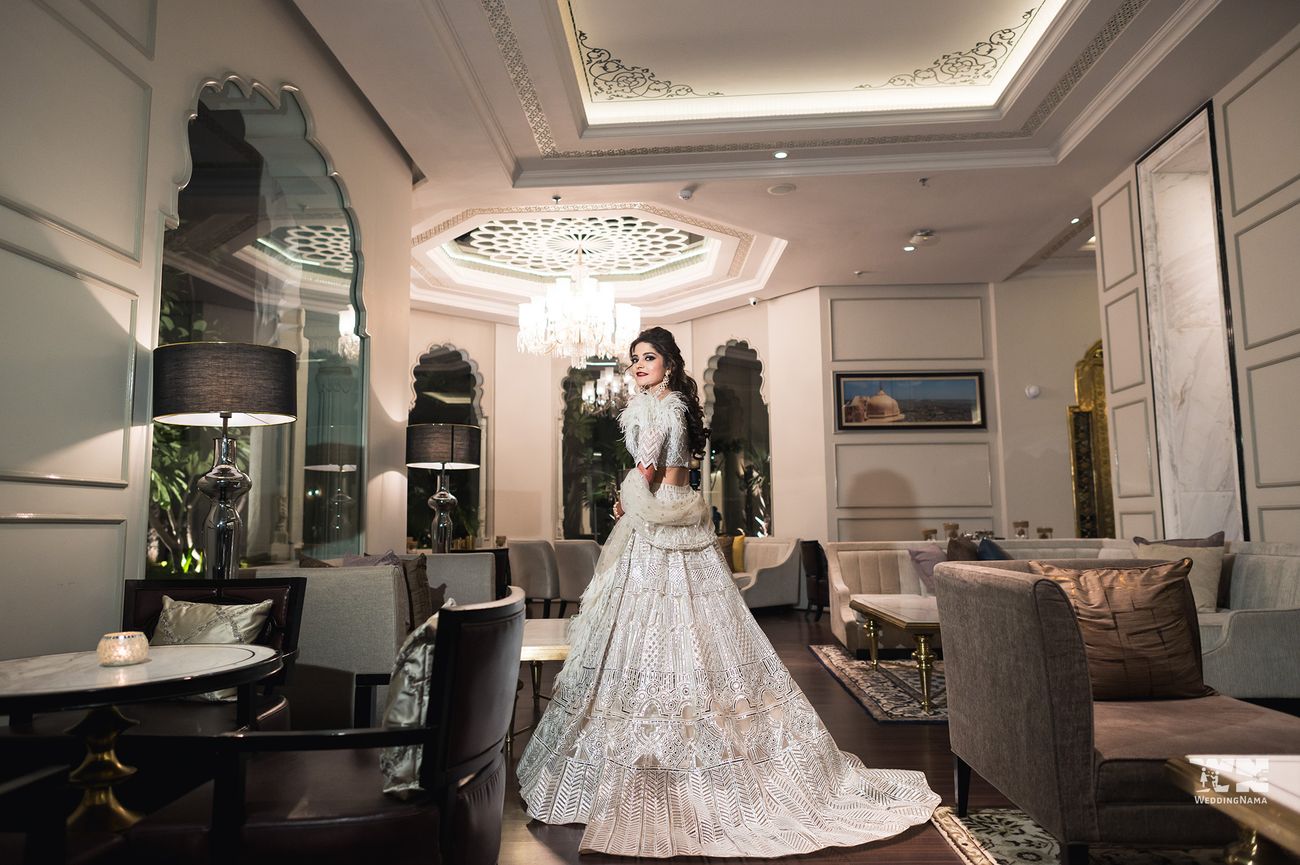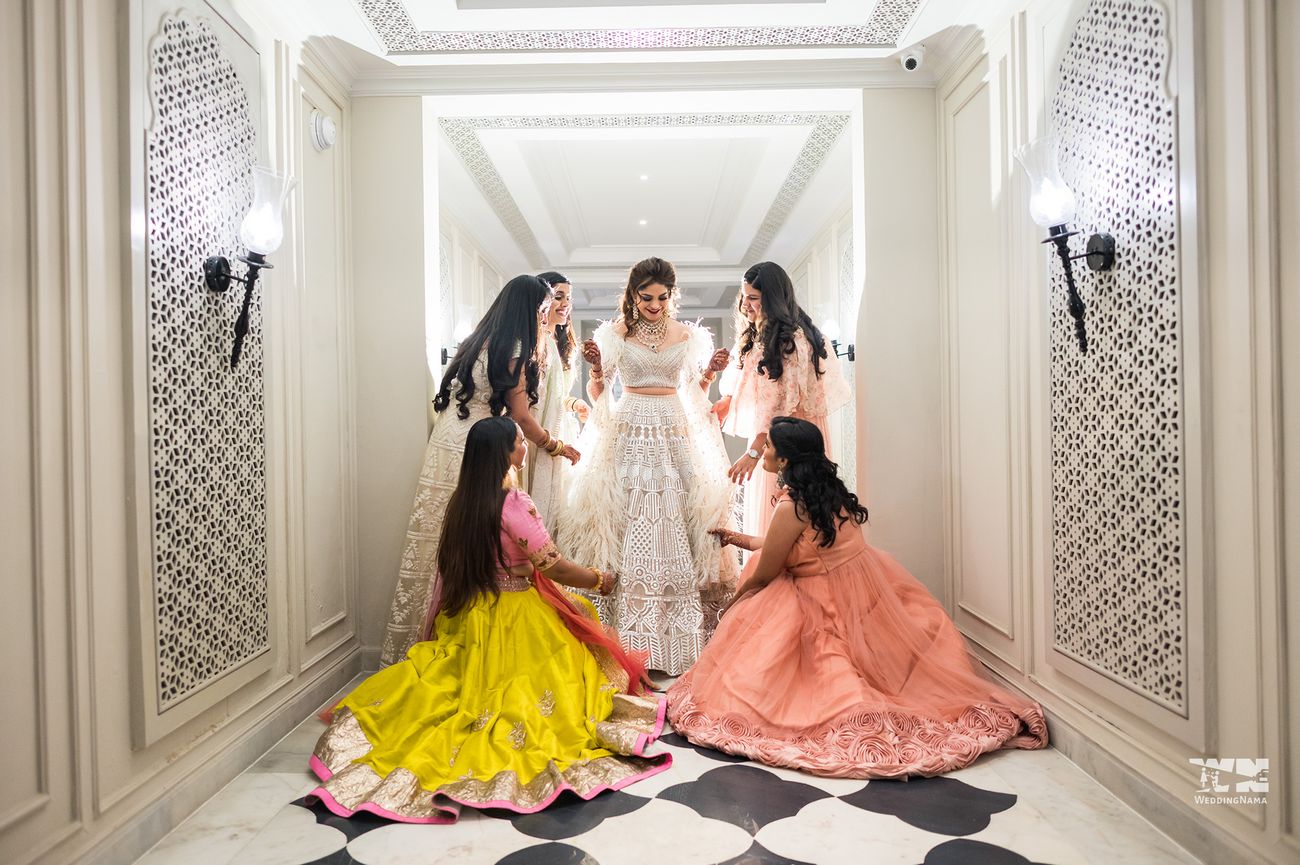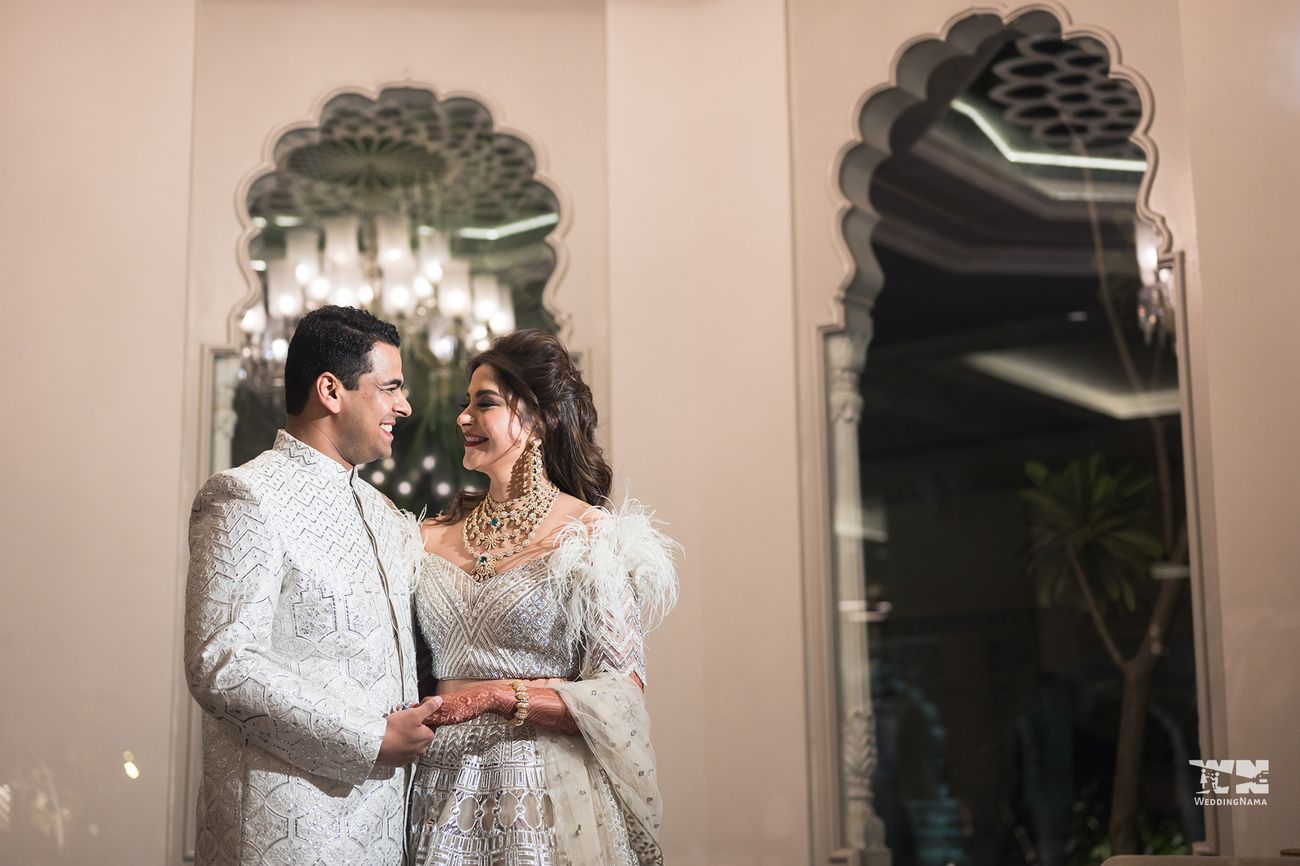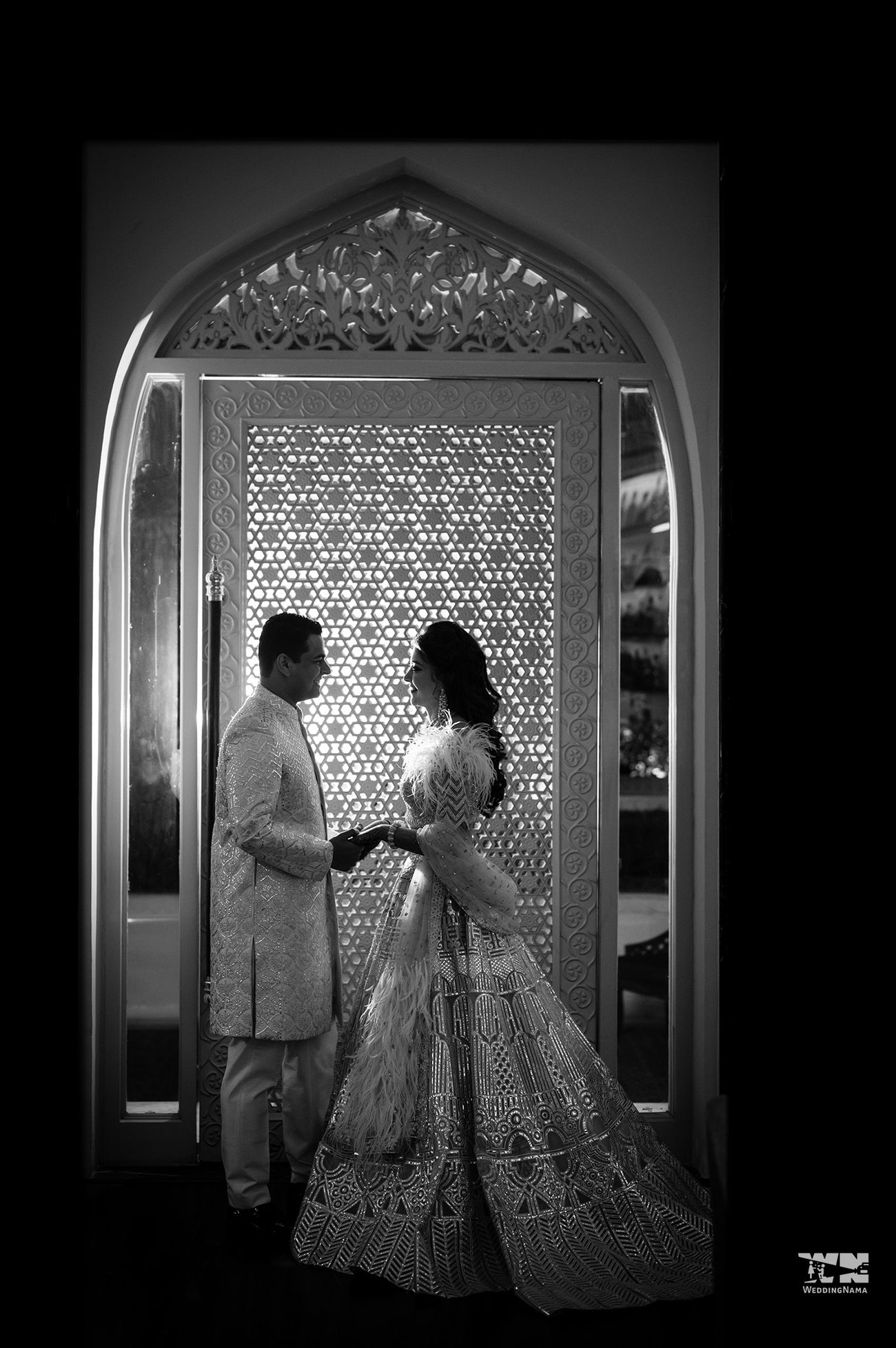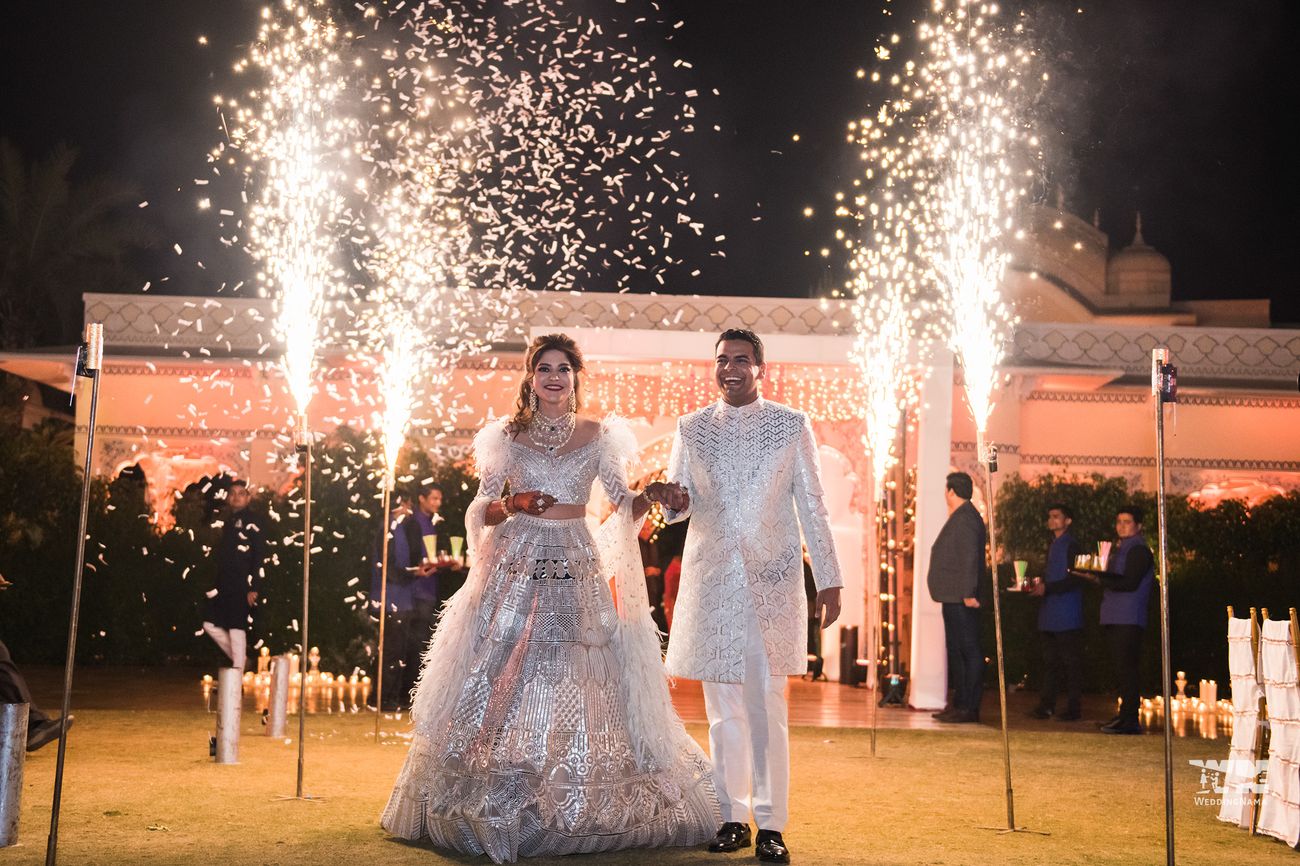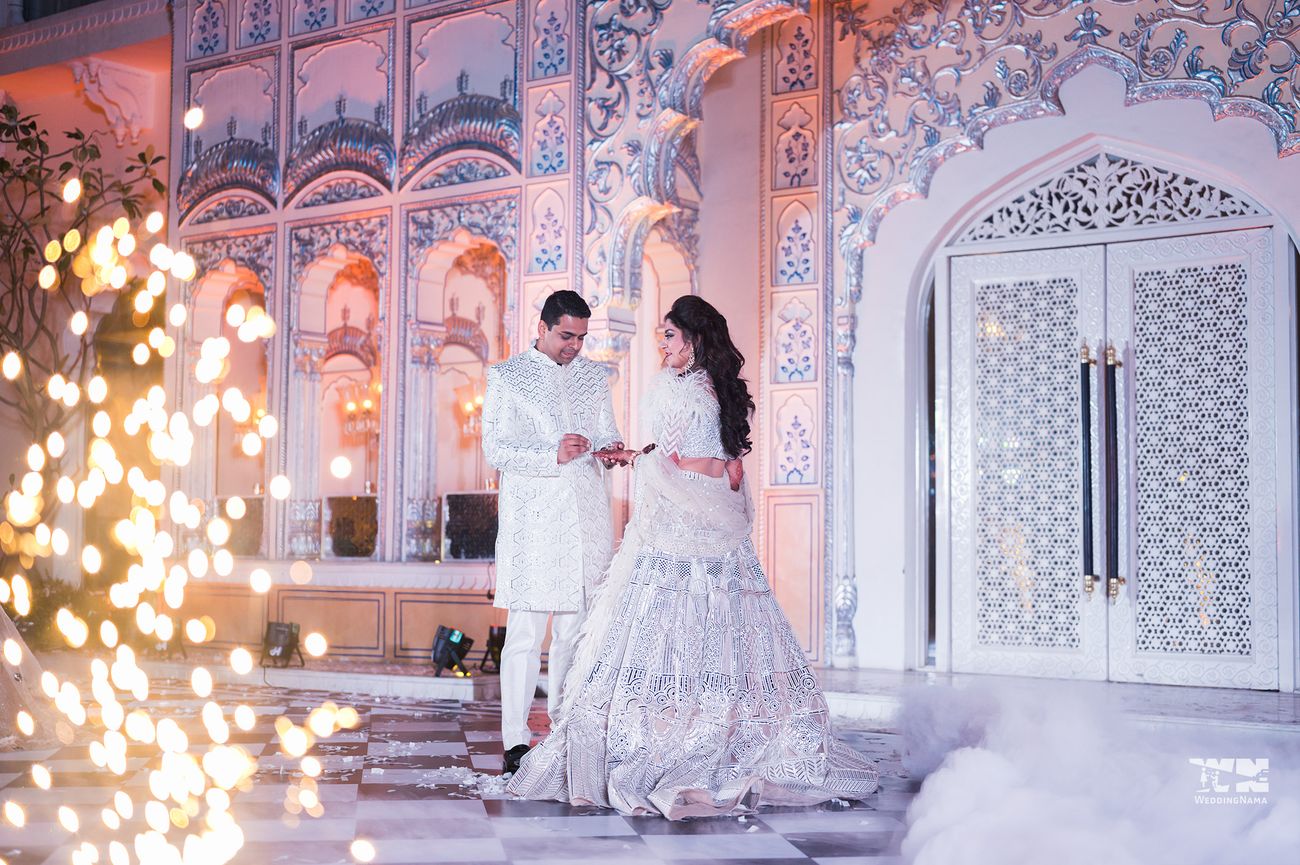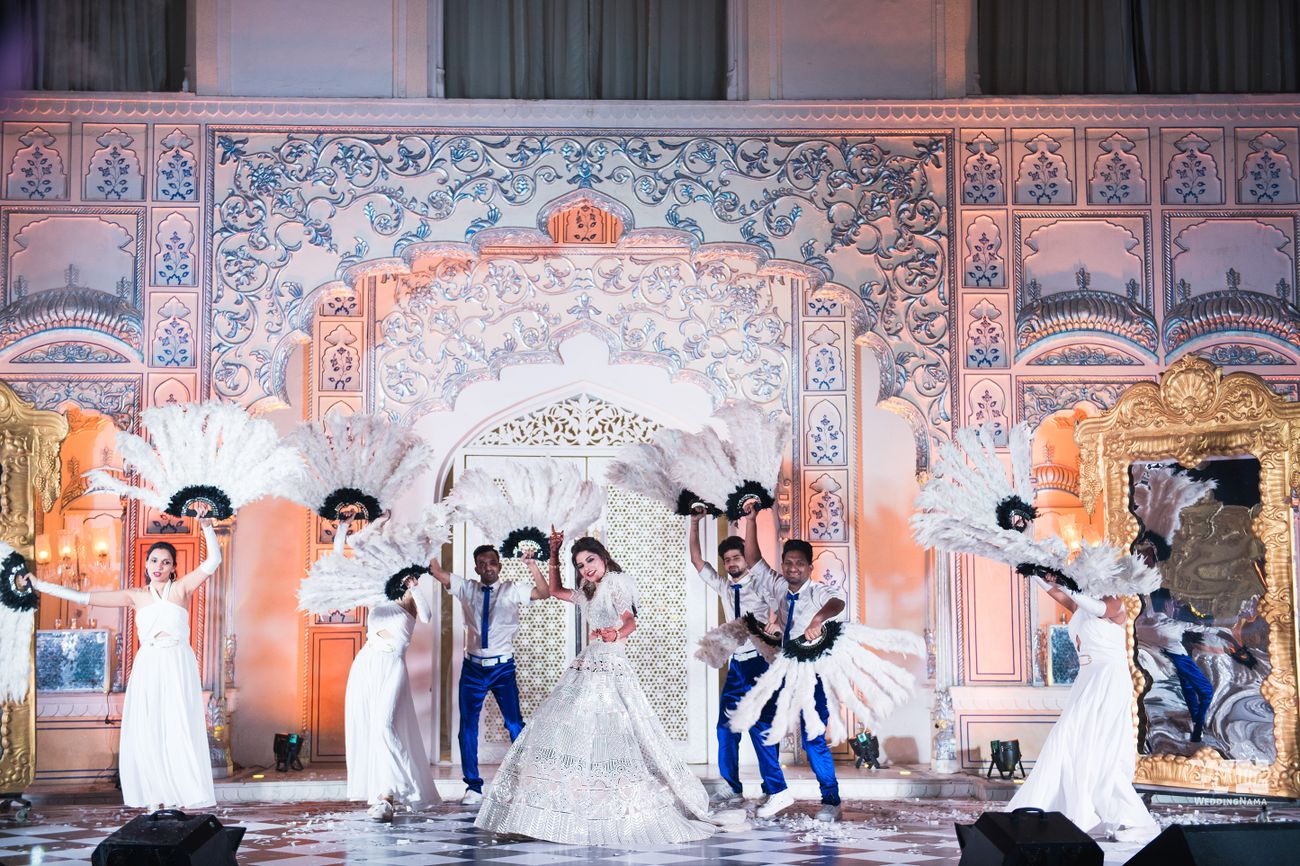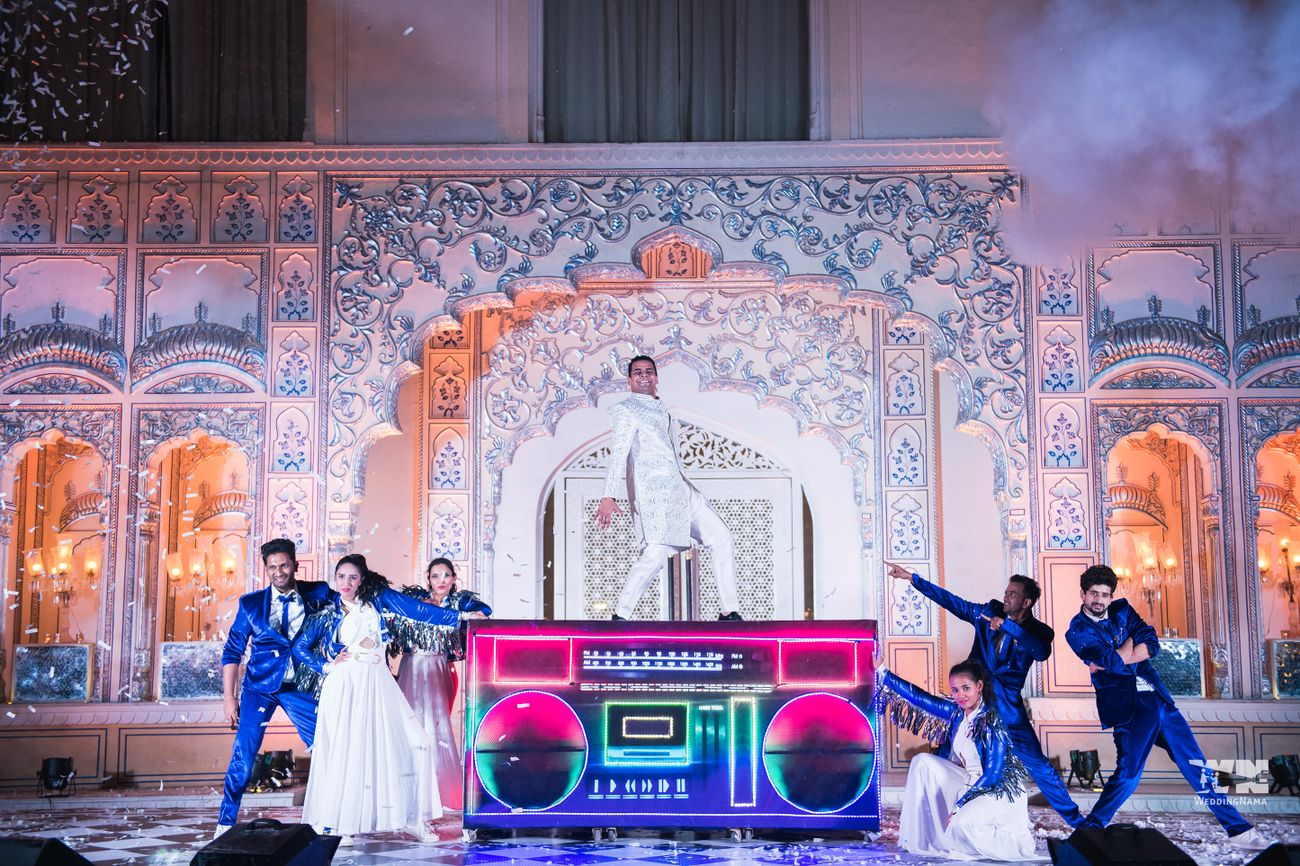 The Wedding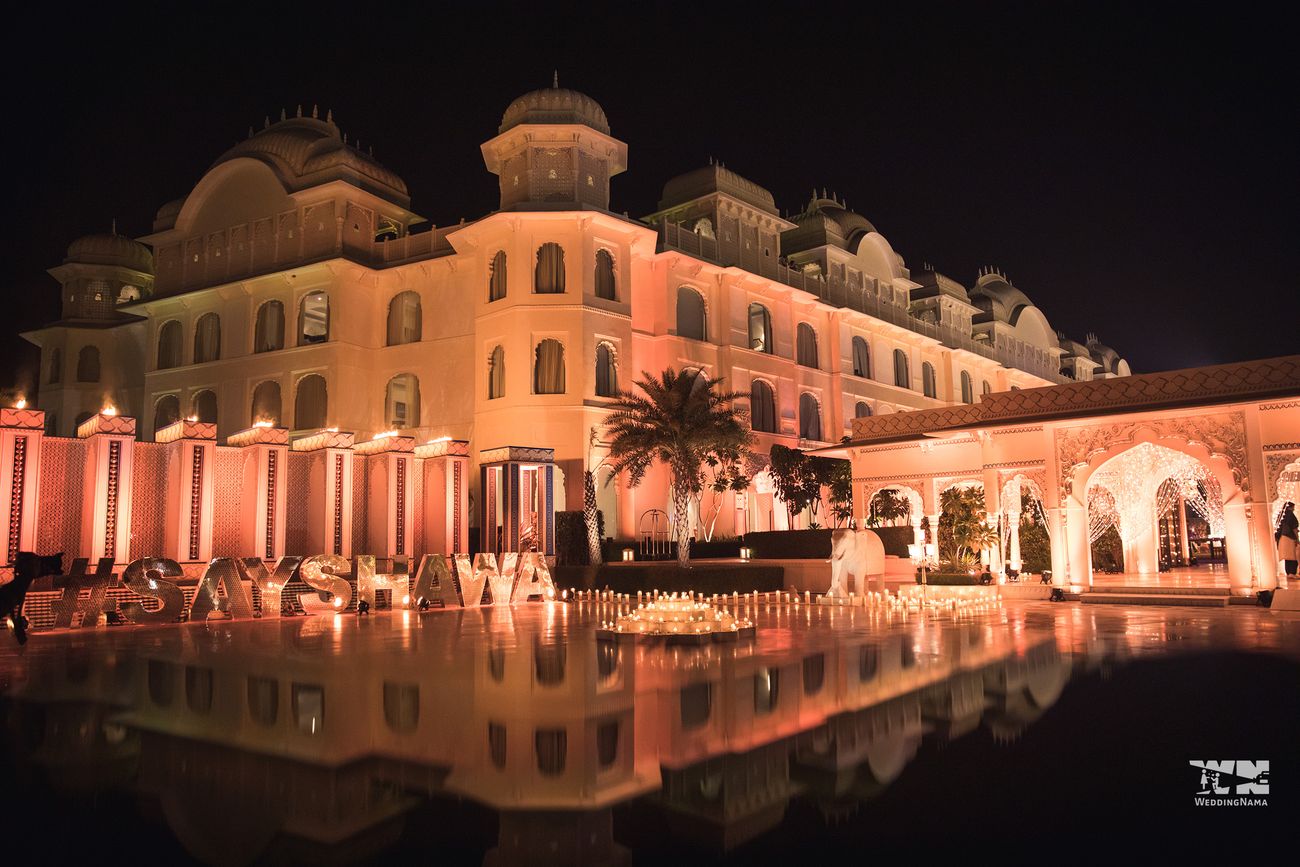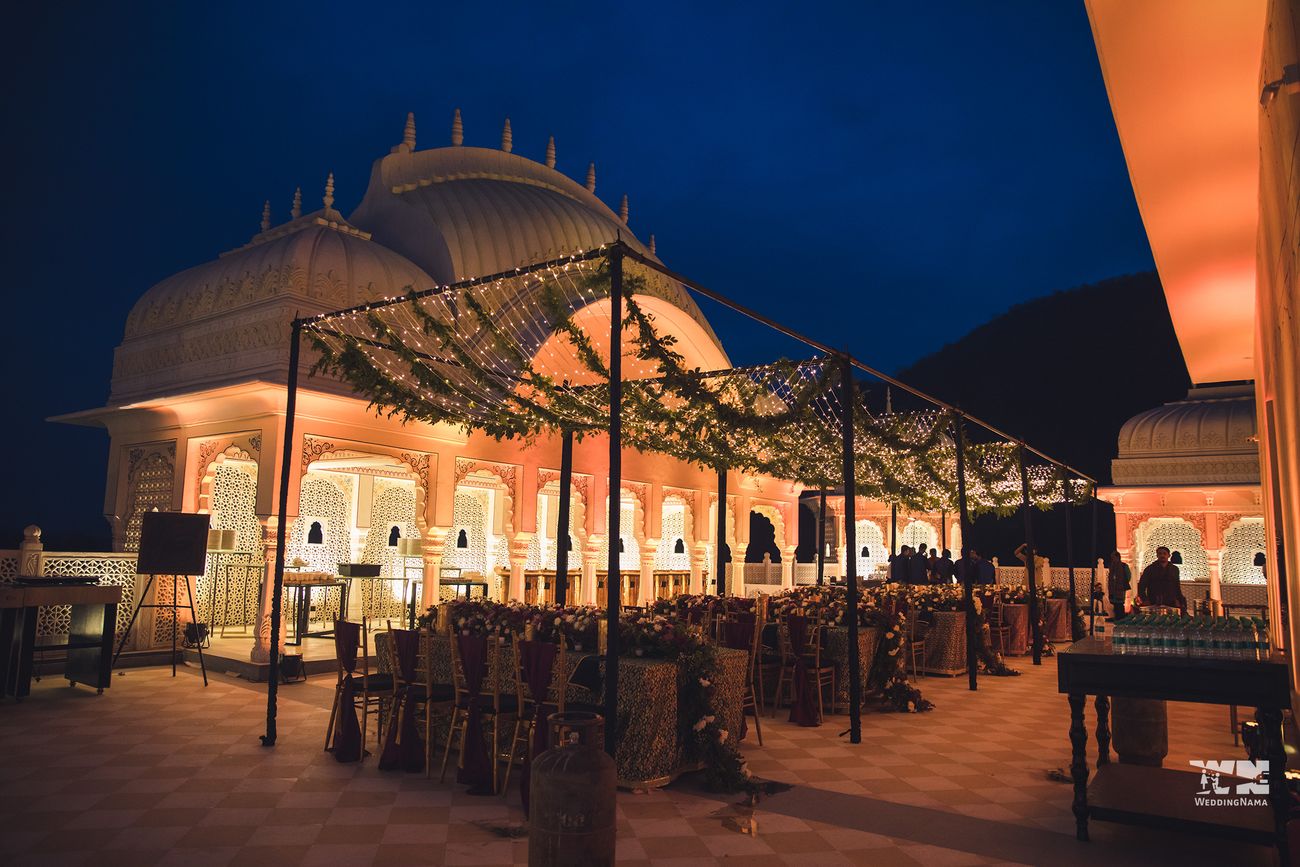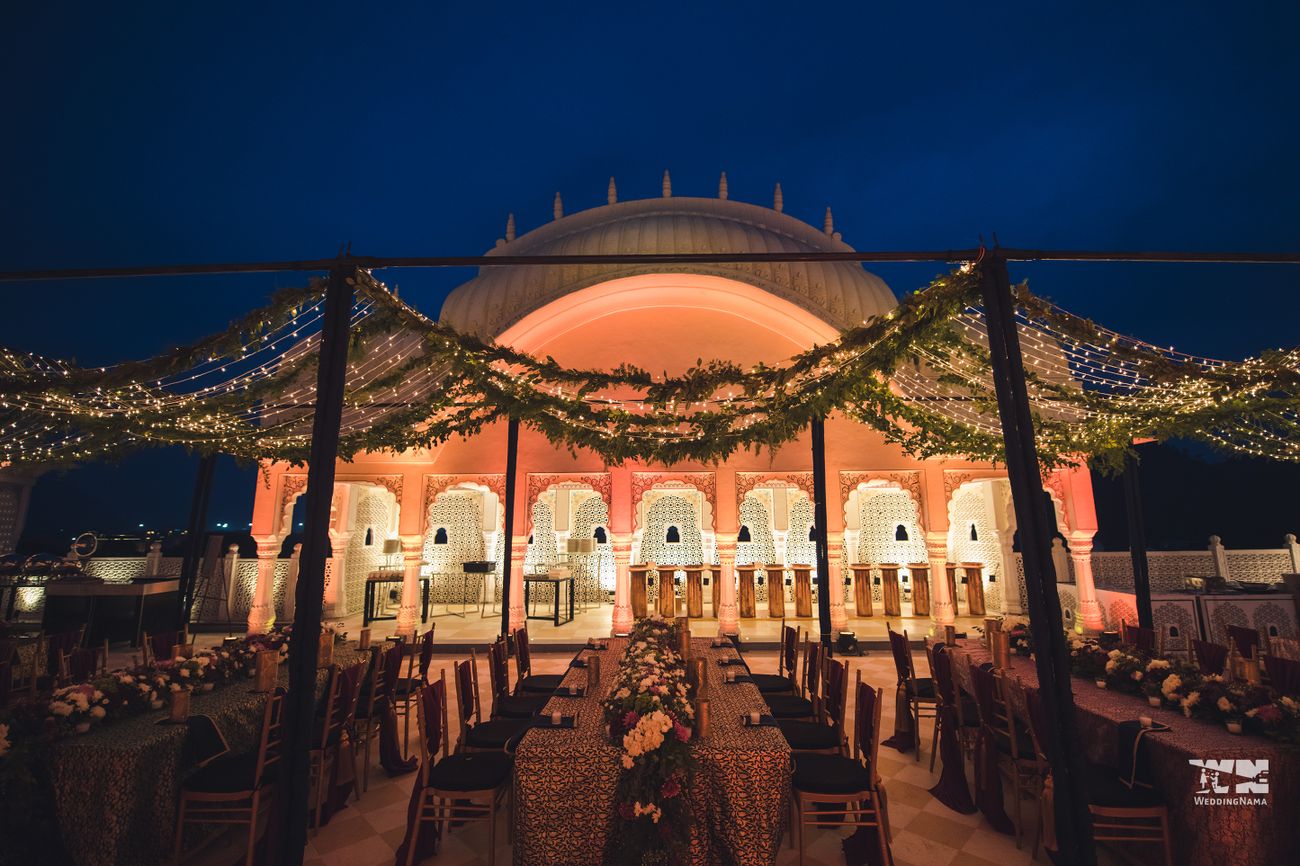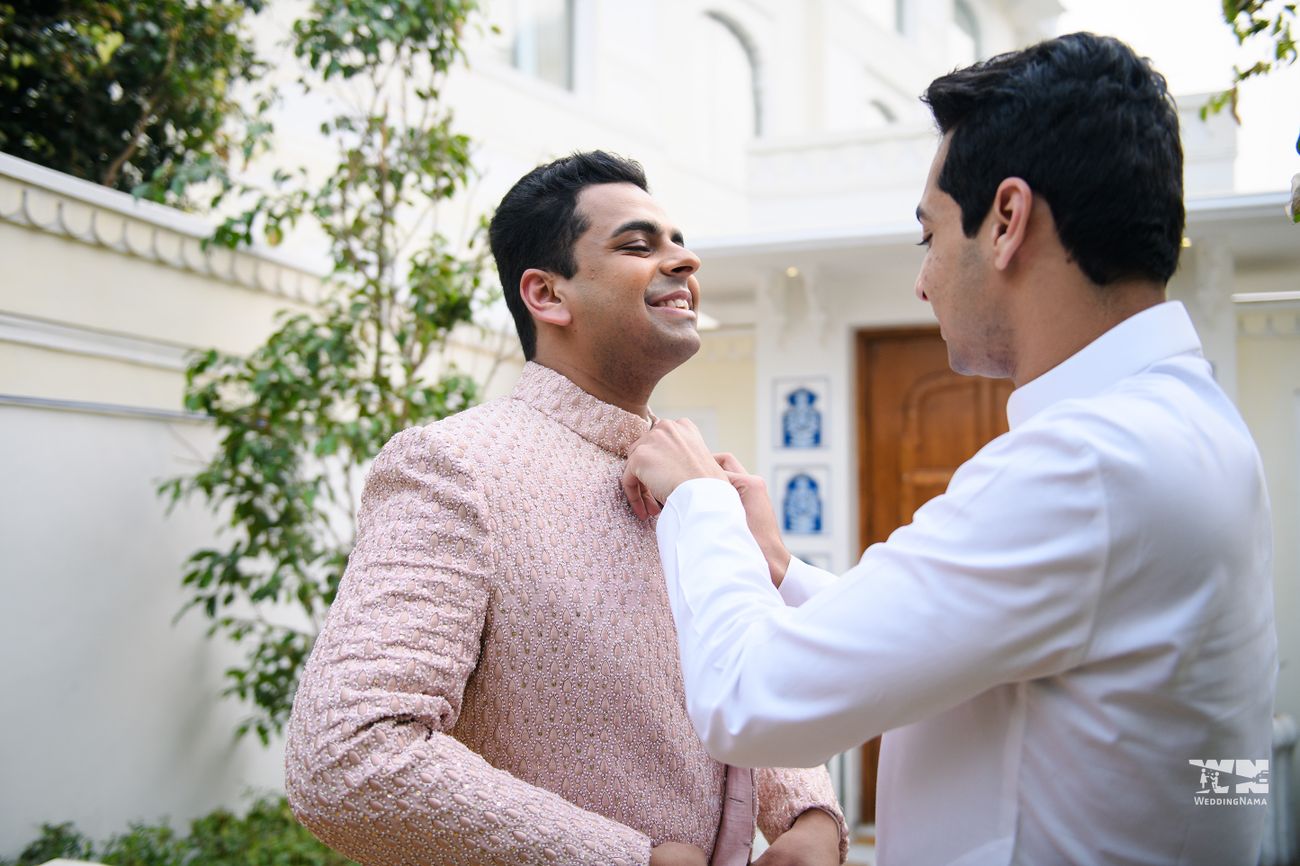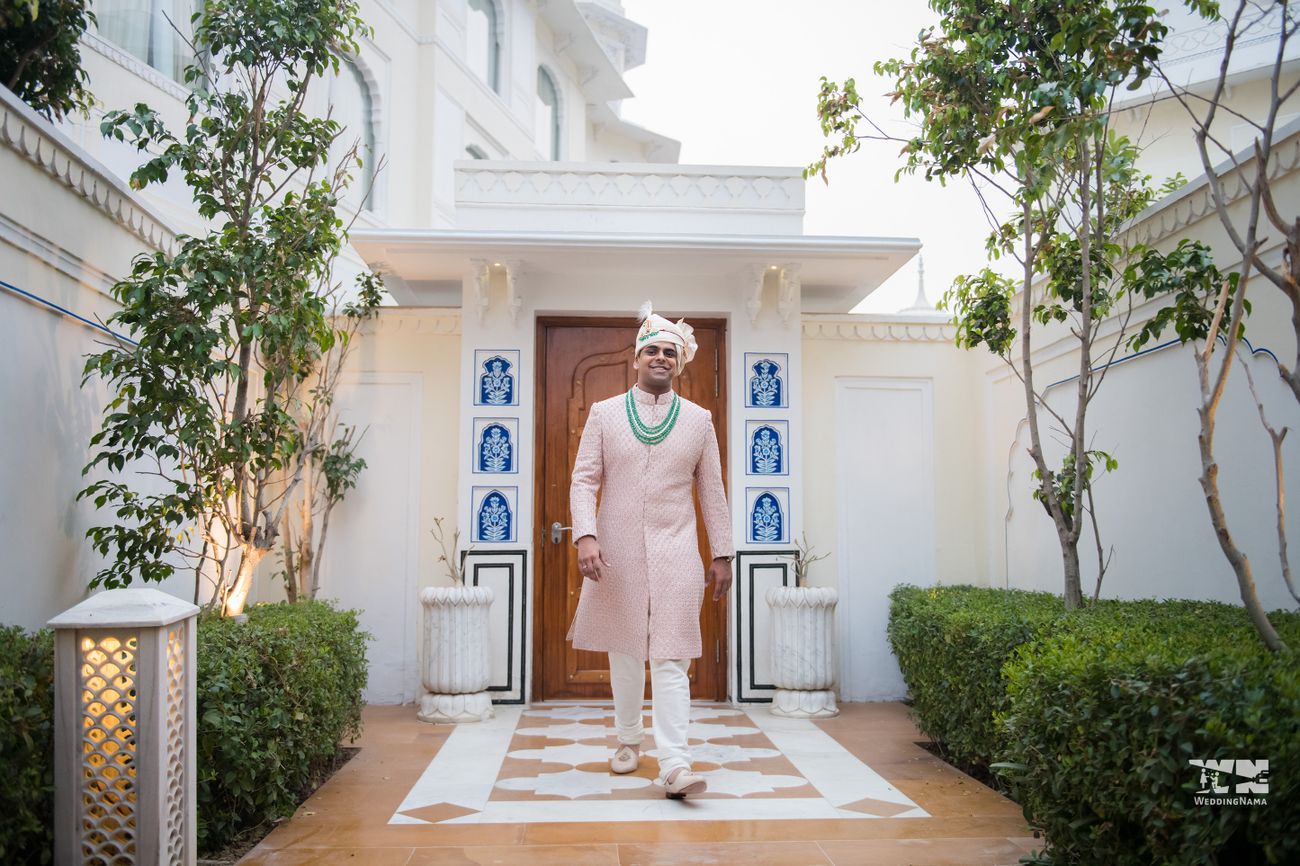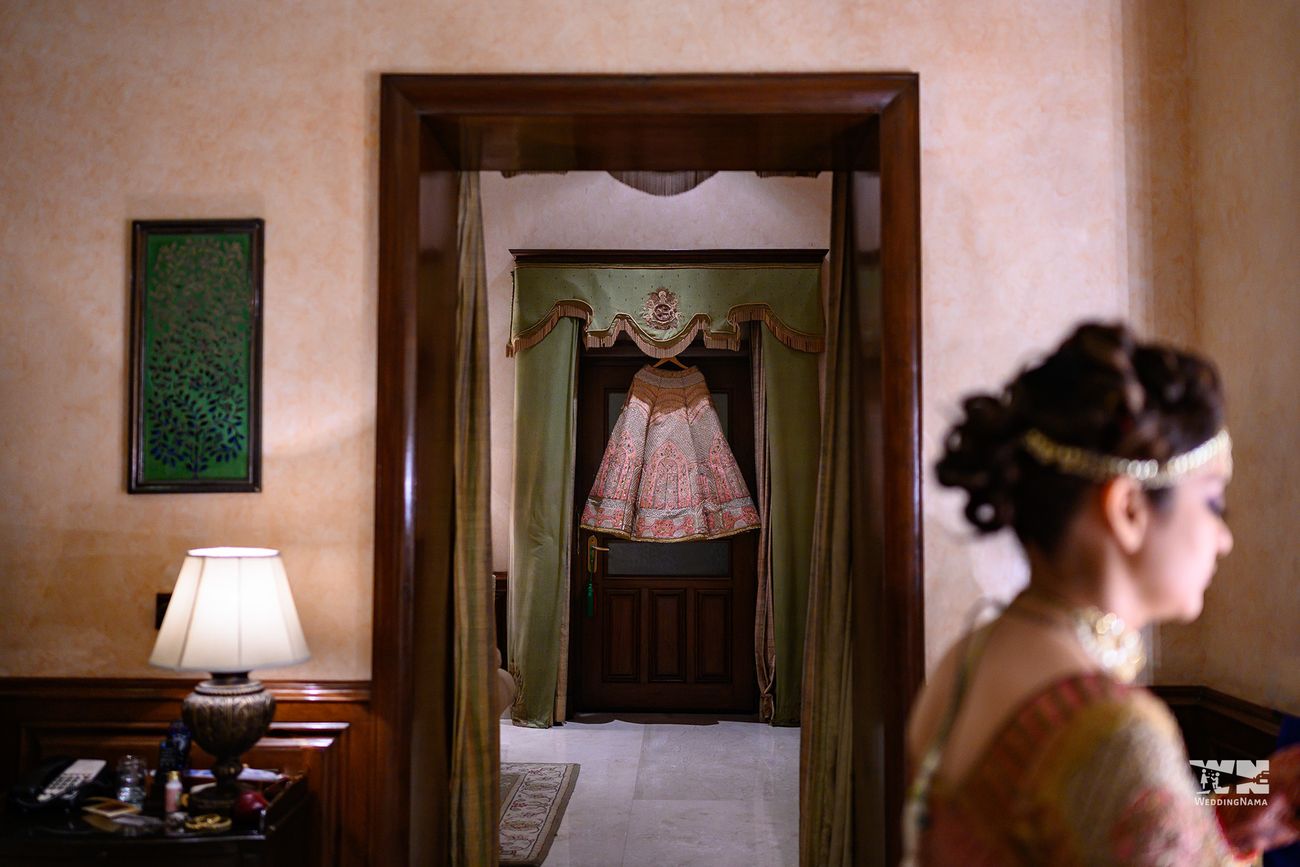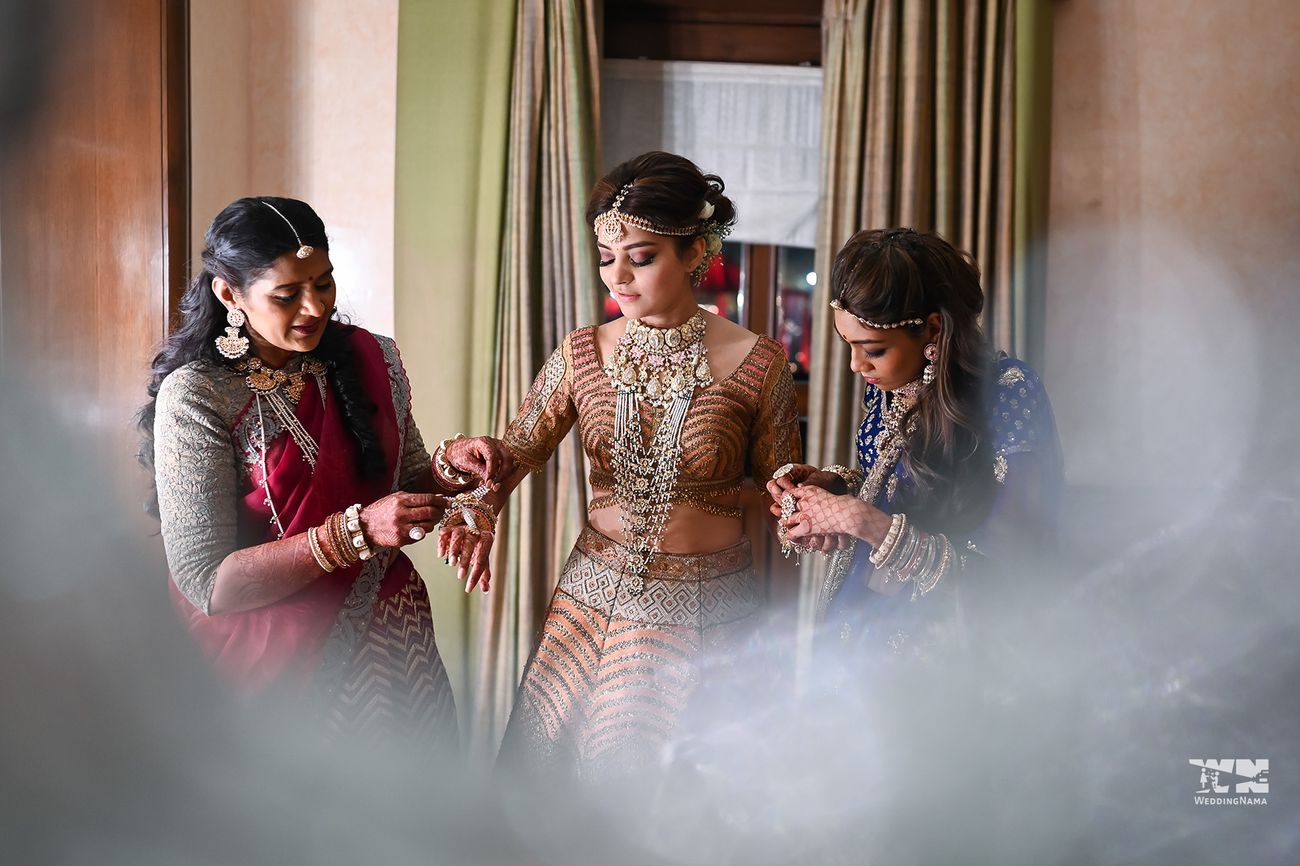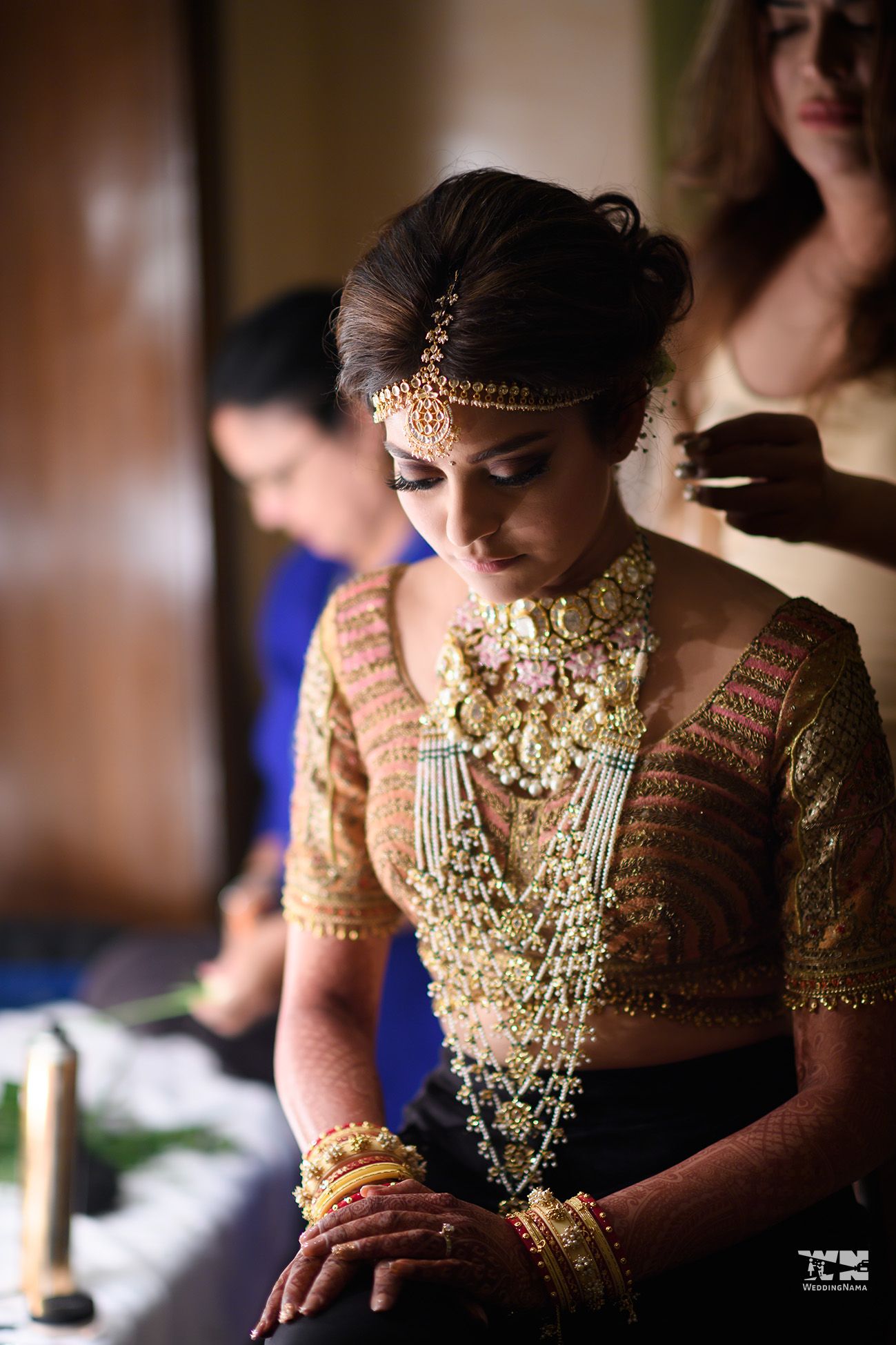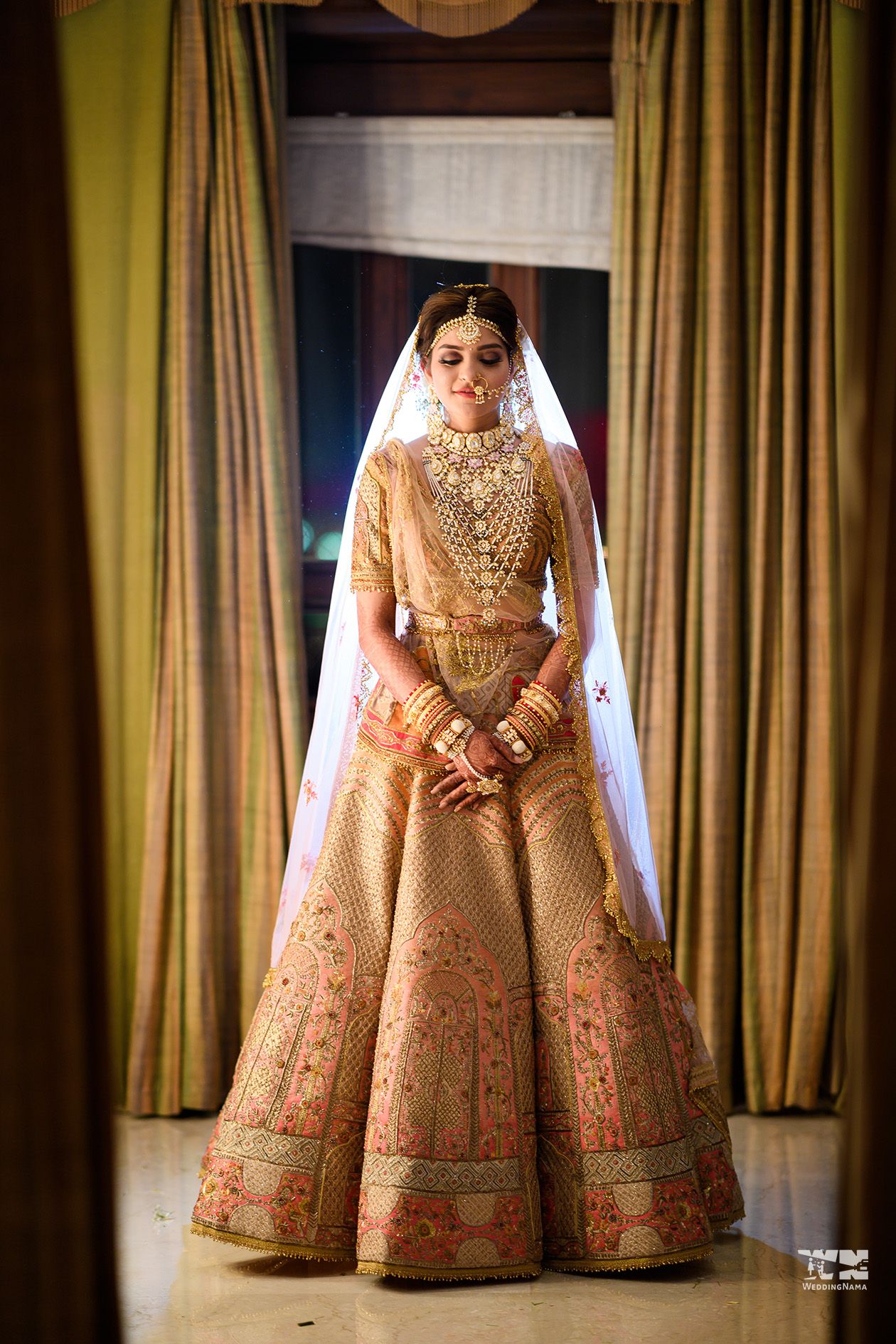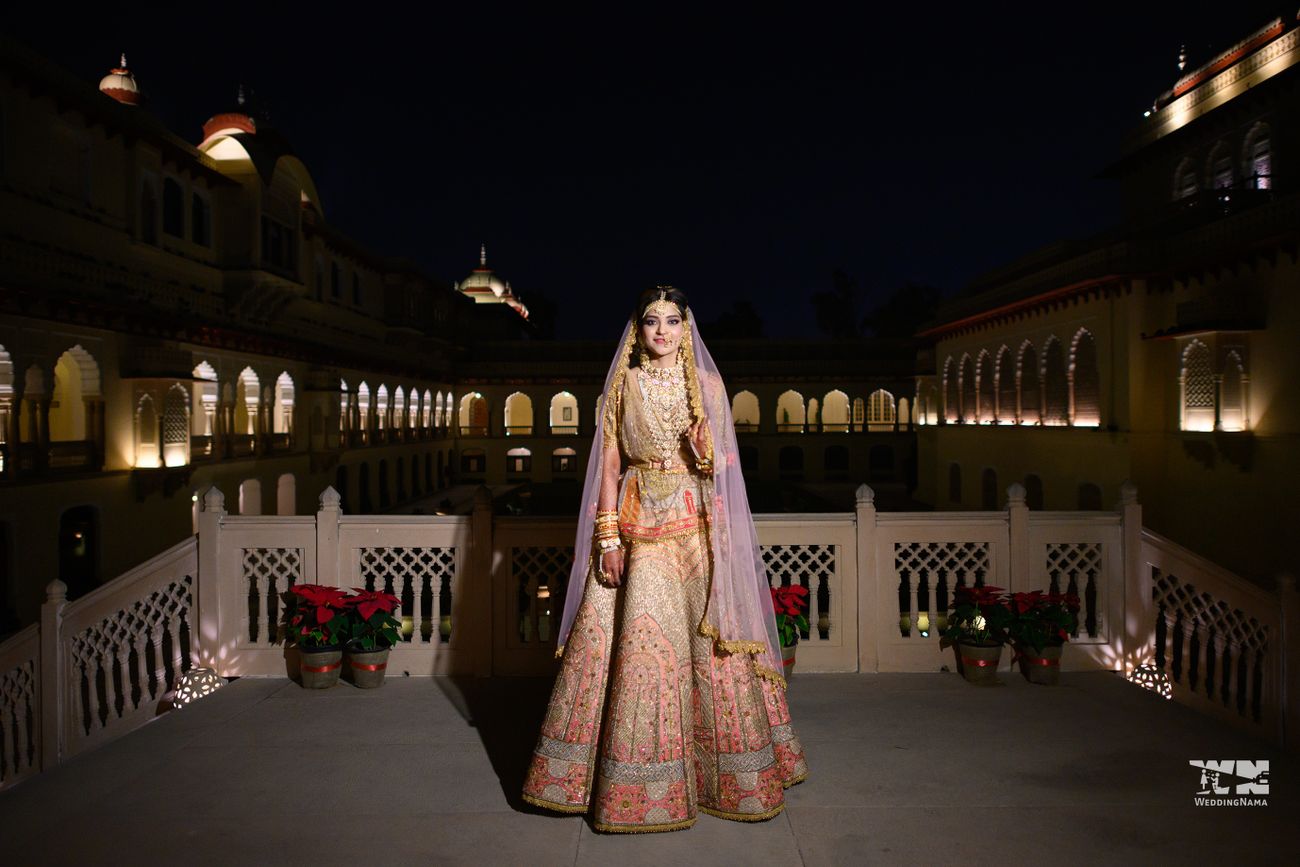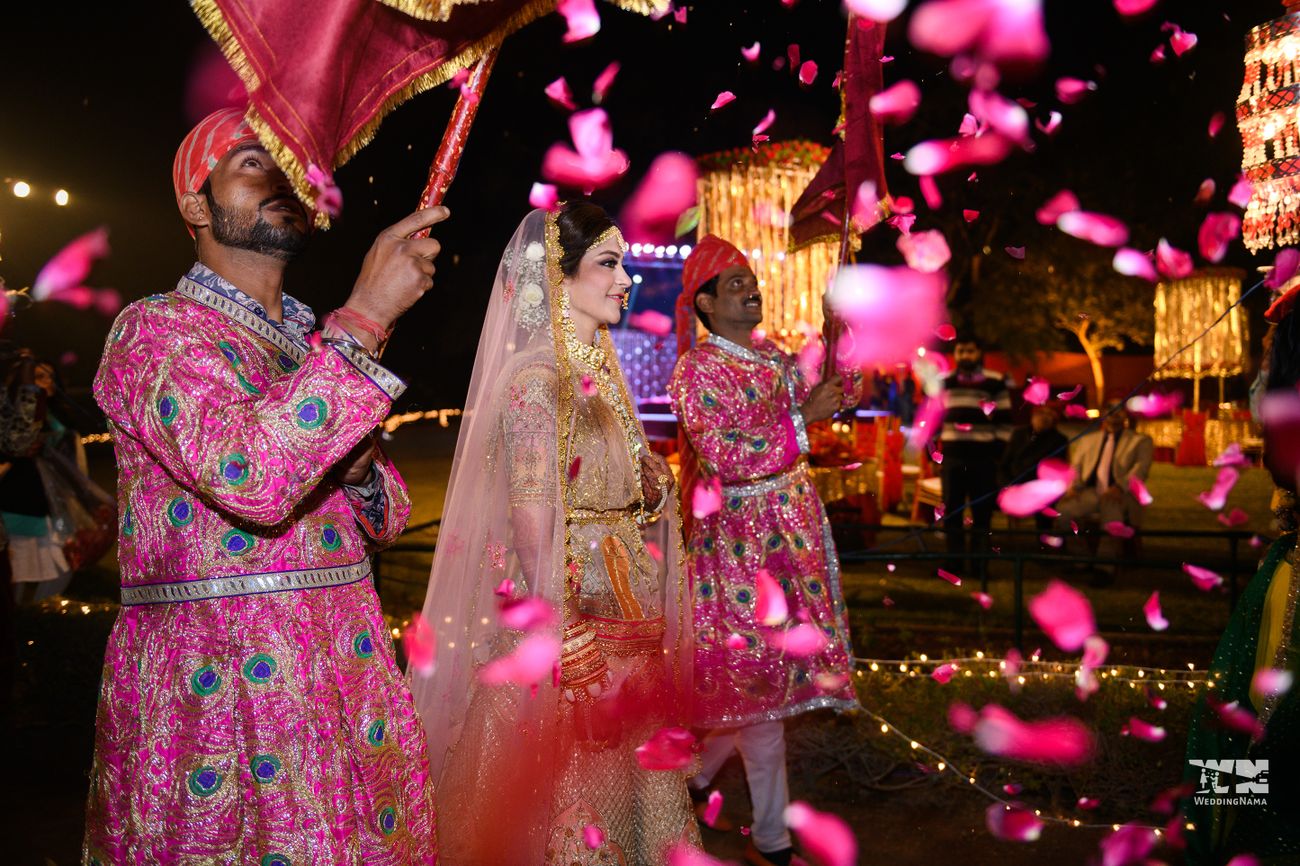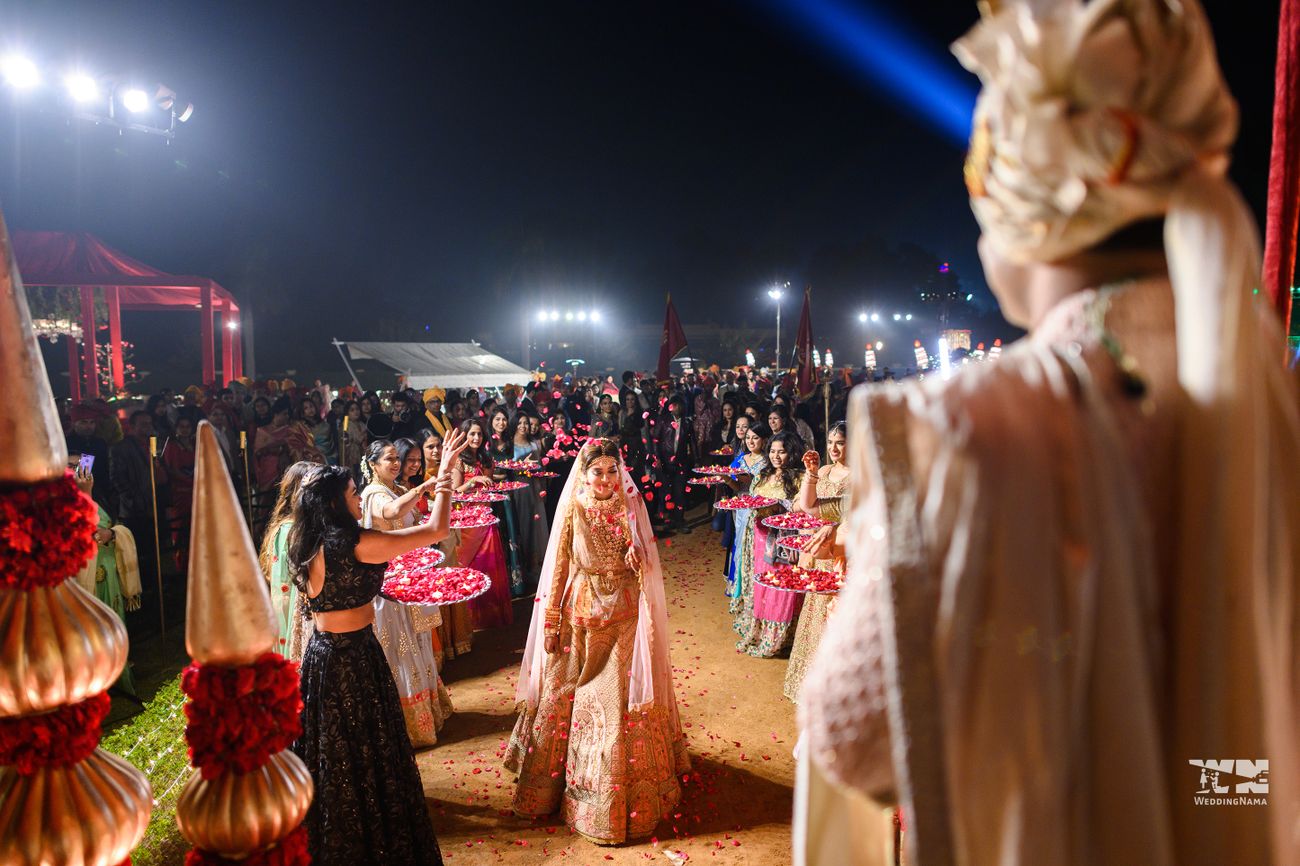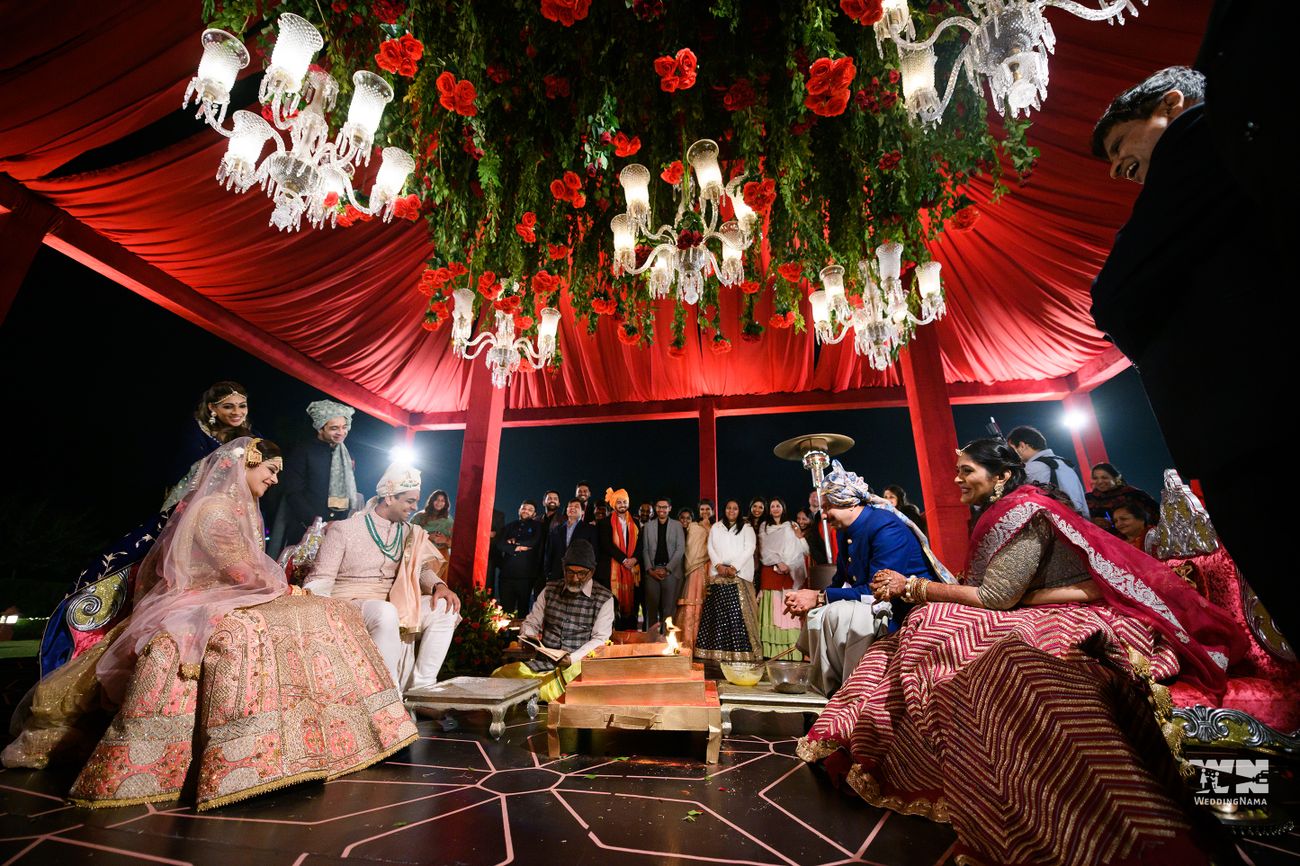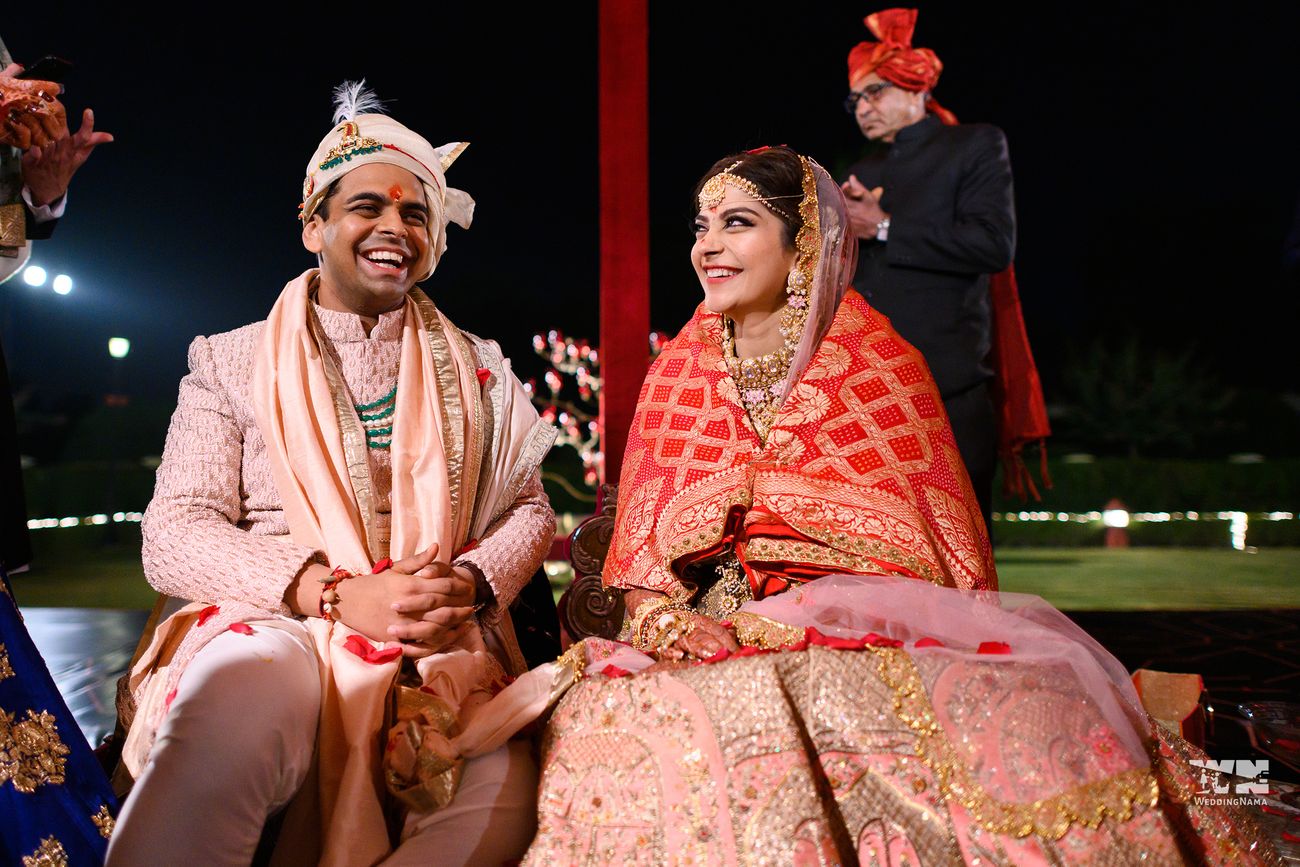 From The Bride 
Our wedding was more than perfect and everything I could ask for. Very honestly (& snobbishly), I played a huge role in planning it. My husband, the sweetheart that he is, let me do what I had envisaged. And I had the utmost support of both my parents and in-laws to make it a fairytale. From sitting through every decor and event meeting, to actually selecting the vendors, it's not many brides-to-be do. And I take pride in that. We started off with Haldi, followed by A Rajasthani Folk Night, then Mehendi, Sangeet and then the Wedding. 
The Haldi had a unique entry where I pushed Sarthak on a trolley with Lamberghini playing in the background. He was his usual loud self being dramatic as ever. Nobody expected that, and to be honest even Sarthak wasn't very enthusiastic about the idea in the beginning. With the festivities kicking in, we showered it with 'Phoolon ki Holi'. 
Rajasthani Folk Night belonged to the soul featuring Mame Khan. With the families coming from Jodhpur, we just had to have a Rajasthani Folk Night. With a Moroccan themed decor, it was a perfect setting for the evening. 
Mehendi decor screamed flamingoes! Confession time: there was a time when I probably loved flamingoes more than my husband! The setting was aesthetic by the pool and full of fun-filled activities. We even had a dance-off involving the families! 
The Sangeet had an all white theme. The look of the evening was to imitate the Sheesh Mahal. Both of us even emceed up twinning in white, courtesy Falguni Shane Peacock. With a flurry of performances, what killed though was Sarthak's performance. Over a boom box! Just when everyone thought it was over - Enter Hardy Sandhu! What followed was an enigma. Beats pumping, people swinging, he was an absolute entertainer.
Finally it was the time for my wedding! How much ever anyone denies, I think every girl imagines her wedding day well in advance. And I have been imagining mine since forever. It was a dream to have it in a palace and be all kinds of royal! 
Vendor Reviews: 
Altair Decor
They say, beautiful things take time, a lot of detailing & impeccable taste. Well, thanks to Altair, my wedding turned out to be BEAUTIFUL!! Everything from little details to the big ones were designed to perfection & it was everything we could have ever imagined. Janki's most commendable quality is that she don't give up until she makes everyone's imagination come true.
Enjay Events
Enjay Events had worked really hard to make everything perfect & make it a smooth run! There were ups & downs but their team handled it well & we are really very happy with the way things turned out! They had shown a great amount of patience to get things done and we wouldn't have it any other way. The major positive point is that they are so friendly with the families that we get to trust them even more with everything. 
Strut- The Dance Makers
Make way for the STRUTters cause these guys killed it! From the props to endless hours of practice & coordinations, they took it in their stride & the result was a beautiful show which was no less than what we had imagined. They did a fabulous job with choreographing the bridal entry as well. 
WeddingNama
I am not one to brag but I think we all know that I made the perfect choice when I saw their page for the first time during my brother's wedding & decided that we are gonna get them to capture all our milestone memories. The only thing I was sure about when my wedding discussions were in the pipeline that it HAS to be WeddingNama come what may. We did not even look at anyone else.
They are always at the right place at the right time may it be capturing the tears or the laughter or just the family fun!! 
Ojas Rajani
When it comes to Ojas you just have to sir back, relax and not bother about what you are going to look like because she makes you look like a dream. Ojas makes sure that the bride is never bored and just takes all the tension away with her amazing nature. 
Vvyom By Shuchita (Jaipur)
This should be every wedding couple's go to place. From wedding cards to the wedding give aways, Vvyom has it all. Shuchita is so dynamic with her designs and gives a lot of thought into detailing that she made my wedding card so royal and yet so chic!
Vendors: Make Up Artist & Hair Stylist:
Mumbai Reception- Bianca Bee, Jaipur functions-
Ojas Rajani Bridal Makeup Artist
;
Venue:
JW Marriott Resort & Spa
, Jaipur,
Rambagh Palace
, Jaipur, Reception-
ITC Maratha
, Mumbai;
Wedding Decor
-
Altair
;
Wedding Planner
-
Enjay Events and Entertainment
;
Bridal Jewellery:
Haldi & Mehendi-
Outhouse
, Mumbai, Wedding Day- Jaipur Gems, Mumbai, Varuna D Jani, Mumbai and Nupur Fine Jewellery, Mumbai;
Photography, Videography
-
WeddingNama
;
Choreography
- The Dancemakers;
Bridal Outfits:
Haldi-
Arpita Mehta
, Styled by Riddhi Jain Label, Rajasthani Folk Night-
Shantanu Nikhil
, Mehendi-
Papa Dont Preach
, Sangeet-
Falguni Shane Peacock
, Maayra-
SVA by Sonam and Paras
Wedding-
Soltee by Sulakshana Monga
, Reception-
Gaurav Gupta
;
Groom's Outfits:
Haldi-
Dhruv Vaish
, Rajasthani Folk Night- Shantanu Nikhil, Mehendi- SVA by Sonam & Paras Modi, Sangeet- Falguni & Shane Peacock, Maayra- SVA by Sonam & Paras Modi, Wedding- Outfit by SVA by by Sonam & Paras Modi paired with Sabyasachi Shoes, Reception- outfit by Corneliani accessorised by Gucci