A Gorgeous Delhi Wedding With An Emotional & Totally Unique Bridal Entry!
BY Aakanksha | 25 Jun, 2019 | 8754 views | 5 min read
Imagine walking down a beautifully adorned walkway towards the mandap, with the love of your life in front of you, and a song written by your aunt playing in the background! Perfectly dreamy, right? That is exactly how it was for Gopika, who's bridal entry was not just unique but absolutely heartwarming. However, it was not just the song part that touched our hearts, it was also the fact that she entered with her twin brother, under a satin umbrella, and with a 14-feet long train attached to it, held aloft by her bridesmaids. Gopika wore a beautiful dull pink lehenga with a purple second dupatta and looked absolutely ethereal on her wedding! Beginnings For You★ 5 captured the entire wedding and the most precious moments in an admirable manner while Hotel Vista, M.G. Road, Gurgaon was the perfect backdrop for this beautifully 'peachy' wedding! 
Meet Gopika & Viraj 
When asked to define their love story, Viraj and Gopika were very poetic! Viraj, stealing a line from F. Scott Fitzgerald, says, when he thinks of his relationship with Gopika, "She's the beginning of everything..." and adds, "she's the big bang of my existence, quite overwhelming, indomitable, a touch scary at times, I'm incomplete without her."  While Gopika sums it up perfectly in just a few words, saying, "Viraj is my soulmate."   
The Mehendi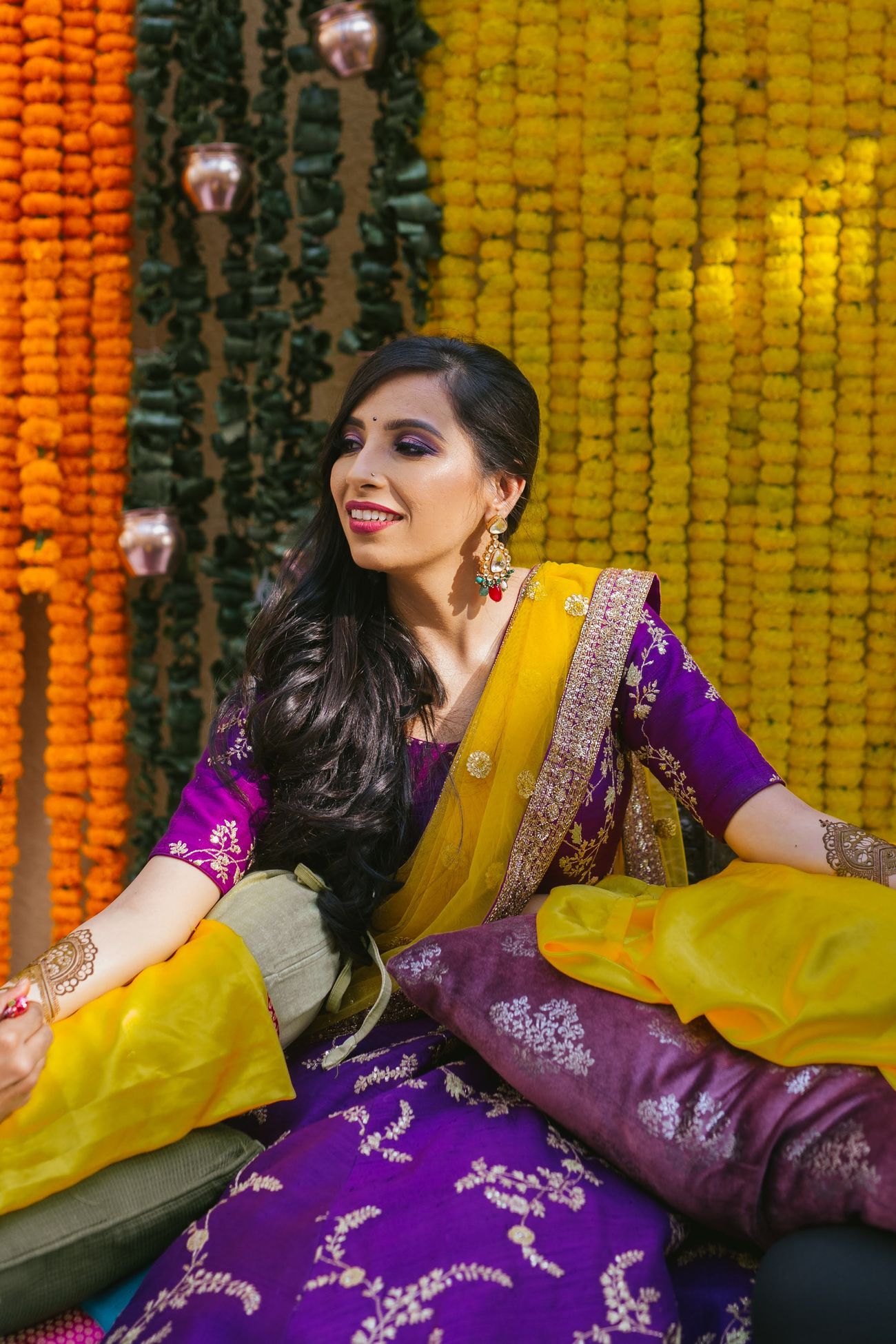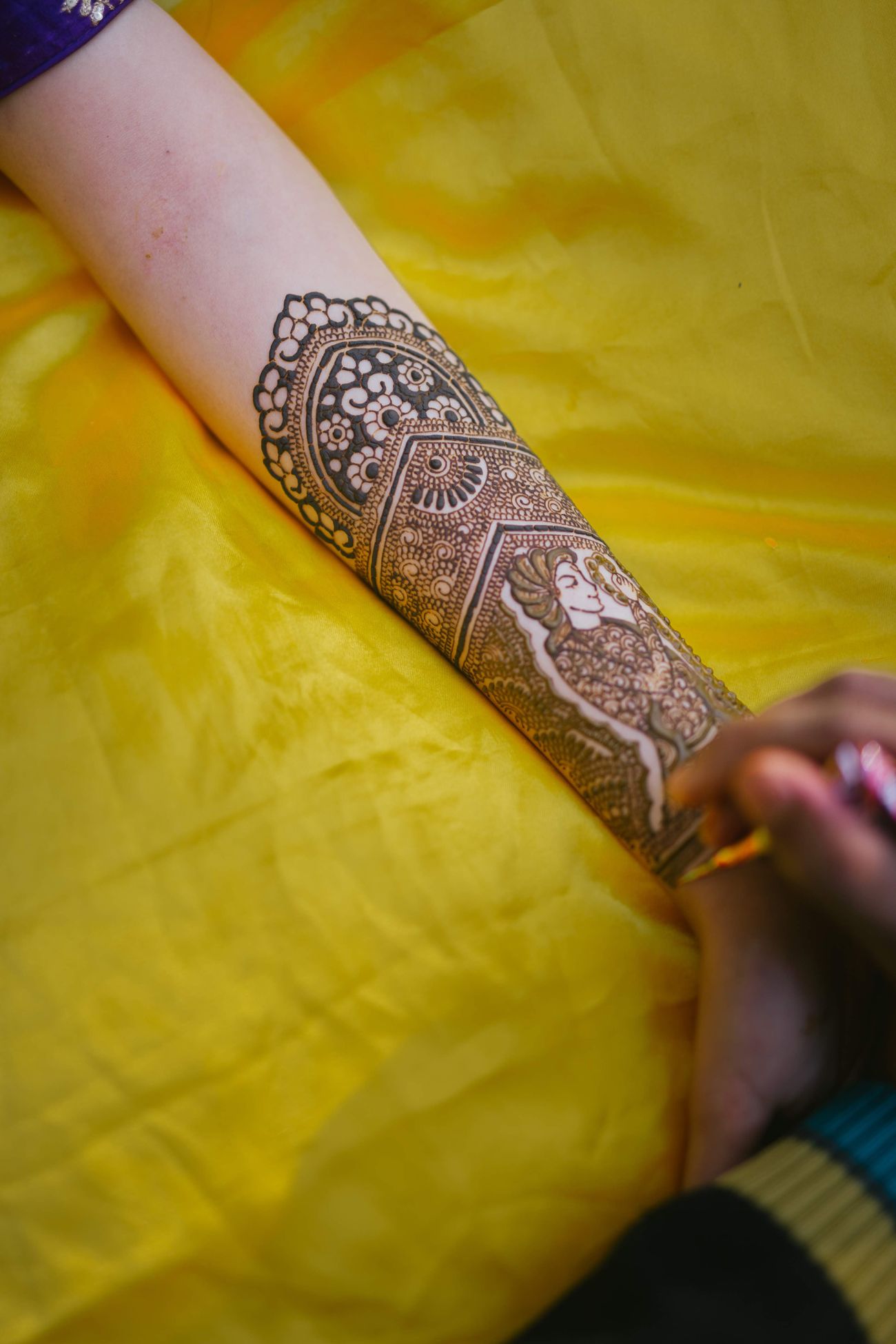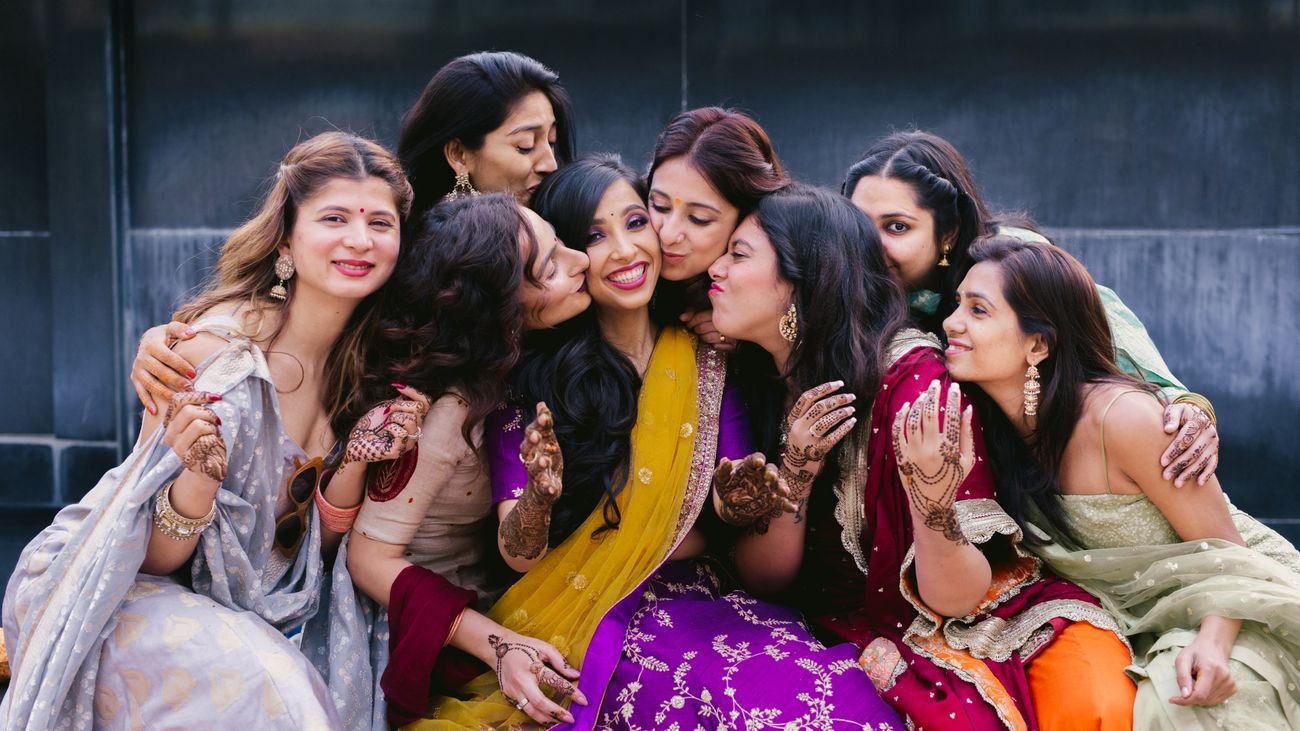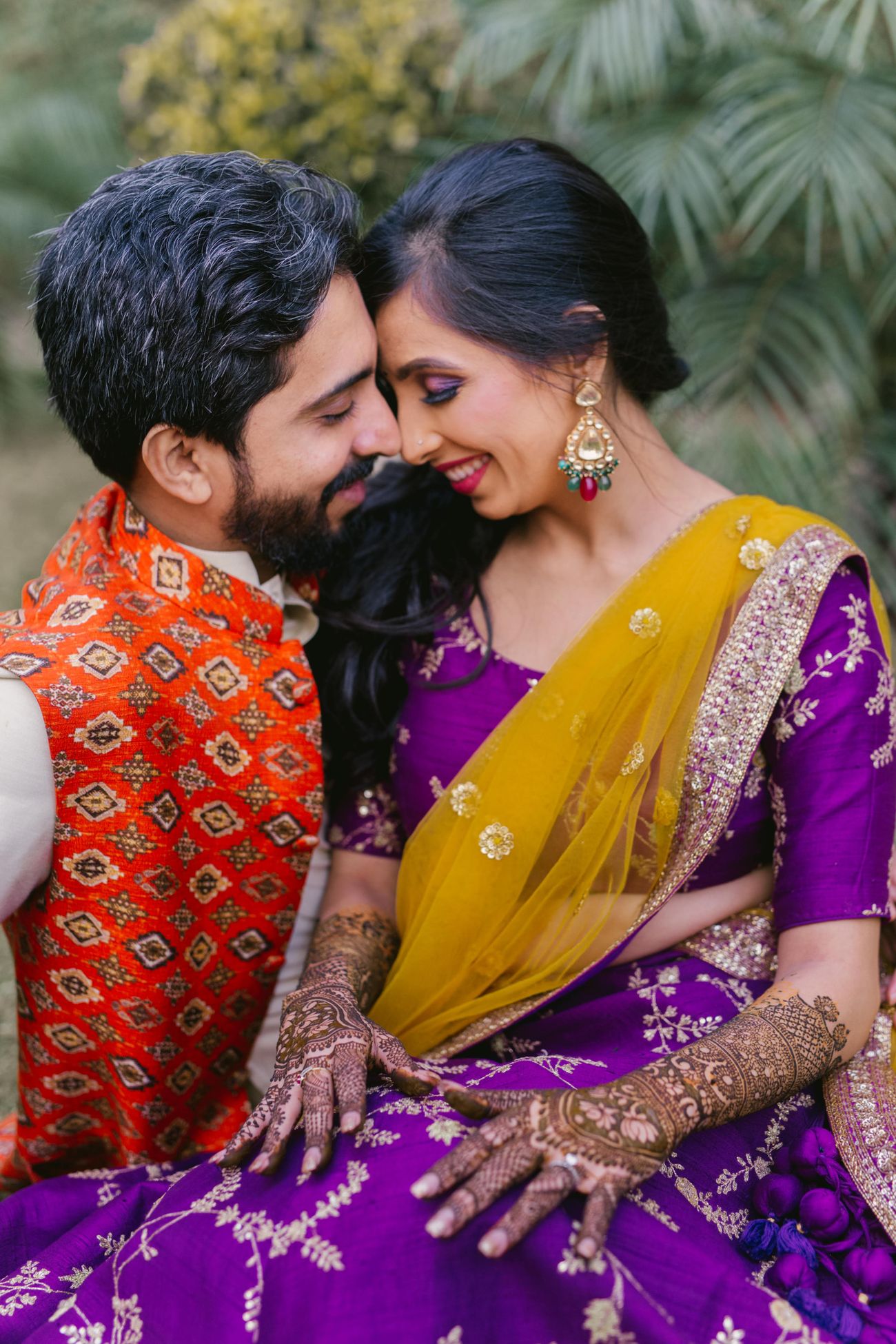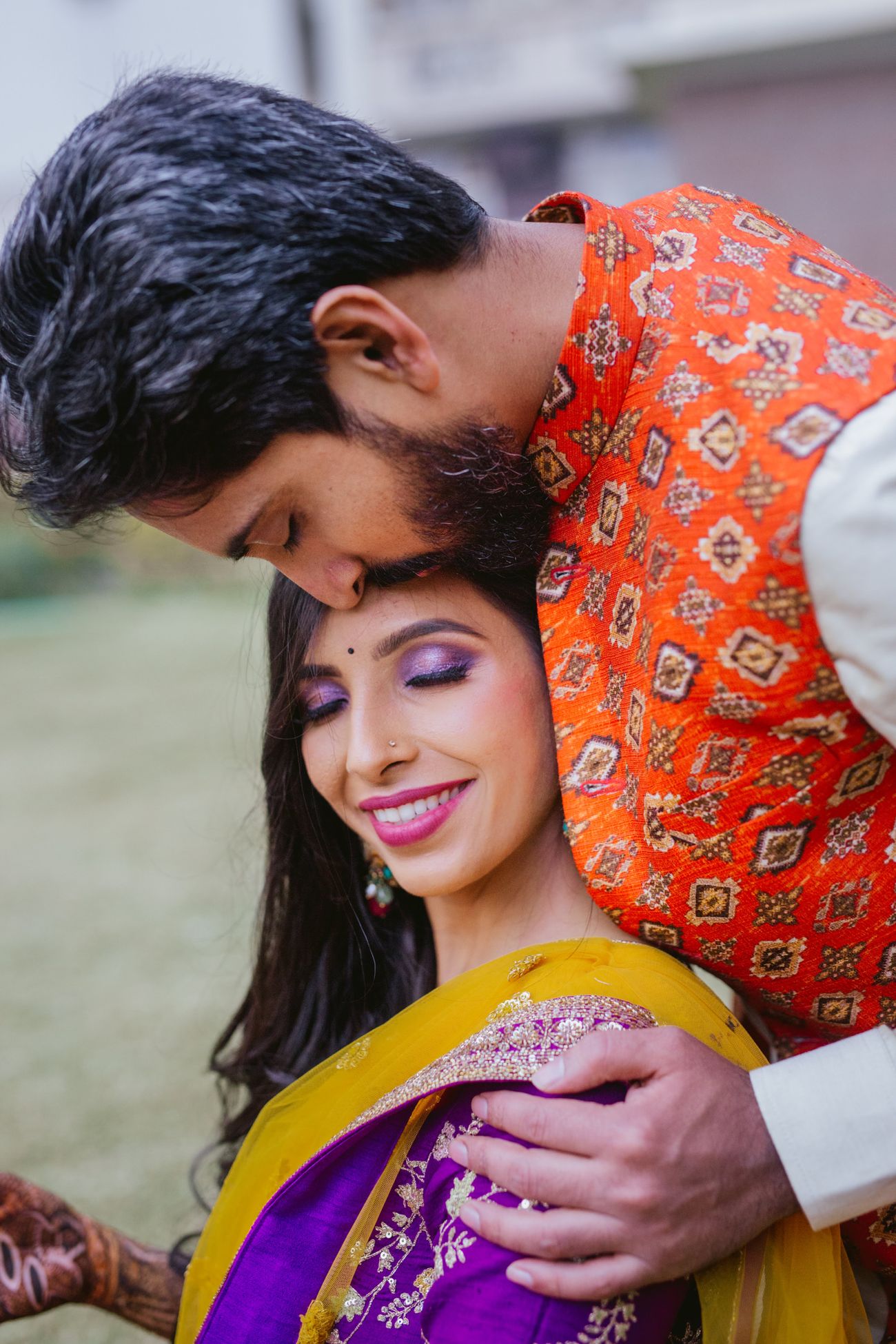 The Sangeet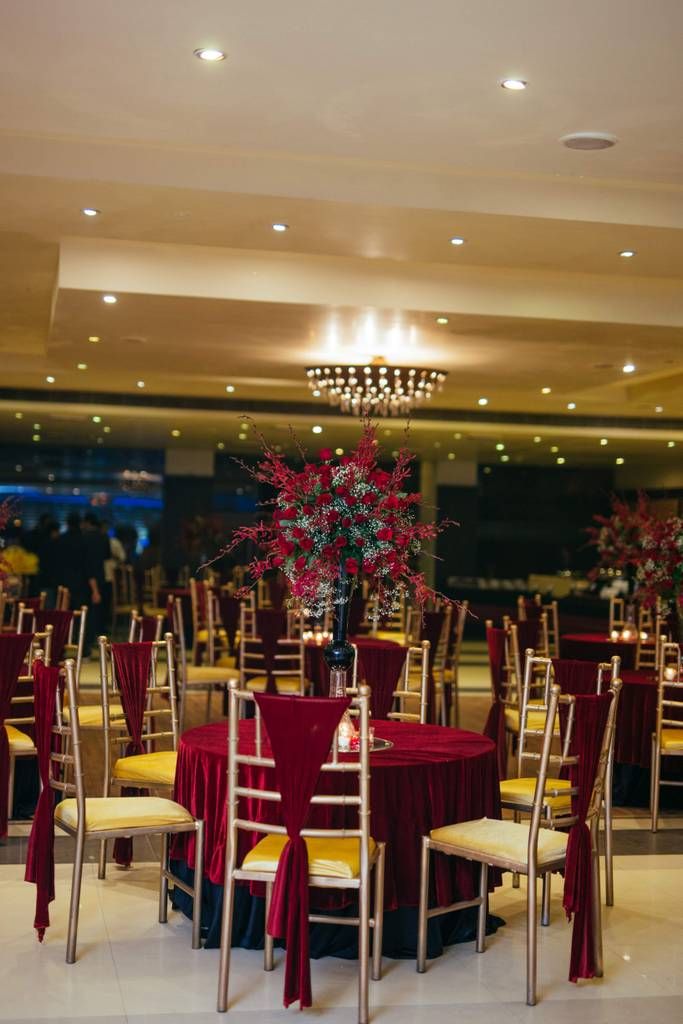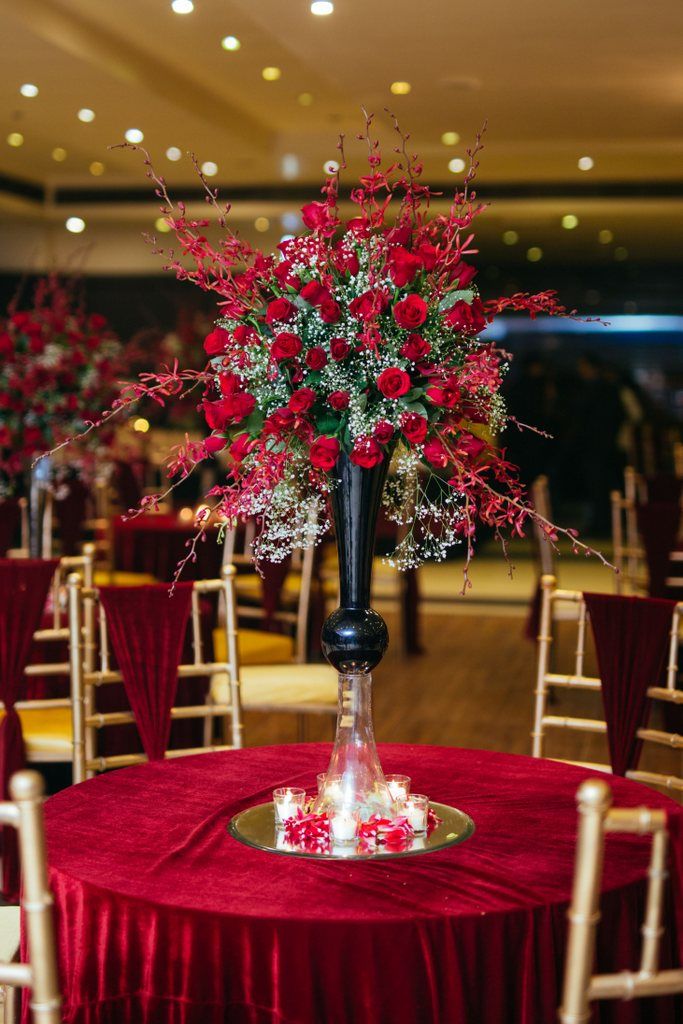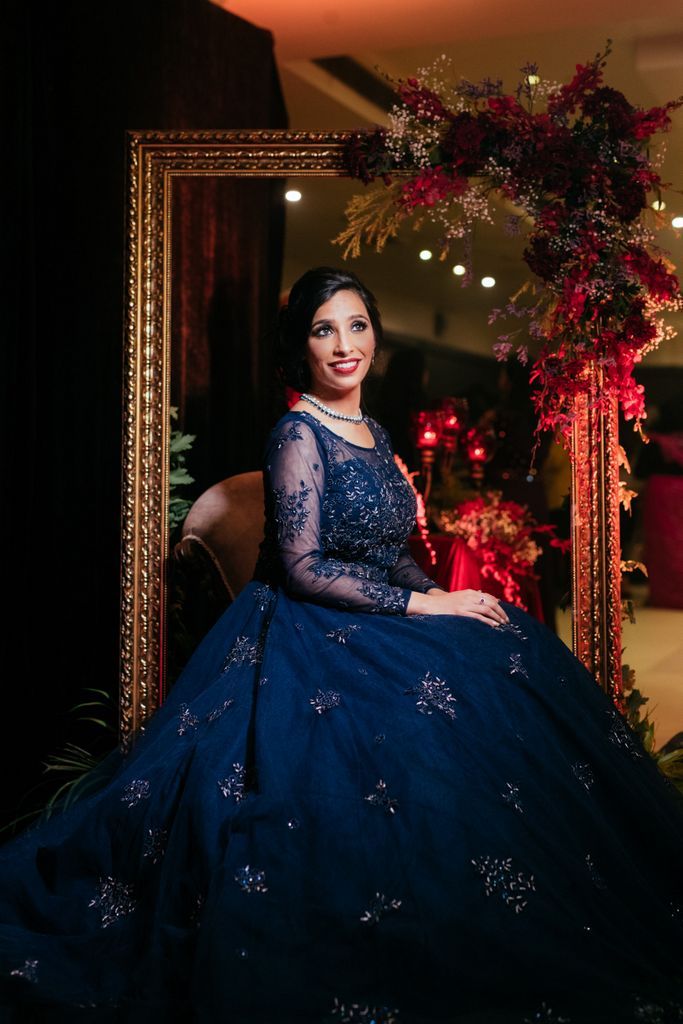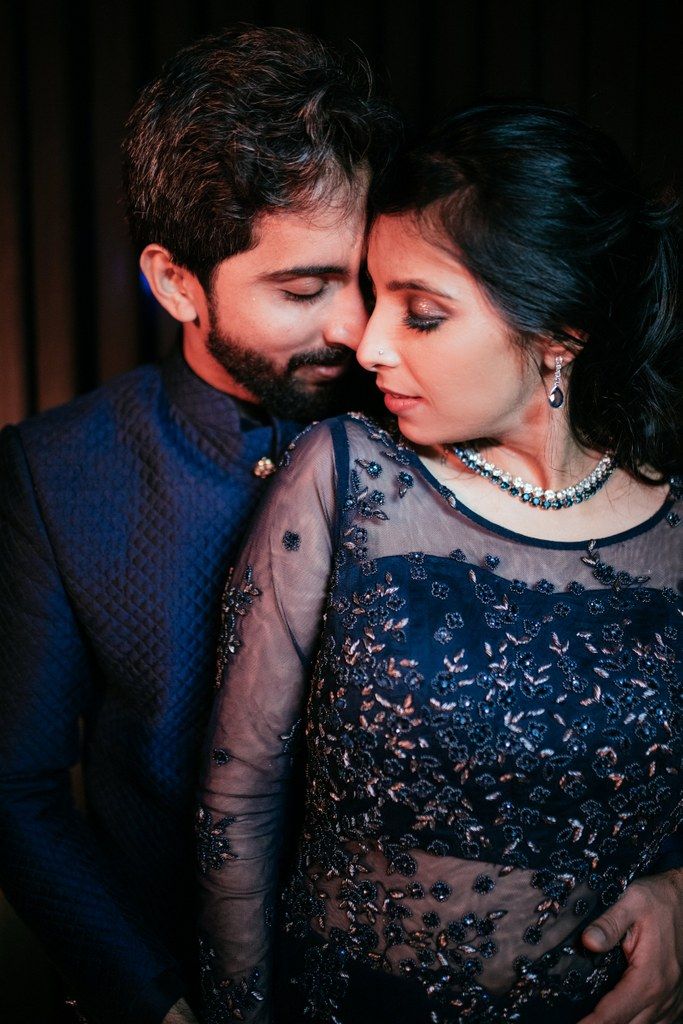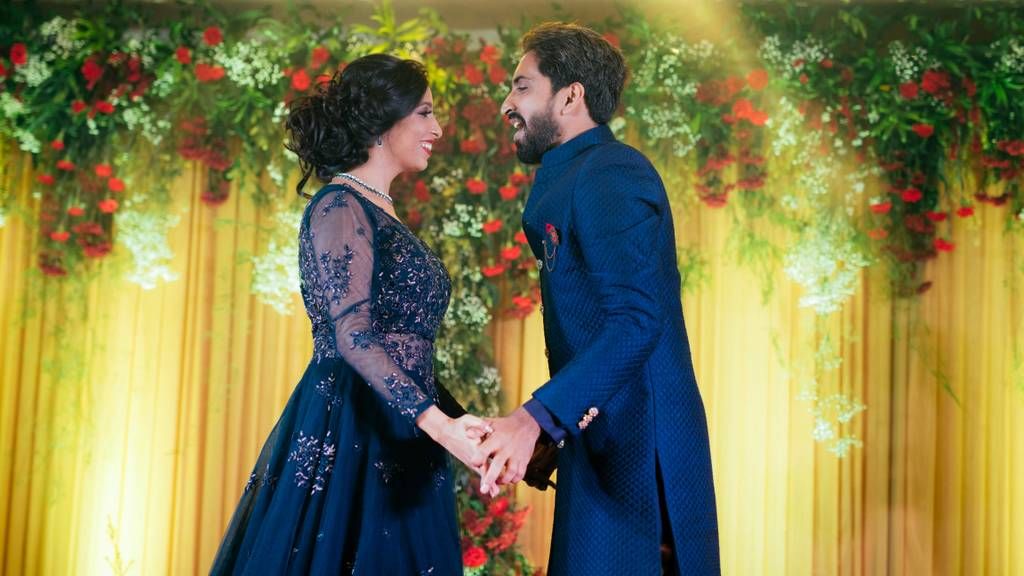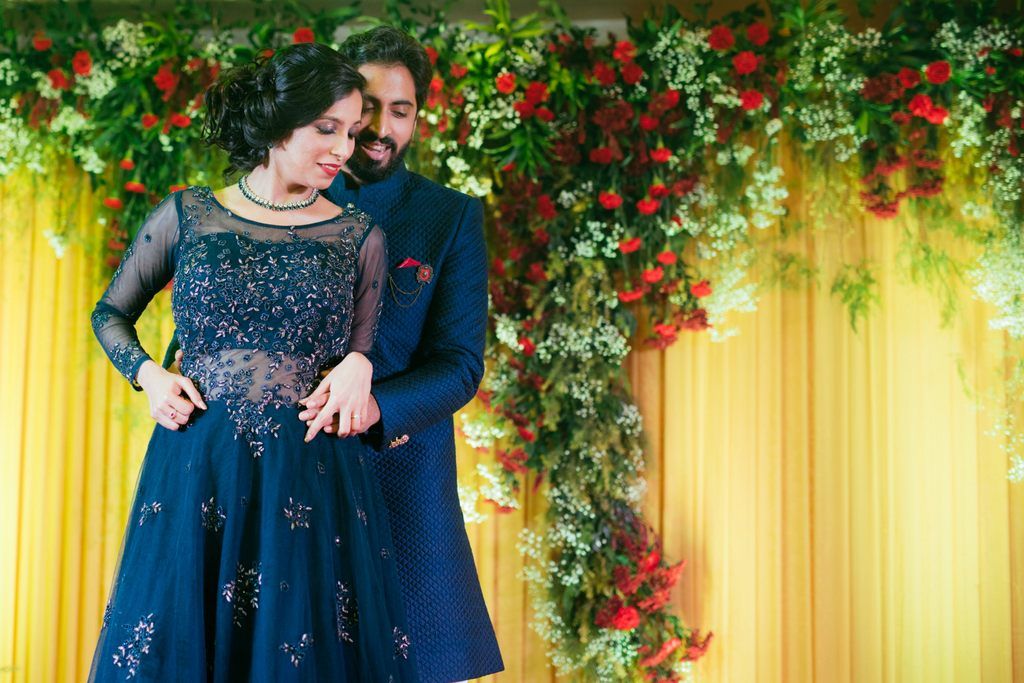 The Wedding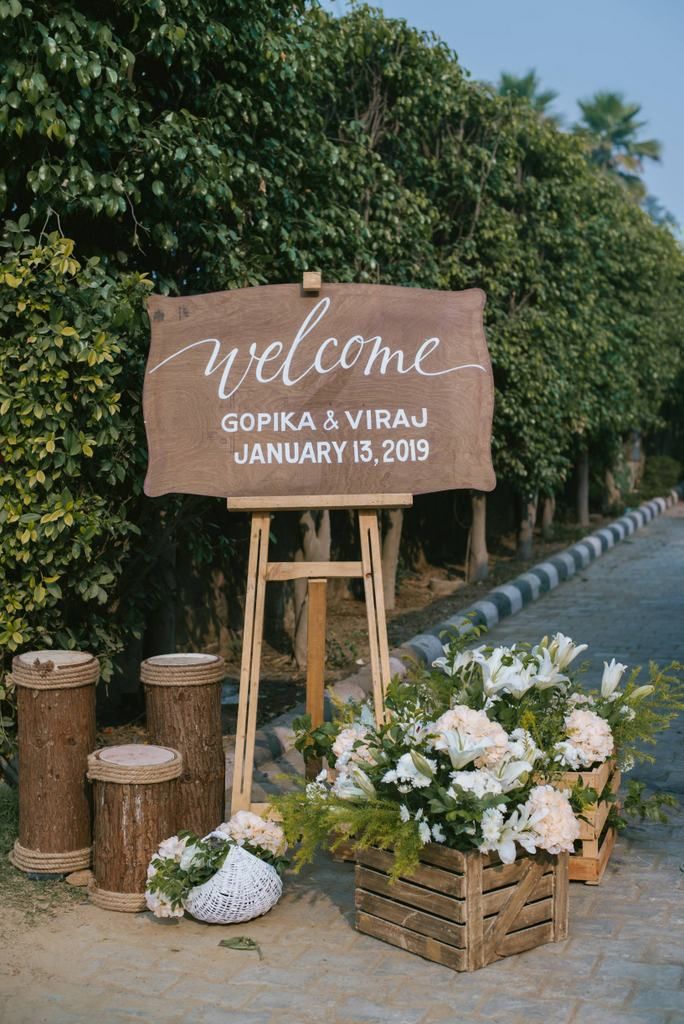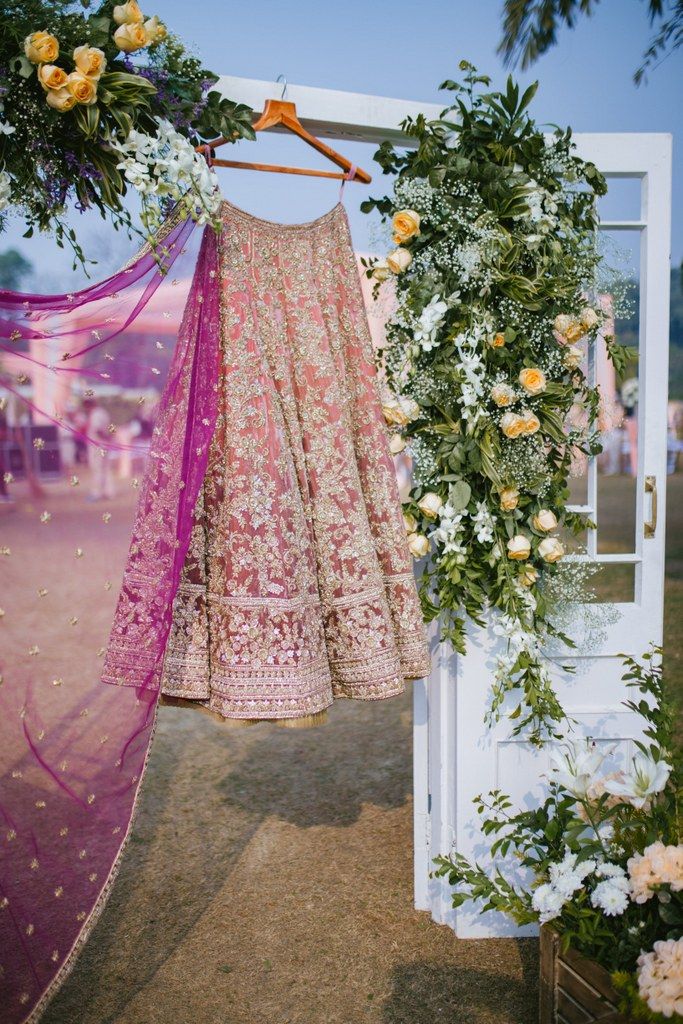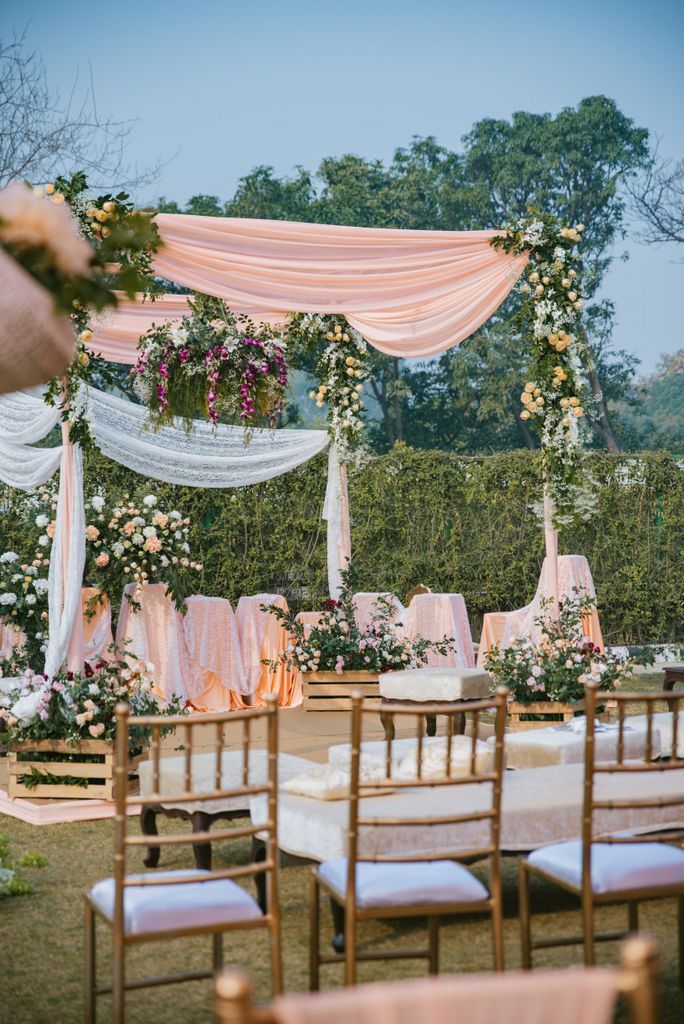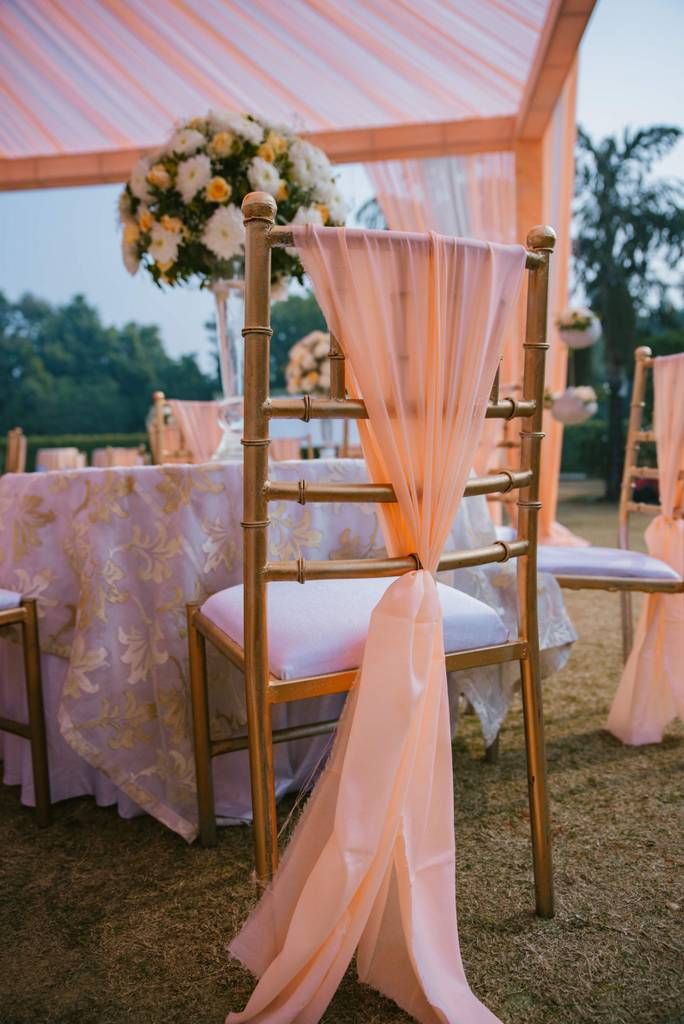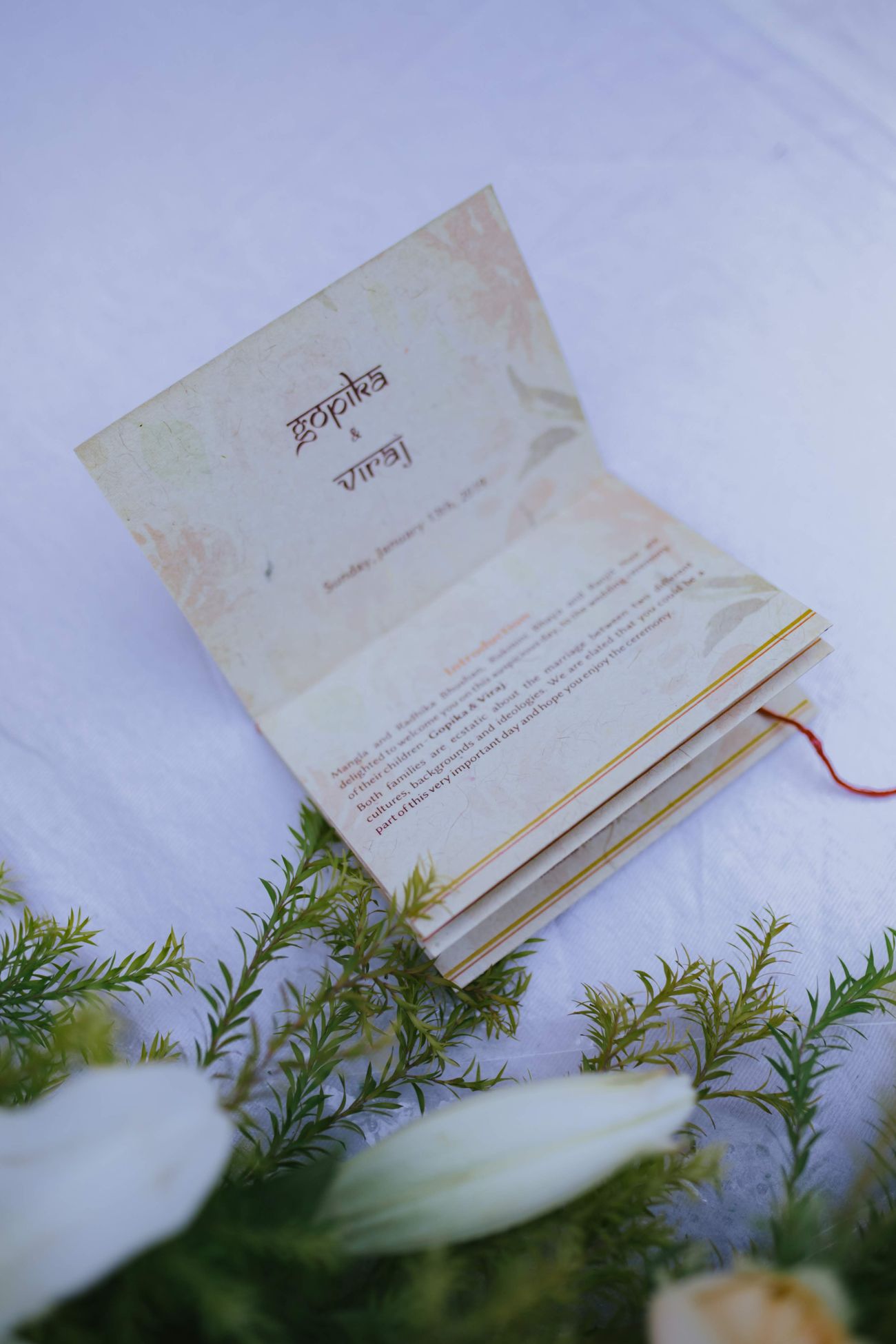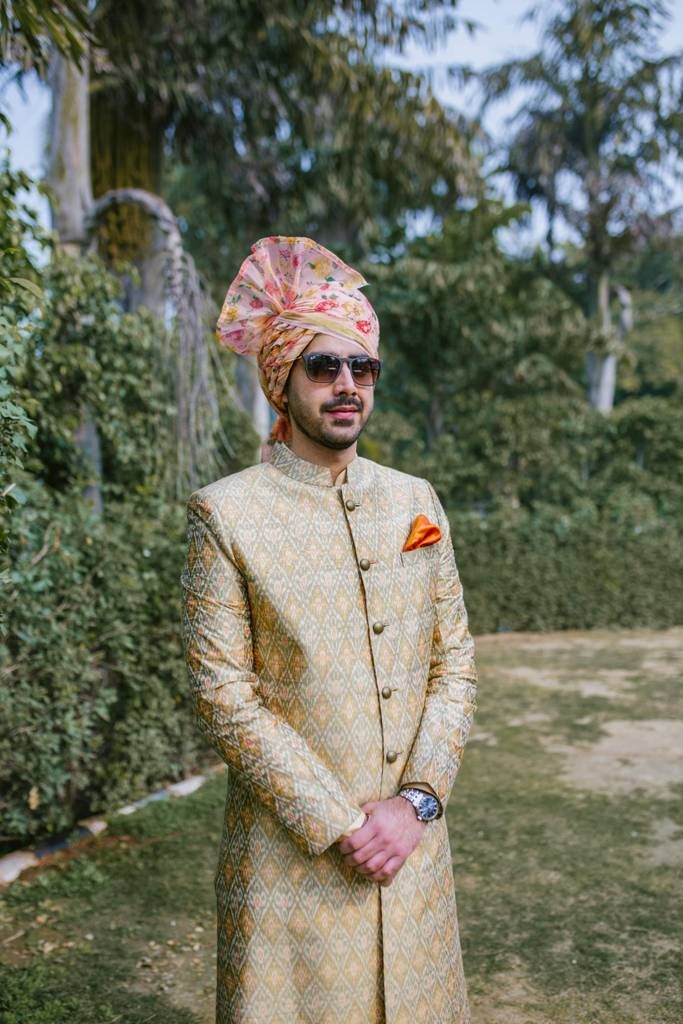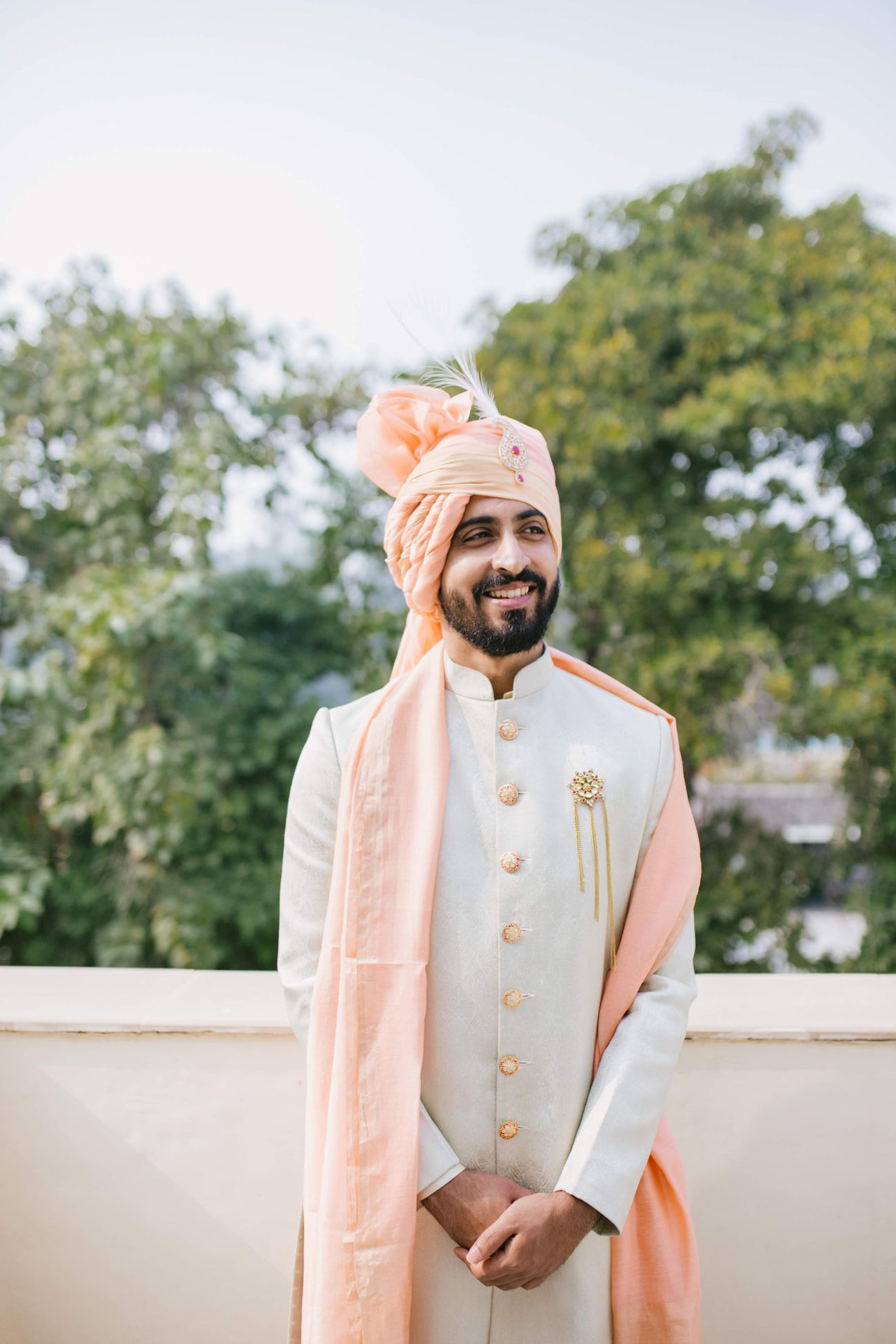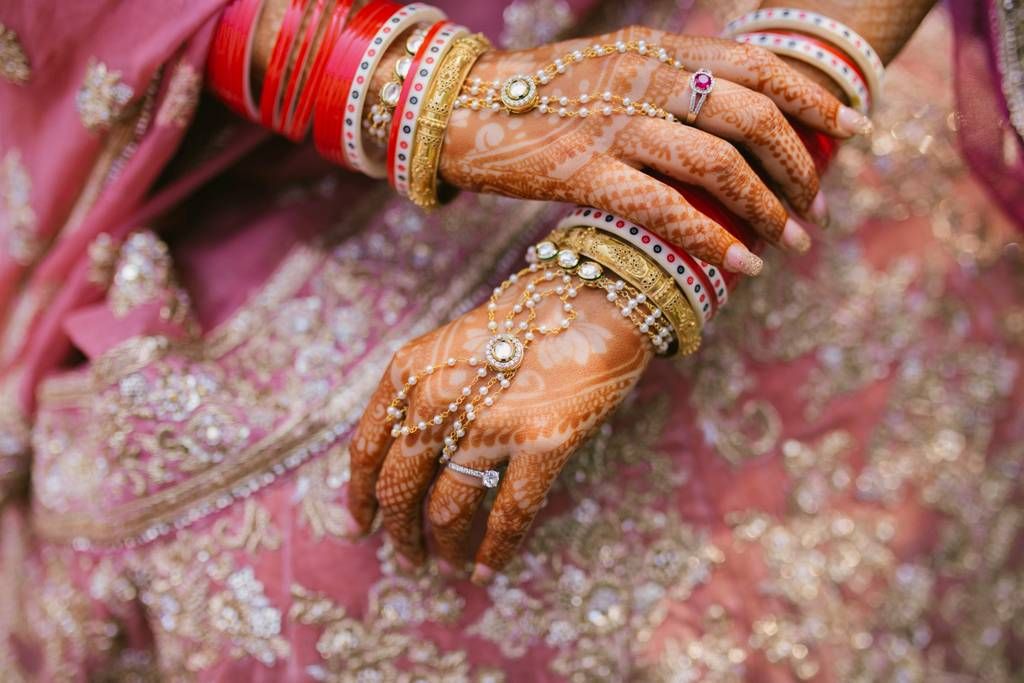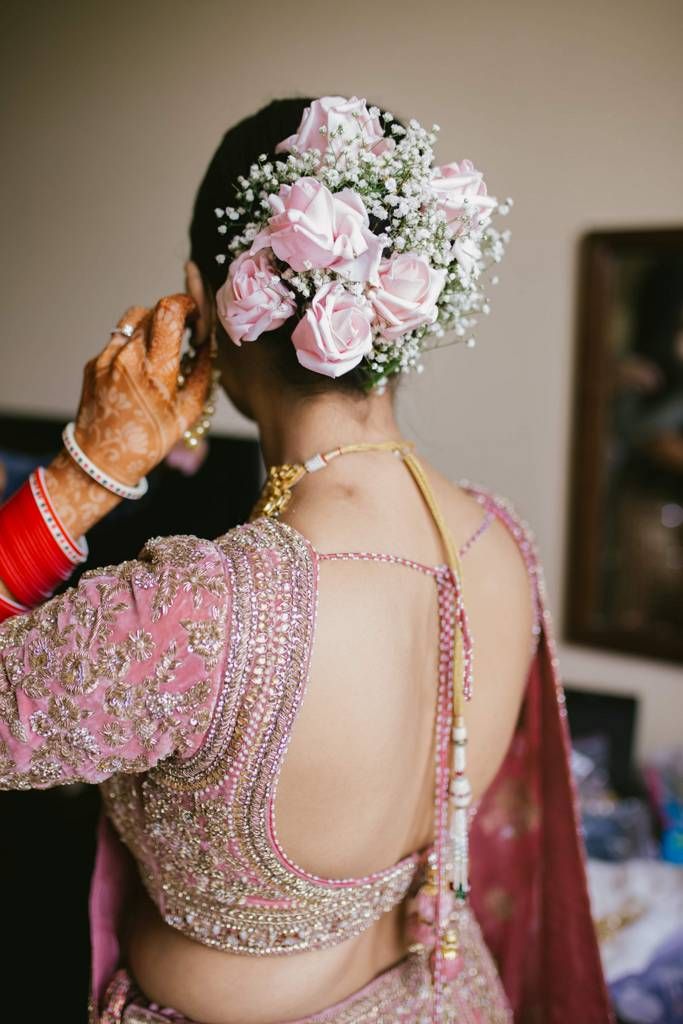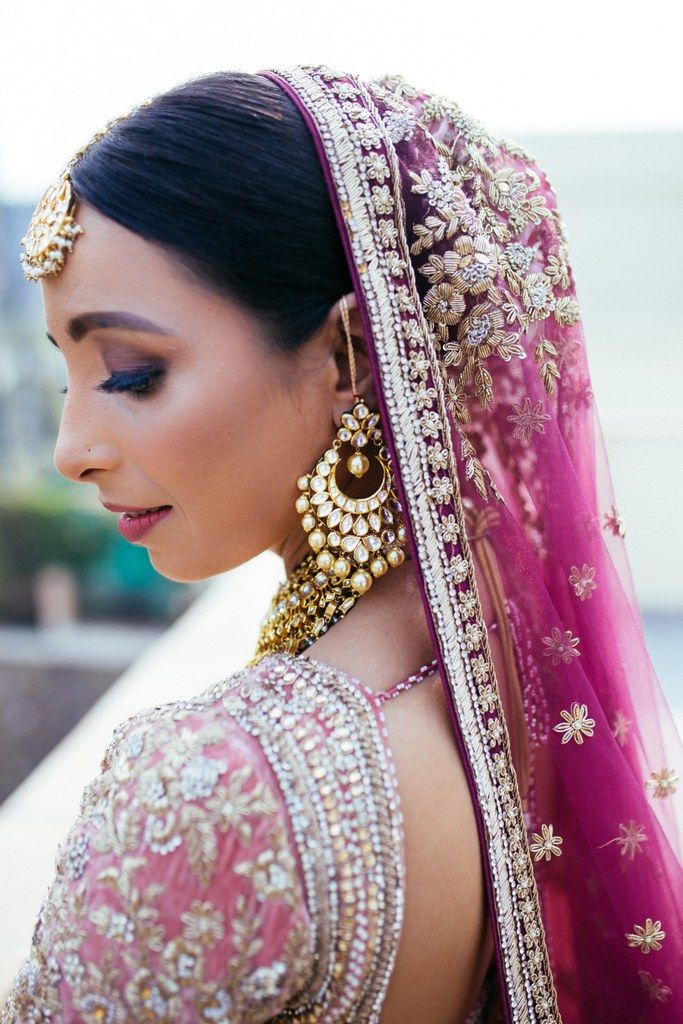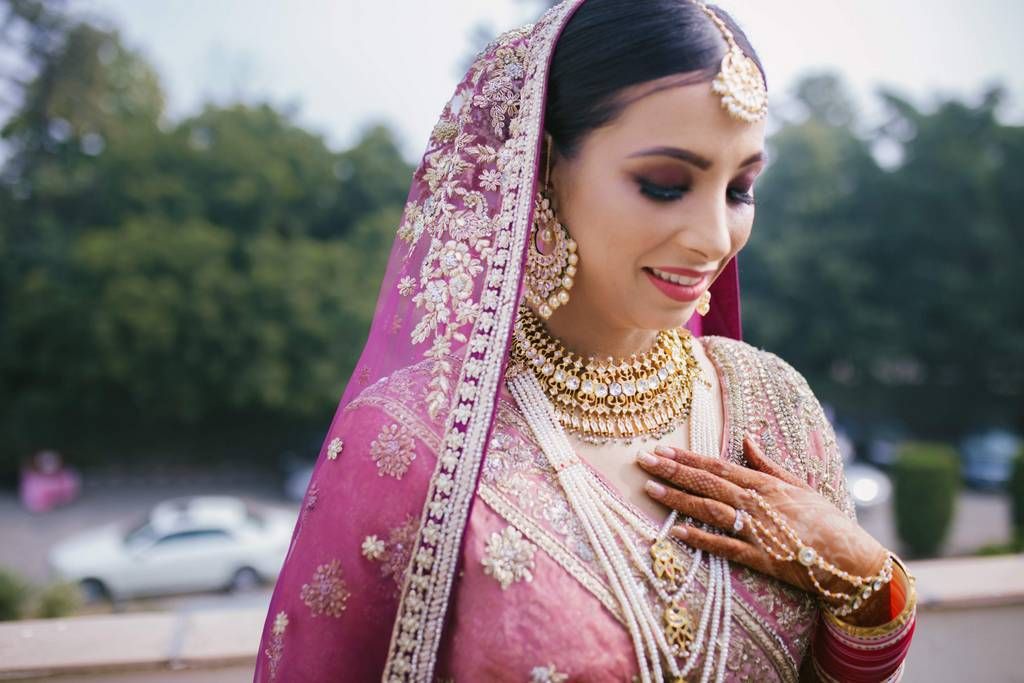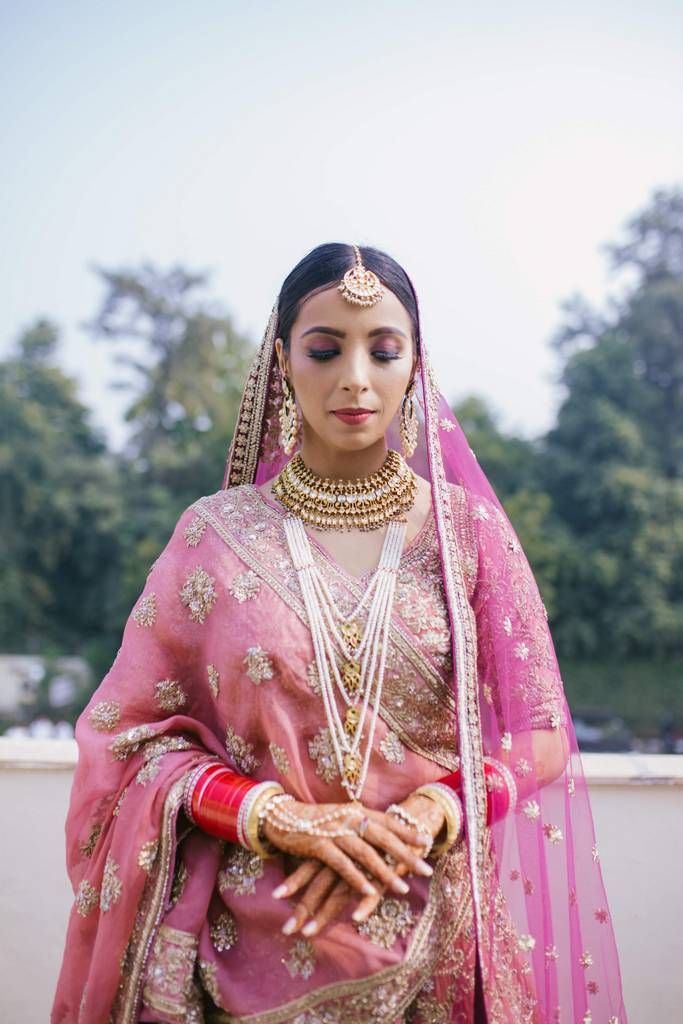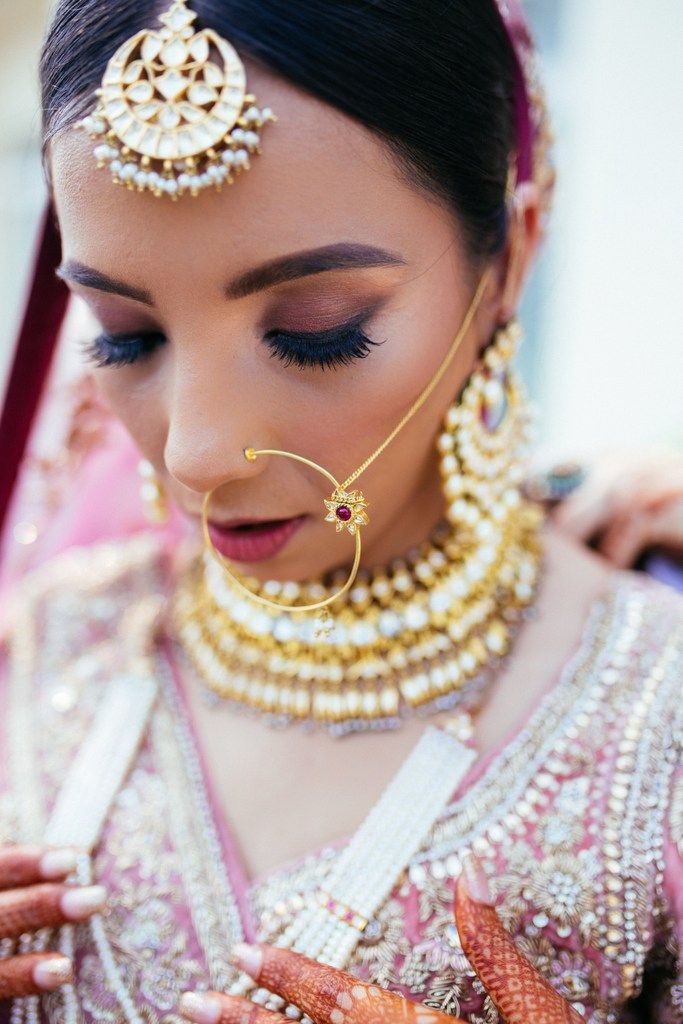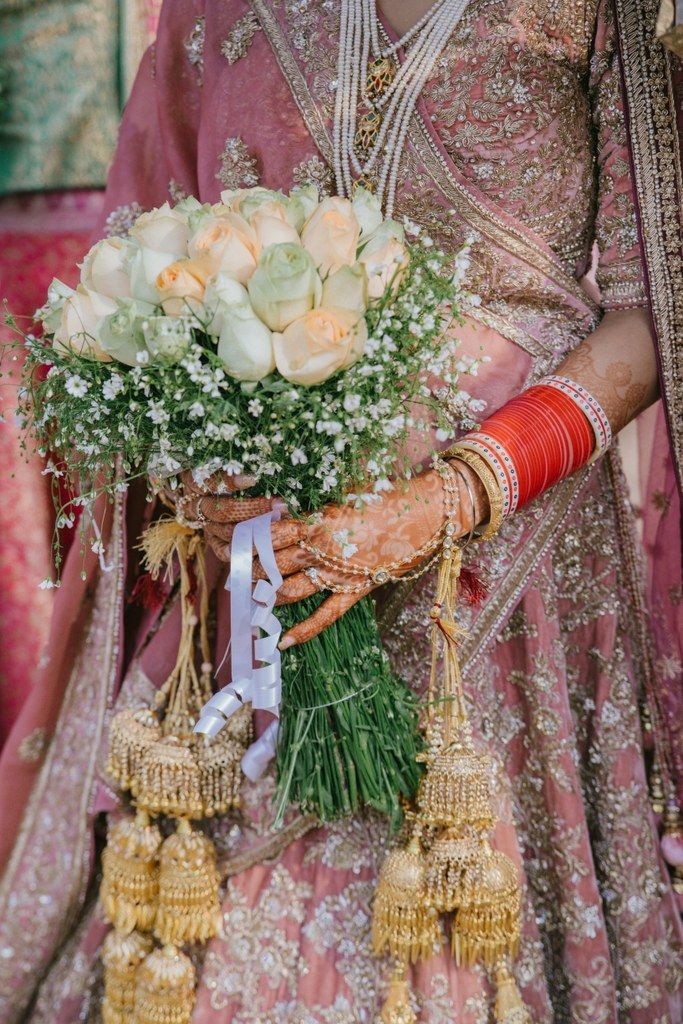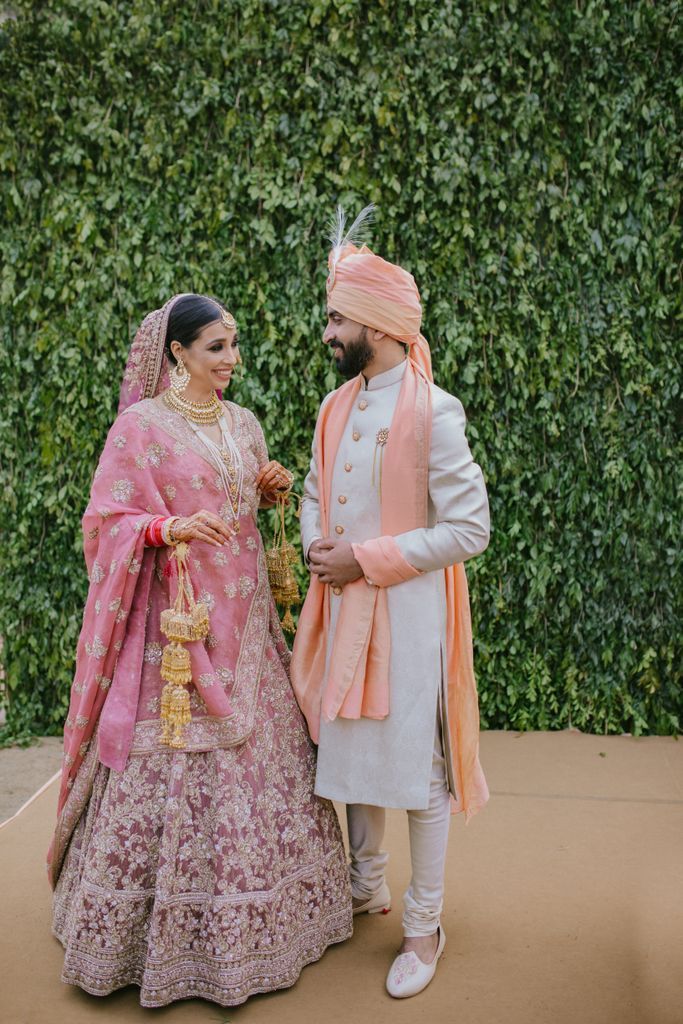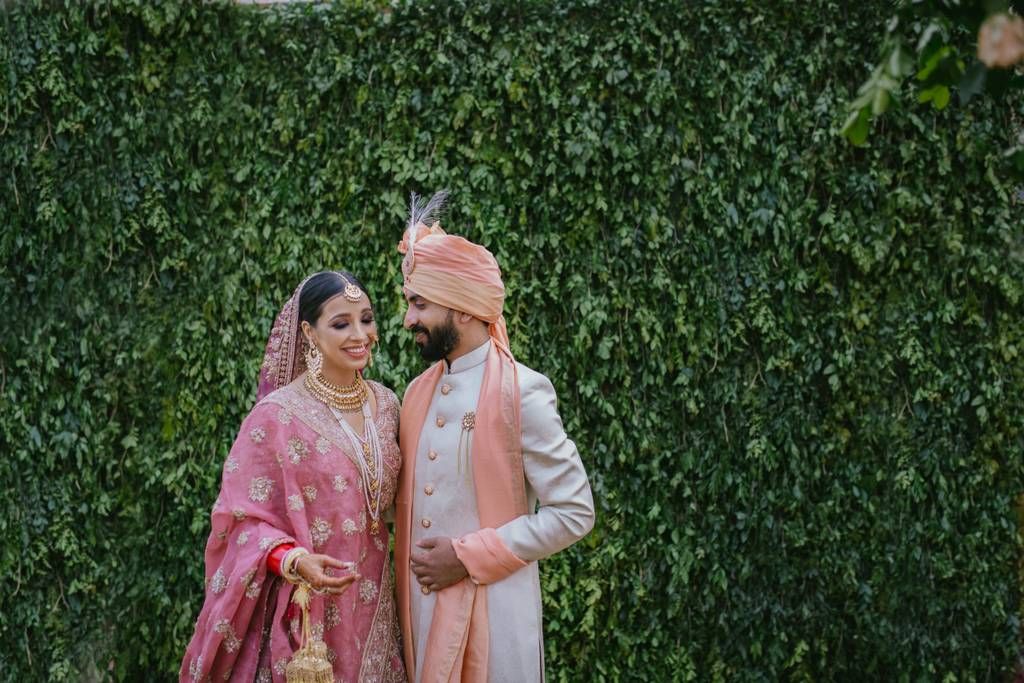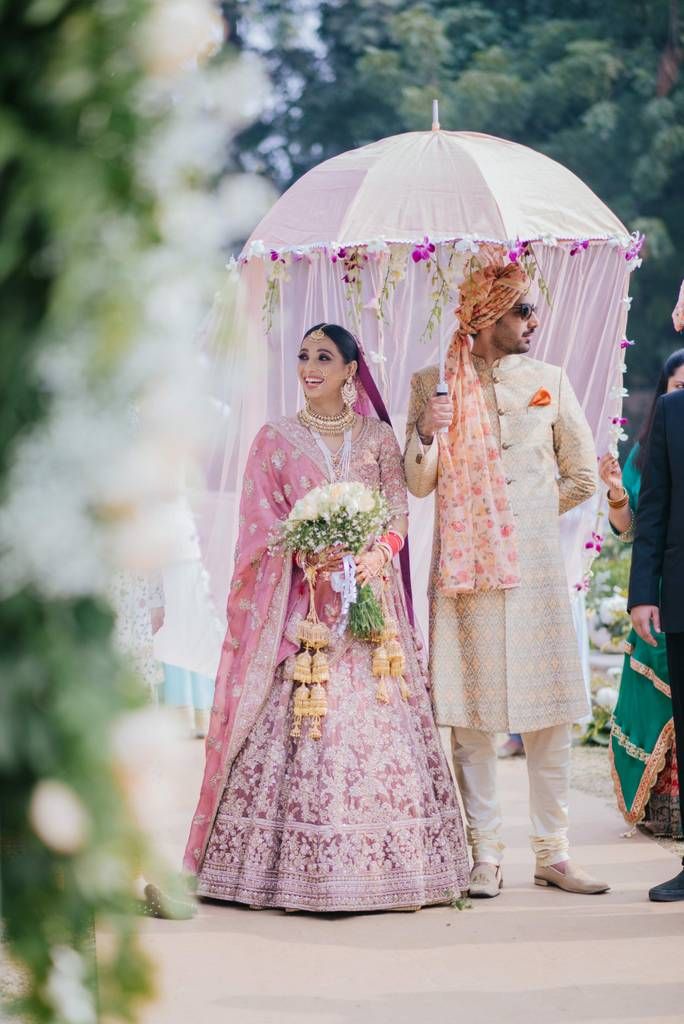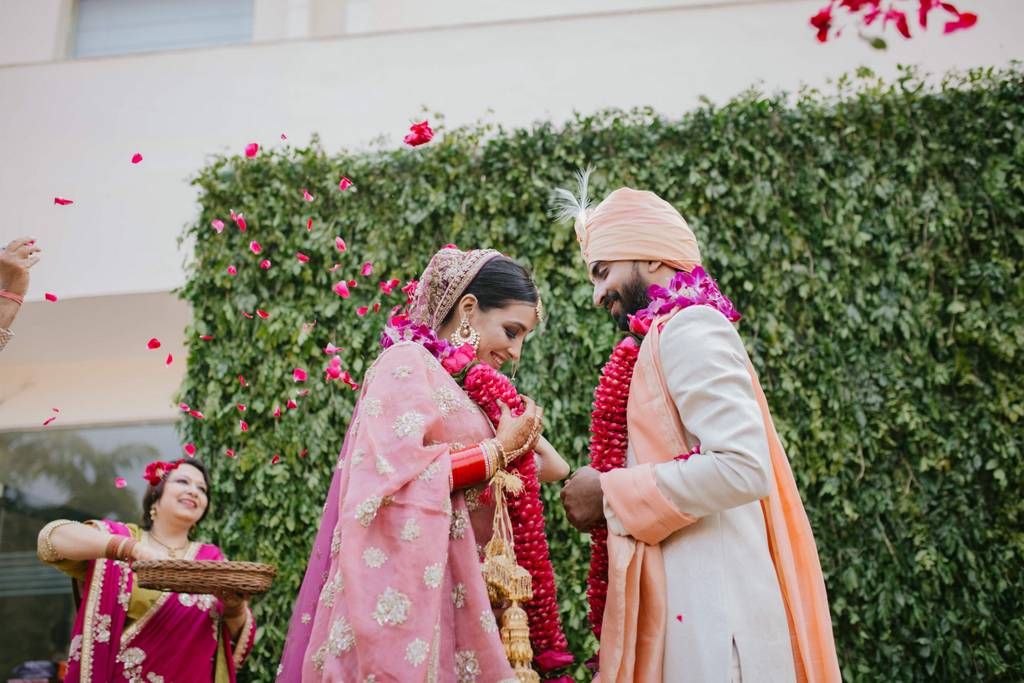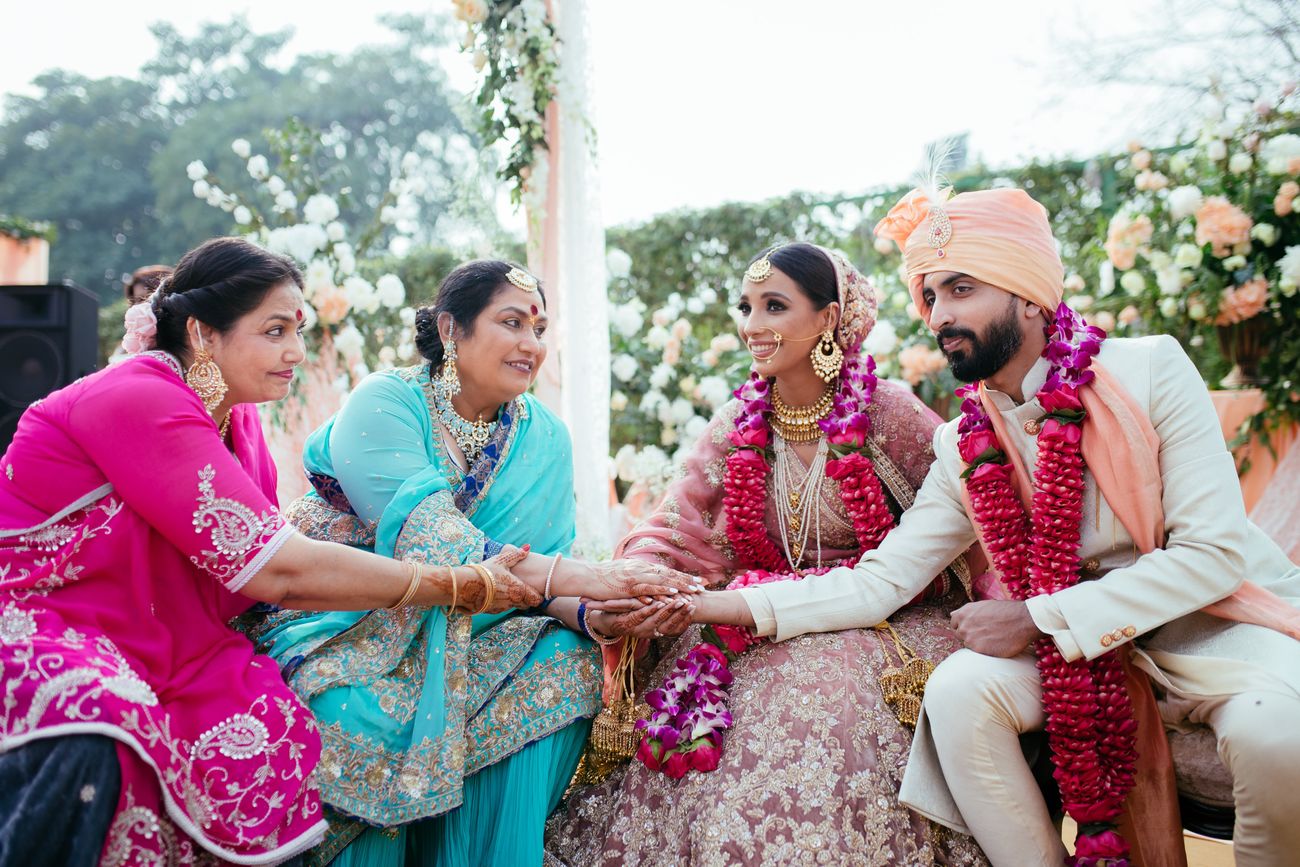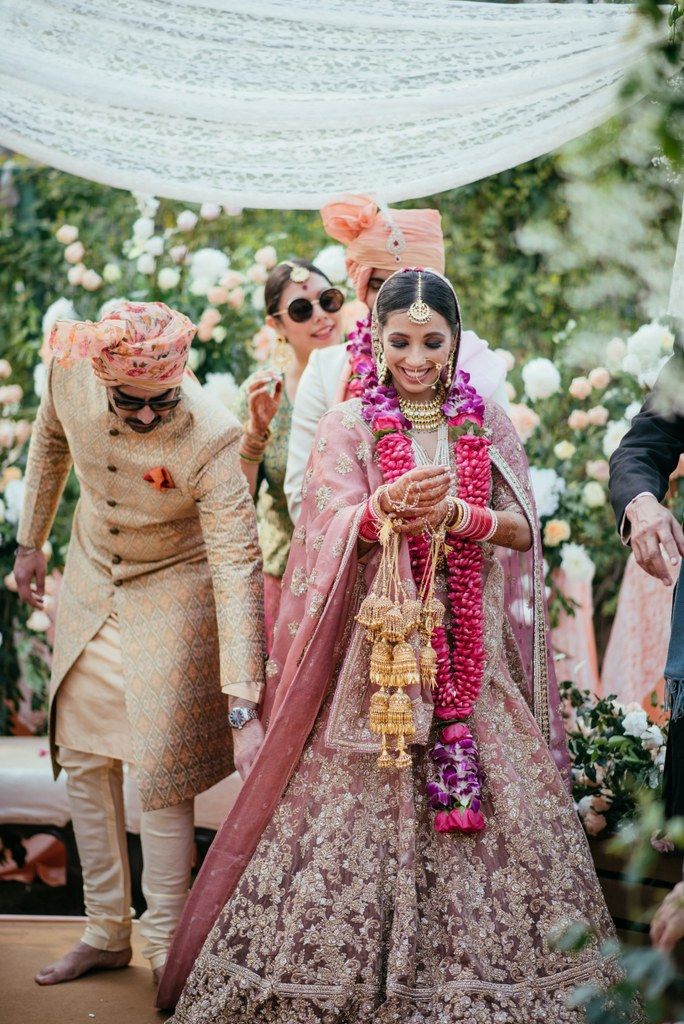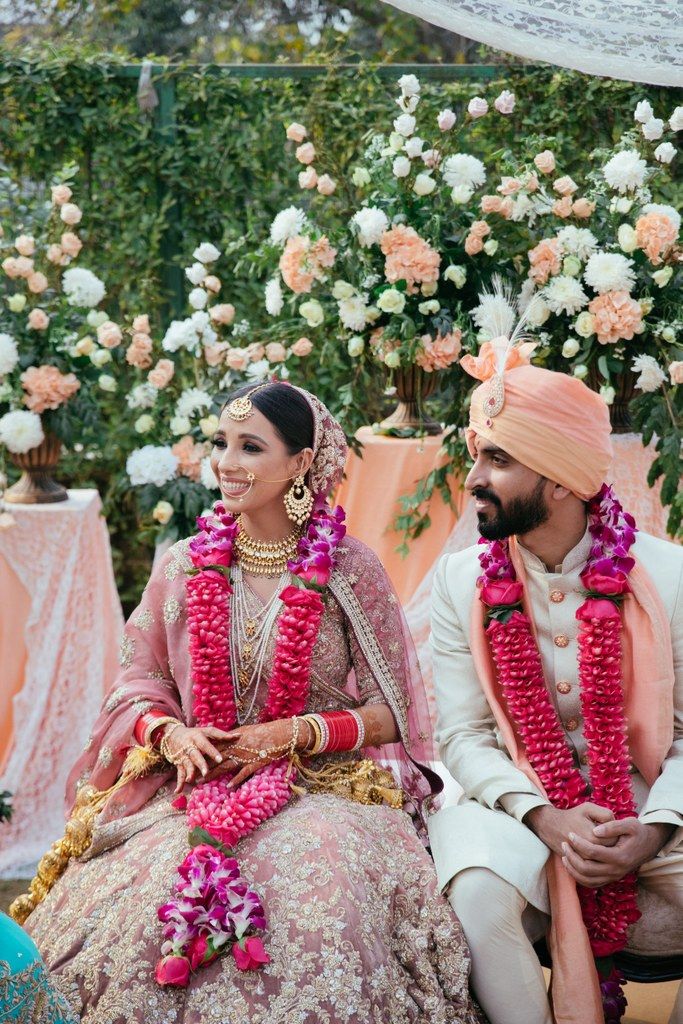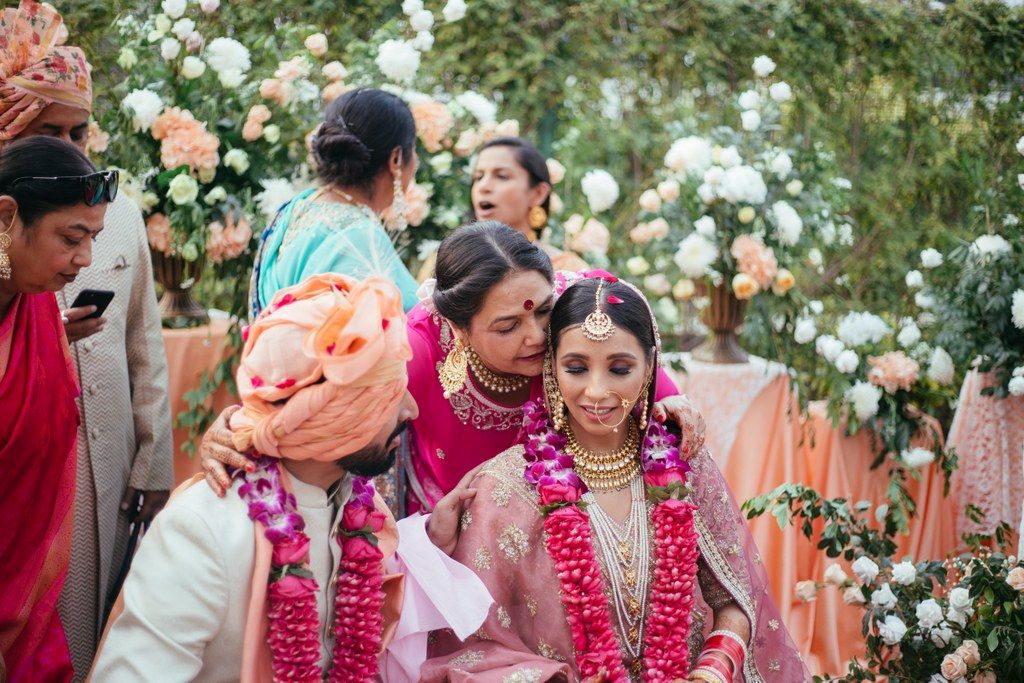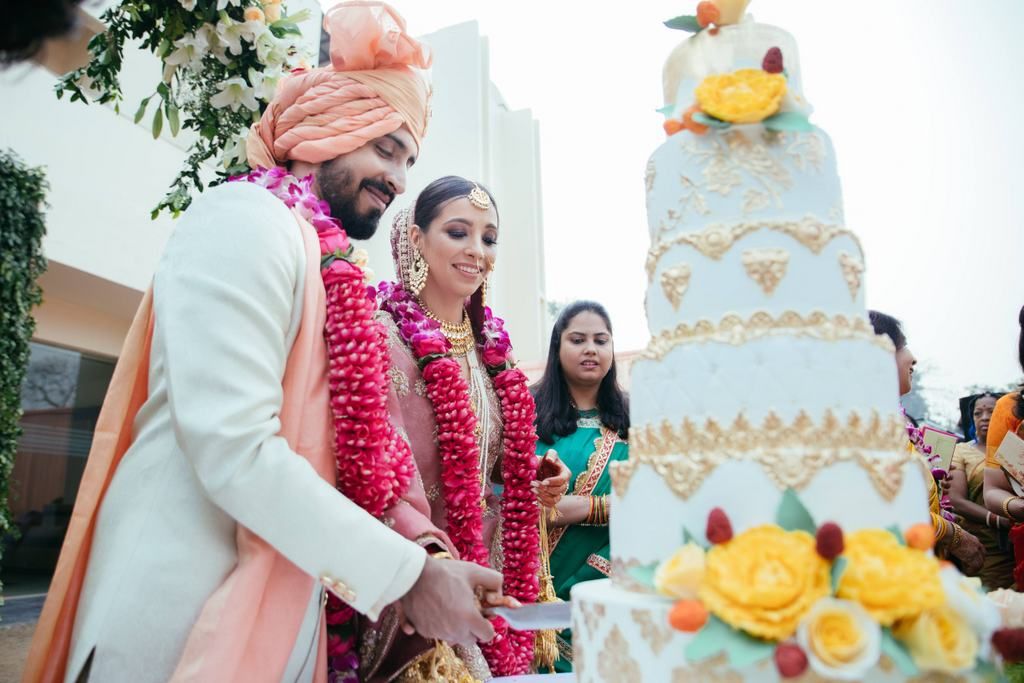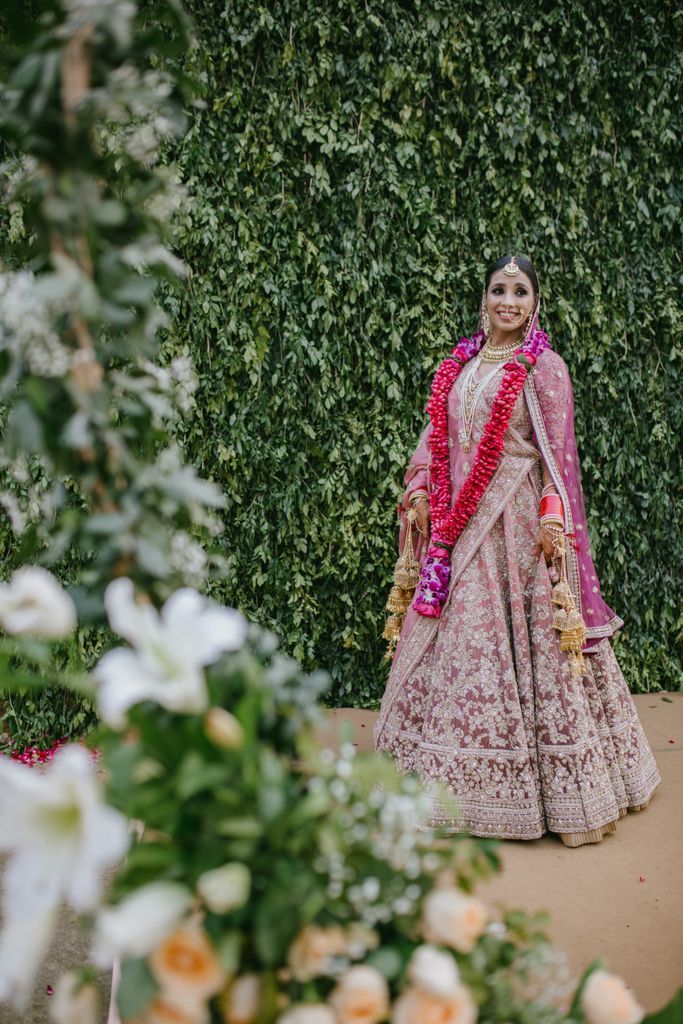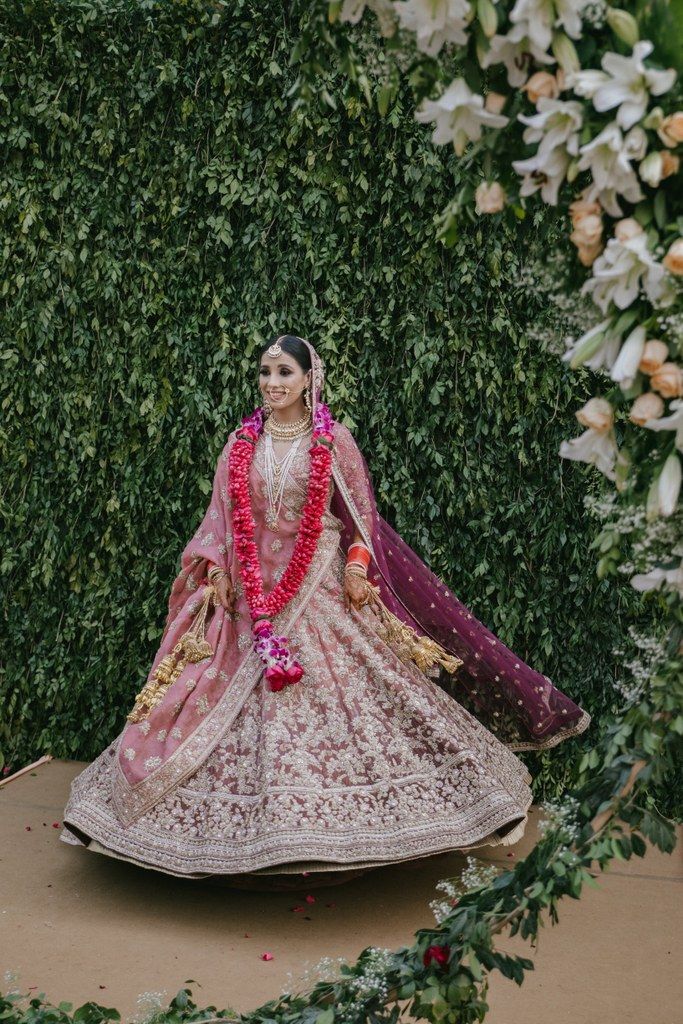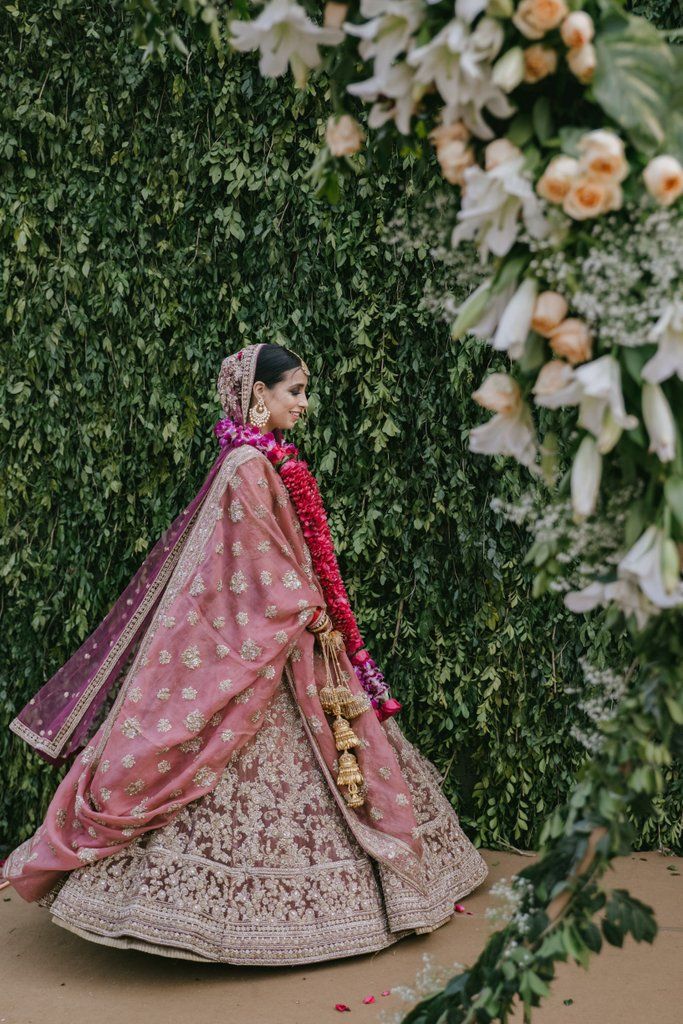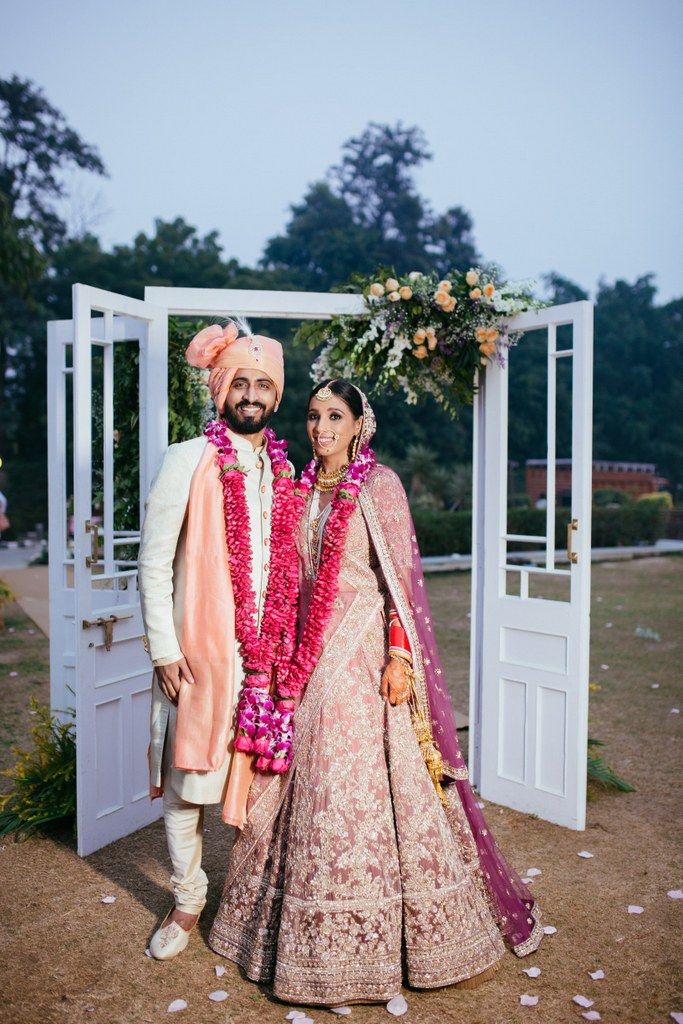 From The Couple: 
Viraj has always been a little alternative, while Gopika is very mainstream. So our wedding was the meeting of two completely different worlds. Our wedding was not just the union of two cultures, it was also the union of two families, two thought processes and two very individualistic people who found love in each other. 
In Viraj's family, court marriages, with little of the theatre of Punjabi weddings, were the norm. Viraj, however, thought it would be a lot more thrilling to do it the Punjabi way. So Gopika's family (led by her two formidable aunts, Rohini and Radhika Bhushan, the matriarchs of the household) took charge of the wedding arrangements. They meticulously planned and executed the whole wedding. Radhika maasi wrote, composed and sang the jaimala for her beloved Gopika. Gopika's bridal entry, to the soundtrack of Radhika Masi's jaimala, was one of the highlights of the wedding; she was wearing a 14-feet long peach bridal wear, held aloft by her bridesmaids; her twin brother, walking by her side, held a satin umbrella above her. Rohini maasi ensured the food and cutlery were of the highest standard. She also helped pick out Gopika's attire and oversaw the bride's makeup, outfits, hair, and all the other details. 
Gopika wanted a fairytale wedding. She wanted it to be magical, beautiful and above all, "peachy". And even though Viraj teased her for it, their wedding was exactly that - magical, beautiful and distinctly peachy. 
We had three sets of outfits. For the Sangeet, Gopika looked stunning in a blue, Cinderalla gown and Viraj wore a majestic quilted blue bandgala. For the mehendi, Gopika wore a purple Sabyasaachi-style lehenga, and her dashing partner turned up, slightly late and hungover, in kurta, pants, and an orange Nehru jacket. Finally for the wedding, we picked outfits that reflected our image of the perfect wedding: regal, but not garish, classy not ostentatious, and elegant, not overdone. Viraj wore an intricately printed ivory Sherwani. He didn't carry a sword, because he bats for love not violence. A Kalgi on his salmon pink Banarasi silk safa and an elegant golden brooch lent his attire a royal aura. Gopika chose a double-shaded velvet lehenga that progressed subtly from shades of lavender/pink to wine. Her jewelry was drawn from her family's tijori: her grandmother's magnificent kundan set (choker and earrings).
The décor, food, the entire aesthetic - entirely arranged by Gopika's maasis -perfectly matched our own sensibilities. We didn't need a wedding planner because of them.
However, we do have a tip for anyone getting married. Since, Viraj's family never had the experience of a "baraat", they were really unprepared for it. Nobody warned him about the antics & the ghodawallah and dholwallahs were shameless extortionists. Viraj found their money-grabbing antics most distasteful. Therefore, we think, it's best to have a rehearsal of the wedding day, even if you are doing all the band baaja baraat! 
Vendor Reviews: 
Beginnings For You: Simran makes you feel very comfortable and I loved her work! She feels like family and captures moments well. 
Cuisines & Concepts: Finger licking food and a lot of variety! Will definitely recommend. 
Makeup Artist Luna: Great work done by Luna! She made me look like a dream. 
Vendors: Venue: Hotel Vista, M.G. Road, Gurgaon; Makeup Artist:Makeup Artist Luna★ 5 (Sangeet & Mehendi); Savleen Manchanda★ 3.5 (Wedding); Bridal Hair: Gaurav Chawla; Bridal Outfits: Frontier Raas★ 4.4 ; Groom's Outfits: Indigo; Photography: Beginnings For You★ 5 (Simran); Videography: Joint Productions; Caterers: Cuisines and concepts★ 5 ; Décor: Gopika's maasis, Rustling Leaves