A Regal Jaipur Wedding With Stunning Portraits And A Bride In An Unconventional Outfit!
BY Soha | 15 Sep, 2019 | 5671 views | 5 min read
Who said you have to spend all your life's savings on your wedding outfits? Well, you could be smart like our bride of the day who got almost all her outfits for the smaller functions under 15K and boy, were pretty!
This wedding had the makings of a typical Bollywood movie- a boy and girl who didn't like each other at first, then gradually became friends. A week of no contact, an airport scene and BAM! The two were engaged! But their story isn't the only talking point! The bride's outfits at each function will take you by surprise and the wedding outfit will win your heart- a beige lehenga with a Tiffany blue dupatta! A huge shoutout to  Infinite Memories★ 4.8 for making sure none of the magic escaped their lens!
Meet Adisha & Samyak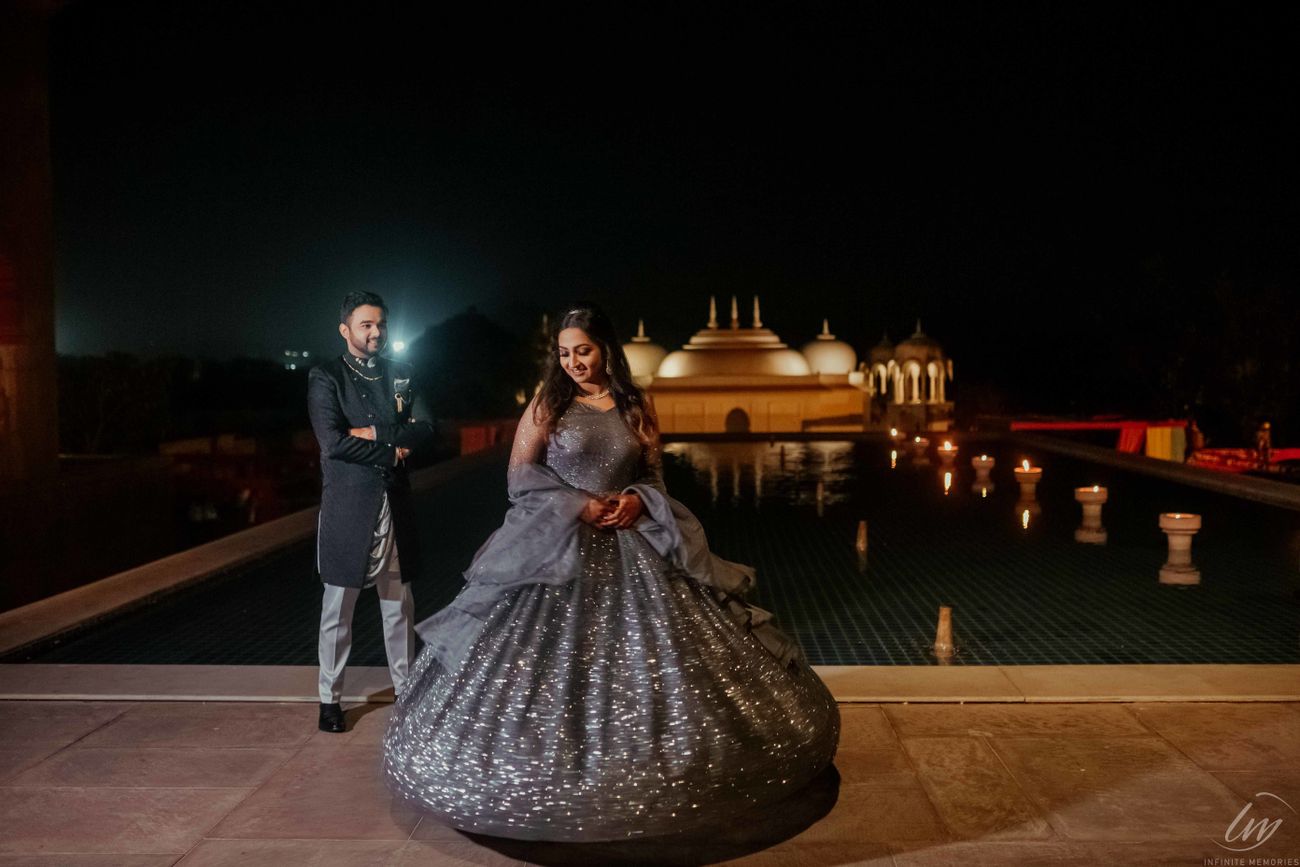 It was a Bollywood story in an arranged marriage setting. We were introduced by our family members. The first time we met we didn't like each other. But we met the second time anyway and spoke for 3 hours straight and only had to leave when we started getting calls from home. We exchanged numbers and that night we spoke for 5 hours and didn't speak at all the next day (cause Rakhi! Duh). Something went wrong and we didn't speak for a week, only to get stopped by him from flying back home. He made me cancel my flight and met me for coffee to final understand what we wanted! And that was it. We were engaged in 2 days!
The Haldi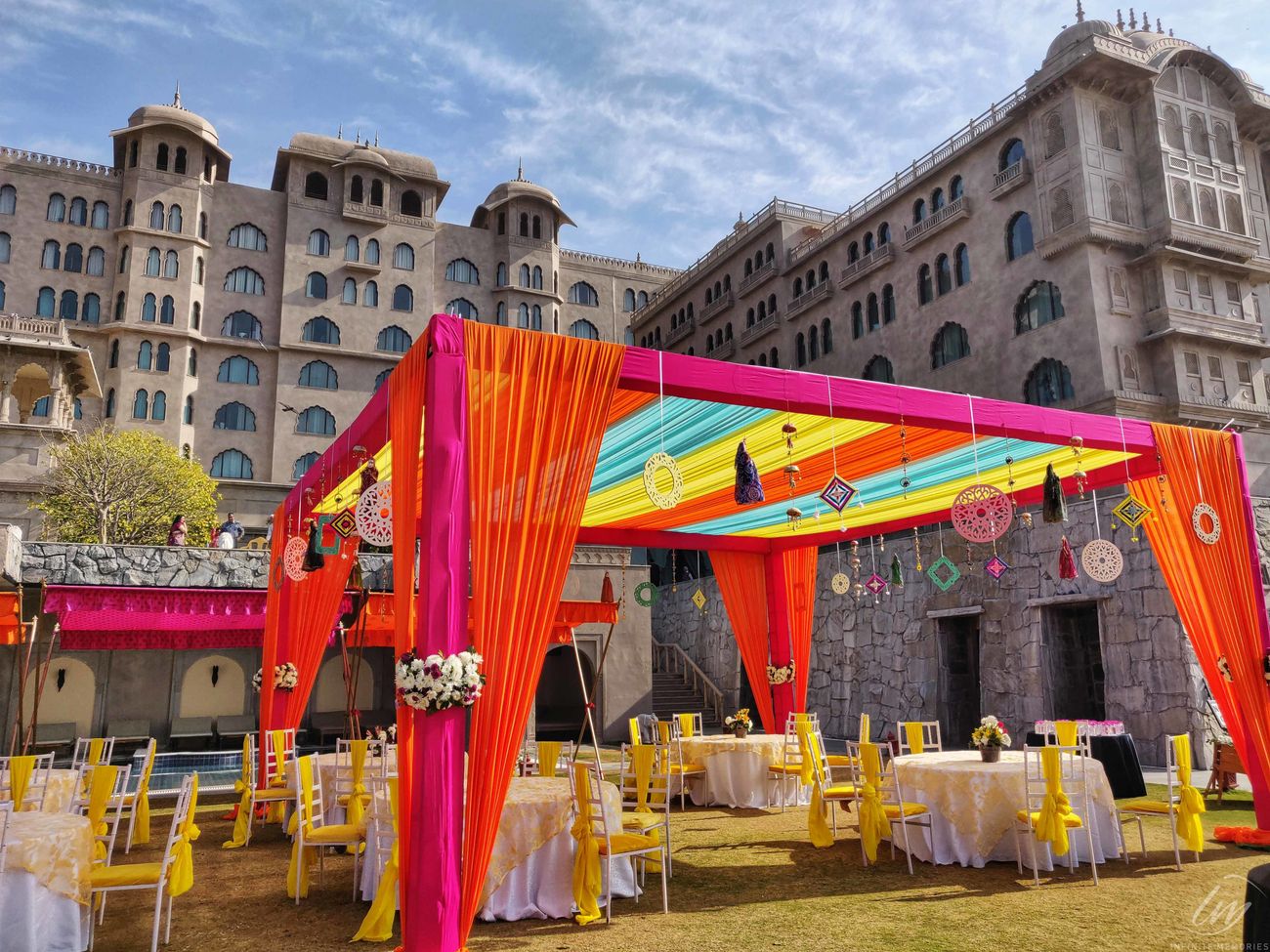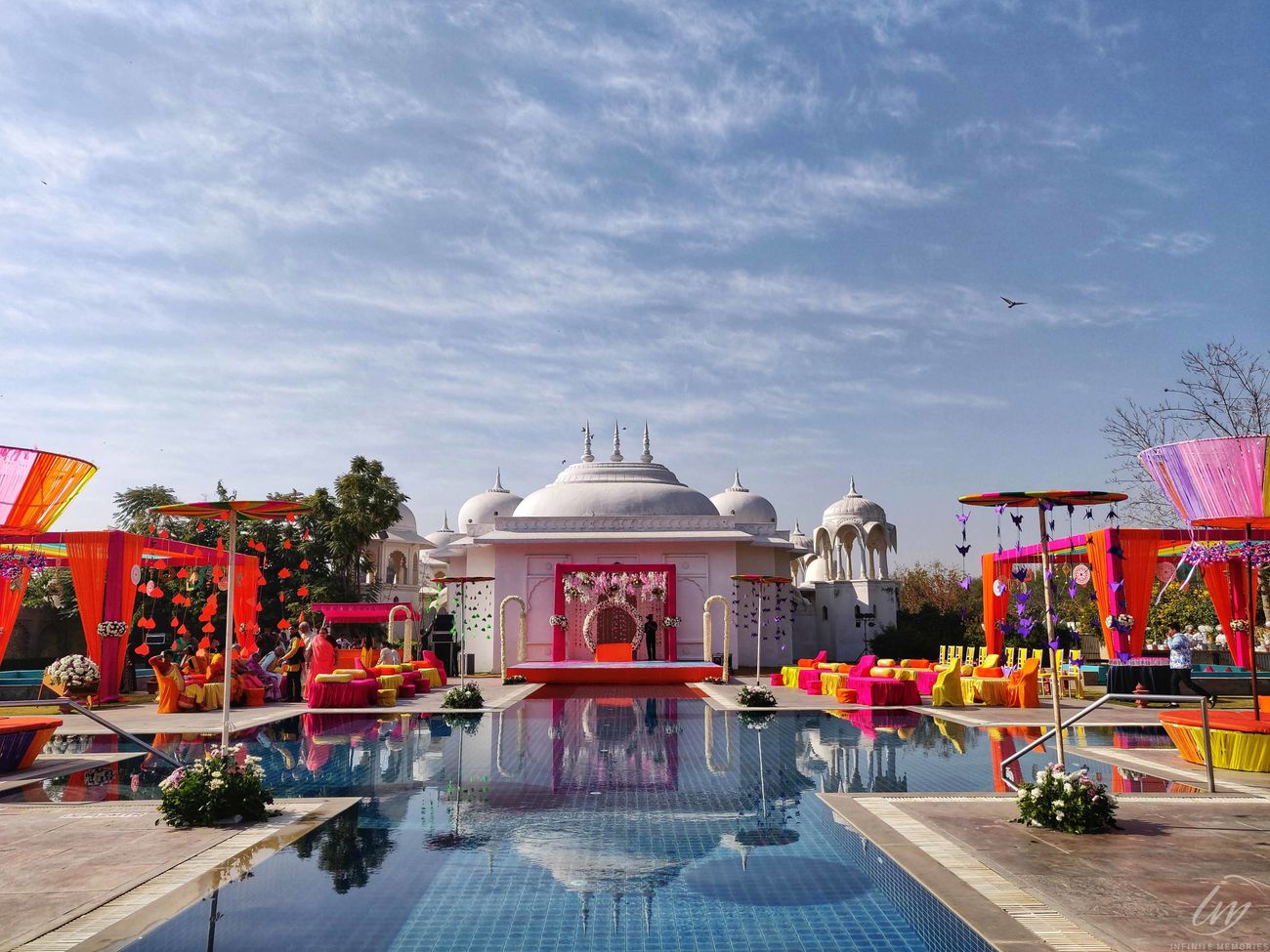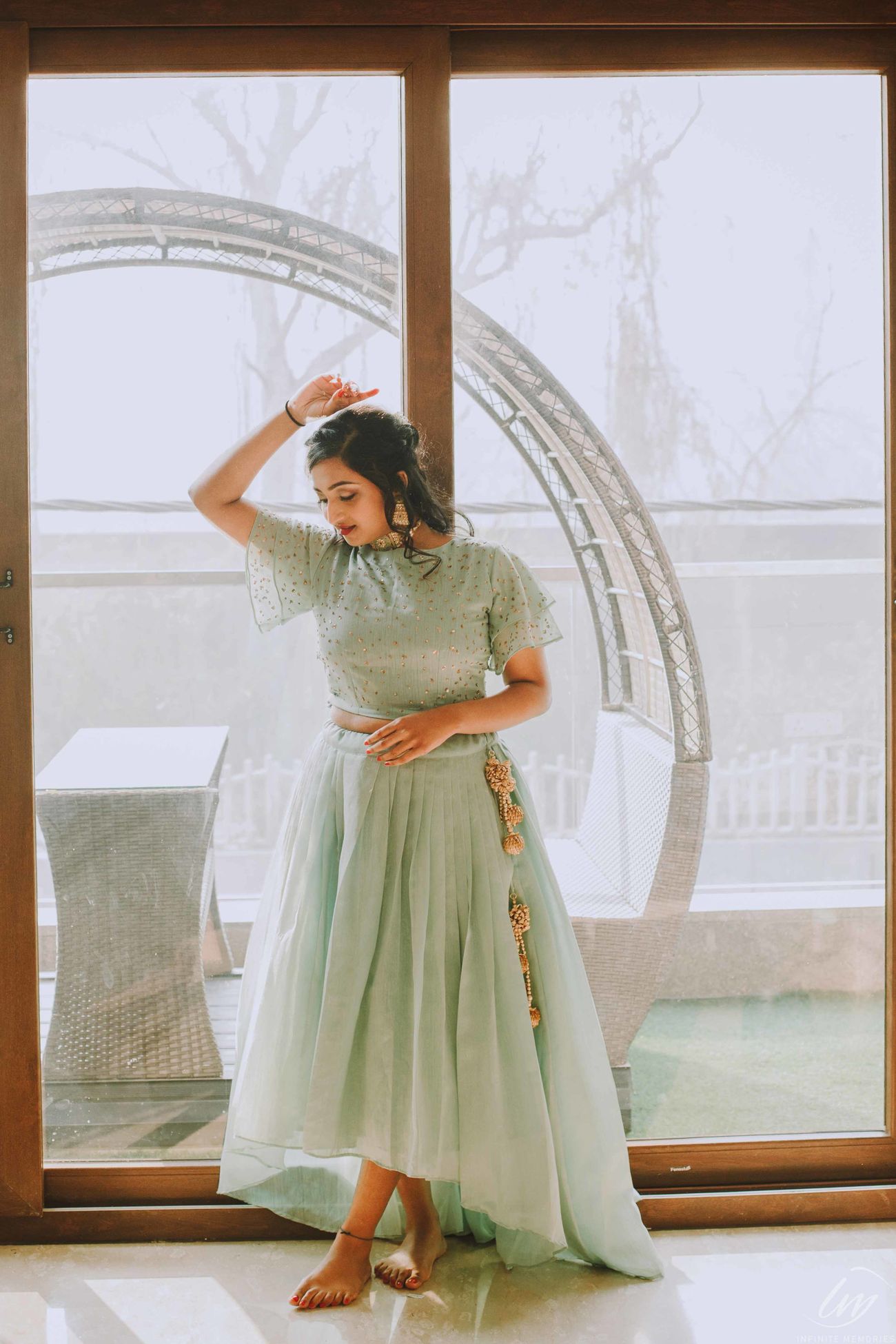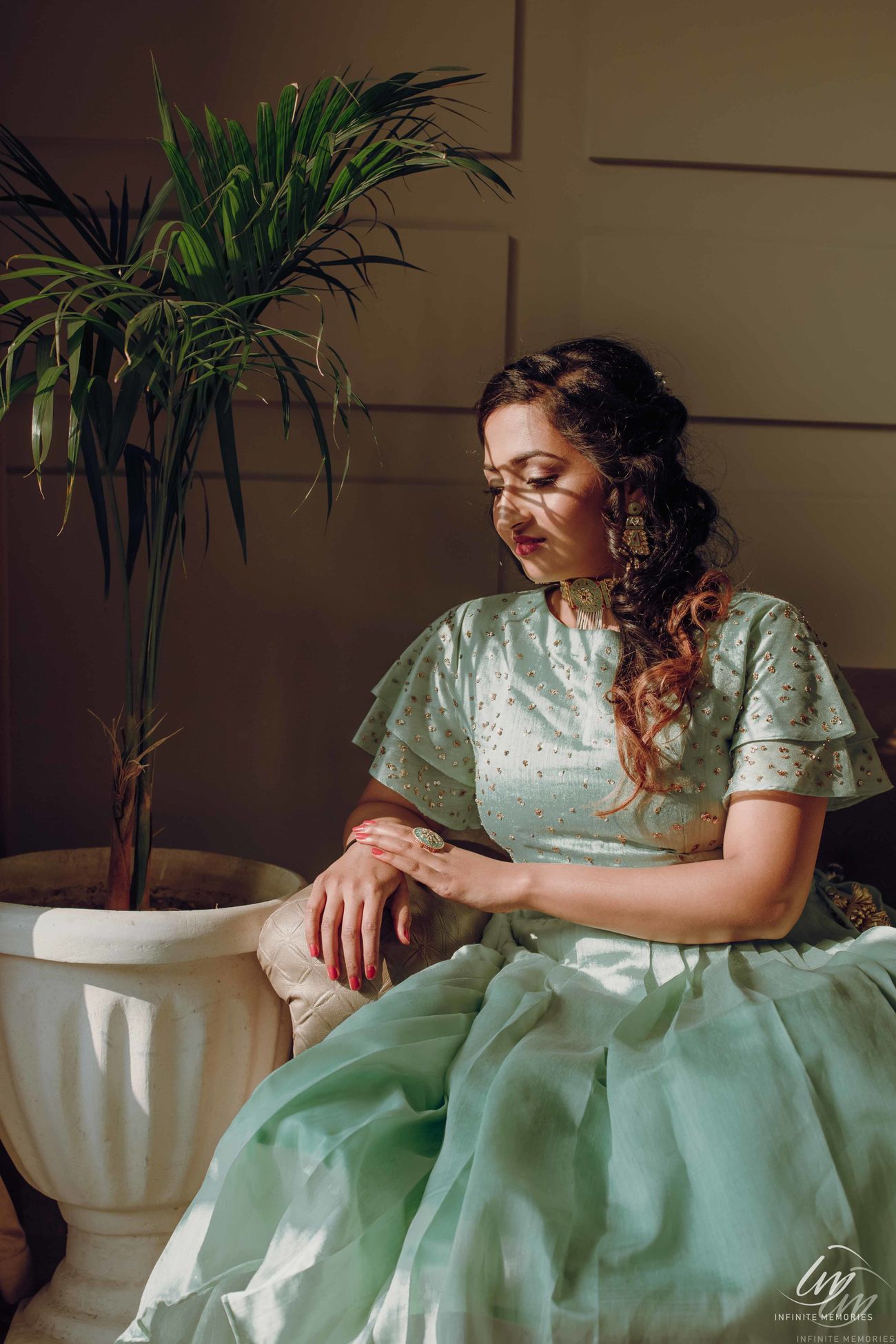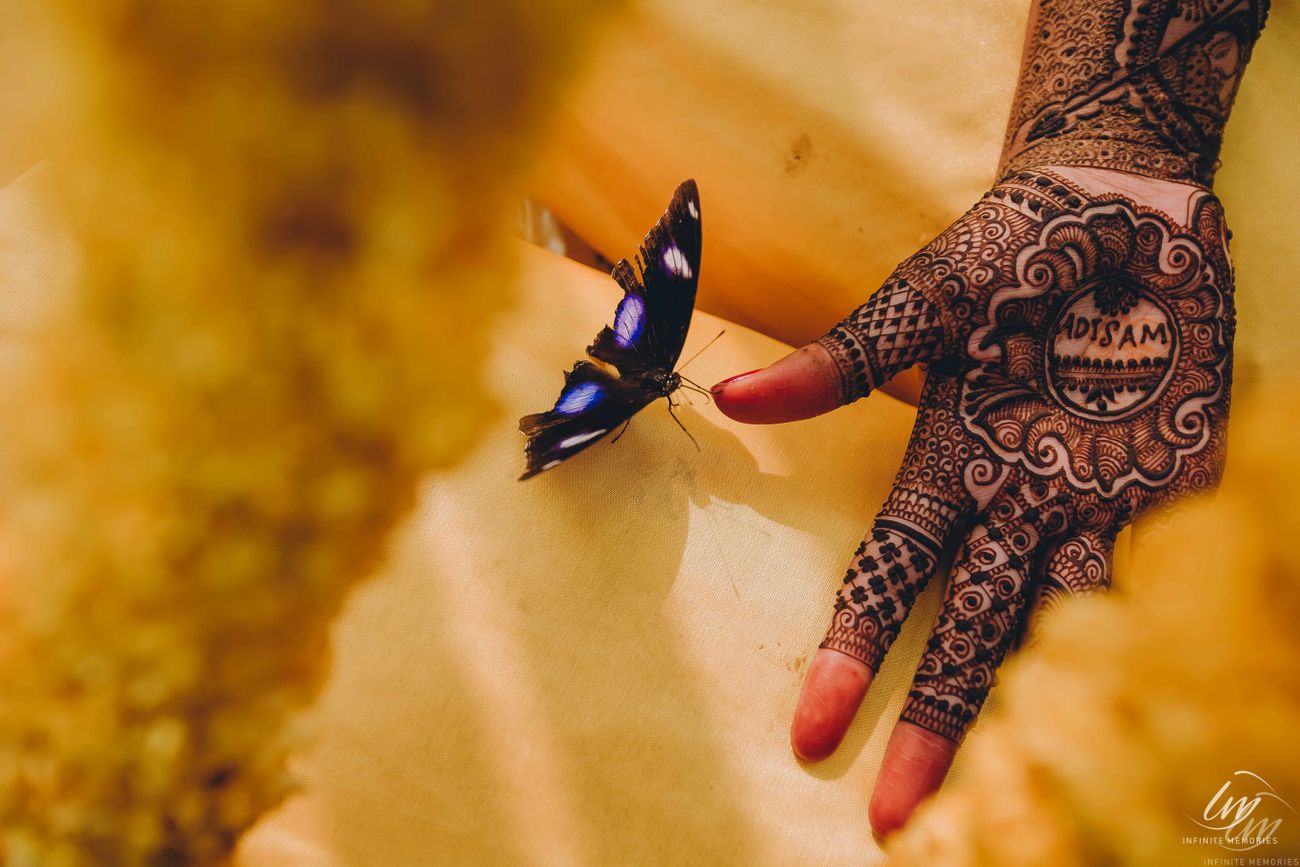 The Sangeet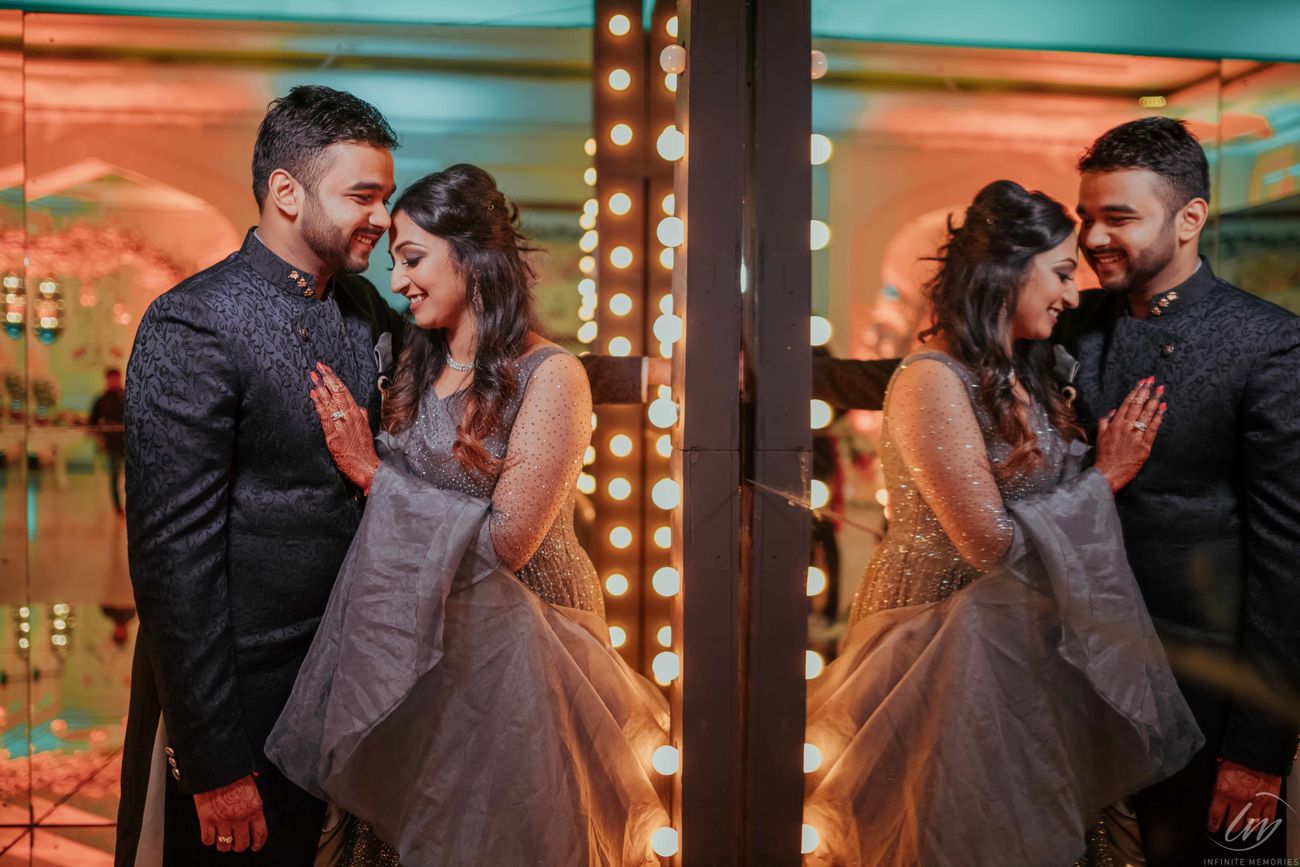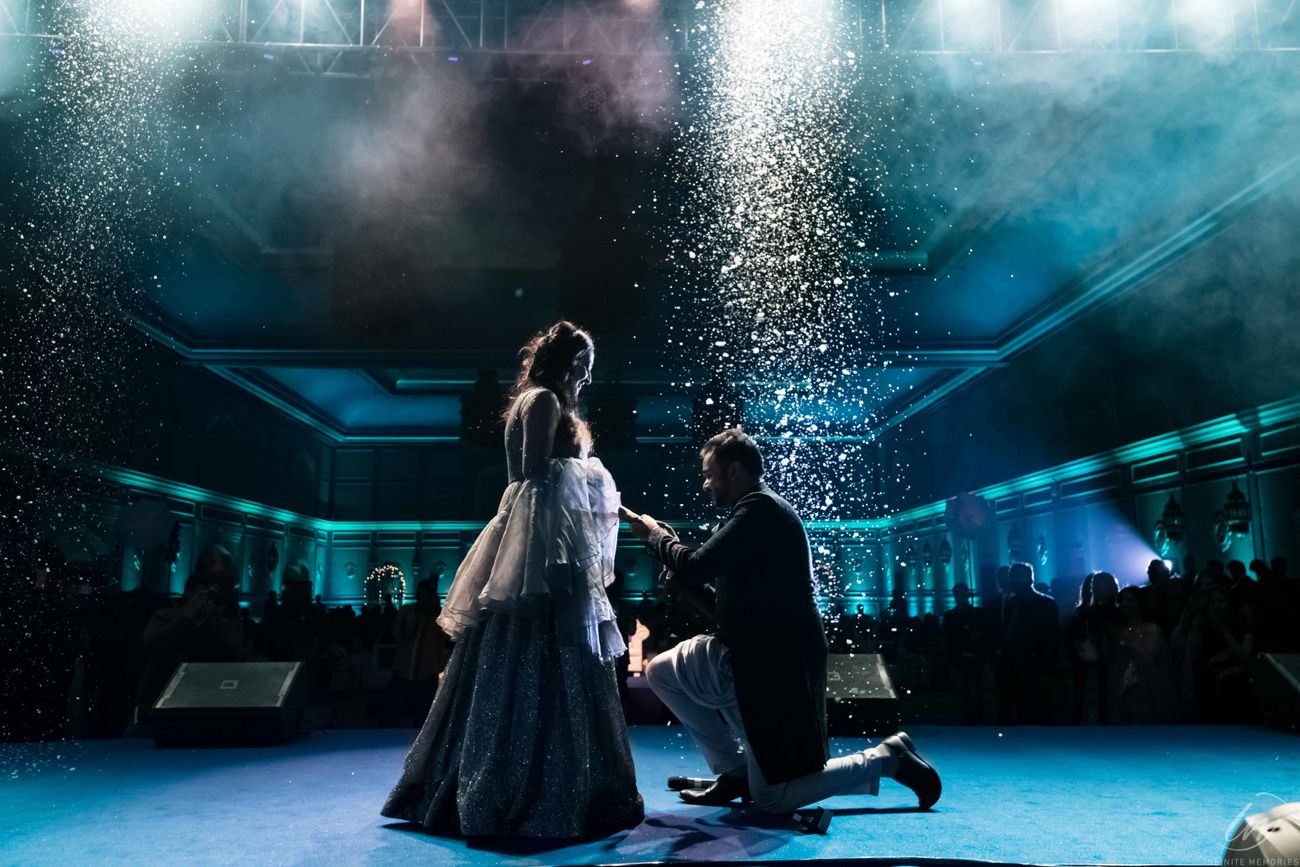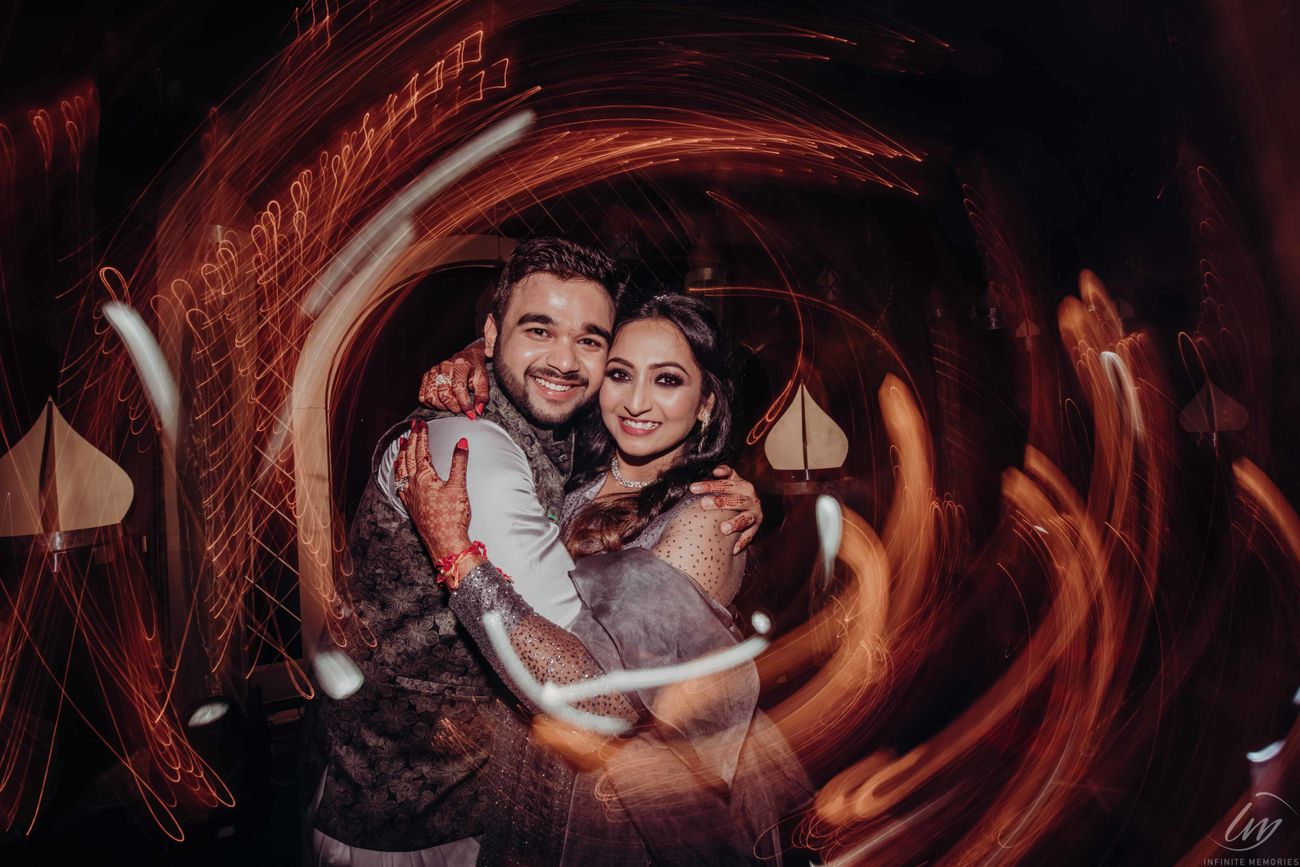 The Wedding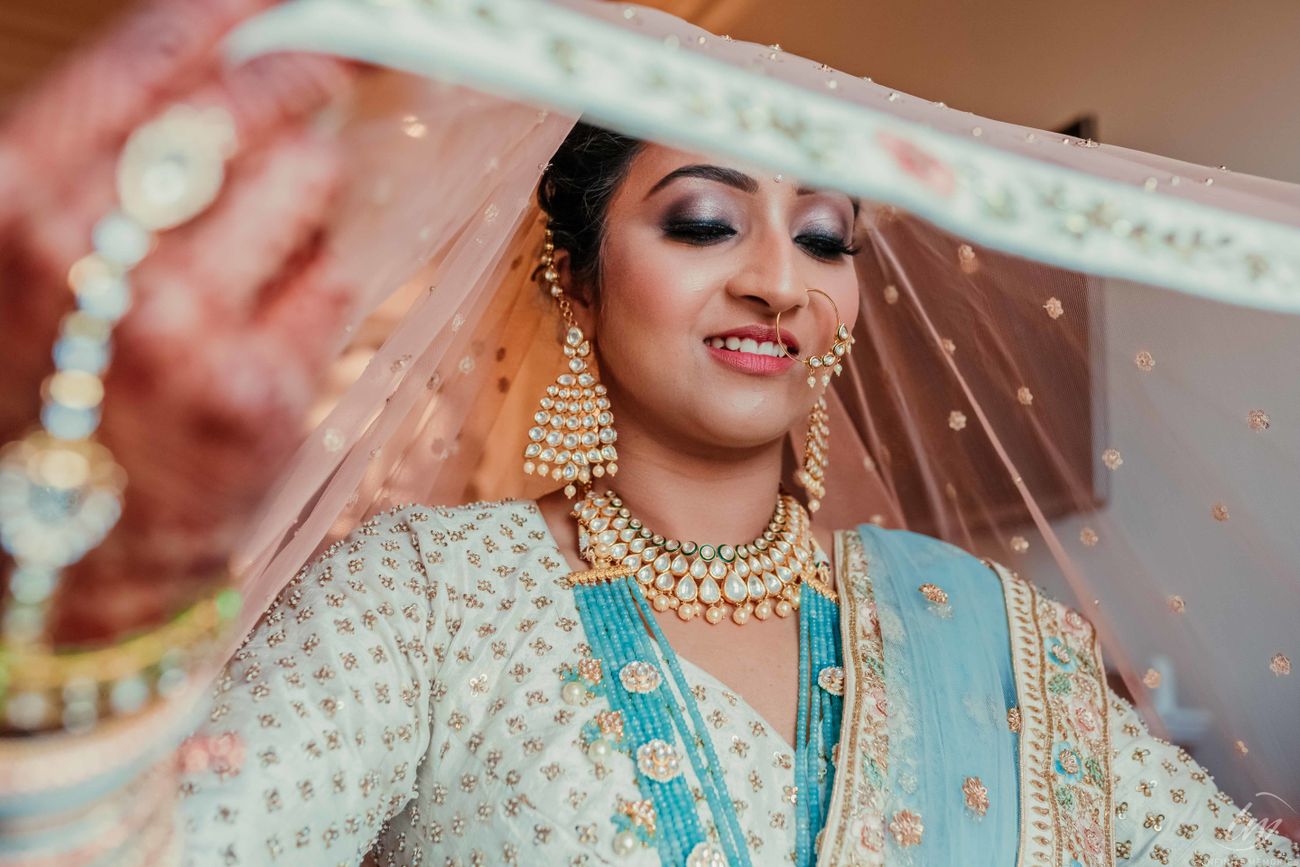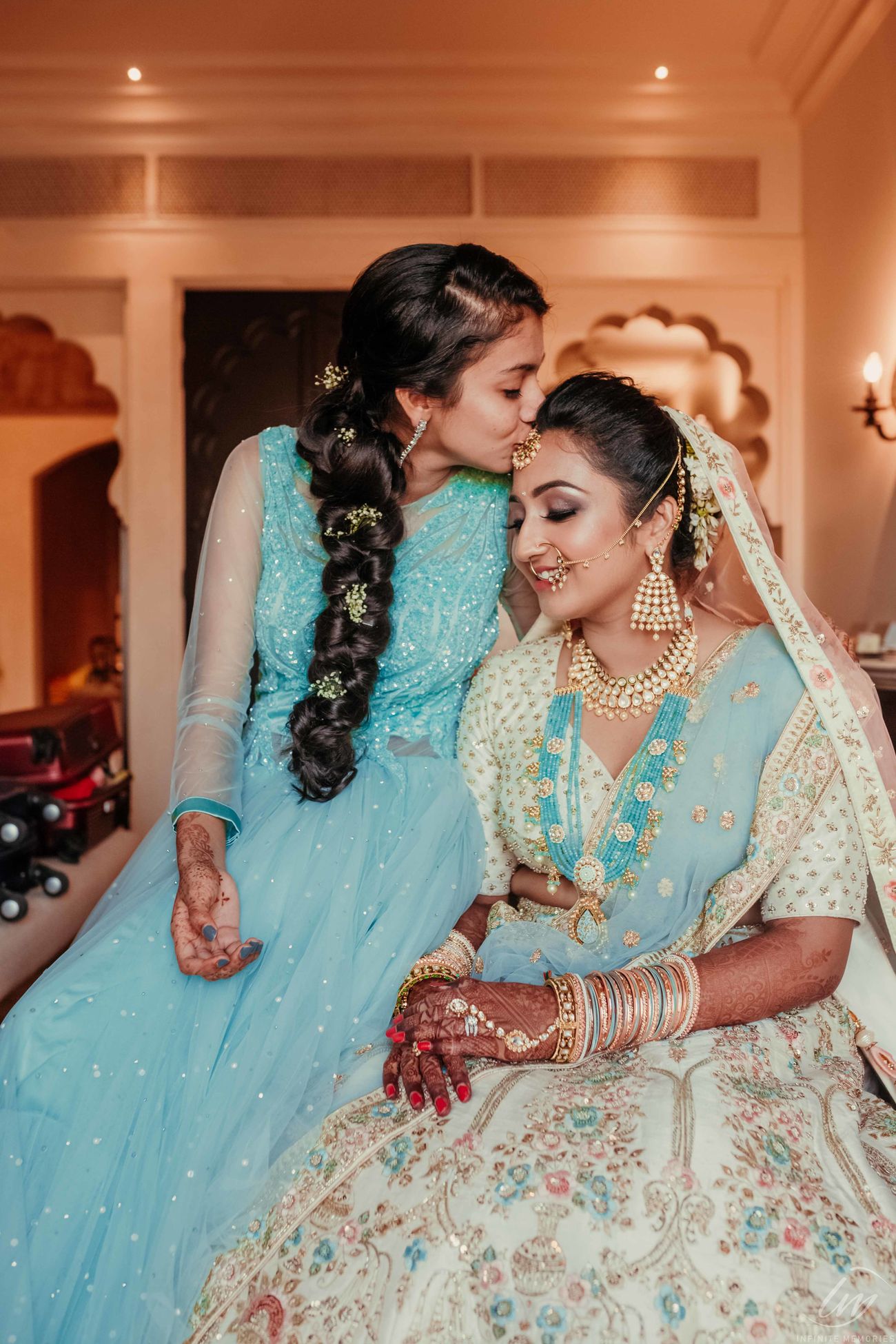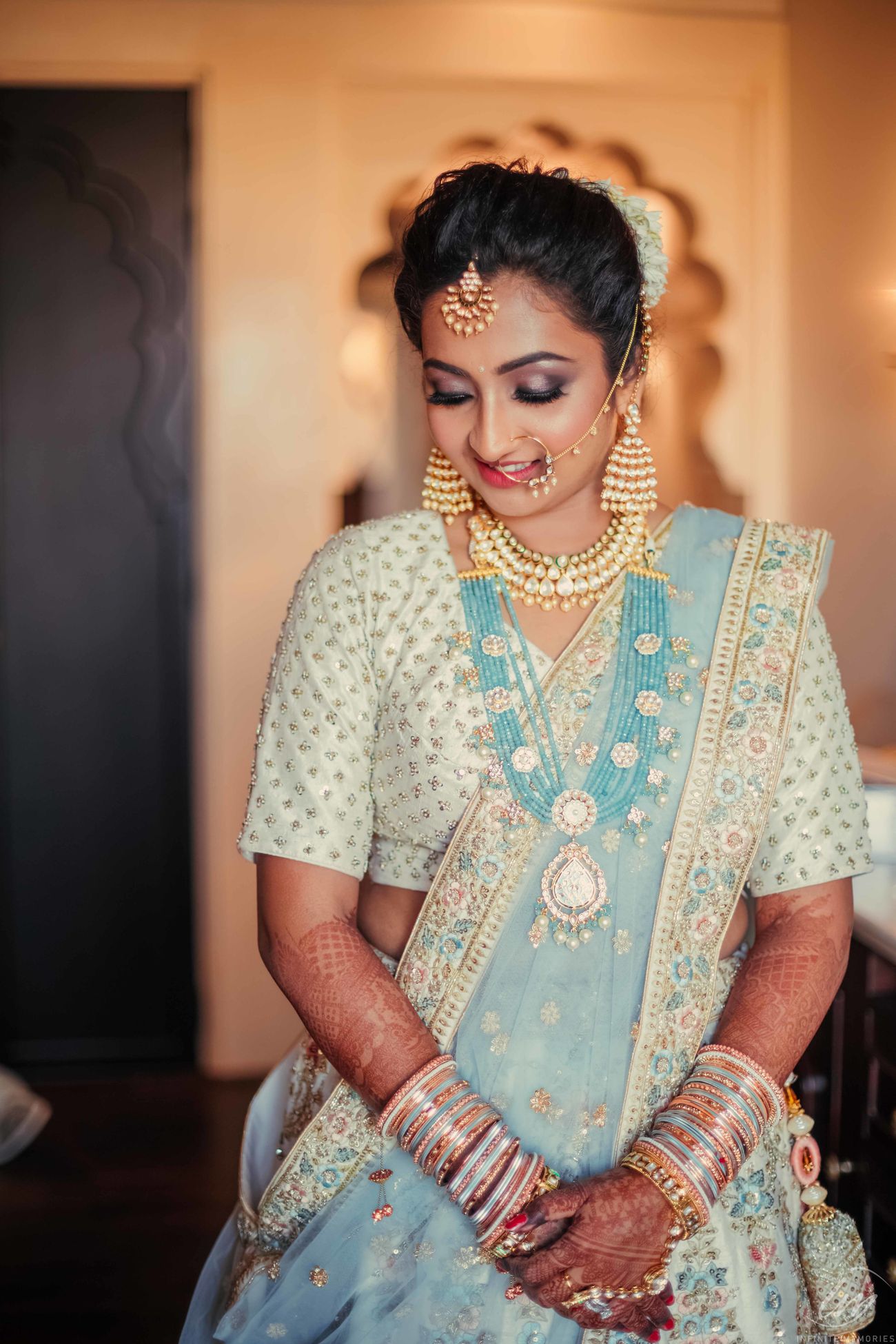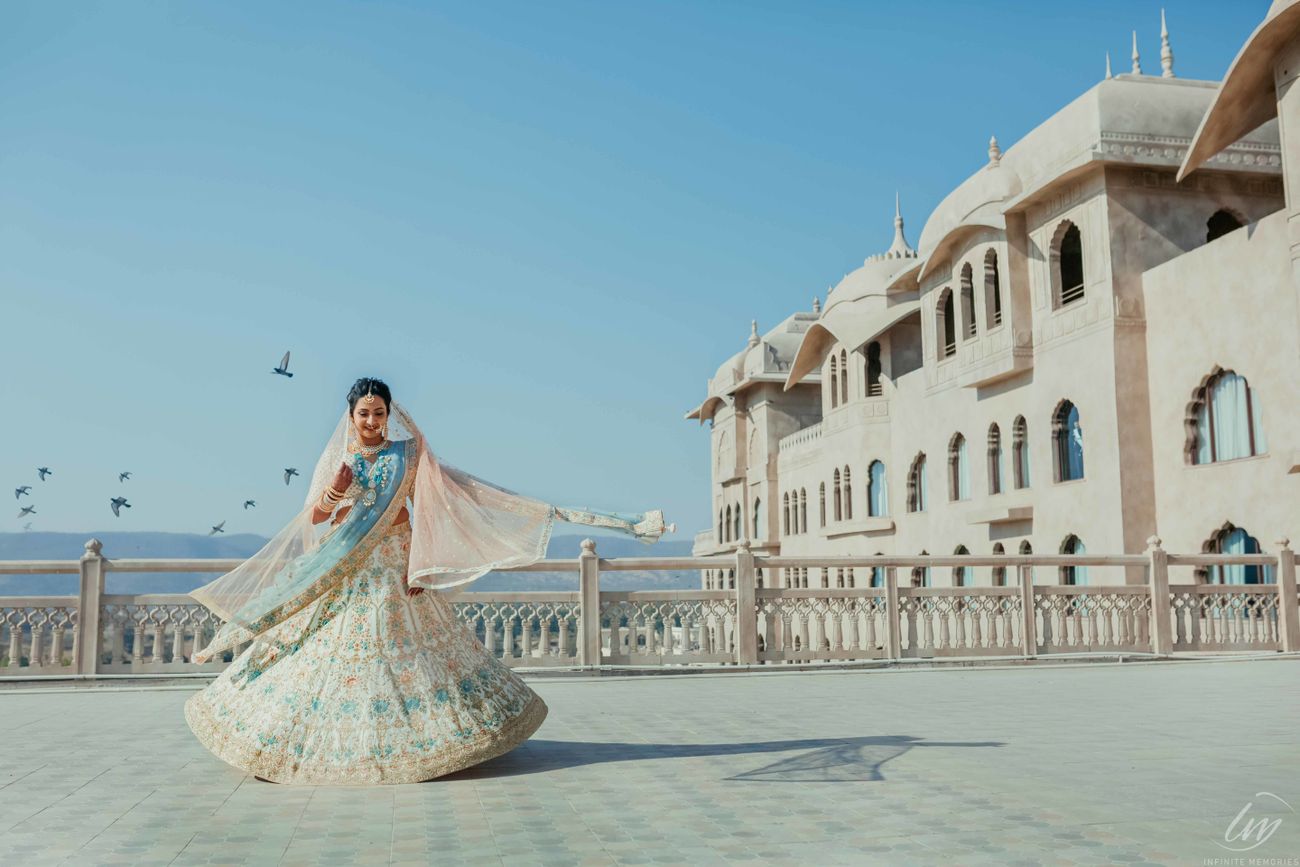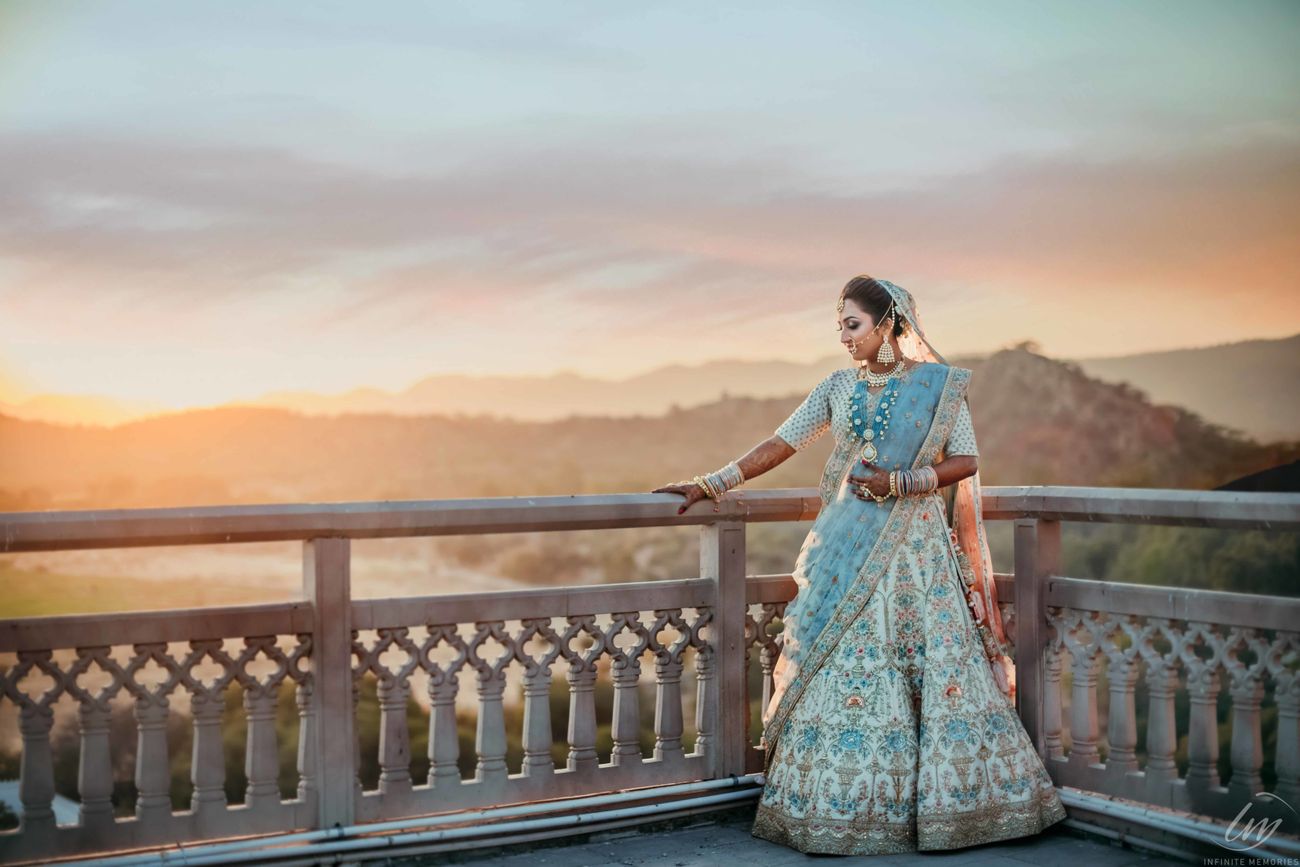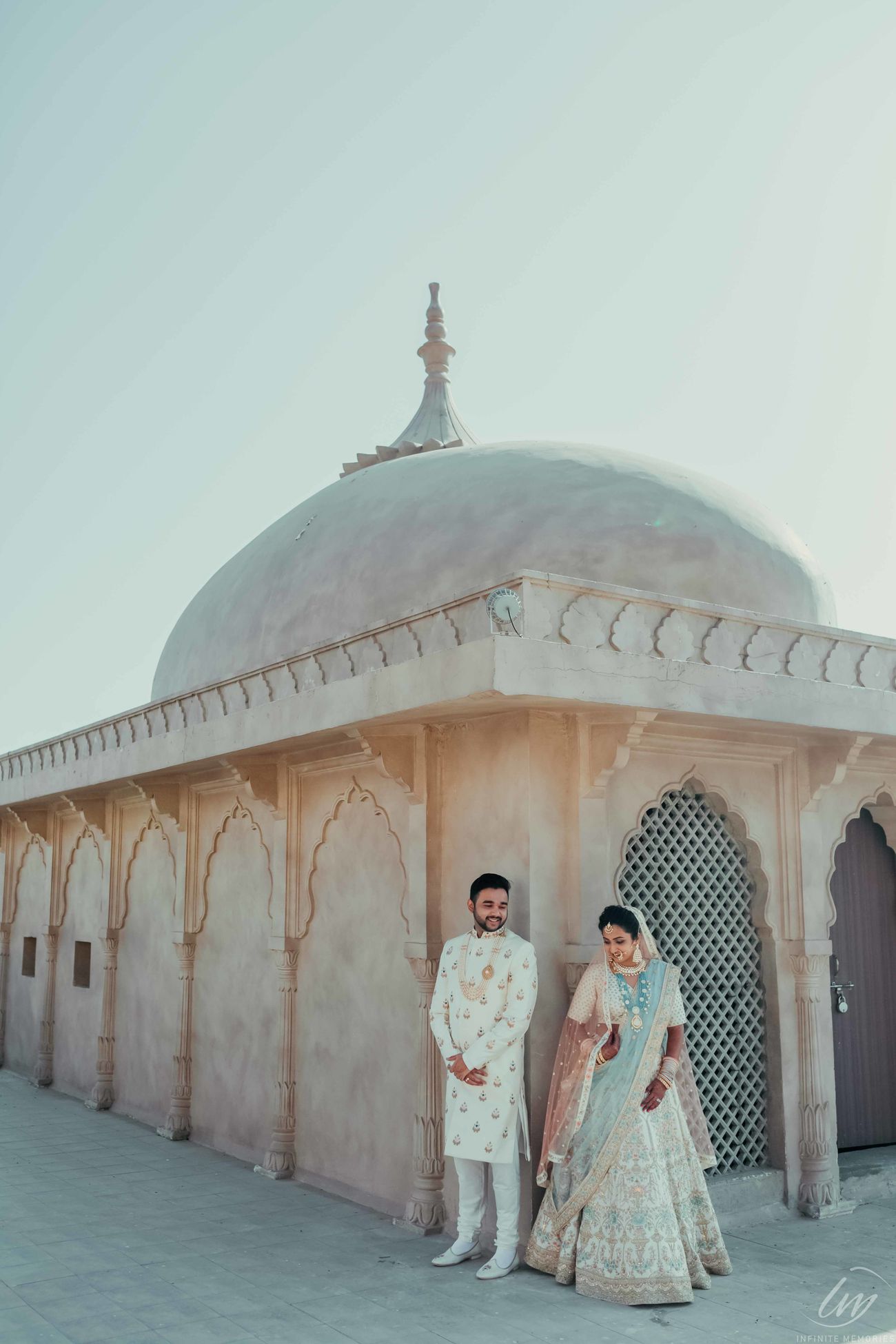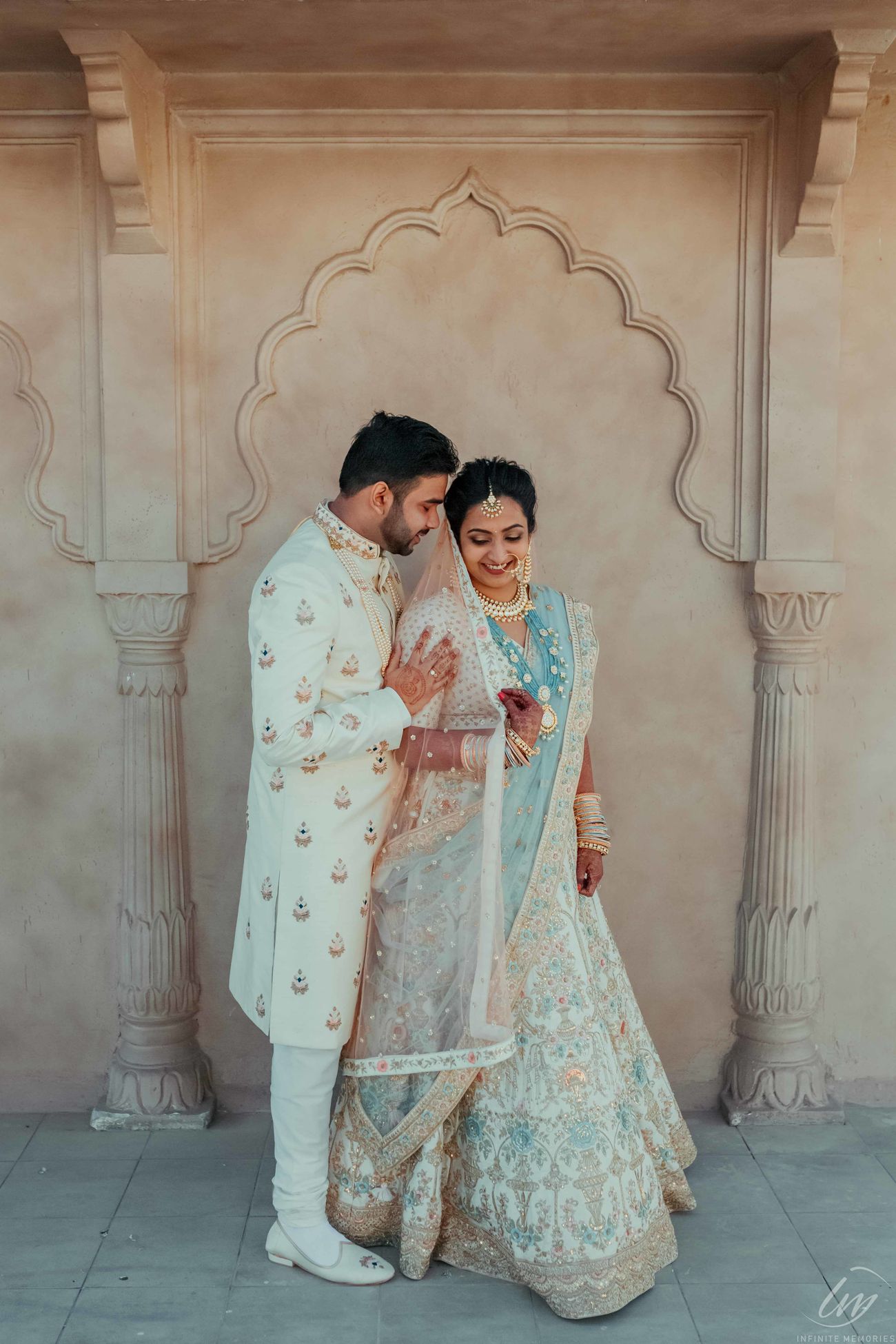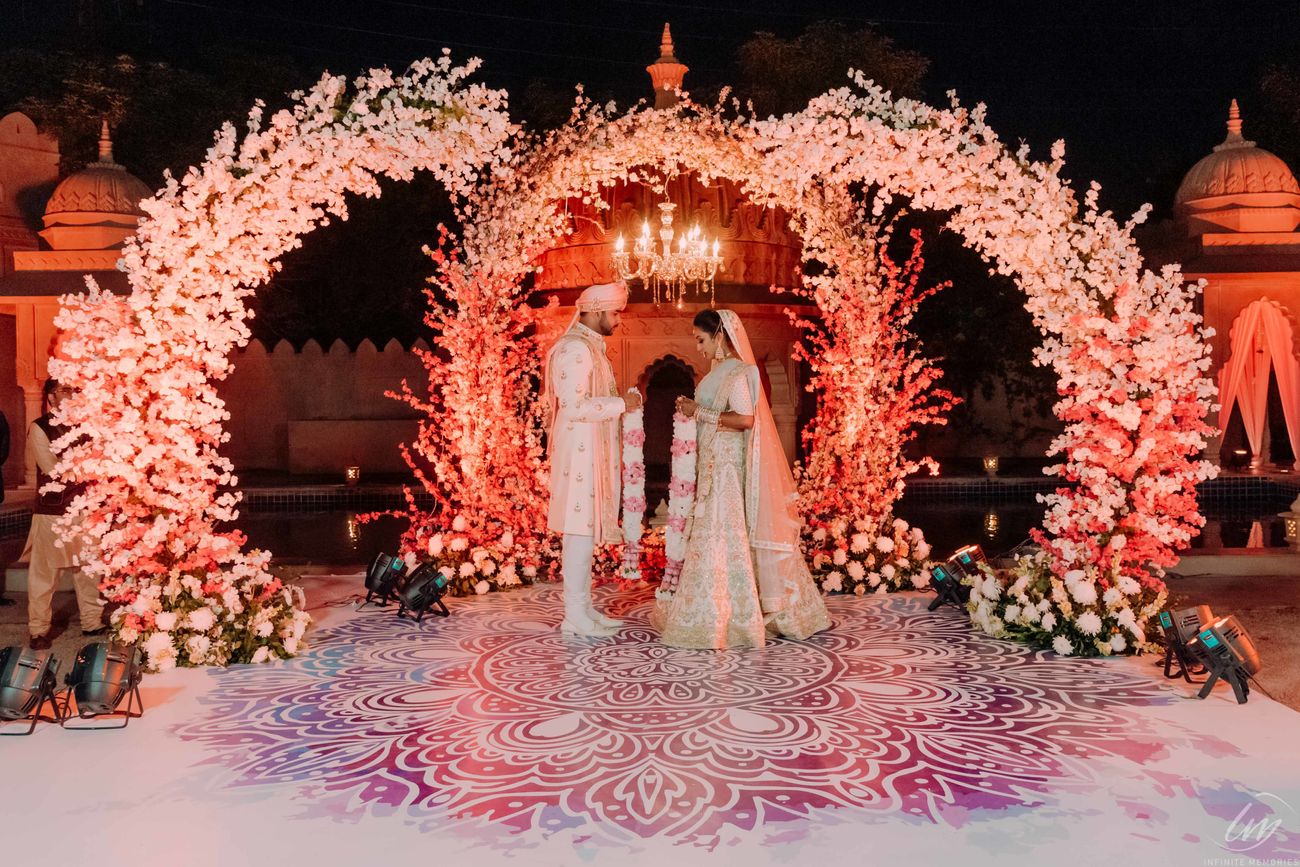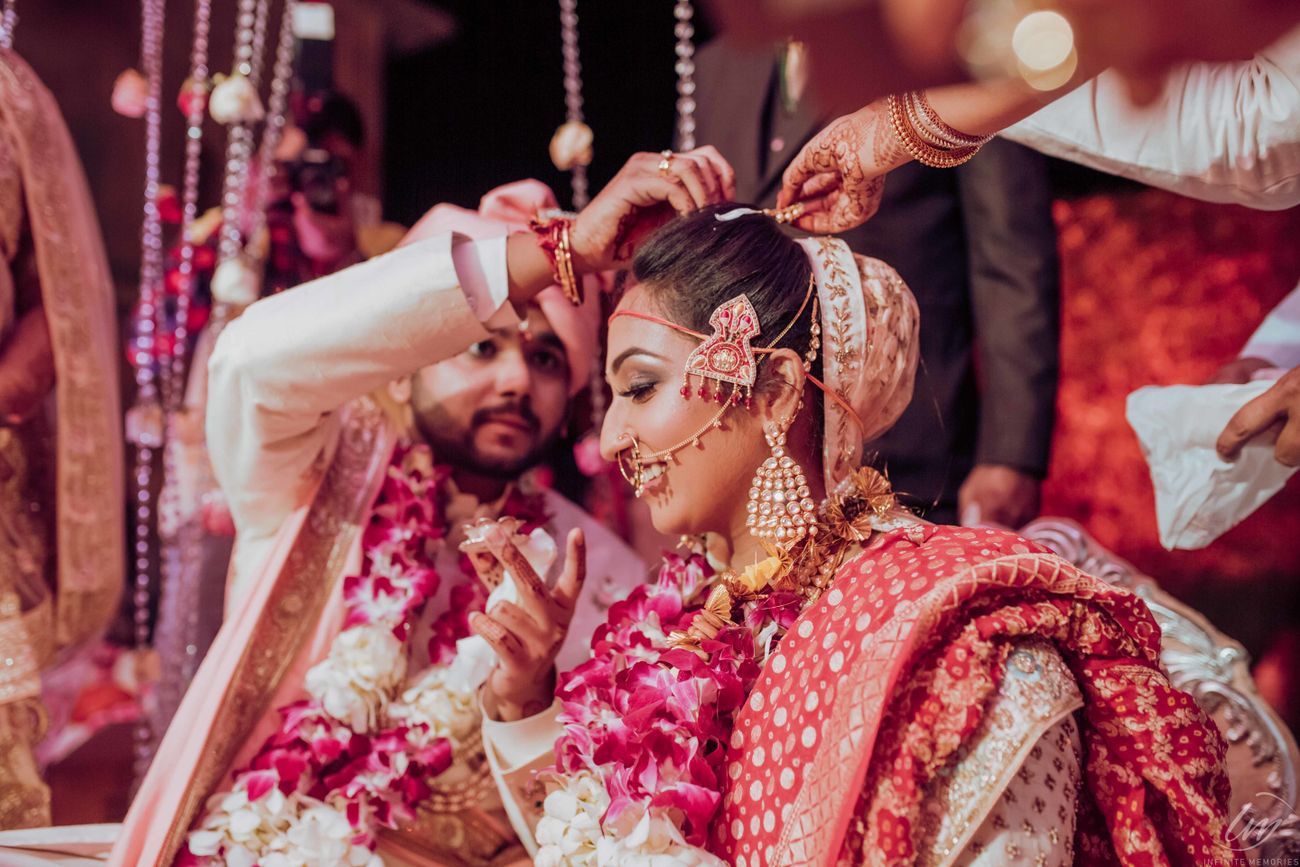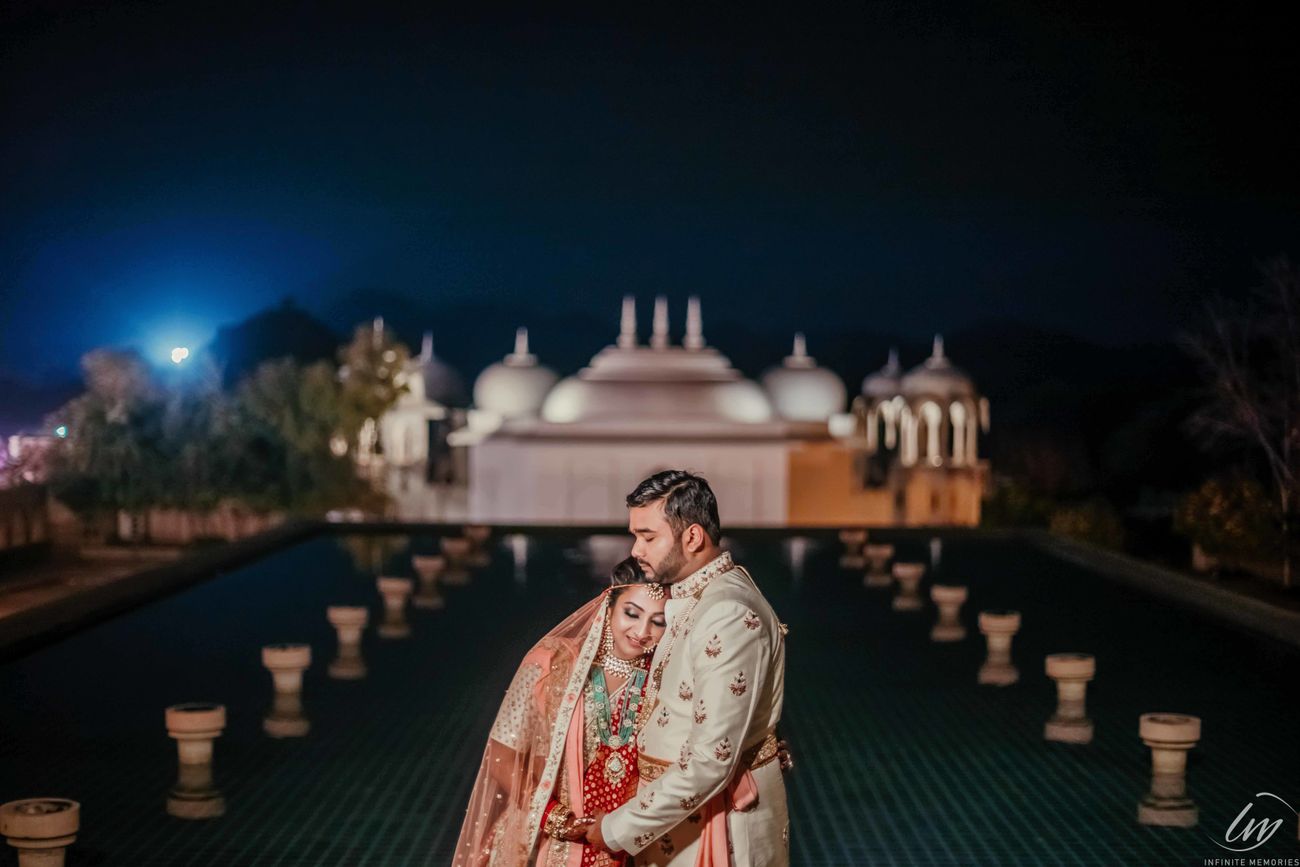 From The Bride
I had been planning my wedding all my life. I wanted it to be grand and I probably that these envisioned way back when I was 8! But, as soon as I was engaged, I started scanning Pinterest and every detail was explained to the decorator. I knew what I wanted to wear and what would the themes be. We didn't want the guests to be stressed about the outfits so only family members adhered to the themes. Samyak and I colour coordinated all our outfits! The fun part is we never saw each other's outfits, I just sent him a piece of the fabric for him to match colours. I wanted a grand wedding and hence I spent more on that than my outfits. Other than 2 outfits I didn't pick any designer pieces, rather had my cousin make them for me. I sent her reference photos and she created magic.
1. Lagan
2. Mehendi- shades of green and maroon because of the colour of the mehendi before and after application.
3. Antakshari- Ice breaker for both the families
4. Myra/Bhaat- bride side- Rajputana Groom side- Rajasthani
5. Sangeet- Fairytale theme
6. Haldi- floral
7. Wedding- pastels
Vendor Reviews
Fairmont Jaipur- The venue is amazing! It defines everything grand. Everything was magical. Only con was the food. What we tasted and what was served at the events had a lot of difference.
Priyanka Gupta Make Up Artist- She was a delight! I am someone who does not enjoy make up on my face. I cannot layer anything at all. Priyanka understood that and made my looks absolutely natural making me look myself. I had full faith in her and left everything on her to decide and experiment. She even let me catch up on my sleep while doing my make up!! I don't think I can think of anyone else to have done a better job than what she did.
Infinite memories- I spoke to about 10 photographers and finalised on them for 3 reasons: A. Budget B. Flexibility C. Creativity These guys are a package. Right from our pre wedding to the post production. The team have been God sent!! They captured every detail that I had mentioned. My husband is a no photo person and they got such amazing shots of him and of us! We couldn't have got anyone better.
The decor was as I had imagined. My decorator replicated a photo of the stage I wanted for my sangeet and it was gorgeous! They put down my dreams to reality. At the entrance we had two white peacocks with our monogram in the centre made. We had photos of our childhood and family members also hung from the trees. For bhaat the bride side had a rajputana theme where the women wore the traditional poshak and men wore bandh galas. For haldi the theme was a carnival I self curated my bridesmaid boxes which had unique elements that I had designed and assembled myself. It included a saree that all my bridesmaids wore at the Haldi function. I entered on a segway. This event was the highlight of my wedding because I performed a 20minutes musical for my entire family dedicating one song to each relation just to thank them for the beautiful life I had before I got married. By the end of it, I saw the help staff and the waiters crying too. My sangeet was a Fairytale theme where everything was a play of lights, foliage and the stage looked like a castle. At the wedding we had a baarat for the bride as well where the Nasik band played. I entered on the Jai Veeru scooter where my entire family danced. We had musical pheras so that every guest could sit and watch us get married.
Bridal Outfits
Tailortastic- Mehendi, Bhaat and Haldi- Pocket friendly designer all outfits were under 15k and she worked her magic by only seeing reference photos
 Rishi and Soujit-Sangeet and Lagan- They custom made my sangeet outfit to make me look like a princess.
Vendors: Venue: Fairmont Jaipur ; Makeup Artist: Priyanka Gupta Makeup Artist★ 4.9 ; Photographer : Infinite Memories★ 4.8 ; Bridal Outfits: Mehendi, Bhaat and Haldi- Tailortastic, Sangeet and Lagan- Rishi and Soujit, Wedding- Shingaar ; Groom's Outfits: Antakshari, Groom Palace Bhaat- Manyavar★ 4.8 , Sangeet,Haldi, Reception and Wedding- Gagan Chandhok ; Invites: Noto by Adisha ; Wedding Stationery: The Exotic Invites★ 4.9