A South Indian wedding with a french groom!
BY The WMG Bride | 12 Nov, 2014 | 1911 views | 5 min read
Talk about a global couple and this one tops our list. She is from Hyderabad, he is from France- they met in Texas, he proposed to her in Paris, they got married in India and now live in Dubai. Phew . Here are snippets from their beautiful telegu ceremony in Hyderabad - for all those of you who crucify us for not featuring enough South Indian weddings-hear hear. Shot by the young and talented Hermit from
Girl in Pink Photography
(love that name) , with makeup by the super
Tamanna Rooz
- the colors in this wedding just pop.
Meet Meghana and Marc
They met in Grad School in Texas, and he was the first person she spoke to on the orientation day. Meghana says "I was quite fascinated to meet someone from France.  Two years of being together  later, Marc got down on his knee and asked me to marry him in front of the Eiffel Tower in a beautifully planned proposal. I obviously said 'Yes' and we got married in a super fun ceremony in Hyderabad & now live in Dubai ".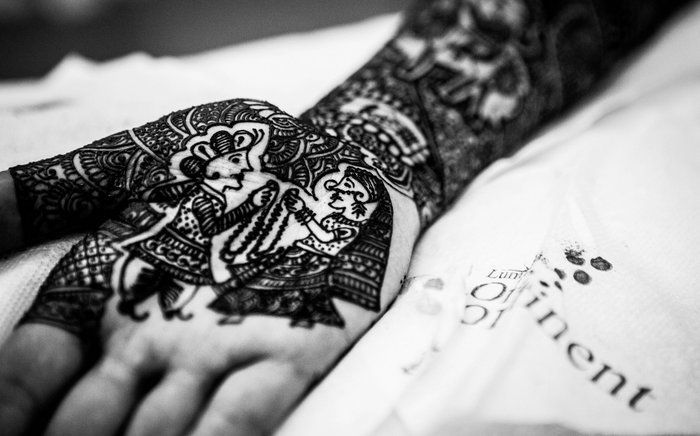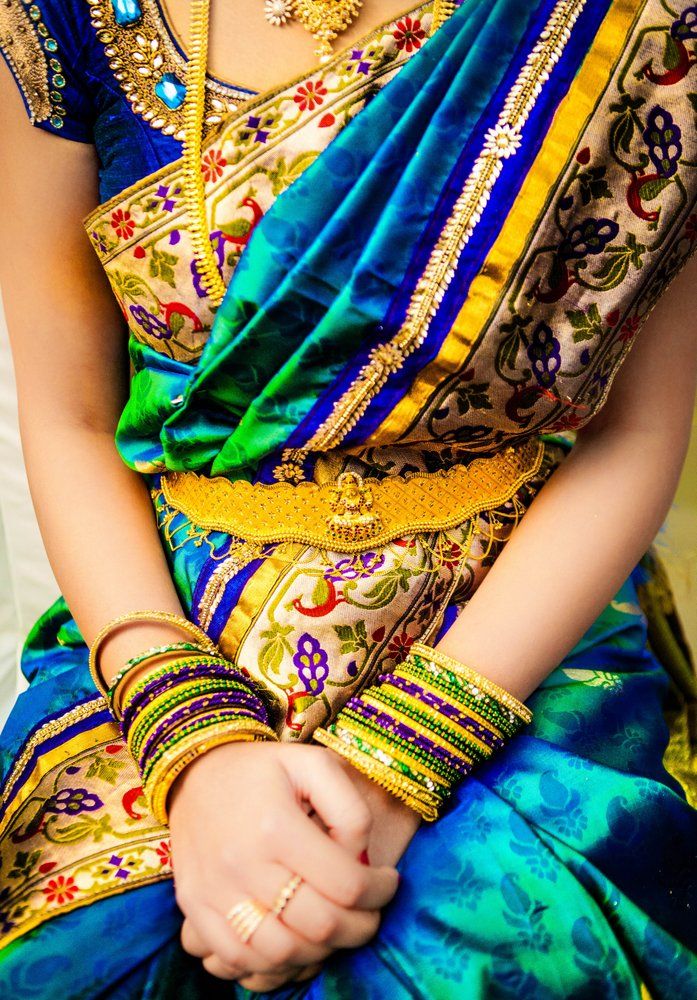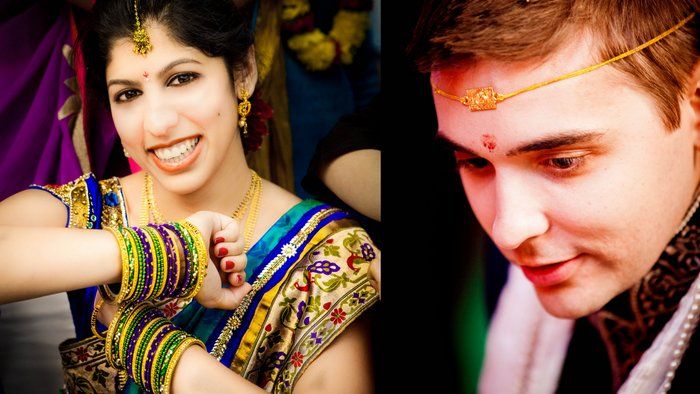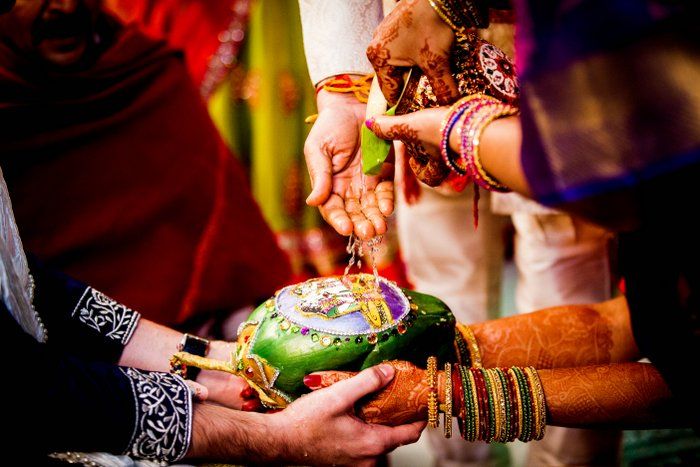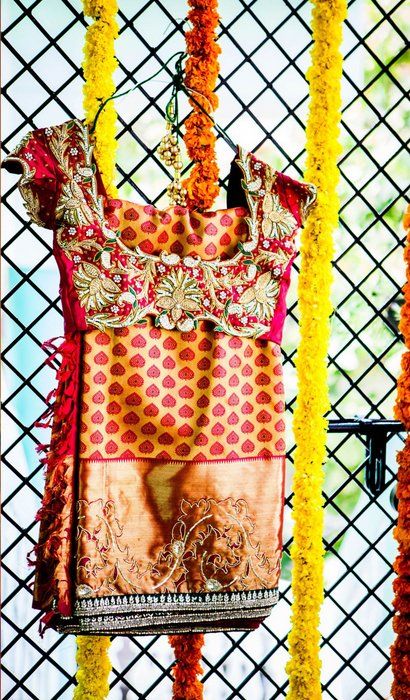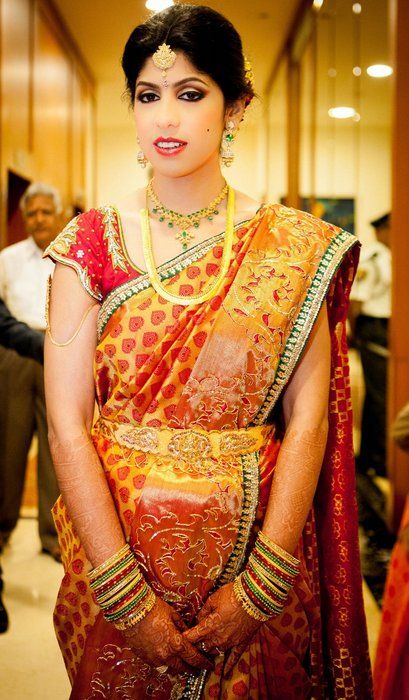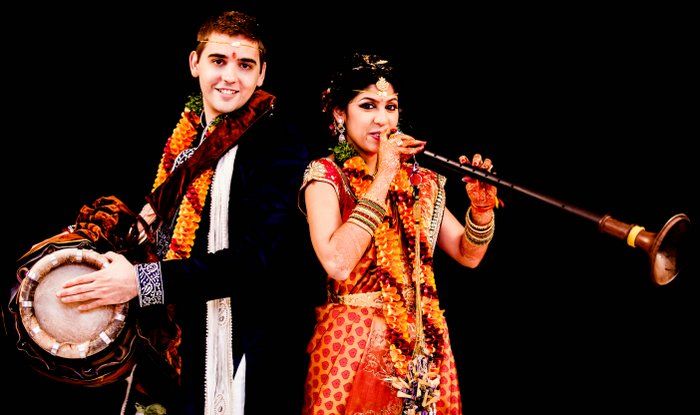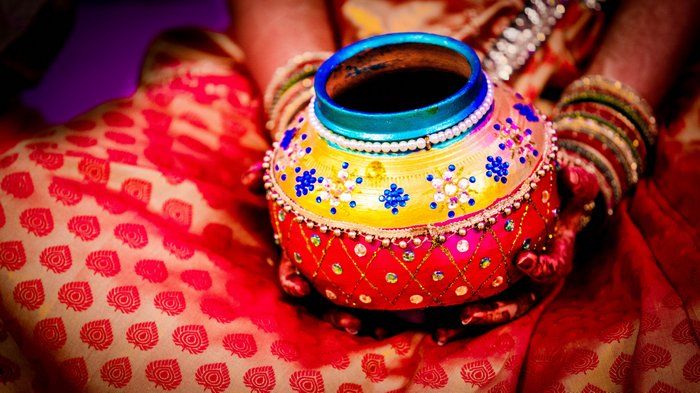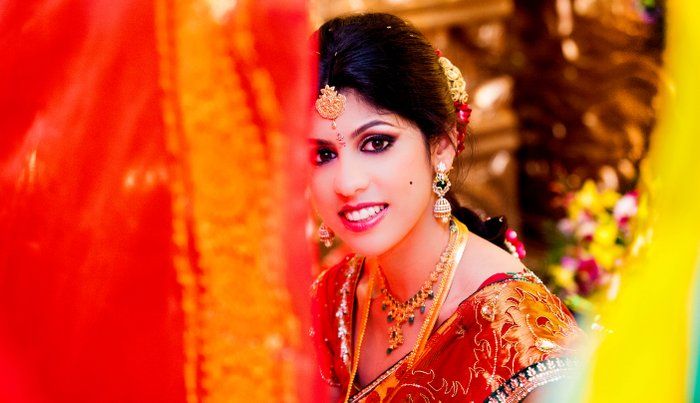 From the bride: 
 Planning the wedding in Hyderabad was quite easy, thanks to my mother. We have very similar tastes and I was too busy with work. However the downside of being an NRI bride- A lot of good Indian stores don't have a strong online presence and it's almost impossible to shop for bridal wear online. My mother would take pictures on her phone and text me every single day. That's how I selected my clothes.  I remember not sleeping much for those three months. If I wasn't at work, I was skyping or emailing my parents regarding wedding updates. The theme for my making of the bride  ceremony was
Peacock colors
. Since my saree was a
double-color blue kanchivaram
, we decided to create the
decor and accents in similar hues
. This was followed by the mehendi ceremony in the late afternoon. The mehendi was a very relaxed affair and since most of the guests were not from India, they absolutely loved the ritual, Indian street food and Bollywood music completed the ceremony. The
wedding décor and mandap
was
inspired by the Tirumala Venkateswara Templ
e, the famous Vedic temple in Tirupati. I wore a
red gold Kanjeevaram saree with green highlights
and Marc wore a midnight blue kurta. Little accents like the colourful pots and coconuts were painted by my mom herself. They stood out in the ceremony. We wanted to do some of these things ourselves to give it a personal touch. I was stressed about a lot of things because I wasn't sure if Marc's family would be able to understand the significance of the rituals. So, we made sure we hired a
priest who could speak English
and
translate the proceedings
. Since my husband's family is French, we hired a t
ranslator from Alliance Francaise in Hyderabad
who helped translate some of the proceedings to his family members. He was great at his work and made sure everyone had fun at the ceremony. What all guests really appreciated was how the two families who are so different, blended so well together at the beautiful affair. There are a few people who did a standout job- the staff at Tulip Inn One Continental as well as Taj Deccan were super efficient and especially nice. Makeup and Hairstyling was one thing I was quite concerned about. Thankfully, I found Tamanna Rooz on Facebook. After seeing her work and communicating with her via FB, I felt quite comfortable, and I think she is one of the best Makeup Artists in Hyderabad! Hermit is not only an great photographer but an awesome person to include in your wedding party! I clearly remember being so happy and relieved when I first spoke with her because she seemed so easy-going and knew exactly what she was doing.. She's great at what she does and is super professional throughout. In spite of the fact that Hermit was not based in Hyderabad and had to fly from Mumbai for the wedding, everything with her was so easy and hassle-free. I look back at the wedding pictures and Hermit has really captured all the moments from the wedding. In every single frame, you can see our happiness shine through. I also remember being super tired at the end of the ceremony and refused to pose anymore but she convinced me to do more pictures and if not for her, I don't think we would have those wonderful end of the wedding group pics! I cannot thank you enough for capturing every possible moment of our big day and making it very memorable for us.
---
Venue:
 Haldi at
Tulip Inn One Continental,
Wedding at
Taj Deccan
| Invitations: 
Not Mentioned|
Makeup
:
Tamanna Rooz
 |
 Brides outfit:
 Outfits and Blouses from
Mugdha Art Studio
, Kanjivaram Sarees from Stores around Hyderabad like Sai kanchi etc |
Photographer:
Girl in Pink Photography
[handbook]
Girl in Pink Photography
&
Tamanna Rooz Makeup
are part of the
 Wed Me Good Handbook . 
To know how members are chosen, please read our 
FAQ
[vendor]