A Stunning Punjab Wedding With A Hint Of Old-School Charm!
BY Soha | 02 Jun, 2019 | 6008 views | 6 min read
If there's one thing that we absolutely swear by at WedMeGood (apart from mutually agreeing that chocolate can solve world problems), it is that you do not have to spend a million bucks to look worth a million bucks. And our bride for the day agrees! The bride's stunning emerald engagement outfit that she rented for her celebrations (because why not!), an offbeat wedding lehenga in hues of Rose-Gulkand and a lavender lehenga with white resham embroidery for the Anand Karaj truly make this wedding an understated affair with loads of glamours and a hard-to-miss old-school charm! And pictures by Razz Films And Photography★ 5 leave no chance to win your hearts at first glance! 
Meet Akshay & Harkirat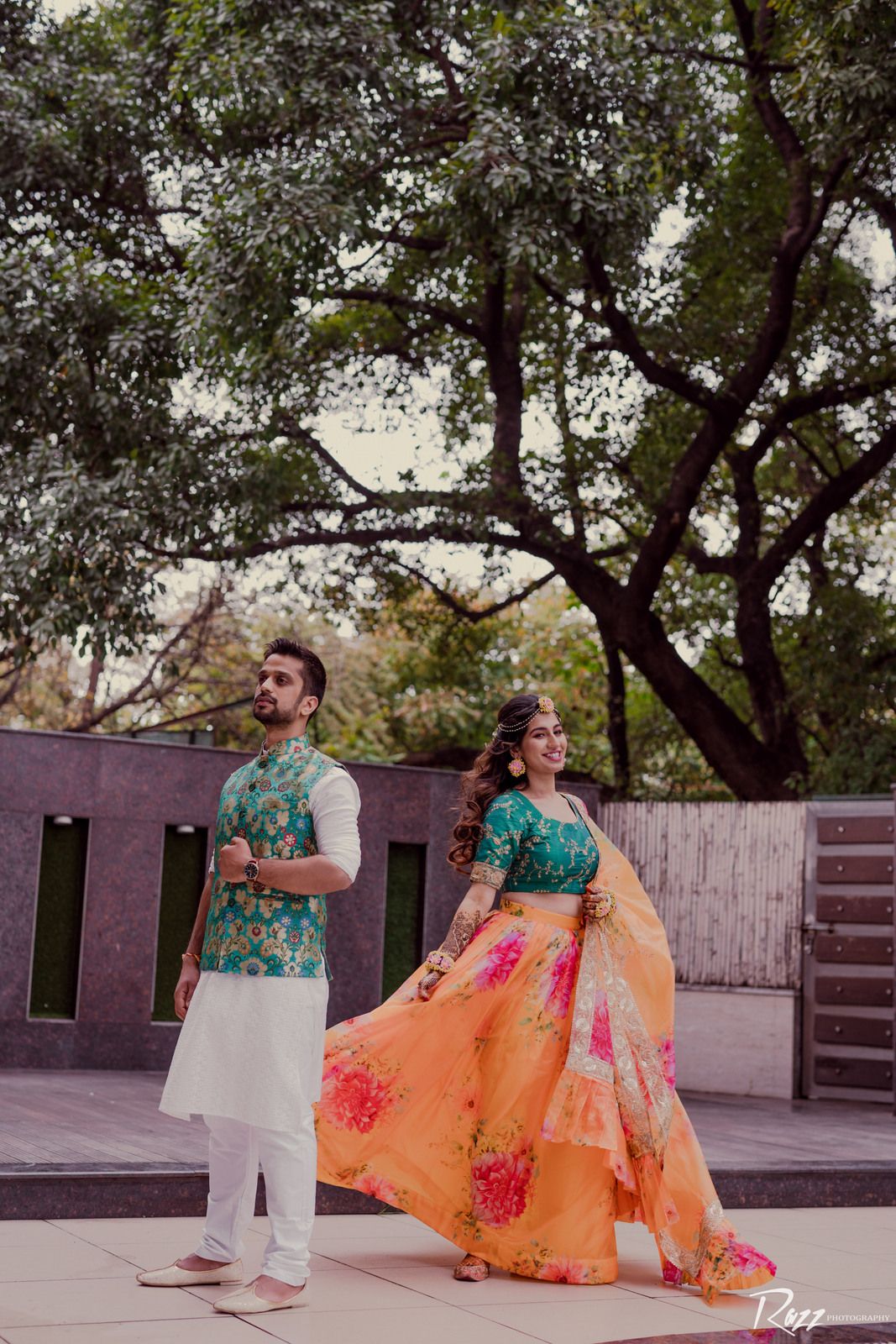 Good things almost always begin unexpectedly, exactly how Akshay and Harkirat's story did! "It started out as a romance in Calcutta. We met in the most unexpected of ways & our first three dates were spent sipping chai in different dhabas of Calcutta, that too in our pyjamas! It was unique in a way that it didn't start out conventionally. There was no pretense , no charades and no 'playing hard to get' . It was just classic old fashioned Love! The kinds that you have almost written off by the time you inch closer to your 30's but it still finds a way back into your life," shares Harkirat.
"Our love story is deeply intertwined around the city of Calcutta , it weaves through the rustic charming cafes ,the Prinsep Ghat, the lit up Howrah bridge , the royal Victoria memorial and train rides through scenic fields of North Bengal. They have all formed a part of our journey. And so I wanted each of our wedding looks to borrow from the regal culture of Calcutta, to imbibe the look of elegance and royalty in all our outfits," she adds. Swooning, aren't you?
The Mehendi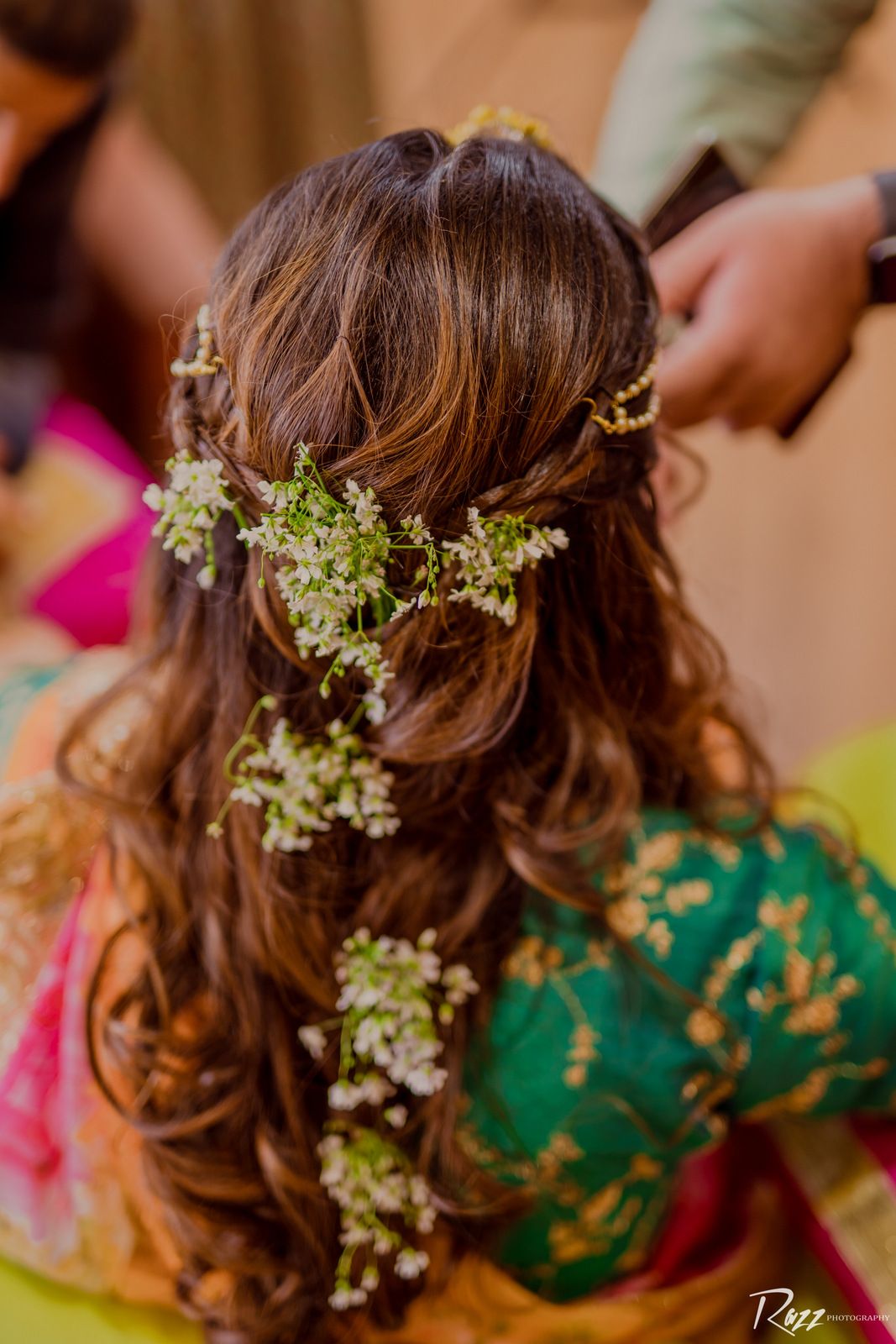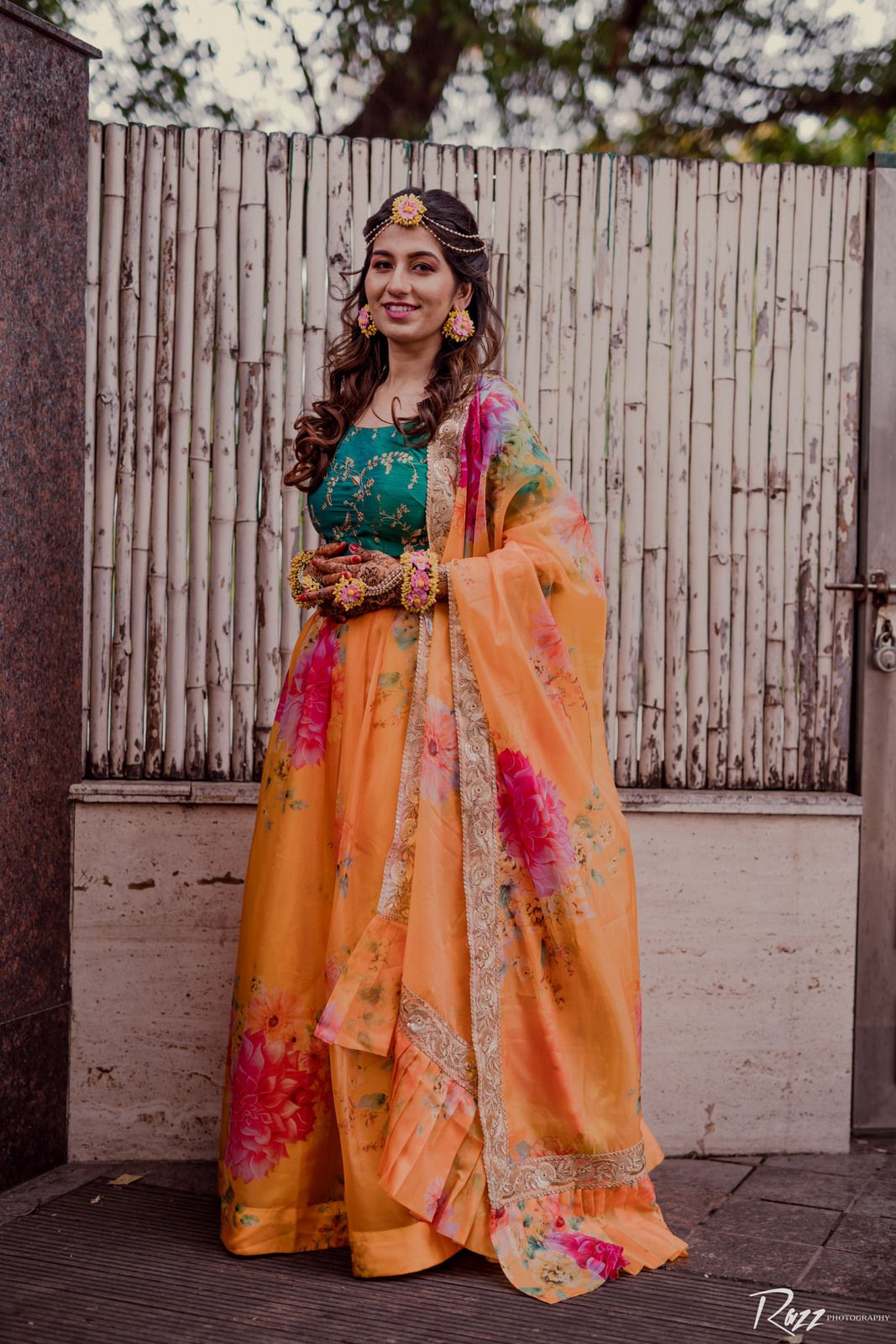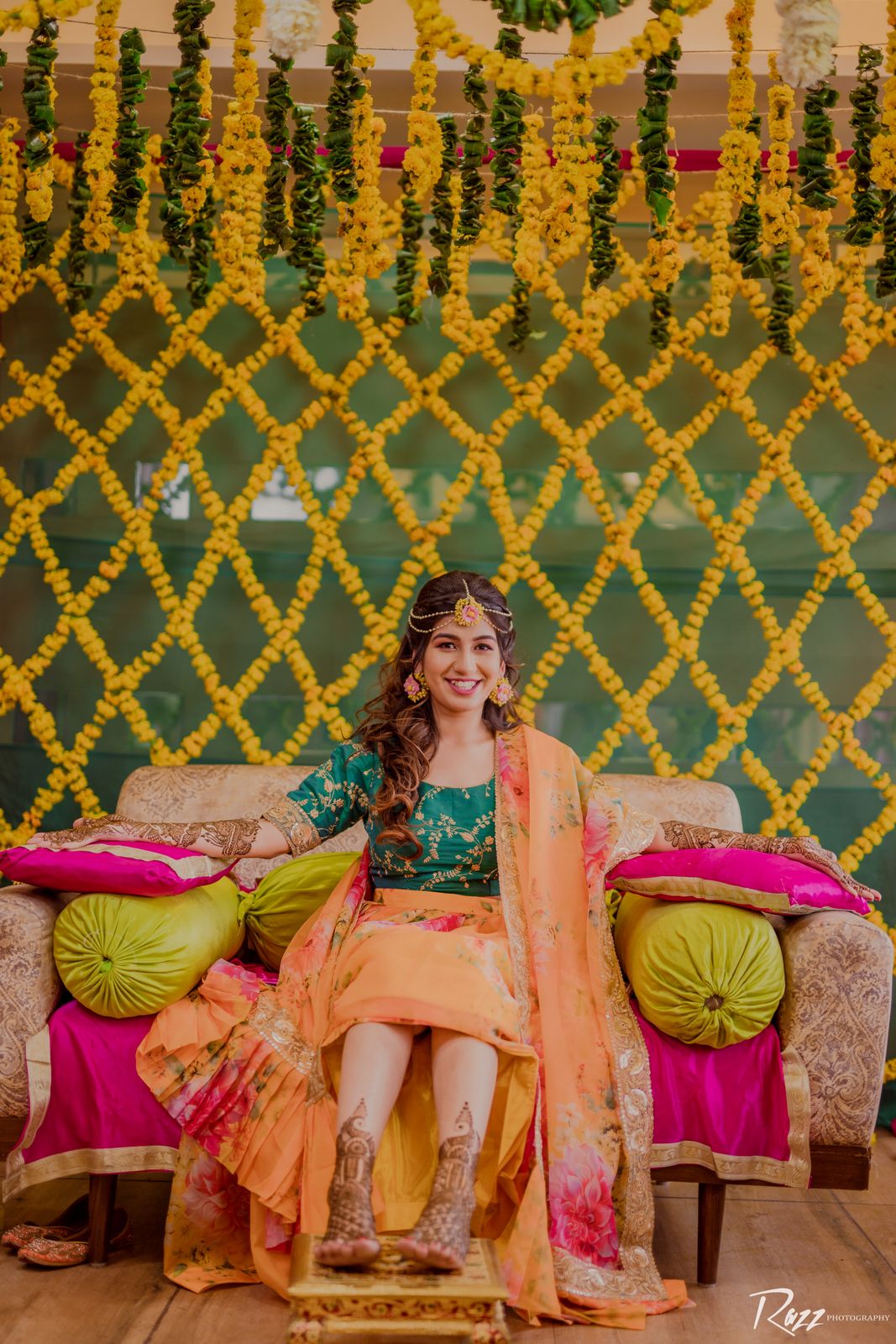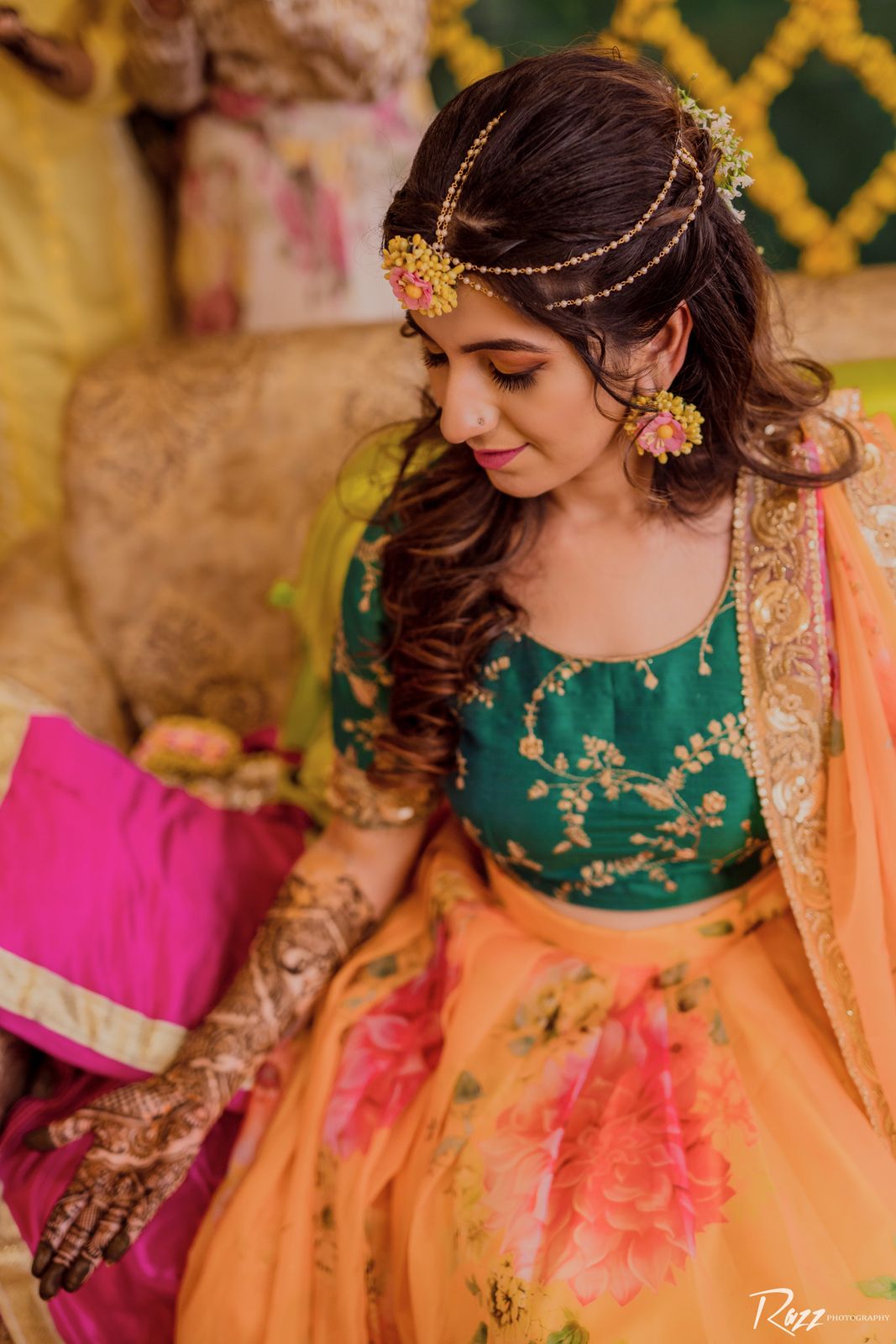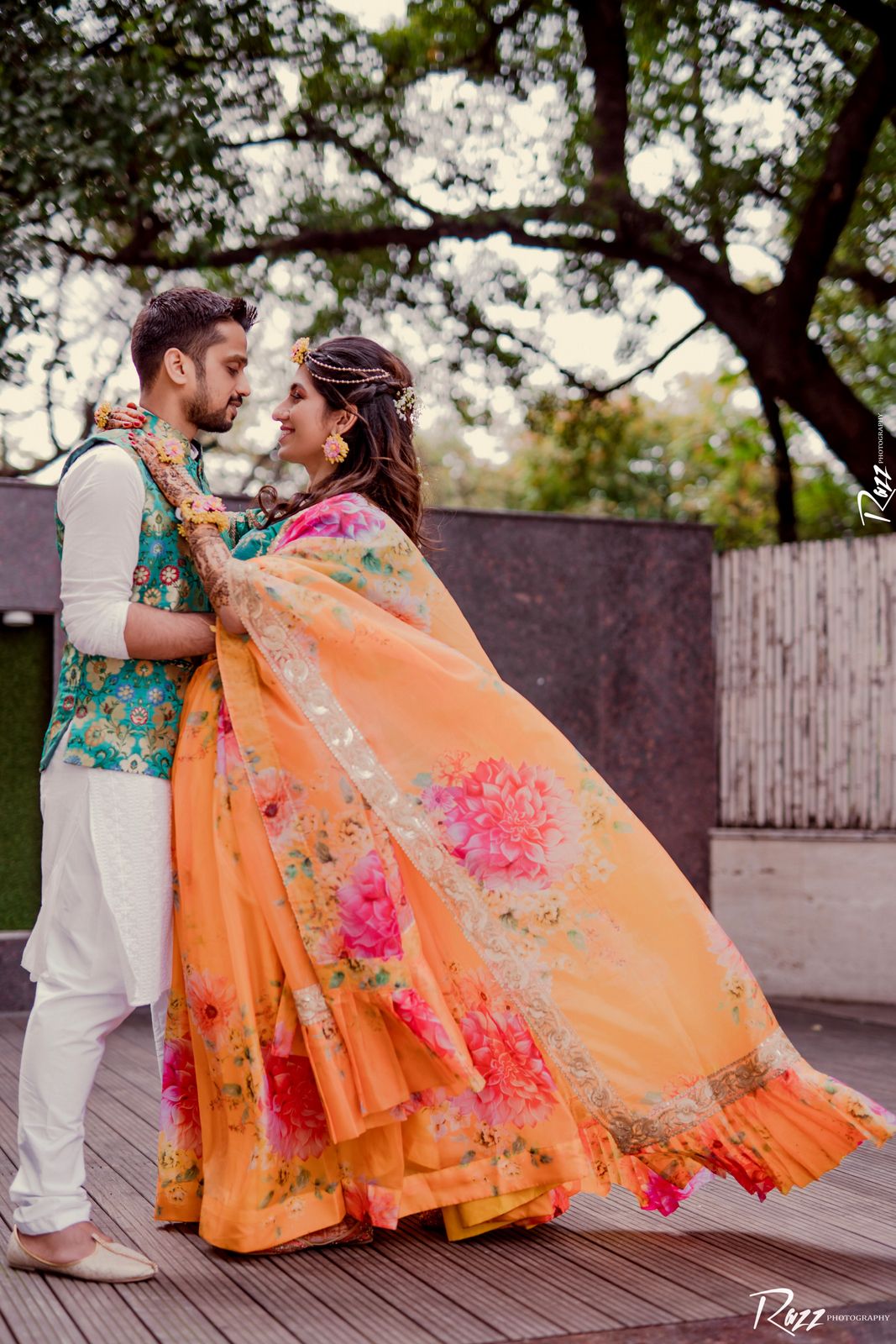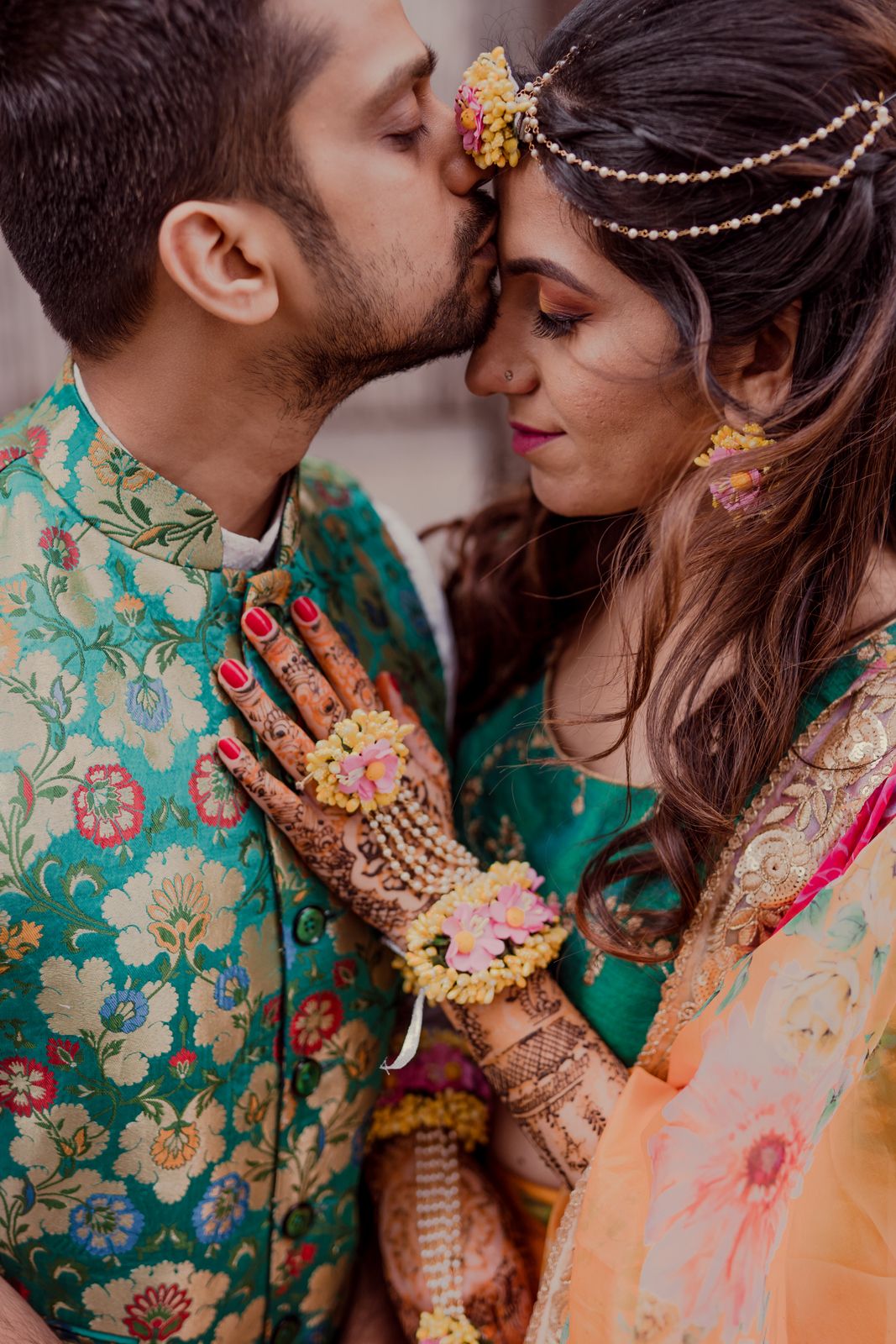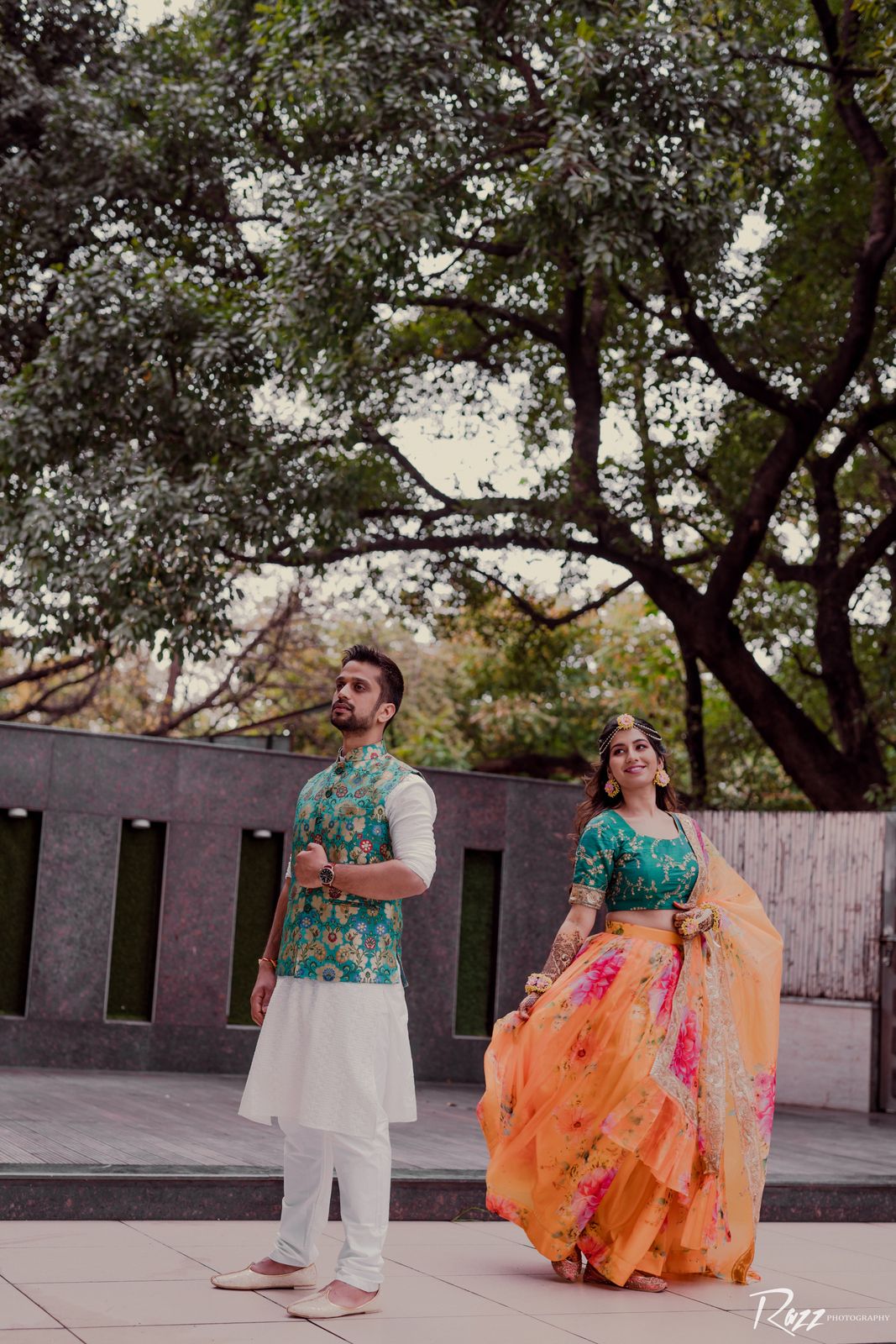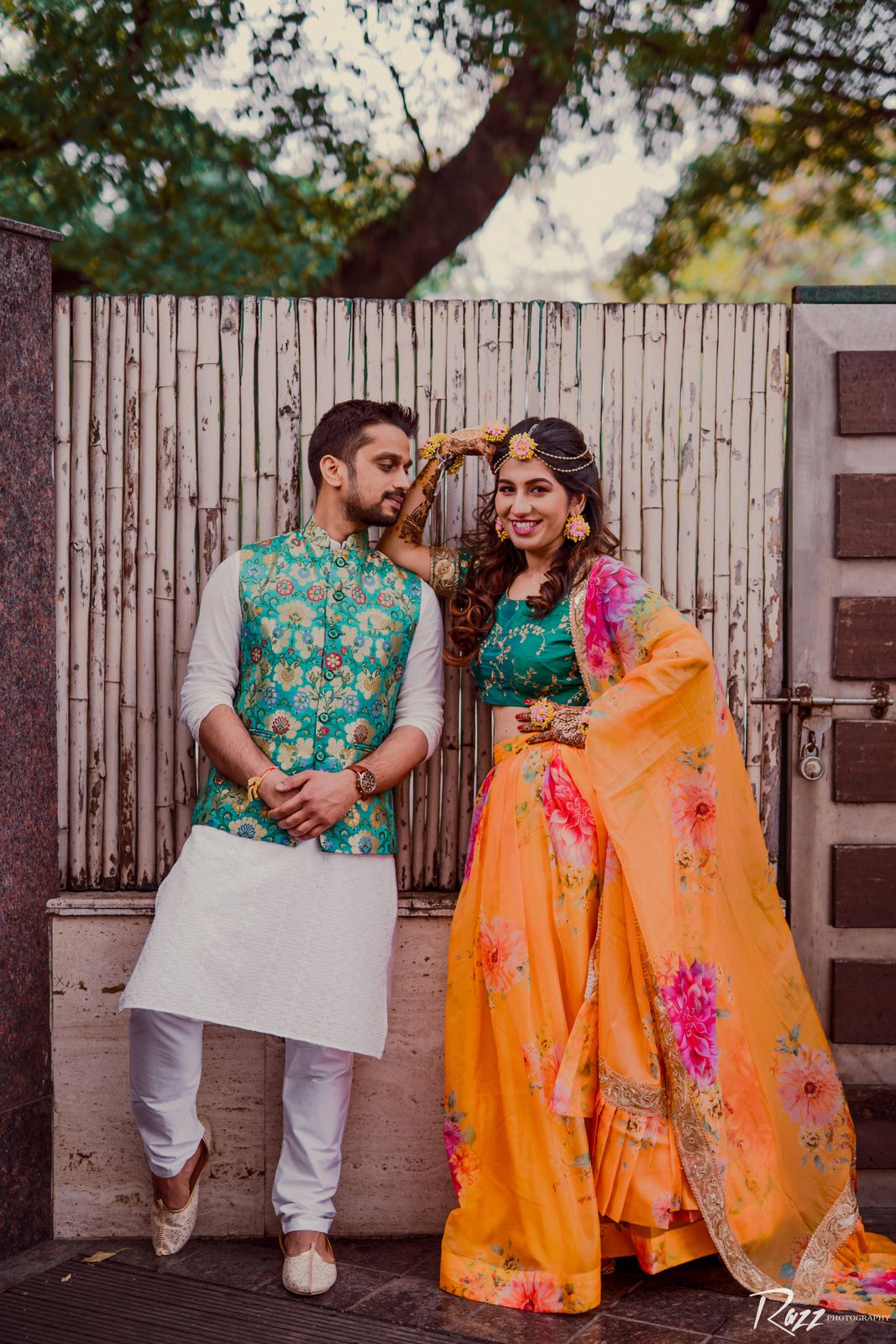 The Engagement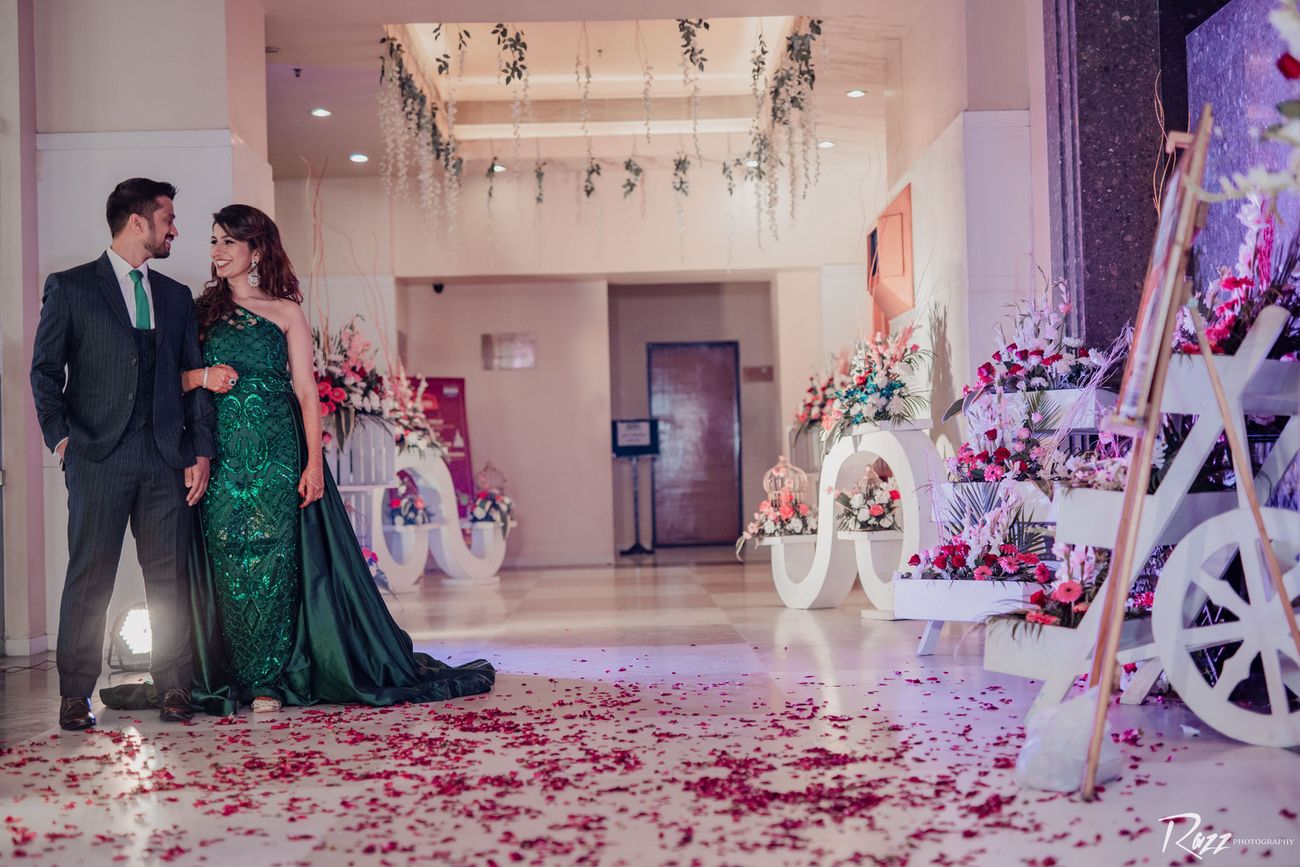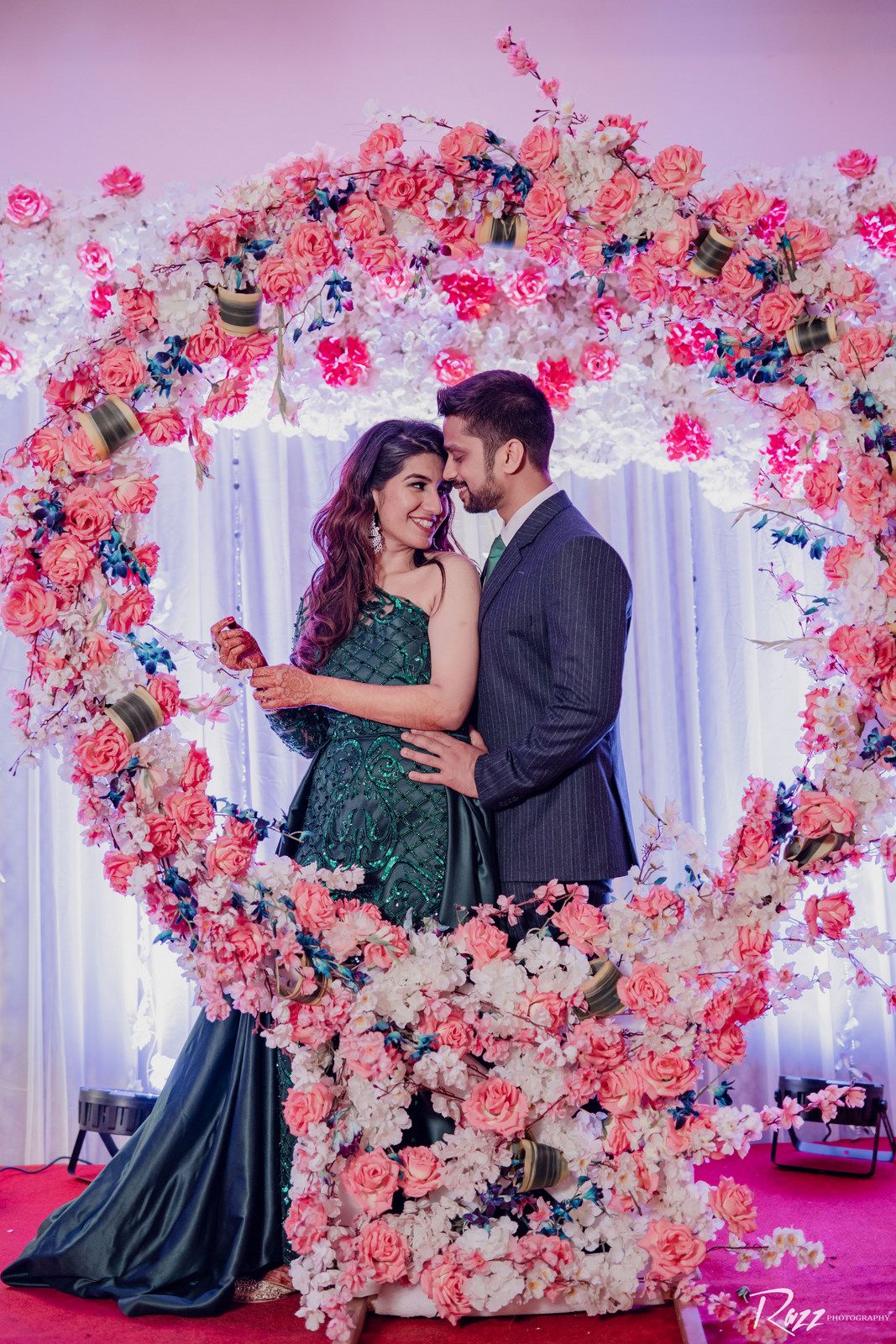 The Hindu Wedding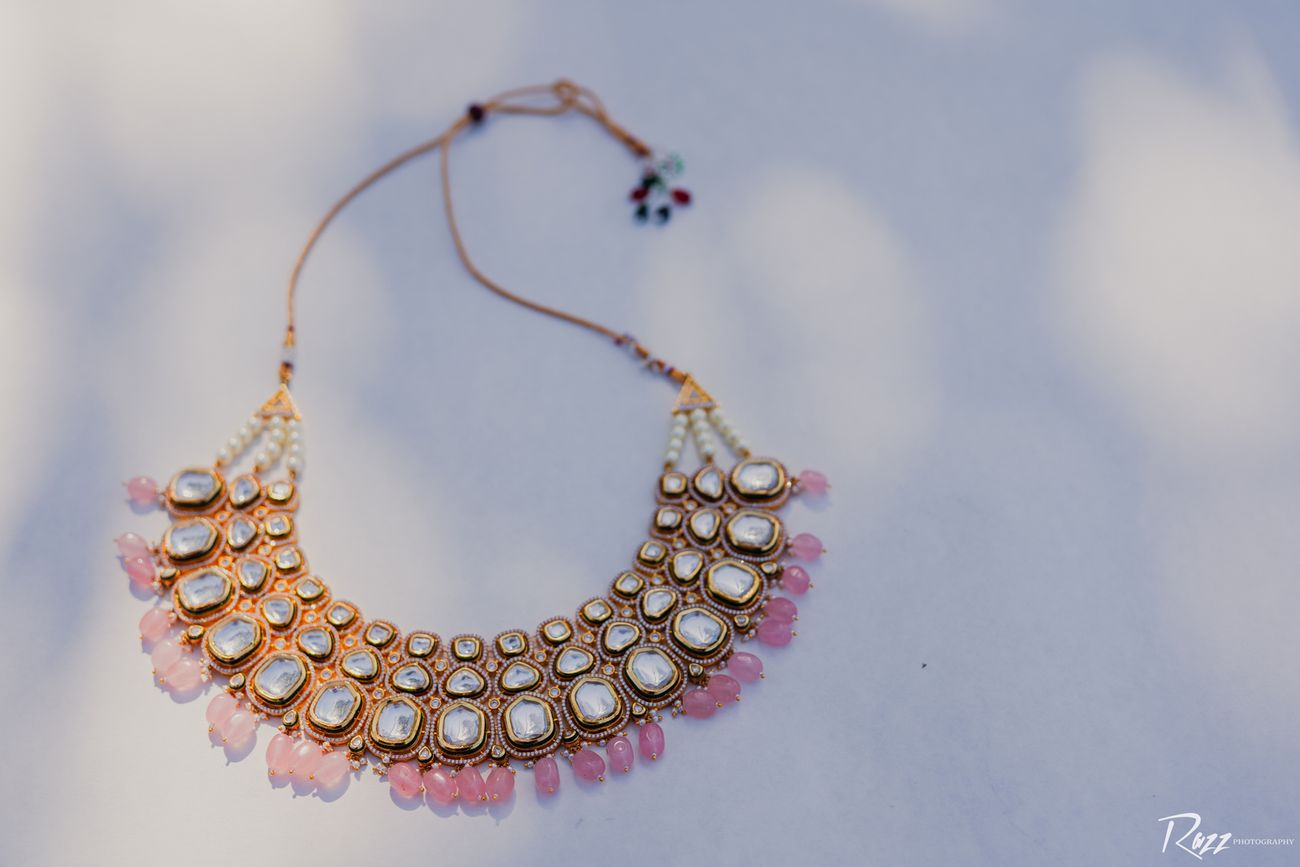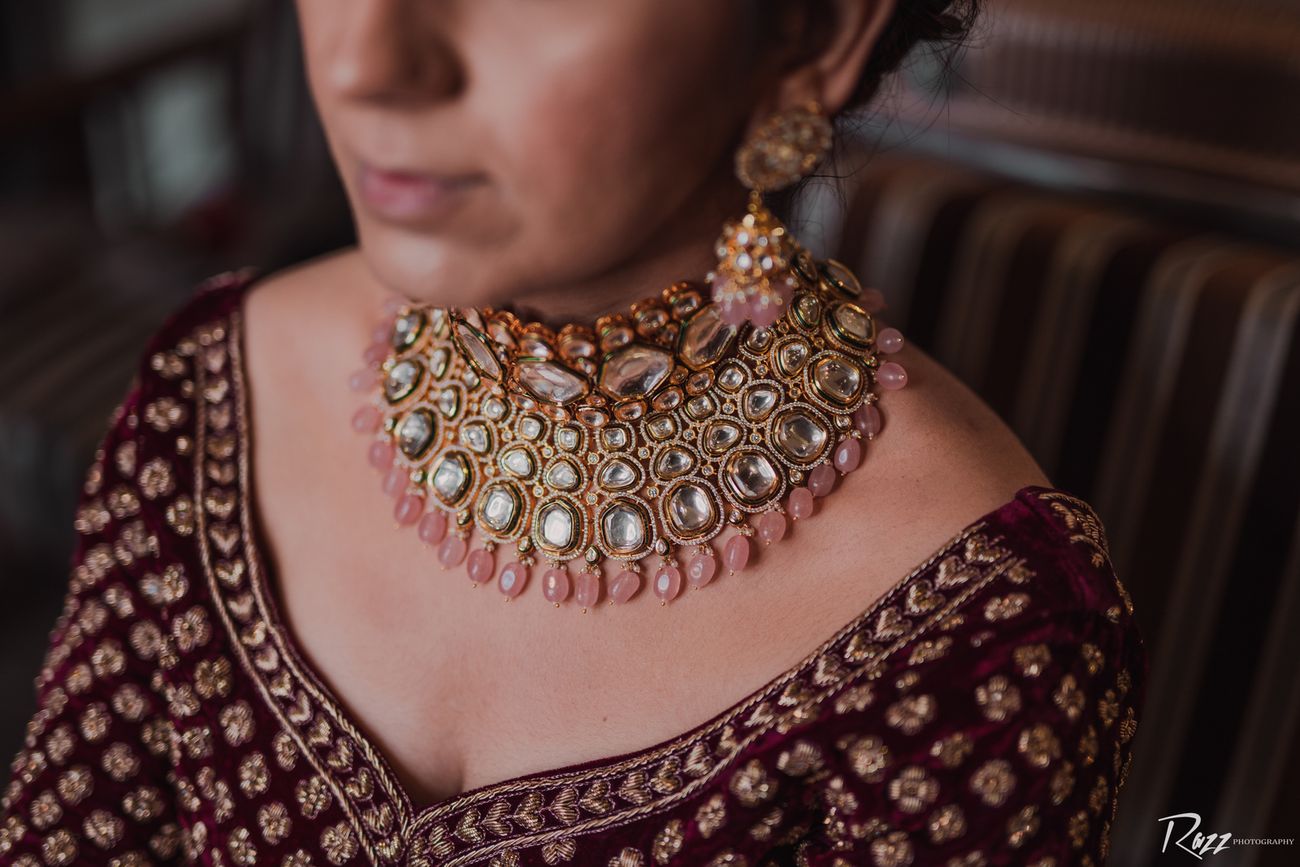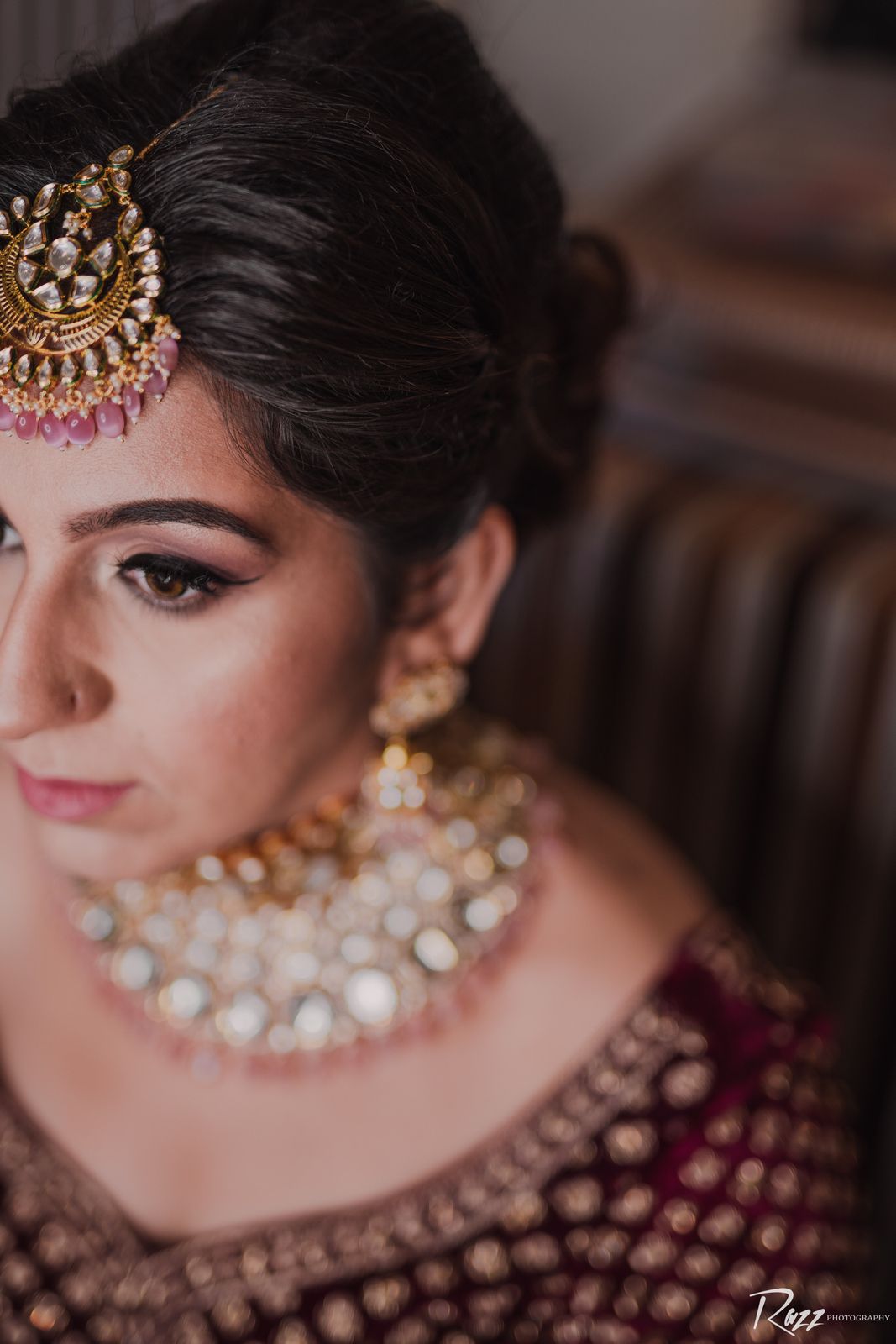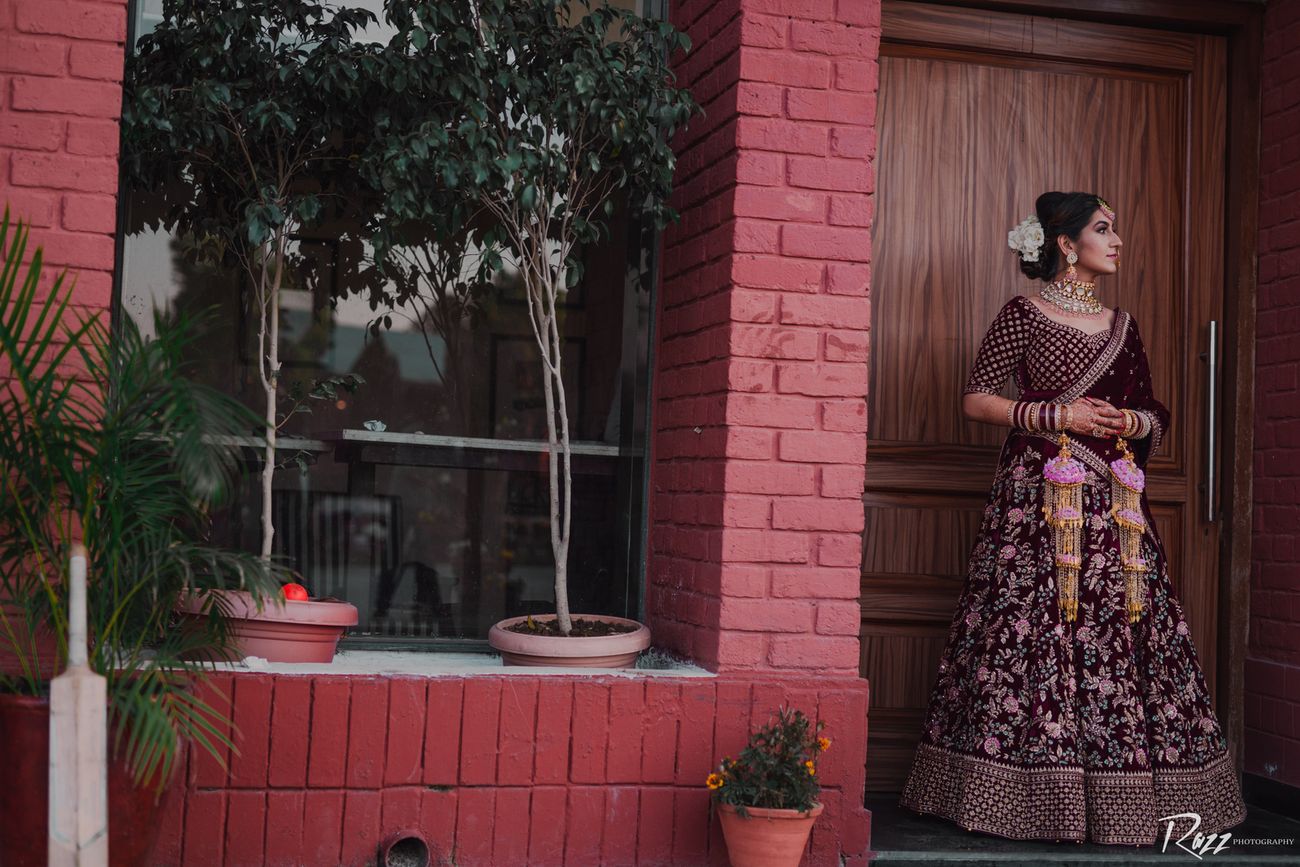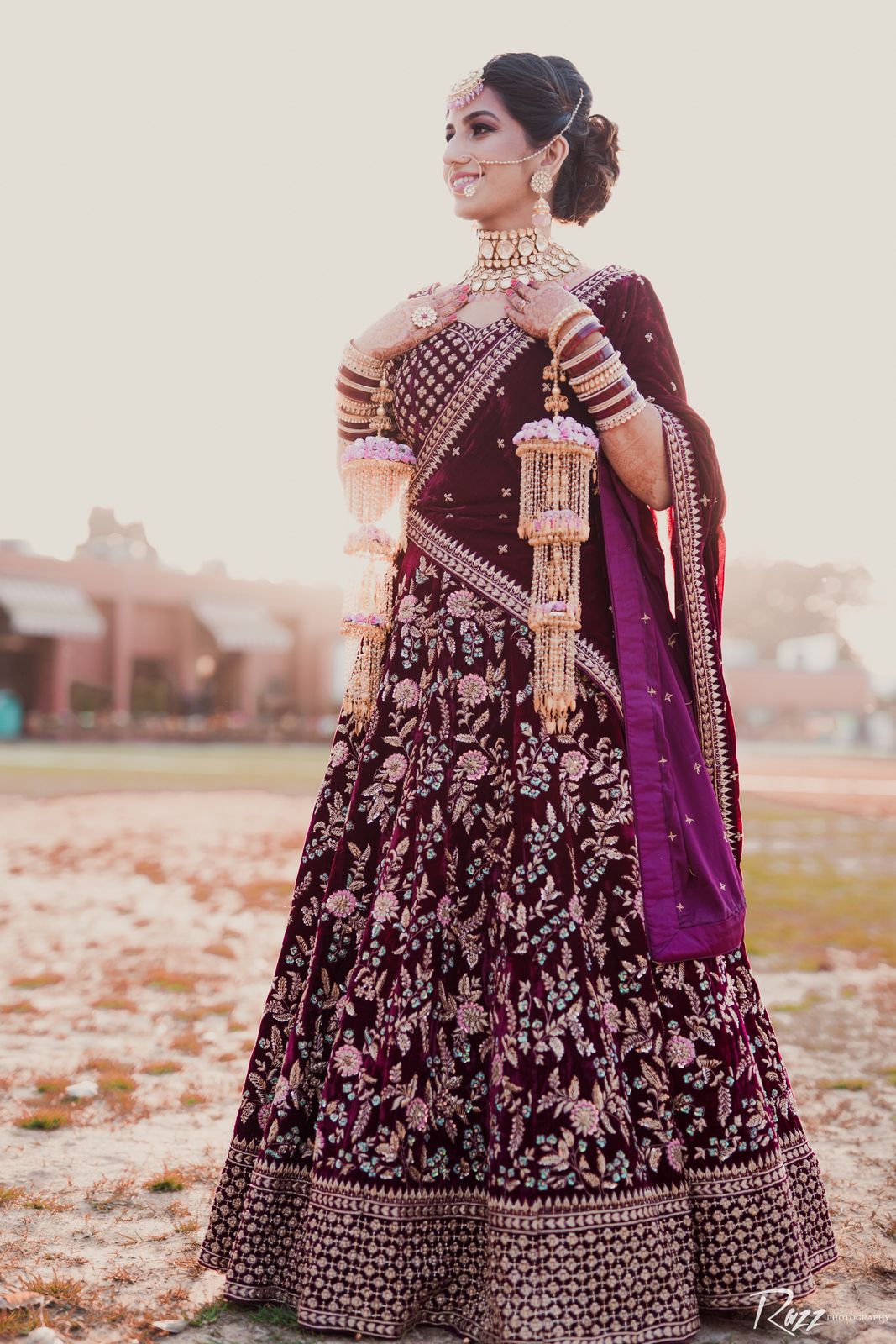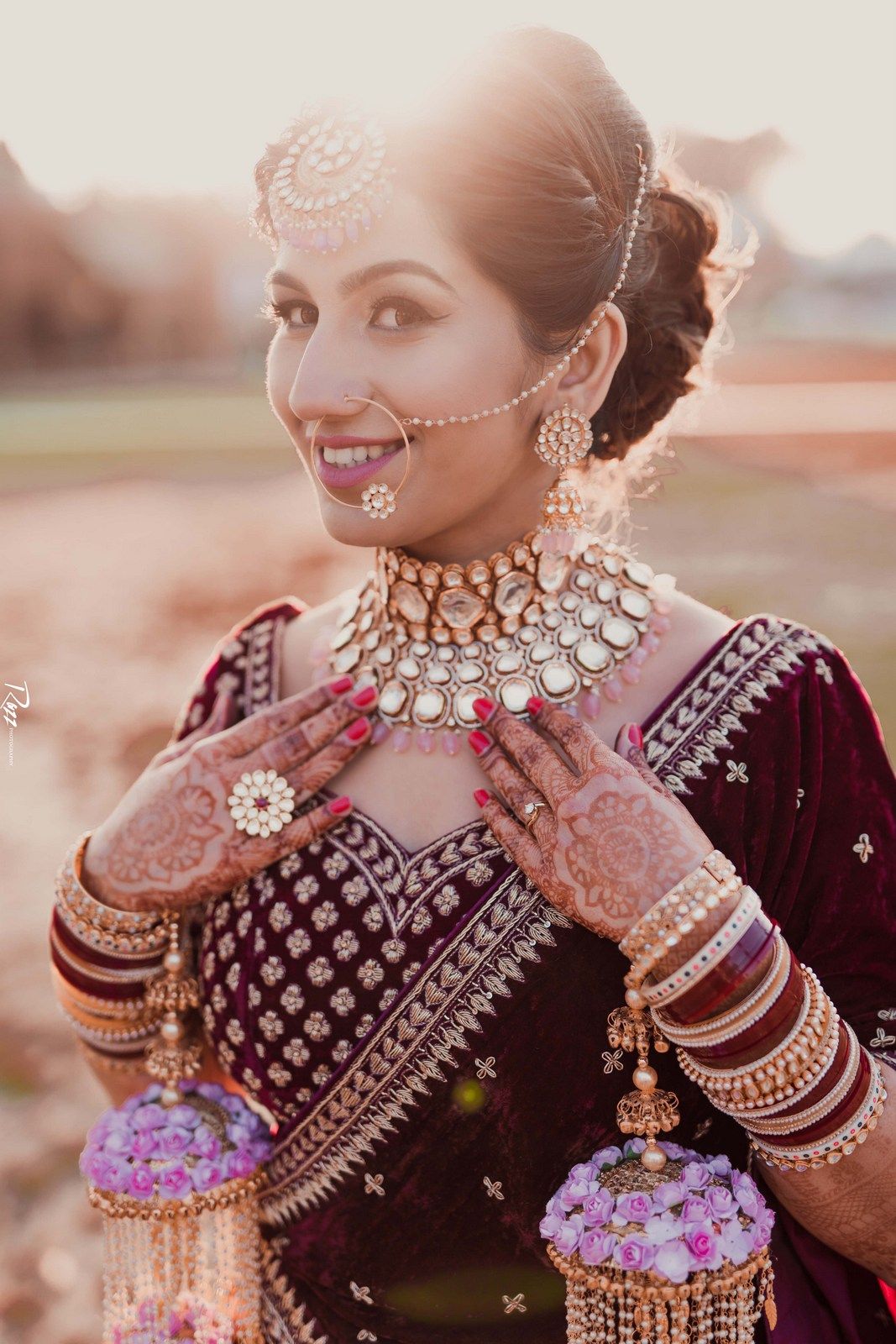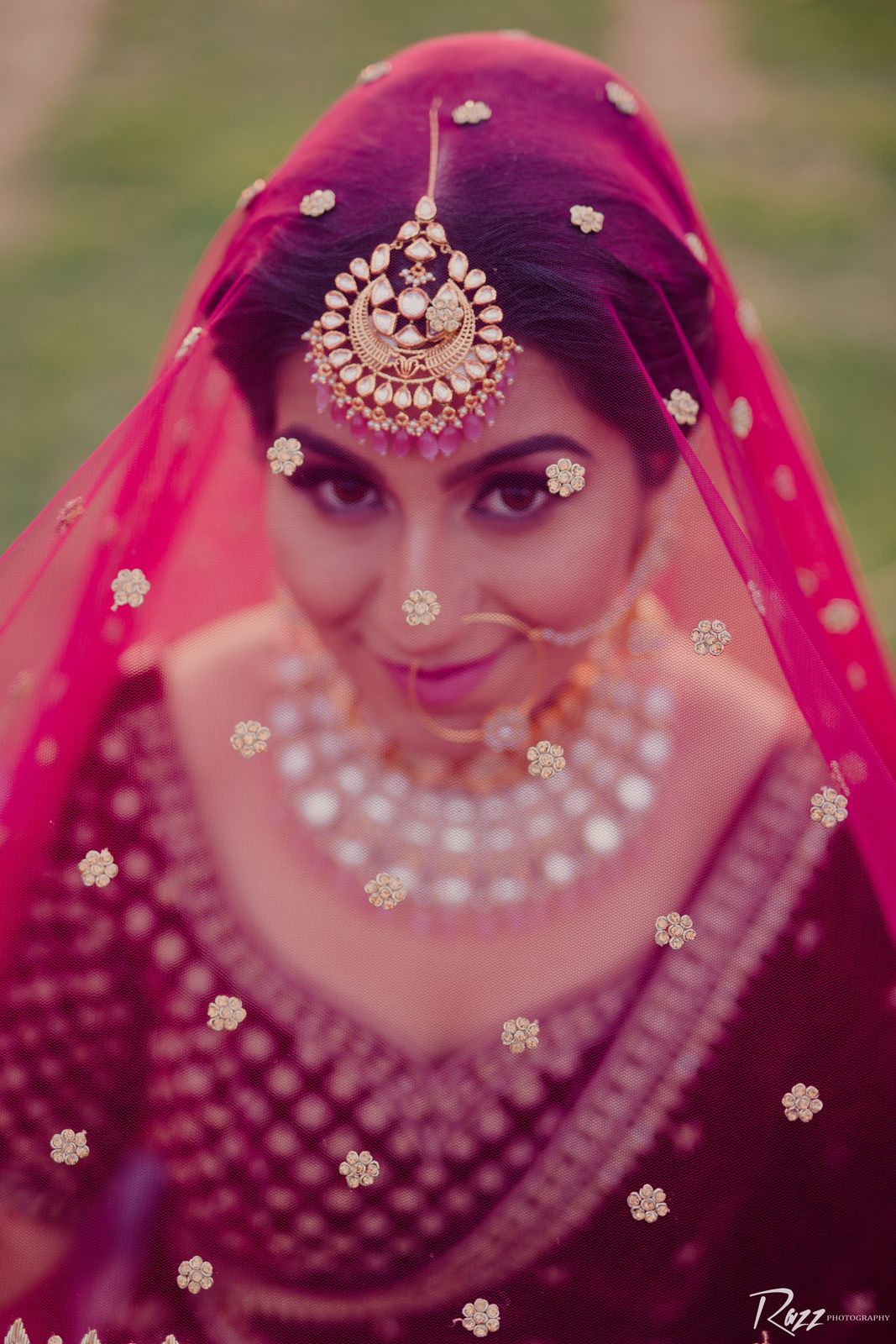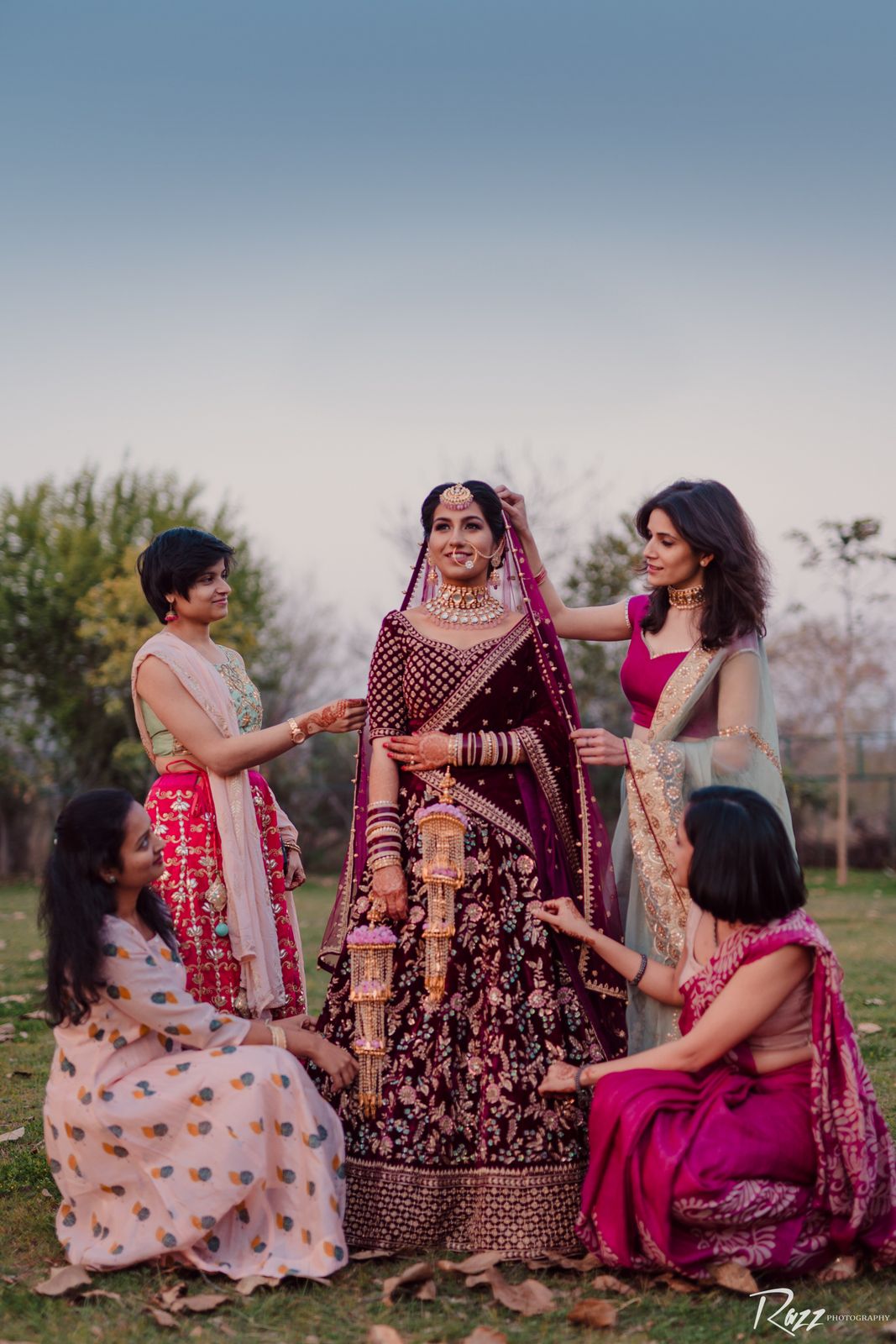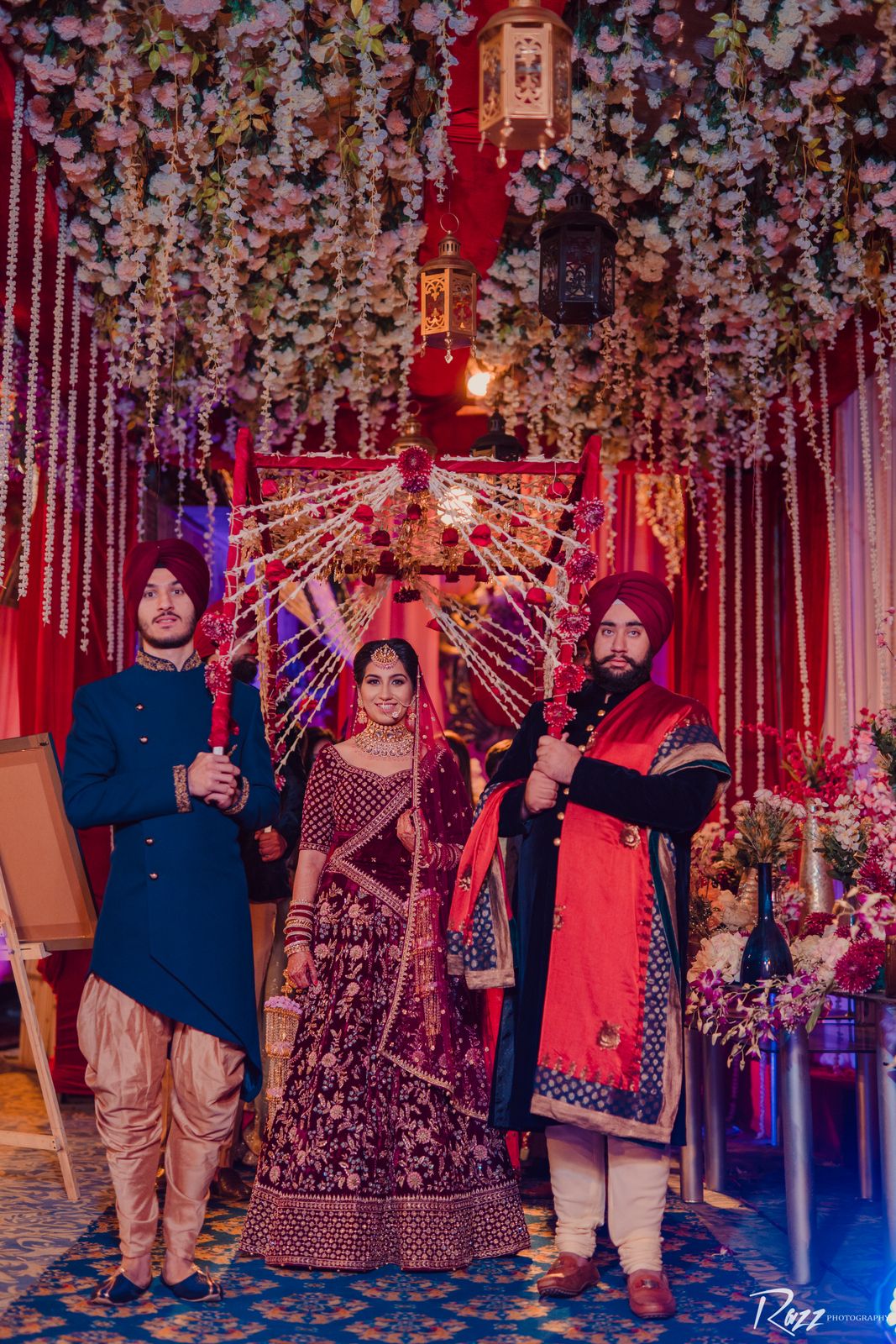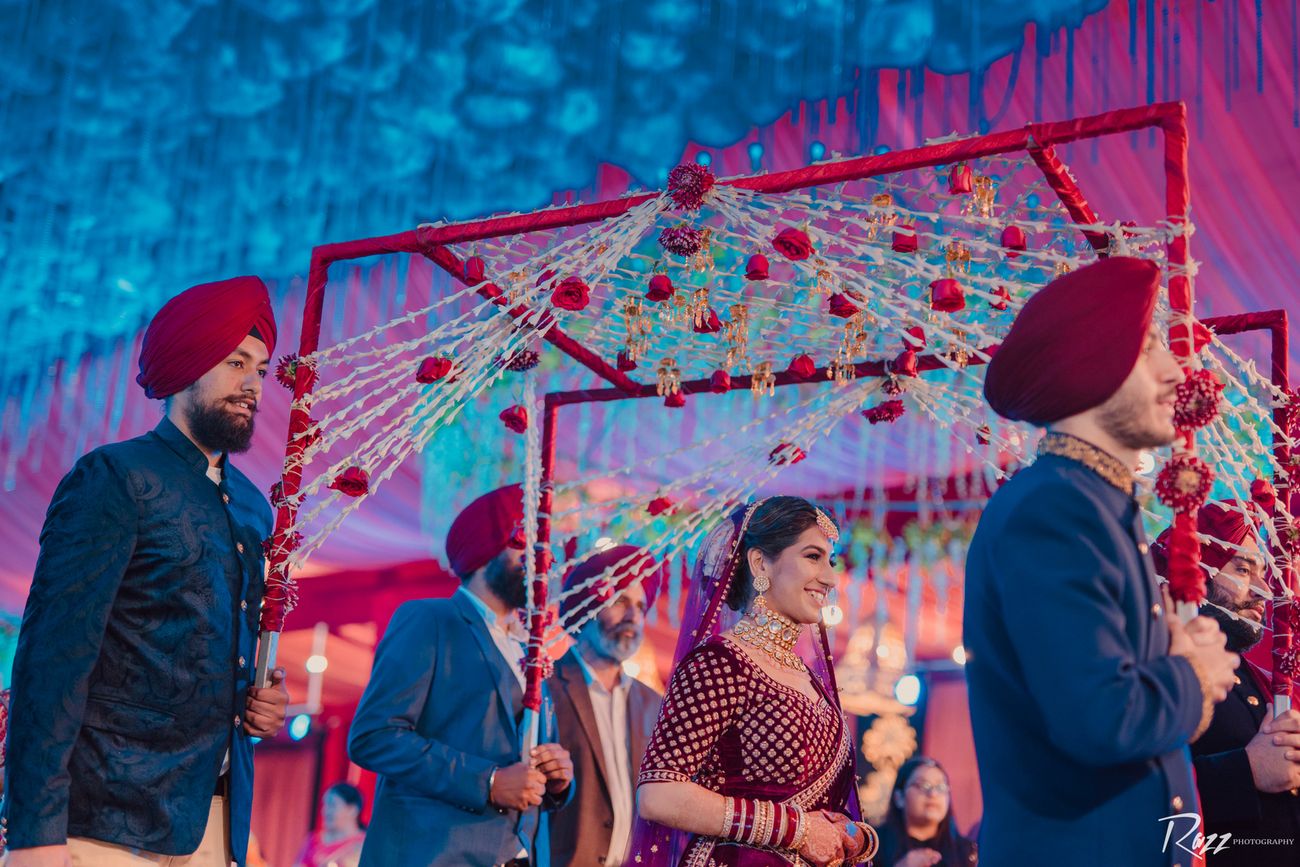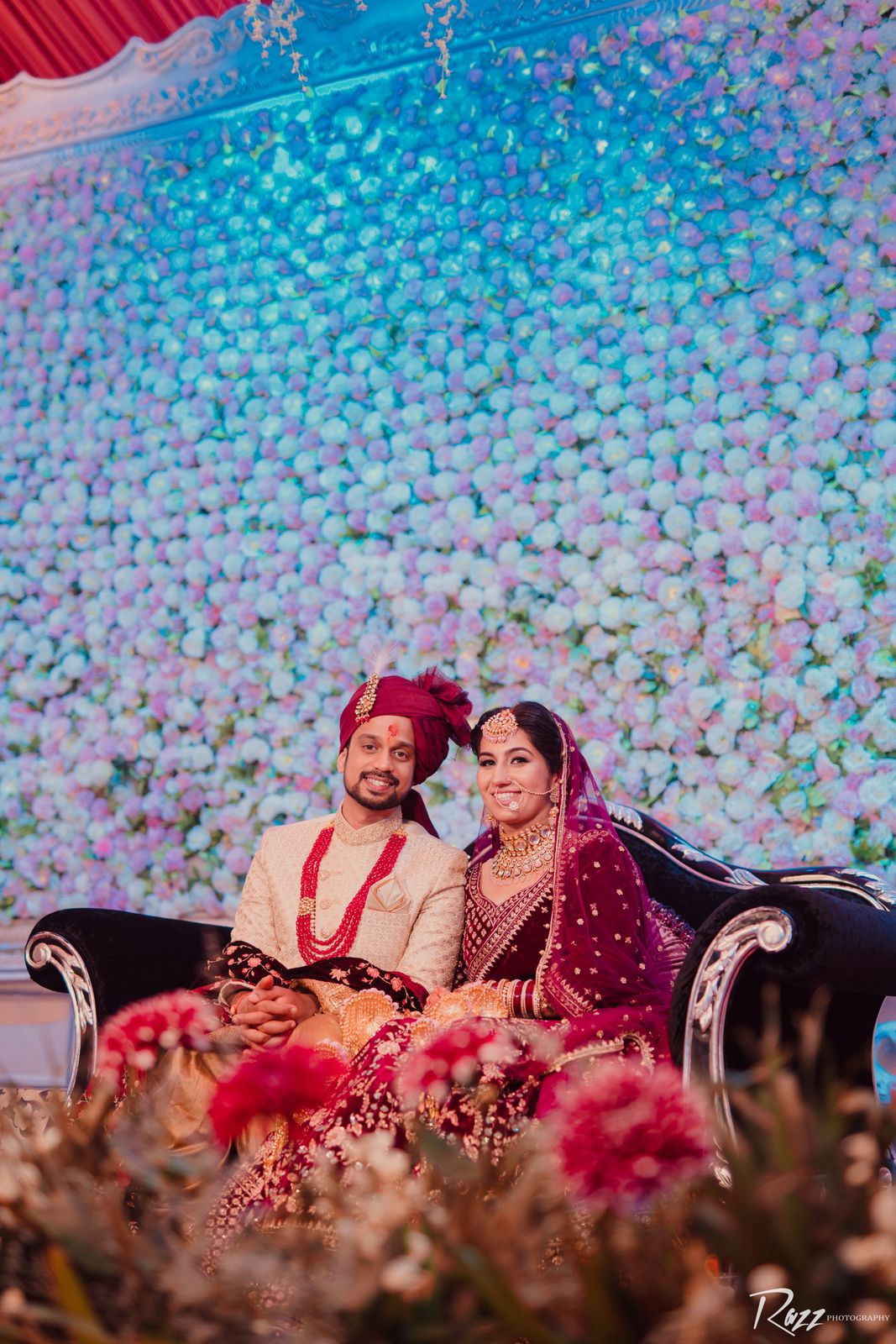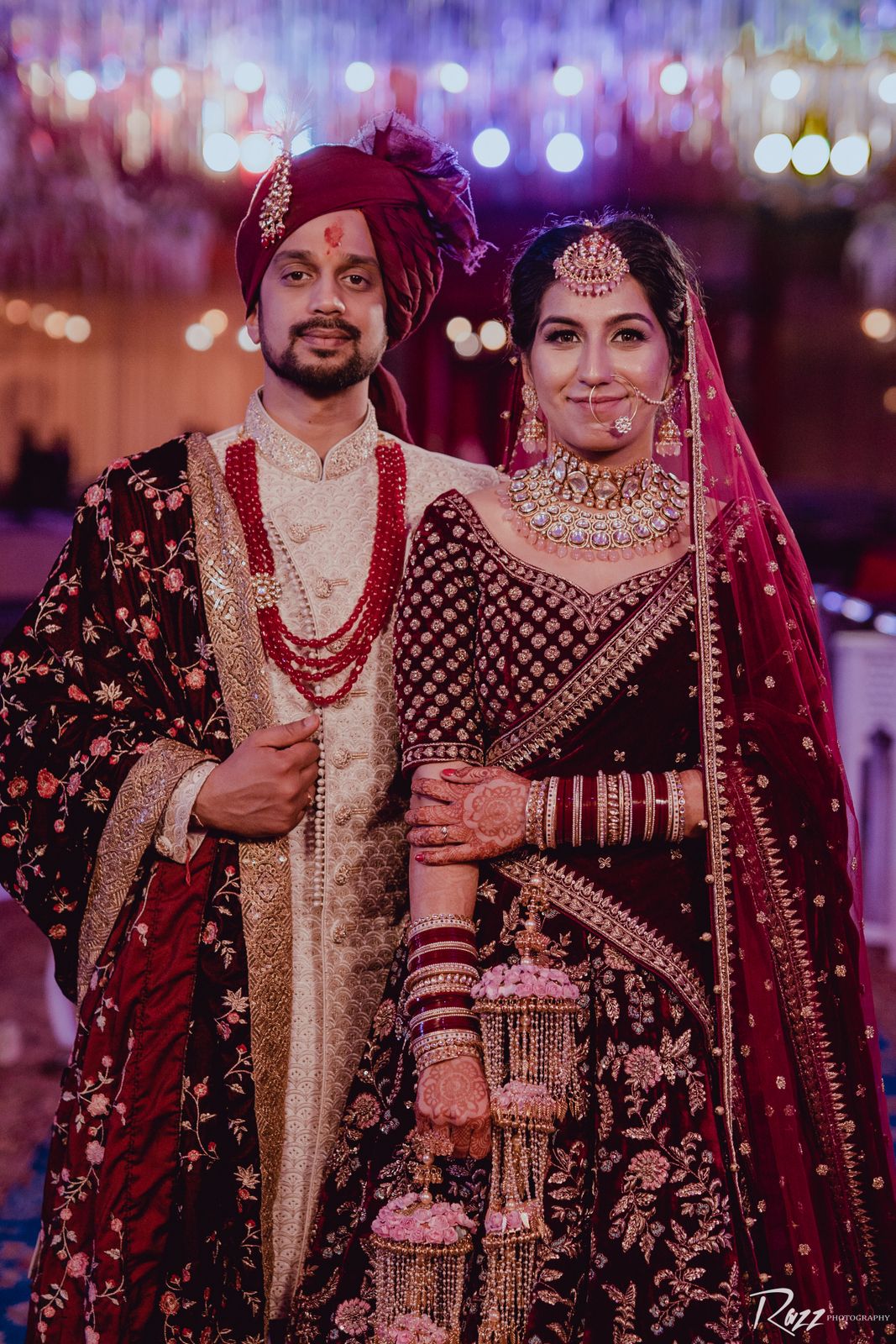 The Anand Karaj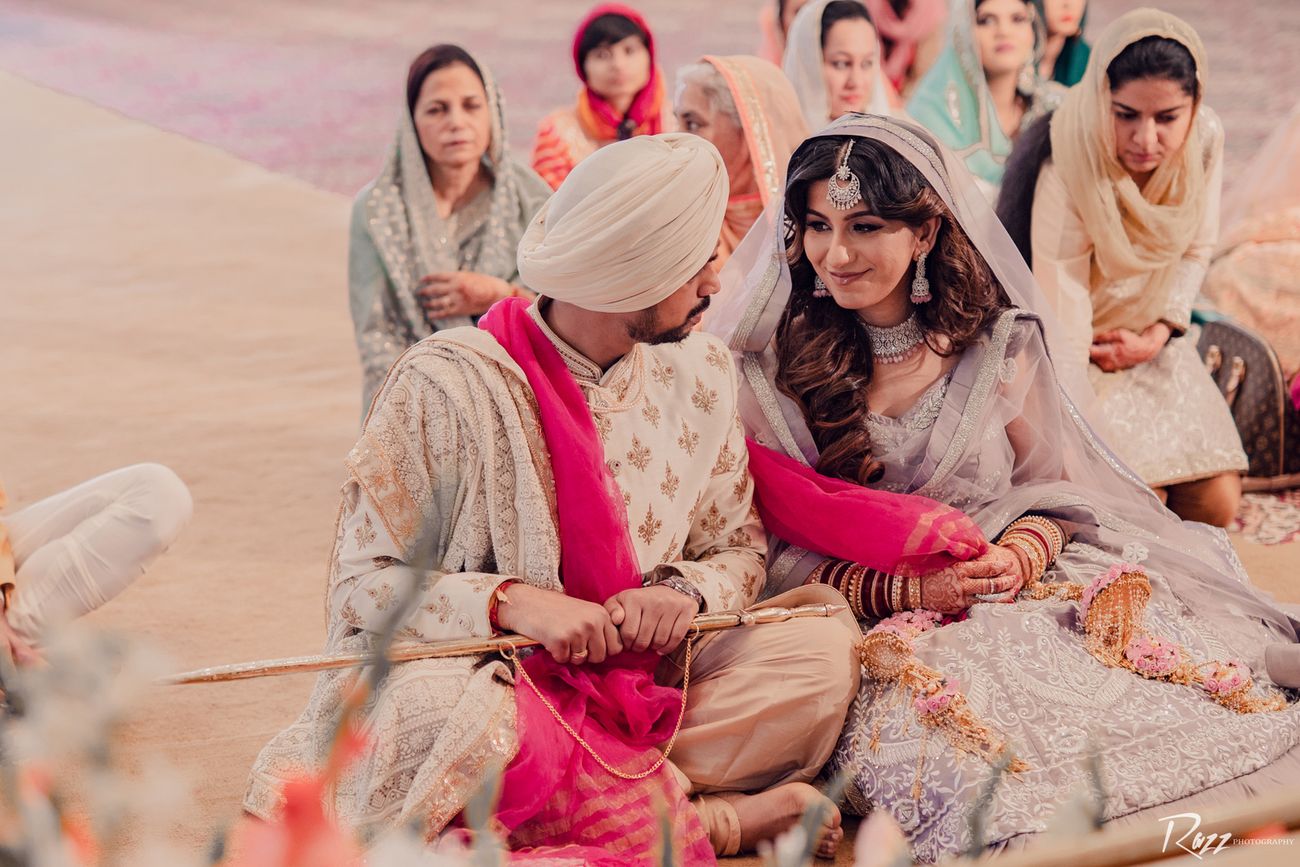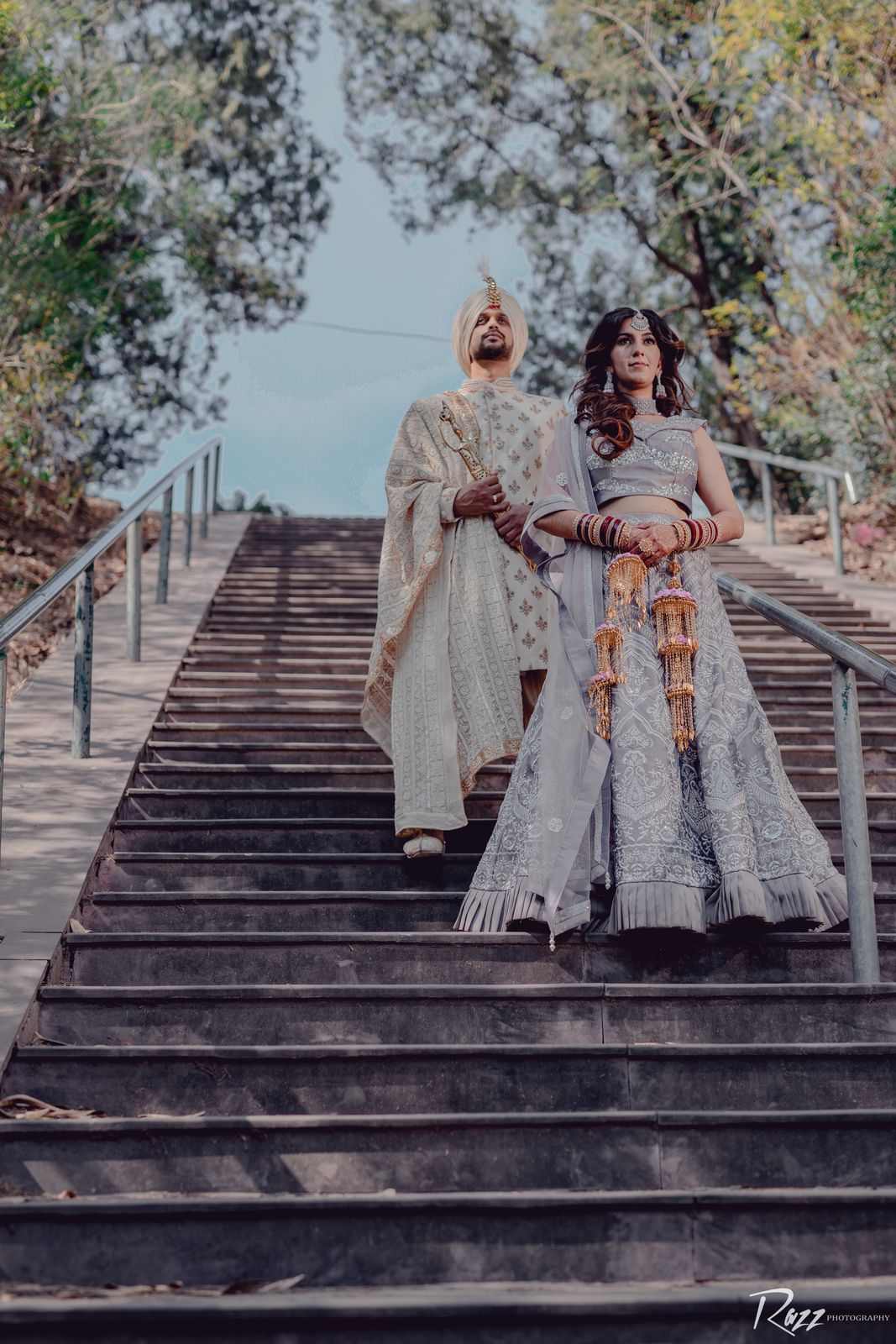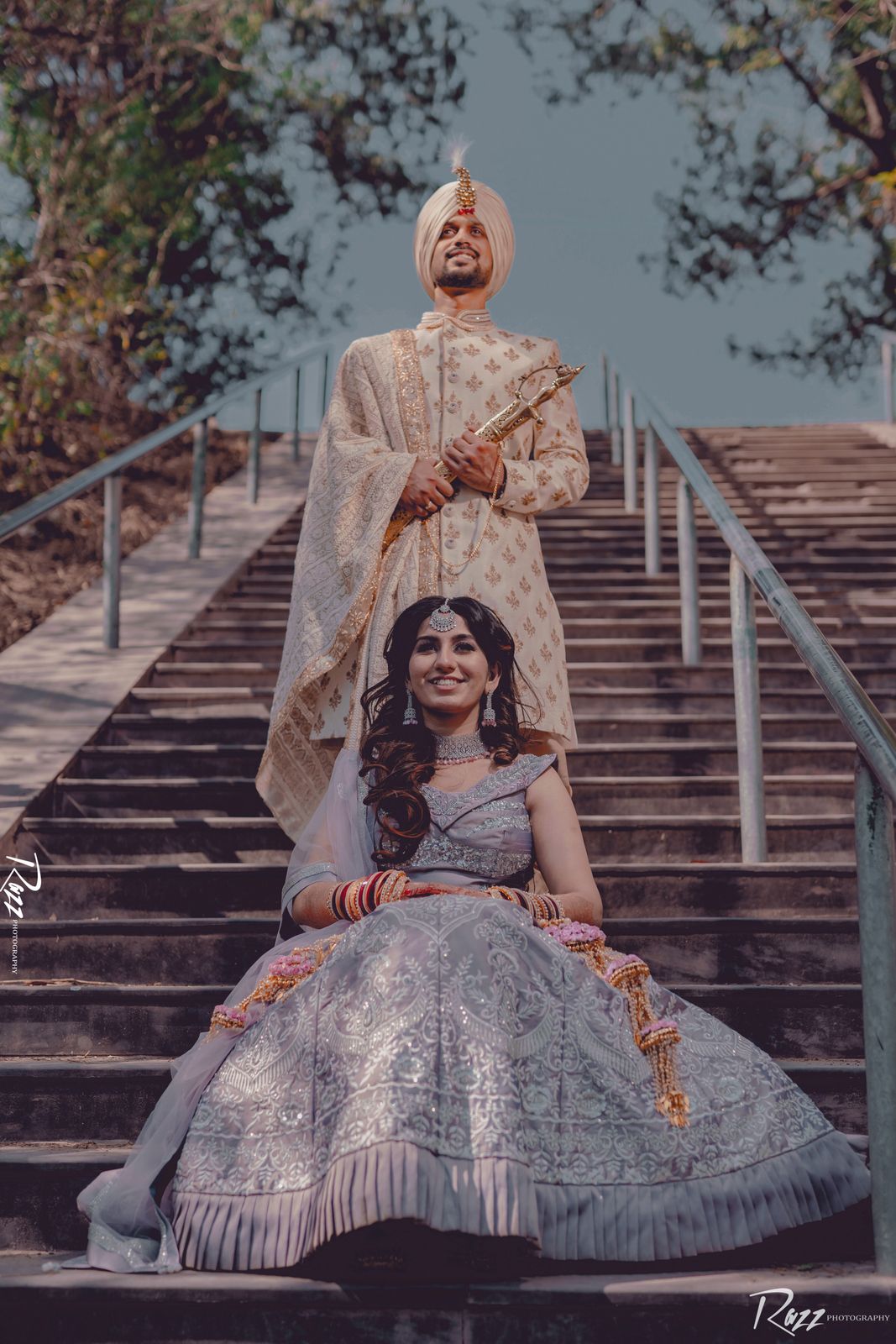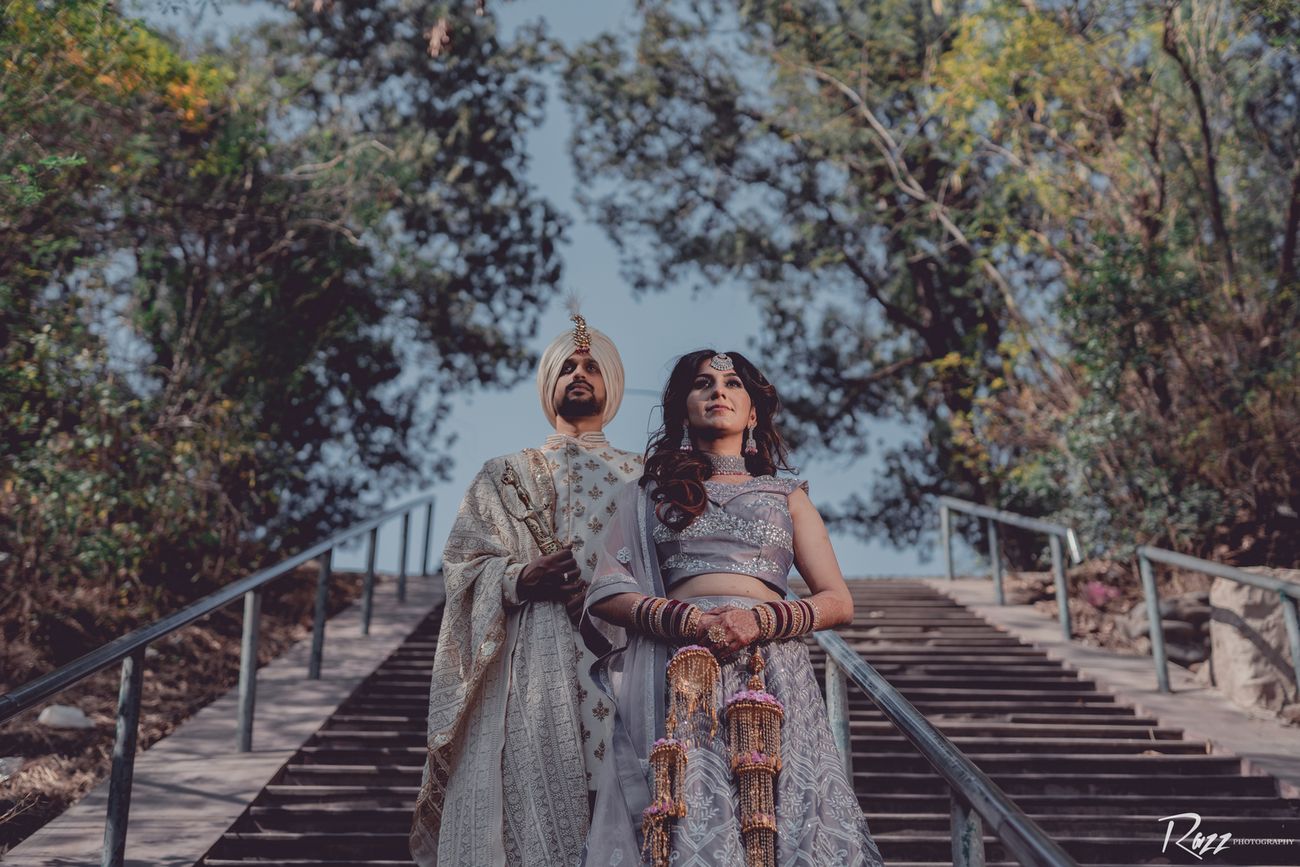 From The Bride
We belong to different religions and hence had the good fortune to solemnize our wedding through two sets of rituals- Agni Phere and Anand Karaj.
Akshay surprised me by dressing up in fully traditional Sikh attire for our Anand Karaj complete with a turban, Kalgi and a Kirpan in hand. He looked so royal in an all-white look.
For our engagement, we entered our venue dancing to "Sooraj ki Baahon Me" because we are huge ZNMD believers. For my dresses - I knew I didn't need to spend a million bucks to look like a million bucks! My favorite dress was the off-shoulder emerald green gown with a trail that I rented from Flyrobe for our engagement. For our wedding, I got my lehenga custom-made from a showroom in Chandni Chowk . I wanted it be in Rose-Gulkand color and with lightweight borders so that it's easy to dance at my own wedding. I paired it with a kundan choker with pink beads (I think green jewellery is so last year). For the Anand Karaj , I chose a lavender color lehenga with white resham embroidery because I wanted a different pastel colour than Pink and Green. I kept my hair open for this ceremony & kept the jewellery light to make up a minimalistic look. For the groom, the Wedding Sherwani had a custom made Dushala in a rose colour to complement my outfit and accesorized with Safa adorned with Kalgi. The anand Karaj look was a white sherwani with a heavy Chikankari Dushala and pearls on the neck , complete with a turban and Kalgi. Both the groom's sherwanis were rented from Flyrobe Prime which means they were custom stitched for him from scratch and could be returned to Flyrobe after the wedding. He paired them up with custom Dushalas so that they colour complemented my outfits.
Chandigarh Club, Sector 1, Chandigarh. It is hands-down the best venue in the city. They are masters of Decor and catering both. They did a Royal theme at our wedding (blue clouds with huge chandeliers and red drapes) and the flower decoration was so good that each corner of the venue was a photo spot. The food also was so good that even months later when I meet people - they fondly remember the sumptuous food at our wedding!
KAYDEE MAKEUP -If minimal look is your preference, she is the best MUA to have. Everybody complimented my makeup specifically whereas usually people only notice your wedding dress. She knows how to get that subtle nude look which is currently the most popular. She is very flexible with the kind of looks you want.
RAZZ films & Photography - Razz is a specialist in finding backdrops and clicking Candids . He will suggest you exactly the pose for the location and it will come out more beautifully than you could have imagined. For our sun-downer wedding, Razz did a bridal portrait shoot against the setting sun and it looked like a destination wedding shoot. His Mehendi shots by the pool , our couple shots near a forest and the candid shots he took have captured the essence of all functions really well.
I got my wedding lehenga, gulkand colored from Pakeeza Plaza in Chandni Chowk. Great artisans who do beautiful designer wear , on time delivery, no hassles, pretty reasonable for the kind of work they deliver. The emerald green off shoulder gown was from Flyrobe, a rental website that specializes in wedding and festive wear. Their quality is superb and designs are perfect for a modern bride. The lavender lehenga for my Anand Karaj was from Kamakhya Creations in Karol Bagh.
Amit Mehendi Artist - He works with a team and they are fast , their designs however are quite old , so recommend you to have your own.
Sherwanis from Flyrobe Prime Collection - custom stitched in your favourite style and then can be returned after the wedding. Frankly when is a guy ever going to wear his Sherwani after the wedding?
Milan Cards - Chandigarh - They were remarkable in the kind of deisgns that they had , simply outstanding integrated boxes with invites, Mithai and Dry fruits forming a part of the overall box
Vendors: Venue: - Chandigarh Club, Sector 1, Chandigarh ;  Photographer: Razz Films And Photography★ 5  ; Makeup Artist: KayDee Makeup Artist★ 5 ; Decor: in-house by the Chandigarh Club ; ; Mehendi Artist: Amit Mehendi Artist ; Bridal Outfits: Wedding- Pakeeza Plaza★ 4.6 , Anand Karaj- Kamakhya Creations, Karol Bagh, Engagement- Flyrobe★ 3.4 ; Groom Outfits: Flyrobe★ 3.4 ; Invites: Milan Wedding Cards★ 2.3 , Chandigarh