An Eco-Friendly Bunt Wedding With Picturesque Decor
BY Garvita | 30 May, 2020 | 10979 views | 7 min read
What happens when a couple who's into wedding decor decides to get married? Oh well, it's a riot of sheer gorgeousness and pin-worthy details! But what sets this couple apart is the fact that they chose to do it in a zero-waste, eco-friendly manner. Our hearts gushed looking at favors which included plant and stainless steel cutlery, and how they added a cultural element in the form of the folk artists.
Deepika's outfits deserve a special mention here as she recycled her mother's wedding saree into a beautiful lehenga for her Engagement and strut like a diva on her wedding day as she color-blocked her bridal attire.
To keep it short, this bunt Mangalorean wedding was indeed #goals!
Vivek Krishnan Photography spread their magic with their magnificent candid clicks. We'd suggest you scroll right away because you wouldn't want to miss this childhood fairytale!
Meet Deepika & Dheeraj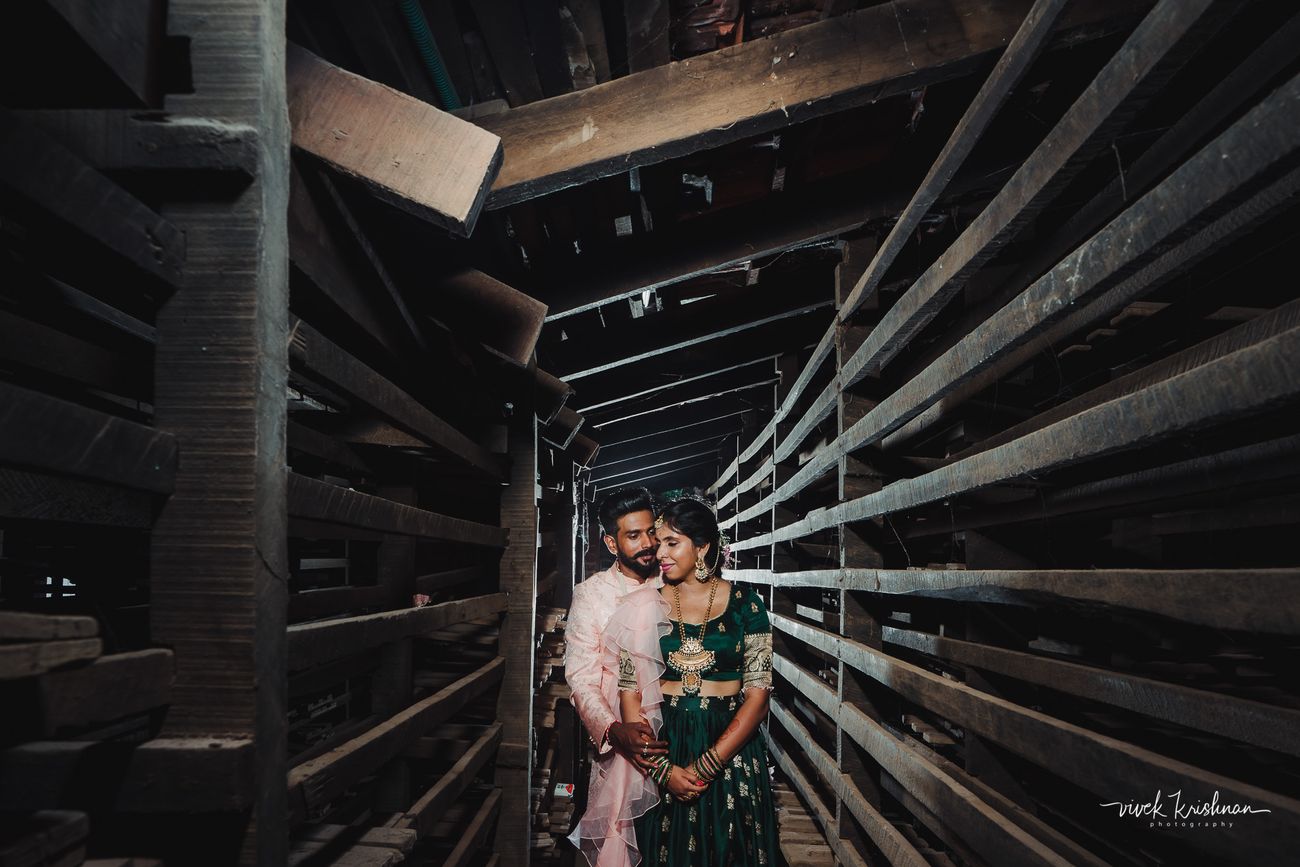 "Dheeraj and I are childhood sweethearts, we secretly liked each other but never put it into words, we grew up together and had a cat and mouse sort of relationship, fighting one moment and patching up the next! Honestly, I cannot say anything is different in that aspect even now. For the past three years, we own a wedding design and planning company and love blossomed." - shares, Deepika
The Engagement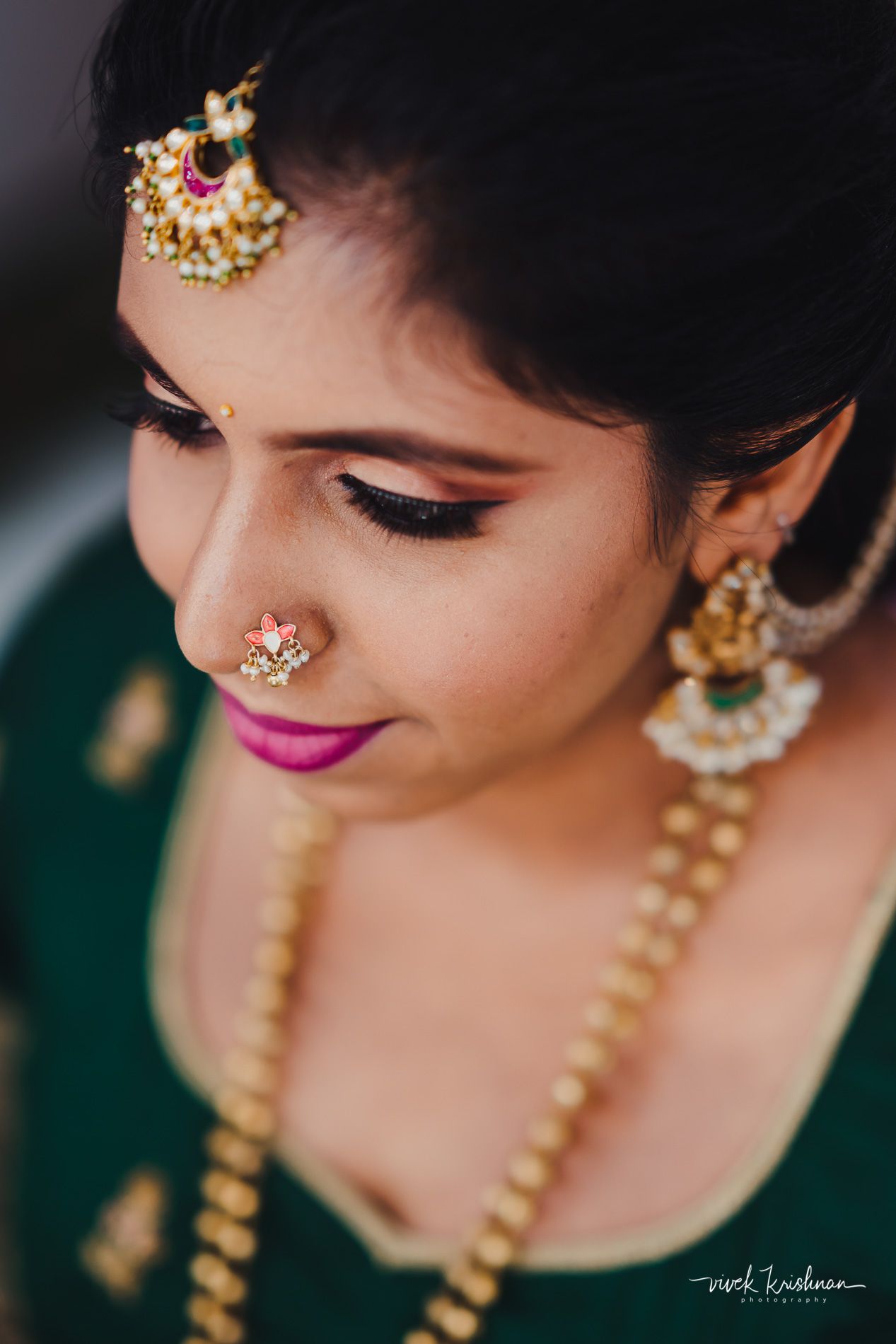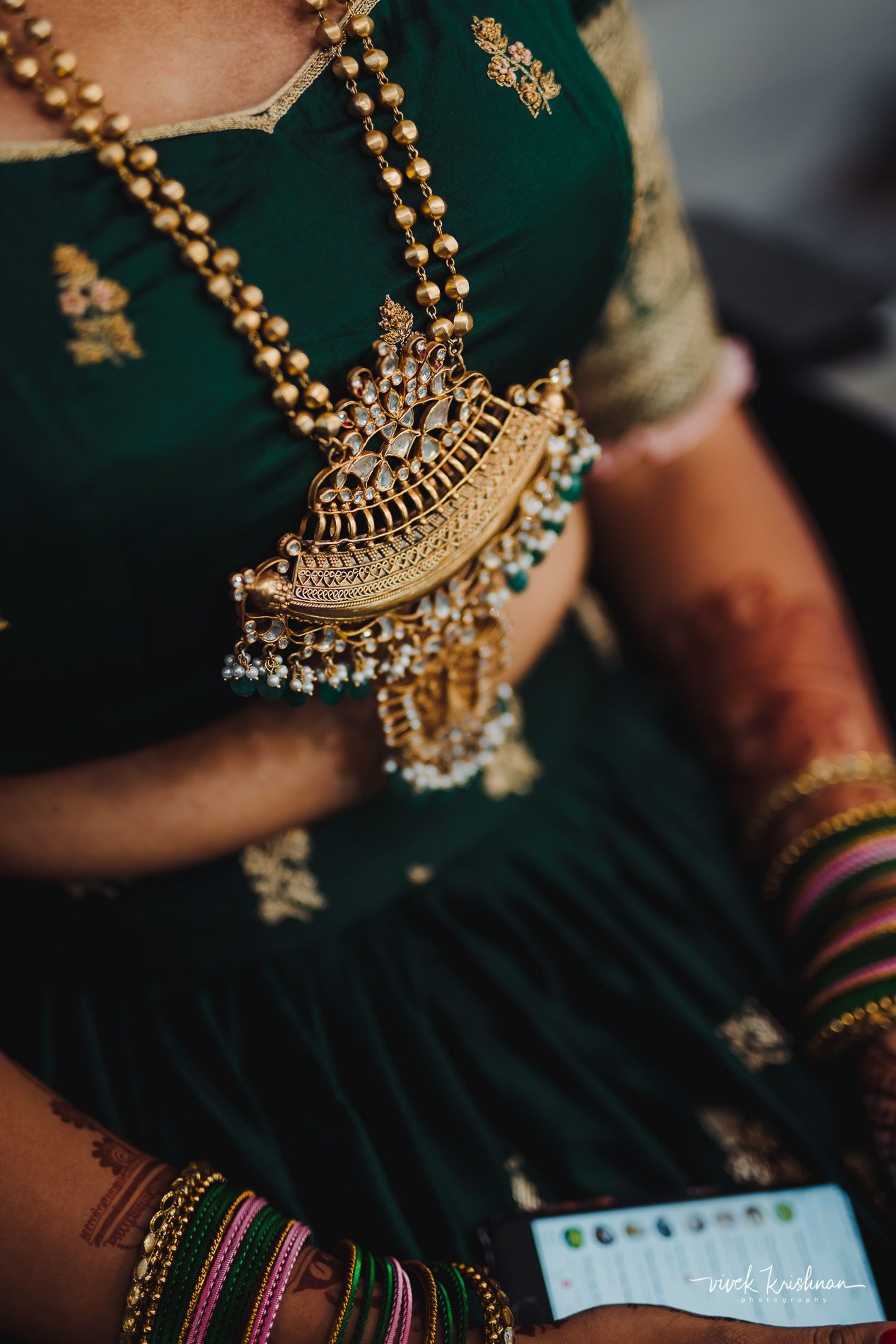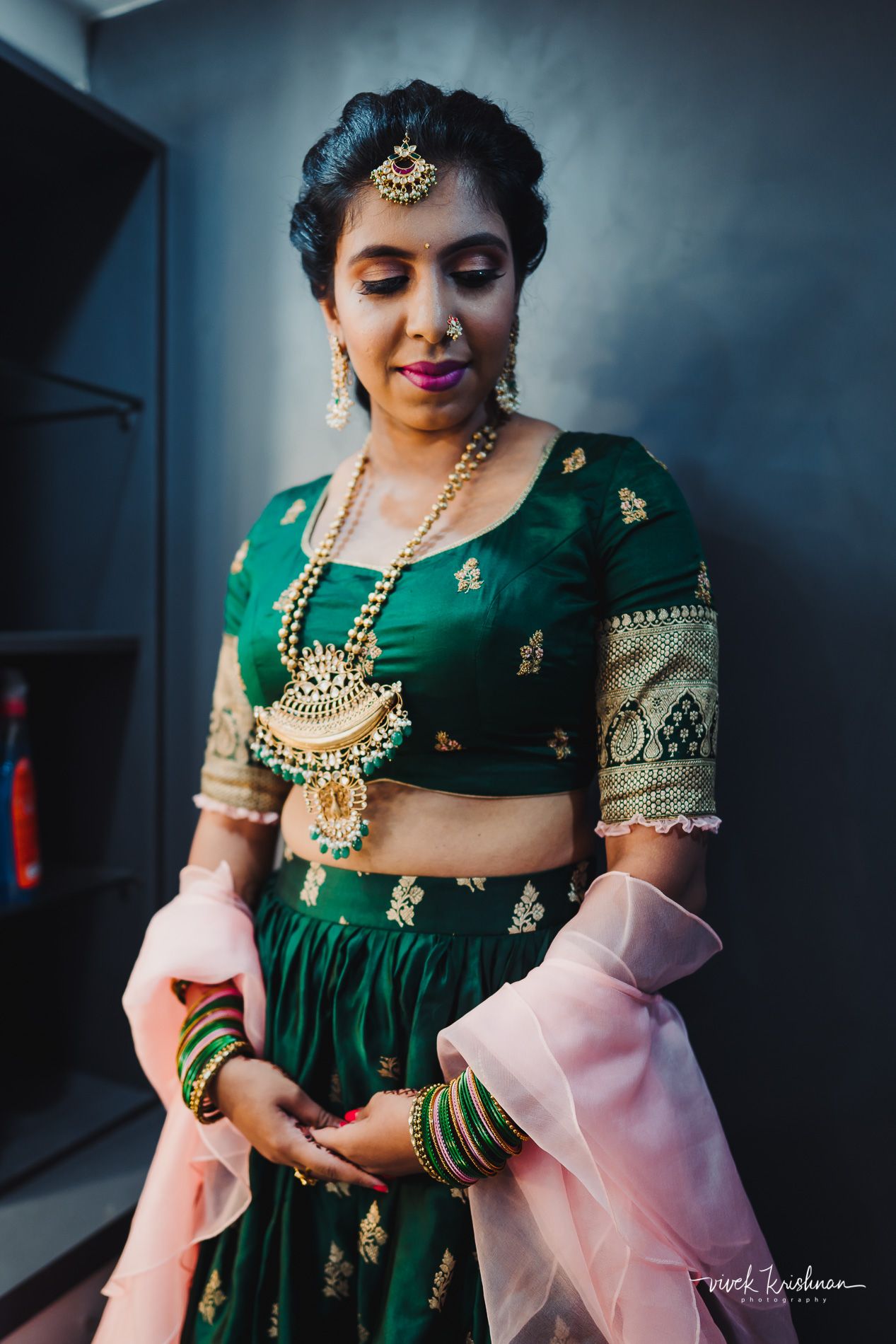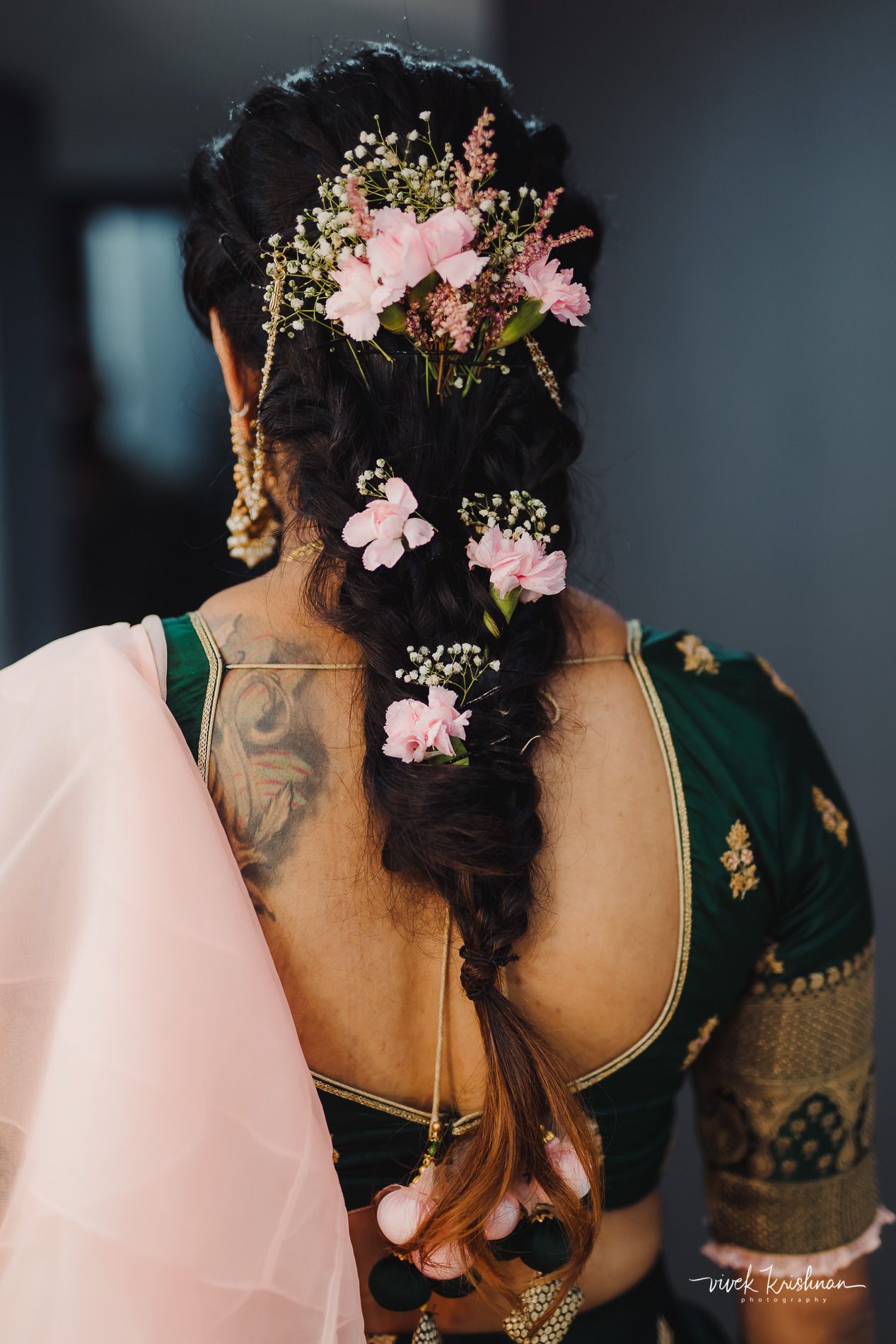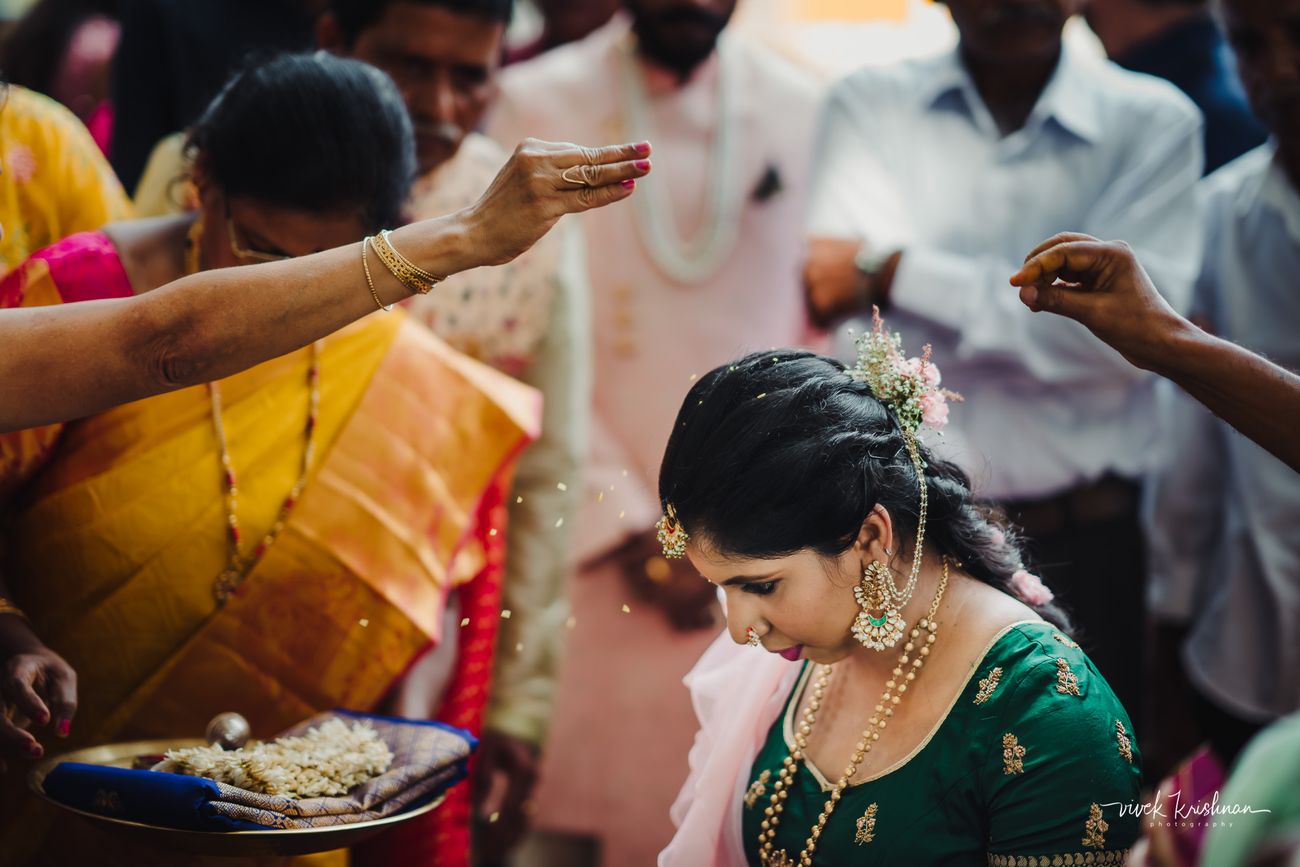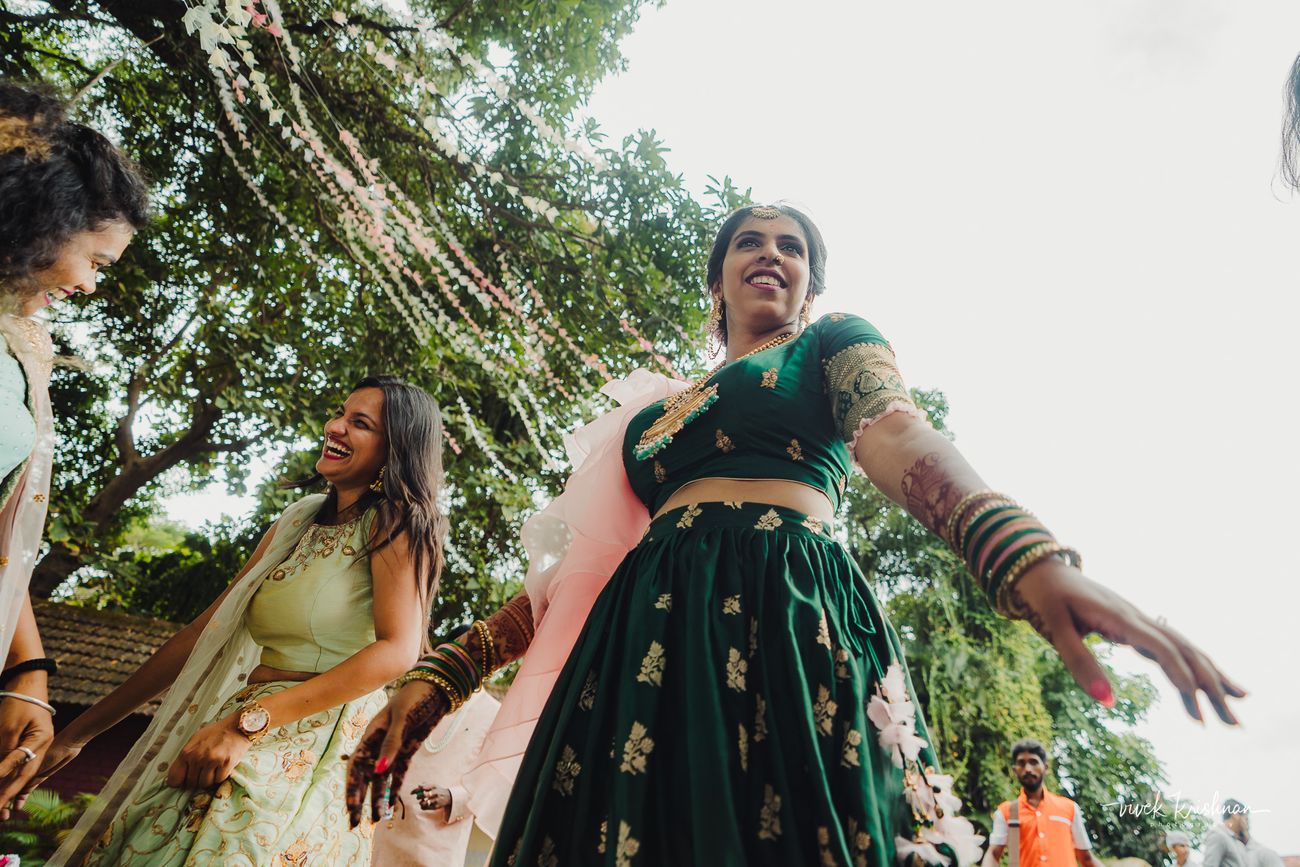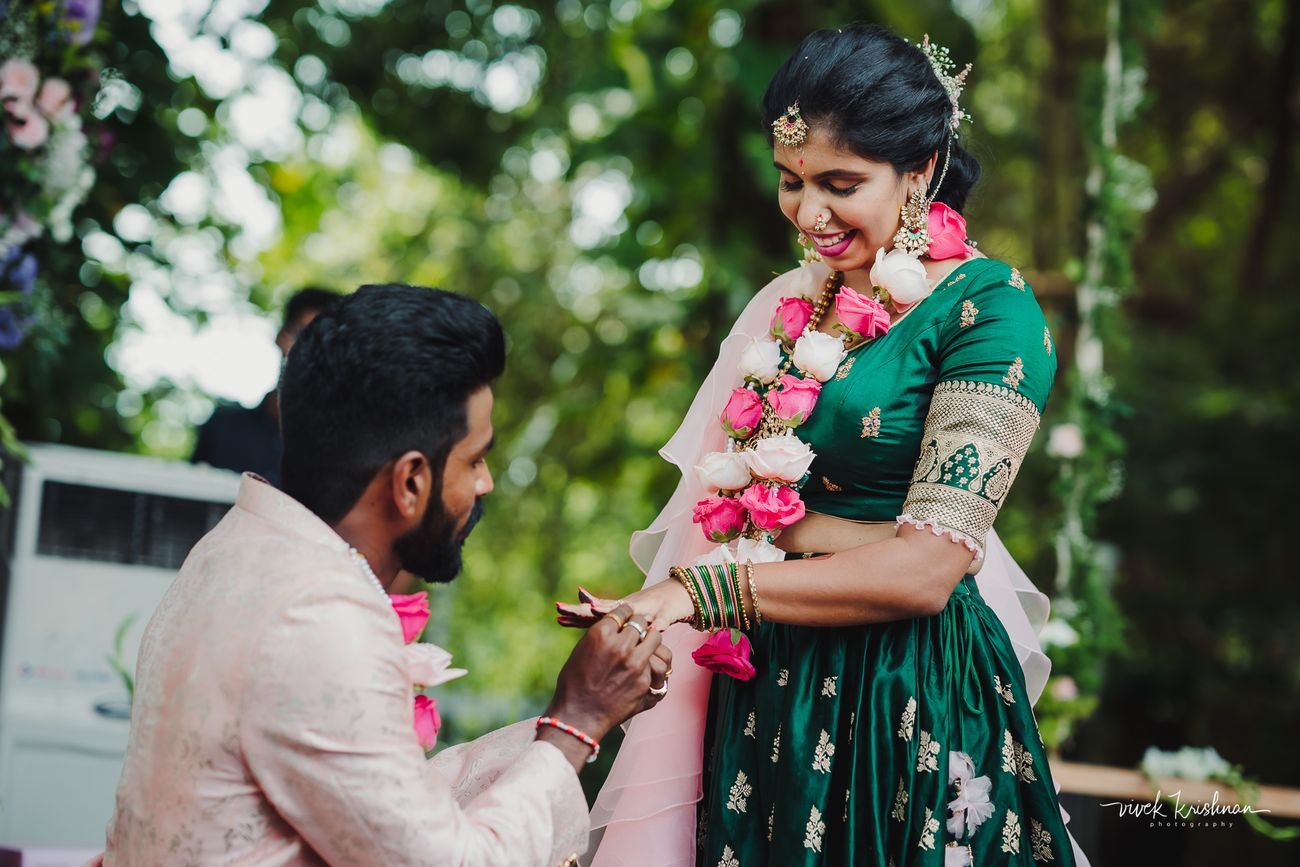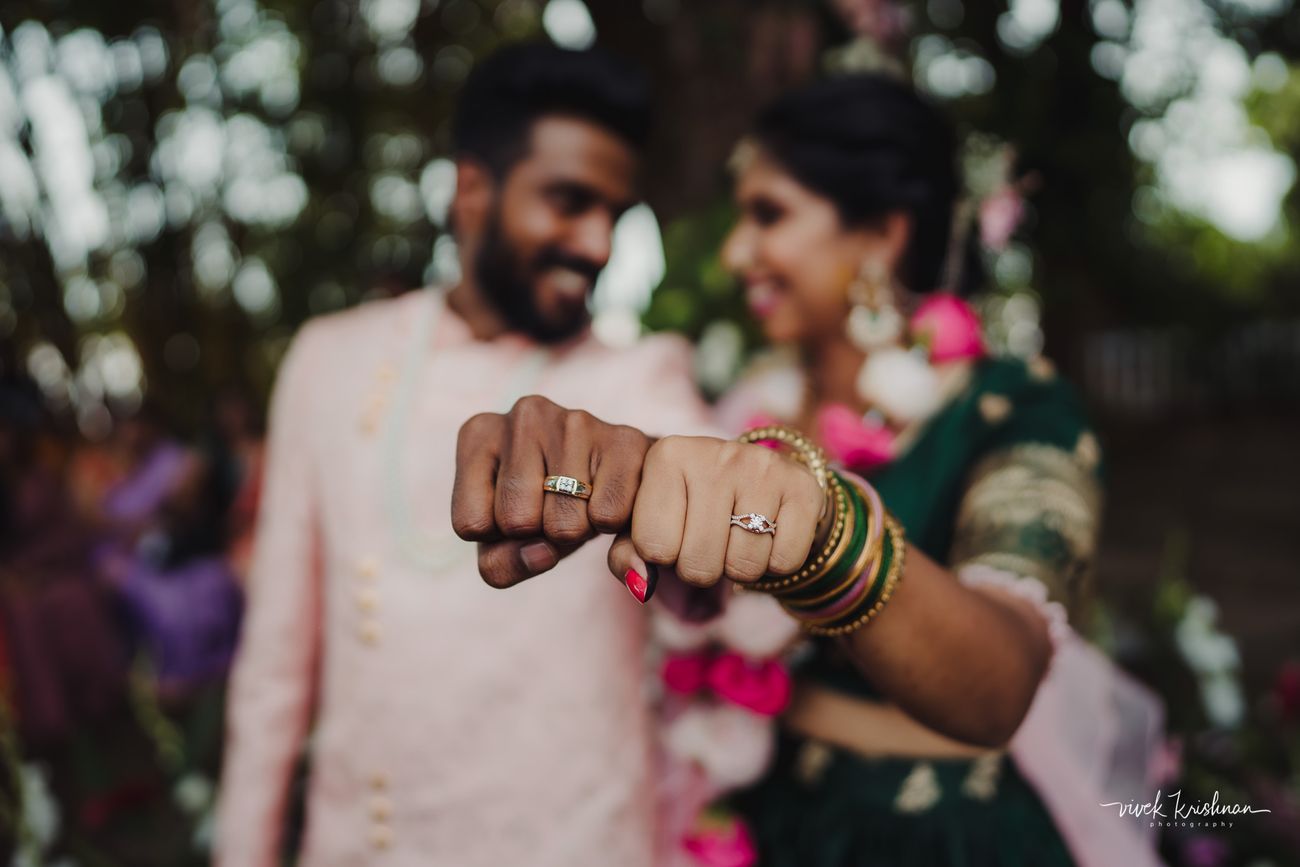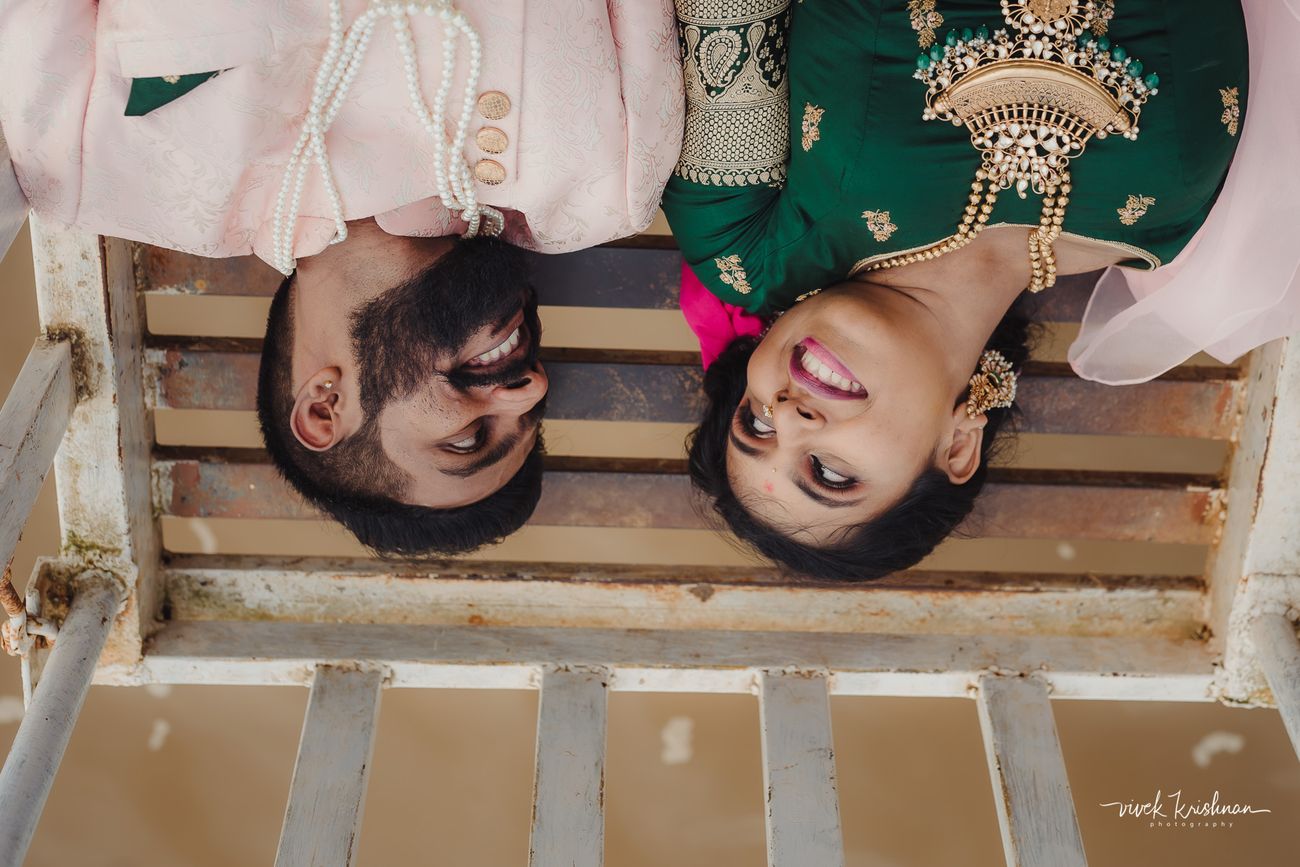 The Mehendi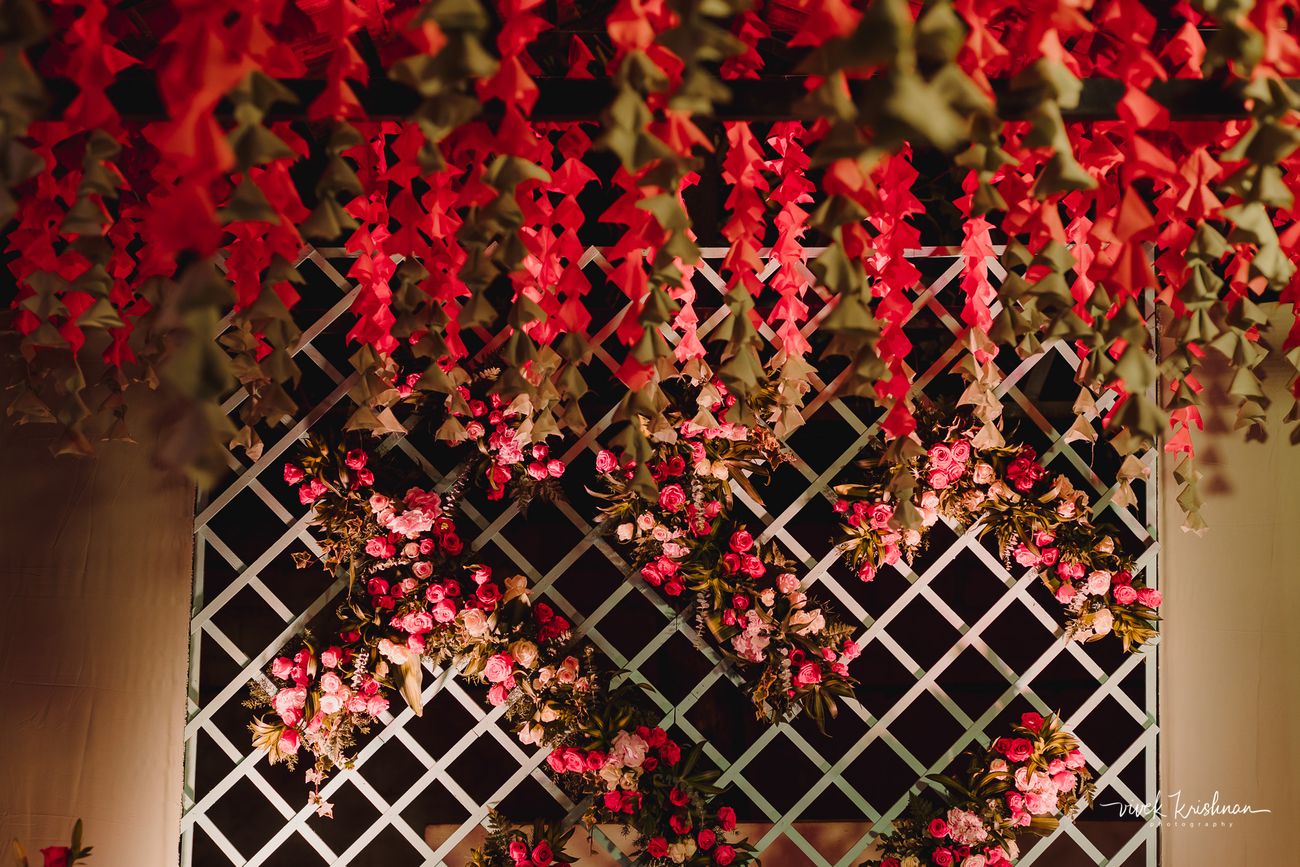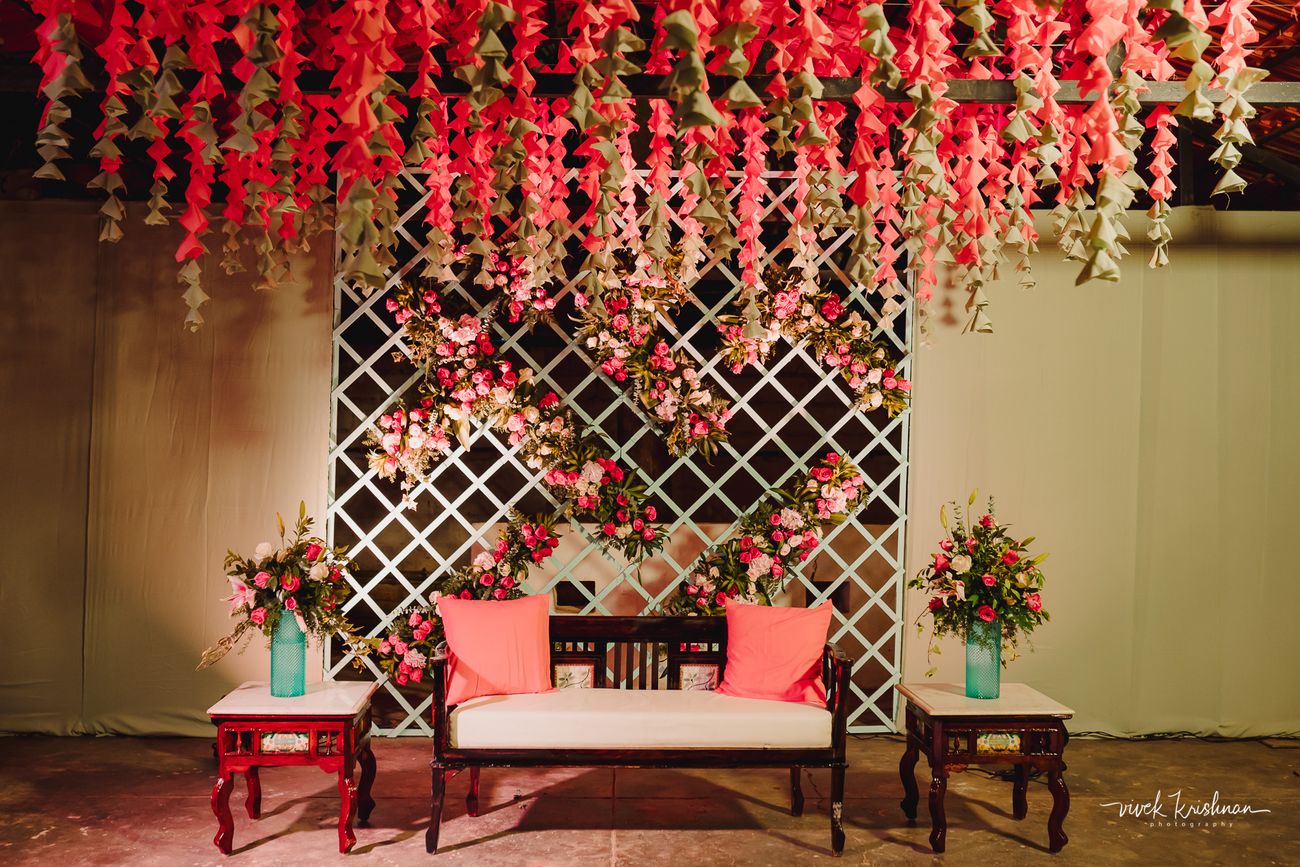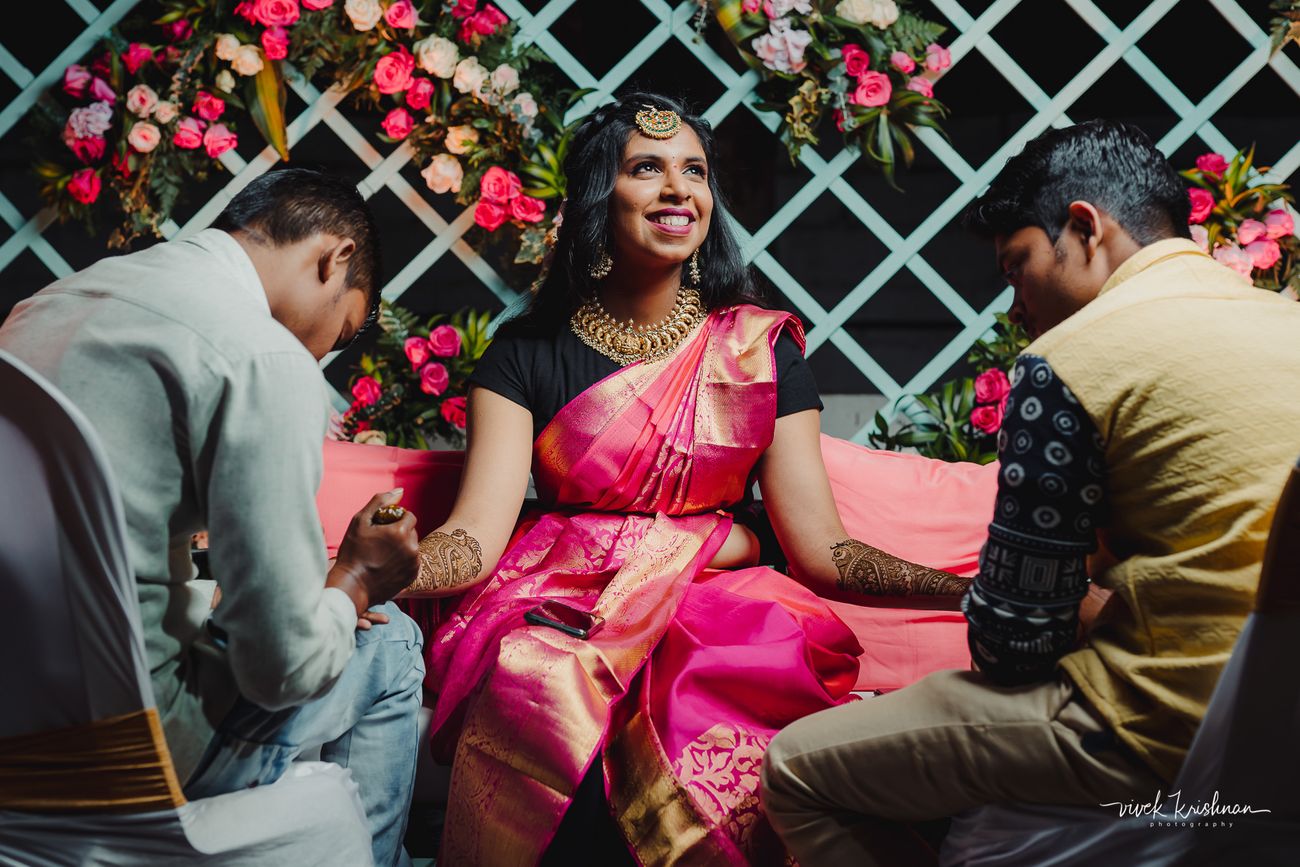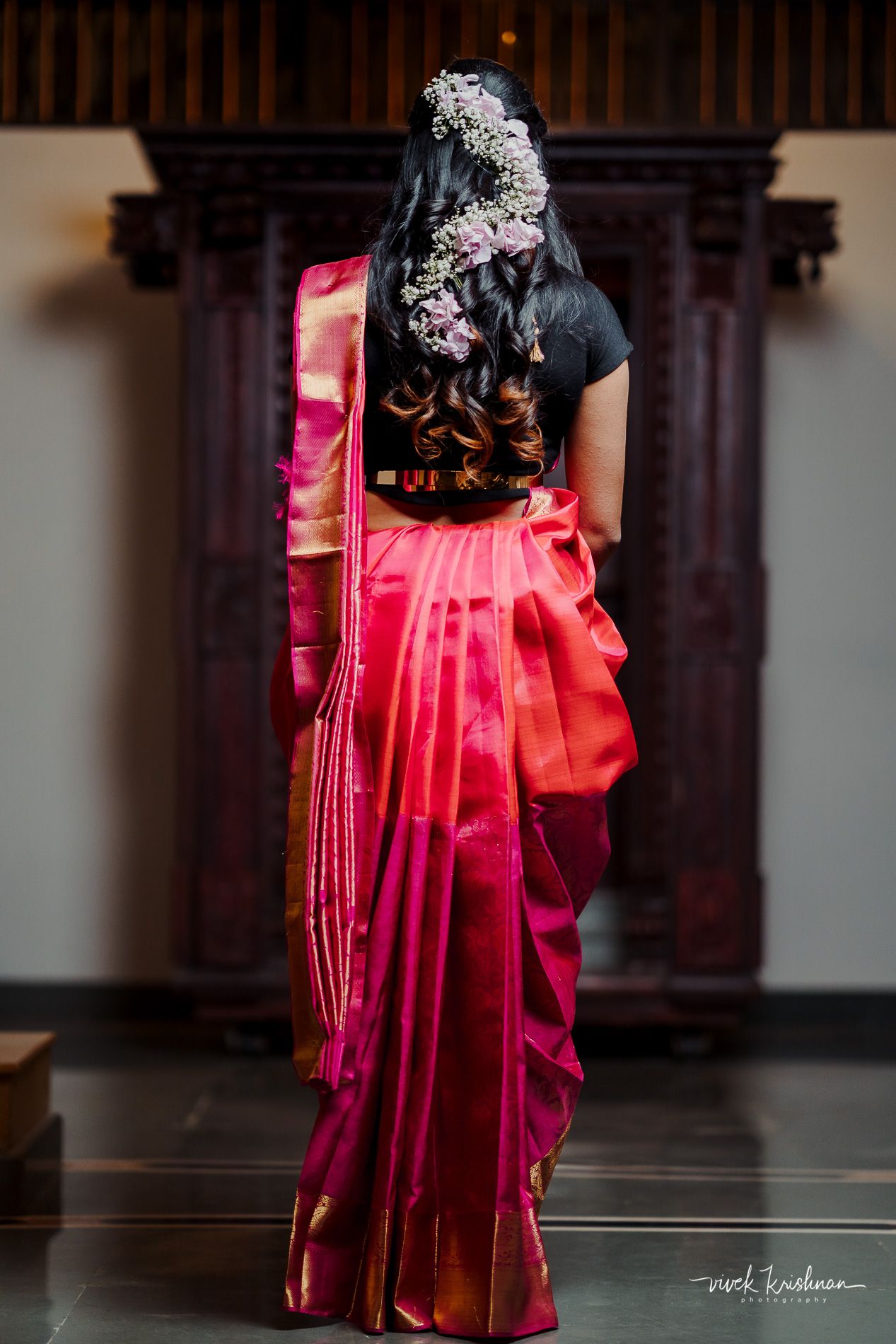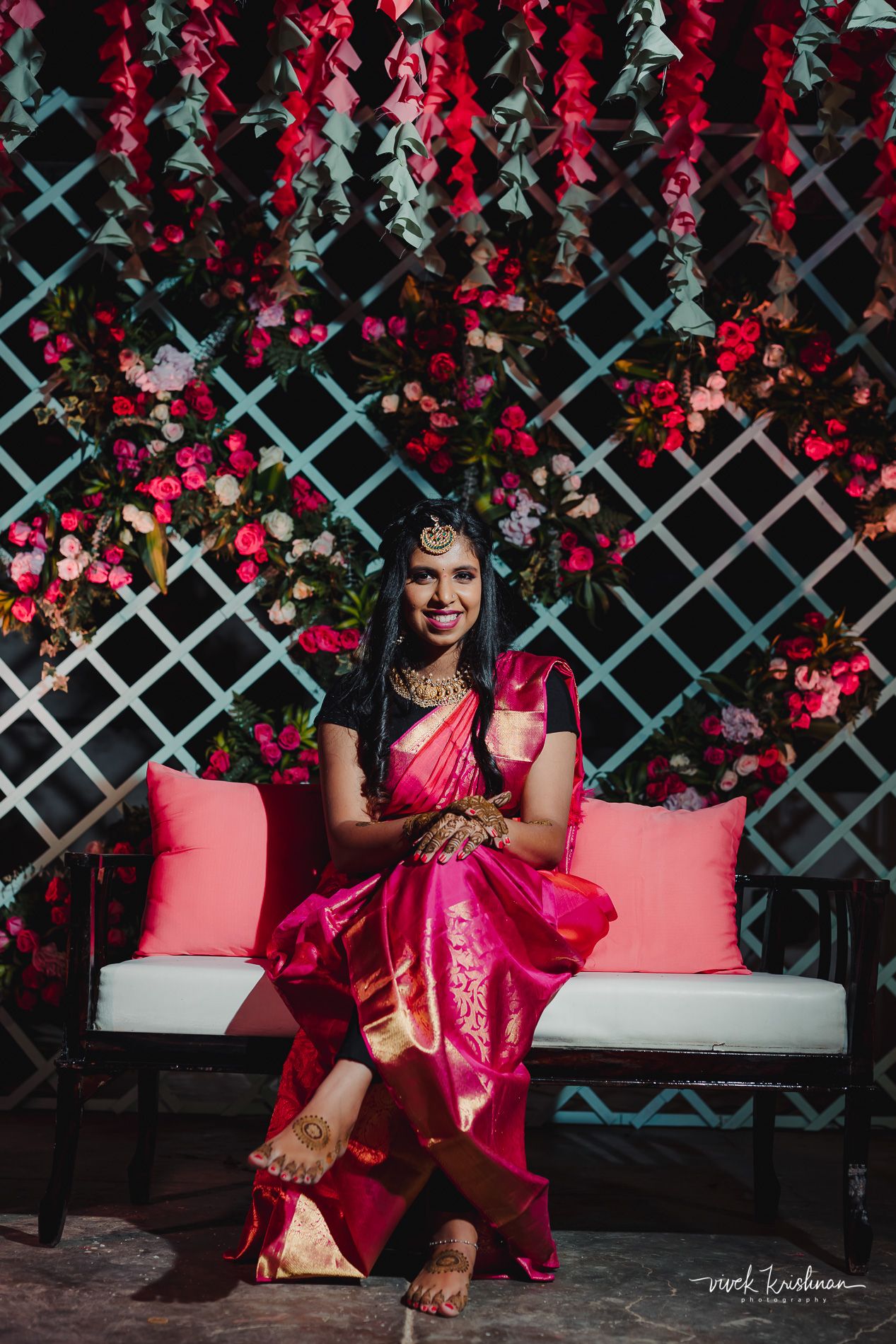 The Wedding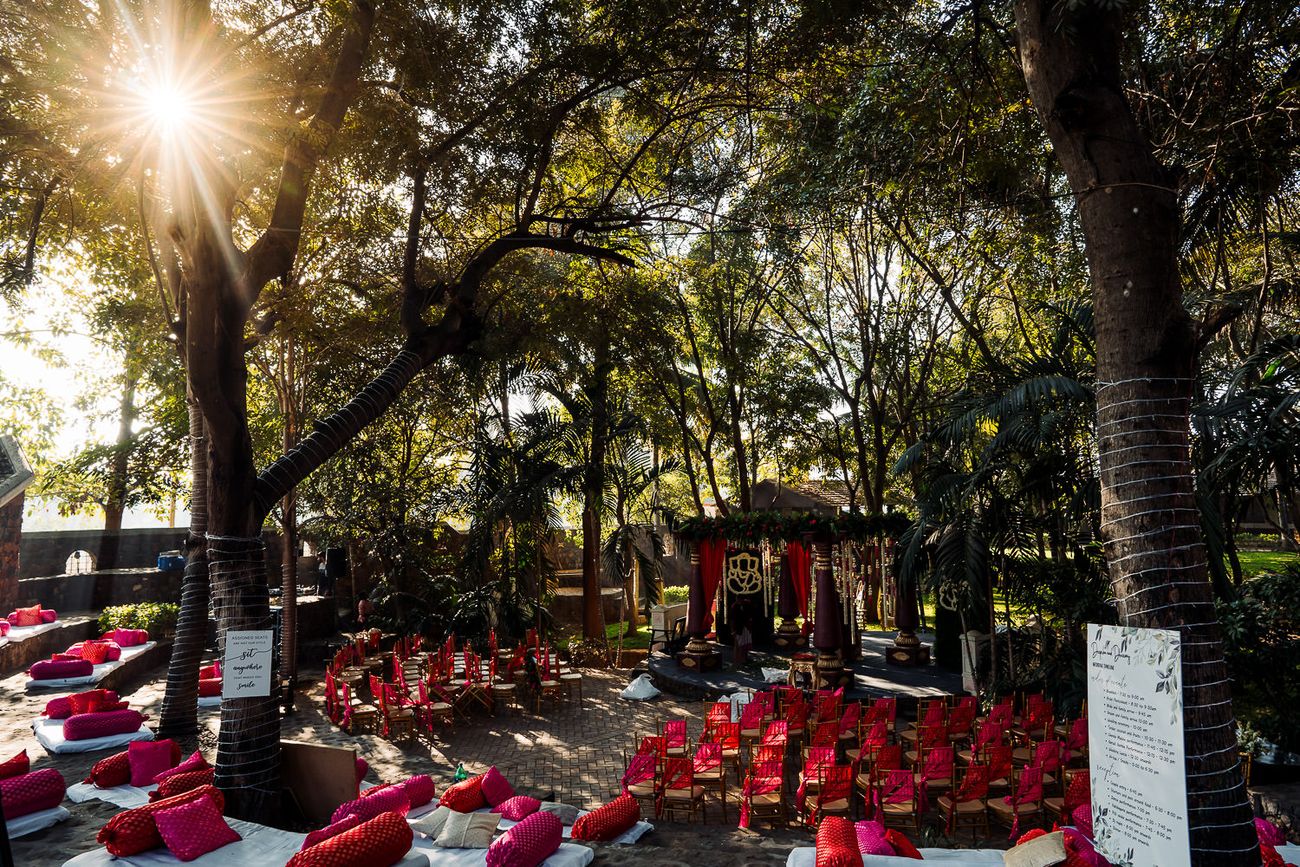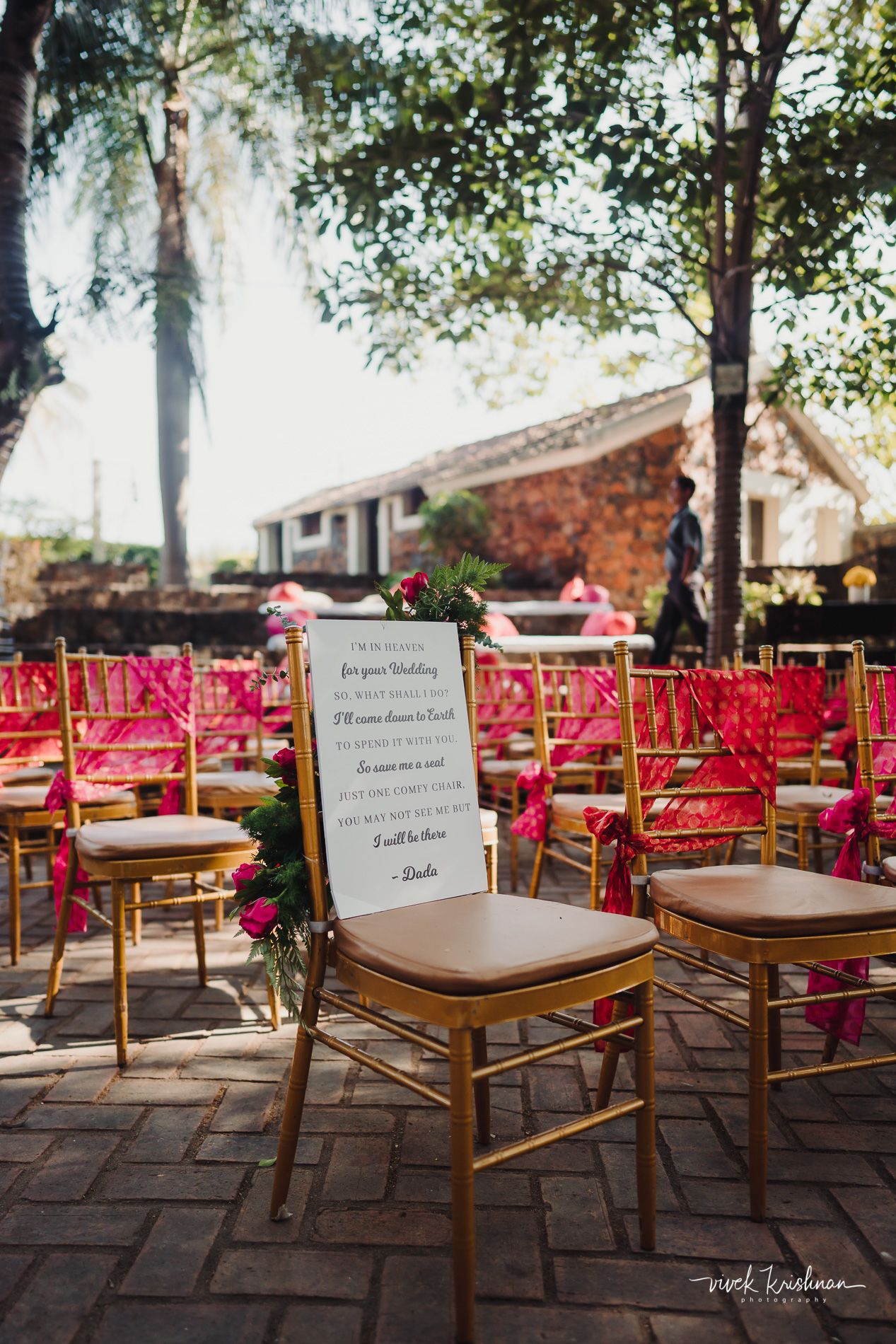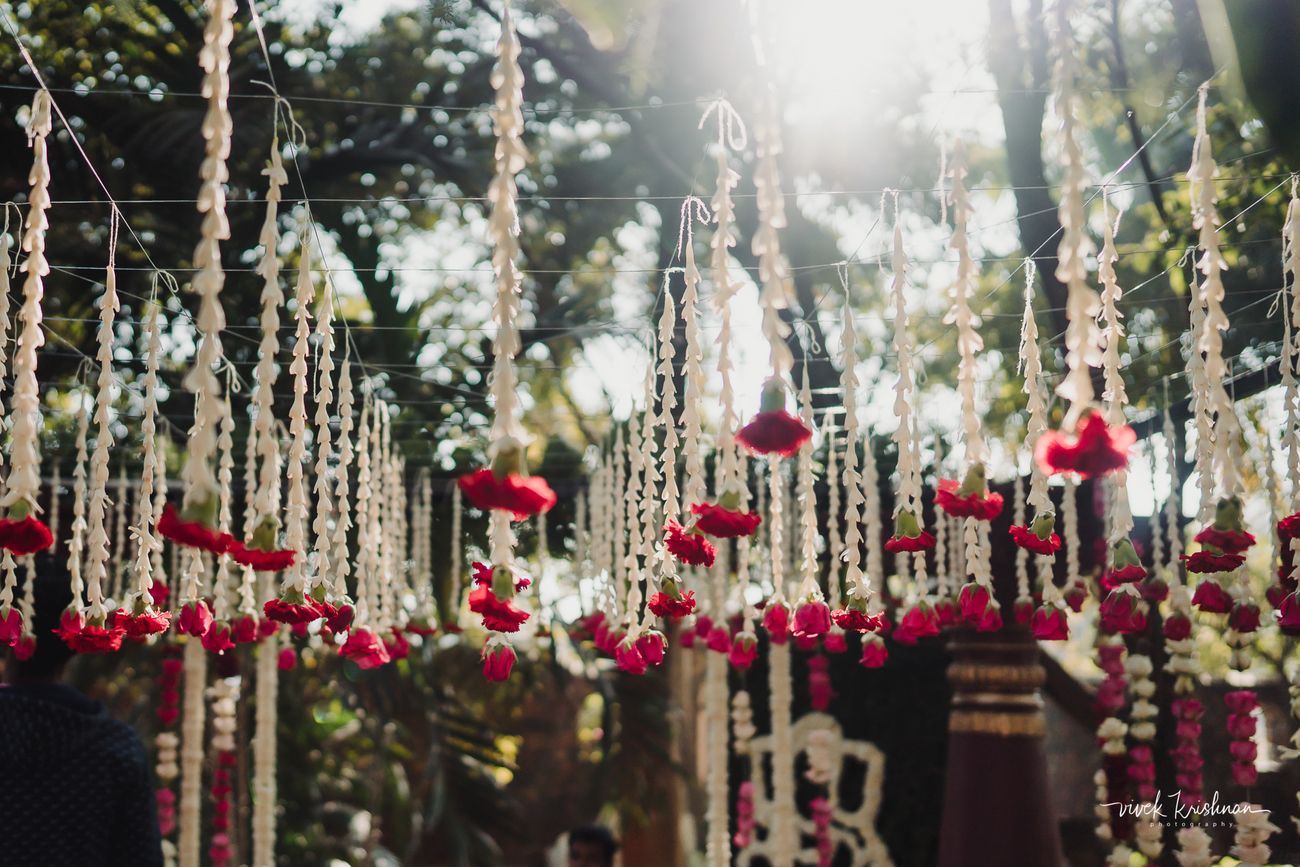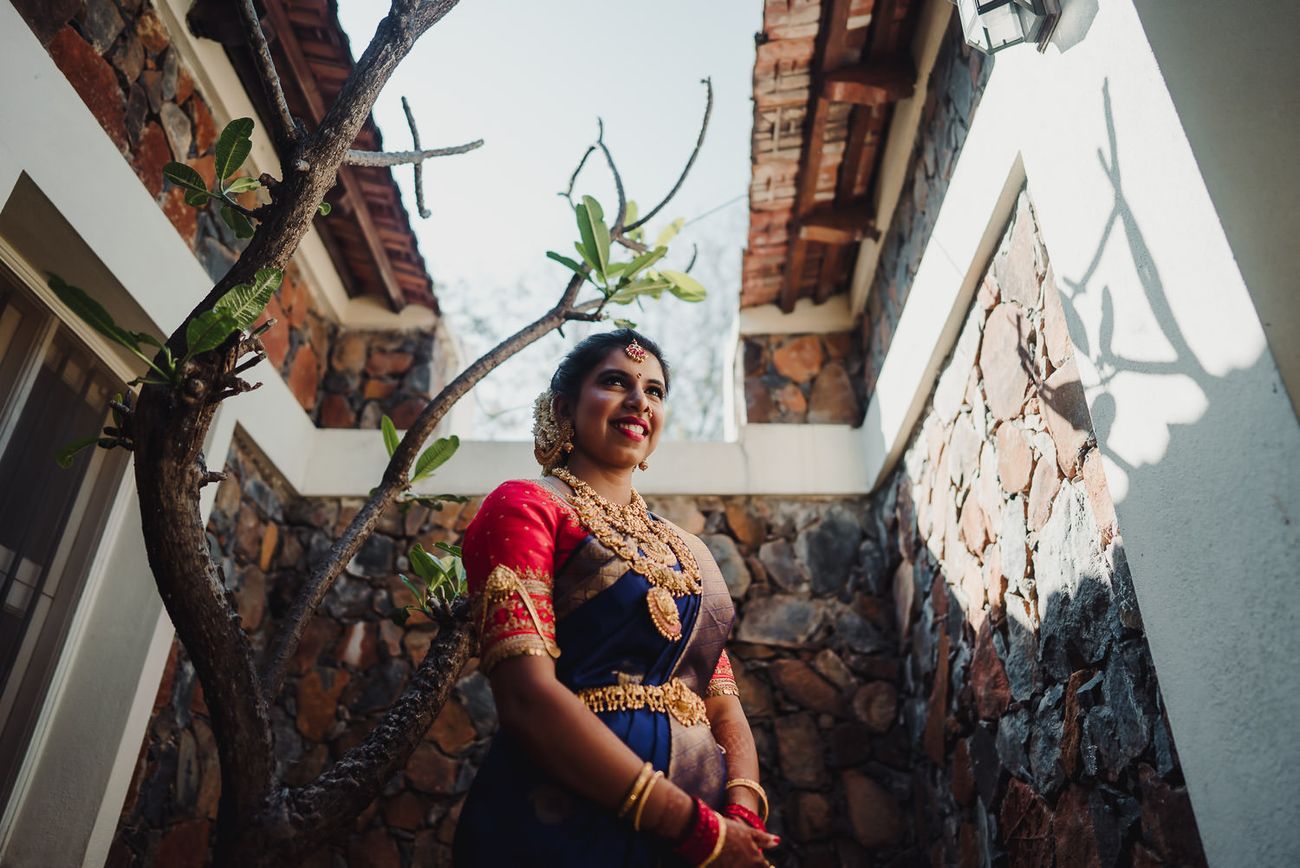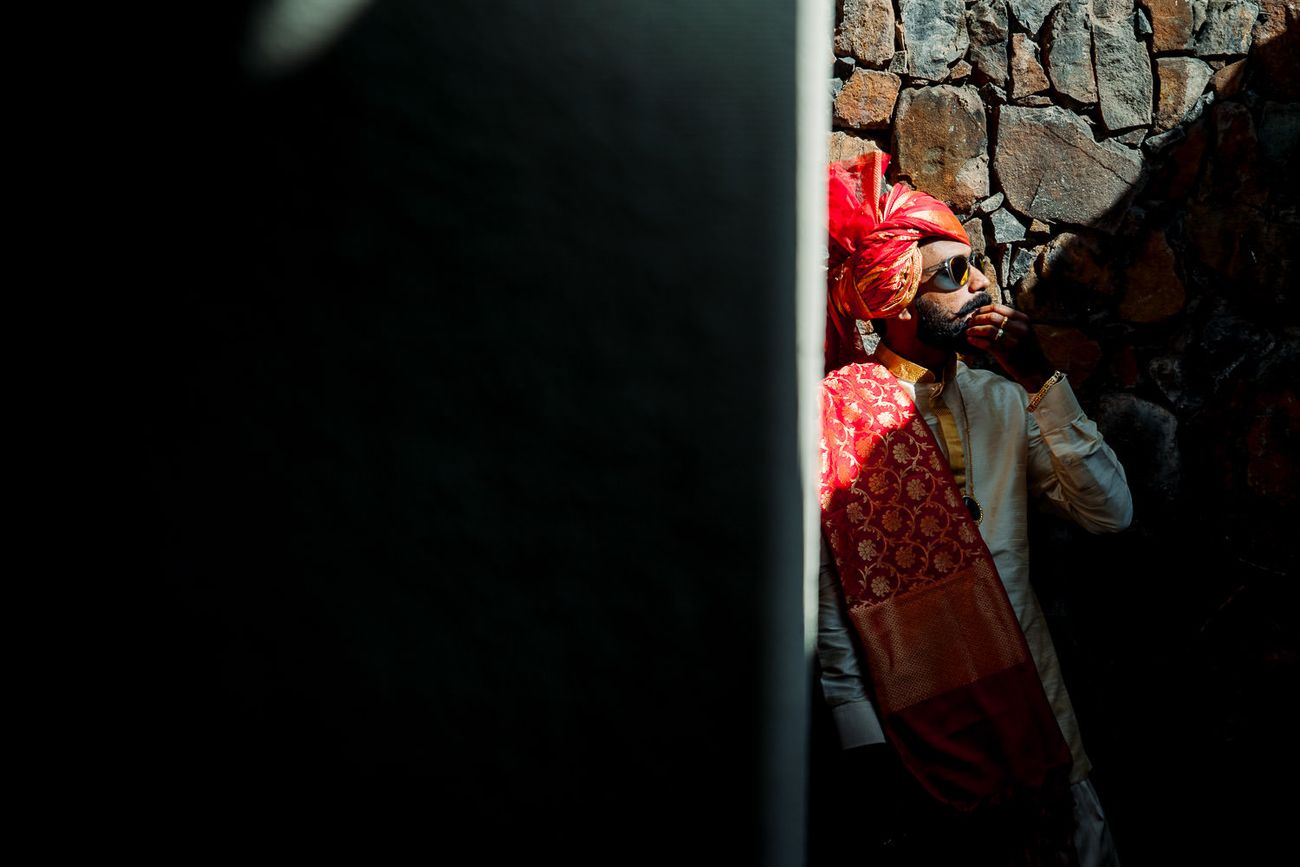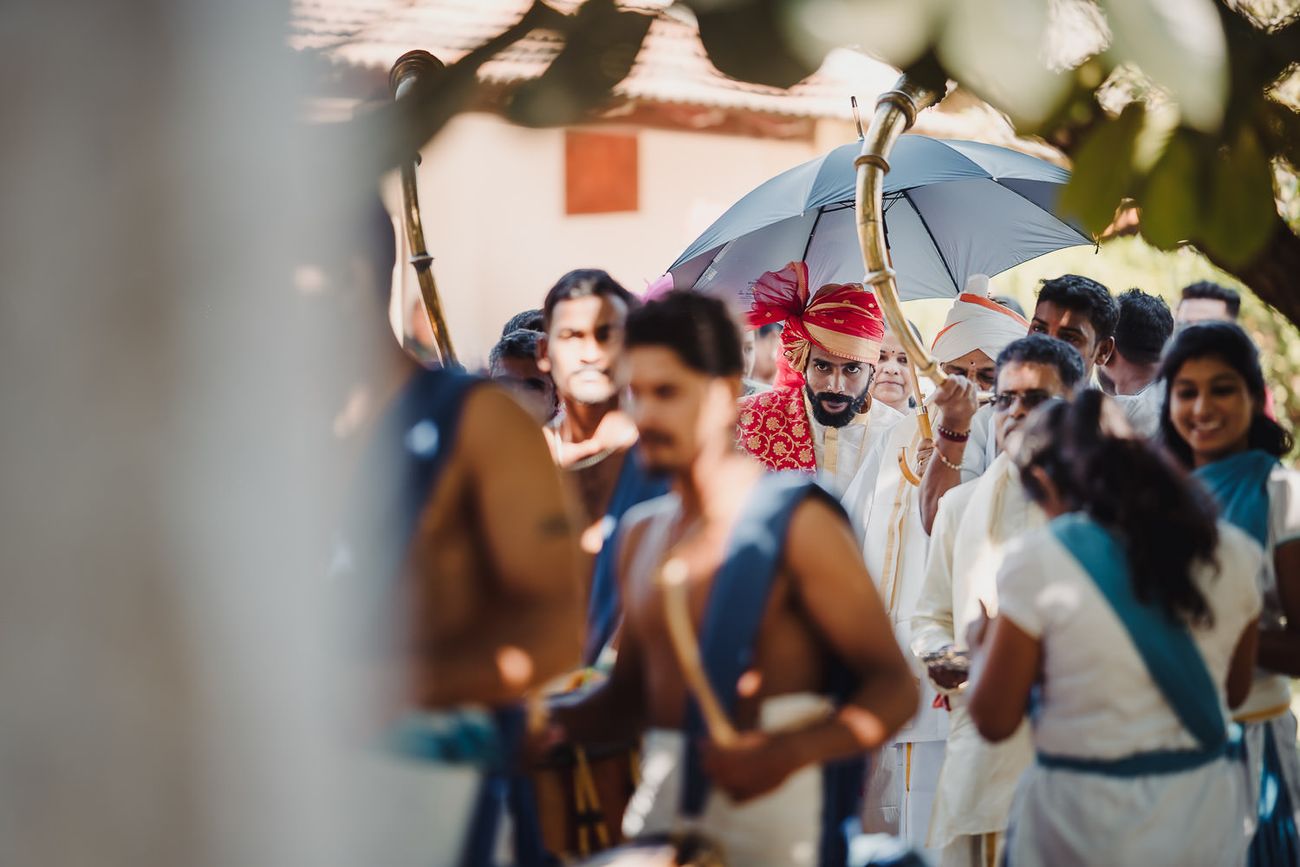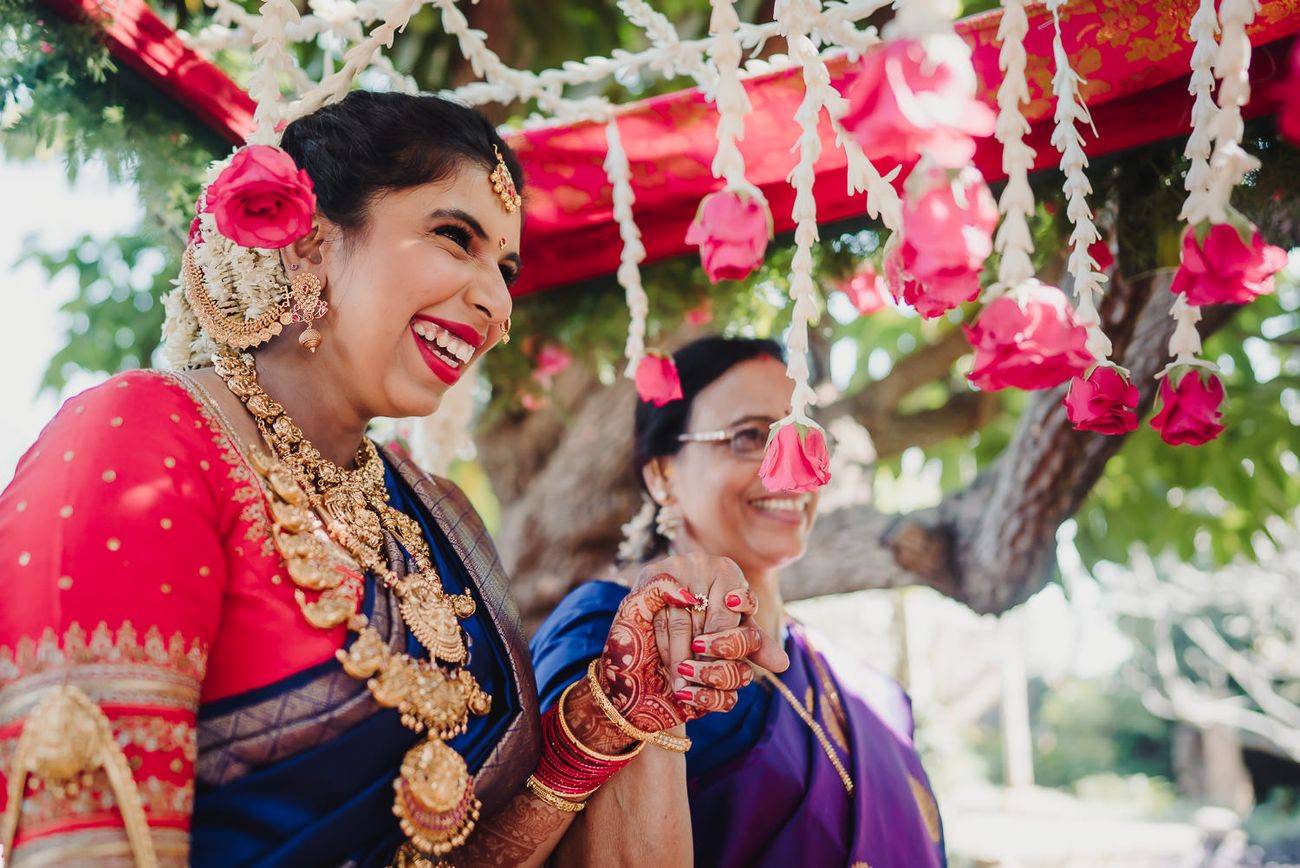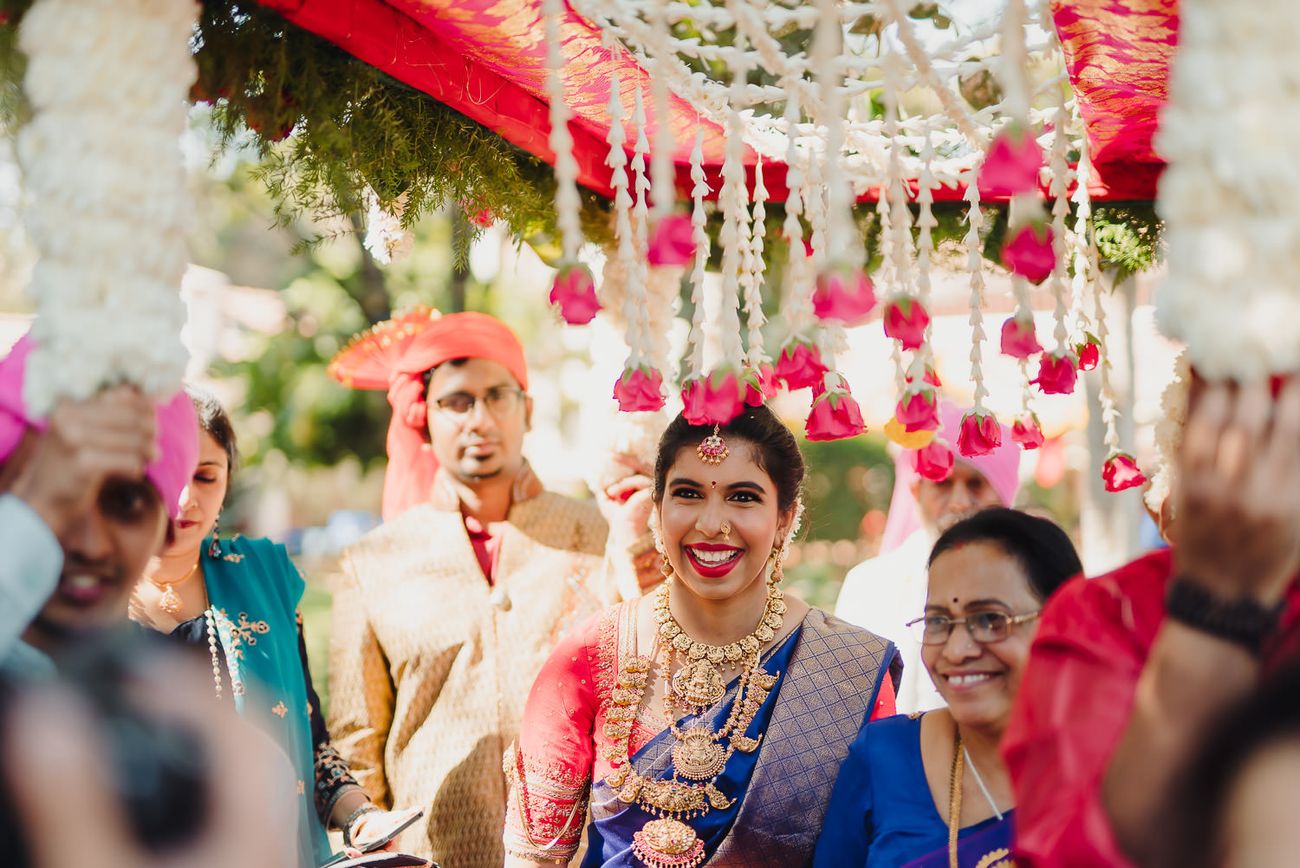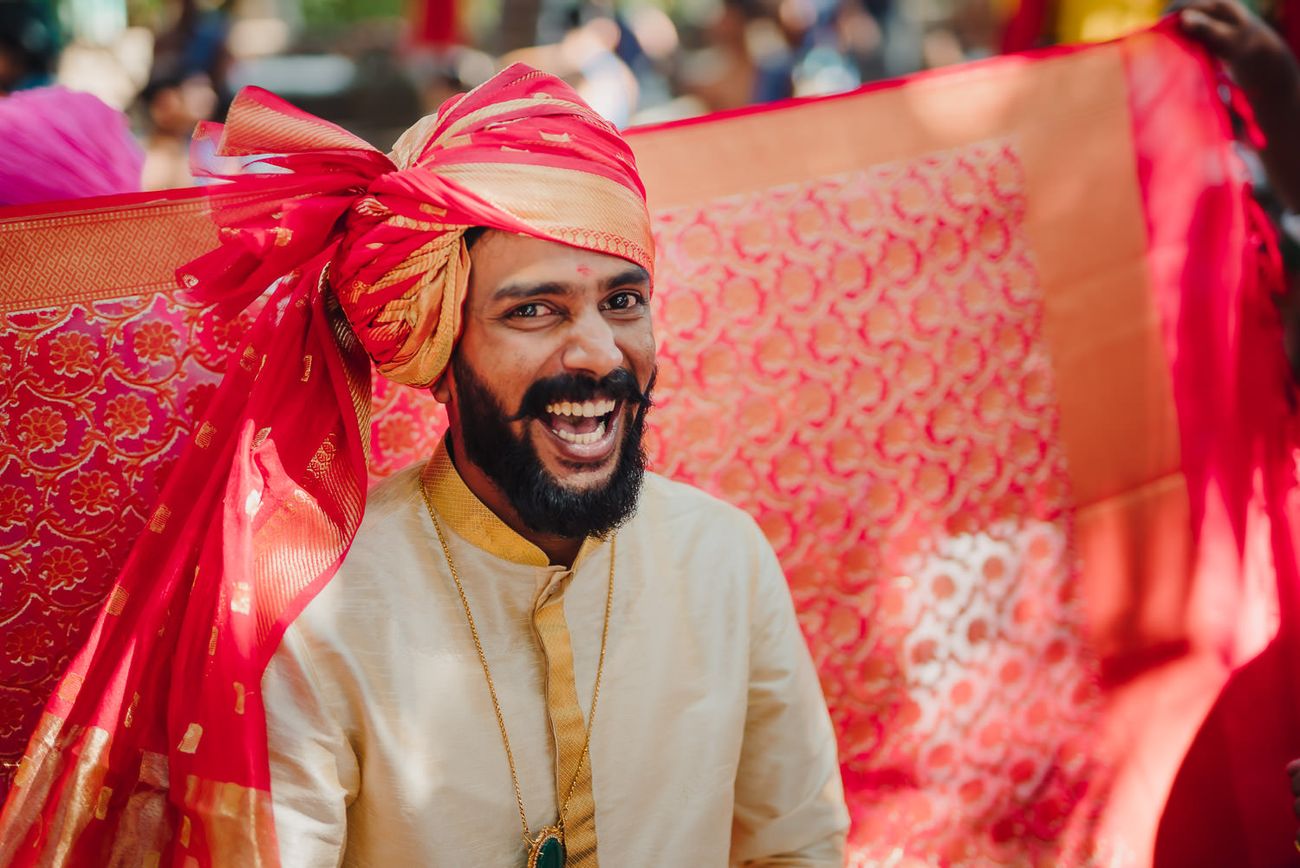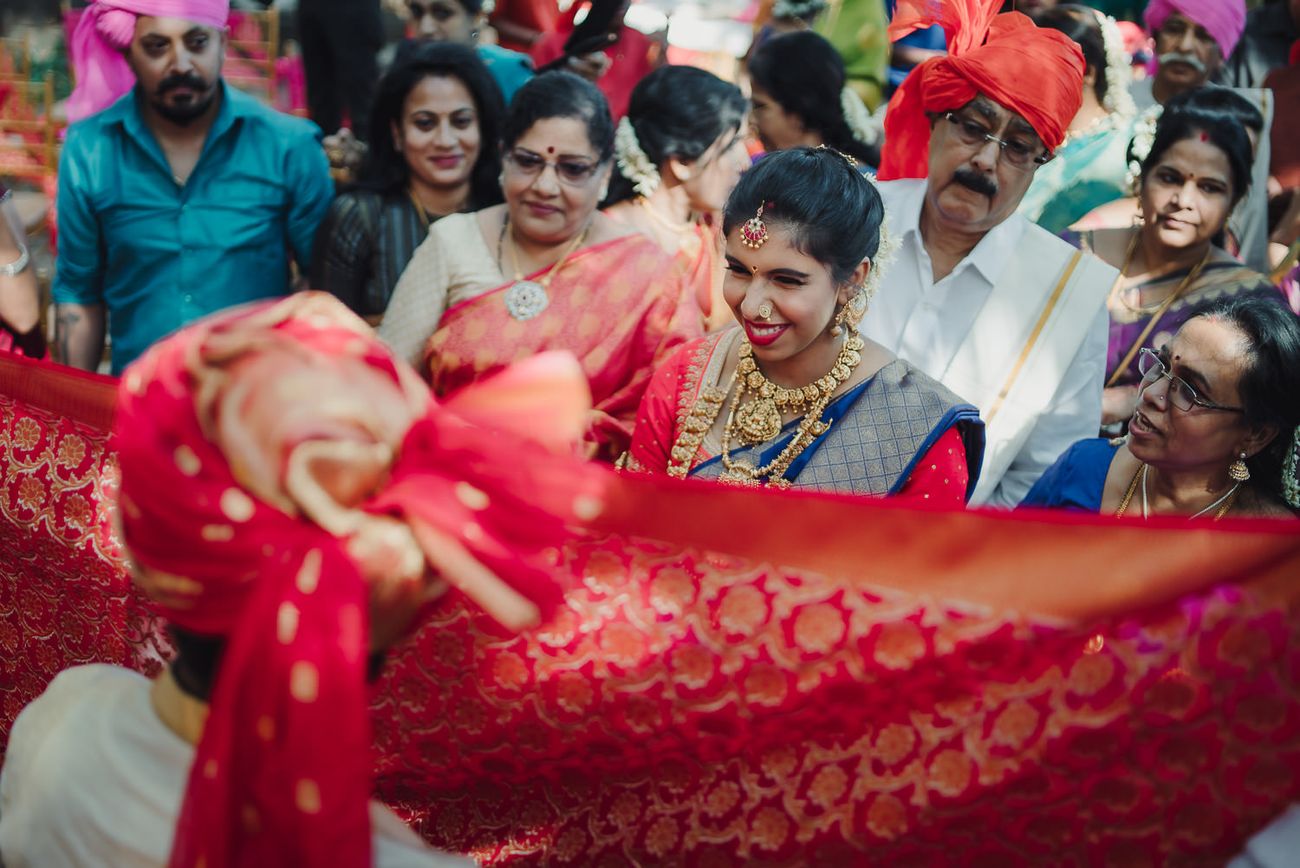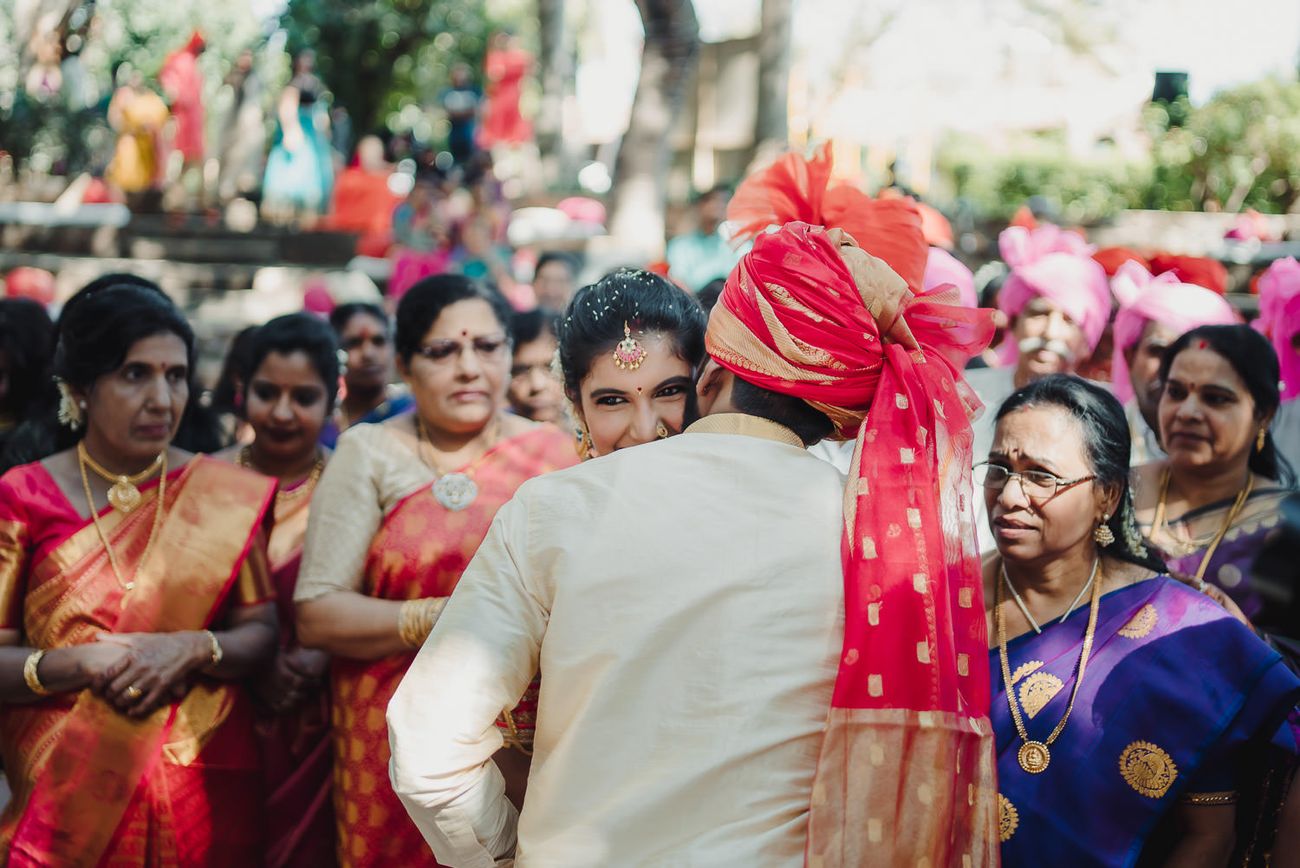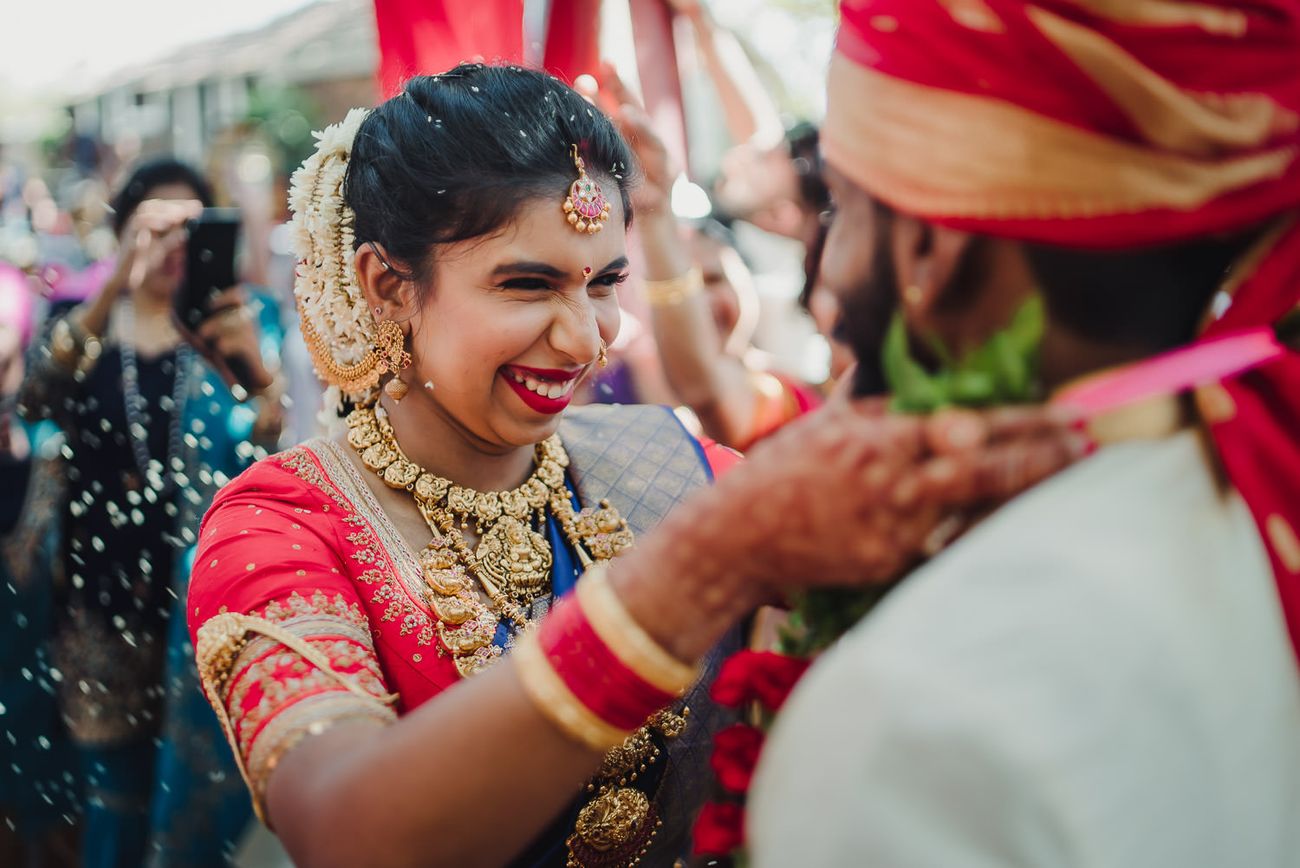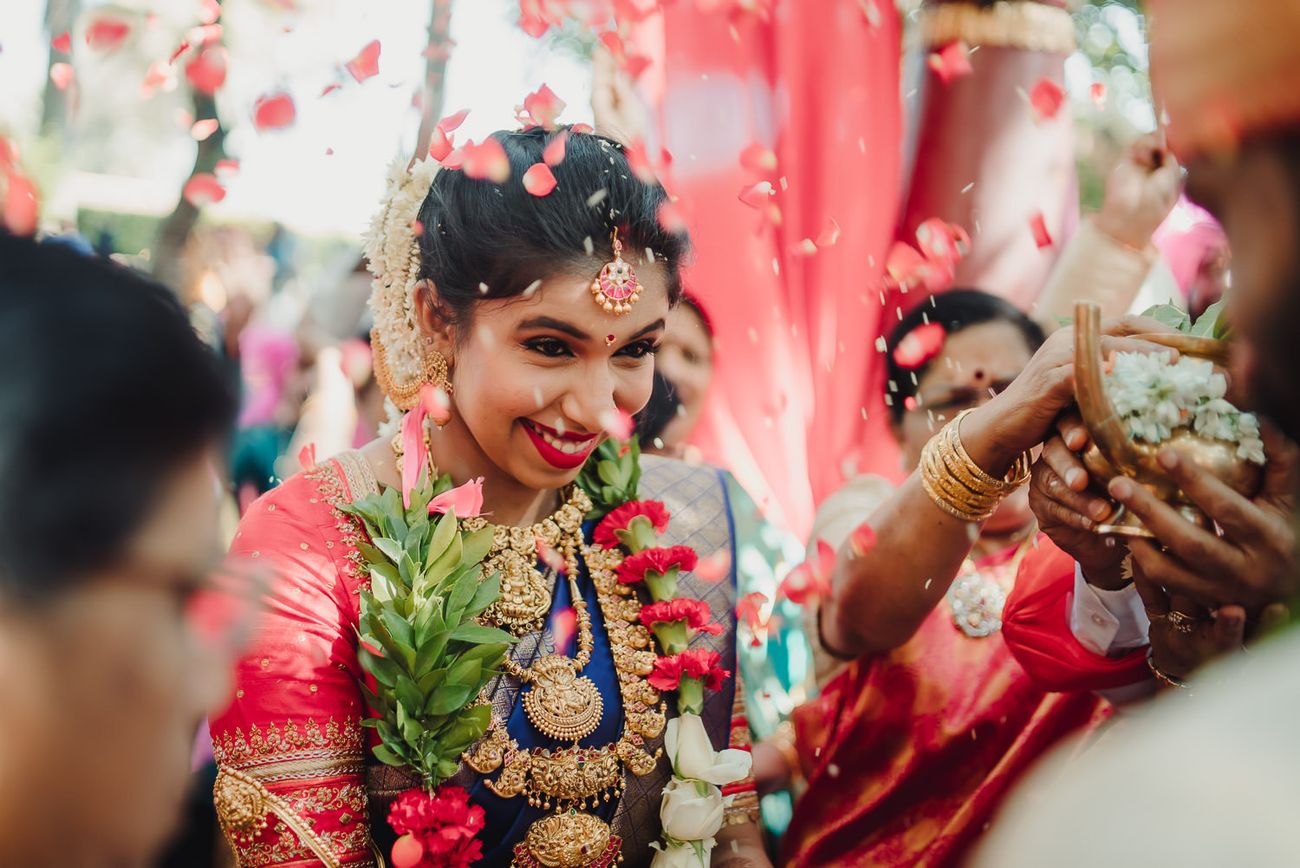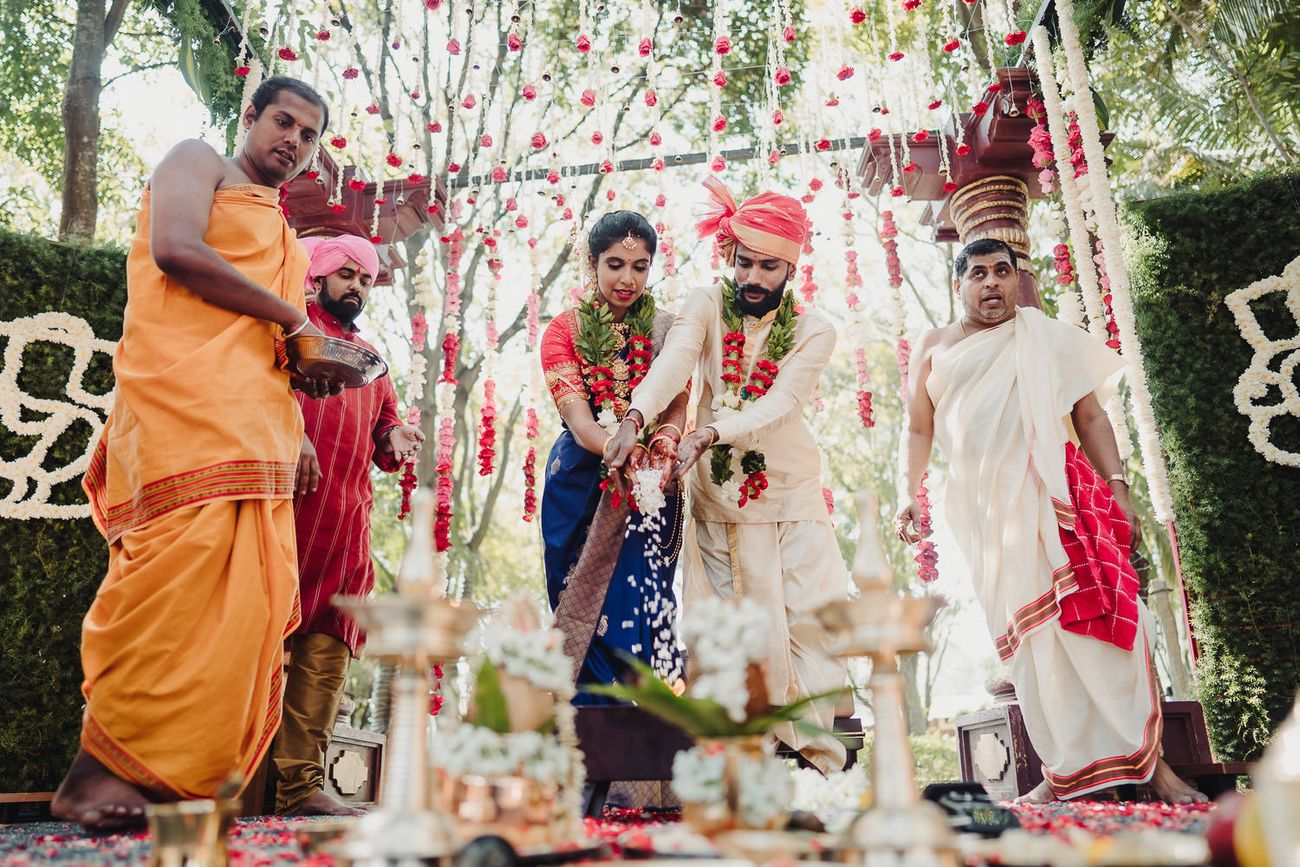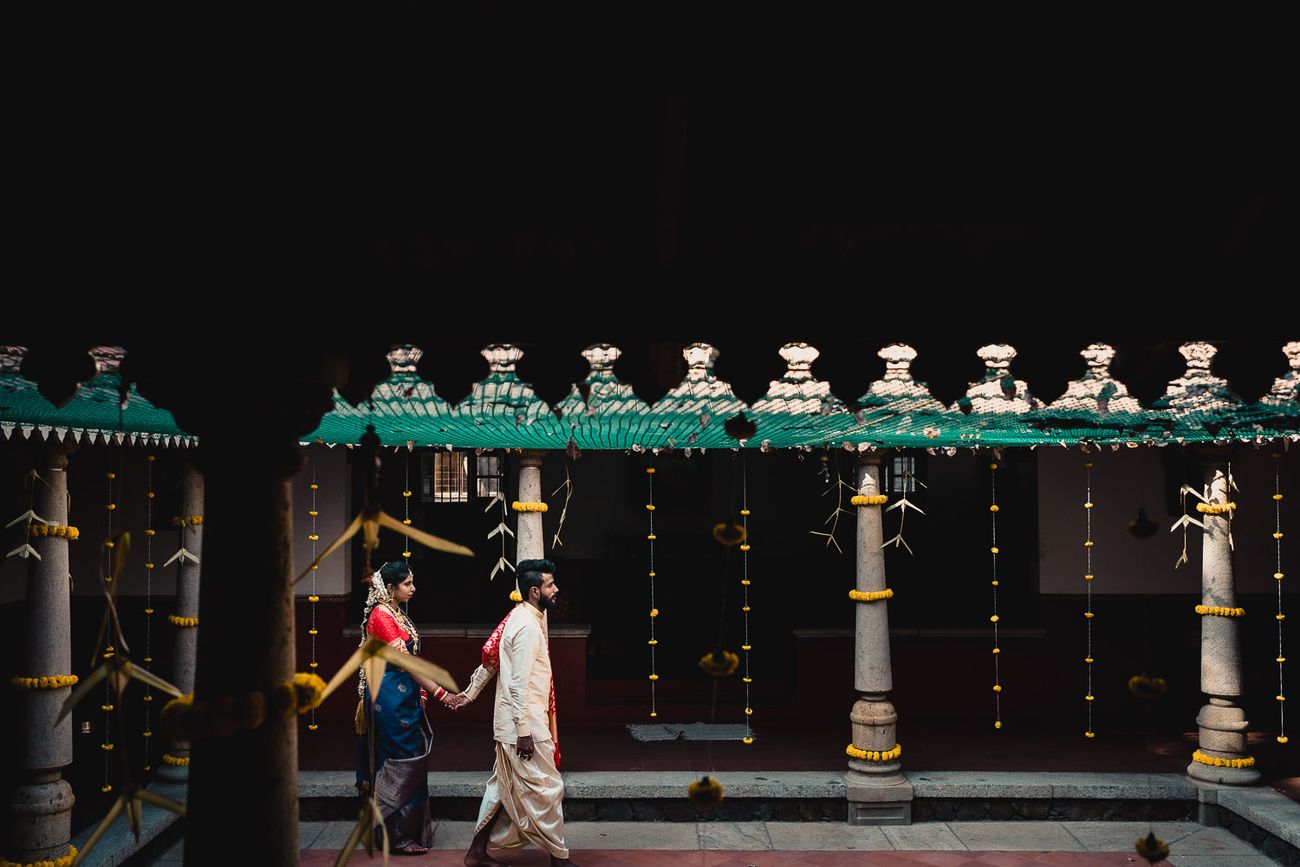 From The Bride
Like I mentioned, we are into the wedding business and had a few distinct ideas on how we wanted the wedding to be. I come from a design background and being an architect and lover of history, art, and culture I wanted to get married at an old stone temple, but after a lot of hindrances we had to make do with my second option of getting married at a venue which was under trees, it was either in an old ancient chola styled temple or under trees in the open. We both love nature and we try to practice eco-friendly designs and execution. Angana was one of the two venues I wanted, it has a natural outdoor amphitheater for guest seating, a gorgeous pool that looks like a temple kalyani , a courtyard house, and the team and owners themselves who are eco-conscious. This had to be the best spot to have our small intimate wedding. We wanted our wedding to be an extended portrait of our likes and character and to be unique in a way. We had a total of 25+ vendors and each chosen months in advance to make our day special.
I lean more towards minimal an eco-conscious designing and decor and our wedding was exactly that a minimal waste wedding with zero plastic being used. We made sure most of our choices were eco-conscious and true to our ideals. We made hand made stuffed cloth birds, use of local flowers, and coconut fronds in decor. We sourced re-useable fabric to make cloth napkins to avoid the use of paper napkins and laid out baskets for them to be dropped and washed to be re-used sometime in the future, water and food were served in crystal and ceramic ware and there were zero plastic bottles or single-use disposables anywhere. Our return gifts during the Mehendi were Intricate zardozi clutches for the women, wedding day return gifts were small little tulsi/basil plants, and organic coffee from Coorg, during the reception we had portable cutlery + hand made bags filled with stainless steel cutlery given out to all guests.
We had artists like chenda melam players, Huli/Pilli vesha also called as tiger dancers, yakshagana dancers and Garudi Gombe/super tall Street puppet dancers during the wedding, which was for entertaining guests and give an insight of our traditional culture to most of our guests and also to relive our childhood memories. We had a tender coconut bar with bamboo straws handed out to the guests. Hand fans and Mangalore jasmine stations for guests to access. I love Ravi Verma paintings and used my collection of painted frames as a photo booth during the wedding. At my engagement, by the riverside in Mangalore, I wore my mother's wedding saree made into a lehenga and we had a simple and gorgeous ceremony right under a tall tree with floral decor.
Vendor Reviews
Lobos Riverview - was our engagement venue in Mangalore and it was just the kind of rustic, by the river side venue we were looking for. A big tree right in the middle which we planned to decorate with flowers and made it the focal point and had our ceremony right under the shade and blessings of a gorgeous old tree. We had pastel themed decor all over just making the whole place beautiful.
Angana - The courtyard was one of our two venue options In Bangalore and we had booked the venue 10 months in advance when we were sure. It has a natural outdoor amphitheater for guest seating, a gorgeous pool that looks like a temple Kalyani, a courtyard house, and the team and owners are eco-conscious themselves which suited us just right. This had to be the best spot to have our small intimate wedding. The natural OAT and the wedding mandap right under trees with everyone seated on a mattress watching over us was just what we had wished for.
I have known Anurita Chandrappa for a while now and when my dates were set I knew I wanted her to be my MUA and vice versa. I remember her saying I won't have it any other way :). As I was planning my own wedding so I was stressed and working all the time even while I was on her chair, but she did not lose cool even for a moment and helped calm me down and gave me my most beautiful wedding day looks. Shireen and Anu were so patient and wonderful at whatever they were doing, they were quick, easy to work with, and on time! Anu gives you her inputs and patiently listens to your insight on the look as well and incorporates it. She's very easy going and friendly and also knows how to control the session, the bride and time even if we are getting delayed which is something all brides require on their event days. I have always recommended her and now for sure going to do a lot more of it.
Vivek Krishnan and team is like an extended family for me on a personal note, but to give my professional view regarding their work and why they are my personal choice and not just a vendor whom I refer to my clients, the team is very hardworking, all the photographers are humble and polite, they never say no to an extra shot and just work in every circumstance. Their eye for candids is good and they give couples the attention they deserve. They do not hound the couple for pictures nor do they lose a chance to shoot beautiful moments. All of them have a creative eye and have so much talent untapped as yet which could only bring about much more beautiful work in the future!
My Engagement lehenga was designed and put to life according to my design using my mom's wedding saree by Miraya Design Studio. Spoorthi has a great set of skilled tailors and karigars.
The wedding saree is from Vijaylakshmi Silks and after quite a lot of saree hunting we found the exact color we had been looking for from months in one of their Bangalore outlets. This was a fortunate stroke of serendipity.
The wedding blouse and the reception outfits blouse and the cape were put together as envisioned by Avani Design Studio. In a very short span of time, it was made beautifully as requested.
Vendors: Venue - Engagement: Lobos Riverview, Wedding: Angana The Courtyard; Bridal Makeup: Makeup by Anurita Chandrappa ; Wedding Photographer: Vivek Krishnan Photography  ; Decor: Best Day Ever by Deepika Shetty ; Bridal Outfits - Engagement: Customised Mom's Saree (by Miraya Design Studio), Wedding - Vijaylakshmi Silks, Avani Design Studio ; Groom Wear: Manyavar, Ethnix and Raymond ; Invites: Self Designed