An Elegant Wedding With Customised Bridal Outfits & A Powder Blue Bridal Saree
BY Aakanksha | 22 Apr, 2020 | 63458 views | 6 min read
Trisha was a bride as unconventional as they come! She chose powder blue over red as her wedding colour, she chose to wear a saree with a beautiful trail instead of a usual lehenga, and she chose to pair it up with diamonds, rather than polki or kundan! Now that's what you call a unique bridal outfit! She looked stunning, and her bridal entry was one of the most beautiful ones we've seen! Trisha also designed two of her own outfits, and we loved how flawless she looked. Rahul wasn't far behind in being quite an unconventional groom himself. He donned a bright red sherwani for the wedding and looked dapper! Twogether Studios★ 4.9 did a great job in capturing this wedding, ensuring they caught the minor details, the candid moments and even the grand ones like her entrance! 
Meet Trisha & Rahul 
 

 

View this post on Instagram

 
The Pre-Wedding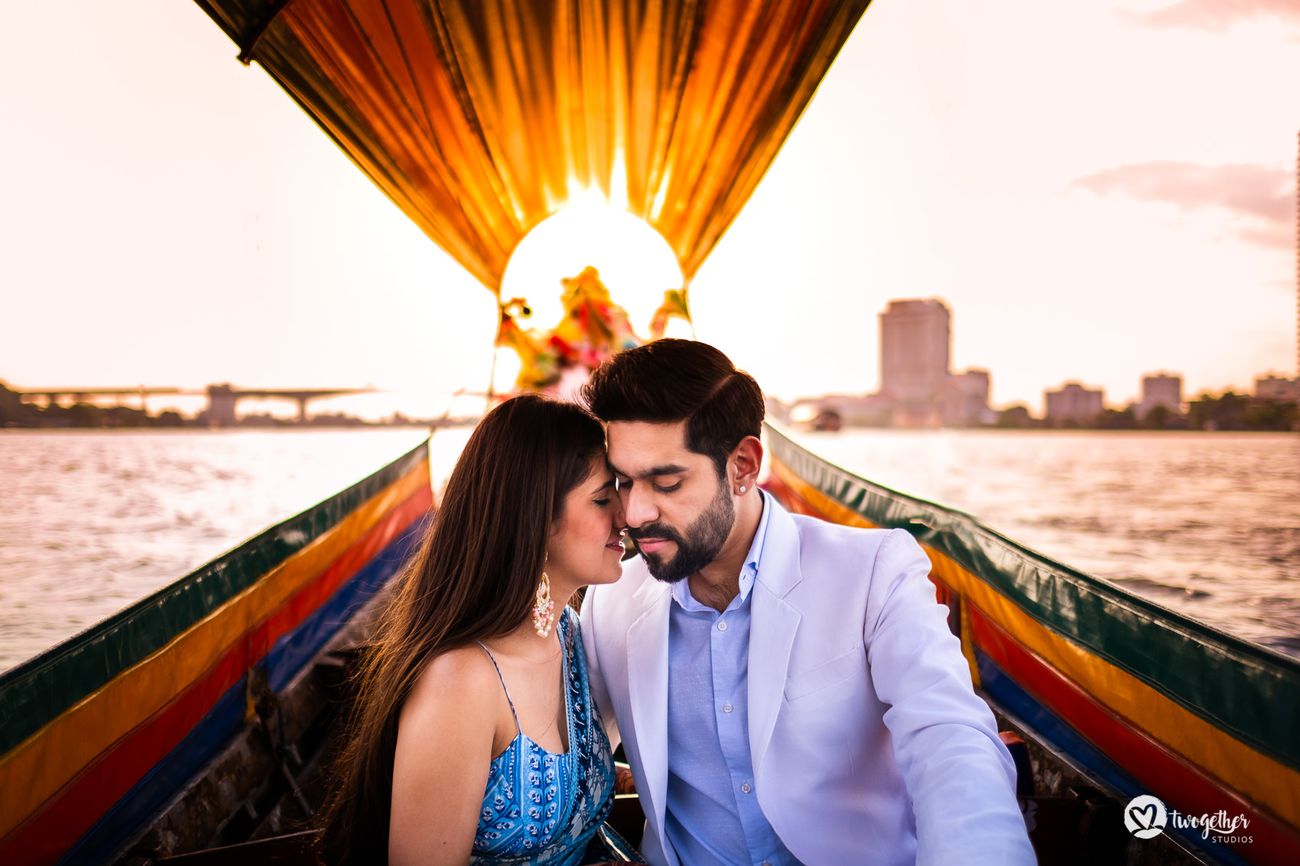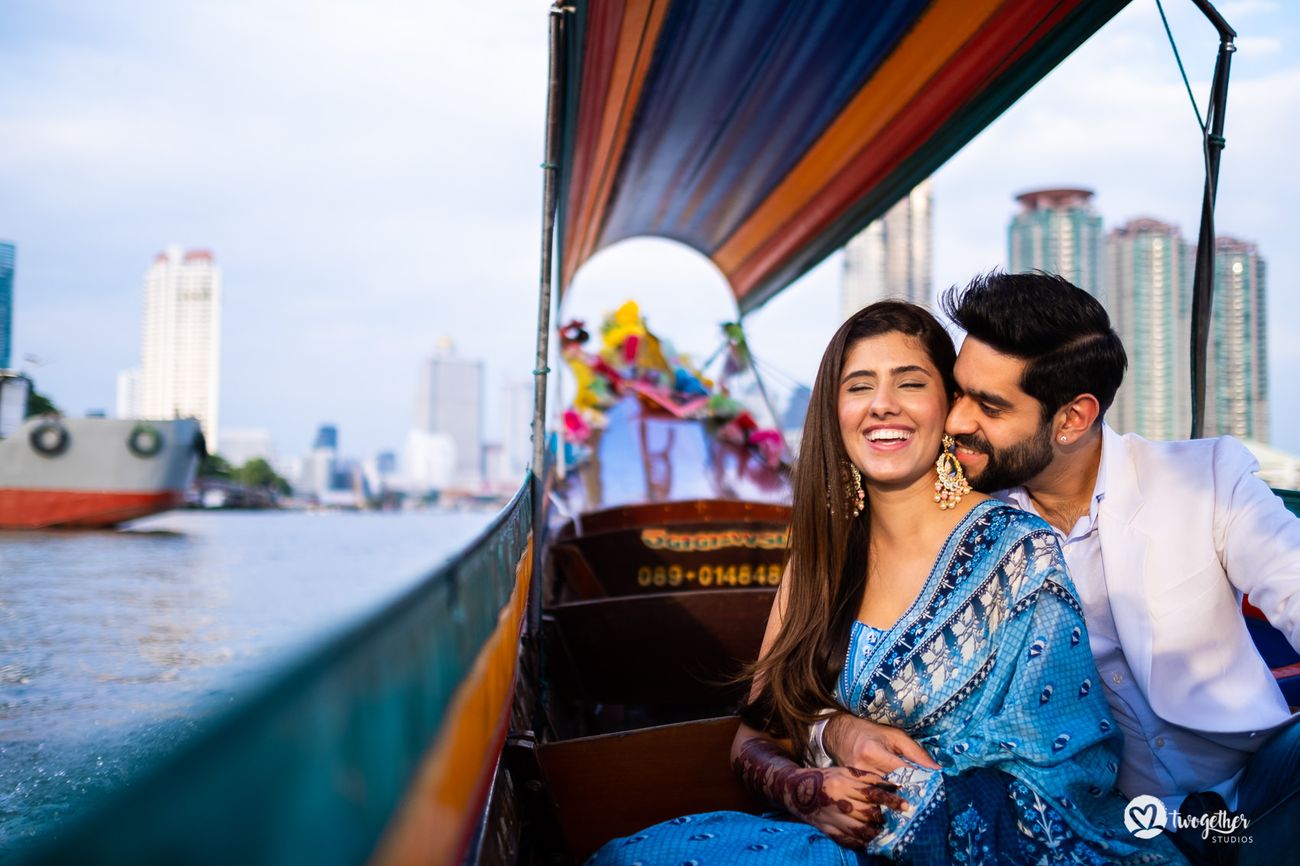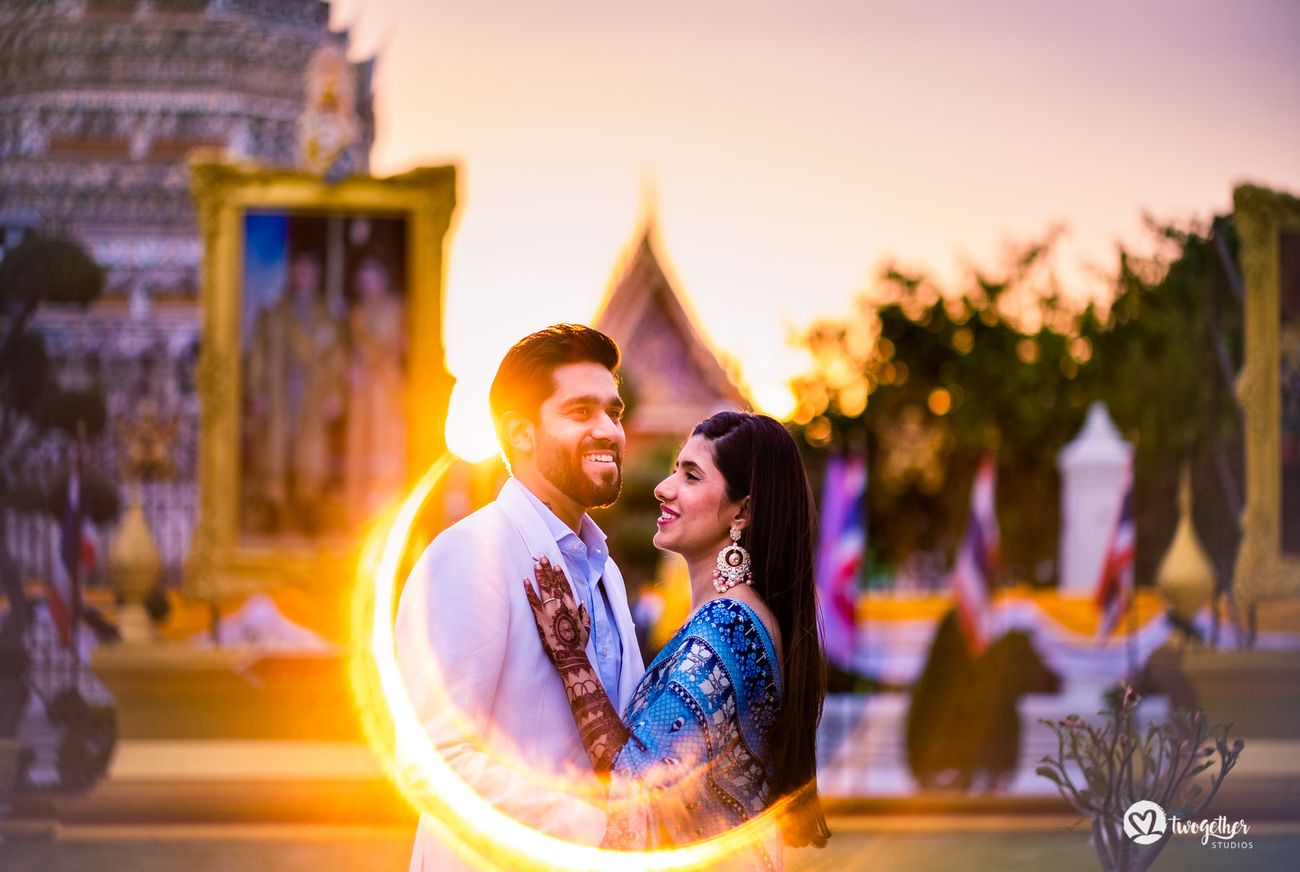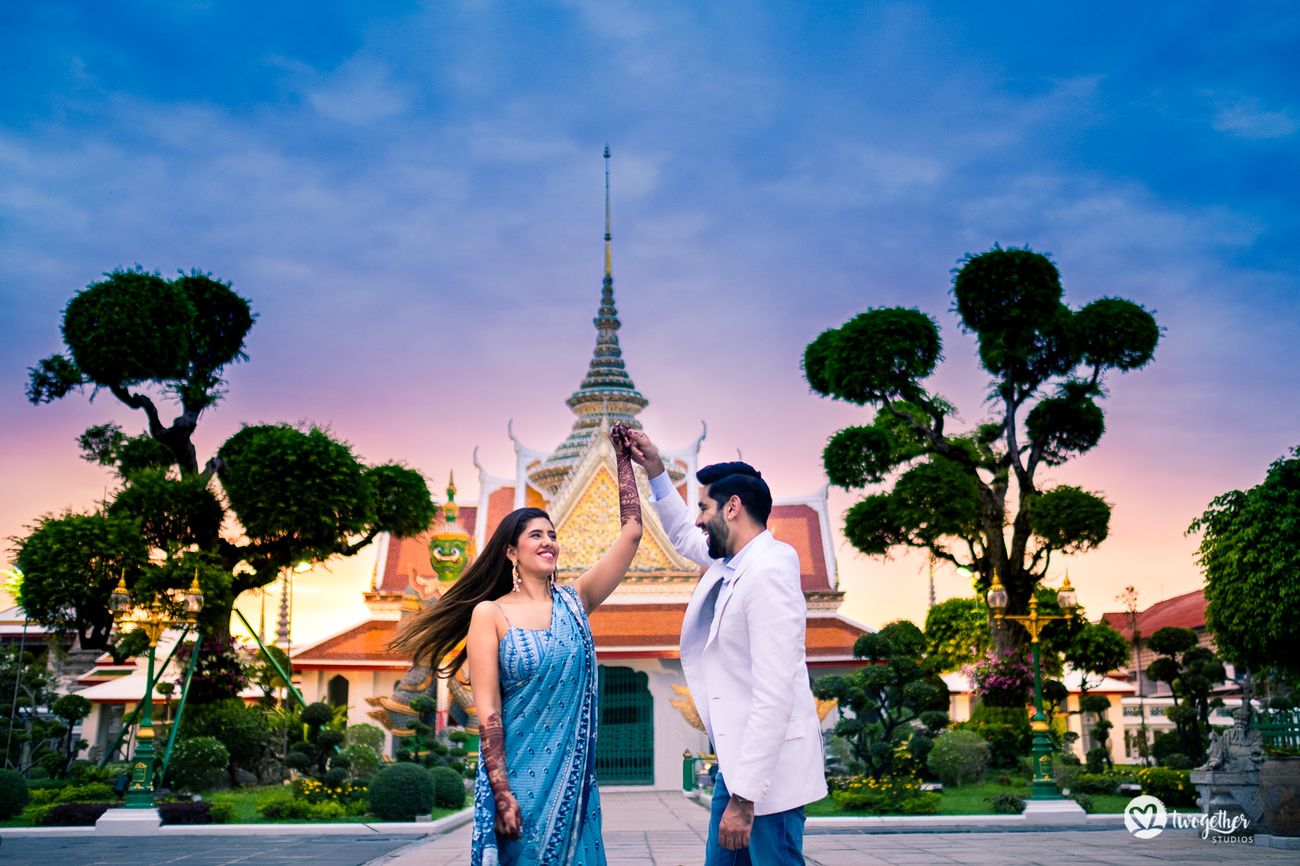 The Haldi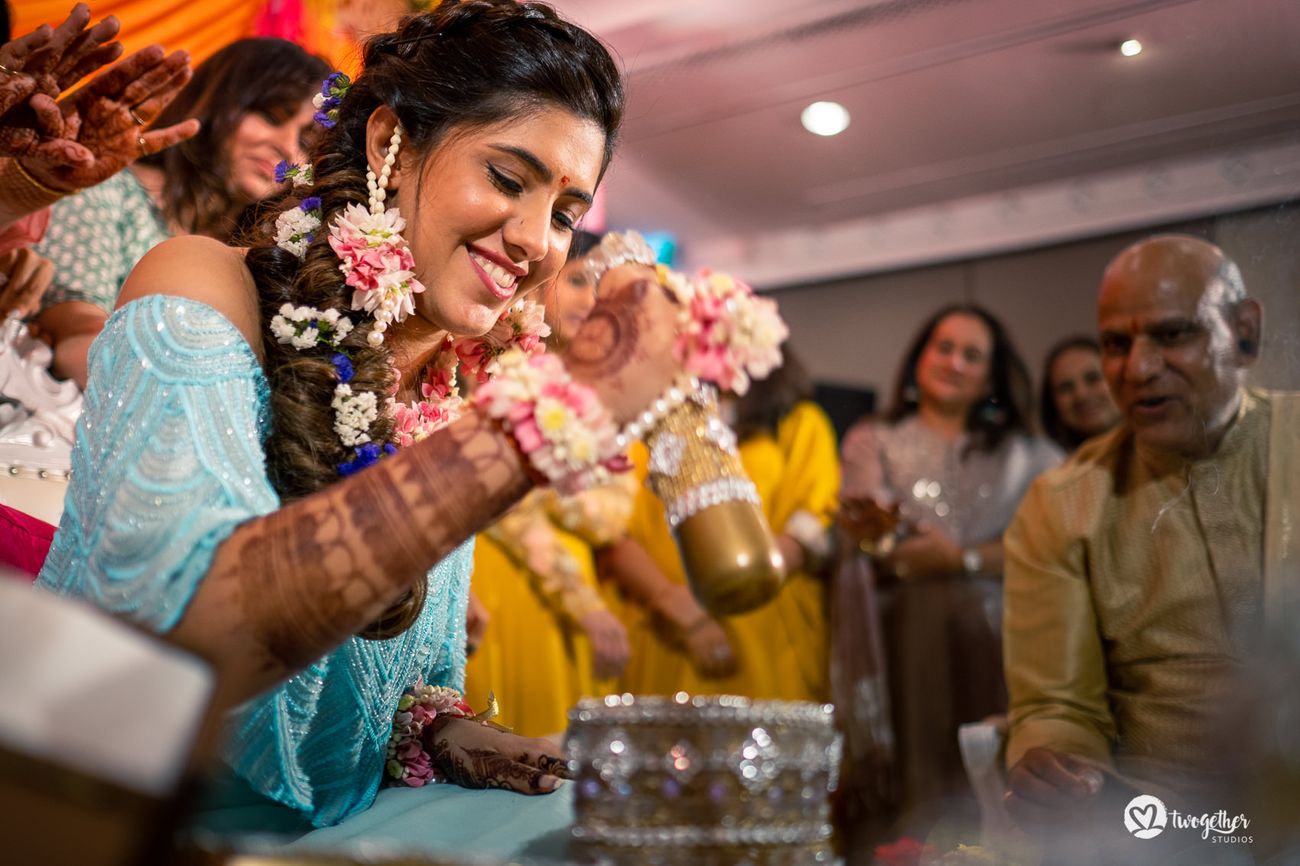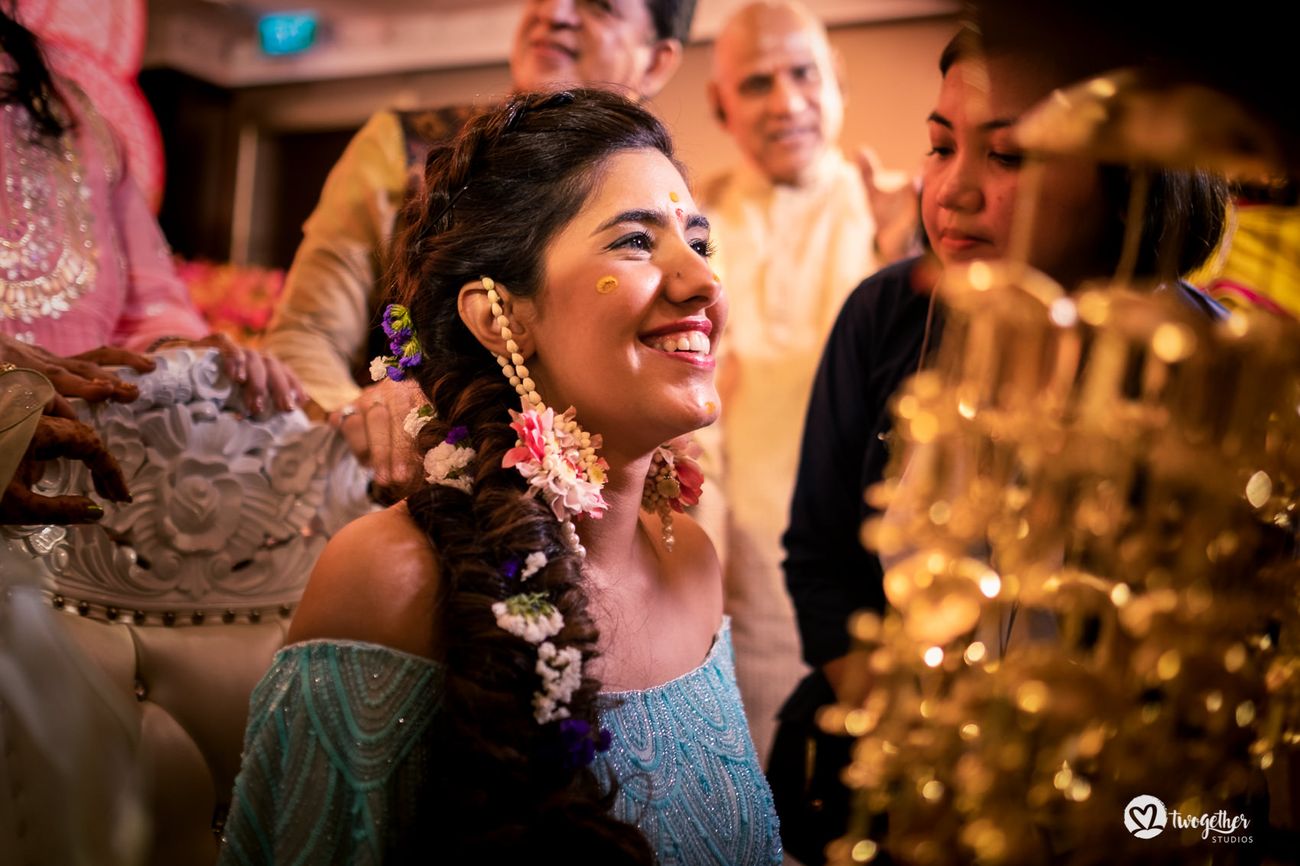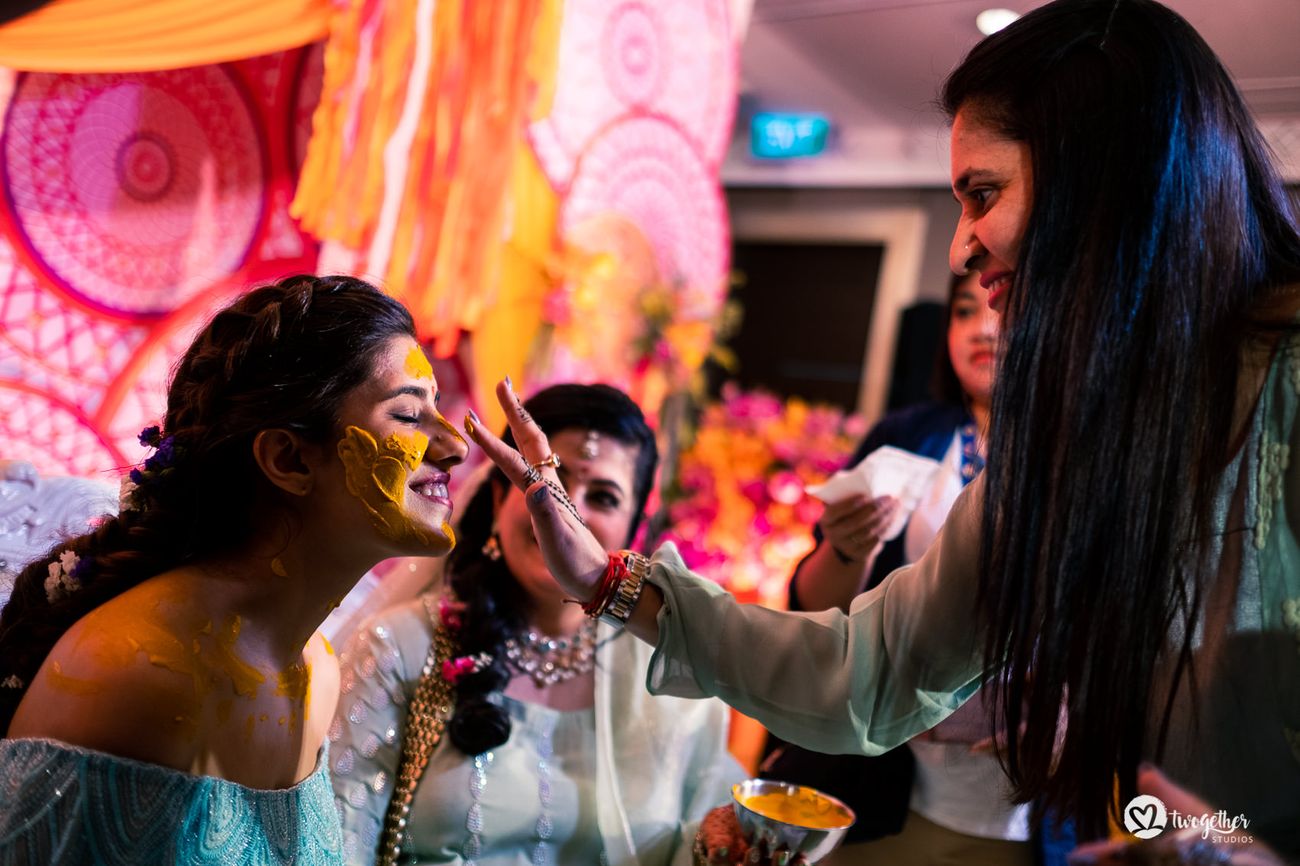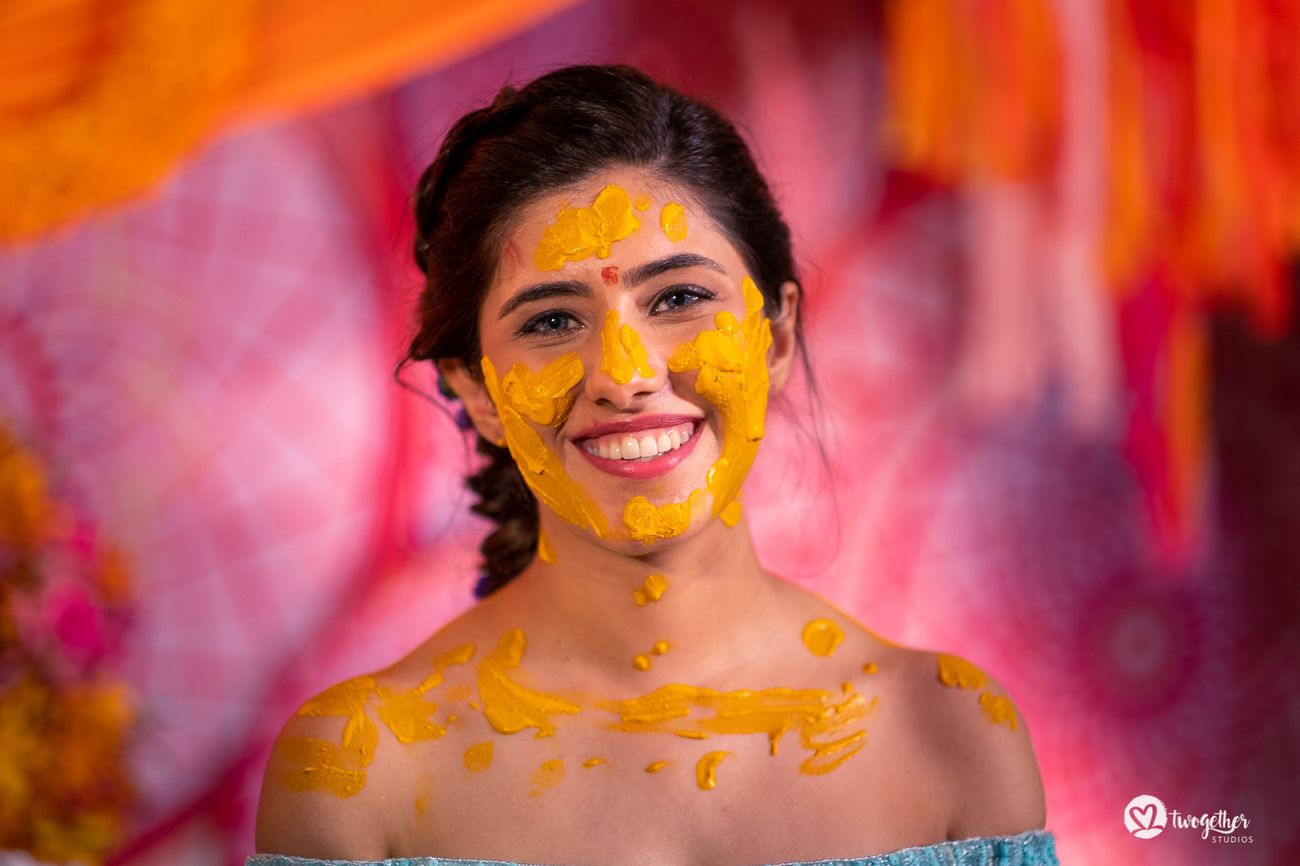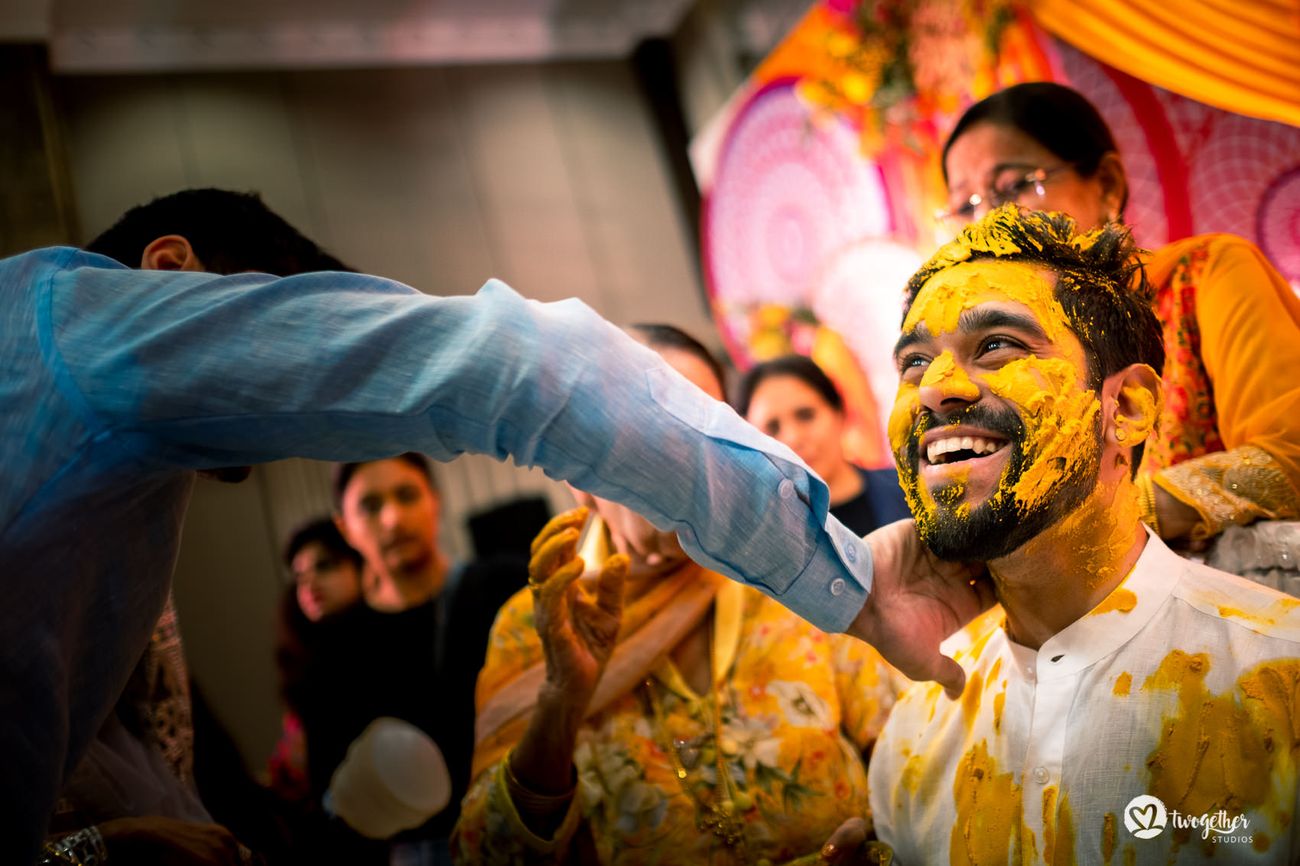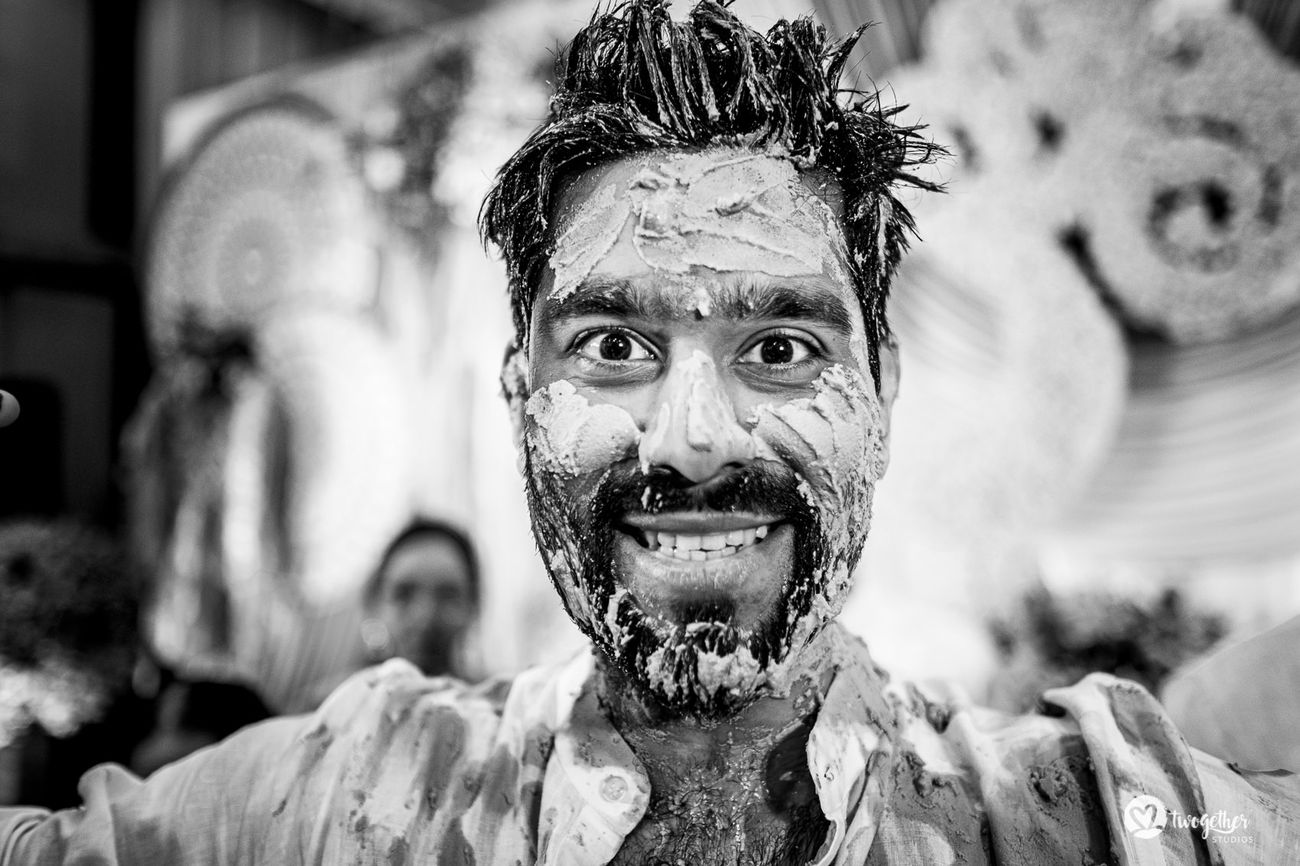 The Sangeet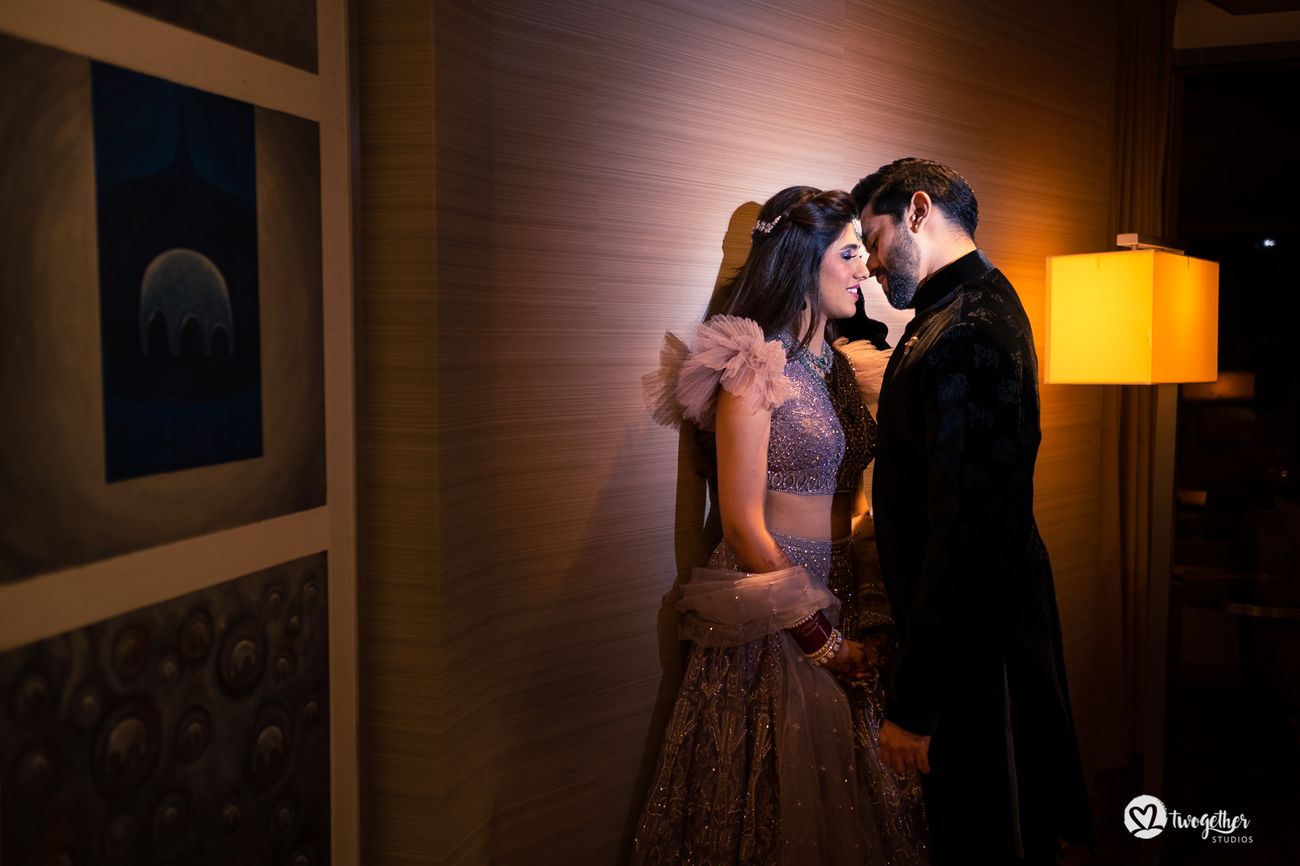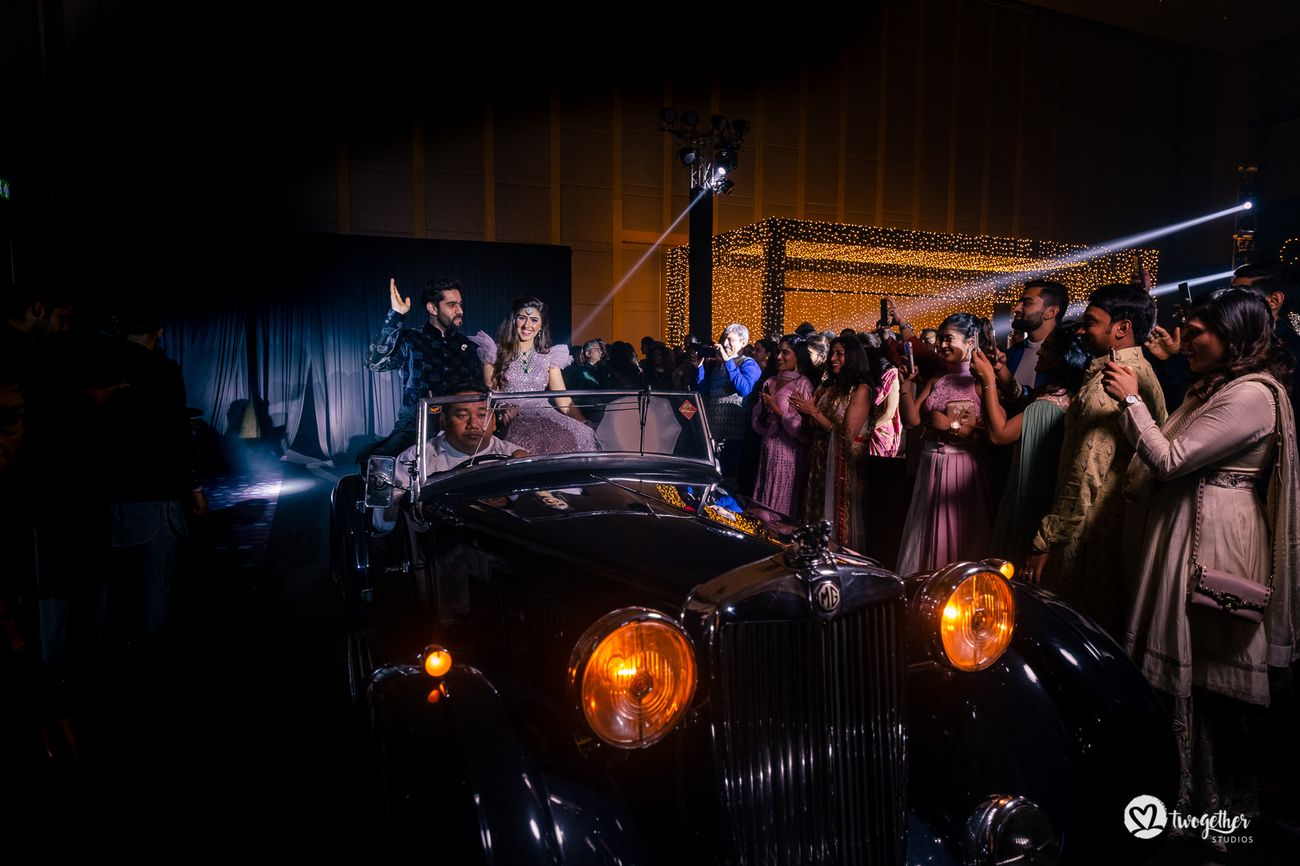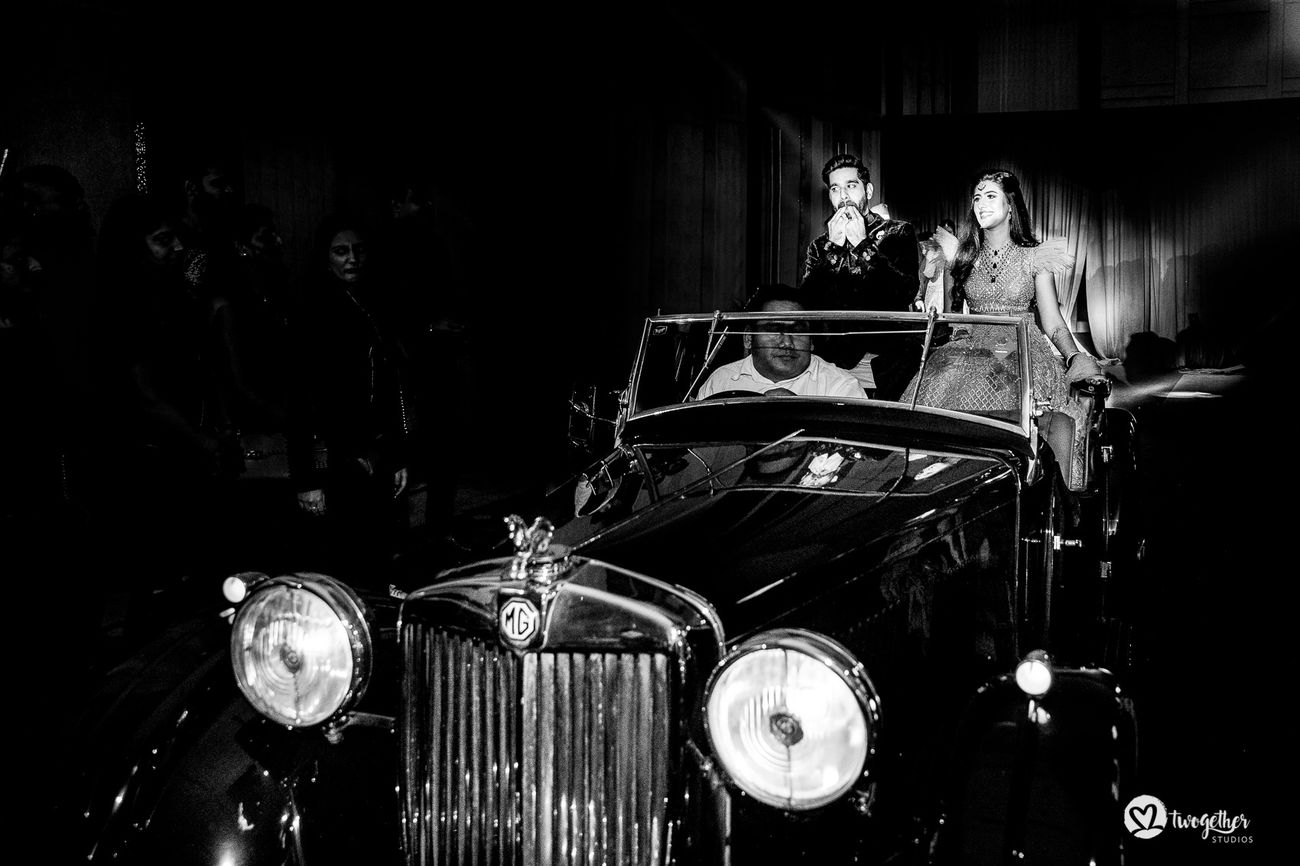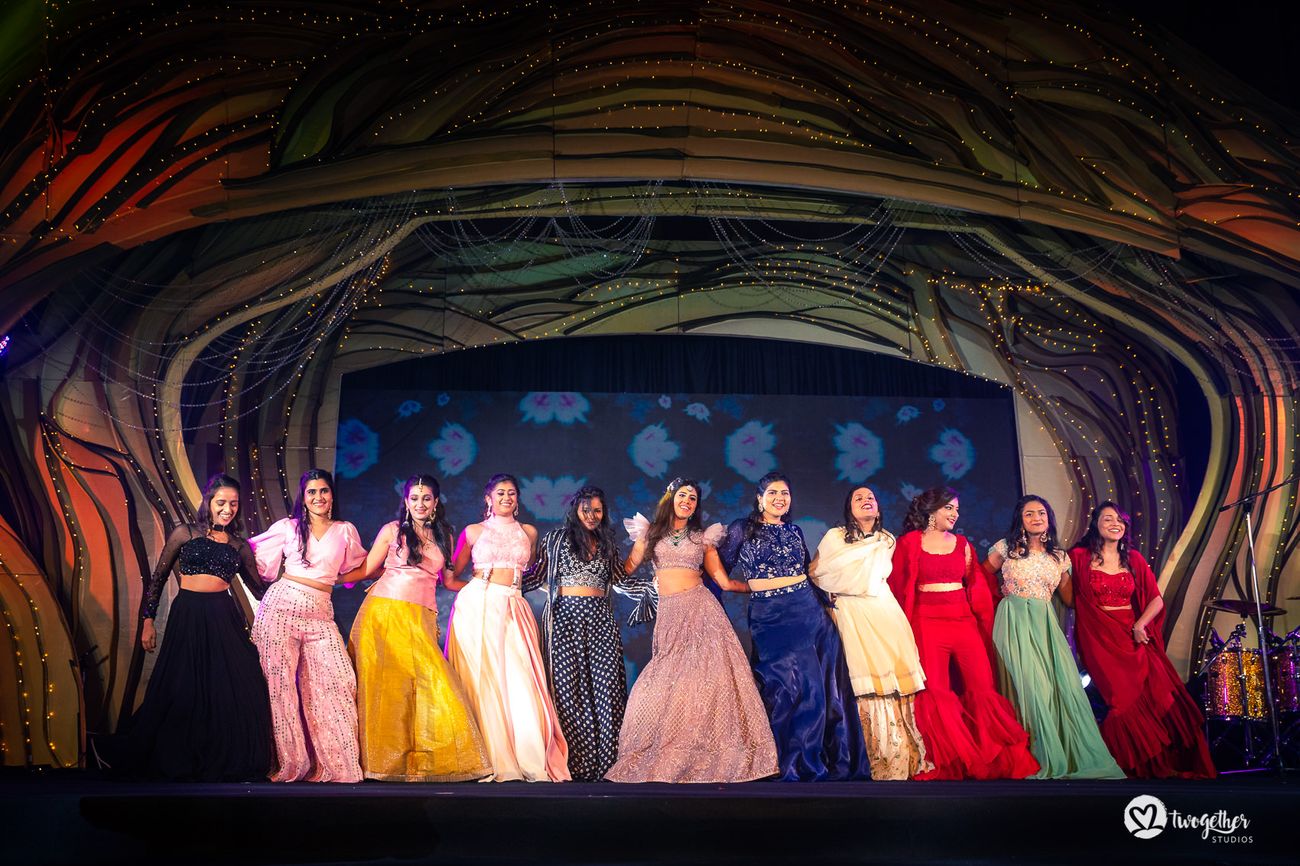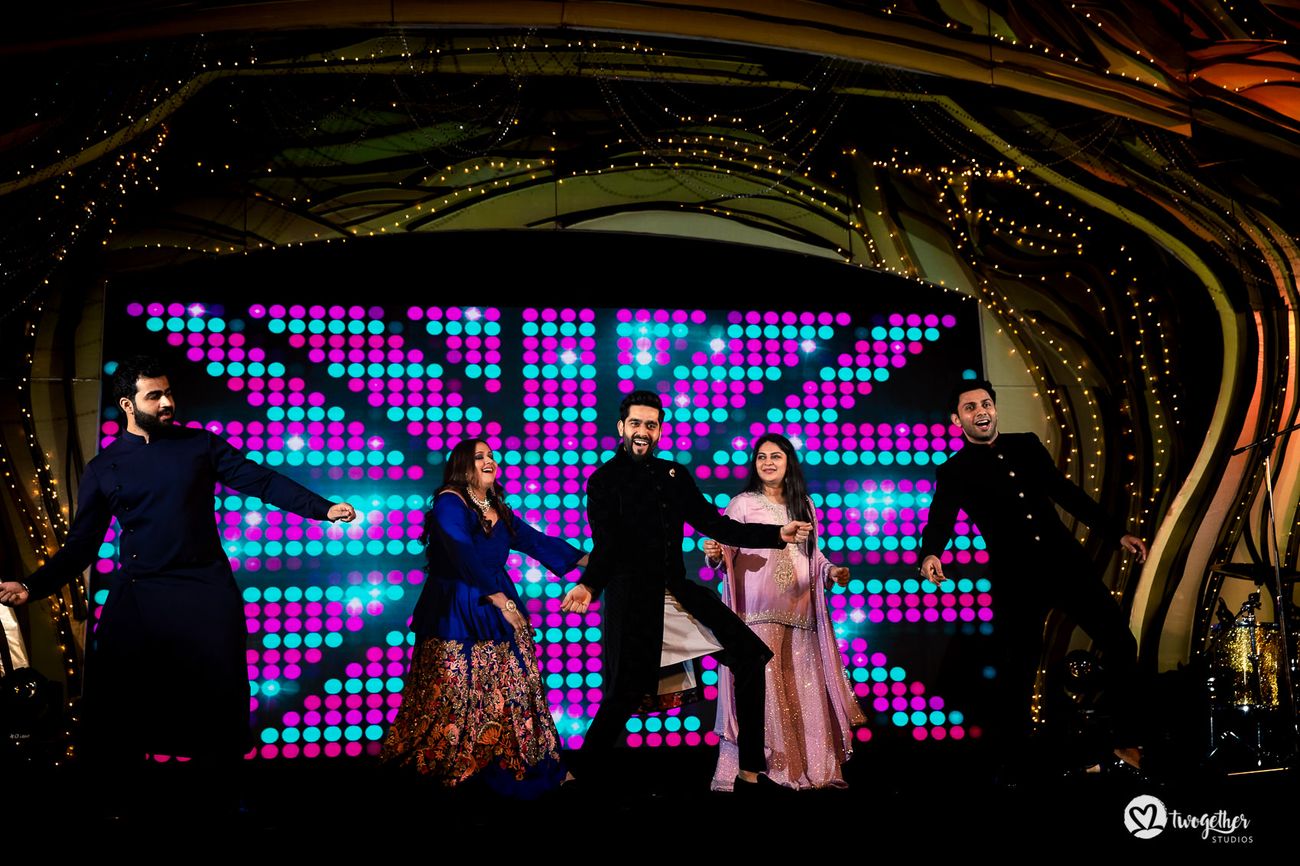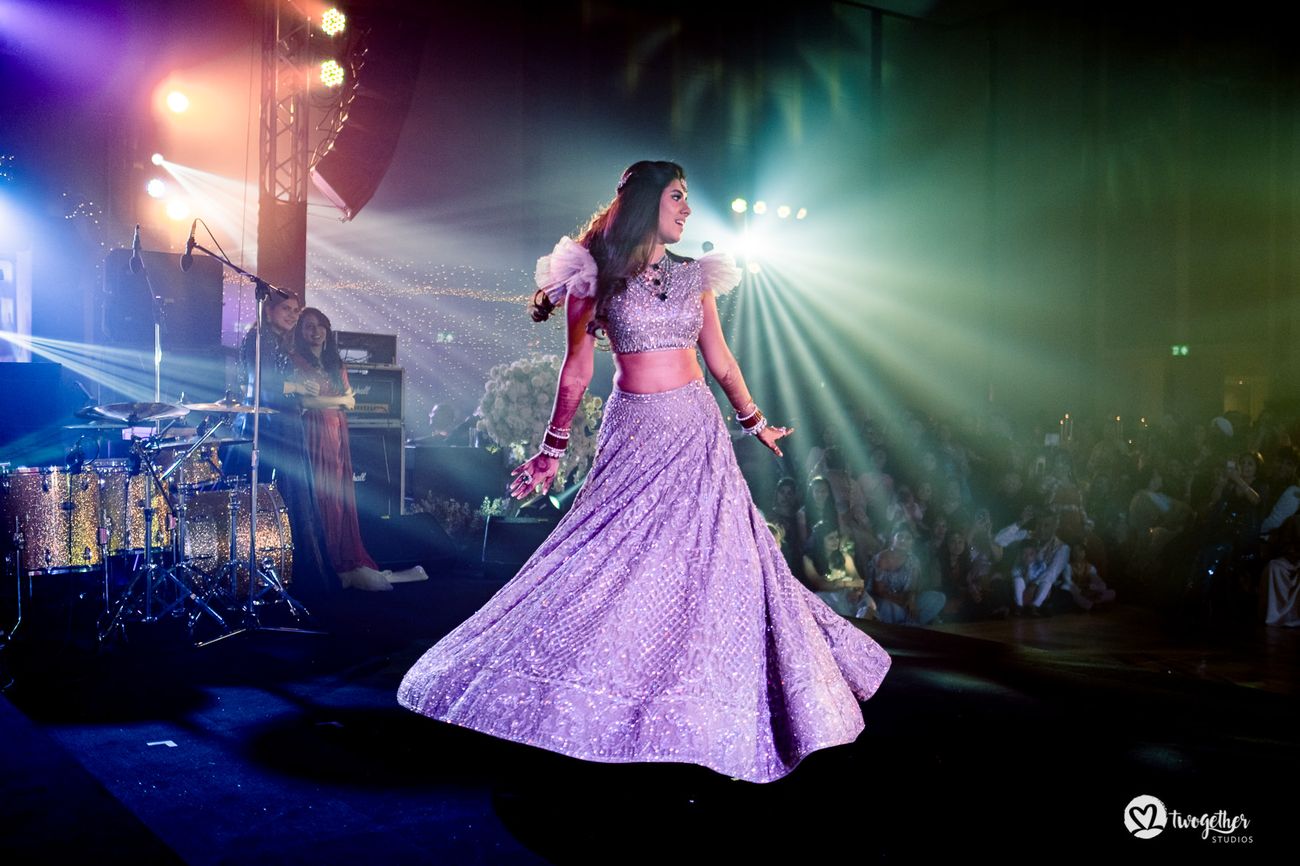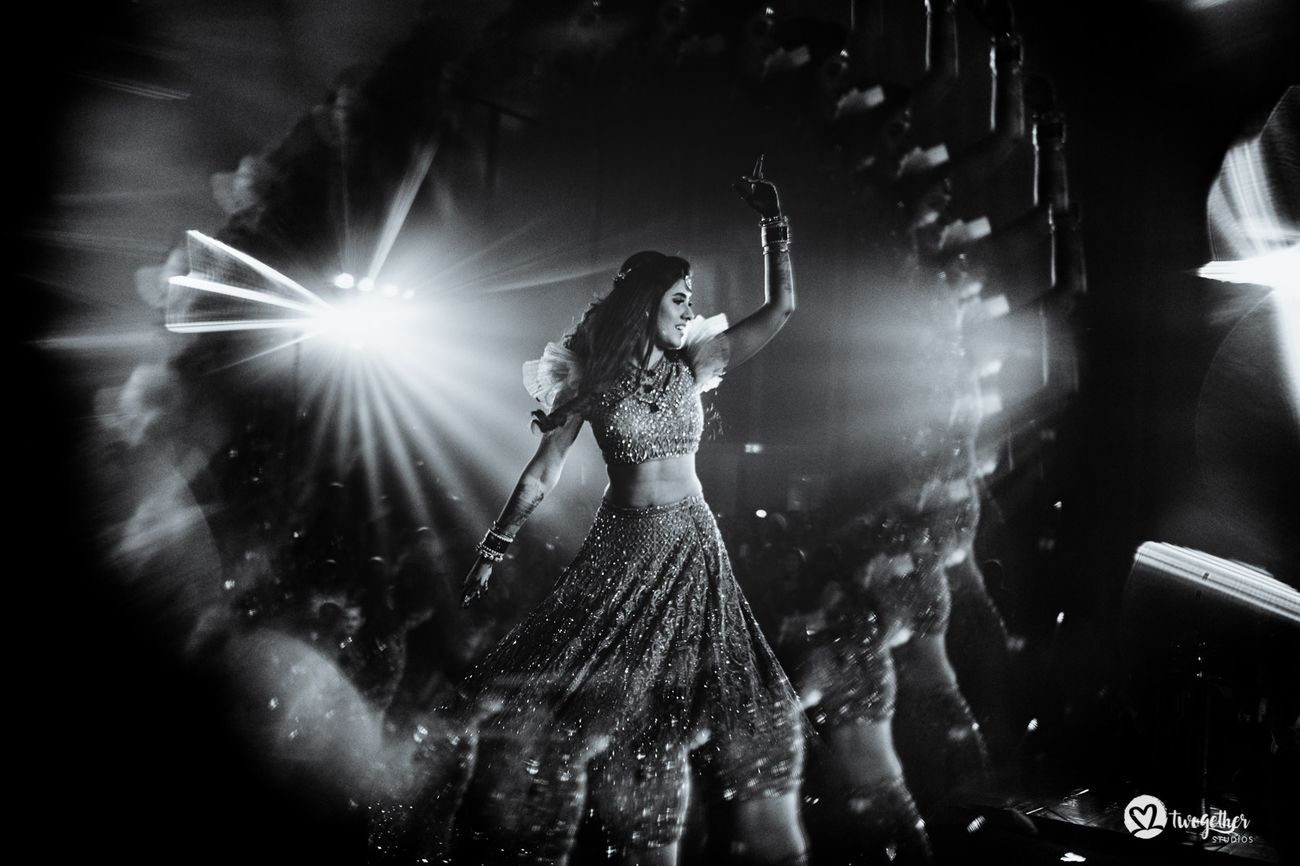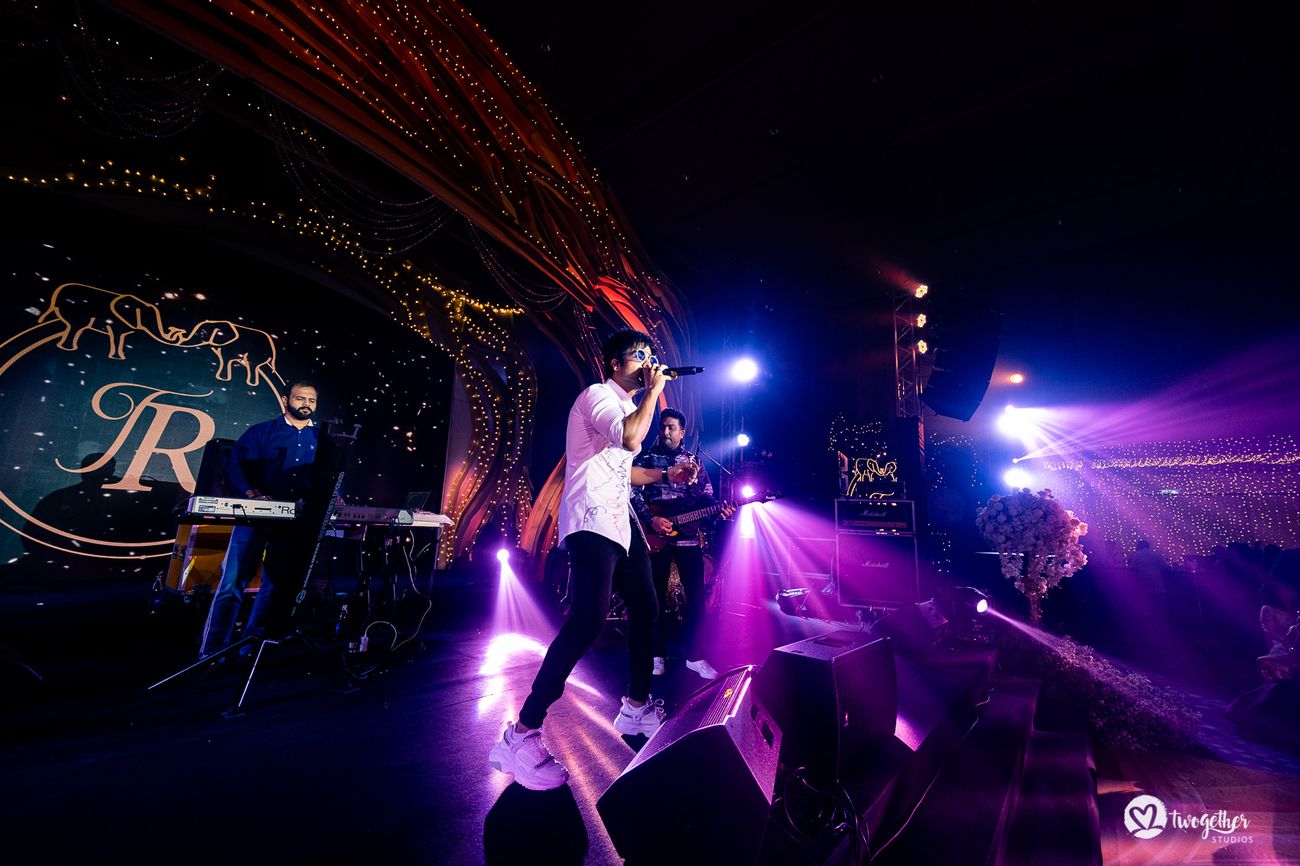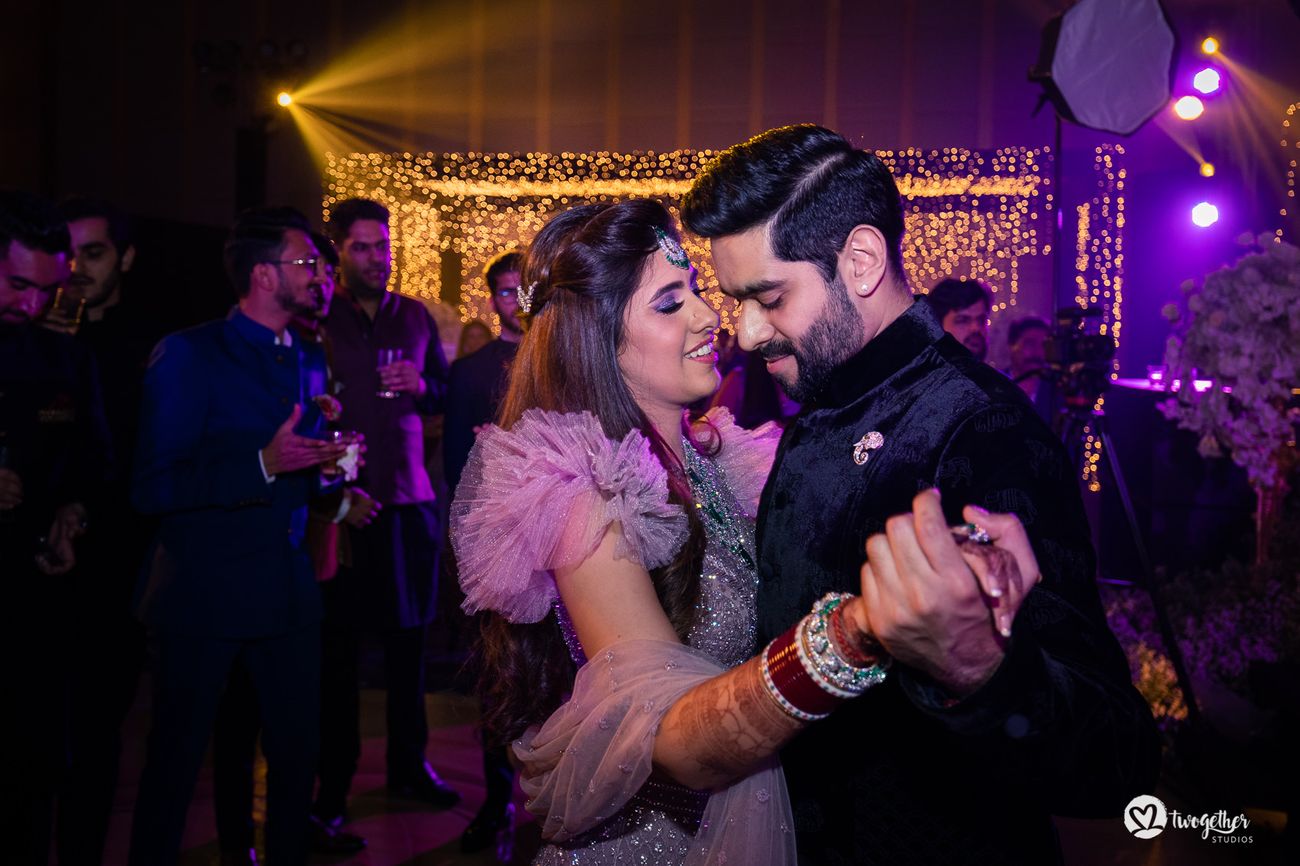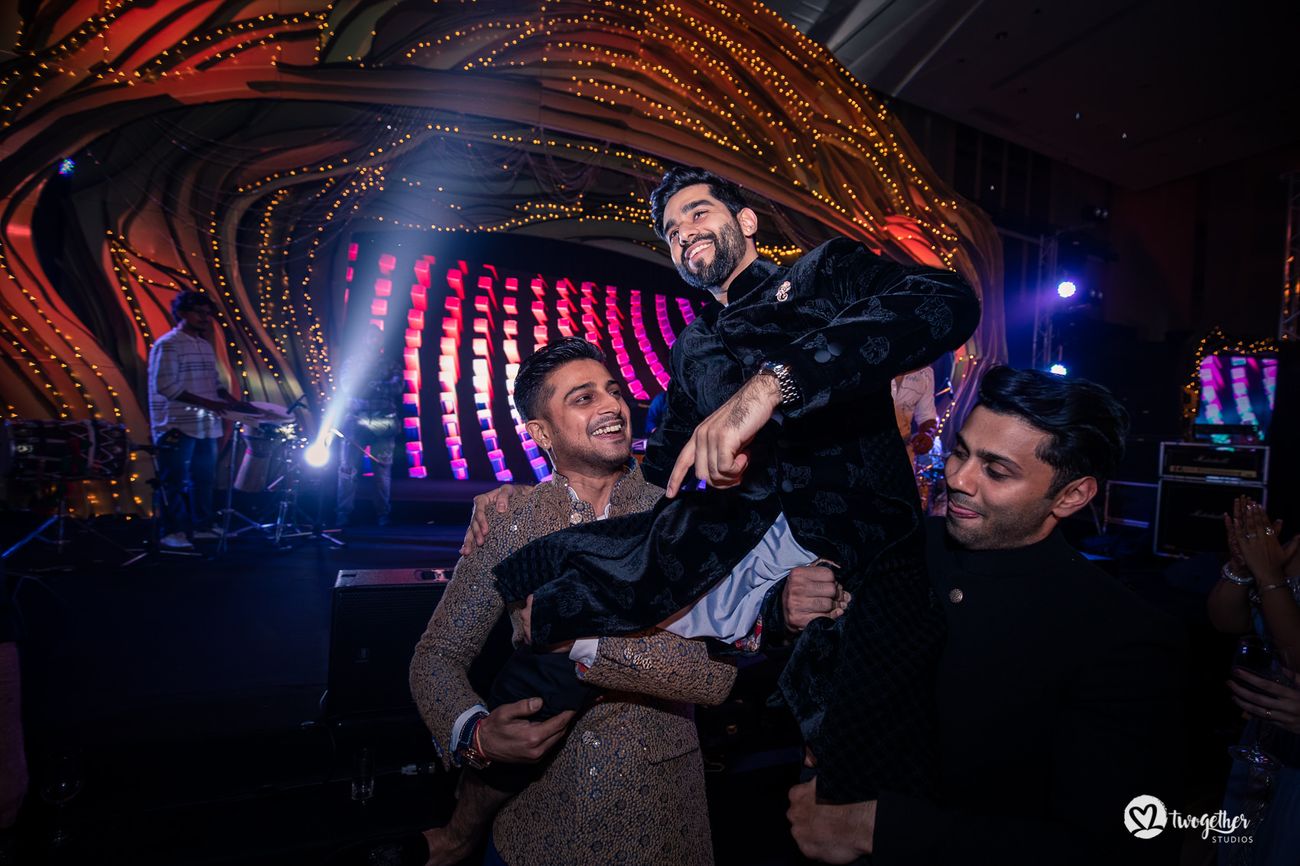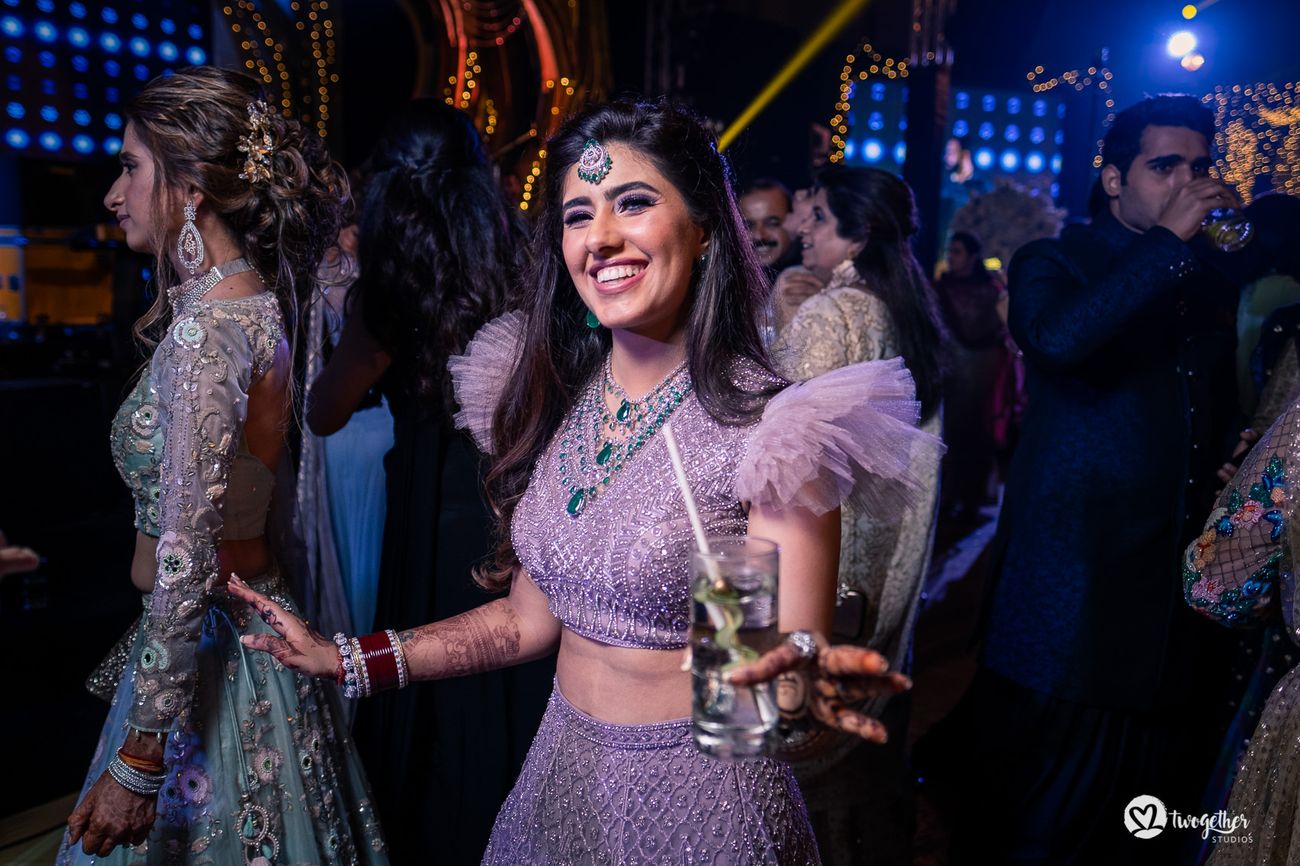 The Wedding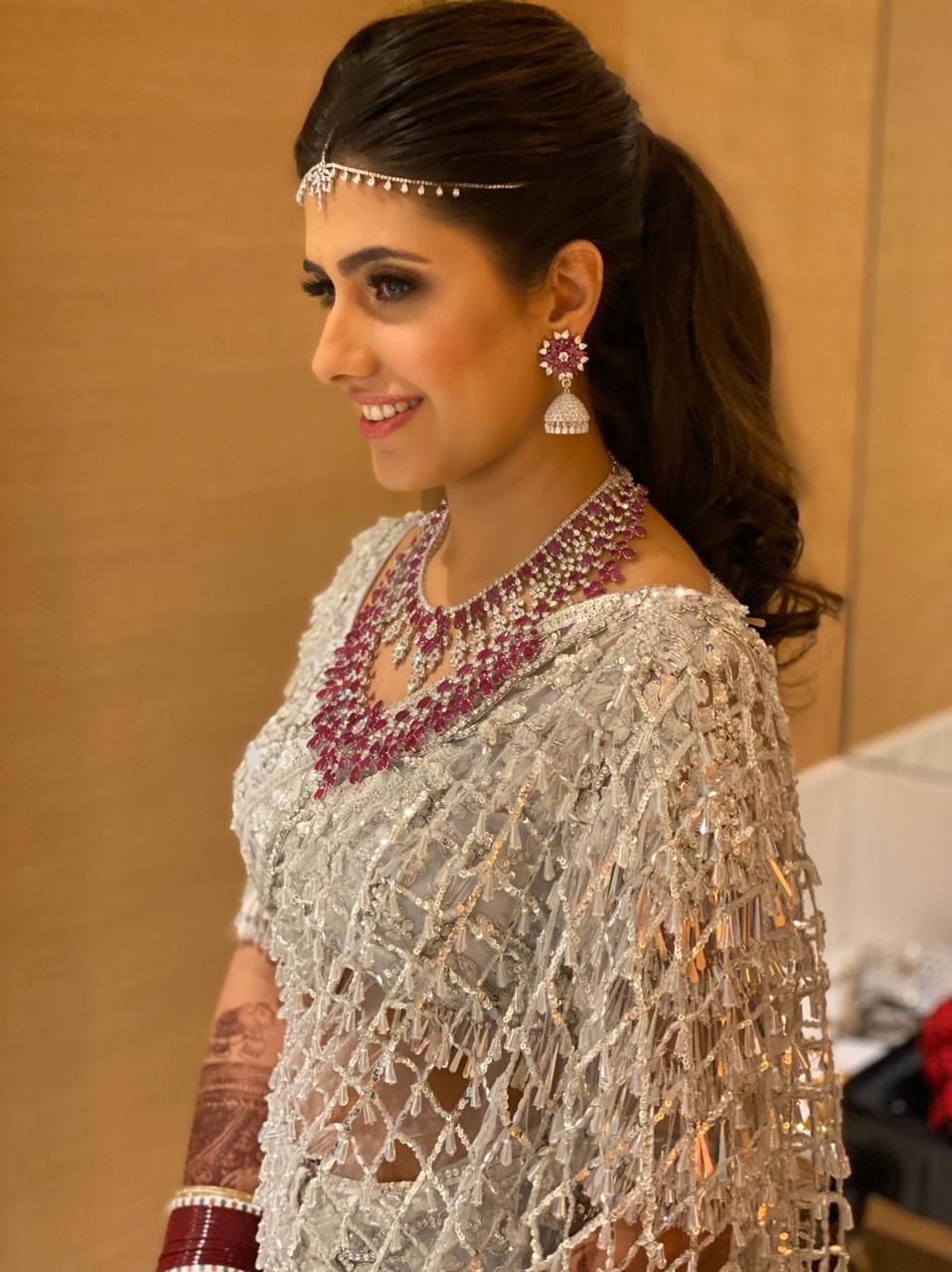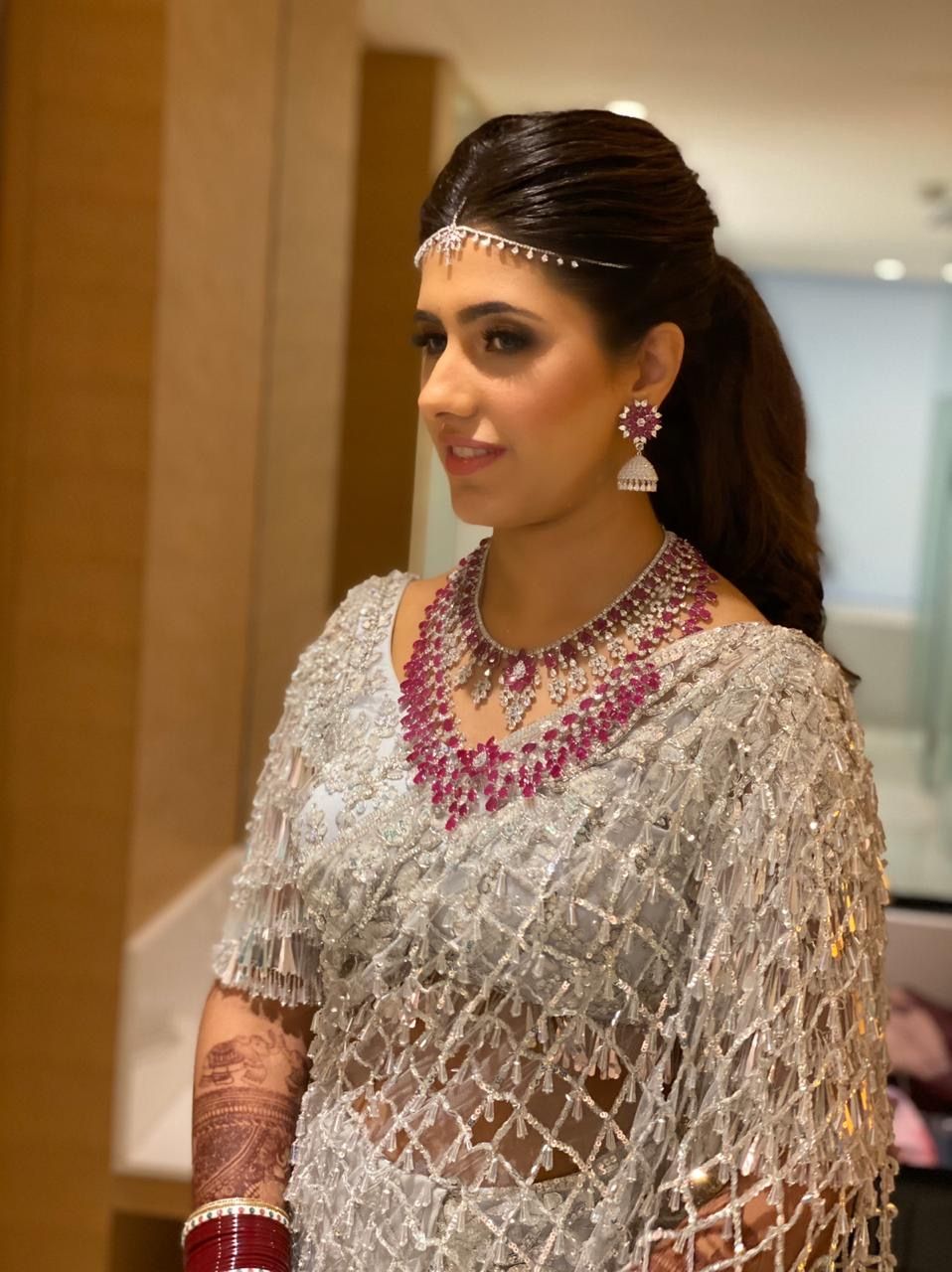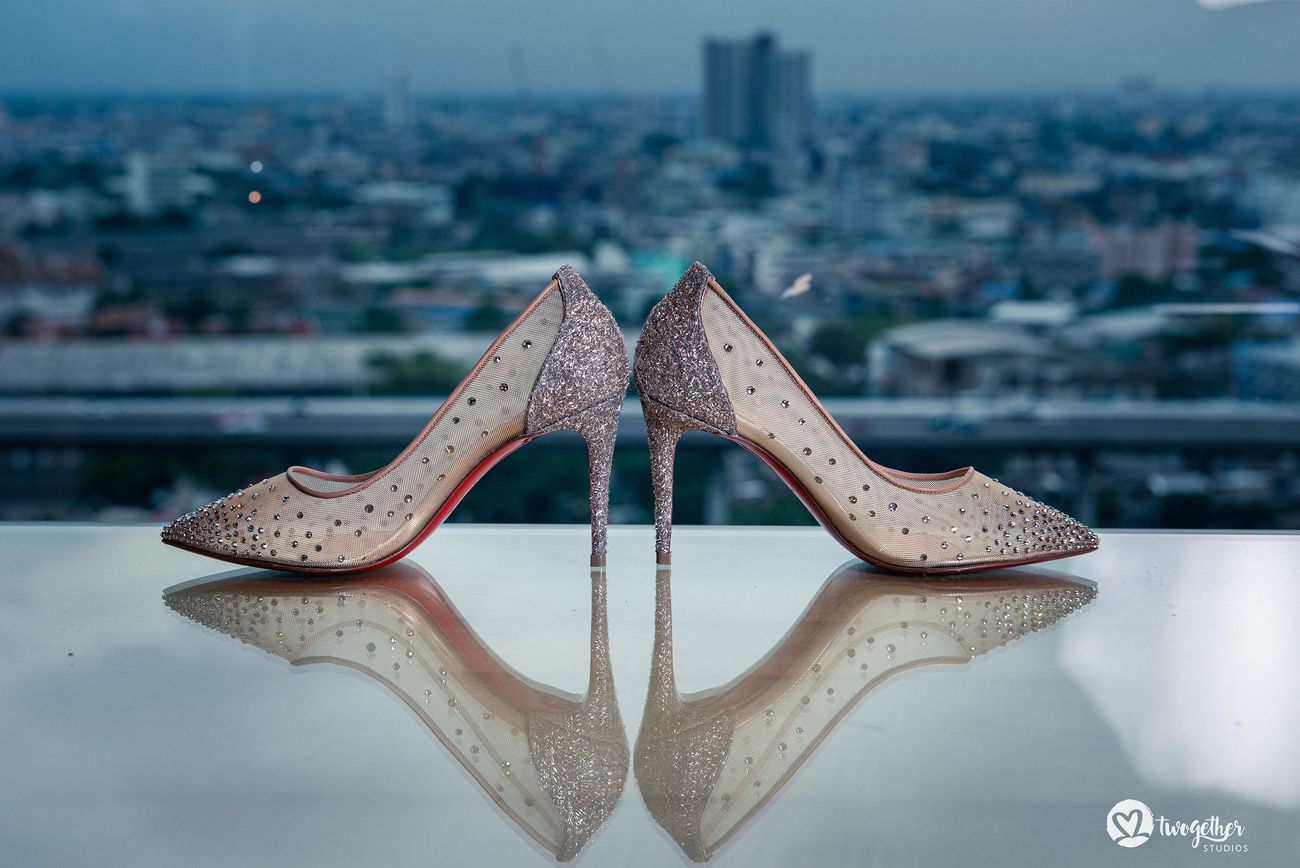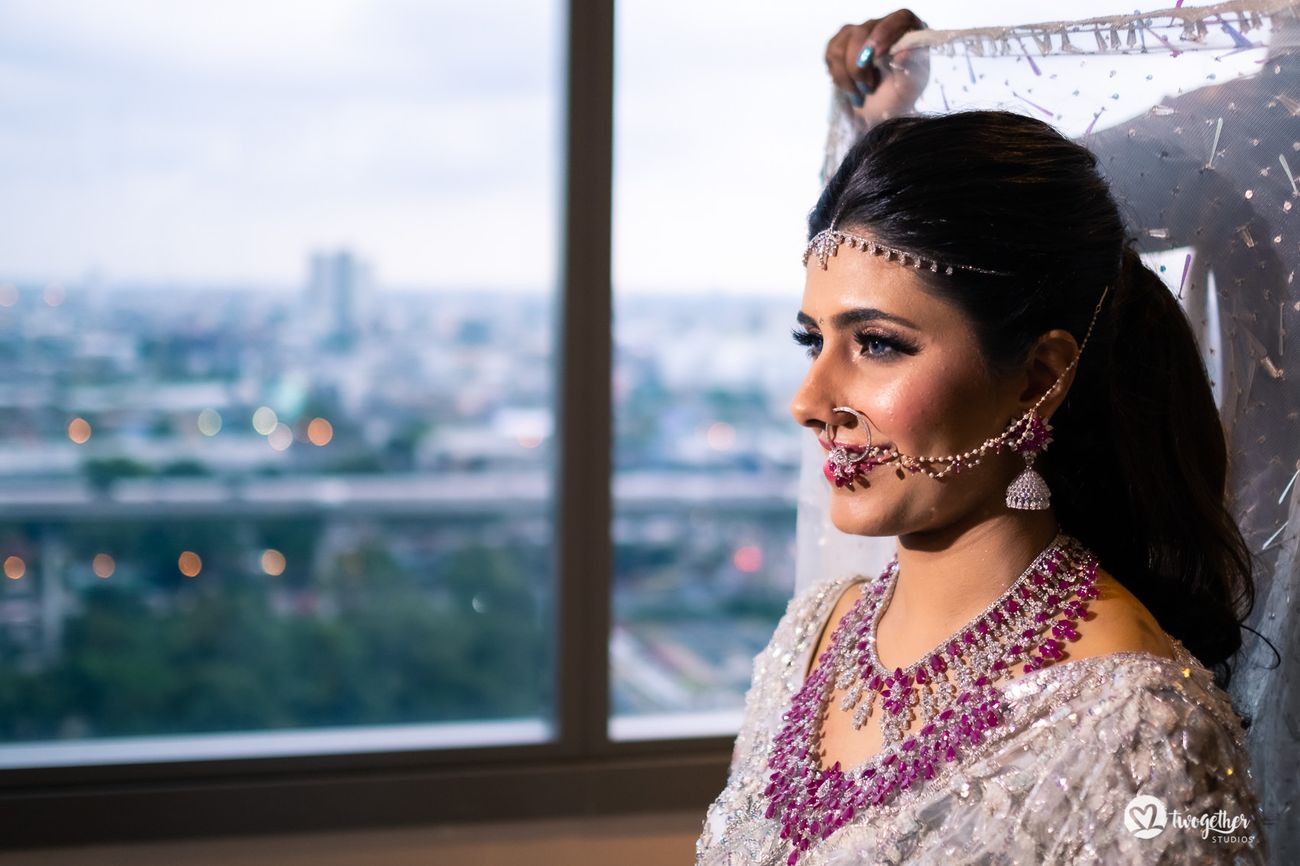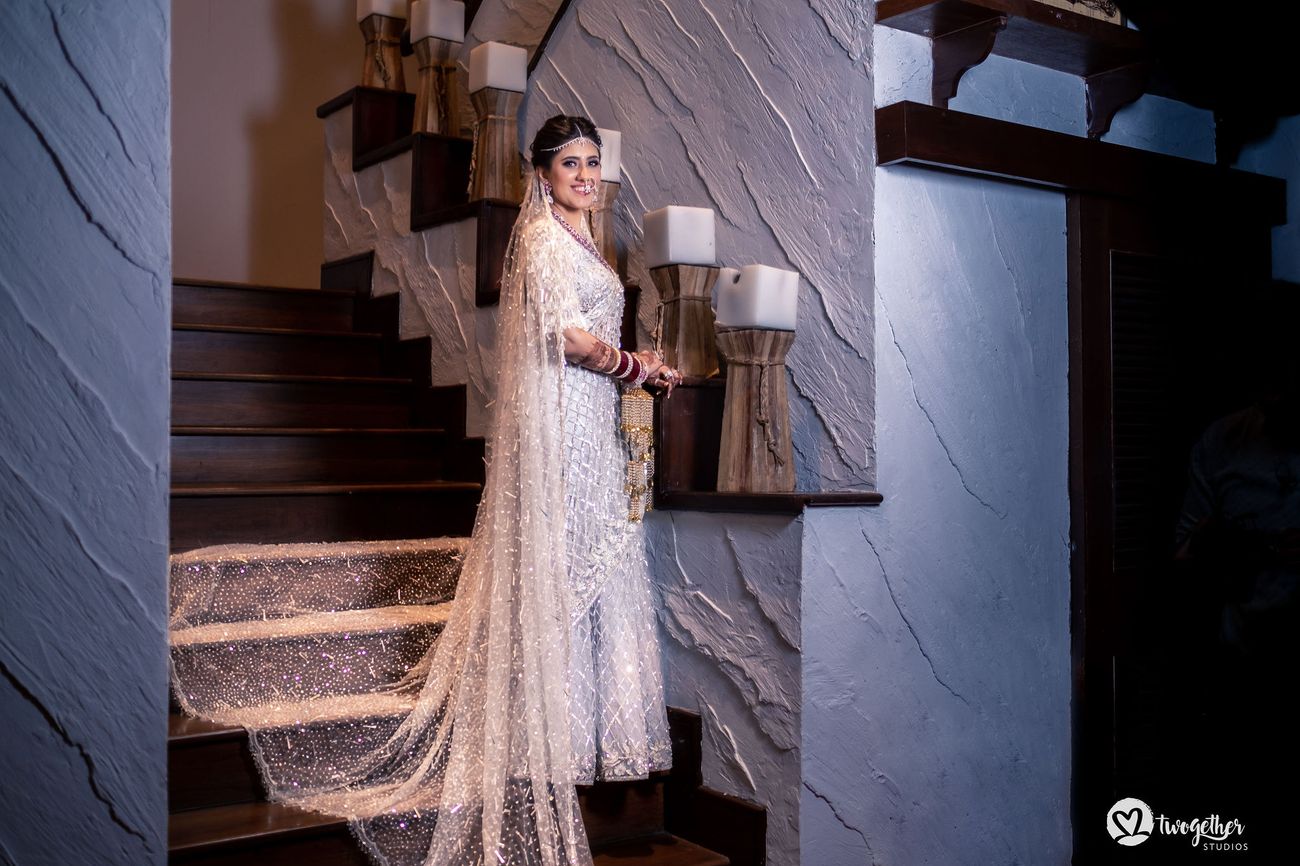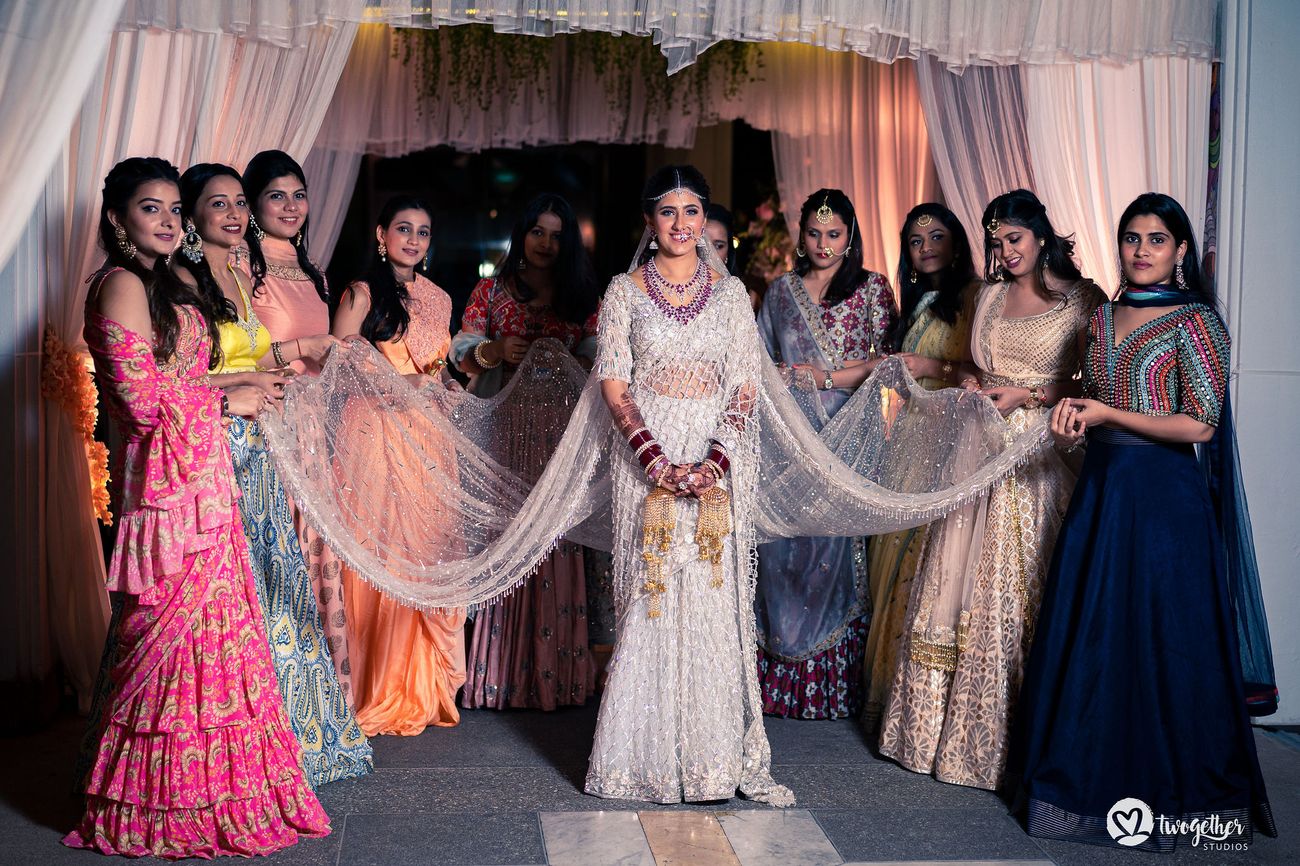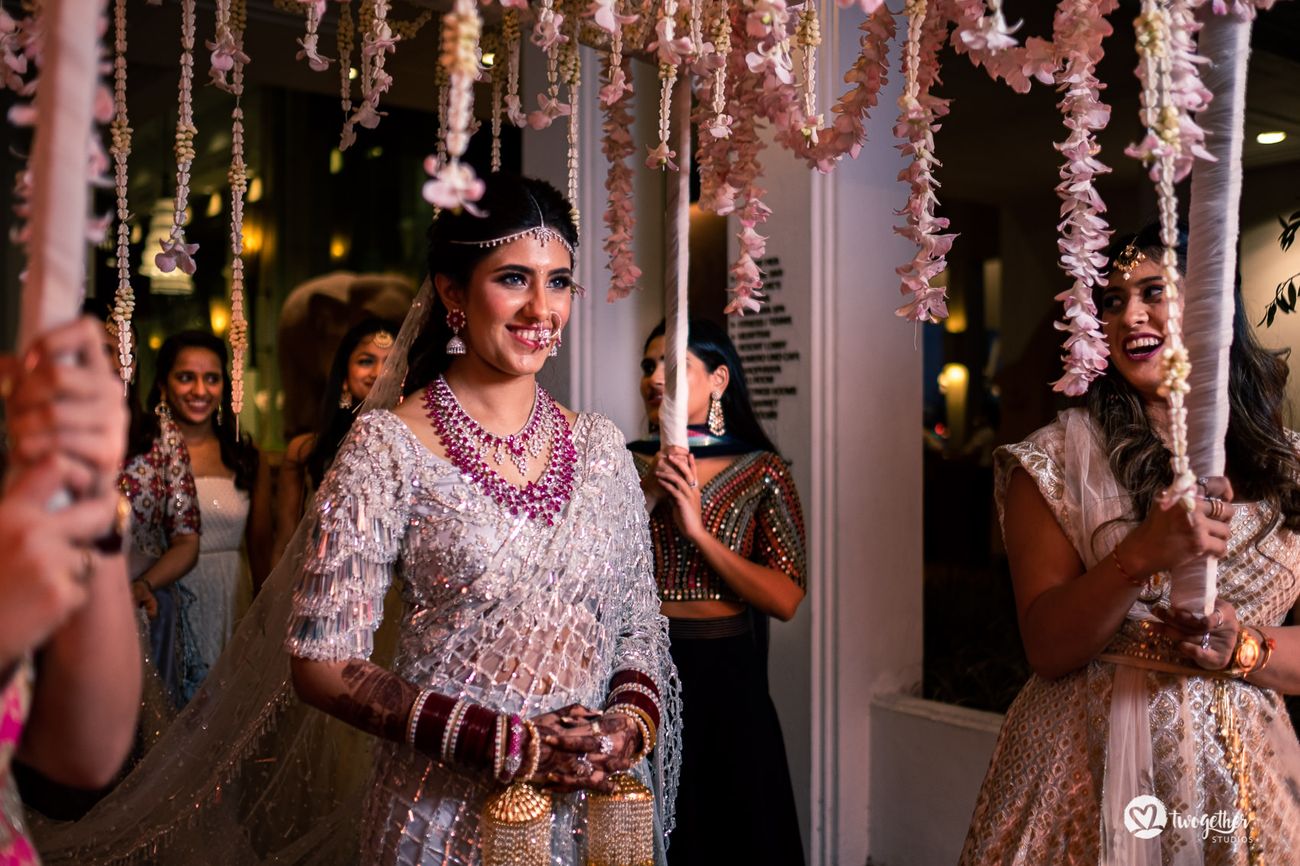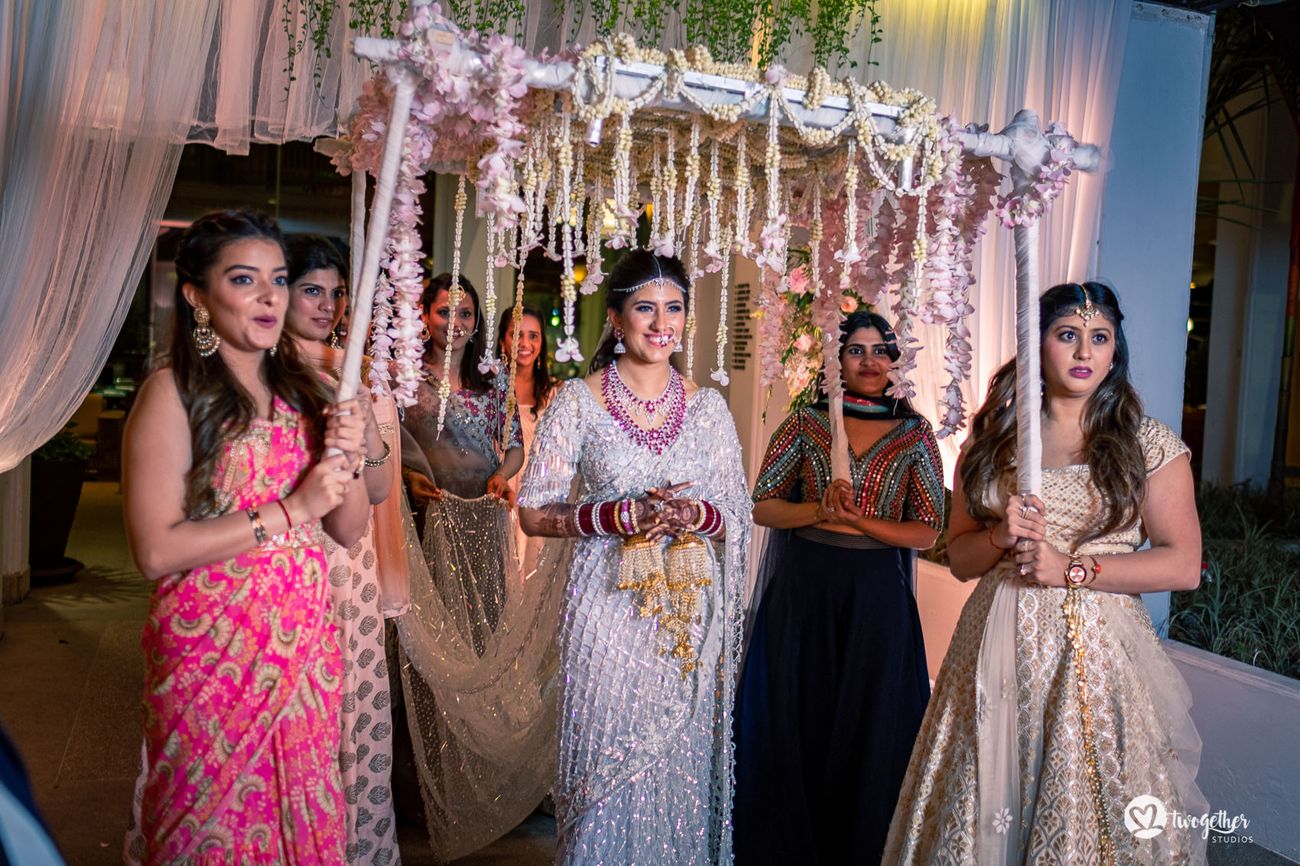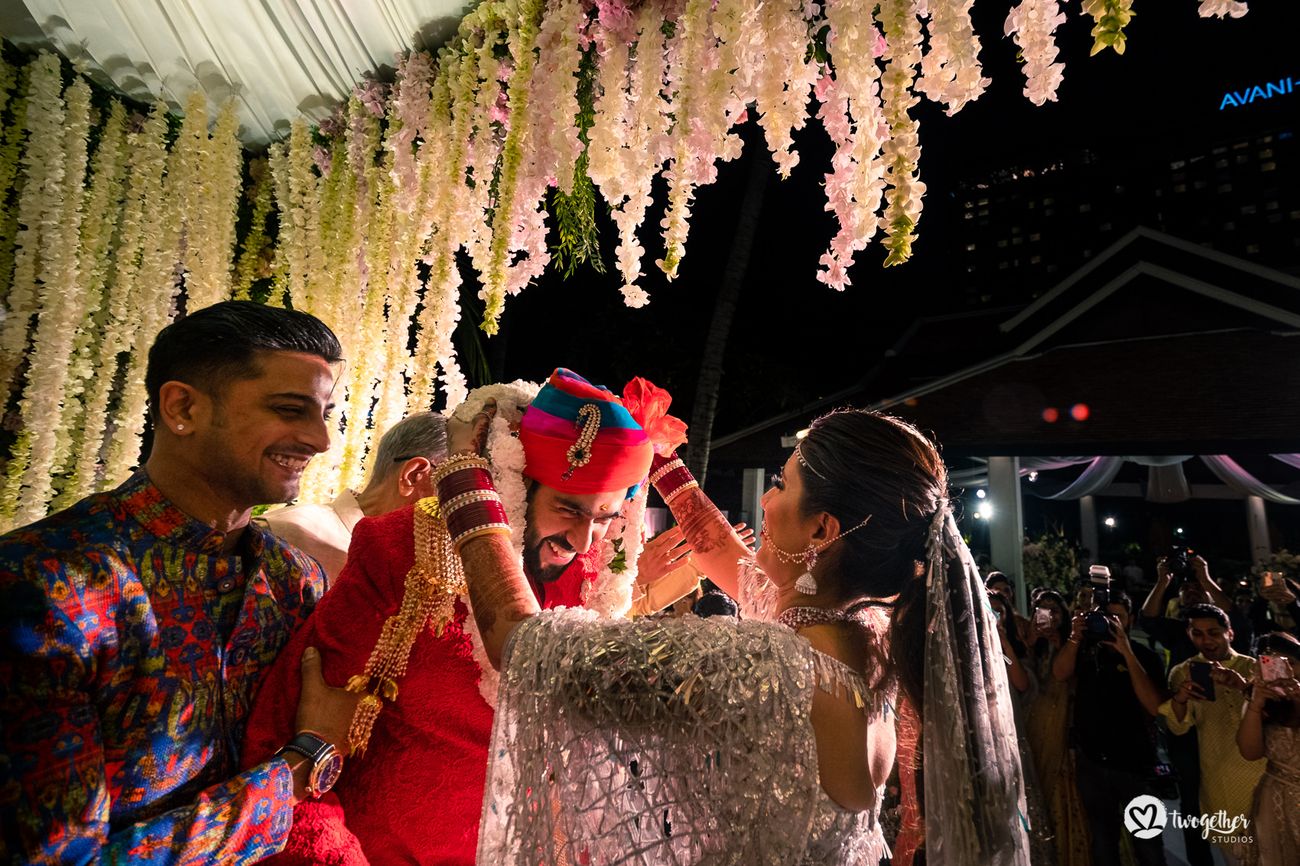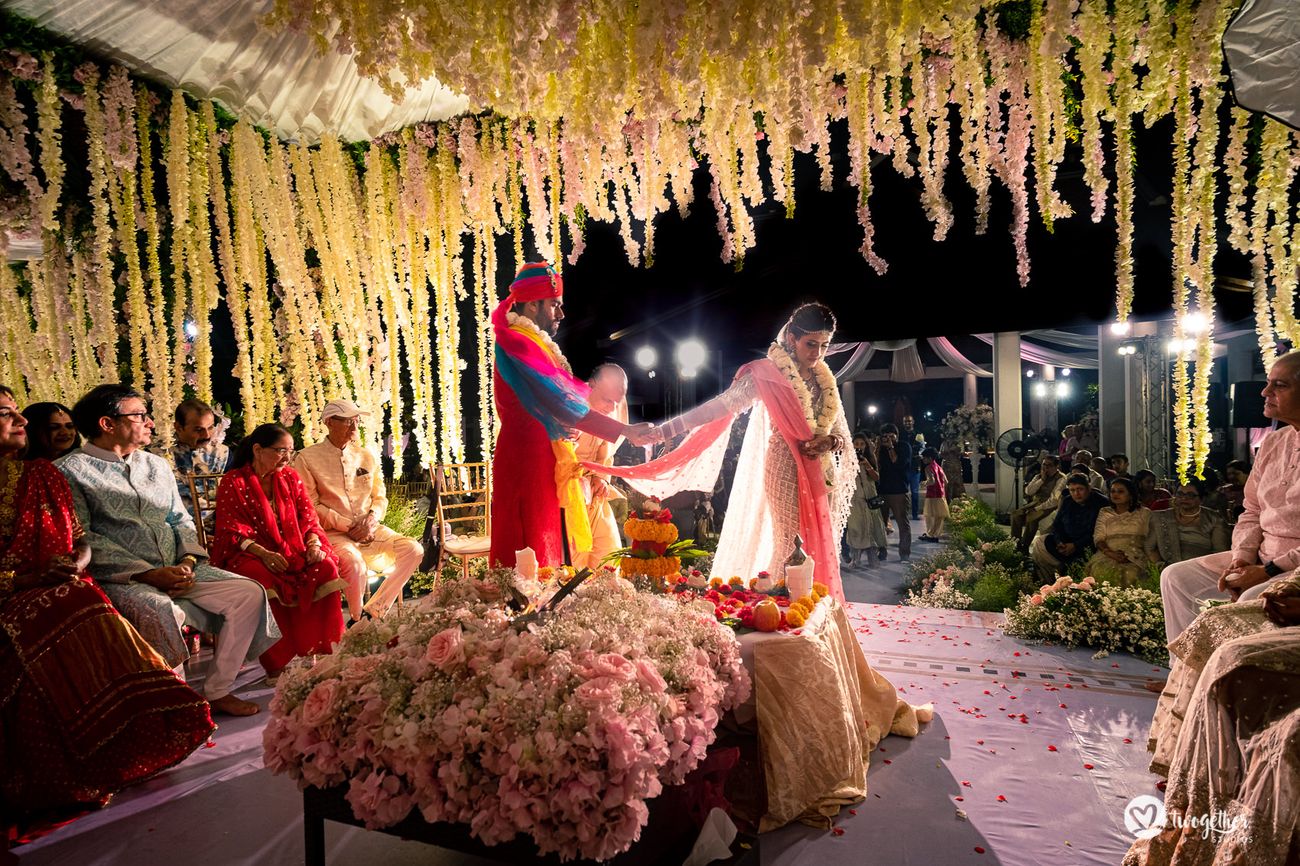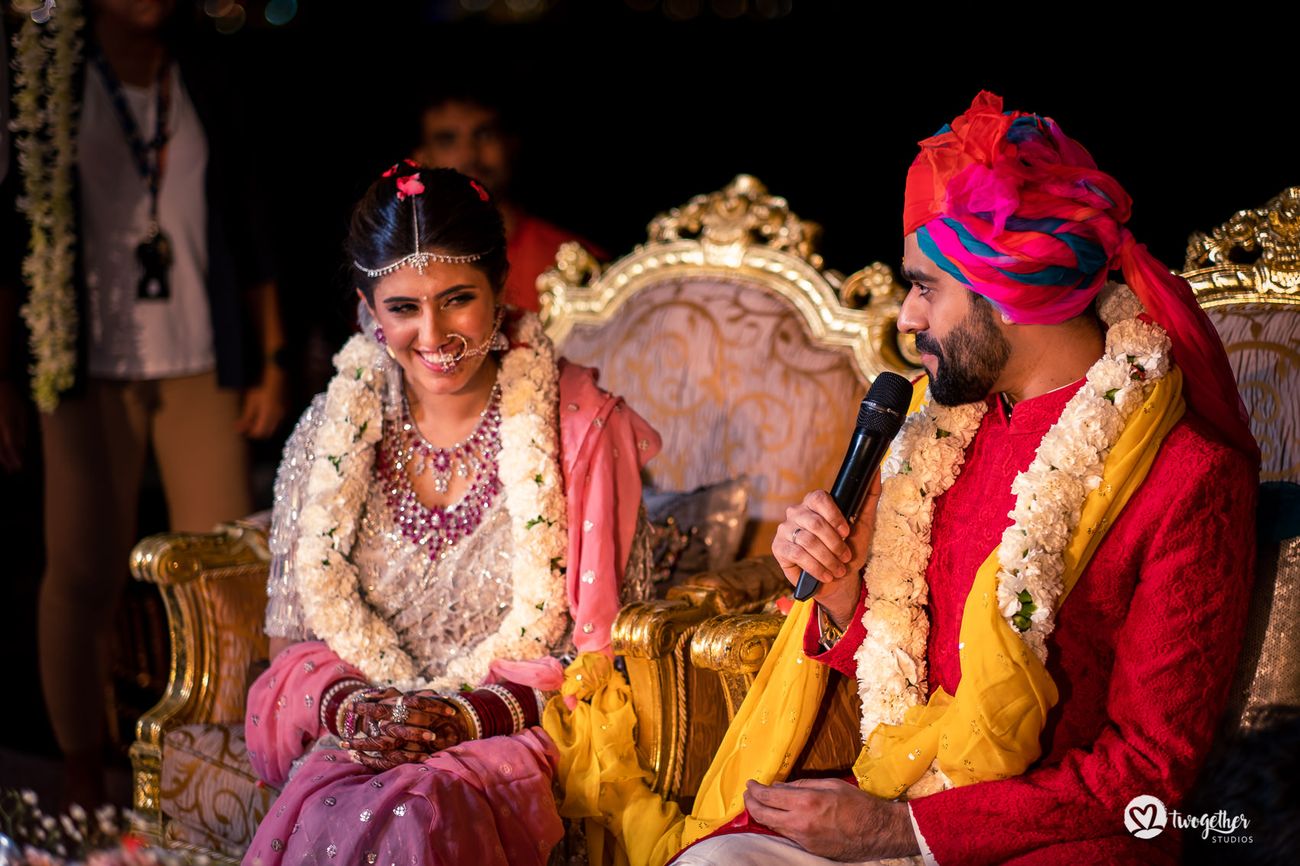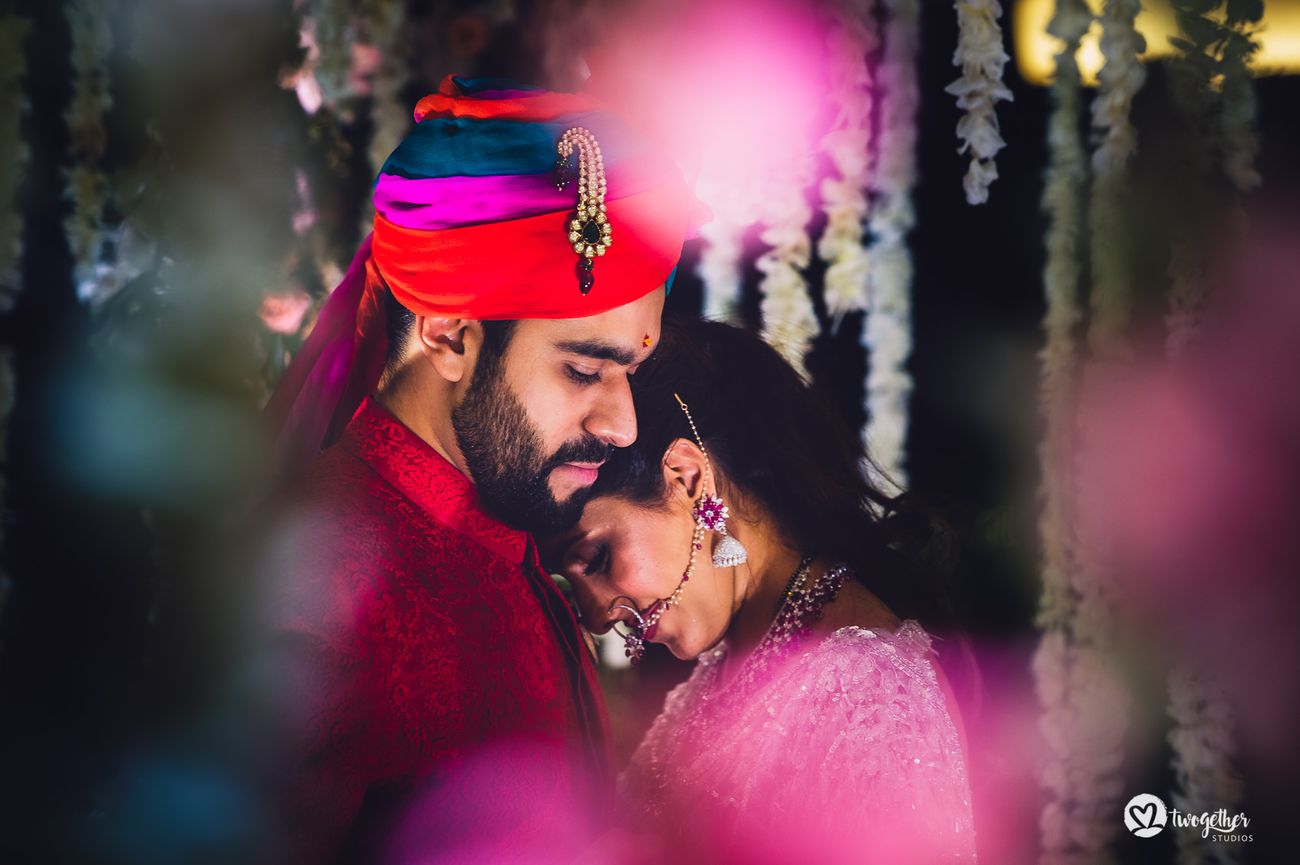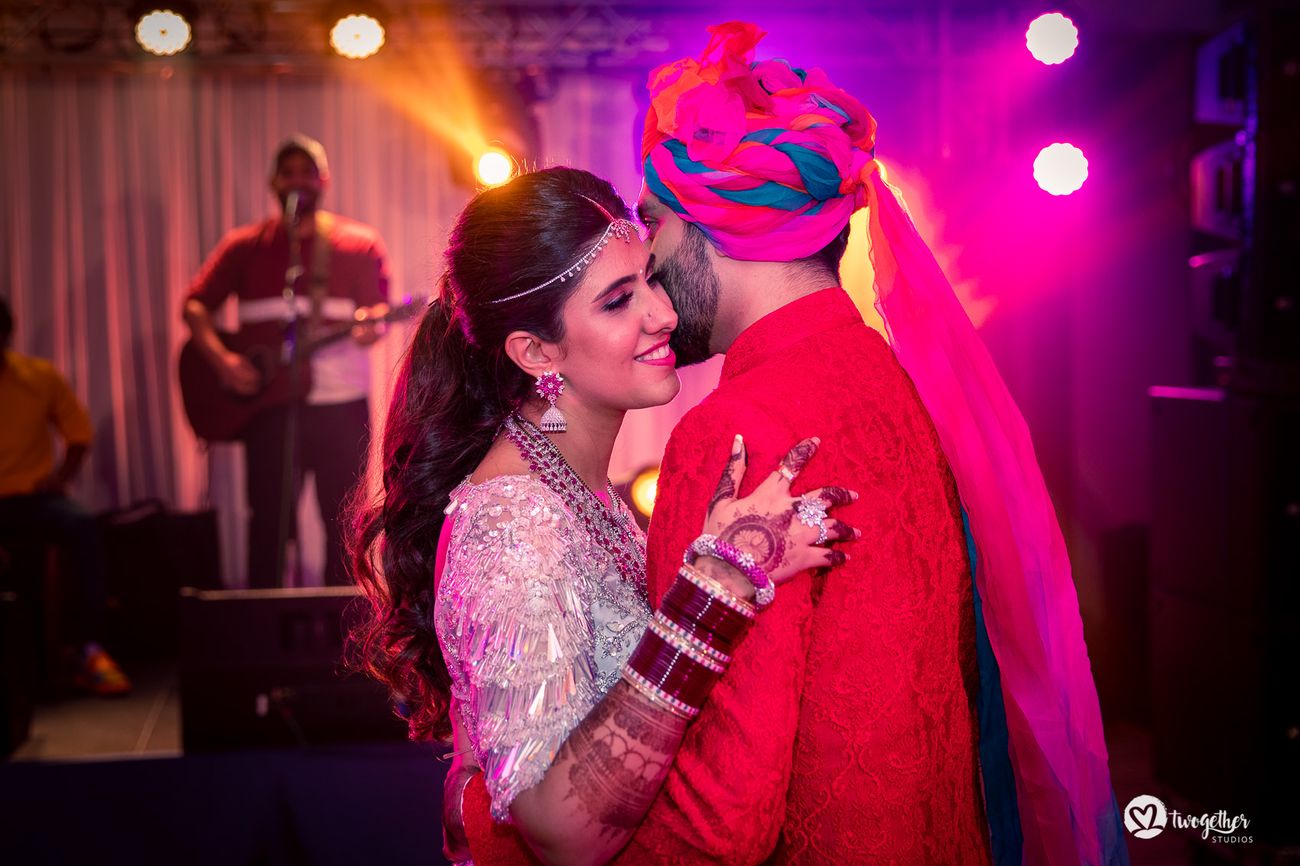 The Varmala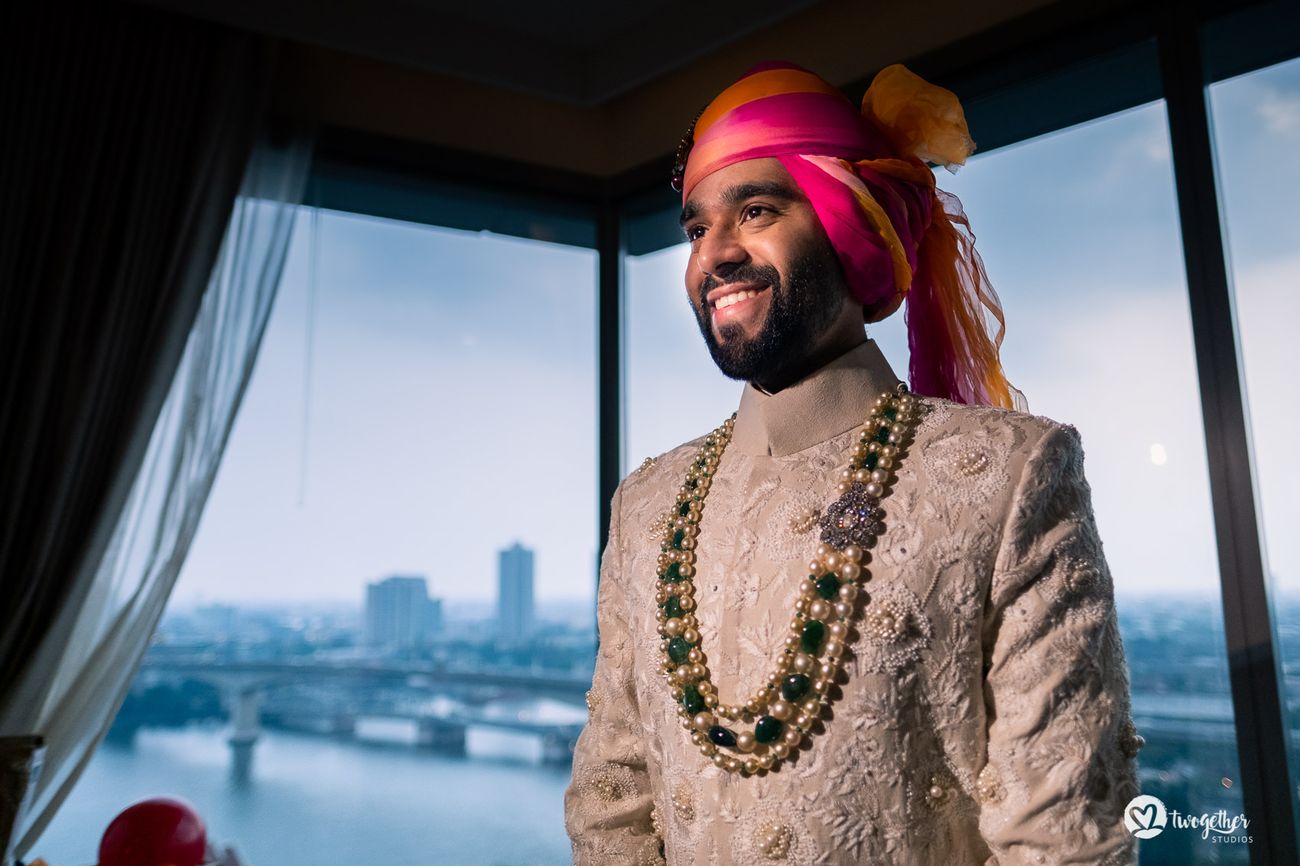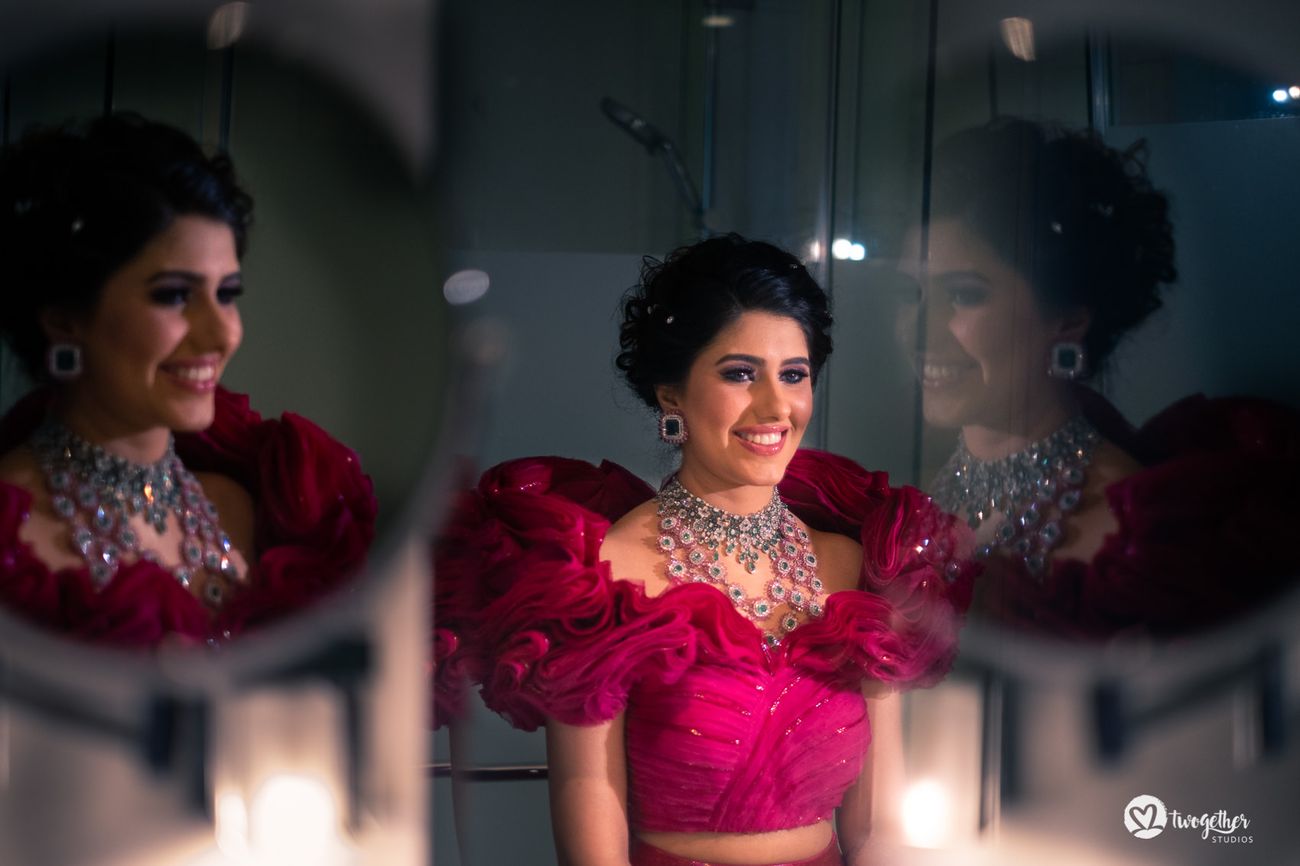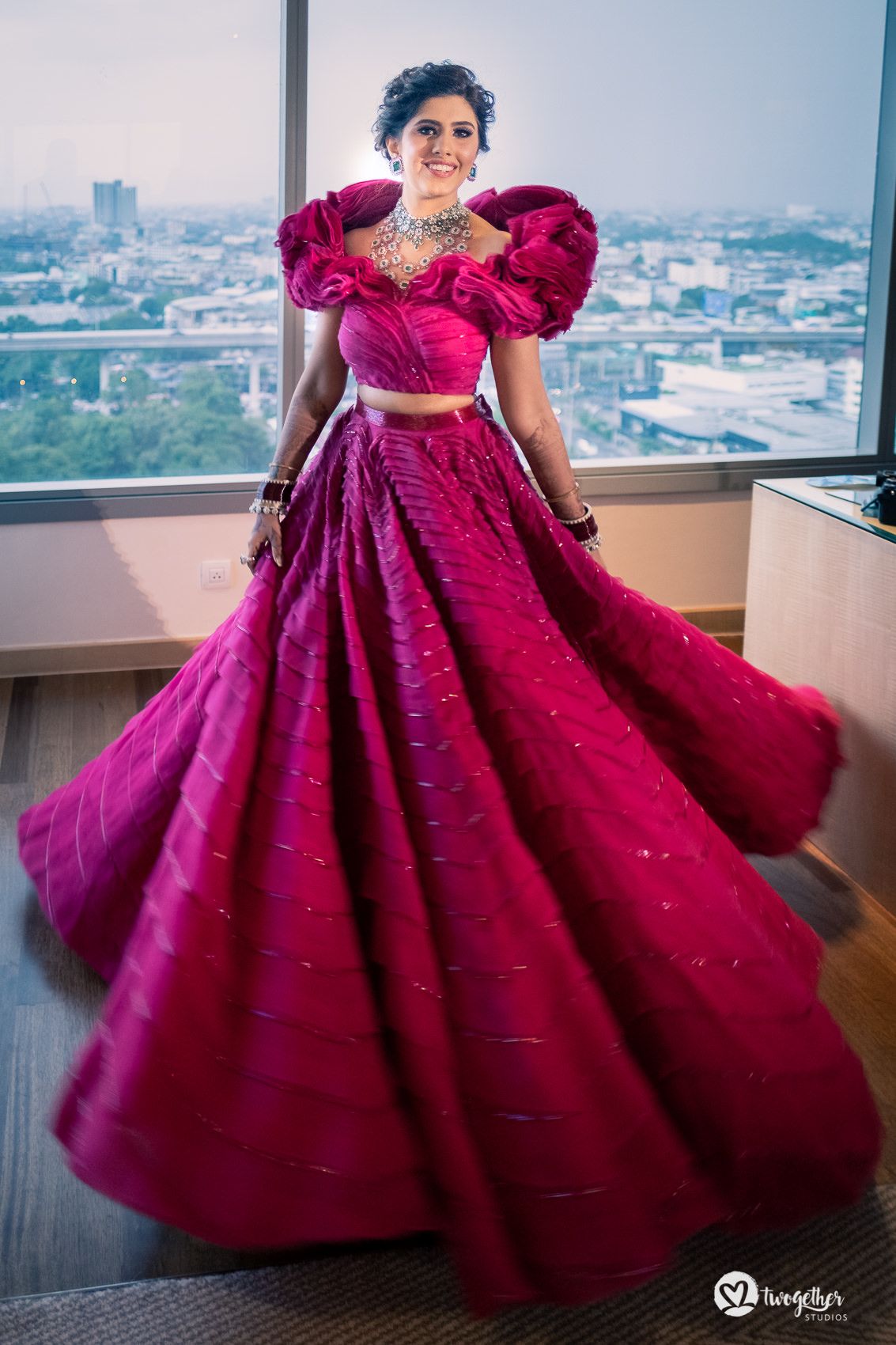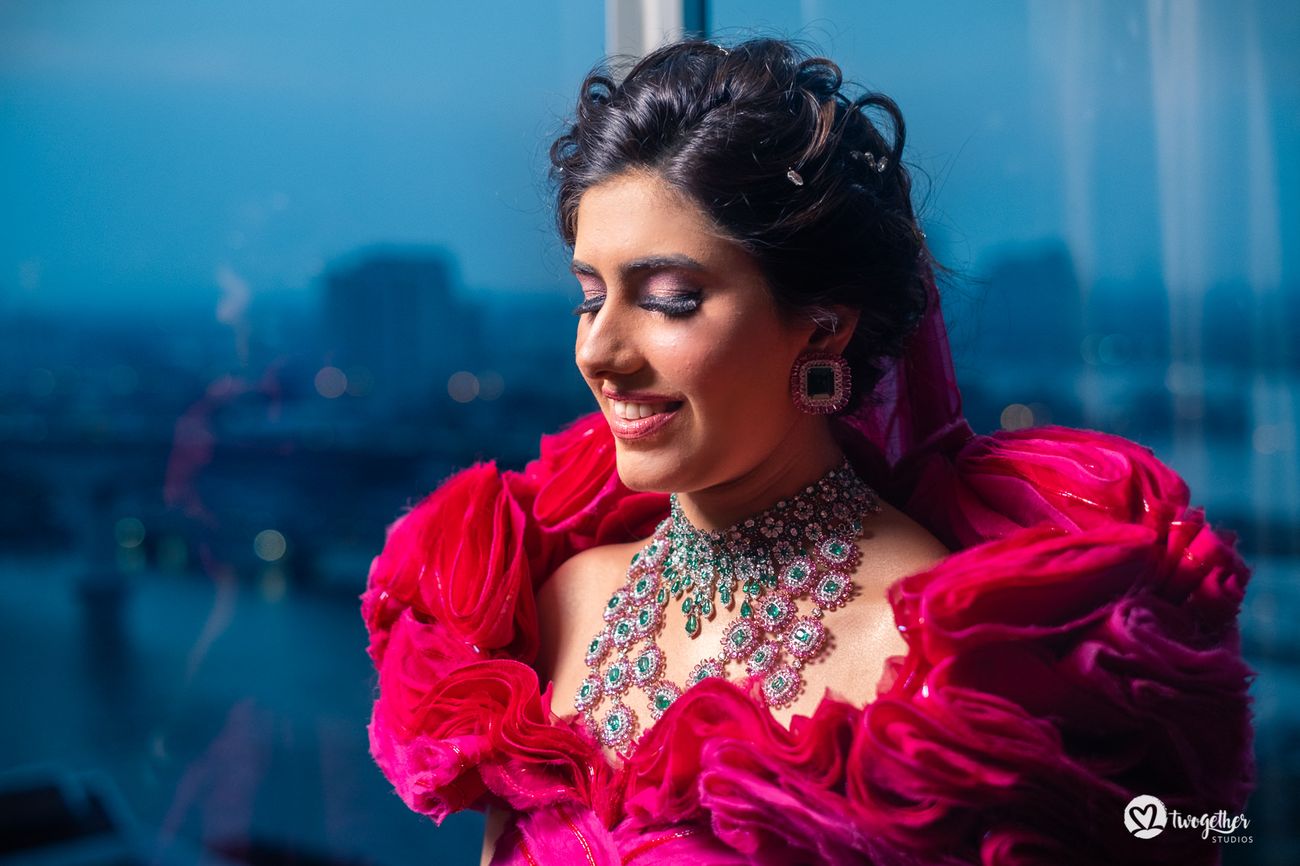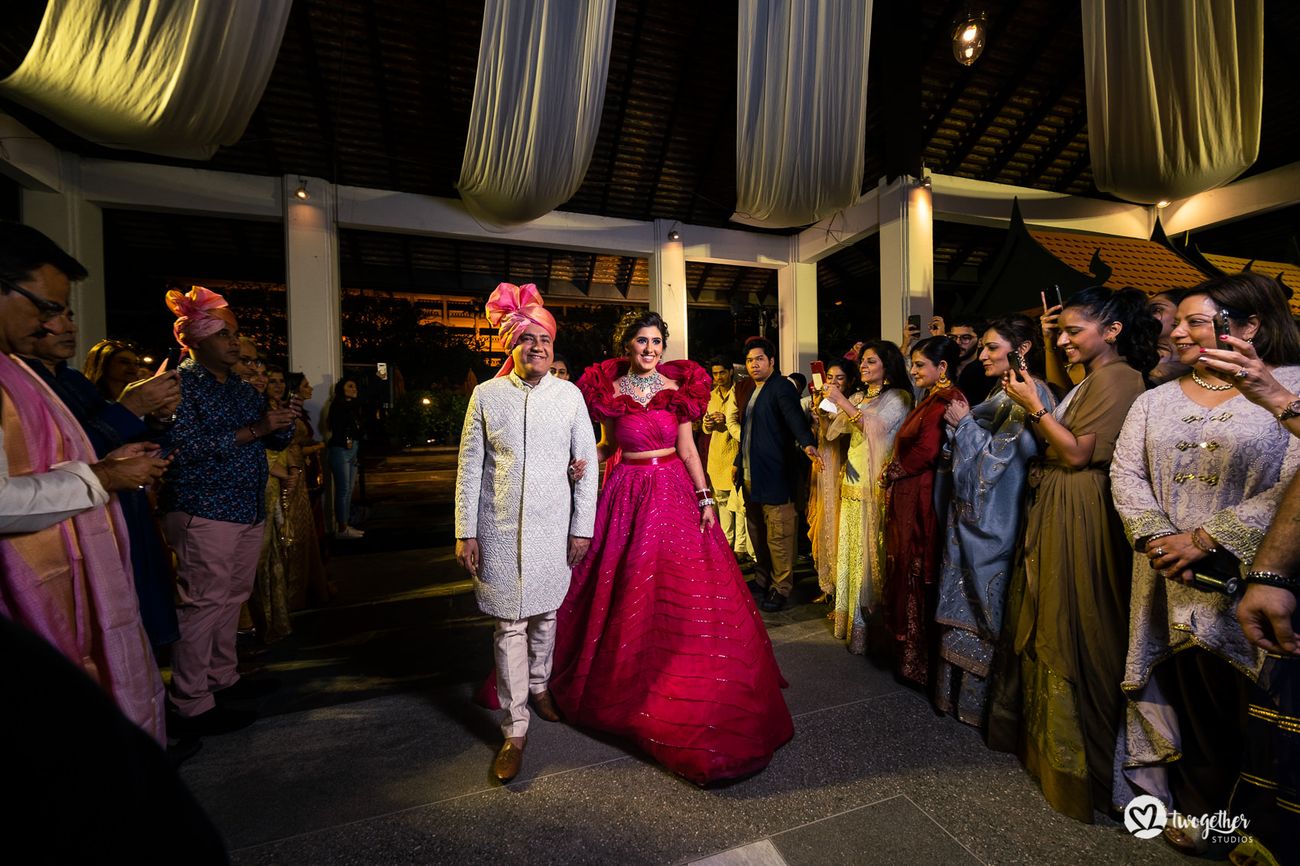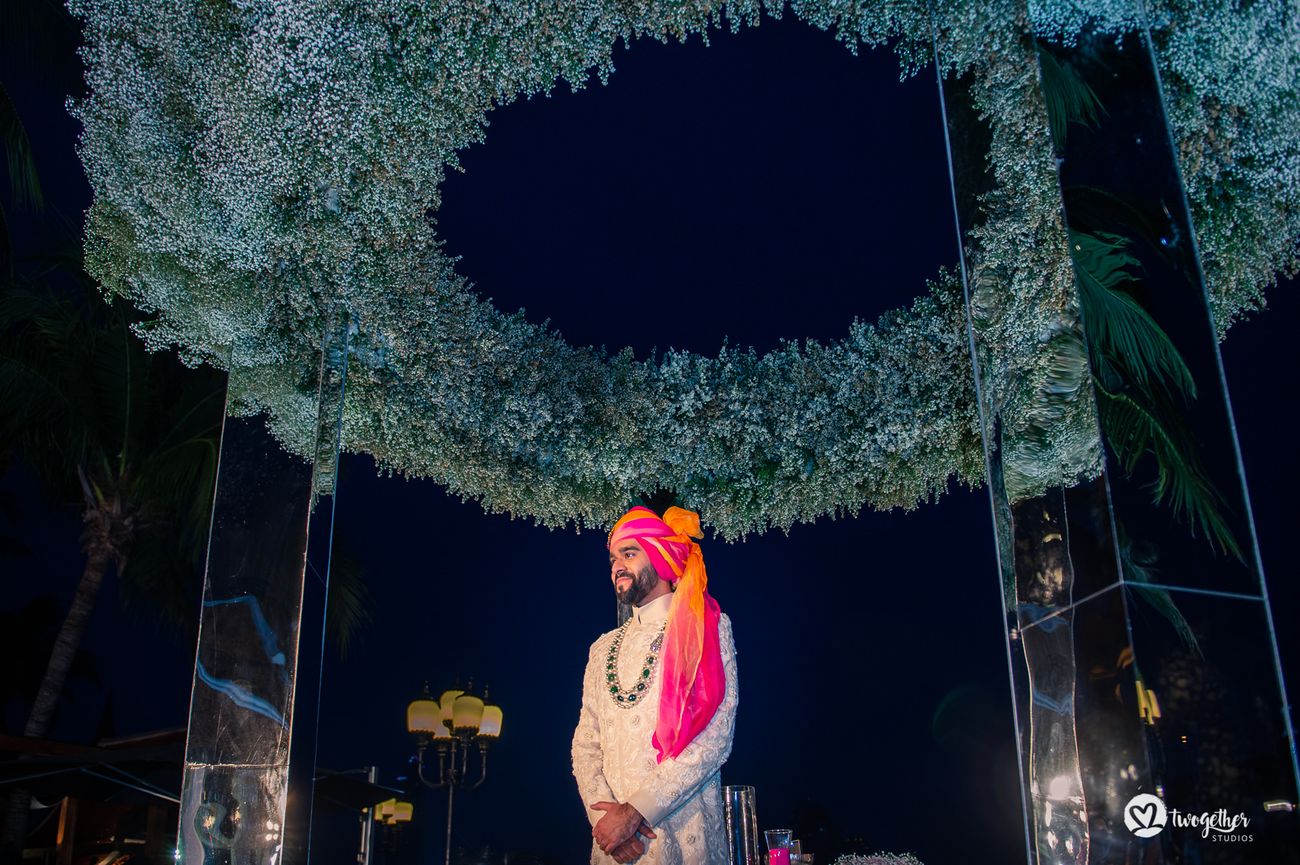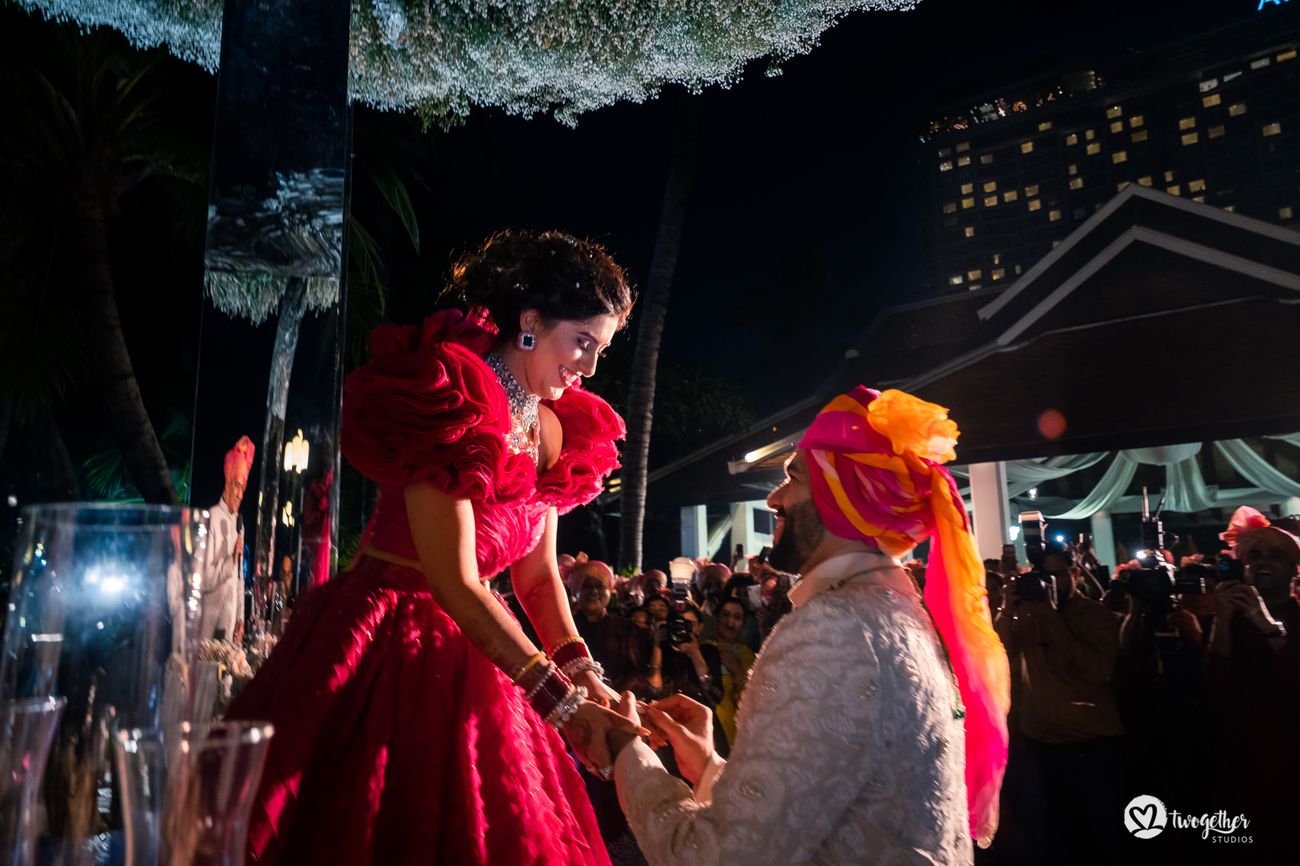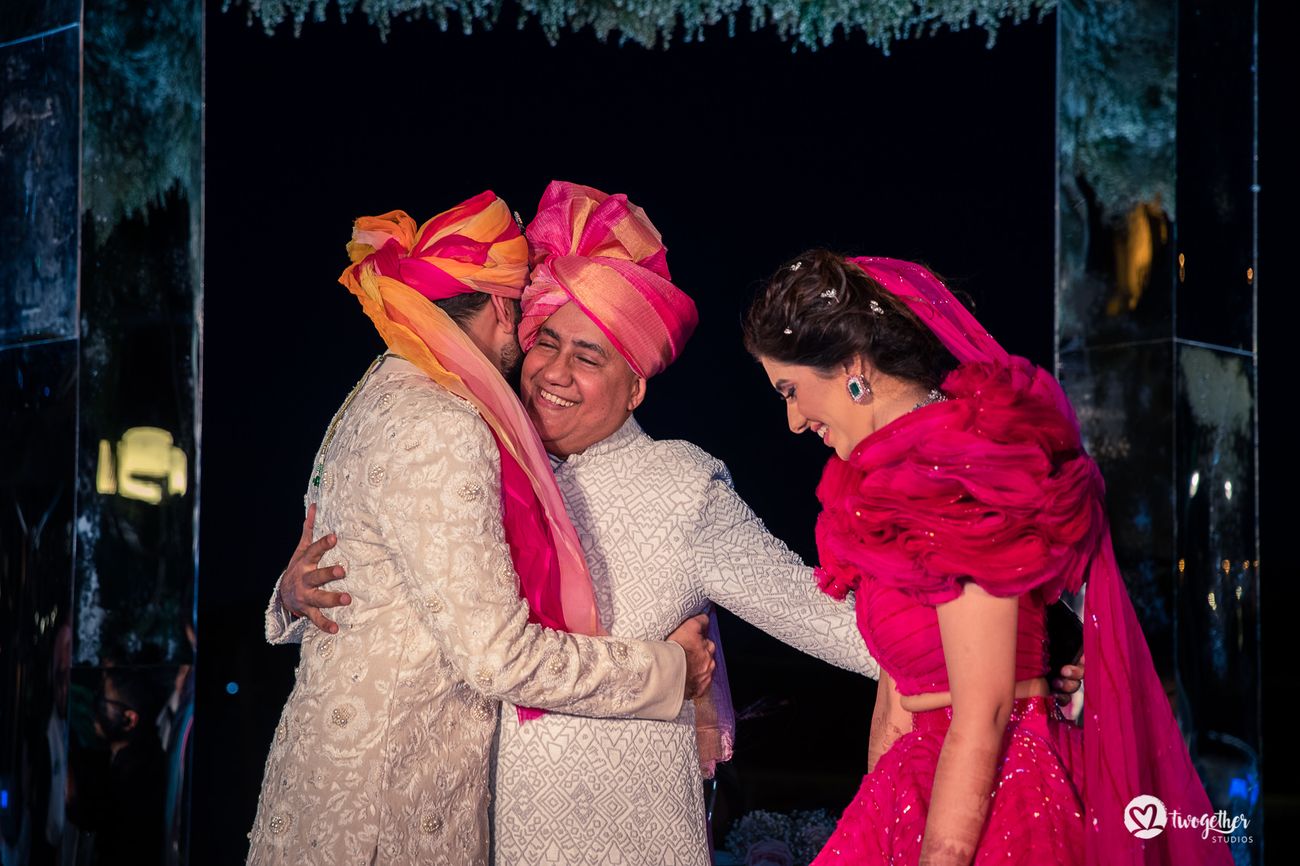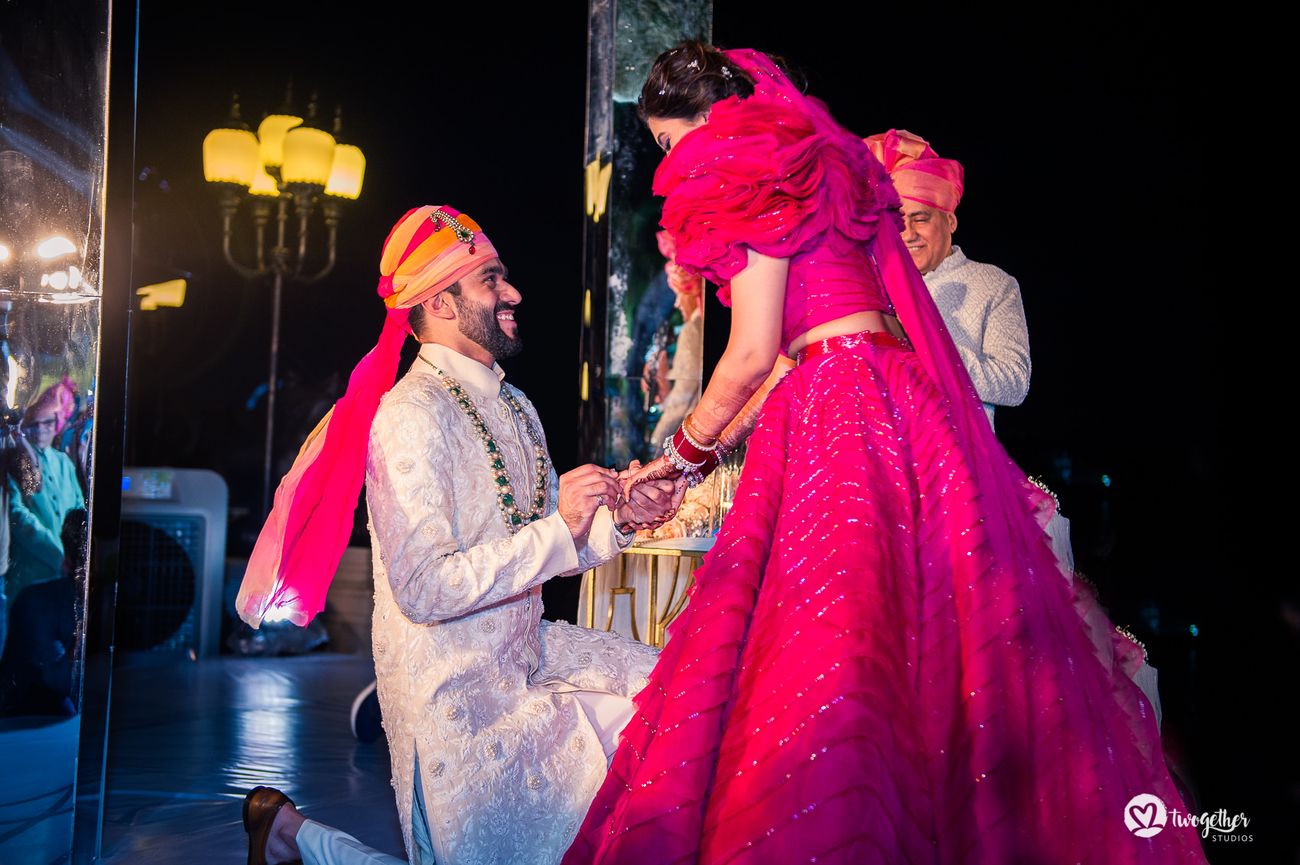 The Reception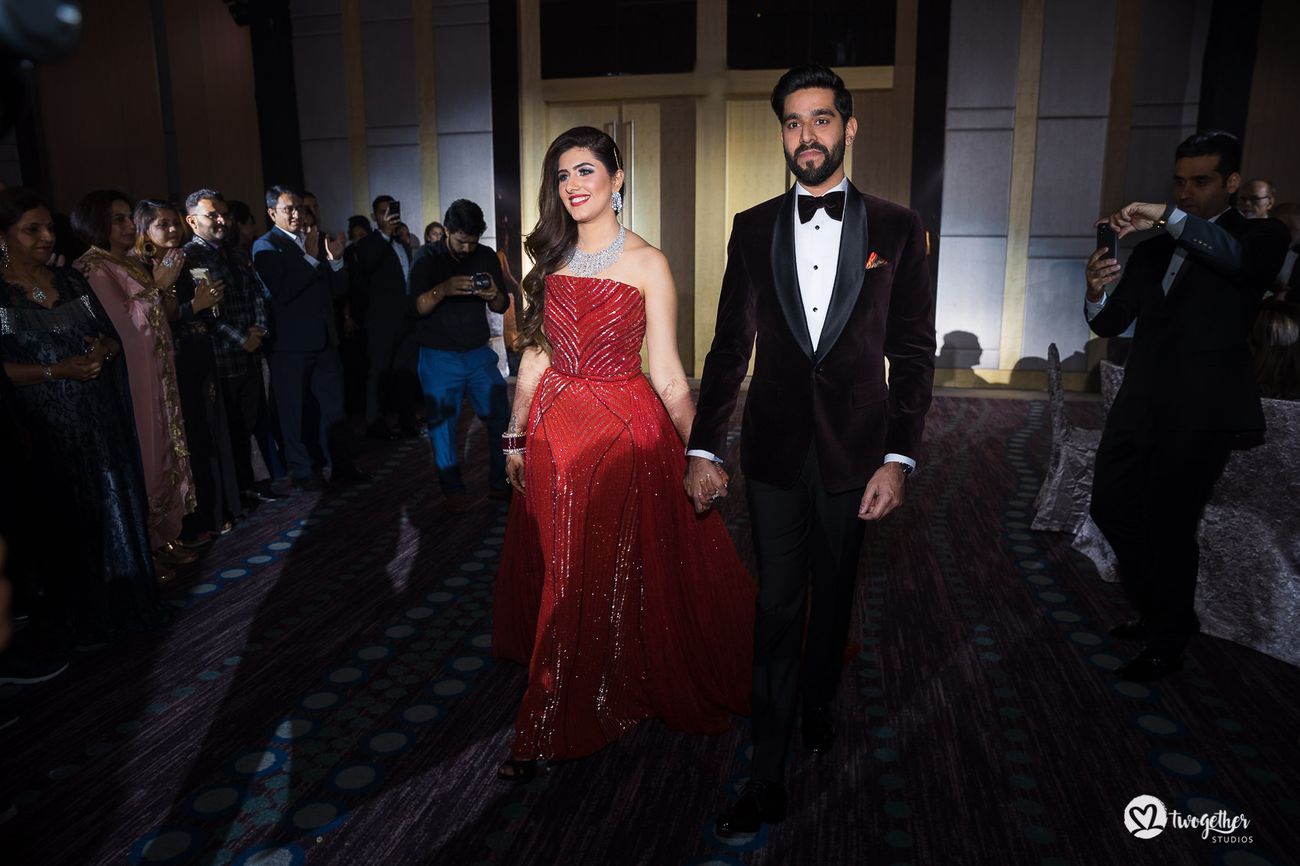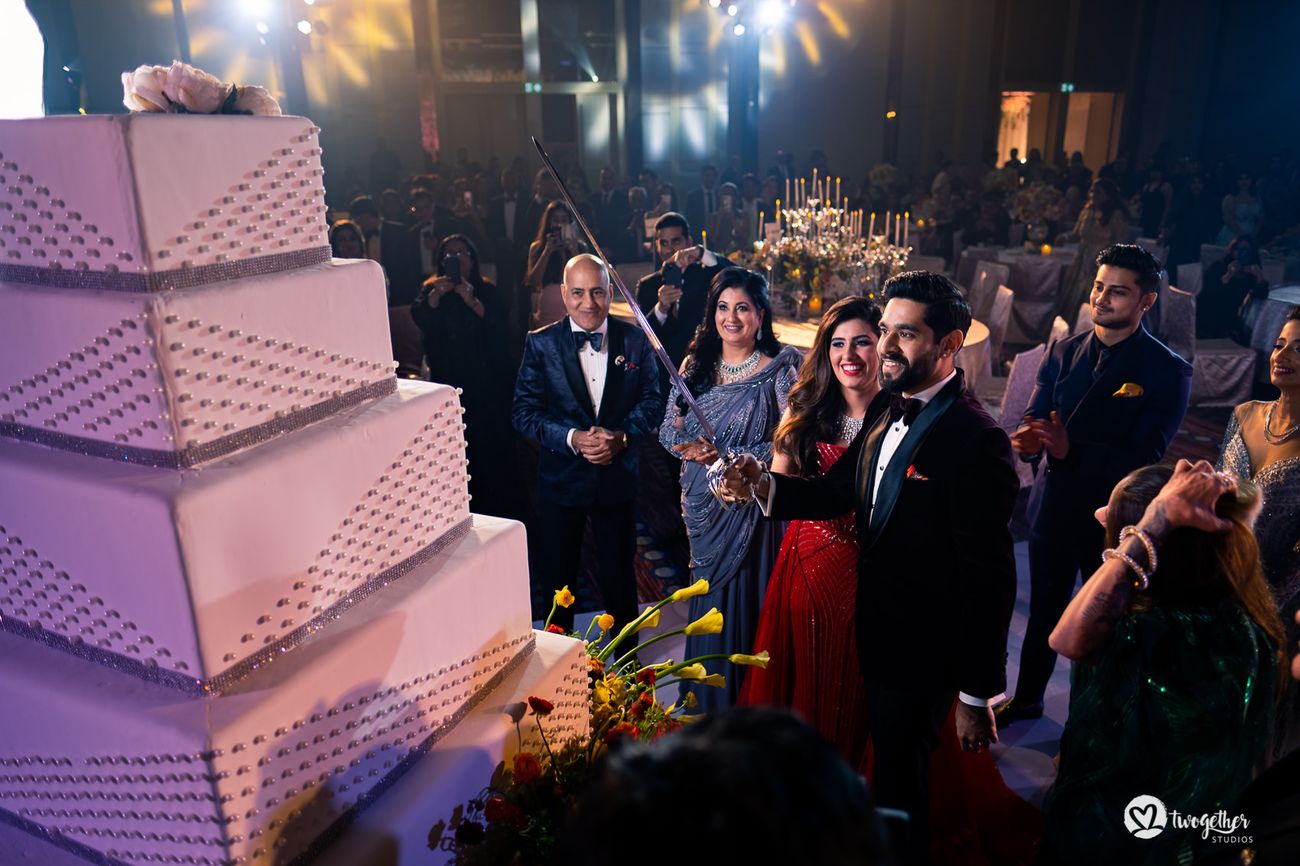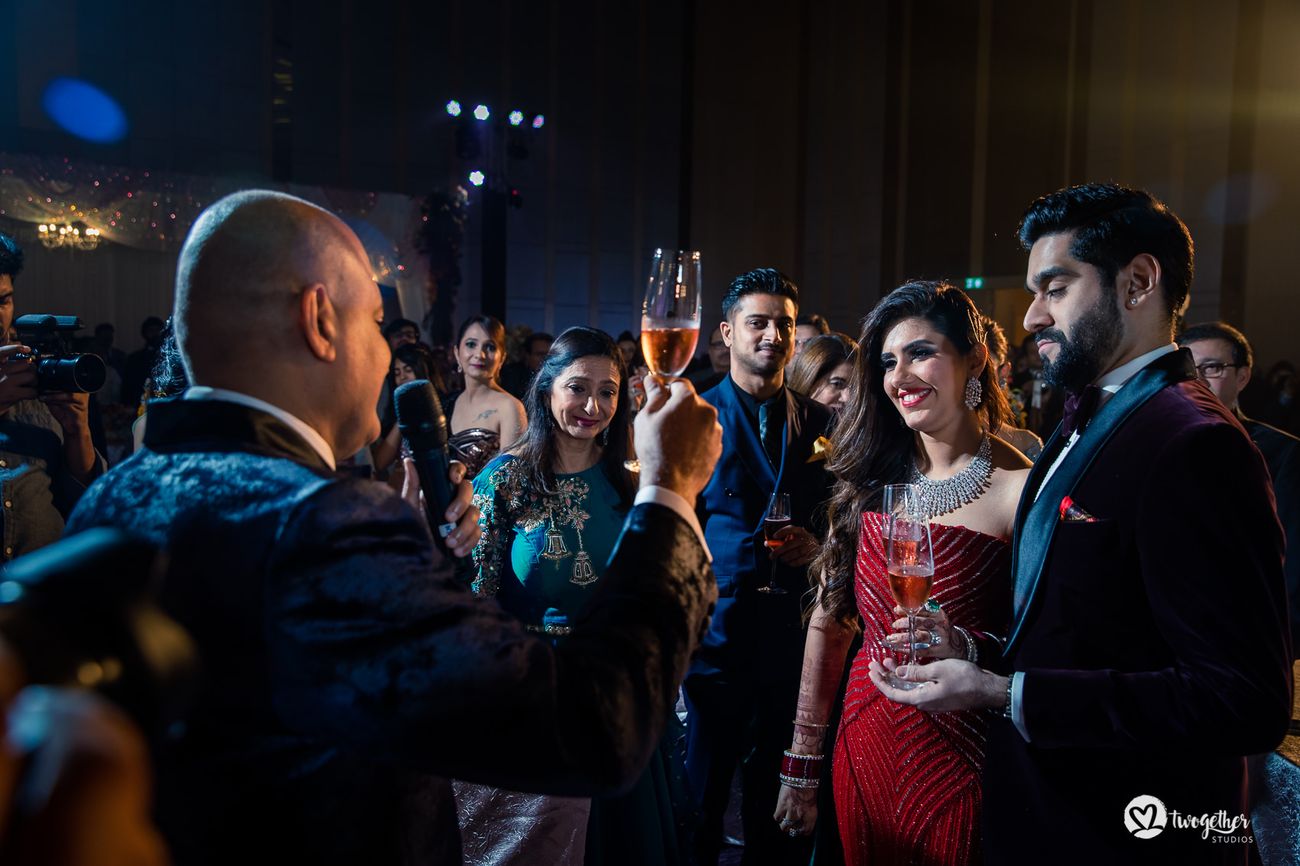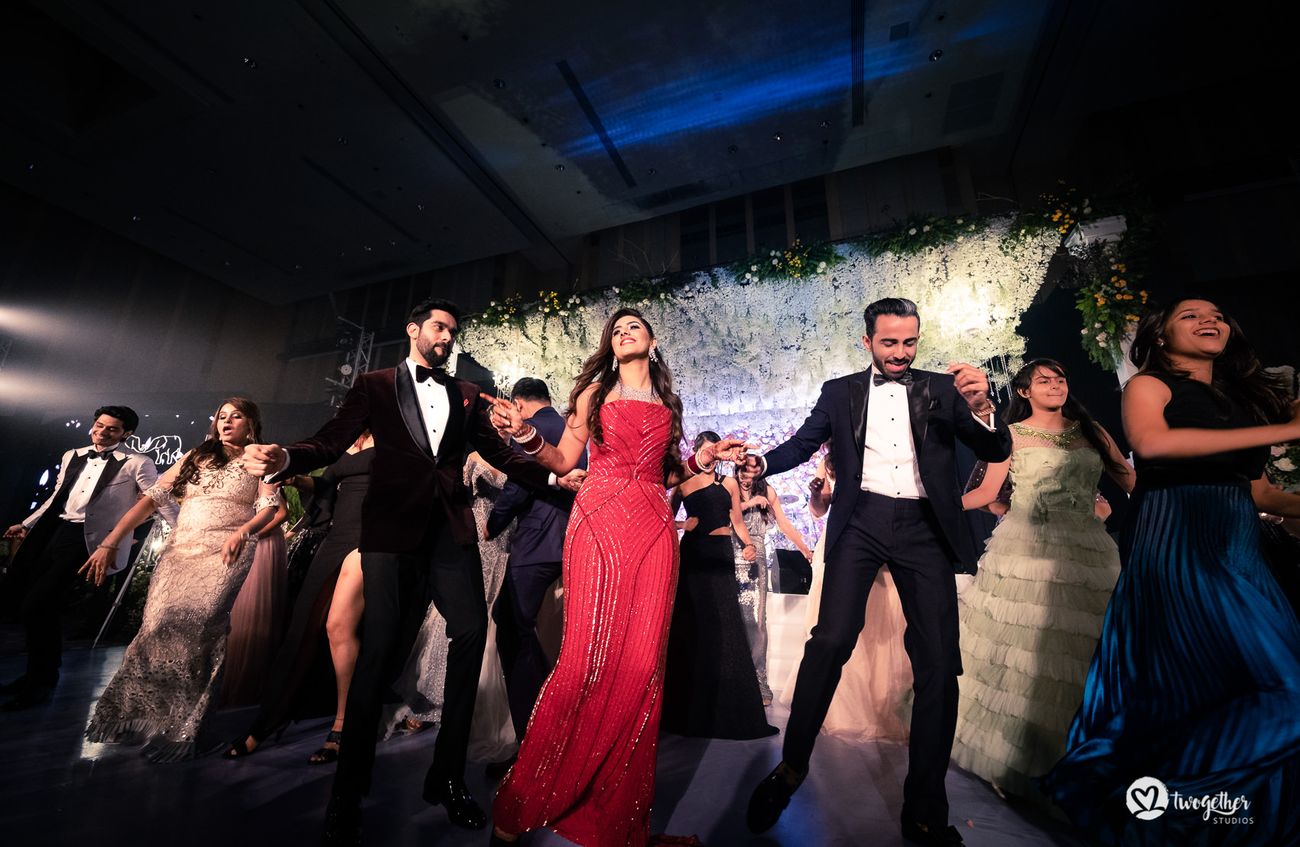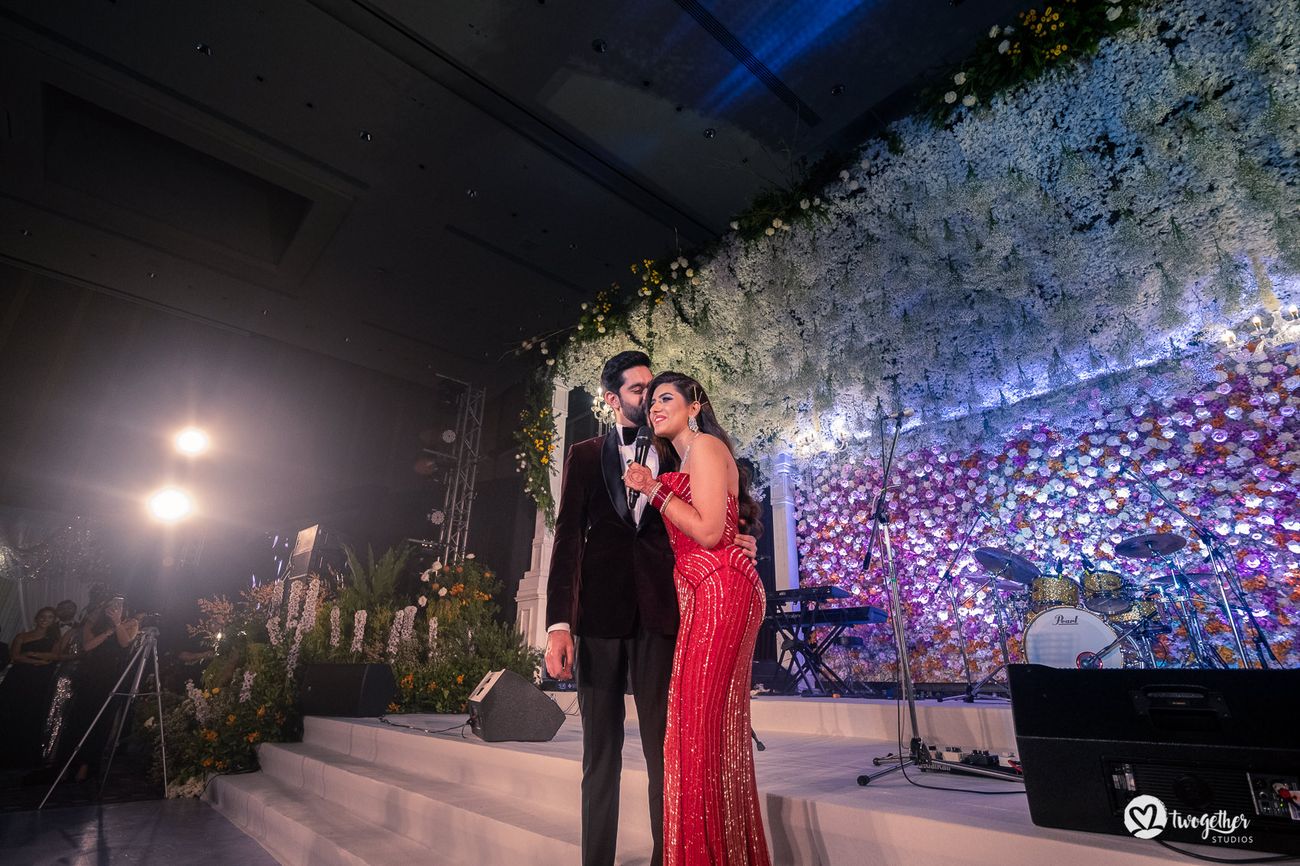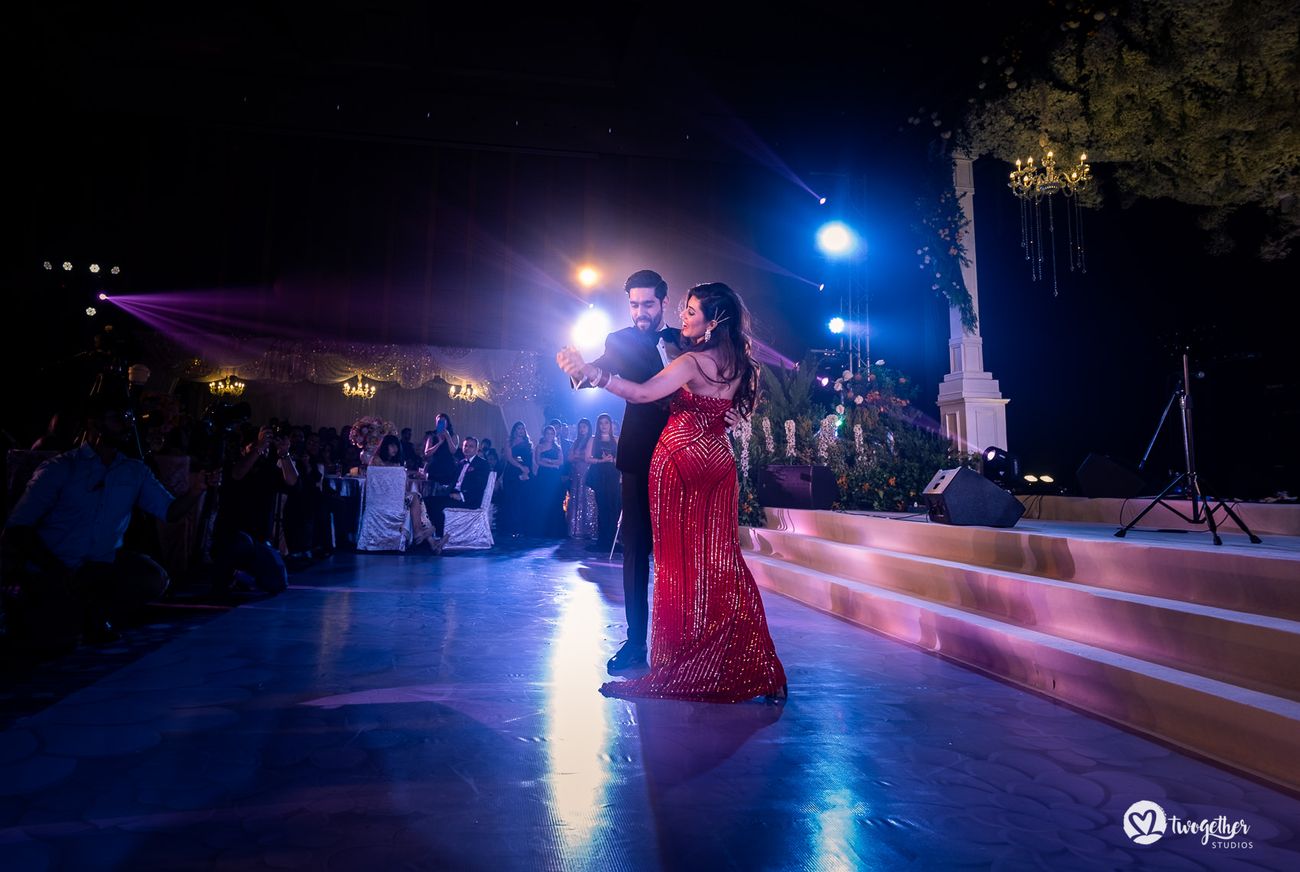 From The Bride: 
It was a wedding full of love and loved ones. We had our pheras on the first day with just our immediate family. And the rest of the wedding was just a big celebration with all our friends and family.
Bridal Outfits: 
Pheras - Customised Manish Malhotra 
I thought it would be very different for a bride to wear the sari on the day of the wedding because everyone wears 'red' lehengas now. Also I chose a colour that I love powder blue -although it looks white. That's who I am, I'm unconventional and very modern. I wanted to wear a traditional looking outfit at the beginning but once I tried them on I didn't feel like myself. So I chose a very modern sari with diamond sets instead of uncut (polki!)
Brunch - Trish
I am a designer myself, I make western formal wear. So it was a good opportunity for me to showcase my design. I am extremely OCD also so I need my clothes to look exactly as I imagine. Therefore all my outfits were customised. For this look I wanted to wear a white gown , that was always my dream,- to wear a white gown at my wedding but Indian tradition doesn't allow a bride to wear too much white so I made a gown that gave an illusion of being white.
Sangeet - Custom Falguni & Shane Peacock
This was the first outfit I bought. The colour, the cut, the embroidery it was all perfect at first glance. I just wanted to do something slightly different so Falguni added some fun frill to my sleeve. Also my family is obsessed with elephants so she added some elephant embroidery to the border of my lehenga. 
Varmala - Custom Gaurav Gupta
I searched for months and months for this outfit and I was just not liking anything anywhere. My parents and I went to Delhi finally for the vogue show because I had to order my outfit anyhow by then because otherwise it wouldn't be ready in time for the wedding. I always wanted to wear at least one Sabyasachi at my wedding. I have looked up to him for many many years now. But somehow when I wore the outfits I just felt like every other bride on Instagram. And then I saw a gown at Gaurav Gupta, I didn't need any more gowns by then, I had already started making my own and they were almost ready. He still insisted I tried it on , and my God! It was love at first sight. No other outfit had made me feel like this. I felt like a bride. An extremely unconventional bride. I had to have the outfit and I had to wear it for the Varmala. So Gaurav customised it, added a little embroidery , cut the gown into a blouse and lehenga and changed the colour from red to hot pink. It is a stunning outfit. I love it. In fact I changed the function a little bit to match my outfit so I made it from just a Varmala ceremony to a sand ceremony were we also said our vows.
Reception - Trish by Trisha Datwani.
I had to wear at least one red right? I went fro a simple silhouette and a classic embroidery. There was so much going on in all the other functions that I wanted to end with a classic red gown.

Groom Wear: 
Pheras - Deepak Parwani
It was a beautiful shade of red that he wore. So different that the groom wore red. We balanced each other out. It was a self on self embroidered sherwani. 
Sangeet - Rohit Bal 
We bought a black on black self embroidered sherwani. Very royal looking with elephants embroidered on them since we all love elephants.
Vendor Reviews: 
Photographer: Twogether Studios
They were amazing ! They were great to work with. Every member of their crew was willing to go above and beyond their job. They were everywhere at every function and were able to capture the essence of the entire wedding and the emotions of every family member beautifully.
Wedding Planner - Innaz Communique
Innayat and his team were the best. They were extremely well organised. The family could enjoy the wedding because of them. We were stress free. And all the guests were very well taken care of.
Mehendi Artist: Barbie Ima
She does the most beautiful custom mehendi. She actually was able to make a portrait of me and my husband on my hand , she also made a portrait of our dog that we have raised together. She was the sweetest, most patient person. Inca t the calls herself barbie because she looks like a barbie doll.
Vendors: Makeup Artists: Pheras - Vanita, Sundowner- Alina Khan Beauty , Brunch, Sangeet, Varmala, Reception - Ablaze by Simran Takkar★ 4.9 ; Hairstylist: Ritika Kadam★ 5 ; Photographer: Twogether Studios★ 4.9 ; Planner: Innaz Communique★ 5 ; Bridal Jewellery: Amol Jewellers; Bridal Outfits: Pheras - Manish Malhotra★ 4.9 , Sundowner: Papa Dont Preach★ 4.7 , Brunch & Reception - Trish by Trisha Datwani, Sangeet -Falguni Shane Peacock ★ 4.9  Varmala - Gaurav Gupta★ 4.9 ; Mehendi Artist: Barbie IMA; Groom Wear: Pheras - Deepak Parwani , Sundowner - Hugo Boss , Brunch, Reception - Troy Costa★ 5 , Sangeet - Rohit Bal Groom Wear★ 5 , Varmala - Manish Malhotra groom Wear★ 4.9