Are You Guilty Of Making These Wedding Photography Mistakes?
BY The WMG Bride | 15 Feb, 2016 | 4967 views | 5 min read
Okay, so you think you know how to pose considering you have been a pro at selfies. No girl! Posing for pictures, much to our chagrin is an intense structural process. Yeah, there are rules and basics that one needs to follow to make sure their wedding photos are bedside-worthy. So we got you 10 tiny but important mistakes every bride makes and you know what, they can really make a difference to your wedding album if you get them right.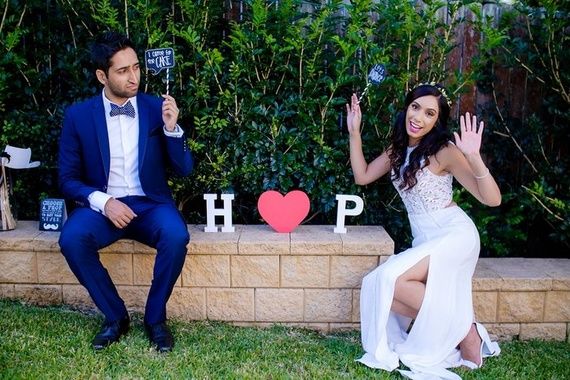 Picture Courtesy: Hemant & Preet's Engagement
Not Telling Photographer the exact gathering size
Why does the photographer need a gathering size? Because he needs to arrange for second shooters accordingly. While you definitely don't need a barrage of a 10 person army, hiring 2 shooters for a 800 people wedding is probably not going to be enough.  Remember- one shooter for the girl's side, one shooter for the boy's side and one shooter who floats around clicking guests is probably the rule to follow.
Overload of Highlighter in Makeup 
When there's an important shot - recheck your makeup , specially look for extra shine which can kill photographs. That highlighter is beautiful, but with flash photography it can leave you looking like your face is oily. Keep your MUA on standby or her assistant next to you. If both are not there, your BFF or your cousin sis can carry your lipgloss / blush and mascara in their tiny potli. Keeping your makeup intact after each shot is mandatory - don't ignore. You'll otherwise end up with raccoon eyes after the bidaai shot (Rem, that shot should look like one from the Karan Johar movies).
Tight Facial Features
What kills a photograph: Facial Features that are tight and stressed out. Here is a quick trick: Breathe in, and release your breathe while smiling. It creates a naturally relaxed look on your face.
The No Neck Brides
Slouchy brides can kill the most beautiful outfit. Always be conscious of your neck and hold it up straight with your shoulders back. It's easy to get hunched up and have your neck disappear in photos. Chin up and sit straight - cross your legs. These rules must be followed. Don't slouch, keep your posture perfect. Confident but not over-the-top. Legs crossed at the ankles is great - stick to it. If you stand right, you'll avoid that dreaded double chin, alright?
Not getting intimate
It's your wedding, go ahead and plant a kiss on his cheek or lips, and let him whisper sweet nothings in your ear. Not getting intimate and standing side by side will make you look like brother and sister!
Always facing a camera directly
While you can face the camera directly for some shots, keep your head at a slight  angle. Tilt your head at an angle wherein you are looking and the camera persons shoulder, it creates a beautiful profile of your face and gives more flattering angles.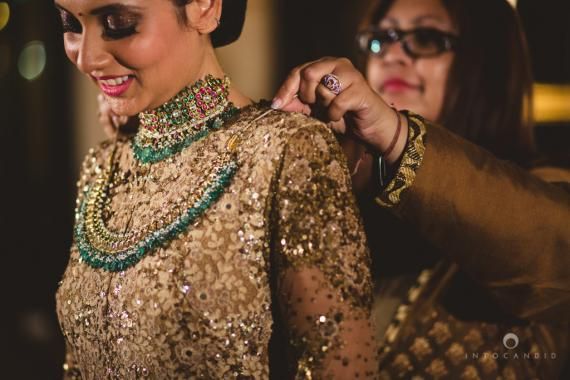 Picture Courtesy: Into Candid Photography 
Making the stage backdrop light up with LED lights or bulbs
Unless  you want your stage photos to be dark, don't make the stage backdrop come alive with lights. What we mean is- you know those stages where the bride and groom initials is in bulbs in the backdrop? While they look great in person, they ensure every single photo is dark.
Don't Forget Simple Tricks
Hand-on-Hip pose? Master it. Duckface? Know it well. Don't stand stiff, keep it loose and fun. We saw this really cool video by Gigi Hadid explaining to us how she does the walk, we loved it. Supreme confidence + pivot = sexy sexy!
Not Discussing Shots With Photographer 
Rookie mistake girls! You need to really discuss your shots before-hand and not go impromptu because if you don't like a shot, you can't get annoyed or fight with him or sulk there.
Not looking at each other
The most romantic shots are not of you and your fiance cuddling and looking at the camera, but looking at each other. Those deep soulful gazes, even if for 'fake camera' sake must be done for some super romantic photographs.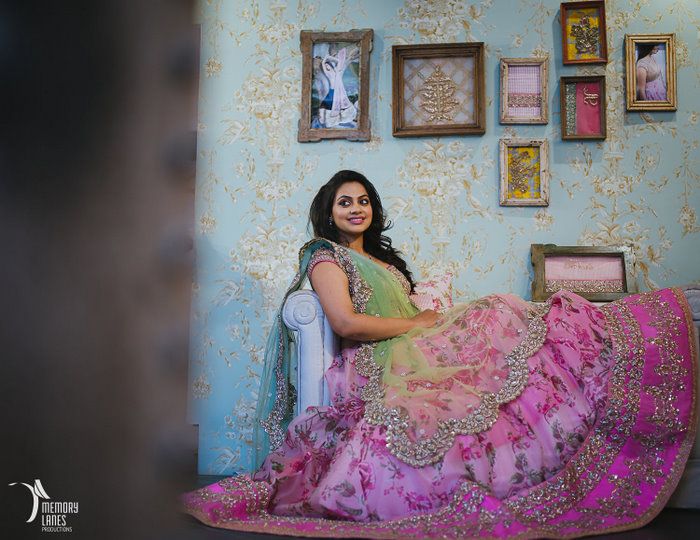 Picture Courtesy: MemoryLanes Photography
Forgetting to Smile
Simple as hell, but in that bridal hurry and tension, every bride forgets this rule. Be happy girls - it's your day. But subdue your smile - don't do OTT or go under, stay happy, let your eyes glimmer and your smile will catch up.
Not Bringing BFFs to The Shoot 
So you need to just stand there and stare into each other's eyes - it's tough, isn't it? So okay, the trick is to bring a friend and keep talking between shots, smiling and carrying on conversation and being fun...all naturally. It breaks the ice so try it.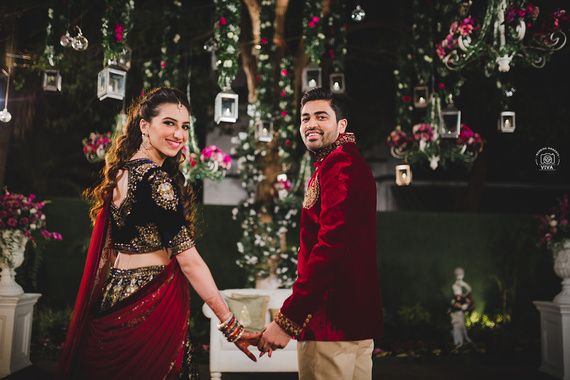 Forgetting Props
Yeah, we know they are silly but they bring out a laugh, at most a snigger or a smile and that makes things cute! Bring these props and keep them going, even if in the end, they don't make for great pics - it's okay, but get them anyway.
Do Some Stuff For The Photographer
So you are a rigid bride but still, it's ok to try something new. I had a friend who once was asked to jump into the pool by her photographer and boy, was she mad? It's just a shot, she could have still removed it from her album but she wasn't up to it. Finally, when it was done because the photographer insisted  and - it was great, so keep an open mind, you never know what will sneak up on you.