6 Essentials That Make Up A Bengali Bride's Look!
BY Twinkle | 02 Oct, 2019 | 25280 views | 7 min read
India is a country which is all about diversity – yes, the diversity is quite visible even in brides and their bridal wear. I have often heard my Bengali friends being asked some inane (and illogical) questions about their wedding looks. But I am sure, just like me, you'd agree that Bengali brides are the prettiest and their weddings, quite fancy.
I have often heard the phrase 'beauty is in simplicity' and that is especially true for a Bengali bride. She is the epitome of graceful and timeless beauty – and unlike modern brides, they try to be as free from artifice as possible.
Of course, you must be wondering what is it that makes Bengali bride look like the perfect combination of simplicity and exquisiteness without the 'Kareena wala lehenga', the makeup, and even the mehendi. The answer is simple – rather than conforming with the ongoing bridal fashion trends, they go for the traditional look, which not only enhances their beauty but also makes them a bride with a unique element.
So, if you are a bong beauty or someone looking to borrow a few secrets from the bridal beauty of a Bengali bride, then here are some must essentials that decipher her look:
1. The crowning glory - Topor
For those who are unfamiliar with this word, the Topor is the white coloured tiara that completes a Bengali bridal look. Tradition says that this is a good luck crown which signifies happiness and joy in the new chapter of her life.
The topor, also known as the 'mukut' is made of a substance known as the white cork (or shola as it is called in Bengali) which lends a dash of elegance and delicateness to the whole bridal look. As a tradition, a Bengali bride only goes to her wedding while wearing this topor, and sometimes a veil as well.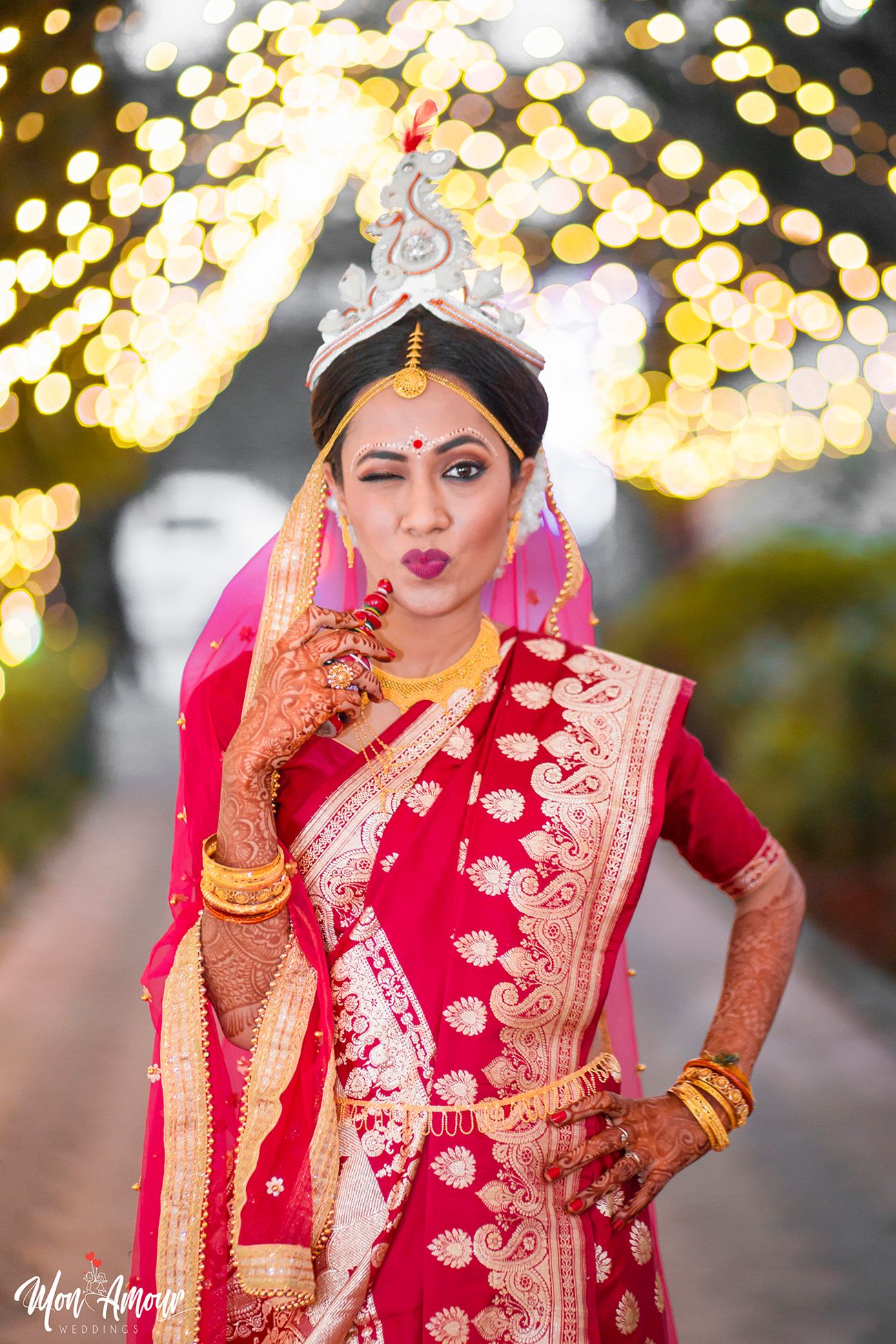 Image via Mon Amour Weddings★ 4.6
Interestingly enough, wearing the topor has roots in the Hindu mythology. It is said that Lord Shiva wore a crown made of shola material, which is why it is of so much importance in a Bengali wedding.
2. Intricate Alta designs
An interesting fact – applying mehndi or henna on hands and feet were never part of the Hindu religion as such. It was with the Mughals, who dominated almost every aspect of the Indian society in those days, that the tradition of putting mehndi came in and became popular.
In the olden days, people used to apply alta, a red pigment gotten from crushing betel leaf, on the tips of of their fingers and feet and made intricate designs using the same. In today's time, the ritual of applying alta has almost vanished – more and more people are going for the fancy mehndi designs.
This is another thing which makes Bengali brides stand apart in their beauty as a bride – they almost always opt of alta rather than mehendi.
Apart from the uniqueness of the whole thing, there a lot of traditional and cultural values attached to applying the alta – like in some Bengali traditions, the deeper and richer the color of the alta, the more love and affection the bride will get from her mother in law to be! So, I would strongly recommend applying the alta instead of usual mehndi which any and every bride can apply.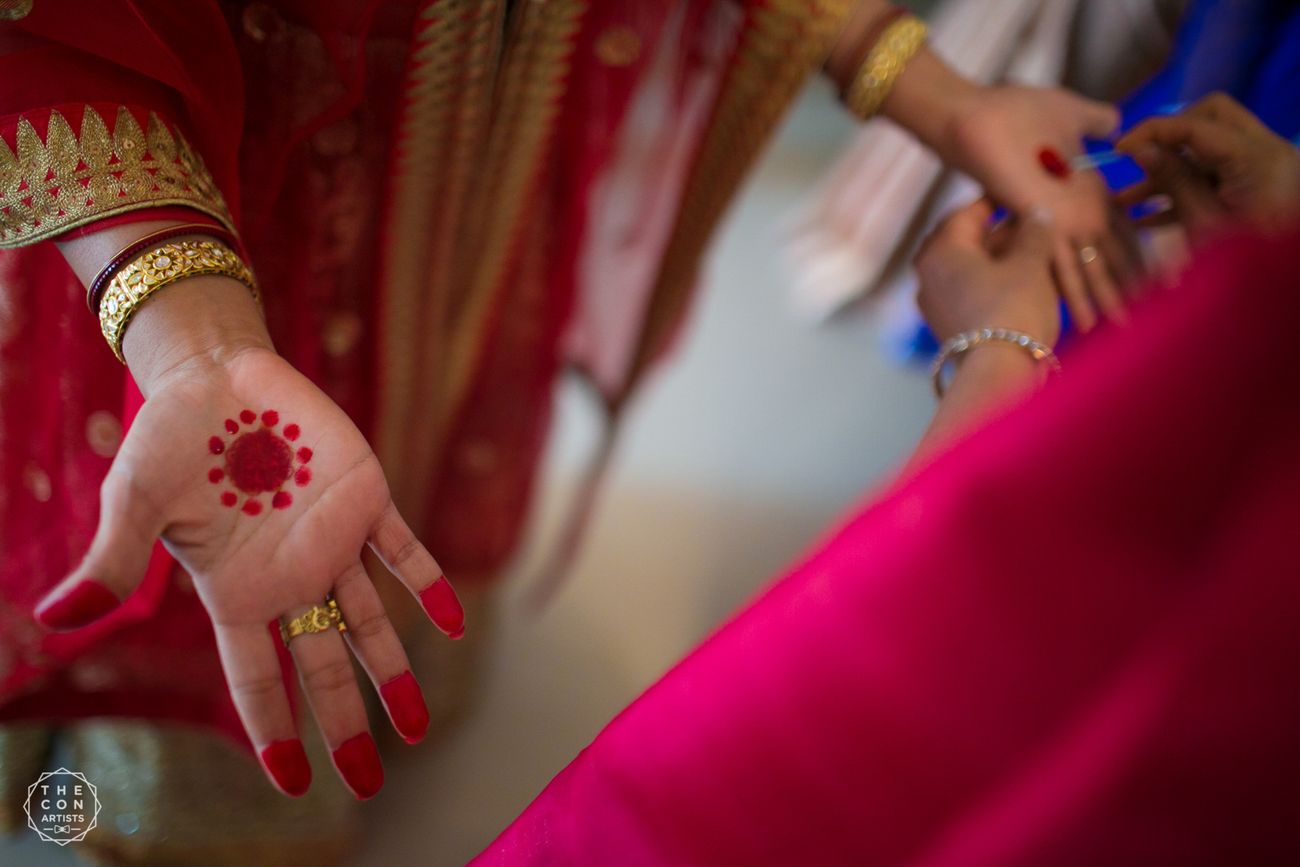 Image via The Con Artists★ 4.6
3. Elegance of chandan
Since a Bengali bride is all about simplicity and the traditional way, it is no surprise that Chandan and vermillion (Kumkum or sindoor) play an important role in decorating the face of the beautiful Bengali bride.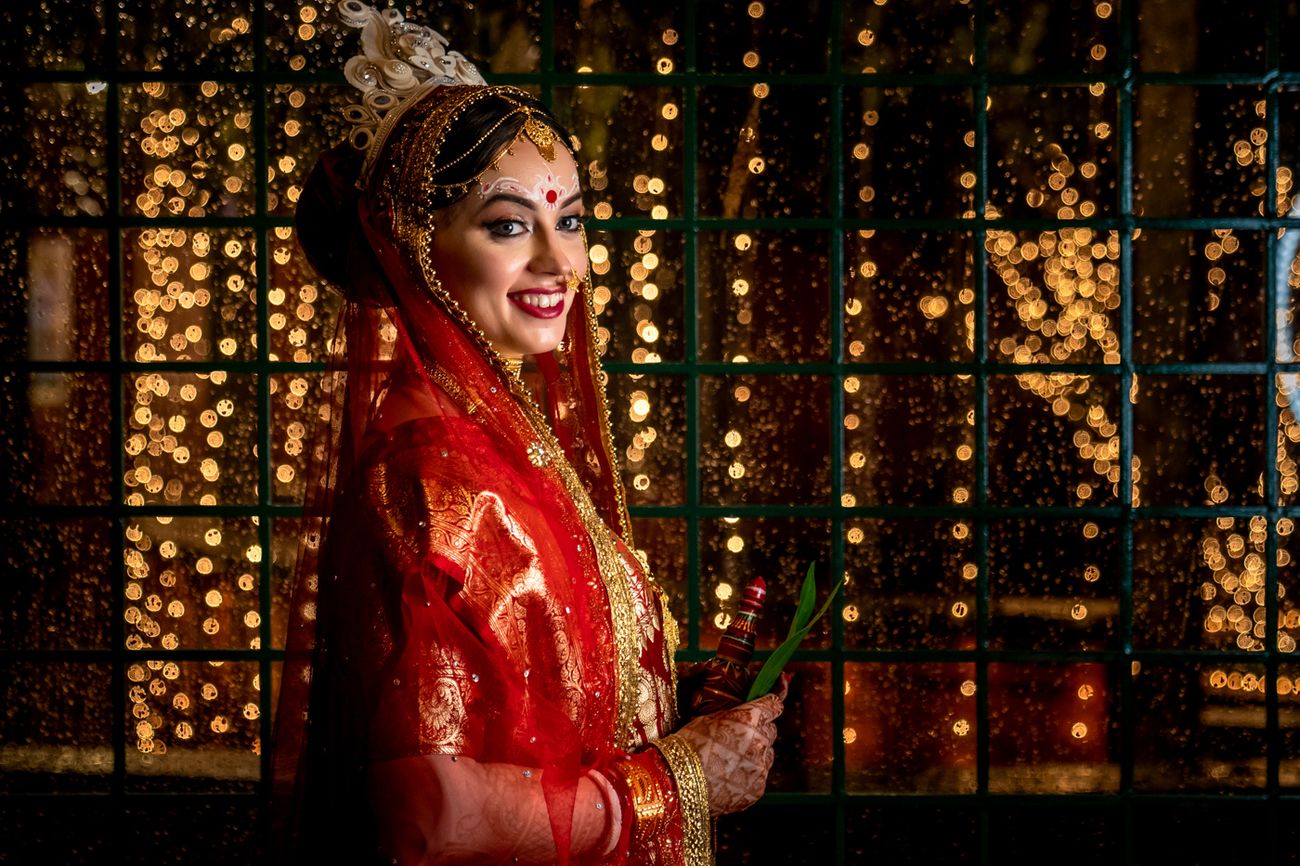 Image via Sharath Padaru★ 4.9
Apart from a little light make up, most of the designs are made on the forehead of the bride, just above her brows, mainly highlighting the red bindi placed between her eyes. There are a tons of designs of Chandan and Kumkum which are available in the market and tons of designers who specialise in this art exclusively. While selecting a design, my advice is that you must go for something that is simple and suits your personality the best!
4. Classic jewellery that goes a long way!
So, another thing which is very important for a Bengali bride is her selection of bridal jewellery. As a bride to be, the kind of jewellery you wear to your wedding functions will go a long way in setting the theme and tone of your wedding.
Bengali jewelleries are, by a very large margin, quite popular in the market when it comes to weddings, whether the bride is Bengali or not, and with good reason too!
Their traditional yet simple designs will make any connoisseur go weak in the knees! From bangles such as meenar bala, moyur much bala and the most popular mantasha which is the mother of all bracelets! Apart from that, there are necklaces like the Sita Haar, Pathi Haar etc. earrings like kan bala, jhumko and many such pieces which will only enhance and magnify the beauty of a Bengali bride.
There are many hand and toe rings which also come in a variety of shapes and sizes – the Ratnachur is believed to be the most bought piece of bridal jewellery and it is unsurprising too since this five finger ring bracelet really lends a regal look to the beauty of a Bengali bride.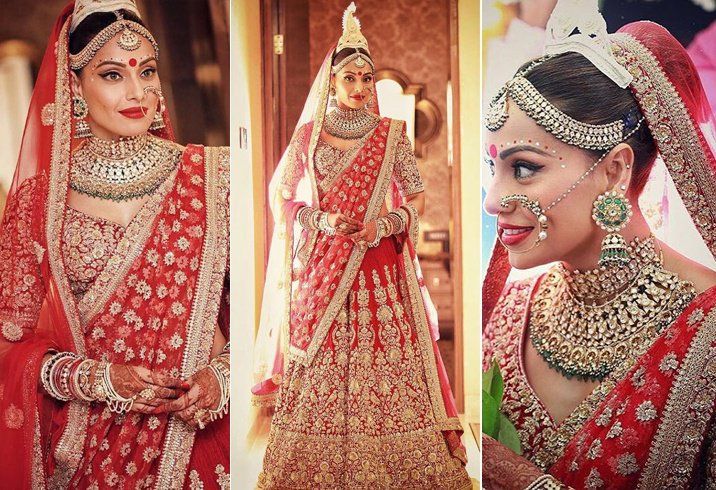 Image via @BananiVista
I would definitely recommend that if you are looking to work on your look as a Bengali bride, then go for traditional gold jewellery and again, any selection you make must be done keeping in mind your personality and the theme of your wedding!
5. Pola and Shankha - the must have Bengali marital bangles
For those of us who aren't Bengalis and do not have a lot of idea about Bengali wedding traditions, the Pola and Shankha are auspicious wedding bangles without which the ceremonies cannot conclude.
They are red and white in color and usually worn on the left hand of the Bengali bride. There is another set of bangles called loha (since they are made of iron) that are also worn. Together these three make a very important part of not only the bengali bridal jewellery, but also of the traditional ceremonies! The pola and shankha are symbolic of health and prosperity of the bride in her new life as the wife of her groom. The loha bangles are given by the Husband to the wife as a symbol of the strength of their union.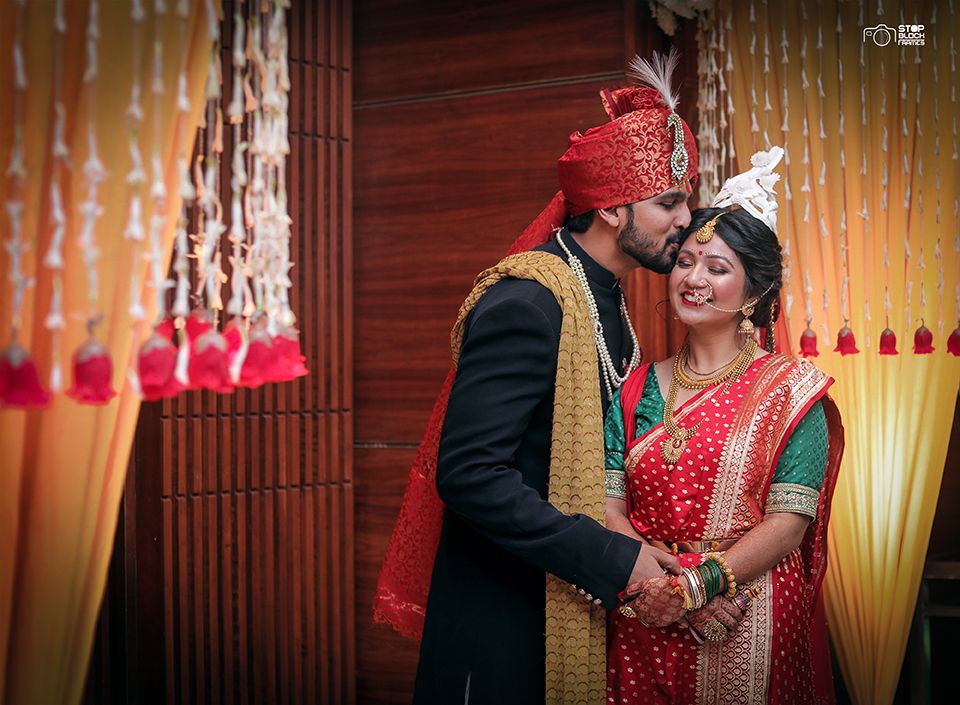 Image via Stopblockframes★ 5
6. Invest in a beautiful Bengali saree
To complete your bridal look, every Bengali bride worth her money must invest in a traditional bengali bridal saree. The best bet for a Bengali bride is to go for a heavy work benarasi saree instead of a traditional lehenga, because well, anyone can wear a lehenga including your guests. So if you want to stand out, go for a saree with your eyes shut!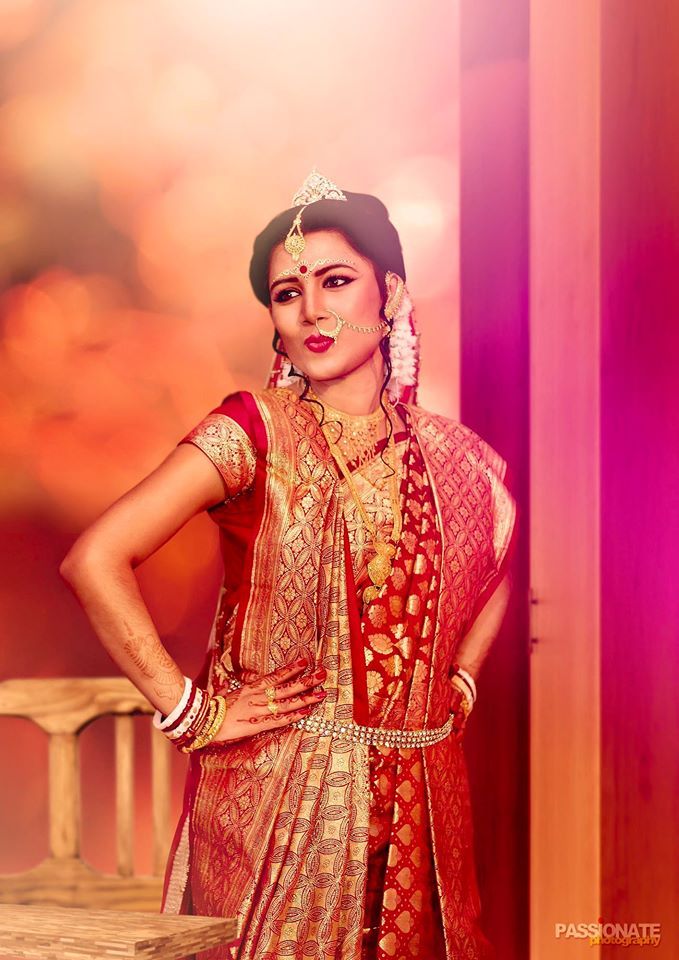 Image via Passionate Photography
Bengali weddings on a whole are testament of the uniqueness that each state in India possess. While many people have done away with a lot of traditional activities and functions which take place in a wedding celebration, Bengalis have somewhat remained untouched by this trend.
The beauty and simplicity of a Bengali bride reflects a Bengali wedding ceremony. Besides going for the above mentioned tips to further enhance your beauty as a Bengali beauty, I would strongly recommend that you also invest time in looking into some of the archive images of a  Bengali wedding which only add to your experience as a Bengali bride.