Best Bridal Earrings We Have Seen On Real Brides!
BY Sakshi | 13 Feb, 2018 | 3628 views | 3 min read
Bridal jewellery- sigh... there are very few things as luxurious and pretty as that, and we for sure for suckers for it! That's why we've put together some of the most beautiful fine jewellery pieces we've spotted on Real Brides that are drop dead gorgeous! So browse and drool a little! 
These pretty polki teardrop design earrings that are beautiful!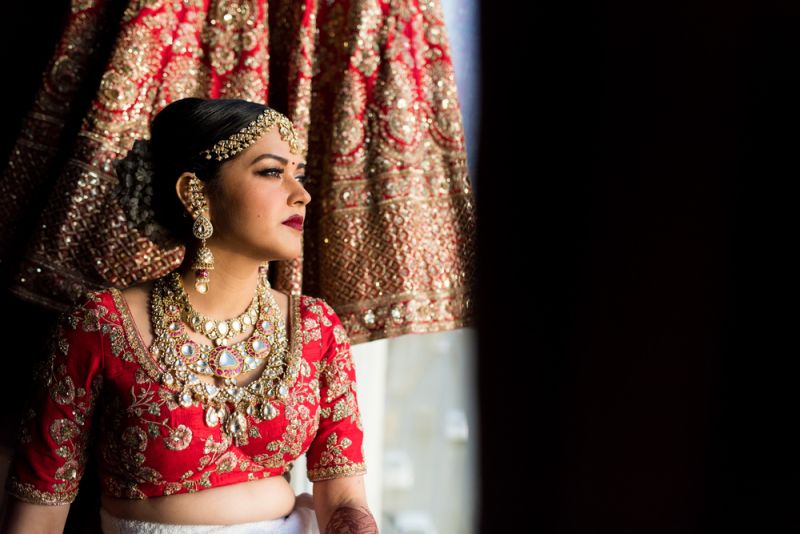 Image via Vivek & Dimple (Mumbai)
Love the unique design that ear chain- regal for a bride!
These gorgeous jhumkis with a pearl chain that are delish!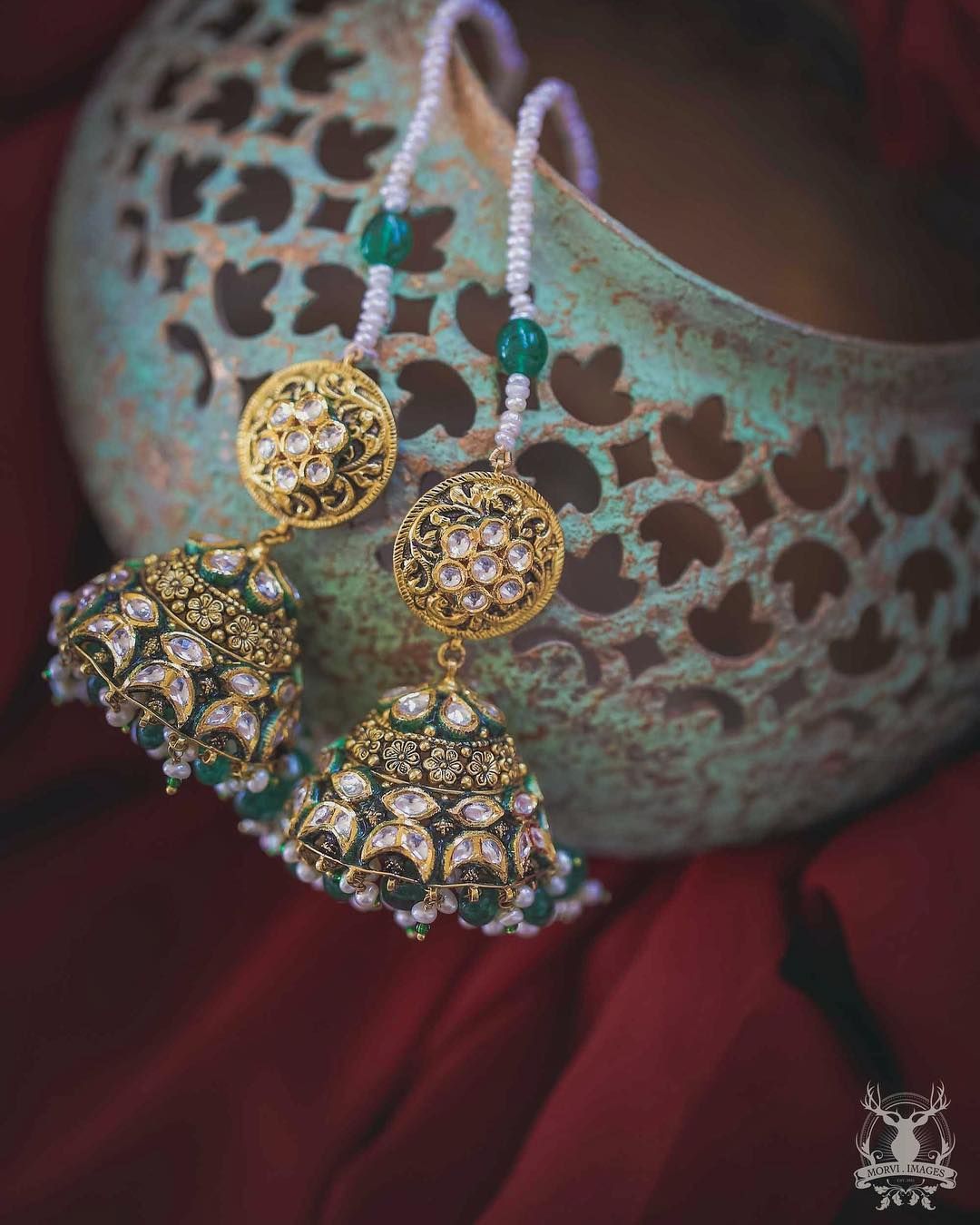 Image via Morvi Images Photography★ 5 on Instagram
These polki and jadau ones with the baby pearls and beads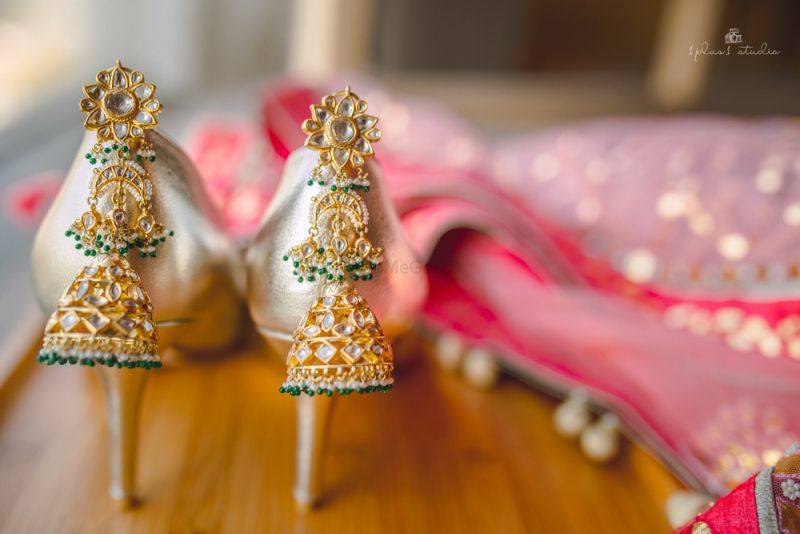 Image via Nitisha & Yuvraj (Chandigarh)
Dainty and pretty one with just a teeny pop of colour!
These ones with the uncut diamonds that are so drool-worthy!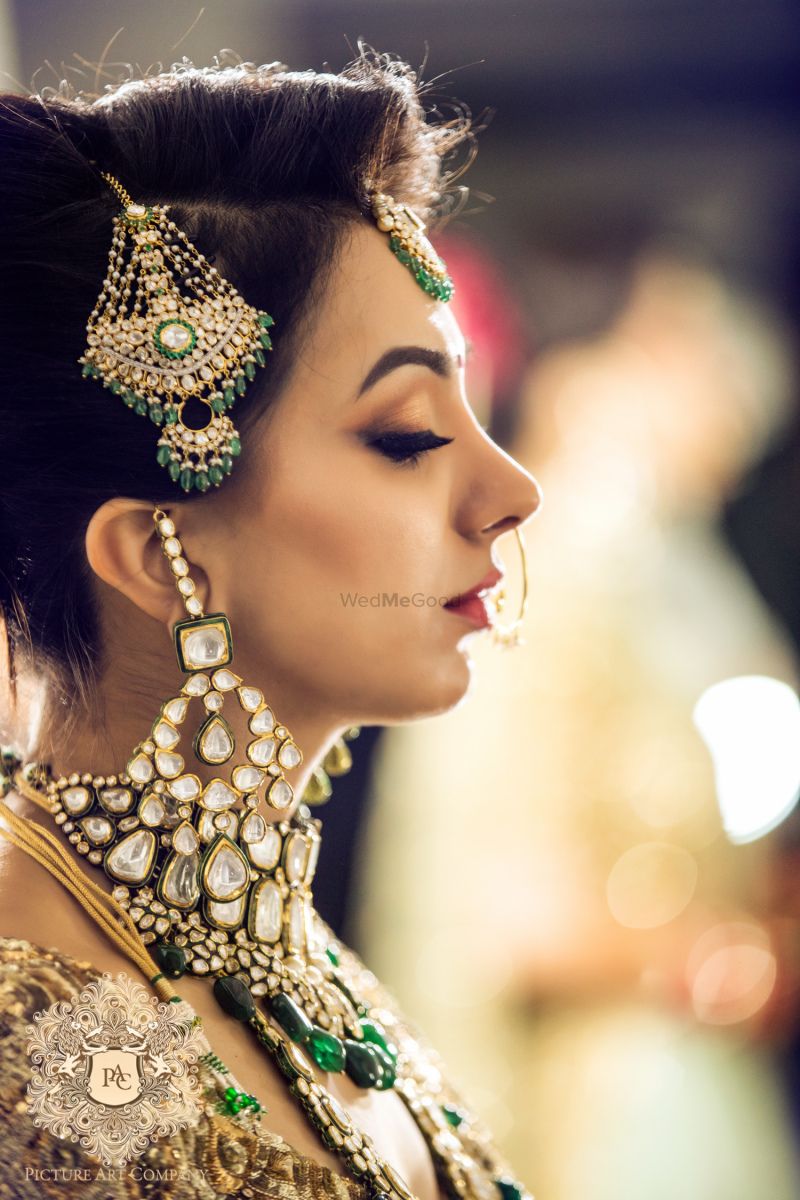 Image via Nayana and Jai's Wedding
Earrings which are fit for a queen!
These chaandbaalis with polki and pearls that are just wow!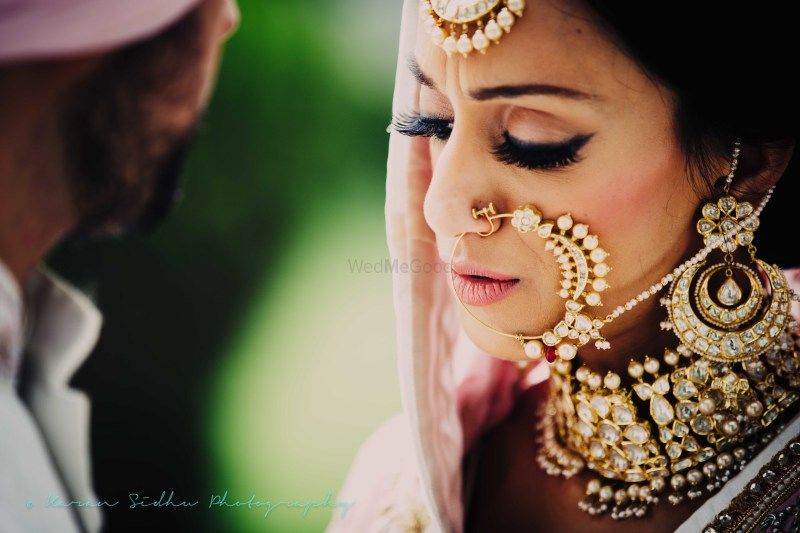 Image via Karan Sidhu Photography★ 5
Chaandbaalis with diamonds that are stunning- especially when paired with jewellery like that!
These polki ones that look like an extension of the mathapatti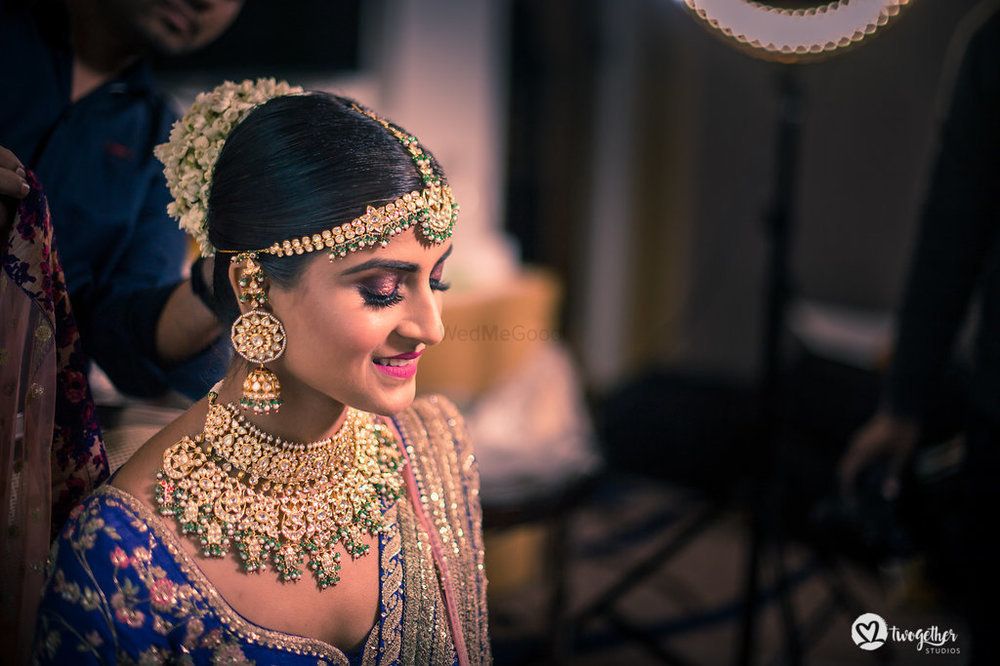 Image via Nandini and Ajay's Wedding
Such a pretty design that is- love how it blends into the maangtikka!
These customised polki earrings with that unique design!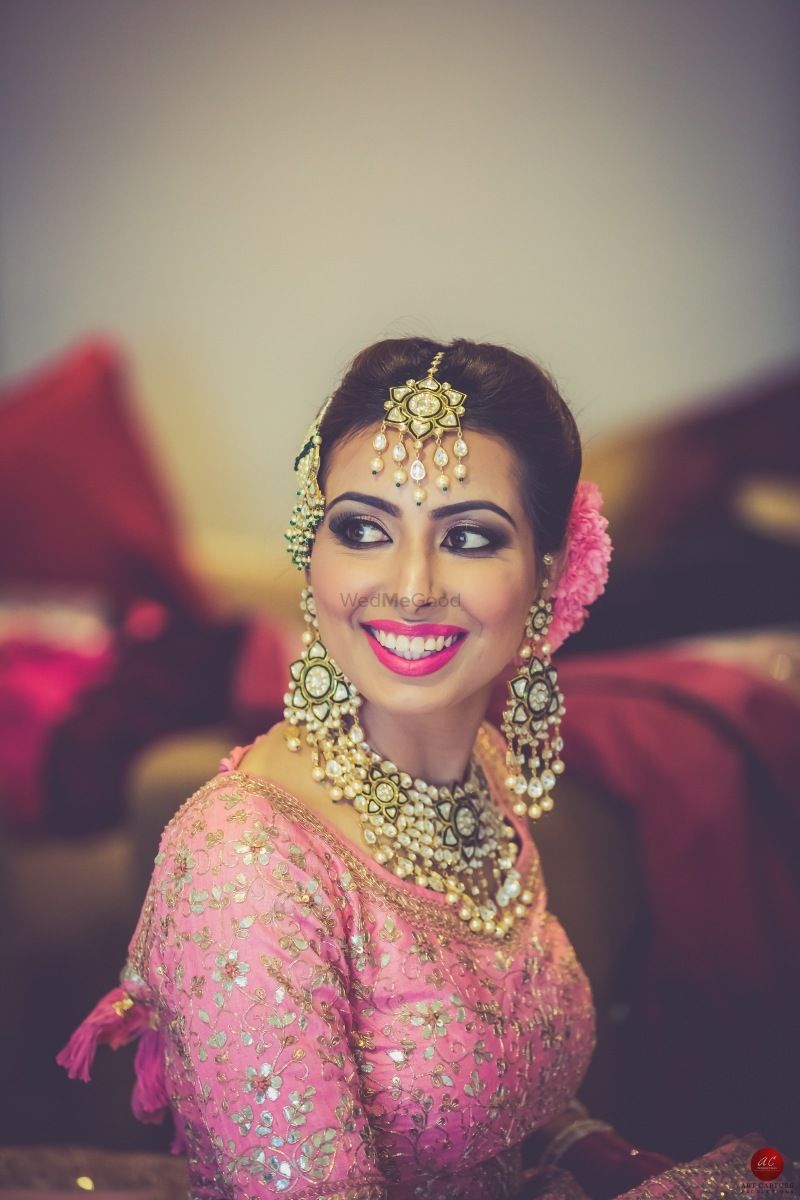 Image via Naaz & Gurvarinder (Chandigarh)
This bride designed her own jewellery, and we love how special it is!
These polki earrings with pearls which are so unique!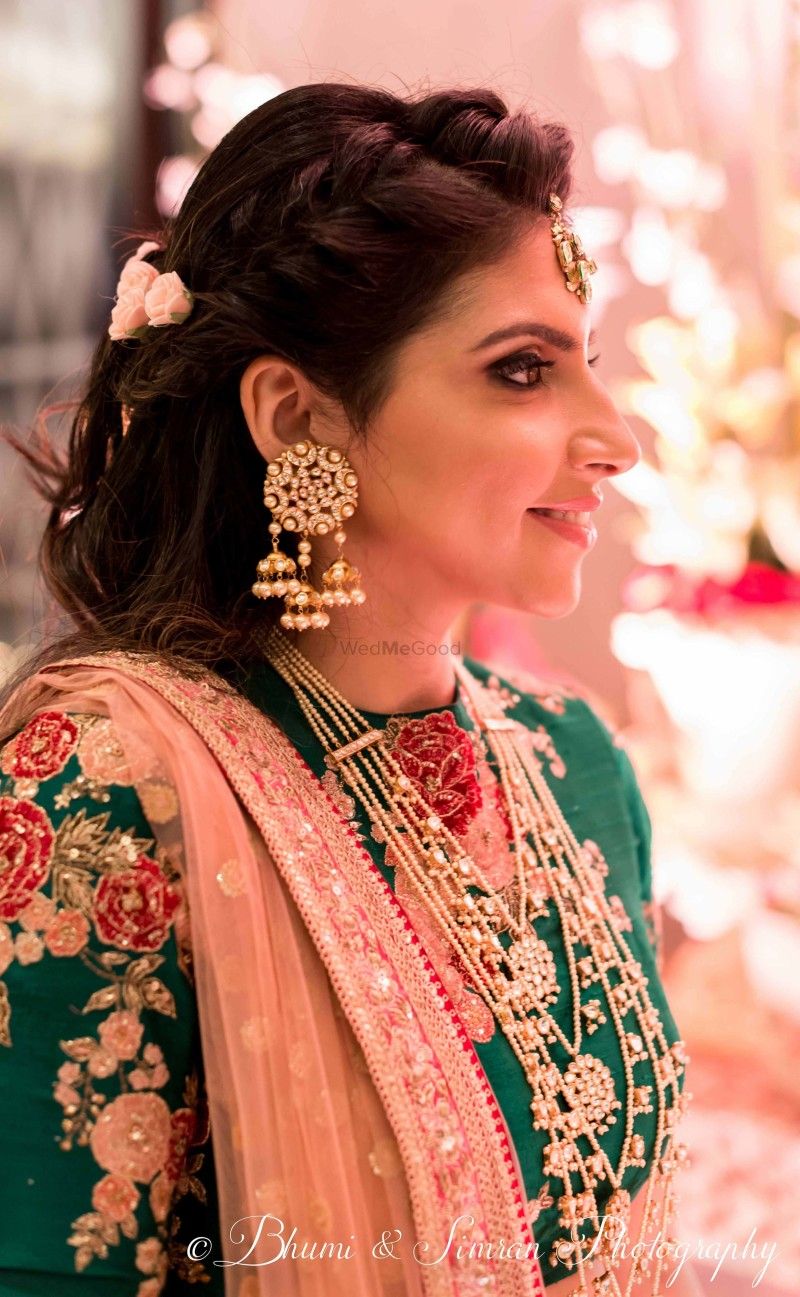 Image via Sanam & Suhel (Delhi)
Not the grandest, but this simple design looks so stunning! 
These ones with the unique design that are pretty perfect for a bride!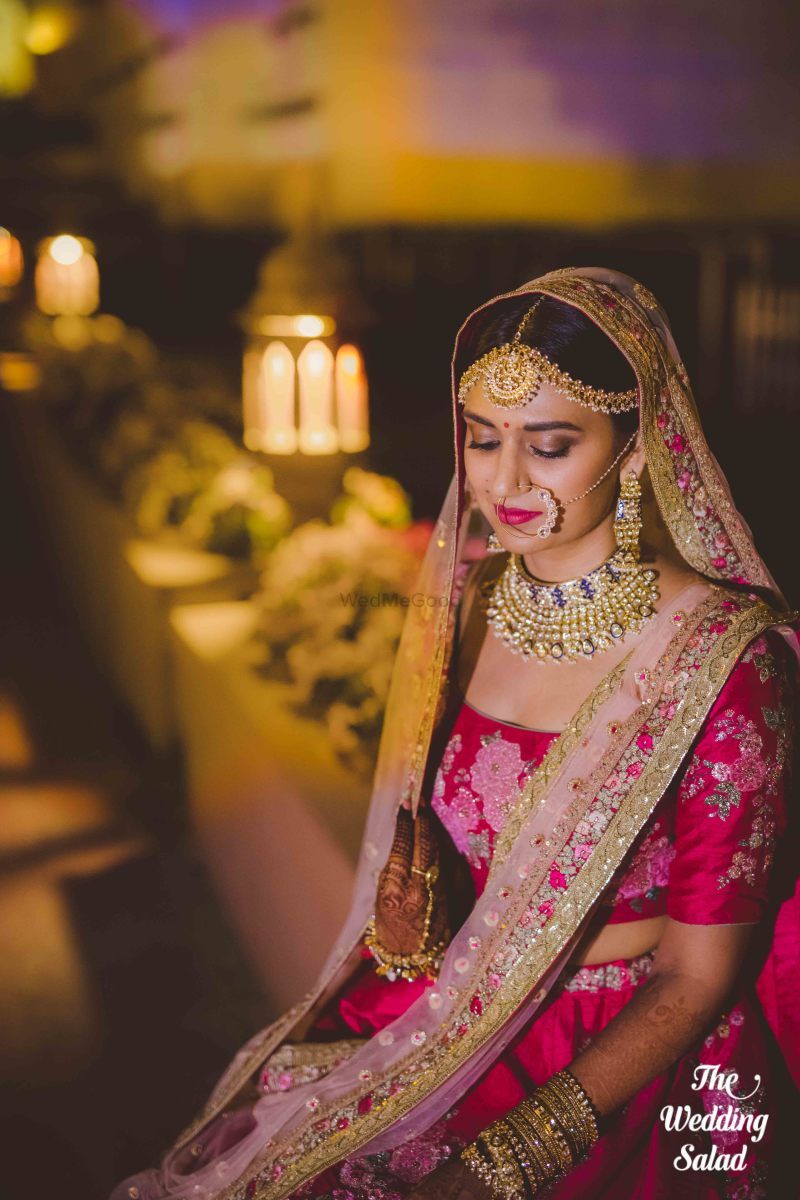 Image via Purva & Shivam (Jaipur)
Earrings like that with a pop of purple- so pwetty! 
These dainty and pretty pastel ones with diamonds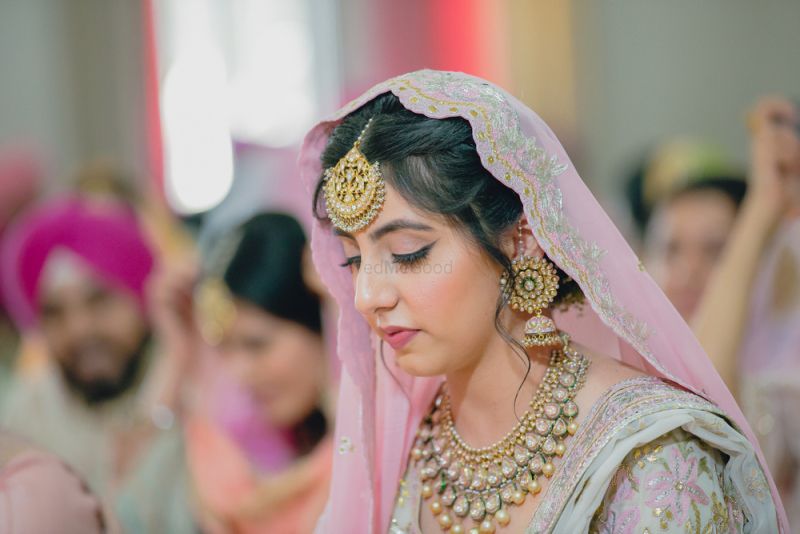 Image via Sahej and Prateik's Wedding
Such delicate ones- love the pastel shade which makes them so unique!
These statement meenakari and diamond earrings with jhumkis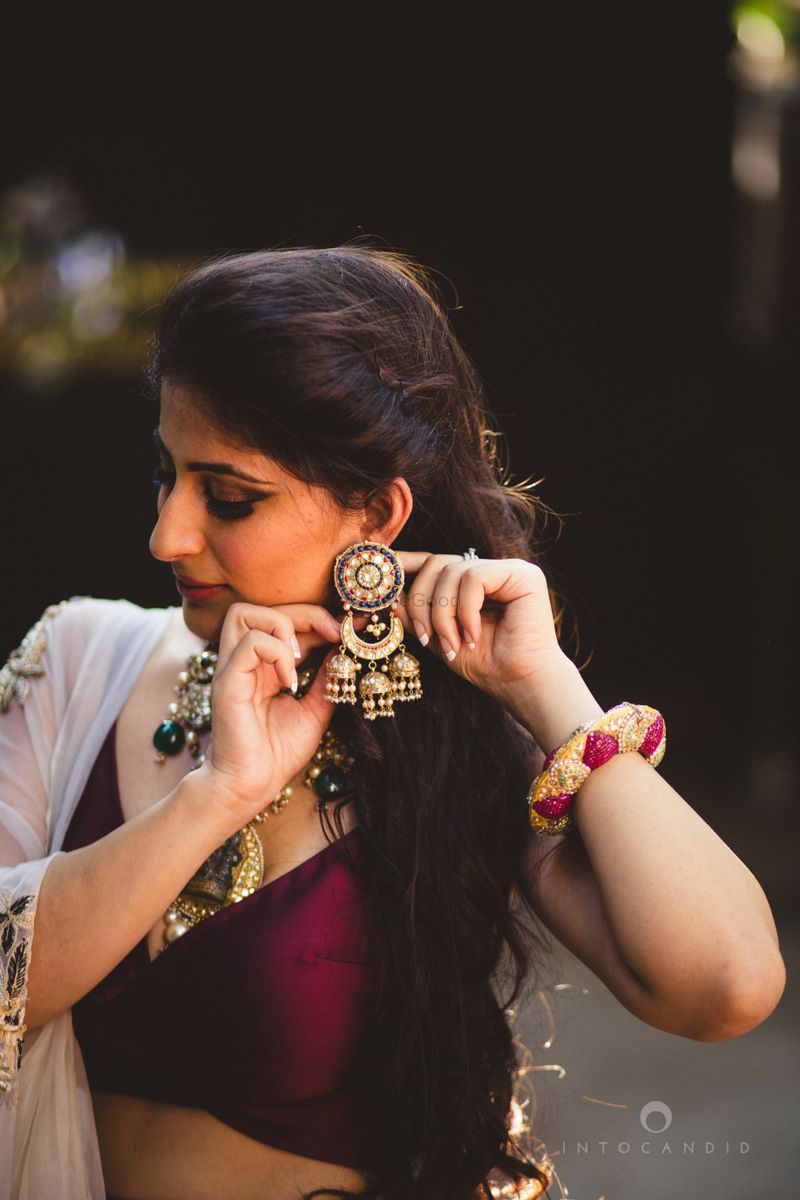 Image via Bespoke Vintage Jewels - By Shweta & Nitesh Gupta★ 4.8
Statement earrings which are gonna turn heads for sure!
These stunning diamond and polki ones with a chain which are exquisite!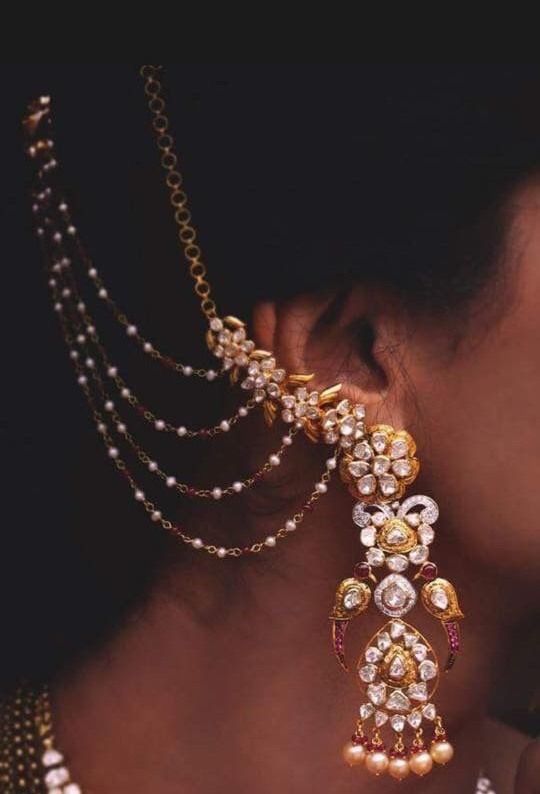 Image via Pinterest
So exquisite- they are gonna be showstoppers!
These ones with rubies and diamonds that have a unique square design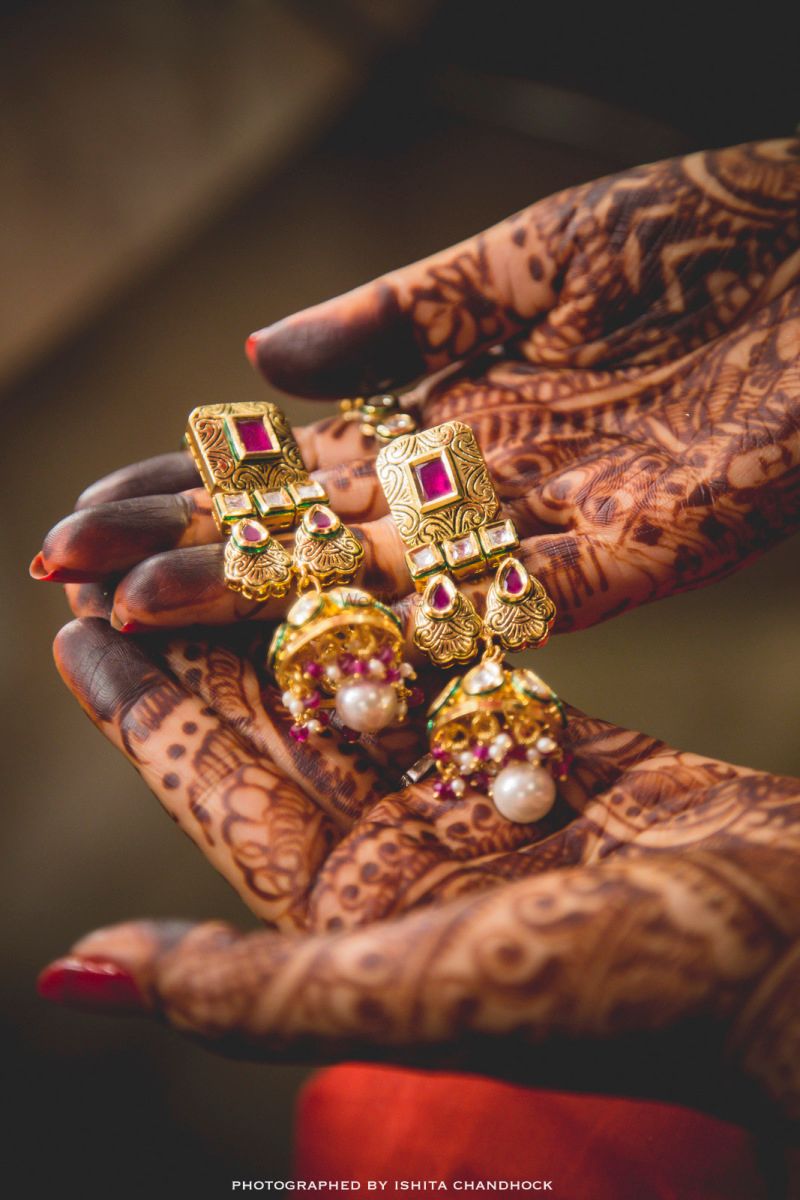 Image via Ishita Chandhock Photography★ 4.8
Rubies are pretty as is it, and when combined with a design that like, even prettier!
These pretty chaandbaalis with pink and green that are gorgeous!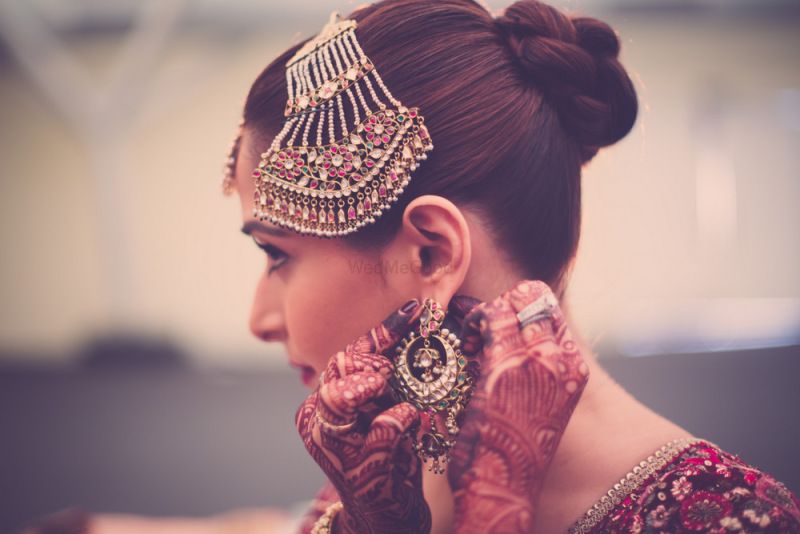 Image via Atiya and Amitesh's Wedding
A pop of colour is always good, and when the design is as pretty as that, then how can anyone say no?
These ones loaded with emeralds and diamonds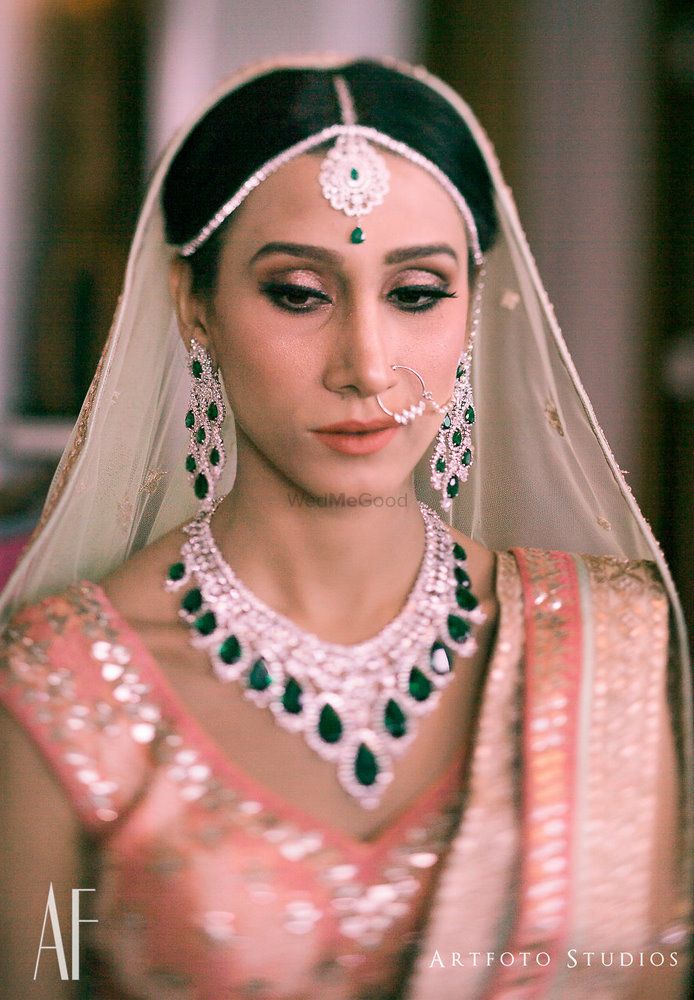 Image via Tania and Vidhu's Wedding
Diamonds and emeralds go with anything- and when there are so many of them, even more!
These gold and pearl ones which have such a unique design!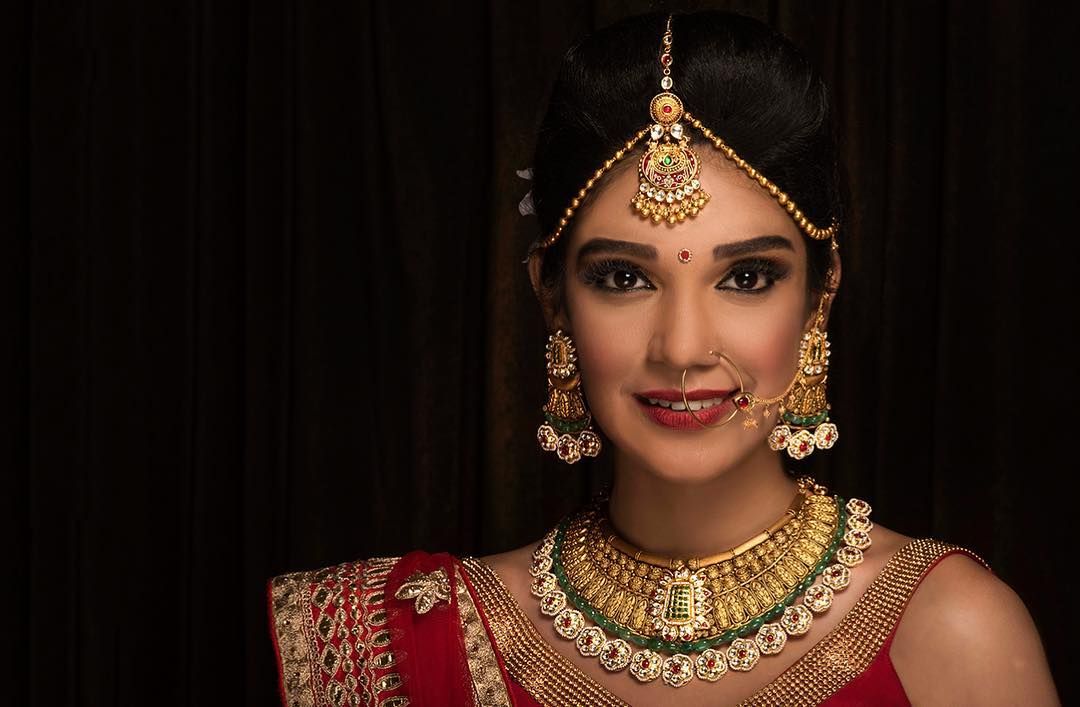 Image via @antarajewellery on Instagram 
Traditional jewellery with a twist! Looks stunning!
These ones with the gorgeous chains going all the way back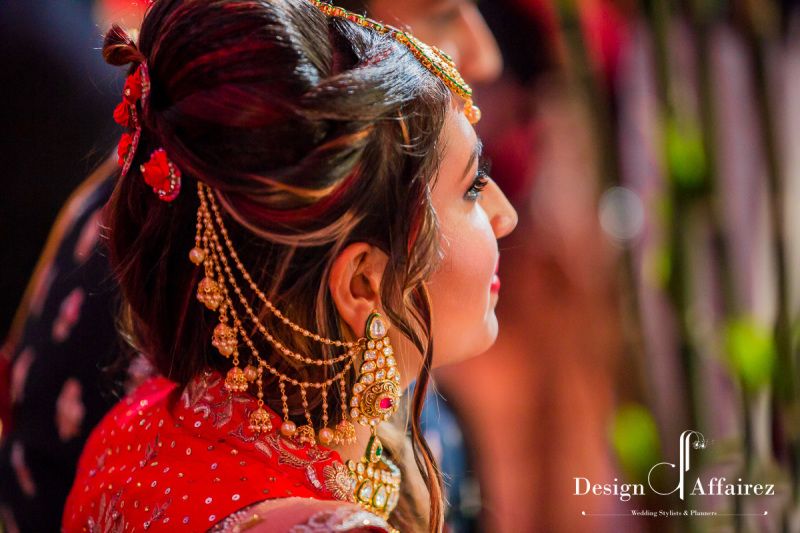 Image via Design d' Affairez★ 4.2
Not the earrings per say, but the chain makes it so much prettier!
These polki earrings which are stunning!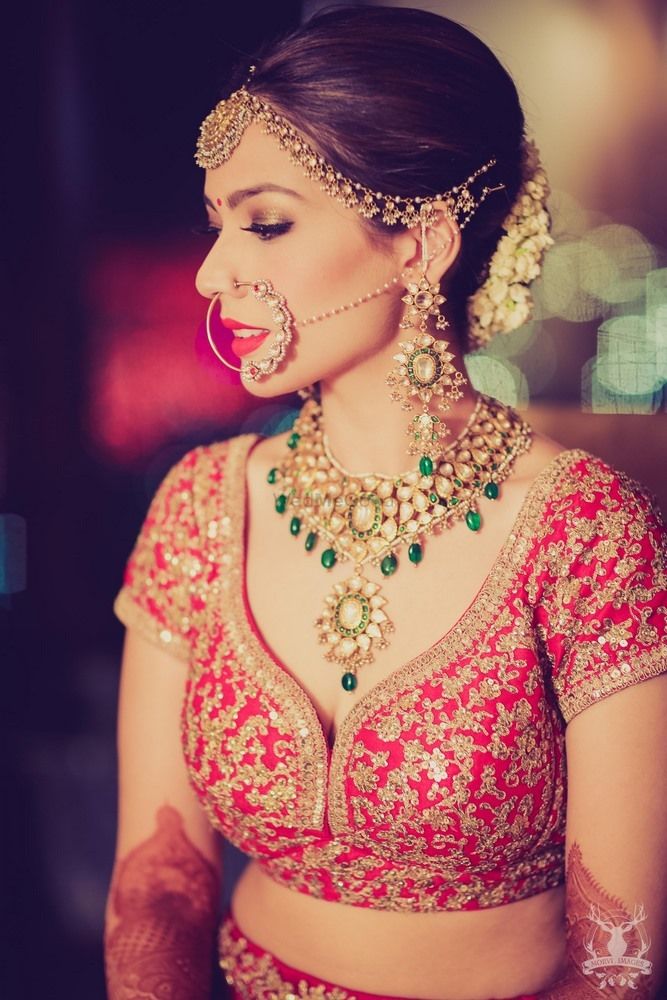 Image via Arushi & Dhruv (Delhi)
One of our fave bridal jewellery, this one is so different! 
These enamel and polki jhumkis with pearls which are delish!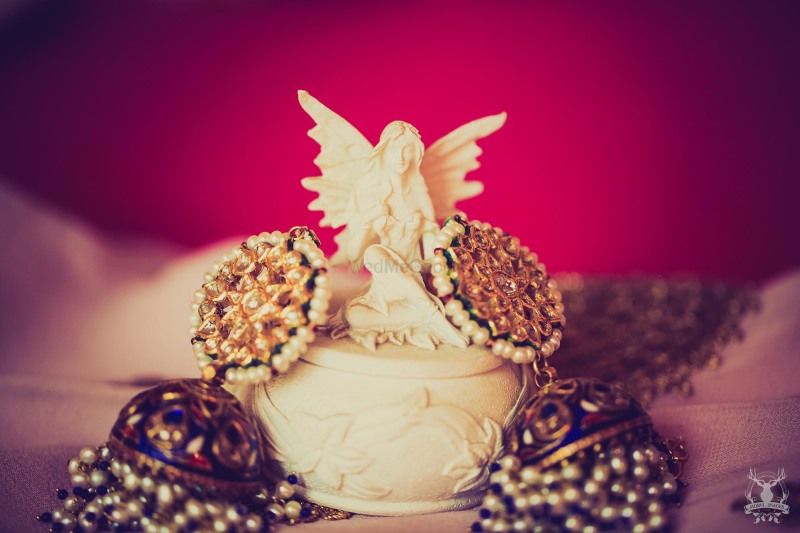 Image via Mannat and Nikhil (Delhi)
Meenakari work with diamonds? Yes please!
These vintage Rajasthani style polki and jadau earrings with a pop of colour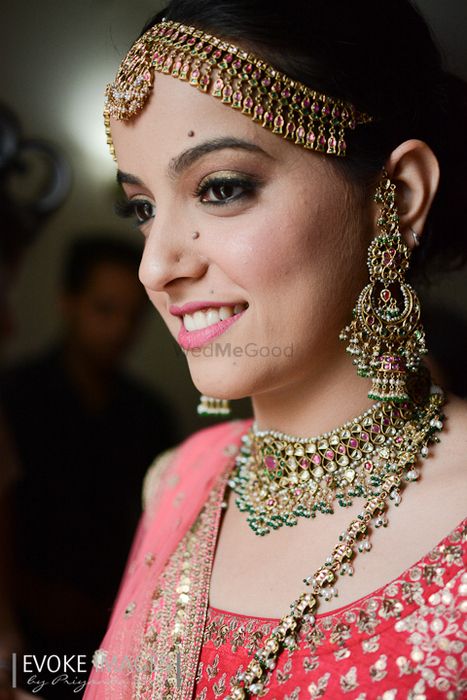 Image via Aayushi and Gautam (Delhi)
A pop of colour is always great, especially when it looks something like this!
These pretty ruby and diamond ones which are dainty yet super pretty!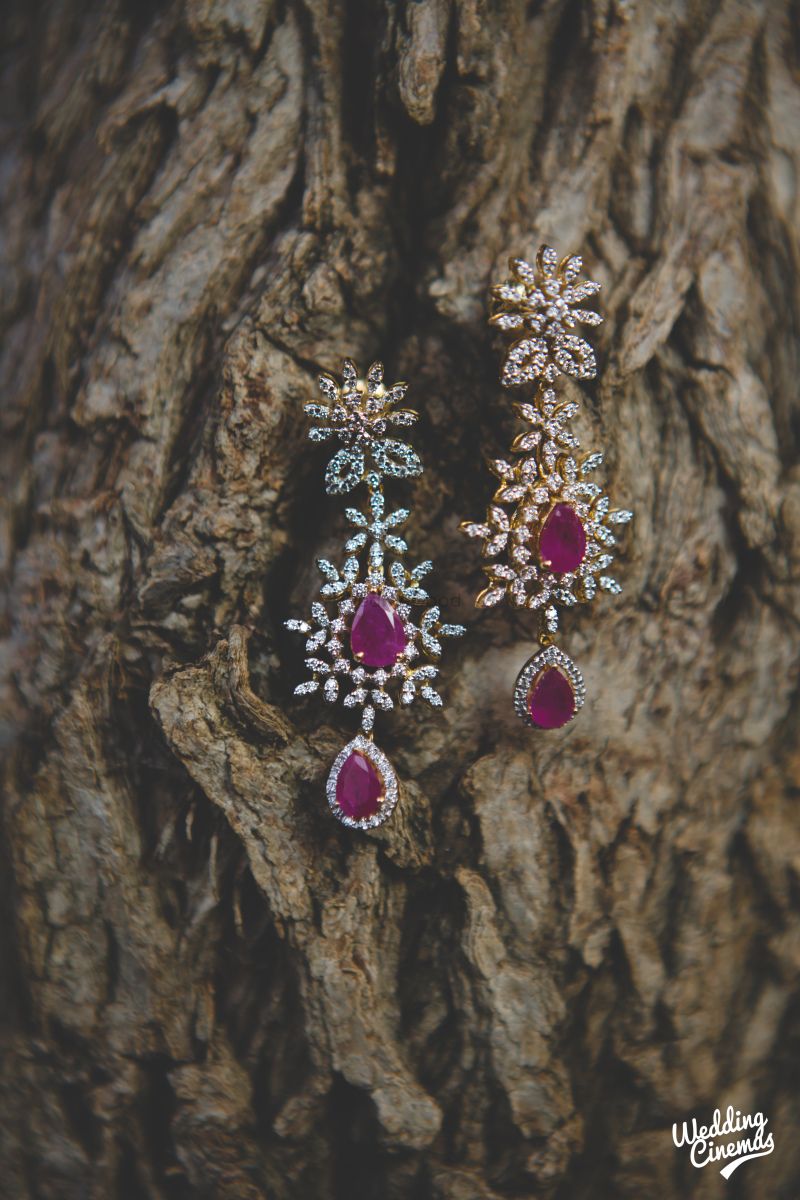 Image via Weddingcinemas★ 5
Diamonds and rubies- timeless forever!