100+ Best Mehndi Designs for 2023 Brides
BY Apoorva | 29 Jul, 2022 | 870 views | 13 min read
Your bridal mehendi design is one of the most essential parts of your mehendi event. Depending on what style you like, every bride's mehendi design will be different. So why not create a list of some stunning designs for you? Right from floral jaal mehendi designs to rose motifs, we got it all for you!
But for now here is our selection of some of the more unique bridal mehndi designs we spotted- some for the girls who love to go all out and others for the girls who like to keep it on the DL.
We have divided this article into different types of mehendi designs . You can scroll through all of it below or use the guide below.

Types Of Mehandi Designs:
Rose Motif Mehendi
After lotuses, roses are taking over mehndi designs and how! Rose mehndi designs are delicate and so beautiful, allowing brides to include them in small parts as well as statement rose mehandi designs. We love how there are different styles of rose mehndi designs that can be the best mehndi design for bridal!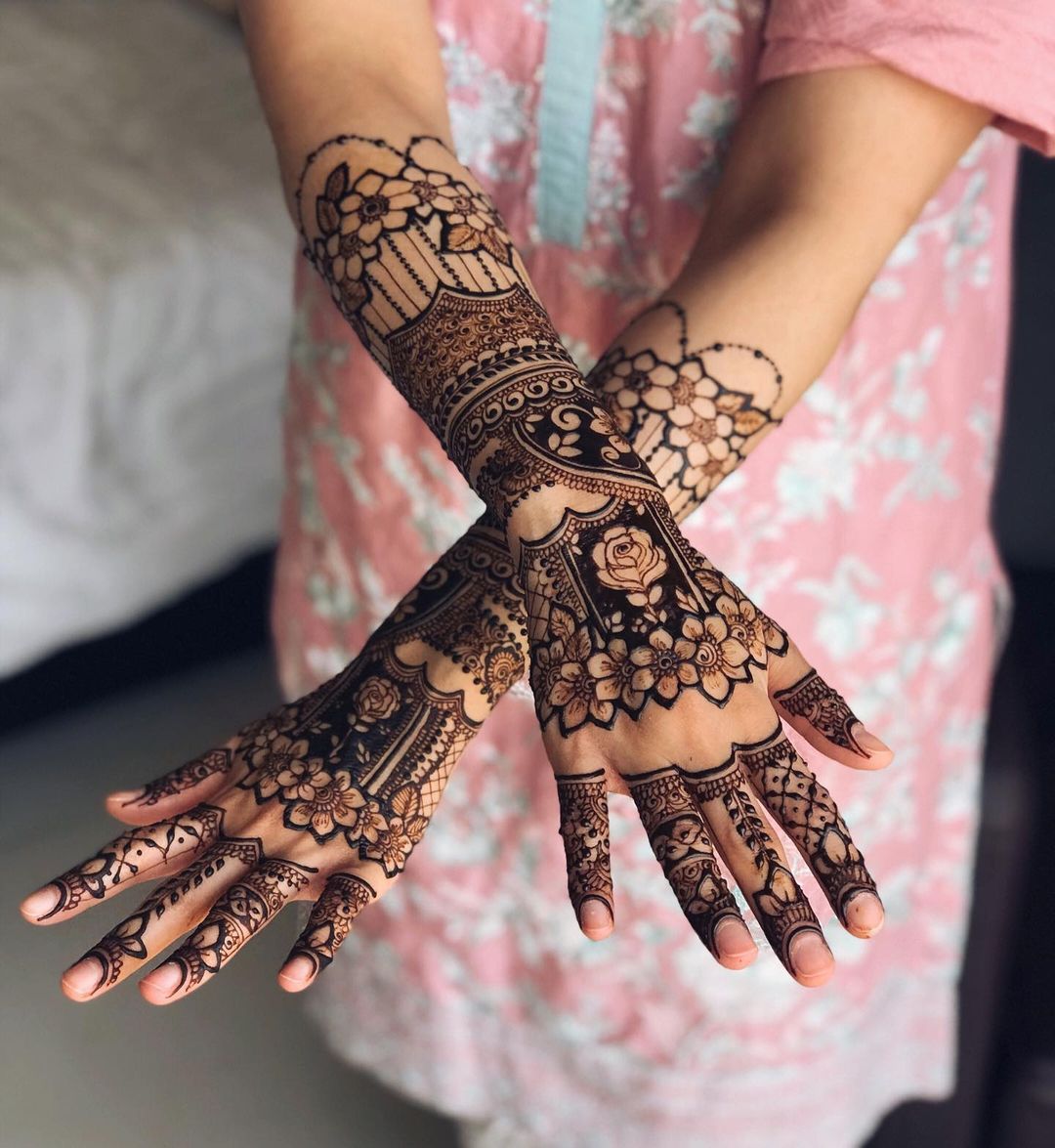 Image via @sarashenna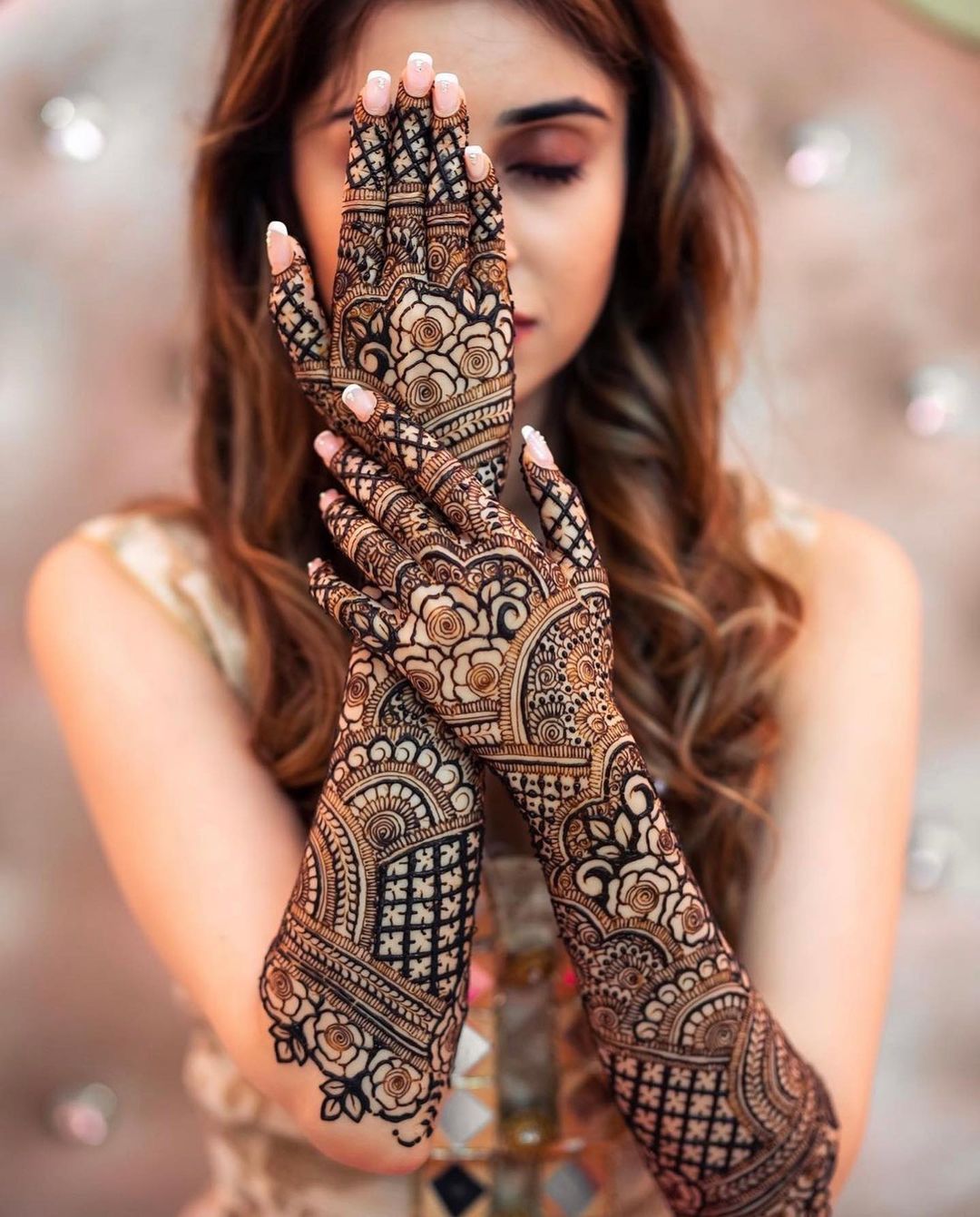 Image via @jdartsphotography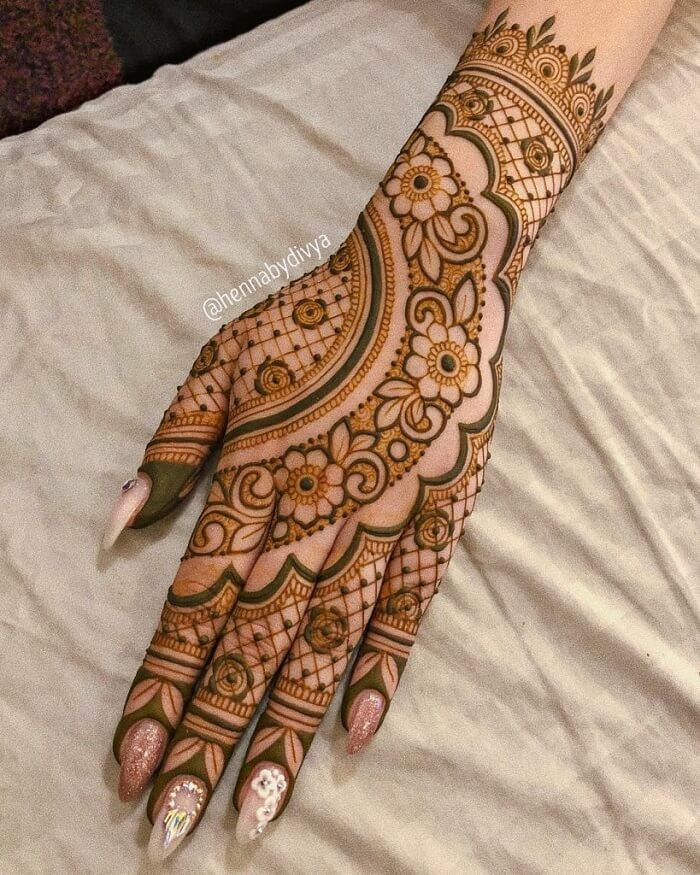 Image via Henna by Divya
Image via Henna By Amy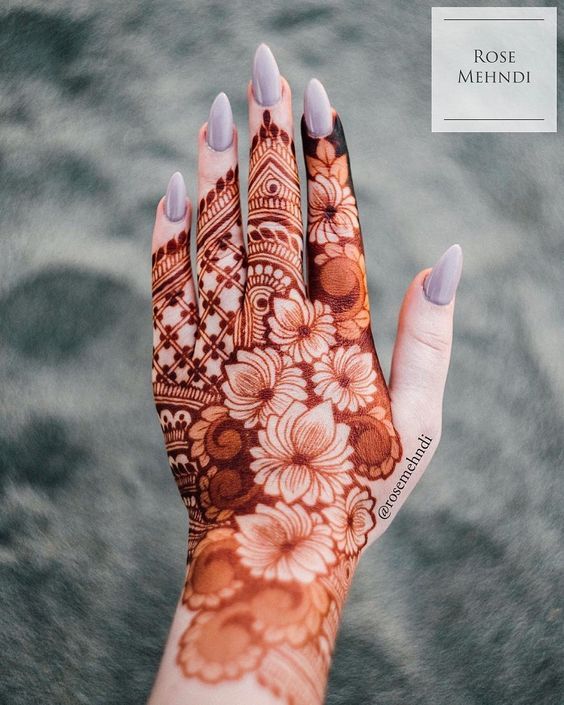 White Mehndi Designs
Looking for something unique? Opt for these gorgeous white hued best mehndi designs for bride. These are out of the box, don't take as much time as your traditional henna and also have no drying time necessary. Plus, you can get these made one day prior too – so you don't have to worry about the mehendi colour deepening or no!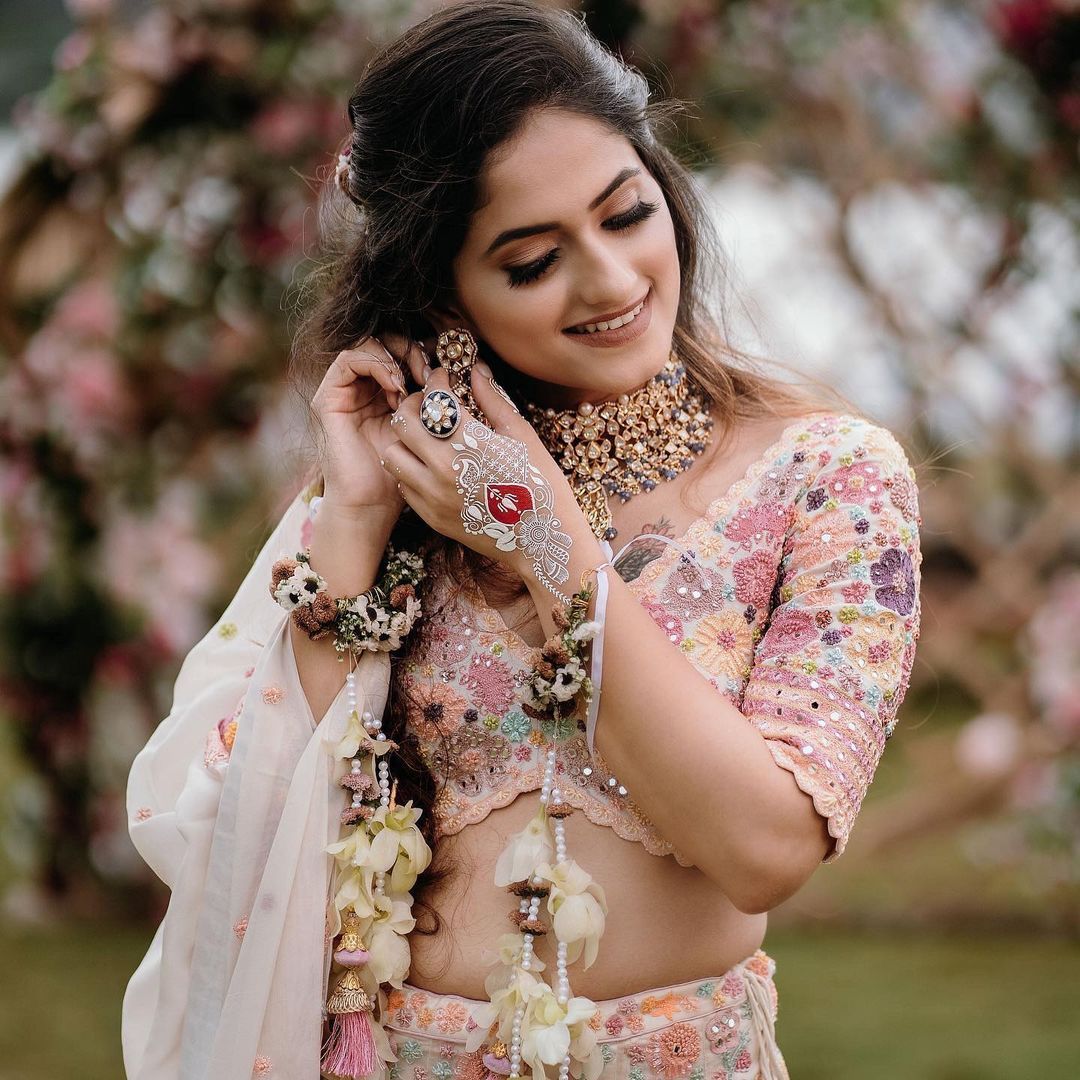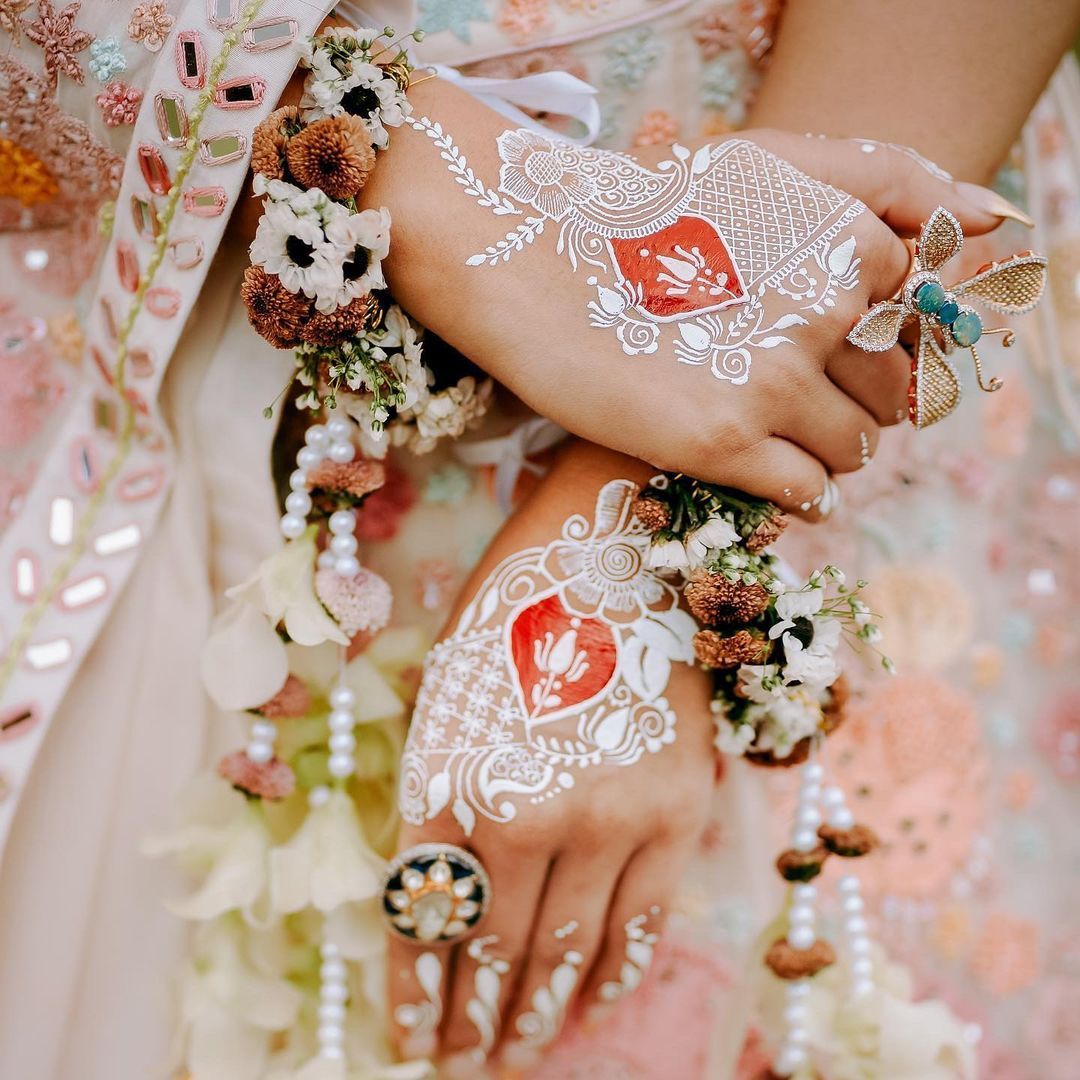 Image via KKanchan Mehendi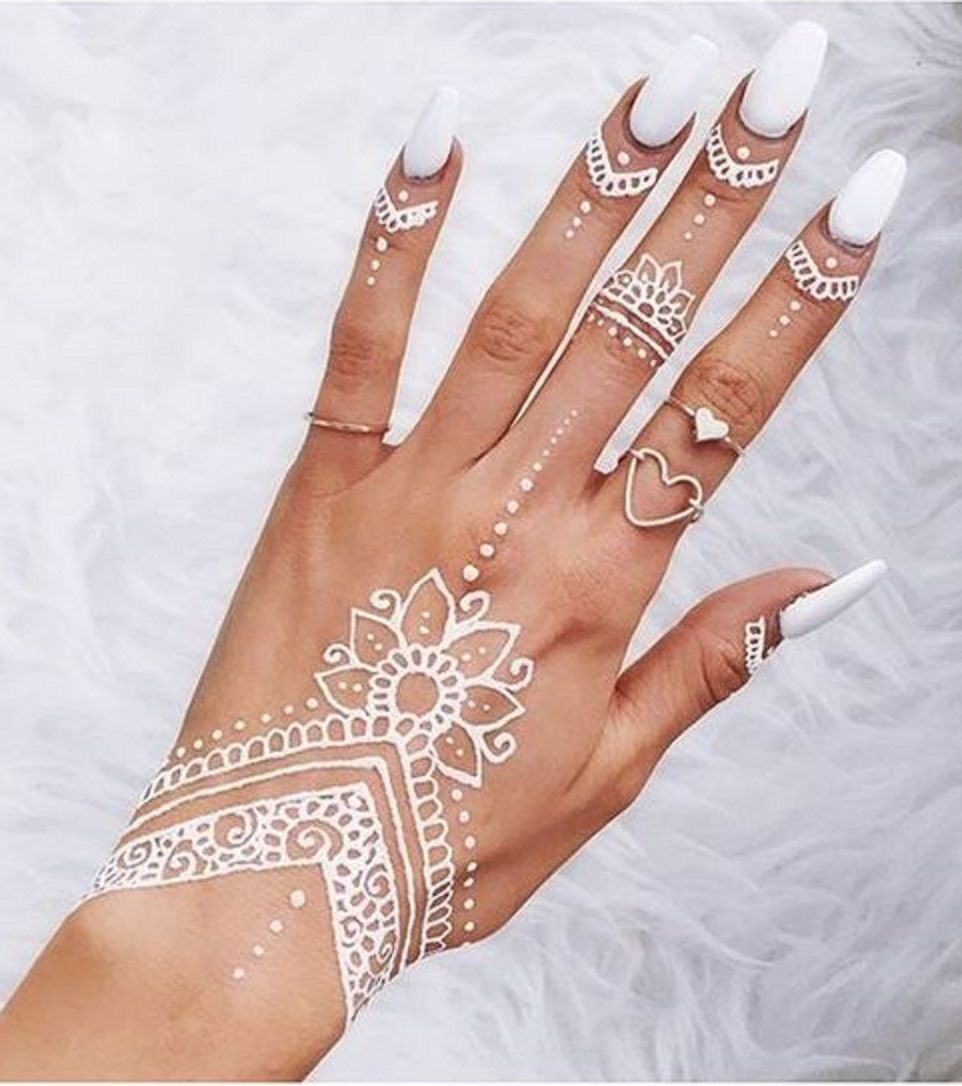 Image via Pinterest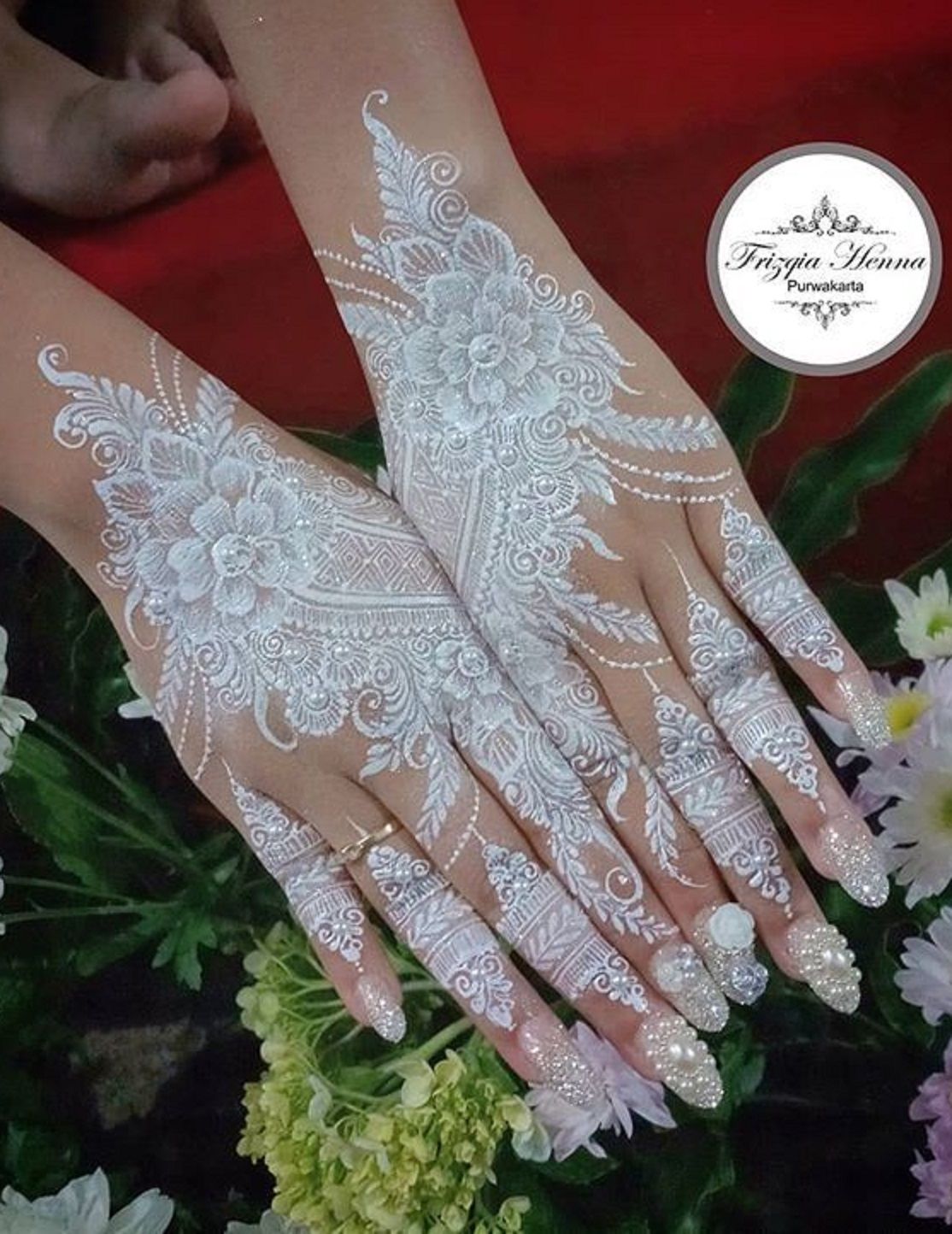 Image via Henna art Purwakarta
Symmetrical Mehandi Designs
For brides who are perfectionists, nothing can make you happier than symmetrical mehandi designs. Do let your bridal mehendi artist know beforehand if you are looking for this specific symmetrical best mehendi designs so that they have the designed pre-planned!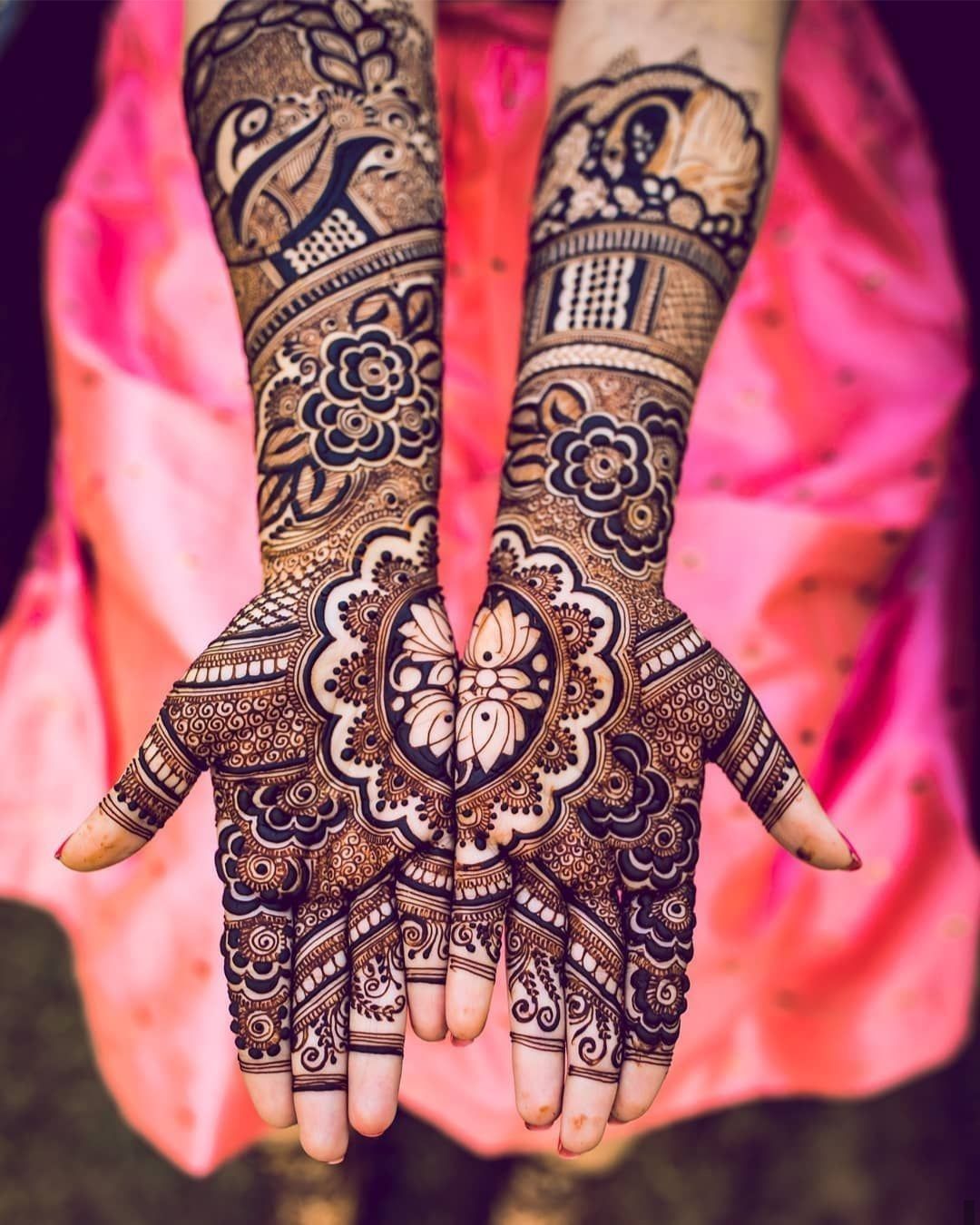 Image via Mehendi Art by Arpit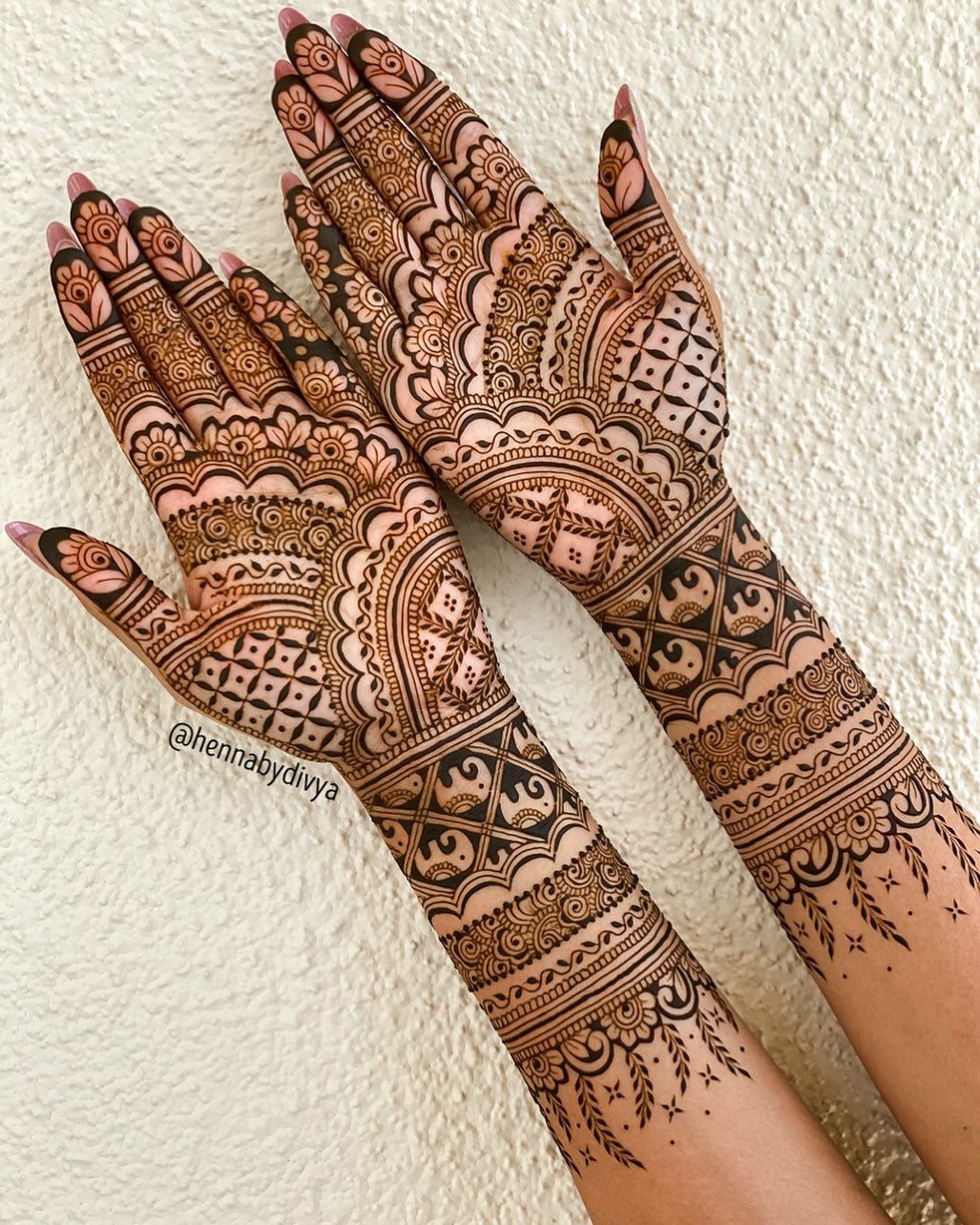 Image via Henna by Divya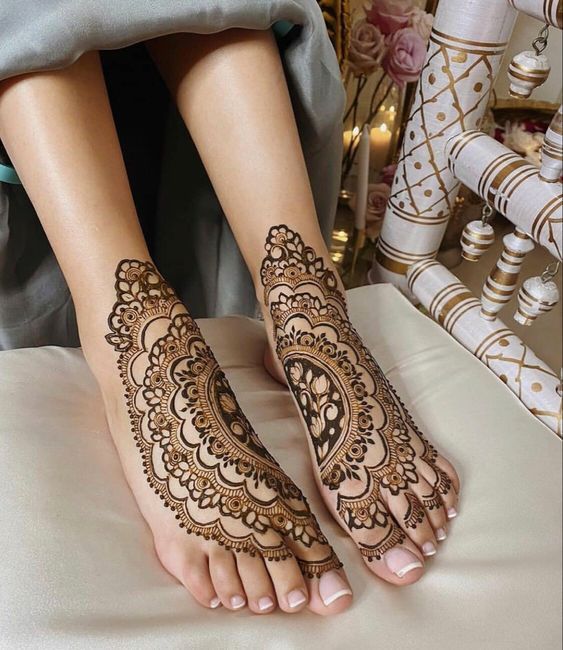 Groom Mehndi Designs
Why should grooms be left behind? We have the best mehndi designs for grooms who like to go all out as well as the ones who want to keep it simple!
Image via Weddings by Knotty Days★ 4.8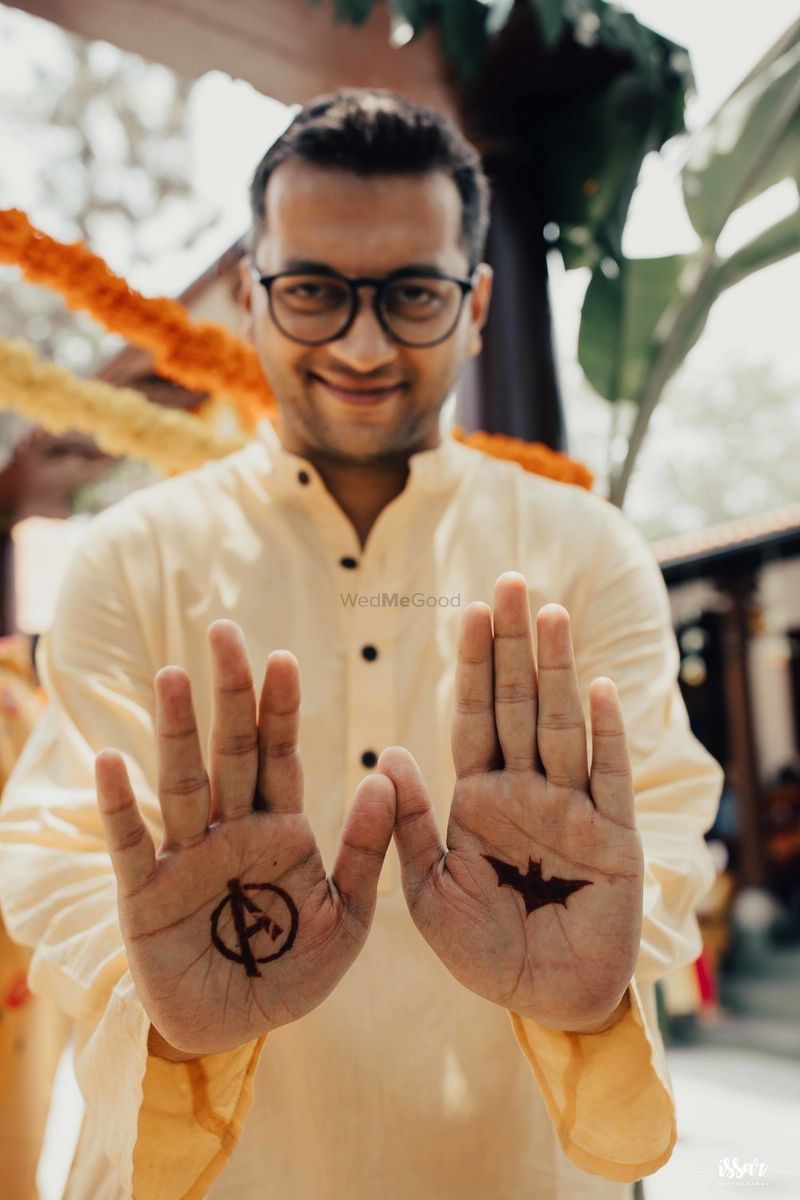 Image via Shambhavi & Sudharshan (Bangalore)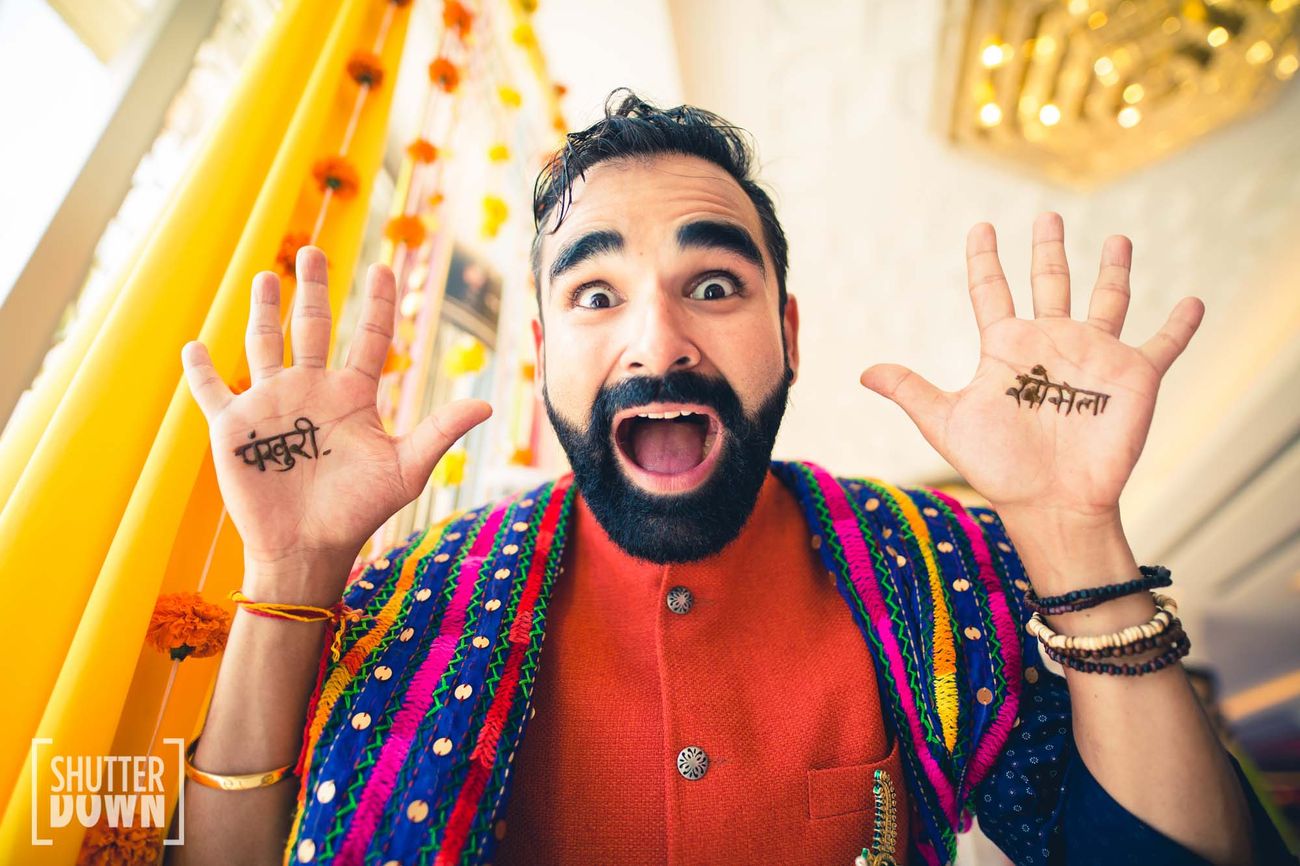 Image via Shutterdown - Lakshya Chawla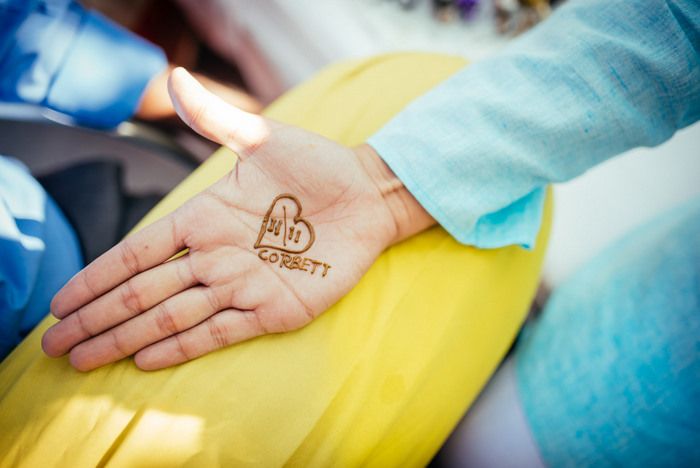 Image via Dreamy Corbett Wedding
Full Mehendi Stain
This is a new and trending style of mehndi designs where you let the mehendi stain be a major part of your mehandi designs. This not only gives your hands a glorious colour but also reduces the application time as the rest of the design is usually simple!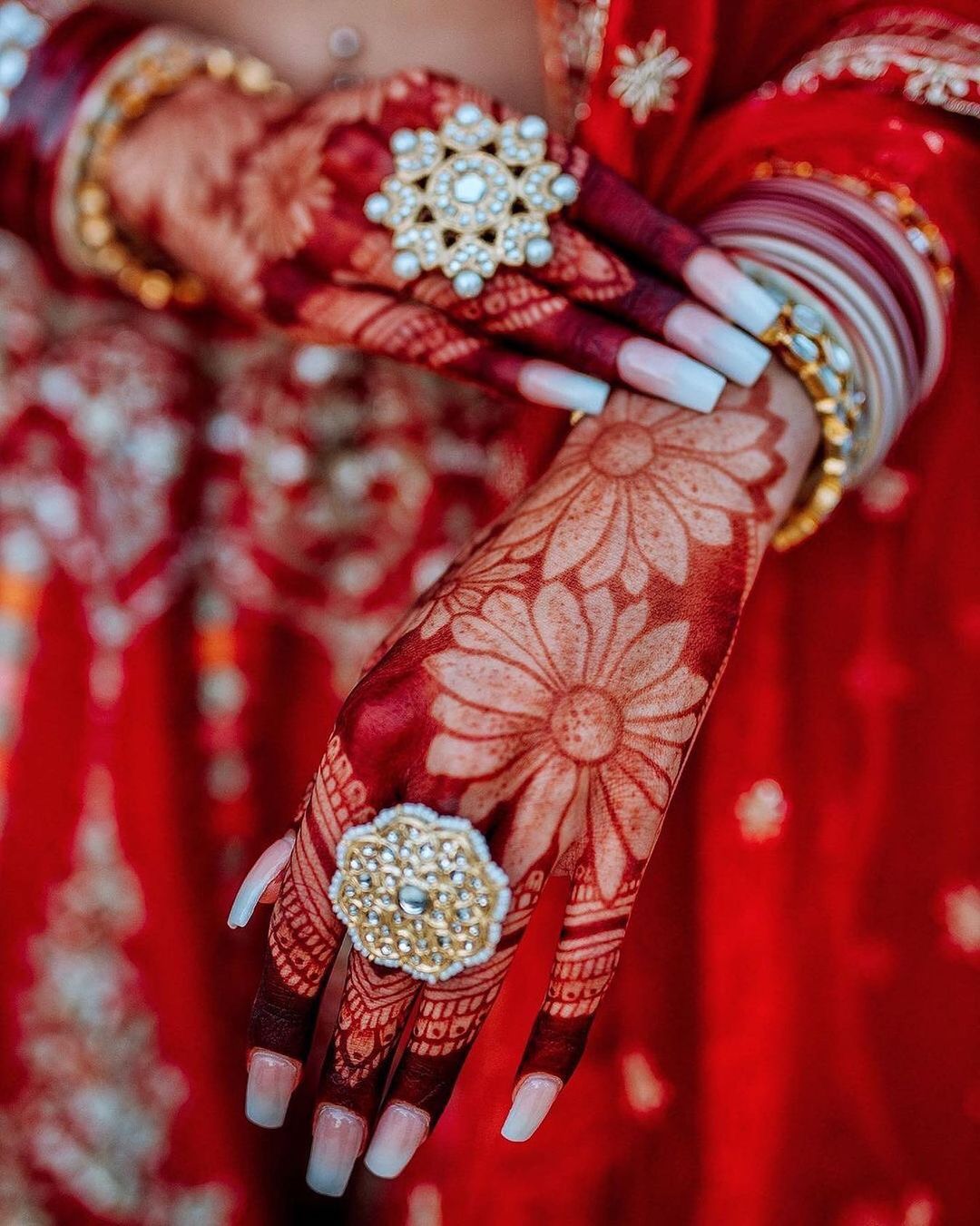 Image via @toral1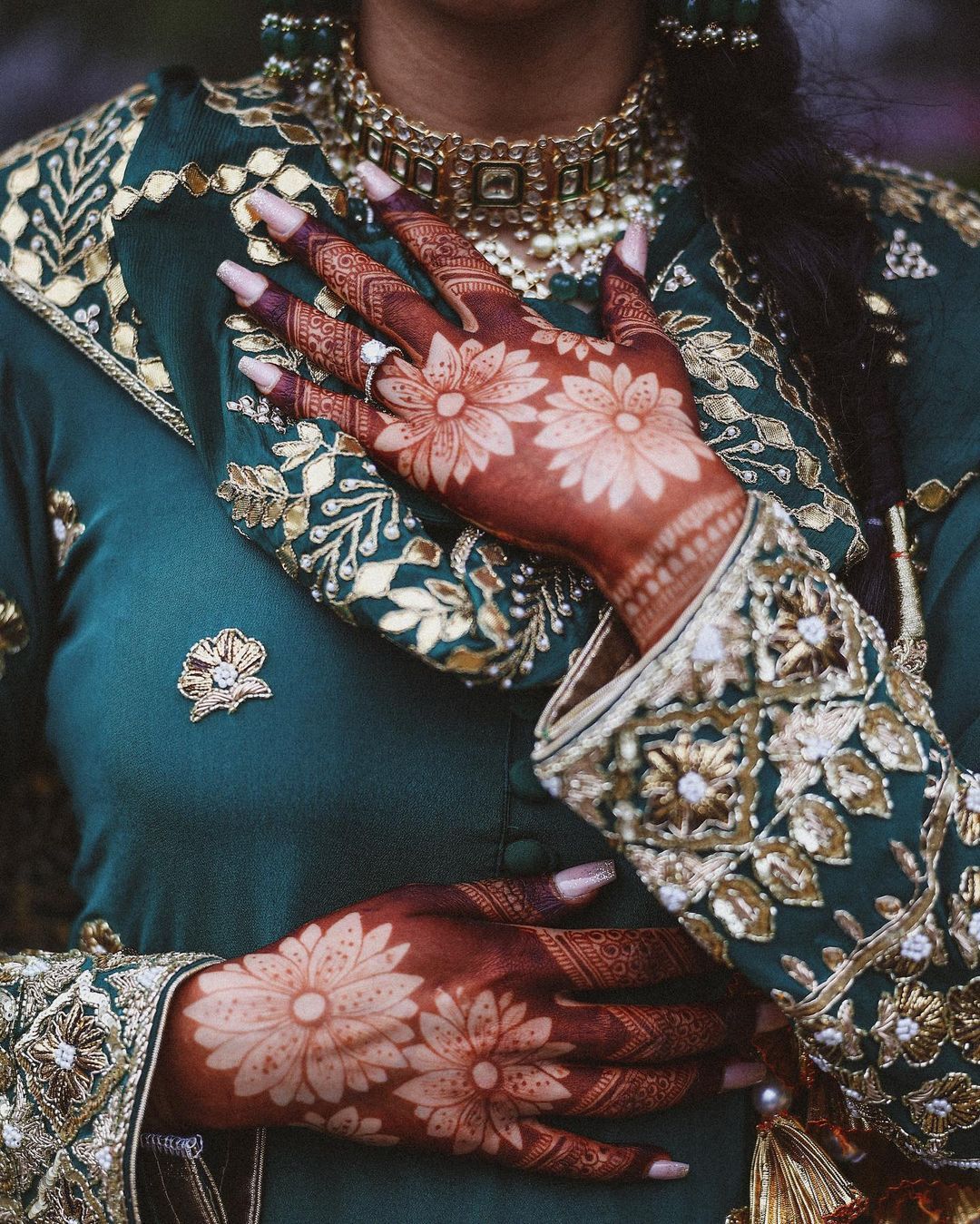 Image via Monita Bijoriya
Favourite Shows & Movies
You can chose to have your favourite show or movie etched on your bridal mehendi for a memory of a lifetime! Like this bride did with SATC!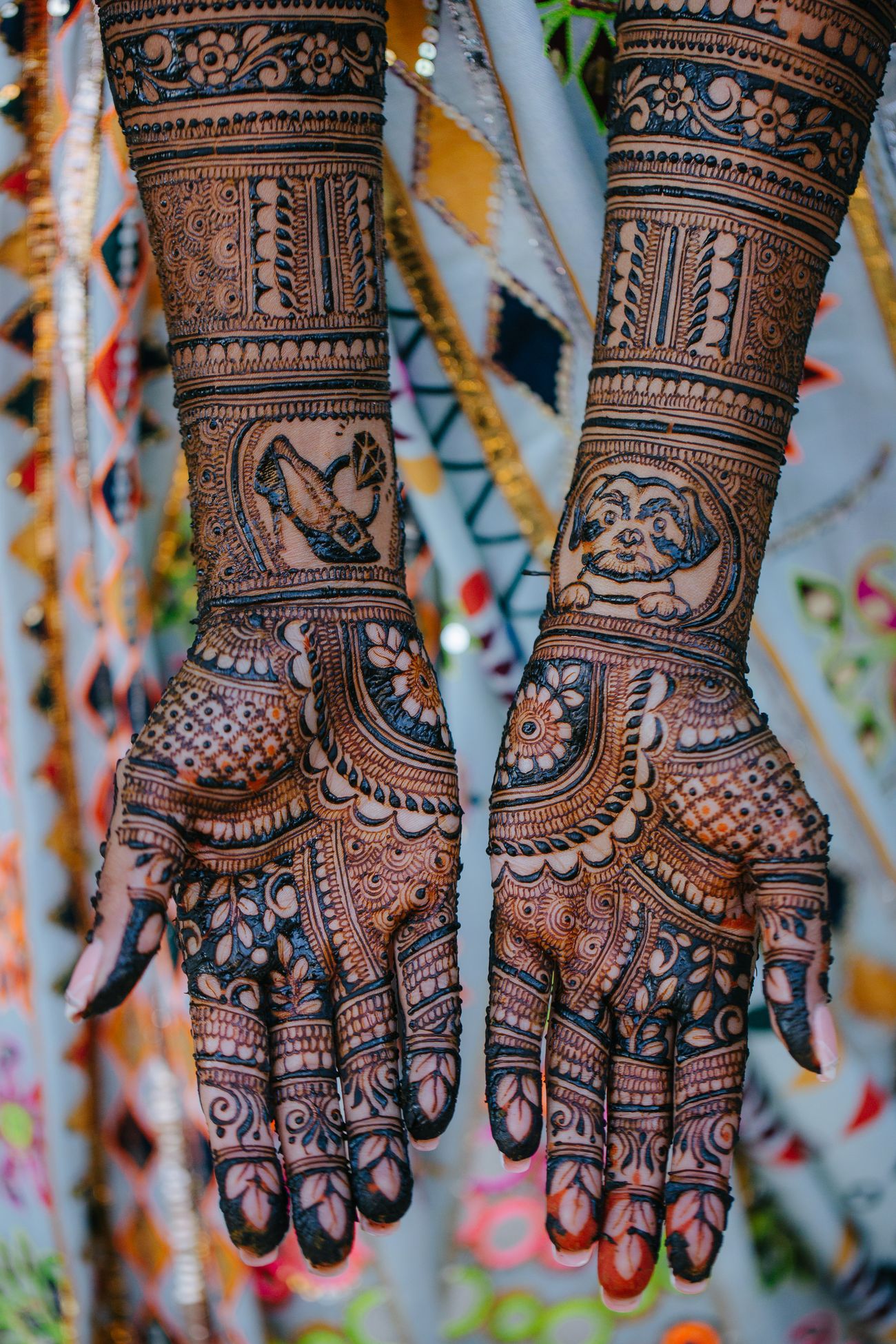 Two Tone Mehendi
Another new trending and best mehndi designs for bride is the dual tone or two tone mehendi. Here your mehendi is applied in two different intervals so that the mehendi colour is in two different shades. Love the idea and the glorious result!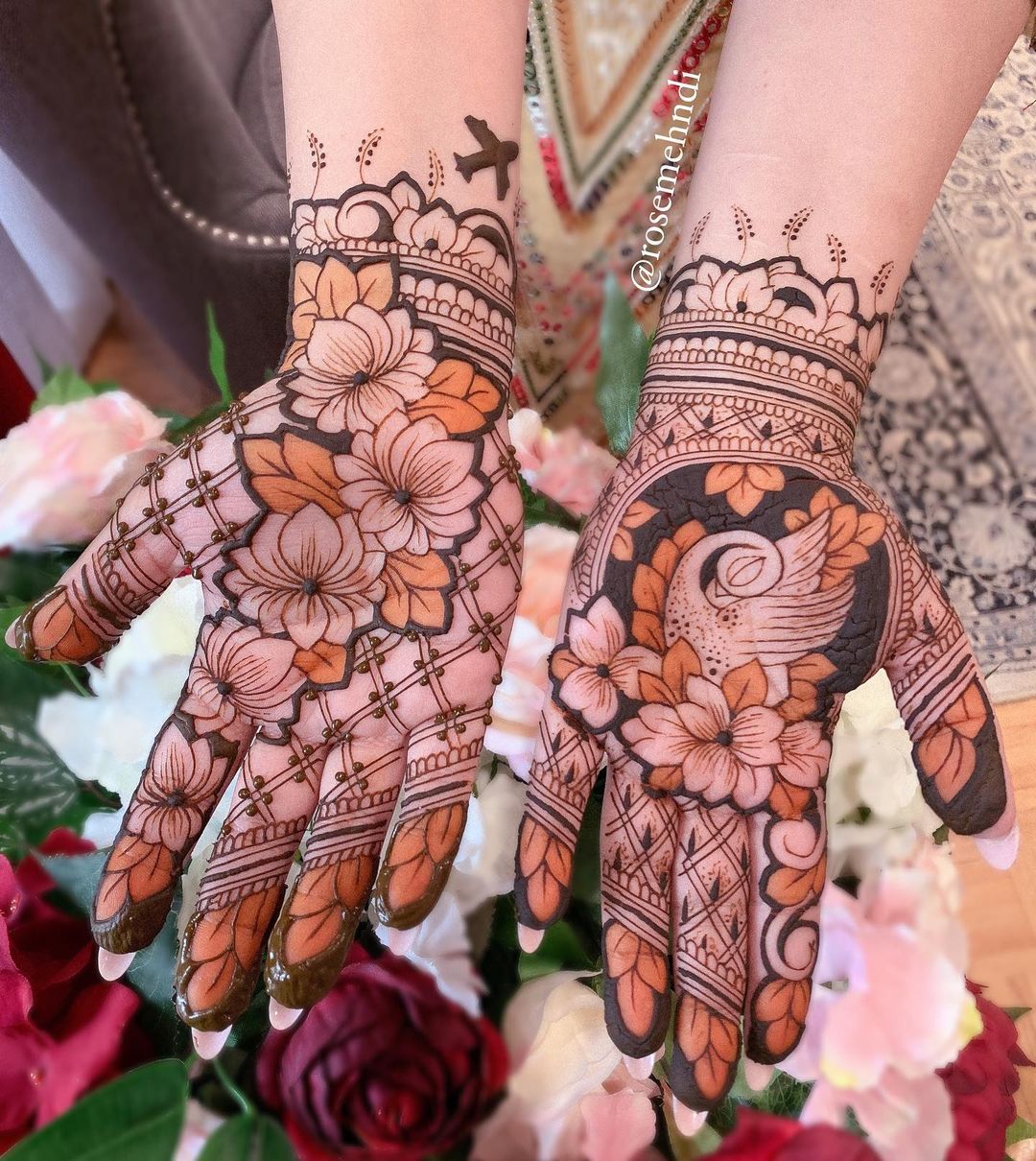 Image via Rose Mehendi
Statement Mehendi Designs
Fun and statement-like, these designs are absolutely gorgeous for brides who are looking for something unique.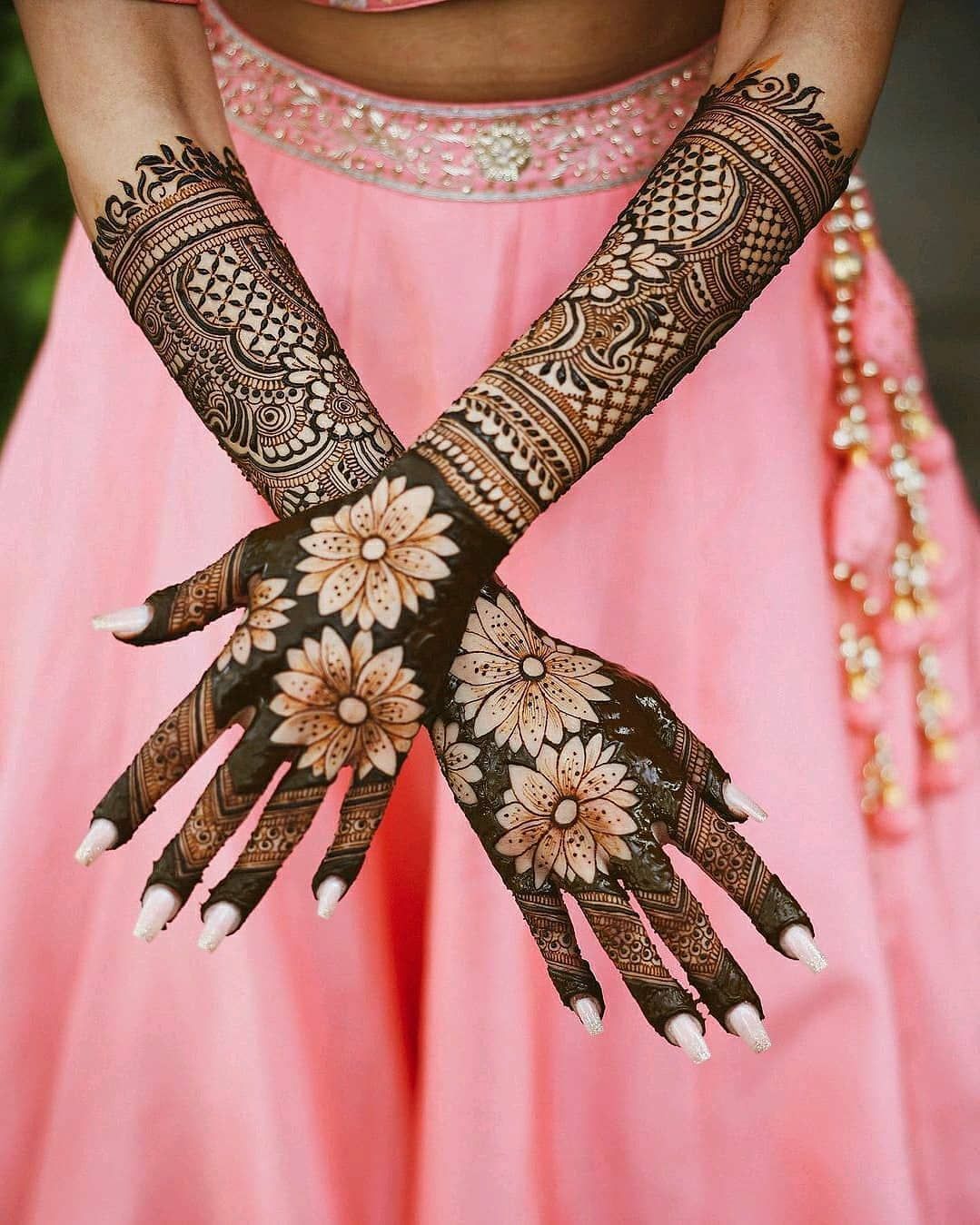 Image via @reetukg ⠀
Blouse Mehandi Designs
Want to go a step ahead of hand mehendi designs? Currently, the trending style and best mehndi design for bridal is the blouse mehendi. This is where a part of your blouse or outfit is actually just mehendi – accentuating your look. While this mehendi style may not be to everyone's liking, if you want to do something unique for your mehendi, this is a great idea!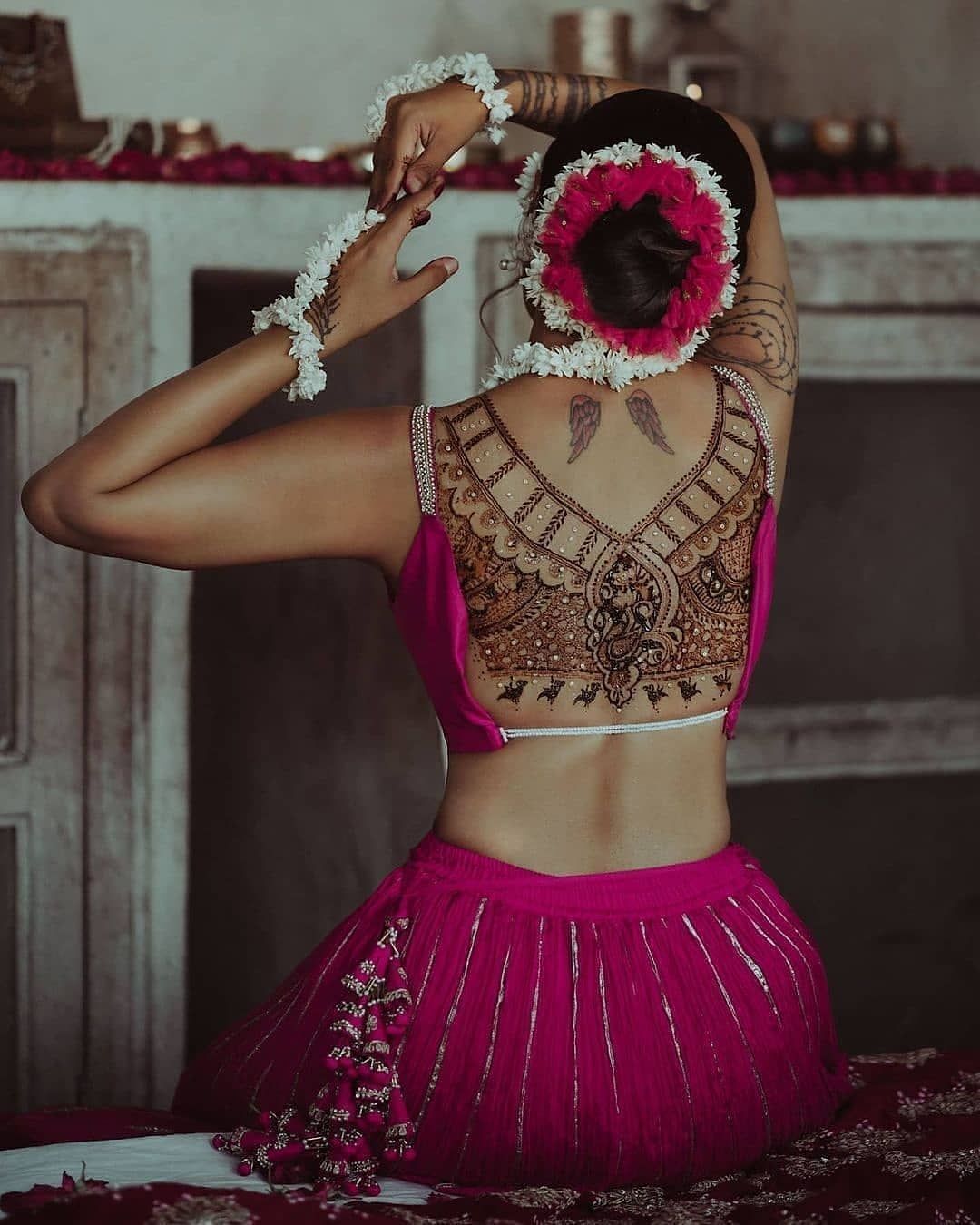 Image via Mehndi by Tanvi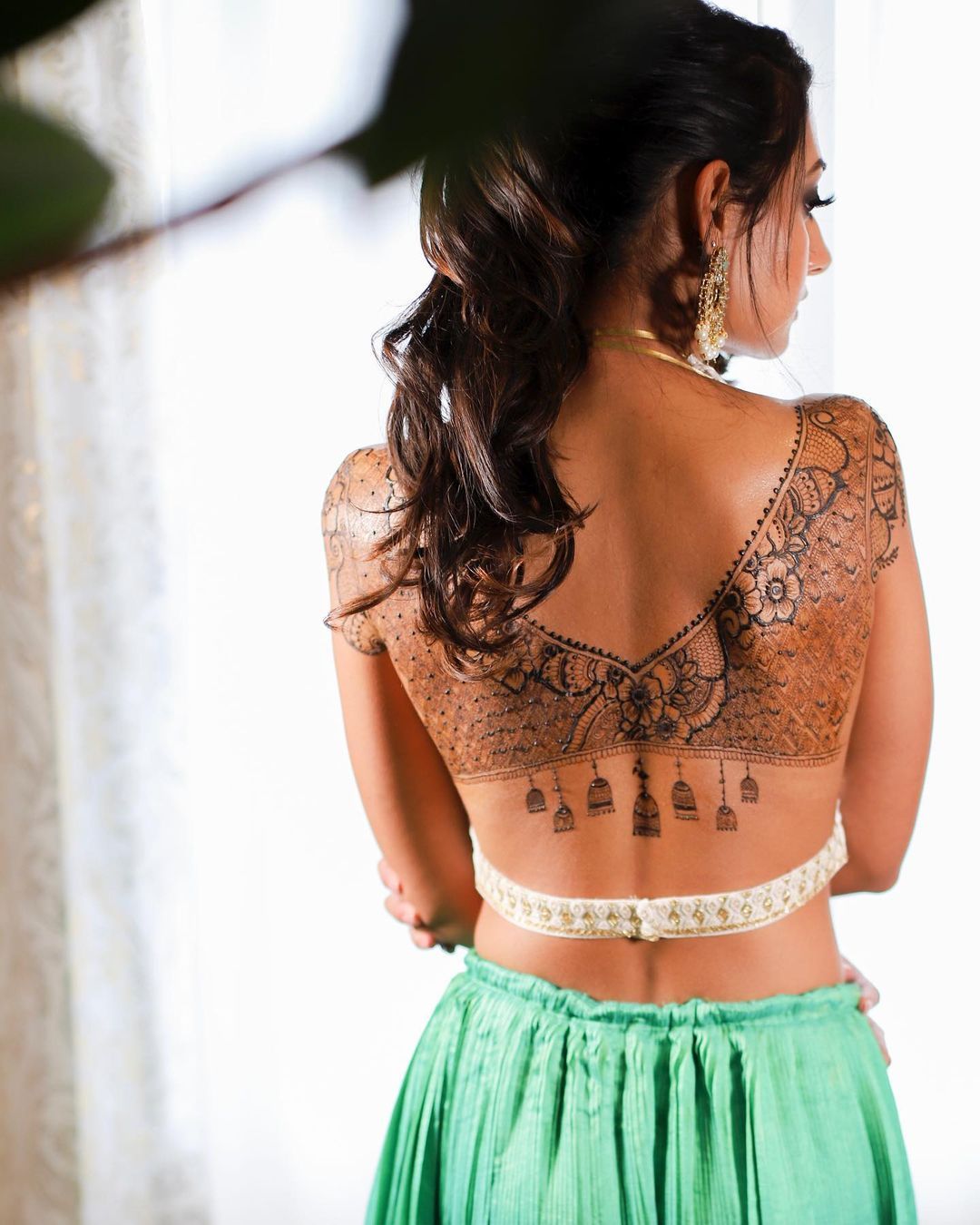 Image via Alicia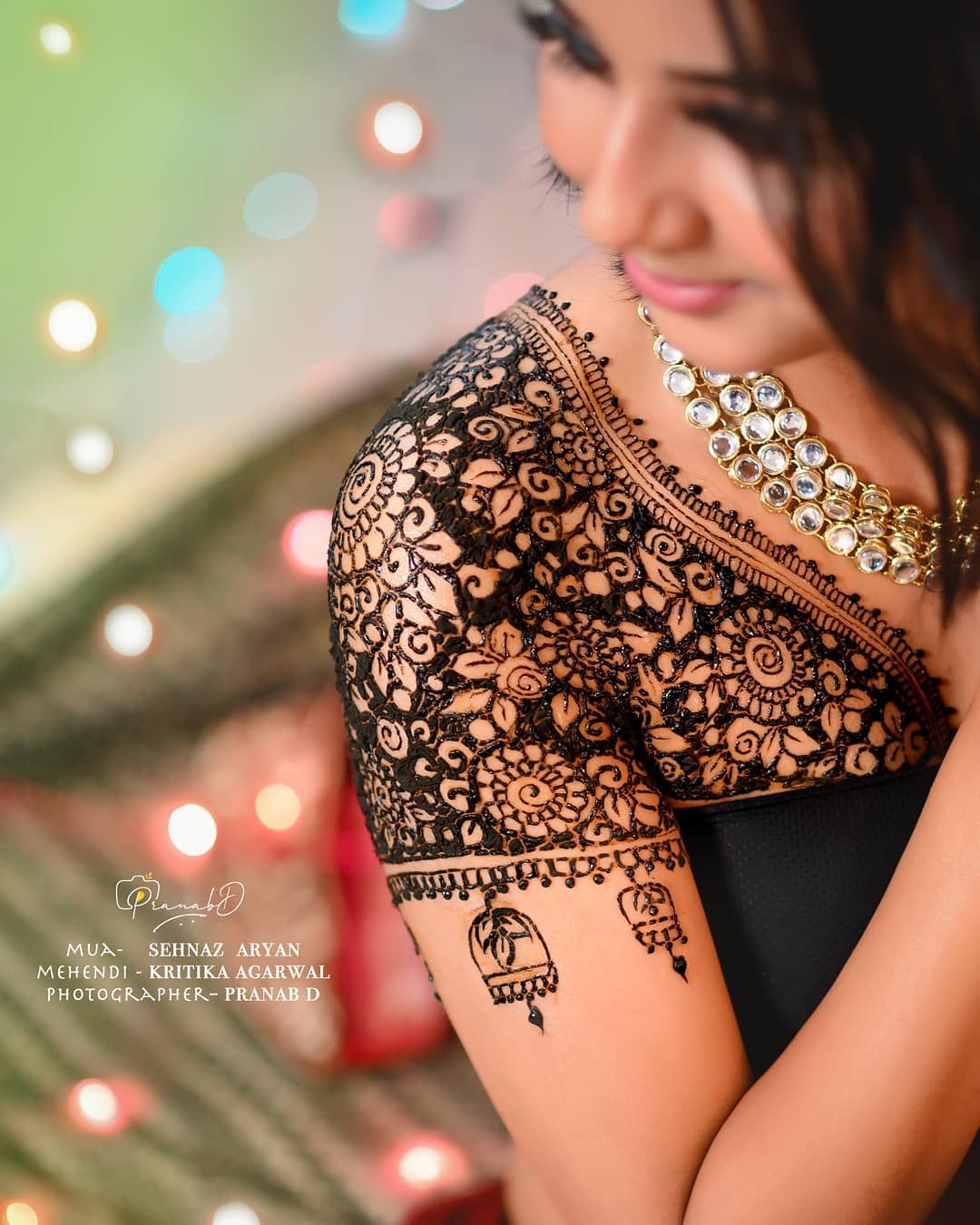 Image via Mendhika Kritika
Baraat & Figurines Mehndi Designs
For brides who like elaborate and intricate work, there is nothing quite like a full blown baraat design showcased on your arm- they have been trending since forever to now in 2021. From beautiful palki motifs to bride and groom garlands and even the baraat procession, this one is fit for a queen . Also costs the most expensive and is the most time consuming design to make.
Full Baraat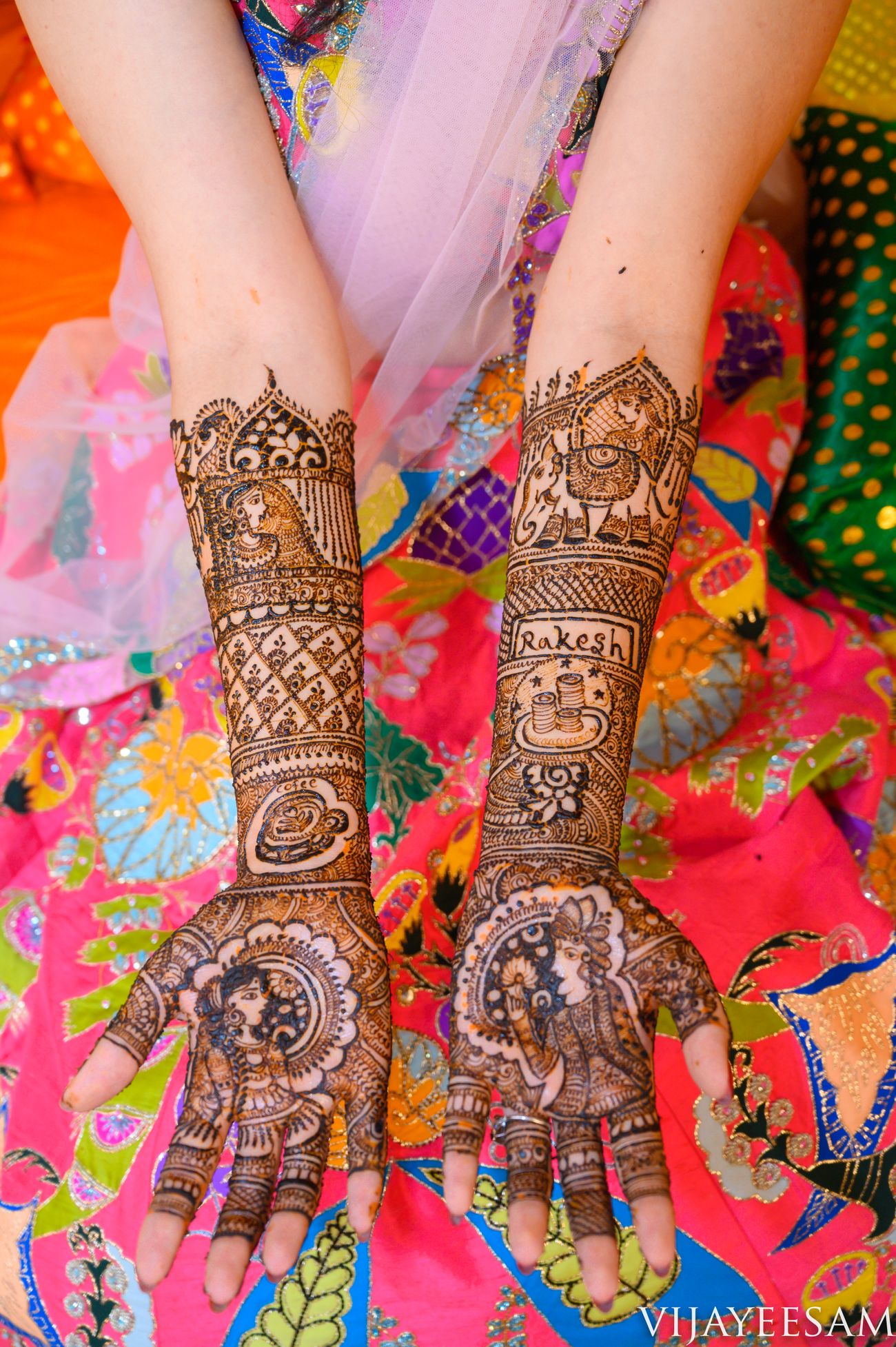 Image via Eesam & Co.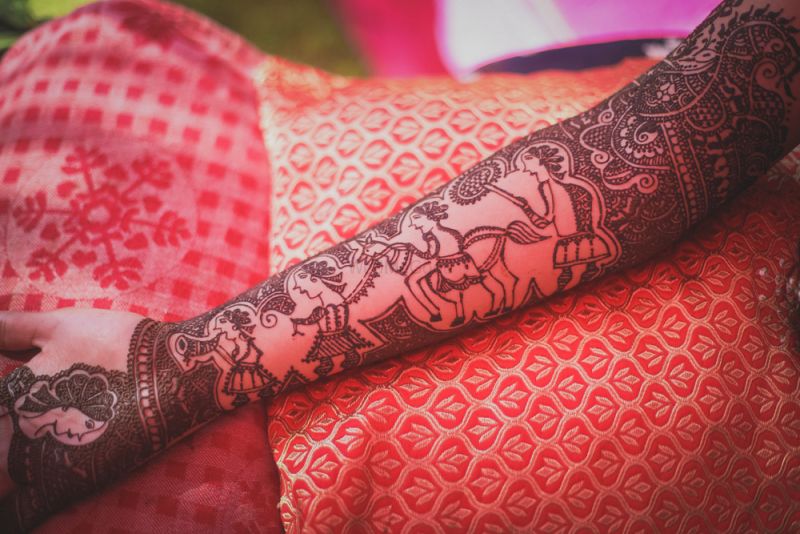 Image via Morvi Images Photography★ 5
We love how magnificent these designs look! Such design requires a lot of detailing so make sure your artist is briefed about it well in advance.
Bride & Groom Figurines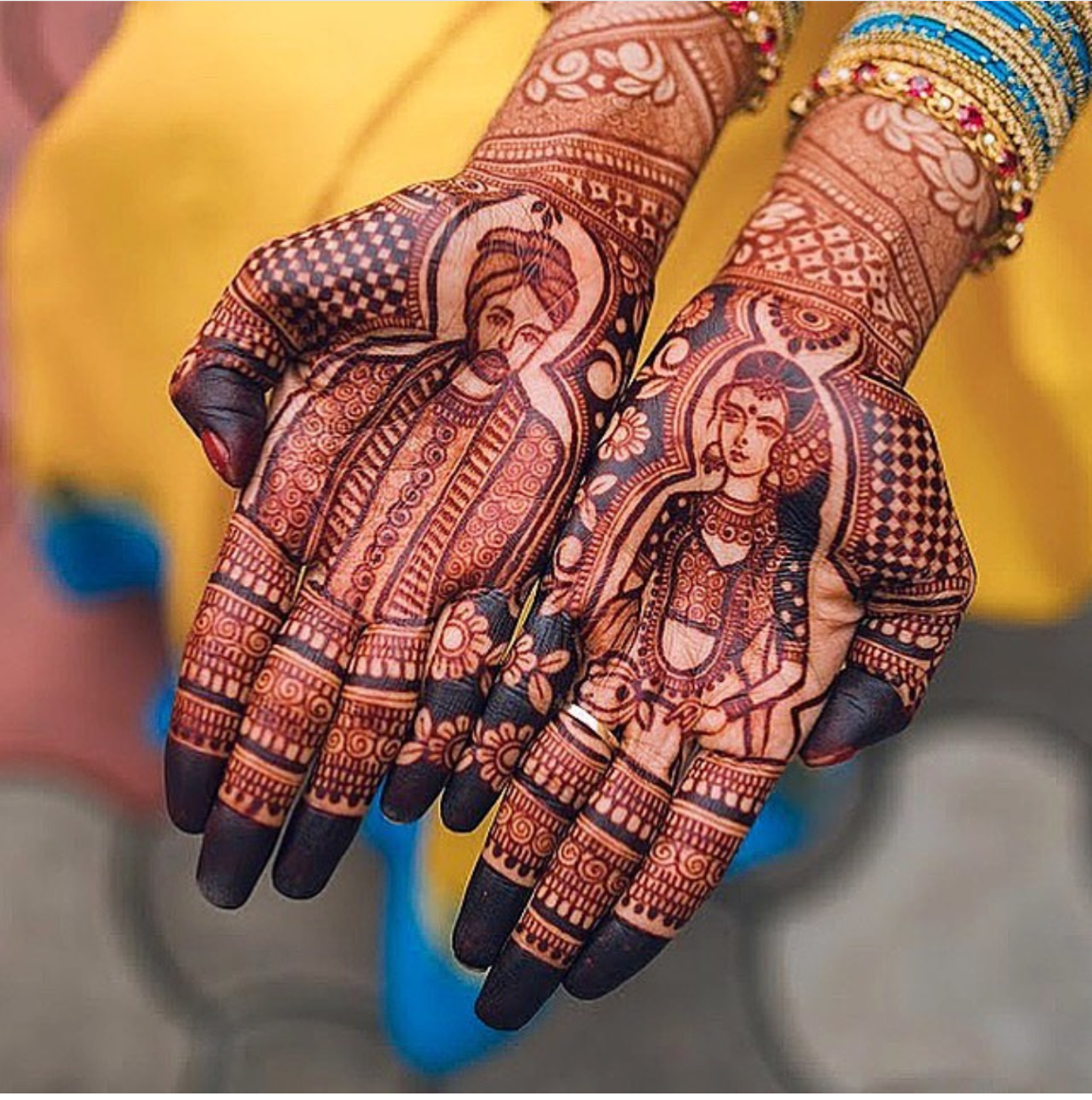 Image via Sunil Mehandi Artist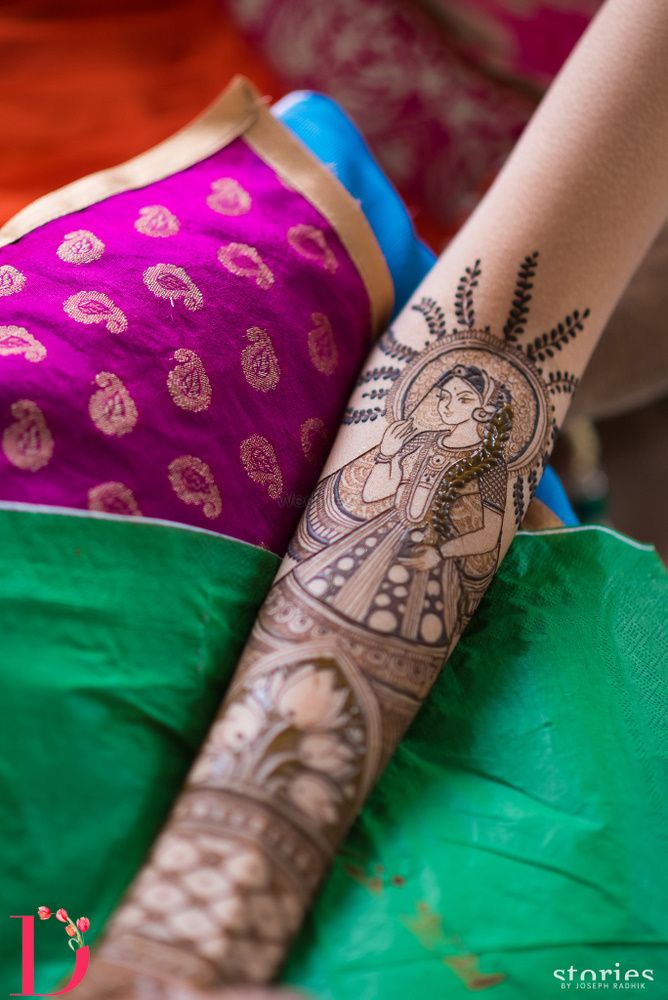 Image via Stories By Joseph Radhik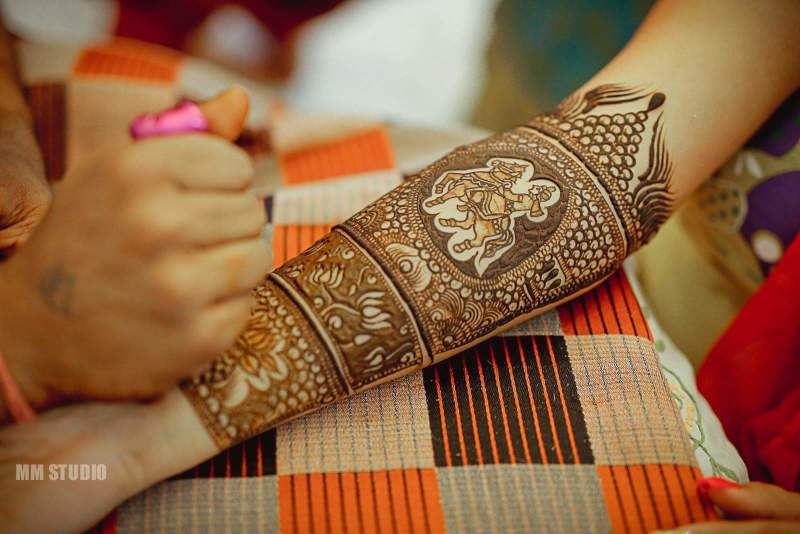 Bride & groom figurines got a makeover, as the mehandi designs featuring a couple is no more just about them facing each other! Extra attention is paid to details like the bride's hairstyle, lehenga or the groom's safa, sherwani and more!
A Full Wedding Day Sequence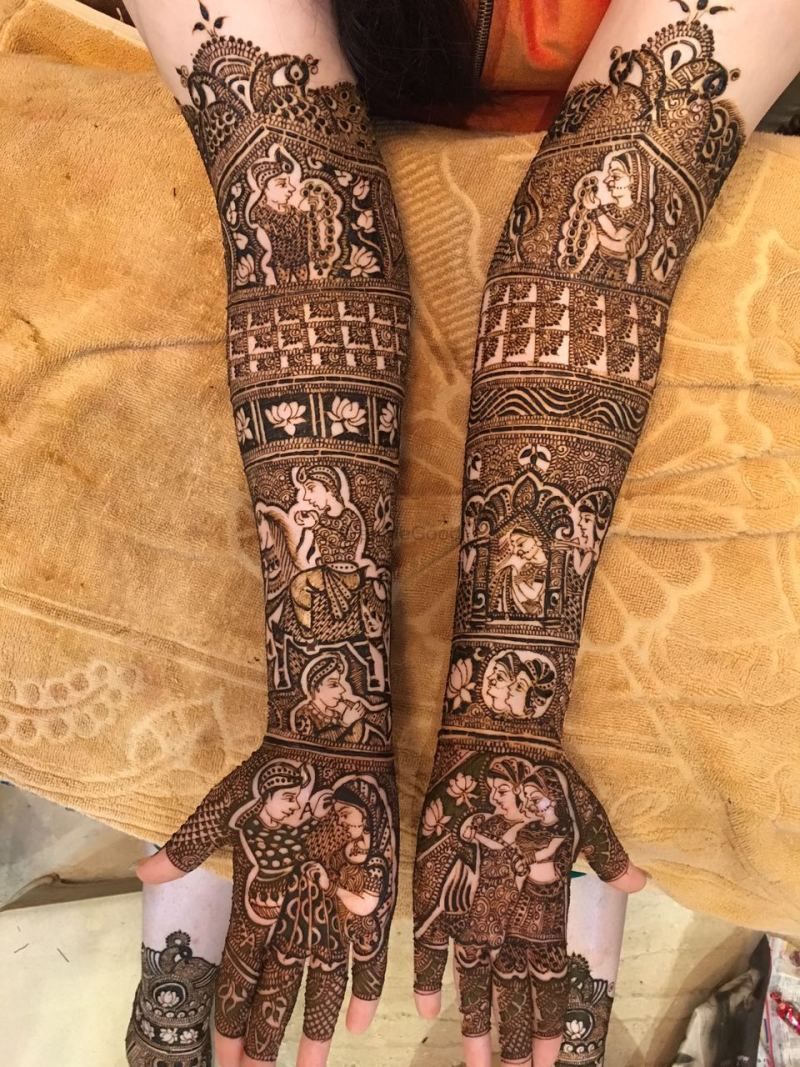 Image via Kundan Mehendi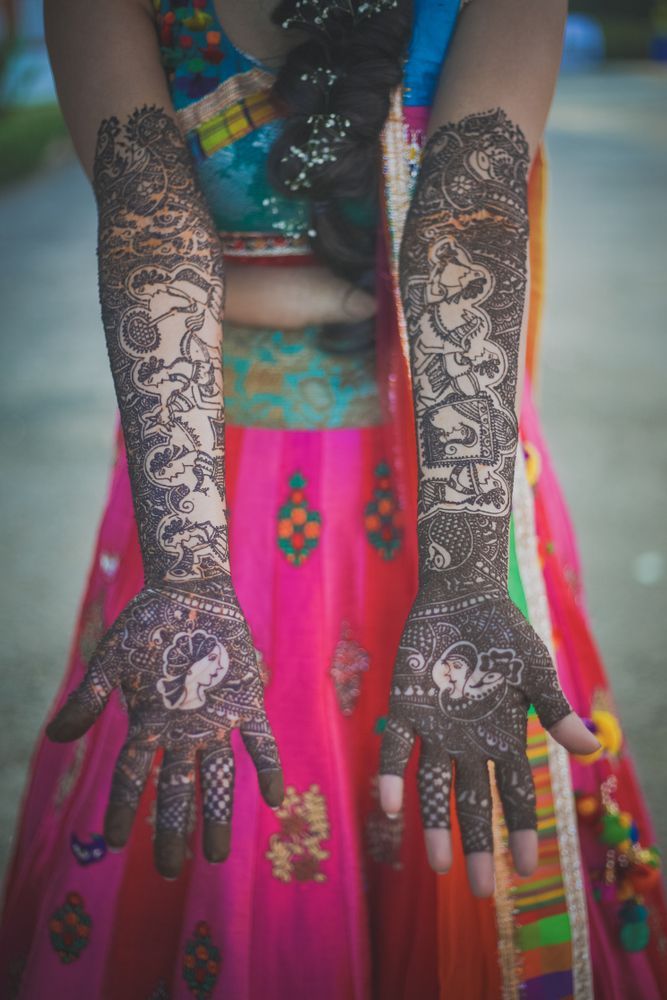 Image via Parag and Meghana's Wedding
Instead of just getting the baraat sequence drawn, brides these days are going extra and opting for the entire wedding sequence for their mehndi design. Right from baraat to jai mala, to mandap rituals and finally the vidaai is being depicted in this design.
Bridal Portraits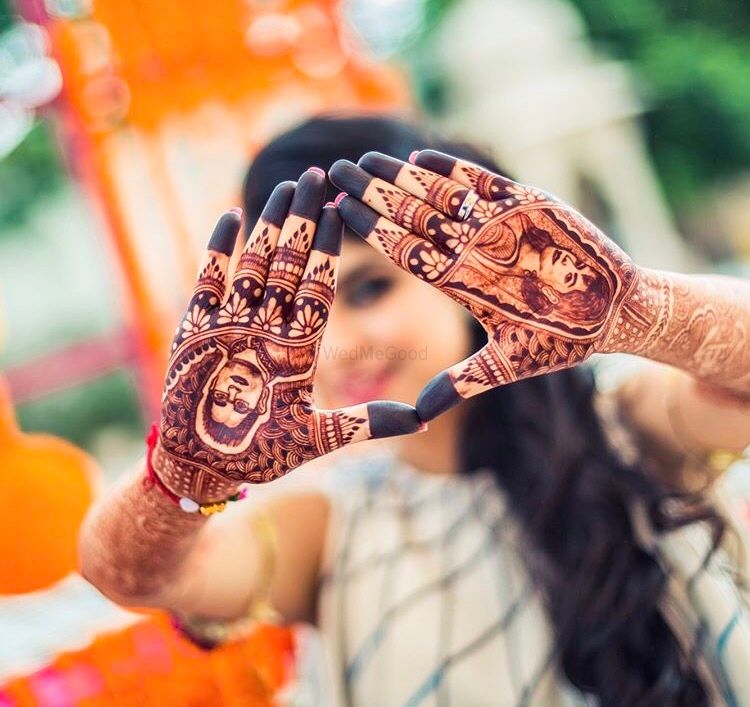 Image via Weddings By Neeraj Kamra ★ 4.9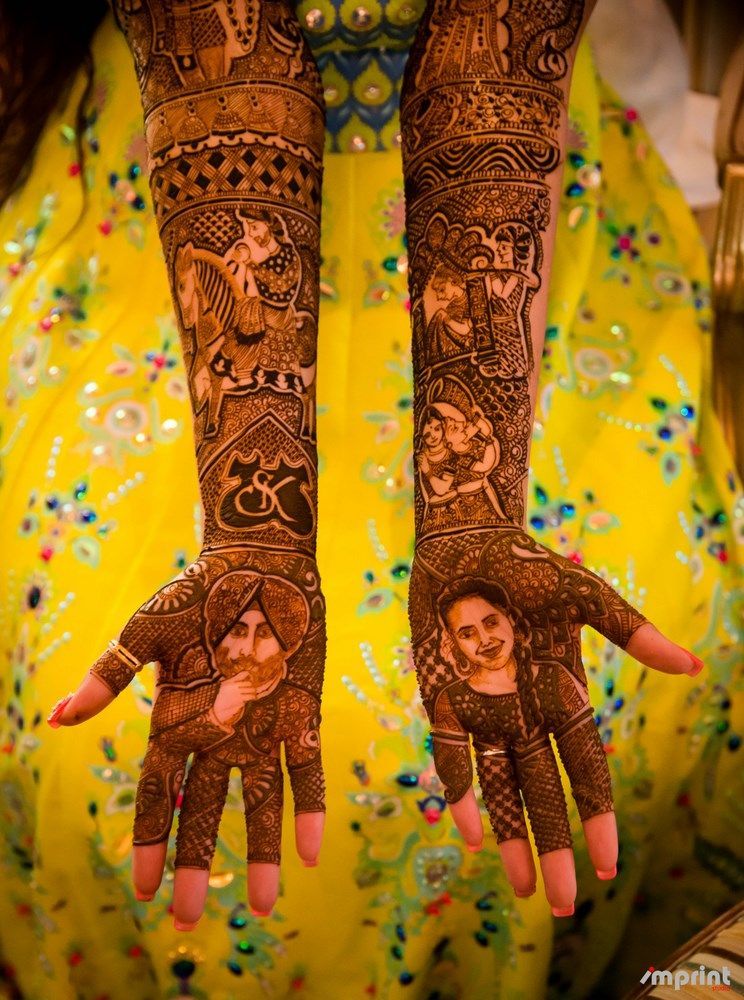 Image via Khushdeep & Sabah (Abu Dhabi)
To get this mehndi design done, you'll need to hire someone with exceptional skills! Making caricatures/sketches by looking at the picture is not easy and you wouldn't want someone to ruin your big day with average work.
---
Personalised Unique Designs
The following designs are personalised where brides add something thats personal to them on their mehndi. Right from portraits of a puppy the couple loves, to quotes that are special to them to even their caricatures.
With Your Own Wedding Hashtag!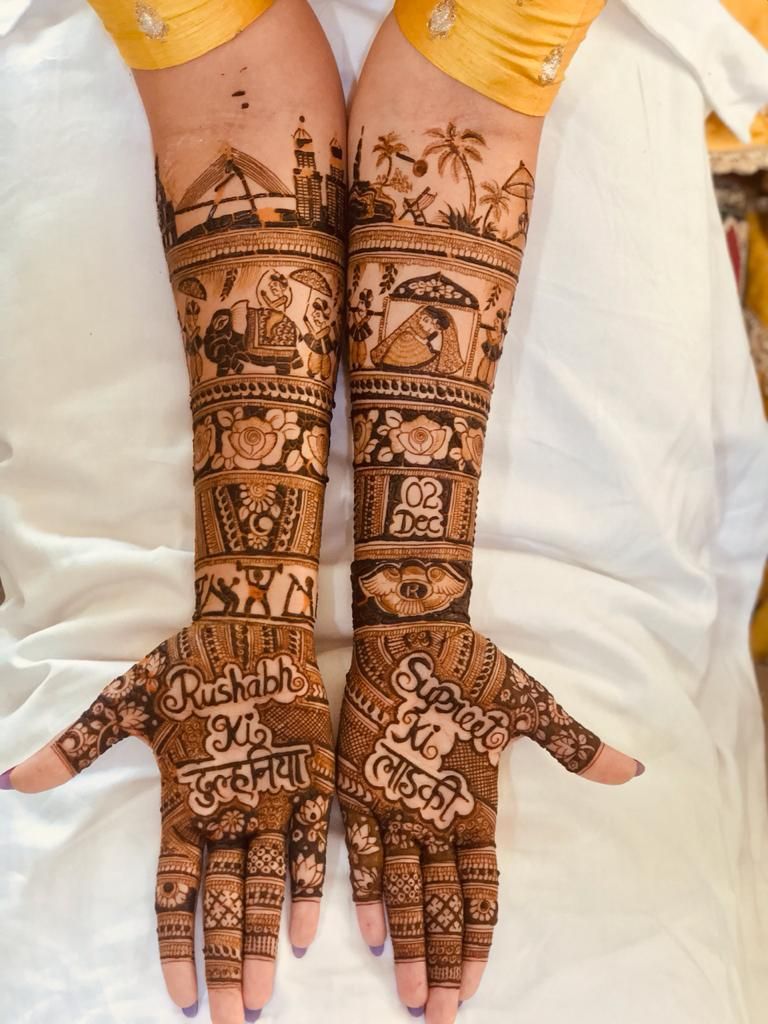 Image via Srishti & Rushabh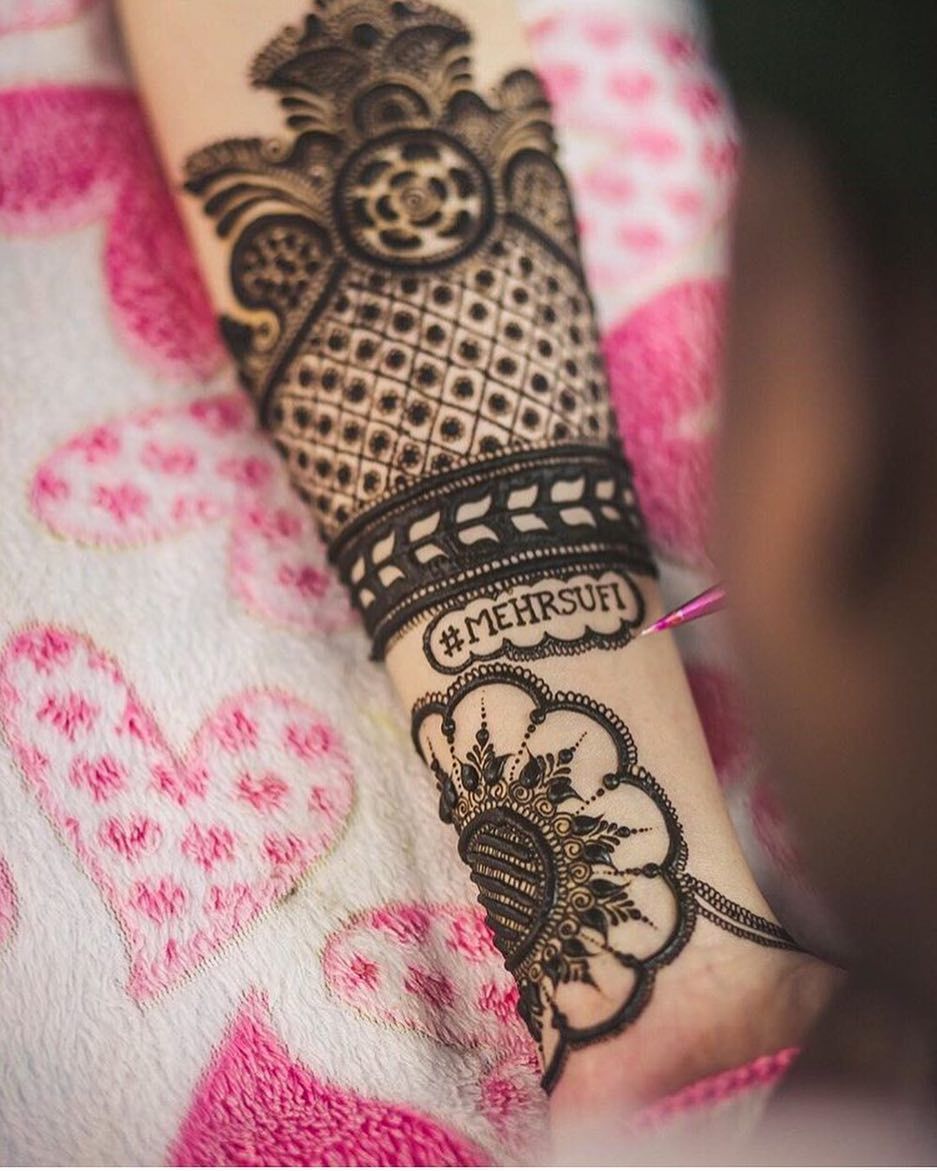 Image via Shades Photography★ 4.3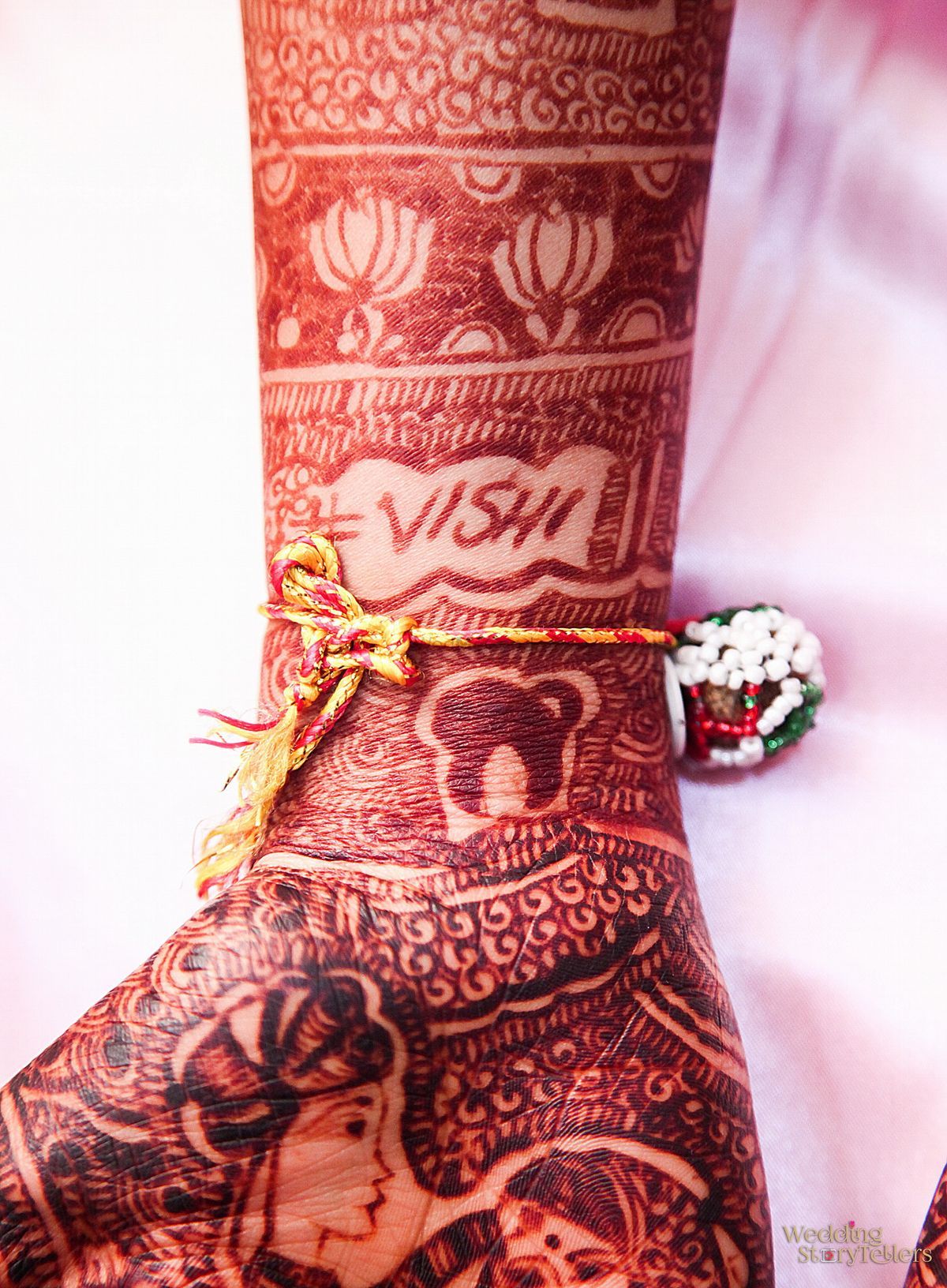 Image viaWedding Storytellers★ 4.9
We see couples putting their wedding hashtags in possible element be it the invite or the photobooth, then why should the mehndi be left behind? After all, you've put in so much efforts in finalizing one for yourself. ;)
Had A Long Distance Love Story? Get Inspired By These Unique Mehndi Designs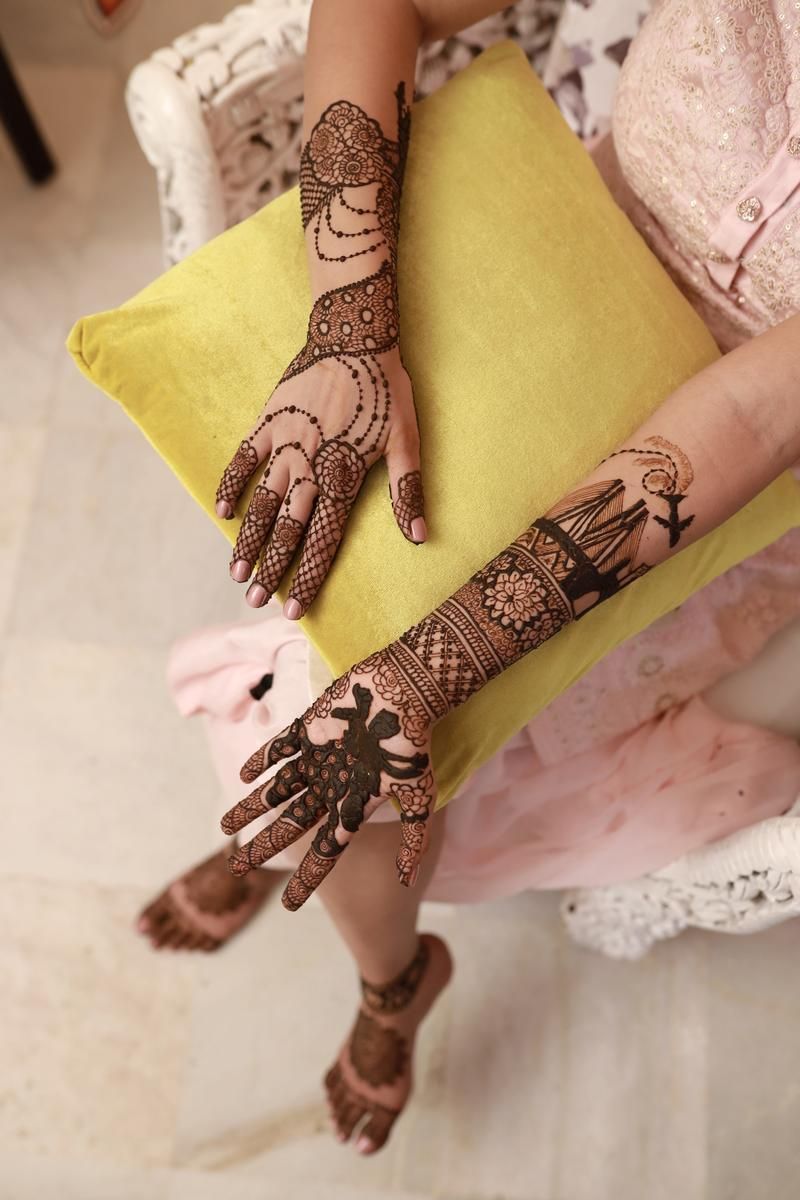 Image via Harsha Soni Mehendi Artist
Brides are adding their love stories on lehengas, invites and even on mehandi these days! It can have a gist of where you both met, where and how he popped those three magical words and make everyone around sob with joy. Psstt.. don't miss the airplanes!
Express Your Love For Your Furry Friend Through Your Mehendi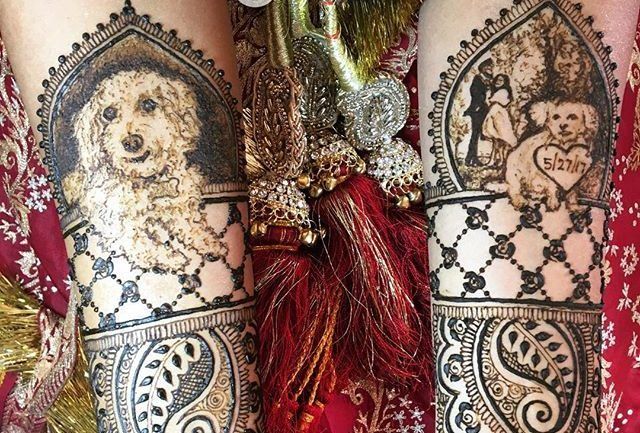 Image via Divya Henna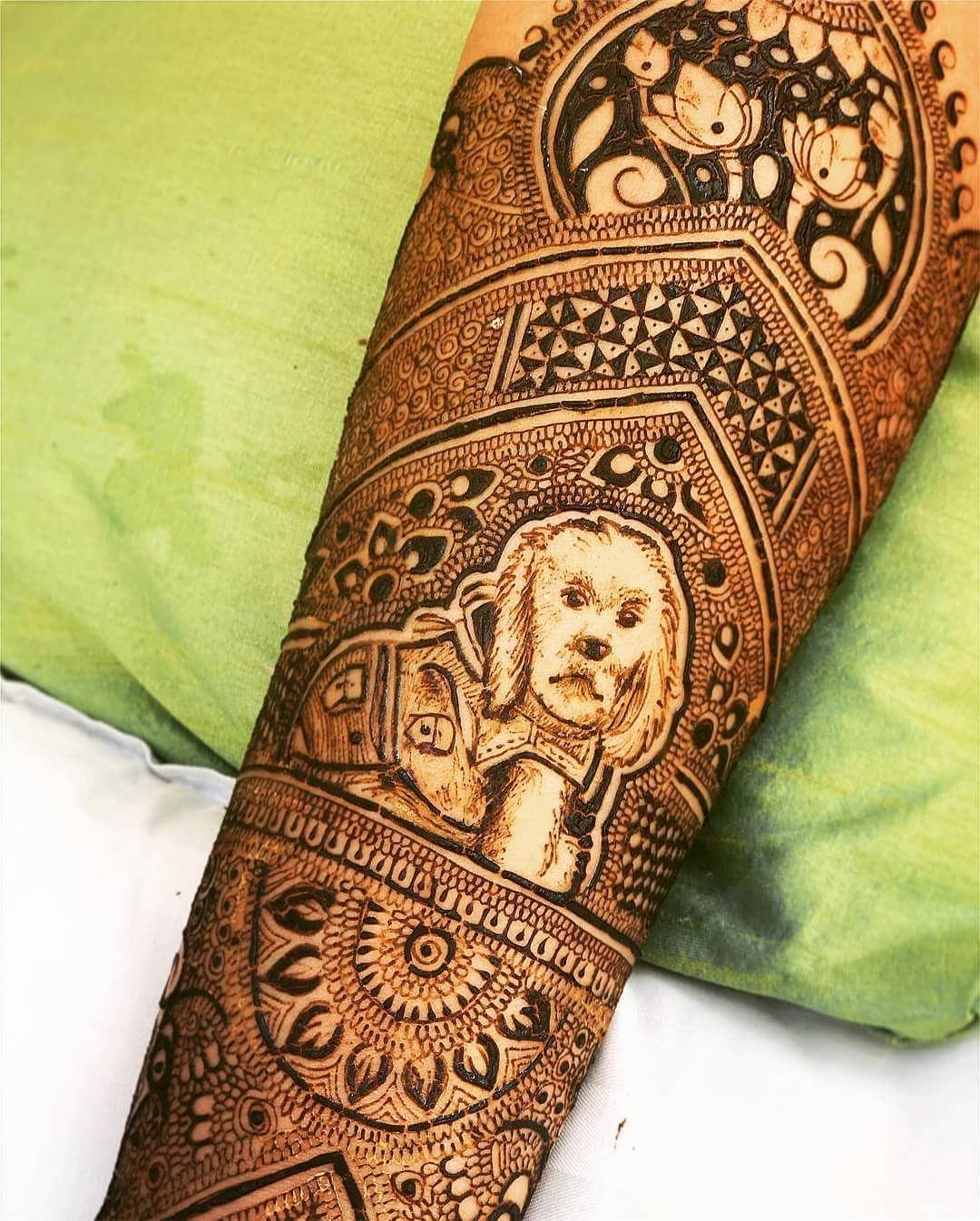 Who doesn't love a cute minion? Here's an adorable minion mehndi design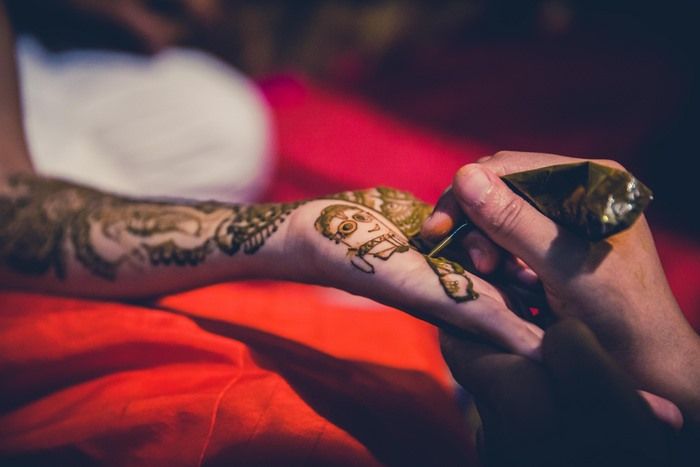 Image via Manvi Gandotra from 1 plus 1 Studio
Yayy! This one's for all the 'minion' fans. Instead of regular figurines, you can get minion theme figurines made. So much fun & cuteness!
Vows On Mehndi Design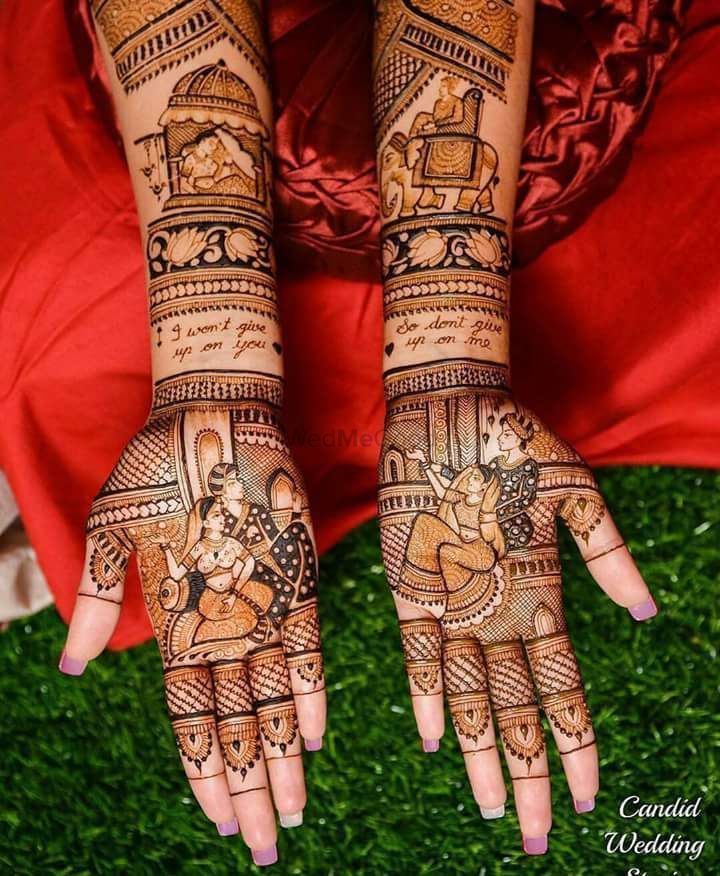 Image via Raju Mehandi Artist
Modern brides are going a step ahead with their mehndi designs by getting vows added to it. It's not just quite unique but also really adorable, as a form of expression. Like this one says "I won't give up on you, so don't give up on me"
Adding 'Things You Love' In Your Design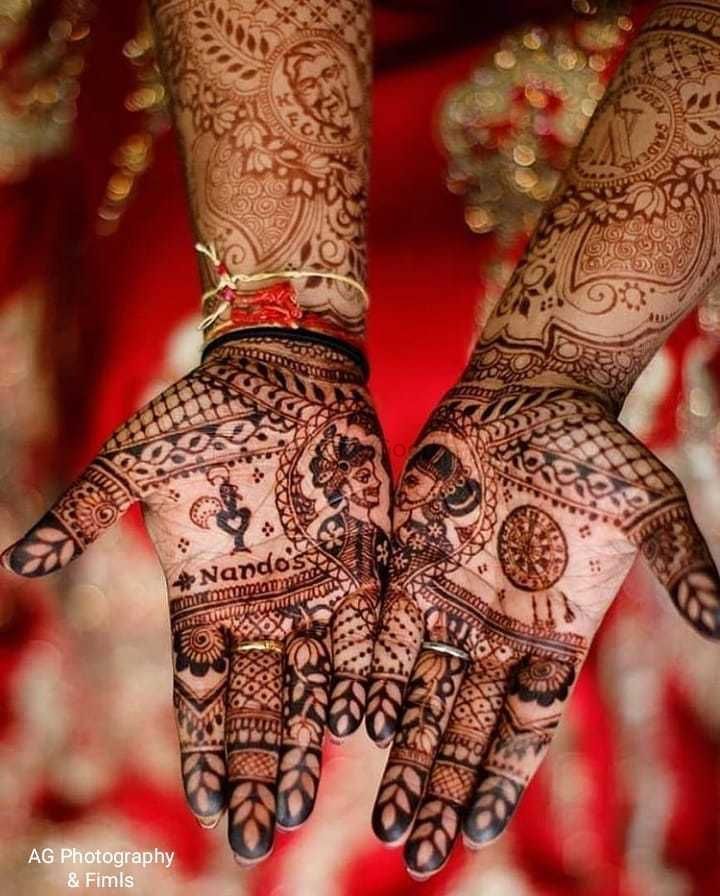 Image via AG Photography and Films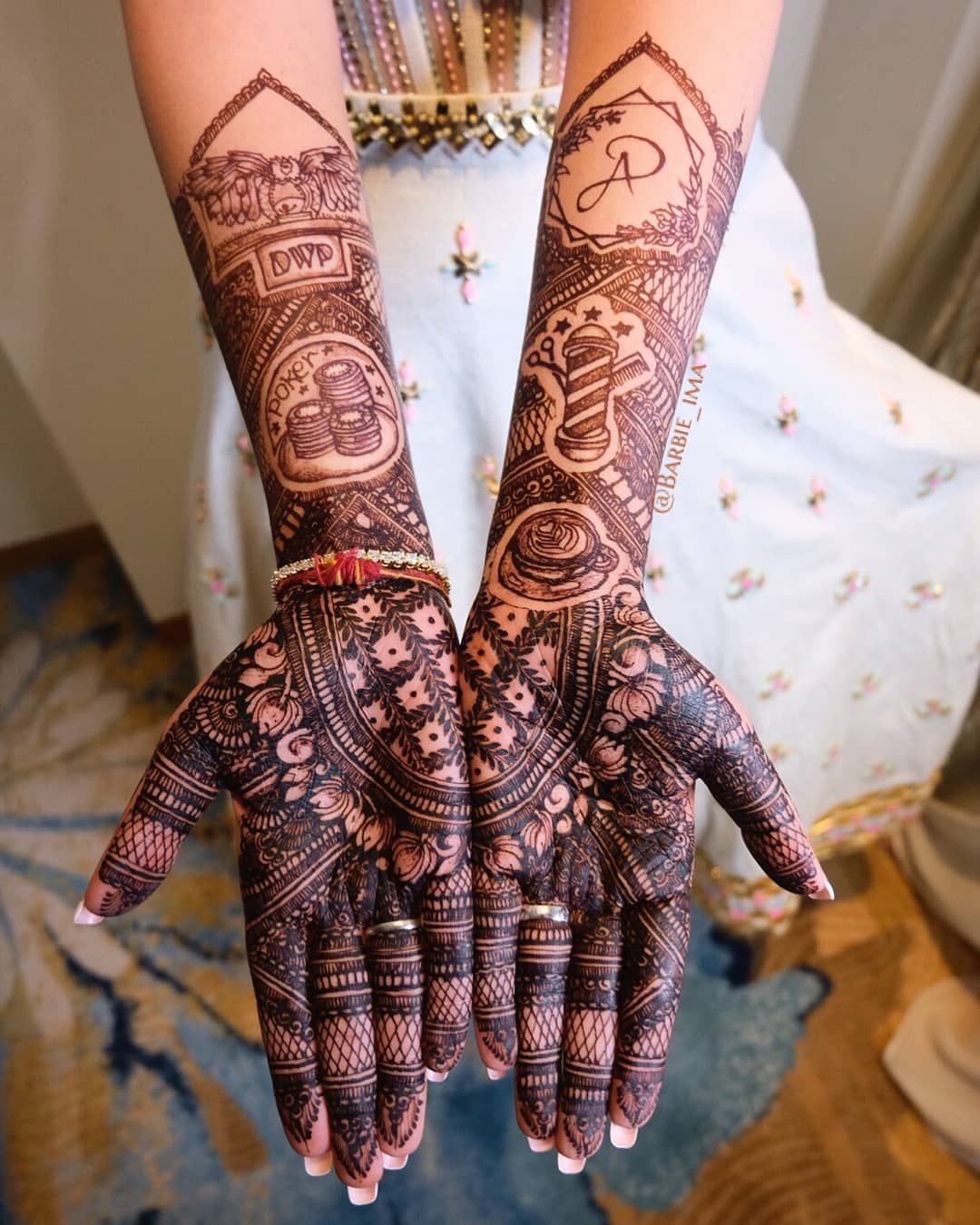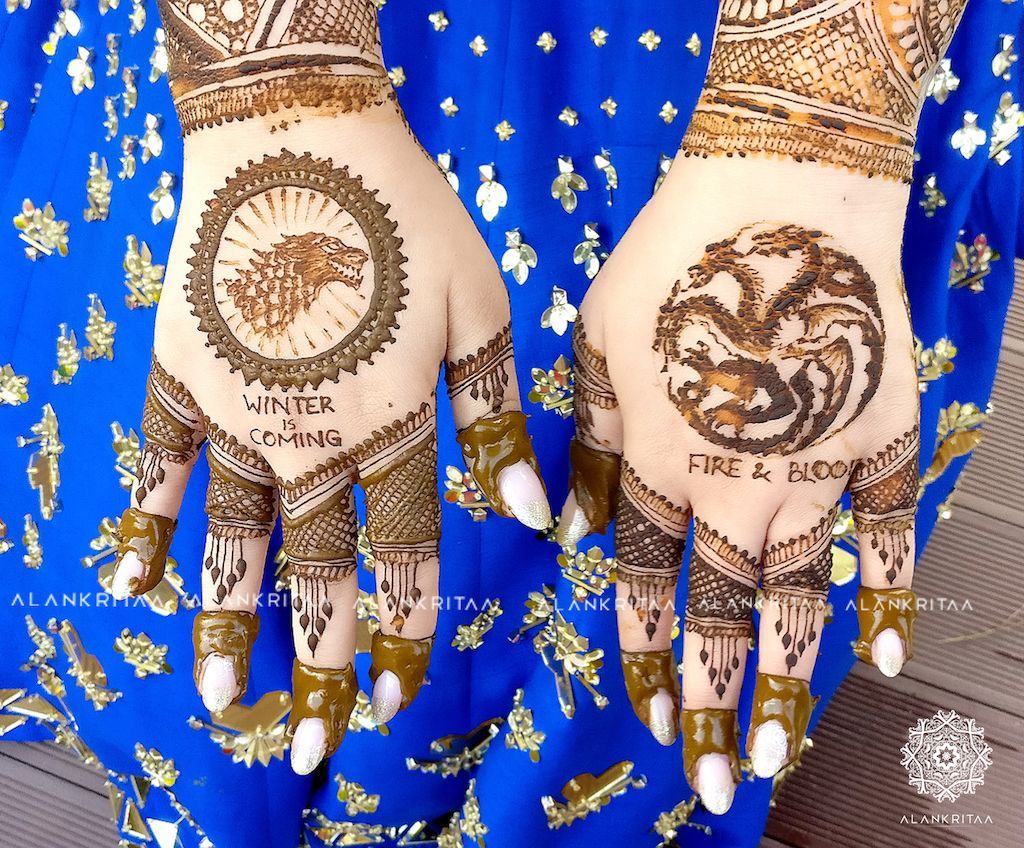 Image via Alankritaa
Instead of keeping it traditional, how about adding elements that you both love in your mehndi design? Be it your favourite restaurant or a common hobby! Endearing, to say the least!
Get Your Proposal Etched On Your Hand!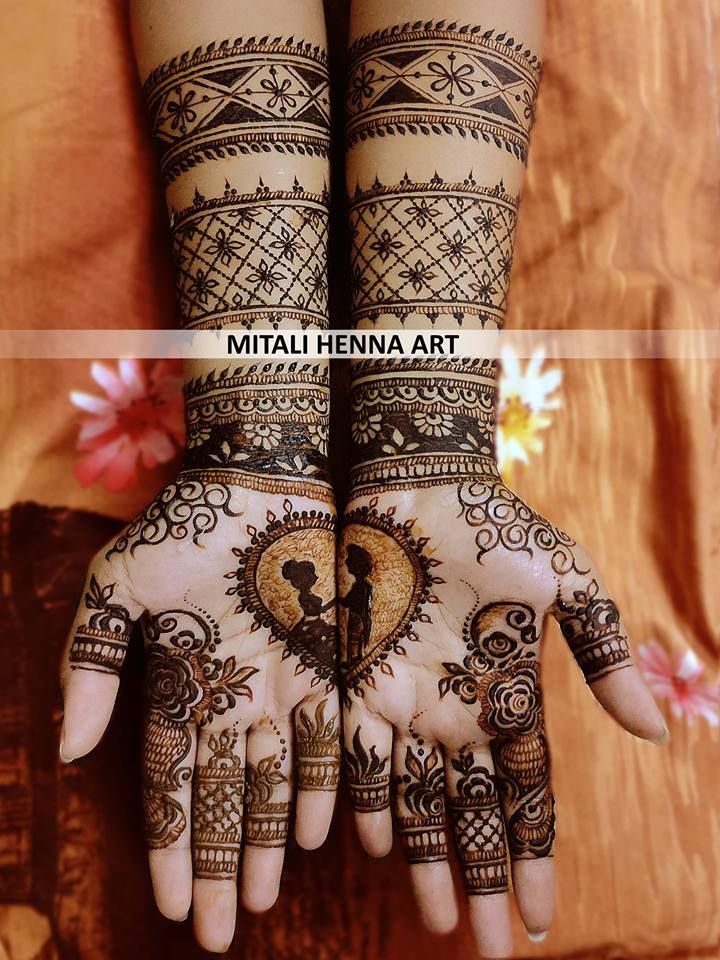 Image via Mitali Henna Mehndi Art★ 5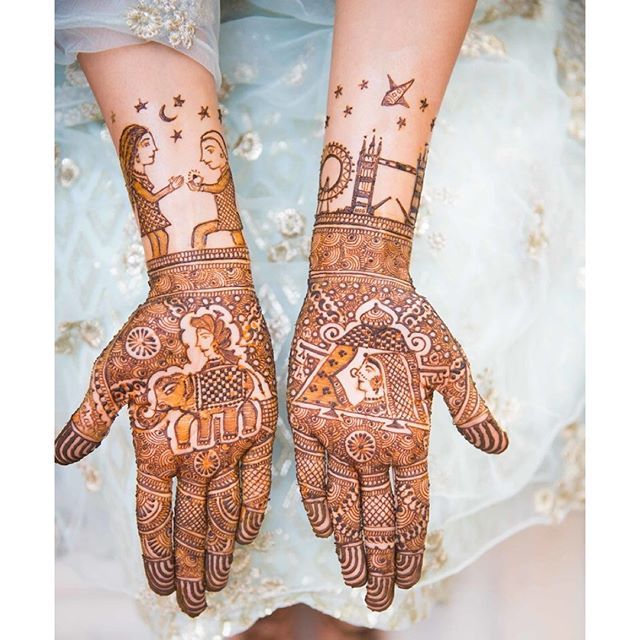 Image via The Wedding Crasher★ 4.8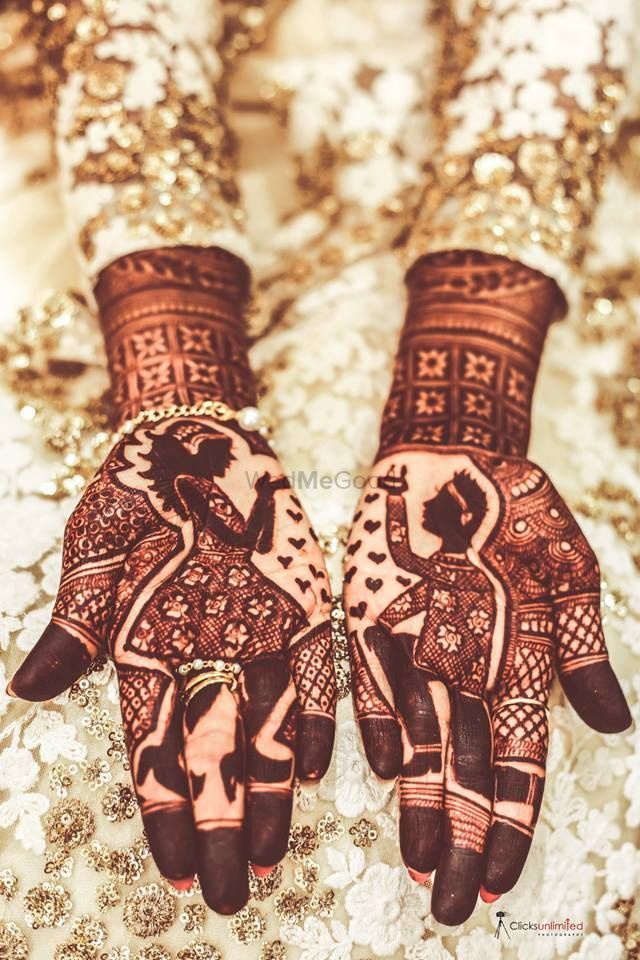 Image via Clicksunlimited Photography★ 4.6
How memorable would it be to get your most cherished moment - proposal, drawn on your hands! You can beautify the same with a plethora of motifs around. An aww moment indeed!
---
Traditional Mehndi Designs
If you like to stick to tradition then choose from jaali designs, peacocks, finger adornment and more
Peacock Design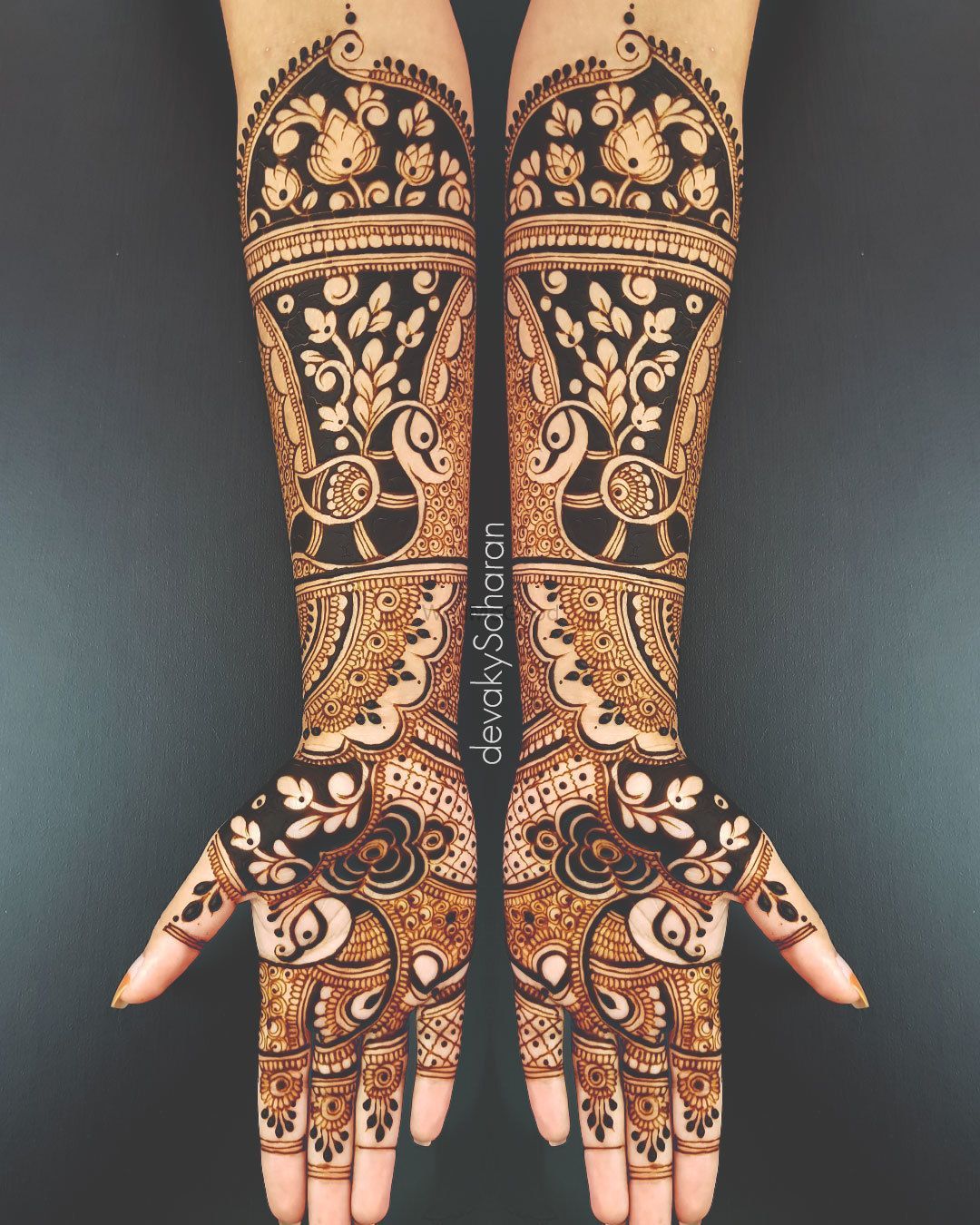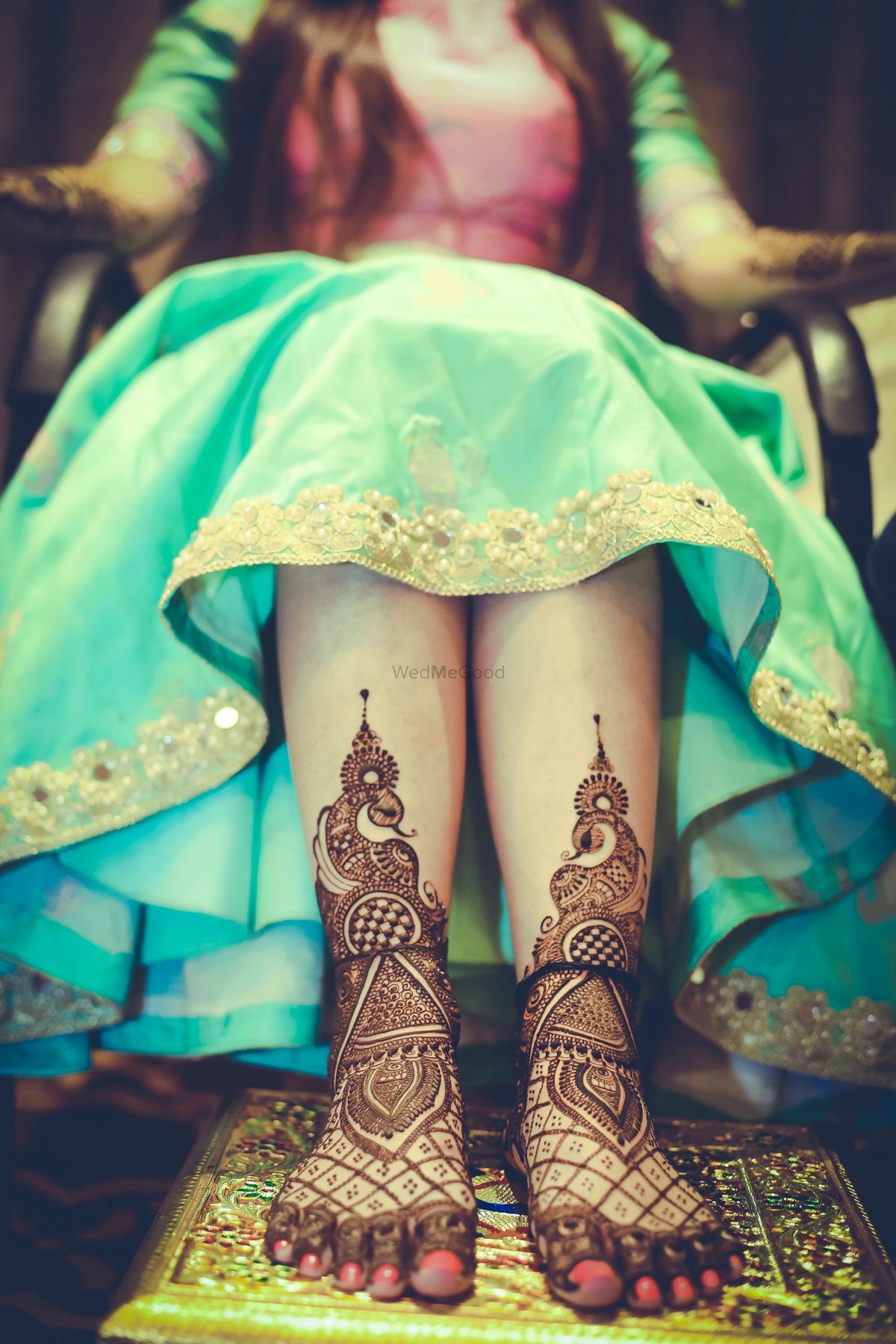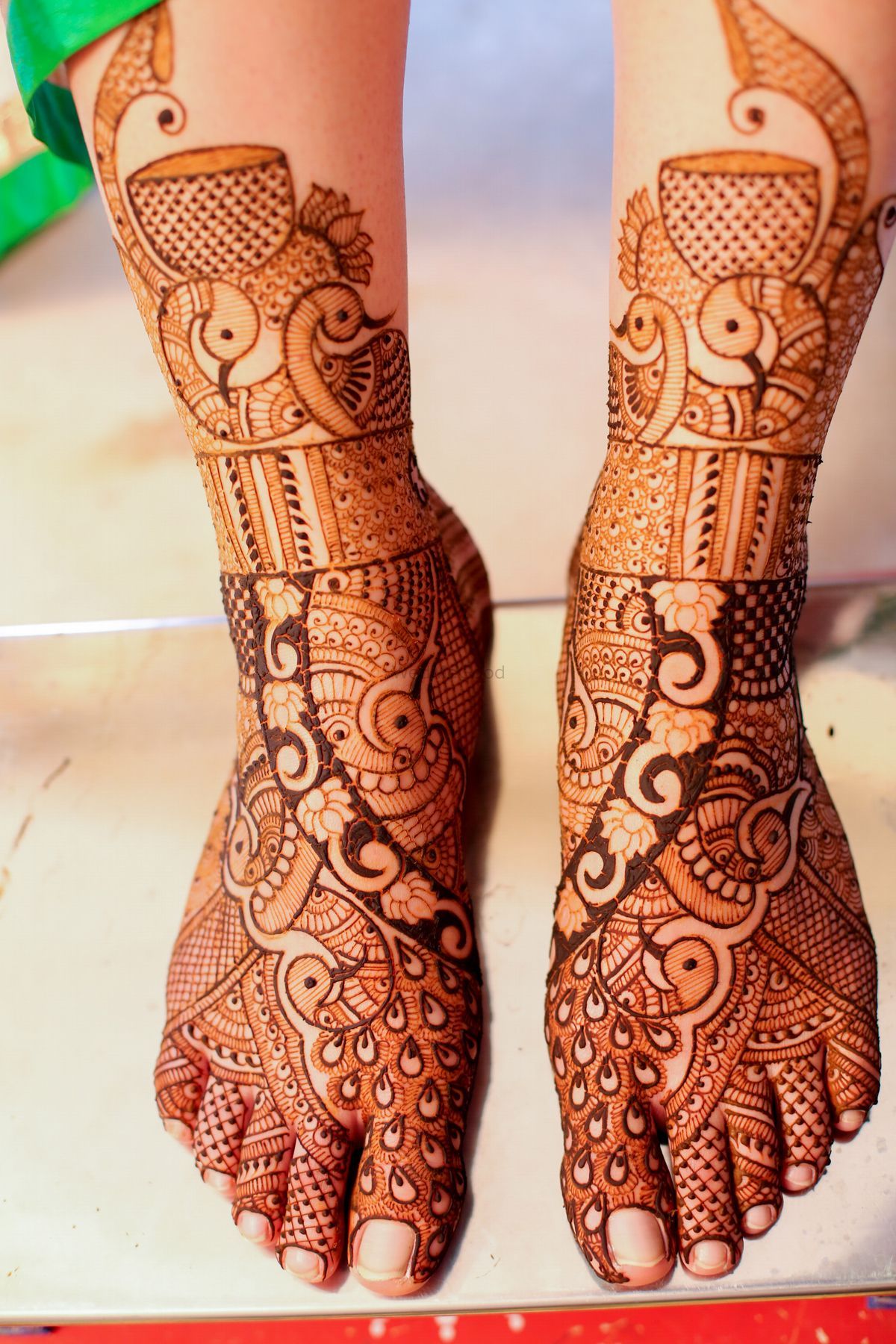 Peacocks in mehndi is an inseparable combination. There are tons of mehndi designs ideas with peacocks for all kinds of bride, whether you like traditional or minimalist
Arabic Mehndi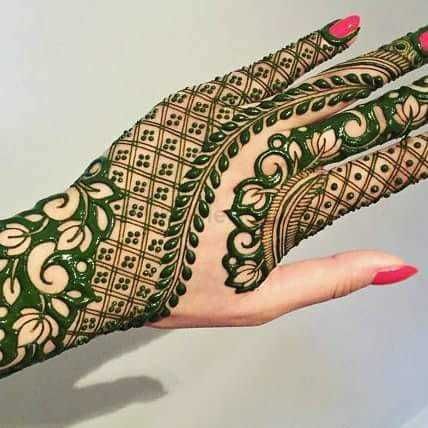 Half n Half Mehndi Design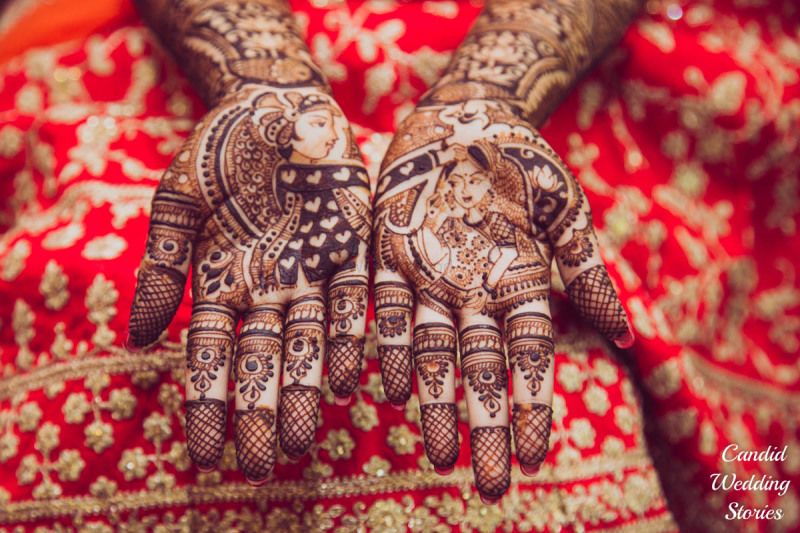 Image: Candid Wedding Stories★ 5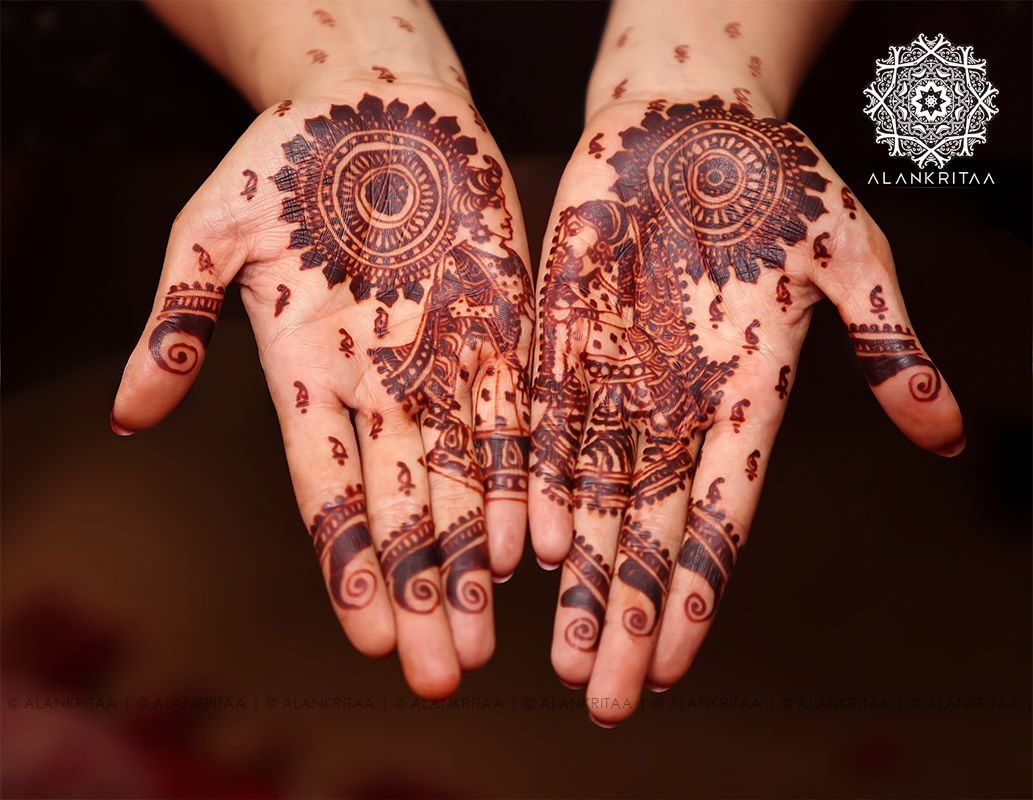 Image via www.alankritaa.com
With this  design, the brides get to tell a story by joining their hands! The most popular one in this category is groom on one hand and the bride on the other!! Check out this board for some more arabic inspiration  as well WedMeGood's article on arabic mehndi here
Floral Design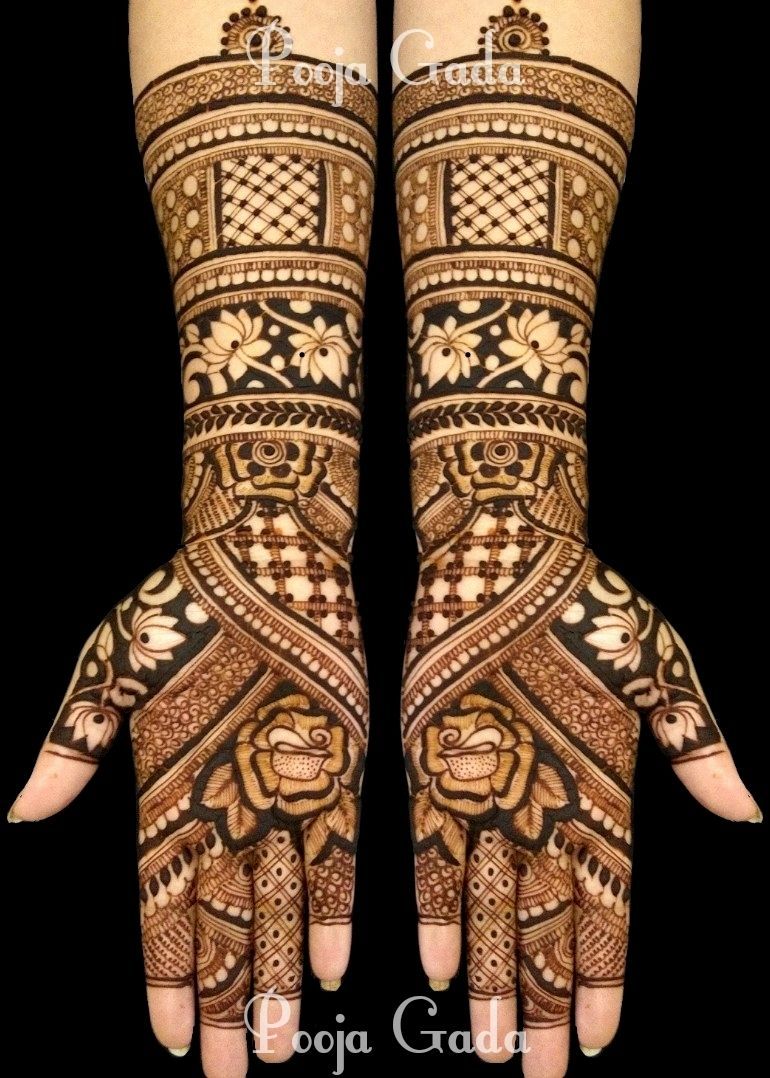 Image via Pooja Gada★ 4.9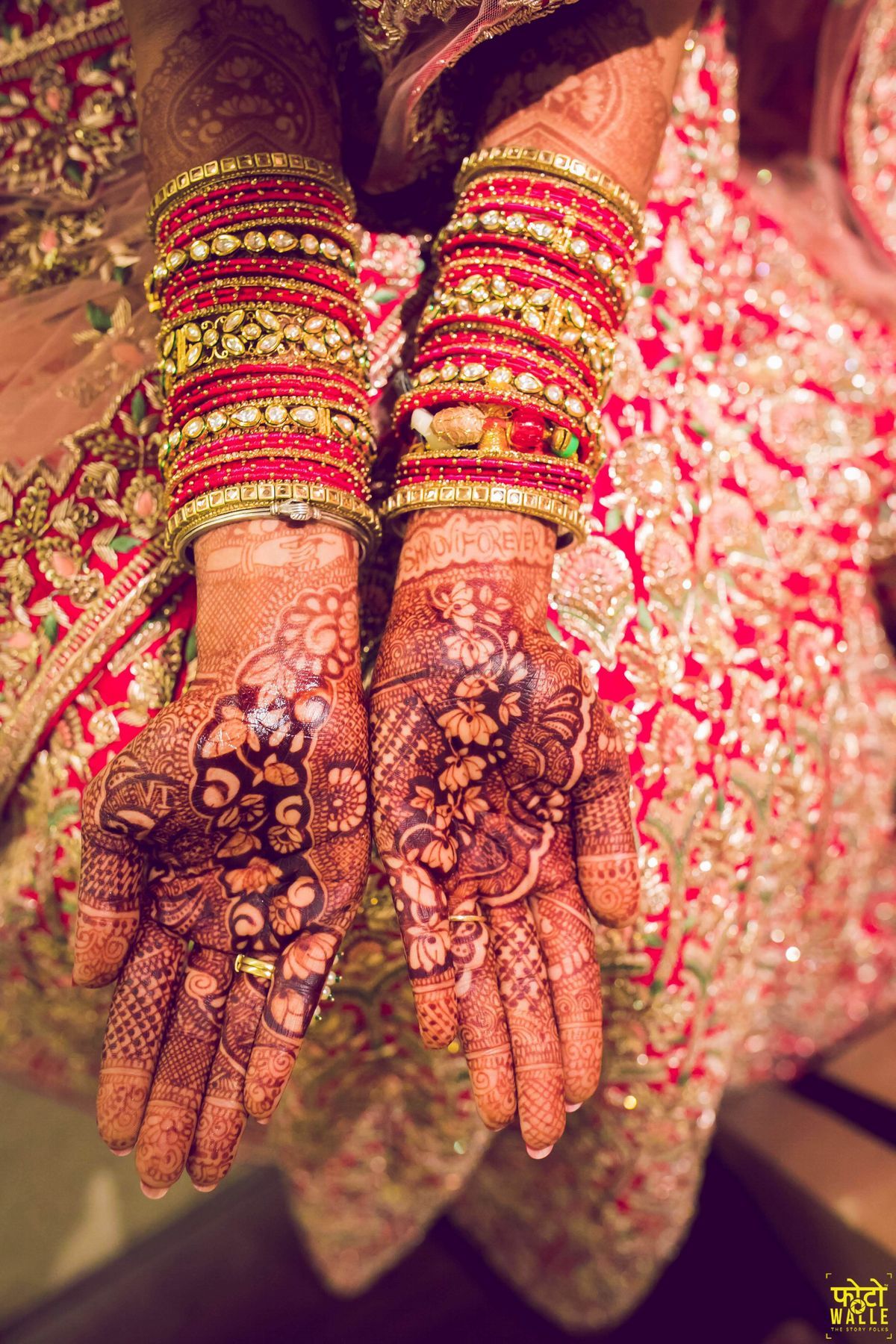 Image via Fotowale★ 4.6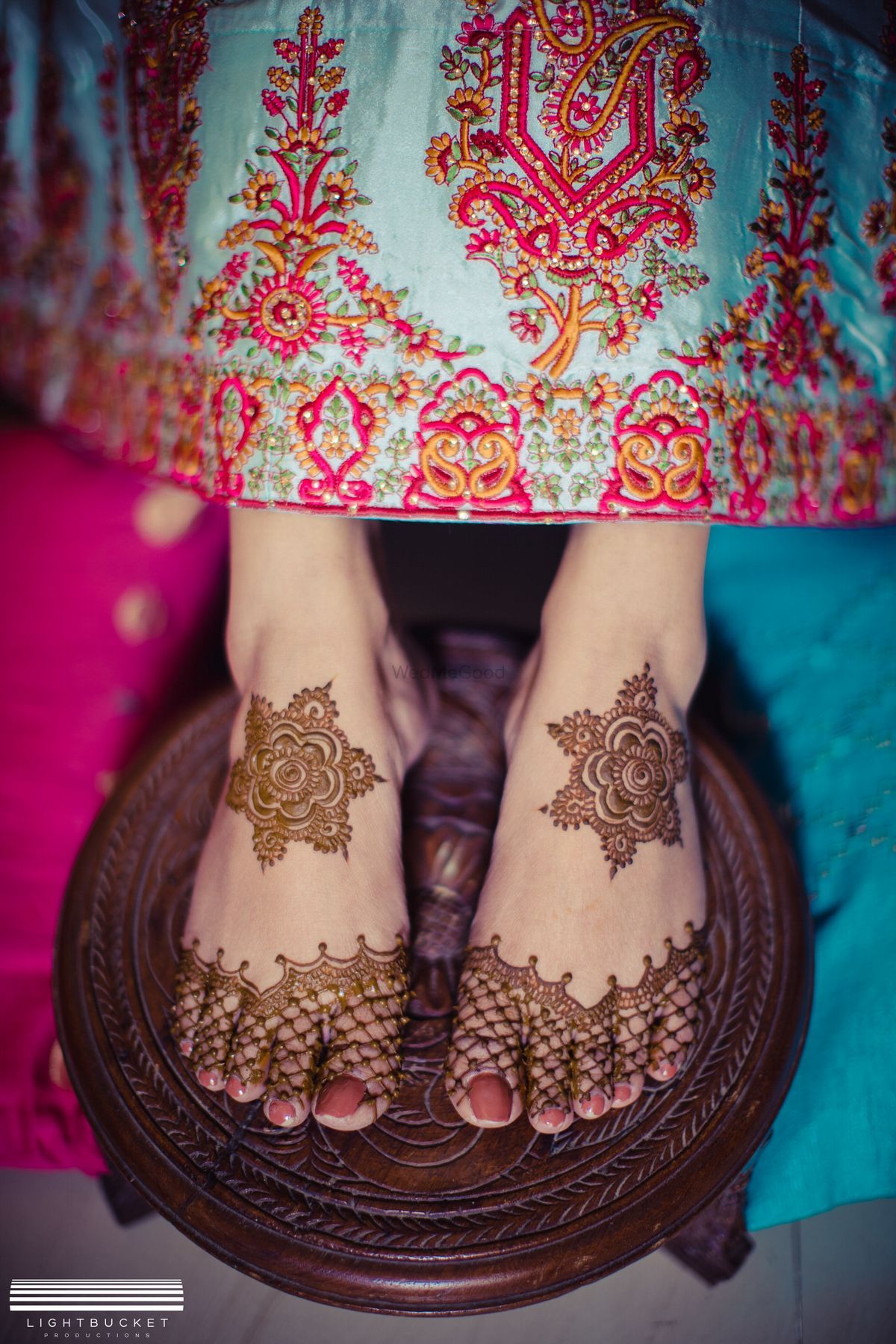 Image via LightBucket Productions★ 4.9
Floral mehndi designs are evergreen and look so pretty on hands and feet of the bride. There are so many patterns and designs for brides to choose from.
Geometric Mehendi Designs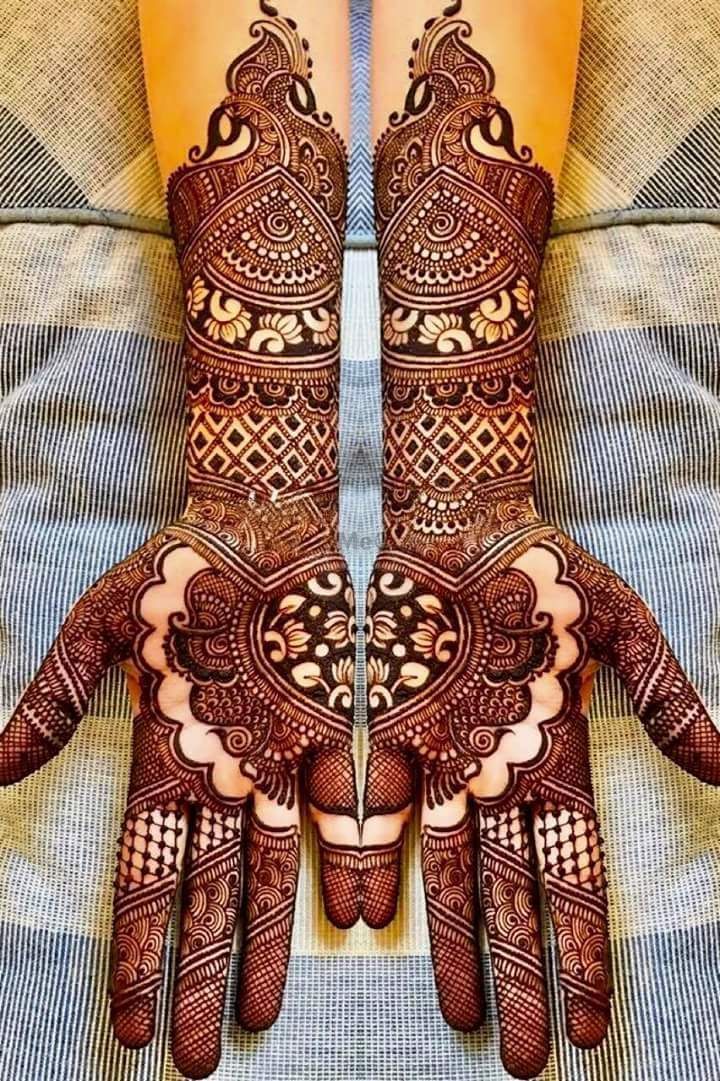 Image via Rinku Mehandi Arts★ 4.9
Refresh your old-school mehndi designs by adding geometric elements to it. Because no woman wants it to be mainstream when it comes to her own wedding!!
Elephants in Mehendi Designs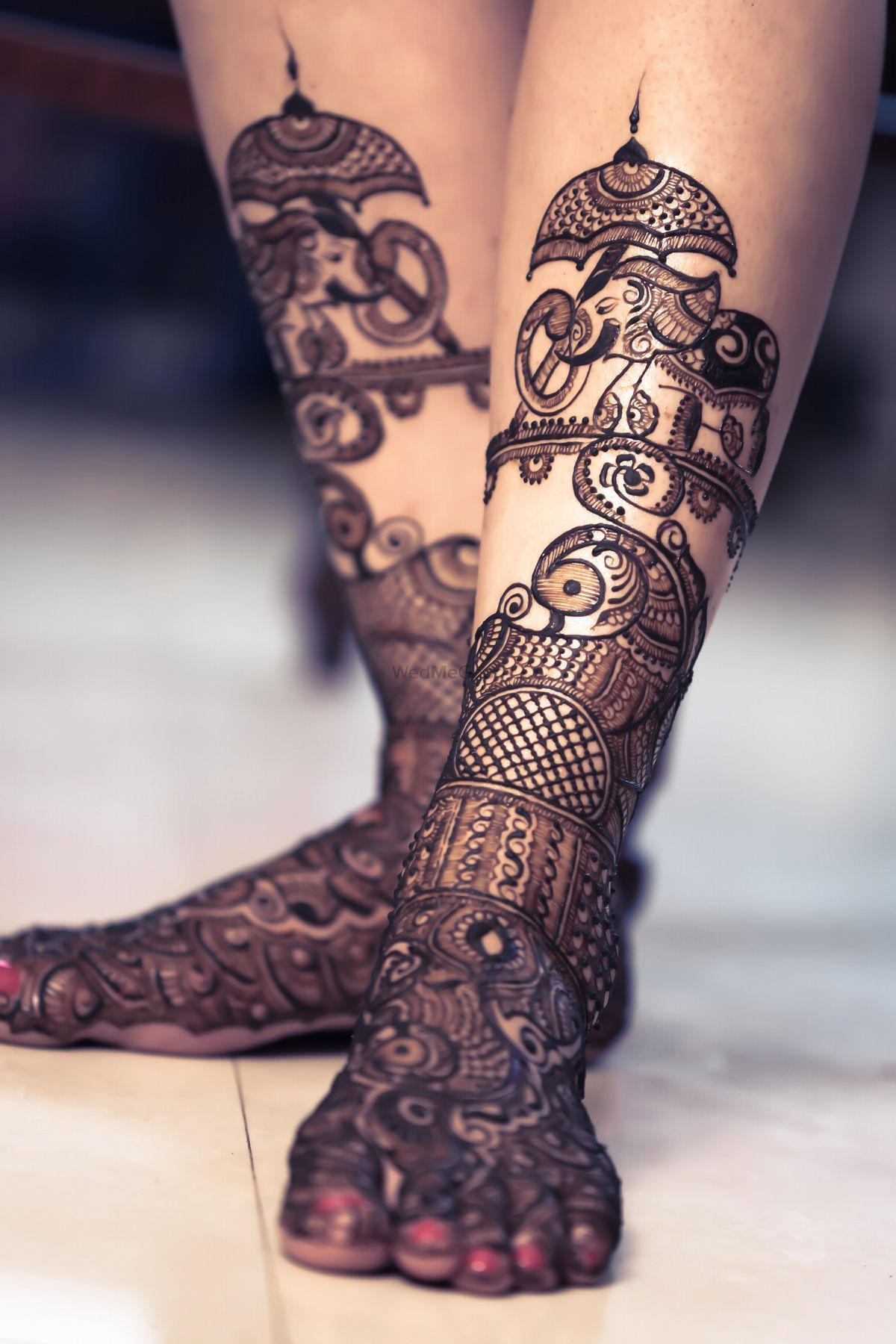 Image via Israni Photography★ 4.8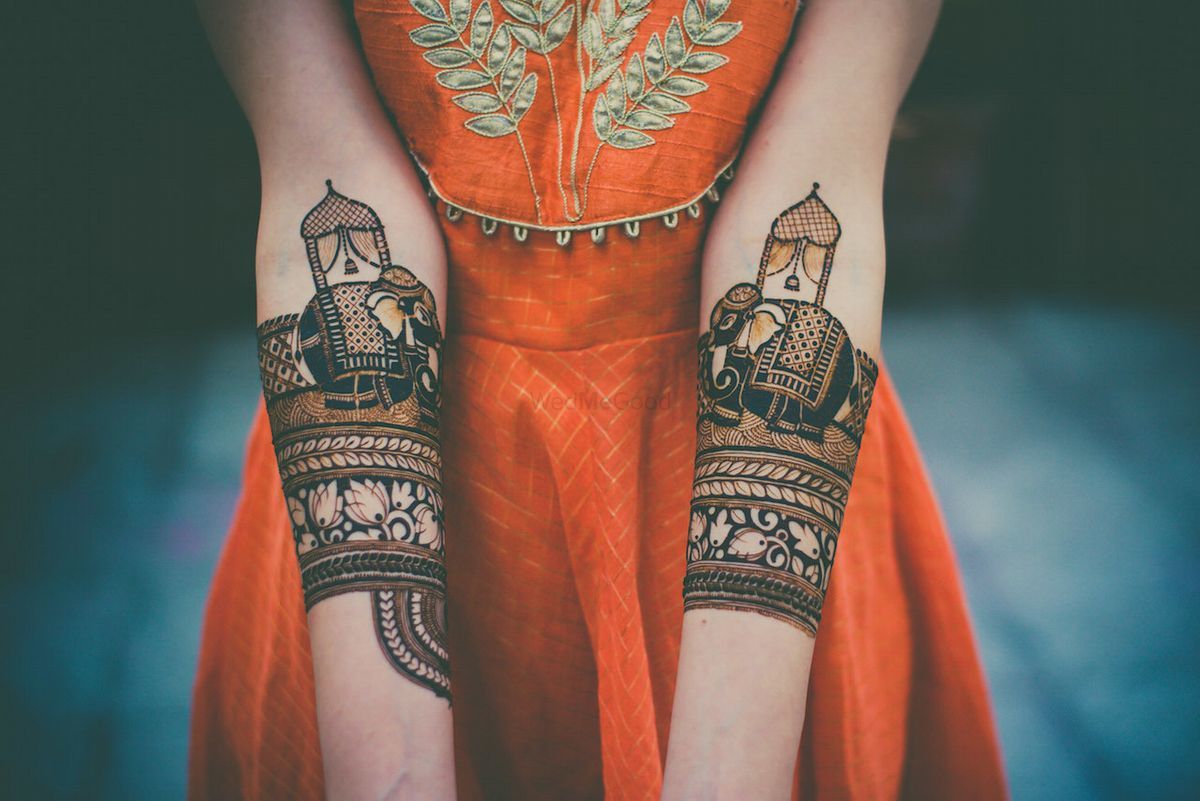 Image via Vibha Gala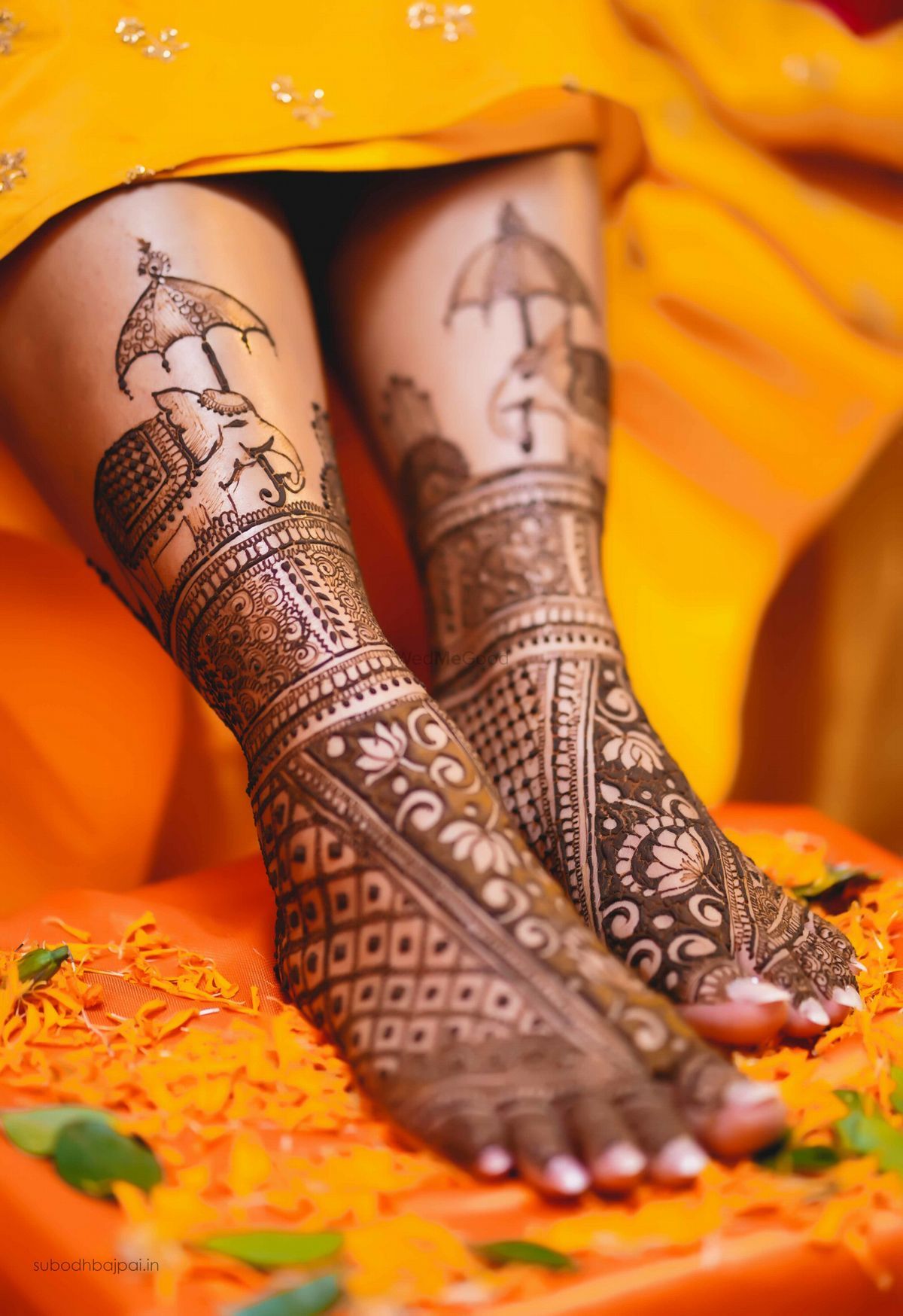 Image via Subodh Bajpai Photography★ 2.2
Recently we have spotted a lot of mehndi designs with elephants on it. The elephant design surely gives a royal feel and looks amazing.
Jaal Design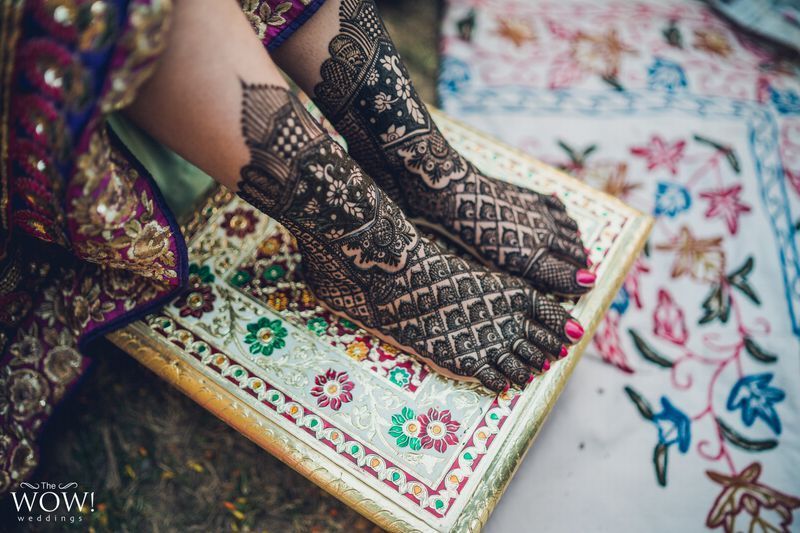 Image via The Wow Weddings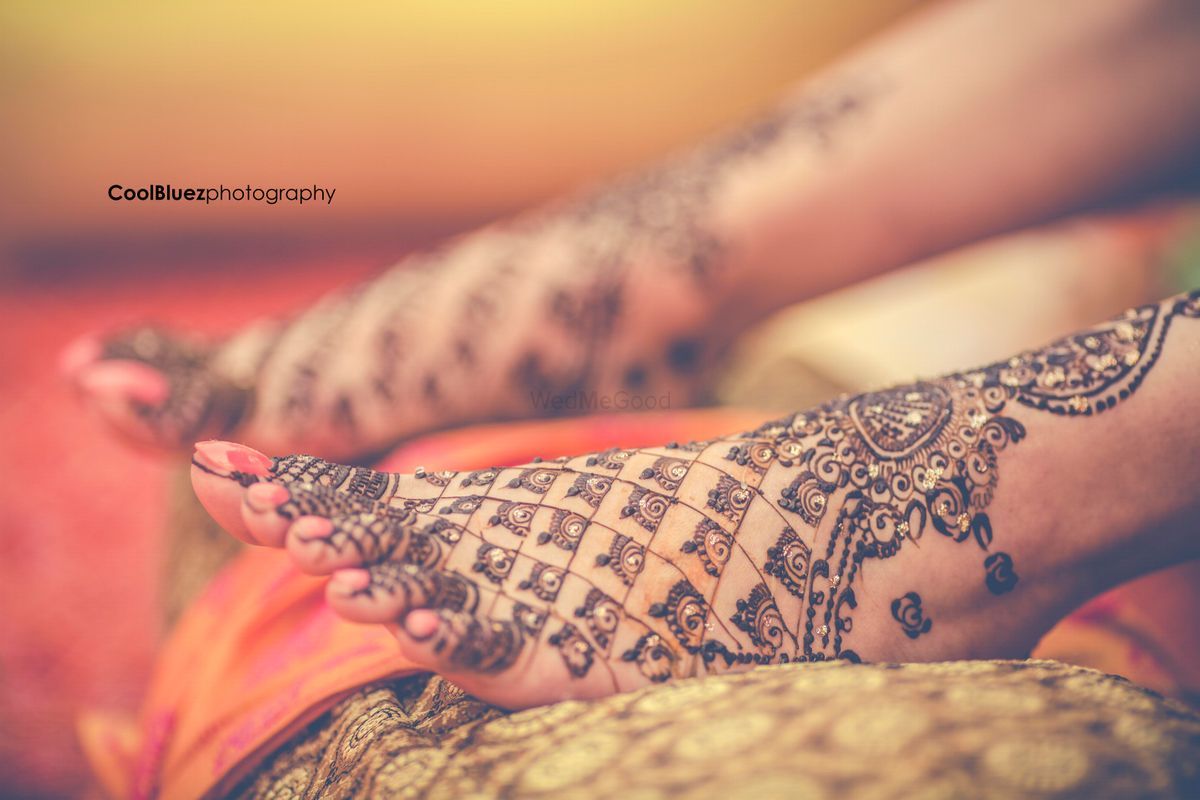 Image via CoolBluez Photography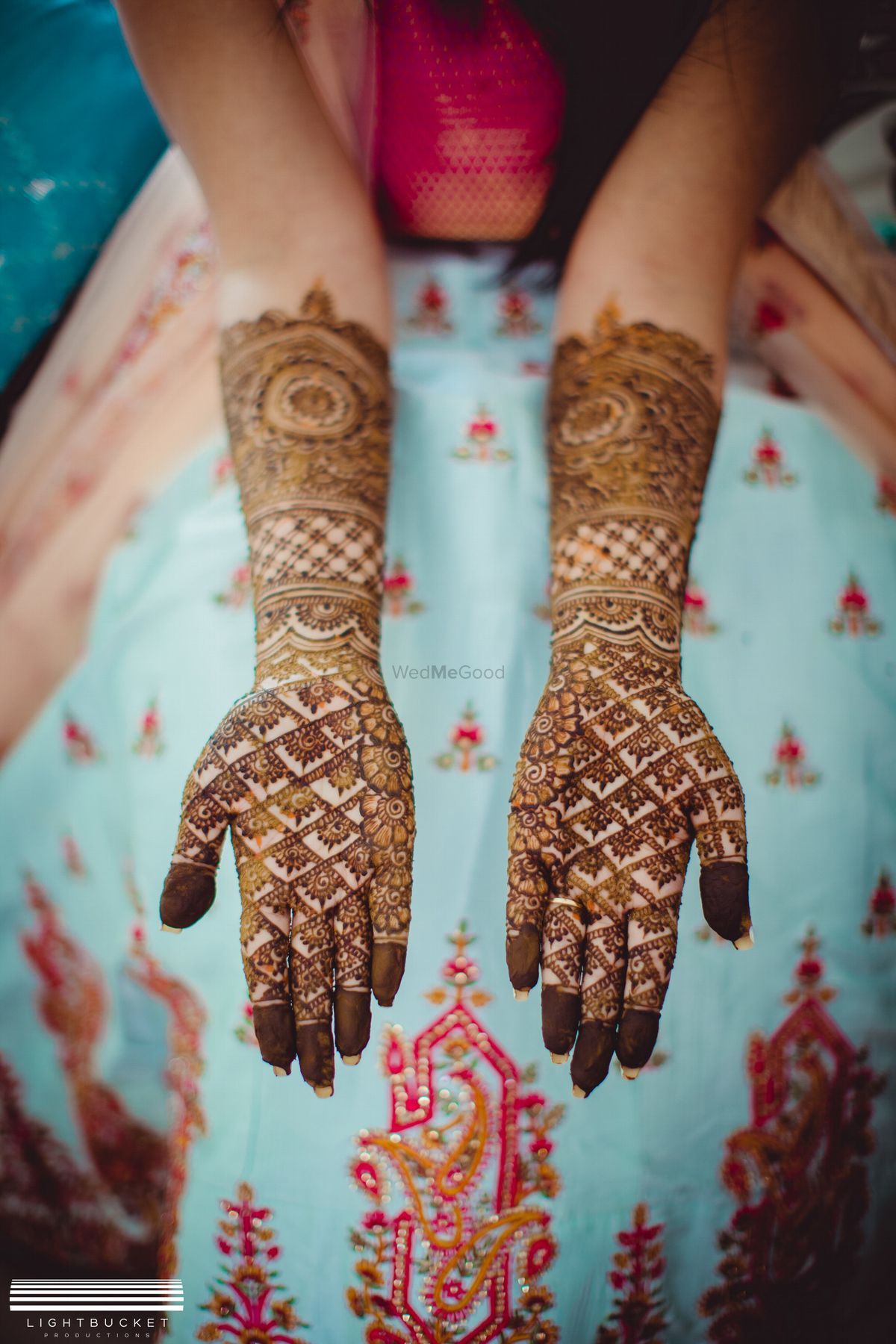 Image via LightBucket Productions★ 4.9
This mehndi design is back in trend and how! The mesh-like design now comes with a modern twist wherein other details are being incorporated within the jaali.
Put A Little Fun With Parrots In Your Mehndi!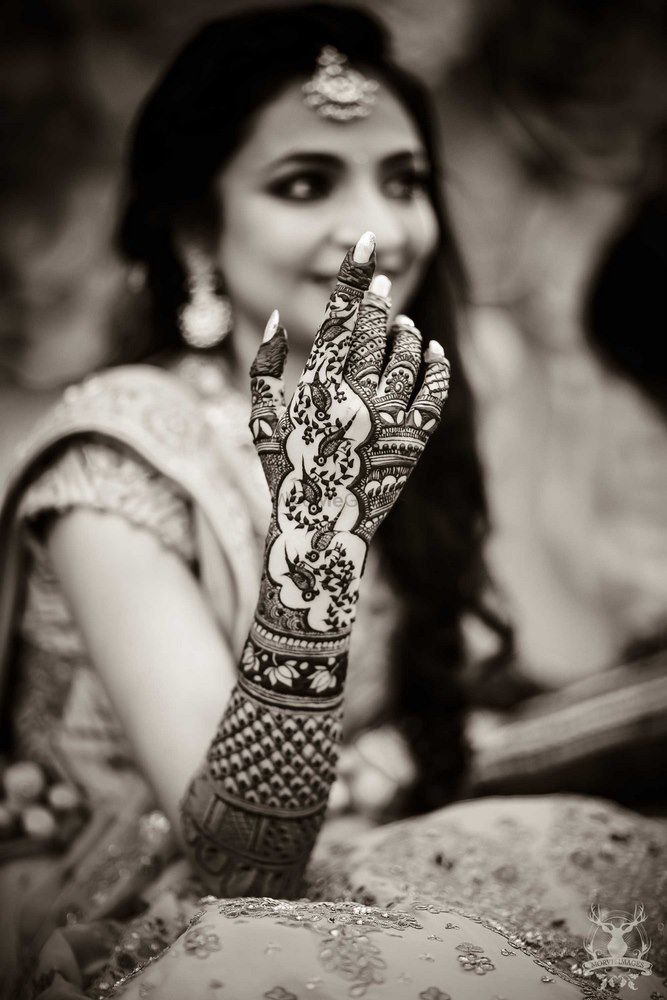 Image via Morvi Images Photography★ 5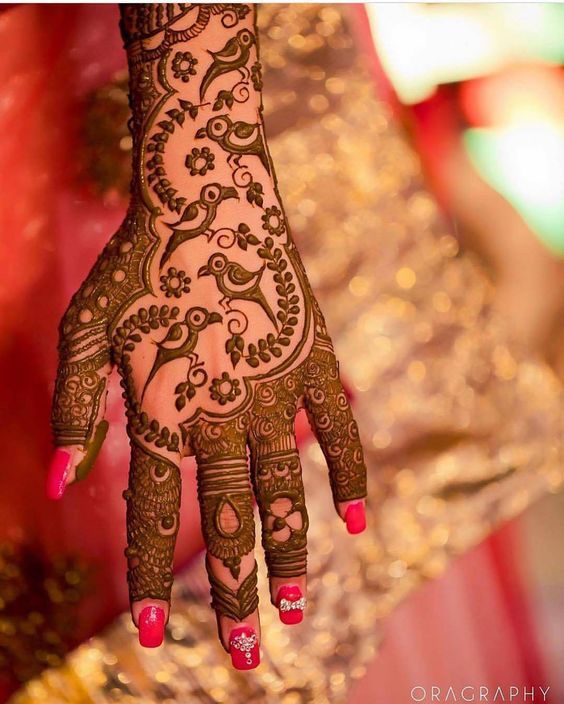 Image via Pinterest
Adding parrots to your mehndi design can be aesthetically appealing! It gives an Arabic mehndi-like vibe to the design. You should definitely give this a try!
Layered Design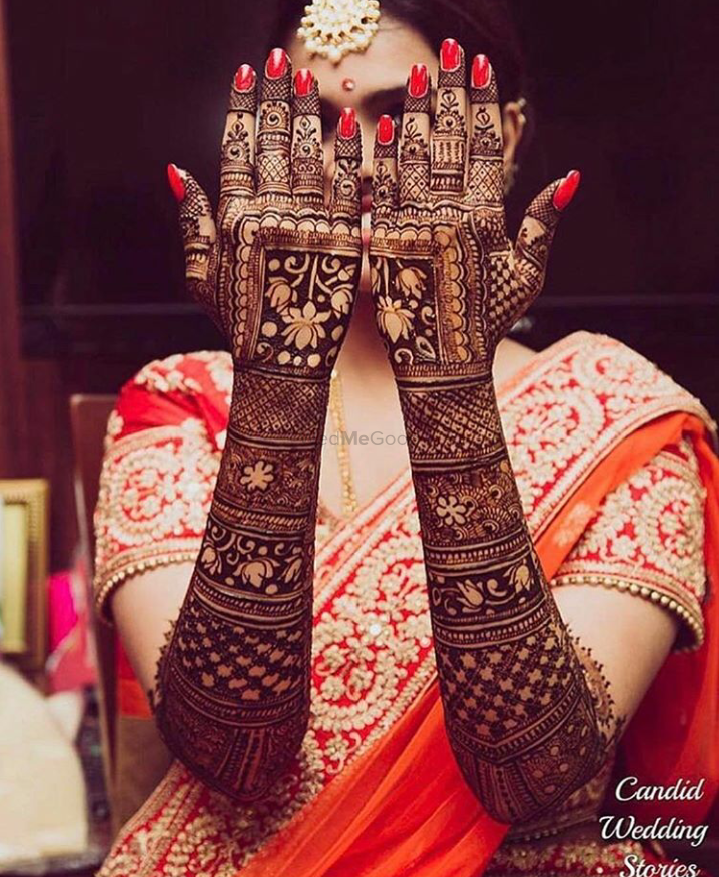 Image via Candid Wedding Stories★ 5
This mehndi design is for those brides who love everything maximal. Heavily detailed yet so intricate, it'll look absolutely beautiful on the wedding day.
God Portraits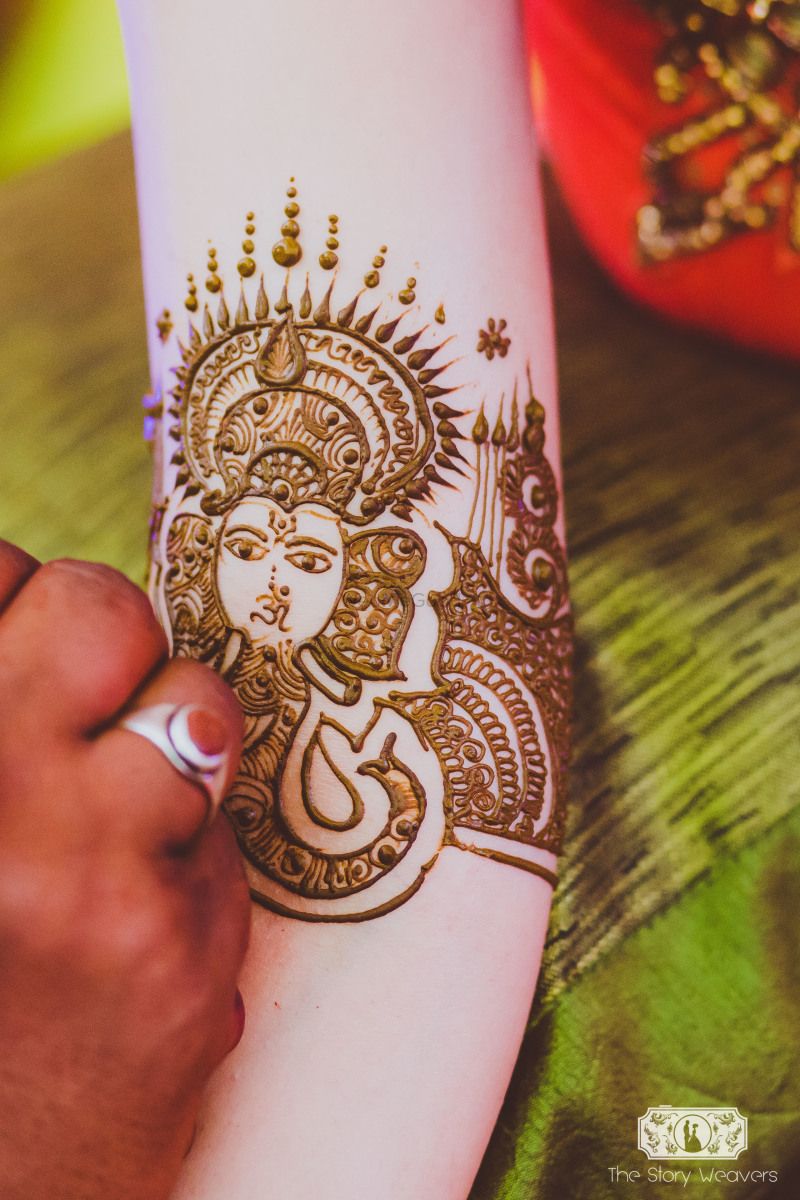 Image via The Story Weavers★ 4.9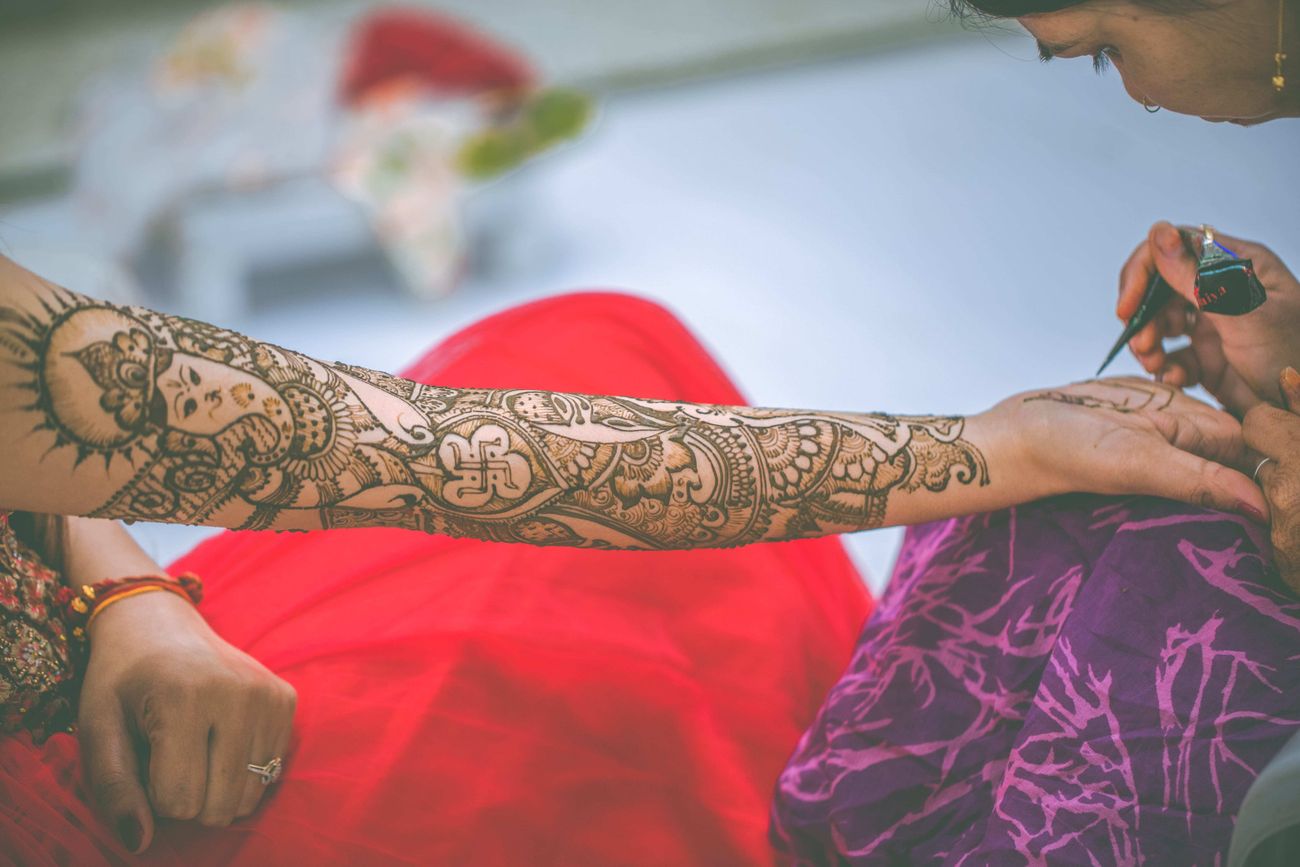 Image via Speaking Frame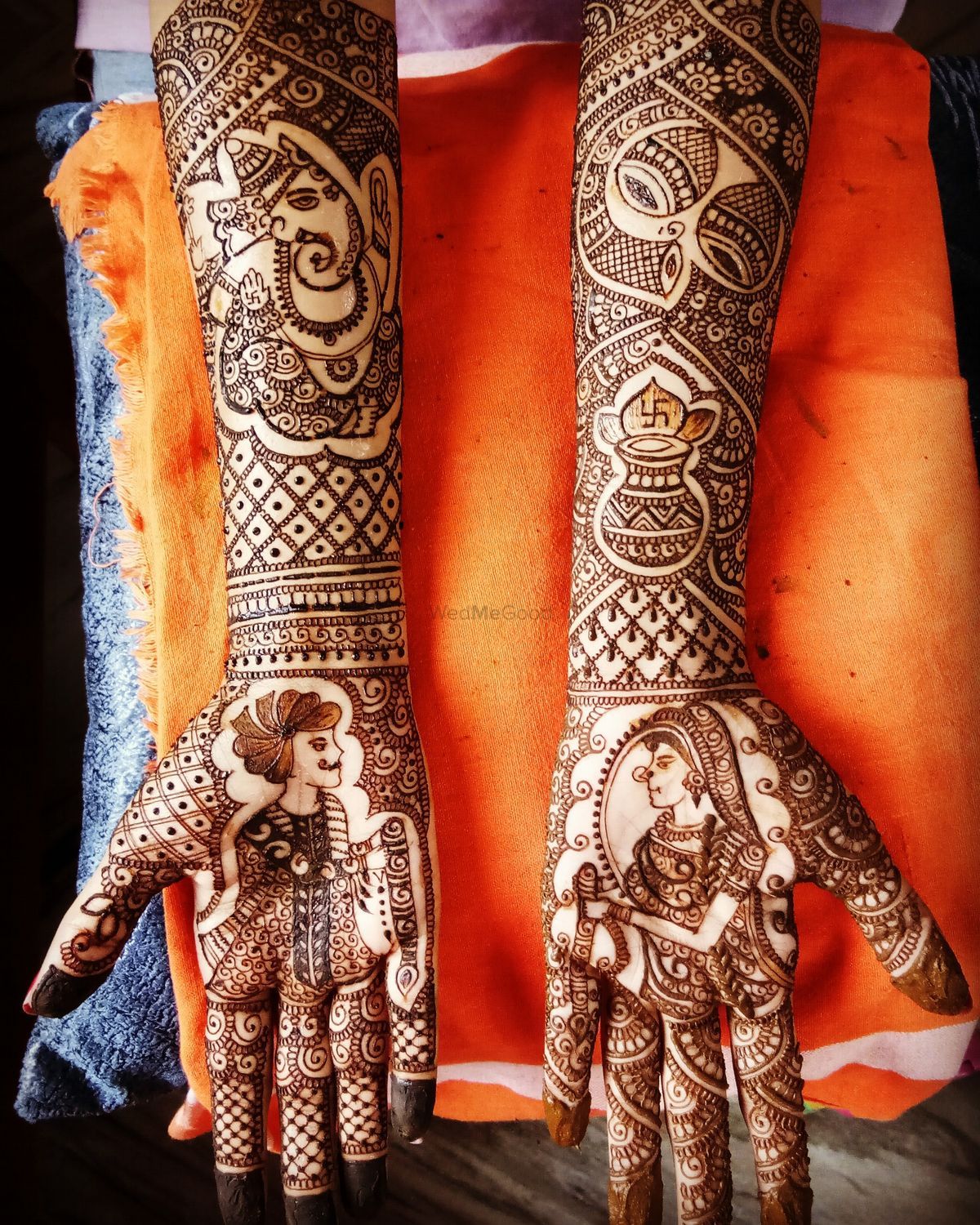 Image via Creative Mehendi Design★ 5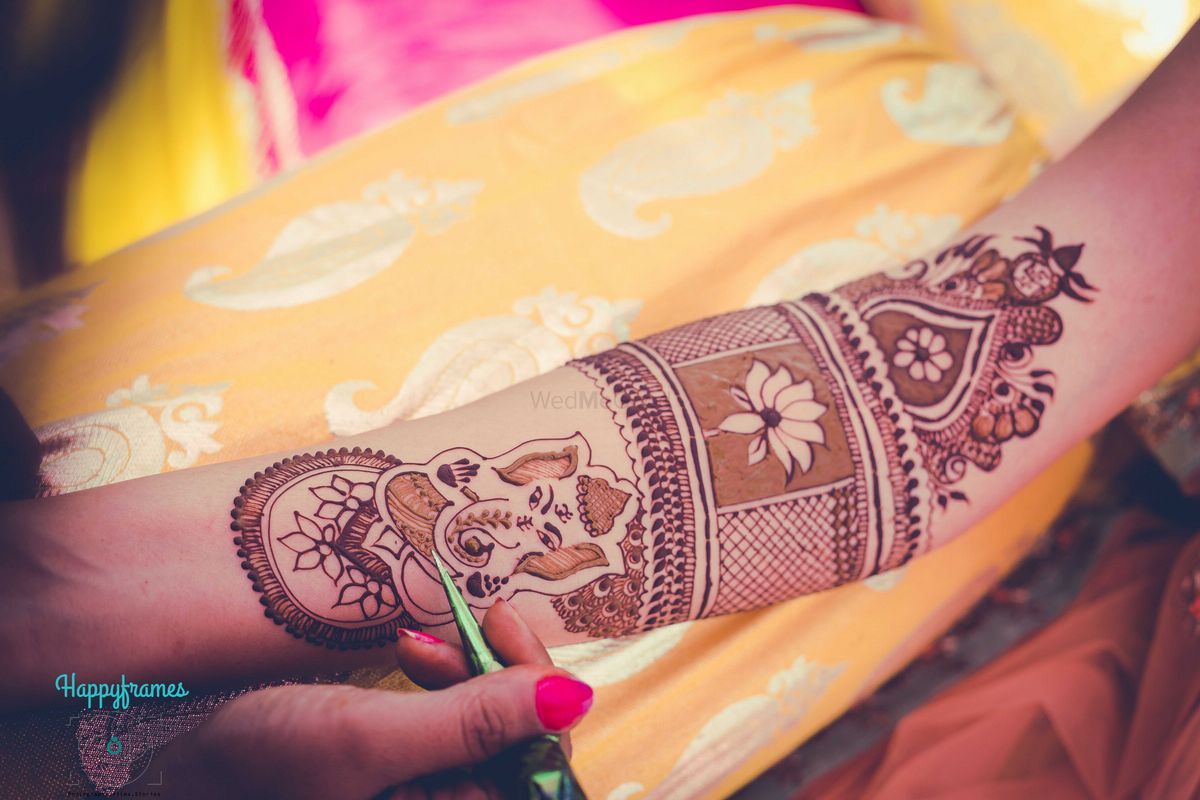 Image via Happyframes★ 4.9
This one is all about giving importance to your beliefs! You can go spiritual with your mehndi design and get patterns of God or religious symbols created.
Jaimala Motifs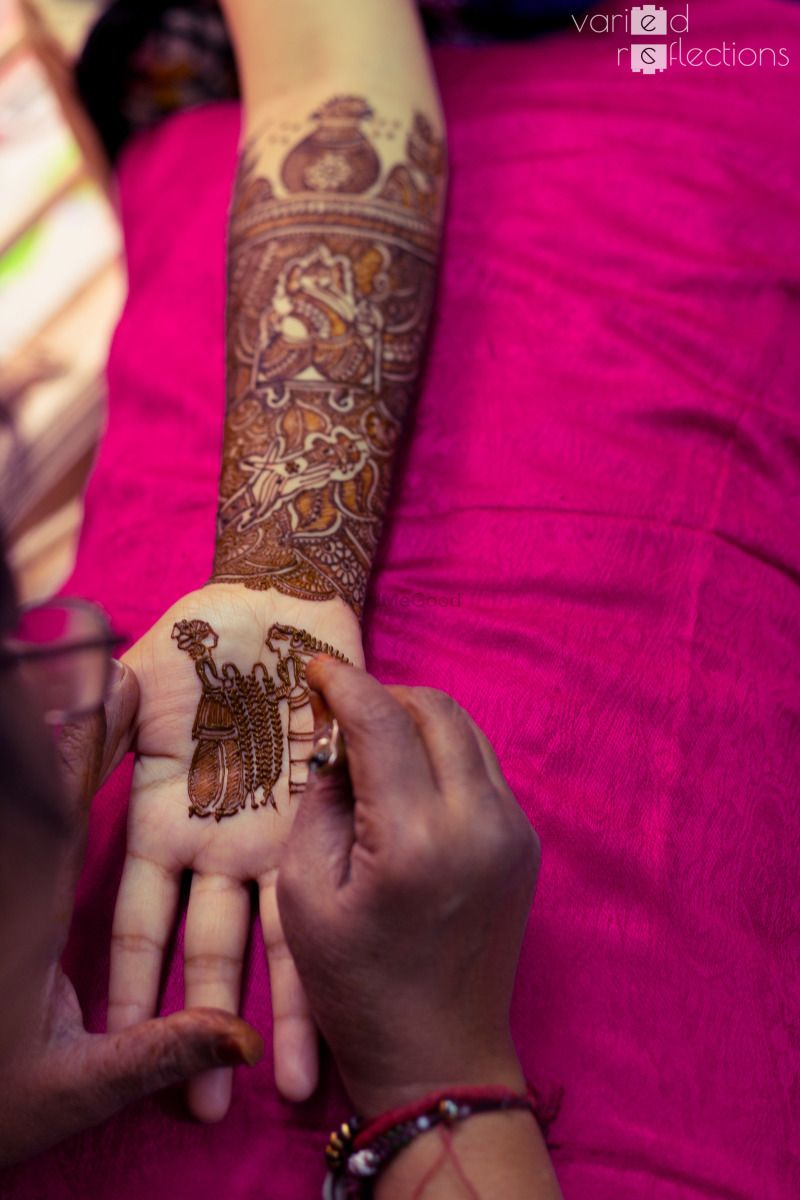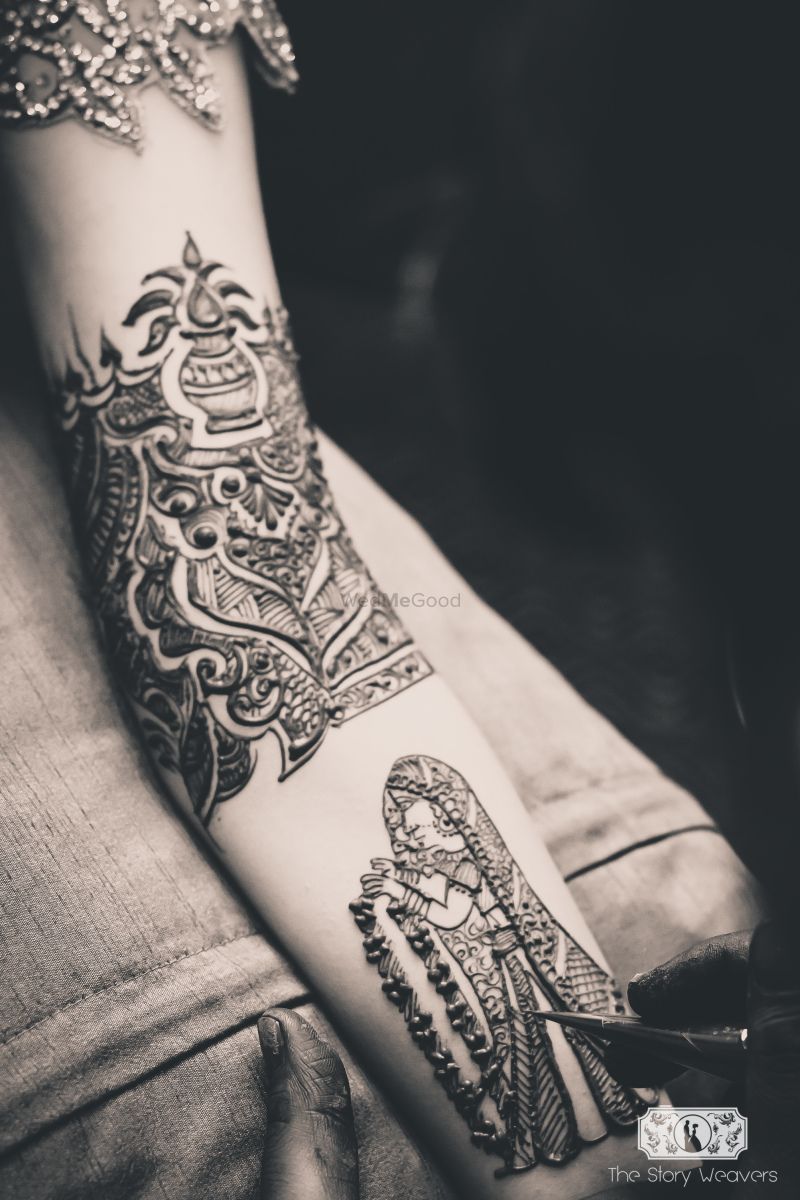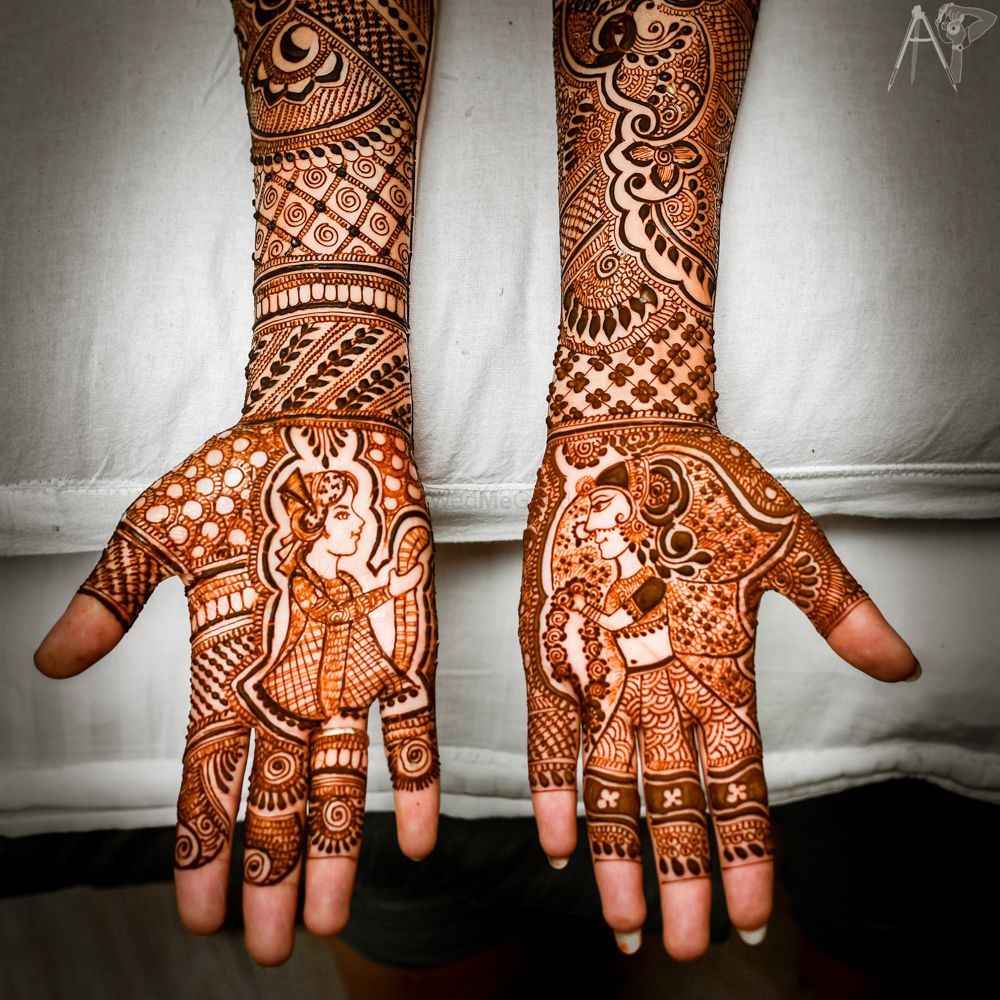 Image via Apratim Photography
Jai mala moment is one of the most exciting parts of a wedding! This is an attractive design for those who want to flaunt a mehndi design that would stand apart from the crowd while being a cherished memory.
Intricate Design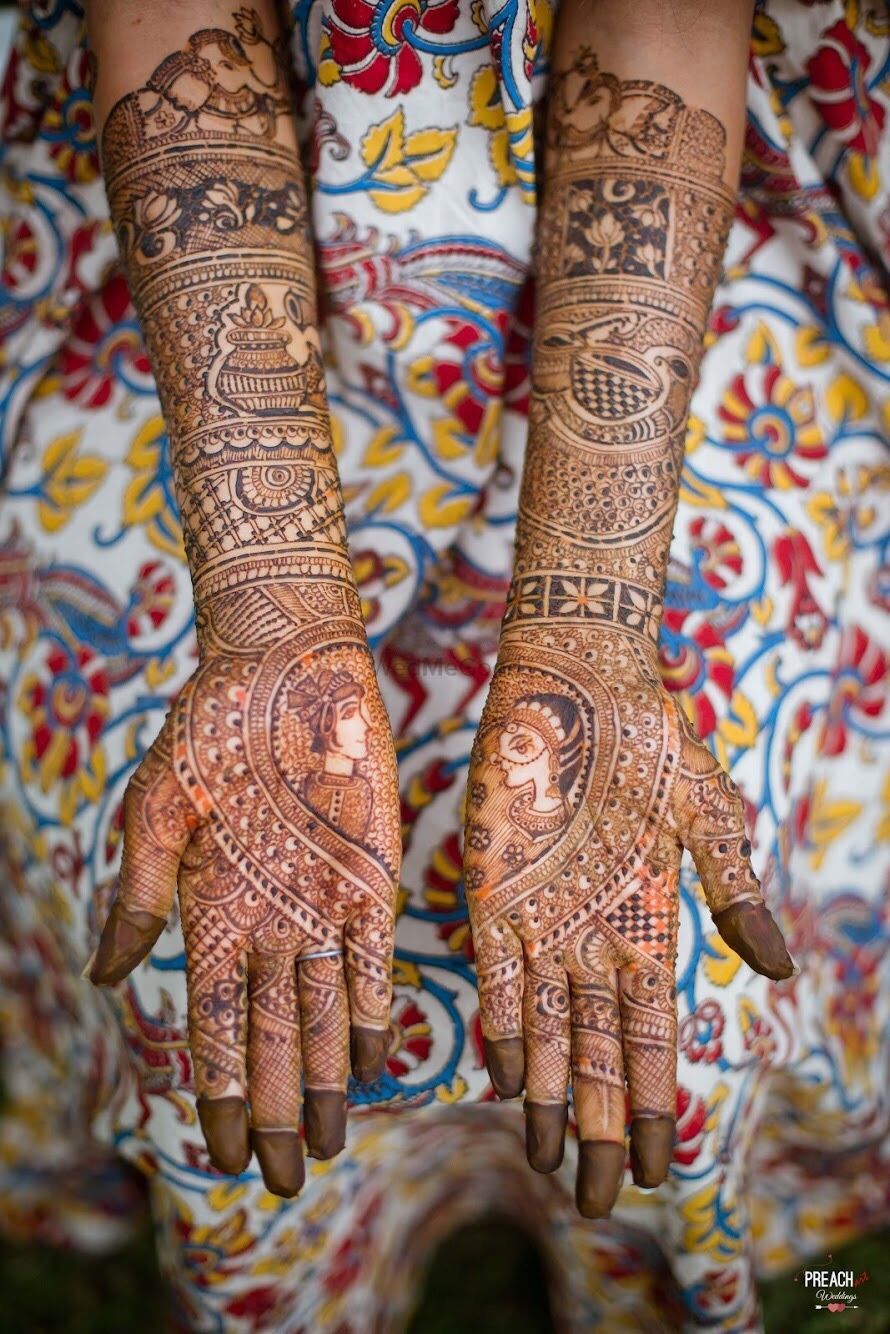 Image via Preach Art★ 4.9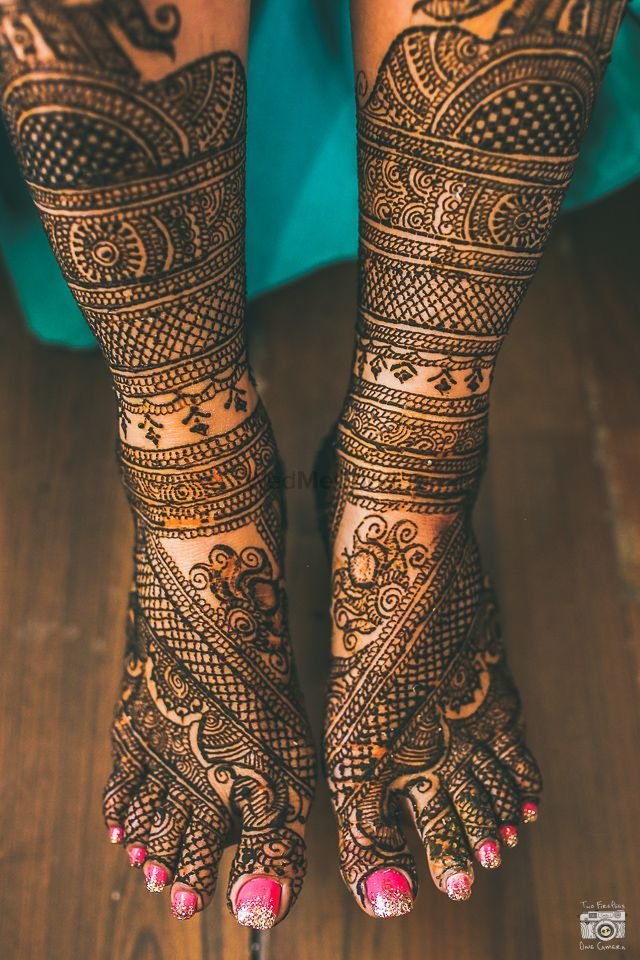 Image via Project Fireflies★ 5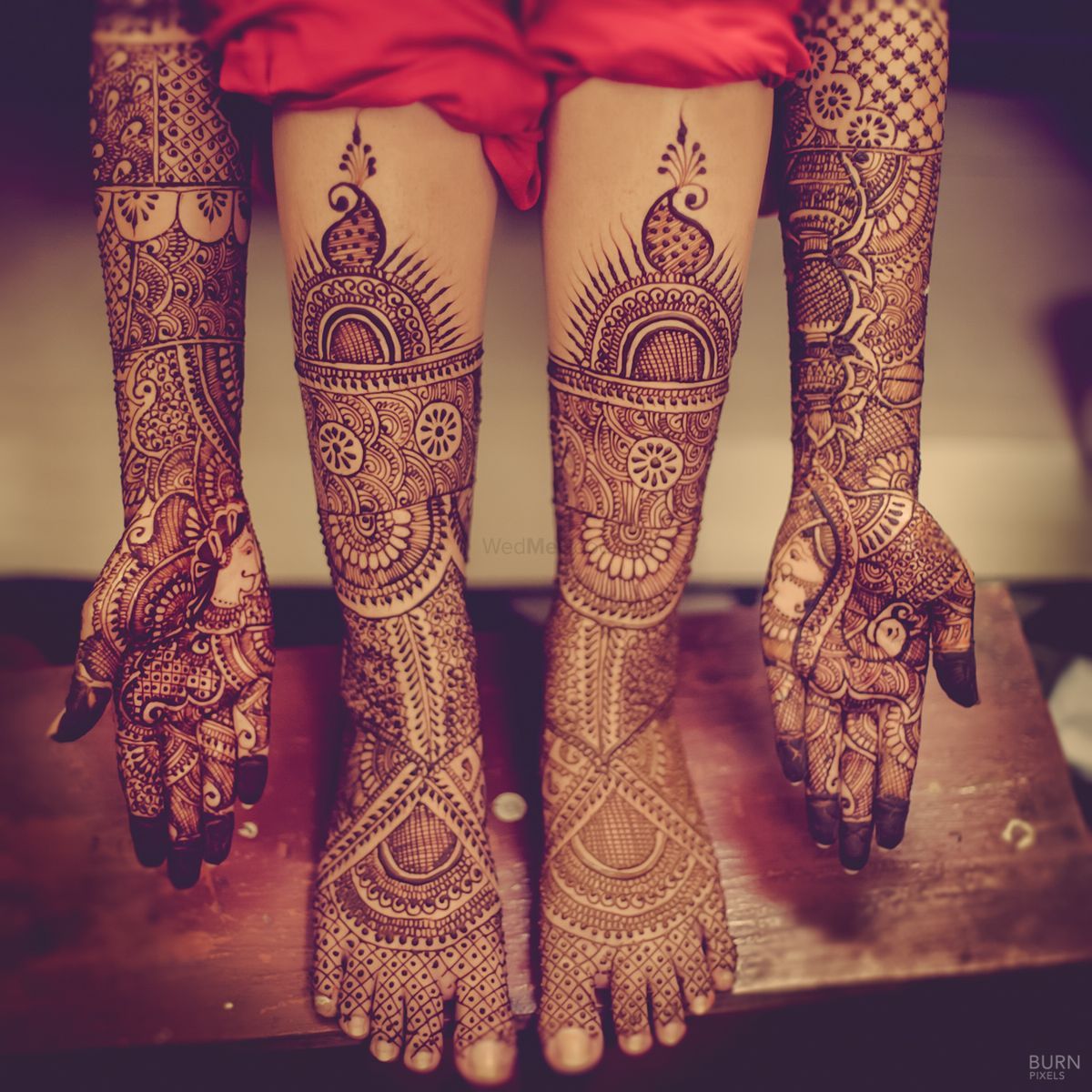 Image via Burn Pixels Photography★ 4.7
If you are a bride you loves traditional and intricate mehendi designs, then these are the best inspiration for your wedding day.
---
Simple Designs
Sitting on a chair stuck for 5 hours trying to make elaborate patterns is not everyones cup of tea. Plus, some brides are just not big fans of the mehndi sheband and they prefer something simple, minimal and less OTT. These chic and minimalist designs will set you back half hour ta the max but still look beautiful.
For the Minimalist Bride!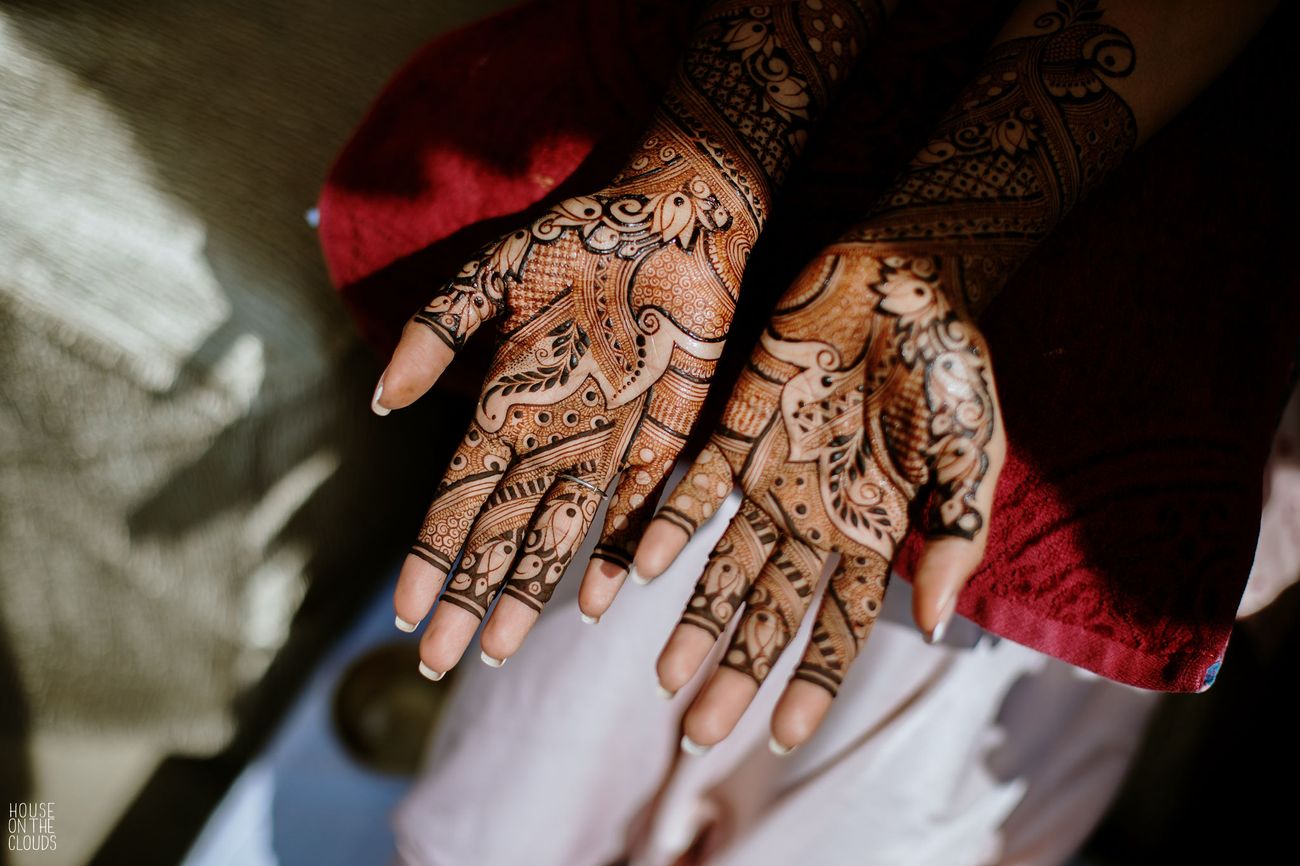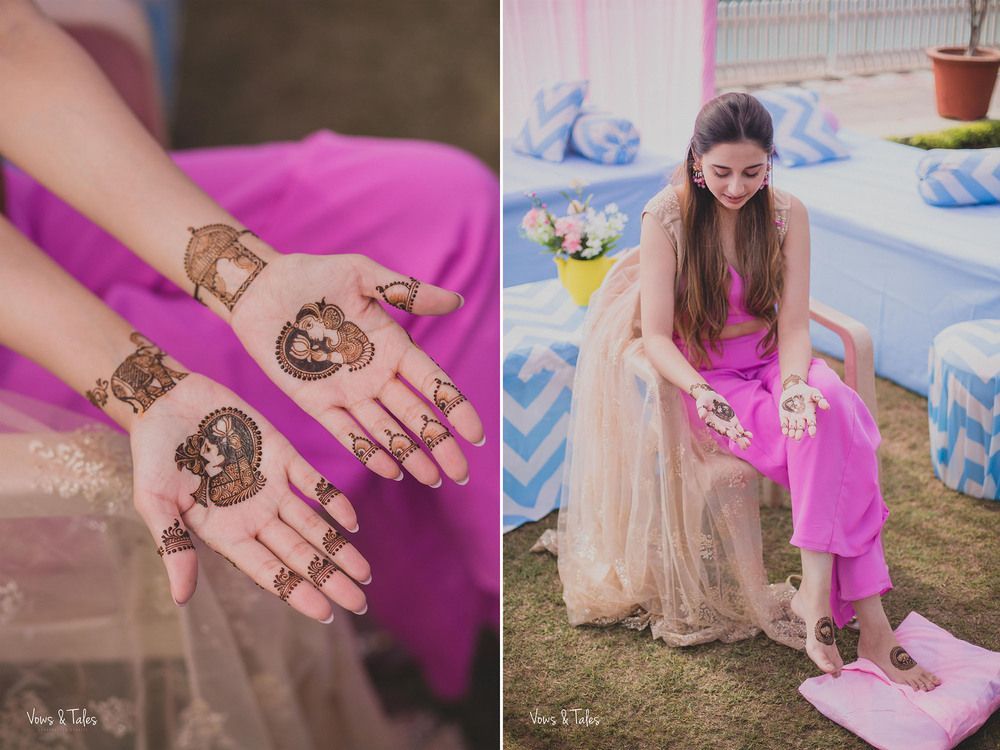 Image via Anuprit and Akshita's Wedding
Minimal is one popular trend these days! If yours is a minimal wedding wherein everything from your lehenga to decor is light and subtle then you'll need your mehndi to be in sync too. Also, there's no limit to experimentation here!
Looking for more such mehndi designs? Check them out here
Jewellery Mehndi Designs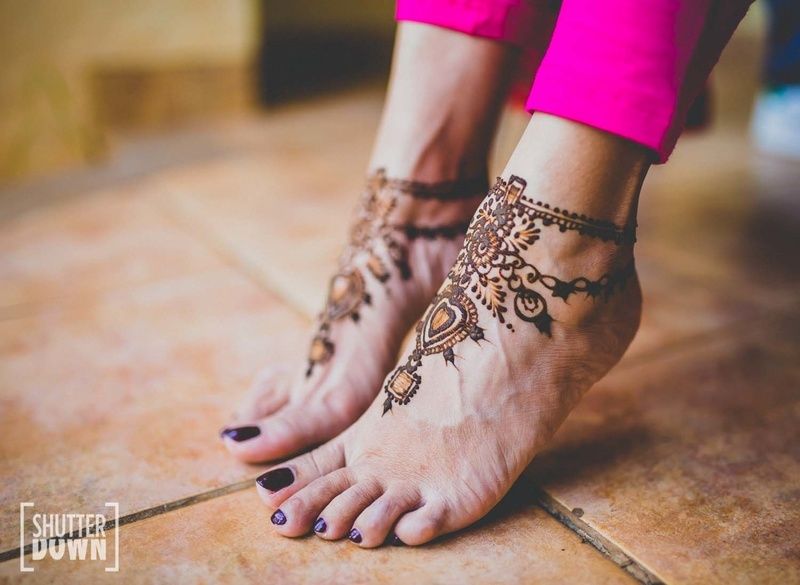 Image via Shutterdown - Lakshya Chawla★ 4.9
Give your real jewellery a ditch by getting a jewellery design drawn! Go for patterns that are trendy and nail any look with ease.
Finger Jewellery Design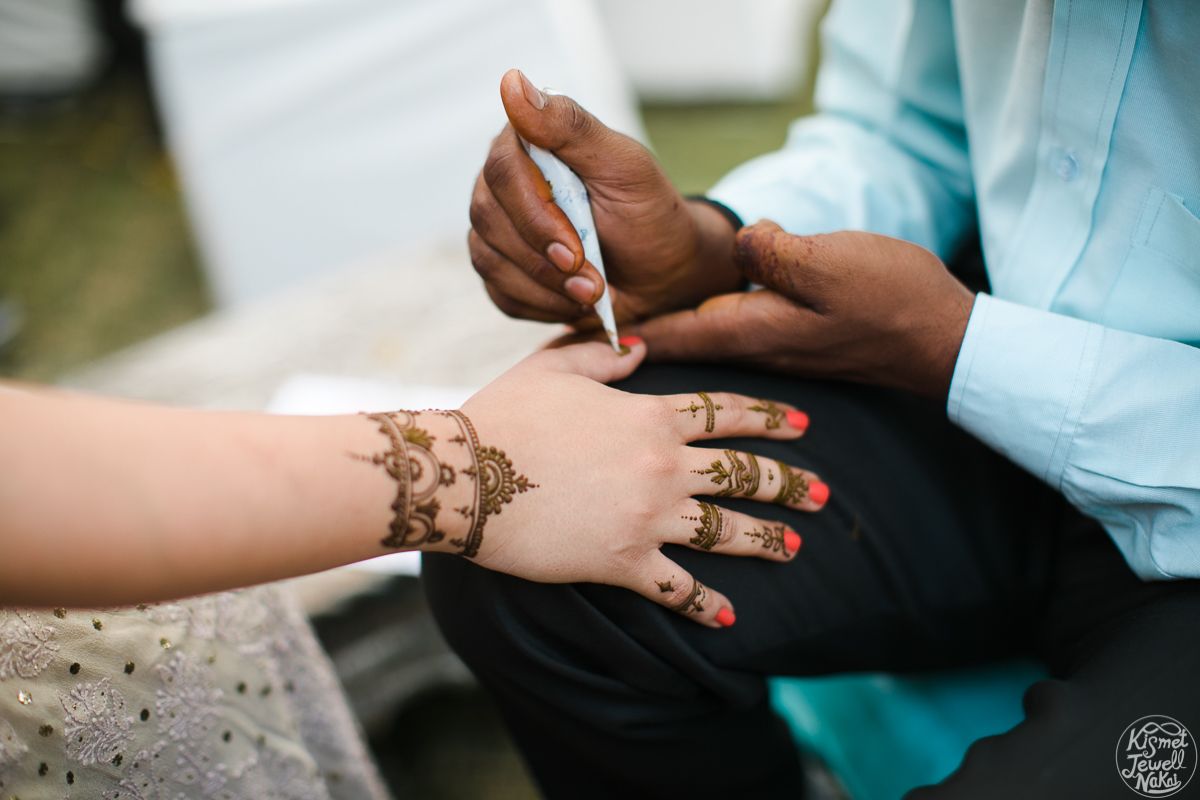 Images via Kismet Jewell Nakai Photography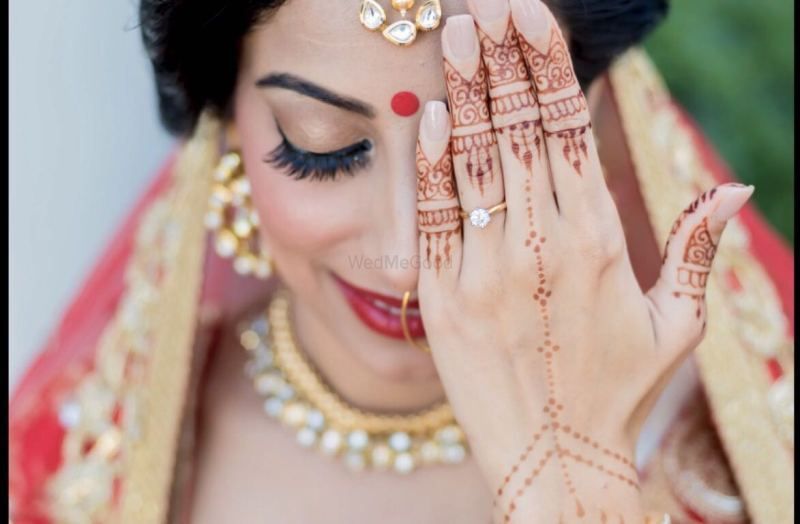 Image via Ablaze by Simran Takkar★ 4.9
This one is for the brides-to-be who don't like mehndi but can't do without applying it because umm.. you've got to wear it at your own wedding!
Bel Mehendi Design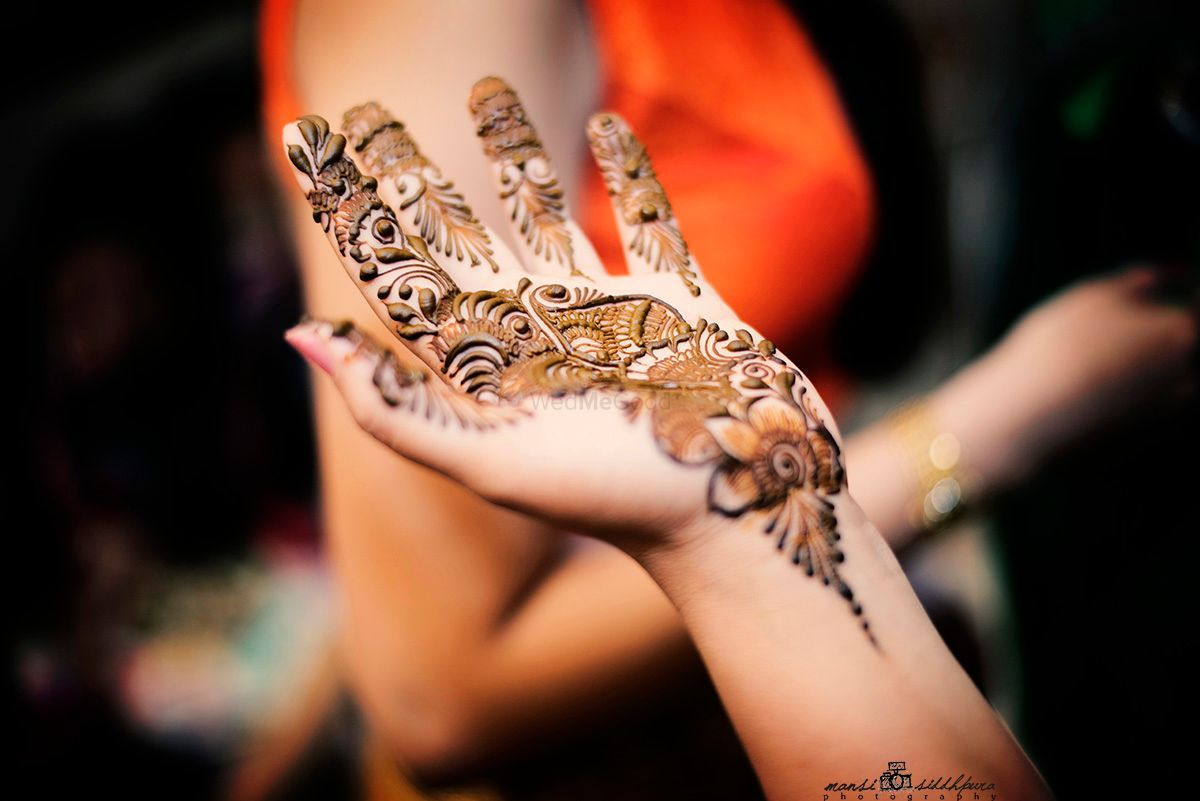 Image via Mansi Siddhpura Photography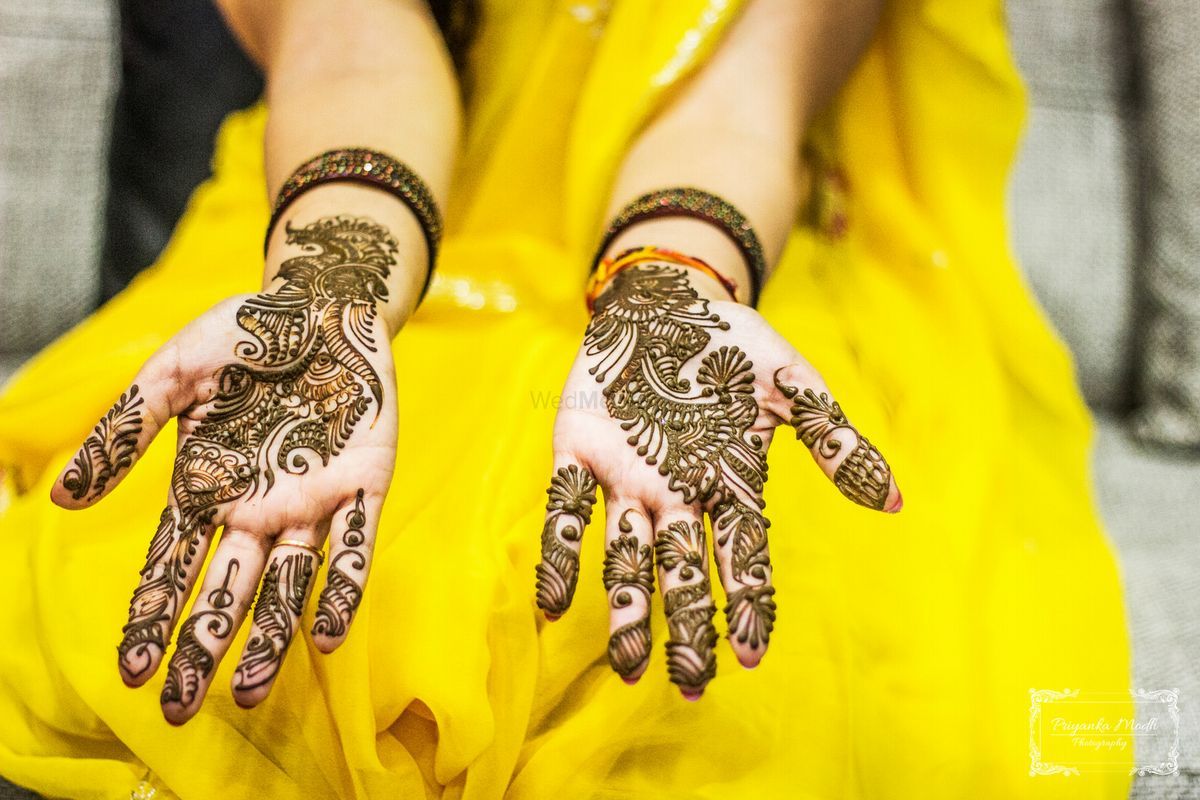 Image via Stillemotional★ 5
Say It With A Poem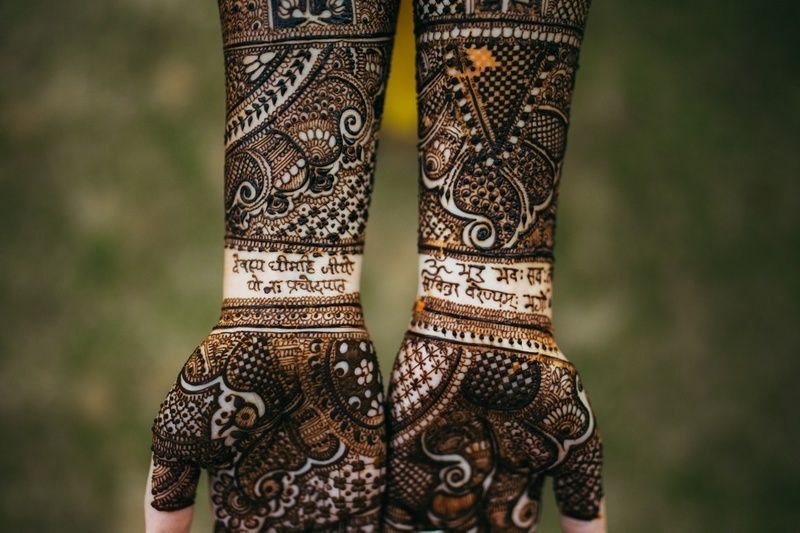 Image via PhotozAapki★ 4.9
If you're spiritual that way, then how opting to get Gayatri Mantra drawn in your mehndi design! Nice way to pay regards to your belief.
The Gladiator Chappal
Our Wedding Chapter★ 5
Remember when gladiator footwear was so much in rage? Though that trend is out now, we have a substitute of the same in form of a mehndi design! Would you dare to experiment?
Mehndi With Open Space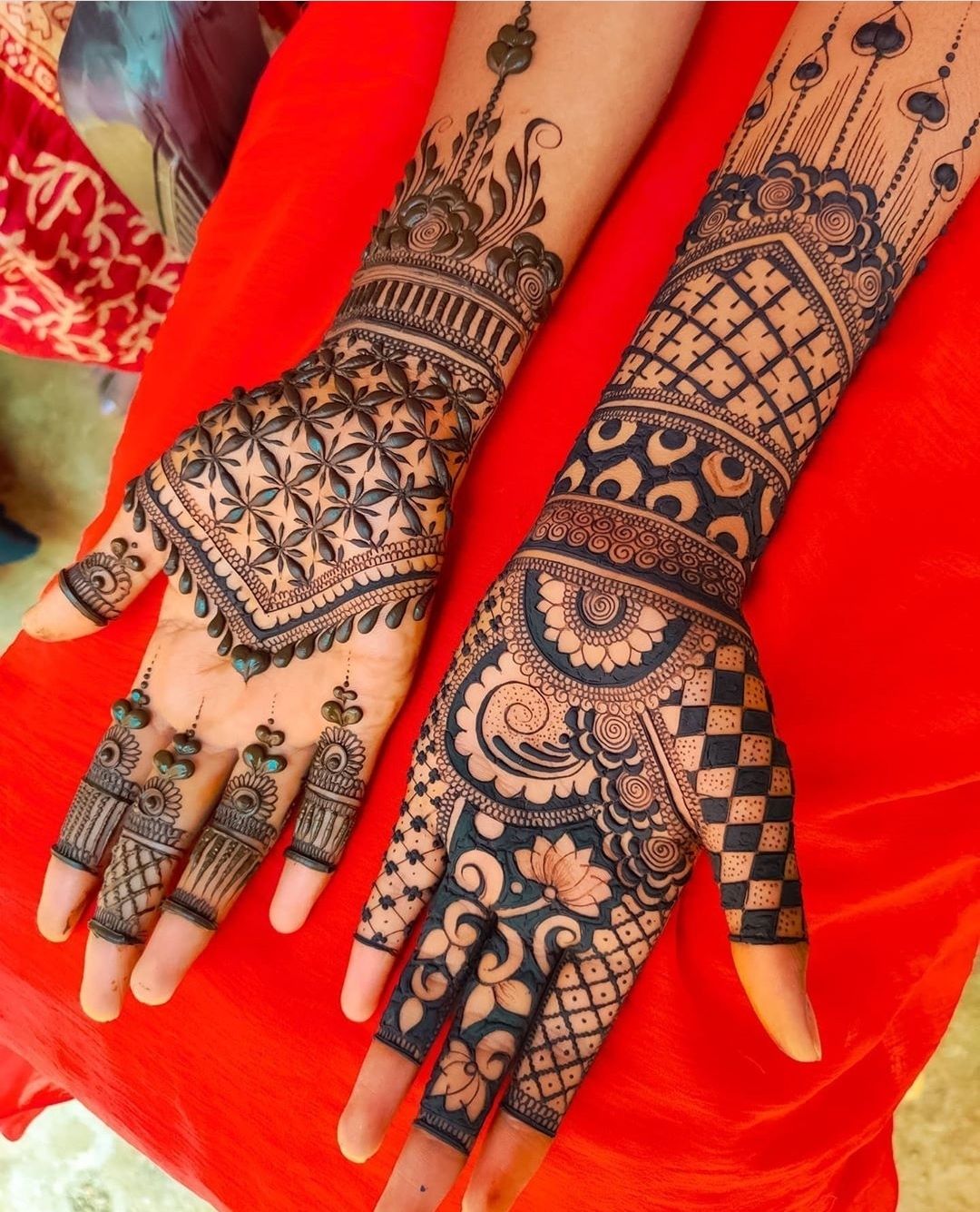 Image via Arun Mehandi Artist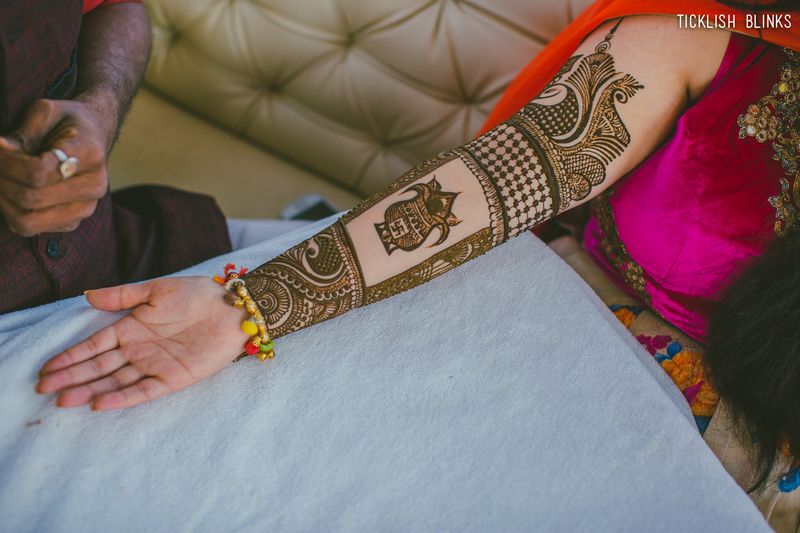 Image via Ticklish Blinks★ 4.6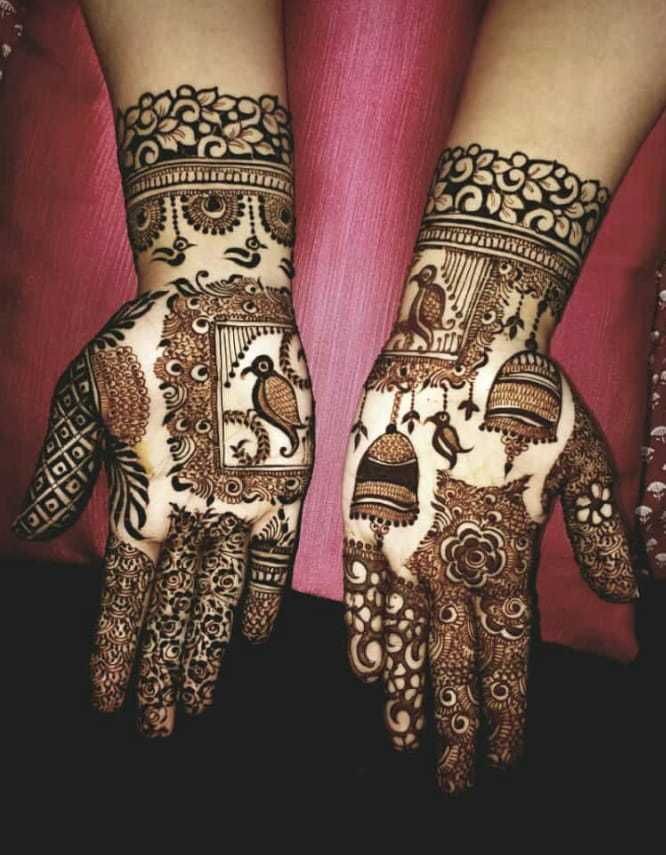 Image via Alankritaa
Not a fan of traditional mehndi design? Go for one with spaces as it'll act as a breather and won't overpower the other design. Simple yet stunning!
Minimalistic Lotus Motifs On Feet 
Image via The Wedding Salad★ 4.9
Who doesn't love lotus motifs! And you love them, even more, when they look as beautiful as these ones in your mehndi
Mehendi Design With Gorgeous Buttis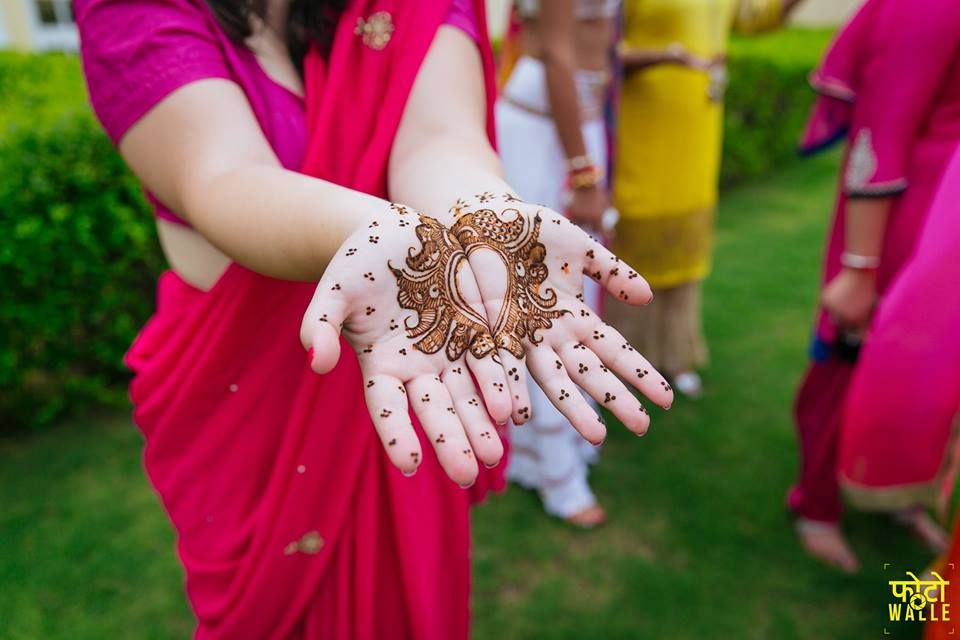 Image via Fotowalle - The Story Folks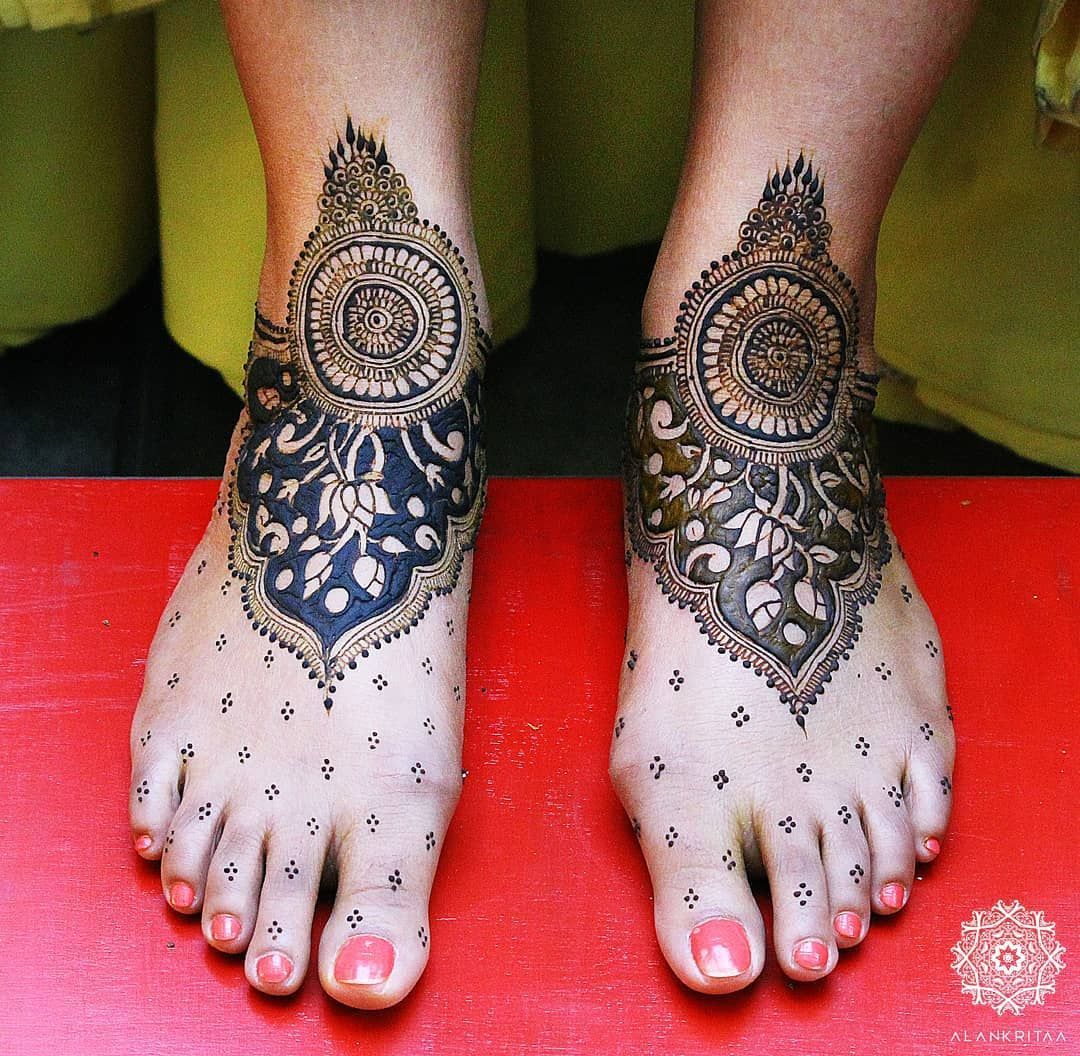 Image via Alankritaa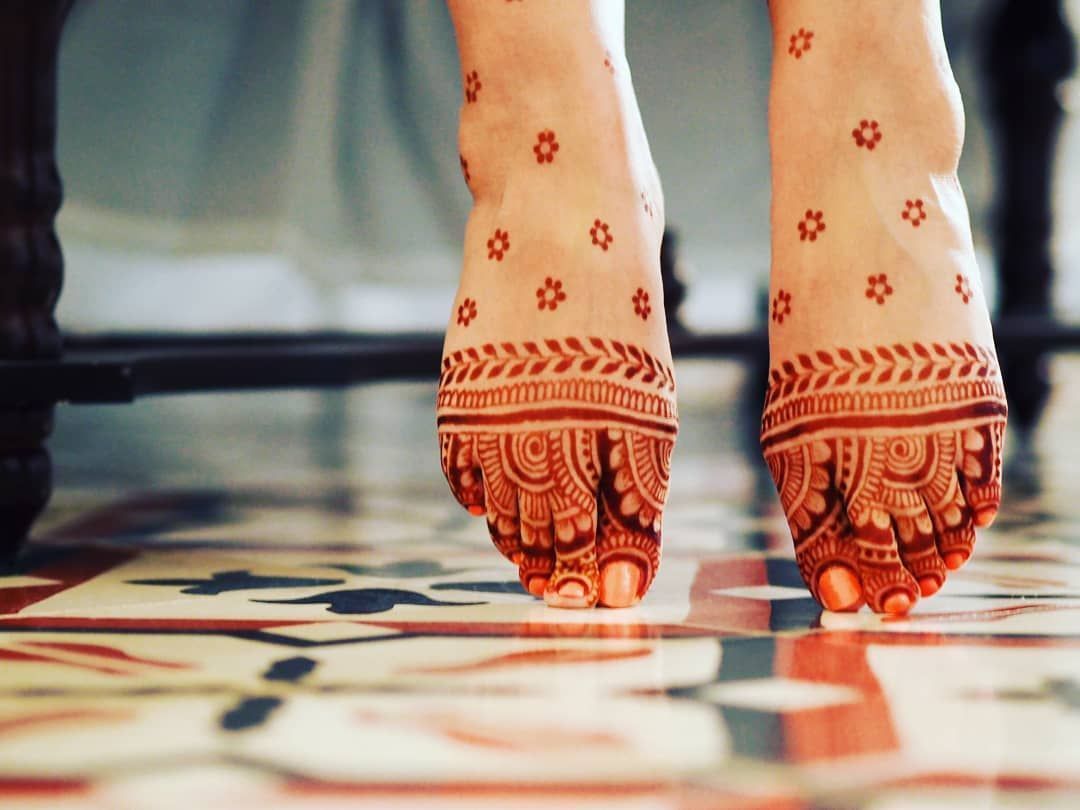 Image via hennalounge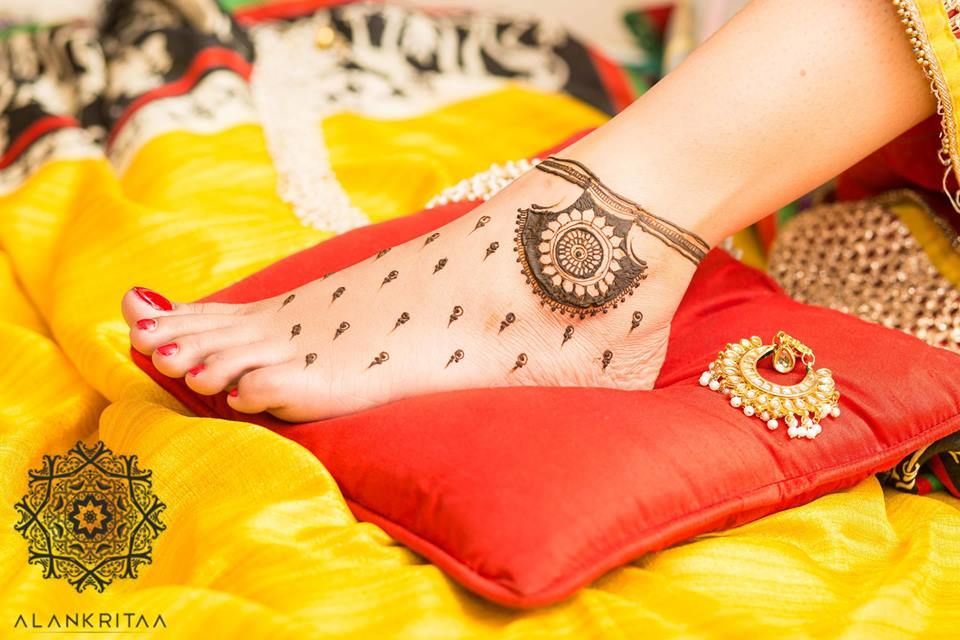 Image via Alankritaa★ 4.9
This mehndi design screams modernity and freshness! Since takes less time to be created, you can easily enjoy your ceremony instead of looking at the guests from the stage.
Haathphool Mehendi Design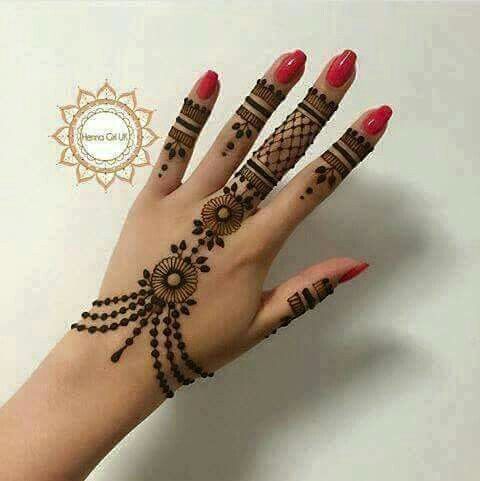 Haathpool mehndi designs are an ideal choice for young fashionistas. You can skip the actual piece of jewellery, as mehndi would do the needful. :D
Heavy On Hand Light On Feet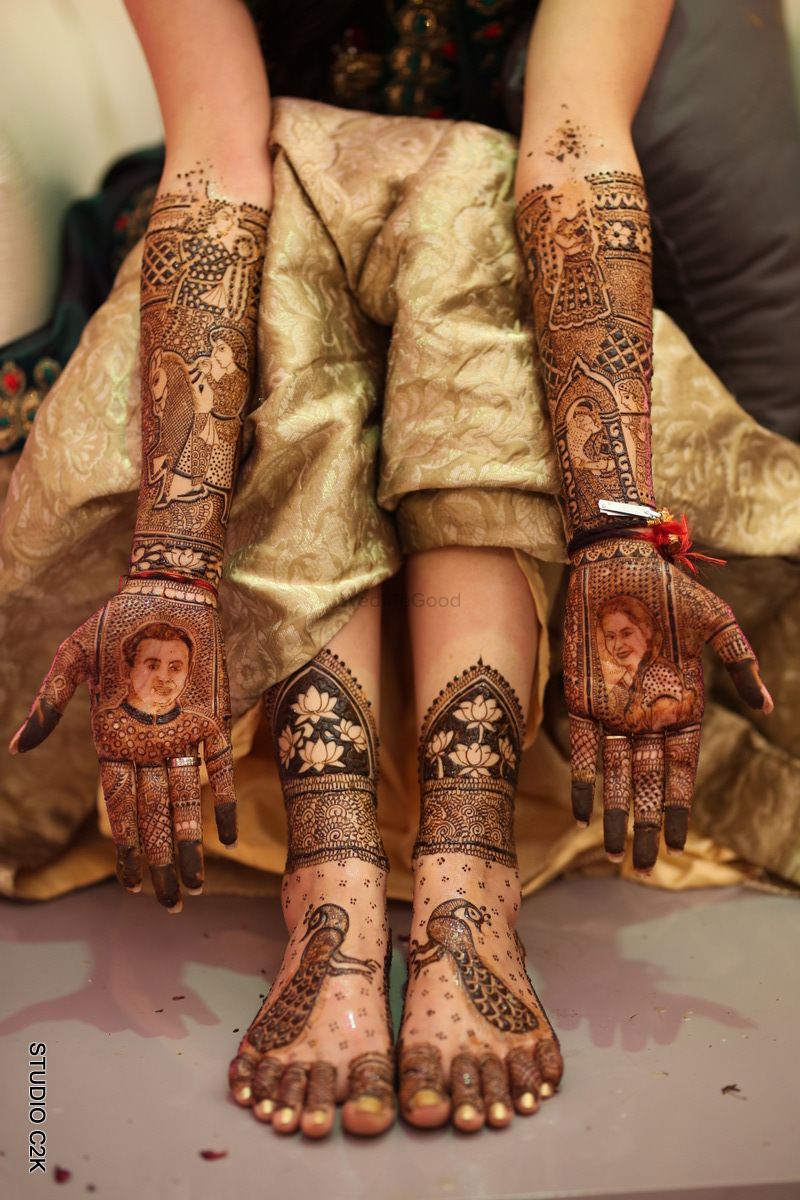 Image via Studio C2K (The Foto Xperts)★ 5
Mehndi on feet is not really visible, thanks to your grand outfits. Then how about skipping heavy designs on your feet and opting for light ones instead!
Mandala Motifs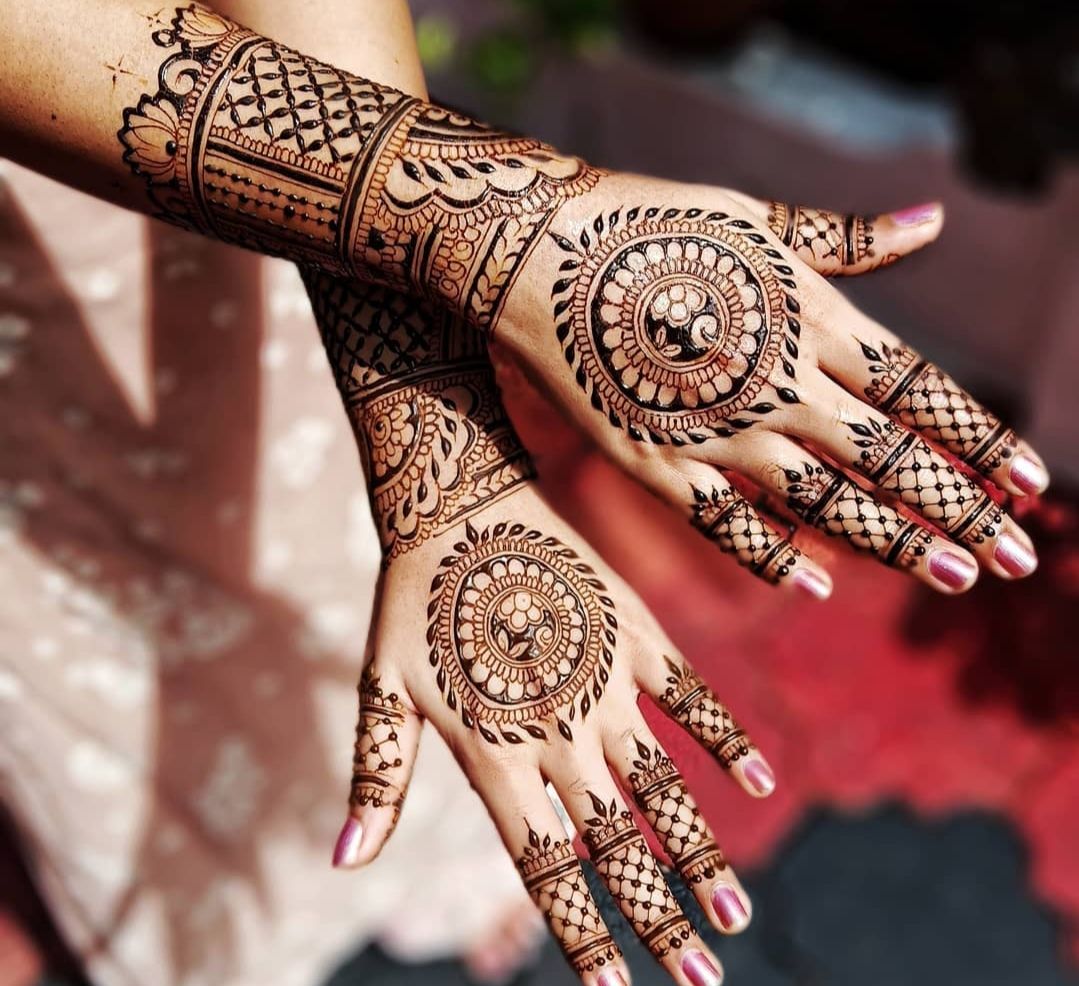 Image via Mehendi by Zuha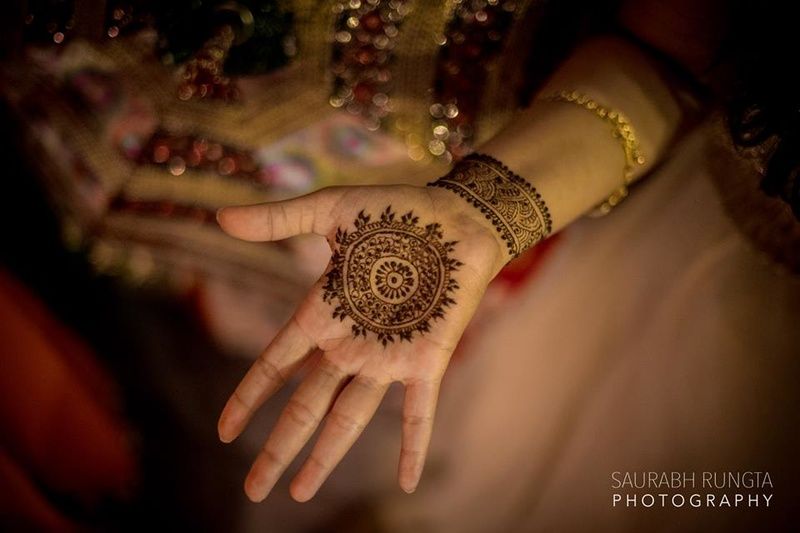 Image via Saurabh Rungta Photography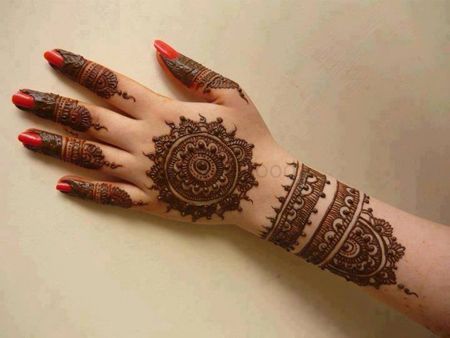 Image via TaiNaz
The circular pattern look oh so beautiful and are such a perfect mehndi designs for brides who like to keep it simple.
---
Modern Mehendi
For brides who want a modern take on this tradition, combining French and English elements can create an almost glove-like henna design that looks beautiful .
Vintage Parisian Mehendi
Aren't we all a fan of vintage stuff? This lace glove mehndi design looks so delicate and pretty. Perfect for the millennial brides
Studded Mehndi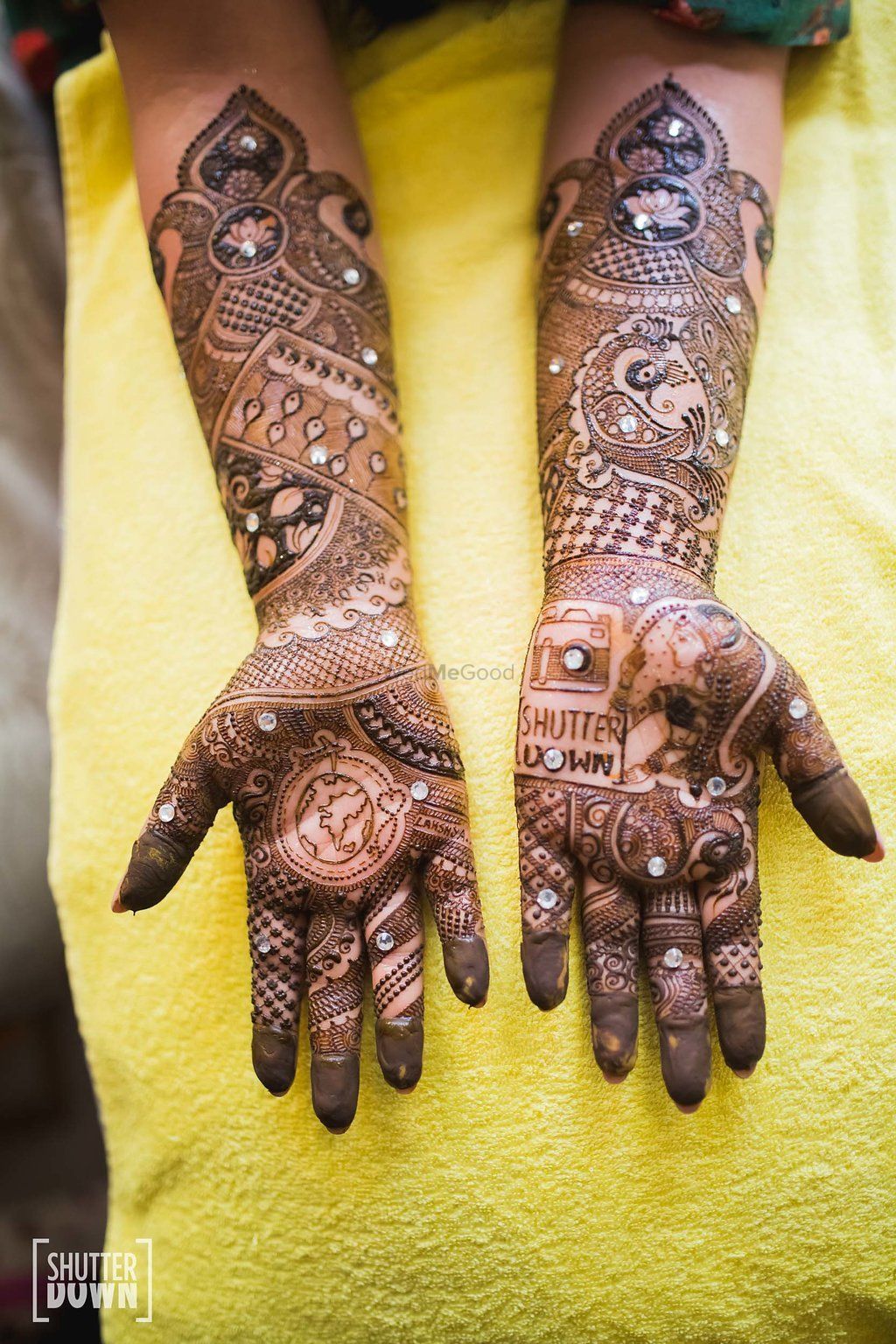 Image via Shutterdown - Shutterdown - Lakshya Chawla★ 4.9
Image via Hitched and Clicked★ 4.7
A little bit of glitter never hurts, these days a lot of brides are following this trend of having glitter on their mehendi.
Don't like it on your hand? Get It On Your Back!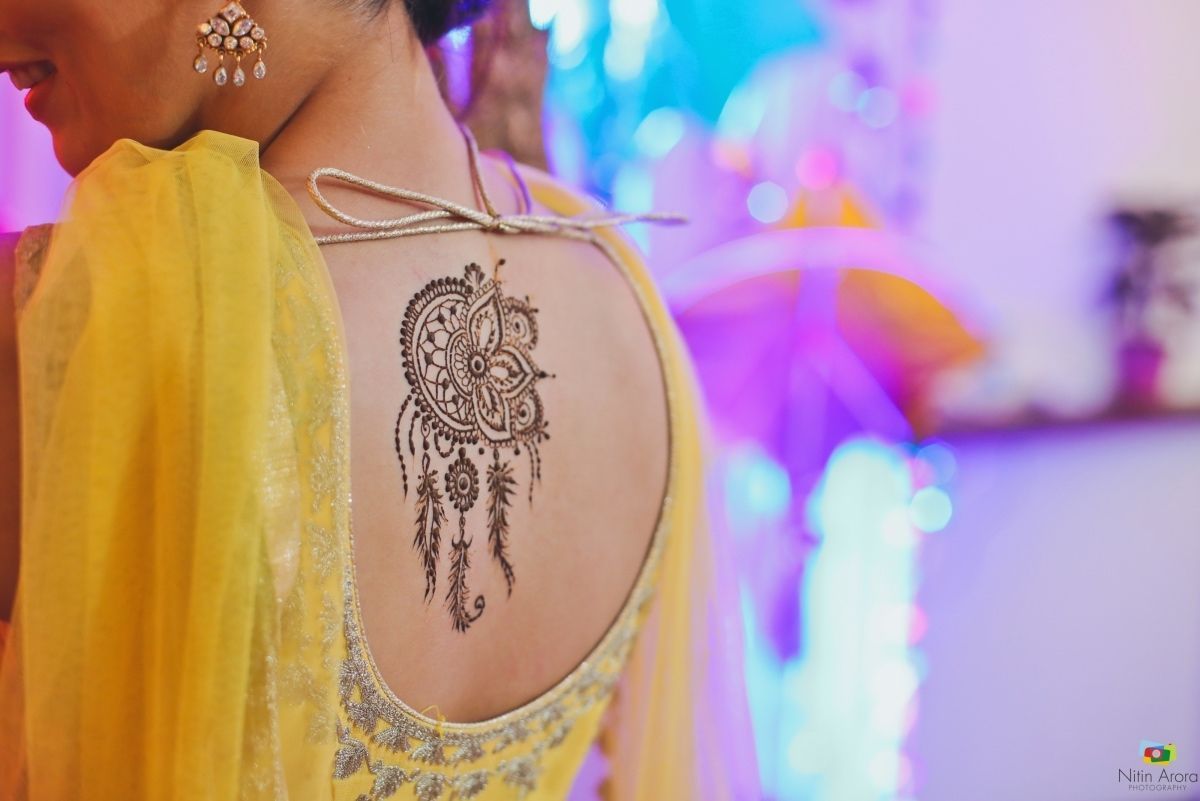 Image via Nitin Arora Photography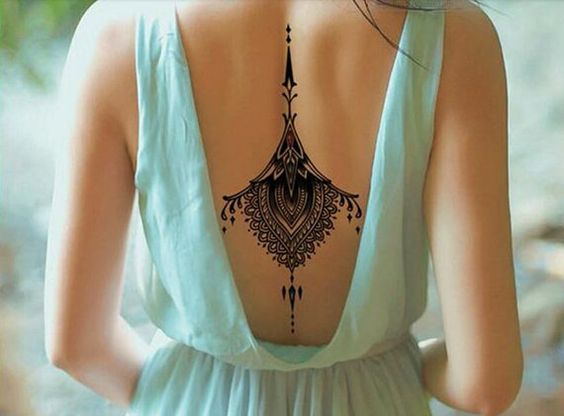 Mehendi of hands and feet are a passe? Go a step ahead and get on created on your back! Sassy, isn't it?
Vintage Rose Mehndi Designs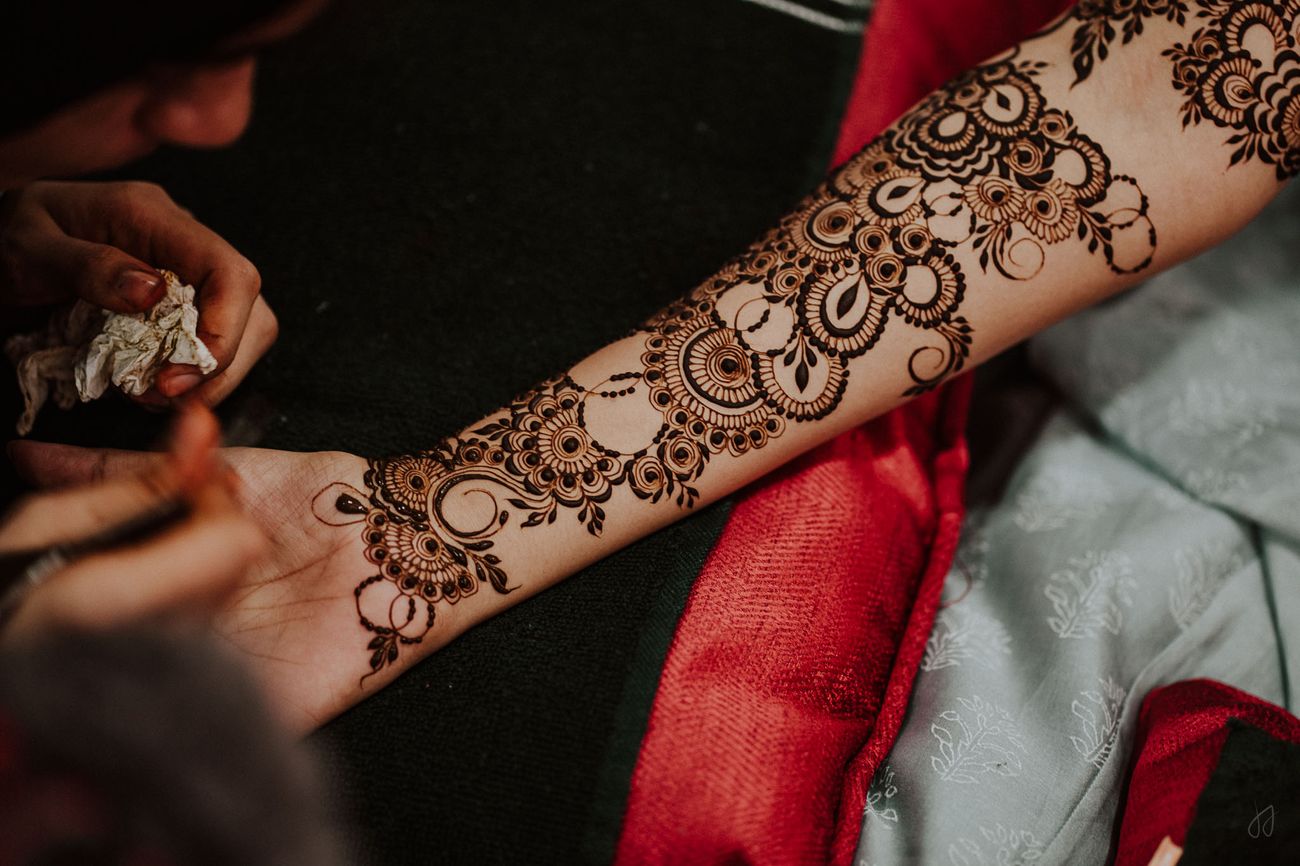 Image via Ayesha & Sarfras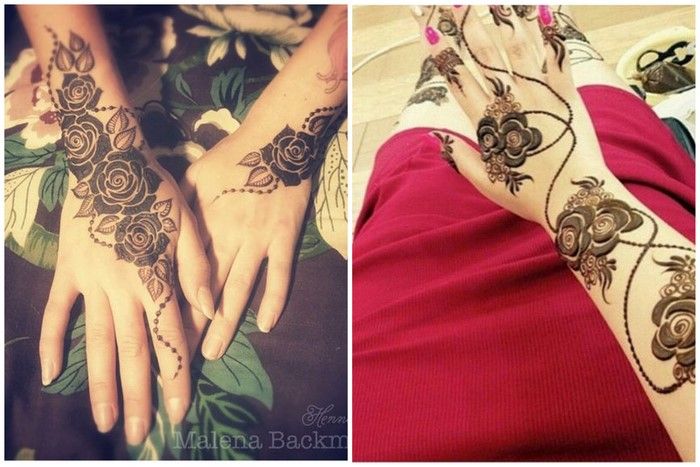 Isn't this one detailed, quirky pattern? The craze for this mehndi design is on another level these days. Try this and make heads turn in a jiff!
Lotus Motifs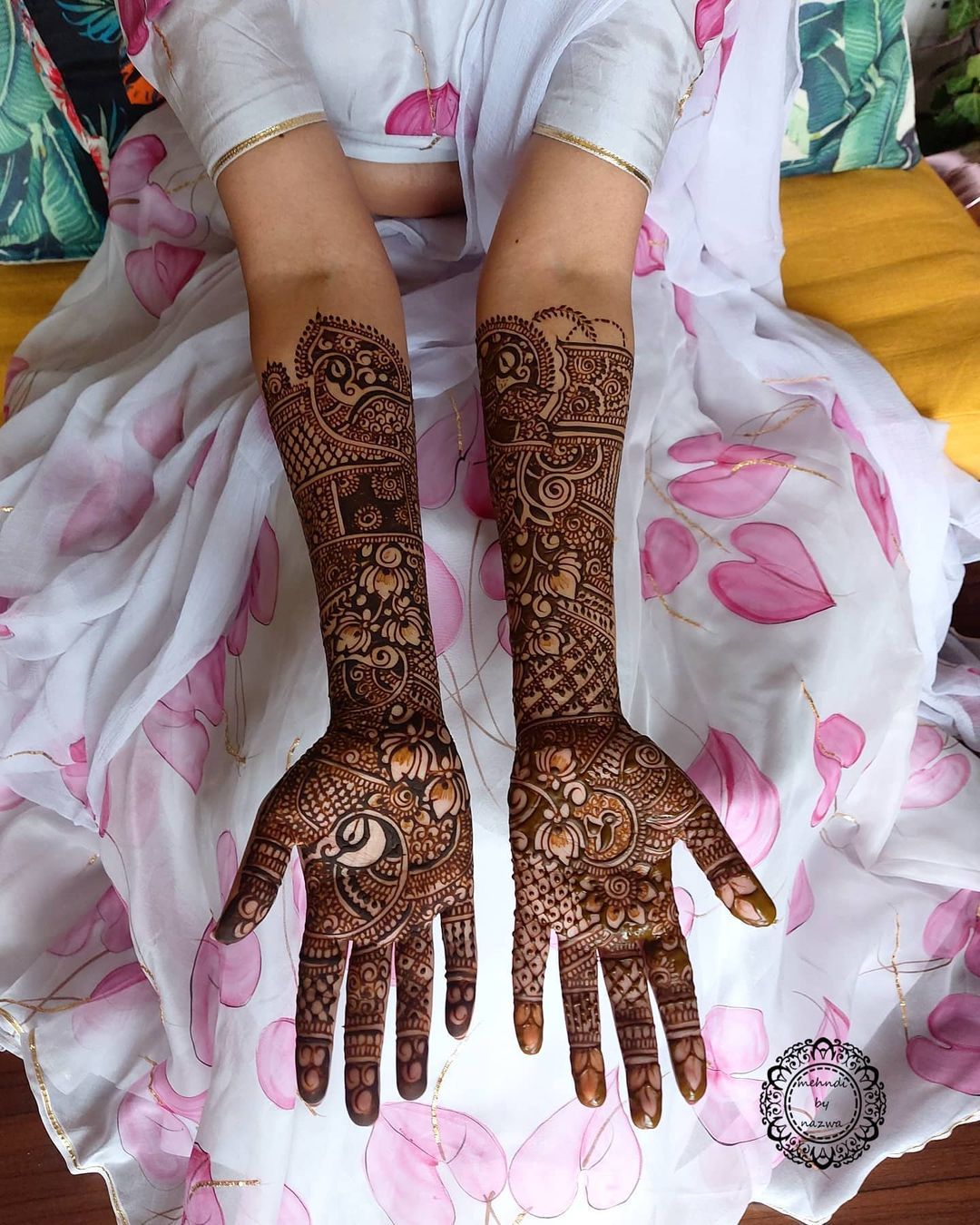 Image via Mehndi by Nazwa
Can't stop obsessing over this fabulous design!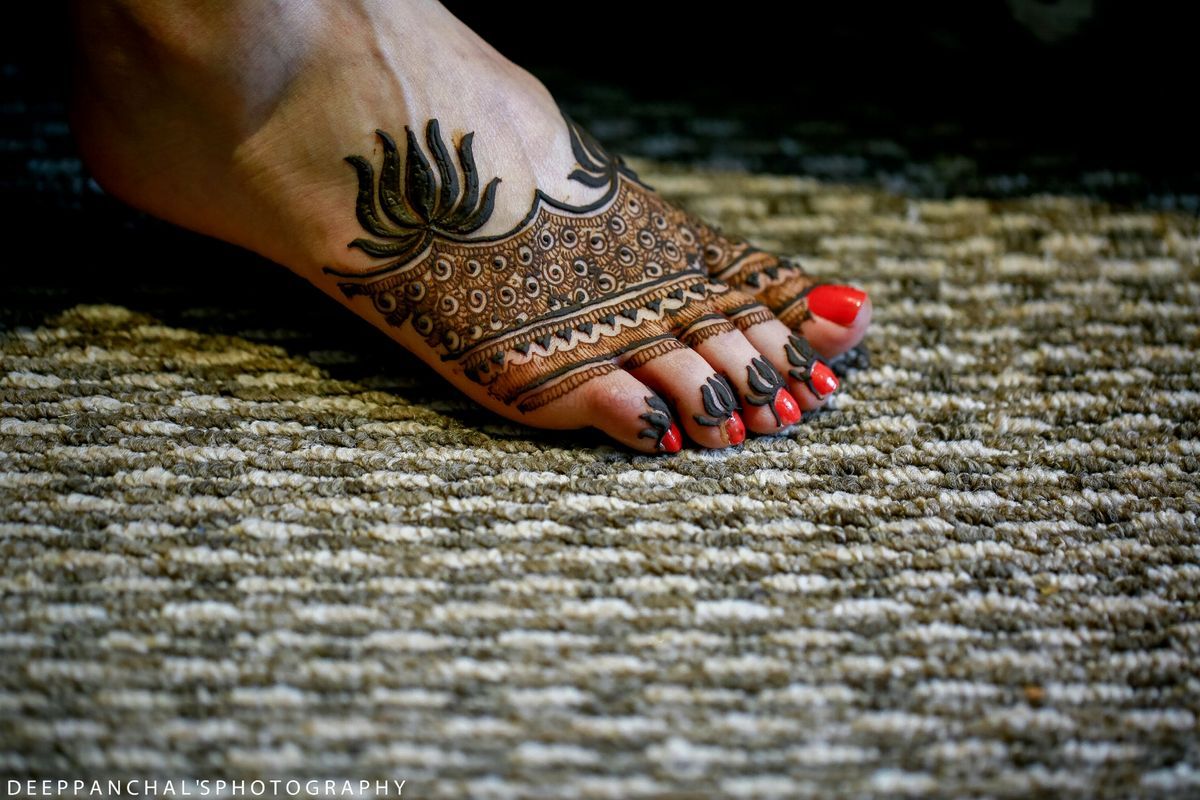 Image via Deep Panchal's Photography★ 4.1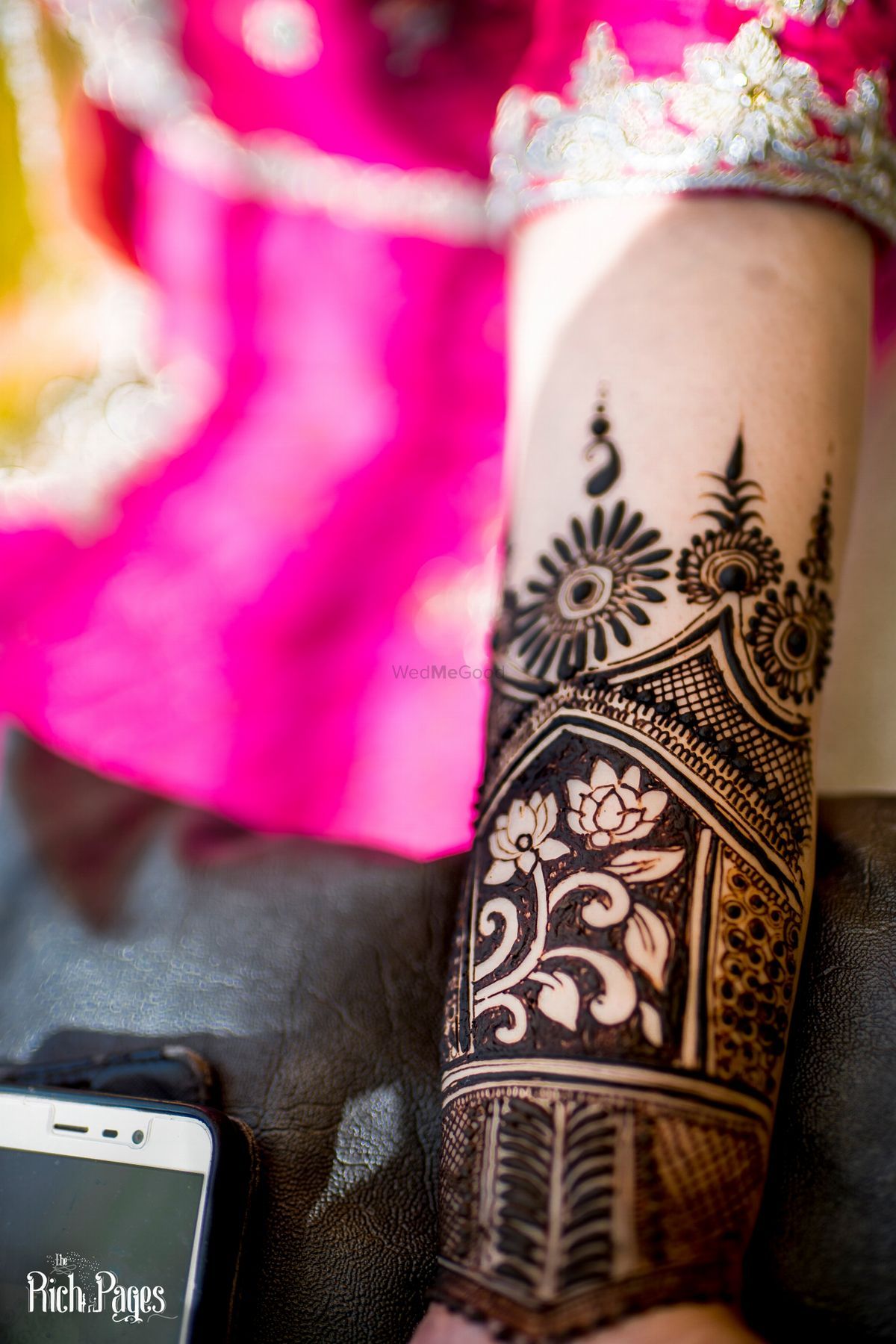 Image via The Rich Pages★ 4.6
---
Feet Mehendi
For that perfect shot when you lift your lehenga and put step onto the stage, these designs for feet mehendi are beautiful and bridalesque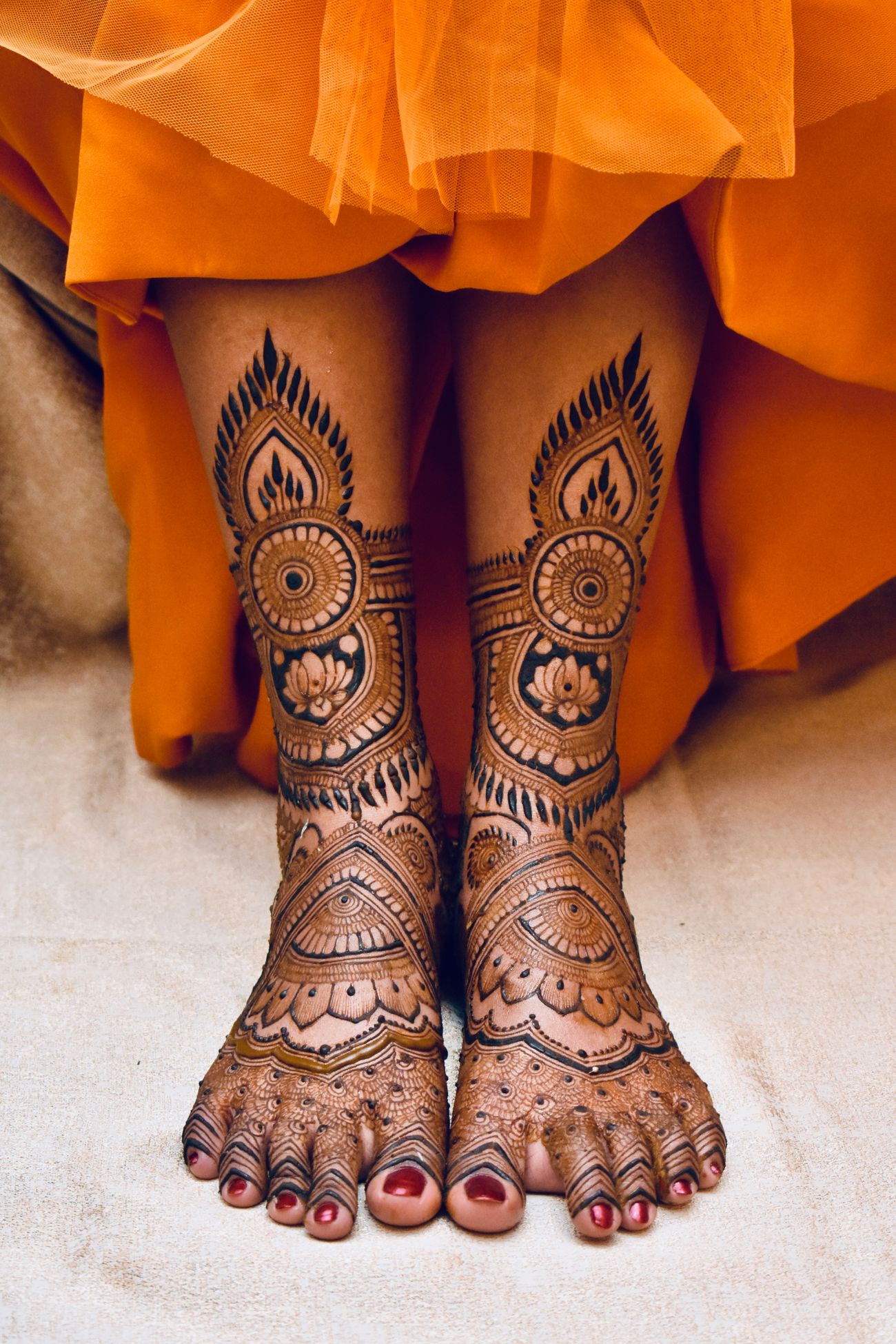 Image via Pushpa Mehndi Arts
Can't take our eyes off the intricate details!
Back Of The Feet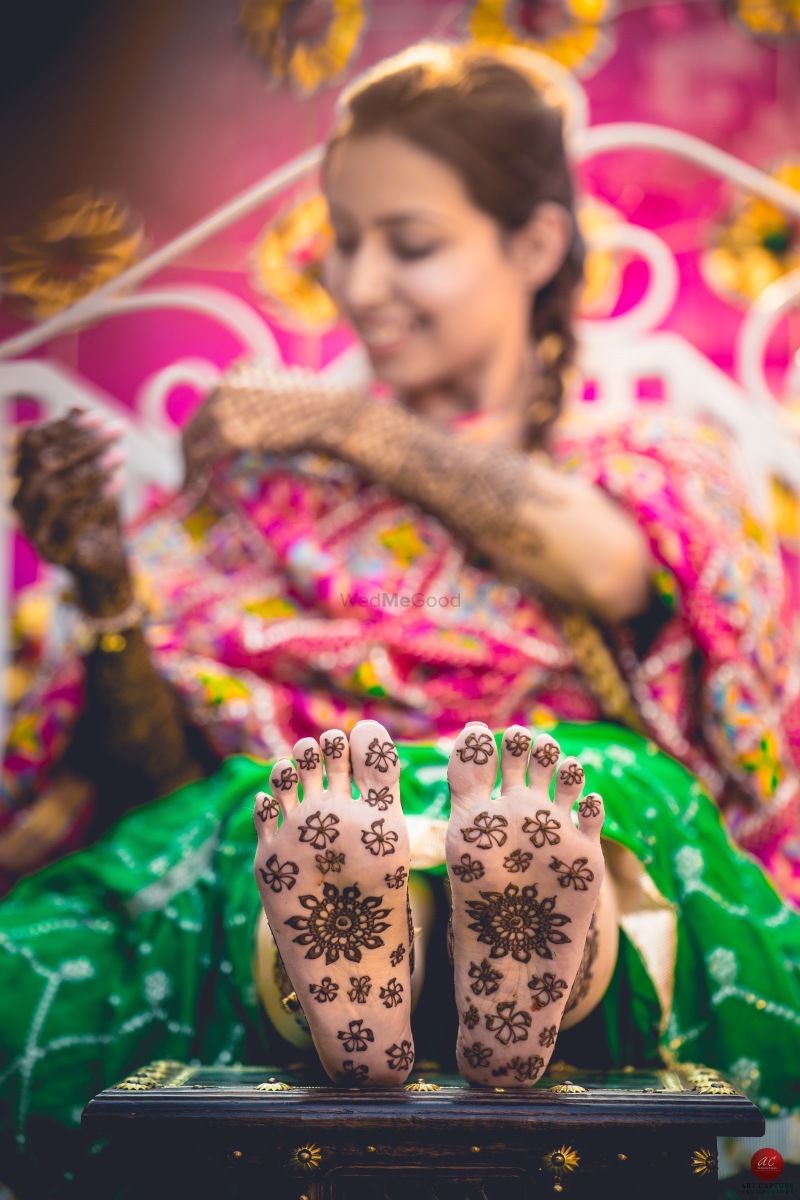 Image via Artcapture Productions★ 4.5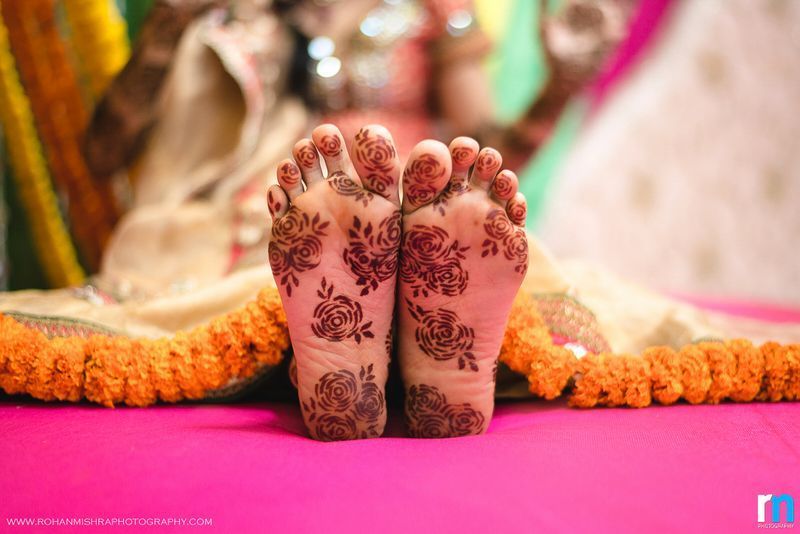 Image via Rohan Mishra Photography
A new entry on the list, and is definitely here to stay! Very modern and looks elegant on brides-to-be.
Mehendi only on the sides of the feet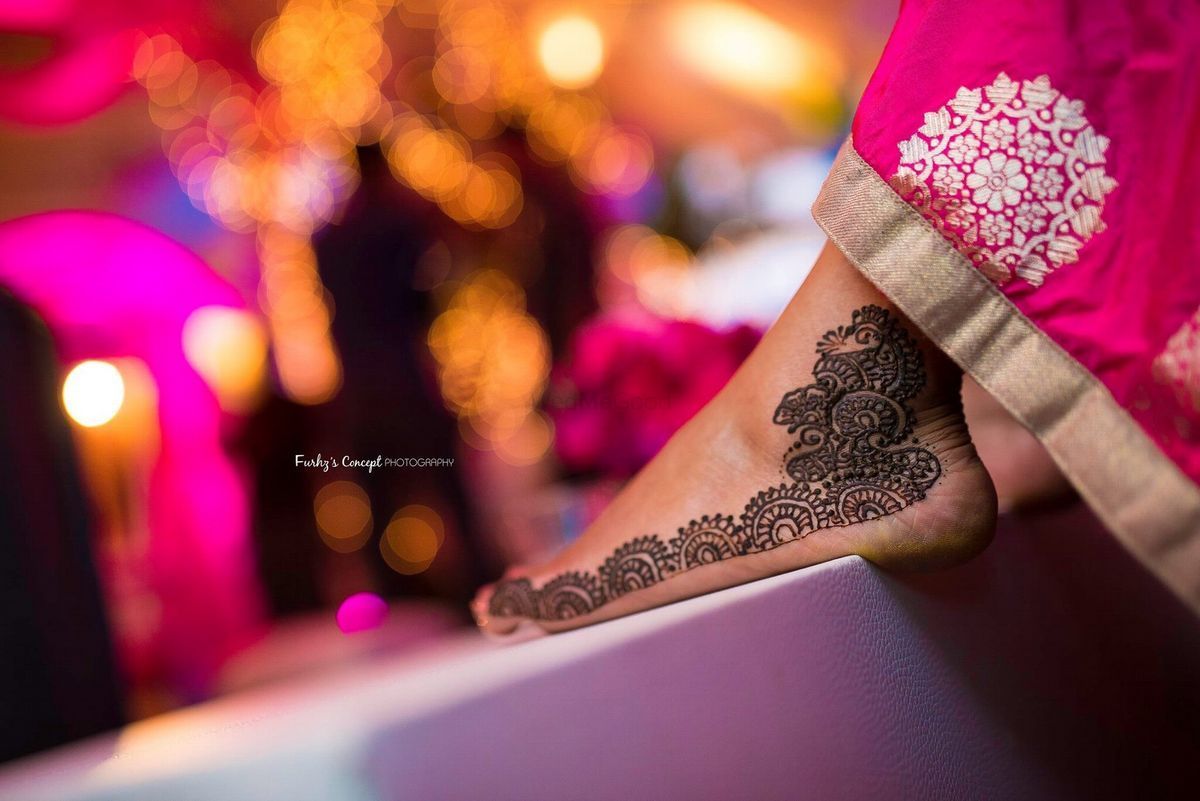 Image via Furhz's Concept Photography★ 5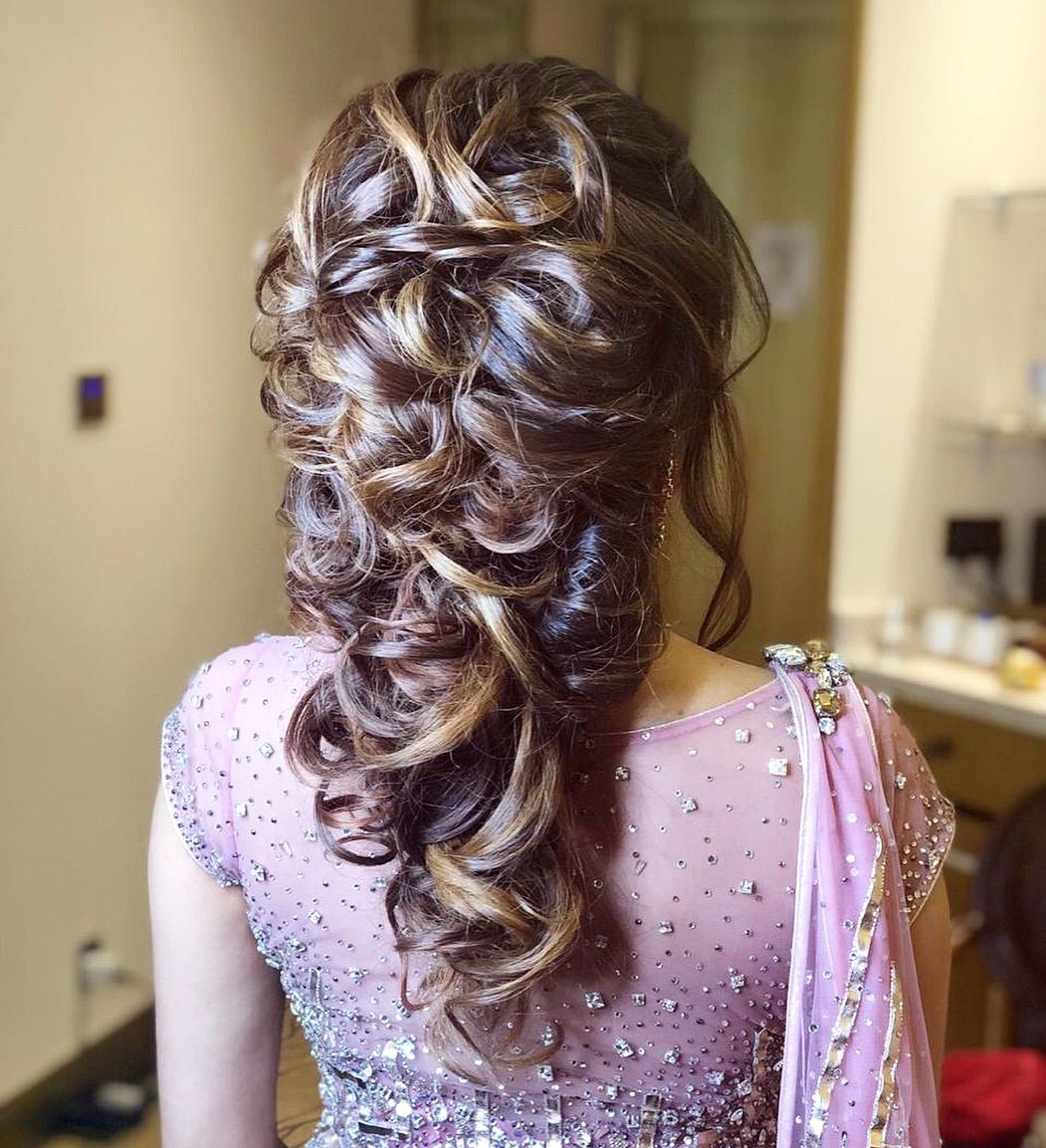 How About This Pretty Mandala Motif?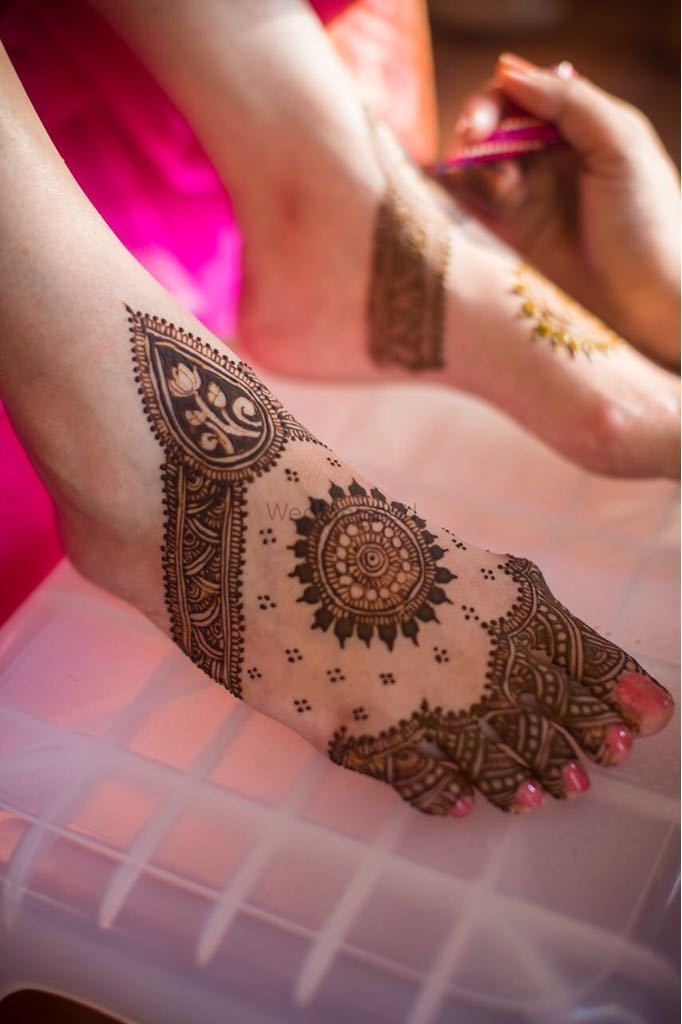 Image via Alankritaa★ 4.9
Mandalas are amazingly pretty and one cannot deny that! Getting them drawn on your mehndi would definitely be an unconventional choice.
Lace Mehendi Designs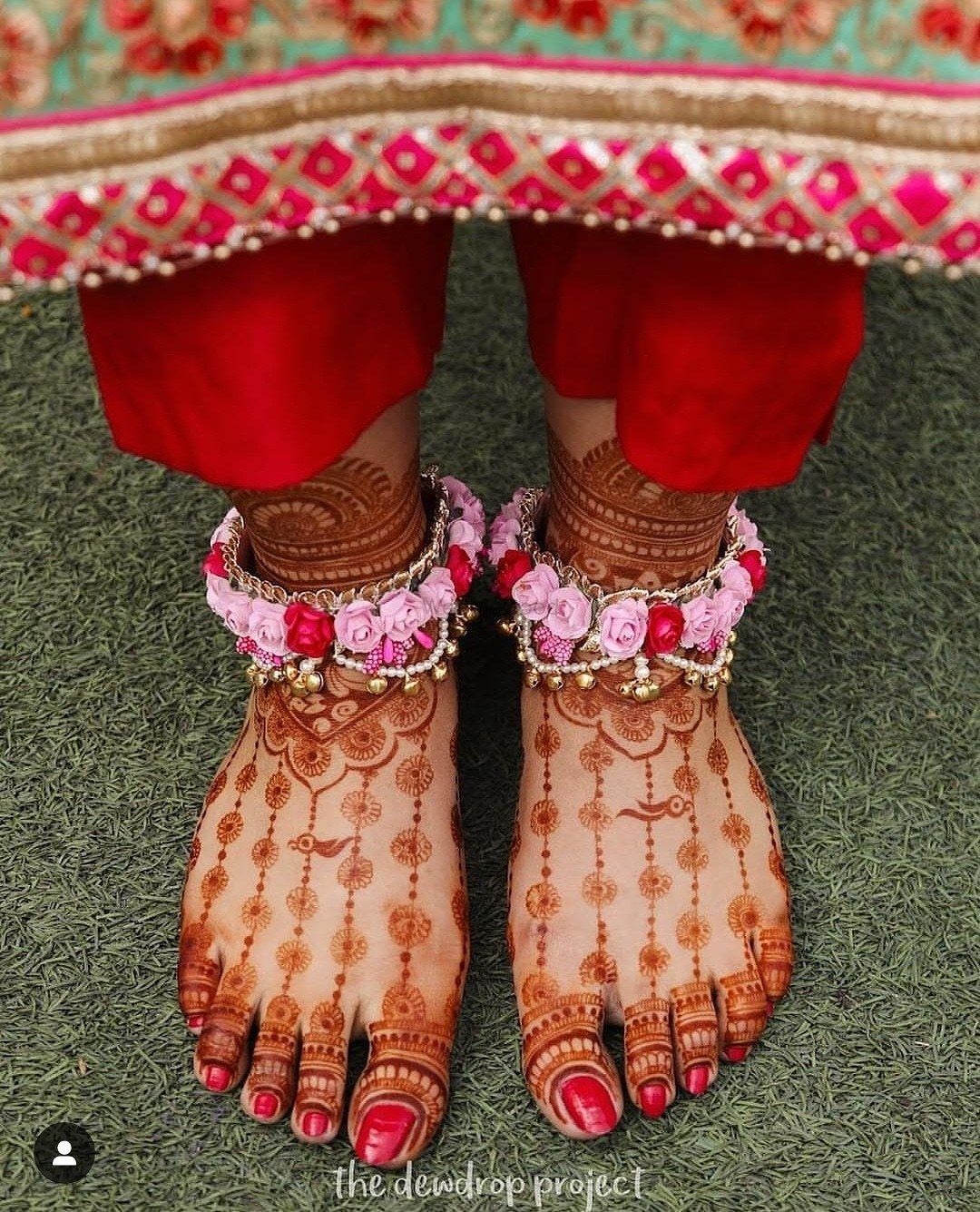 Image via Alankritaa
Do you love simple mehendi? Get it done only on your toes!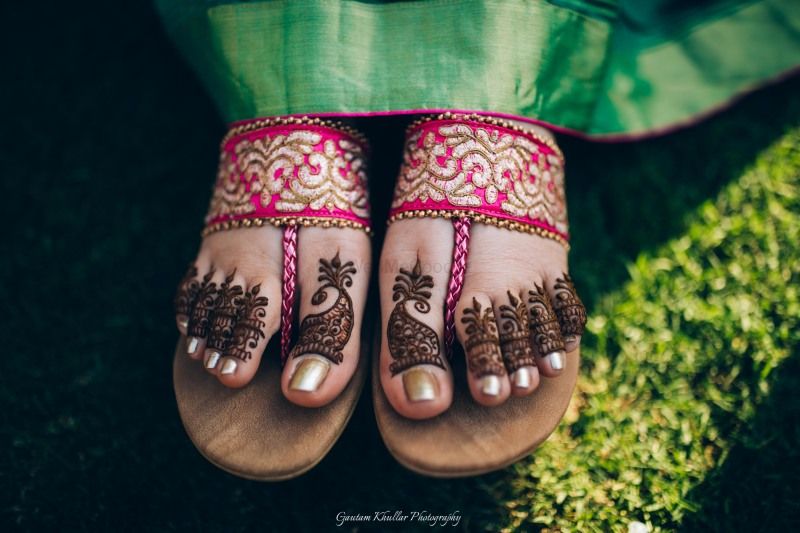 Image via Gautam Khullar Photography★ 4.8
This is one of the ways to highlight your freshly done nails and create a statement!
If you are planning a mehendi soon, the first thing you need to get booked is your mehendi artist. Check out our stunning selection of bridal mehendi artists that you can browse from!
Is minimal mehendi is something you like? Don't forget to check out 20 minimalistic mehendi designs for your feet.
If you aren't a bride, fret not, we have something for you too! Check out these Stunning Mehendi Designs For The Sister Of The Bride & Bridesmaids!
Pheww! With this, we come to an end of the list of the latest mehndi designs. We're sure that you must have shortlisted your favorite by now, so go ahead, and jazz up your mehndi design with what suits your style and personality!  
And if you want more, you can always check out our inspirational and super creative gallery of designs, it's a never-ending page of bridal mehendi  love!