Bridal Fashion Glossary: The A To Z Of Wedding Embroideries & Crafts!
BY The WMG Bride | 04 Nov, 2015 | 4177 views | 5 min read
Whether you are going all out designer, or shopping from high streets, you need to know a few basics of fashion so you can figure out what suits you. We believe in always giving you the full picture. That's why we have compiled the ultimate glossary of different types of handicrafts, embroideries and different kinds of work - read up and get ready to make this your bible!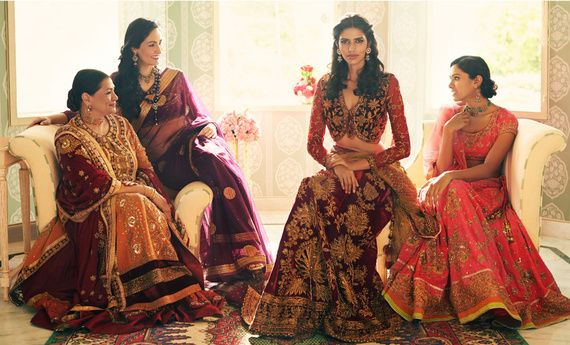 Awadhi Work
The elaborate Awadhi embroidery and rich borders can be used to create an intricate reception outfit or a wedding lehenga. The beautiful thing about Awadhi workmanship is the embroidery on the rich borders that is mainly made of floral motifs in pure zardozi. The floral motif is embroidered in pure gold zari with tilla, salma, sitara and precious stones on velvet. It's really luxurious and opulent, that's why the nawabs loved it.
Badla work 
Only by use of a flat metal wire called Mukaish/Badla, the skilled artisans spread the wonder on sarees & dupattas. Badla, is actually a part of the Zardozi needlework, is where slabs of metal are melted and pierced through steel sheets. They are then converted into wires and hammered to the fineness. Best for over-head draping dupattas.
Cutdana
Cutdana is using stones that have been cut at specific angles in order to facilitate the reflection of light. These stones are sewn into the fabric with thin threads to create different kinds of patterns and designs.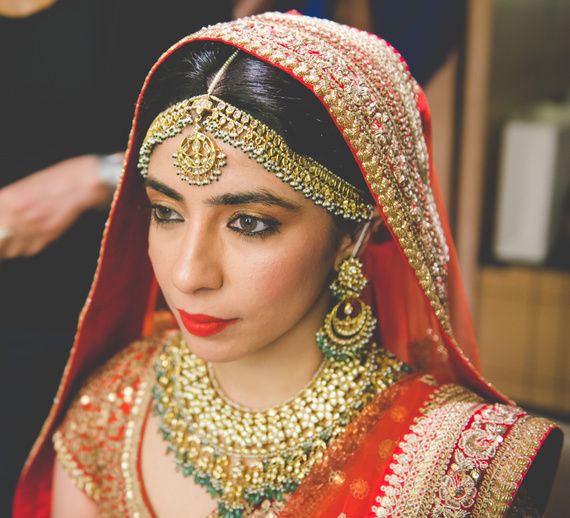 Picture courtesy: Badla work on the bride at Sumiran & Abhimanyu's wedding 
Dabka
A shiny zari material in a soft & smooth tubular (spring) shape made out of fine shining metal-wire.
End-on-End
A 2-ply weave of different colour yarns that run parallel against each other so that both colours are visible.
Floral Embroidery 
Floral embroidery is pretty common - it is thick embroidery with multi-faceted floral designs.
Gotapatti
'GOTA' is a kind of ribbon, woven on hand-looms, using mainly very fine flat metal (called Badla) instead of yarn. Gold and silver are your best options.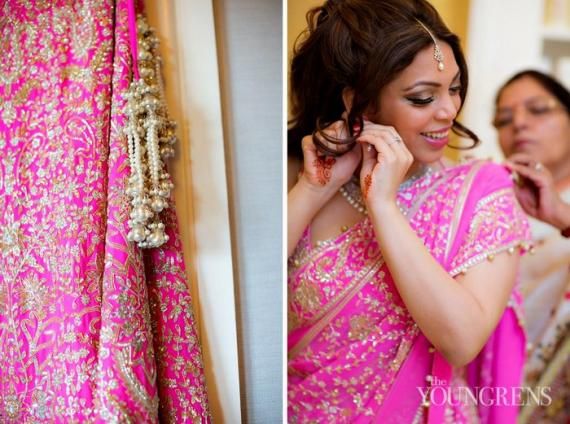 Herringbone
A chevron or zig-zag pattern, knit into fabric. A kitsch wedding mehendi can accommodate a herringbone pattern blouse!
Interlock Knit
A fabric that has two plys knit simultaneously to form one thicker and heavier ply. Think of a lustrous sangeet blouse - something heavy but one that can easily hold any embroidery.
Jamdani
Jamdani is seen as one of the finest muslin textiles of Bengal. The way the weave works is simple - first, there is a weft that creates a fine, sheer fabric while the supplementary one with thicker threads adds the intricate patterns to it. Fine muslin cloth where decorative motifs are woven on the loom, typically in grey or white and gold.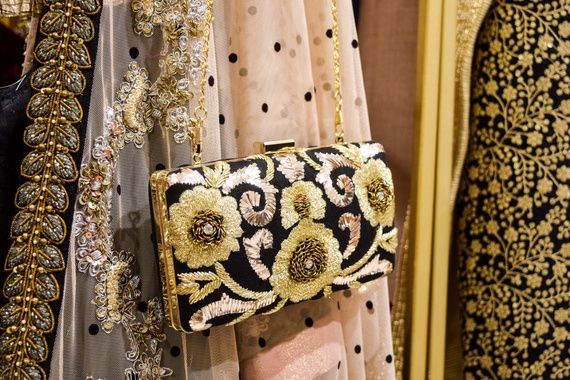 Kashmiri Work
In this work, fine thread of cotton, silk and staple and imagination of skilled artisans create wonders with the help of fine needles.
Lucknowi
This work is a delicate and artfully done hand embroidery on a variety of textile fabric like muslin, silk, chiffon, and organza. A light, flowy mehendi outfit comes to our minds!
Mirror Work 
This ornamentation method originated in Persia during 13th century and involves little pieces of mirror in various sizes which are encased in the decoration of the fabric first by interlacing threads and then with buttonhole stitch.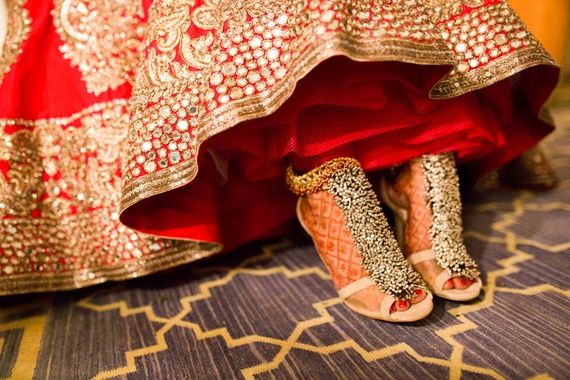 Picture courtesy: Mirror-work lehenga at Parnica & Akash's Wedding 
Nail Head Design
A jacquard knitting pattern in which the jacquard forms a design similar to small nail heads.
Organza
A thin, plain weave, sheer fabric traditionally made from silk which can be used in ball gowns or even for your cocktail party. So so beautiful!
Parsi Work
A type of hand-embroidery which mainly incorporates two types of designs, one is rich in flowers and other highlights the figures of birds etc.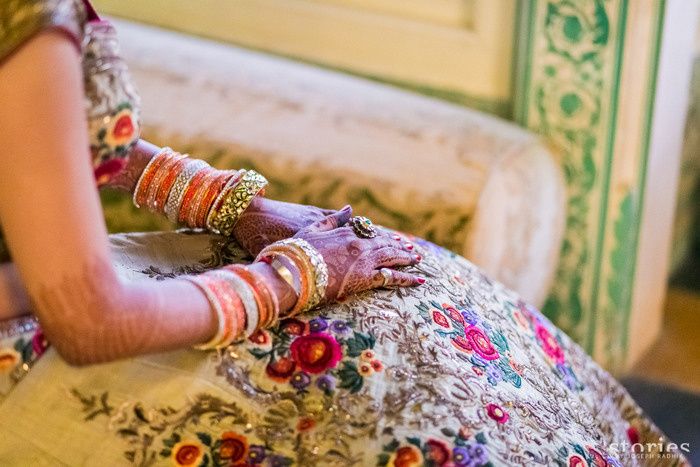 Picture courtesy: Parsi embroidery lehenga at Ankit & Payal's Udaipur wedding 
Quilting
Not limited to making blankets, quilting is a beautiful pattern work where you are looking to make thicker fabrics in your outfits. Winter weddings... here we come!
Resham Zardosi
Resham work is where silk threads are used to hand-embroider various designs and motifs.
Sashiko Embroidery
Sashiko is a form of Japanese folk embroidery which uses a basic running stitch to create an intricate patterned background. Thinking about an oriental theme anyone?
Twill
A fabric characterized by micro diagonal ribs producing a soft, smooth finish.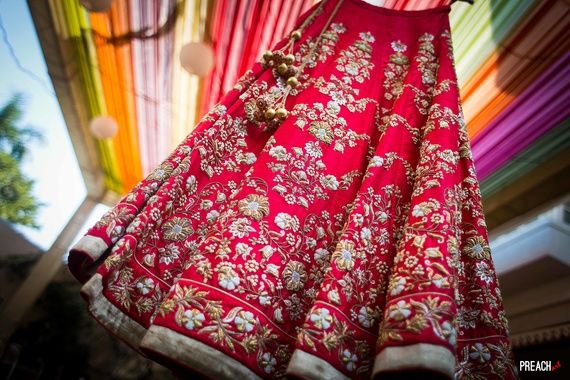 Underlay Work
A stitch laid down before other design elements to help stabilize stretchy fabrics and tack down wales or naps on fabrics such as corduroy, so the design's details don't get lost.
Venetian Embroidery
Named for the technique of cutting out small areas of the backing fabric and then embroidering around them, cut work consists primarily of buttonhole stitching with decorative back stitching and satin stitched accents.
Weathered Twill
A special dye process resulting in a softer fabric with a weathered appearance that will continue to enhance with each wash.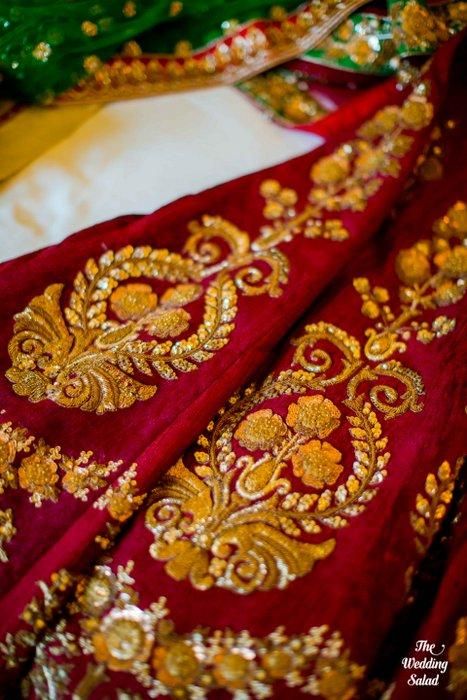 Picture courtesy: Zardosi work at Sakshi & Manish's wedding 
X Stitch
A popular form of counted-thread embroidery in which X-shaped stitches in a tiled, raster-like pattern are used to form a picture.
Yarn Work
Beautiful blouses can be created out of diverse yarning patterns and colours.
Zardozi
A type of Handwork, using mainly Zari Material (Kasab, Kora, Dapka, Salma, Sitara etc). It's the most commonly used embroidery on lehengas and saris.