Bridal Hairstyles Other Than A Bun For 2020 Brides!
BY Anupriya | 20 Mar, 2020 | 13563 views | 4 min read
Love bridal buns, but your heart suggests you give those open hairdos & voluminous braids a try? Not a bad idea at all! 
Going offbeat is the new mantra our new-age brides swear by. So why should your bridal hair be left behind? There is a sea of options available at your disposal. And here we are, to list some fail-safe ones for you! Half-tied hairstyles, twisted ponytails or messy waves, name it and we've listed them all. Dive in & get your ultimate dose of bridal hair inspiration now!
This voluminous half-tie hairdo boasting of cascading strands and a rose bun in the centre!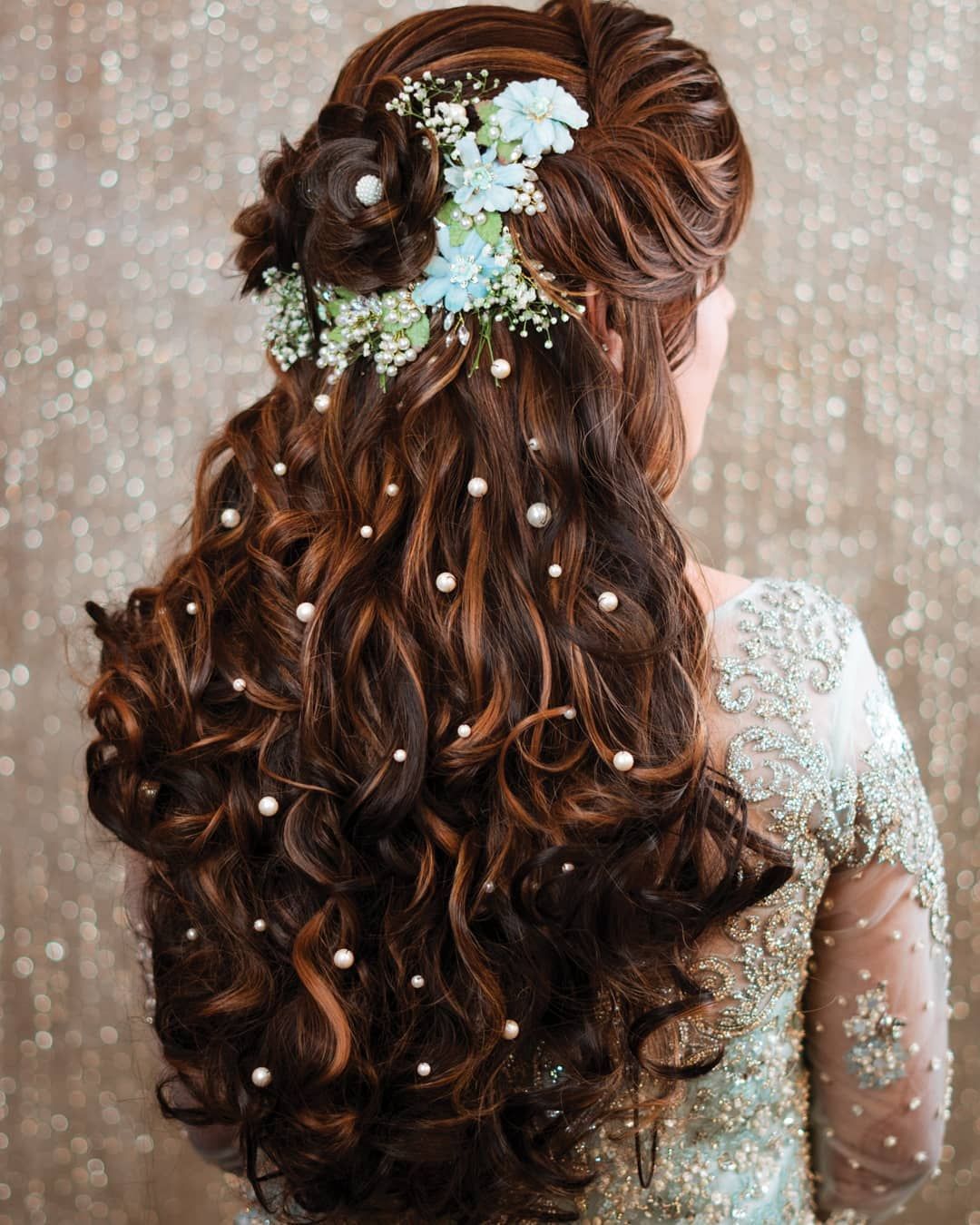 Image via Aanal Savaliya
Got long & heavy hair? We found you the perfect hairdo to style at your wedding! All you got to do is throw some dainty pearls to that cascade of curls, and you're done!
When one isn't enough, take the triple route!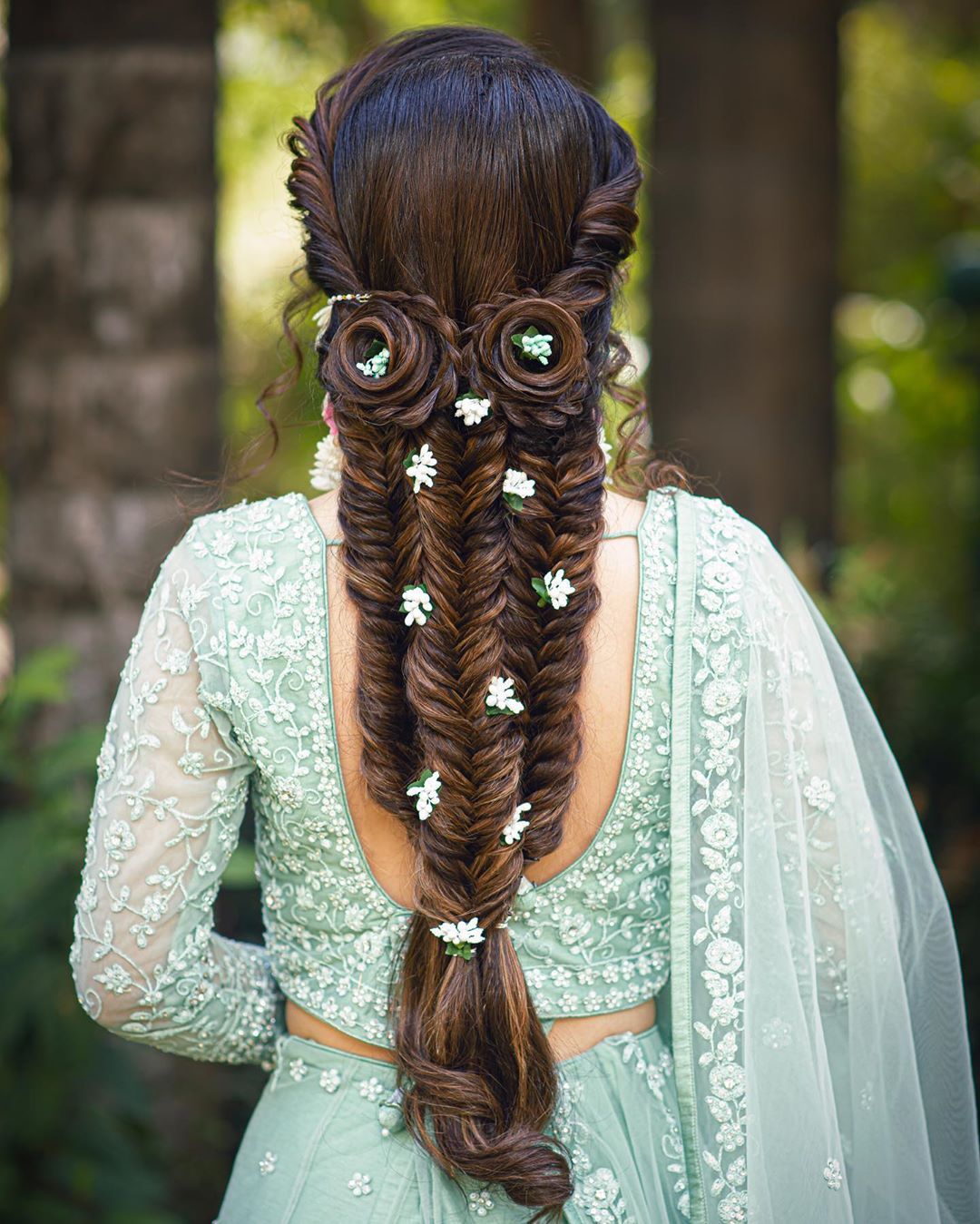 Image via Simmy Makwana
Give your usual braided hairstyles a makeover by adding a hint of modernity to it. We love how this bride clubbed three fishtail braids together to form this awe-inspiring braid. 
This one with twists & turns that looks oh-so-stunning!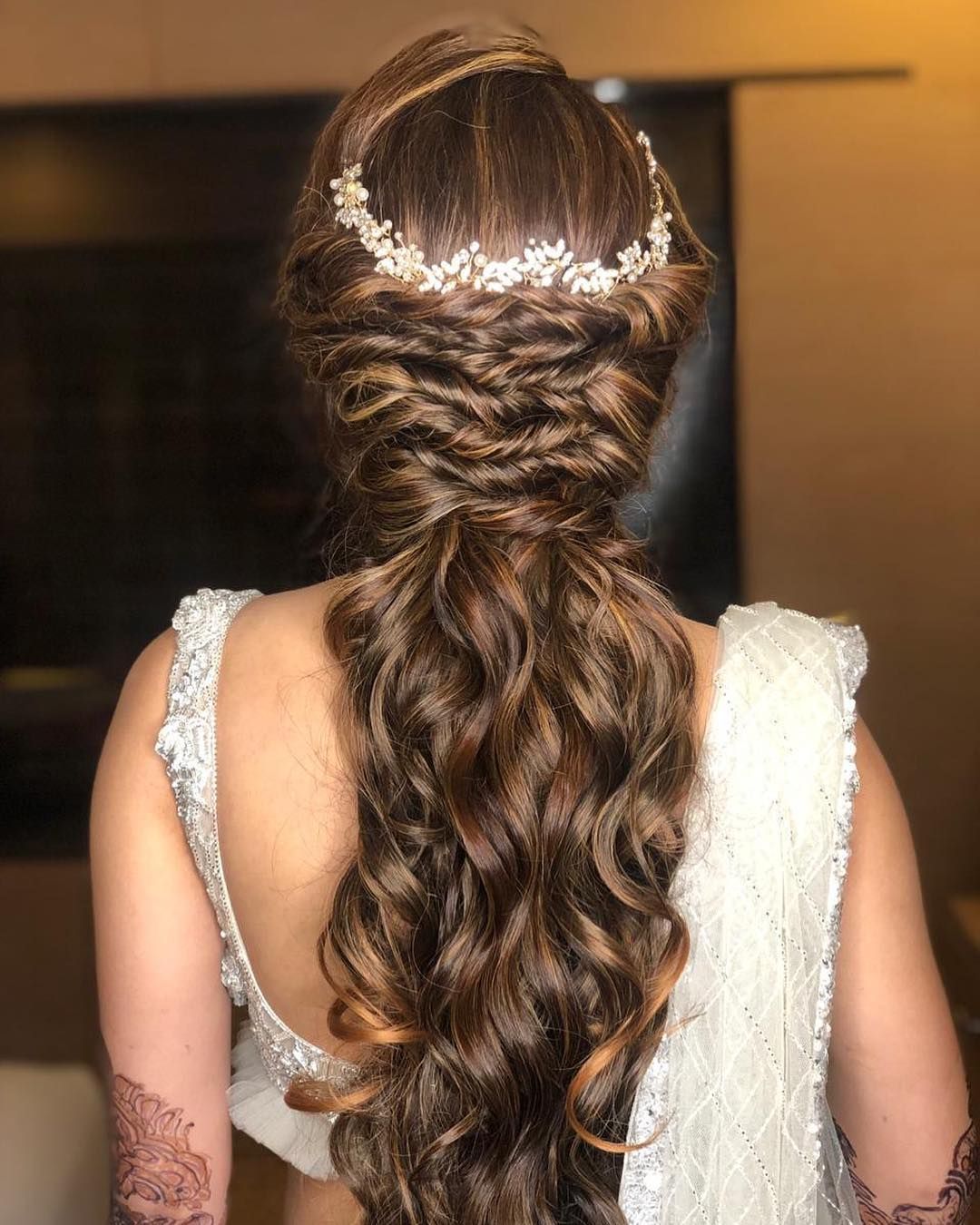 Image via Ritika Kadam★ 5
Nothing like this striking blend of beachy waves and twisted strands turned into a one-of-a-kind ponytail hairdo!
This classic braid that is inspired by Sonam Kapoor's Sangeet hairstyle!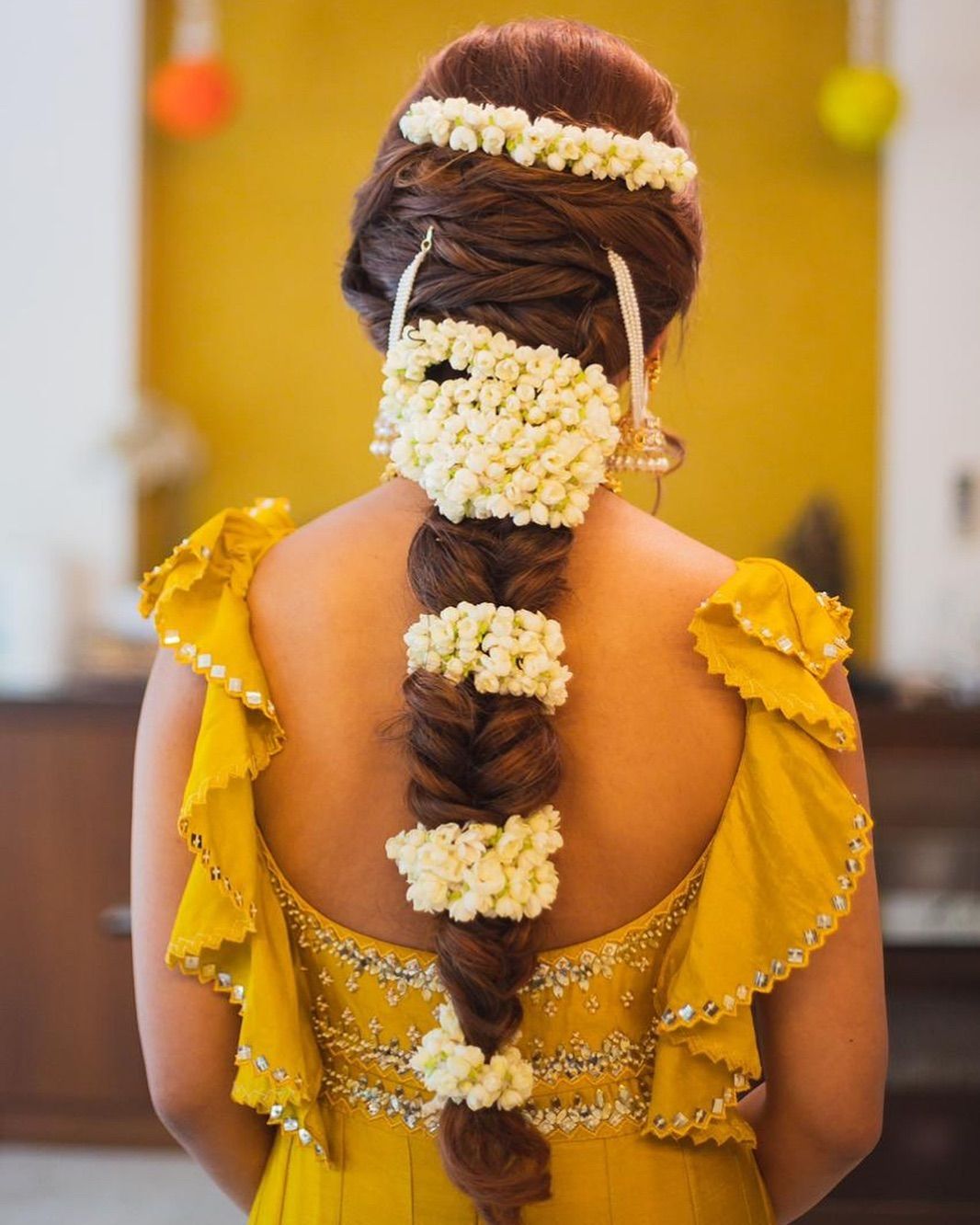 Image via The Lightsmiths★ 5
What better than this gajra adorned braid for brides with long, luscious tresses!
Sometimes loose, open hair pinned with dainty florals do the trick!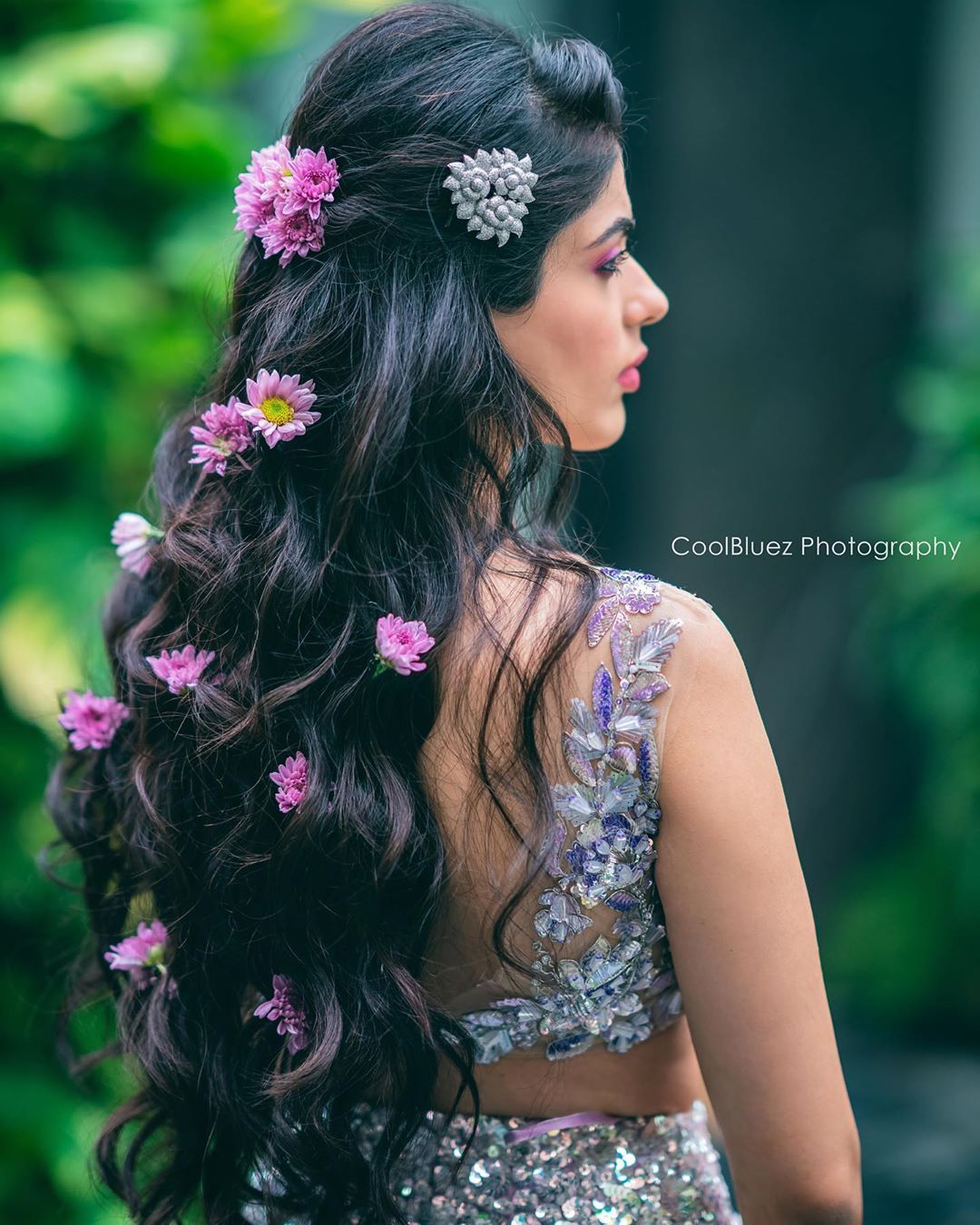 Image via CoolBluez Photography★ 4.8
Make a statement on your wedding day by letting your hair down, and further amping them up with your favorite bunch of blooms.
One word that best describes this bridal hairdo- 'Magical!'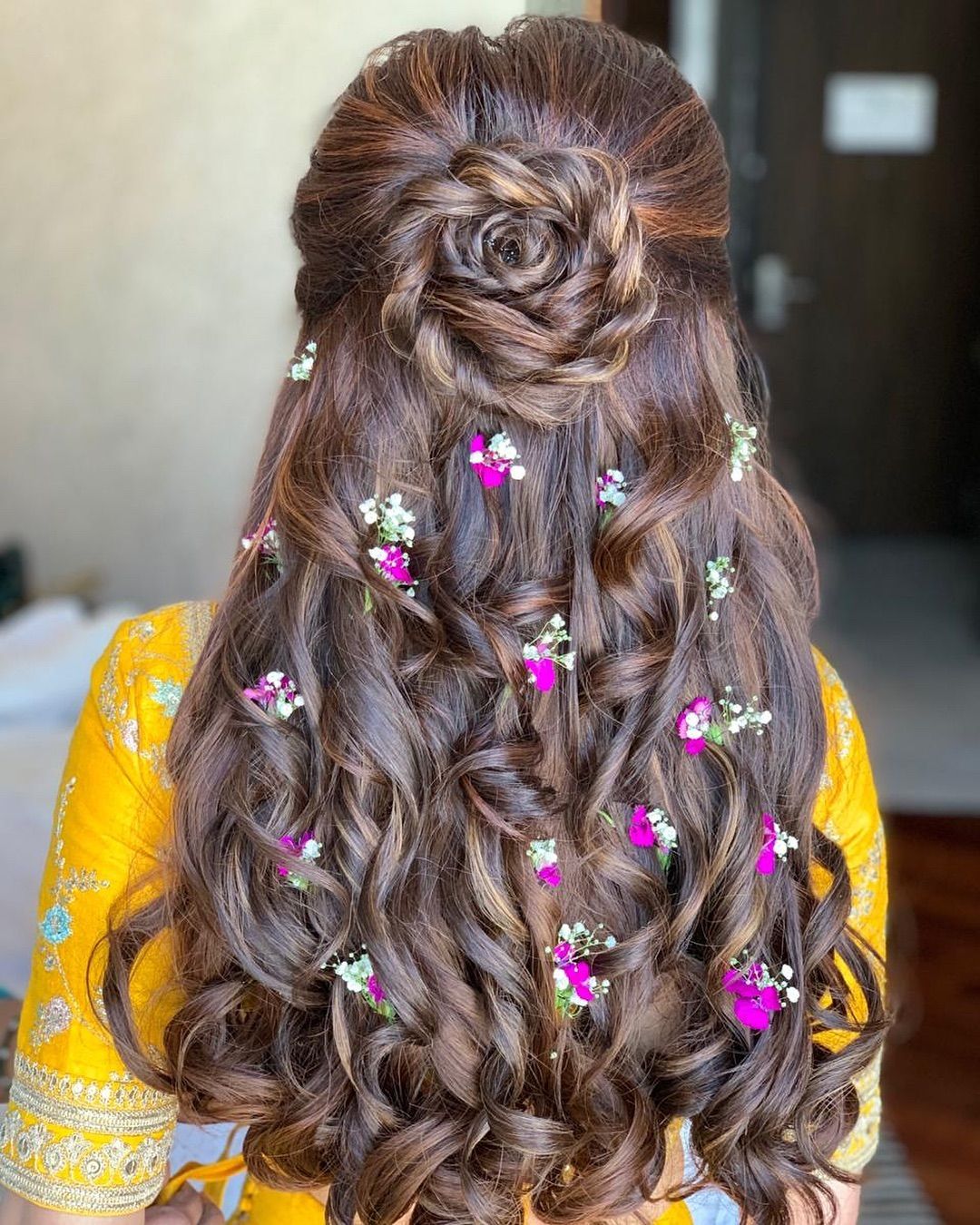 Image via Ritika Kadam★ 5
Do your hair in clean curls, take a few strands separately, do them in a rose bun, and voila-your bridal hairdo is ready!
An intriguing combo of baby's breaths and a neatly done braid!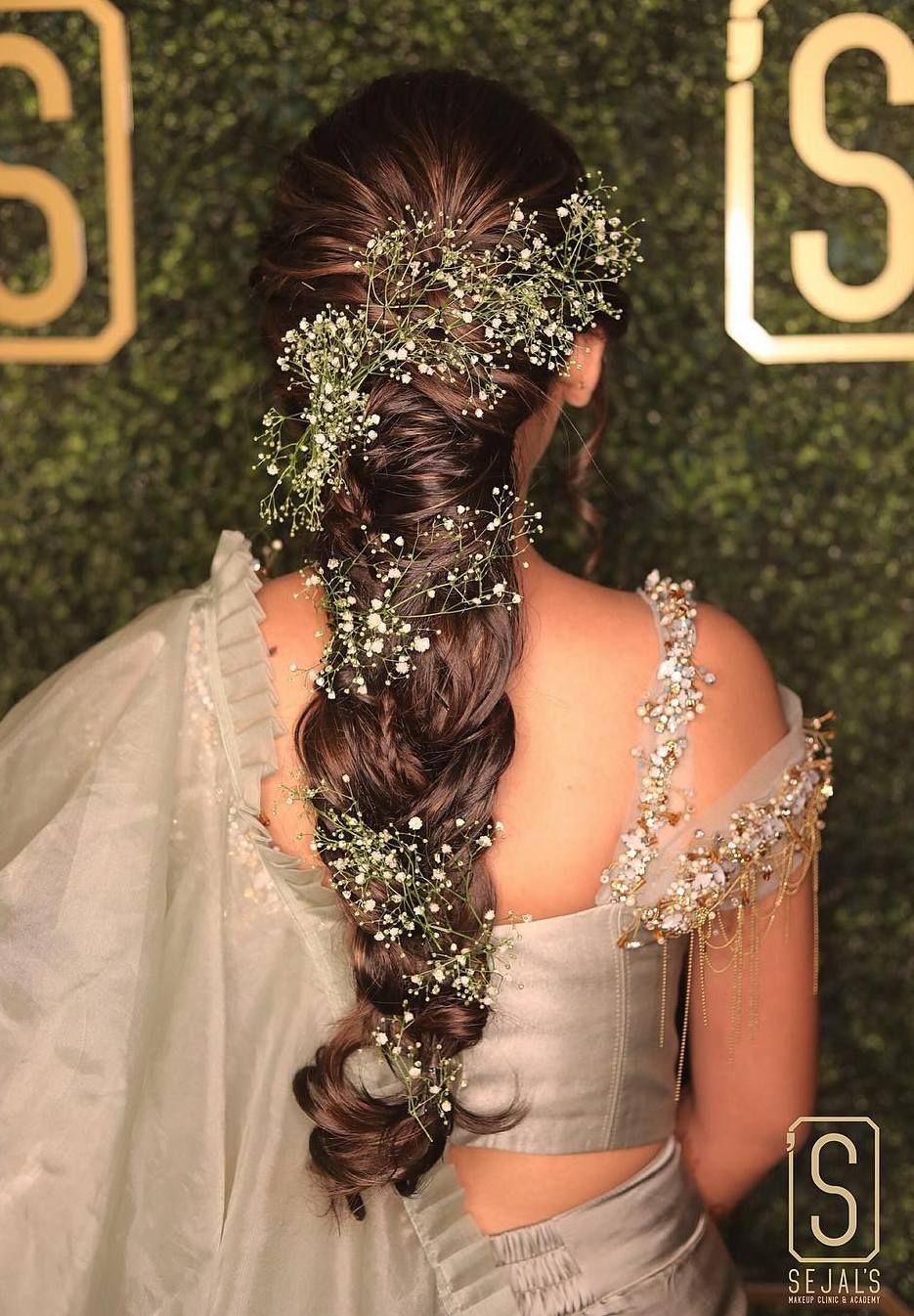 Image via Sejal Savaliya★ 5
Infuse a touch of modern vibes to your bridal look with this remarkable braid!
Vivid florals in hair never looked this pretty!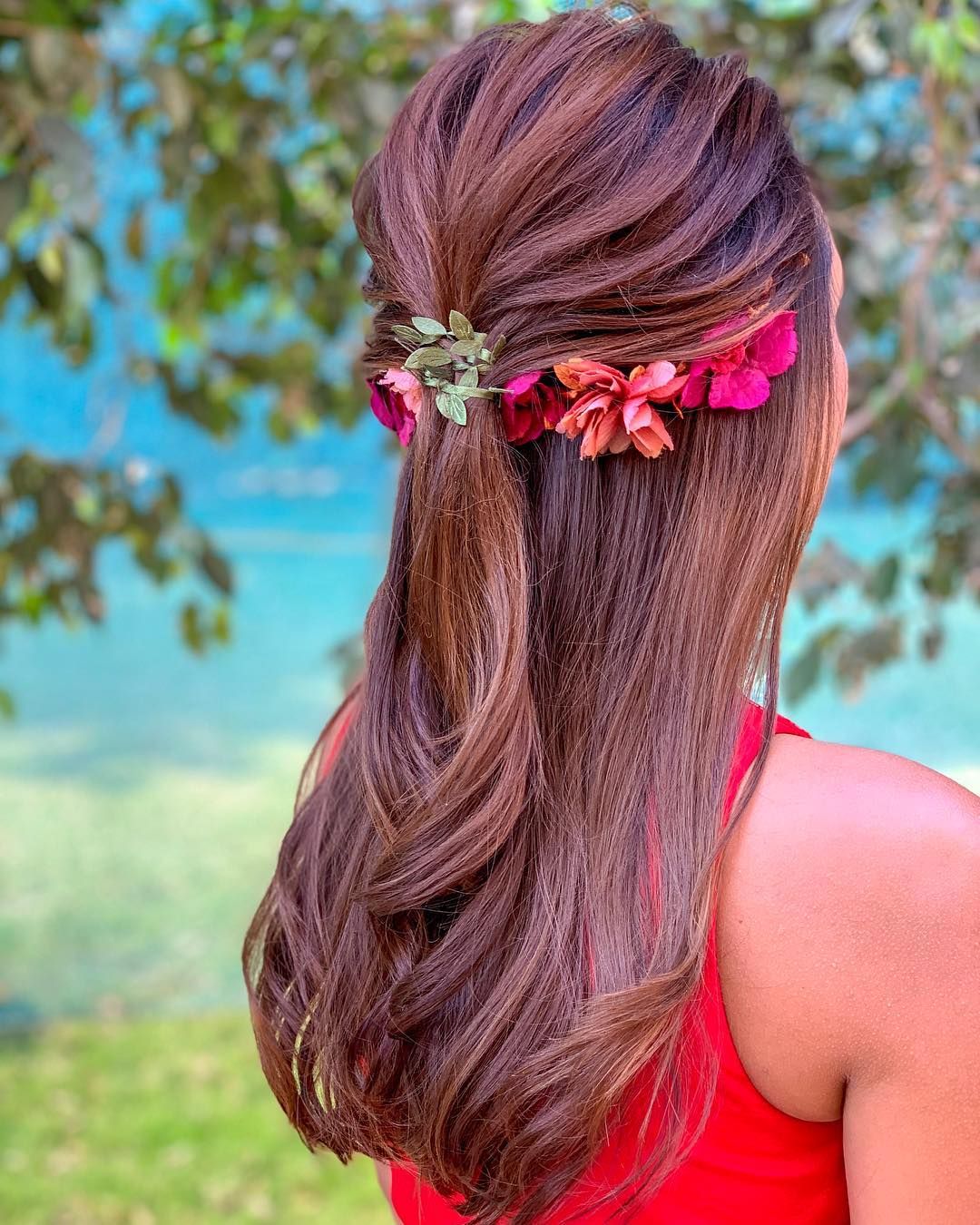 Image via Hot Hair Balloon
We found the ultimate hairspiration for brides with short hair! (Like or Love?)
This Braided hairdo with fancy accessories can take your bridal game a notch up!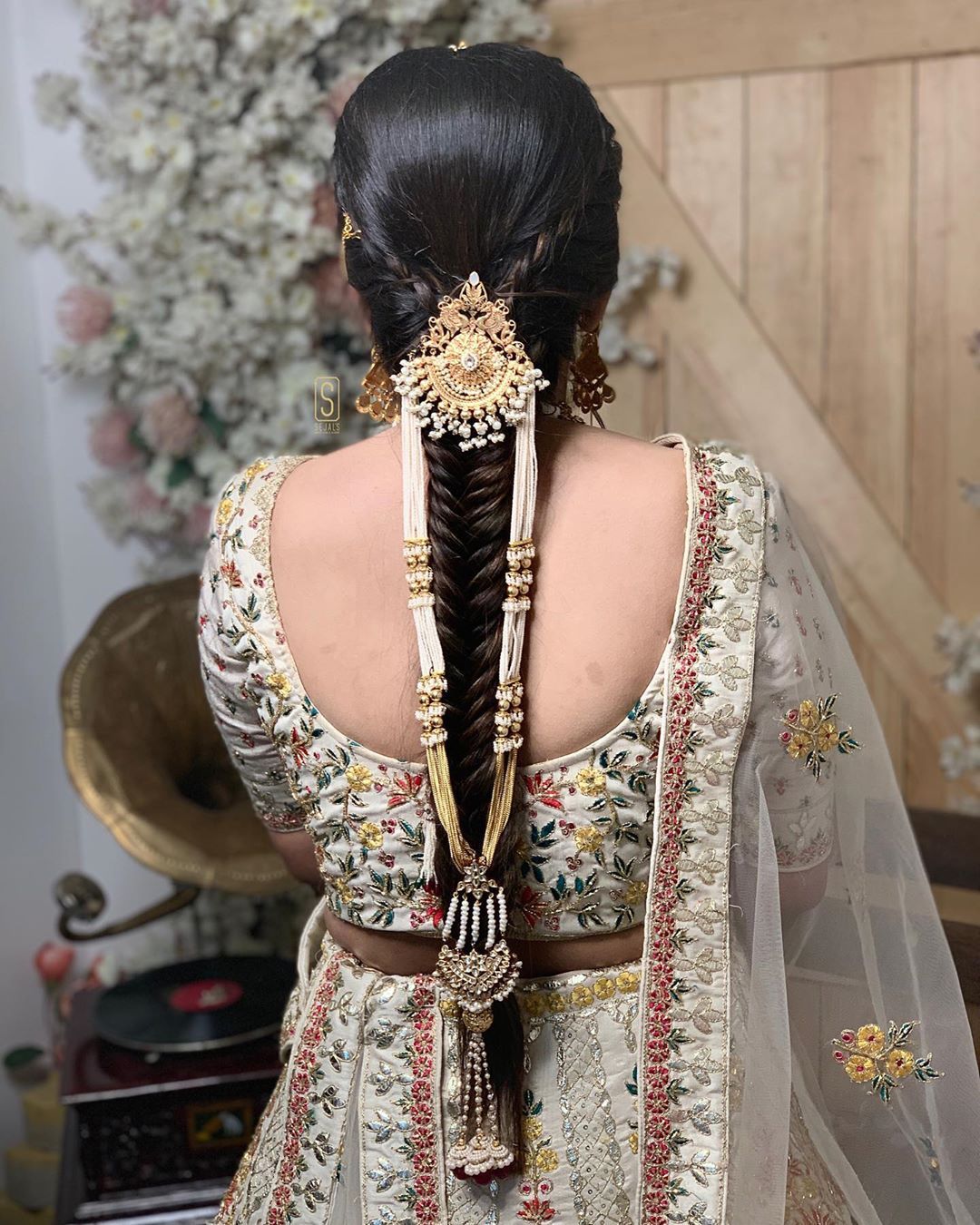 Image via Sejal Savaliya★ 5
If you're someone who believes in old-world charm, this low-tied fishtail braid is sure to catch your fancy!
The elegance of this offbeat braid will instantly get you hooked!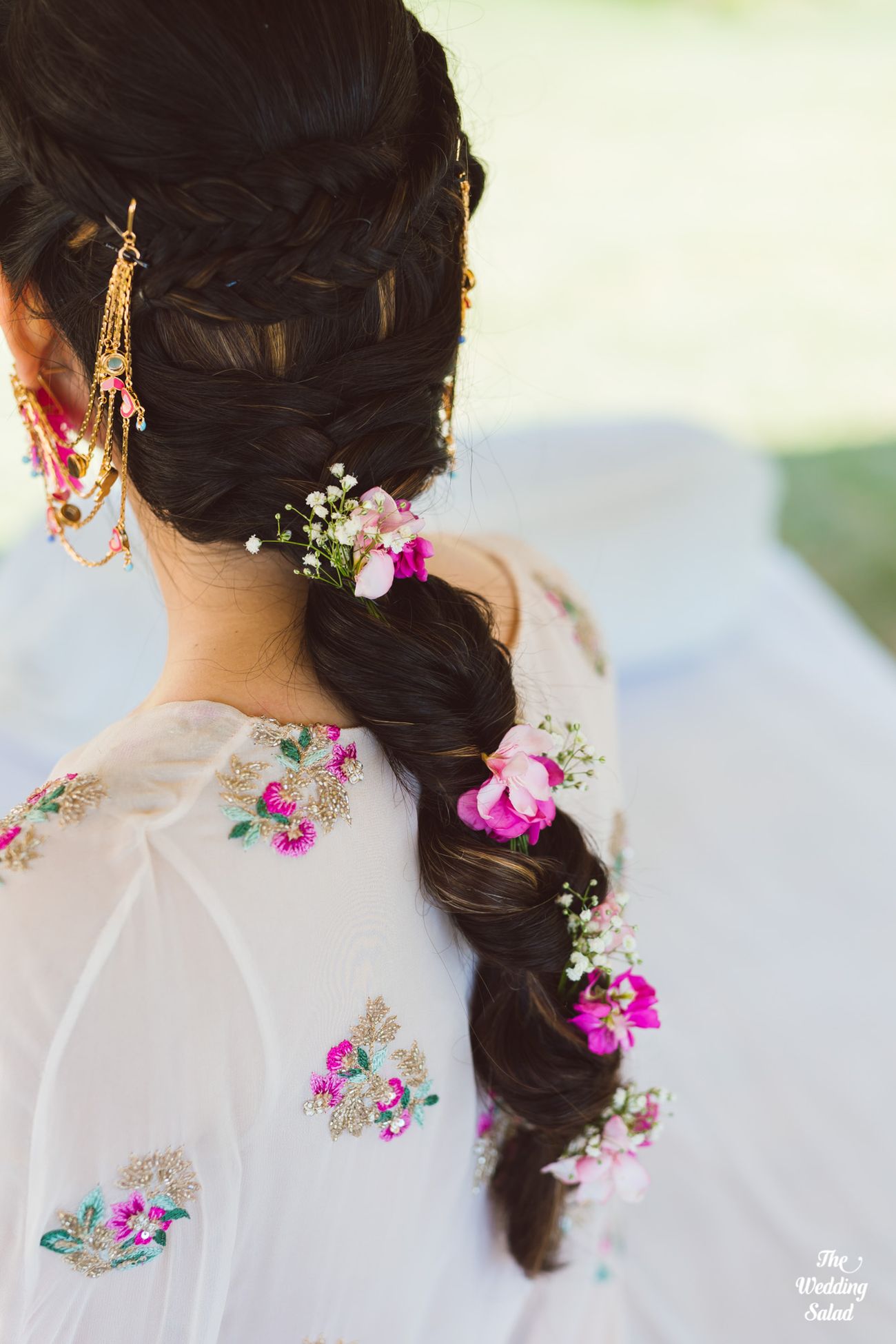 Image via The Wedding Salad★ 4.9
Want to pick a hairdo which not only looks pretty but is also easy to carry at the same time? Here's the one you need to see!
This luscious ponytail with sparkling details is to die for!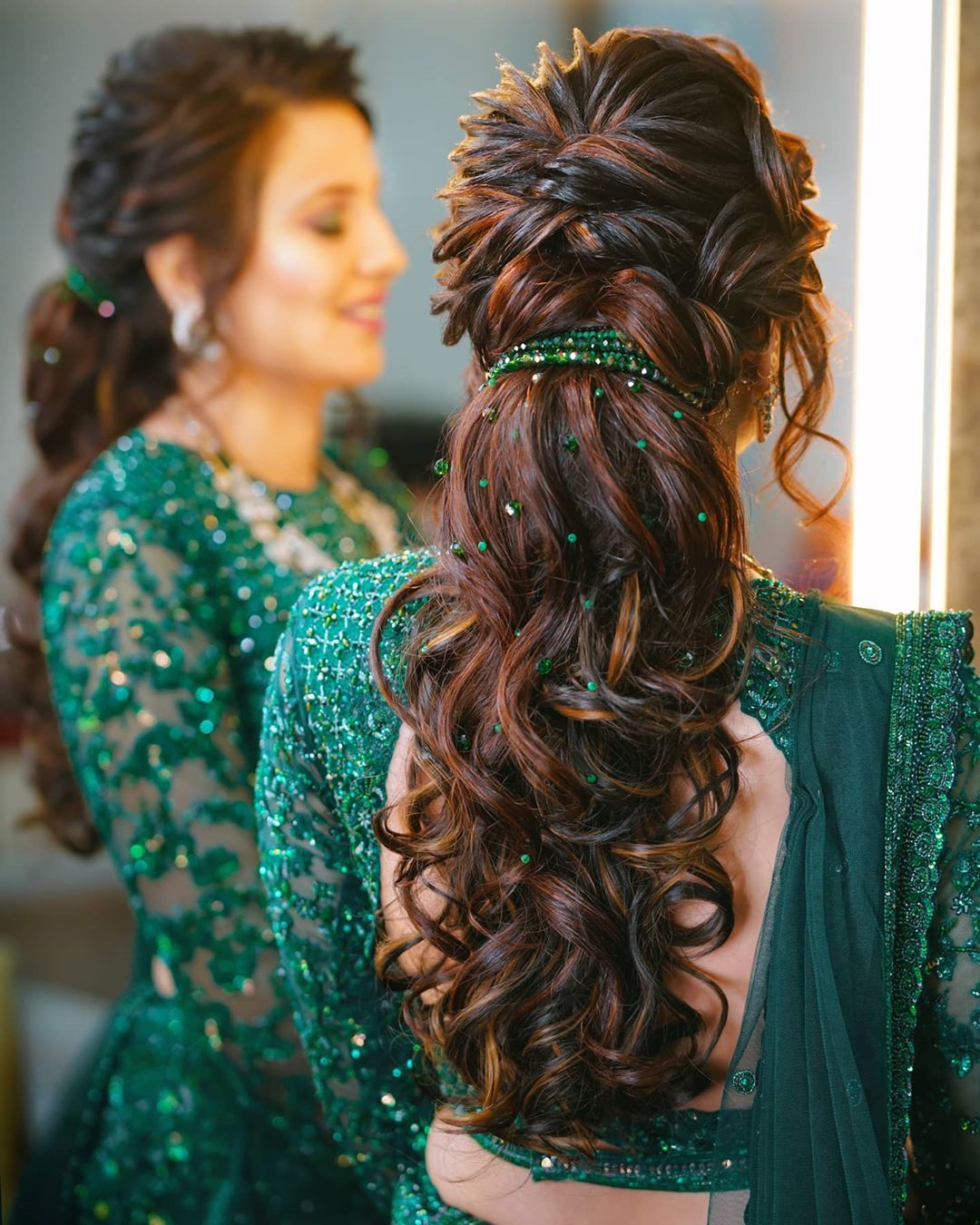 Image via Aanal Savaliya
If there's one bridal hairstyle that has received the maximum amount of love on Instagram this season, it's this one. Convinced much?
When you let those natural waves do all the talking!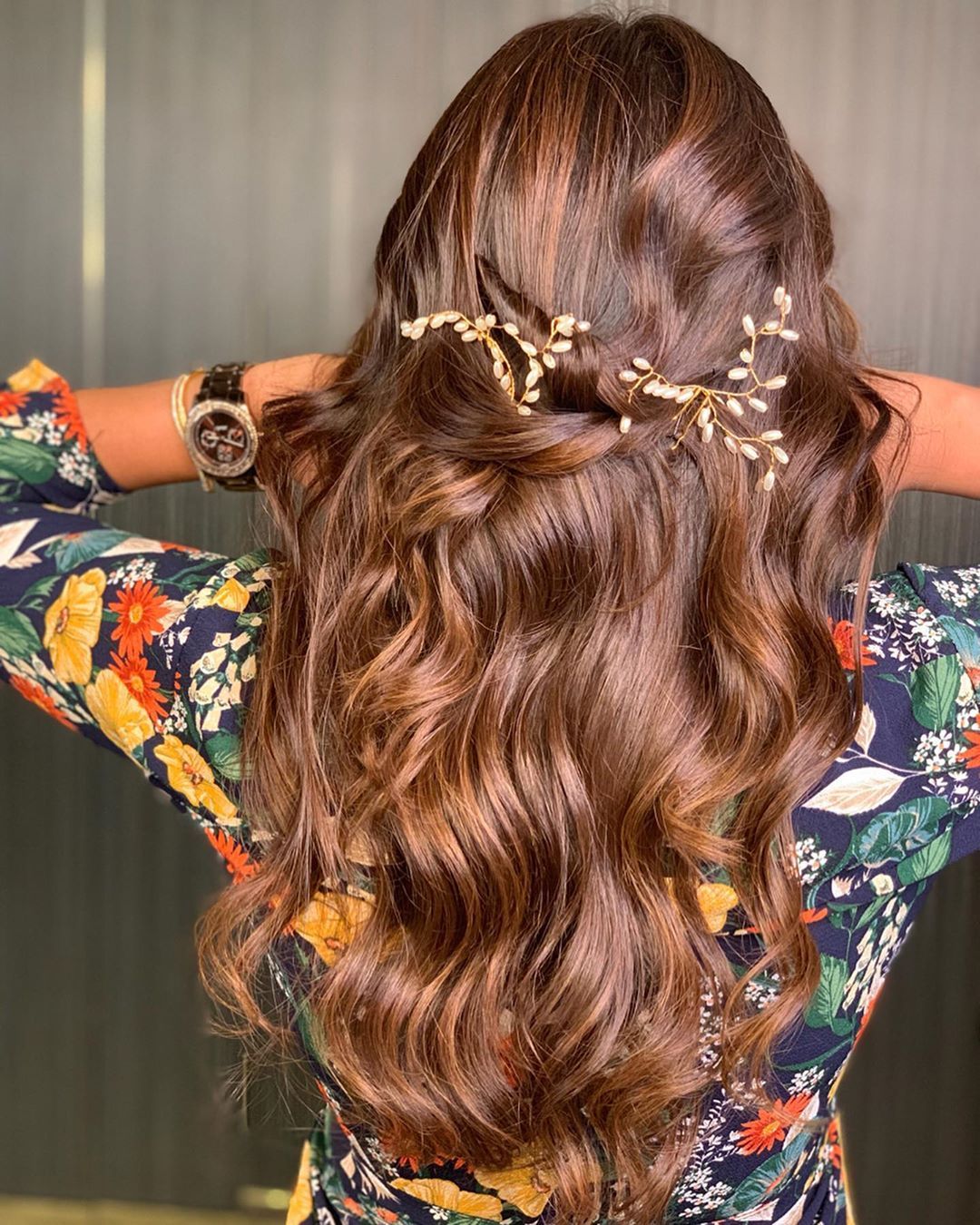 Image via Hot Hair Balloon
Go the easy-peasy way and ask your hairstylist to do your hair into soft, natural waves. To add finishing touches, throw in some unique accessories & slay like the diva that you are.
Another floral braid that can make them heads turn!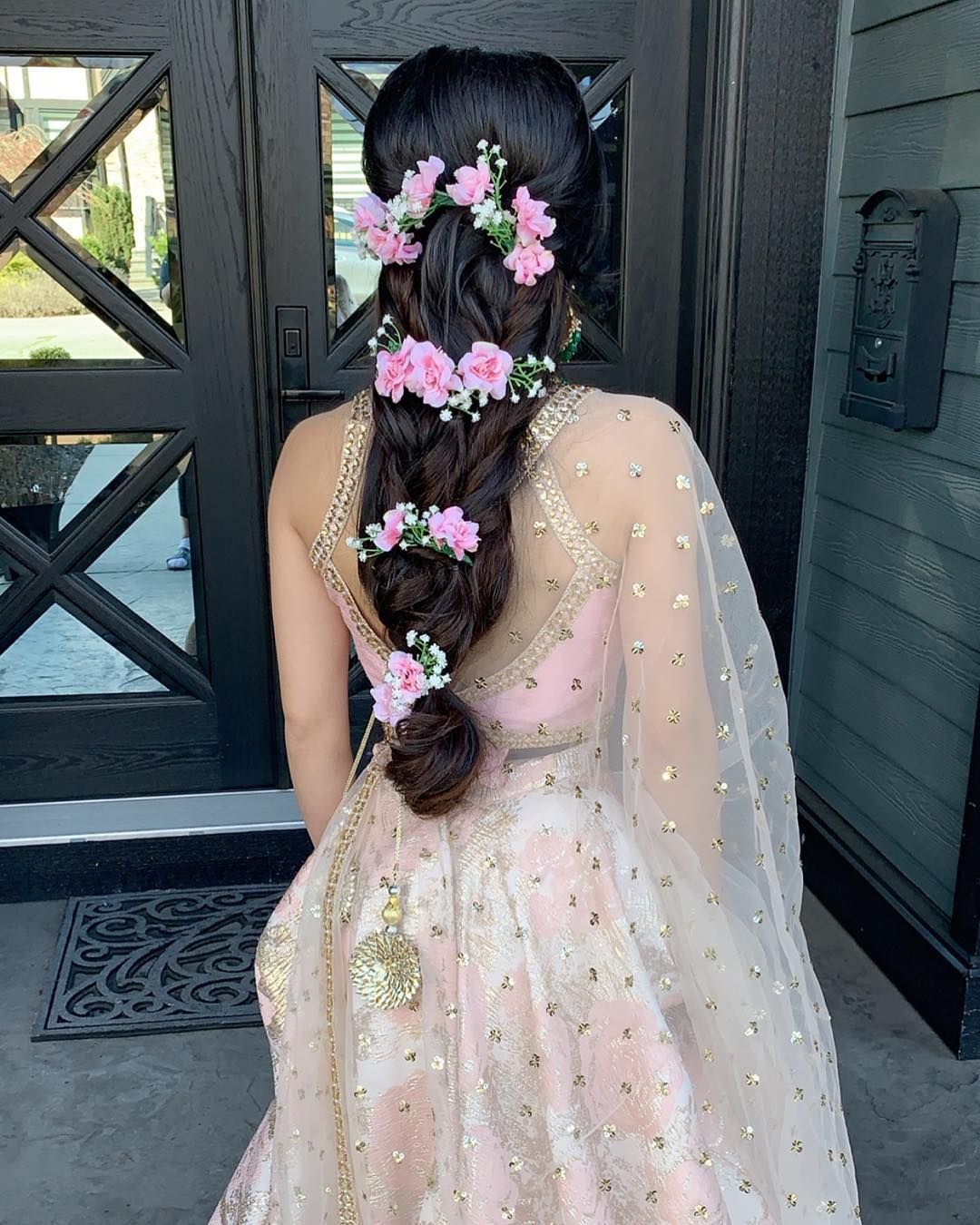 Image via Blue Rose Artistry
How smartly this bride styled a gorgeous waterfall braid with her pink lehenga!
Crown Braids + Wavy Strands + Baby's Breaths = Match made in heaven!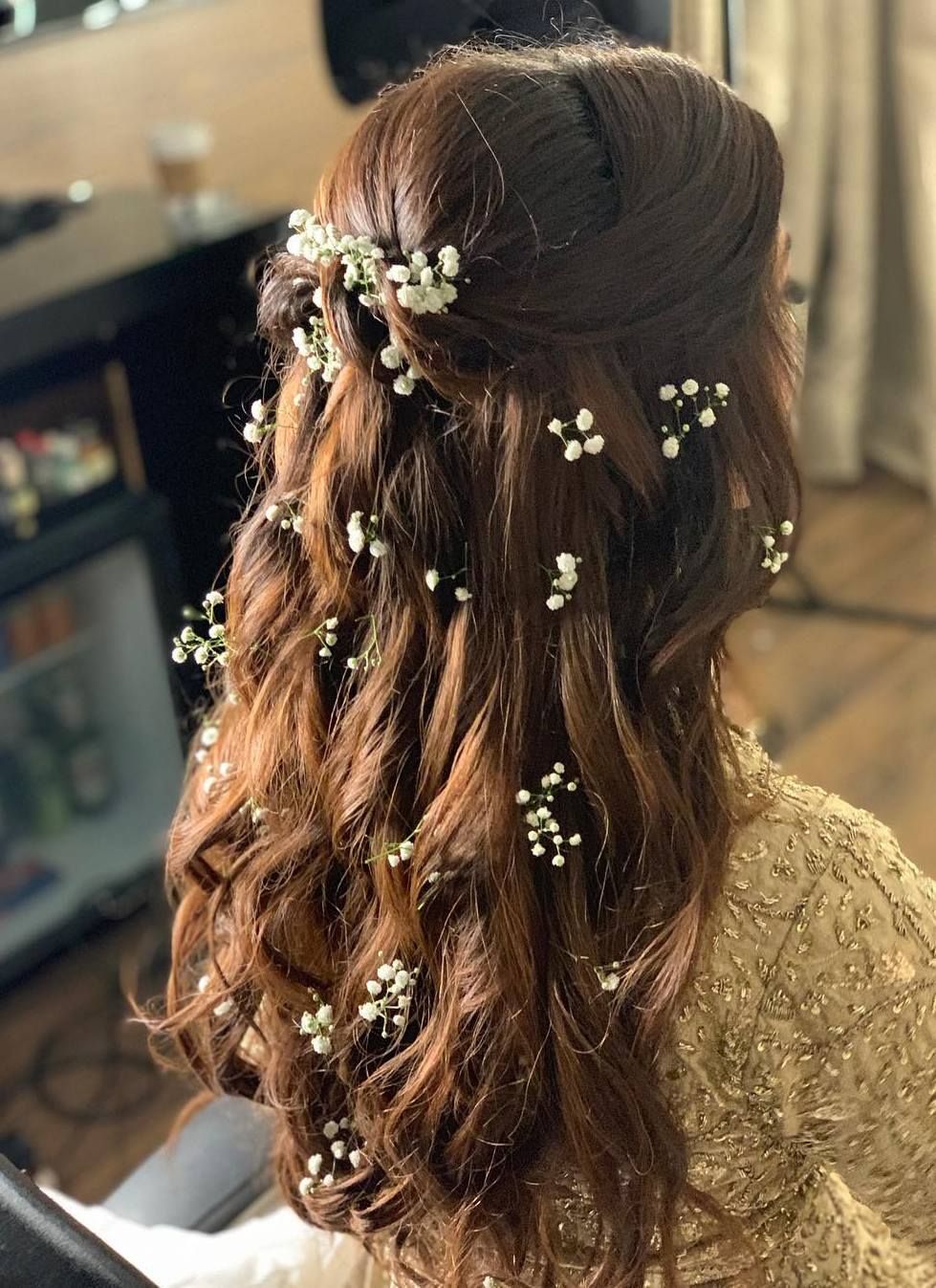 Image via Hot Hair Balloon
Ending our list with this simple yet so fascinating half up and half down hairdo that has won us over.
Pin your favorites now, and get, set, slay!
 Planning your wedding? Check out venues, makeup artists, photographers and more that can help you plan your perfect dream wedding! Also, download the WedMeGood app today for a seamless wedding planning experience and tons of inspiration!