Bridal Jewellery Trends 2019: The Only Handbook You Need!
BY Sakshi | 02 Nov, 2019 | 12745 views | 6 min read
Bridal Jewellery is not only special, but totally different from the rest in terms of craftsmanship and design. It is jewellery that can transform a girl to a bride, bringing together her look, or even sometimes, being the highlight of it! Jewellery trends come and go, but it's always a win-win to invest in a reputed brand and buy something that is timeless and can be reused after the wedding with ease as well. You and I both know how brides from different parts of India have their own unique styles and trends. So here's what we did! We decided to put together jewellery trends for 2019 - everything you would want to know (and own). Whether it's south Indian temple jewellery or typical north Indian bridal jewellery, here are some of the popular designs from all over India, along with
Malabar Gold & Diamonds
, who have jaw-dropping jewellery for brides of all ethnicities across the country.
Polki Diamond Jewellery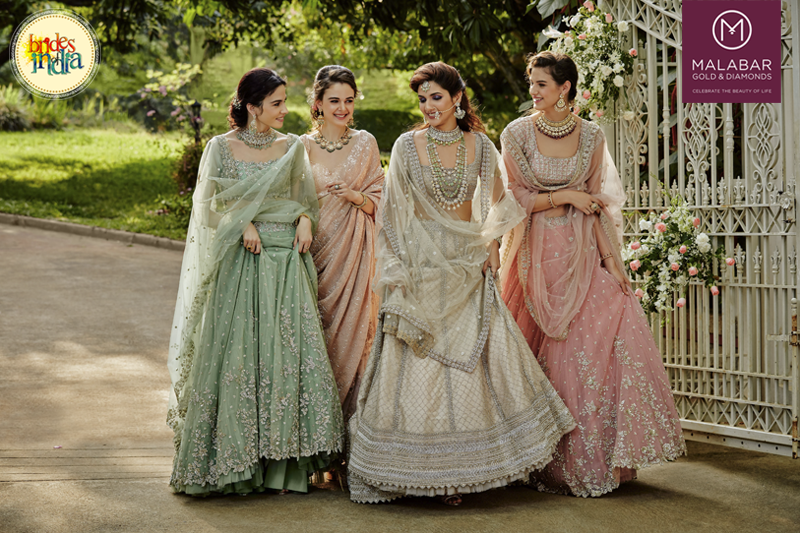 Polki diamond jewellery is very versatile for just about any
bride
or guest. Polki is essentially an uncut diamond that is mined from the earth in a natural way without any enhancement or lab creation. And the raw beauty is what makes Polki diamond jewellery so much more precious. It can add a lot of glamour to any outfit no matter how simple and looks absolutely exceptional on brides, especially when you pick something that contrasts with the outfit. You can pick one necklace or layer it up with a choker and a rani haar- it works well both ways.
Diamond Jewellery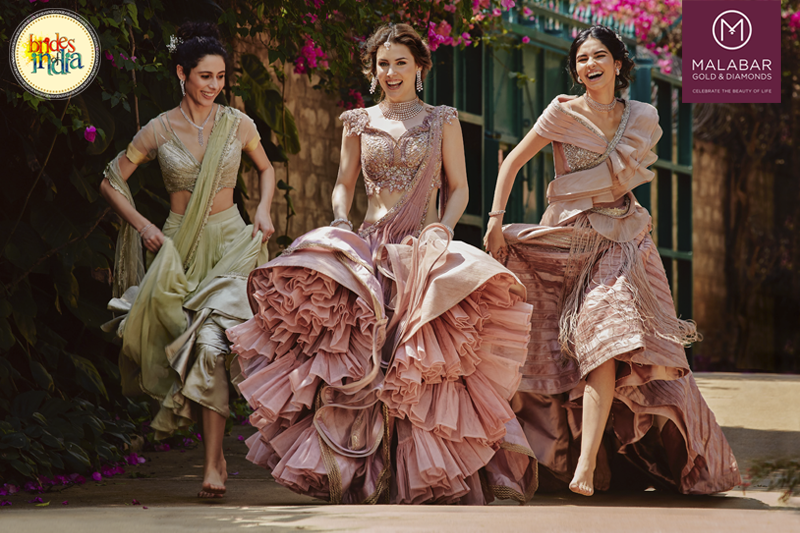 Diamond jewellery might just be the most versatile of all, as it goes along with Indian, Western and fusion wear. Diamonds pair well with lehengas and even gowns. From simple and dainty to bold and glamorous, you can always pick something that suits your bridal style and look. The best part is that diamond jewellery works with outfits of any hue or colour, and their reusability is a big plus point!
Punjabi Jewellery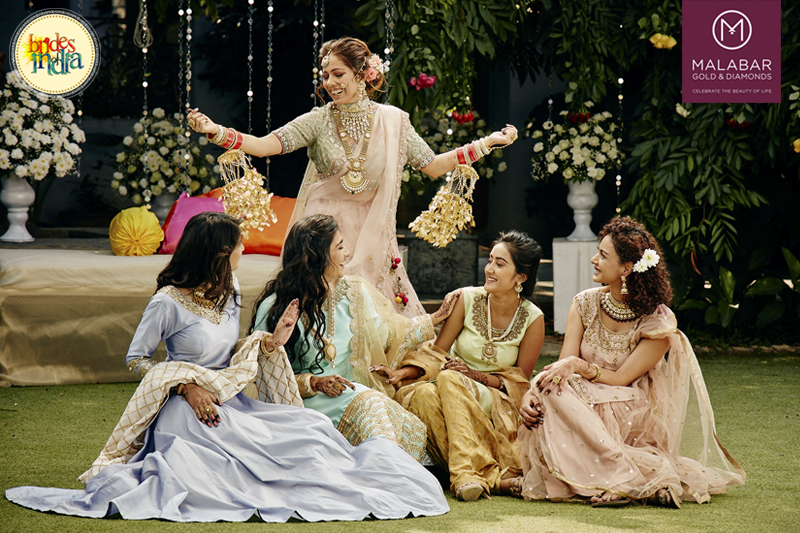 Punjabi brides
look different from the rest, thanks to their heavy jewellery, which comes in so many designs and types. Whether a bride wants to wear polki jewellery, diamond jewellery or something encrusted with precious stones like emeralds and rubies, there are so many options out there to make the bridal look special. Brides can choose one or multiple necklaces, and when it comes to hair ornaments, the main pick is between a mathapatti, maangtikka, passa or a combination of a maangtikka and passa, which has also become very popular lately.
Kerala Hindu Jewellery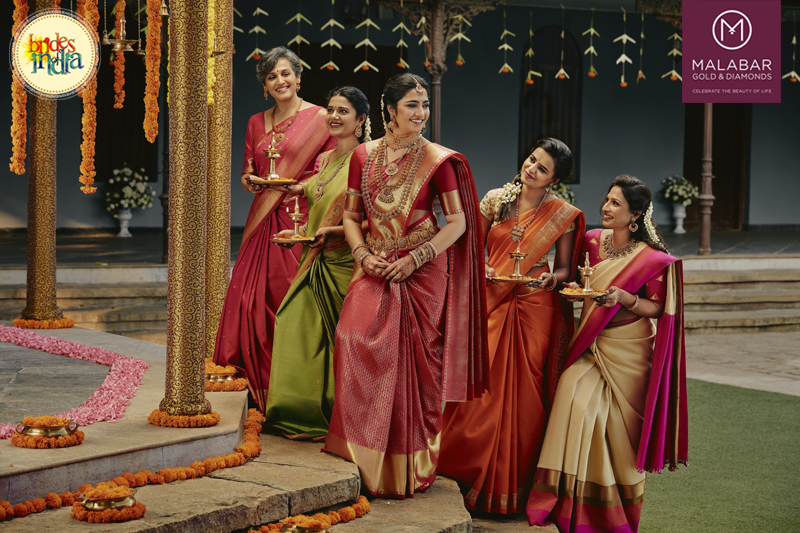 Beautiful Kanjivarams in rich tones, paired with gorgeous temple jewellery- a
Kerala Hindu bride
looks traditional, and her jewellery has a big role to play in that. If you think gold jewellery can be worn only with a red and gold saree, then you couldn't be more mistaken. Gold jewellery works with a Kanjivaram of any color, and these days brides are layering chokers with longer gold necklaces, which makes the pieces easy to use separately after the wedding.
Tamil Bridal Jewellery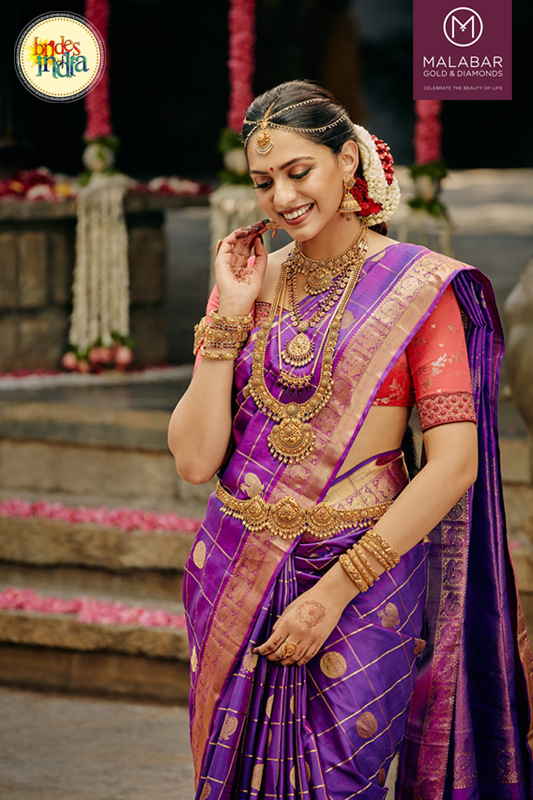 Tamilian brides
are really known to experiment with their saree colors- picking bold and bright hues instead of the traditional red or orange. Their look is incomplete without bridal jewellery, which includes layered gold necklaces, hair ornaments, earrings, bangles, and of course a gold waist belt. The jewellery picked should be such which works across a variety of colors and should be versatile enough to repeat later.
Heritage Diamond Bride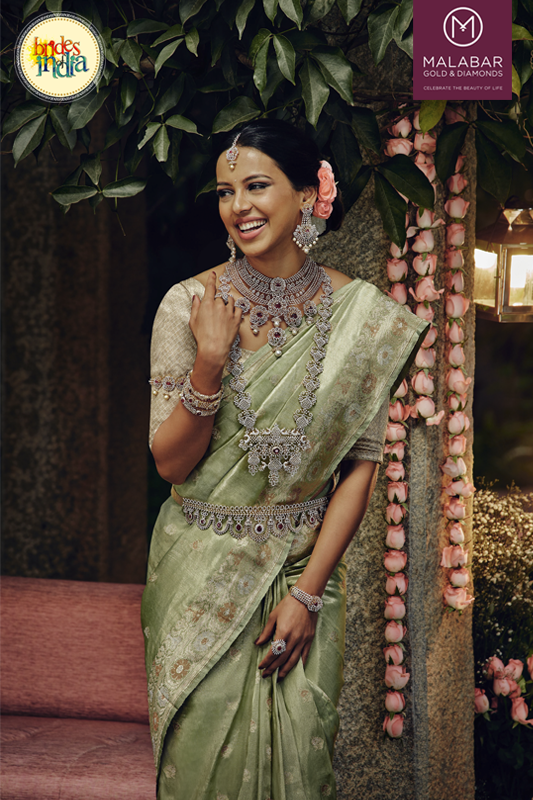 There is something special about a Heritage Diamond Indian bride decked up in diamonds from head to waist- they look elegant, and escalate the bridal attire instantly. Temple jewellery is an essential part of any south Indian bride, and the option of wearing diamond temple jewellery gives the brides a chance to mix tradition with contemporary looks! Brides can choose to wear one statement necklace or layer up short and long ones to create their own statement look. The best part is, diamond jewellery works on a saree or lehenga of any color. Apart from a necklace, a bride can choose to complete her look with a maangtikka or a mathapatti, bangles or bracelets as well as add an eye-catching waist belt. What is even better is how the bridal pieces are wearable by themselves even after the wedding!
Kannada Bridal Jewellery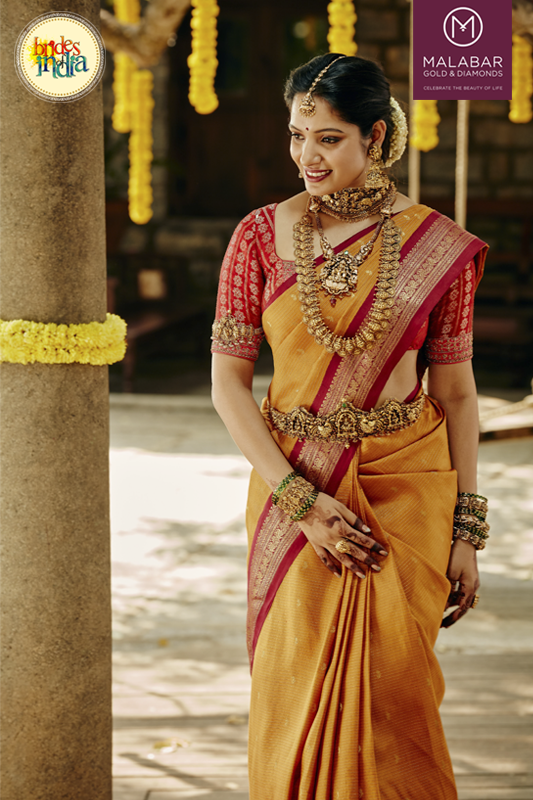 A
Kannadiga bride
looks elegant in her silk saree, layered temple jewellery and that gorgeous waist-belt and armlet- which makes her stand out among the rest. Chokers with temple jewellery designs are extremely popular with Kannadiga brides these days, especially when paired with longer necklaces. The best part is, the jewellery, whether bright gold or with an antique finish can go with just about any colored saree!
Telugu Bridal Jewellery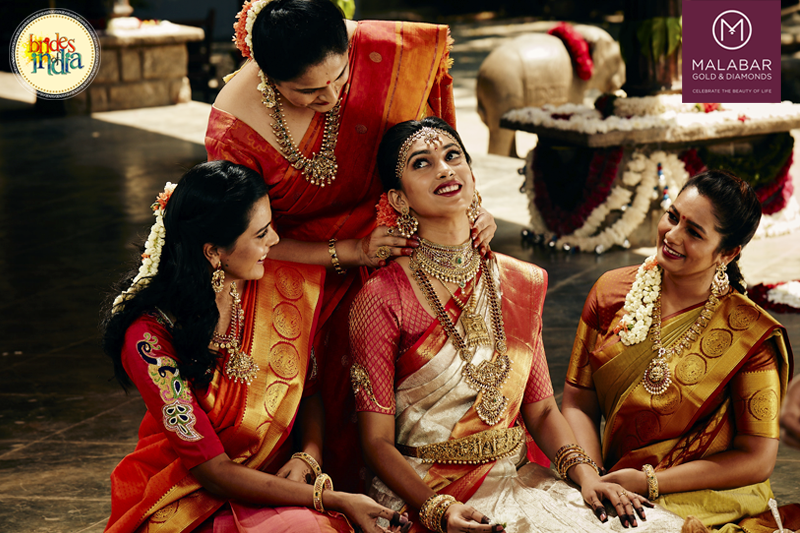 Heavy bridal jewellery is the hallmark of any
Telugu bride
. From head to waist, a Telugu bride is laden with jewellery, choosing between gold, which might be paired with diamonds and precious stones. Whether a bride chooses to wear the traditional red or something modern like yellow, the jewellery should ideally tie together her entire look, and contrasting precious stones like emeralds and rubies in the bridal jewellery can make the bridal look pop even better!
Marathi Bridal Jewellery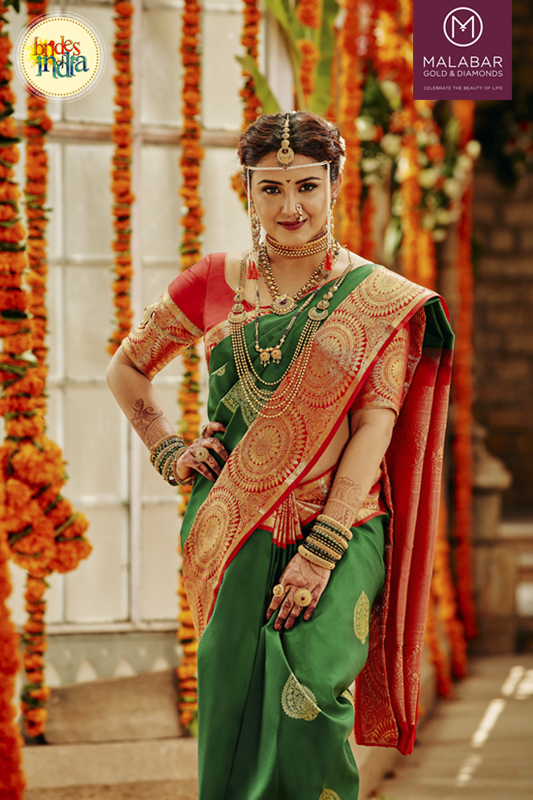 A
Marathi bridal look
is very unique- with the nine-yard Nauvari saree and the bridal jewellery which includes layered necklaces, a maangtikka or mathapatti, earrings, kadas, bangles, rings and the most special- Motyachi
Nath or Marathi Nath, which makes the bride stand out from the crowd. A choker layered with longer necklaces or a light rani haar is a trend we see a lot of brides opting for these days, and the best part is, the jewellery can be worn with a saree of any color, making it easy to reuse after the wedding as well.
Gujarati Bridal Jewellery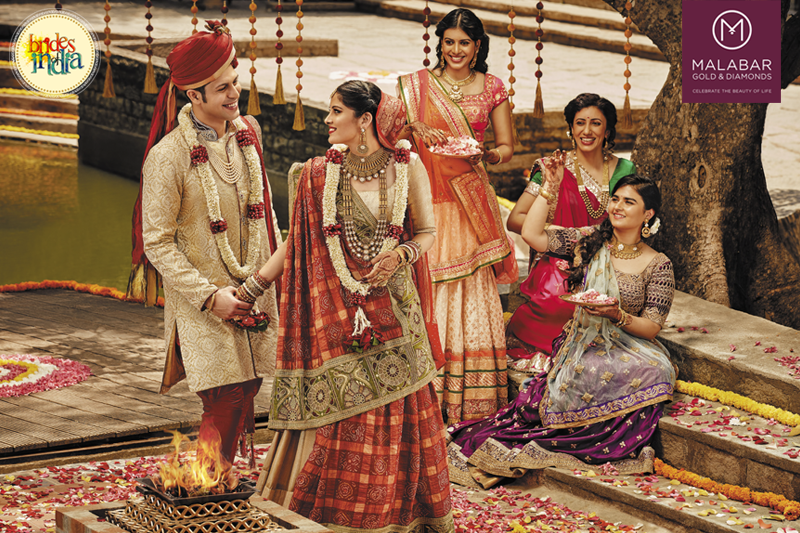 While it is the drape of the saree or the lehenga which makes a
Gujarati bride
really stand out, with a front-facing pallu, brides have the option of picking traditional or contemporary jewellery to complete their bridal look. With a shorter necklace layered with a rani haar, one can ensure that the jewellery does not clash against the work of the pallu. Heavy earrings and bangles can complete the subtle Gujarati bridal look.
Christian Diamond Jewellery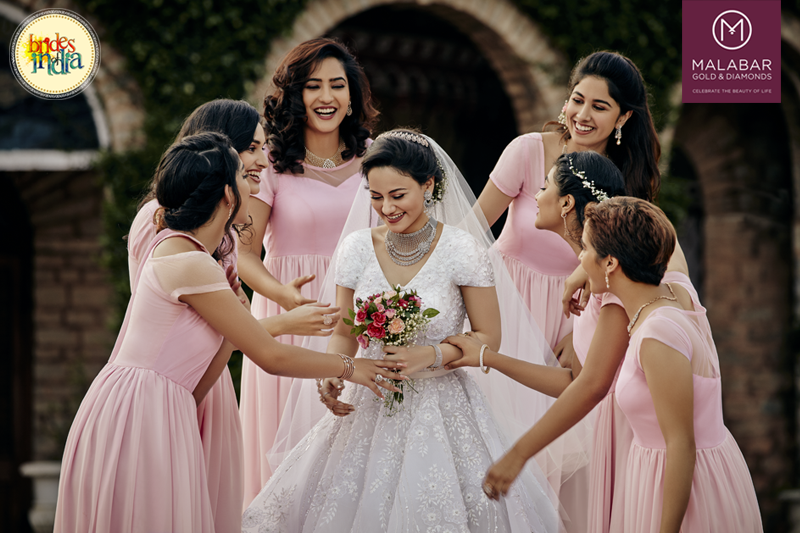 When it comes to picking jewellery with a
Christian
gown, you just cannot go wrong with diamond jewellery, which is a perfect fit for white or ivory outfits. Solitaire string necklaces look gorgeous, or you could choose to layer it with a bigger, bolder necklace. Teardrop or stud earrings can complete your look, making the bridal look traditional, yet with a touch of modern.
Muslim Bridal Jewellery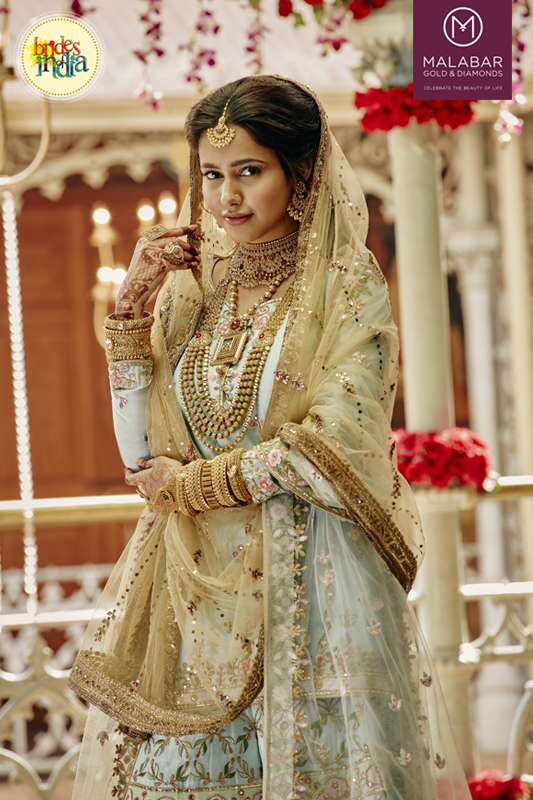 There is something very regal about a
Muslim bride
, and a big reason for that is the bridal jewellery a bride adorns on her special day! To look classy without going over the top, layering right is the key. Hair ornaments also play a big role in getting the look right- you could go for a passa or a maangtikka, or both. Gold jewellery is a more traditional pick for Muslim brides, although a lot of them are also opting for diamonds these days. Check out Malabar Gold & Diamonds' all new Bridal Jewellery Collection,
Brides Of India,
that resonates the spirit of India.