Bridal Mehndi For Full Hands
BY Guest Author | 05 Nov, 2019 | 75015 views | 5 min read
What are weddings without Mehndi? We Indians can't help but turn a wee bit dramatic when it comes to Bridal Mehndi designs! What you call cliché on other days, seems to be just perfect on your big day! There's a photoshoot exclusively for the Mehndi on your hands and feet? Dramatic "covering the face" poses – all in an attempt to show your Mehndi? We're with you in this, I mean, who doesn't want to flaunt their Mehndi?
But what's stressful is, picking a Mehendi design that suits your style. If it's going to be in all the wedding pictures, all through the occasion, it better be the best, don't you think?
Stop your search now and give the below list a read! We've combined a list of beautiful bridal mehendi designs for full hands that will adorn your hands like nothing else.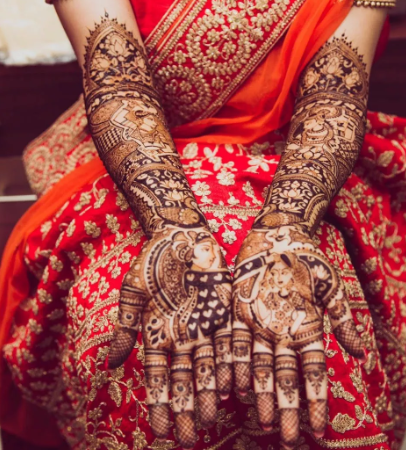 Image via Candid Wedding Stories★ 5
1. TRADITIONAL INDIAN MEHNDI DESIGNS
The classic traditional Indian bridal Mehndi never ceases to amaze us! The simple, yet intricate motifs, paisleys and floral patterns have been ruling over all the other newbie mehendi designs, since forever!
These are the designs you can blindly trust to look amazing, on your big day!
The mehndi, paired with your wedding lehenga/saree, no one can stop you from looking gorgeous!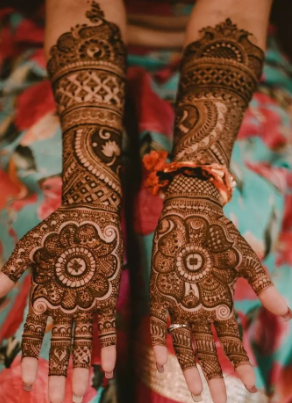 Image via We Dont Say Cheese★ 4.6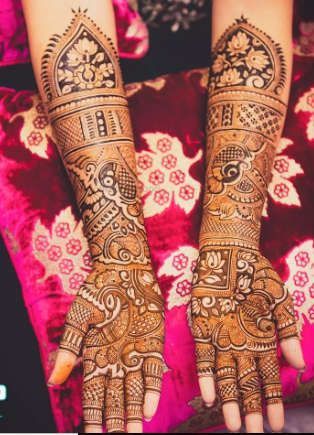 Image via  Photography By Jaspal★ 4.7
2. ARABIC MEHNDI DESIGNS
You are not a huge fan of mehndi covering every inch of your skin? Here's what you can get. Let the subtle Arabic Mehndi designs adorn your hands on your big day!
As far as we are concerned, Arabic Mehndi is the traditional Indian Mehendi's simple yet elegant sister! If Indie Mehndi is intricate and stunning, Arabic is delicate and charming!
Arabic mehndi has been around for ages now, and there might be a tiff between the Indie and the Arabic style, for they're both gorgeous! Suit yourself *wink wink*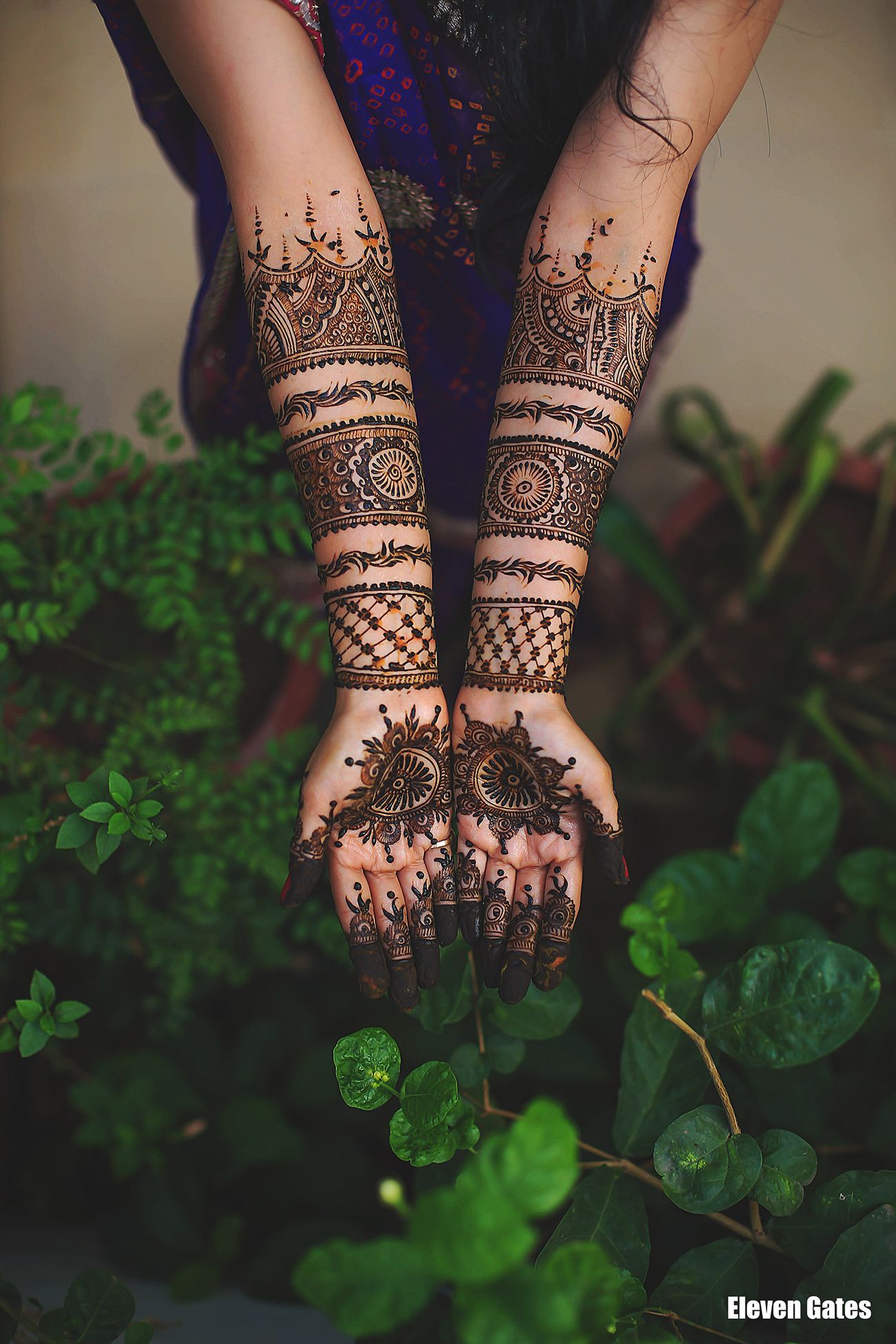 Image via Eleven Gates★ 5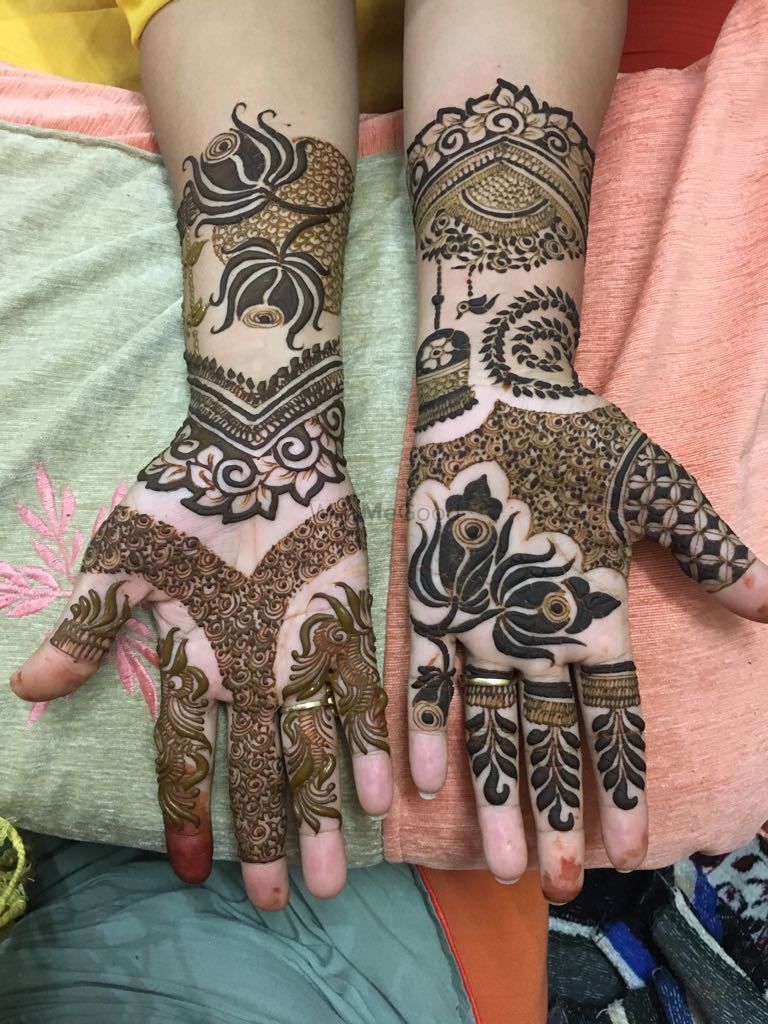 Image  via Tasneem Mehendi Designer★ 4.5
3. GEOMETRIC MEHNDI DESIGNS
Be it tattoos, or any piece of art, incorporating geometric shapes is really intriguing!
Geometric mehndi designs look easy, but you'll know better when you get them about how they have to be perfect, to look stunning!
For all the unconventional rocking brides out there, here's you cup of tea, may we say?  We can see you totally slaying you big day with these designs!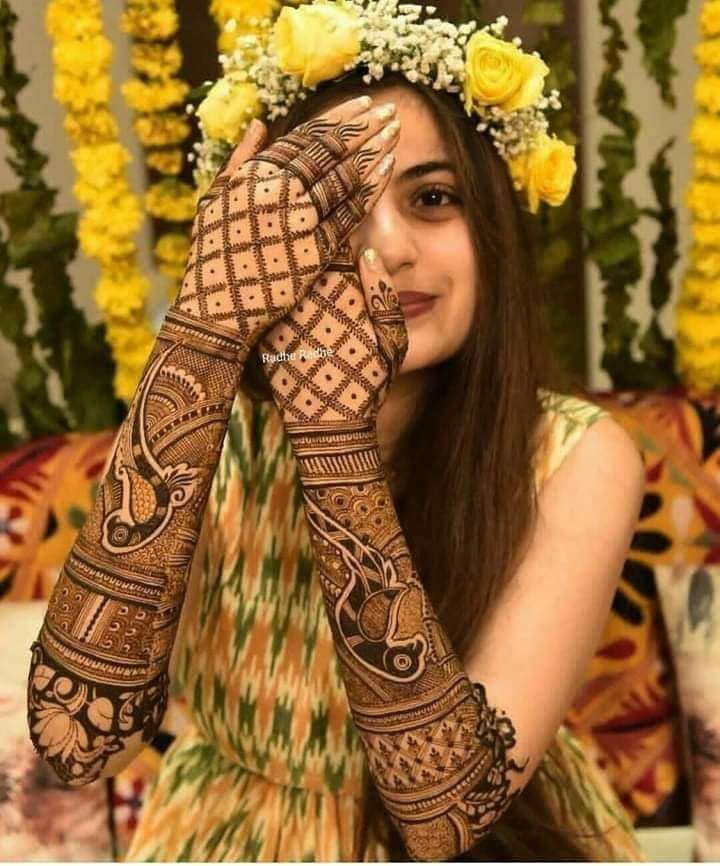 Image via Jaypuri Mehandi★ 4.8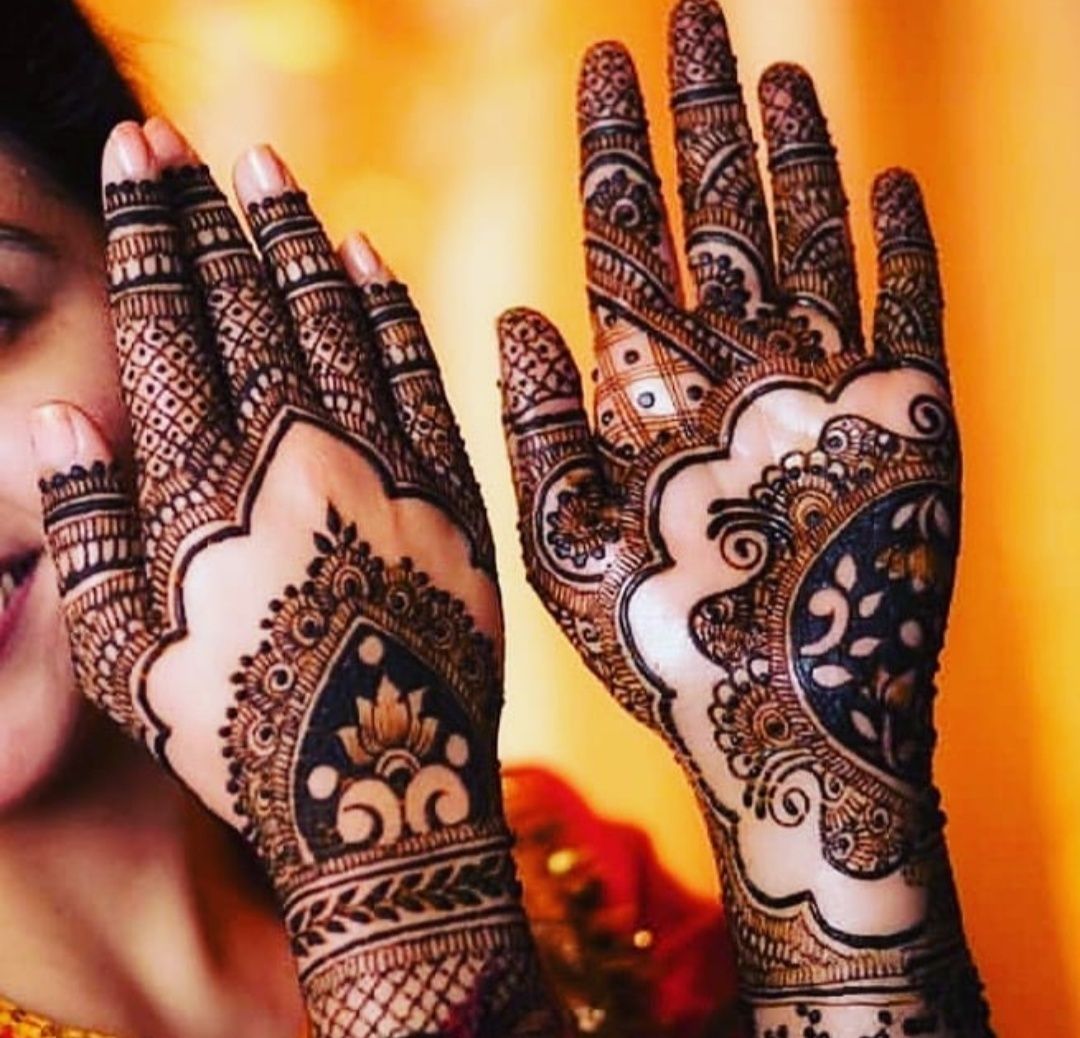 Image via Vandana Solanki Mehandi Artist★ 4.9
4. BANGLE MEHNDI DESIGNS
Adorning your hands with bangles is too mainstream, eh? How about getting a bangles-themed mehndi design for you wedding day!? We absolutely love bangles! If you do too, congratulations, you've picked your bridal mehndi design!
You may not always find the design you're looking for, when you're picking bangles. But, chin up, butter cup! You can have your very own mehndi bangles, with the very design you're looking for!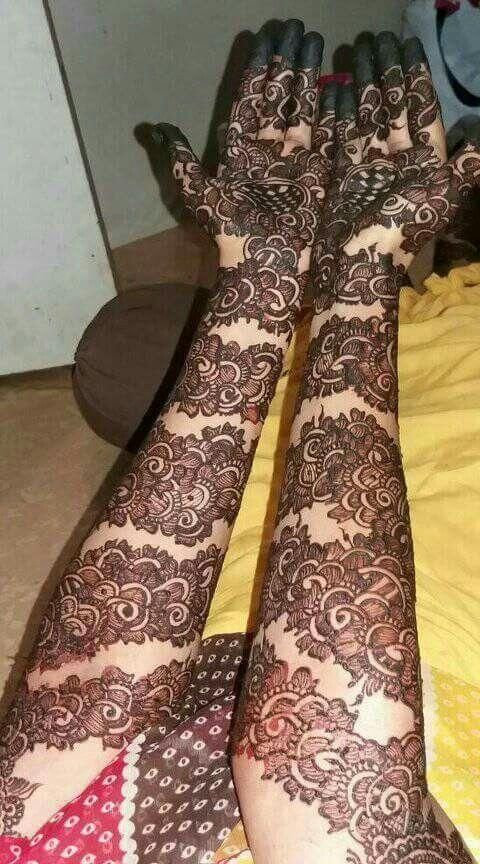 Image via Pinterest
5. PORTRAIT MEHNDI DESIGNS
Well, if you don't get cheesy on your big day, when else can you?
Of late, we're seeing brides getting portrait bridal mehndi designs, and we can't tell you how much we adore them! What's more beautiful is that, a chance to let the most important people in the world know what they mean to you!
Some brides get portraits of their parents, some their fiancé. A lot of our brides are even getting portraits of their fav deities, or of the wedding ceremony itself!
The list is long! Getting a little senti-wali-mental, aren't you? We are, too! *sobs*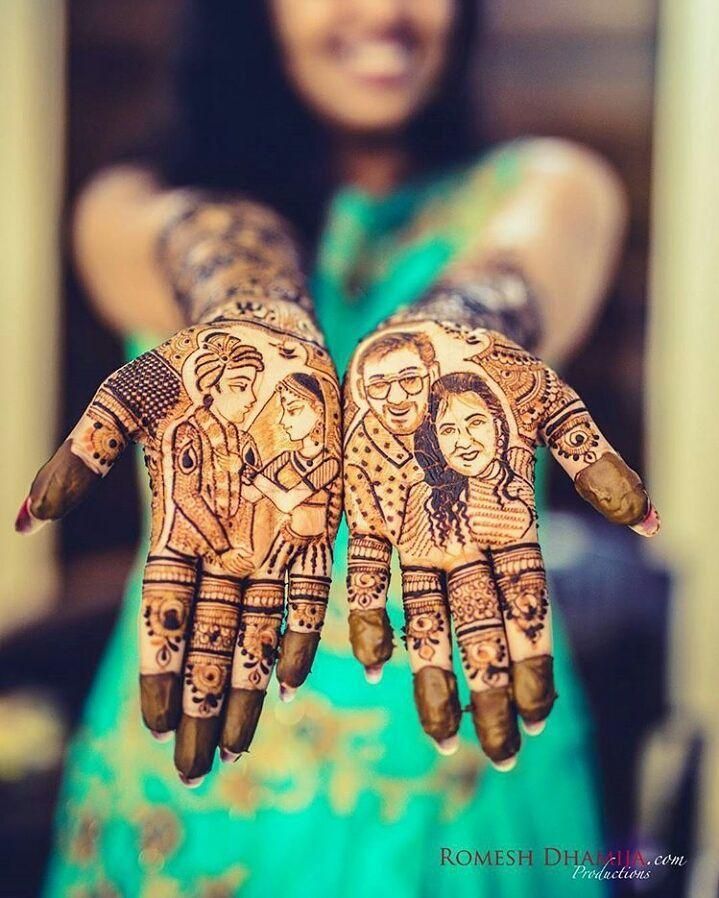 Image via Meghna & Parag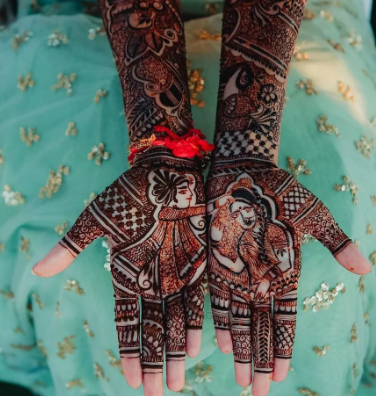 Image via Vivek Krishnan photography★ 4.9
6. STONE-STUDDED MEHNDI DESIGNS
We have a question! How much sparkle is too much sparkle? On normal days, there's a said limit apparently. But do we look like we care about any limits at all, when it comes to weddings? Nah-uh!
Stone-studded mehendi has been gaining popularity among our brides! More like, mehndi has become part of the jewellery. Want to match your outfit with your mehndi? Simple! Pick them stone-studded mehndi designs! *Drum roll*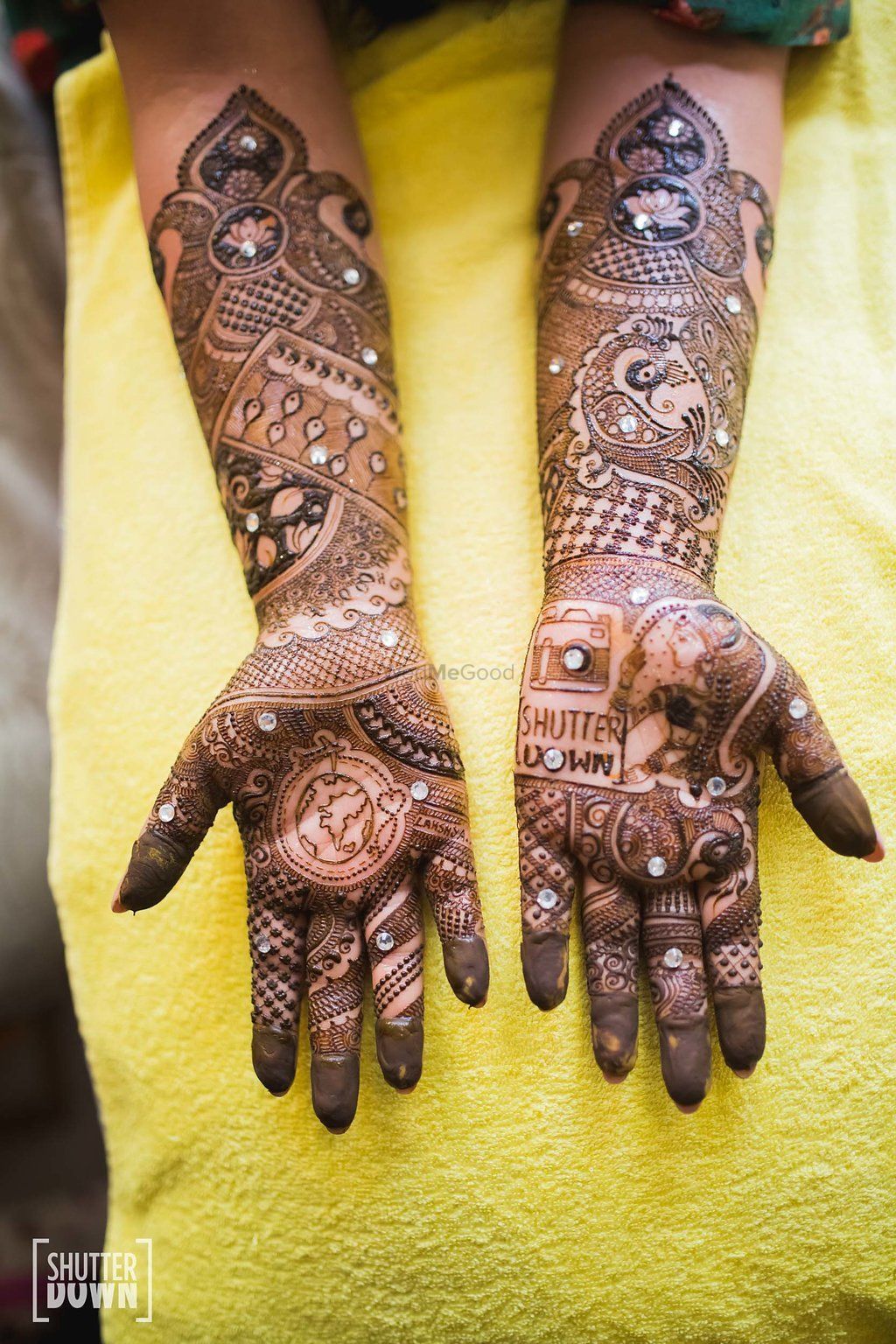 Image via Shutterdown - Lakshya Chawla★ 4.9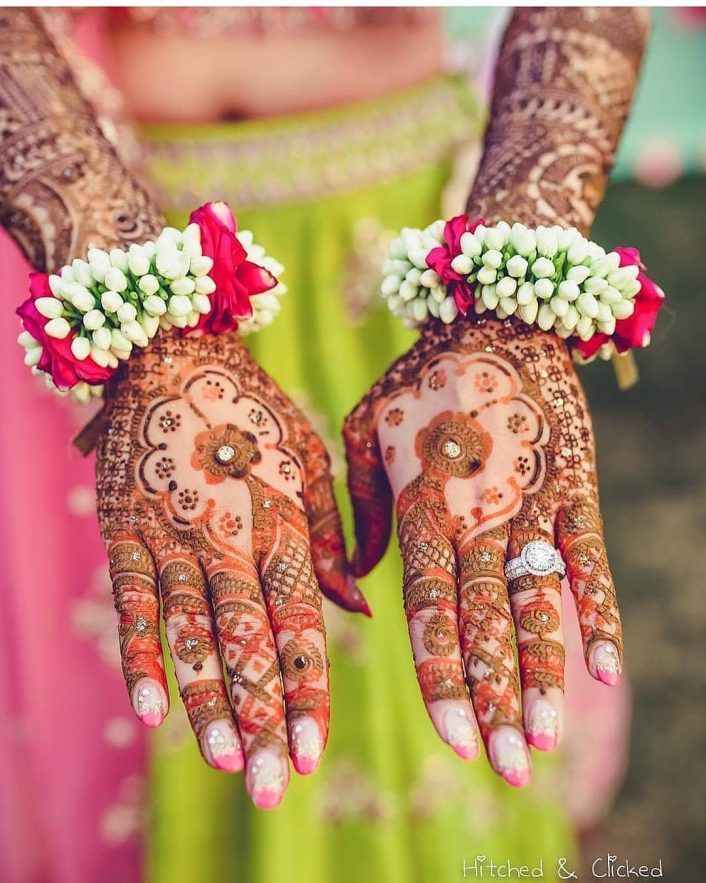 Image via Hitched and Clicked★ 4.8  
7. MEHNDI DESIGNS FOR ANIMALS & BIRDS LOVERS
This is for the brides who love their furry or fluffy friends way too much! How do we tell them they're more than just a pet? They're family, aren't they? This is also for those of you who have never had pets but love animals nonetheless!
This is your shot in picking fur friends over humans! *wink wink*
Our personal favourite – ELEPHANTS! Not only are they adorable, they also make the whole mehndi look regal! Peacocks come second! They're again, every bit royal and breath-taking!
Animals or birds, bring it on, Queen!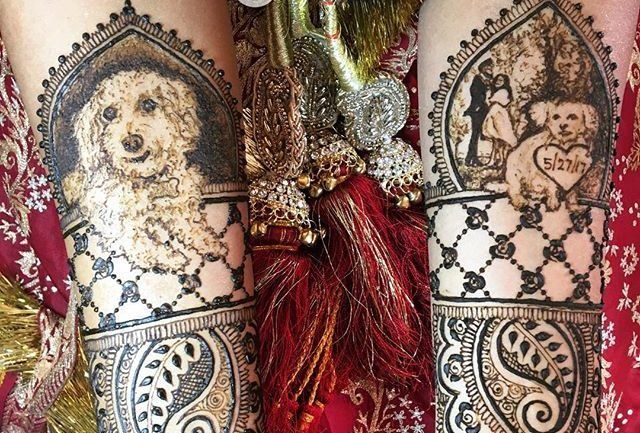 Image via Divya Henna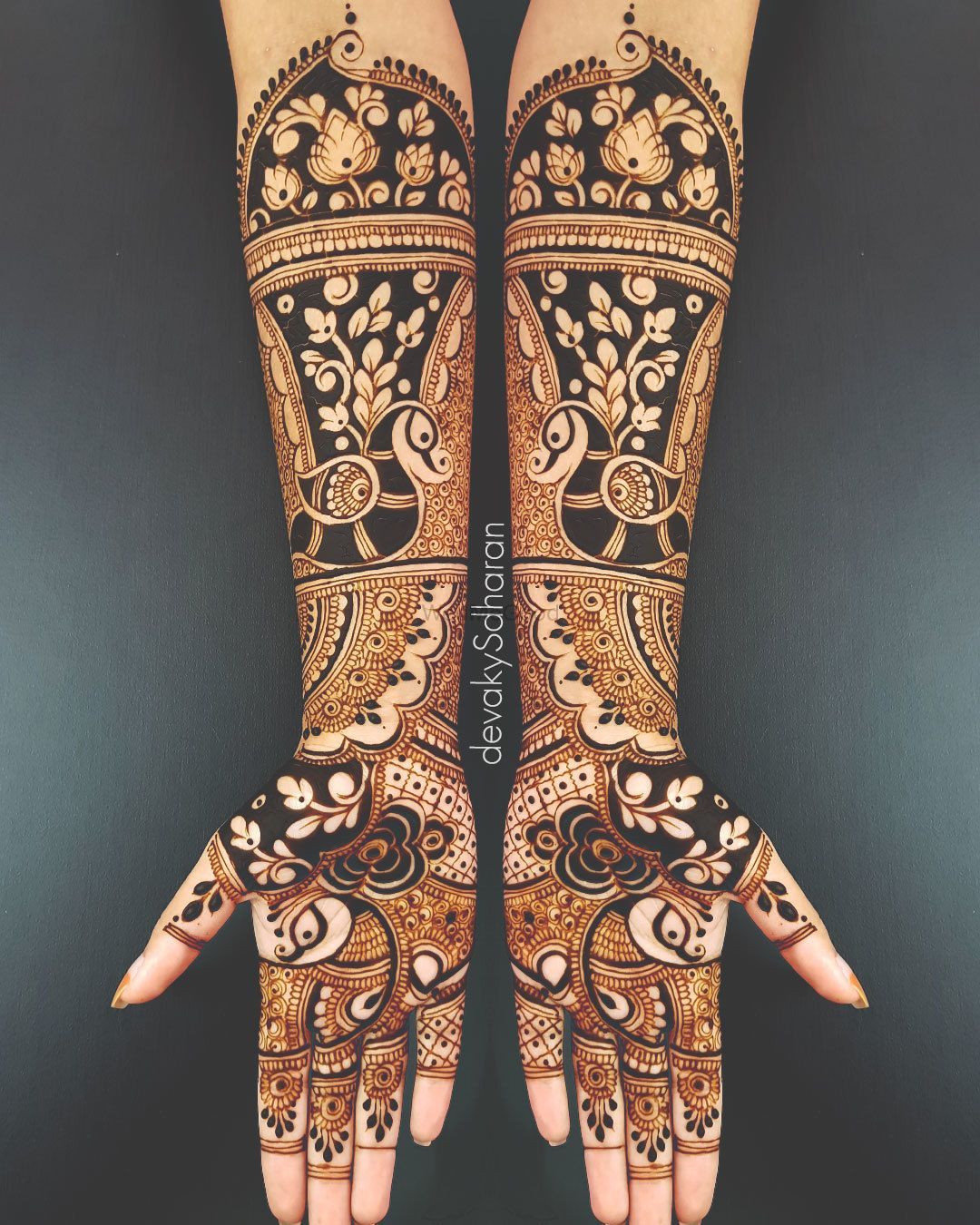 Image via Bridal Mehendi Trivandrum by Devaky★ 5
8. MEHNDI DESIGNS WITH TEXTS
Have a song that you and the groom share? A very special song? Add them to your mehndi! Like we said earlier, this is your chance to get a little extra! Don't have to think twice. Just do it!
Are there quotes you really believe in? Or, lines from scriptures? Have them on you, on your big day! Quotes, names, hashtags, songs, letters, and all – the options are one too many.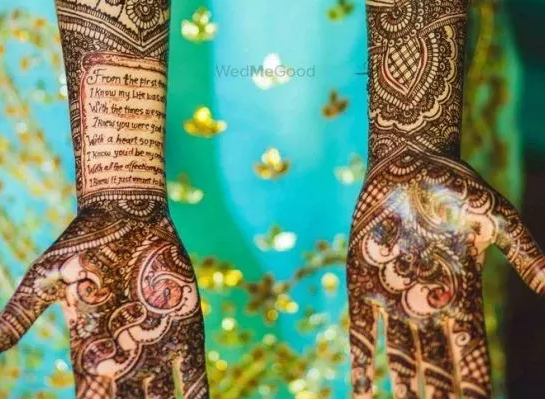 Via Jodi clickers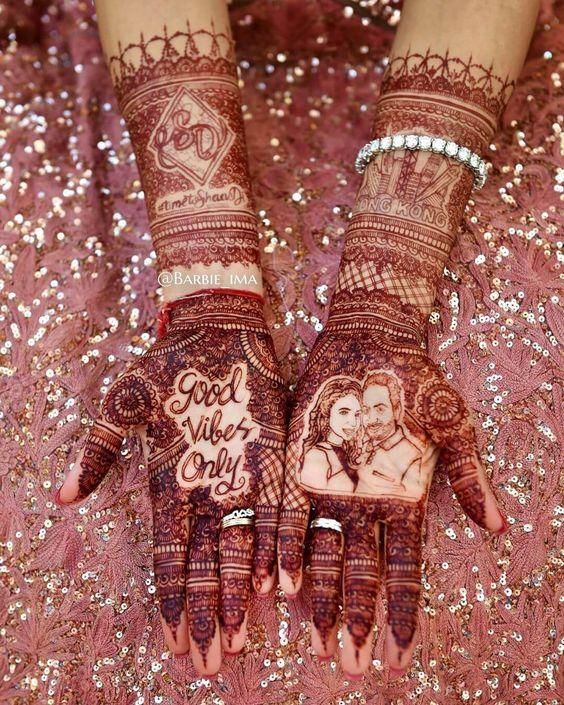 Image via Henna by Ima Habsyi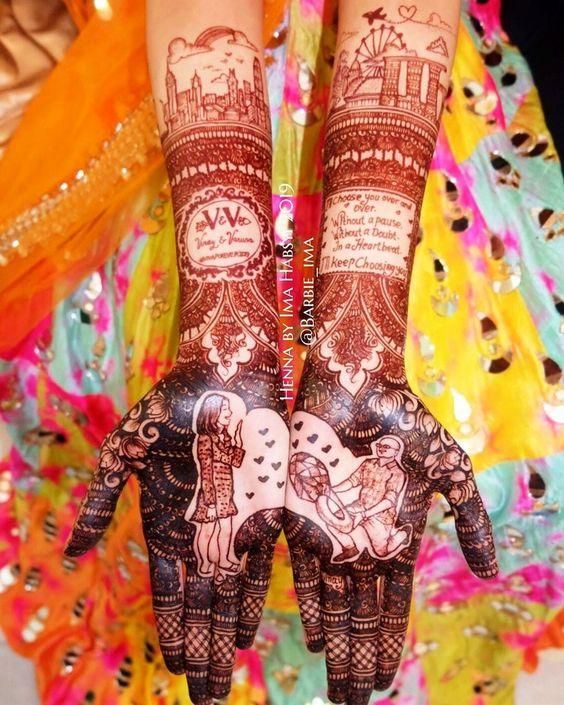 Image via Henna by Ima Habsyi
9. STORY-BASED MEHNDI DESIGNS
What's your story? Where did you guys meet? Who proposed? Where did it all start? When? How?
Sigh! There's a never-ending train of questions that you're bombarded with, even at your wedding. How about letting your bridal mehndi speak for you? A little portrait of the place where it all began? A portrait of who proposed, and how?
Having a story-based mehendi is really exciting and you sure don't want to miss out on the fun! #Mehndispeaks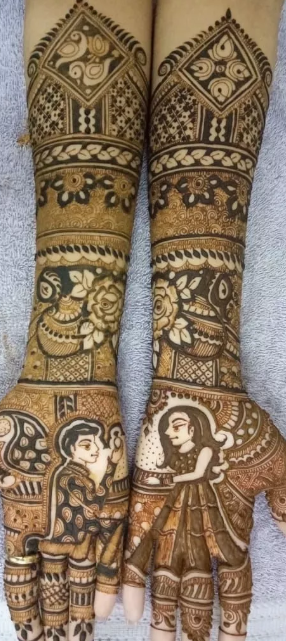 Image via Raju Mehandi Artist★ 4.9
Image via B3WeddingZ★ 4.9
We sure enjoyed curating this list for you! Mehndis complete weddings, don't they?
Make your wedding one of a kind, in every way possible! It's okay to be cliché and cheesy, or sparkly and extra! It's a once-in-a-lifetime sort of a thing after all!
Let your mehndi define you!
Authored by Yashaswini Balasubramanyam