Chura from the eyes of a frustrated new bride
BY The WMG Bride | 21 Feb, 2015 | 18403 views | 4 min read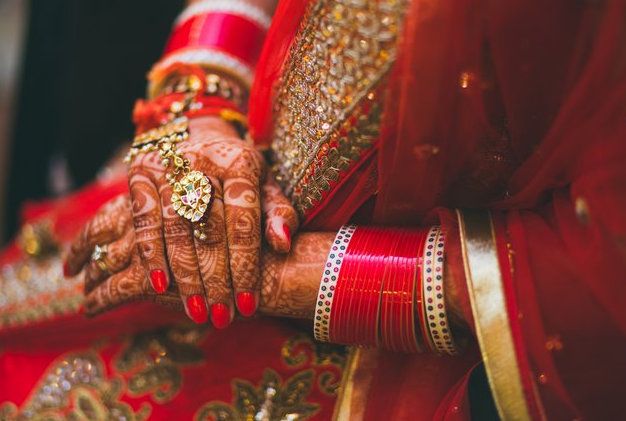 There was a time when I would smirk at every girl on my Facebook list honeymooning on some tropical island with her new husband... dressed in hot skimpy beach wear.. wearing a chura.
Yes... a chura to go with that bikini top and shorts!
I would smirk, telling myself in my head that 'at least I'm not gonna be like that'! After all, we don't have that tradition in my family.
But of course, Murphy's Law prevailed.
My husbands family believed in it and I ended up becoming one of them. Honeymooning in a tropical island WEARING A CHURA!
I know, I could have removed it if I had such a problem with it. One of my friends who did that everyday when she got married suggested that to me as well. Call it superstition or call it whatever, but she's had a problematic marriage so far, so I decided to stick to it for at least 40 days. I know, I know it's a traditional thing and I shouldn't diss it, but what to do?
I can't sleep, I can't type, and I certainly can't drive without it distracting me... and to top it all, there's always this feeling that SOMETHING IS THERE... on both my arms!
I mean, I've always been the sorts who can't stand anything more than stud earrings and a watch- so you get what I'm talking about. Yes, watch reminds me- I cannot wear one, and the occasional habitual glance at the chura fails to tell me the time.
The best part is that I wasn't the one who chose this chura... heck, I wasn't even allowed to see it! When you tell a relative to get something for the bride... what do they get? The most fancy thing they find.. so yes, my chura is big and my chura is loud. To top it all, Mamas aren't really used to putting bangles on ladies, so I went through the ceremony with cuts on all my knuckles.. which didn't show until later thanks to the mehendi... so yes, I'm sporting bandaids in my wedding pics too!
I wake up every time I change my pose at night, because they make a noise. In the morning, I have atleast 5 bangles out of it imprinted on my forehead. My work involves a lot of typing. It takes me double the time because  my chura gets a mind of its own during that time and clicks the mouse and hits random buttons on the laptop. I mean HOW? How can someone wear this and work in an office for such a long time? And yes, out of all my jackets during winter, my arms would go inside only one. Which I wore, and wore and wore again.
If it's bad for me, it's worse for my husband. Poor thing keeps adjusting my hands at night as he tries to work his way around hugging and sleeping with me. And not to forget the torture his face and back endure, with scratches and accidental hits. And for girls who stay with in-laws, how do you keep the Chura noise from echoing around the house at night when you guys, you know...that thing!
I know this sounds like a frustrated post, but that I am... a lot. I know a lot of girls love to wear it, but this is really my personal opinion... not to put anyone or any tradition down. All I believe is that every bride should be given a choice, whether she wants to wear it or not... and even if she does, the duration for which she wears it should be her choice, not someone else's. After all, it's her body.
So what do you think? Was it a challenge for you to wear the chura as well or did you like it? Share with us in the comments below!