Elegant, traditional wedding in Mombasa, Africa
BY The WMG Bride | 23 Nov, 2015 | 1845 views | 4 min read
What really struck us about Priyanka and Vishal's wedding is the sheer elegance of it all - right from the larger-than life mandap at the beach to the cute intimate floral details at the mehendi. Everything was personalised and romantic - including the candles at the wedding do's. Yeah, yeah, we are partial to beach weddings and what we really loved was the way the horse was decorated - in myriad colour pompoms (ultra cute!) and romance hit us big time at the under water pre-wedding shoot (so adorbs!). This wedding was a lot of work and it definitely shows, all thanks to the photography team at
Shutterdown - Lakshya Chawla
.
Meet Priyanka & Vishal
"We met at a temple function in his hometown, Arusha, in April 2011. It was a very cliche encounter… he saw me, I never did! Later, we were introduced by common friends, and when we finally spoke to each other, he was clean-bowled! He asked for my number, and to my surprise, I hesitantly gave it up and that got the ball rolling.
We talked once in a while initially, and then more frequently, then daily. He moved home from the UK that year in August while I continued to pursue medicine. He happened to visit Dar the following January and we met and fell more in love. We had a rather uncomfortable dinner together because as much as talking to him over the phone and chatting was normal, meeting him in person was a strange feeling. Cupid struck when he surprised me that Valentines day. There were roses, just how I love them - red roses, candles, dinner by the sea - with him, it was beautiful. One of my best memories with him.
He proposed to me that May on my birthday, over the phone. Later, he went on his knees in August when I graduated from med school, and I said yes! Knowing Vishal and the journey so far has been beyond perfect, it's my own little fairytale! He makes me laugh really hard, he's my friend, he's my anchor and now, he's my husband!" says Priyanka choked up with emotion.
The Mehendi
" The wedding weeks were fun with family from near and far, and our dramatic shoots with Shutterdown and Alankrita were the icing on the cake. Everyone had a memorable two weeks and we enjoyed our 4-week honeymoon in Hawaii, Bora Bora, Tahiti, LA and Amsterdam even more after the hectic weeks," she adds.
 Cocktails & Reception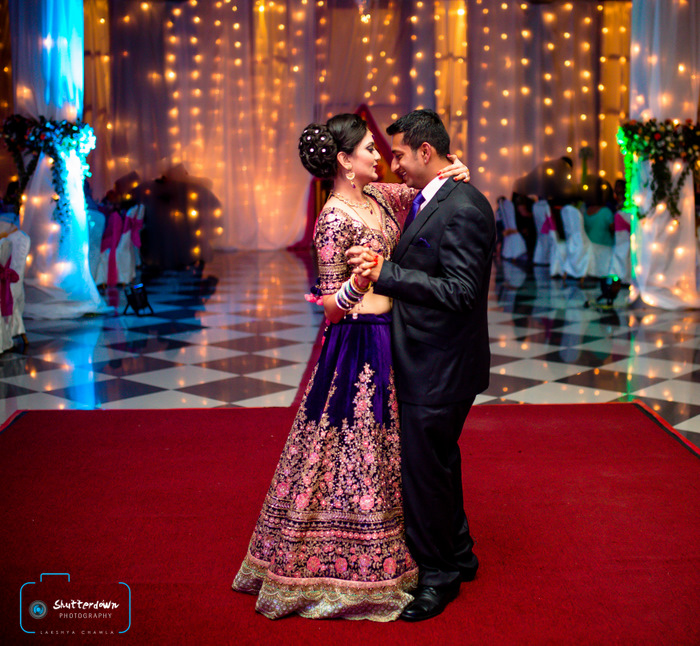 The Wedding
From the bride: "Ever since we got engaged in April last year, wedding plans had begun in my family. Being the last born in a family of five sisters, everyone wanted it to be special in their own little way! I love the sea, sun and sand.  And since I was born and brought up in sunny Mombasa with its stunning beaches, I naturally dreamt of getting married by the beach in a beautiful, to-die-for blood red lehenga! The wedding was exactly how we wanted it: traditional. Marriage is very sacred, and thus we followed each and every tradition according to the Kutchhi Gujarati traditions. We did it exactly as it was supposed to be done! Our wedding was nothing short of a dream come true -the highlight was the wedding day -the happiness we saw on our families' faces was just amazing!" she says.
"It took 3 trips to India between December last year and May this year to finalize everything - outfits, jewellery, cards, photographers, gifts. And it all took shape perfectly in the end. I wanted a different look for every function, and I love my bright colours. Shruti and Sameer were just perfect in planning my trousseau -the mandap was simple and elegant, just how I wanted it. Our wedding celebrations were spread over two weeks and across two countries, Kenya and Tanzania. Thanks to my lovely family, especially my mum and papa, the planning was smooth! My mother was my backbone as always. There was a personalised touch to every aspect of the wedding. Wedding favors were prepared by my sisters, smallest of details were taken care of by my sisters, including the wedding programme and gift tags" she says.
---
Vendors: Bride's outfits for Mehendi (mint lehenga) ,  Wedding (red and green lehenga) : Sillae Vagera (Shruti and Sameer Sehgal), Mumbai; Blue Reception Outfit by Asopalav Ahmedabad| Make-up: Sagai: Reshma and Varsha Halai (C/O Bina Hirani MUA), Mombasa; Mehendi, Sangeet, Vidhi, Wedding: Bansi Varsani MUA, Mombasa, Reception: Maninder Panesar MUA Arusha| Decor: Hussein Decorators and Vinu Patel| Mehendi Artist: Asha Paun| Wedding Cake: Krishma Shah | Desserts: Manali Gudka| Invitations: Gujarat Cards, Bhuj | Photography:Shutterdown - Lakshya Chawla★ 5  | Cinematography and Video: Shutterdown - Lakshya Chawla★ 5