Cool New English Songs That Can Make Your Entry Rock!
BY Sakshi | 03 Oct, 2018 | 10255 views | 2 min read
Looking for that perfect song that puts music to your words? Or maybe just something that's happy with killer beats? Well, if English is your language of choice, then here is something for you! We know we've been super partial to Bollywood till now, but if this is what rocks your boat more, then here are some super fun, romantic and crazy songs to make your entry to!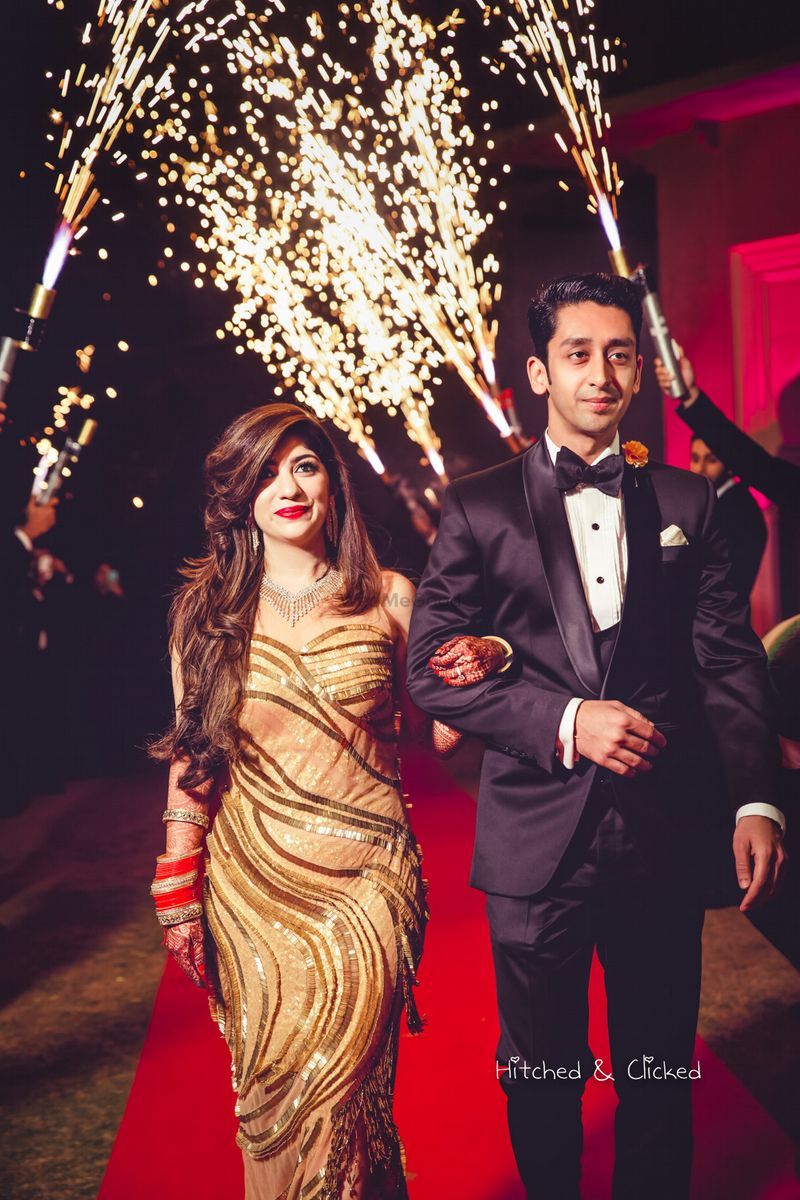 Image via Hitched and Clicked★ 4.8
Here are our picks which we feel are perfect!
In My Feelings by Drake
Video courtesy Drake on Youtube 
How about you make an entry on the #KikiChallenge song? Could be something new and interesting to do- and oh! So Insta-worthy!
Feels So Close by Calvin Harris
Video courtesy Calvin Harris on Youtube
The lyrics are on point for this one- and the beats are amazing too! So cool for the groom's entry! 
What Lovers Do by Maroon 5
Video courtesy Maroon 5 on Youtube
A bright and fun song- the beats are so catchy! If you're looking for a fun groom entry- then this one is a good one to consider!
I Like Me Better by Lauv
Video courtesy Lauv on Youtube
This is such a cute song- if you haven't heard it, please do! And the lyrics are adorable!
Can't Stop The Feeling by Justin Timberlake!
Video courtesy Justin Timberlake on Youtube
Such a happy song- and yes, we know you just can't stop the feeling on this special day!
Perfect by Ed Sheeran
Video courtesy Ed Sheeran on Youtube 
Just how perfect and mushy is this song? This one is for the mushy ones- so so pretty, and the lyrics are so romantic and apt for a wedding!
I Choose You by Sara Bareilles
Video courtesy sarabareilles on Youtube
Ok we agree this one is not so new- but its not so popular as a wedding song! It's perfect for the bridal entry- I Choose You- how much more apt can it get?
Magenta Riddim by DJ Snake
Video courtesy DJ Snake on Youtube 
If you're looking for a happy meaningless song with killer beats, yes, then this one can work- imagine it with a lot of fanfare and excitement!
Handclap by Fitz and the Tantrums
Video courtesy Fitz and the Tantrums on Youtube 
Another happy happy track which is great to get the crowd involved too! Plus, how fun is the handclapping?
ALSO READ: The Perfect, Most Romantic Songs For Your Ring Exchange!
 8 Fusion Songs That Will Make Your Sangeet Playlist Pop! *Hinglish Songs #FTW