Cute Ideas To Make Your Home Mehendi Function Super Fun!
BY Sakshi | 07 Aug, 2018 | 21933 views | 4 min read
A Mehendi at home need not be plain and bare- there are so many amazing new ideas out there to make it rock in every way- be it your look, the decor or even the vibe of the whole place! Here are some easy peasy mehendi decor ideas to make the event at home even more fun and happy!
Outfit: Pick an offbeat hue that stands out!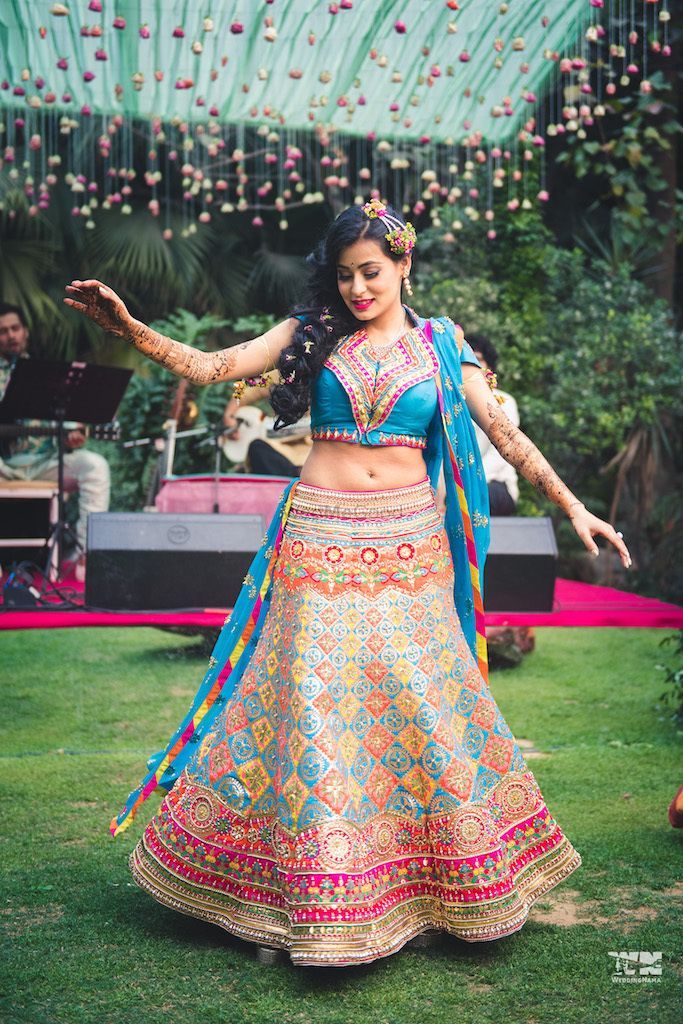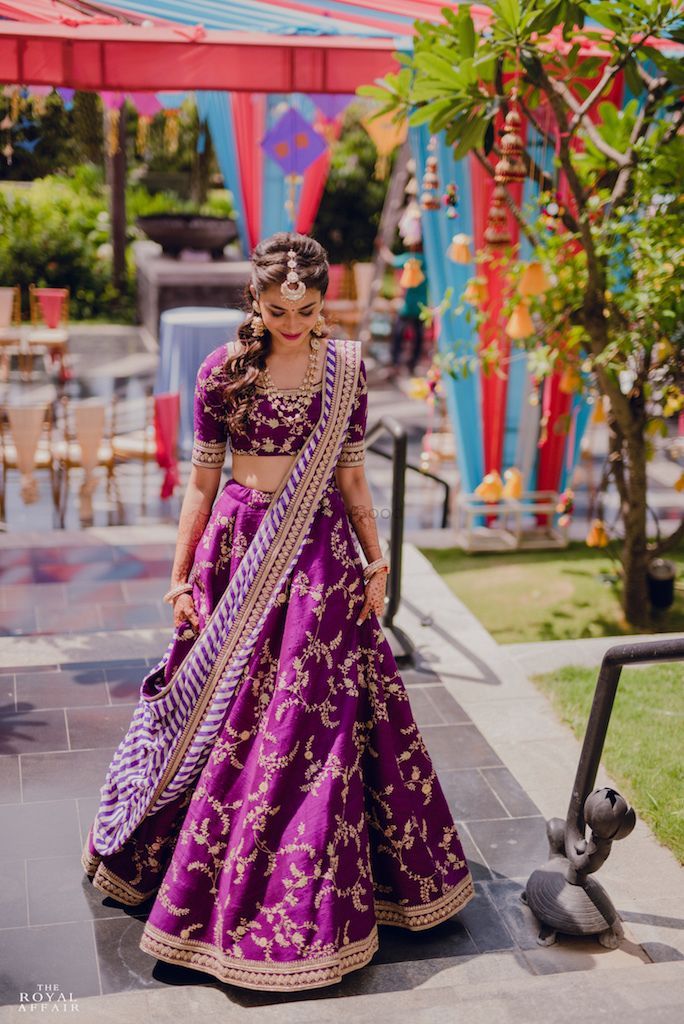 Image via Aashna & Bhisham (Delhi) and Chetna & Naitik (Chennai)
Whether your outfit is a designer one or not, make sure to pick a striking new unique hue that really stands out! It looks beautiful and makes you pop in the crowd!
Outfit: Or maybe a silhouette that's trendy and new!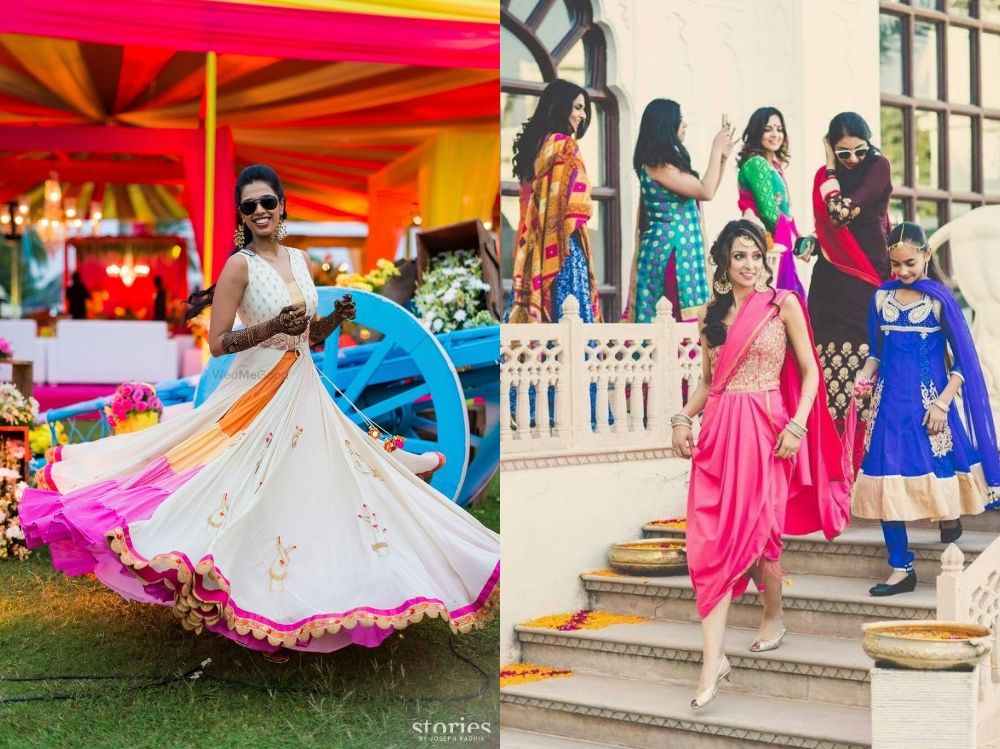 Image via Pooja & Rajesh (Hyderabad) and Romesh Dhamija Photography
If the colour can't do the talking, then the silhouette can! There are so many new Indo-western outfits out there perfect for the mehendi and so unique to look at! Here's some inspiration!
Outfit: Twin it with your sister or your groom!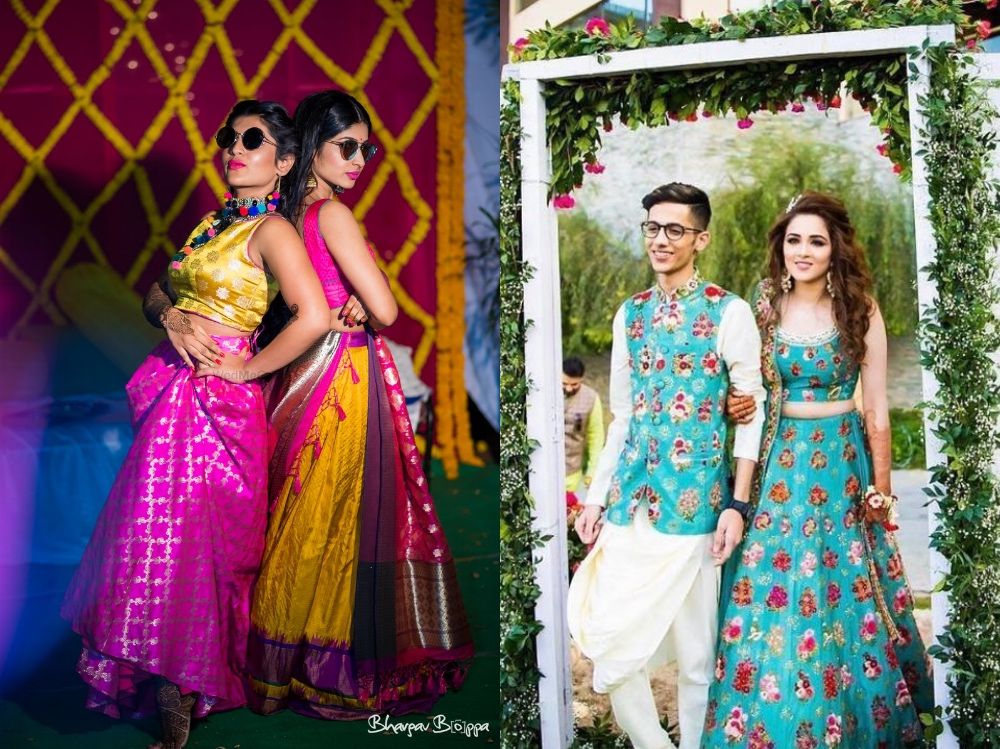 Image via Make-up by Afsha Rangila★ 4.9  and Fotowalle - The Story Folks★ 4.9
Twinning with your sister or the groom is another new trend we are seeing, and it just makes everything look like so much fun!
Idea: Make an entry to remember!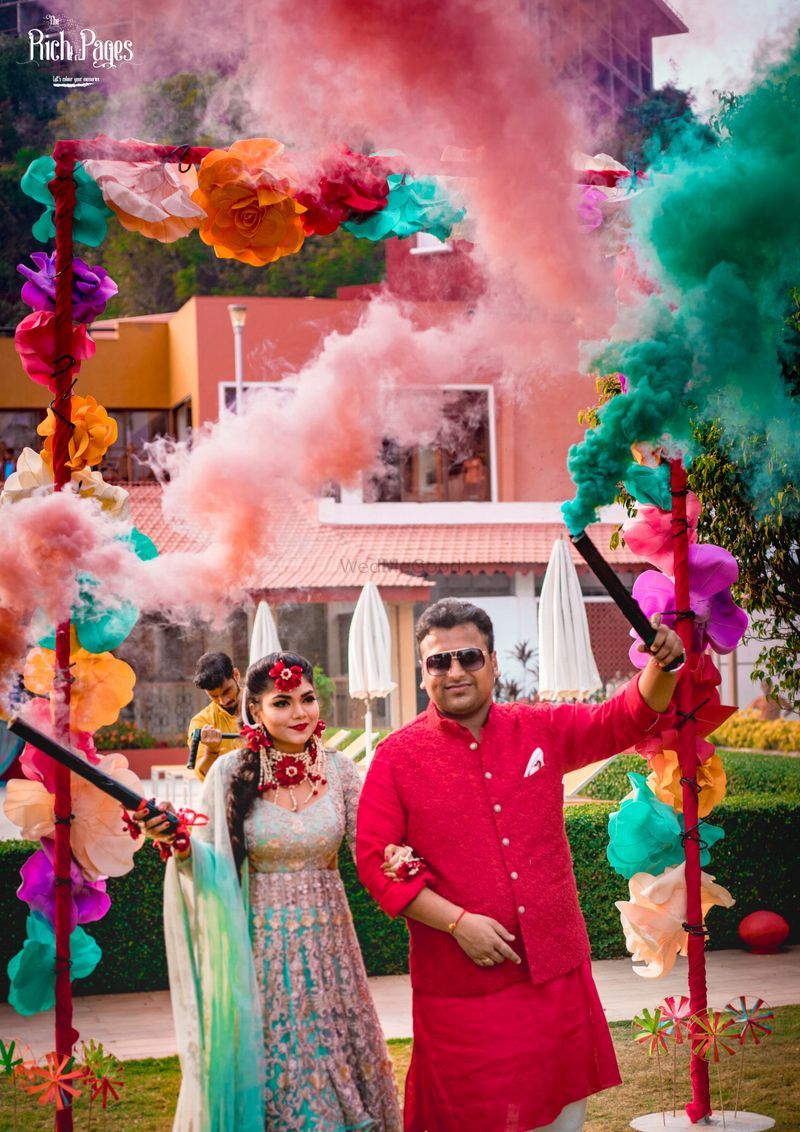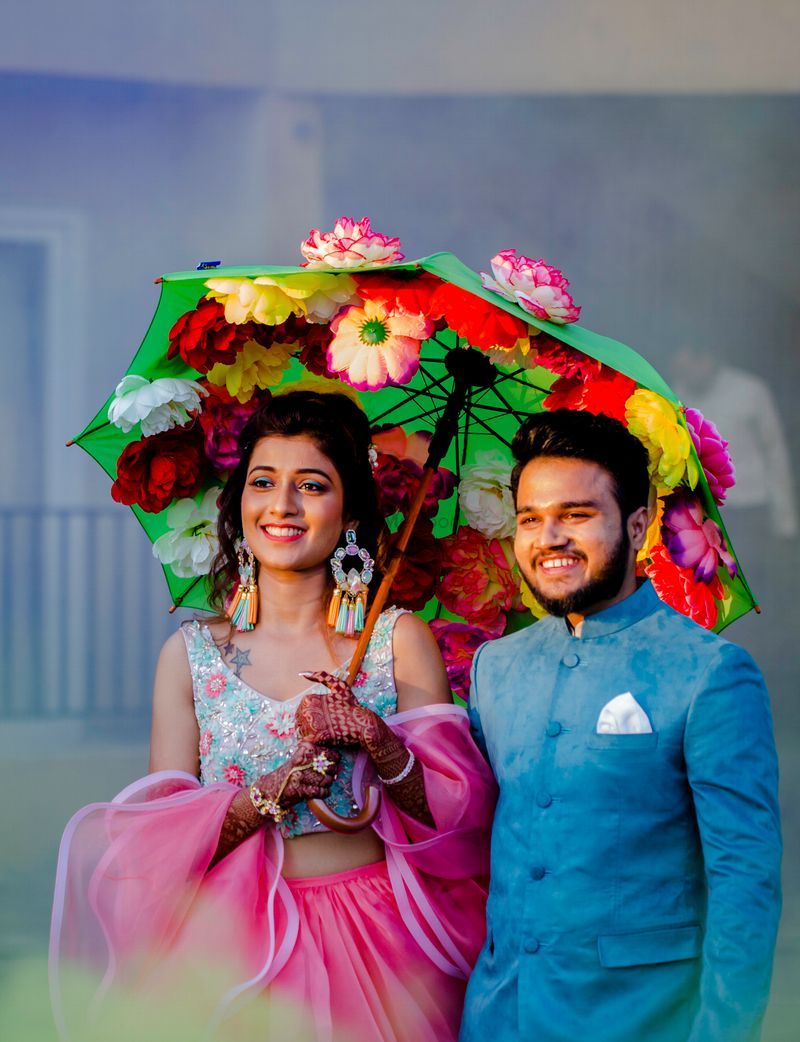 Image via The Rich Pages★ 4.9  and Busy Bee Studio★ 4.9
Whether it is at home or your garden, an easy way to get everyone's attention is to enter with a bang! Here are two simple ideas- use smoke sticks for drama or a floral umbrella for an elegant entry!
Idea: Make your bridal mehendi unique! 
Image via Clicksunlimited Photography★ 4.5  and divyahenna
Give the old bridal mehendi a miss and get something new done! Here are some cool new ideas which are trendy and unique!
Idea: Include your pet if you have one!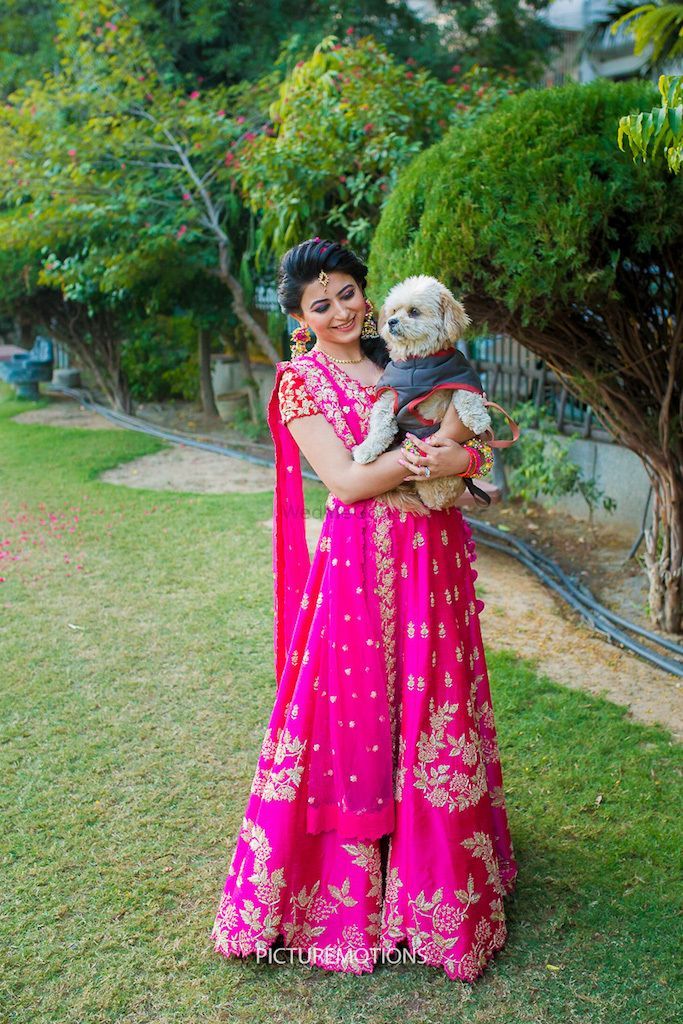 Image via Vidisha & Avinish (Delhi)
If you have a pet, then make dress it up and make it a part of the festivities as well! The photos come out super cute!
Favours: Give out some personalised merch!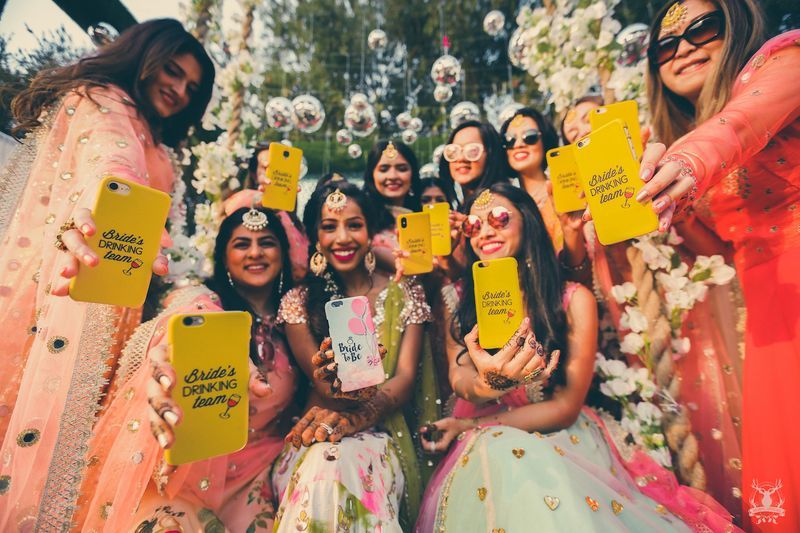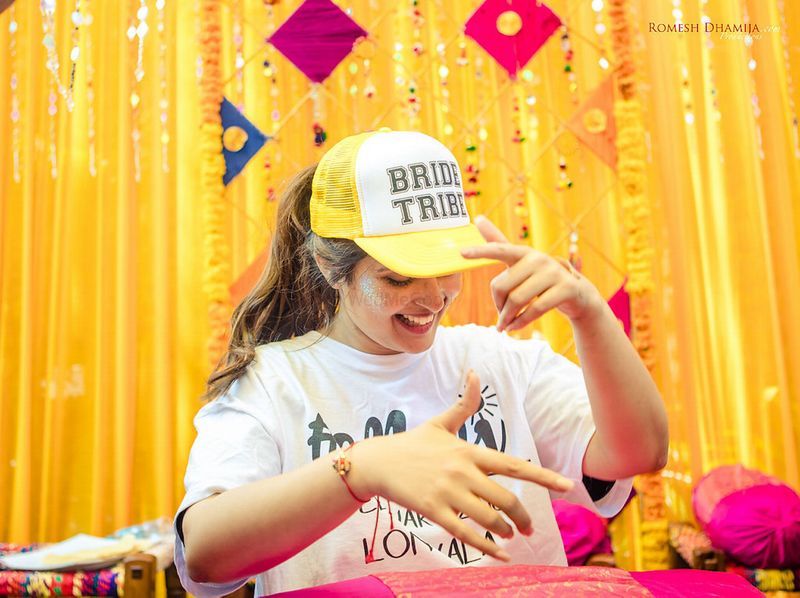 Image via Tuhina and Filip (Delhi) and Emma & Ravi (Lonavala)
Give out something personalised or customised to your bridesmaids and guests which can not only make them happy, but make the photos super cute!
Favours: Or some simple but memorable ones!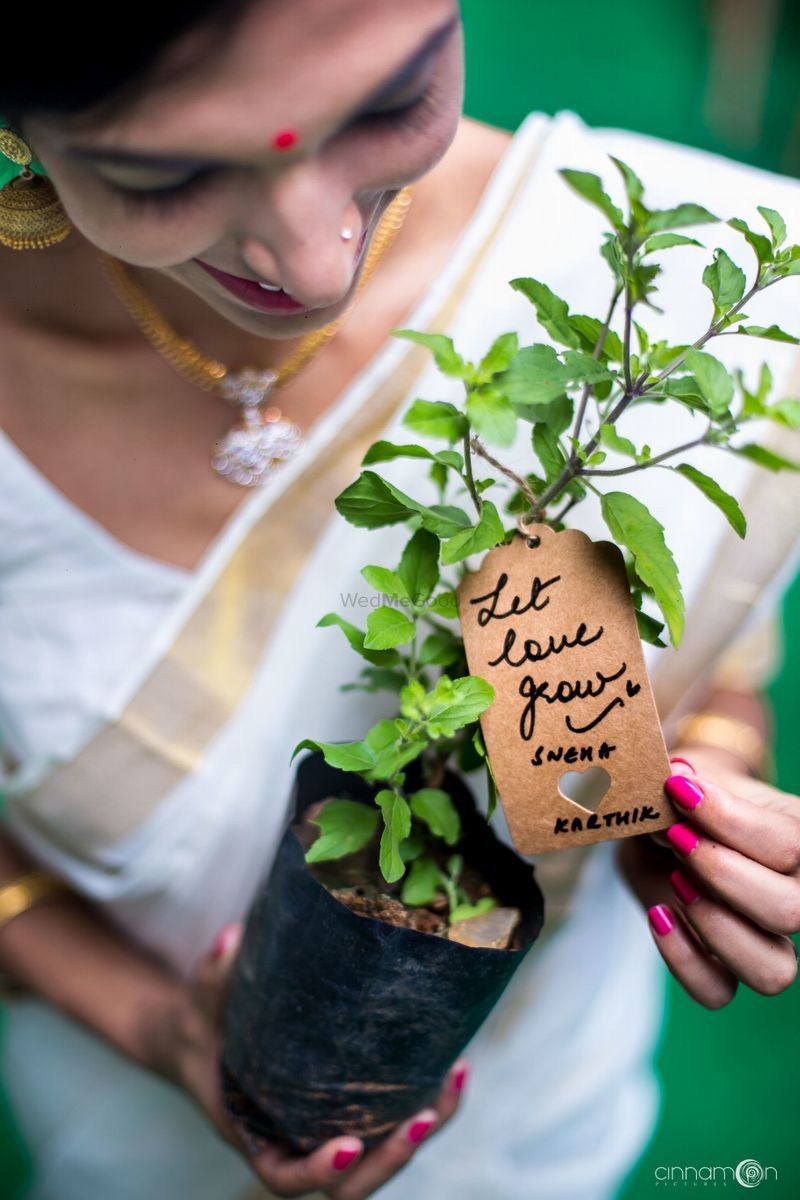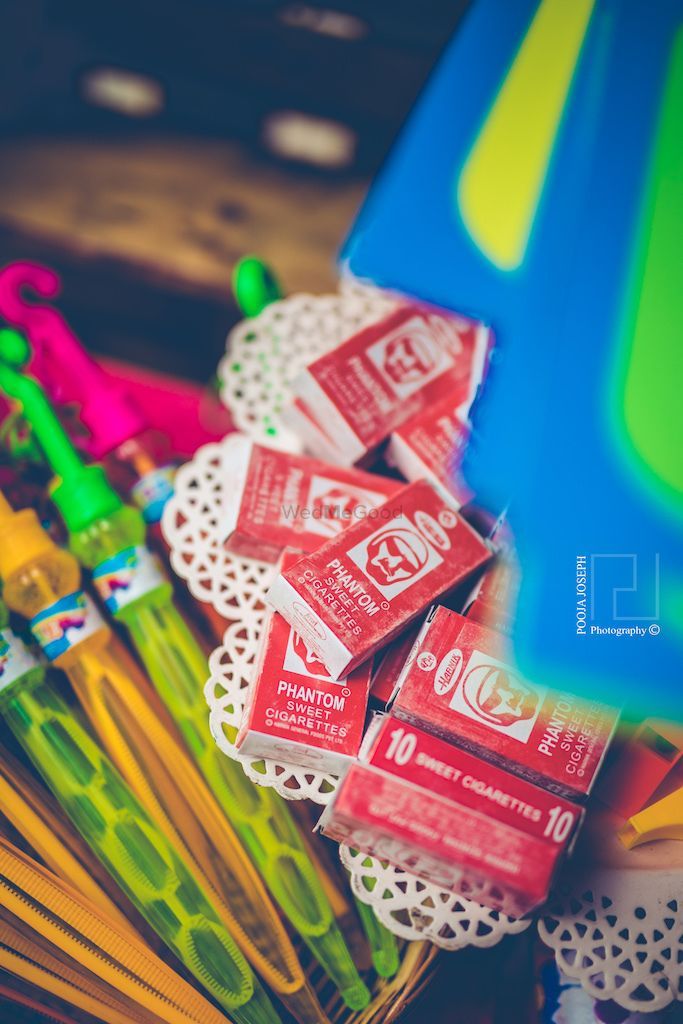 Image via Cinnamon Pictures★ 5  and Gauri & Anshuman (Delhi)
Whether it's saplings you want to give out or some nostalgic childhood candy- make sure it is something your guests will relate to and is memorable! Here are some cool ideas!
Decor: Do up an easy mehendi bridal seat or swing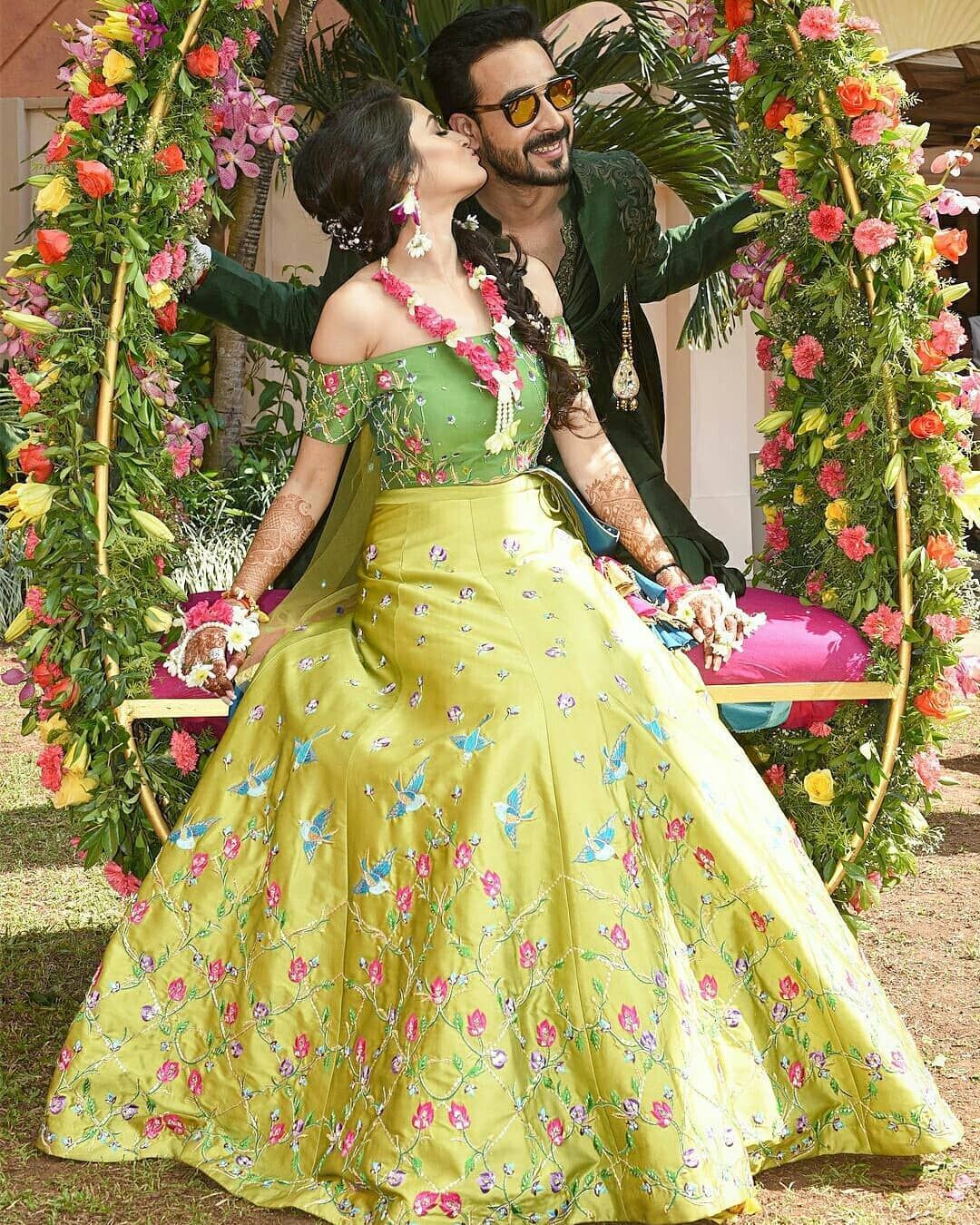 Image via Dipak Studios★ 4.8  and @amitphotography.in
The bride's seating on the mehendi has got to be special! Whether you do it with a backdrop or with a swing, totally upto you and super easy to DIY! Here are some neat new ideas!
Decor: Cushions are an easy way to make the decor pop!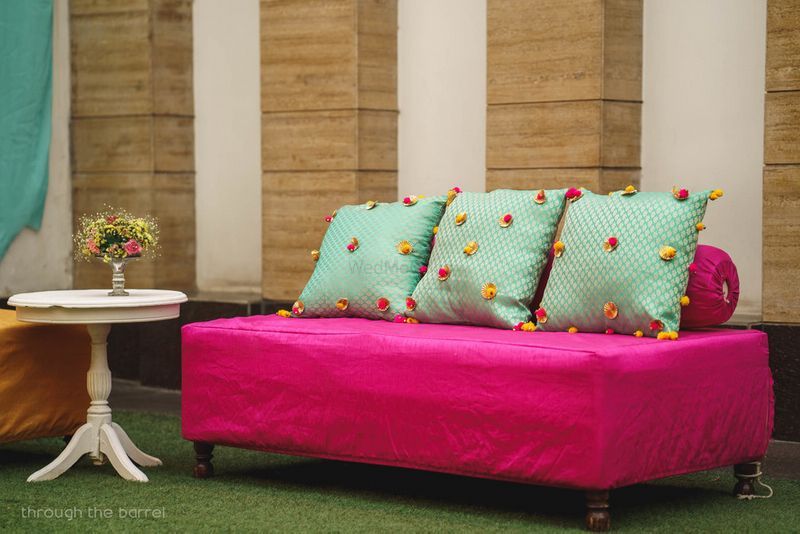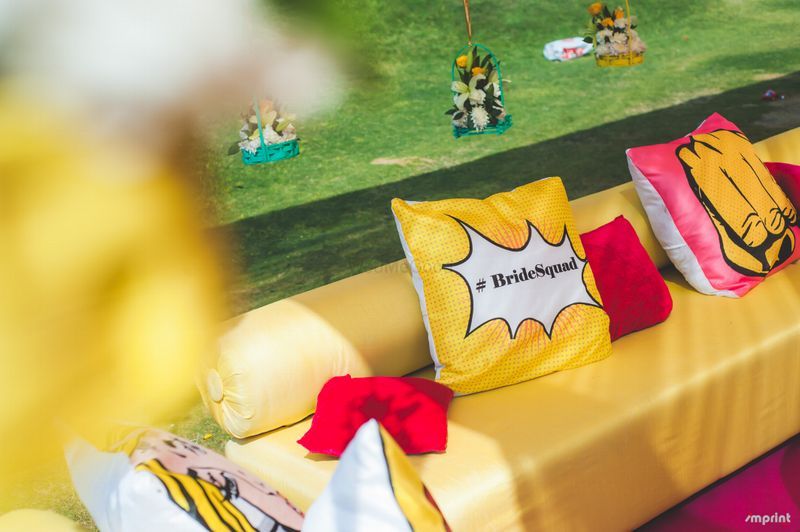 Image via Akansha & Hersh (Delhi) and The Imprint Studio, Dubai★ 5
Cushions can instantly make a place happier! Now this is such an easy DIY idea- just get some simple plain cushion covers and do them up with some gota and pompom- so festive and pretty! Or you could just order some cute printed ones to do the job!
Decor: Get some cool sayings and signs around!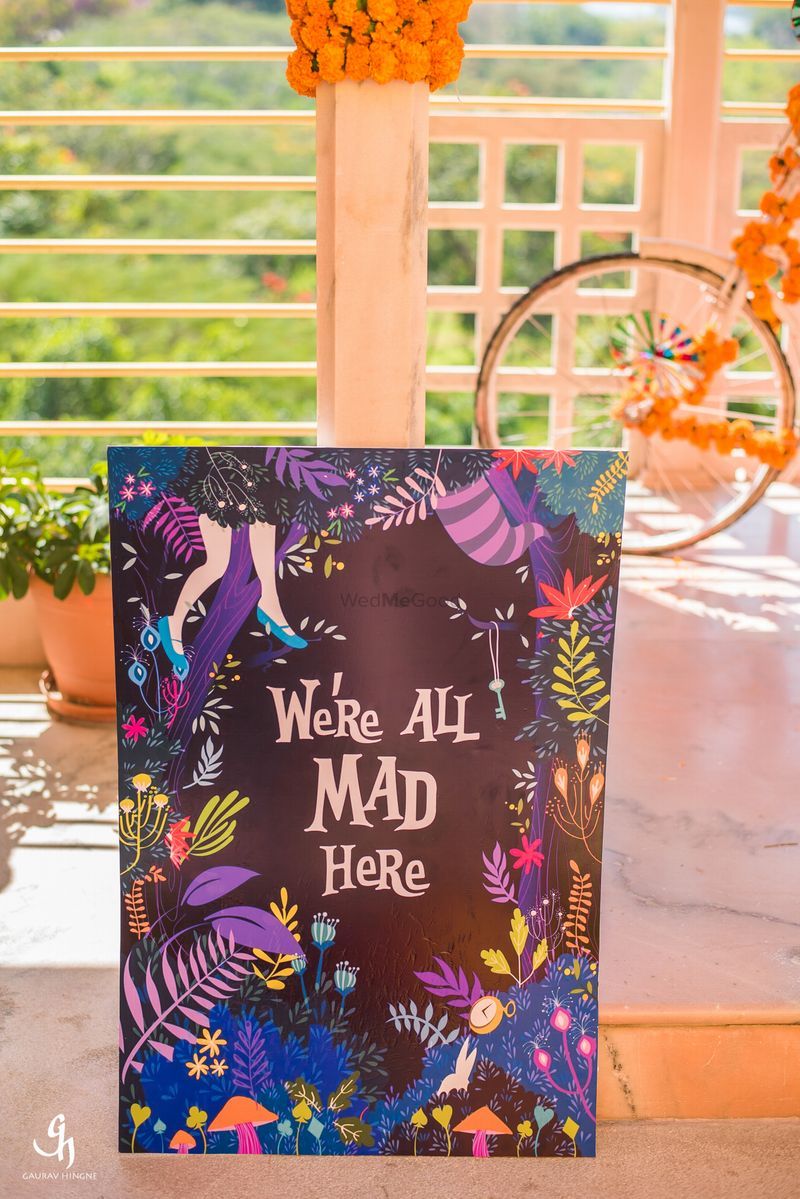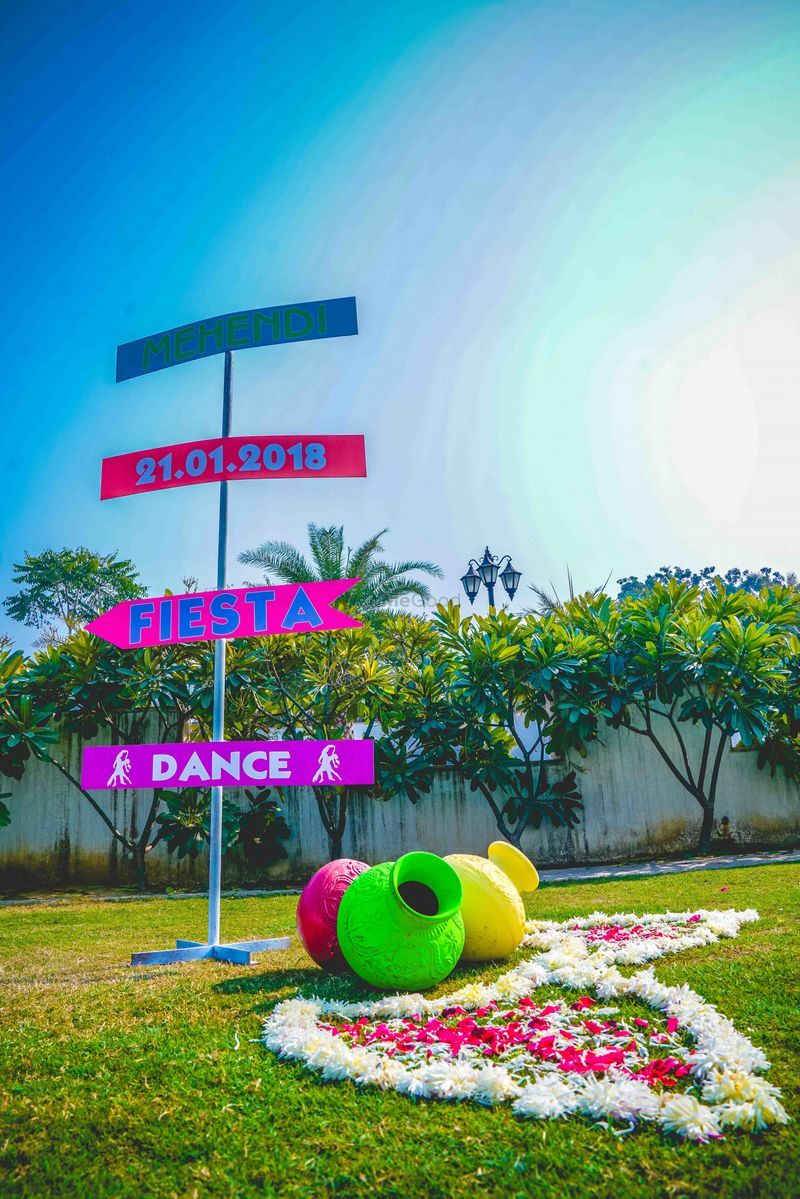 Image via Gaurav Hingne★ 5  and Subodh Bajpai Photography★ 2.6
Now these are also super easy to put up- just print or write them down yourself on thick coloured paper and keep them at the entrance or the garden!
Decor: Don't miss an easy peasy photobooth!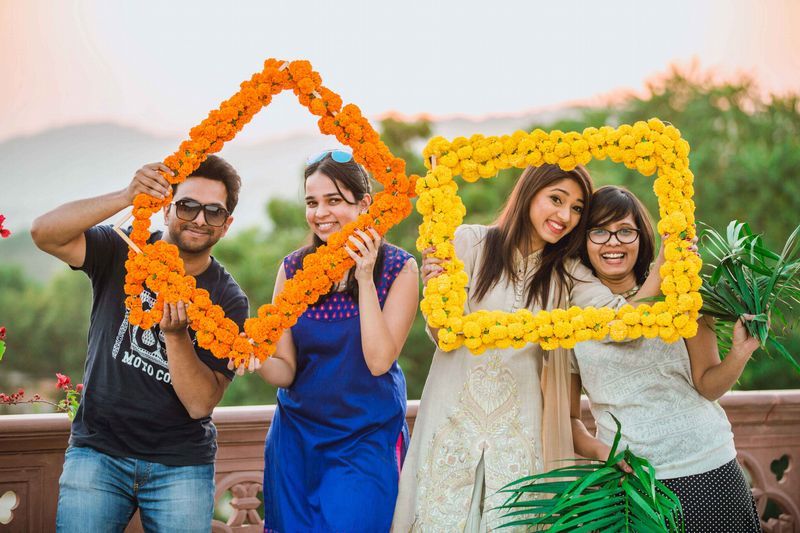 Image via Sugar And Scotch Films★ 5
If you're having a Mehendi at home, then we would strongly suggest getting a Photobooth put together for an Instagram-worthy wedding! Here are some easy ideas that are not hard to pull off with a little help!
Idea: Have a shareable music link and a few prepared performances!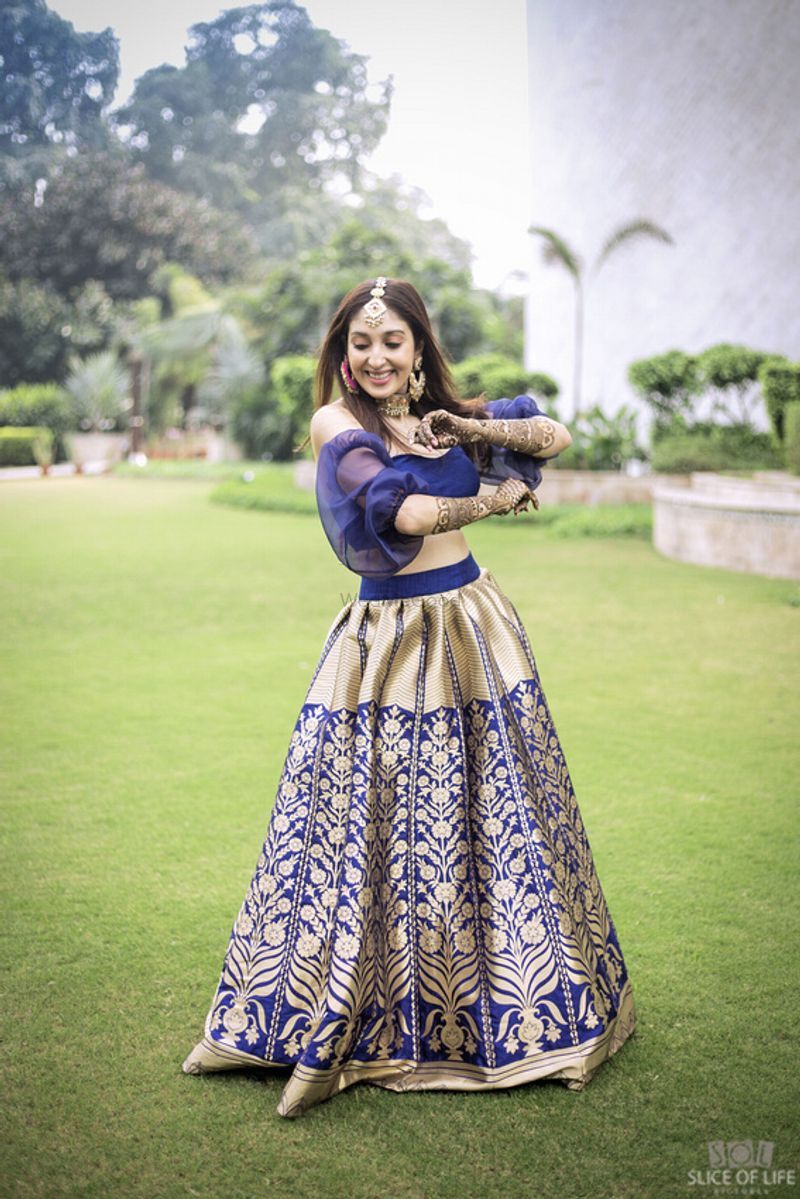 Image via Slice of Life Pictures★ 5
Make a shareable playlist on Apple Music or Gaana so that everyone knows what's the music to coordinate dances or even give suggestions on what to add! If you have good strong bluetooth speakers or a friend does, then they should be good enough, or you could pair two speakers in diff corners of the venue for a better feel! Here are a few choreographed performances you can consider!
Create a No-Fuss Backdrop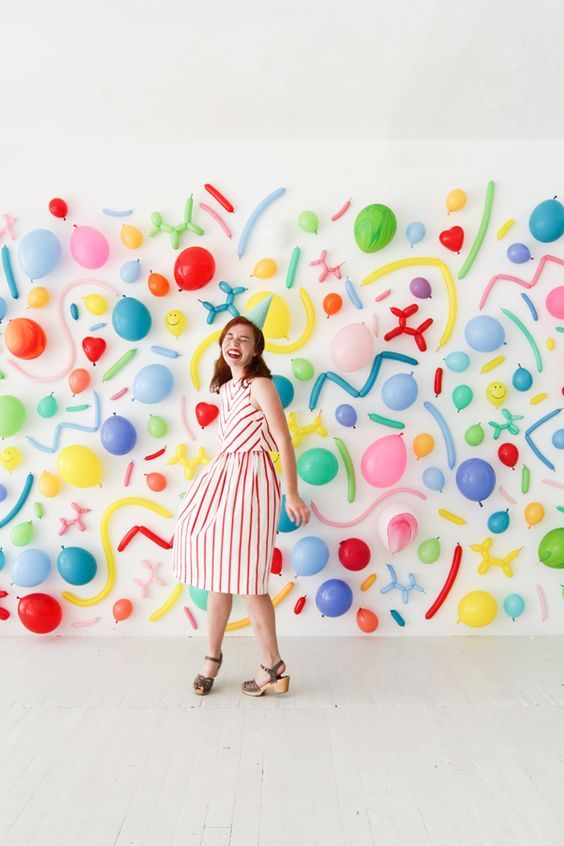 Balloons are making a comeback guys and this is just a cool way to use them. Create a fun backdrop with their unique shapes and watch the action come alive - fun and easy!
Have some quirky games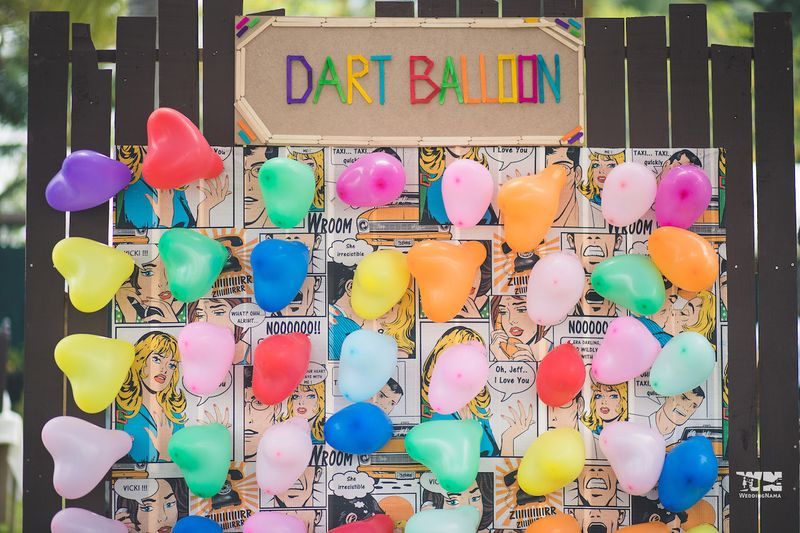 Pic via Wedding Nama
You could also use balloons to play some real fun games like this dart balloon concoction!
Find Cheap but Easy Alternatives For Gifts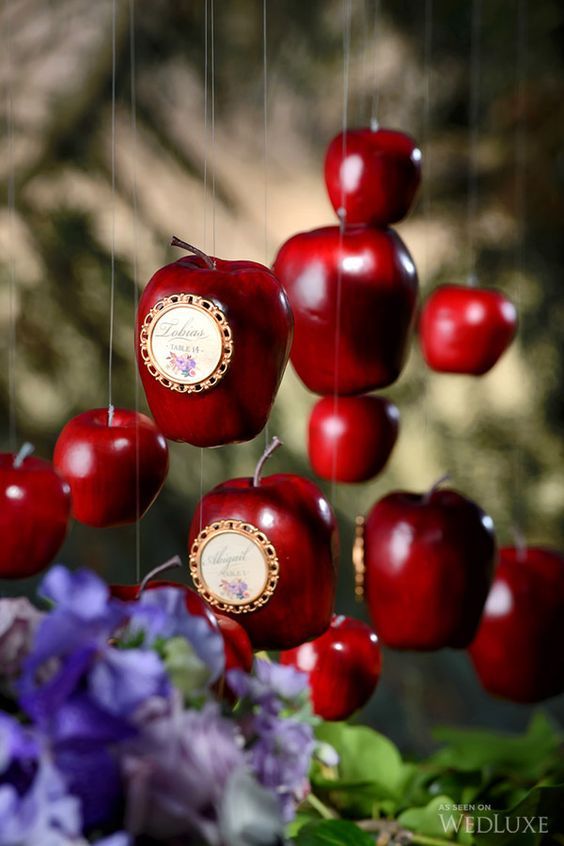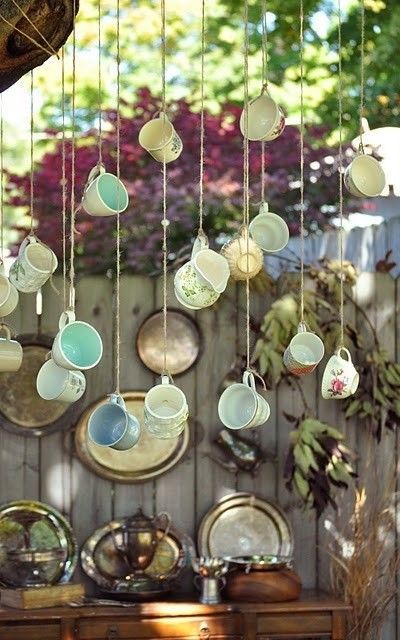 Pic via Pinterest
Cute cups or edible ones like apples - how cool are these giveaways?
ALSO READ: How To Pull Off An Intimate Mehendi In Under 50K: We Asked A Planner
Mehendi At Home? Here Are Some Cool Decor Ideas To Do Up Your House On A Budget!