#FirstPerson: I Got My Bespoke Boho Chikankari Bridal Outfit Designed Over Instagram!
BY Sakshi | 05 Jun, 2018 | 740 views | 5 min read
From getting their picture perfect outfits designed over Skype and even Whatsapp, brides and designers these days are surprising us in every way possible, and here is another bride who got her gorgeous outfit designed over Instagram! Victoria, a bride in the U.S contacted Asya, a social enterprise that works with women artisans in a village in Uttar Pradesh in collaboration with an NGO. Victoria wanted a Chikankari gown, which Asya got made in collaboration with renowned designer Surily Goel. Over to the bride who tells us all about her unique boho Chikankari outfit and how she managed to get it made!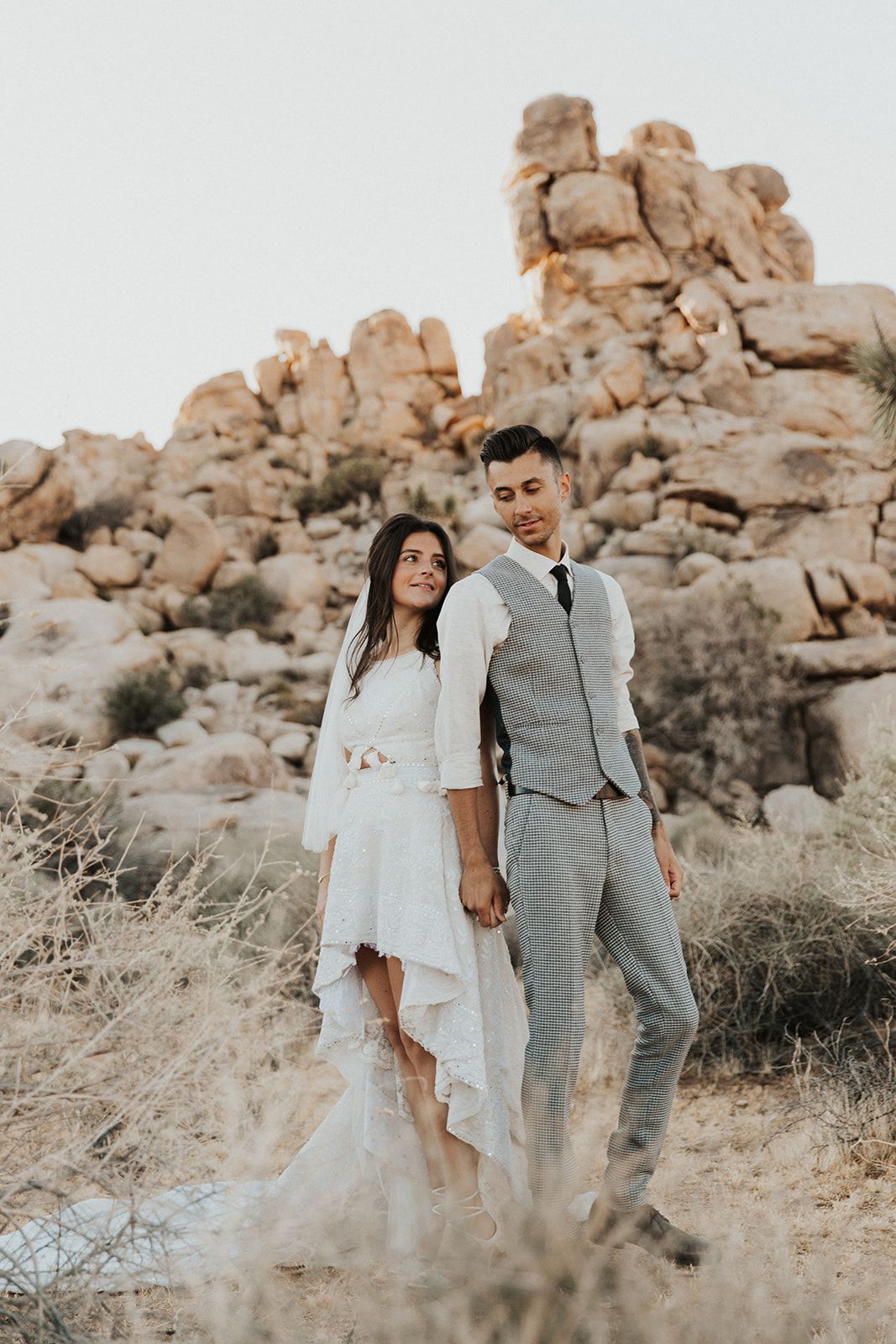 The struggle to find the dress that was 'the one'
"I actually travelled a lot to find the "perfect" wedding dress and visited at least 20 shops in New York, San Francisco and Los Angeles - Paris too!! I bought a dress but I couldn't shake the feeling it wasn't "the one". I'm a girl who only wears mini skirts and dresses! I like to show my legs, so I desperately needed a high low dress! A boho vibe with lots of character and embellishment. Tassels were a must and mirrors were mission critical. So I started researching fabrics and found Chikankari embroidery on instagram. I loved it so much - especially the Paisley and Floral Motifs! I was sold once I learned about the embroidery and I knew I needed to find or at least try to create fabric for a gown. After months Of contacting people, I was close to giving up. Until 
Asya
!"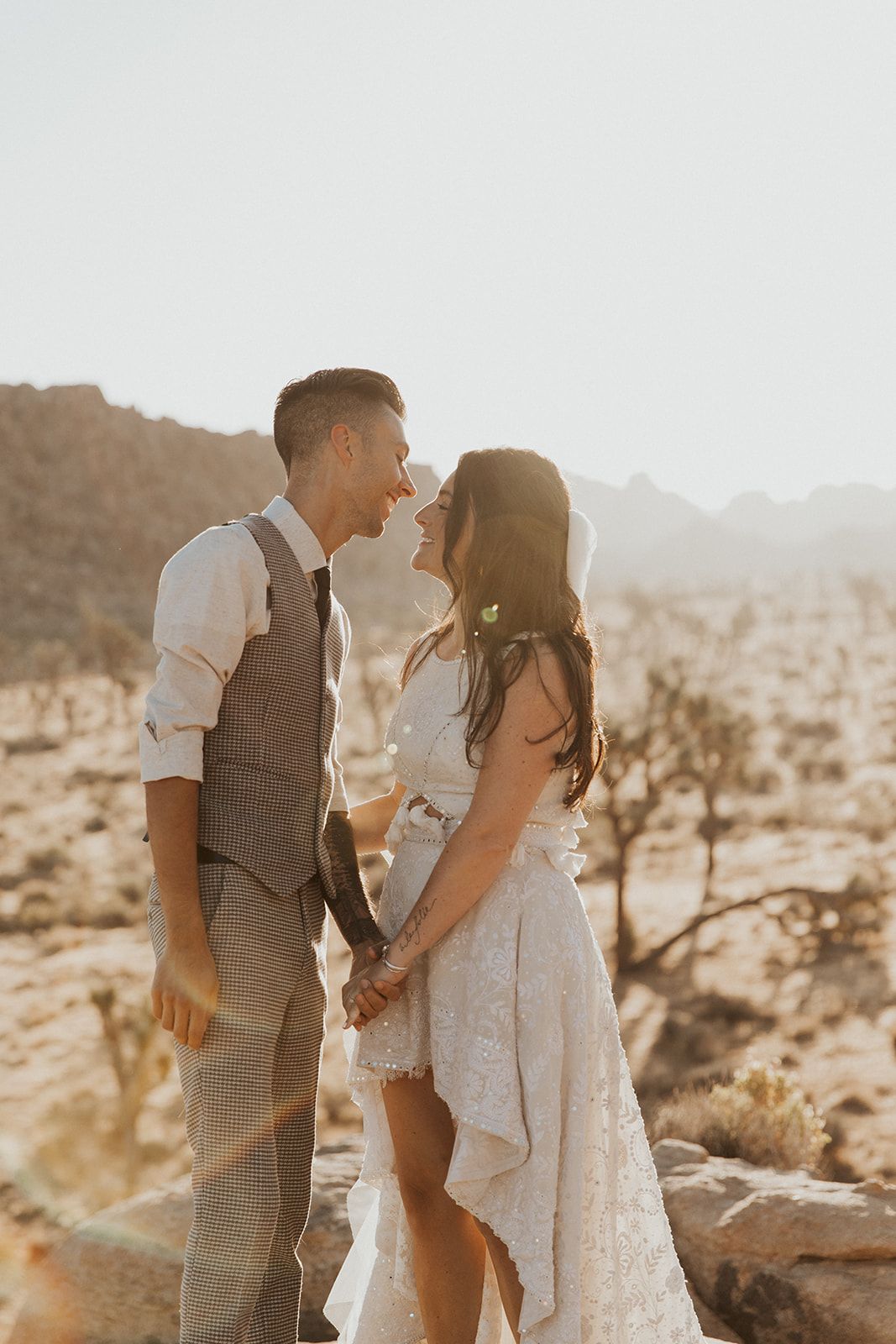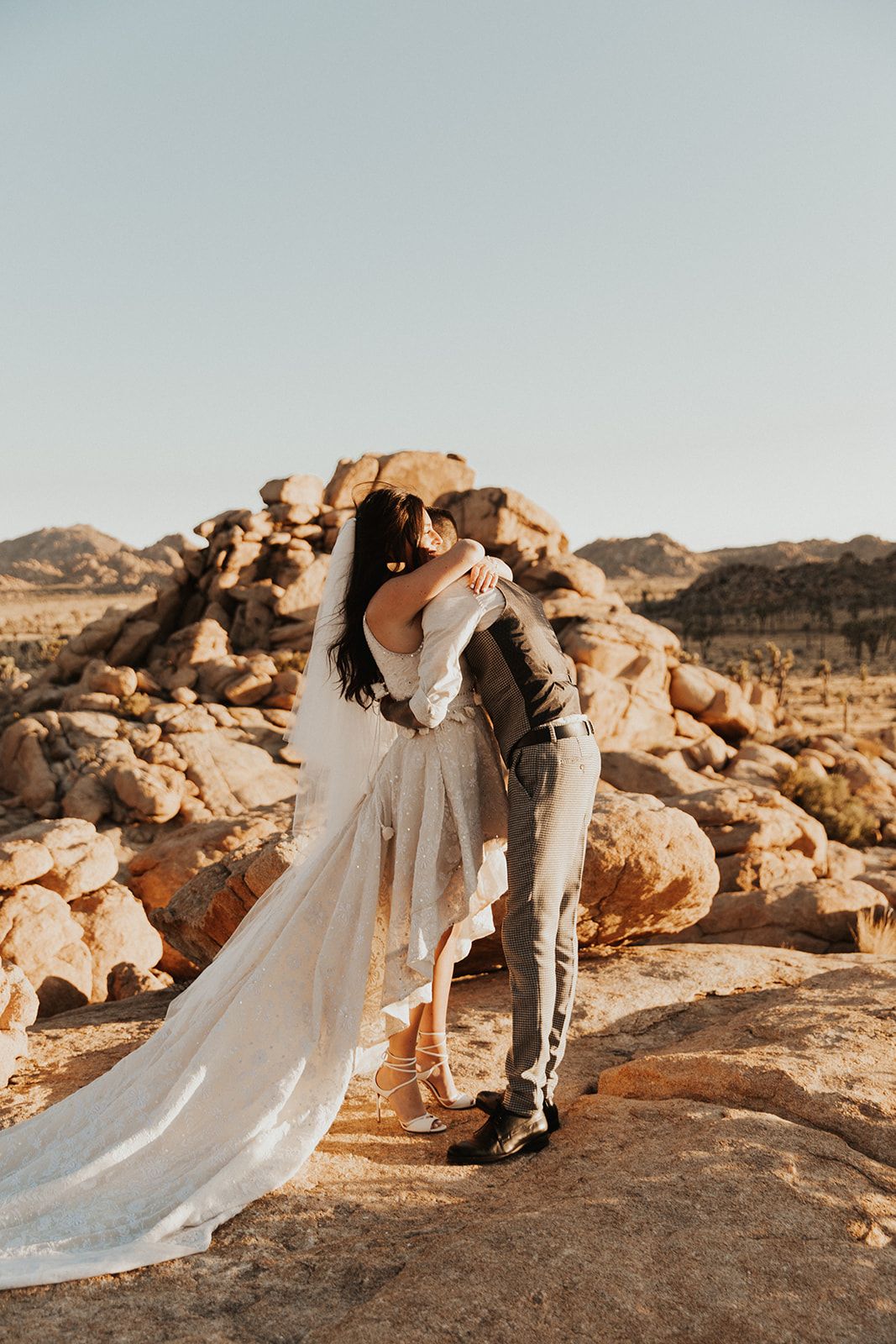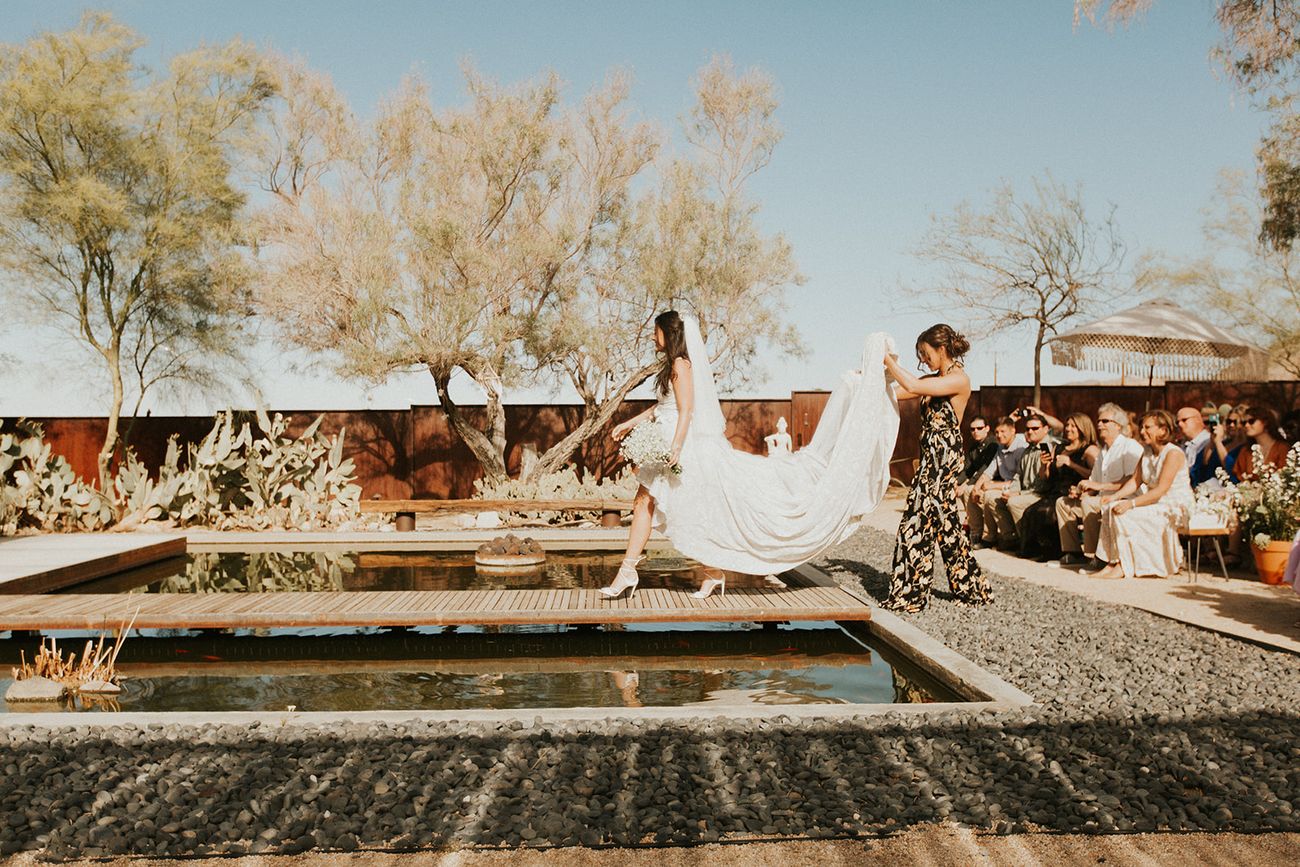 Getting an outfit designed over Instagram!
"I literally found 
Asya
 on Instagram and after contacting so many people and feeling it would never happen, Ambika from 
Asya
 said yes, she would make the dress in collaboration with designer Surily Goel. I have never had so much trust in someone out the gate but her online presence and business profile enabled me to feel safe and not at risk. She didn't immediately ask how much I could spend and didn't have strict guardrails for development. It happened to quickly and she kept me in the loop the entire way, allowing me to feel at ease with the development! Her chikan work is beautiful and once I saw Surily's designs, I knew it was come together as I hoped. Also, The message of helping the women artisans of 
Asya
 develop this beautiful embroidery skill set to provide for their families was a great piece of it as well - the dress had more of a purpose. The story behind the dress is what makes this dress mean more to me than I feel most get to have with their wedding dress. I worked with beautiful women who enjoy thinking creatively together to create the perfect dress."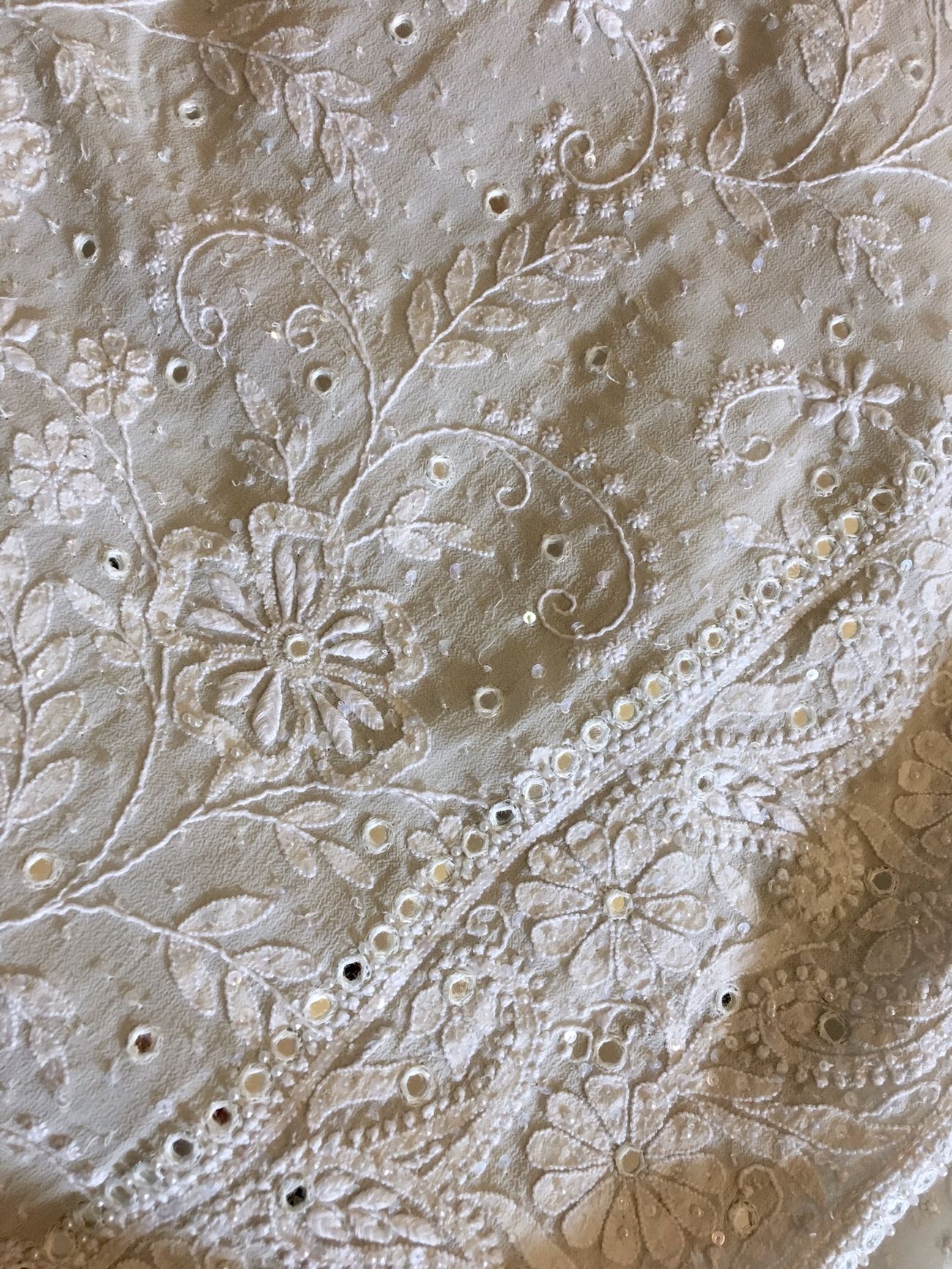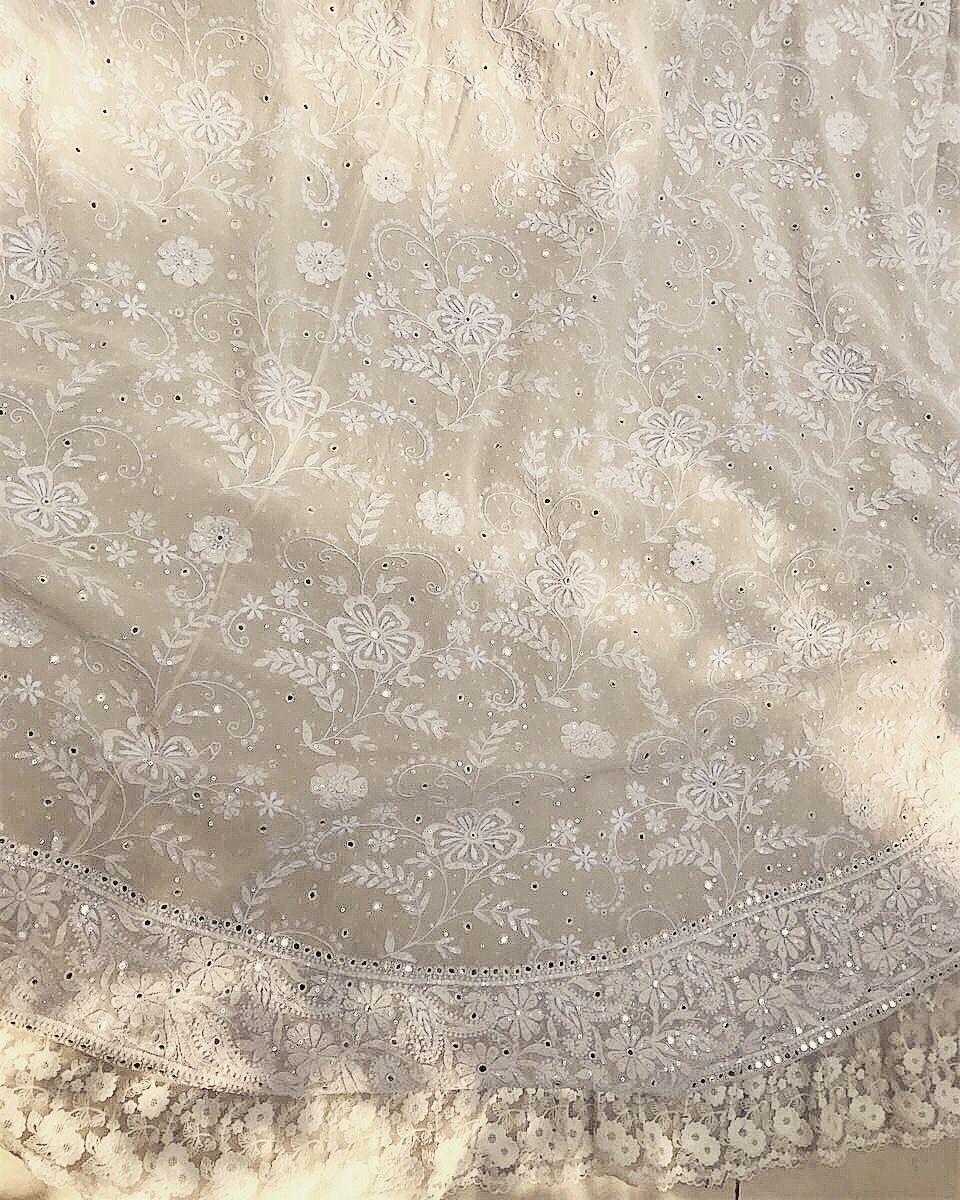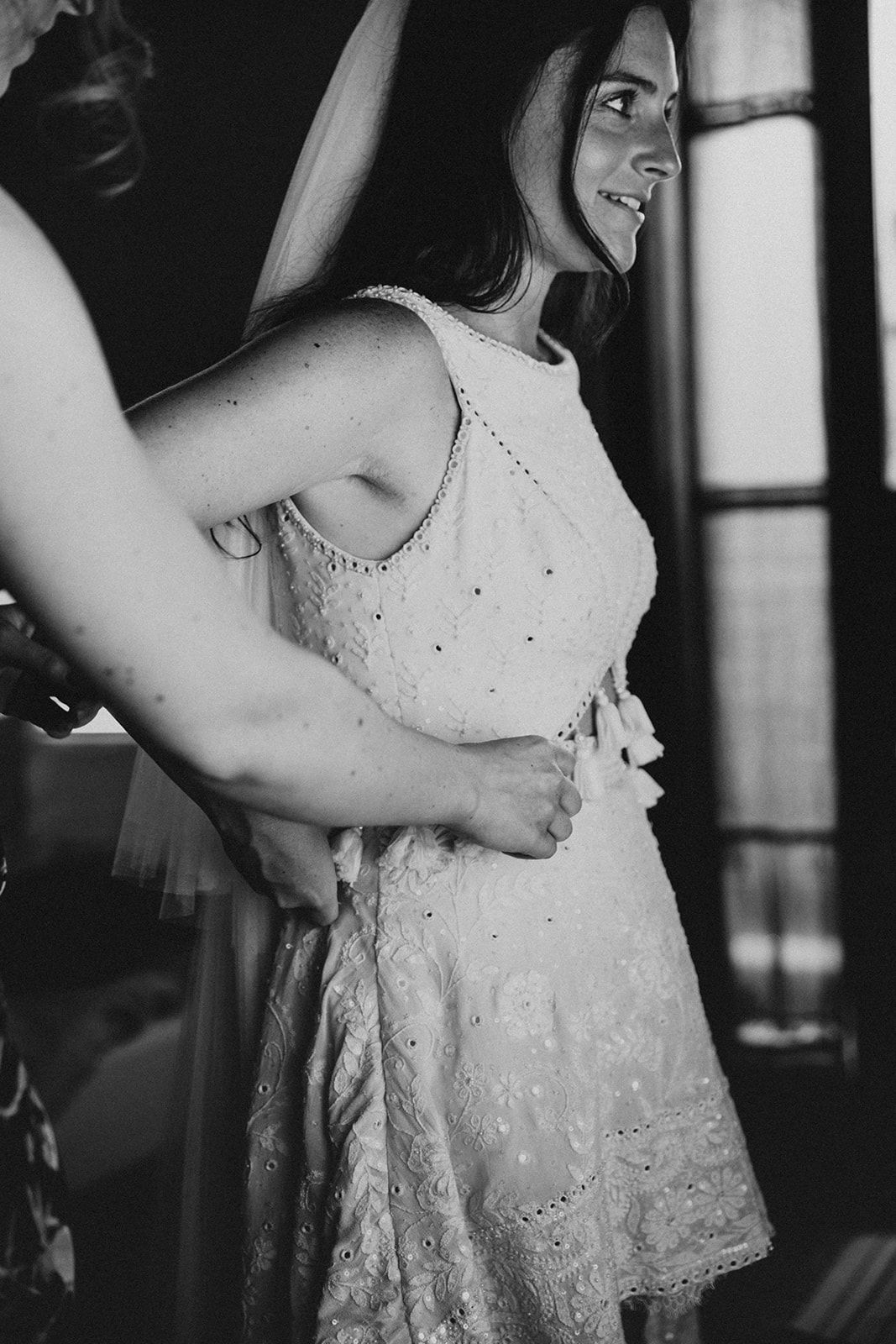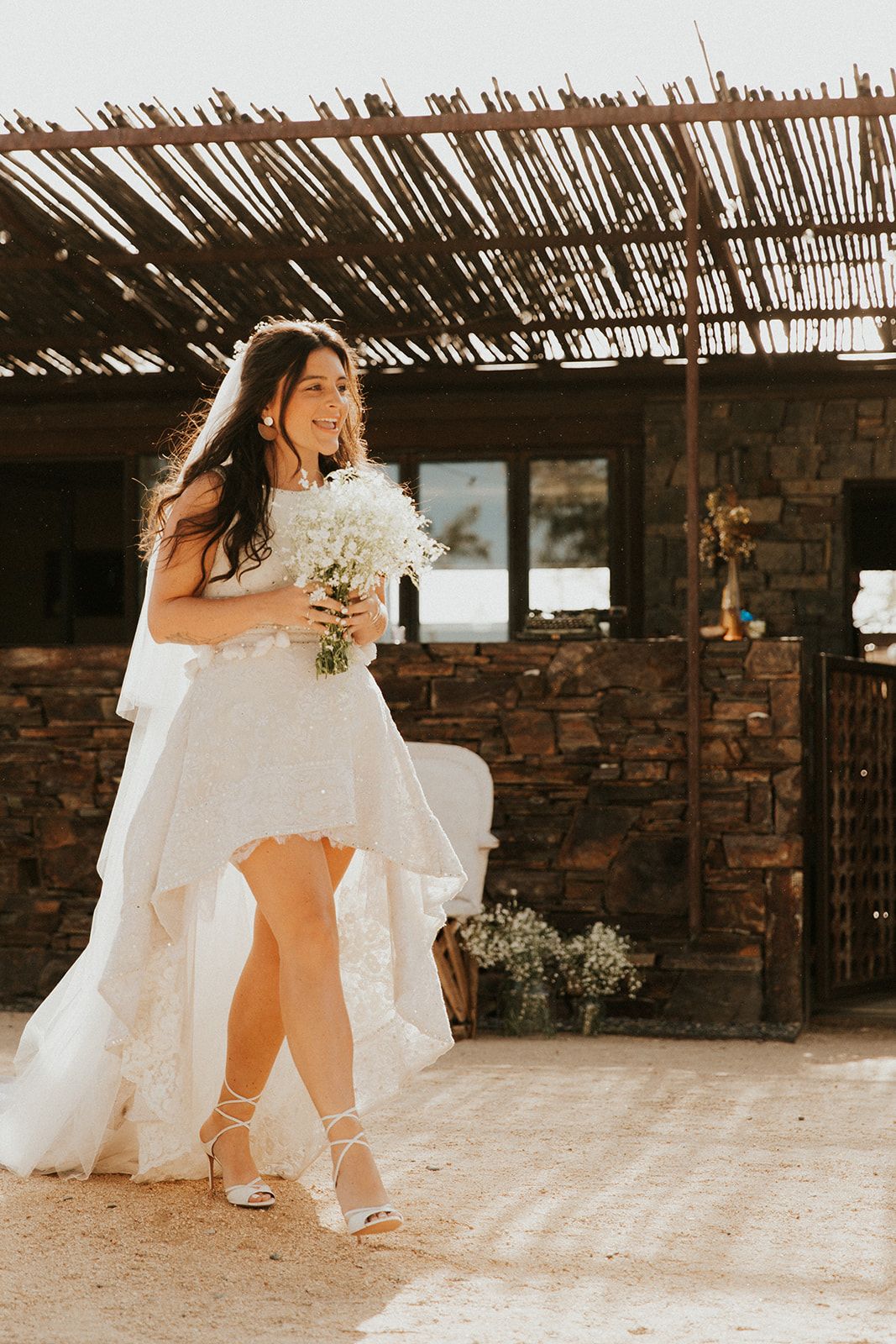 On seeing the dress the first time...
"The dress was absolutely perfect. I literally opened the box at work and tried it on in a conference room since I couldn't wait to put it on when I got home!! The amount of detail 
Asya
 and Surily put into the dress was outstanding and nothing you could get at a boutique. Every fear I had of not finding "the dress" blew away. Picking the chikan patterns, seeing the amazing women artisans work their magic and seeing the gown pieced together made the dress that more amazing. I was a giddy kid waiting to wear it on my wedding. Day! I tried it on everyday.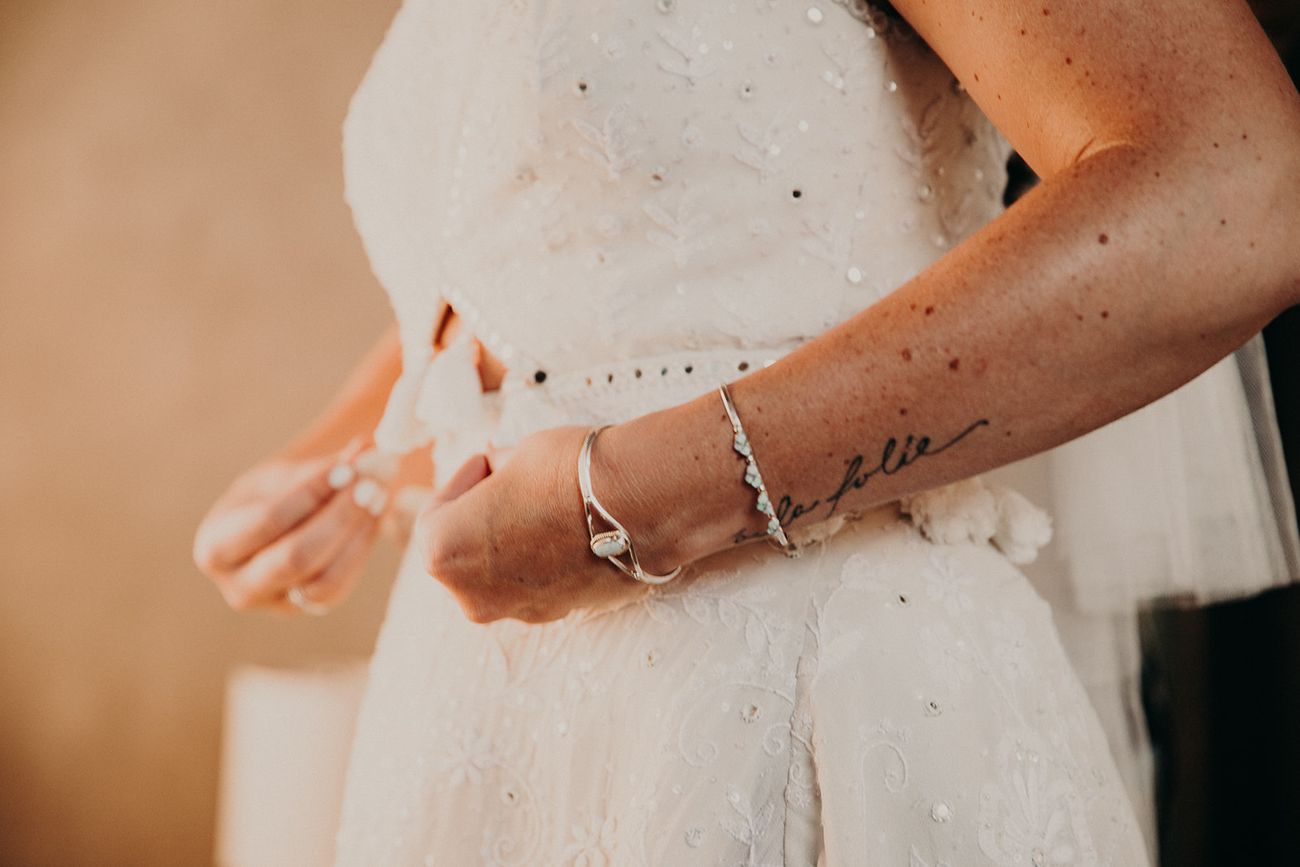 From Asya:
Ambika says, "It was very exciting for us to get an order to make a wedding dress off our Instagram page! The bride was very clear about the style she wanted. We make a lot of Indian wear but had never done a western style wedding dress so we roped in designer Surily Goel to create this beautiful and elaborate dress. It was wonderful to create this dress along with Victoria and Surily. Lots of back and forth, but it was important that we were all on the same page and that the bride was happy with the outfit. I have to admit I was on edge till she got the dress. Much relief when she said she absolutely loved it and even sent me a photo of her trying it out from her office conference room! Victoria looked gorgeous on her wedding day and the dress made her and all the artisans who worked on the project very happy! We like working on non-traditional pieces as we feel this will help keep the craft of chikankari alive. The women create fine embroidery and are financially and socially empowered through the income generated. We hope to work on more exciting bridal projects in the future."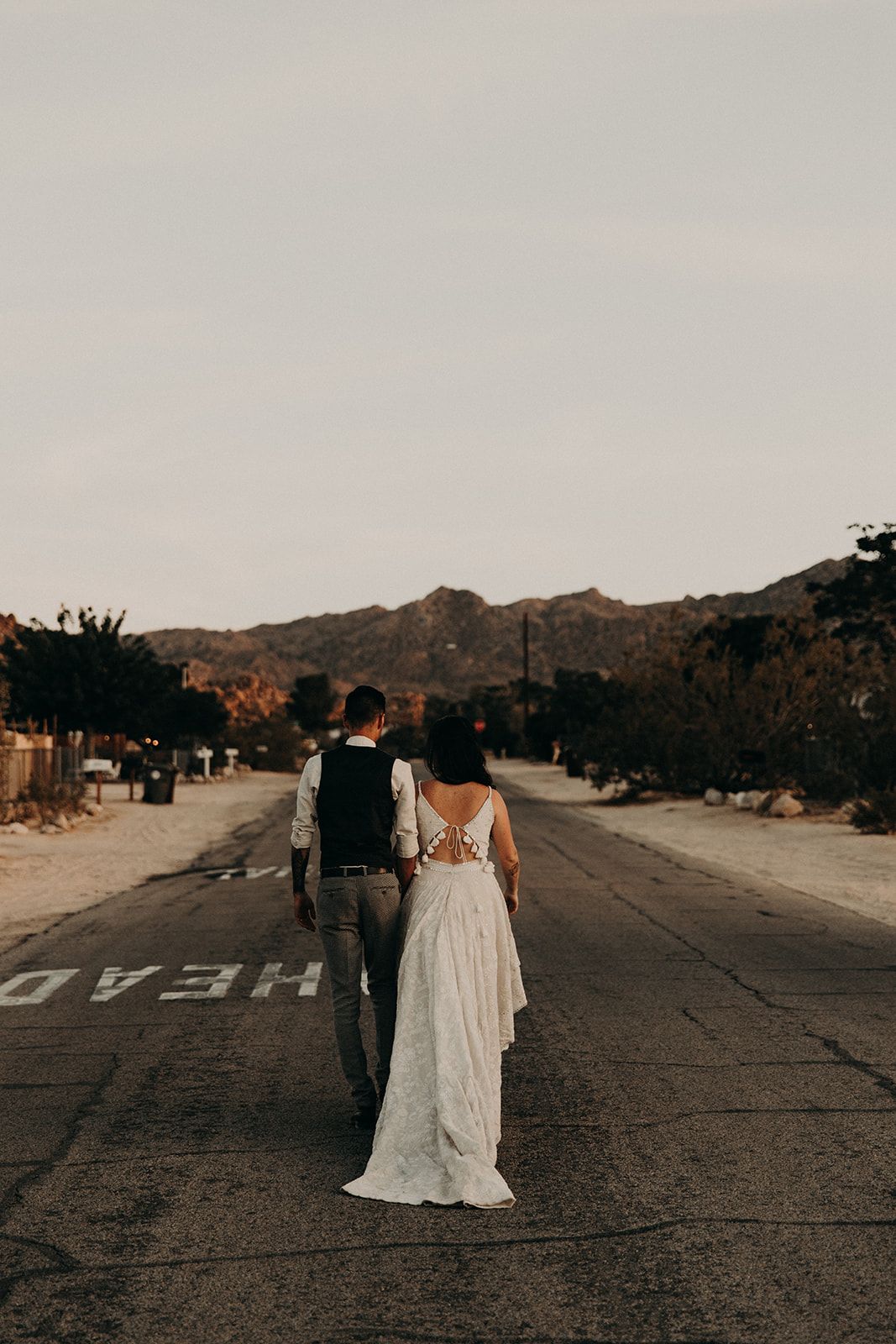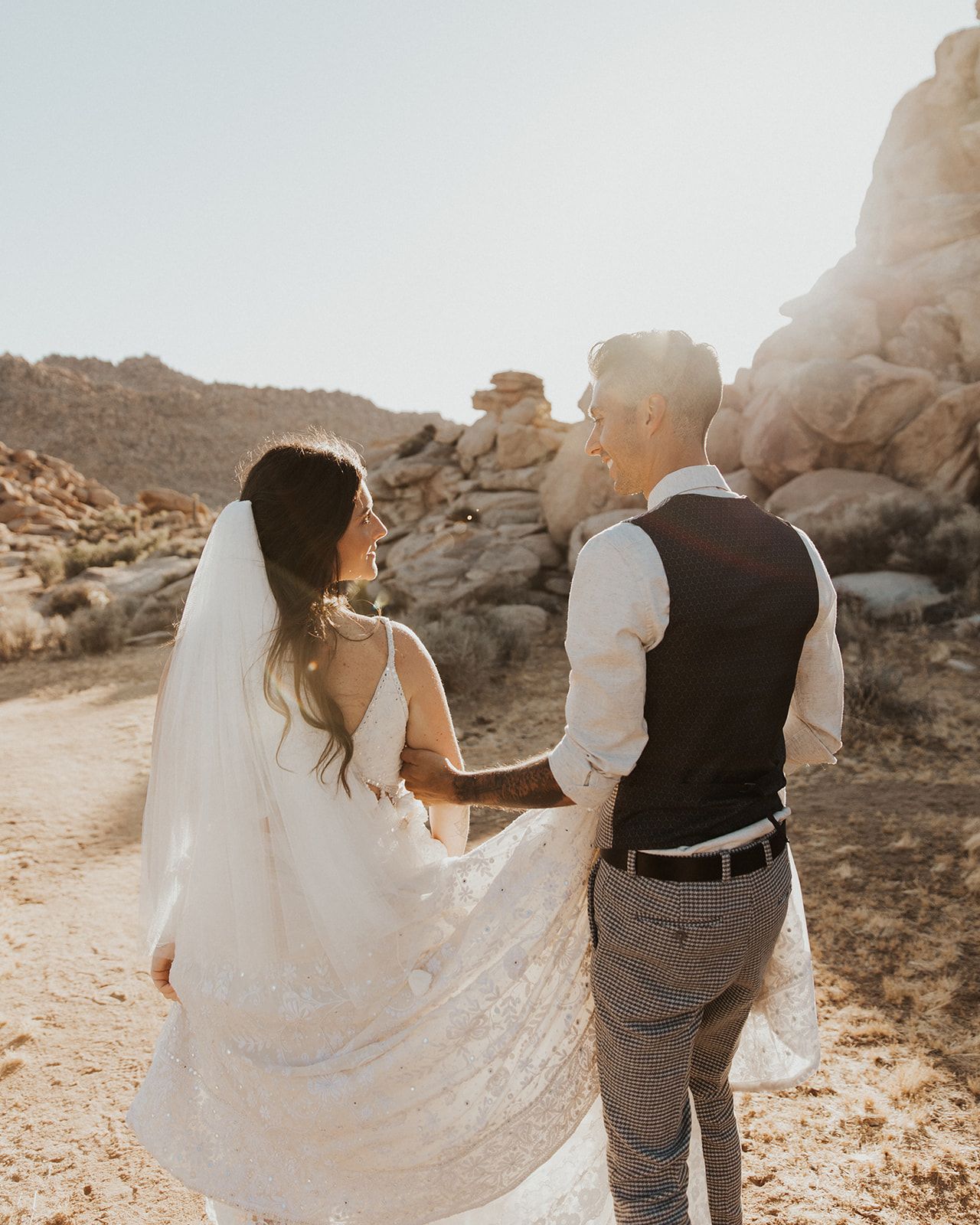 From the designer, Surily Goel: 
Every bride dreams about her dress and we wanted to try our best to make her dream come true. The dress took us about 3 months to complete and 1 month to conceptualise, sketch, go back and forth with the bride (as everything was on email) and get approvals on every detail. Luckily our client was very particular and specific on every detail of the dress.. from the pattern to the embellishments... tassels.. right to the lining she knew exactly what she wanted! It was definitely a new experience and a new challenge for me!