Five Fabrics For a Slimmer Look On Your Big Day!
BY The WMG Bride | 20 Aug, 2015 | 1563 views | 4 min read
So yes, dates are fixed and the clock is ticking. You have only a few months to become the bride of your dreams. And amidst all of this - you are struggling with finding the right lehenga, the right fit, the ideal cut and the best colour. And add to that, you have put on a few kgs and you are contemplating living on water and lime juice until your wedding. Nah, sweetie! That's so not the solution and there is no need to panic. You have a magic wand that will get you looking fabulous and slim on your wedding and that is ....looking for the right fabric to sport on your D-day. The right fabric will really accentuate your curves, give you a good shape and keep you looking young. We give you 5 amazing fabrics that should become part of your trousseau ASAP because they're classy, sleek and slimming.
Georgette
From L-R: Megha & Jigar Peach Georgette Lehenga at Indianroots.com; Madhuri Dixit in a georgette Anushree Reddy lehenga; Aastha Narang lehenga
Georgette hugs you in all the right places and doesn't add volume to your hips. The thing about georgette is that it's flattering and tasteful without being tacky. It actually uplifts the colour and keeps the fit stable - it's light and easy and when paired with a net dupatta, takes it up a notch
How it falls
: In an A-line structure. It doesn't have too much flare, but with the right style, it can could be voluminous!
Pro tip
: Restrict georgette to your lehenga skirt. Georgette dupattas become extremely heavy to carry on the head.
Crepe
From L-R: Anita Dongre Crepe lehenga; Manish Malhotra net and crepe lehenga; Priyanka Chopra in Manish Malhotra
Crepe is by far one of the most forgiving fabrics - it is flowy and feminine and it also comes with a bit of shine. So if you look at it, it  supports good embroideries and the like, so you'll have your cake and eat it too. We meant, have your embroideries and look slim too.
How it falls:
In a sleek , skimming your hips and straight down way.
Pro tip :
Crepe blouses look fabulous as they tend to give the best fit.
Chiffon
From L-R: Swathi Agarwal Bridal Couture; Ridhi Mehra Mint lehenga; Manish Malhotra chiffon lehenga
Delicate darlings can opt for these - only because they give you a classic Rani Gayatri Devi-type feels. Also, the fabric covers all your flaws beautifully and doesn't show too much skin.
How it falls
: Floaty and whispery , in a soft A line manner
Pro tip:
Do not get heavy embroidery done on chiffon, and also take extra special care afterwards as it can tear
Brocade
From L-R: Raw Mango brocade lehenga; Anita Dongre brocade lehenga at Strand of Silk; Sonam Kapoor in Raw Mango
Brocade lehengas have totally taken over the world and they are coming to get you. The good thing about brocade is that it doesn't need work or embroidery to support it. It's woven and that means - it's lighter and brighter!
How it falls:
Can be fairly voluminous as it's a thick fabric
Pro tip:
A plain brocade lehenga is the perfect statement sangeet outfit
Imported Soft net (or Pleated net)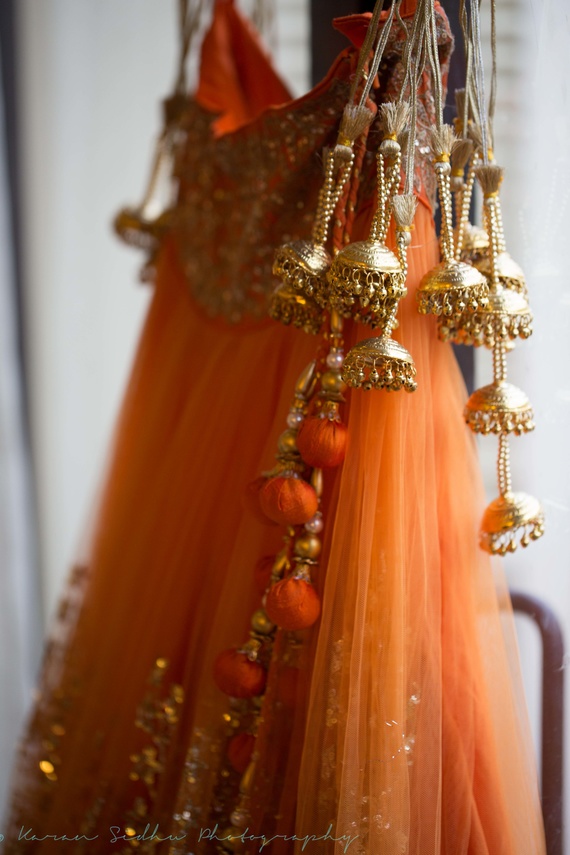 Photography: Karan Sidhu
While the regular Indian net can stand up stiff and add oodles of Volume, look for imported net or pleated net which is a beautiful fabric as it can withhold embroidery and also skim your hips in a flattering way.
How it falls:
Daintily and easily. It doesn't stick to the skin and adds volume where needed, if you pleat it well.
Pro tip:
 Go for colours like mint and pink - pastels mostly, to give it that grand look.
Have a lehenga that will fit this story? Ping us in the comments section right away!