Gorgeous San Francisco Wedding With The Cutest Love & Proposal Story!
BY Sakshi | 17 Jun, 2021 | 4118 views | 11 min read
What can we say about this one? It had everything right out of a fairytale- a super cute 'how we met' story, a proposal that every girl dreams of, a wedding venue that was breathtaking, a pretty bridal lehenga, and oodles of love and happiness! Monjari and Sidd's San Francisco wedding was stuff dreams are made of, and we adored everything about this one!
There's a lot that went into this pre pandemic wedding, and we love the honesty with which the bride Monjari opened up about the whole wedding planning process- planning everything, but being realistic about it enough to have a good time at her own wedding. Her wedding shopping was mostly done in India, and we love how she styled each look. The end result was a pretty wedding and gorgeous photos by the super talented Mili Ghosh Photography ★ 5 . Take a look for yourselves!
Meet Monjari and Siddharth

How We Met (Her Version):
I first met Sidd at the apartment of a common friend, right after moving into my dorm at University of Illinois at Urbana-Champaign in 2011. He very confidently came over, introduced himself, cracked a joke, and I thought nothing of it. Two weeks later, I went down to the laundry room in Snyder Hall, put a load in, and tried to connect my laptop to the internet so I could study while waiting. After a few failed attempts, I gave up and looked around for something to do. There was that guy I had met a few weeks ago, Sidd, I think? Headphones in, he was working at his laptop so I figured I'd ask him to help me connect mine. He smiled, and said "my internet isn't working either, I'm just sitting here playing music. Why don't you join me?" 
Two hours and many more discussions about music later (our laundry was left sitting on the side), I told Sidd that I intended to try out for Awaaz (an a capella team at school) that evening. Sidd asked me to sing a few songs as options for him. If you know me well, you know I'm extremely shy singing in front of anyone, let alone someone I barely knew. But something about Sidd made me feel so comfortable, somehow secure - so I went ahead and sang a few songs for him. He helped me pick one out, and encouraged me to go to tryouts with confidence. That night, I reflected on my day, and realized I had formed a deep bond with Sidd - I knew at that moment that he would become a close friend through college.
That one bad internet connection in Snyder Hall led to the best connection of my life, with Sidd. I constantly get asked why I went all the way to Illinois for college - I think it was because I was meant to meet him.
How We Met (His Version):
I met Monjari for the first time at a college party my freshman year. I had seen her across the room and, eager to make new friends, I went up to her and introduced myself. My initial impression of Monjari was that she was this quiet and reserved person. However, as I got to know her, I saw this goofy, loud, energetic side of her that made any room feel alive. I also saw this expressive and caring side that gave off an overwhelming sense of love to anyone who was around her. It was just a few weeks into meeting her that I knew that she would end up as one of my best friends. 
Little did I know…
By the end of freshman year, Monjari and I must have spent a countless number of hours getting to know every little thing about each other. It got to the point that I felt that I had known her my whole life. 
I vividly remember the last day of that year. Monjari was about to head back home for the summer. She came downstairs, gave me a hug, and took off to go all the way back to California. I remember this moment so clearly, because this was when realized that this girl was something more than a best friend. I had grown to appreciate her genuineness, weird quirks, obnoxious laugh - I could go on for hours. I realized I had fallen for her. 
After a long, hot and Skype-filled summer break, I decided to take the leap and ask Monjari out on a date. We went to this lovely Mexican restaurant in Champaign, took a stroll through the Japanese gardens in Urbana, and just spent hours talking and joking around. It has been approximately 60,000 hours since this moment and I can proudly say that we are still on our first date. WITH MANY MORE TO COME!!!
The Proposal
I've(Monjari) always loved traveling, and had visited Spain in 2014 with my family. I absolutely fell in love with the country & culture (not to mention the food), and when I came back, it was all I could think about. In 2018, Sidd planned a surprise trip there - he had cleared it with my work, and had devised a plan with my parents. One Wednesday evening in the third week of February, my mom dragged me to a salon, claiming that she absolutely *had* to get her nails done. She convinced me to do mine as well, and then we went home - where she sprung it all on me. She showed me that she had packed some suitcases for me, and that we (she really meant "me") were going on a surprise trip the next morning. Of course I asked 1,000 questions - but eventually went to sleep with some sound mind. However, the next morning, she let me know the cab was here to take me to the airport, that she wouldn't be coming with me, and that she would talk to me about it later (claiming some important meeting at work she had to attend). Again, questions - but I trusted her word and went along with it all. A few flight delays later, I landed in Madrid. Sidd was waiting near the baggage to pick me up. I didn't ask a single question - I was hungry and jet-lagged, so after checking in at the hotel, I ate some dinner and went straight to sleep.
The next day, everything started settling in - I was in Spain, for some unknown reason, and then it all hit me. I decided not to question Sidd about anything that day, and went along with the plans he had laid out for the day - visiting museums, then dressing up for a 'fancy dinner' he had booked. Our hotel was near the Royal Palace of Madrid, and Sidd claimed that the restaurant was nearby the palace, so he suggested we walk past it since the evening was nice, to go to dinner. I went along with it, and as we started nearing the palace courtyard & gardens, Sidd began to reminisce about our time together. He got down on one knee, and proposed. And I burst out laughing (!!) and said "of course!"
Pooja & Mehendi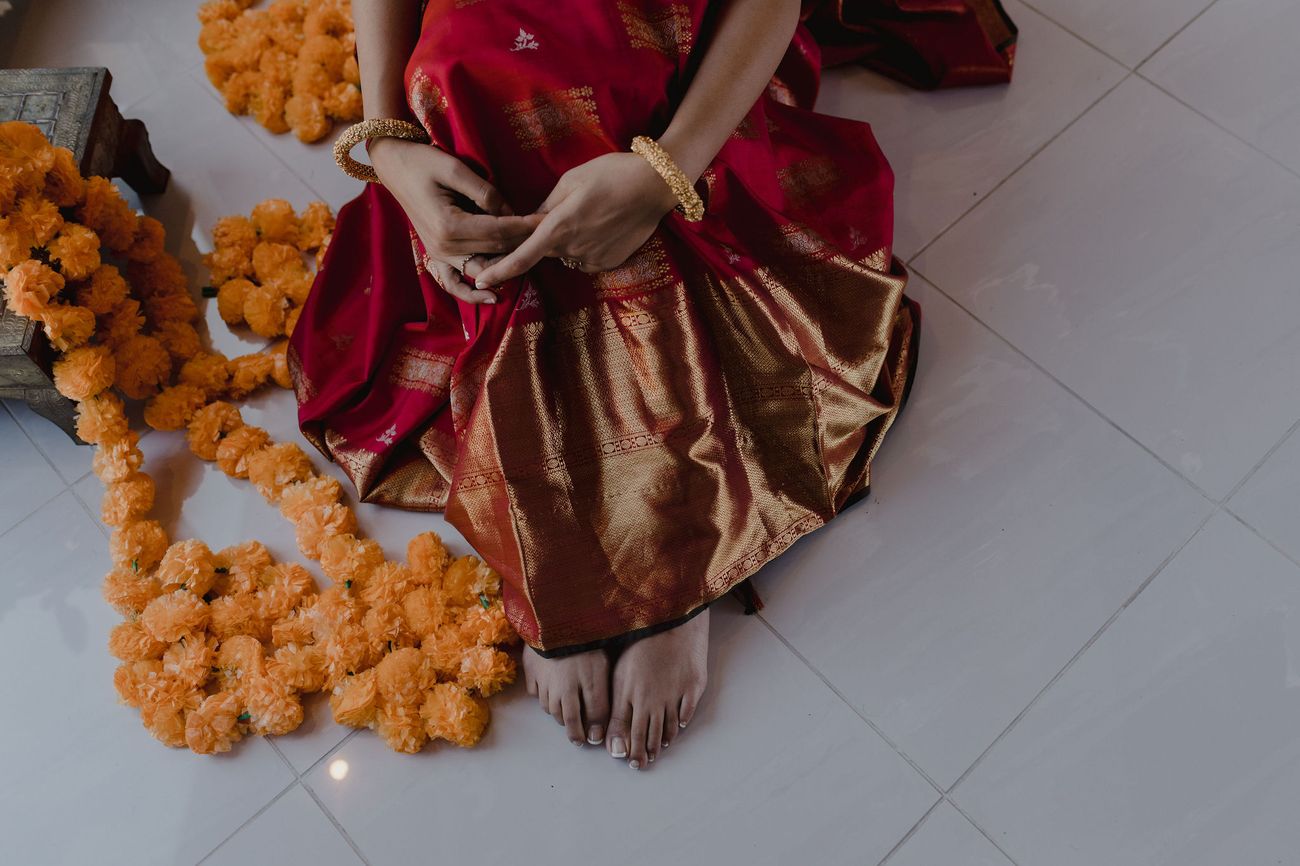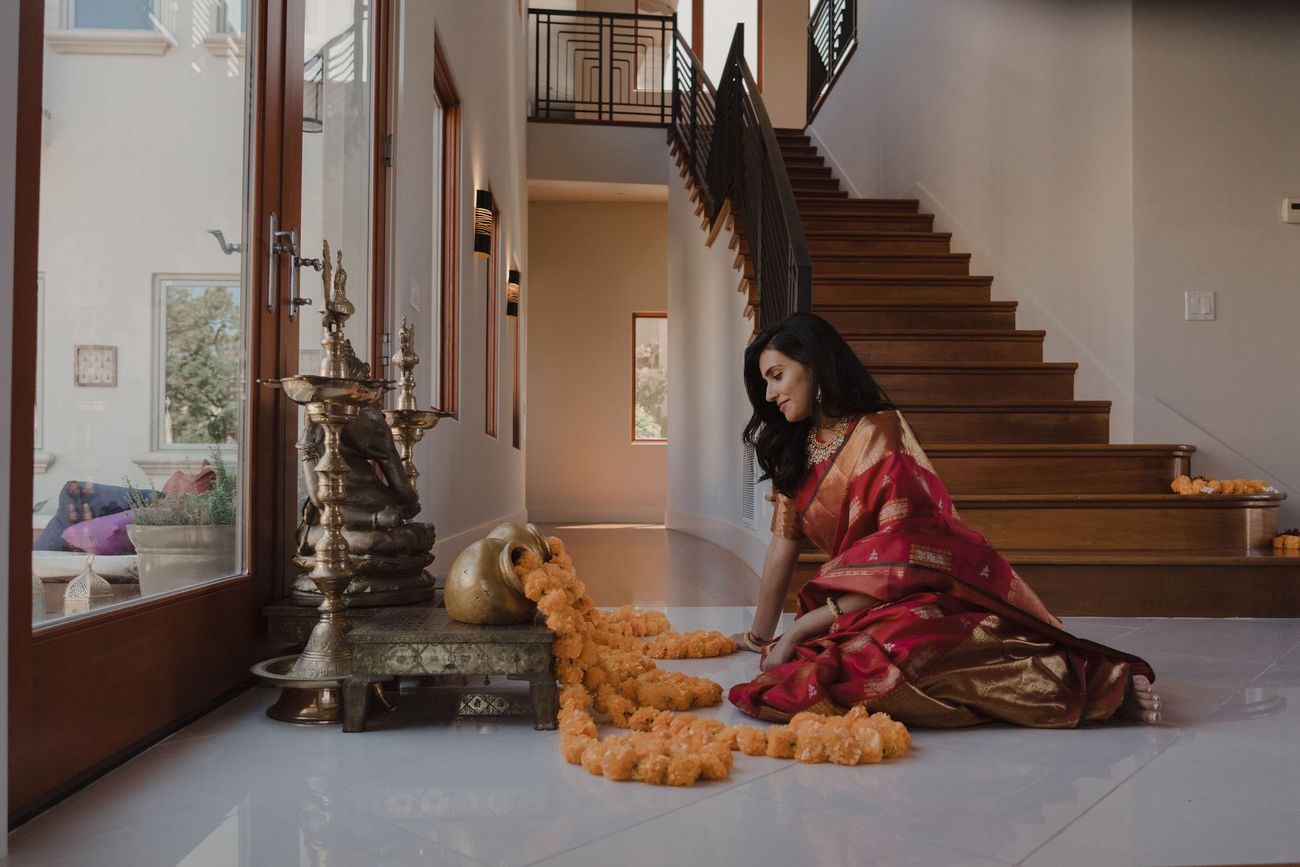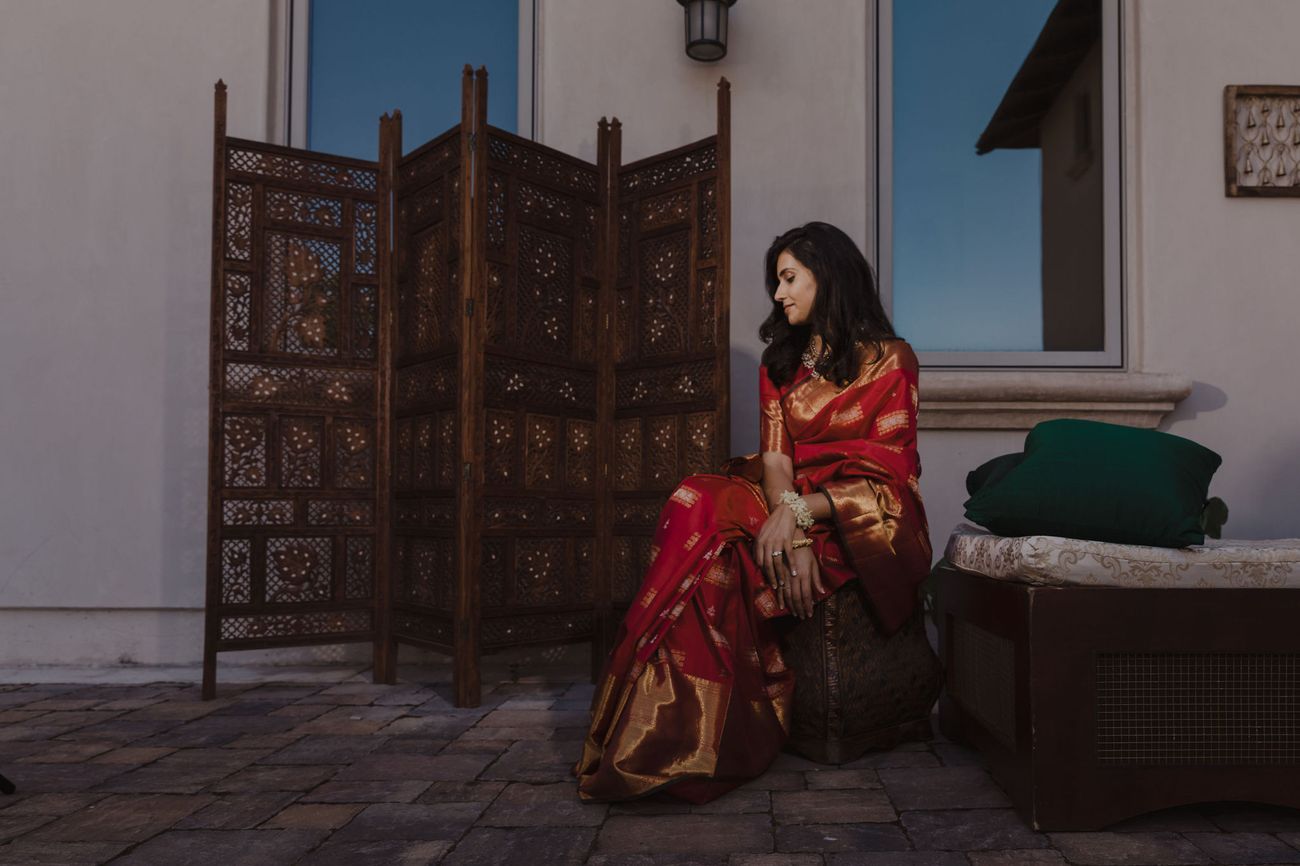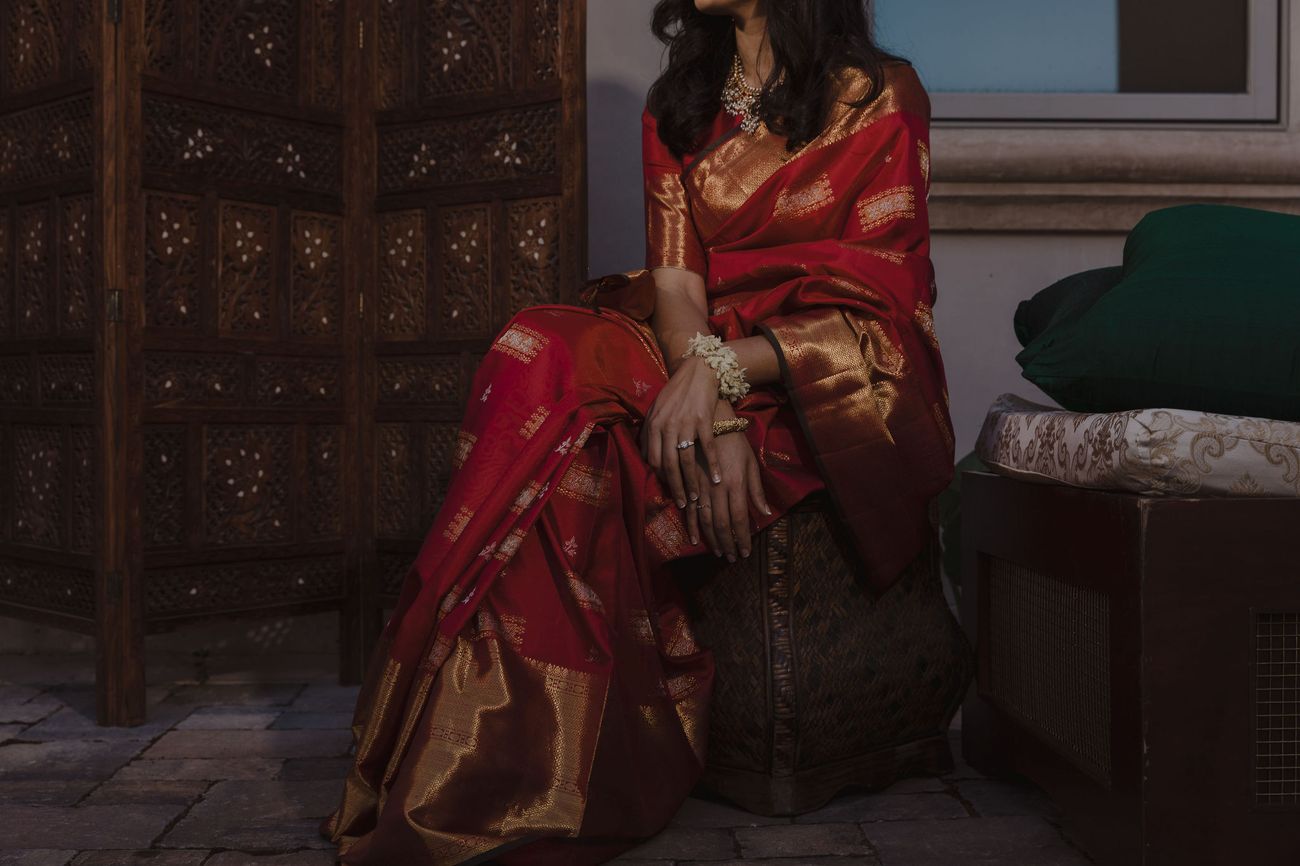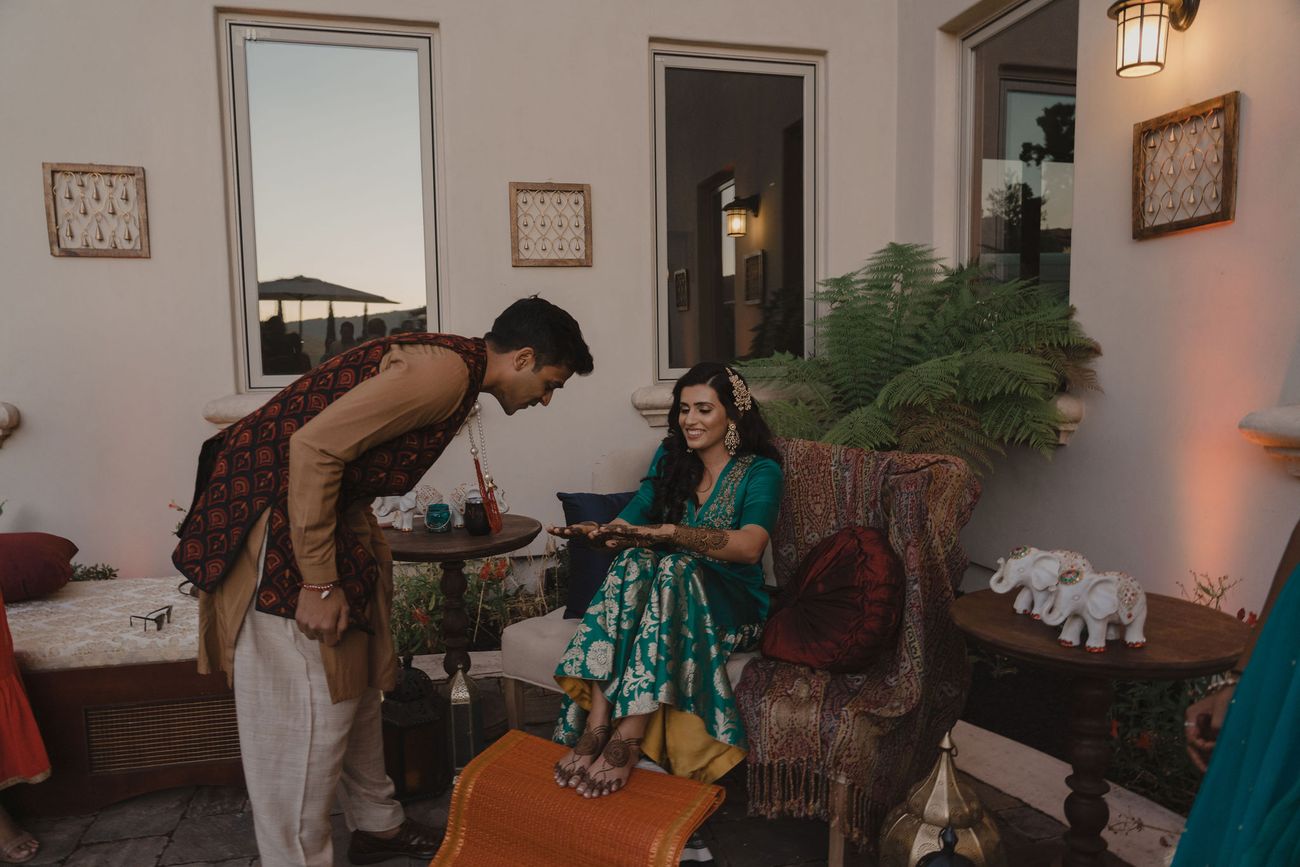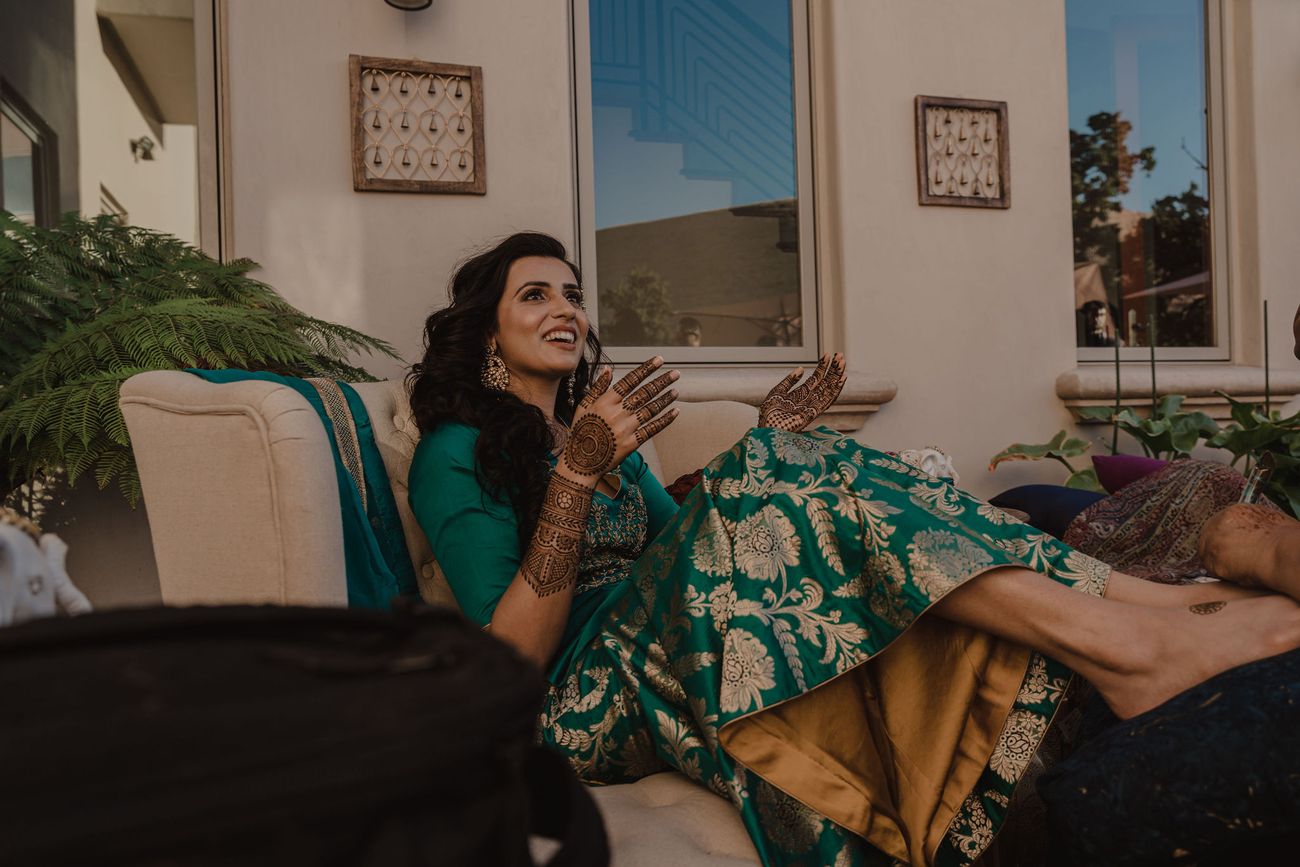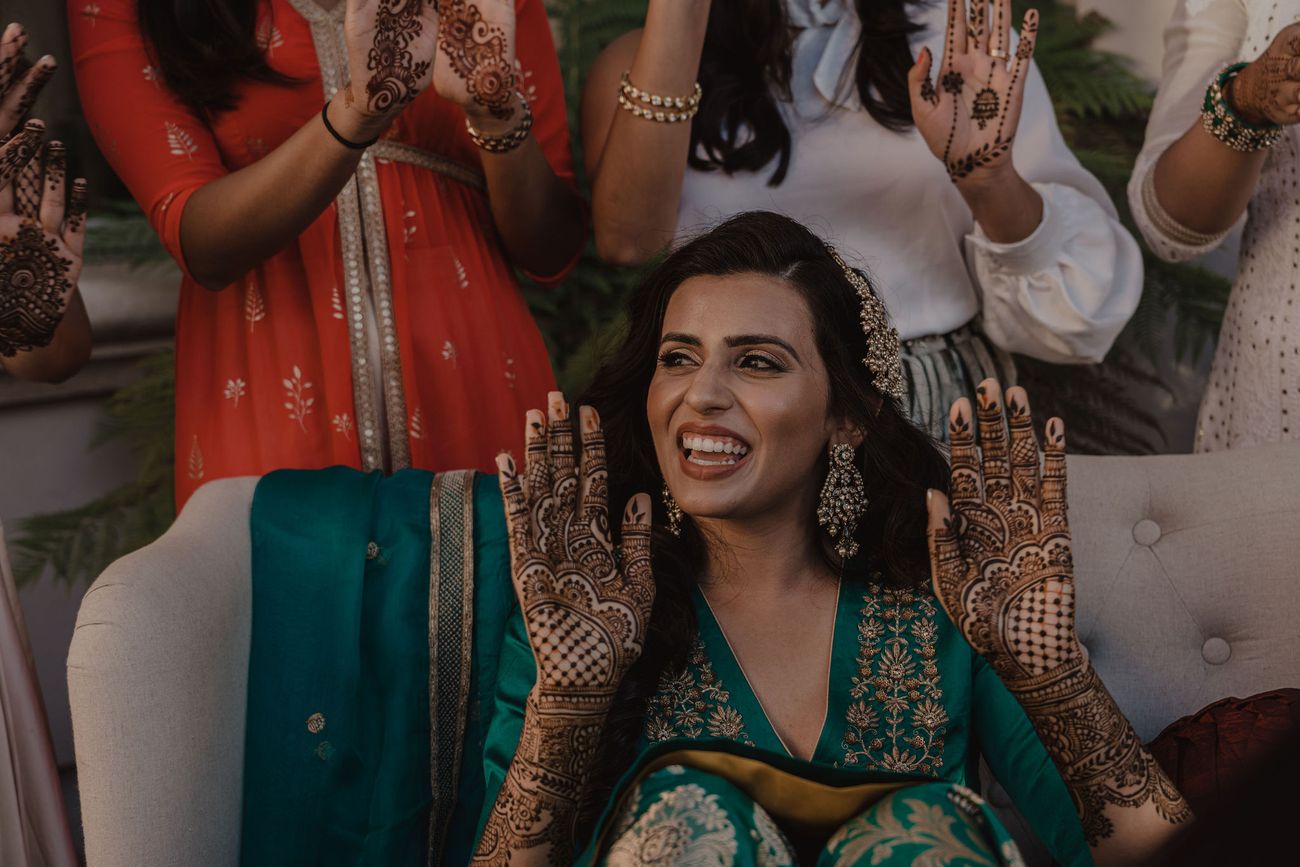 Sangeet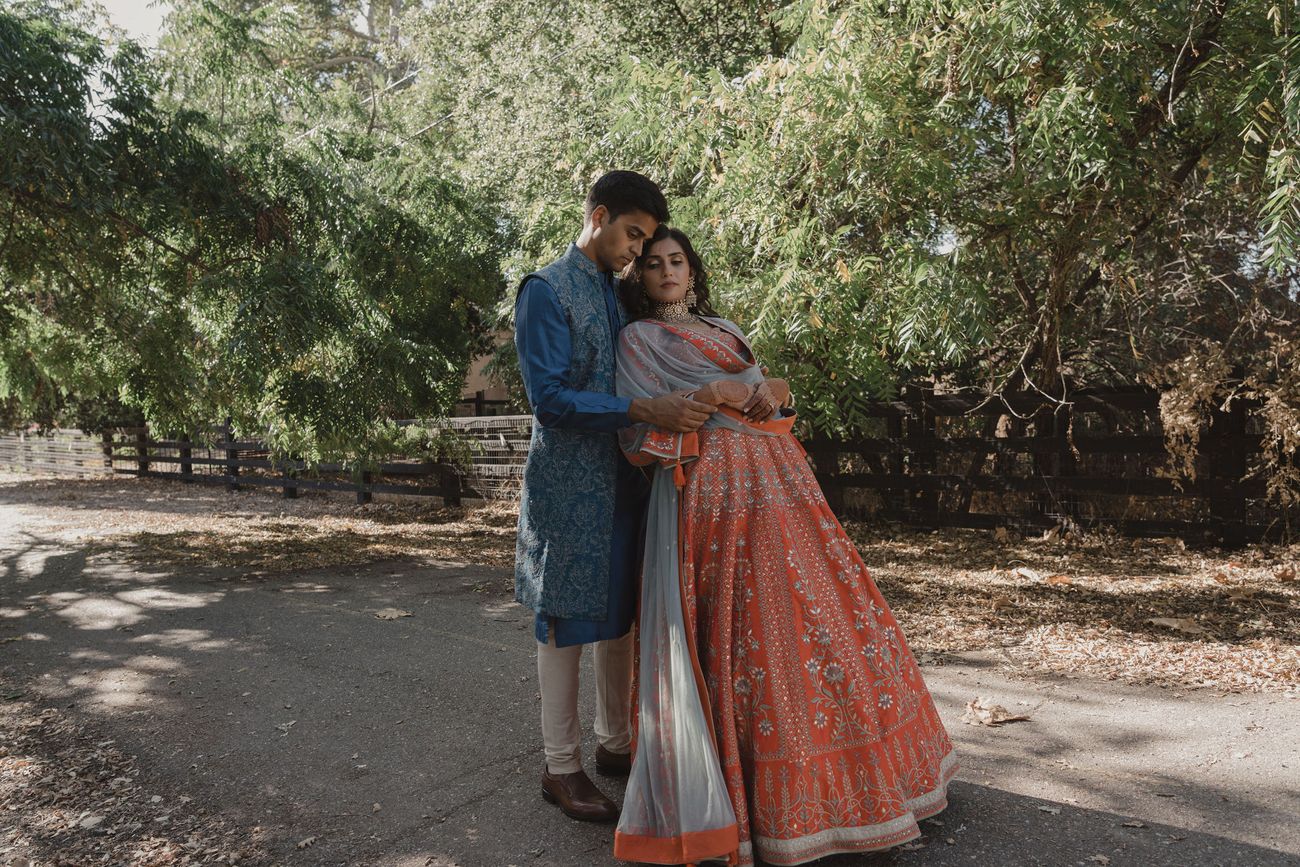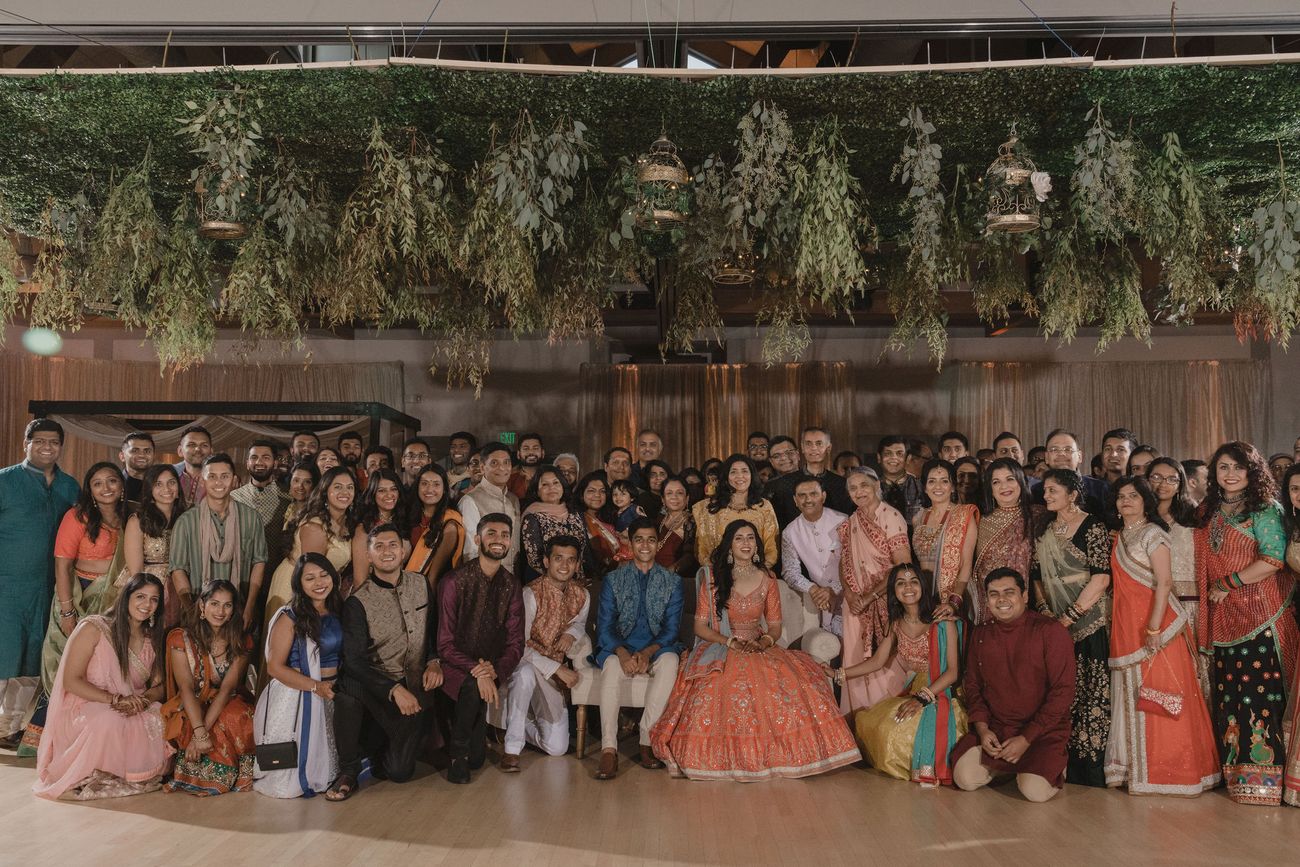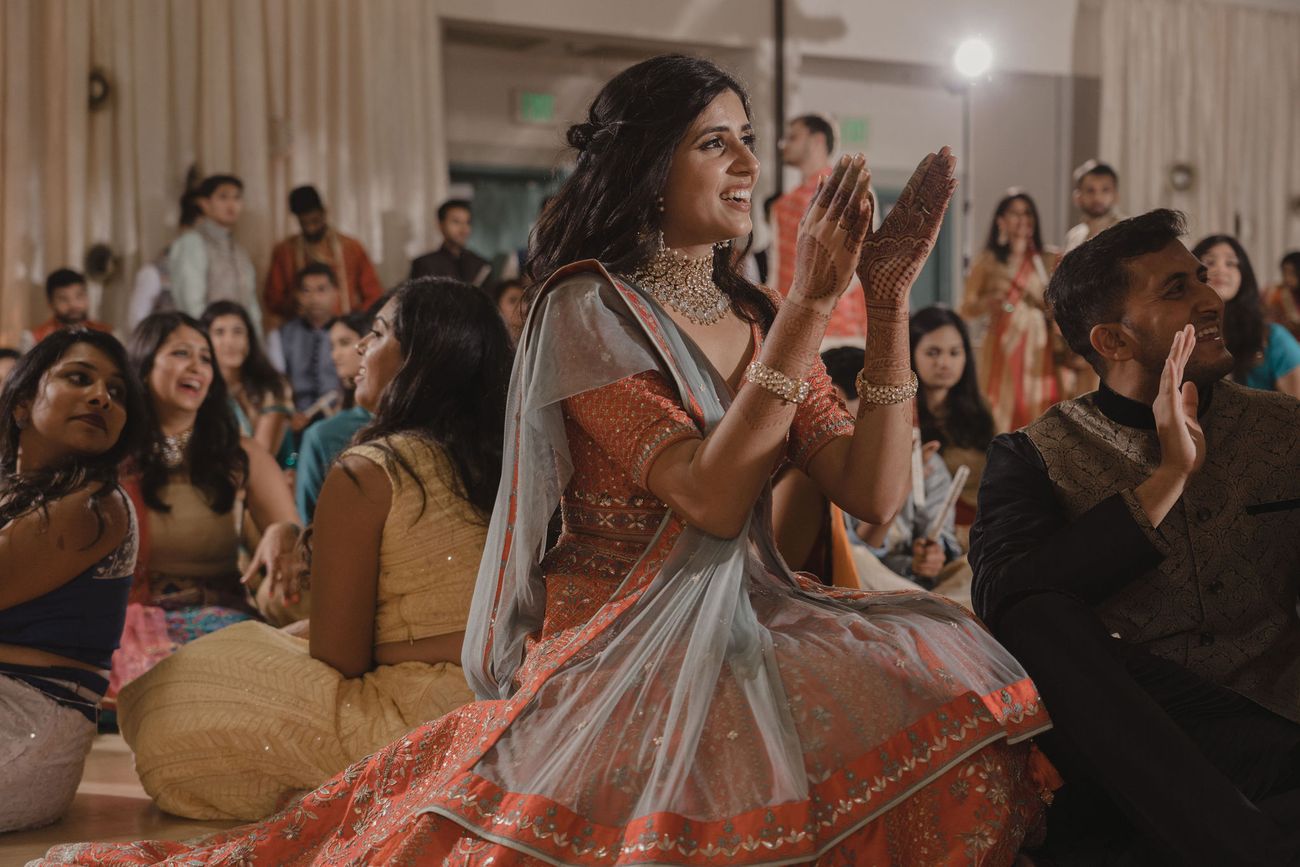 Wedding 
 
Reception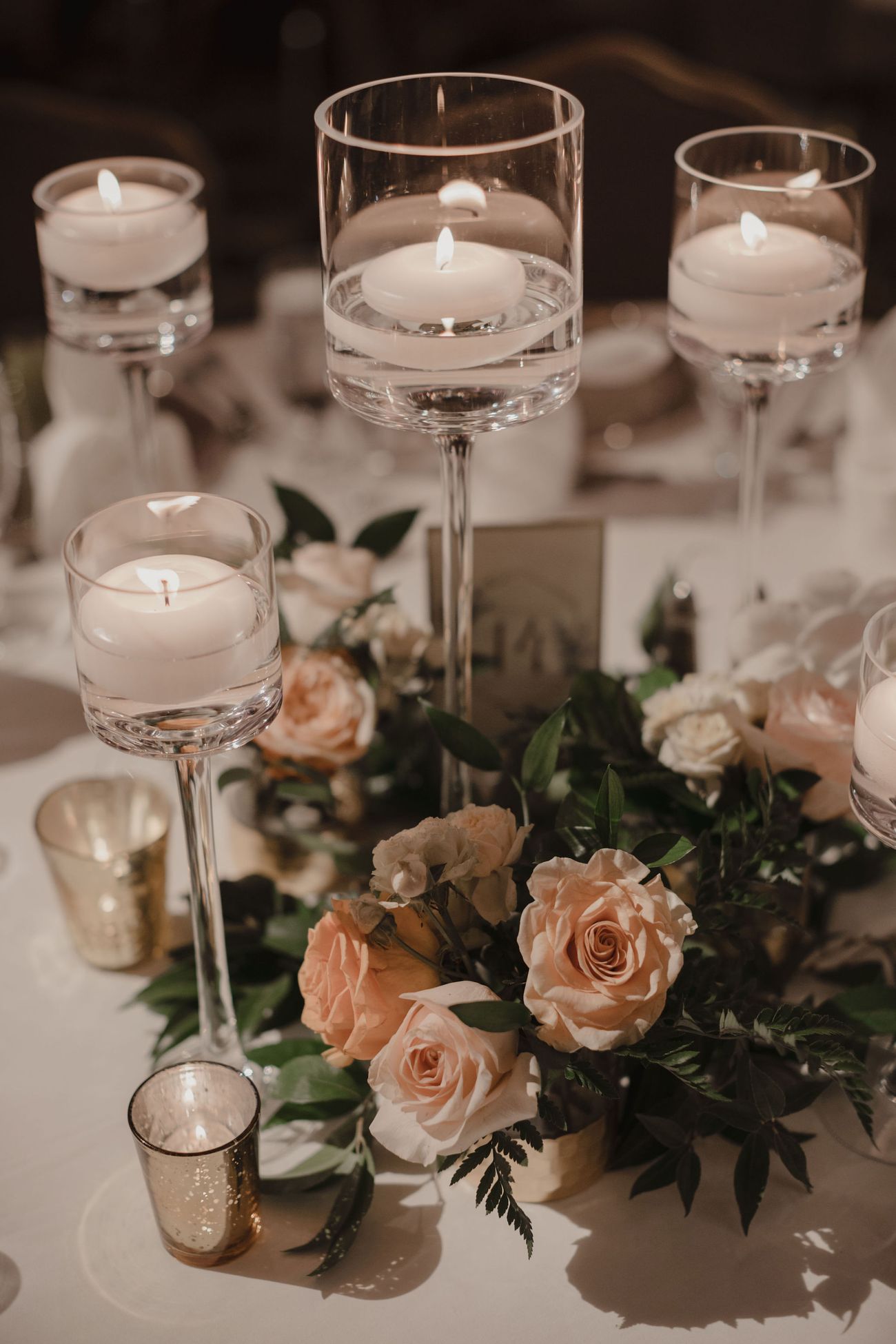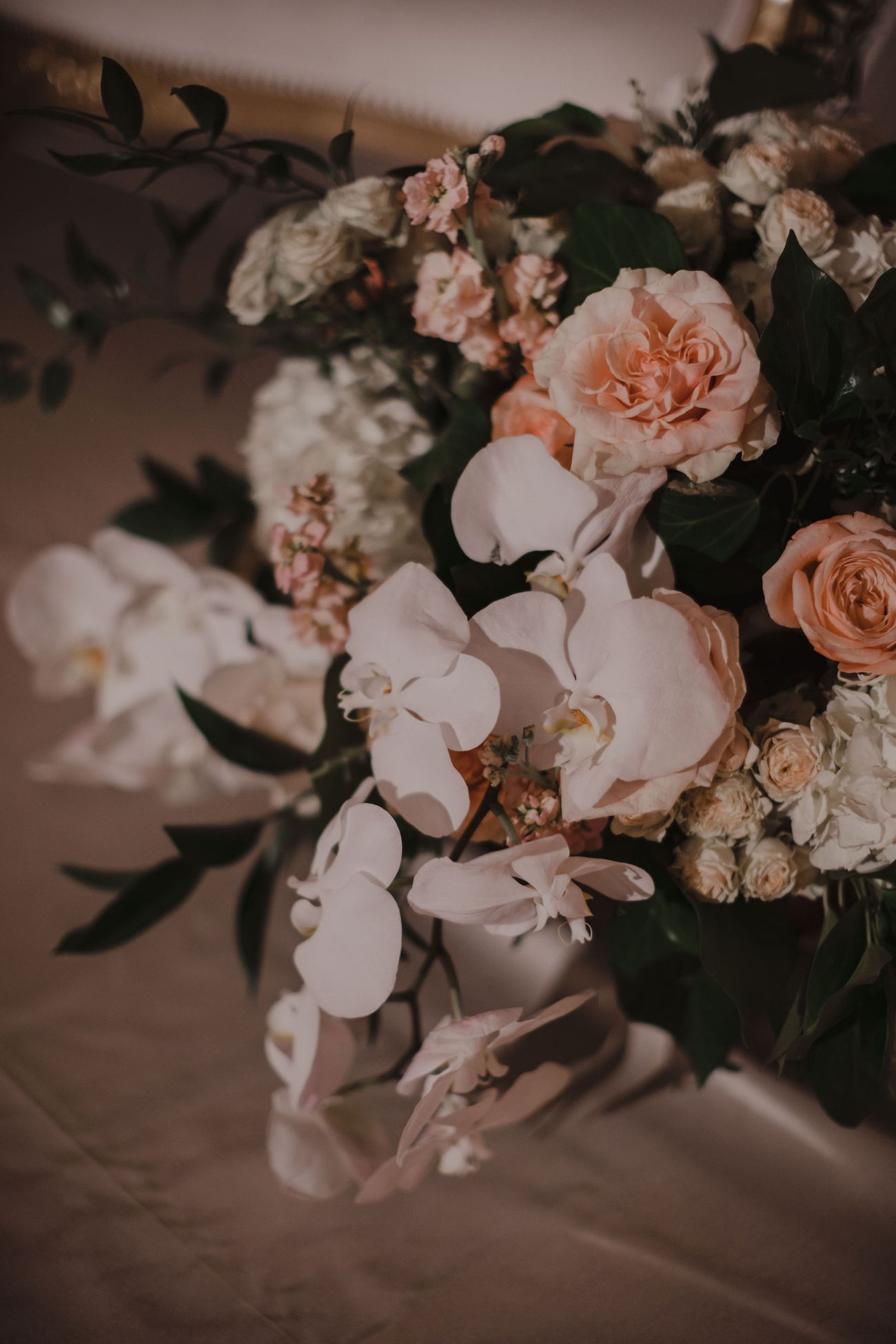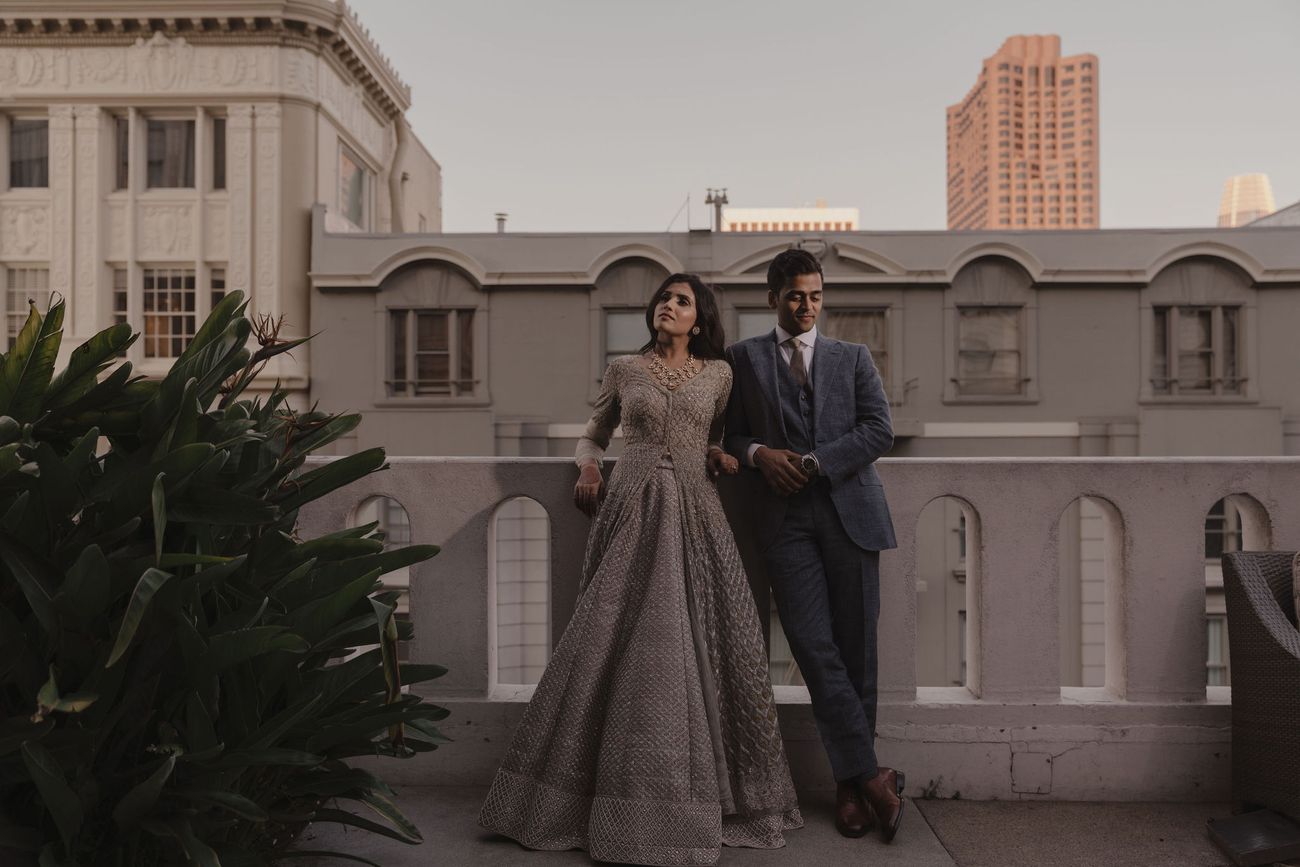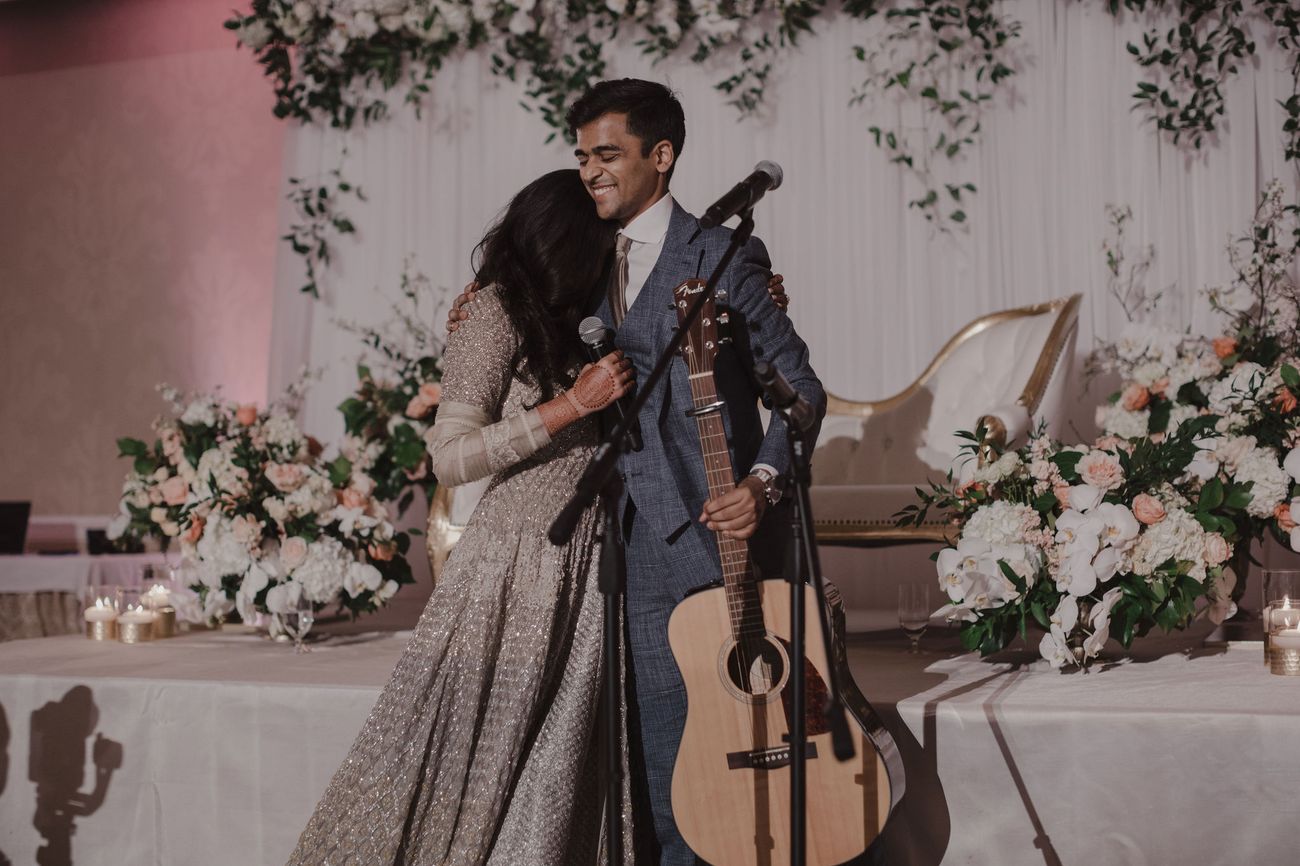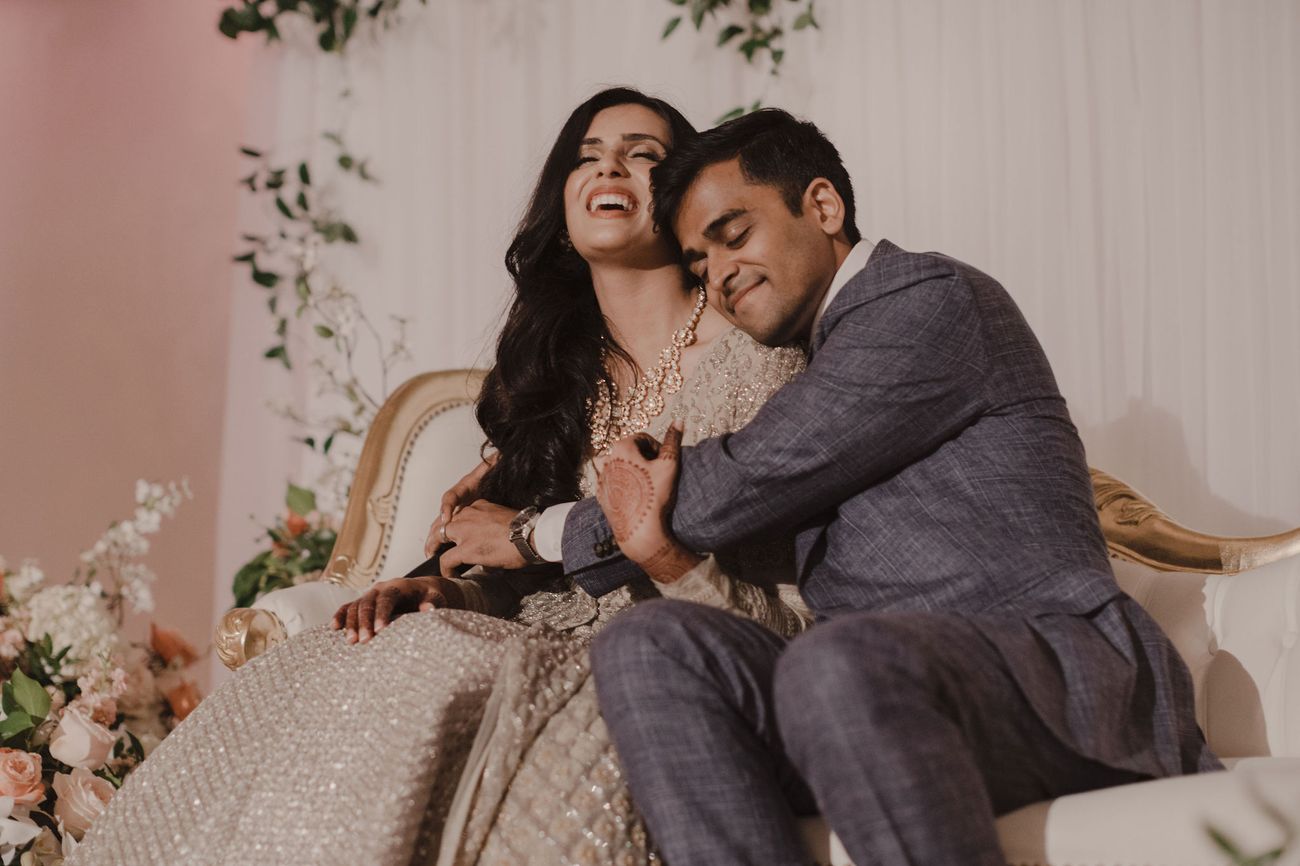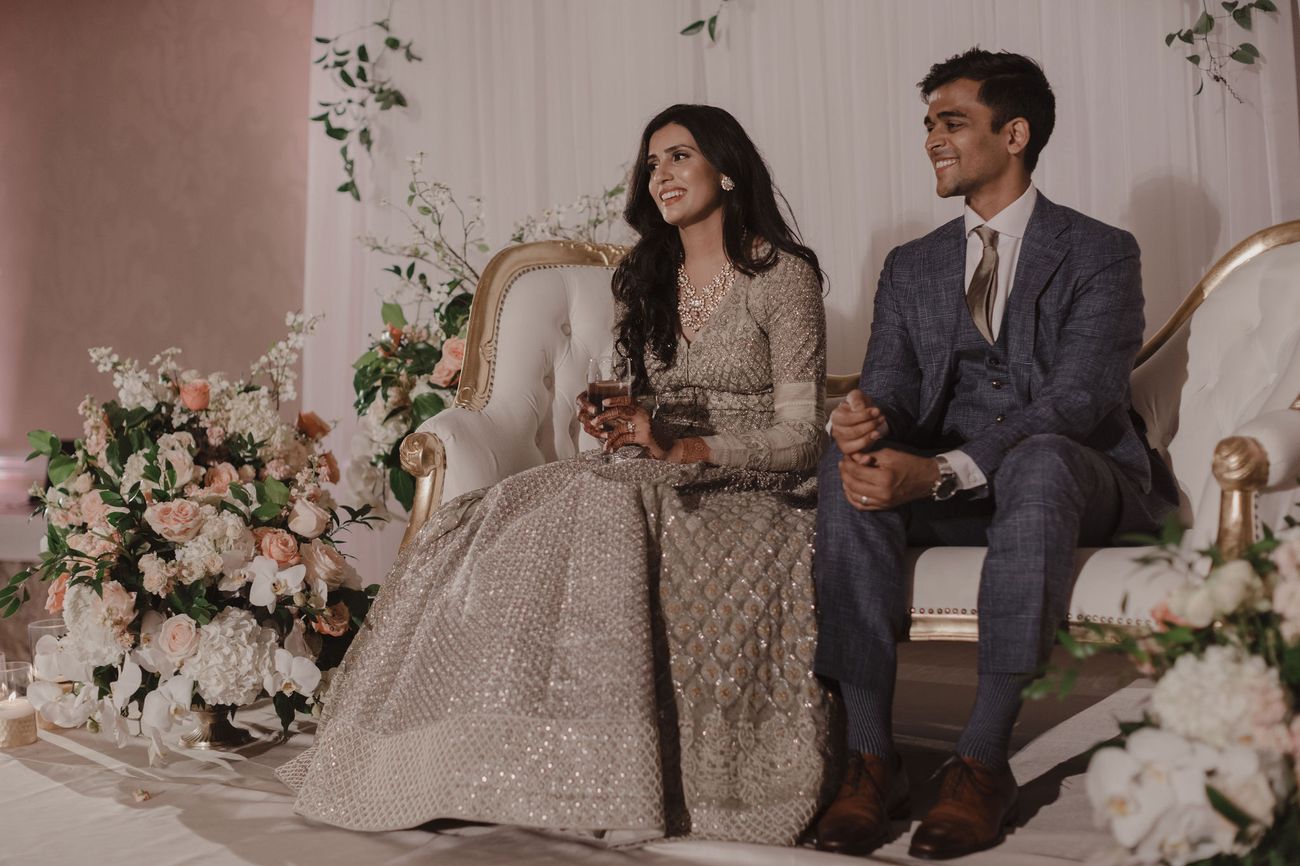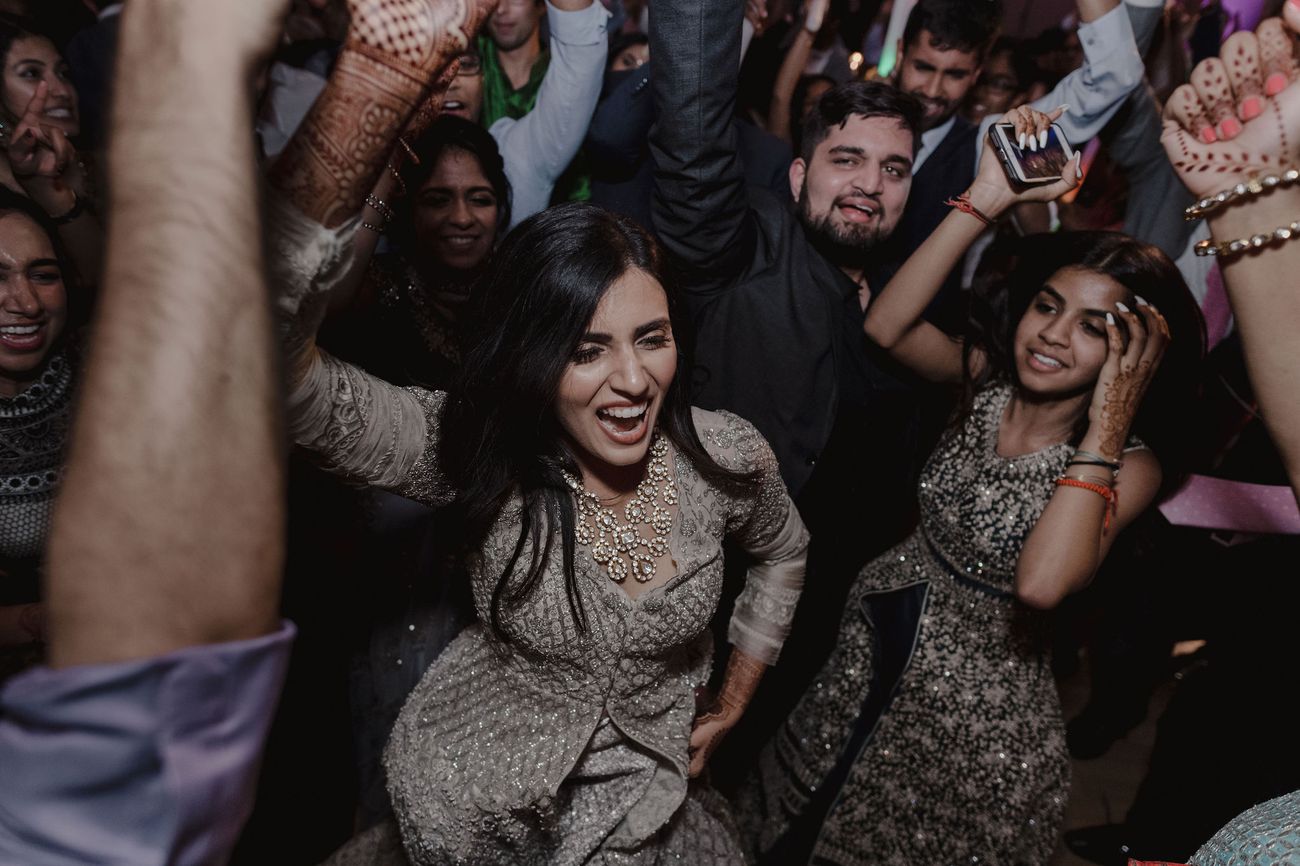 From The Couple: 
We started planning the wedding just a few weeks after getting engaged, so there wasn't much lead time before planning. We chose a date, and then just went straight into planning. It wasn't about the size of the wedding or the extravagance of the decor for us - it was about creating special moments that felt intimate to us even if 300 people were present.
Planning our wedding was this wonderful time we spent with each other & with our families, balancing every bit of who we are, with everything they wanted for us. Sidd & I are socially modest, somewhat shy when it comes to attention. We wanted our guests to be entertained at every event, but didn't want to overdo the "hype", given our personalities. We focused on creating mini, memorable moments at each event, with all of our family & close friends, hoping to make sure that everyone felt involved in this special weekend. Because that's truly what mattered to us most - is that everyone was well taken care of, comfortable, and having fun. We didn't want a single person to feel left out of any activity. 
I have to mention - Sidd & I are both musical. I grew up learning Hindustani classical music while Sidd played the violin, and we both went on to singing a cappella through college. One of our friends, Ali Nizamani, is an extremely talented musician, and one of the best humans we know. After Sidd & I got engaged, Ali wrote a song for us, and then invited us over to professionally record us singing this song. This song means so much to Sidd & I, and also poetically tells our story. 
As a surprise for Sidd, I decided to have this song playing in the background as my brother walked me down the aisle. In traditional Hindu ceremonies, a veil is held in front of the groom, so that the "first time" he is seeing is bride is at the mandap (traditional alter for Indian wedding ceremonies). I knew this song would make him emotional, but when I reached the mandate & the veil was lifted, I was surprised to see Sidd in tears. It was the sweetest moment as we looked at each other & felt the happiness sink in. 
Advice to other brides- & grooms-to-be: relax and enjoy the whole process. Don't stress about anything because it's not worth it, and especially during your wedding weekend - take every moment in, focus on all the positives, smile and have an amazing time!
Vendor Reviews
Bridal Outfits
Sabyasachi released this lehenga two years before my wedding, and when the time came to choose my wedding lehenga, I could not imagine myself wearing anything else. The decision was so incredibly easy. All the decor for the wedding centered around this lehenga after I chose it - the multi colored flowers were meant to highlight the colors on my lehenga, my bridesmaids outfit color was chosen based on a hue from the lehenga, and even my mom & Sidd's mom wedding sari colors were chosen to complement. Everything turned into this beautiful, bright, yet light and delicate, multicolored affair.
Pooja Saree: I wanted a classic sari with a bold gold border to wear with it, either in green or pink, and when I visited Sai Kanchi in Hyderabad, the second sari I was shown clicked immediately. It was woven in beautiful silk and real zari, and is a timeless piece I will cherish forever.
Wedding Planner
Mandy Scott was our wedding planner, and she is the most amazing person I've known. She is organized, supportive, realistic, warm, and became a family member throughout this process. When I started planning, I didn't have anything in mind as a 'brief' other than wanting a wedding that took place all on-time, and made every guest happy. Mandy, my parents & I  worked closely together to create every moment during that weekend. Everything went perfectly according to plan, and every single guest was happy.
Vendors: Venue: Huntington Square Park (Baraat) & Gold Room at Fairmont, San Francisco; Photographer/Videographer: Mili Ghosh Photography ★ 5 ; Wedding Planner & Florals/Decor: Mandy Scott; Bridal Outfits: Sabyasachi Mukherjee★ 4.9 (Wedding), Sai Kanchi★ 4.8 (Hyderabad), AM:PM★ 5  (Haldi), Raw Mango★ 5 (Mehendi), Anita Dongre★ 4.9 (Mehendi), Jade by Monica and Karishma★ 4.8 (Reception); Bridal Jewellery: Just Jewellery★ 5 (Wedding), Custom jewellery by Hemanth Gupta of Musadilal Jewellers Hyderabad★ 4.5 in Hyderabad (Pooja), Firdaus (Haldi), Purab Paschim by Ankit Khullar★ 5 (Mehendi, Sangeet and Reception), Custom jewellery by Esha Sethi Thirani (Brunch); Bride, Mother of Bride & Mother of Groom Hair & Makeup: Abhilasha Singh; Bridesmaids Makeup & Hair: Vinnia Thjin; Groom Outfits: TISA★ 5 (Wedding and Mehendi), Zara (Brunch), Anita Dongre★ 4.9 (Sangeet), Suit Supply, San Francisco (Reception);  Pandit: Nilesh Pandya; Invitations: Avsar Modi, Avsar Ink; Wedding & Reception Catering: Jalsa Catering in South Bay, California; Bride's Mehndi & Sangeet Catering: Frontier Spice in Pleasanton, California; Mehndi Artist: Mehndi Designer, Neeta Sharma; Sound/Lighting/DJ/Dhol Throughout Wedding Day (Baraat > Reception): Wicked Entertainment, Happy Grewal; Groom's Safa Tying: Royal Turban; Photobooth at Reception: Magic Mirror; Sangeet Live Music: Madhvi & Asim Mehta (KAMP Music); Baraat Horse: Hackney Horse & Carriage