Hey Shorty: Bridal advice for petite brides
BY The WMG Bride | 09 May, 2015 | 3275 views | 3 min read
Are you the kinds who needs to get atleast 3 inches taken off of every pair of pants you buy because NOTHING in the world seems to be made to your size? The girl on whom regular dresses become maxi dresses? Where Pallazos look like some sort of bedsheet that has swallowed you up ? Well luckily for you, your wedding day outfit won't run into any of these problems since its custom-made to size. But if you are marrying a guy who is significantly taller, these tricks may help to get just that extra bit of push.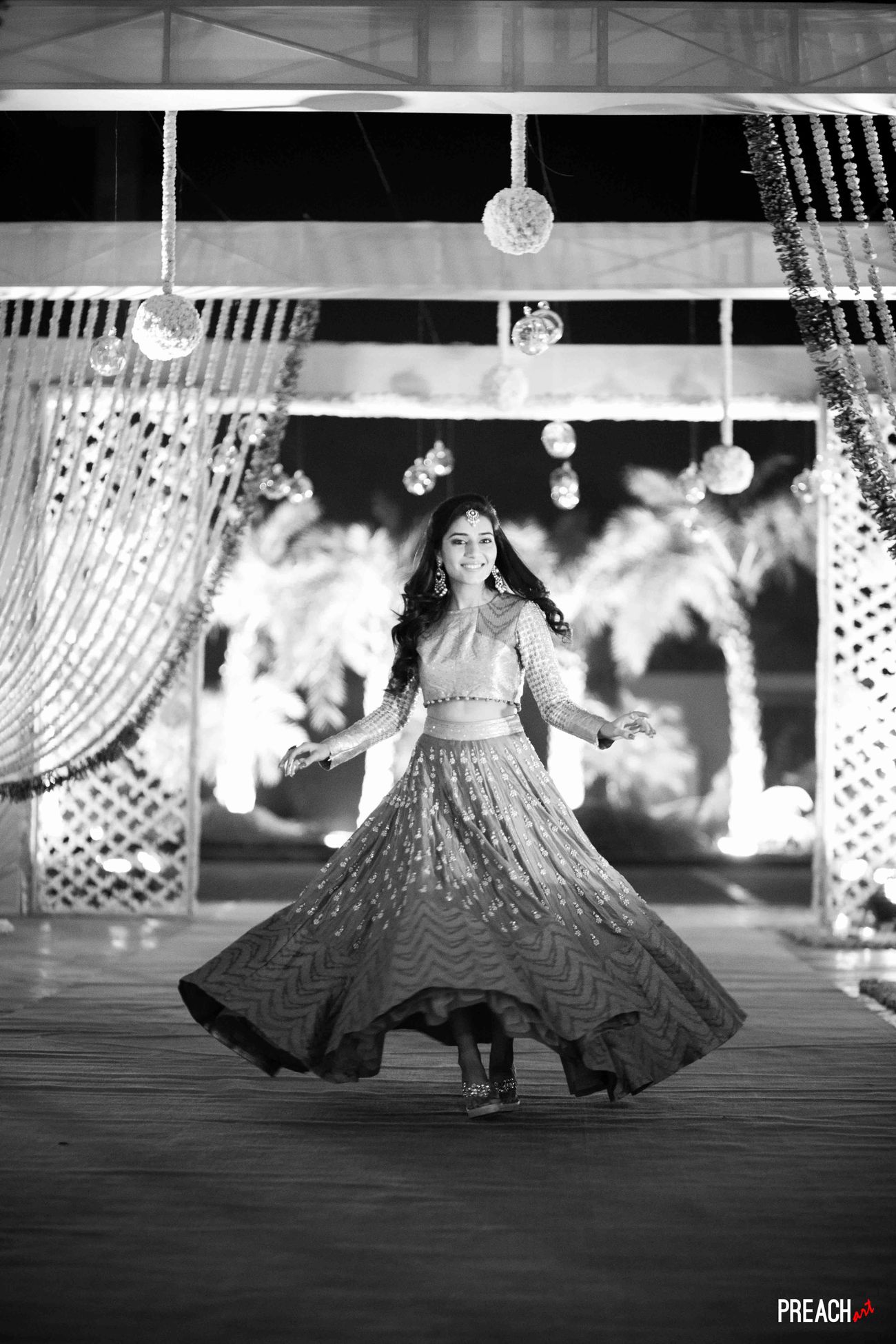 Photo by Preach Art★ 4.9
1. High Waisted lehengas :
Whether you are slim of plump, a high waisted lehenga with a tiny , thin waist band is the PERFECT illusion of longer legs and height . The higher waist makes it look like your legs are never ending and noone needs to know how long they really are ;)
2. Monochrome outfits:
When you wear too much color in one outfit, the vision breaks at every color- giving you an illusion of looking shorter. Conversely when there is one color from head to toe the eye flows down to it in one single swipe giving the illusion of height
3. Get a lehenga with vertical kalis:
While we recommend you pick a style you love irrespective of your height, lehengas with vertical patterns like Ambi's or panels going from bottom to top will add to your height
4. Smaller prints in Kanjivarams or smaller motifs in lehengas:
If you are a South-Indian bride, then to avoid being overwhelmed with the thick fabric of a kanjivaram - pick one with very fine close knit print on it. Get a blouse in the same color family and keep it as short as you can
5. Avoid layered jacket styles:
You know those long jacket with side slit styles that are worn over lehenga skirts- well as much as we love them, they are just overwhelming for a shorter bride. Too much fabric can be a total buzz kill, and anytime you pick an outfit - you should look at sharply tailored, well fitted silhouettes versus layering and draping.
6. Avoid high necks:
V shaped or U shaped blouses give the illusion of height, while boat neck or high neck blouses don't do much for a shorter girl making their neck look even shorter. The same rule applies for jewellery- pick a style that is not completely stuck to the neck
7. Anarkalis can look good if you pay attention to the length and ghera:
Anarkalis are actually a great option for short heighted brides as they have a natural high waist. However keep in mind that the ghera should be  A -line and not full flare. Voluminous full flare anarkalis can almost eat up a shorter bride. Also keep the length just at ankle length and wear heels - instead of opting for a floor sweeping anarkali
8. Keep borders to a minimum:
Avoid lehengas with high borders that can cut your height further. Pick thin , minimal borders both at the waist and at the edges.
Do comment below with your thoughts girls!
Find vendors to plan your wedding on the go, Download the WedMeGood app now.