How To Drive A Bargain Into Your Wedding Shopping: Designer-Wear For Less?
BY Sakshi | 01 Oct, 2018 | 1219 views | 4 min read
It goes without saying that Designer-wear is something for which you have to shell out money- after all, you are getting an original design and good craftsmanship! But unfortunately, we see a lot of brides these days prefer to just get a replica made to cut costs- while that is a different ball game altogether, what we'd highly recommend budget brides instead is to a) Consider a smaller designer or b) Be smart about your lehenga shopping! Yes, it is possible to save big on your 'designer' wedding shopping, and here are a few suggestions that might help!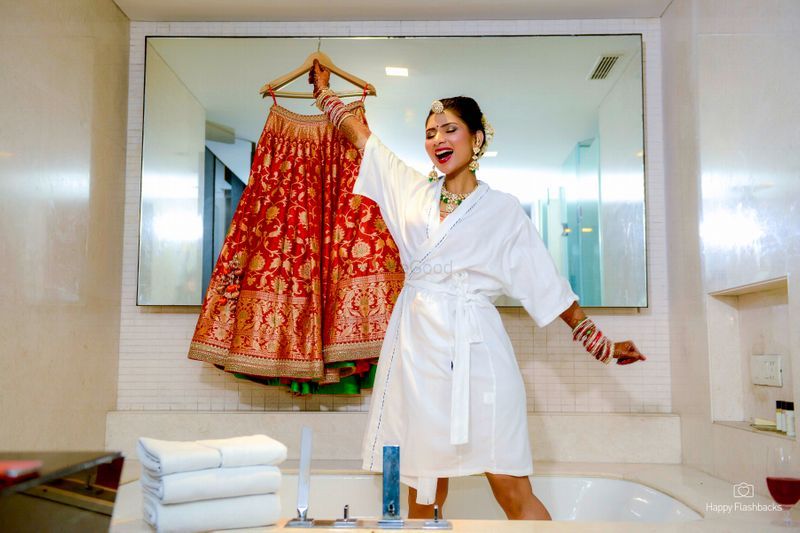 Image via Happy Flashbacks★ 5
So here are our tips and tricks that might just be brilliant! 
Shop during off-season
Shopping for your favourite designer in the off-season means you can score deep discounts as retailers try to make space for new merchandise. Do your shopping right before the new collection is about to hit! This has its own cons as well, but if you have your heart set on a particular outfit, this might just work out! Choosing something timeless is something we'd recommend in this case.
Opt for a lighter lehenga instead of bridal!
If you do want to wear a lehenga from a big designer, but do not want to shell out 5-6 lakhs, then a great idea is to opt for a lighter lehenga from the designer instead of a bridal one, as the difference between them could be of a couple of lakhs! You can always dress up a simpler lehenga with jewellery and give it the bridal touch with a heavier dupatta!
Or just shop for your "Engagement or Sangeet lehenga"!
Believe it or not, the moment you utter the word "wedding" in front of vendors, the universe starts conspiring against your budget. It's best to keep the purpose of your shopping to yourself at certain occasions; for example, psychologically shopkeepers price heavy Sangeet lehengas cheaper than lighter bridal ones. Moreover, if you ask for an engagement outfit, they price it lower hoping you will also buy your wedding outfit from them!
Or you could just not mention you are the bride!
Never never tell the salesman that it is your own wedding. They will start showing you super expensive and hideous pieces just to make the sale. Tell them you are the sister of the bride or the groom so they show lighter stuff and also don't quote super high.
Mix-&-Match designer wear with budget!
Yes, you might love that Sabyasachi sari but maybe you can buy the lehenga and get your own blouse made. Or buy that net dupatta and wear it with your favourite lehenga + crop top. Mixing and matching designer and off-beat labels can reduce your budget by almost a half. 
Or just be smart about it!
Pick a relatively simple skirt but go for a beautiful, ornate dupatta that you can drape over it, and an all over embroidered blouse. Most stores don't charge extra for heavy blouses, and heavy dupattas will at max increase your cost by 5-10K, but adding embroidery or heavier lehenga skirts can set you back 20-30K extra. Moreover, simpler skirts do look elegant and in the photographs all that shows is most of your blouse and dupatta.
Instead of two, carry only one dupatta or DIY a second one!
A second designer dupatta can set you back by almost 10-20K depending on the designer! So you could either just opt for one dupatta or DIY it- buy tons of borders from a local market, and get that attached to plain fabric to create a second dupatta for yourself.
Look out for bridal sales & exhibitions!
This is one thing we recommend to every bride-to-be! Take sales and exhibitions seriously! Not only do they give you everything to browse under a single roof, but also keeps you in touch with the trends of the season and a lot of designers do give some massive discounts! Here's all you need to know about the upcoming ones!
Or flash sales on online stores!
These days a lot of designer wear is available online on stores, and keep an eye out there too! 
Keep that designer handbag at home!
A very small thing- but something that can make a difference to your bridal shopping! Do not carry your Prada or LV bag to the lehenga showroom. Trust us, the quoted price will go up 20%. However, you can still take them to designer showrooms where the prices are fixed.
Do not be embarrassed to ask for a discount!
This is something a lot of us feel embarrassed to do! But when you are doing it with other vendors, why not with the person who's gonna make your bridal lehenga? It might make a difference, and it never hurts to try! If you can't do it, tag a friend or mom along who can. 
ALSO READ: Real Brides Reveal: One Advice They Would Give Brides About Lehenga Shopping!