How To Prepare For Rain At Your Wedding!
BY Sakshi | 28 Jun, 2022 | 6577 views | 7 min read
Weather has become pretty unpredictable. Whether you're having a wedding in a place like Bangalore, a winter wedding in Delhi, or a beach-side destination wedding, it can rain any time. Outdoor weddings look so amazing as compared to indoor venues, but the thing is, you have to ALWAYS be prepared for a downpour scenario these days. Even if it is not a heavy shower but a light drizzle, that's sure to throw all your amazing décor plans and hospitality into chaos for a bit. Then to deal with that wetness and humidity later is another issue altogether.
So how do you stay prepared for rain during your wedding? By following these tips!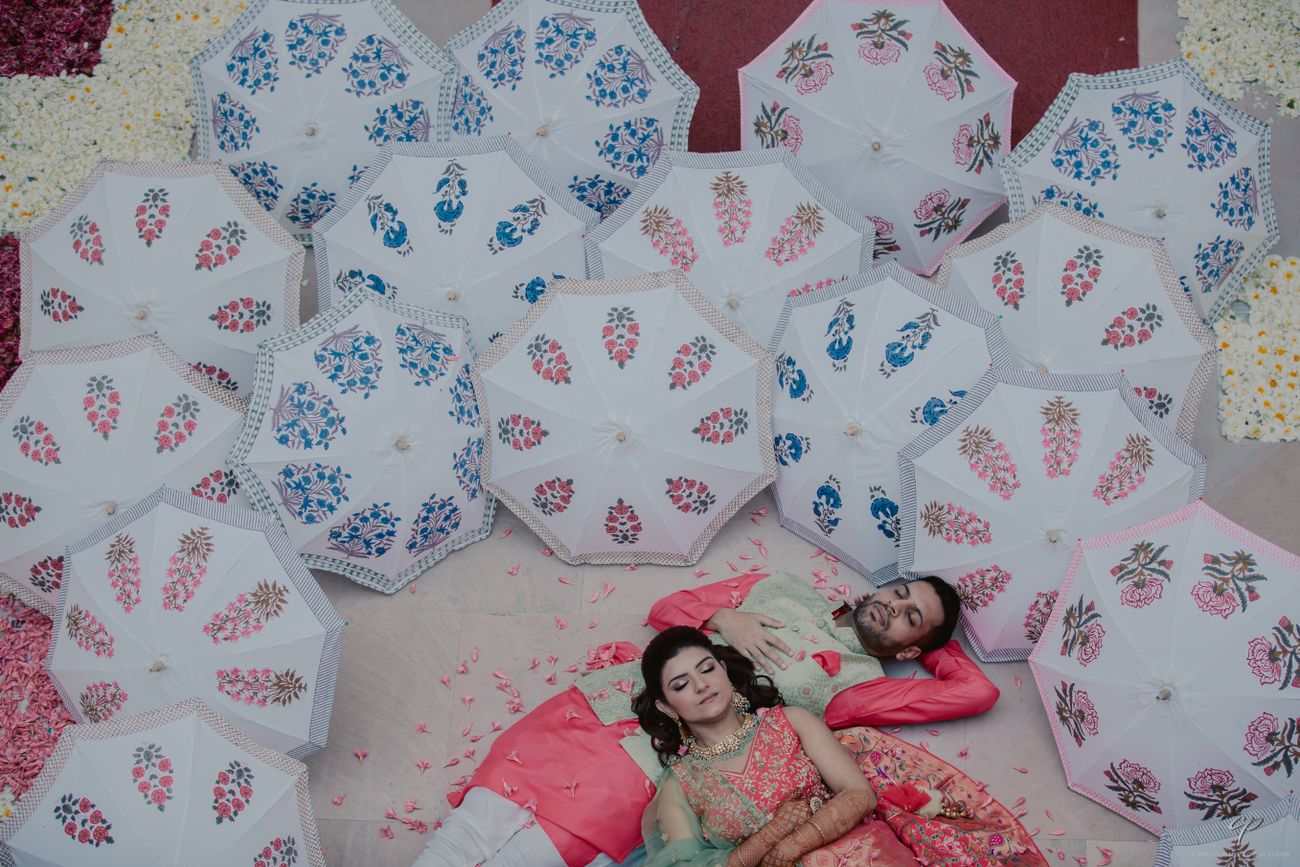 Image via Camlition Productions★ 4.9
Be updated about the weather!
This is something you need to do starting almost one to two months in advance. Keep a track on how it'll be on your wedding day, and trust the prediction, not your gut feeling. If it does say a light downpour even the day before your wedding or in the same week, then its best to be prepared and not take chances, especially in the case of an outdoor wedding.
Take the inputs
Having done so many weddings over the years, decorators and planners tend to understand that bouts of unexpected rain tend to occur. Example: The second week of february apparently ALWAYS rains in Delhi and anyone having a wedding at the time should plan for rain, even though it isn't the monsoon season.
Waterproof Tenting 
Whether it is a wedding planner you've hired or a décor guy, just make sure to discuss rain plans before hand, no matter what season the wedding is in, especially if the wedding is during the monsoon.
Keep Just the Food Area Waterproof
If waterproofing the entire event is causing your budget to go overboard, consider waterproofing the area where the food and tables are kept. This way atleast your guests can eat food in peace.
Rent a standby tent just in case
This is something you need to tell the people handling your décor, if it does look like it will rain, get the tent pitched at the highest point in the venue, so that maximum people can be accommodated under it.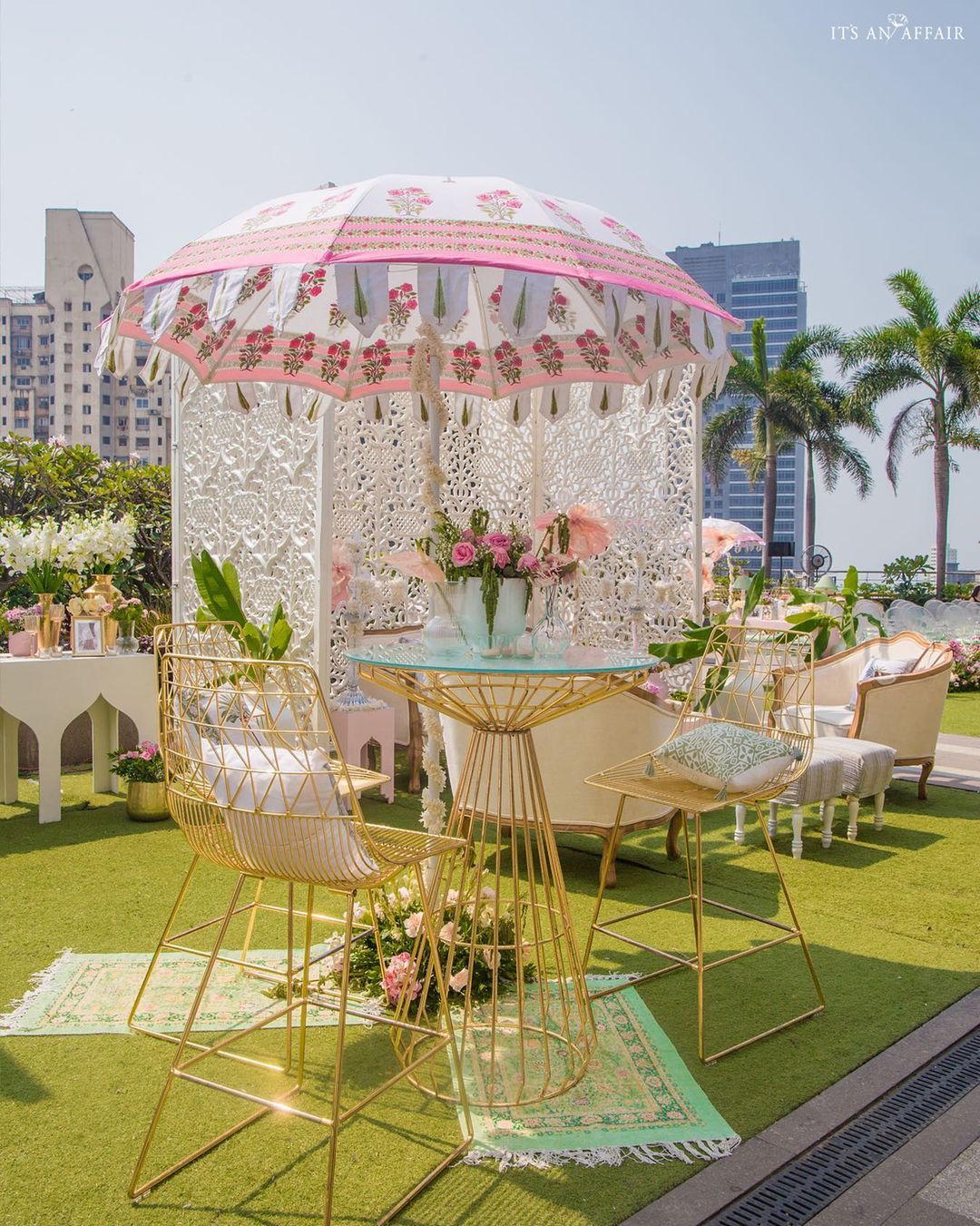 Image via It's An Affair
Garden umbrellas- useful and pretty!
If there is a chance of rain, another idea is to install garden umbrellas on every table outside if it is a round table seating arrangement. Looks pretty and can really save people from a downpour!
Have a backup indoor place ready
In a lot of cases, weddings have both- indoor and outdoor areas. Keep the indoor area as a backup in case it rains and people have to rush in when it starts pouring. Make sure you see and love the indoor place as much as the outside as well.
For a monsoon wedding , or in case it is confirmed there will be rain
In addition to the plans above, you can do just a little bit more to ensure your wedding goes on smoothly if it does get confirmed that it will rain, or if you guys have chosen to do an off-season wedding when the weather is unpredictable as it is.
Stay positive
This is very important! Instead of feeling upset of getting bogged down about this, buck up and take some measures instead!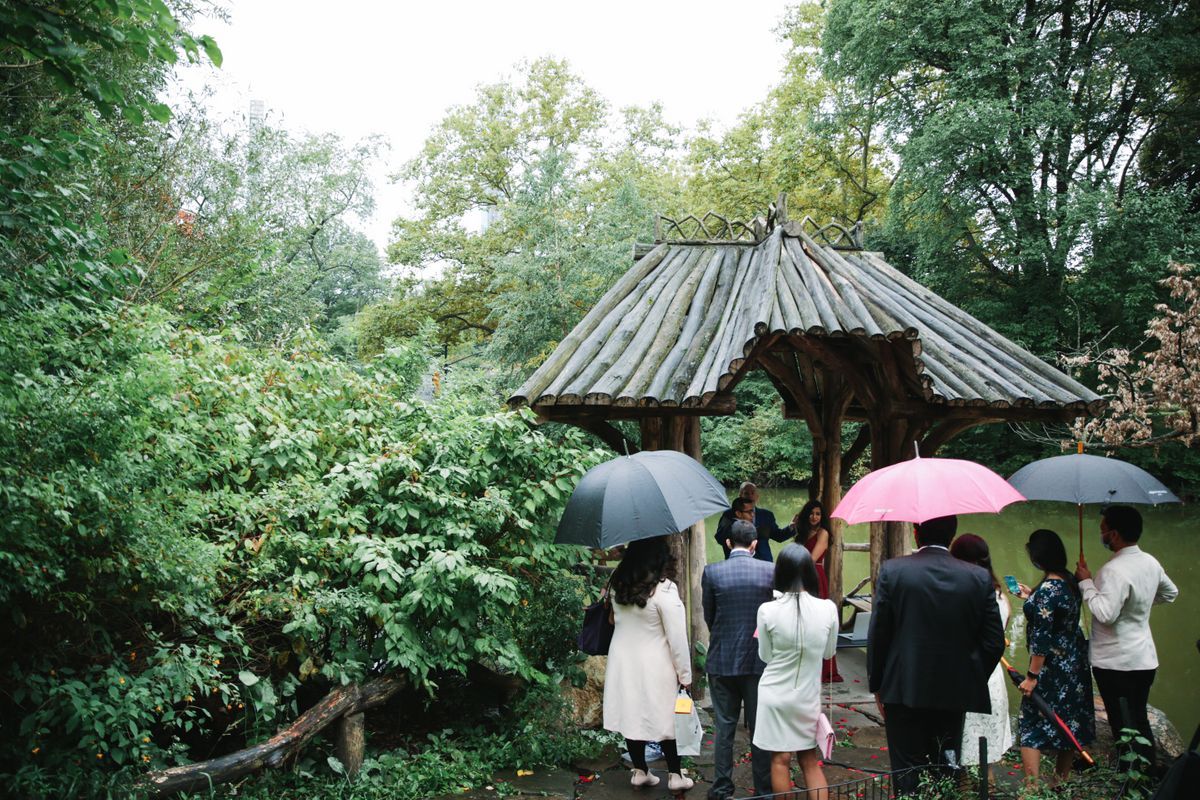 Image via Tanya and Pranoy
Have a rain-themed wedding!
Wedding planner Priyanka from Weddings N More★ 4.8 says, "Incorporate the rains into your wedding theme. Let it be like you would love it to be a part of the celebration. The décor should scream it's a monsoon wedding! You can even have a see-through tent so the guests can enjoy the rains and the décor still looks beautiful. Have it in your décor, invites, room hampers, gifts, food etc etc."
Send out rain cards or emails
Have rain-themed cards, with cute umbrella motifs, or include 'rain cards' in your invites, that tell the guests to stay prepared and also give them an alternate plan or come mentally and physically prepared, especially if it is a destination wedding.
Water-proof your make-up and hair
This is also something that might slip out of your mind easily. Make sure your make-up is waterproof, and hair has a generous amount of hairspray to avoid it from getting frizzy!
Pick a light lehenga
Trust us, you will not regret this decision! And yes, light bridal lehengas can look gorgeous too! Click here for inspiration!
Have someone to escort guests in and out
People will come dressed in their finest best at your wedding, but you don't want that to get ruined right? So make sure to have people with huge (but pretty) umbrellas standing to escort your guests to and from the venue, and if you can arrange for valet parking, even better!
Set a buffer time
So it's raining on your big day, everything is OK 'cz you prepared for it, but the only hitch in the plan is that a lot of the guests haven't arrived! In that case, set a buffer time, delay to start off the wedding or reception, so that there is some leeway for the guests to arrive late and still be a part of the celebration. Make sure you yourself reach the venue on time (especially if you're getting make-up done at a salon) keeping traffic snarls in mind.
Pay attention to the food
If you are gonna have a rainy wedding, then make sure the guests have food that's more suited for the weather! Switch cold drinks for tea, coffee or hot chocolate and prefer warm halwa over ice cream! You could even serve some comfort food like onion pakodas or maggi, and add a hot flavoured popcorn or butta cart as a part of the evening snacks!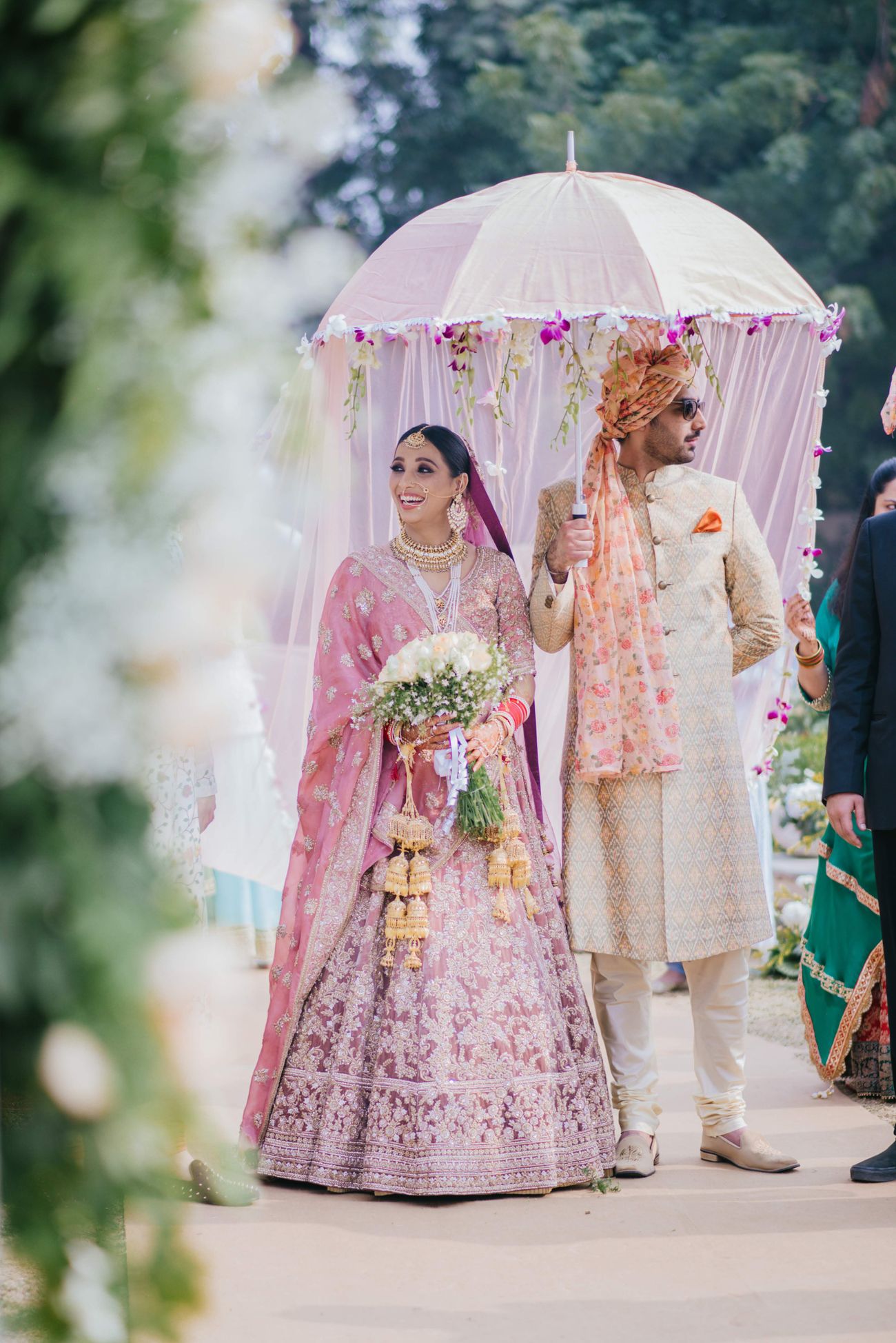 Image via Gopika & Viraj
Switch the music
Mood music. You know how you feel like listening to a certain type of music when it's cloudy and pretty? Switch the music to something that suits the mood better! Your guests will appreciate it more. How about entering on 'Boondon ke moti' for a monsoon wedding?
Consider hiring more cars
If it starts pouring, rent more cars from hotels or residences where your close guests are staying and send them over, so that they can make it on time for your wedding without any hindrance.
Add it to the guest room hampers!
Consider adding a small umbrella and foldable raincoat and some flip flops into the hamper as well, which the guests can use at the venue (especially if it is a destination wedding!) and then carry back later! You could also add some hand sanitizer and a small bottle of cough syrup as well!
Make sure the bathrooms are equipped
If it does start raining, then make sure there are supplies like hair dryers and extra towels in the wash-rooms, so that the guests can benefit from it just in case they get wet somehow.
Get creative with photos
If it does start raining, speak to your photographer and get some stunning rain shots! Nothing spells romance like being under the rain! You might have to sacrifice your outfit in that case though, but a trench coat can come handy!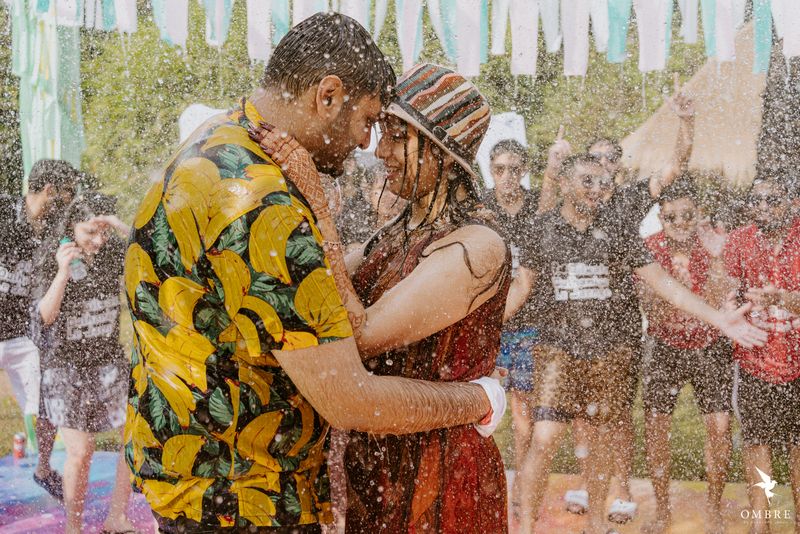 Image via Rahul and Aarushi
Dance in the rain
If your guests are up for it, why not? Have some flip flops ready just in case, putting them down in a couple of sizes in a basket or bucket is a good idea! You'll be surprised at how many people are willing to do this, especially if they stay at the venue itself and can get nice and warm at their own rooms after this!
ALSO READ: Monsoon Wedding Ideas For Inspiration!