Indian Bridesmaid Duties 101 : A Checklist For the Sister/ Best friend !
BY The WMG Bride | 29 Nov, 2014 | 10648 views | 5 min read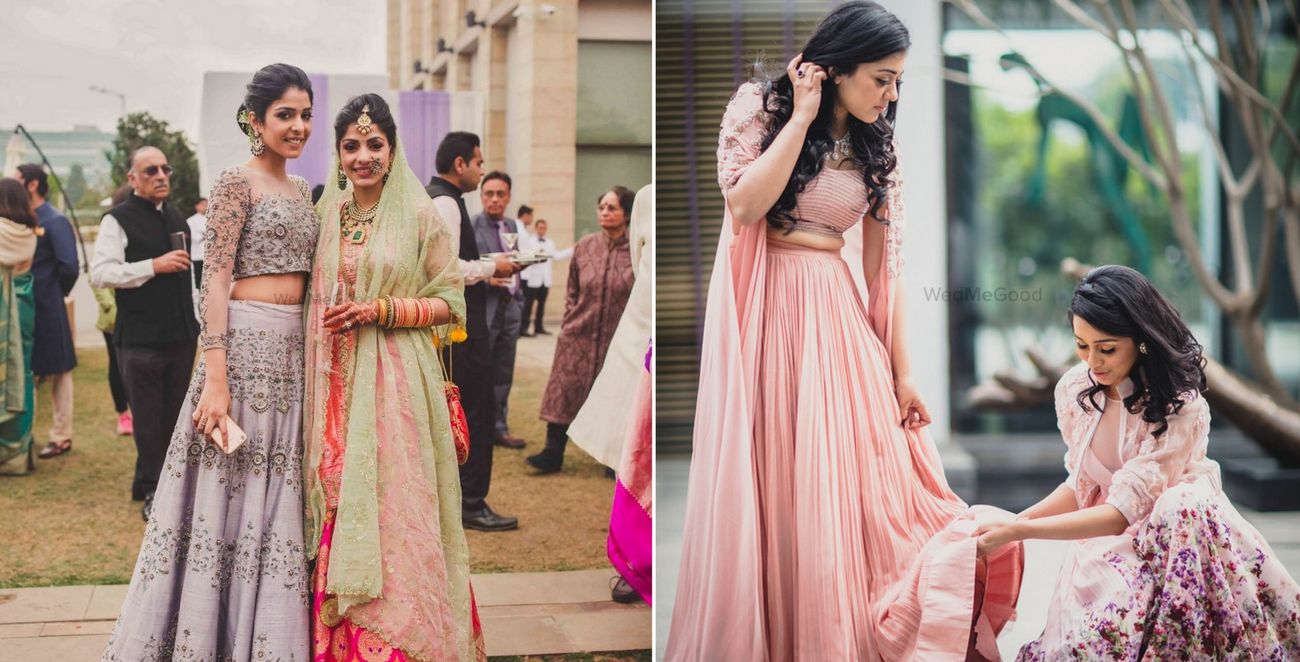 Thank God for sisters ! Not that brothers aren't important, but a sister during a wedding seems heaven-sent.  While abroad it is a big honour to be asked to be someone's bridesmaid, we Indians have big hearts, and more often than not, you won't even have to tell your sister/cousin/friend that she has certain things or duties to do on or before your wedding. Sisters take on the role head on, and your closest friends will always make sure that you have whatever you need to make you feel like a million bucks on your big day!
One thing that you should realise as a bridesmaid is that your responsibilities don't start on the day of the wedding, but wayyy before it... right from the time the question was popped! Yes, you would've probably been the first one to get the big news, and that's when your duties start! After all, it's no longer the parents who plan the entire wedding and the kids just go with the flow.
> Assist the bride in the pre-wedding tasks such as lingerie shopping etc. Be it the shopping trials and fits, selecting the photographer or makeup artist. Another eye and opinion can only help! And this way, you are in the loop right from the start.
> Shoulder the great responsibility of throwing her Bacherlorette or the Bridal Shower. Try some of these cool ideas on WMG to make it epic!
> Prepare a fun performance , speech or flash mob! You might have to coordinate long distance with people, but make it happen- it'll be totally worth it!
> Distribute cards to other friends: While the family will be card distributing in a formal way, the friends of the bride can get their cards from the bridesmaids.
> Co-ordinate a bridesmaid 'social media' campaign:The cutest thing we have seen so far is when 10 friends of the brides in all different cities and countries all uploaded a photo on their facebook holding a plac-card saying "Packing my bags for my besties wedding". Nothing like a bit of social media to kick off the wedding celebrations
> Get decked up and pretty much in advance. That'll give you enough time to concentrate on the bride and help her out- we know you want to look great because of the cute best man but really this is HER day.
> Keep nimbu and cheeni ready for the brides mehendi. It's amazing how important a slice of lemon and sugar on an Indian wedding function
> Make sure you are there at the salon with her. Check-off this checklist before you leave for the wedding
> Take a print out of the sangeet songs and sequence along with who is performing on them.
> Make sure you have a car/ driver at all times when you're with the bride. You never know who might forget what at home... be ready to run errands at short notice! A jhoomer left at a makeup artist salon, or a safety pin set left back home
> Have one point of contact from the grooms side (preferably a cute one ;) ) so you know exactly when the baraat arrives
> Keep a track on the bookings that have been made and have a contact person for each . If the bride has made them, you don't want her to be getting hassled cz the DJ cancels or the photographer is late. Be aware and help her sort things out on the big day.
> Keep her cell with you and screen calls before handing her the phone. Also, keep the bag with the makeup for touch-ups with you.
> Make sure to take a lot of pictures, or make someone do it. The pictures from the photographer will most likely come after a month!
> Carry some ammo- we mean chocolates or even a shot of vodka! Whatever rocks the bride's boat!
> Keep a track of the grooms shoes . You need to get them as soon as he hits for the feras !
> Get the brides entry sorted and accompany her while she comes out
> If a change of clothes/shoes is required in the middle of the ceremonies, make sure you're around to help the bride out with it, she's gonna need a lot of help in taking off that lehenga!
> Help her pee: Sounds gross, but honey peeing with a ten kg lehenga or saree is an art
> Make sure she has eaten! She'll probably be too nervous or stressed to realise it, but try sneaking in a snack when you can! The bride and the groom barely get to eat the food served on their own wedding!
> Almost every bride needs an emotional support to get through that stressful time. Make sure she doesn't get stressed and enjoys her wedding. That's probably your most important job!
Chances are, that as a bridesmaid you are going to be very very stressed, perhaps more than the bride herself! But trust us, it's all worth it, after all, the favour is most likely going to be returned! And yes, one more thing, if you are single and ready to mingle, don't stop yourself from flirting and having some fun with the hot boys!
While your bridesmaids fulfill their duties, you fulfill yours by ensuring that they get the perfect makeup service for your wedding! Book one, well in advance. 
 By Sakshi S