It's a Bright Red Agra Wedding With Oodles Of Gold!
BY The WMG Bride | 04 Oct, 2015 | 4603 views | 5 min read
Lazy Sundays are brighter when you have weddings with as much color as this one has. From a lime green and yellow mehendi, to a traditional red and gold wedding , Sumedha and Prateeks wedding packs in tradition with punch. Love the use of kites in the Sangeet decor, the getting ready robe for the bride and ofcourse the wide grin she is sporting in all the photos. Shot by Pooja Joseph Photography 
Meet Sumedha & Prateek
"Prateek and I went to the same college, we were best friends, we did not start dating until after we graduated. Prateek popped the question in Las Vegas  and I said Yes, "Best Friends to Soul Mates", it has been a roller coaster ride for us" says Sumedha with a big smile.
Pre-Wedding Shoot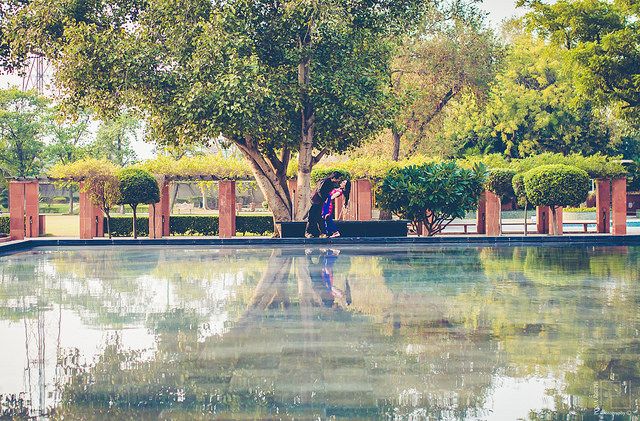 From The Bride:
"Planning the Wedding was BIG deal for me and my parents, we left India about 9 years back and my parents did not get a chance to return since. Things had changed a lot, plus the wedding was supposed to happen in Agra, a place that we have no real idea about. We started planning the wedding soon after the wedding date was decided. I personally gave attention to all the details in the wedding, from wedding cards to the venue. From picking the photographers to designing decor, me and my husband were immensely involved in everything, since we were booking everything sitting in Seattle, Washington. This was not easy but I must add that WedMeGood was a lifesaver. We booked 90% of things online or by word of mouth, with the hope that it will turn out all well at the end. I am a very picky bride and wanted everything to be perfect." says the bride!
The Mehendi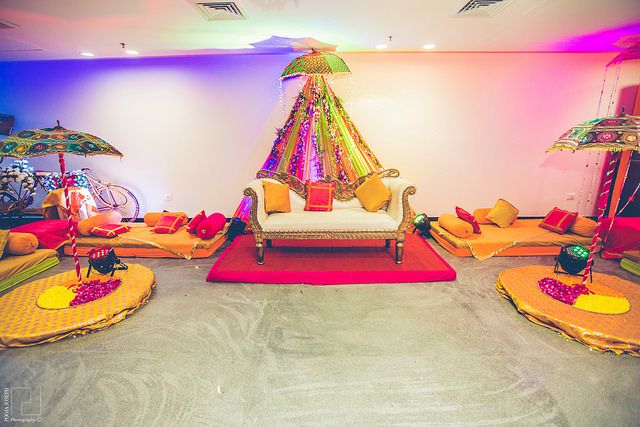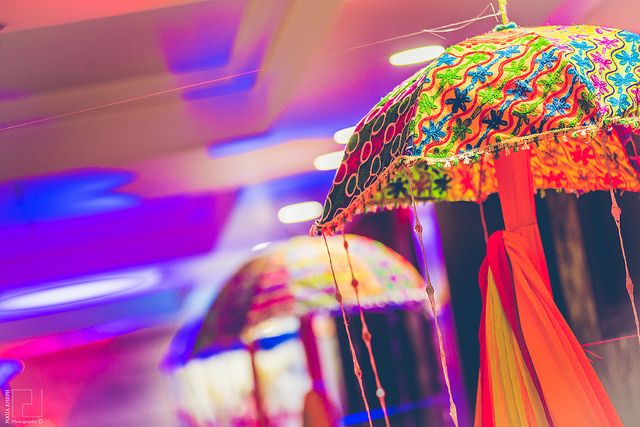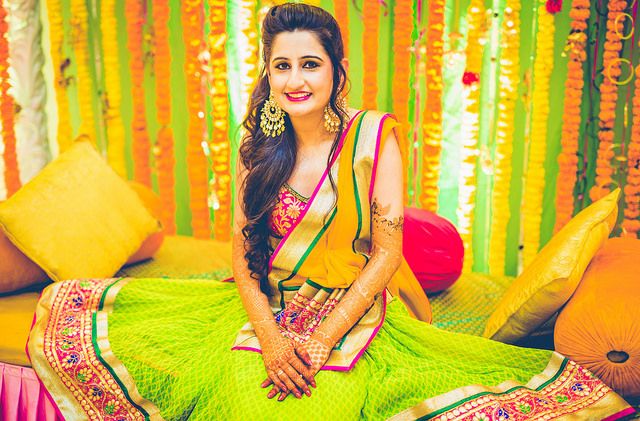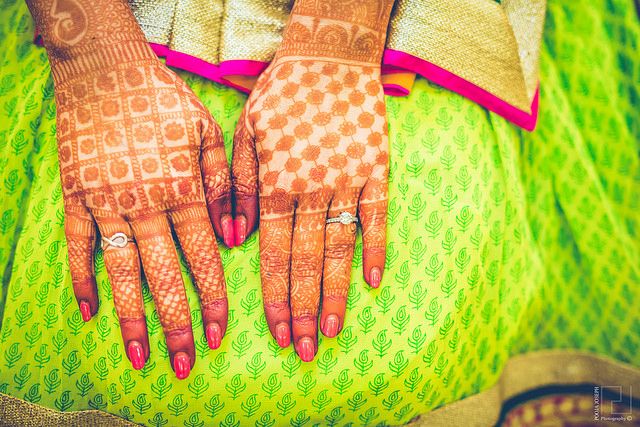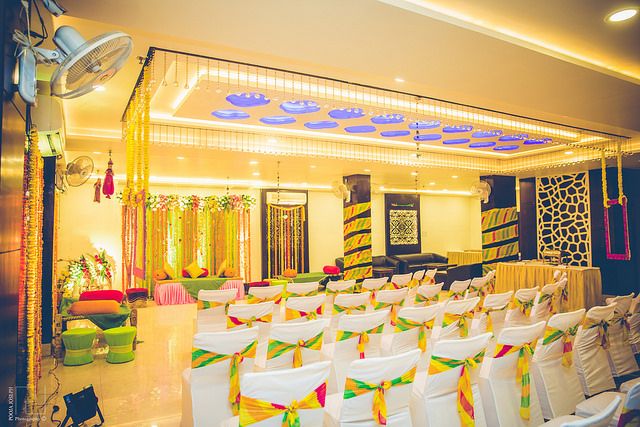 .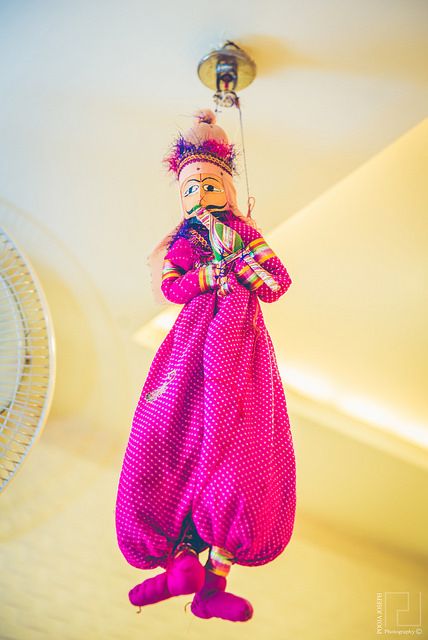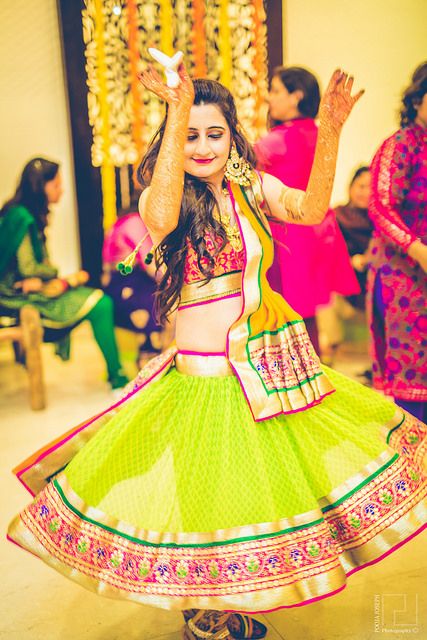 "For the Mehendi, I wanted a village Theme, I wanted a knee-length lehenga, being a Punjabi from Gujarat I wanted to give it a Gujarati  touch and that's how I picked a green Leheriya lehenga .The decor was simple, the puppets, colorful pillows the khatiyas and much more representing a village!" adds the bride!
The Sangeet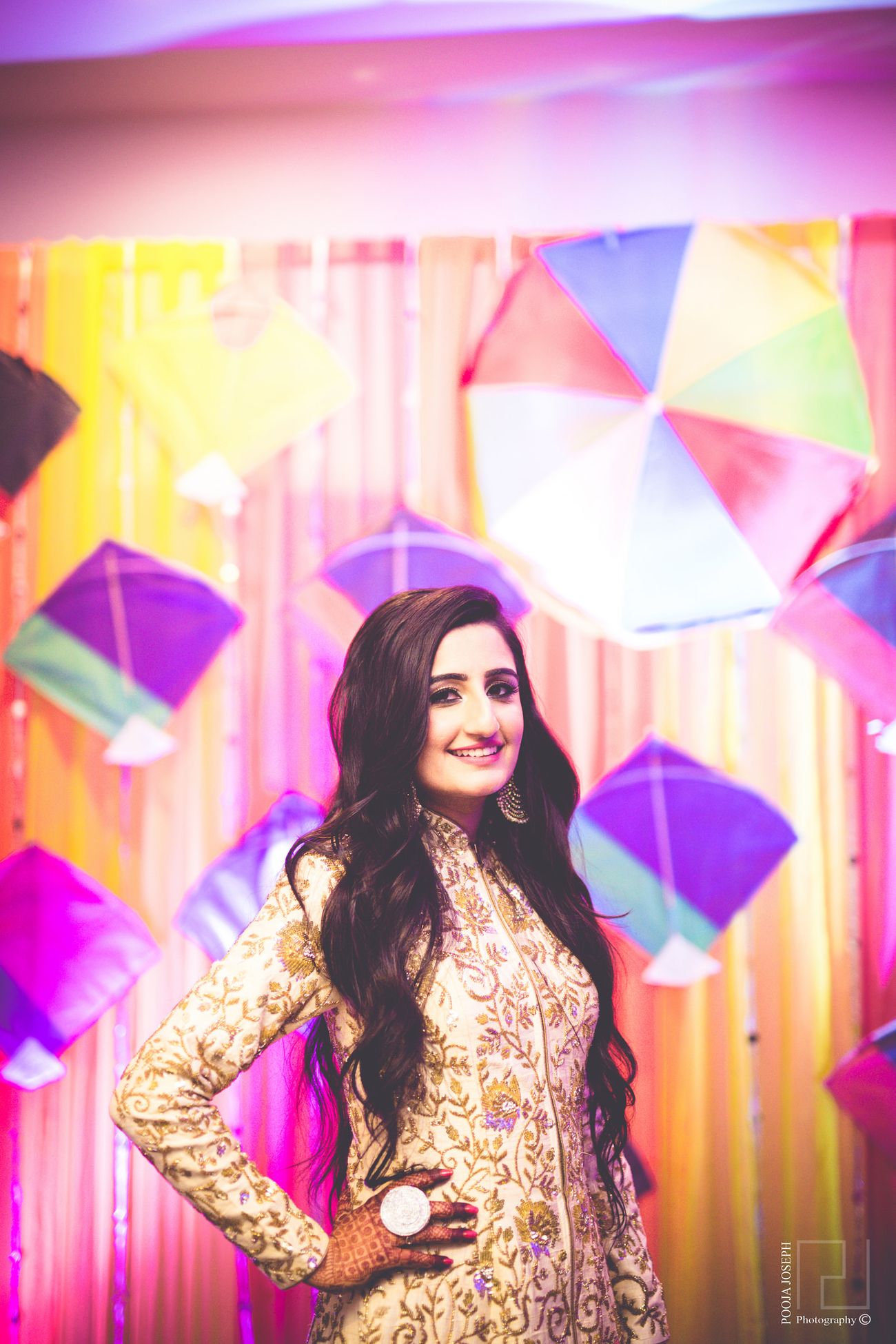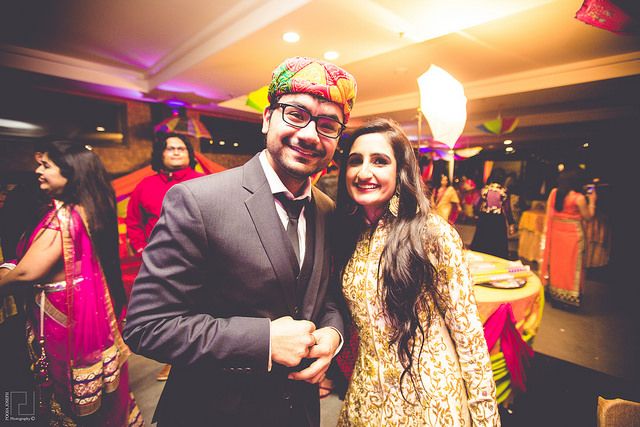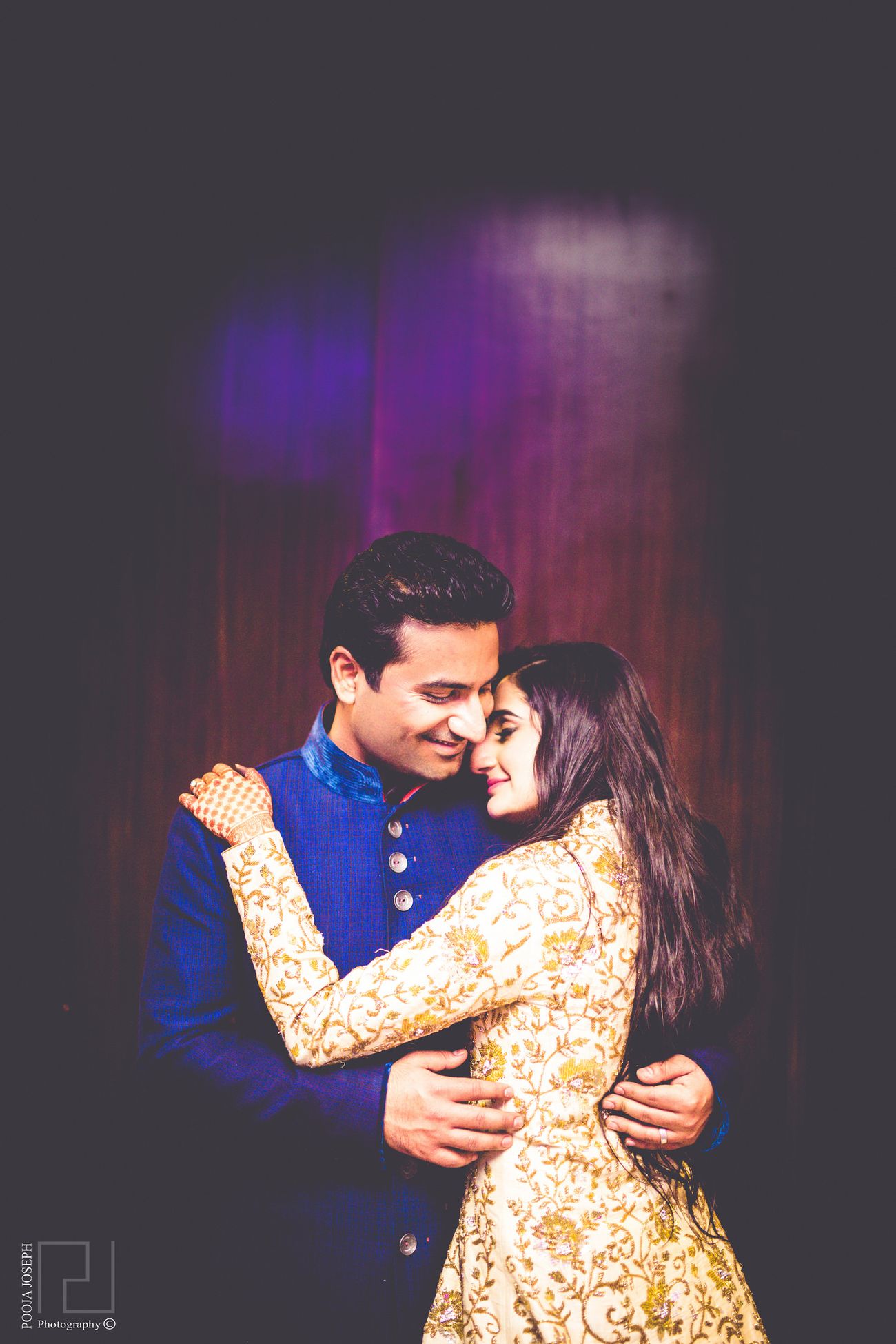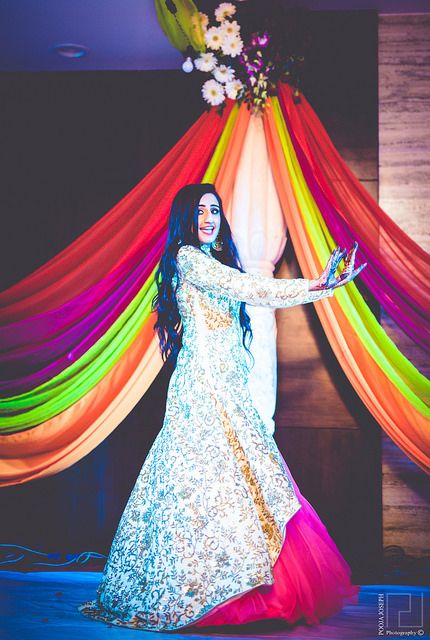 "For the Sangeet, I wanted to go with something that was modern yet had the Indian touch, so I picked an off-white Bandh Gala with Orange skirt. The theme we picked for cocktail/sangeet was Rajasthani, so the decor had beautiful colours, Rajasthani Umbrellas, Bharwad turbans and Dandiyas." says Sumedha.
The Wedding 
On Wedding Outfits:
"All my wedding and pre wedding outfits were designed by Asiana Couture in Chandni Chowk. Ankit the owner of the wedding collection helped me get everything on time, he understood the time crunch and delivered everything on time as promised in 3 weeks " explains Sumedha.
As far as a wedding is concerned, Red and Gold were the colours I always imagined myself in while walking the aisle. That's explains - because the minute I was shown the red and golden Lehenga I fell in love with it. For the jewellery, I always wanted huge cocktail rings and a kundan set. I was not sure of the nose ring but I bought it anyways and it looked very elegant. My entry as a bride was very traditional with my brothers holding the Kaleere ki chaddar. I personally had given a lot of details on the decor and other details for all the days of the wedding," she says happily.
About the vendors:
"We had a great photographer to work with, Pooja did a fabulous job with the pictures and details, the pictures have come out to be very colourful and royal. Malhotra Studios our Cinematographers ( MM Studios ) I totally adore his team, because they were very professional. The results are no less than a Bollywood movie displaying varied emotions.
It was really tough to plan everything due to time difference, no idea about the location, no idea about the vendors and we decided not to hire a wedding planner and do it all on our own. I would personally thank WedMeGood as I was able to find and book most of my vendors from the help of the site and reading what the brides had to recommend." she adds.
Advice to Brides Who Plan From Abroad:
"My advice to people staying abroad and planning a wedding in India is: Don't freak out. There are a plethora of emotions that get involved in planning, it can be too much to handle. But word-of-mouth and Whatsapp can be really helpful. Also, don't waste too much time on shop-hopping if you do not have enough time," she advises.
---
Vendors: Venues
:
Wedding at 
Jaypee Palace Hotel and Convention Center, Agra
|
Catering:
Jaypee Palace Hotel and Convention Center, Agra
 |
Makeup:
Makeup by Rishab Khanna
 |
Jewellery: 
Beauty Art
Vadodara, Gujarat |
Mehendi
: Anand Mehendi Art +919899887130 | 
Brides Outfits:
 Wedding & Sangeet:
Asiana Couture - Chandni Chowk
|
Groom Oufits:
Sangeet & Wedding outfit by 
Heritage South Ex
|
Photographer & Videographer:
Pooja Joseph Photography
;
Malhotra Movies
( MM Studio)|
Mehendi:
 Anand Mehendi Art +919899887130 (Delhi)| 
Invitations:
Sudarshan Cards, Vadodara, Gujarat