It's Flowers Time! 8+ Floral Photobooths To Include At Your Wedding Day Functions!
BY Chandni Kumar | 09 Oct, 2018 | 14394 views | 8 min read
 One thing that I love the most and I am sure you all would agree with me is FLOWERS. Yes! From red roses to purple orchids and from the sweetly fragrant mogra to traditional genda flowers, it's true that we just love flowers in some way or the other. Be it getting a bouquet of flowers from your bae or including in your wedding celebrations these little beauties work wonders. Psst! Gone are the days when couples use to have that typical "stage" and get clicked with random guests cum strangers. To add more color and fun to your photographs we curated these best and fresh floral photo-booth ideas, for any and every wedding function: haldi, sangeet, mehendi, etc. 
Get ready brides for 8+ mind-boggling floral photo booths that will leave you spoilt for choice. 
Floral Photo booth With Bicycle & Scooters as Props 
We know that you are a big fan of riding bicycles and scooters. How about we tell you that you can ride them too in your mehendi function? Just kidding! However, if you're too bored of "stage" like we are, then get a quirky floral photo booth with scooters, bicycles or even a full floral bicycle for any of your day functions. We bet you that the pictures will be fab & your guests will have a gala time!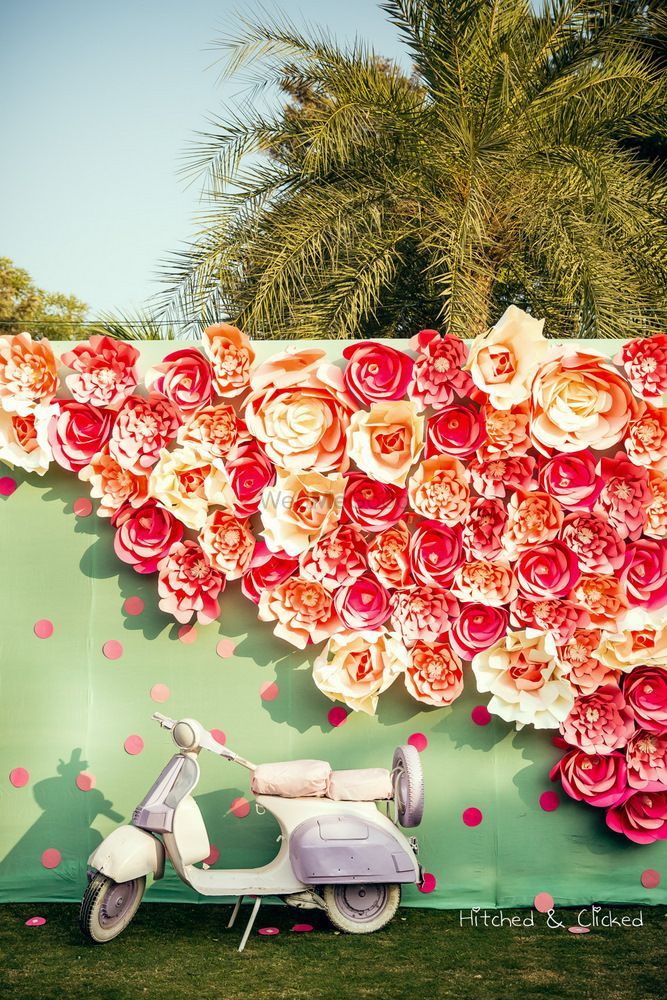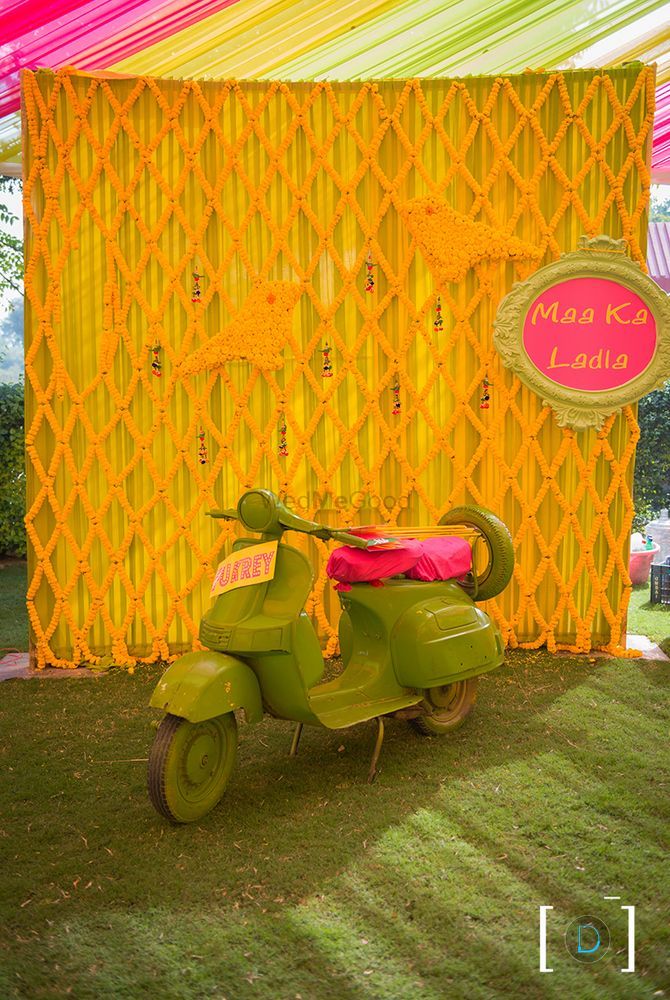 Image via: Hitched & Clicked , Decoration By: Bougainvilla Design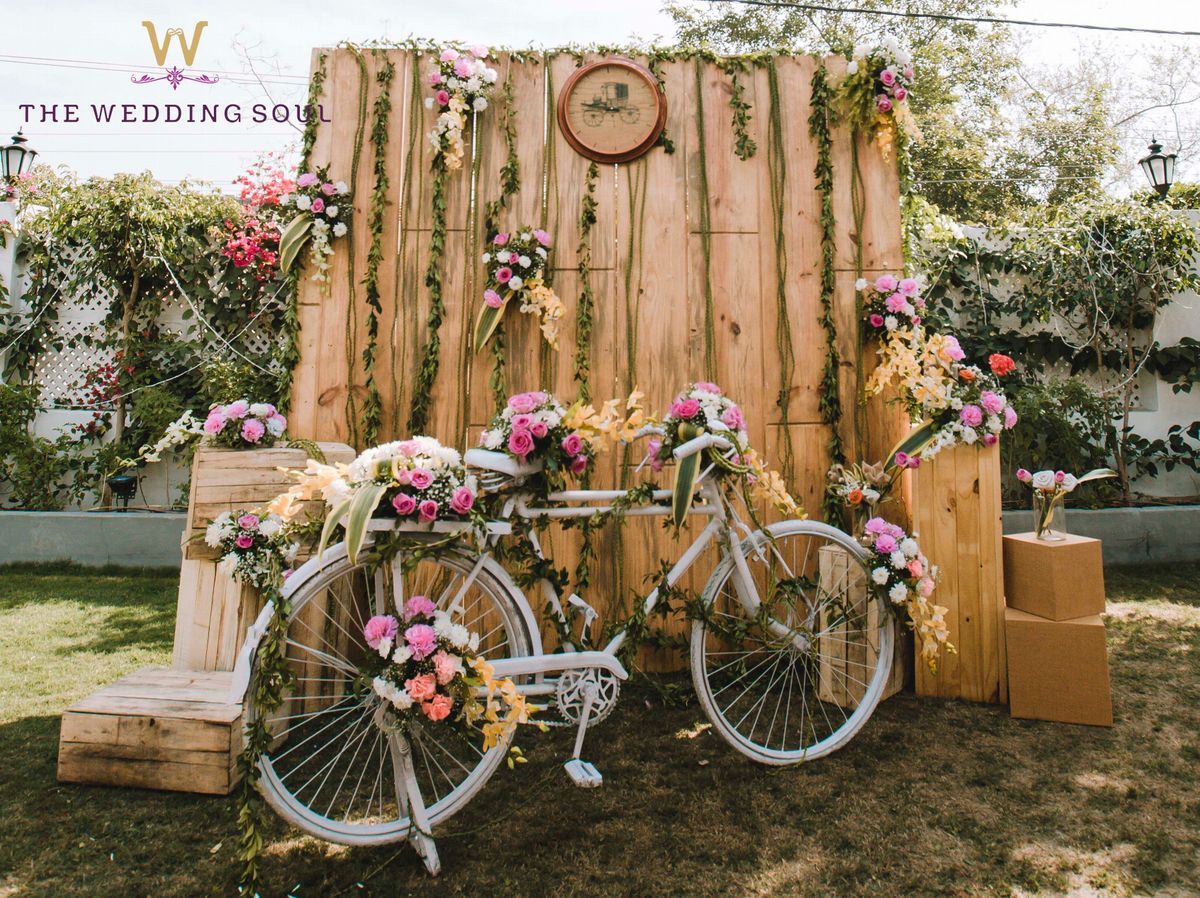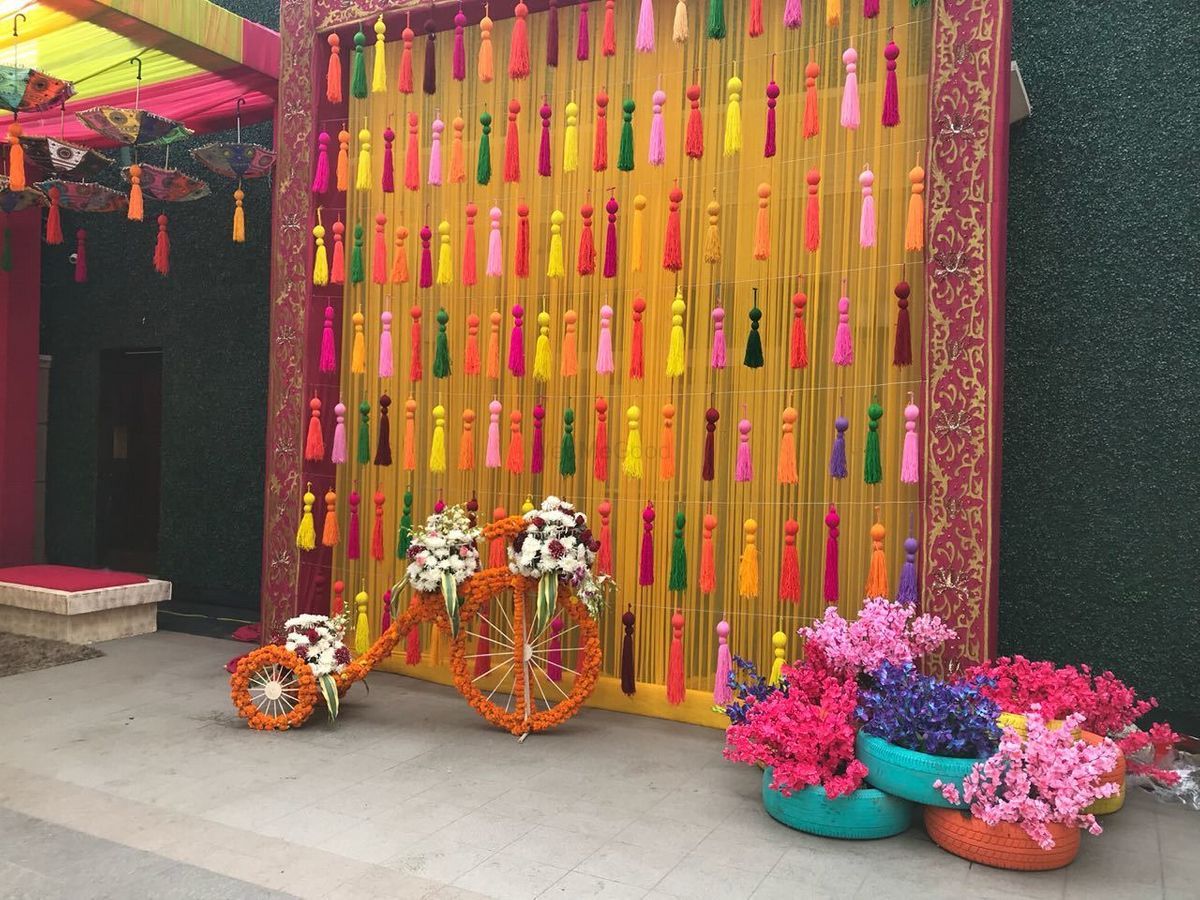 Decoration By: The Wedding Soul , Wedding Lights Events 
Floral Backdrop At Your Mehendi!
Want something dreamy like you just stepped into heaven? Don't worry, we have many options for you babe! If you're still figuring out how to let go of a stage setting,  or are debating on aa floral vs non-floral photo-booth, brides trust us, floral BACKDROP is the choice you should go for. After all it's - Dreamy, Different & Breathtaking and including it in your mehendi or any other nuptial ceremonies will instantly add a glam quotient. P.S. Keep a theme (a colour) of your event and go with the flowers of the same colour, so that you have a stunning backdrop for your pictures. Bonus point: your entire venue will smell great! ;)

Photo Courtesy: Sid Wedding Photos
Floral Frames To Save That Cost!
 Another #trending decor element featuring flowers is hanging photo-frames and floral frames, that many brides are opting for their mehendi and sangeet functions. If you are one of the brides who wants to include flowers but don't want to burn your pocket at the same time, pick floral frames that will add that quirkiness to your photographs. Well, I must say that these minimal beauties look gorgeous and can be a great choice for your floral photo booth at the day functions.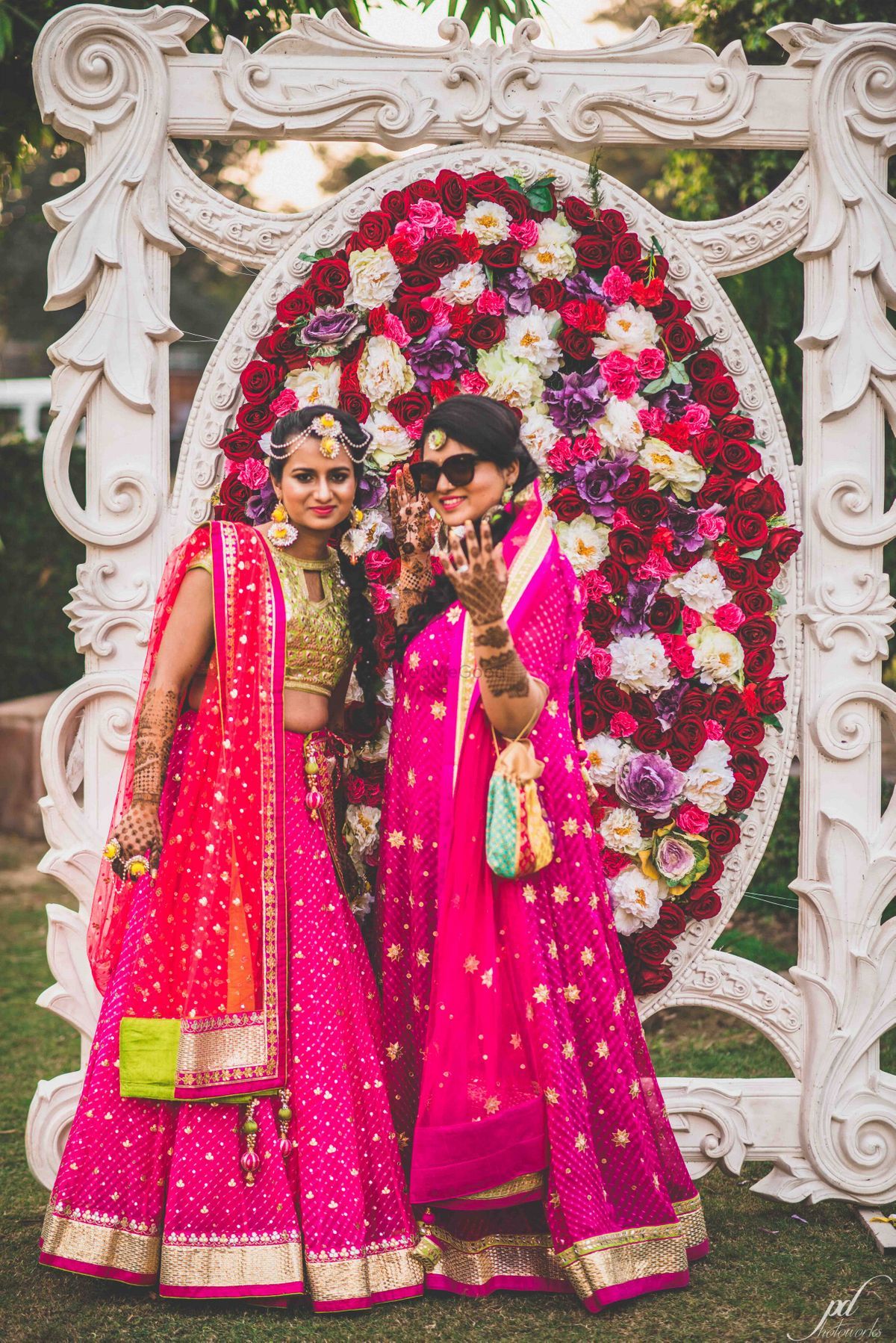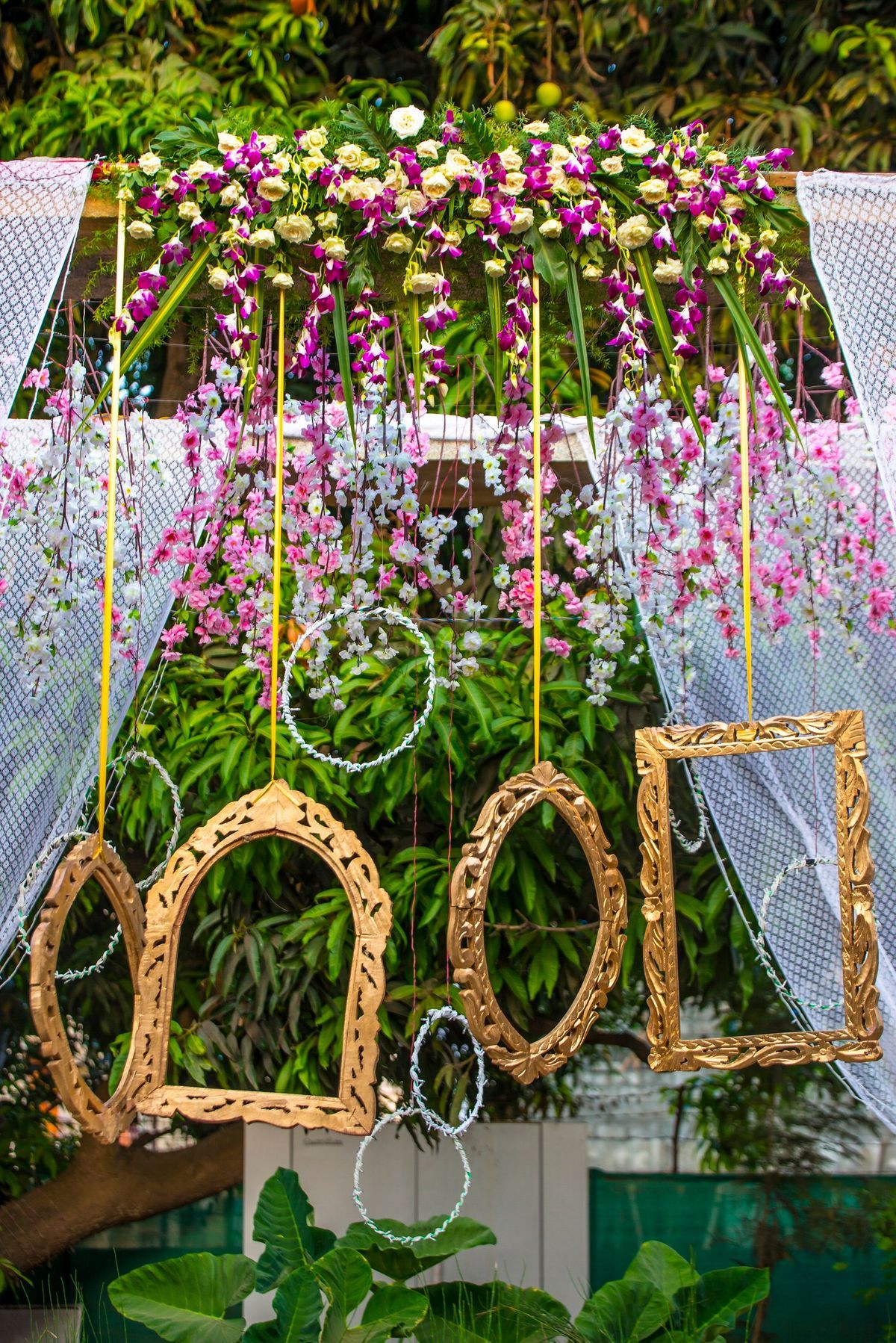 Photo Courtesy: Purushottam Deb Photoworks ; Decoration By: Pratha Wedding Decor★ 5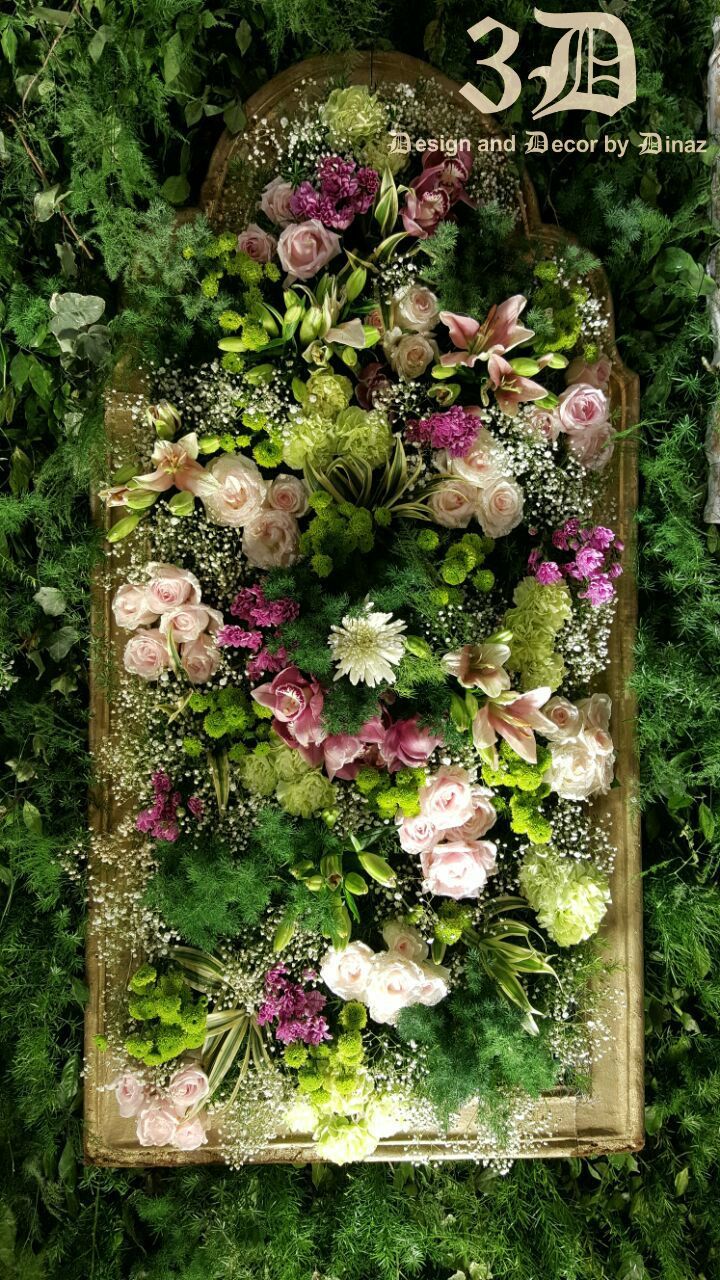 Decoration By: 3D- Design & Decor By Dinaz
Floral Wreath 
We won't lie that this is one of our favorite photo booth EVER! Yes, I mean it while I am writing this piece. Just look at this beauty, so elegantly wrapped up and accentuating the entire decor. Brides-to-be, if you're not in a mood to spend a tons in just photo-booths and decor, then you can pick a simple floral wreath and just play with it - pastel colors, flowers, etc. It will save you a hell a lot of money + you will surely get stunning pictures too. Try this #trending floral wreath and don't forget to share the pics with us :)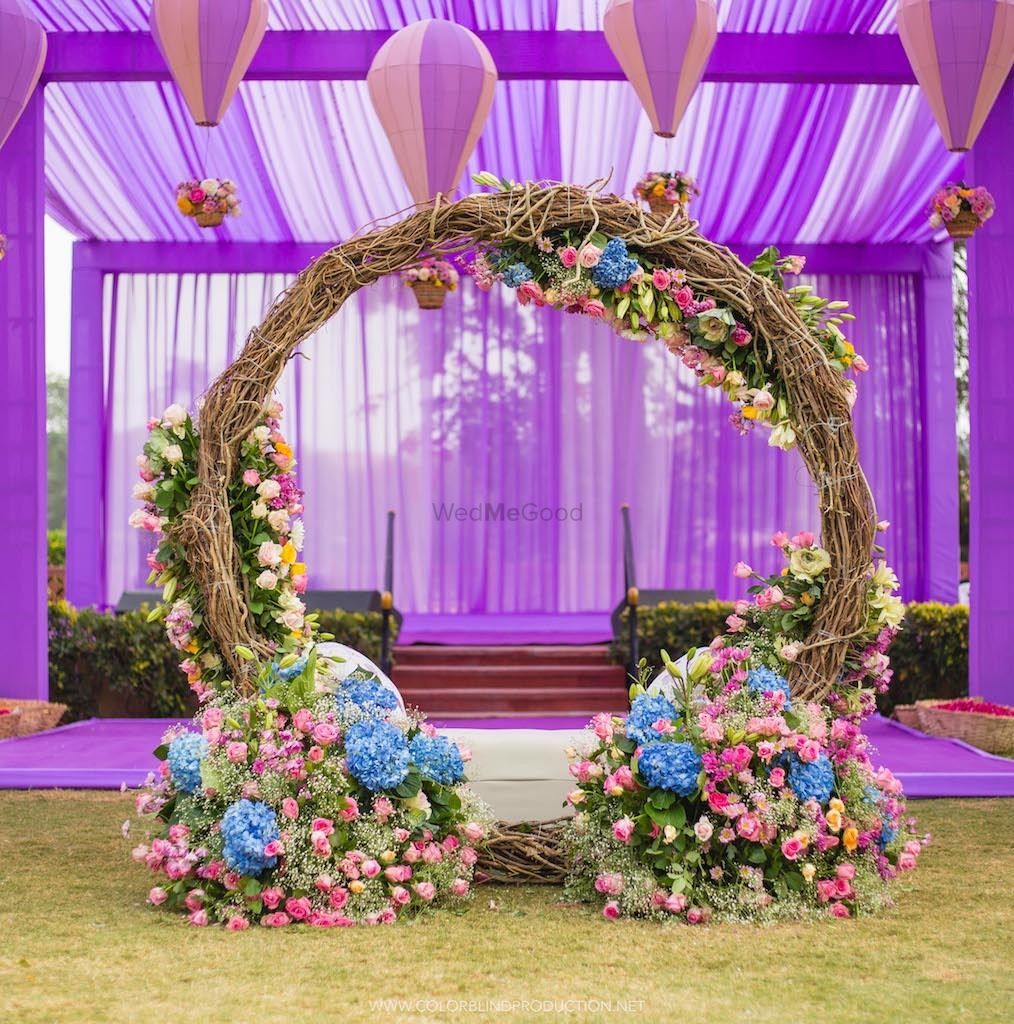 Decoration By: Comme Sogno Vero by Ankiit Malhotra ; Image via: Colorblind Production★ 5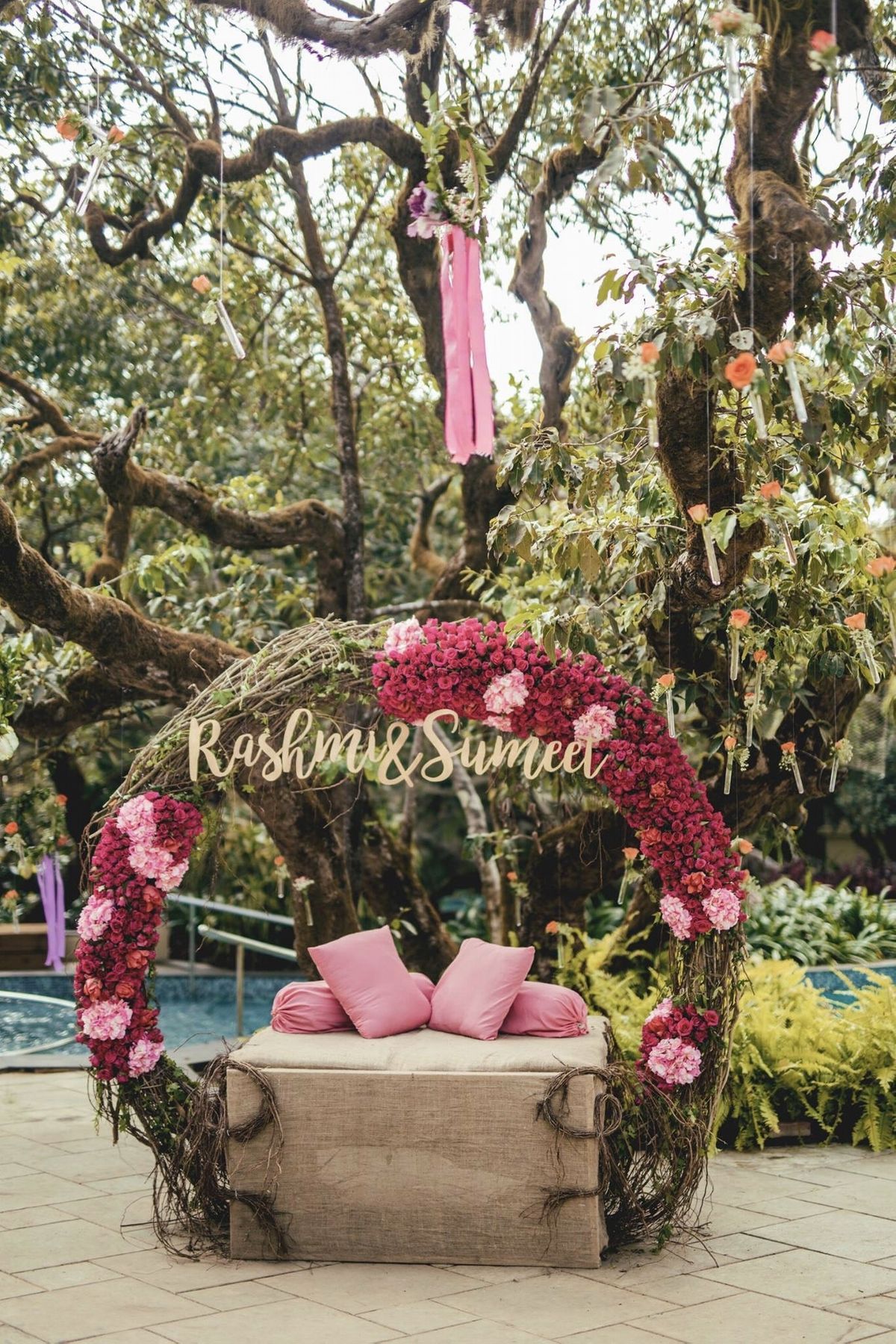 Decoration By: Atisuto
Flowers with Strings 
Just look at them, aren't they pretty? Honestly, we can never get bored with hanging floral strings. Covering half the space these single flower petals can work wonder that you haven't even imagined off. Brides! Make sure to play with colours like this photo booth has an ombre effect to it, which looks very simple & classy at the same time.
And, yes! This will save a lot of money if you love minimal yet elegant. P.S. If you having a summer wedding - (pick cool colours like pastel petals) & for a winter wedding - (pick warm colours like bright orange, red, yellow petals) and yay! your floral string photo booth is ready!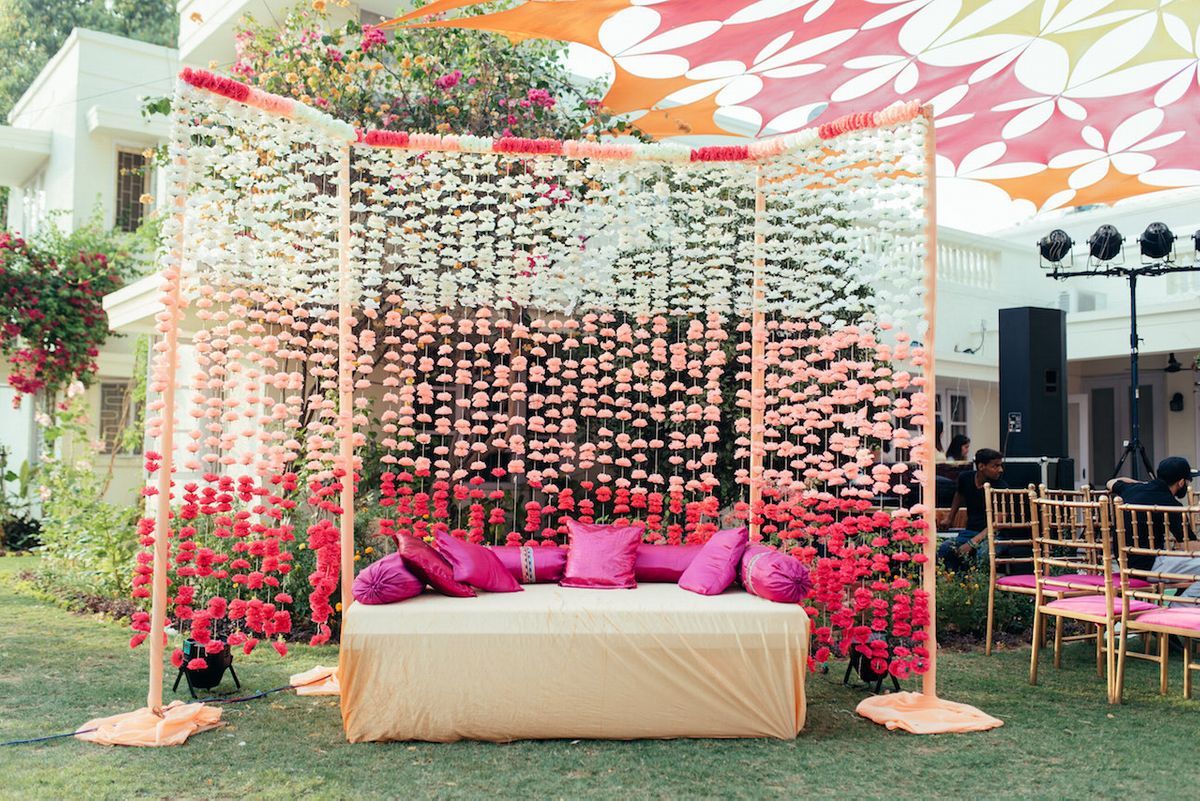 Photo Courtesy: The Wedding Conteurs
Genda Inspiration 
Because genda aka marigold flowers will never go out of fashion. Be it like petals, hanging strings or crisscrossed decor genda is a true inspiration when it comes to the floral photo booth. The bright yellow and the pop of orange looks fab when attached together + covering half the space and that too very cheap. To add some more spark you can add bells and mogra flowers to make a gorgeous floral photo booth for your Mehendi or haldi day.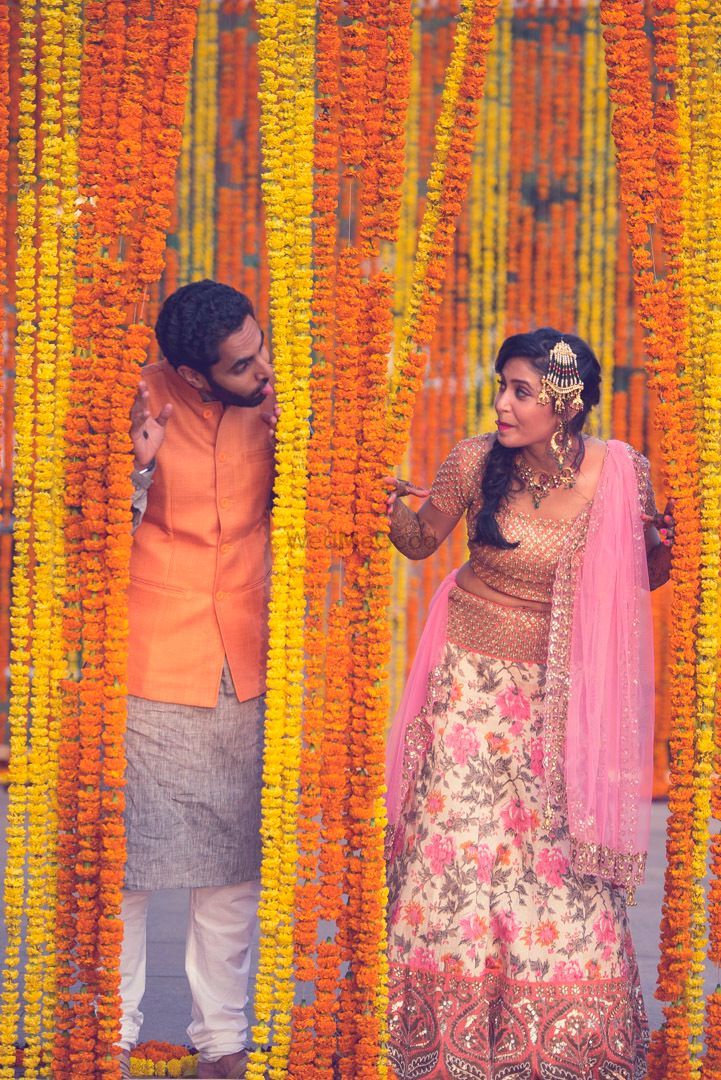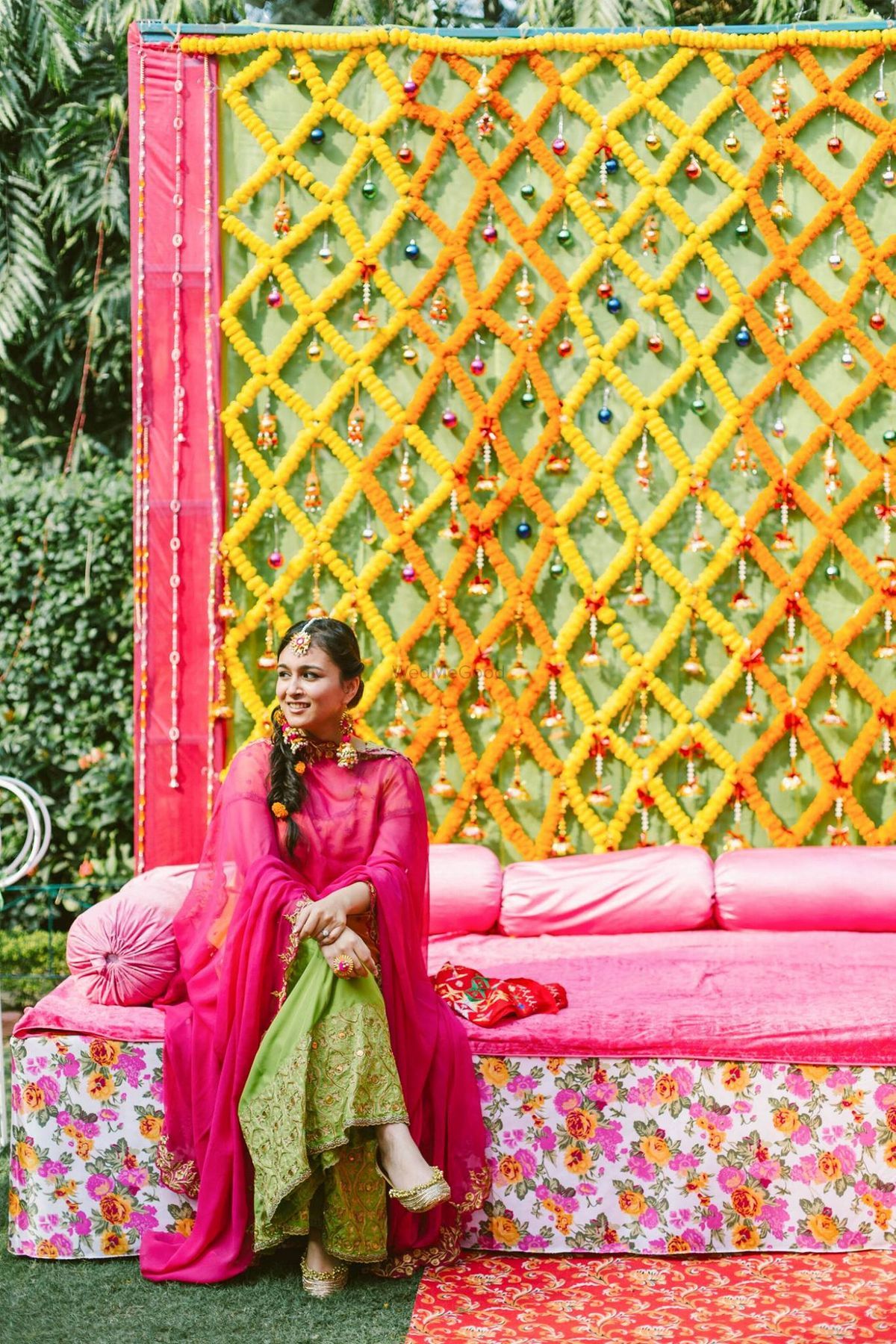 Photo Courtesy: Studio F2.8★ 4 ; Harleen Deol Photography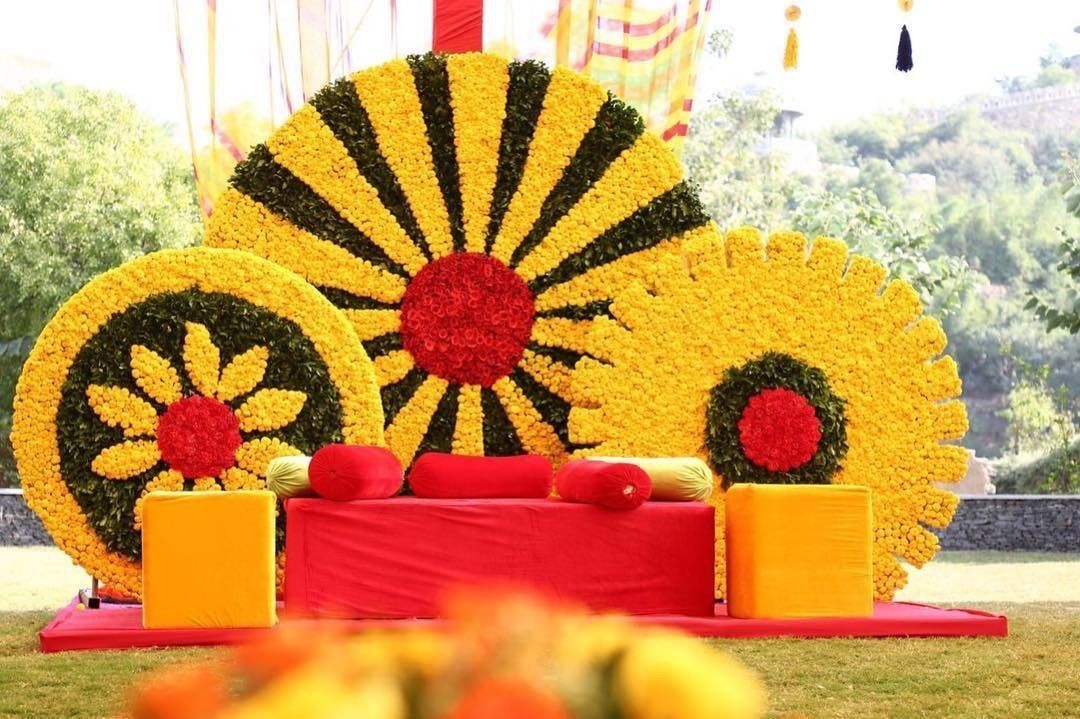 Wedding Planners: Feetroute Events
Minimal Floral Photo booth 
Honestly, our heart always melts for gorgeous minimal decor. We gotta you this minimal floral photo booth that has its base as wooden plank decorated with pastel floral climber to give that rustic feel. Brides! Be it pastel flowers or bright florals less is more will always make your pictures look classy and elegant!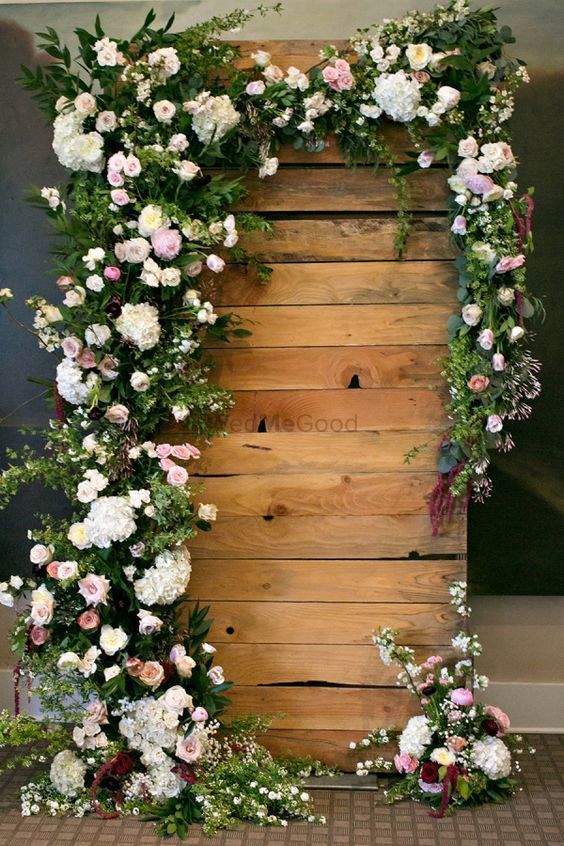 Wedding Planner: The Select★ 4.9
Quirky Photo booth
What is the point if you don't have fun on your wedding day functions. Get a quirky photo booth like this of Nucleya or any other cartoon caricature that will add so much fun and colour to your photographs. With an interesting floral arrangement, you are all set to create some magic on your most special day of life.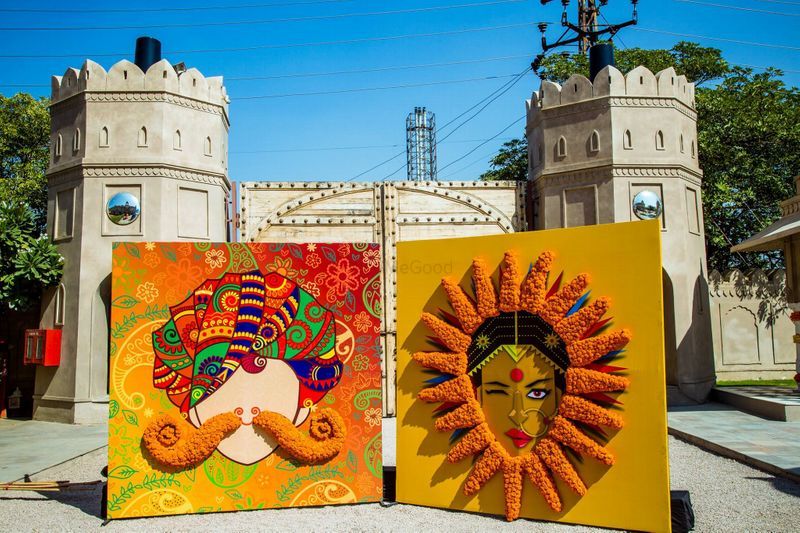 Wedding Planner: Huez Entertainment
Mogra 
Mogra - isn't it true that when you hear mogra you can smell the sweet smell of it. Everyone's favourite - Mogra is a flower that is perfect for a fantastic fragrance, creating an ambience of peace and making the surrounding uber-cool and classic for any wedding celebration. Be it hanging mogra strings or pining up with other flowers this is a perfect option to pick for your floral photo booth!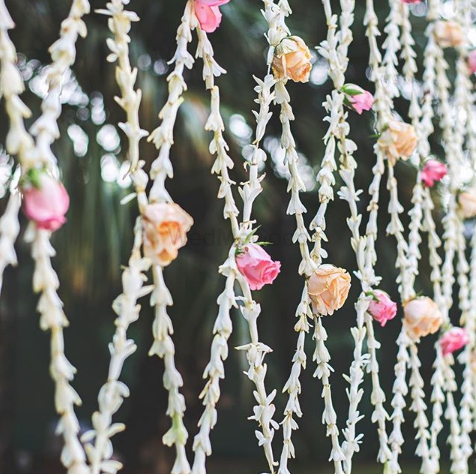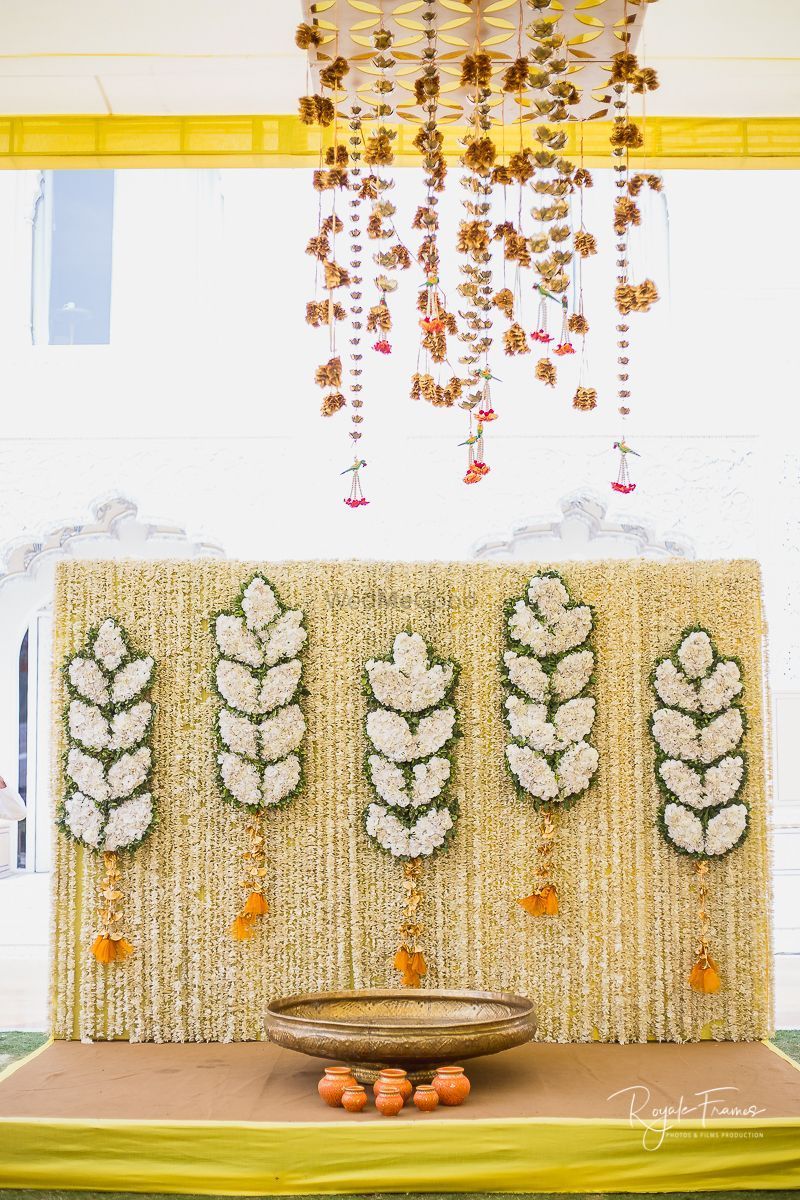 Photo Courtesy: A Royal Affair ★ 4.9  ; Royale Frames
Floral Swings 
Swing. Don't you want to go back to your childhood and be a carefree bird while swinging? Come on don't lie we all LOVE swings and the easy breezy wind just makes it so dreamy, right? How about we tell you that you can get those days back and include the same on your mehendi or haldi? AWESOME! We gotta you a floral swing that will be for your photo booth and you can play so much with it. Be it adding hanging origami paper strings, floral animals or a ombre floral backdrop this small piece of furniture will surely work wonders for your photographs + who doesn't love comfy cushions and that in your swing!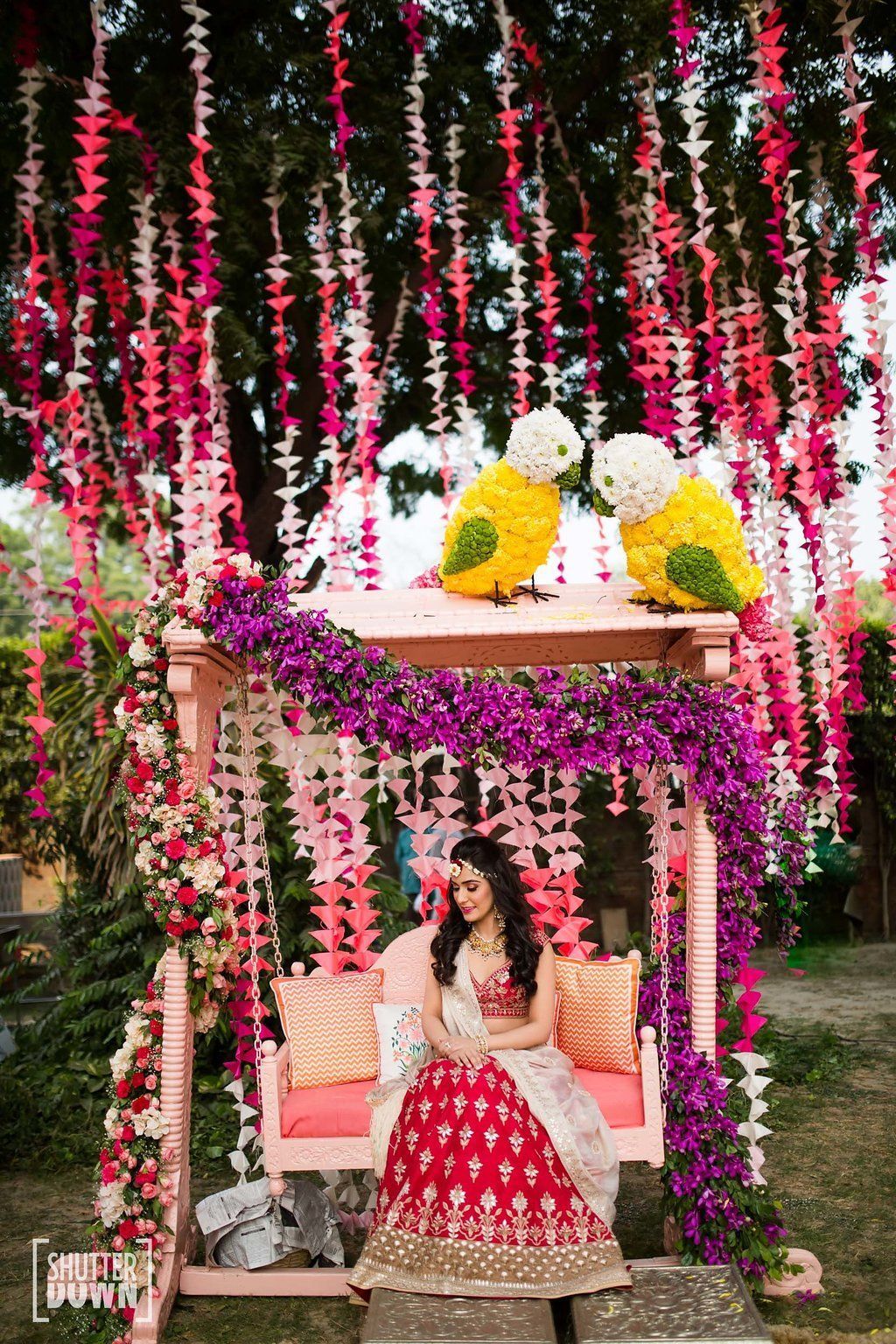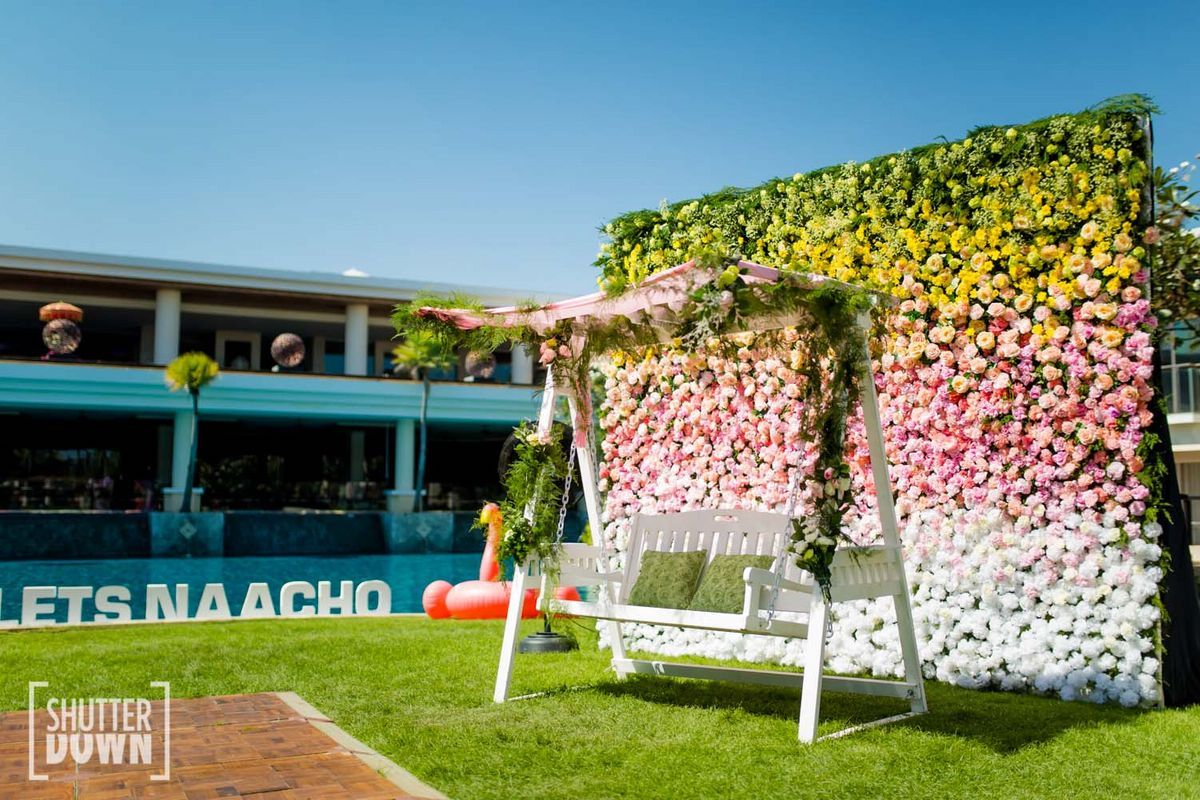 Photo Courtesy: Shutterdown - Lakshya Chawla
DIY Ideas: Reuse The Old Racks and Pots To Get That Unique & Quirky Photo-booth
Are you looking for some DIY decor ideas? We highly recommend to reuse the old racks, pots, bottles and frames that can be a fantastic way to incorporate in your photo booth. Some genda strings can be added as well to create the water effect as pouring from earthen pots. TIP: You can paint the racks, earthen pots and bottles too with bright colors like yellow, hot pink, blue, orange to make your photos pop!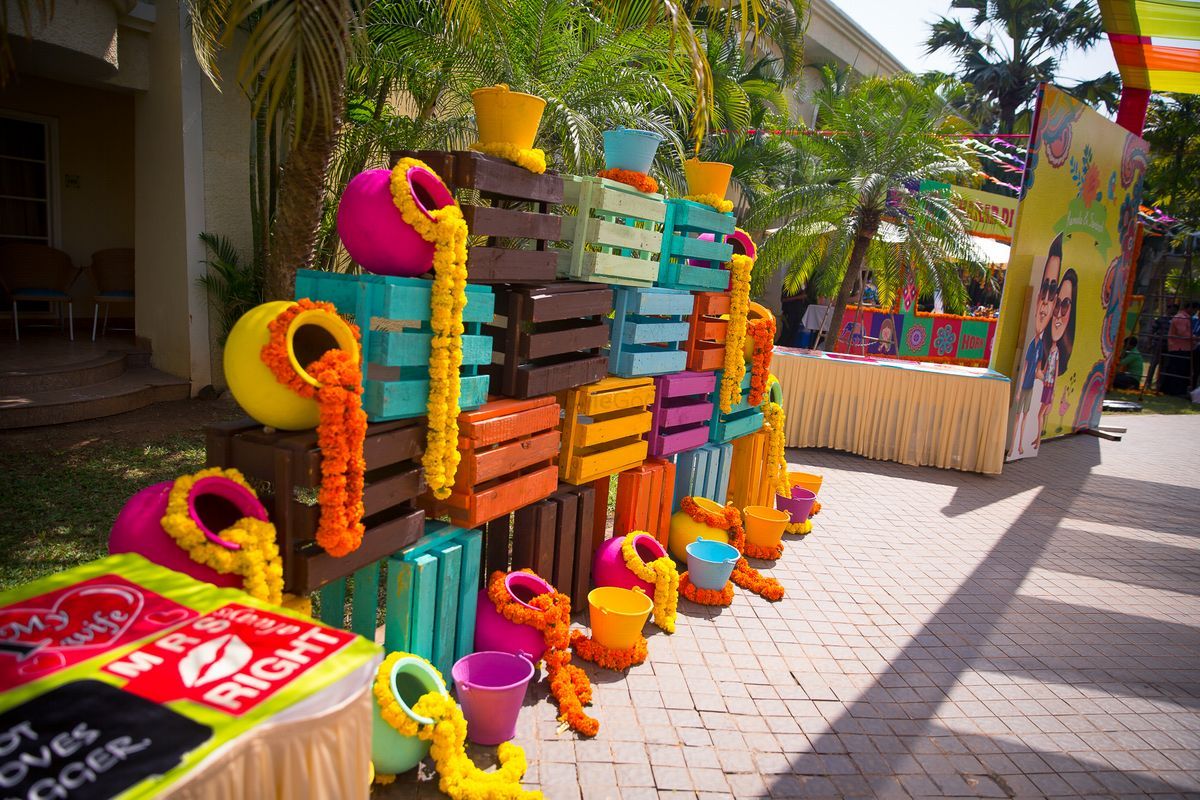 Wedding Planner: F5 Weddings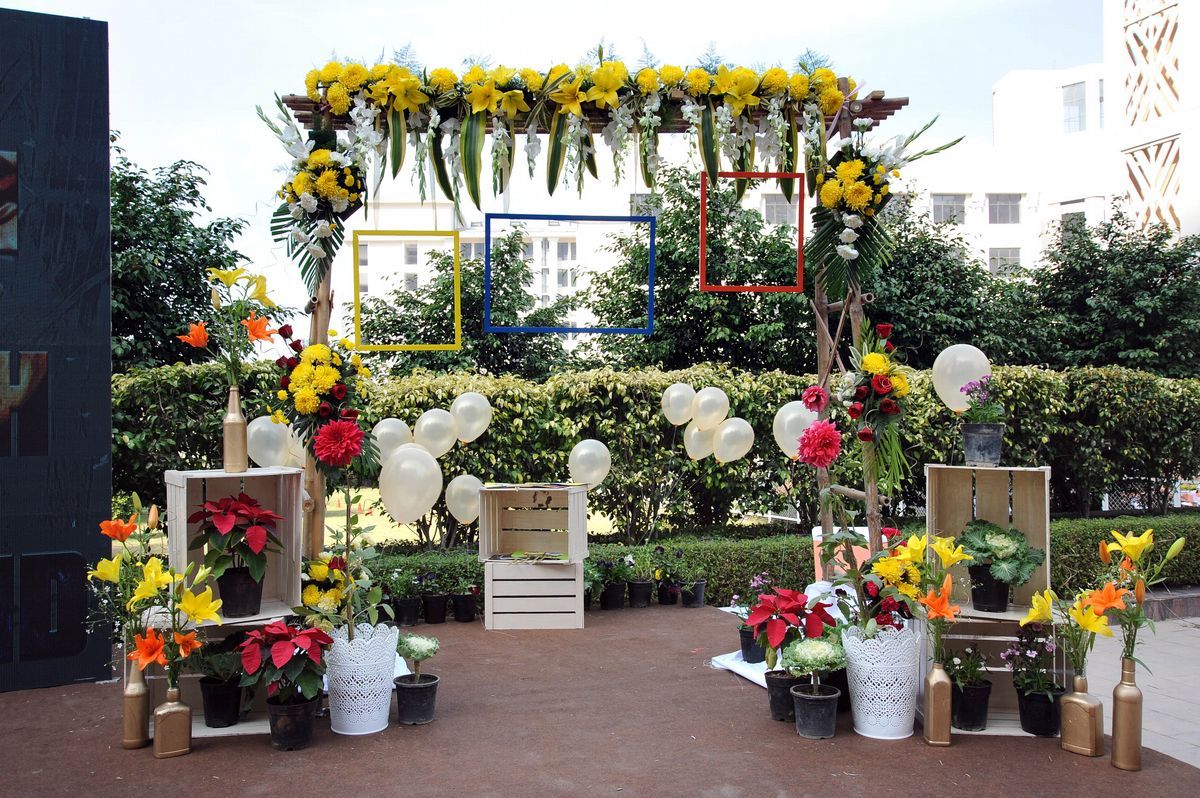 Wedding Planner: The Wedding Vows
Non-Floral Photo-booth With Props!
We understand that not many of you might not be willing to spend tons to their photo-booth decor. But, as we say, we have everything and anything for our brides-to-be. If, you want to include flowers in someway to your photo booth you can pick non-floral petals (different sizes would be great to get that natural look!). To add that quirkiness you can also include a prop like a scooter that will be a lot of fun to your photographs.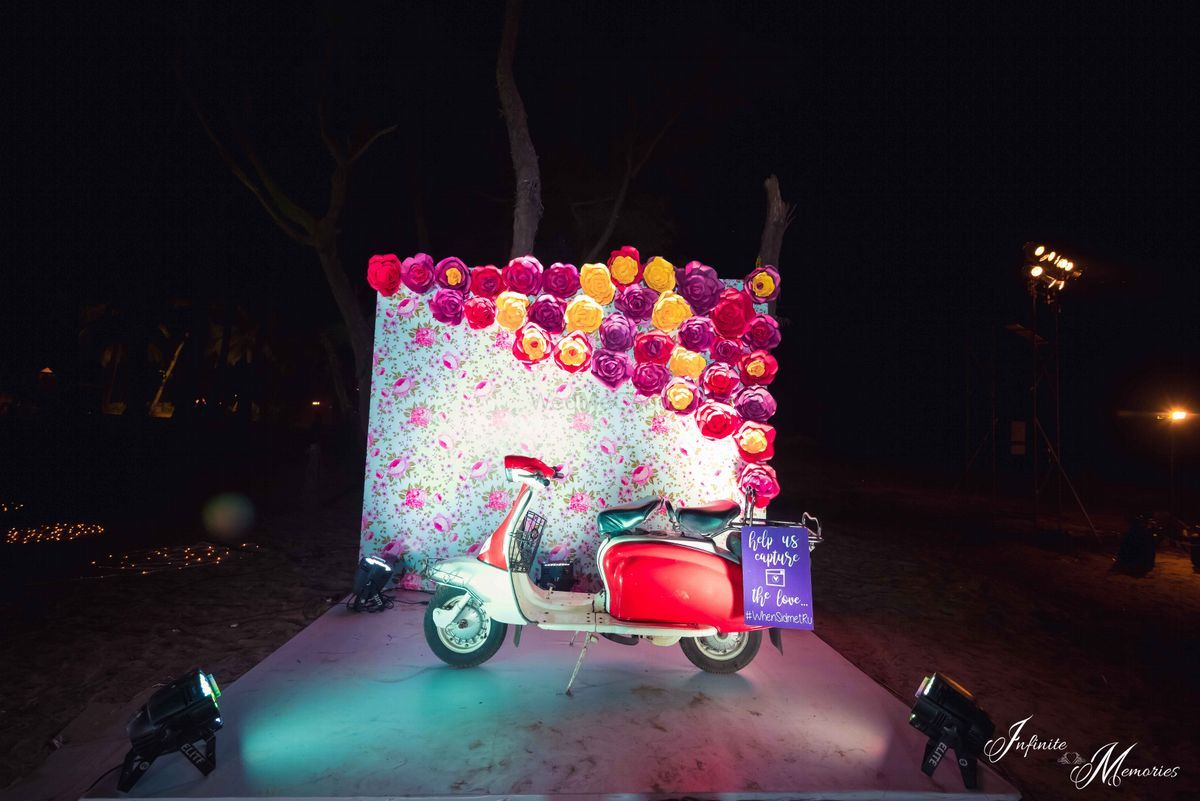 Photo Courtesy: Infinite Memories
*Vintage* Decor Photo-booths
Giving that old charm feel to your mehendi, sangeet, or haldi photo booth can be so dreamy, right? The use of whites, pinks, greens and lavender is perfect for a vintage decor photo booth. Brides! Incorporate props like typewriters, gramophone, vintage style chairs, pianos etc. so that you have a rocking and classic photographs! TIP: Pick pastel flowers, pink flower petals and orchids to accentuate your photo booth even more.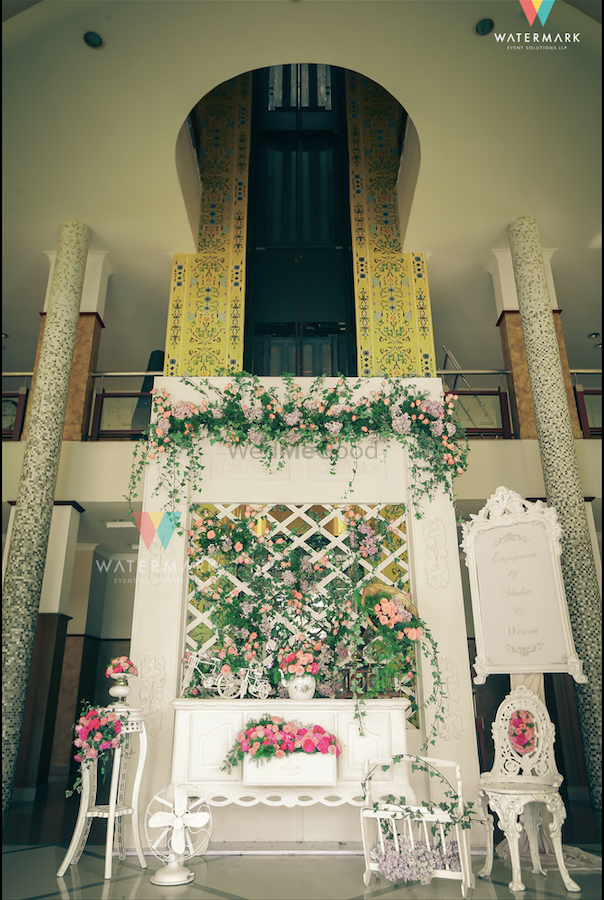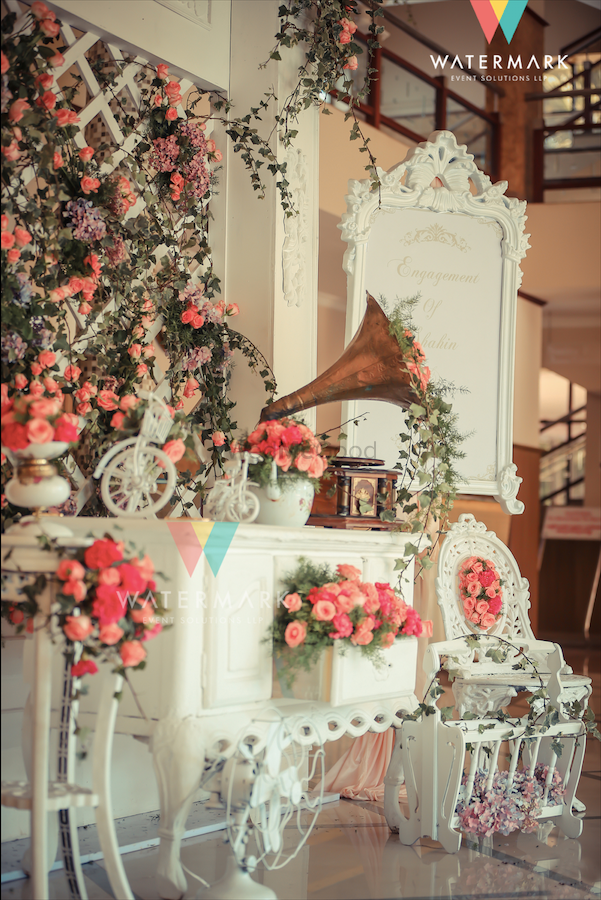 Wedding Planner: Watermark Event Solutions
Floral Sunglasses as Photo-booth
Wrong, you always thought that you can wear sunglasses only. We break the myth (Psst) because these little beauties can be added to your decor too! Be it giving a sun-glass shape or a floral mask these genda frames are decor inspiration as photo booths for your day functions.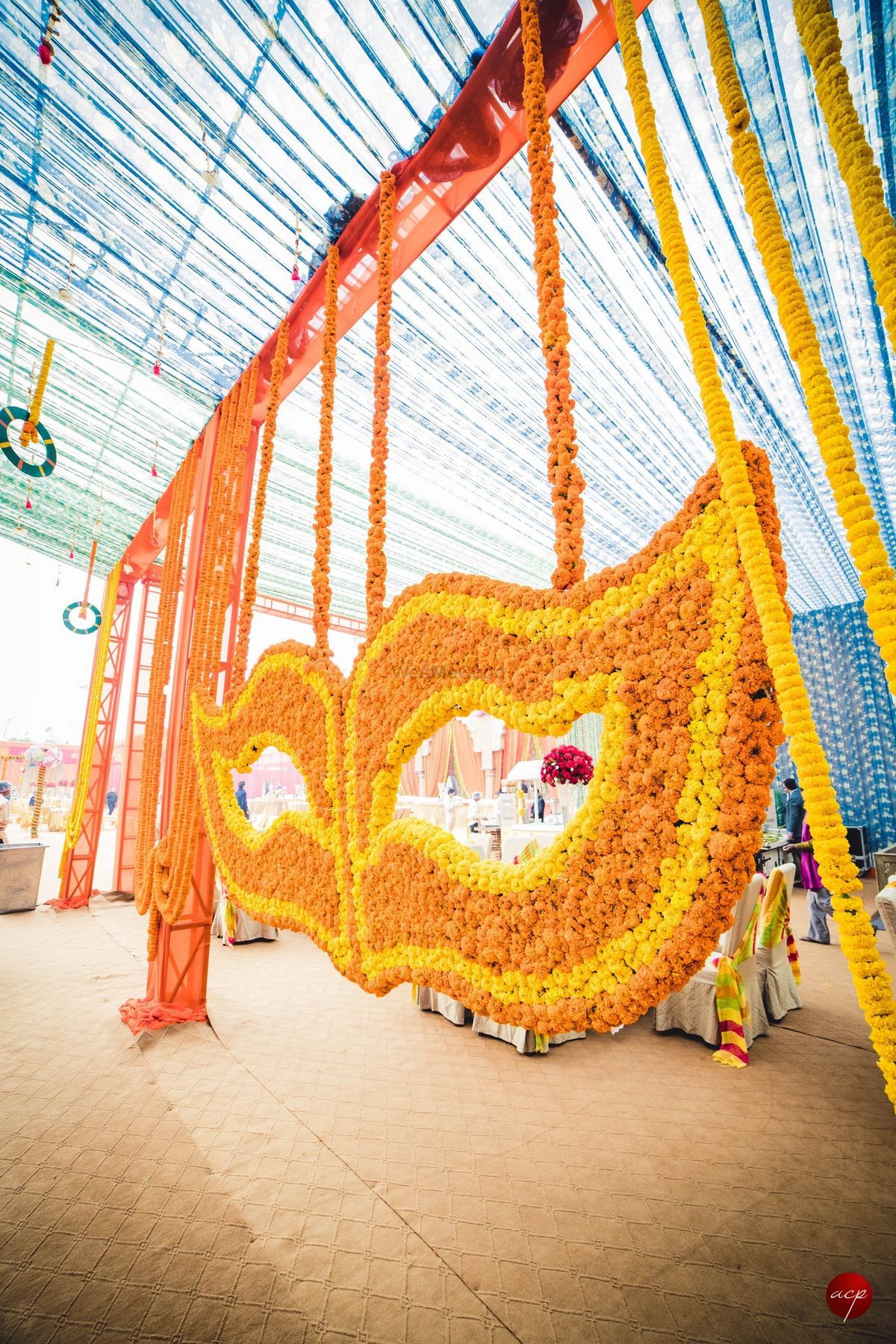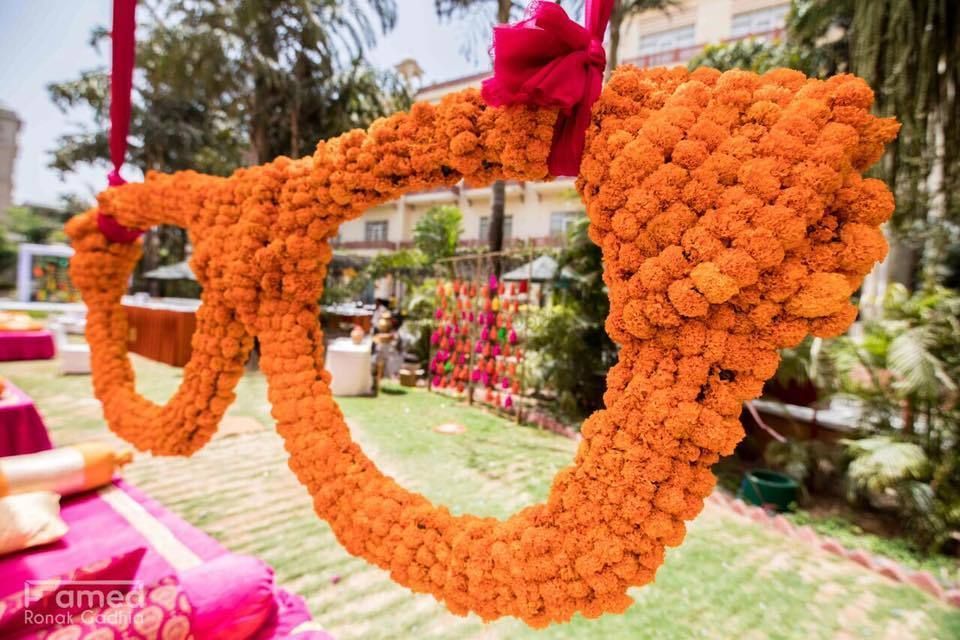 Photo Courtesy: Artcapture Productions★ 4.5 ; Wedding Planner: Moksh Events
Don't you feel like including all these gorgeous beauties to your wedding celebrations! Which floral photo booth will you prefer for your day functions? Also, dont forget to book one of the best wedding photographers to capture all this prettiness!