Kanjeevaram Colour Trends For 2021 Brides
BY Meenu | 27 Jan, 2021 | 23659 views | 3 min read
Bridal trends come and go, but there are a few that always gain momentum. One of those is colours! Whether you're a traditionalist bride or one who wishes to go a little offbeat, the colour of your bridal kanjeevaram plays a major role. Last year we saw some gorgeous Kanjeevarams on our real brides and looking at the latest trending ideas, have come up with these colours we think will be big in 2021!  
Pink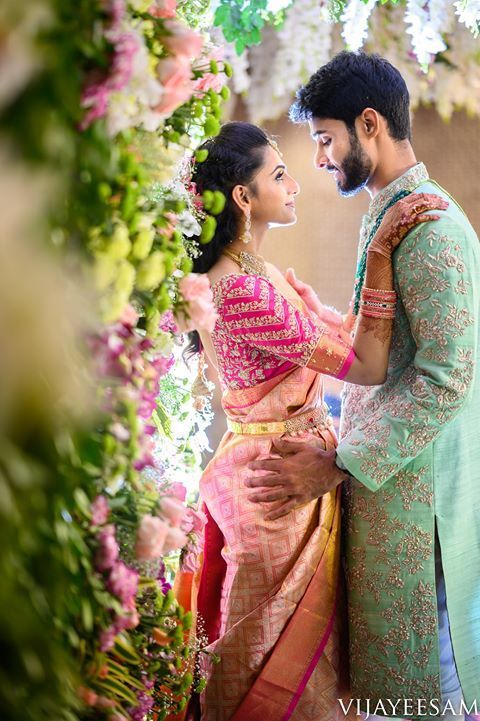 Image Via: Vijayeesam
Pink still continues to be a strong trend. Pink is one such color that is so versatile that Kanjeevarams in any hue and shade would be perfect. With spring wedding season up on us, blush pink rules the game.
Baby Blue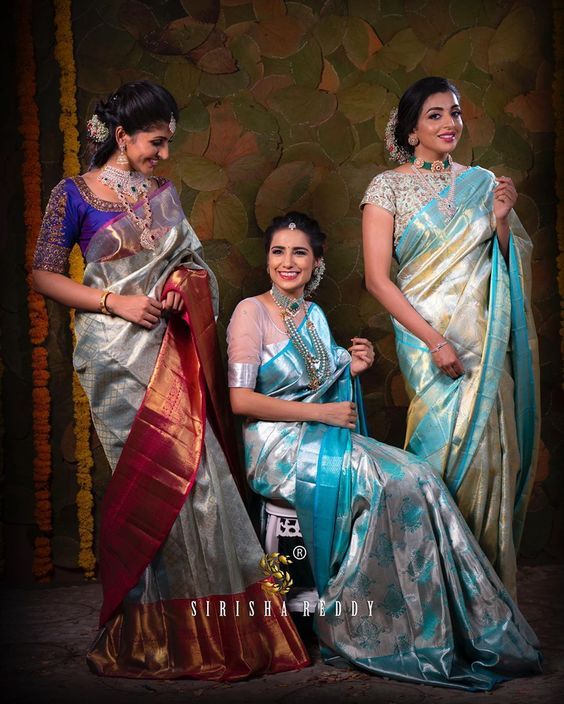 Image Via: Sirisha Reddy
How many of you here watched Bridgerton and felt Daphne wore the perfect baby blue ball gowns? Well baby blue makes for such beautiful bridal Kanjeevarams you guys!! For all those who wondered if blue is a bridal color, this baby blue will totally change your mind. It is a color that works very well with both gold and silver zari.
Tones Of Violet
Image Via: Pashudh
A royal color for Kanjeevarams, this has been on the bridal radar for a while now. The trend continues with rich borders and motifs, be it contrast or gold zari. We are totally in love with these set of bridal Kanjeevarams. A great choice for spring weddings from this palette would be mauve or lilac tones. We love!!
Gold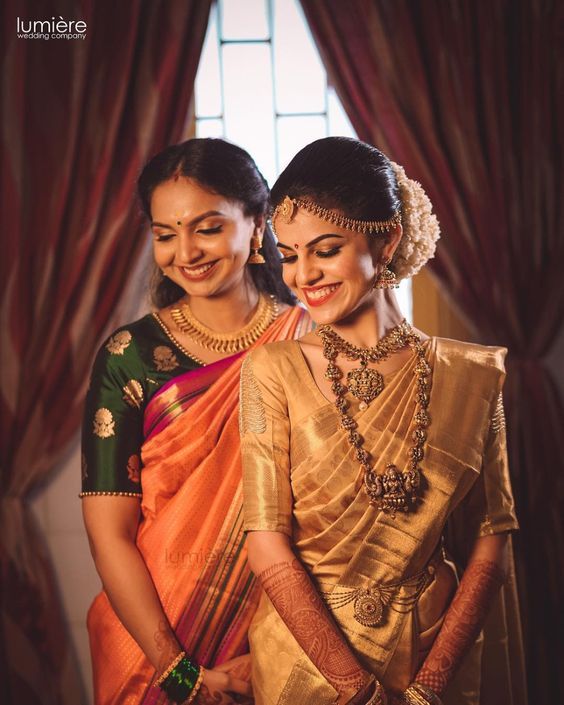 Image Via: Lumiere Wedding Company
A trend that is going strong, in fact this is a classic. When brides start looking for their Kanjeevaram if the first color is red, the second choice is predominantly gold. Even if it is a whole gold look or a pop of color added with a contrast blouse or jewelry, gold Kanjeevarams is a trend, that is surely not going to go down any time soon.
Green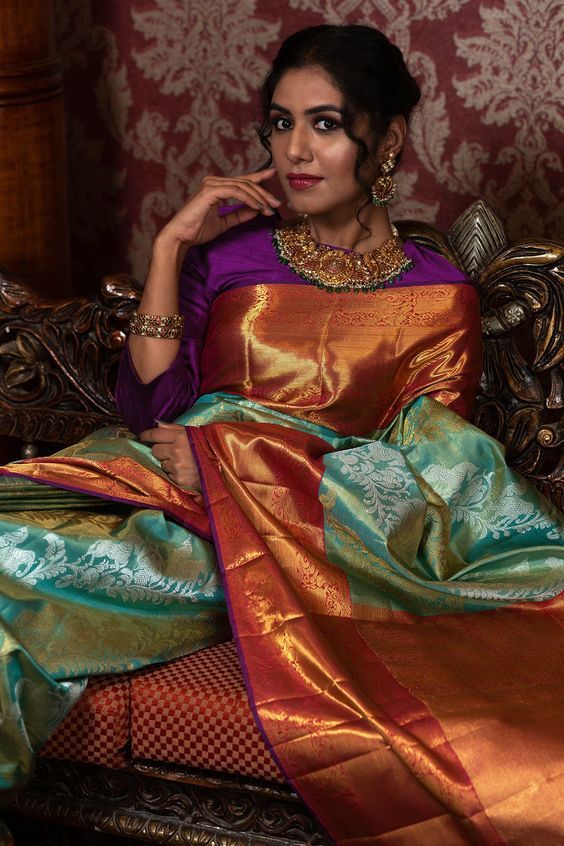 Image Via: Pinterest
Another traditional choice that has inched its way to become a trend. A color that has been favored big time for pre wedding festivities a green Kanjeevaram has now become a main stream choice. If you are not a fan of the regular green, colors like pista green, aqua green are great choices too!!
Yellow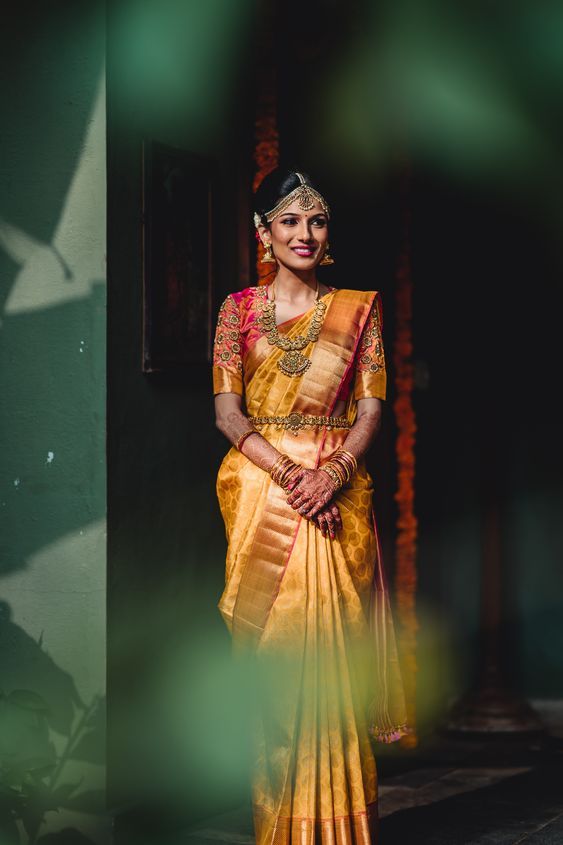 Image Via: Pinterest
Another pre wedding/ post wedding favorite, yellow is trending big time as a Muhurtha Pattu color. Works so well in its famous mango yellow with maroon/red/green contrast combo!! 
Silver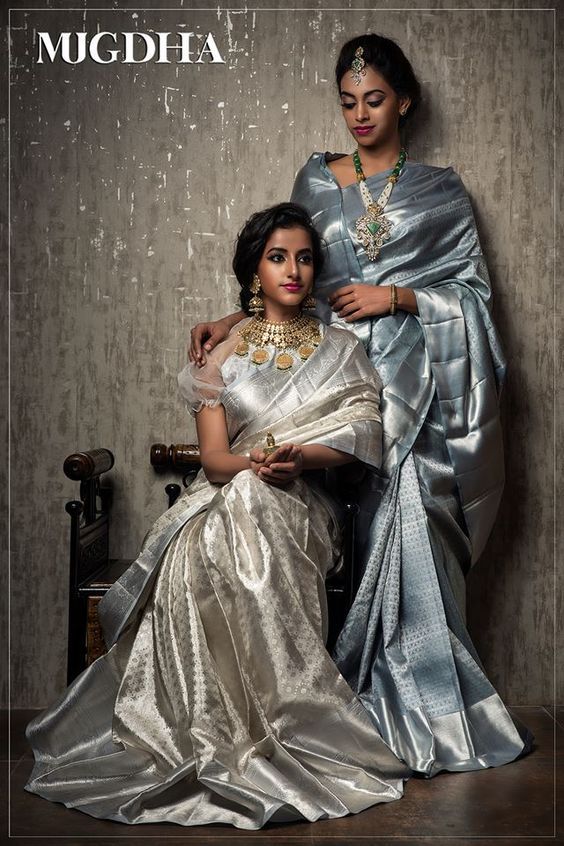 Image Via: Mugdha
While gold has been trending as a bridal color in the South Indian wedding scene, silver has taken its time. In 2021 silver makes a splash as one of the trending colors for bridal Kanjeevarams. Be it as a silver color Kanjeevaram pattu saree, or in motifs or as a heavy silver border, silver is here to stay!!
So brides of 2021 what is that color of your Muhurtham Kanjeevaram? We would love to hear!!
Also if you are looking for some interesting blouse designs once you choose your saree look no further!!