Listen Up Bridesmaids! Get Grooving At Your BFF's Wedding On These Trending Songs.
BY Garvita | 09 Mar, 2019 | 1798 views | 3 min read
It's your best friend's wedding and you cannot it let happen without a performance. You really need to own the stage! The crazy practice sessions helps in creating memories that you'll cherish all your life. It also relieves you from the stressful wedding preparations! And when it comes to competing with the groom's side, well we all know who's the best! ;) To ensure that it's a smooth win, here's a curated playlist of trending songs, for you to choose from.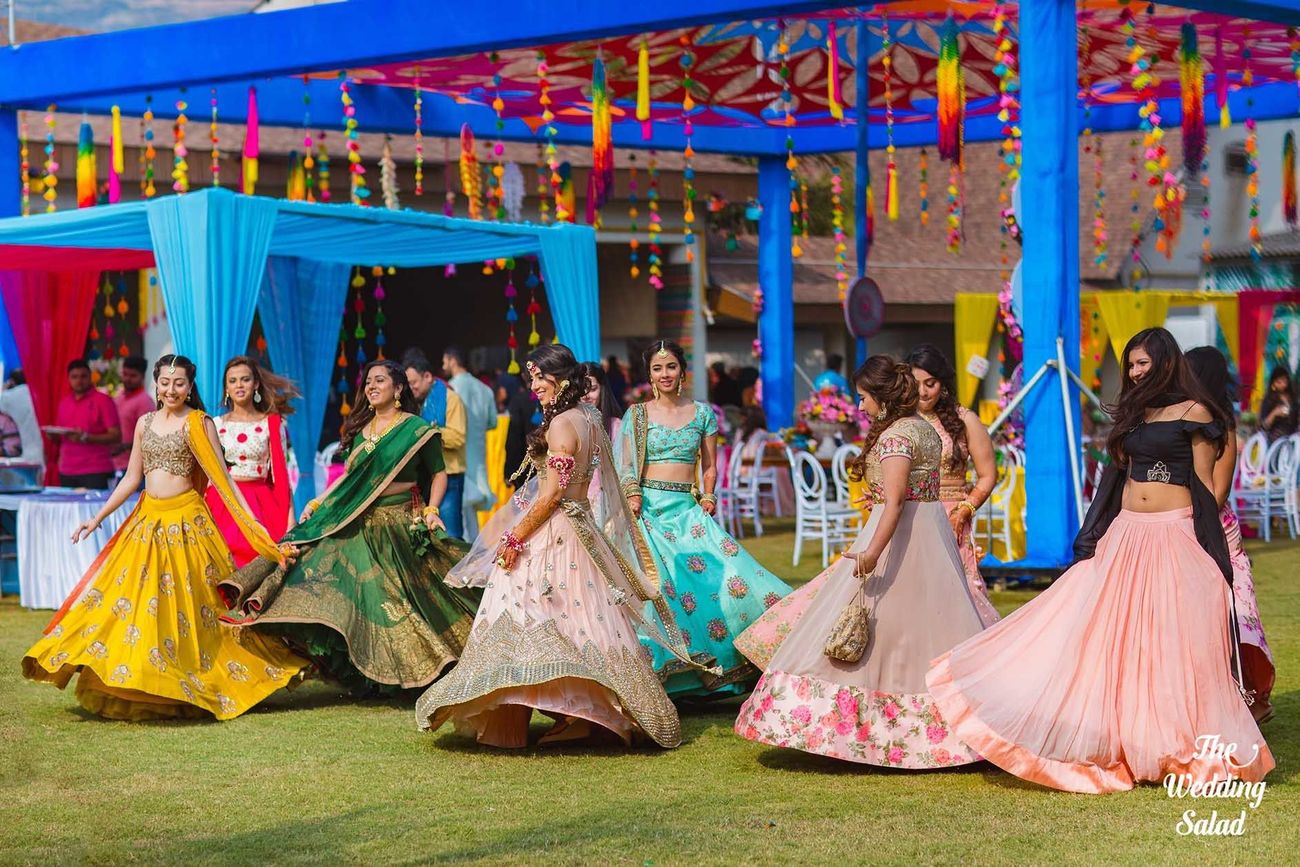 Image via The Wedding Salad
While we've seen people experimenting with unique songs these days, but nothing can beat the over-enthusiastic Bollywood or Punjabi songs!
Coca Cola 
This version is lot more peppy and we're sure your squad would really enjoy performing on it! And since it is new, it hasn't been used at many weddings. So, no more a mainstream performance!! 
Mungda
We all have danced on Mungda during our childhood and now that we have a remixed version, a performance on the same with your BFFs would relive those memories and would be soo much fun!
Patt Lai Geya
Dedicated to the groom-to-be, this song is apt in case you plan to perform along with the bride. It'll definitely be one super hit performance! Full of drama and the element of poking fun at the groom would make it hilarious.  
She Move It Like
Badshah and weddings go hand in hand! And this song is definitely a crowd puller. So what are you girls waiting for, start the preps and sway on this song for your bride-to-be!! 
Makhna
May be warning for the groom, by telling him to take care of your girl like a diamond, vis-à-vis 'Diamond jese sambhaal ke rakhna'! :P 
Looks like we've found the perfect song for the bridesmaids for now!
Gud Naal 
Punjabi song is all that you need to keep the party alive! And when it's a modern take on an old school, classic number, you can't help but shake a leg or two! 
Apne Time Aayega
One after another every member of the squad will get married soon. Considering the same, the lyrics completely fall into the place because 'Apna Time Aayega'!
Paisa Yeh Paisa
Get full on cheesy with a performance on this high on energy song! This will instantly make everybody to join you on the dance floor. 
Poster Lagwa Do
It'll be a perfect choice of song to dedicate the couple! Pull them on the dance floor as soon as the lyrics say 'ho dono paagal ho gaye pyar mein' and show off your dancing skills at their celebration bash! 
Nikle Currant
This is one song that's everywhere on the internet right now. Choreograph a dance number with the bride-to-be and tease the groom's side with the lyrics! Fits just right for a #BFFSquad performance.
Pheww! Those are some numbers that got us groovin' too. What are you waiting for? Put your dancing shoes on and pick any of these latest hits. Before this list spreads like a wildfire and you see every performance being done on these songs!