Lockdown Brides Reveal - One Piece Of Wedding Planning Advice They Can Give To Future Brides!
BY Apoorva | 13 Jul, 2020 | 4489 views | 4 min read
Lockdown weddings are like no other. While the wedding is still a happy one, the preparations for it vary drastically from a regular wedding. So we decided to ask our recent real bride who had lockdown weddings themselves on what is the one piece of wedding planning advice they would give our future brides-to-be. Keep reading to know what amazing advice they shared!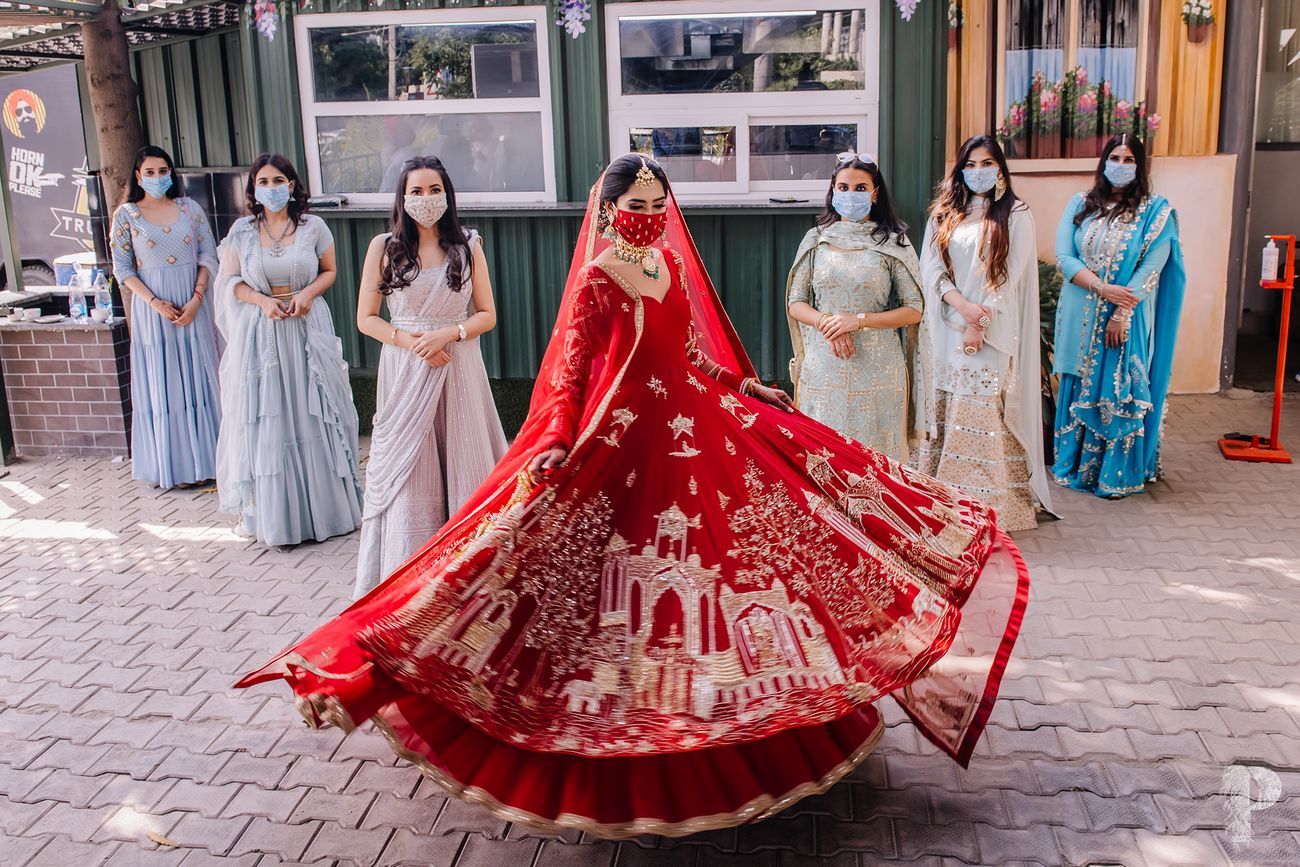 Image via Bhavdeep & Harkarandeep's Real Wedding
Here is what some coronial brides had to say!
Real Bride Cheshta says:
Having a Gurudwara wedding requires more precautions as per today's situation, so make sure the area and most importantly the kitchen is sanitized. Ensure use of gloves and chef hat by the cooks. The utensils have to be washed properly. Most importantly, social distancing must be practiced. Cutting down of gatherings from 500 to 50 or 100 can be a task but is very important to do that. I just got 3 days for preparation as it was so quick. My outfit was not picked because of the lockdown. I arranged for pure fabrics and got it stitched from my designer as she was my last resort.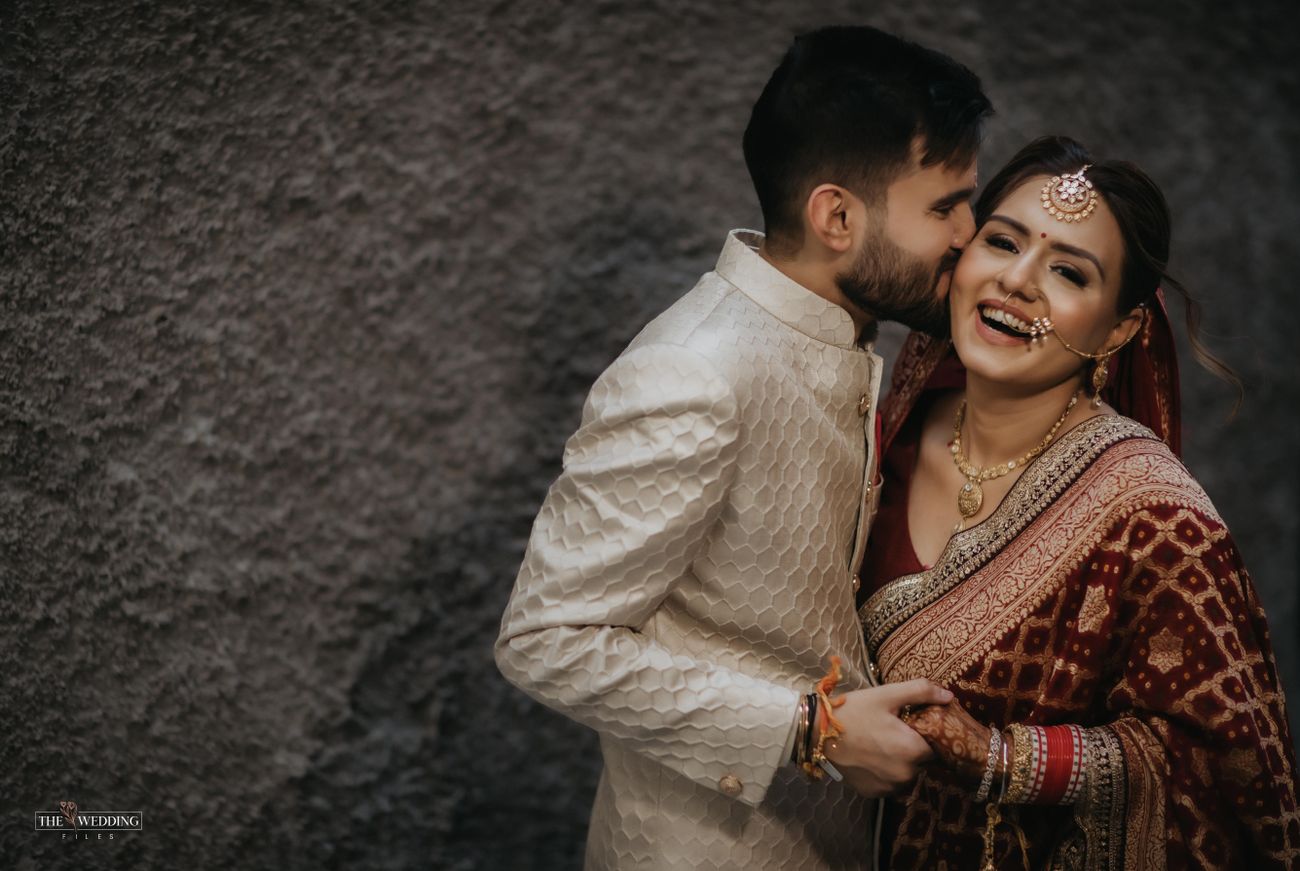 Image via Cheshta and Vipul's Real Wedding
Real Bride Pallavi says:
Even if we are have weddings with a smaller guest list and nothing like what you planned, it's important to enjoy your day. I wore my mother's jewellery on my functions. I ensured that my makeup and my outfits were to the point. My aunt made my engagement outfit. As my wedding outfit was not ready I co-ordinated with Asiana Couture and made sure that my lehenga was delivered on time. We ensured that people who could not come were connected virtually. So we were dancing, having fun virtually. Also, I think taking an opinion of an event planner/expert is very important. So at last moment, we hired Manyam, an event company and they made sure we could organize a small ceremony in Le Meridian with all the necessary precautions. This way you are in safe hands as all the co-ordination for precaution and safety are done by them.
Real Bride Drishti says:
One tip that I would like to share is that hire a wedding planner or assign someone in your family as the day co-coordinator for your wedding day or events you may have. Given the current situation, there can be any last minute delays and changes and you need someone to manage them for you. Do not take this responsibility on yourself. I did that and I was in a chaos as my caterer was stopped by the police and the driver did not have the required permits to transport. I was literally in tears while my makeup was being done until my sister took over the reins and managed everything, so please don't do this to your selves!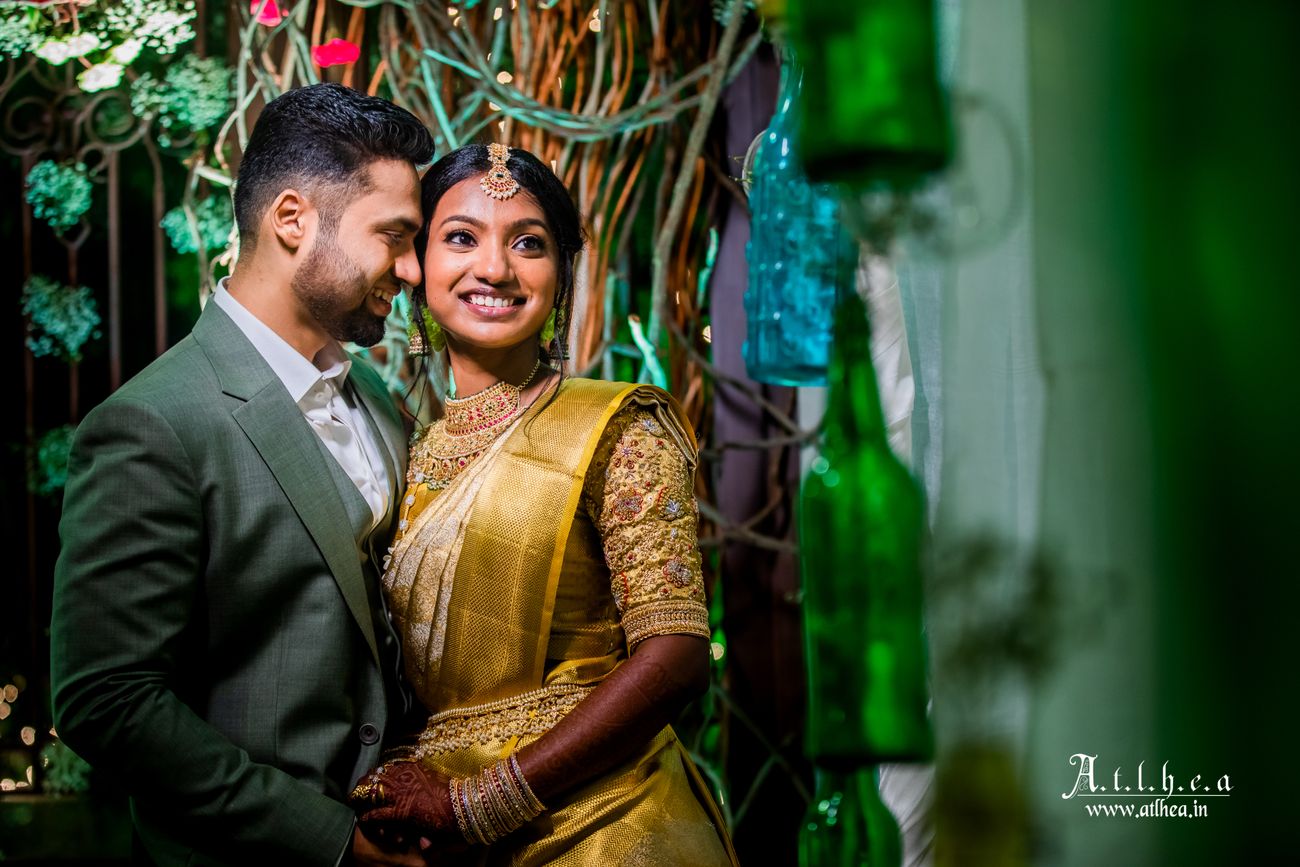 Image via Kiruthika & Syed's Real Wedding
Real Bride Kiruthika says:
Lockdown weddings as they are called now actually make a lot of sense having your big day in an intimate pretty set up at home or a small venue with loved ones around physically and virtually considering their well-being as priority is also a beautiful experience and a worthy experience. The day is special as it is just keep the spirits high and enjoy the experience. For bridal outfits, reach out to budding designers for unique outfits. You can also reuse your mom's wedding clothes and jewels which will make you feel special and make a beautiful memory. Do not miss to make your own masks or design them get them stitched to match your wedding outfits (follow all medical guidelines while making masks) and for your loved ones. This will be a one-of-a-kind memory that you can cherish forever!
Real Bride Karishma says:
Have a backup plan for your major things in a lockdown wedding. Have extra masks, sanitizers around for guests who turn up without wearing a mask – trust me, people do. Have a waterproof pendal/mandap structure installed if you are having open air function during rainy season. Ensure you have some elderly person managing the guest list in case more people than you invited turn up. This can get awkward in families so have an elder person manage it.
Are you also planning an intimate wedding? Why not let WedMeGood help you? Inquire today! 
If you are looking for more wedding planning advice, we spoke to 6 couples who had lockdown weddings & here are their expert tips!